When I was looking up where to go diving in Costa Rica, I wasn't coming up with a lot of compelling options.
Cocos Island, of course, is legendary: but so is its cost, both in terms of time and budget required.
​With Cocos Island liveaboards needing at least a week and costing a minimum of $3,000 — it's not exactly a casual dive commitment.
It is supposed to be a great spot to have a good chance of finding huge wildlife, like giant manta rays, whale sharks, and even the occasional humpback whale.
But I was looking more for places I could dive from the shore during the day.
(And also places that didn't cost a minimum of $3,000.)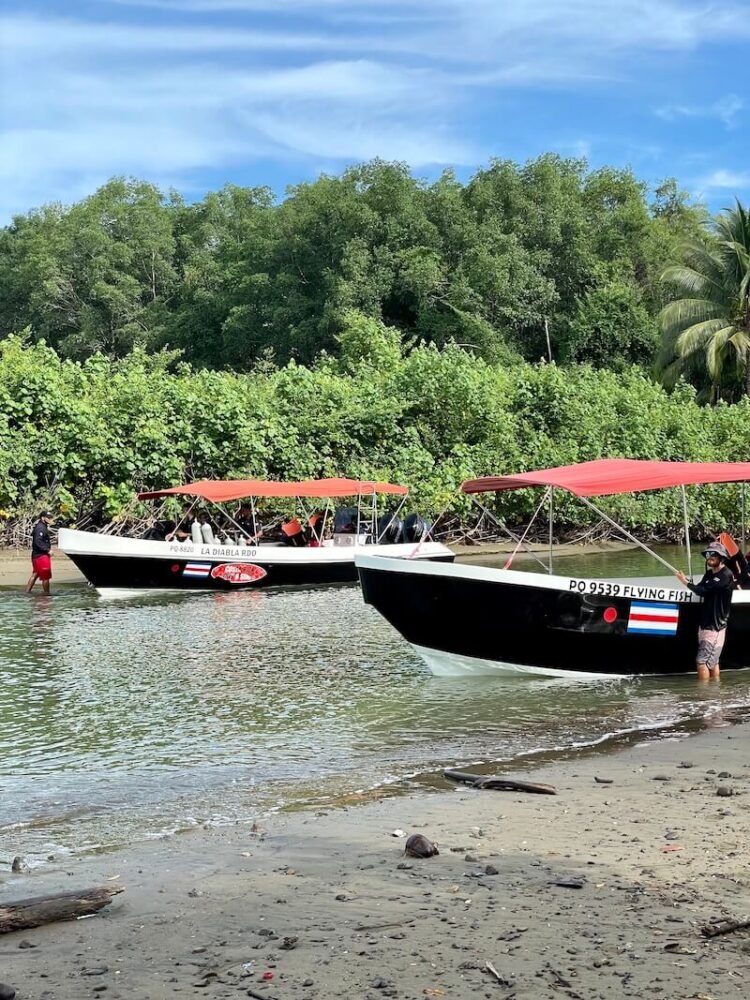 Note: This post contains affiliate links, which means I may receive a small commission if you purchase something through one of these links. Thank you for supporting the free content on this site! For more information on affiliate links and cookies, see my disclosure page for more details.
So I kept on with my research, looking into all the different options for the best Costa Rica scuba spots… and continually, I kept hearing a lot of mixed reports, mostly negative.
The forecast didn't look good when it came to diving on the Caribbean coast: one solitary dive shop with mixed reviews about the diving conditions there.
The Pacific coast too seemed to be a mixed bag. I did look into diving a few spots off of the Nicoya Peninsula, which seemed promising.
I did consider going to dive in the Guanacaste area, particularly the Las Islas Catalinas and Las Islas Murciélagos, the latter of which is famous for its bull sharks.
I wasn't quite sold, as I heard mixed things about the water visibility and prevalence of intense thermoclines (places where the water temperatures change rapidly) in that area.
Ultimately, it didn't make sense with my Costa Rica and Panama itinerary, so I had to cut the Nicoya Peninsula… and then I stumbled across Isla del Caño in my research.
Located in Corcovado Bay near the national park of the same name, this small island is near the Osa Peninsula in southwestern Costa Rica.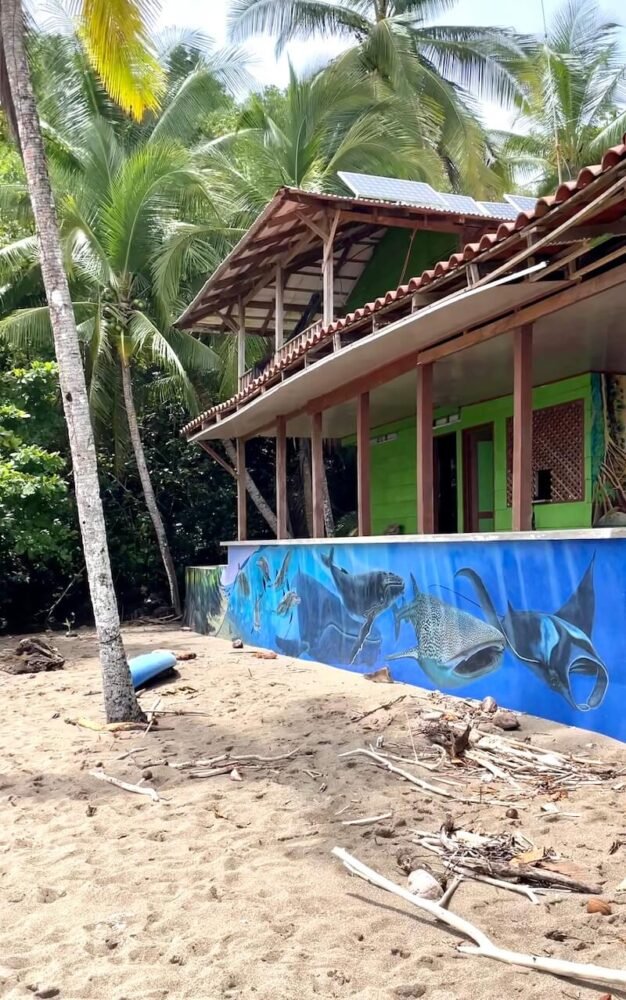 It sounded promising: after all, the coral reefs around Cano Island make up the Caño Island Biological Reserve, one of only two marine biological reserves in the country.
Plus, you could do it as a day trip from Uvita, a town that was already on my radar for its beautiful beach and excellent jungle hotels.
I was sold: I would do diving in Caño Island. And wow, I was so glad I did — it was my favorite day of my entire Costa Rica trip.
In this post, I'll go over all you need to know about Caño Island diving: the best time to go, the diving conditions, the best Caño Island scuba diving tours, and what my dives were like there!
The Best Time to For Caño Island Scuba Diving
Costa Rica has two main seasons: the rainy season and the dry season.
Technically, the best time to dive Caño Island is the dry season, as it has greater visibility and better overall dive conditions.
That said, I dove Caño Island at the beginning of the wet season, in mid-July, and though the conditions were overall pretty good.
One positive thing to say about diving in July through is that it is whale-watching season!
You have a chance of seeing the migrating humpback whales as you take the long boat ride out to the Isla del Caño marine reserve, or possibly even as you dive (though that's much more uncommon).
The visibility wasn't spectacular, but then again, I am typically a Caribbean diver and I am used to visibility in places like Cozumel, Utila, and Roatán where you get 30 meters or 100 feet of visibility easily.
I also dive in the South Pacific whenever I get the chance, like Tahiti, Moorea, and soon to be Fiji.
That said, the coral gardens of Caño were so spectacular and full of life that I never found myself caring too much about the less-than-ideal visibility, as there was always something amazing right in front of me!
Caño IslanD Diving Conditions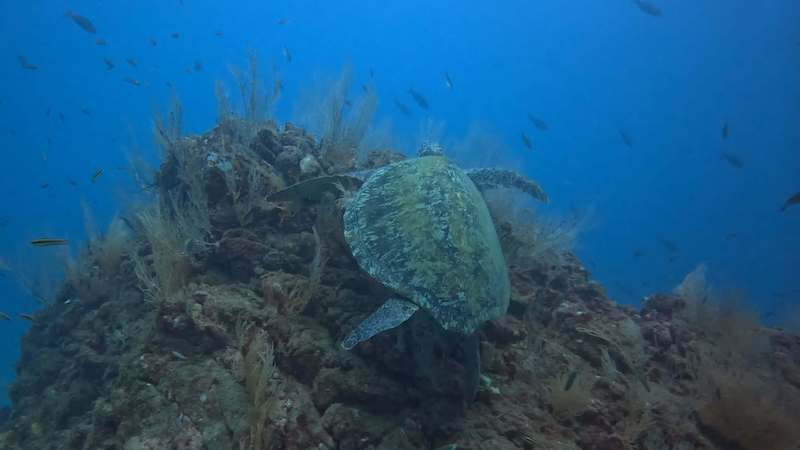 ​Generally, the warm waters around Caño Island are really pleasant — around a toasty 24° to 30° C year round (that's 75° to 86° F). 
When I dove in July, I forgot my dive computer back at the hotel, but the divemaster let me know that it was 28° C /  82° F.
That sounds right — I was nice and toasty in my 3mm wetsuit that I borrowed (since I wasn't diving much, I didn't bring all my stuff I normally pack for a dive trip, like my trusty 5mm wetsuit!)
There is potential for days with good visibility like I mentioned above, but typically, the viz is more like 10-15 meters (33 to 50 feet), which matches up with my experience. 
I'm no expert at estimating visibility, but I'd guess it was around 12 m (~40 feet) — I never lost sight of my group, but it definitely felt a little murky in the water.
Generally, the currents around Caño Island are not crazy strong, but there can be a bit of a swell.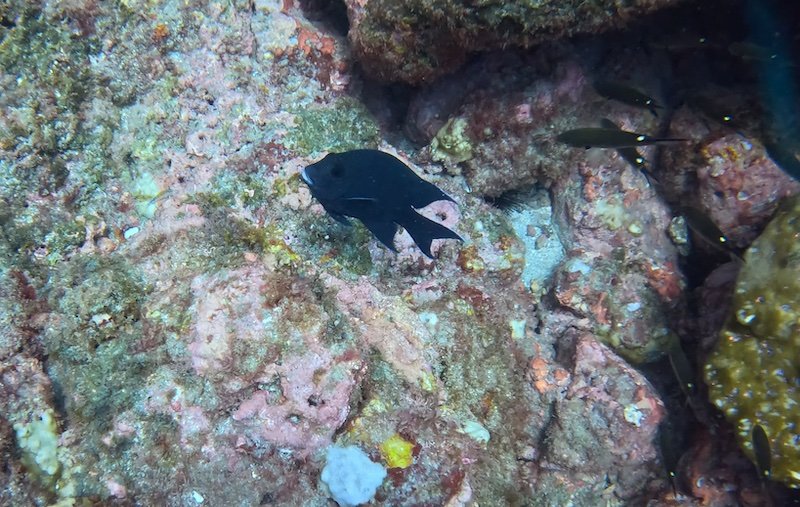 On one dive, I didn't feel much of a current at all. On the second dive, there was definitely a bit of a back-and-forth current.
It wasn't so much of a drift dive as a bit of a tug-of-war and using your timing to know the best time to kick to conserve your energy and your air consumption.
That said, it will vary greatly depending on the day — this is the Pacific Ocean after all, and it's a powerhouse, so definitely pay attention to the dive briefing and keep an eye on any changing conditions.
Always listen to what your dive masters say — they know the sites between than anyone else.
I don't think you need to be a highly experienced diver, but it's not the easiest place to dive, so if it's been a while since your last dive, a scuba refresher is always a good idea beforehand.
Marine Life You'll See Diving Caño Island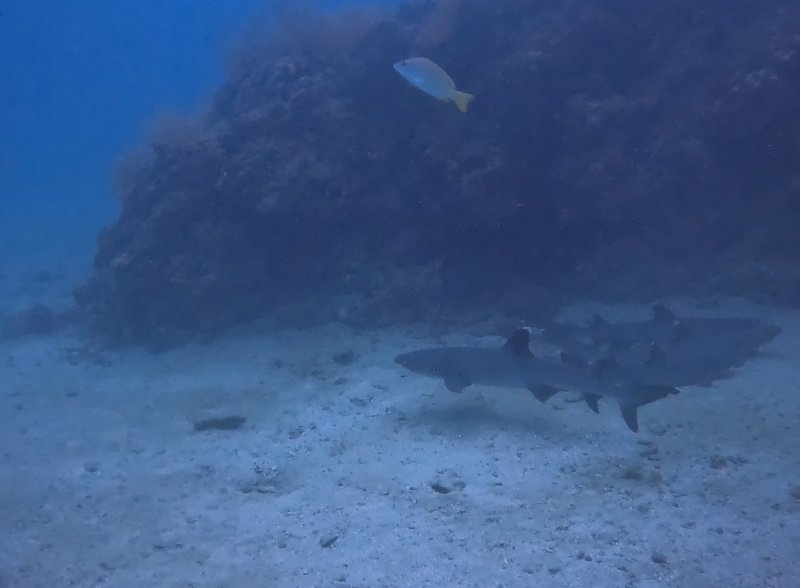 ​There is a wide variety of marine organisms you can expect to see in Caño Island!
While nothing is guaranteed, of course, turtles are regular sights here.. and that was certainly my experience, as I lost count of just how many turtles we saw, particularly hawksbill turtles.
You may also see some larger marine species, like eagle rays, manta rays, spotted dolphins, white tip reef sharks (we saw tons!), and if you're really lucky, you may even see humpbacks or whale sharks, but these are very rare sightings!
What you will see for sure is tons and tons of Pacific reef fish — wrasse, angelfish, butterflyfish, Moorish idols, surgeonfish, ocean triggerfish, boxfish — and eels galore (the largest variety I've ever seen!), as well as lobsters, sea stars, and more.
Keep an eye out in small crevices, where you'll see camouflaging scorpionfish, tiny macro life like harlequin shrimp, and a hiding octopus!
Plus, the coral formations around Caño Island are really epic in scale, like underwater cathedrals, which makes everything feel all the more grand.
My Experience Scuba Diving Caño Island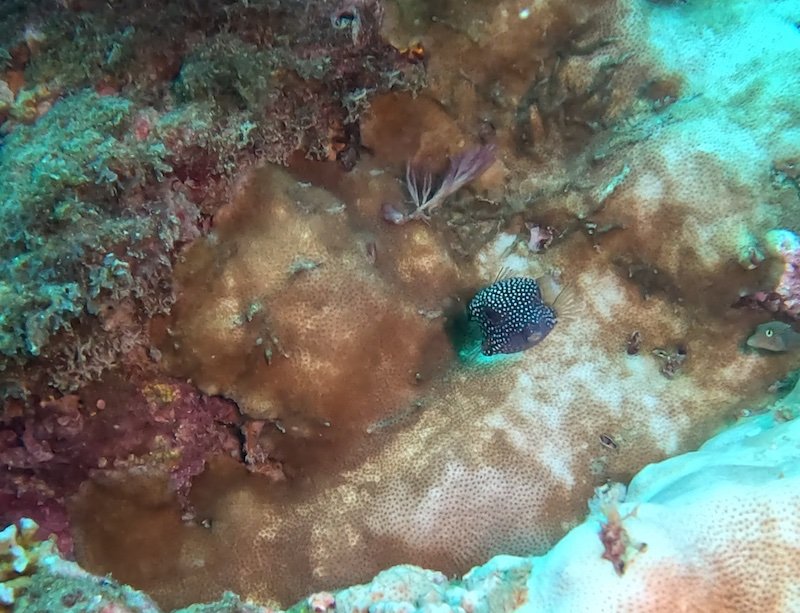 ​I visited from Uvita, going on a two tank dive with Costa Rica Dive and Surf Center. It was a jam-packed day: we arrived at 7 AM to get briefed and get our gear ready and weren't back until around 2 PM. 
Uvita has pretty intense tidal changes, so there's no proper harbor in Uvita. You'll walk a bit out on Uvita Beach (part of Marino Ballena National Park, but the dive shop pays your entry fee).
From there, you'll take about a 5-10 minute walk until you reach the boat area, which you'll have to board while it bobs in the shallow waters!
The boat ride to Caño Island from Uvita takes about an hour to an hour and a half, depending on what the current is like on the way there. It was definitely a bit of a rough ride — take some Dramamine if you get boatsick!
(Note, if you're going from Drake Bay, it's more like a 45-minute boat ride).
After a bumpy ride, we arrived at the reefs surrounding Caño Island and our first dive was at the Bajo del Diablo (Devil's Pinnacle) dive site.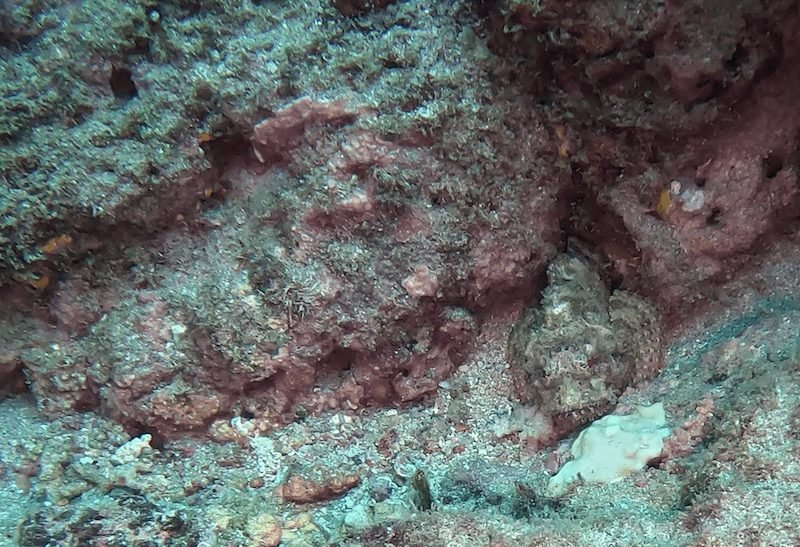 Supposedly, it's so named for the large amount of manta rays who like to visit this spot in the winter months (out of my season, unfortunately!) — who for some reason, earned the nickname 'devil rays' from some superstitious fisherman many years ago.
This is considered one of the best scuba diving spots in Caño Island because the coral pinnacles and formations are incredibly impressive.
We saw so much on this dive! I logged at least six white-tipped reef sharks, several sea turtles (both hawksbills and green sea turtles), and an adorable white-spotted boxfish.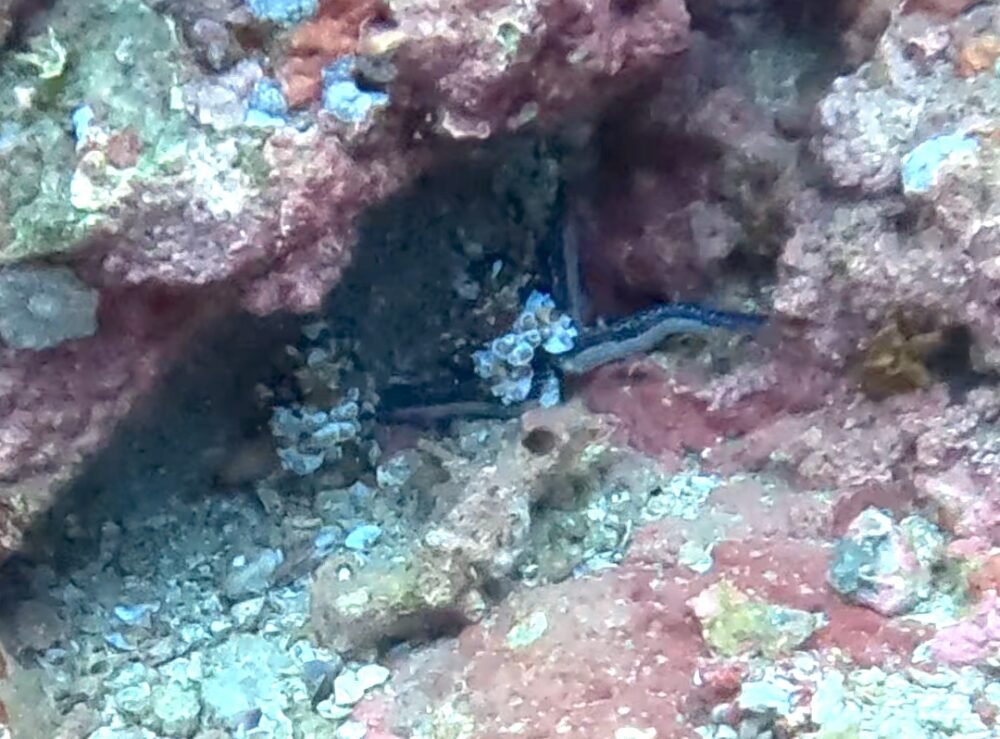 I also saw the stunning king angelfish, harlequin shrimp (which I tried and failed to get a decent picture of, as seen above), a scorpionfish, a frogfish, and a jewel moray eel.
For our surface interval, we took a break by going to the actual Isla del Cano.
This is where we were able to see the ranger station for the biological reserve and also climb up to the lookout point which had an incredible view of the beaches and surrounding landscape of the beautiful island.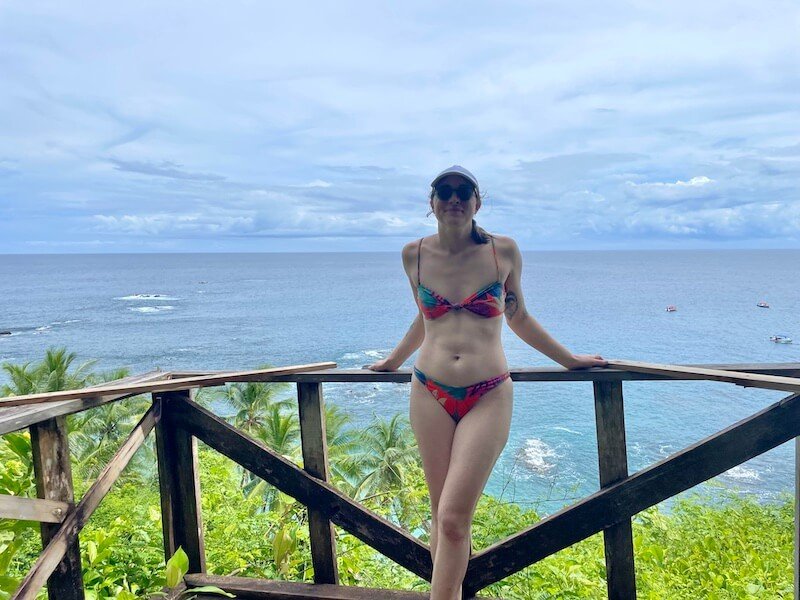 We had about 20 to 30 minutes to enjoy the island before we got back on the boat and headed to our next site: another one of the best dive spots in Caño, the Shark Cave (Cueva del Tiburon). 
This dive site is… shocking… known for its cave which. normally houses a bunch of white tip reef sharks!
However, when we visited, the sharks weren't in their cave… but it was okay, because we saw plenty of sharks elsewhere on the dive and so much more beyond that.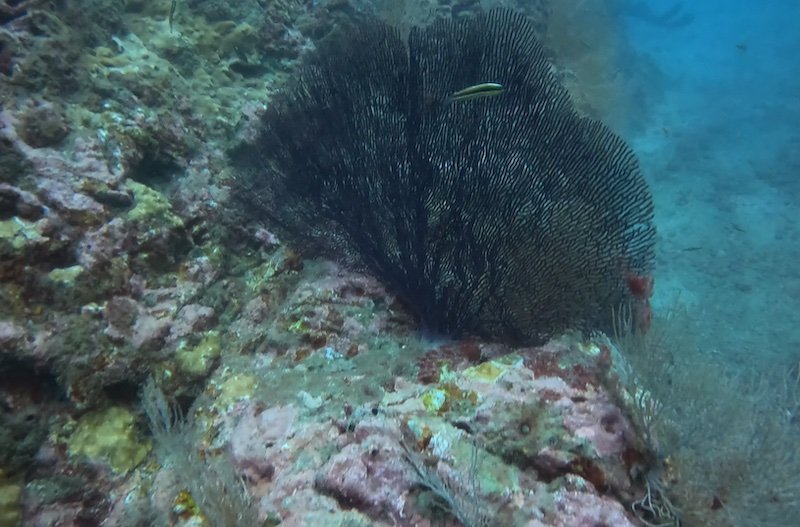 My favorite part of this dive site actually was just how many species of eels we saw here — the most of any I've ever seen anywhere in my life, including a brand-new-to-me species.
Since I dive a lot, it's really special to me when I see something new, and it was my very first time seeing a zebra moray eel!
They're generally quite reclusive (and they're typically nocturnal so it's rare to see them outside of night dives!) so it was quite special to see one.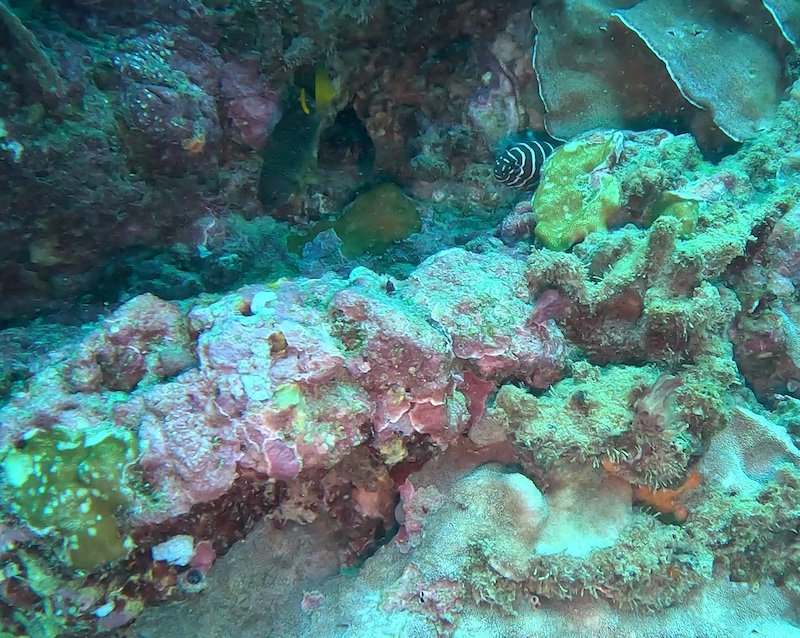 This dive site is known being home to five different types of eel!
I also saw a jewel moray eel out and about hunting, which was really amazing, a snowflake moray (another new-to-me eel sighting!) and a giant moray eel on my dive here.
So I saw 4 out of the 5 species on a single dive which was pretty cool!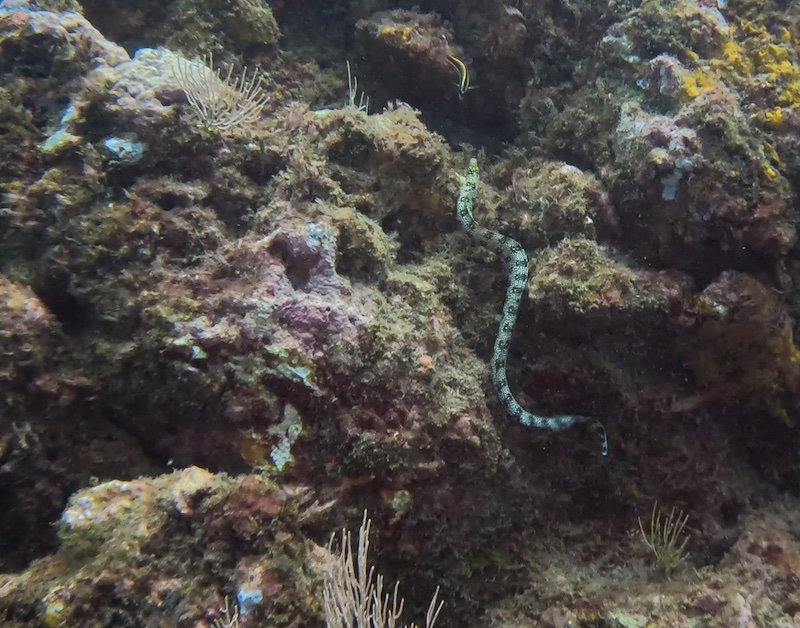 Another cool sight was the guineafowl puffer! It was my first time seeing one, and at first, I thought it was another white-spotted boxfish until I realized its shape was way different.
Unfortunately, I spotted it at a time when the current was pretty intense, and I wasn't able to get a video of it, but it's still quite a special memory!
We also saw an octopus hiding out during the daytime, another special sighting.
After our incredible second dive, we ate a delicious picnic lunch (well, picnic on the boat!) of a burrito with chicken, beans, and plantain.
It was one of the tastiest boat lunches I've enjoyed, I have to admit!
​Finally, after eating our lunch, we headed back to Uvita, leaving the vibrant marine life of Caño Island behind us.
The Best Caño Island Scuba Tours (& Snorkeling Options)
​2-Tank Dive From Uvita  – Book Here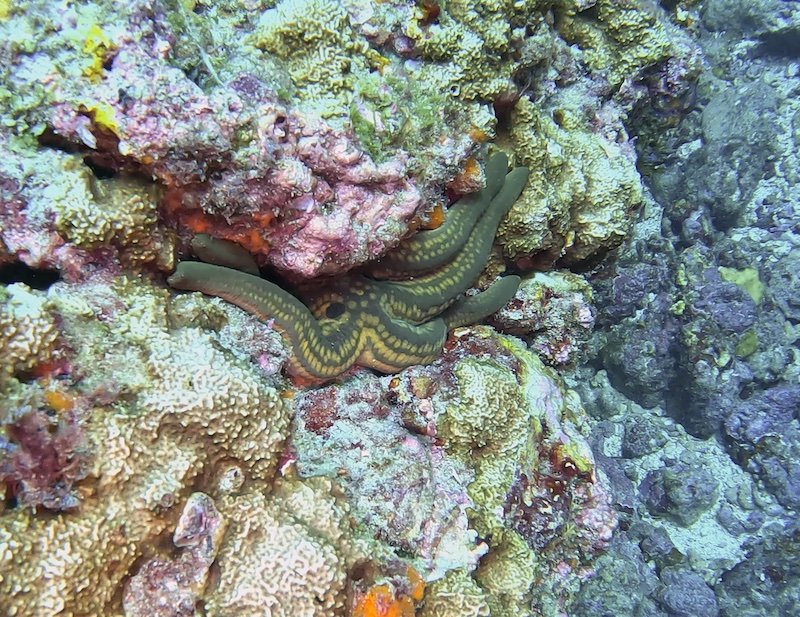 ​This is the tour that I did from Uvita. It includes your boat transfer, a two-tank dive in small groups led by a dive master, lunch, and all the gear you need.
A dive computer not included, so bring your own — I forgot mine back at the hotel for this dive, unfortunately, but I just stayed with the divemaster.
Plus, it wasn't strictly necessary since our max depth was around 17 meters and our average depth was around 11 meters, so no one was at risk of exceeding their NDL times.
I loved my day and I thought they picked some of the best dive sites, so I'd definitely recommend this Caño Island scuba tour if you're coming from Uvita.
2-Stop Snorkel Tour with Picnic Lunch from Uvita – Book Here
​These tours require you to be a certified scuba diver. 
In case you're not, a snorkeling tour is your only option for exploring Caño Island, since they don't offer discovery dives there to my knowledge.
Obviously, I prefer diving to snorkeling, but there are some nice shallower spots in Caño (5-10 meters) where there's plenty to see, particularly in the shallow coral garden area of El Barco Hundido (the shipwreck).
This tour includes snorkeling at two different locations as well as a lunch on the island.
2-Tank Dive from Drake Bay – Book Here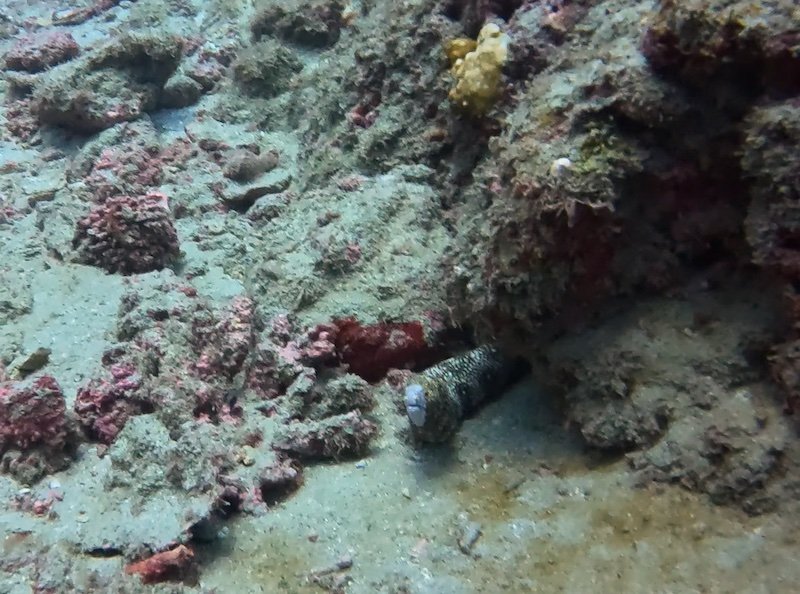 ​If you're going to be staying in Drake Bay, I recommend doing your dive tour of Caño then, since the boat ride is much shorter and it's a more pleasant day.
You'll get to do all the same things that I did on my 2-tank dive tour, but you'll spend 30 minutes to an hour less in transit on choppy seas, so you'll be happy for that.
It's also a little bit cheaper than the tour that leaves from Uvita, while still bringing you to some spectacular dive sites!
​2-Stop Snorkel Tour from Drake Bay – Book Here
​Like I said above, you have to be a certified dive in order to be able to scuba dive in Caño Island.
If you want to snorkel in Caño, this is the best-rated tour in Drake Bay.
Allison Green is a former educator turned travel blogger. She holds a Masters in Teaching and a B.A. in English and Creative Writing. Her blog posts merge her educational background and her experience traveling to 60+ countries to encourage thoughtful travel experiences that both educate and entertain. She has been a speaker at the World Travel Writers Conference and her writing, photography, and podcasting work has appeared in National Geographic, CNN Arabic, CBC Canada, and Forbes, amongst others. Now based in the San Francisco Bay Area where she grew up, she has also lived in Prague, Sofia, and New York City.