Moorea, a tiny island next to Tahiti nestled in the heart of French Polynesia, is a diver's paradise that deserves more attention than it gets.
Scuba diving in Moorea is some of the best in the Society Islands, and you'd need to go way further afield — like the Tuamoto Atoll — to find better diving than Moorea has.
Yet still, even with its balmy clear waters, healthy reef, and abundant sea life, Tahiti's charming sister island is not quite the magnet for divers that it deserves to be.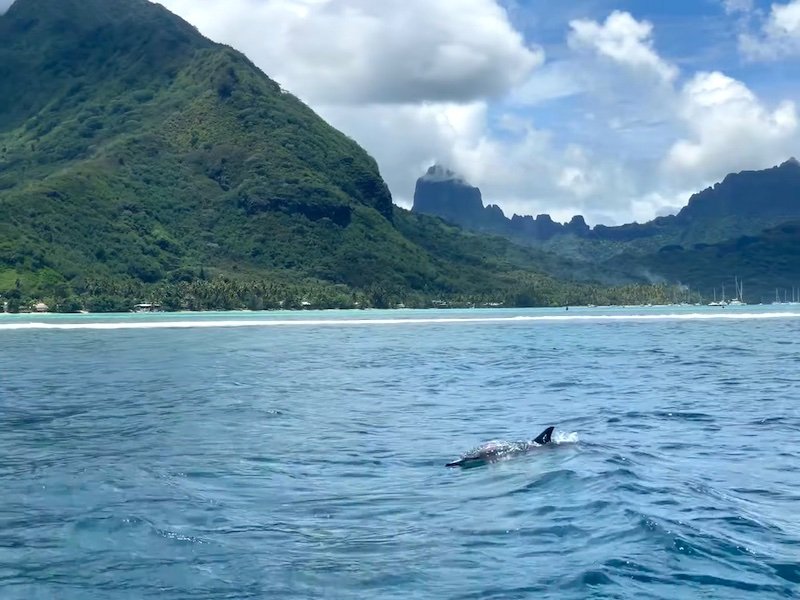 Note: This post contains affiliate links, which means I may receive a small commission if you purchase something through one of these links. Thank you for supporting the free content on this site! For more information on affiliate links and cookies, see my disclosure page for more details.
Plunging beneath the surface of Moorea's crystal-clear waters, you'll find a vivid technicolor coral landscape rich with deep purple brain coral and antler-like branching coral.
The coral forms a beautiful, surrealist backdrop to the colorful fish darting around, with occasional big life like sea turtles and reef sharks punctuating the dives with added excitement.
Whether you're a seasoned pro or a first-time diver, Moorea's underwater charm is sure to leave you spellbound.
While you could certainly enjoying snorkeling in Moorea, diving in Moorea will take things up another level.
What is Diving in Moorea Like?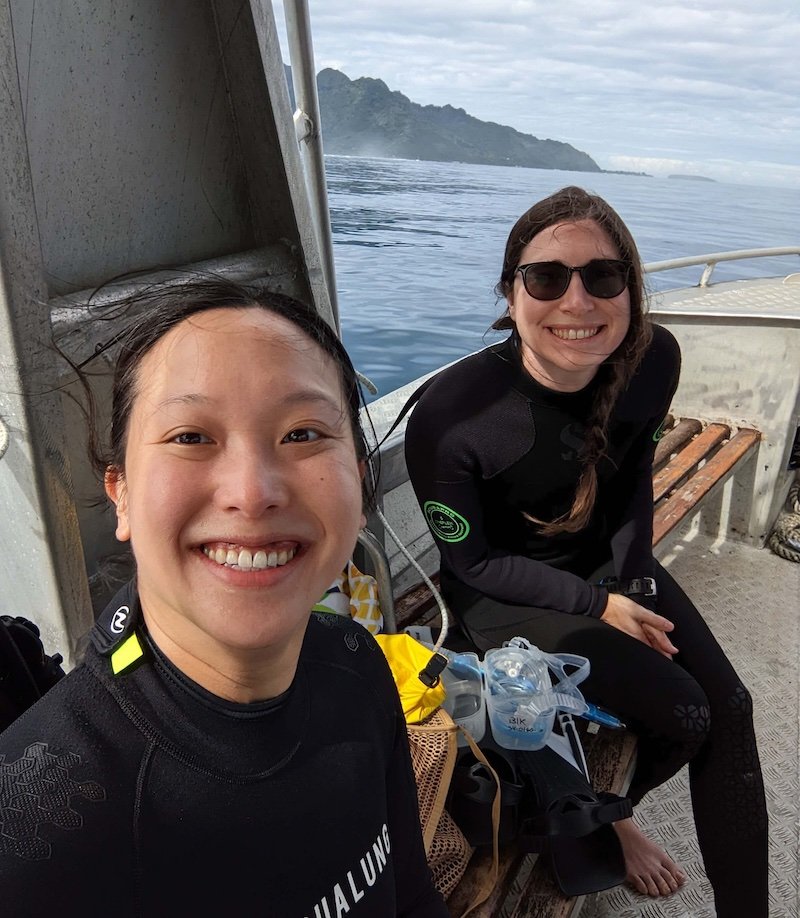 Moorea's water temperatures are generally very warm and pleasant, making it a great place for diving!
Typically, water temperatures range from 26°C to 29°C (79°F to 84°F) throughout the year; most divers go in 2mm shorty, but I was happier in a 3mm wetsuit because I run cold.
When we visited Moorea in November, the water temperature was on the colder side of these numbers (79°F/26°C) and it was still lovely.
Generally, diving in Moorea is very suitable for beginners because there are many dive sites with mild to no current.
However, there are some drift dives you can do if you specifically seek them out!
The majority of dives in Moorea are relatively shallow, so you'll usually be fine with just your open water certification.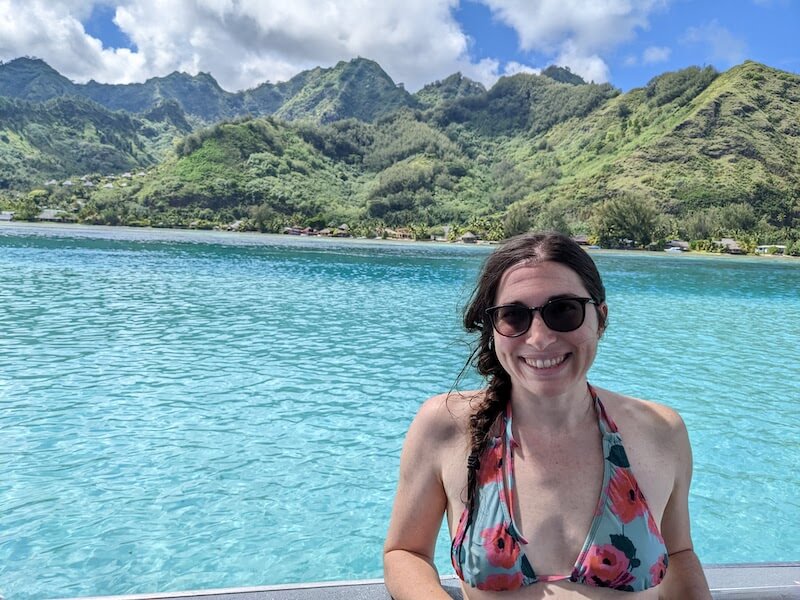 That said, there are a handful of more difficult dives that may require higher certifications, such as the Garden of Roses which requires you be Rescue Diver certified.
Generally, Moorea's coral reefs are in good condition, though there was a mass bleaching event in 2019 that affected Moorea. Still, much of the reef is still rather healthy, especially compared to similar places like Hawaii.
You'll still get to see a variety of hard and soft coral formations providing an excellent habitat for a wide range of marine life: spunky clownfish, ever-hungry parrotfish, and elegant angelfish, as well as larger marine animals such as sharks, rays, and sea turtles.
When is the Best Time to Dive in Moorea?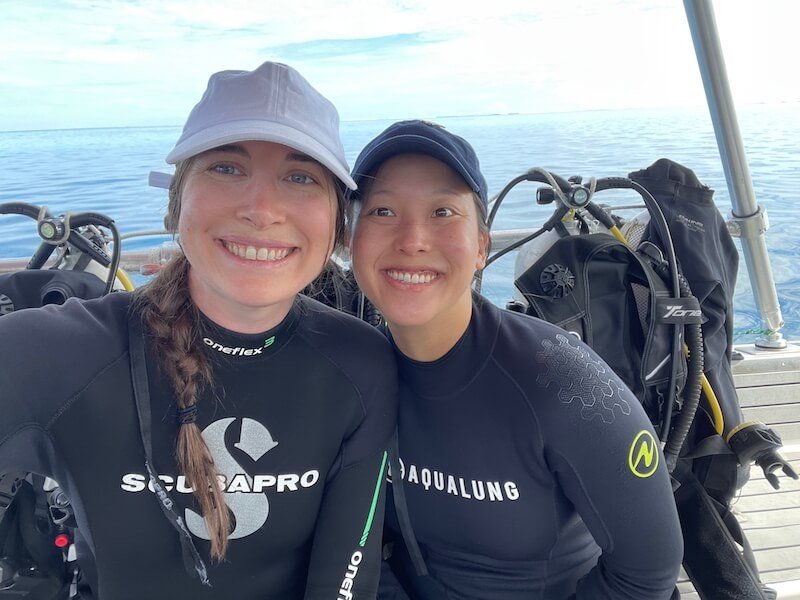 Moorea enjoys warm weather all year round, but that doesn't necessarily mean it's always the right time to go diving!
The dry season runs from May to October, with little rainfall and infrequent storms meaning that fewer dive trips will get canceled.
That said, summer's peak season of July and August can be really busy (and expensive), so that may not be the ideal time.
It gets busy, and Moorea accommodations (already limited in inventory) soar in price.
The "shoulder season" months of May-June and September-October would be better; if you go in September through October, you have a chance to see humpback whales too!
We went to Moorea for five days in November and while we had a great time, I'd choose to visit Moorea a little in the year earlier next time.
While none of our dives ended up being canceled due to bad weather luckily, we missed out on the humpback whales, since they had already left Moorea's waters by mid-November.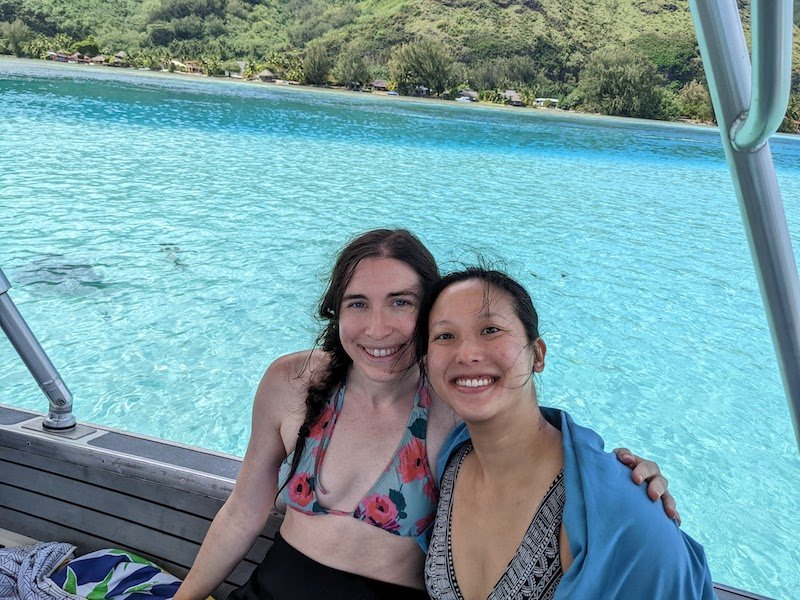 When it comes to bad weather in Moorea, it's best to avoid the period from December through April, which is wet season, and coincides with a small chance of cyclones (though French Polynesia isn't often hit).
In particular, December and January are the worst months for heavy rainfall.
You might also want to time your trip with some of the migrations that occur, particularly the humpback migration which hits its peak from August through October.
December and February may not have good weather, but they do bring larger formations of eagle rays coming to the islands.
Meanwhile, from April to June, giant manta rays like to visit some of the deeper dive sites around Moorea.
What You'll See in Moorea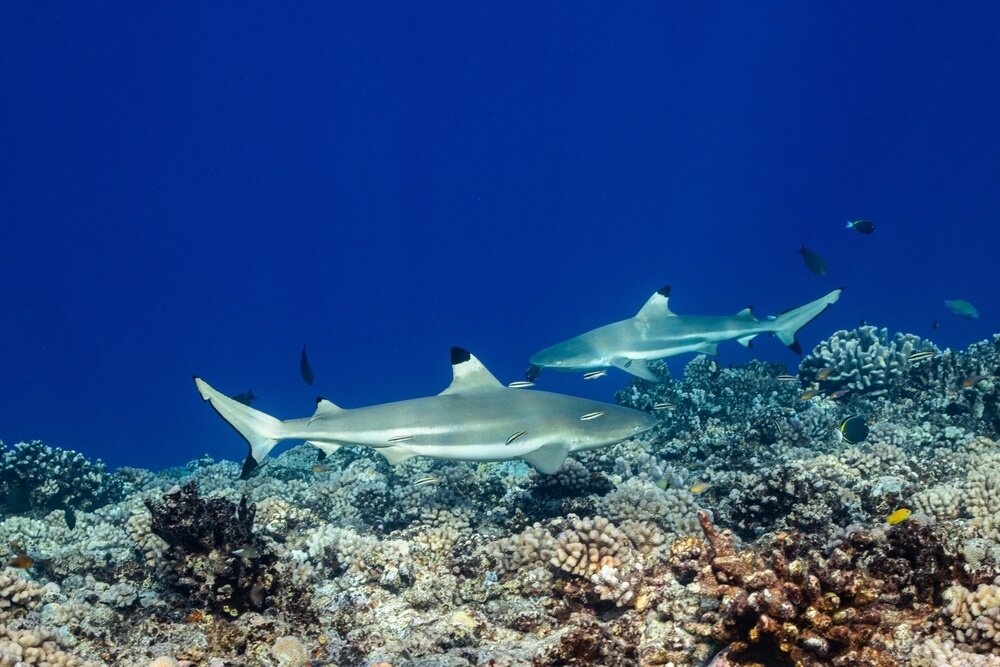 In general, Moorea's coral reefs are really beautiful, at least at all the dive sites we visited, though there was a mass bleaching in 2019.
The reef is still doing well in many parts, but there is still some bleached coral that you'll see.
There's a pretty wide variety of coral species, creating an intricate interplay of coral structures that make the underwater architecture extremely beautiful.
You'll see antler-like, branching staghorn coral sprawling next to colorful green and purple brain corals, punctuated by mushroom coral, fire coral, and soft corals like sea fans.
The reef life here is pretty diverse as well.
Of course, you'll find all the standard reef fish like tangs and parrotfish, but there are some cool species that are more common in the waters around Moorea that are worth keeping an eye out for if you're a fish geek like me.
Moorish idols are everywhere, stunning and delicate; on the other hand, you have the dorky-looking unicornfish, with their strange hump on their head.
You'll also see plenty of trumpetfish, another silly fish species that's fun to see, and the massive Titan triggerfish (as well as its smaller siblings, the lagoon triggerfish, also called Picasso triggerfish).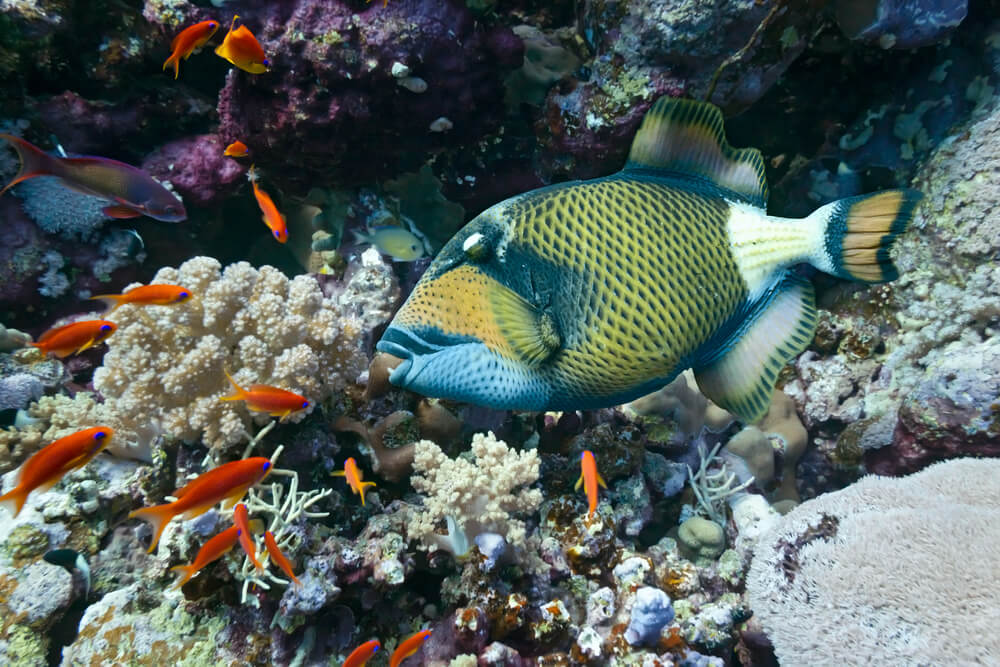 The Tahitian butterflyfish is a unique type of butterflyfish you won't see everywhere, and is special to the South Pacific region.
Keep an eye out for masters of disguise, like the leaf scorpionfish — just be sure not to touch them, as their venom is what gives them their well-dserved name.
And if you're lucky, you may see more benign camouflagers, like octopi, though this is more common on a night dive.
We didn't see any while diving in Moorea, although we did spot one while snorkeling in Tahiti, alongside a giant moray eel!
In terms of larger life, expect to see so many turtles: we truly lost count of how many turtles we saw in Moorea, it simply wasn't worth counting!
We saw mostly green sea turtles, but we definitely saw our fair share of hawksbill turtles as well.
In terms of sharks, you're likely to see blacktip and whitetip reef sharks. If you're lucky, you might spot a lemon shark — and if you're even luckier, possibly a nurse shark or a tiger shark.
You also have a chance of seeing plenty of stingrays and possibly spotted eagle rays (though we didn't see any on our dives in Tahiti and Moorea).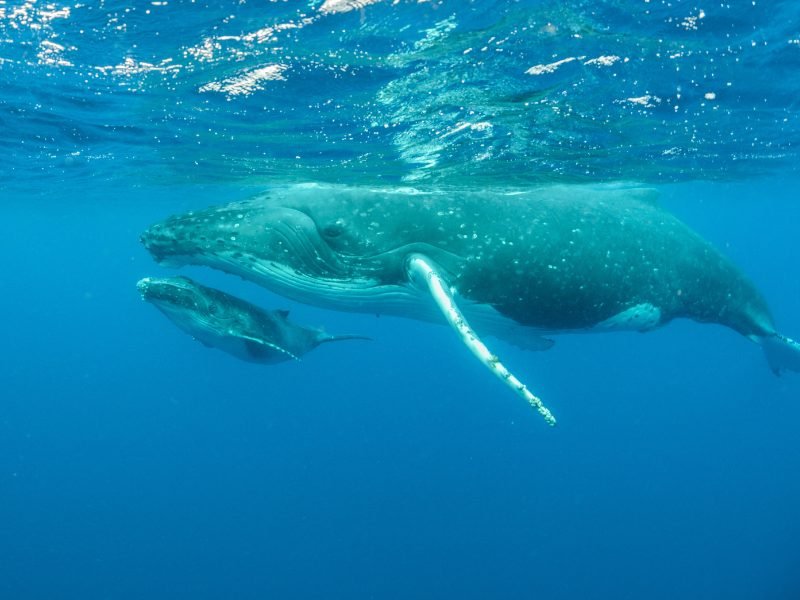 Finally, if you're especially lucky, you might get to see (or at least hear) humpback whales as they migrate through!
While you can't specifically go diving with them, if you happen to be near them while you are diving, you can admire them.
There are snorkeling tours that will bring you close to the humpback whales, where you can actually get fairly close to these magical creatures.
It's one of the best things to do in Moorea, so you really ought to prioritize it!
4 Incredible Dive Sites in Moorea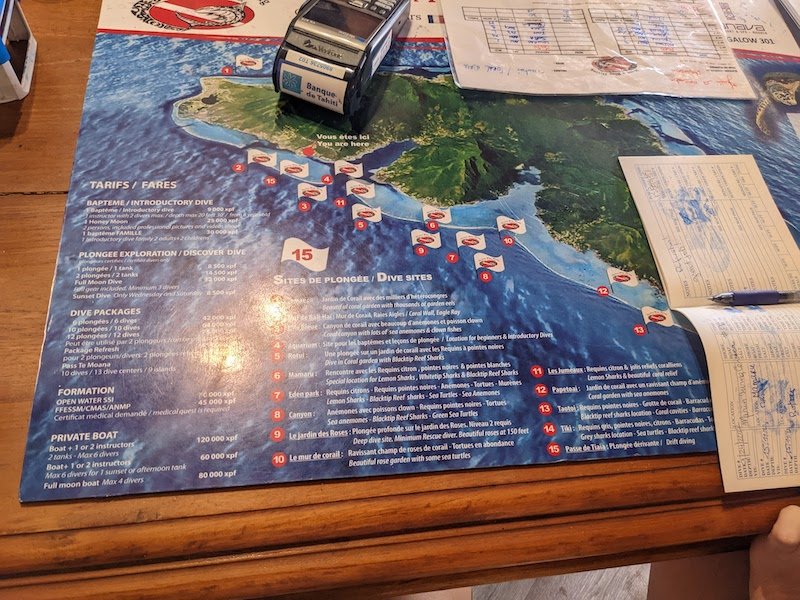 We dove with Moorea Blue Diving for two two-tank morning dives, and we covered four sites on this list:
Rotui
Mamaru
Taotoi
Le Mur de Corail
I'll cover these sites below (with photos my girlfriend took on her GoPro — unfortunately not the highest quality since there was no dive filter on it!) and then I'll cover a few I have on my wishlist for next time.
I've also included my dive specs for the dives according to my dive computer.
They're definitely shorter bottom times than I would have hoped for, since it was my first time getting back in the water since 2019 and I was pretty out of practice!
Rotui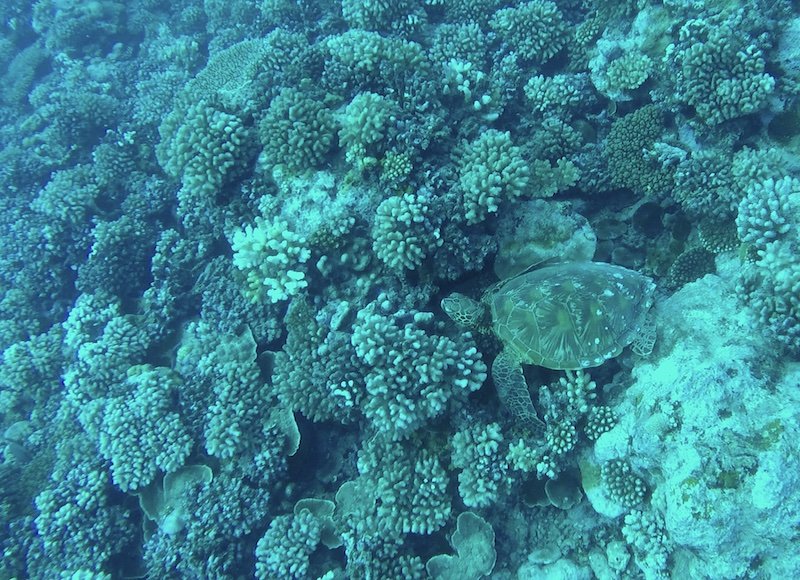 Dive Specs: Max depth 17m, dive time 45 minutes
Dive Sightings: Sea turtles, trumpetfish, emperor angelfish, scorpionfish, Picasso triggerfish, Titan triggerfish
The Rotui dive site in Moorea is a lovely one, named for one of the mountains of Moorea (which also lends its name to the islands ubiquitously-present juice factory).
This reef dive has tons of juvenile and adult fish in a kaleidoscope of colors calling the nooks and crannies of the reefs home.
Expect to see Moorish idols, all sorts of butterflyfish (including my favorite rascal, the raccoon butterflyfish), barracuda, titan triggerfish (keep distance — these guys are territorial!), and pufferfish, among other species.
When it comes to larger pelagic life, it's pretty likely that you'll see one or two black-tip reef sharks, and if you're really lucky, you might even spot a lemon shark.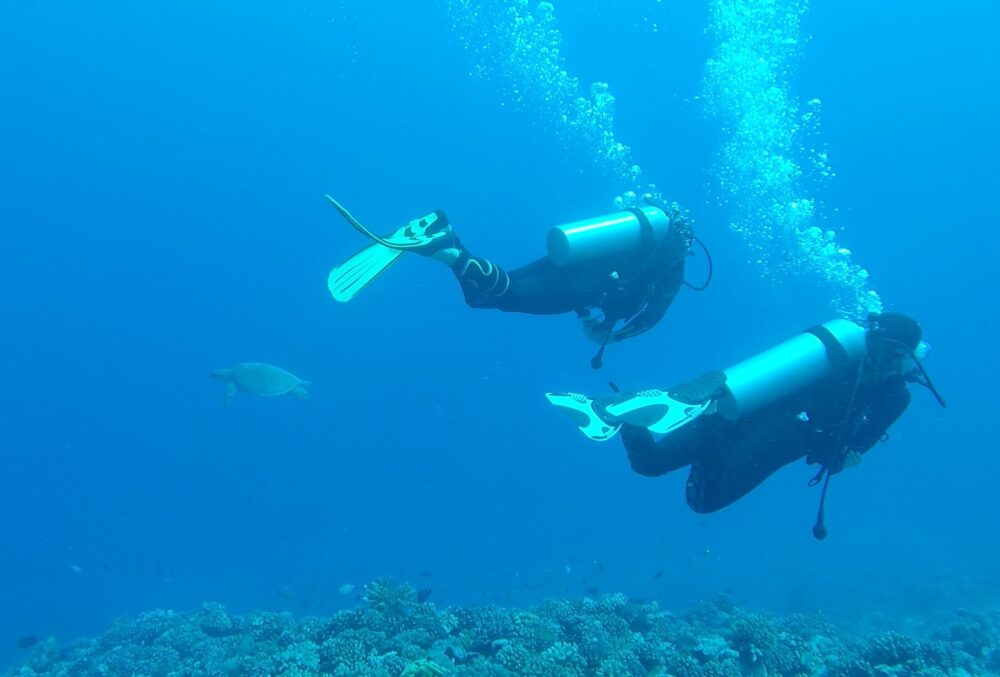 The depth is perfect for beginner divers – the average depth is around 10 meters, and the max depth is 18 meters, so you don't need any special certifications, just your standard-issue PADI open water cert.
It's also a great spot for a second dive, since the depth is relatively low.
And the best part for beginning divers? There's limited to no current, so you can focus on enjoying the scenery without getting swept away (though if you like drift dives, that may be a con).
All along Moorea, the visibility is pretty amazing, often up to 90-100 feet (28-30 meters), making it easy to spot any larger sea life in the distance.
And there's a lot to see! Hawksbill and green turtles are everywhere, and they're not shy; many swam right past us, as if happy to say hello.
Mamaru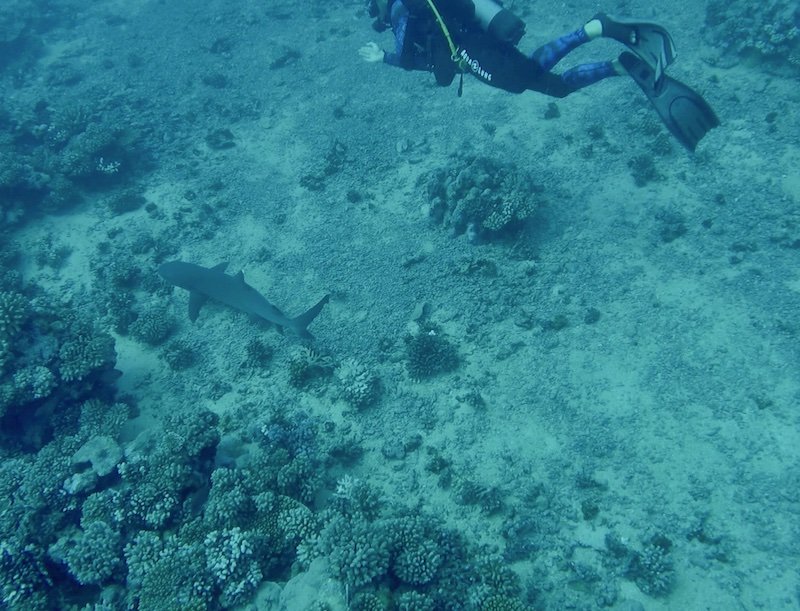 Dive Specs: Max depth 13 meters, dive time 40 minutes
Dive Sightings: White tip reef shark resting on sea floor, black tip reef sharks, green sea turtle, hawksbill turtle, jackfish
The Mamaru dive site is another popular choice on Moorea, a great dive for beginner divers or as a second divers, since it has an average depth of around 15 meters.
But don't let the shallow depth fool you – there's plenty to see!
First of all, the underwater topography is breath-taking, with brilliantly-colored coral bommies and canyons to admire as you dive.
Because the coral at Mamaru is pretty vibrant, you'll find a lot of marine life calling these reefs home, including angelfish, butterflyfish, parrotfish, triggerfish, and surgeonfish.
And like every dive we did in Moorea, there were plenty of sea turtles relaxing on the reef or swimming around!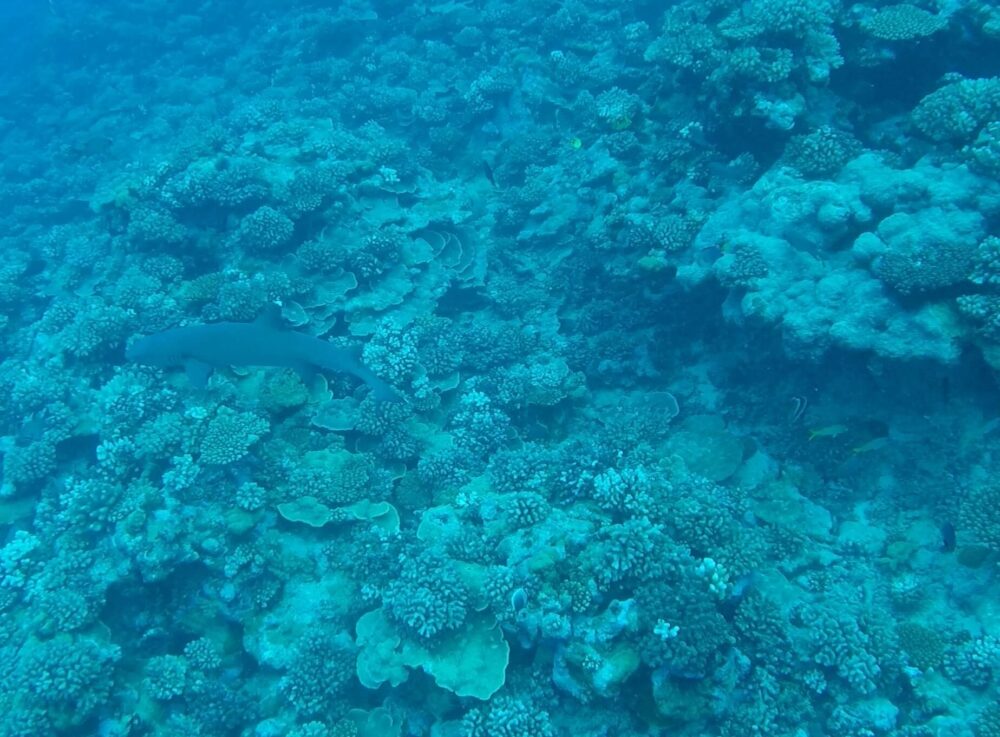 But the real stars of the show are the reef sharks: both blacktop reef sharks (more common) and whitetip (less common). Lemon sharks are a possible sighting, but again, uncommon.
We got lucky and saw a gorgeous white tip shark that was resting on the sea floor before it started swimming away!
While this dive site is primarily perfect for beginners, due to its calm water conditions and shallow depth, it has enough to see that even more advanced divers should have a good time.
Taotoi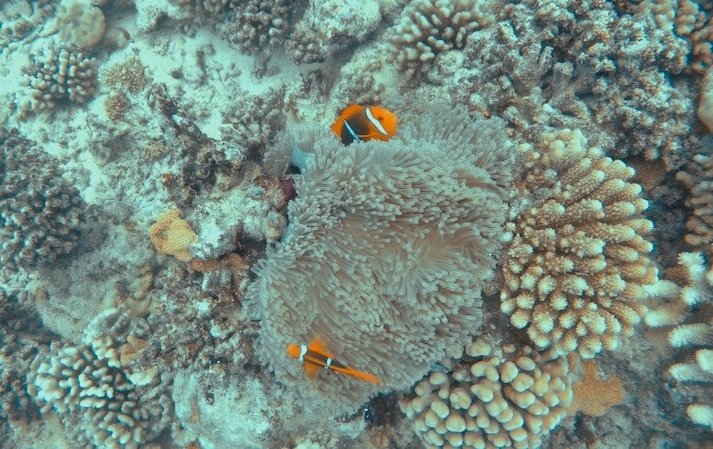 Dive Specs: Max depth 20m, dive time 45 minutes
Dive Sightings: Barracudas, damselfish, tons of sea cucumbers, sea turtles, triggerfish, clownfish
Another great dive site for beginners and intermediate divers is the Taotoi dive site in Moorea.
This spot has got it all – towering coral formations, schools of colorful fish, and even some bigger creatures like blacktip reef sharks and — if you're really lucky — the change to see spotted eagle rays or lemon sharks!
The underwater topography at Taotoi is quite unique: underwater canyons and arches completely coated in colorful coral that has built up on the lava flows.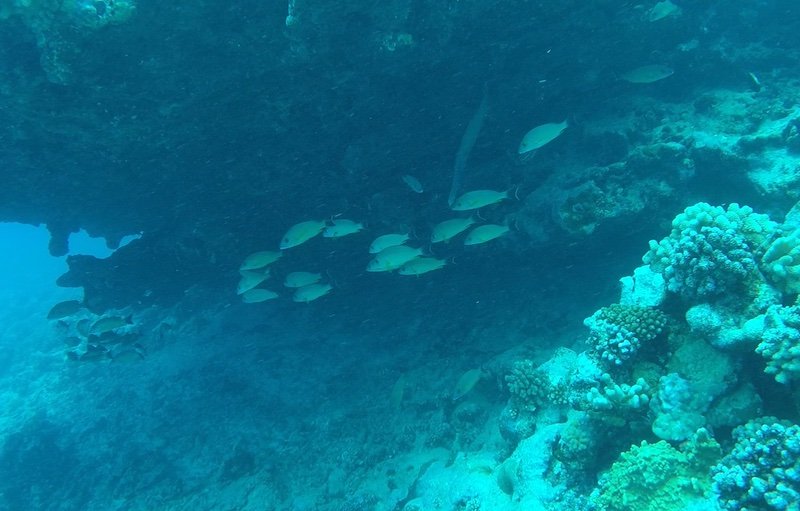 And let me tell you, the coral formations are like a rainbow underwater (though without a filter on a GoPro, all that color gets washed out).
The reef formations here are very healthy and I didn't see any noticeable bleaching, which is wonderful to see.
The marine life here is very rich: find some anemones and spot the clownfish hiding in them, admire the territorial triggerfish from afar, and lose count of the sheer volume of parrotfish you'll see.
And, as with everywhere in Moorea: turtles galore.
Beginners can stay relatively shallow, with plenty to see in the 10-15 meter depth band. For more experienced divers, there's plenty to see down to as far as 25 meters, so you can go a little deeper and see more.
The water conditions are calm with little to no current, so it's good for beginner divers who aren't ready to try drift diving just yet.
Le Mur de Corail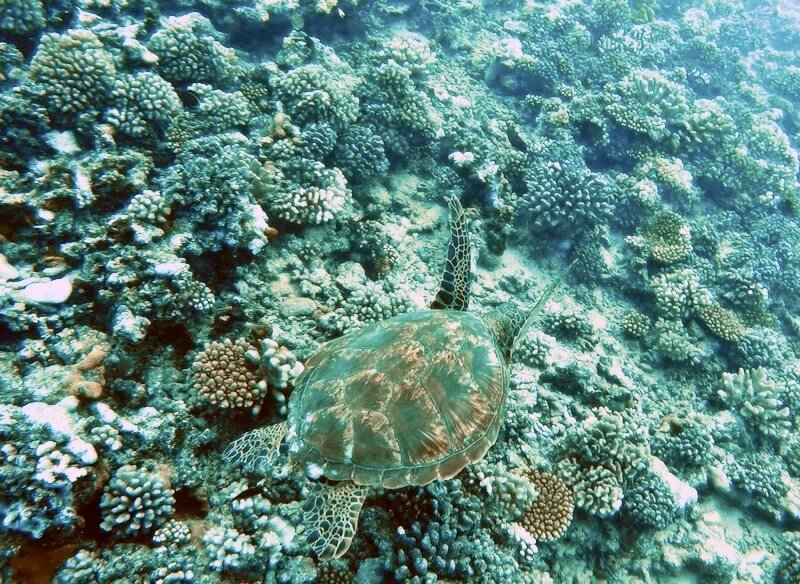 Dive Specs: Max depth 15m, dive time: 38 minutes
Dive Sightings: Dozens of sea turtles (including hawksbill and juvenile sea turtle), Moorish idols, parrotfish, butterflyfish
Le Mur de Corail, also known as the Coral Wall, is a breathtaking dive site that will leave you spellbound with its mesmerizing underwater landscape. It's one of my personal favorites!
Impressive lava formations have cooled here, creating a gently sloped reef with dramatic valleys between the walls of the reef.
The resulting fascinating landscape is beautiful for divers, but also welcoming to the hundreds of fish species and dozens upon dozens of turtles who call this reef home.
This is a relatively easy dive, with max depths around 60-80 feet, so you won't have to go too deep to see the beauty and sheer scale of this stunning reef.
Keep an eye out for some of the superstars of Moorea diving: eagle rays, lemon sharks, Napoleon wrasses are a few of the sightings you'd be extremely likely to spot!
More than likely, you'll see some blacktip reef sharks and so many turtles that you'll truly lose count.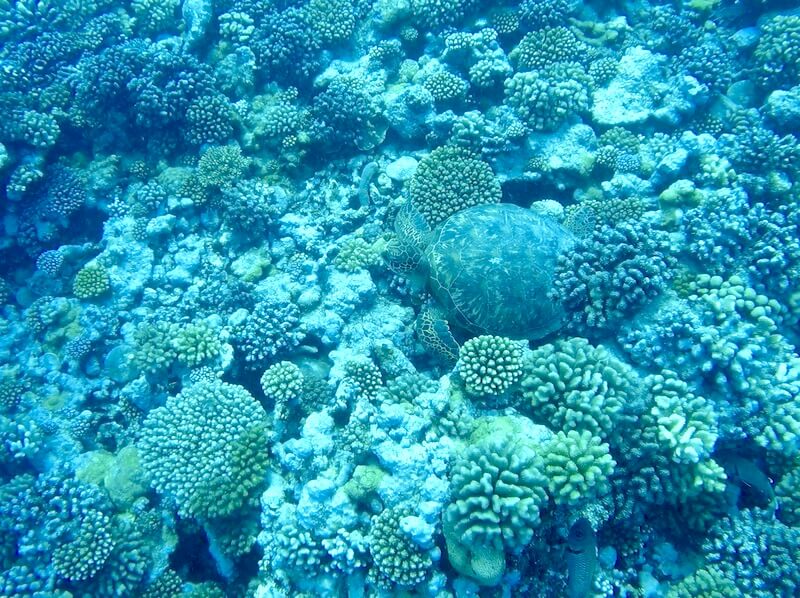 They love all the nooks and crannies of this reef, and some will even take a nap in a little niche of the reef!
The Coral Wall is a favorite hangout spot for Moorea's graceful, curious turtles; with any luck, you'll be treated to a seemingly endless parade of them gliding through the water.
We truly lost count of how many turtles we saw, but it must have been over a dozen, including the rarer hawksbill turtle and even a juvenile turtle!
It's an unforgettable experience that will stay with you long after you've returned to dry land.
More Incredible Dive Sites in Moorea
We only had two days diving in Moorea, doing a two-tank morning dive on both those mornings.
We had planned for an afternoon/sunset dive as our fifth dive, but it unfortunately got canceled when a DM had an emergency.
Here are a few dives I want to do in the future!
Lemon Shark Valley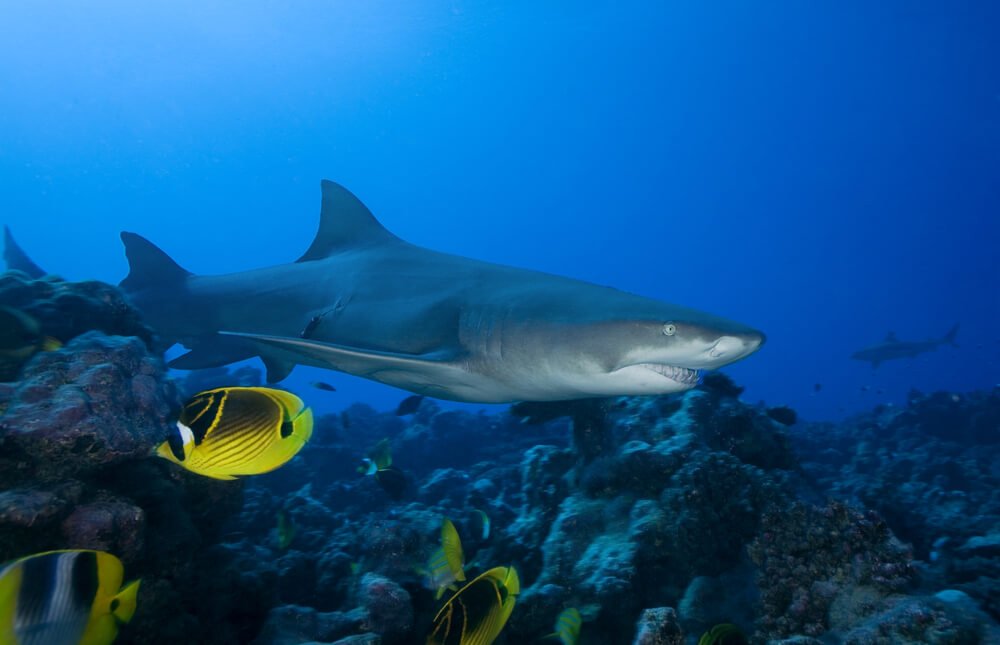 One of the key dive sites people put on their Moorea diving bucket lists is Lemon Shark Valley (to be fancy and French about it, it's also called Vallée des Requins Citron)
This once used to be the spot to see lemon sharks because they were being fed. However, French Polynesia put a ban on feeding lemon sharks in 2017, and as a result, the lemon sharks are a lot less predictable than they used to be.
Now, I have to level with you – the lemon sharks are actually pretty elusive. We didn't see a single one on any of our Moorea dives, but that didn't stop us from having an awesome time diving in Moorea.
Although I would have loved to see a lemon shark (as sharks as some of my favorite ocean animals, after eels!), I didn't mind.
At the end of the day, I appreciate that the local government is staying true to their responsibility to maintain a healthy ocean ecosystem, and we can't complain about that.
Let's quickly talk dive specs: the dive starts around 13 meters deep and can go even deeper depending on your certification level.
There's plenty of other marine life to check out, like green turtles, black-tip and white-tip reef sharks, and colorful parrotfish, even if the lemon sharks don't show up.
Marine life aside, the underwater topography here is also supposed to be stunning: coral-packed colorful walls and canyons that make for epic sightseeing even if you didn't spot a single fish (trust me, you will though).
Eden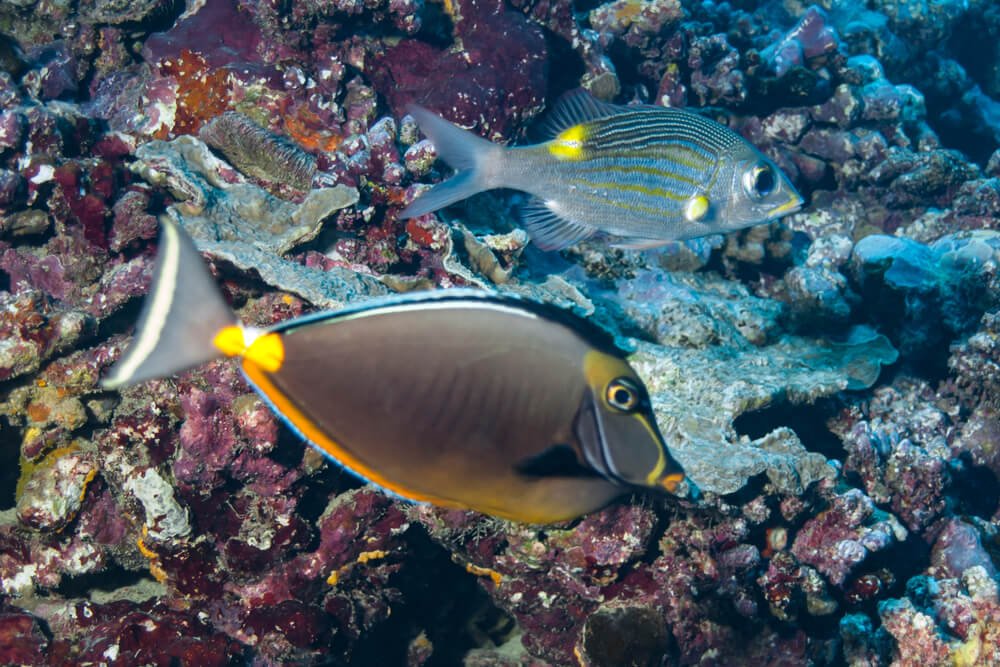 Eden is a popular drift dive site located on the southwestern side of Moorea.
The dive site features a series of coral gardens and underwater canyons, providing an excellent habitat for a wide variety of marine life, including eagle rays, cheeky moray eels, and vibrant reef fish.
The maximum depth of this dive site is around 30 meters, making it suitable for advanced open water divers, though it can be done at shallower depths.
The Garden of Roses
The Garden of Roses is an advanced dive site in Moorea known for its stunning coral formations that look like, well, a rose garden!
The Garden of Roses is a planned decompression dive; therefore, most dive shops require you to hold a Rescue Diver certification (or higher) in order to dive it.
Furthermore, dive shops won't do this as your first dive with them, so you'll need to plan for at least two days of diving in Moorea.
The rose-shaped coral down deep is why you go: it's supposed to be breathtaking, and you could easily spend hours admiring the intricate details of this stunning coral rose garden.
Along the dive, you can expect to see some different shark species, including blacktip reef sharks and possibly lemon sharks, as well as moray eels and barracudas. The dive site is also known for its schools of rainbow jacks that glint beautifully as they swim around.
Allison Green is a former educator turned travel blogger. She holds a Masters in Teaching and a B.A. in English and Creative Writing. Her blog posts merge her educational background and her experience traveling to 60+ countries to encourage thoughtful travel experiences that both educate and entertain. She has been a speaker at the World Travel Writers Conference and her writing, photography, and podcasting work has appeared in National Geographic, CNN Arabic, CBC Canada, and Forbes, amongst others. Now based in the San Francisco Bay Area where she grew up, she has also lived in Prague, Sofia, and New York City.