Oh, diving in Tahiti…where do I even begin?
Picture yourself submerging underneath bath-warm waters, quickly discovering a reef life in a kaleidoscope of colors, from deep purple to yellow to green.
As you gliding through a labyrinth of coral reefs, you'll spot the neon-bright fish dart between the rocks like flecks of confetti.
Larger movement will catch your eye, and suddenly you'll see a turtle gliding past gracefully, or perhaps the smooth, graceful movements of a shark along the sandy floor.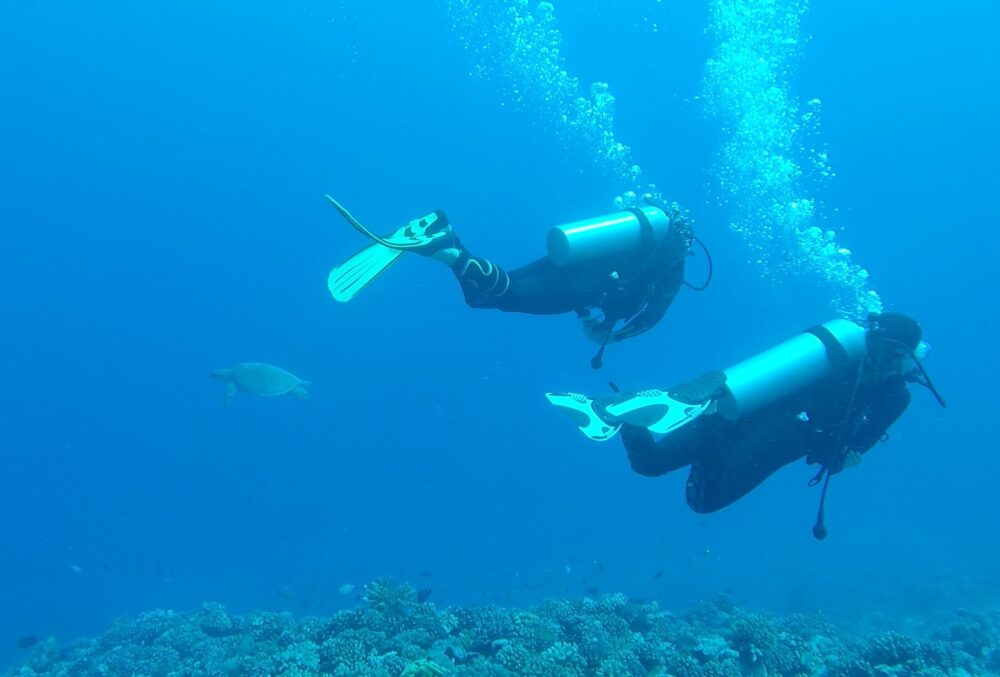 Note: This post contains affiliate links, which means I may receive a small commission if you purchase something through one of these links. Thank you for supporting the free content on this site! For more information on affiliate links and cookies, see my disclosure page for more details.
And if you're lucky and diving during the right season, you might even hear the humpback whale singing its hauntingly melodic tune as it makes a pit stop in the warm waters of Tahiti on its journey through the vast ocean.
From vibrantly-colorful walls to serene underwater valleys to aquarium-like fish nurseries to sunken wrecks you can explore, there's such a wide variety of dives in Tahiti alone… not to mention the dozens of other islands you could visit in French Polynesia.
For this article, we'll focus specifically on the island of Tahiti itself (and I have an article on diving in Moorea here).
However, I'll explain a little bit about some of the other dive destinations in French Polynesia, so you can decide on how to best structure a dive trip to this magical South Pacific destination.
While islands like Fakarava and Rangiroa surely warrant their spots on any divers' bucket list, there's a lot to discover diving French Polynesia's two most accessible islands, Tahiti and Moorea!
Let's get started!
What is Diving in Tahiti Like?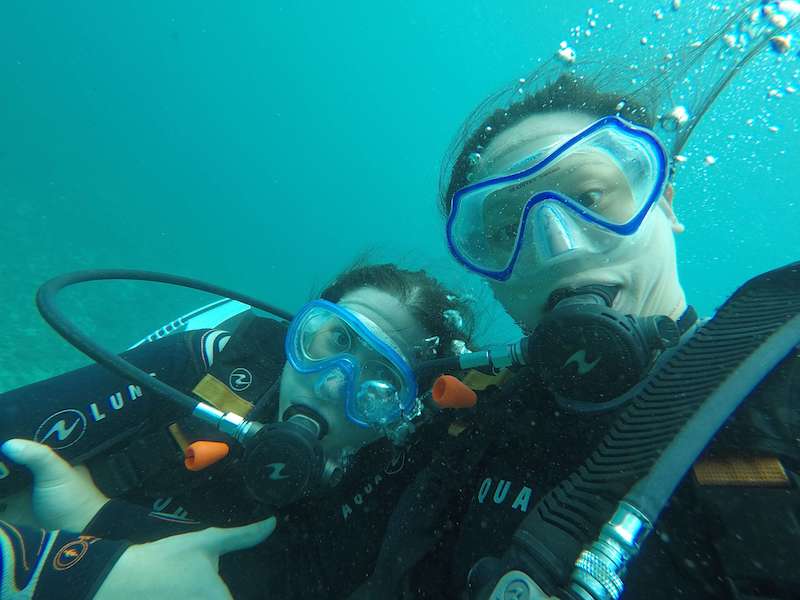 ​The waters of French Polynesia are very warm year-round, with generally quite excellent visibility in most of the island chain (with the Marquesas being an exception).
​Generally, it's a pretty low-key destination. Except for Bora Bora, most of these islands aren't hugely touristic, so you'll find a small number of dive operators on each island, but far from an overwhelming amount.
Expect warm waters, usually from 25-28° Celsius (77°-82° Fahrenheit). Generally, the water is warmer in the dry season and cooler in the rainy season.
That said, it's pretty much never actually cold water. We used 3mm wetsuits in November, and even though we both run cold and typically wear 5mm wetsuits even in warm water, we never felt cold on our dives.
(Psst… not sure what to pack for your Tahiti dive trip? Check out my dive trip packing list here)
​Tahiti is also great for diving as most of the dives are on the west coast of the island and just a short boat ride from whatever dive site you're using.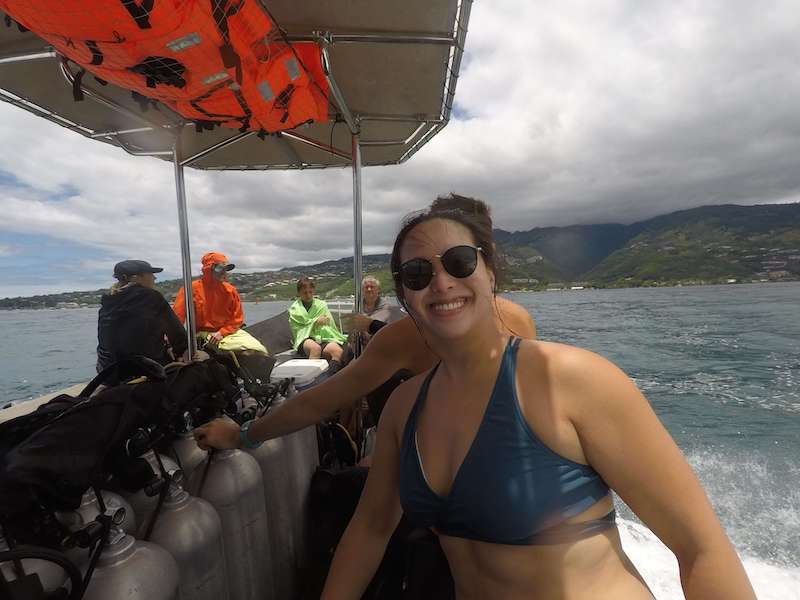 Typically, boat rides are no longer than 15 minutes from the dive center to the dive site: perfect for people like me who tend to get motion sickness on longer rides.
Diving in Tahiti can be as difficult or as easy as you like.
The density of dive sites means there's a ton of different levels to choose from, from easier dives with virtually no current to drift dives to deep dives to planned decompression dives, like the famed Rose Garden dive site in Moorea.
No matter where you dive, expect colorful fish and possible large life sightings, ranging from marine mammals like dolphins and even humpback whales during their migration period (roughly July to October), as well as shark life like black-tip reef sharks, white tip sharks, and even grey sharks.
Note: We did all our dives in Tahiti Nui, the larger part of the island of Tahiti. There are some dive operators in Tahiti Iti which will bring you to totally different dive sites; however, they were out of season when we visited in November.
When is the Best Time to Dive in Tahiti?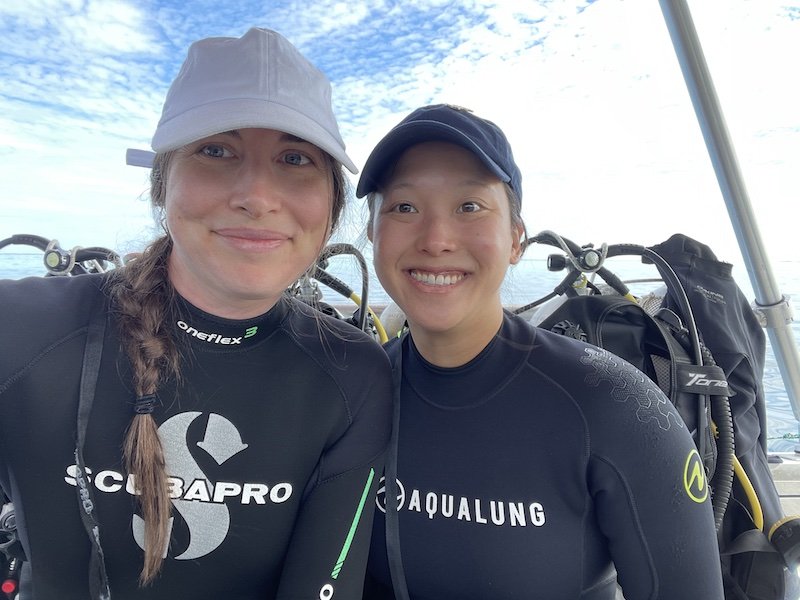 Tahiti enjoys warm weather all year round, but that doesn't necessarily mean it's always the right time to go diving!
The dry season runs from May to October, with less rainfall and infrequent storms meaning that fewer dive trips will get canceled.
That said, summer's peak season of July and August can be really busy (and expensive), so that may not be the ideal time.
It gets busy, and Tahiti accommodations (already limited in inventory — and Moorea's selection is even more limited!) soar in price.
Shoulder season is where it's at! May and June, as well as September and October, are prime times for diving in Tahiti: great weather, limited crowds, better prices.
If I had to pick between the May/June and September/October, I'd suggest the latter. That way, you have a chance to snorkel with humpback whales too (since their migration season only begins in July)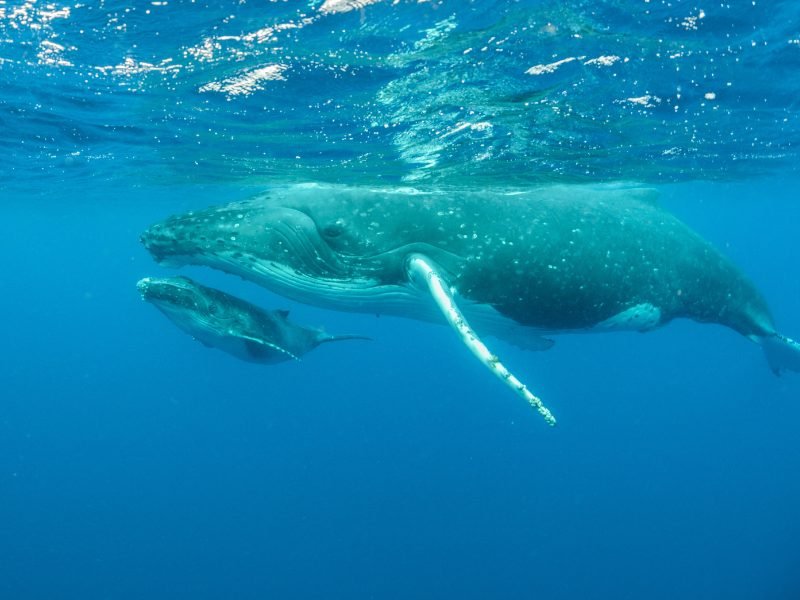 We went to French Polynesia in November (spending 5 days in Tahiti and 5 days in Moorea) and while we had a great time, I'd choose to visit Tahiti a little earlier in the year next time since we missed out on the humpback whales.
Plus, the mosquitos in rainy season are particularly vicious, especially in densely-forested Moorea!
In general, it's best to avoid December through April, which is wet season; in particular, December and January are known for their heavy rainfall.
What Can You See Diving in Tahiti?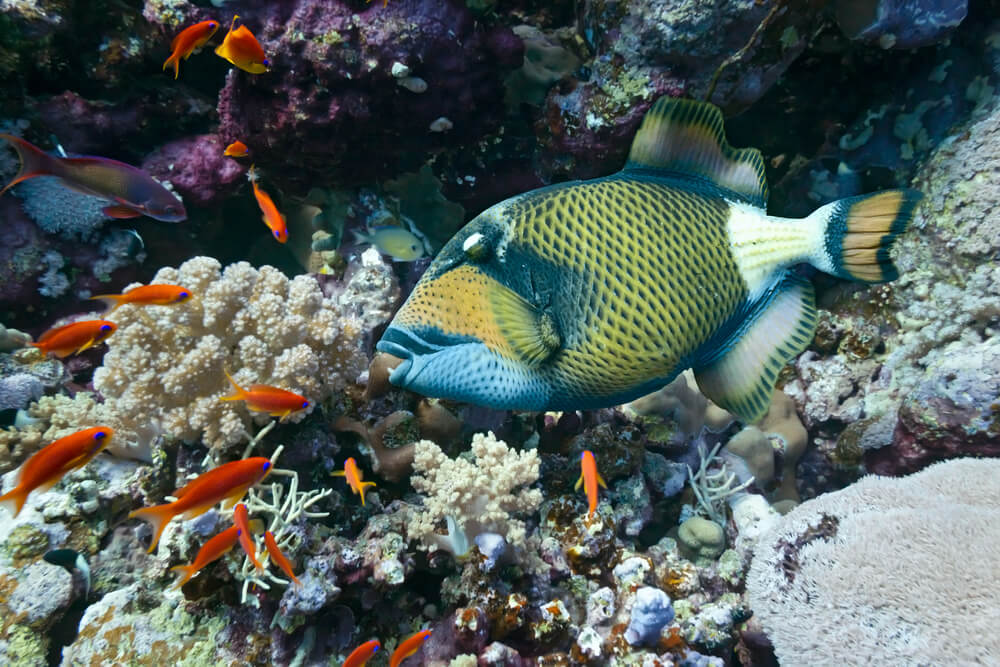 There are two ways to answer this question: what can you see diving on Tahiti (the island itself) or in the islands of Tahiti (aka, the entire group of islands in French Polynesia).
While Tahiti is the largest island of all of the islands of French Polynesia, it is actually not the best place for diving in French Polynesia.
It is, however, the main island and thus most convenient, which is why I chose it for my recent 10-day French Polynesia trip that included only Tahiti and Moorea.
The latter is a far more diverse answer, which includes numerous archipelagos, including the Tuamotu Islands, Gambier Islands, Austral Islands, and Marquesas Islands, alongside the Society Islands of which Tahiti, Moorea, Bora Bora, etc. is a part.
For the best diving in French Polynesia, you'll want to go a bit further than Tahiti and Moorea.
While we didn't get a change to do that based on the limited time of our trip, the Tuamotu Archipelago (particularly Rangiroa and Fakarava, two stunning Tuamotu atolls) are some of the best places for diving in French Polynesia.
In Rangiroa, the largest atoll in French Polynesia (and second-largest in the world), you'll have the chance for some of the South Pacific's best scuba diving.
There's a high possibility of seeing curious bottlenose dolphins, as well as several species of shark, including grey reef sharks, blacktip sharks, and possibly even hammerhead sharks.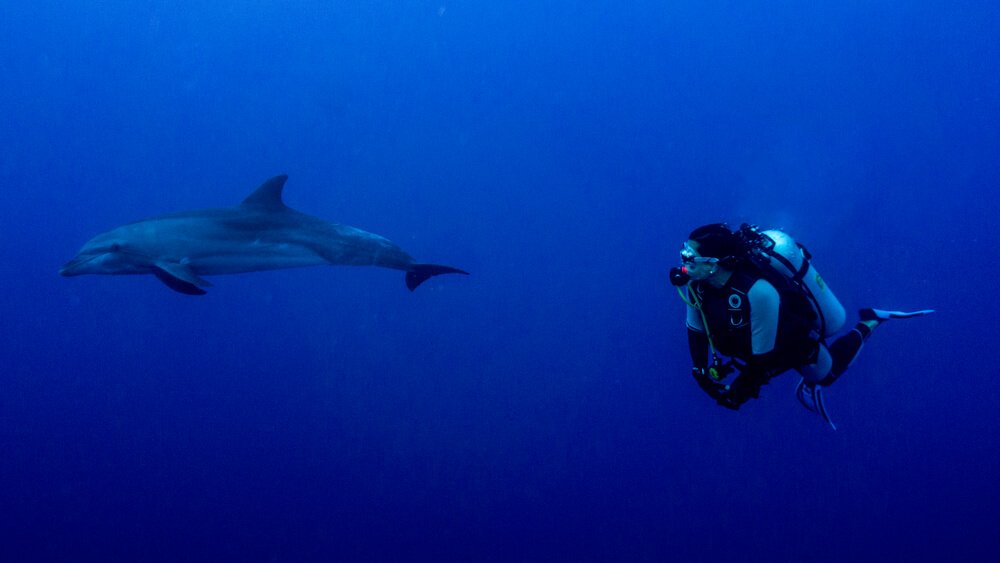 The Tiputa Pass is one of the most popular dive sites amongst more advanced divers.
A narrow channel connects Rangiroa's peaceful lagoon with the open ocean, creating strong currents along the pass perfect for drift diving.
In Fakarava, the Tumakohua Pass is known for being home to the "Wall of Sharks" where you can see an uncountable number of black tips seemingly floating in mid-air in the current.
The Marquesas Islands (Nuku Hiva, Hiva Oa) have very little to basically no coral life.
In exchange, it's extremely rich with large life, particularly oceanic manta rays and hammerhead sharks, with an out-of-this-world landscape in its underwater world.
However, let's not knock Tahiti!
It's perfect for novice divers and even first-time divers, with several incredible dive sites that would make an excellent introductory dive (or refresher dive if you've been out of the water for a while).
There are so many different species of fish, perfect for those who love fish identification (aka: nerds like me), and you'll get to see some large life, like both the green turtle and the hawksbill turtle, white tips and black tips, etc.
Rangiroa, Fakarava, Tikehau, the Marquesas etc. all have fantastic diving, but they're more suitable for more advanced divers.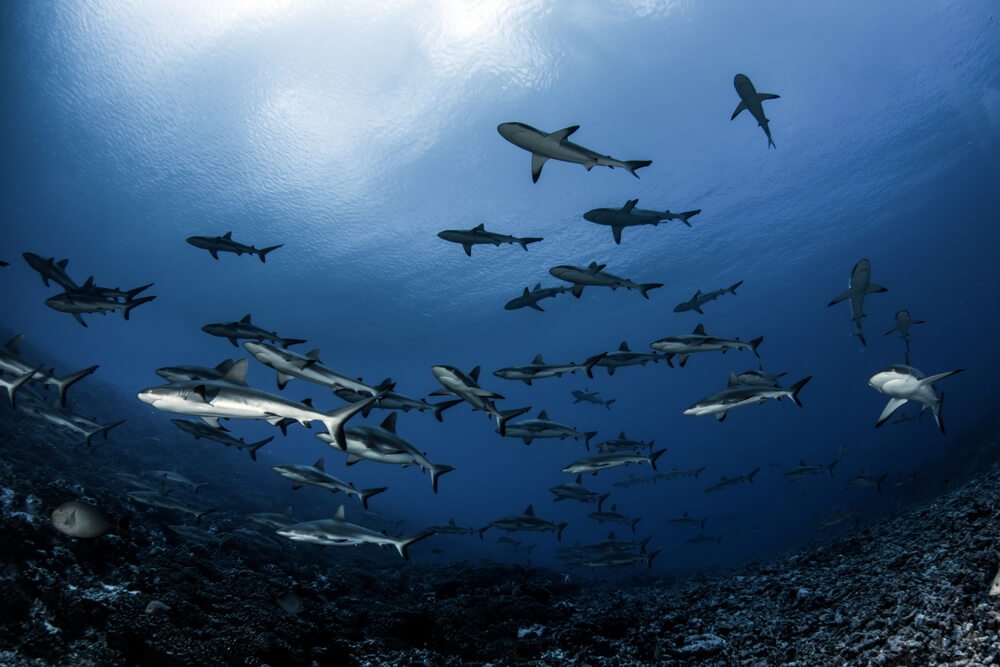 ​If you want to do a really big dive trip of several Polynesian islands, it's best to spend at least a few weeks in French Polynesia.
You can buy a flight pass, like the Tuamotu Pass, with an Air Tahiti Pass so you can visit different archipelagos.
Which islands you visit will depend on your budget (those inter-island flights add up), time constraints, and your experience level with diving.
If you have limitations on any of the above three factors — low budget, limited time for your vacation, or not a super high level of experience — then I recommend you stick to Tahiti and Moorea!
4 Incredible Dive Sites in Tahiti We Did
La Vallée Blanche (The White Valley)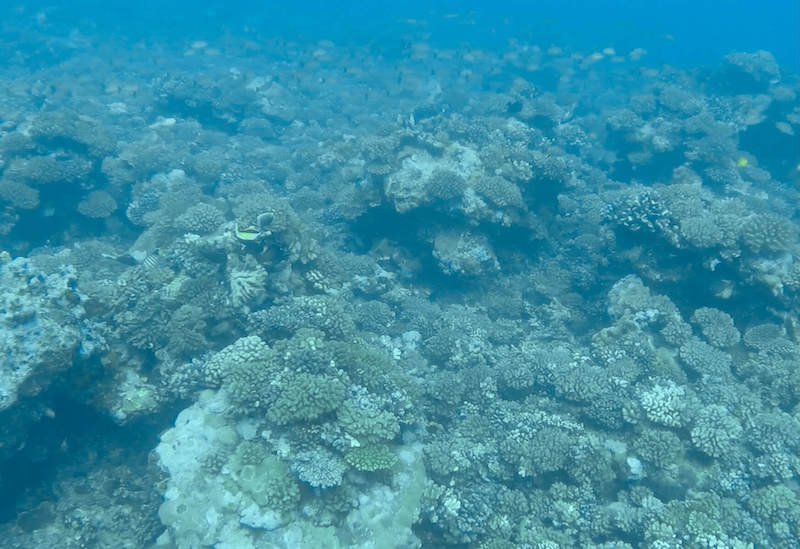 Dive Specs: Max depth 21 meters, dive time 51 minutes, water temperature 26° C / 79° F
Dive Sightings: 6 reef sharks, including a group of 4 blacktip reef sharks and 2 whitetip reef sharks, full-grown adult barracuda, king triggerfish, school of milkfish, unicornfish, green sea turtle
La Vallée Blanche, also known as White Valley, is a popular dive site located not far from the airport in Faa'a, in the channel between the islands of Tahiti and Moorea.
Who would have thought that just underneath the landing planes would be one of Tahiti's best dive sites?
La Vallée Blanche was our first dive, and it's commonly chosen as a first dive for a reason (it was ours!).
It is a great spot for both beginner and experienced divers, offering an exciting underwater experience with a diverse range of marine life.
Named for the valley with white sand in the middle, this dive site used to be where fisherman threw their bycatch, fish heads, and other viscera, which once attracted a wide variety of sharks.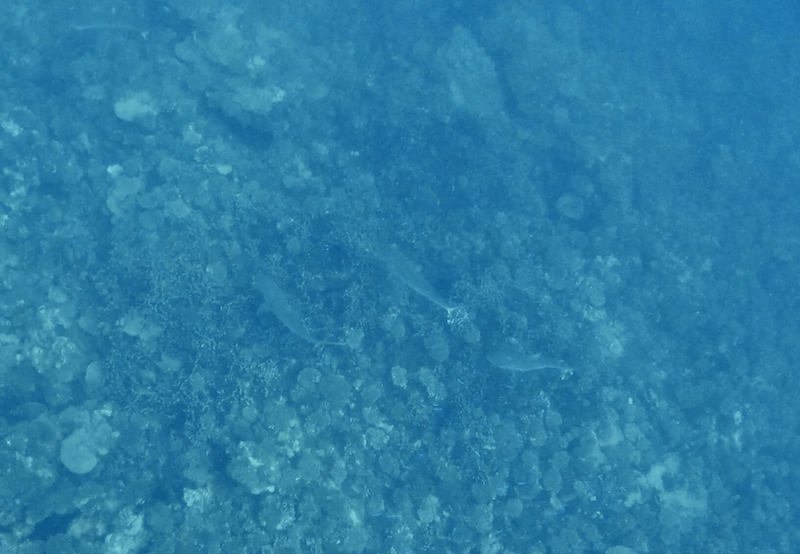 While feeding sharks is no longer allowed anywhere in French Polynesia, the sharks here are creatures of habit and have decided they quite like this little patch of water.
We saw a group of 4 blacktip reef sharks in this area, which is cool as it was the largest group of sharks I saw traveling together while diving in Tahiti and Moorea, as well as 2 other reef sharks further away.
This site is known for its diversity of shark life, with five possible types of sharks that can be seen in this dive site: your standard blacktip and white tip reef sharks, as well as gray, lemon, and tiger sharks.
That said, the more elusive species (namely gray and tiger) tend to stay rather deep.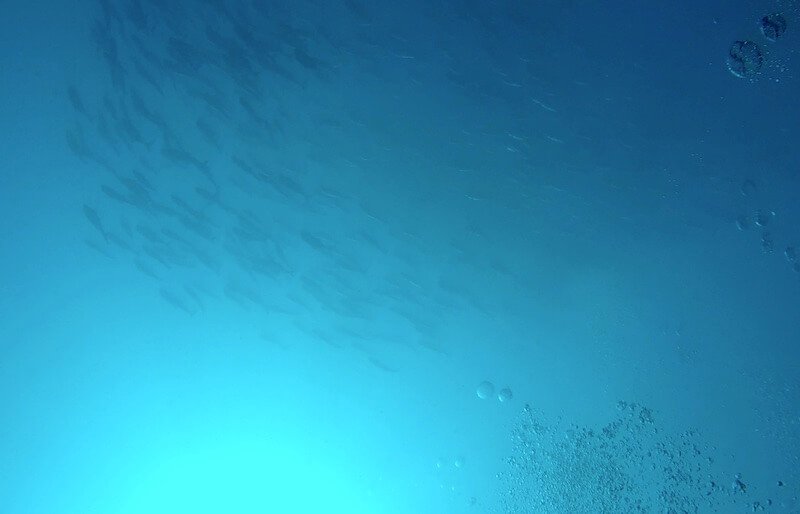 The dive starts at a depth of 15 meters and has a maximum depth of 40 meters, so it's good for a variety of scuba divers. We maxed out at 21 meters of depth.
Although this is often said to be a drift dive, that depends on the current strength. When we did it, we didn't experience that much of a current, or at least I didn't notice one!
Besides the sharks we spotted, we also saw a massive adult barracuda (1.5 meters long!), a unicornfish, king triggerfish, and a huge school of milkfish.
La Source (The Spring)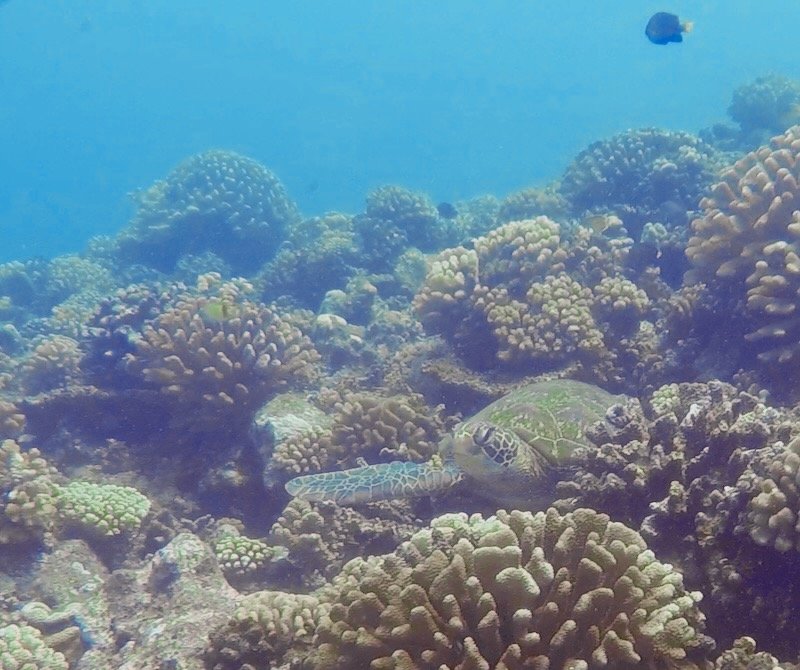 Dive Specs: Max depth, 21 meters, dive time 56 minutes, water temperature 25° C / 77° F
Dive Sightings: Hawksbill turtles, green sea turtles, giant moray eel, several big schools of fish, anemone and three-banded anemonefish (clownfish) protecting its eggs
With most of the dive site in shallow waters, perfect for the second in a two-tank dive, La Source is a real stunner.
Its named for its fresh water source that continually releases a stream of cold fresh water underwater!
The rush of this fresh water mixing with the salt water creates a funny blurry effect — it almost looks as if you have water in your mask, but that's just the two waters mixing!
The vibrancy and healthiness of the coral reefs at La Source is another highlight.
They're home to lots of anemones, where territorial clownfish like to hide and dart around.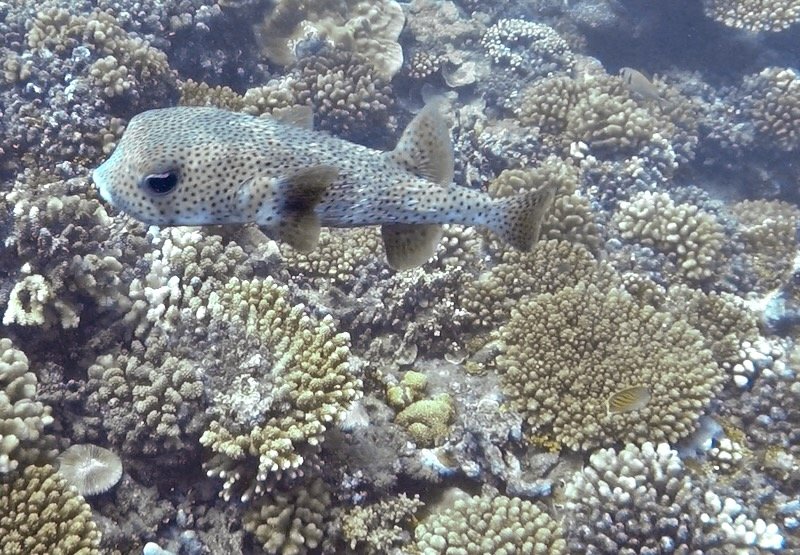 One really cool thing that our divemaster pointed out was a sac of clownfish eggs hidden under the lip of the anemone! I had never seen anything like that before.
Besides clownfish, there's a ton of other reef fish – Picasso triggerfish, parrotfish, Moorish idols, serrgeant majors, butterflyfish, and other small fish – as well as a rich variety of coral, and a huge moray eel making its home in a coral niche.
If you're lucky, you might spot some reef sharks, moray eels, or turtles during your dive. We saw a ton of turtles on this dive, most of them hawksbill turtles.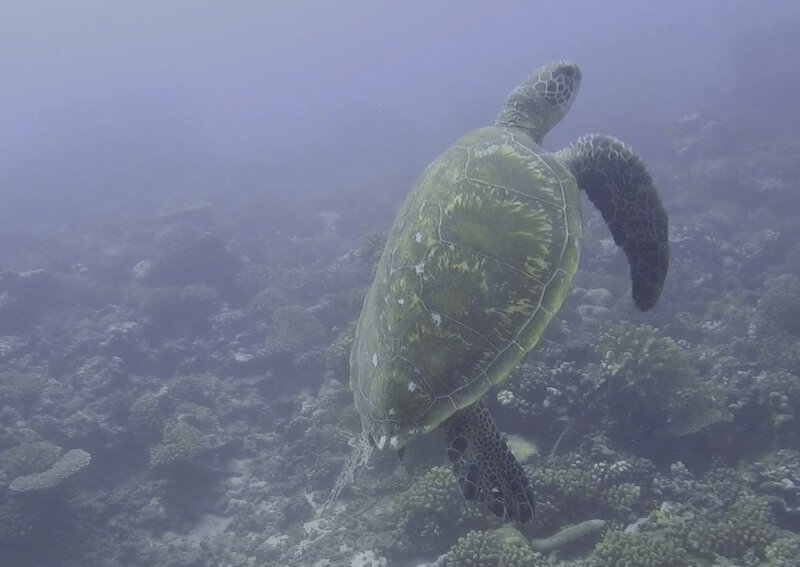 Even luckier divers will get to see eagle rays!
However, the eagle rays tend to congregate in one specific area of this dive site, and when we tried to go over there, we experienced a strong current — so strong that we felt like we were being swirled around in a toilet bowl as it pushed us around!
Funky currents aside, La Source is a beautiful dive site that offers a diverse range of marine life, coral reef formations, and the unique experience of seeing fresh water mixing with salt water before your very eyes.
Le Dent (The Tooth)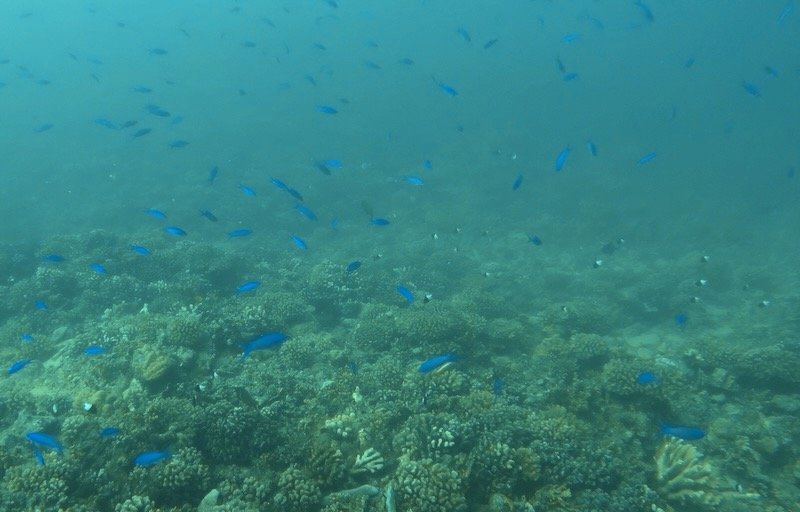 Dive specs: Max depth 22m, dive time 54 minutes, water temperature 26° C / 79° F
Dive sightings: Tahitian butterflyfish, reticulated butterflyfish, forceps fish, trumpetfish, longfin bannerfish, dusky angelfish (coral beauty), half-and-half chromis, orange-lined triggerfish, titan triggerfish
There's very little (read: no) information about this Tahiti dive site, but our third dive was at a site called "Le Dent" (French for "the tooth").
​Our dive center brought us here, but other dive centers may or may not have this as one of the dive sites they cover.
It's named so for the distinctive rock formation, a huge underwater pinnacle that is covered in coral that is shaped like…. you guessed it… a tooth!
When I tried to search for it to refresh my memory (as I'm writing this blog post a whopping 6 months late… yikes)… there's nothing out there — so I'll just be going over it from my dive notes and dive footage.
Anyway, here goes: we descended over a flat-bottomed large sandy basin before reaching a whopping field of coral, where lots of fish were swimming around the coral formations.
Once we reached this point, it was like an aquarium on steroids with large schools of bright, colorful tropical fish darting about: electric blue damselfish, black-and-white chromis, orange-lined triggerfish, etc.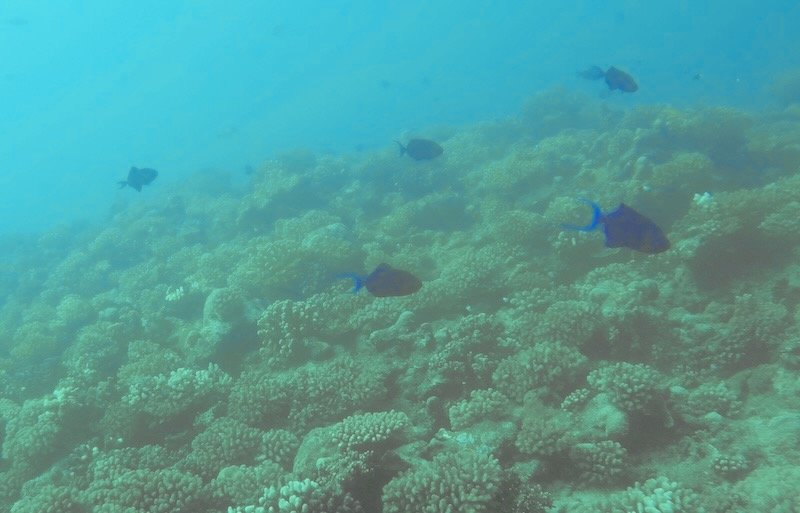 We were told we might see some sharks, octopi, or eels, but alas: no luck. We didn't even spot any turtles here!
All in all, this was an okay dive site. Our divemaster did her best to point out things to us, but besides a few schools of bright fish, there wasn't a ton of interesting things to see at this Tahiti dive site.
Of all the dives we did in Tahiti and Moorea, this was probably my least favorite of the bunch, but that's okay! Such is the nature of diving: you can't be lucky every single time.
Had we seen some more large animals, perhaps I'd have had a stronger opinion about this site, but as it was, it was just so-so.
La Faille d'Arue (The Arue Fault)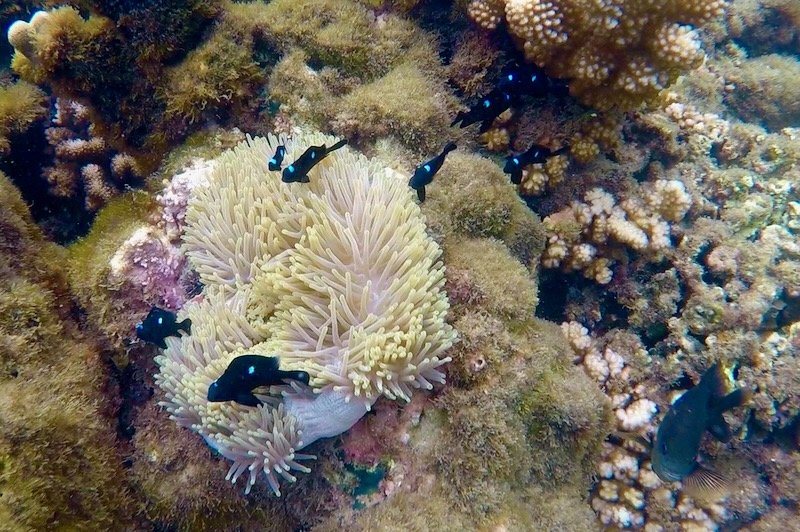 Dive specs: Max depth 20m, dive time 56 min, water temperature 26° C / 79° F
Dive sightings: Banded coral shrimp, lionfish, school of blue damselfish, raccoon butterflyfish, sergeant majors, clownfish and domino damselfish hiding in anemone, blue-spotted boxfish.
In my humble opinion, this is the island of Tahiti's best dive site — at least, its best dive site for beginner and intermediate divers.
This coral wall dive starts at a mere 5 meters, where you can see a stunning amount of life relatively close to the surface: great for those who are working on their air consumption and are hoping to reach longer dive times.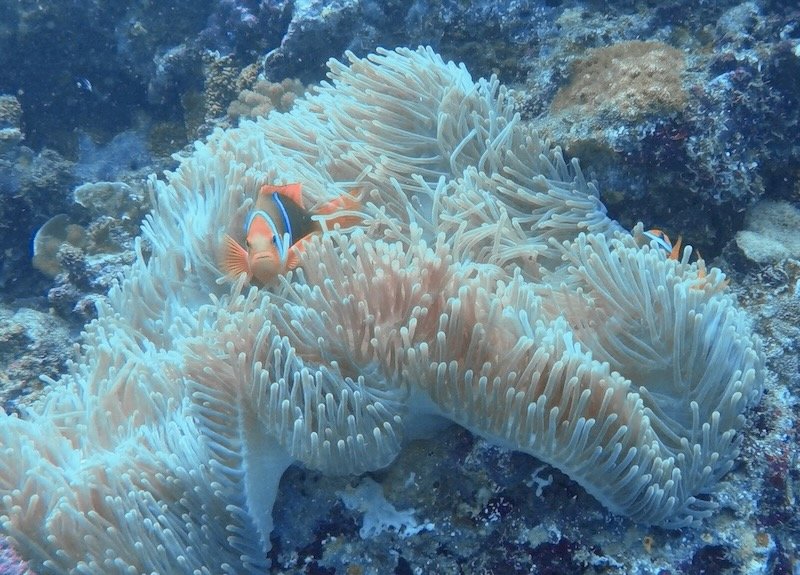 ​You can keep going at a variety of depths along the wall — we typically stayed around 13-15m — though there are some cool sights to see if you can go deeper.
There's one spot at 25m depth that has a stunning coral cave that people say looks like a church door!
We didn't get to see this part, because not all of our group was certified to that depth level, but I'm sure it's very cool to see.
Still, what we did see was pretty astounding. While this isn't a site for big life like reef sharks, turtles, etc., it's astounding for its vibrantly healthy coral formations.
That's not to mention the sheer variety of marine animals who make their home in the little protective nooks and crannies the reef wall provides.
Some of the coolest things we saw on the wall included a banded coral shrimp, a lionfish that was trying to hunt something that was tucked away in a coral nook, and huge sheets of anemone housing both clownfish and domino damselfish (in different anemones).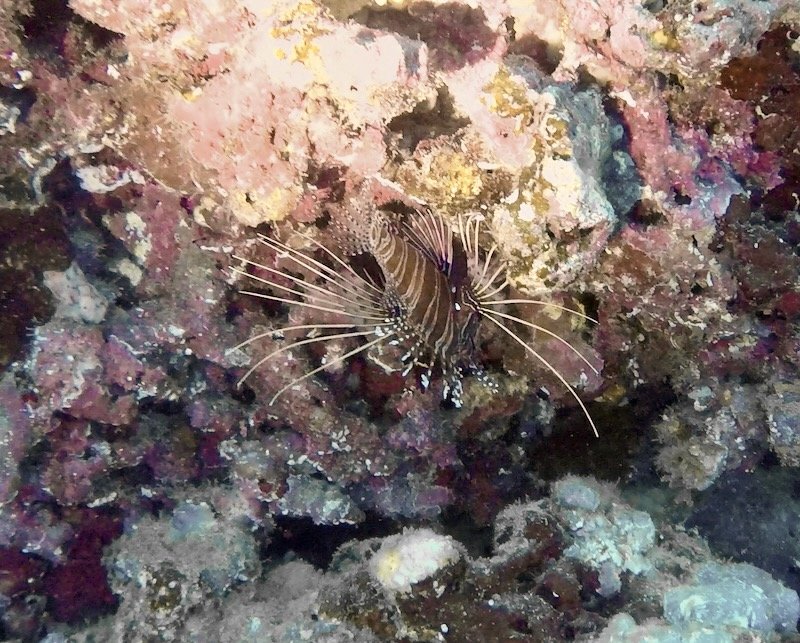 In terms of fish life, it was pretty vivid here: we saw lots of bright blue damselfish, a number of butterflyfish including the rascal-y raccoon butterflyfish, and dozens of sergeant majors.
We also saw my personal favorite reef fish of French Polynesia: the blue-spotted boxfish, the fish that got me into fish identification in the first place!
You'll also see all sorts of coral tables and coral walls, tons of parrotfish nibbling at the reef, as well as groupers and triggerfish.
​3 More Great Tahiti Dive Sites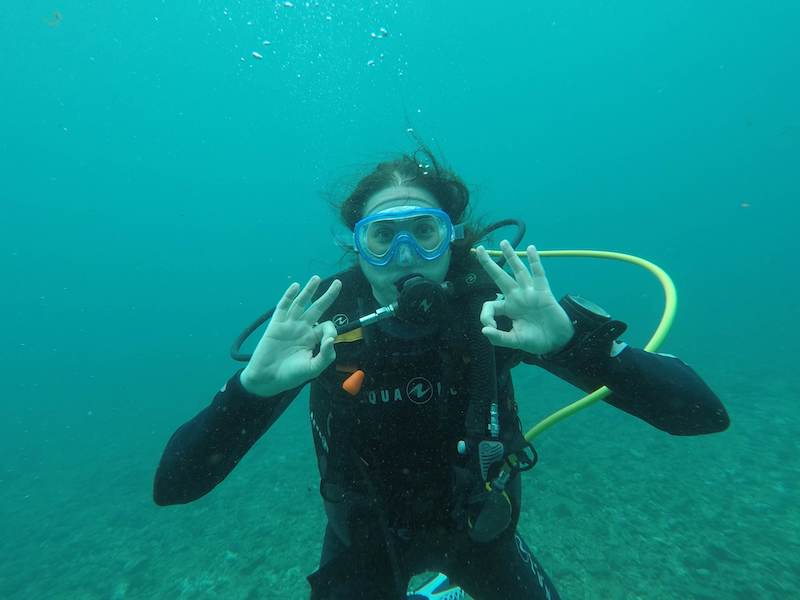 With limited time on our Tahiti itinerary (as well as limitations on the dives we could do because we had relatively few dives under our belt), we weren't able to do all the dives in Tahiti.
I'll list a few other dives that caught my attention while I was reading up about dive sites in Tahiti, ones that I have on my bucket list for next trip!
Papa Whisky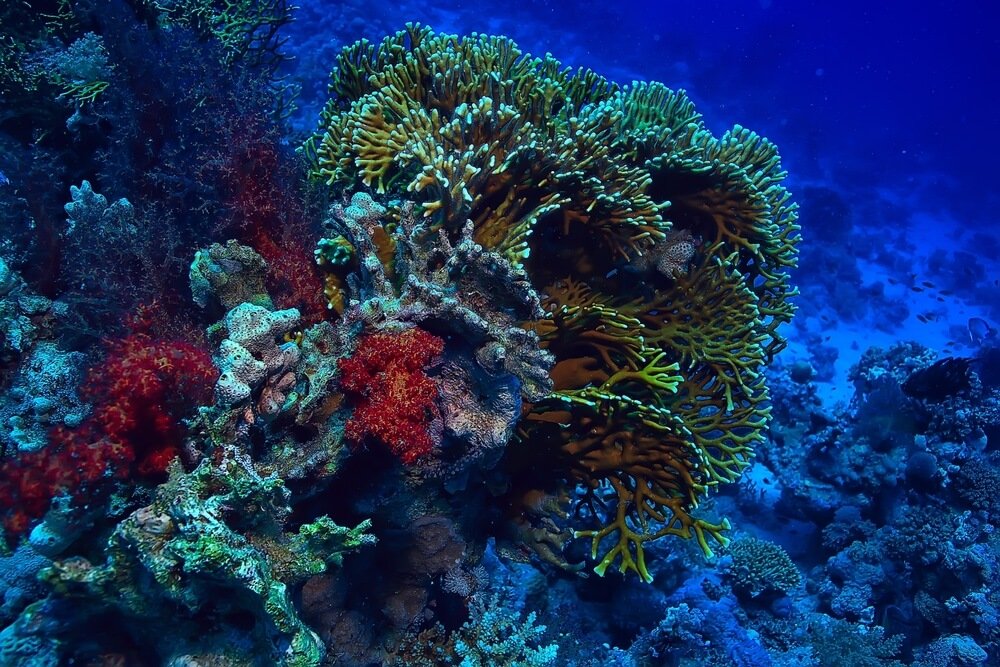 Papa Whisky is a popular advanced dive site located in Tahiti that is known for its stunning underwater landscape and diverse marine life.
It's located near an artificial islet opposite the town of Faa'a (where the airport is), but the reef is anything but artificial!
The dive at Papa Whisky is advanced partly due to its depth: you start at 15 meters and there's a max depth of 35 meters, so you'll need an advanced open water certification or a deep dive certification.
That said, it's well worth it if you're advanced enough for this dive! There's a sort of natural "amphitheater" formation, where an underwater plateau collapsed.
Inside the plateau, the current is less strong, so the advanced requirement is more because of its depth than its difficulty.
It's now covered in a kaleidoscope of coral, with stunning Gorgonian sea fans — yellow and purple — wafting around delicately in the current.
This dive site all sorts of Polynesian reef fish as well as eagle rays, a variety of shark species (like gray reef sharks), lemon sharks, and blacktip sharks.
Besides sharks, sea turtles and octopi are also known to hang out at this dive site.
The Aquarium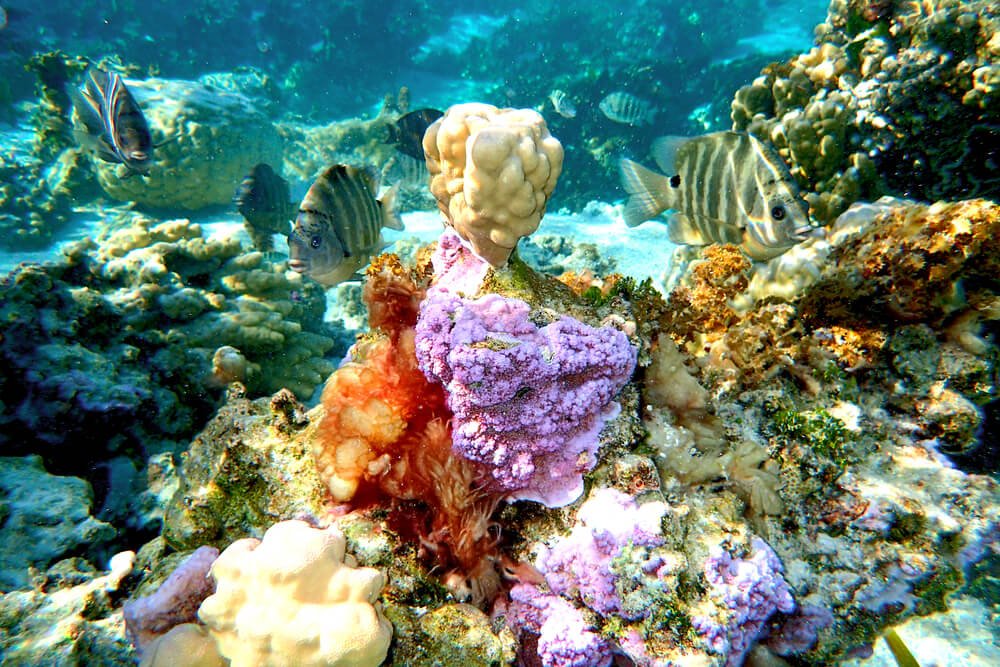 The Aquarium is a stunning Tahiti dive site suitable for everyone from beginner to more experienced divers due to the variety of ways you could choose to dive it.
Beginner divers can stay shallow, starting at a depth of 5 meters and going to a max depth of about 18 meters, perfect for those who only have their open water cert.
Even in those shallow waters, you won't be disappointed: the reef is abundant with species like territorial triggerfish, a variety of angelfish, the marvelous but deadly lionfish, the daring damselfish, and the omnipresent parrotfish.
See why it gets the name Aquarium?
Since it's so rich with reef life, this is a great place for people who want to flex their underwater photography muscles, as you'll have plenty of subjects for you to shoot!
While this dive is not known for its big life, you may be able to see a sea turtle or two at this dive site, perhaps an octopus or a blacktip reef shark if you are lucky.
If you're more advanced, you can check out the underwater canyons around the site, as well as two schooners and a plane wreck if you are interested in wreck diving.
None of these wreck dives are particularly difficult so speak with your local dive shop to see if they think it's doable for you after you've dove with them once or twice.
With its crystal clear waters, vibrantly colored and patterned coral, innumerable reef fish species, and possibility for wreck diving, The Aquarium is unlikely to disappoint.
The Catalina and the Cargo Ship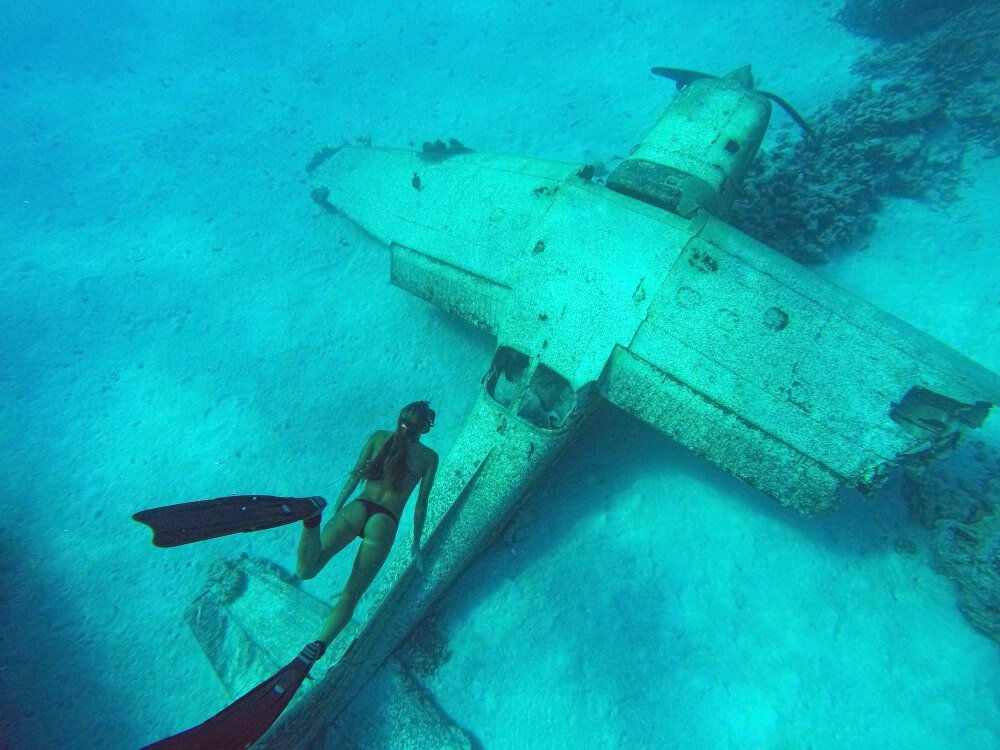 The Catalina and cargo ship dive site is a popular diving location in Tahiti that is known for its unique and exciting underwater landscape.
It's named for the two sunken vessels (a seaplane and a cargo ship) that you can explore on this exciting wreck dive.
The dive starts at a depth of 10 meters and can reach a maximum depth of around 30 meters — and since you need to be comfortable with wreck diving, it's pretty much only a spot for advanced divers.
If you prefer shallower dives, you can check out the Catalina, a World War II-era seaplane, which lies at the shallower end of the dive site.
Meanwhile, the cargo ship is located at the deeper end, so it's better for more advanced divers who are excellent with their air consumption.
Exploring the Catalina and cargo ship is a truly unforgettable experience that offers a glimpse into the past.
The Catalina is mostly intact, and divers can swim through the fuselage and cockpit, admiring the vintage controls and gauges.
The cargo ship, on the other hand, is largely in ruins, with parts of the hull and cargo hold all in tatters, scattered across the sea floor, where the marine world has started to take it over.
Of course, it's not just the wrecks that interest here: the Catalina and the cargo ship have both been reclaimed by the sea, so you'll find coral growing around the sunken vessels, inviting a variety tropical fish as well as reef sharks and turtles.
Allison Green is a former educator turned travel blogger. She holds a Masters in Teaching and a B.A. in English and Creative Writing. Her blog posts merge her educational background and her experience traveling to 60+ countries to encourage thoughtful travel experiences that both educate and entertain. She has been a speaker at the World Travel Writers Conference and her writing, photography, and podcasting work has appeared in National Geographic, CNN Arabic, CBC Canada, and Forbes, amongst others. Now based in the San Francisco Bay Area where she grew up, she has also lived in Prague, Sofia, and New York City.