I recently returned from diving in Taveuni, the stretch of the Somosomo Strait that is the epicenter of diving in Fiji.
In general, Fiji has been bestowed the title of "the soft coral capital of the world" by none other than Jacques Cousteau — a high honor from diving's most respected man.
But perhaps nowhere is this title more true than when diving off of Taveuni Island, in the legendary Rainbow Reef between the islands of Taveuni and Vanua Levu.
Taveuni is the heart of the dive industry in Fiji and one of the best dive destinations in the country — if not the entire South Pacific (sorry, Tahiti and Moorea, you don't quite come close to Taveuni!)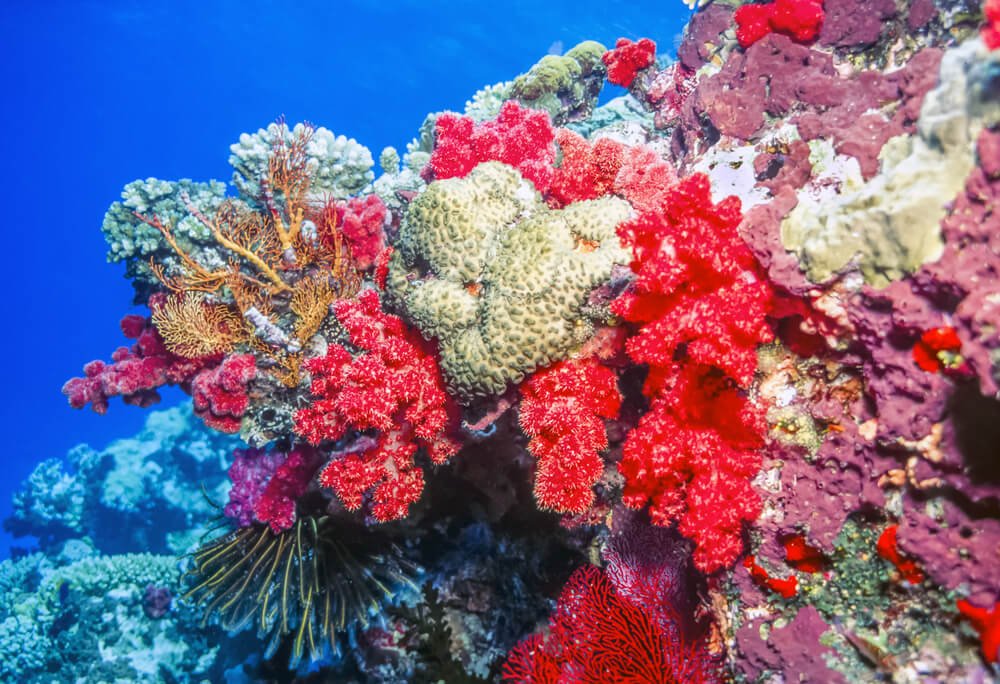 Note: This post contains affiliate links, which means I may receive a small commission if you purchase something through one of these links. Thank you for supporting the free content on this site! For more information on affiliate links and cookies, see my disclosure page for more details.
I did 10 dives while visiting Taveuni, all with one of the best dive shops I've ever patronized — Taveuni Ocean Sports (as always when diving, I pay my own way and don't reveal that I'm a blogger, so I can be sure I report without bias.)
A few days into our dives, another group of divers had already extended their stay by a week, and I was left itching to do the same!
Had I not planned some diving in the Bligh Waters area of Viti Levu the following week (and having already down the shark dive in Pacific Harbour), I surely would have stayed longer and longer… but now I just have to return!
What You'll See When Diving Taveuni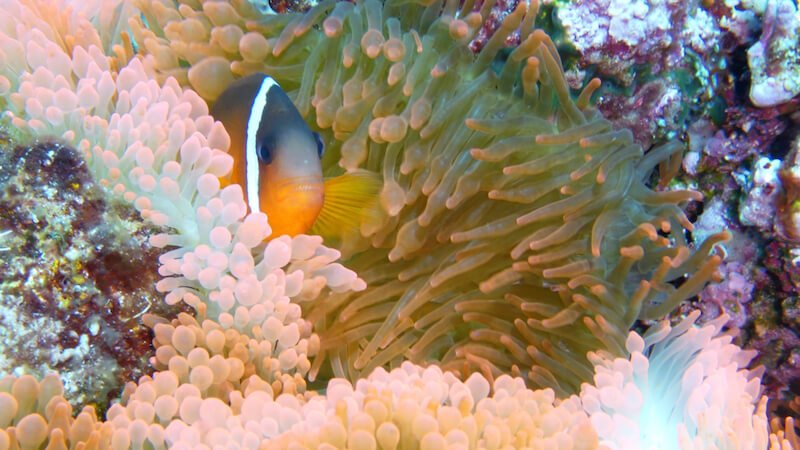 The Fiji Islands, and Taveuni in particular, are famous for its stunning tapestry of hard corals and soft corals.
In Taveuni, these blend together to create a beautiful landscape well-deserving of its nickname, the famous Rainbow Reef.
Taveuni is not necessarily known for its larger life, as it's a reef located in a strait, so there's not a huge presence of large pelagics.
That said, we did see a few pelagics: several blacktip reef sharks and whitetip reef sharks and a green sea turtle.
Other larger life you might see include spotted eagle rays, a few species of sea turtles, manta rays, dogtooth tuna, giant trevallies, grey reef sharks, tawny nurse sharks, and perhaps even leopard sharks (the 5 named sharks were all found to be in Taveuni during the Great Fiji Shark Count).
You may even hear the hum of humpback whales singing in the distance, though it's unlikely you'll spot one.
But what Taveuni is really known for its is vibrant marine life and wide variety of fish… recorded to be over 2,300 species of fish to be exact.
Plus, there's countless cool other small life your divemasters will help you find, like pygmy seahorses, colorful nudibranchs, garden and ribbon eels, decorator crabs, and more!
You'll see countless purple and orange anthias, Maori wrasse, anemone fish (several species of which call these waters home, including the endemic Fiji anemonefish), butterflyfish (a whopping 27 species of butterflyfish according to the Great Fiji Butterflyfish Count — and all can be found in Taveuni), and more.
Diving Conditions in Taveuni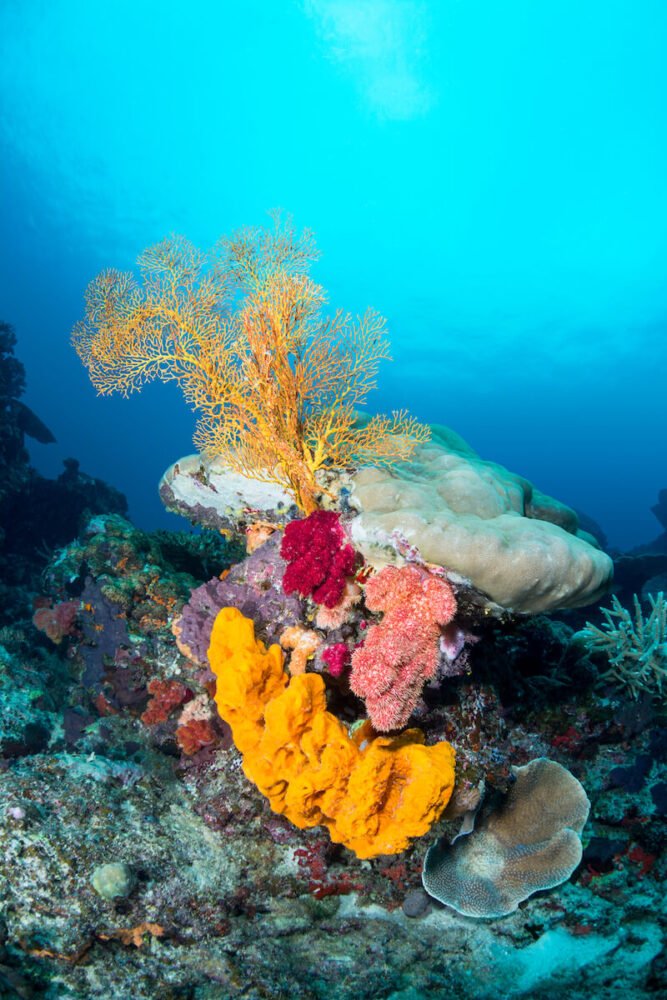 Diving in Taveuni is best-suited for intermediate to advanced divers, as you'll need to be comfortable navigating quickly-changing currents.
Dives in Taveuni aren't exactly shallow drift dives á la diving in Cozumel — the strong tidal currents change frequently, and going with knowledgeable dive operators is a must.
They'll be aware of the best place to drop you into the current, so you won't be fighting your way through the dive.
But these currents are exactly what gives Taveuni the ideal conditions for diving, and what makes it such a great place to dive.
The large volume of nutrient rich waters that is always flowing through the relatively shallow Somosomo Strait ensures a constant flow of nutrients.
Strong currents means happy soft corals (which only bloom with the current, not in calm waters), pristine coral reefs, and tons of fish life.
In terms of water temperatures, it does vary greatly throughout the year! I dove in August, when the average temperatures are the coldest of the entire year.
Now, cold in Fiji is not that cold compared to anywhere else, but I was a little chilly sometimes, even in my 5mm wetsuit (though for the record, I'm a baby and almost always dive in a 5mm wetsuit!).
My dive computer measured my dives from 25 to 26° Celsius, or 77 to 79° Fahrenheit.
Combined with the occasionally strong currents, this can make for surprisingly chilly diving, but the visibility was phenomenal!
If you want warmer temperatures, visit during Fiji's summer season (November through April) — also its rainy season — where water temperatures average 28 to 30°C, or 82 to 86° F.
However, the visibility may not be as good, and this is also cyclone season… so plan a trip during this time with care and flexibility!
What is Diving in Taveuni Like?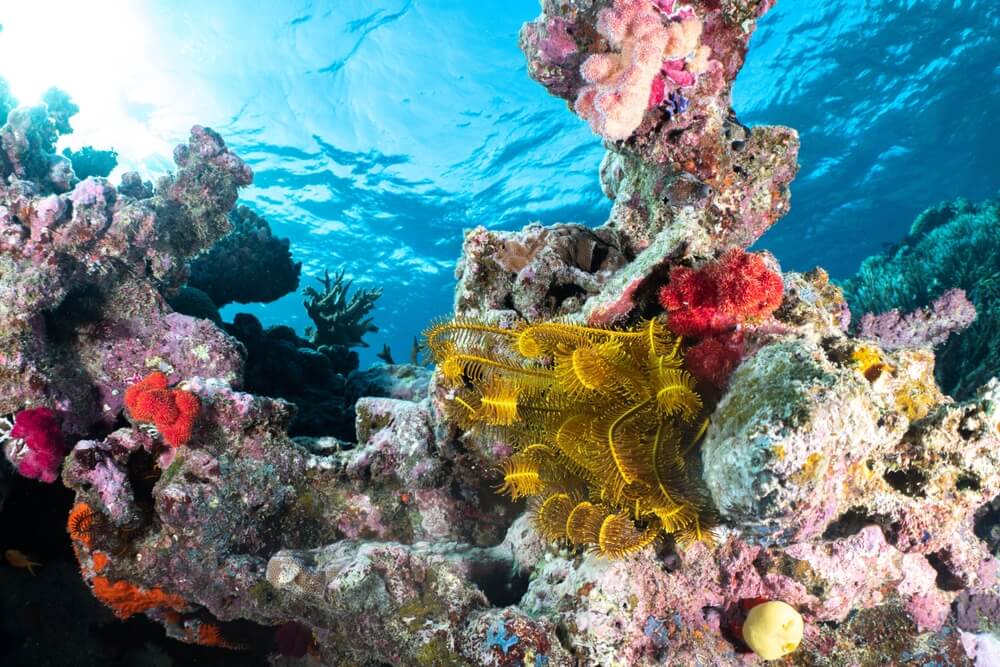 I'd describe scuba diving in Taveuni in two words: low and slow.
The currents are quite strong higher up on the reef, so it's better to dive down lower whenever possible (without exceeding your NDLs, of course).
This means you should feel fairly comfortable about your air consumption, as dives will necessarily be a little deep.
I'd strongly recommend having your advanced open water certification before diving in Taveuni. Just having your open water certification limits you to diving to 18 meters or 60 feet, and most of my dives were beyond this dive profile (20-30 meters max depth).
That said, when I dove with Taveuni Ocean Sports, they divided the boat into small groups of 4 scuba divers per dive master, grouped by levels of experience and air consumption (which they tracked after each dive) to ensure that dive groups were well-paired.
I dove with three different divemasters — Frank, Alfred, and Semi — all of whom were fantastic, and I loved all of the dive staff, including the other DMs I didn't personally dive with.
And of course, I have to give a shout-out to the passionate owner, Julie, whose knowledge of the reefs of Taveuni are unparalleled due to her marine biology background and 20 years of knowledge of Taveuni diving!
I really liked this small group method, as this way, expert divers generally won't have to deal with less-experienced divers shortening their dives.
It's a short boat ride to the dive sites — typically about a 30-minute boat ride out, typically with calm enough conditions.
Because of the transit time and tides, Taveuni Ocean Sports only offers a two-tank morning dive — no afternoon dives — so keep that in mind when planning your trip.
Typically, dives in Taveuni will start with a deeper dive: wall dives when possible, like the Great White Wall or Purple Wall, followed by a shallower dive.
Listen to each dive briefing carefully, as they'll let you know about what to expect with currents and what type of marine life you can expect to see.
My Taveuni Dive Log
Great White Wall (Dive One)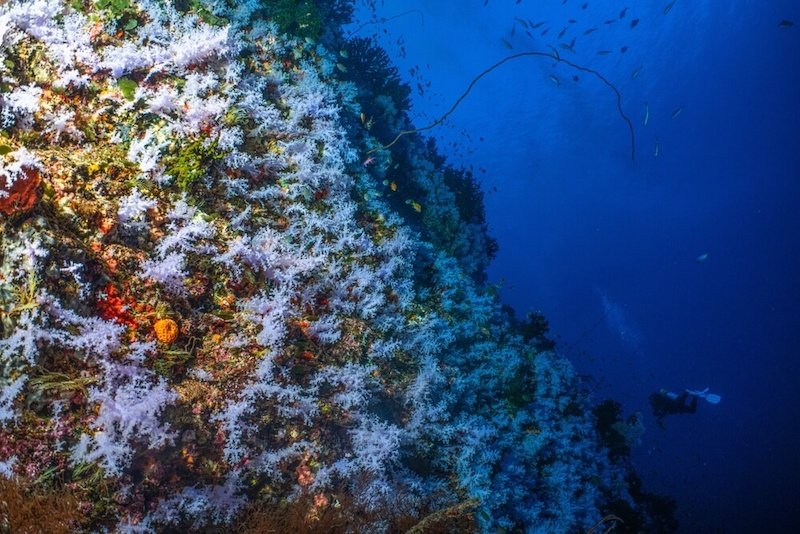 Max Depth: 29 meters
Dive Time: 52 minutes
Dive Sightings: Peacock nudibranch, octopus, decorated dartfish, longnose hawkfish, leaf scorpionfish, anemonefish
This is known as one of the greatest dive sites in the world and after doing it not once but twice, I can absolutely concur. The Great White Wall is, in a word, transcendent.
I almost don't want to describe the dive site because I feel like it's best to just drop into it and experience it… but I'll go for it anyway, because after all, this is a blog post about diving in Taveuni and what would it be without its most famous dive site?
The Great White Wall starts with you descending over a sandy patch before making your way to a swim through. This swim-through has two exits: a shallower one (about 60 feet) and a deeper one (about 80 feet).
We took the deeper route and emerged into the part of the dive that is the actual Great White Wall: a vertiginously sheer coral wall covered in soft white corals, which iridesce in an unbelievable hue of pale whitish lavender at the right depth and light.
The coral covers the wall as far down as you can look, which is why the dive masters all call it "the only place it snows in Fiji" — and in a way, you'll feel like an astronaut floating perpendicular to a ground covered in soft white snow.
The Great White Wall starts about 20 meters down and you can easily find yourself lost in the beauty of it. Watch your dive computer very carefully as you can easily spend too much time at depth and exceed your NDL.
The Great White Wall isn't extremely long, so take it slowly — float up and down a bit to admire some of the nooks and crannies in the wall, where you'll see rare fish hard to find elsewhere along the rainbow reef, like the decorated dartfish and longnose hawkfish.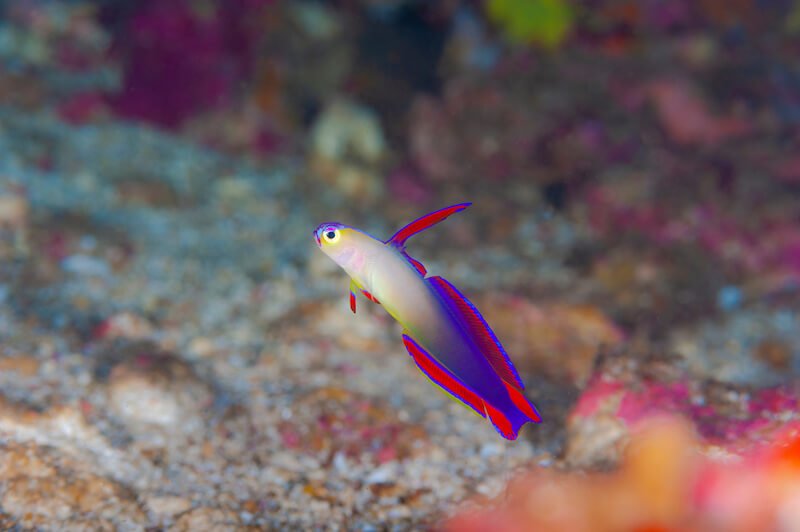 This is definitely a place where a dive torch comes in handy, so you can properly light up the nooks and see what's hiding along the wall!
But don't get too lost in looking through these nooks and crannies — the real highlight is admiring the wall up and down, using the divers as perspective to see just how deep this vertical sea wall stretches — you'll lose sight of the bottom as the wall stretches endlessly into the deep.
And just as you end the Great White Wall portion of the dive… it somehow almost gets even better, as the second half of the dive is just as stunning as the first.
I'll go into the second half of the dive in more detail in the second part of describing the Great White Wall below, so that the sections can be a little more even.
But I just want to brag that this is where I saw the stunning peacock nudibranch for the first time — and also got to see one of my favorite sea creatures, an octopus, hiding from our group of divers as we passed by!
Great White Wall (Dive Two)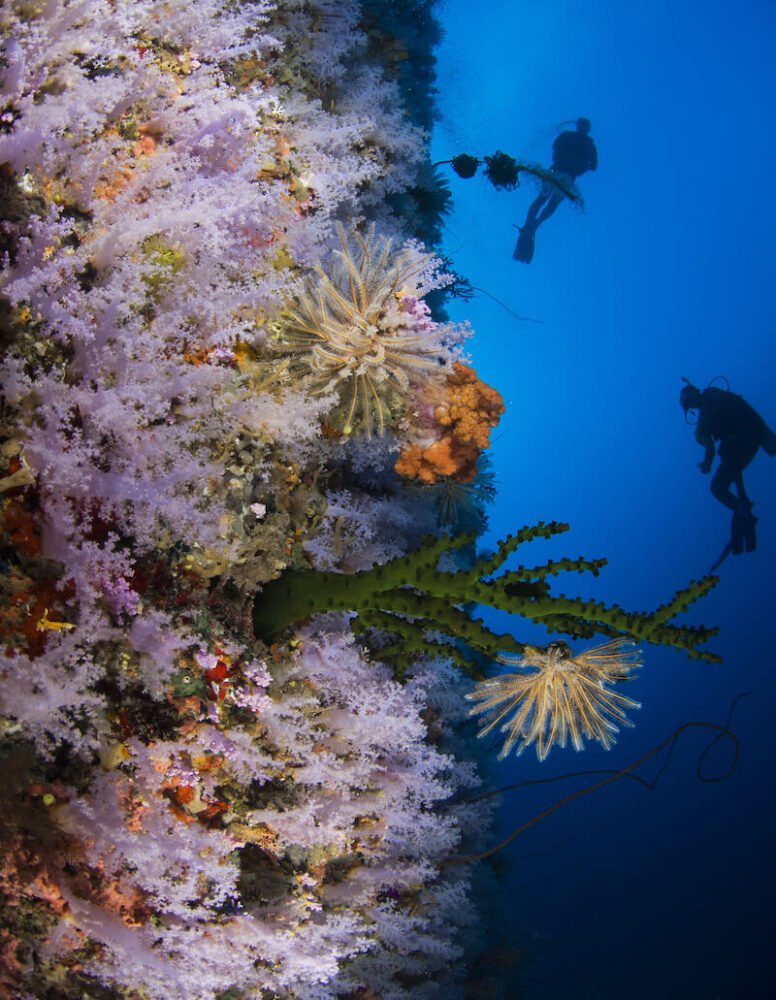 Max Depth: 30 meters
Dive Time: 59 minutes
Dive Sightings: Giant moray eel out and about hunting, coral-banded shrimp, longnose hawkfish
Picking up from where I left off, let me continue to describe the Great White Wall.
It's easy to feel slightly disappointed as your NDL buzzes or beeps at you, ushering you away from the otherwordly beauty of the Great White Wall and urging you to ascend up towards shallower waters.
You'll swim through a slight canyon between two portions of the Great White Wall, led by your guide, as you enter the second half of the dive… which somehow managed to stun me almost as much, if not more so, than the Great White Wall itself.
This part of the dive is a purple dream: coral bommies absolutely brimming with purple and magenta soft corals, inviting you to circle around (as much as the current allows, at least).
As you admire all the beauty of the bommie and take in all its details, you can't help but marvel at the stunning contrast between the kaleidoscopic coral and the brightly colored fish against it.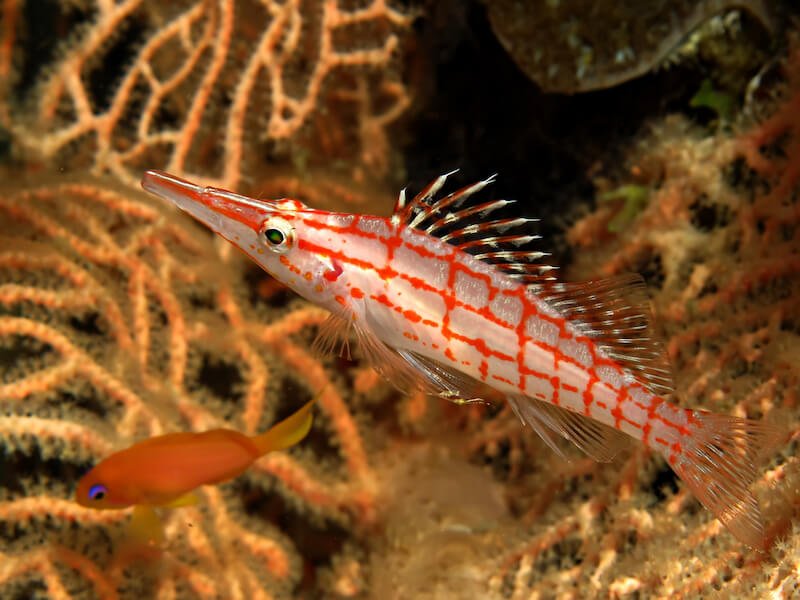 You can finish the dive multiple ways — swimming along the bommies, enjoying the coral canyon near the swim-through you started at.
This is where I saw a huge moray eel out and about, which was a real excitement factor for me — I absolutely love eels, and seeing them gliding out of their crevices and along the reef is the closest thing I think we'll ever see to dragons on the earth.
You can also go back through the swim-through at the beginning, departing this time at the 60-foot exit (as long as your air consumption and dive computer allow) and circling back around a different way than you did before, away from the wall rather than towards it.
Your divemaster will decide what your looping-back path is, depending on your group's air consumption and dive skill.
Luckily for me and my dive buddy, we were really careful with our air (knowing how easy it is to get carried away at the beauty of the White Wall) and we were able to enjoy a nice long dive, nearly an hour long.
At Taveuni Ocean Sports, this deep dive is typically done with a coordinated effort of the divemasters, who are consistently checking your air consumption so they can re-group dive groups if needed.
That way, if a diver goes through air faster than the others, they can be grouped off with another dive group who are low on air and ready to make their safety stop, while allowing the other divers to continue their dive.
I really appreciate their coordination here, as the Great White Wall is such a fantastic dive site that it's an utter shame to feel like you have to end it even a second earlier than you have to!
Annie's Bommie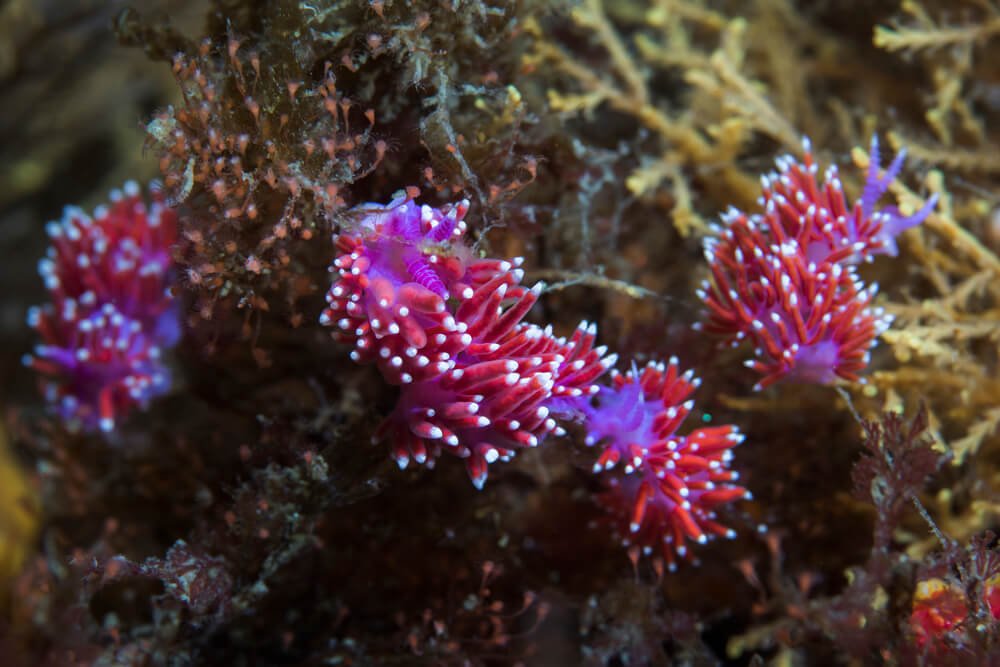 Max Depth: 20 meters
Dive Time: 57 minutes
Dive Sightings: Fire dartfish, teardrop butterflyfish, dogfaced pufferfish, purple lady nudibranch (Paraflabellina funeka)
This was one of my favorite dive sites — there's something that is so simply pleasing about really exploring just one or two huge bommies in-depth.
By circling it and getting to know each inch of it as much as is possible on a dive, starting deep and going shallower as the dive progresses, you really get to zoom in in a way that you don't on other dives!
There are two main bommies that you'll explore on this dive site before doing your safety stop on a final third bommie.
These pinnacles rise like beautiful coral Christmas trees from the sandy sea floor, covered in soft corals and hard corals alike.
This dive site largely depends on how the current is going: when it's relatively slack tide, the soft corals won't be in full bloom, so you'll focus in on the hard corals (which is no consolation prize).
With current, through, you'll find this bommie is absolutely bursting with life, and this is how we got to experience it (though definitely the current was a struggle at the end, when making our way to the final bommie for our safety stop!)
On this dive, I saw tons of dartfish near the sandy bottom, ready to (true to their name!) dart away as soon as they feel you're too close.
We also got to see some teardrop butterflyfish and one of my favorite Fiji fishes, the dogfaced pufferfish, as well as one of the most beautiful nudis I've ever seen!
Purple Wall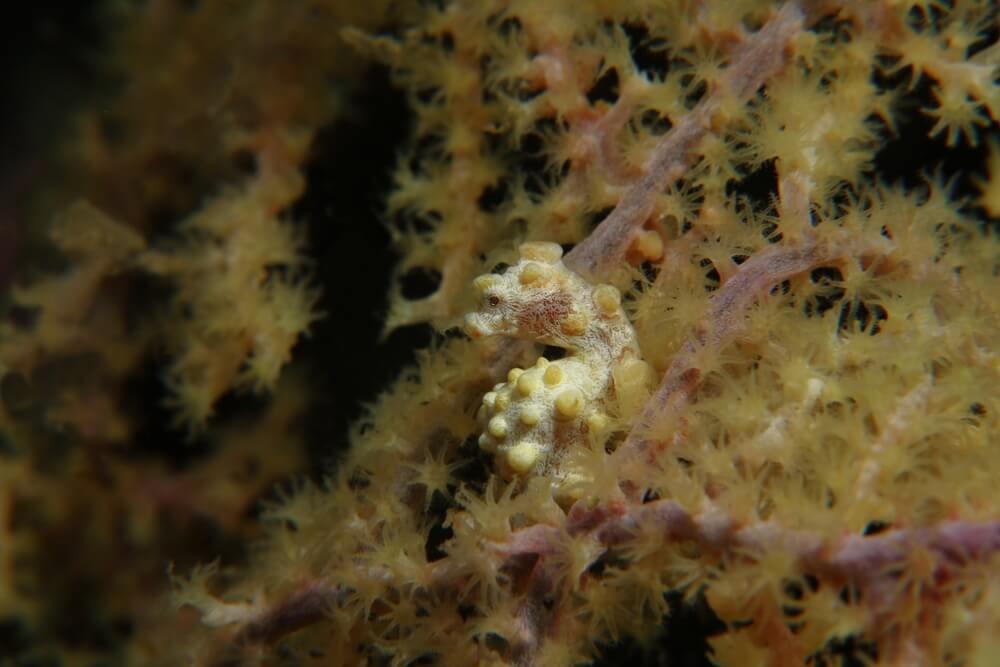 Max Depth: 25 meters
Dive Time: 56 minutes
Dive Sightings: Pygmy seahorse, elegant phyllidia nudibranch, ringed phylledia nudibranch, black mantis shrimp
This deeper wall dive was our first dive of our last day, and it was the best way to leave an incredible memory of Taveuni's stunning reefs, floating past an ethereal water of gently-wavering soft purple corals.
This is a dive you'll really want to watch your dive computer on… it can be far too easy to lose yourself in the beauty of the wall and watch your NDL start ticking down rapidly!
While not as endlessly vertical as the Great White Wall, the vibrant purple beauty of the Purple Wall is just as stunning.
Plus, its wall-style formation makes it perfect for floating up and down to find the nooks and crannies where you can find tiny sea life hiding.
However, it being along a wall can definitely make the current quite strong here, so keep an eye out for where the fish are headed to try to control where you end up…
… I almost crashed into some coral when a particularly harsh bit of current nearly pushed me into the wall!
Our amazing divemaster spotted a pygmy seahorse as well as two wildly psychedelic-looking nudibranchs, and a teeny-tiny black mantis shrimp I never would have managed to spot with my own eyes!
Jack's Place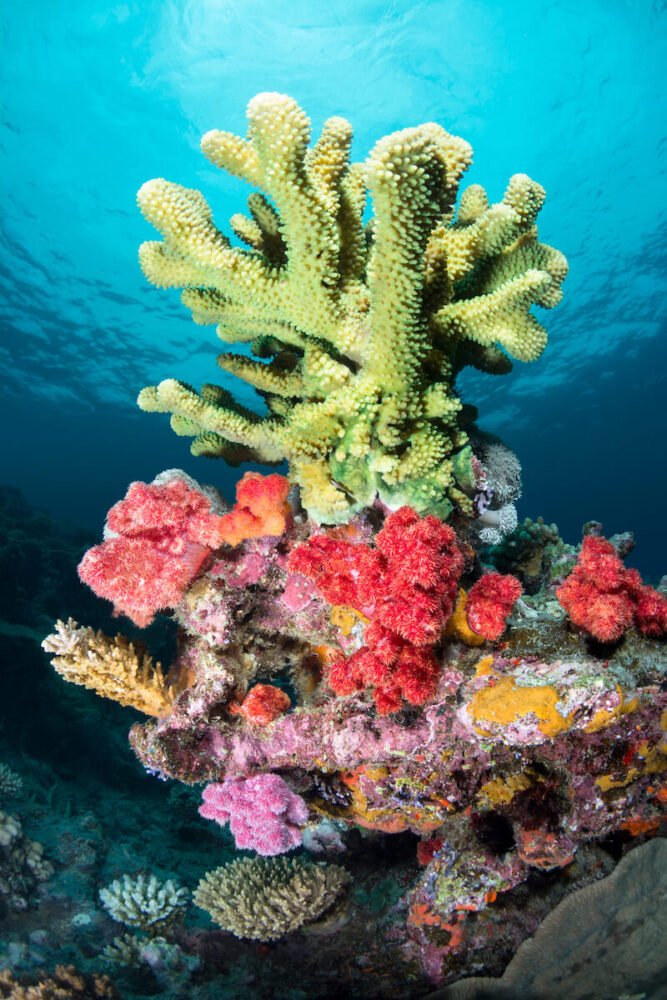 Max Depth: 21 meters
Dive Time: 53 minutes
Dive Sightings: TBA
This sloping reef has coral. mostly within 8 to 18 meters, making it perfect for a shallower second dive or also a dive suitable for more beginner divers.
This dive has more hard corals, but there's some colorful soft corals mixed in, as long as the current is flowing. We didn't have much current during this dive, so it was all about the hard coral this time.
Jerry's Jelly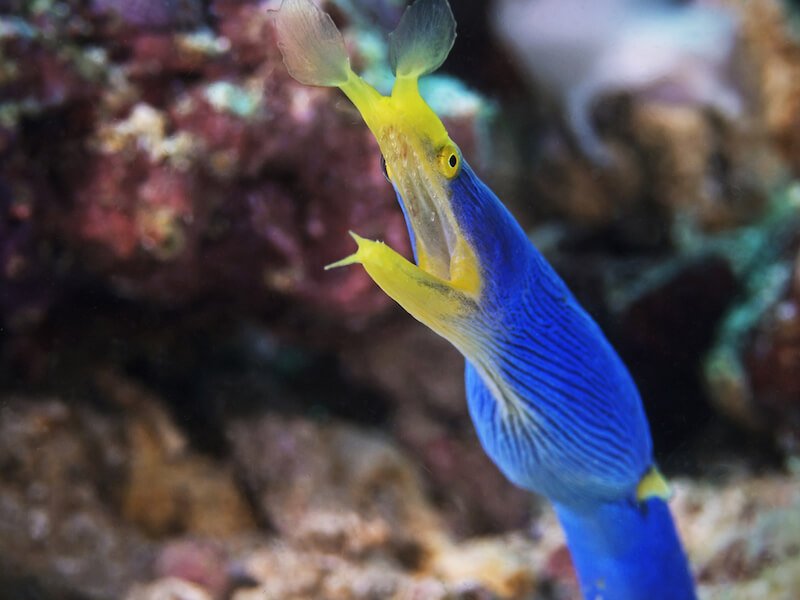 Max Depth: 16 meters
Dive Time: 58 minutes
Dive Sightings: Two ribbon eels (rarest eel in the world!), dogface pufferfish, Fiji anemonefish, pustulose sea slug nudibranch, black and white spotted nudibranch (Trapania naeva), white nudibranch with black stripes (Chromodoris willani)
This shallow sloping reef dive is perfect for less experienced divers or for a shallower second dive, with a maximum depth of 18 meters and plenty to see at 5 meters, perfect for a memorable safety stop before ending the dive.
The dive begins with the chance to see ribbon eels, which are some of the rarest eels in the world due to their extremely brief reproductive window….
See, at the end of their lives, the once-male ribbon eels turn female, and only during this brief window (usually at the end of a 20-year lifespan) can ribbon eels reproduce!
Strange stories aside, ribbon eels are absolutely stunning creatures, with a golden mouth and brilliant cerulean blue body — there's no other eel like it.
I logged 24 dives in Fiji, and this was one of only two dives where I saw the ribbon eel (the other was in Beqa Lagoon)
The dive site is mostly surrounding two pinnacles covered in soft and hard corals, and is so named for the way the white soft corals looked like jellyfish according to… surprise… a diver named Jerry.
This was a great dive for spotting little critters (we spotted three different nudibranchs on our dive) as well as tons of colorful fish!
In addition to what I wrote above in my dive sightings list, I also saw a Fiji anemonefish in gorgeous pink neon bulb anemone.
Also on my list: schooling bannerfish, plenty of unicornfish, pink clownfish, longnose butterflyfish, and plenty of the regulars (anthias, angelfish, butterflyfish, lemon damsels, fire dartfish, etc.), and much more than I could ever possibly hope to list here!
Enchanted Forest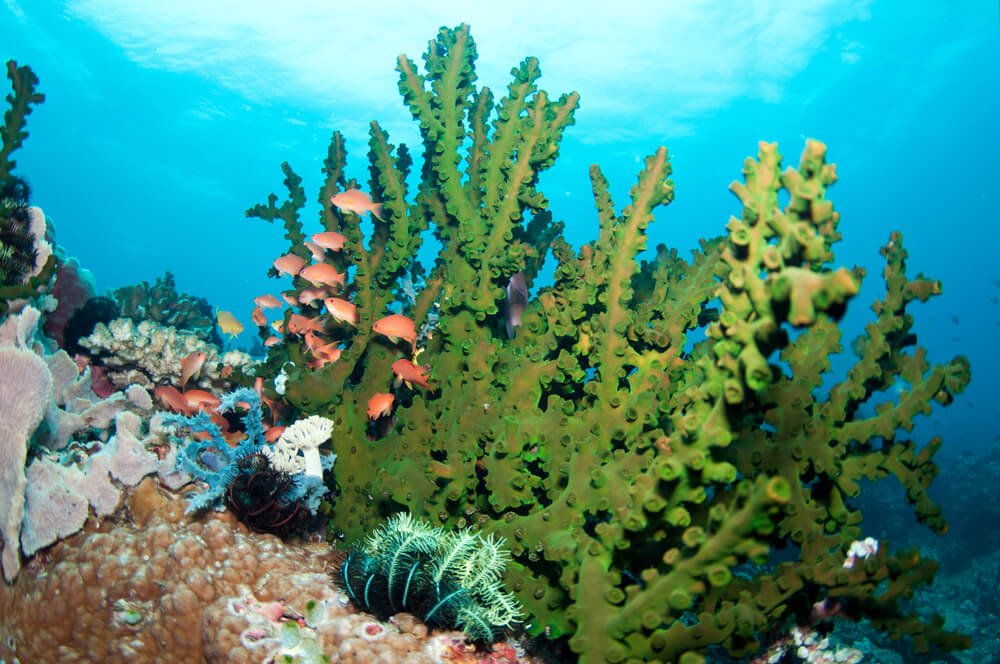 Max Depth: 22 meters
Dive Time: 55 minutes
Dive Sightings: White tip reef sharks, scrambled egg nudibranch (varicose Phyllidia), white mouth moray eel, decorator crab, sponge crab.
Aptly named for such an enchanting dive site, Enchanted Forest is a fantastic dive that followed up our second dive at the Great White Wall — truly a nearly impossible act to follow, and yet it succeeded.
This dive site is so named for the plethora of green fan coral at this site, which look like branching trees in a stunning deep evergreen hue, blending beautifully with soft corals to create a gorgeous underwater landscape.
Beyond its beautiful corals, the dive site is a great spot for life big and small — we spotted not only sharks and eels here, but also wonderful macro photography delights.
This is where Taveuni Ocean Sports' masterful dive guides really show through — there is no way we would have found the beautifully camouflaged decorator crab and sponge crab on our own!
We ended the dive at Sam's Point, another dive site, but didn't get to explore it fully — it's just where we did a spectacular safety stop!
Pot Luck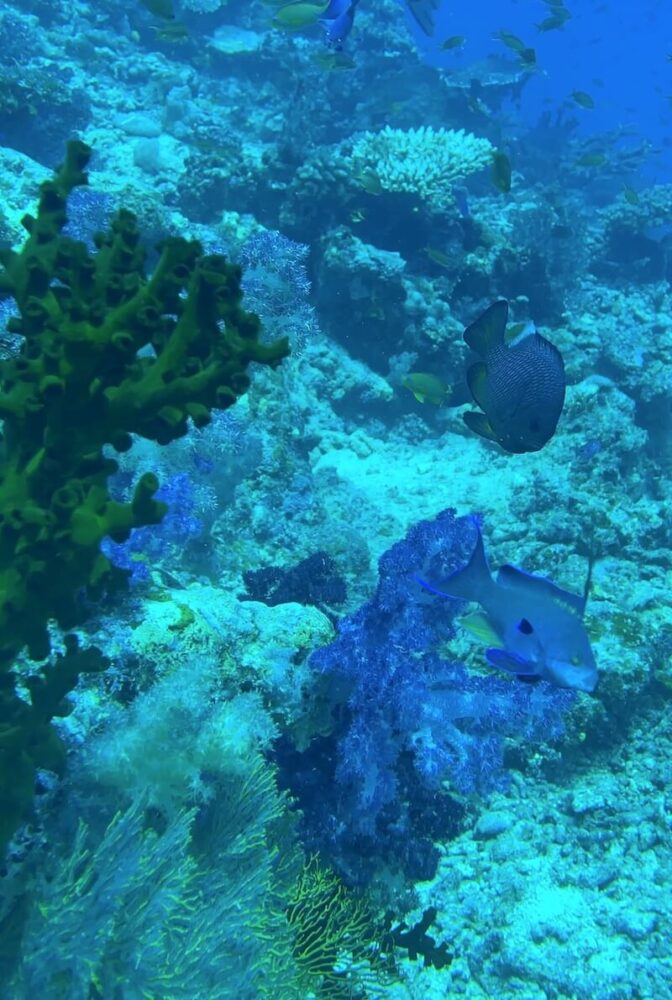 Max Depth: 23 meters
Dive Time: 53 minutes
Dive Sightings: Schools of fish — not much detail due to broken camera
I'll admit that this dive was pretty much a wash for me, since this is when my dive housing for my iPhone failed and completely flooded the phone.
Yup, even cracking the screen under the pressure of the ocean (avoid Divevolk at all costs — this was only my seventh dive with it, and it broke that quickly).
I spent most of the dive trying not to think about the fact that my phone was ruined, so my memory of the rest of the dive is a little blurry.
This was mostly a dive hoping for larger pelagics but we didn't see too many, but there were lots of schools of fish! The rest is a blur for me, sorry.
Swirling Rainbow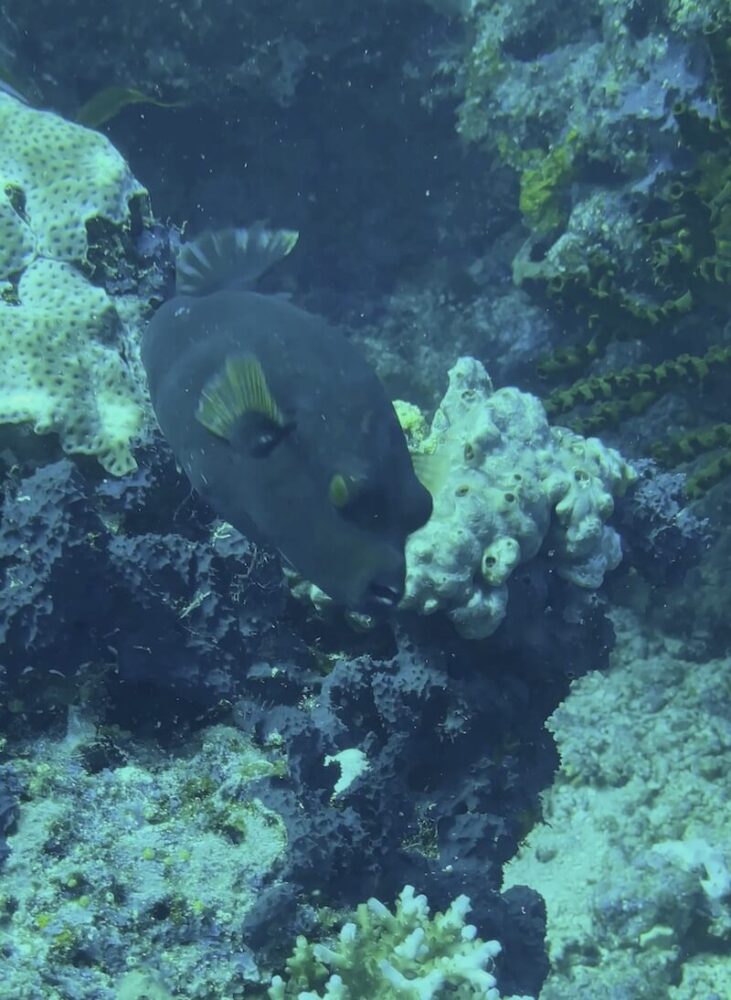 Max Depth: 23 meters
Dive Time: 41 minutes
Dive Sightings: White tip reef shark, four blacktip reef sharks napping, leopard wrasse, coral beauty, eclypse angelfish, decorator crab well-camouflaged, several leaf scorpionfish, dogface pufferfish, unicornfish, clown triggerfish, Titan triggerfish
Another dive site that's all about the soft corals mingled with hard corals and fish all about, this was a great second dive.
Unfortunately it ended a little short as one person of our dive group was low on air, but this was the only time we had a dive cut short due to this, as the dive shop quickly reshuffled groups for the next days so that those with similar air consumption got grouped together.
That said, it was still a marvelous dive: I started off by spotting a gorgeous leopard wrasse, which immediately caught my eye, as well as a coral beauty (two-spined angelfish), an eclypse angelfish, and more!
Some other favorites from that dive: some fire dartfish, a brittle star tucked away in a coral shaped like a rose, a black and white spotted yellowtail wrasse, and some very cool leaf scorpionfish I never would have noticed without our divemaster!
And of course, one of my favorites, the clown triggerfish, followed by a terrifying Titan triggerfish at the end of the dive. How can one triggerfish inspire such aww and the other inspire such fear? The animal kingdom is wild.
Rainbow's End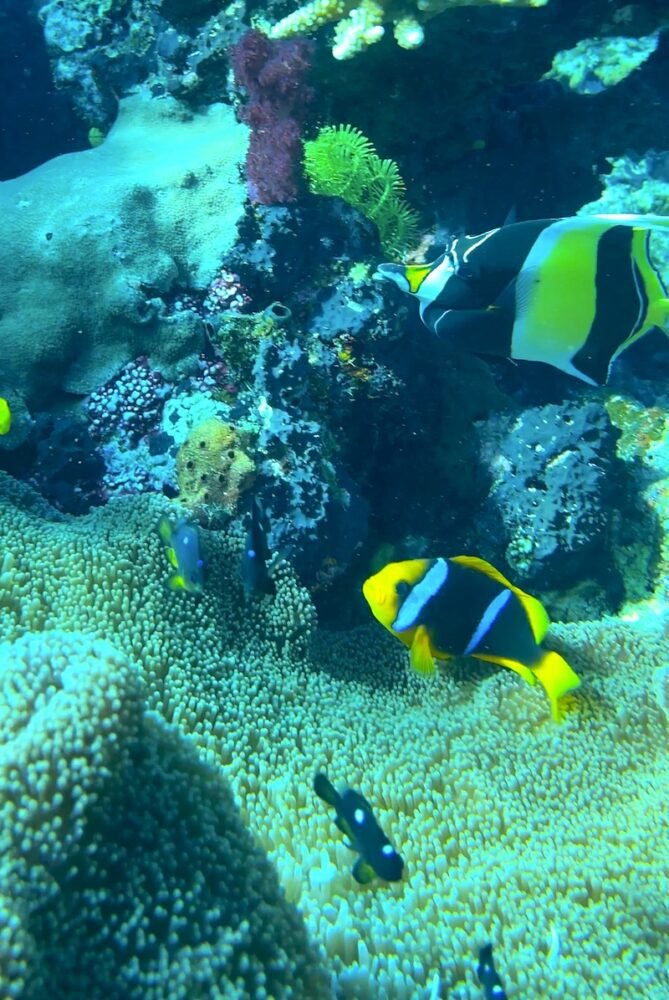 Max Depth: 24 meters
Dive Time: 54 minutes
Dive Sightings: Huge group of schooling slender fusiliers and blue and yellow fusiliers at the beginning, redtooth triggerfish, unicornfish, popcorn shrimp, Indian sea star, pyramid butterflyfish, lined butterflyfish, bluefin trevally, bluestripe snapper, giant field of garden eels, saddled butterflyfish, teardrop butterflyfish, Moorish idol, Clark's anemonefish, Titan triggerfish.
The best way I can describe my first dive in Taveuni was an eruption of fish!
We started of by descending right into two schools of fusiliers — silvery-black slender fusiliers and blue and yellow fusiliers, a colorful medley of fish organized to their own rhythm.
That then gave way to seeing other schooling fish in the distance — the elegant outline of redtooth triggerfish silhouetted closer to the surface and unicornfish darting around at their own pace.
Then I started noticing all the other fish — the bright orange and fuschia anthias that would come to define my diving in Fiji.
Plus, all other fish I'd get to know well during my time diving in Taveuni, like the bicolor angelfish, the lined and lattice butterflyfish, yellowtail damselfish and the ultra-shy regal angelfish, which all appear on nearly every dive
Early in the dive, a group of about seven bluefin trevally surrounded me, seemingly uncaring that I was right there, weaving back and forth before deciding to move around the divers in front of our group.
Midway through the dive, we stumbled across a familiar sight I recognized from Mandy's Eel Garden while diving in Roatan — a huge sandy field dotted with garden eels, moving about like vines from the sea floor.
We finished over a cool patch of anemone with Clark's anemonefish and threespot damselfish hanging out in the anemone, with a Moorish idol sailing by.
Other Famous Dive Sites in Taveuni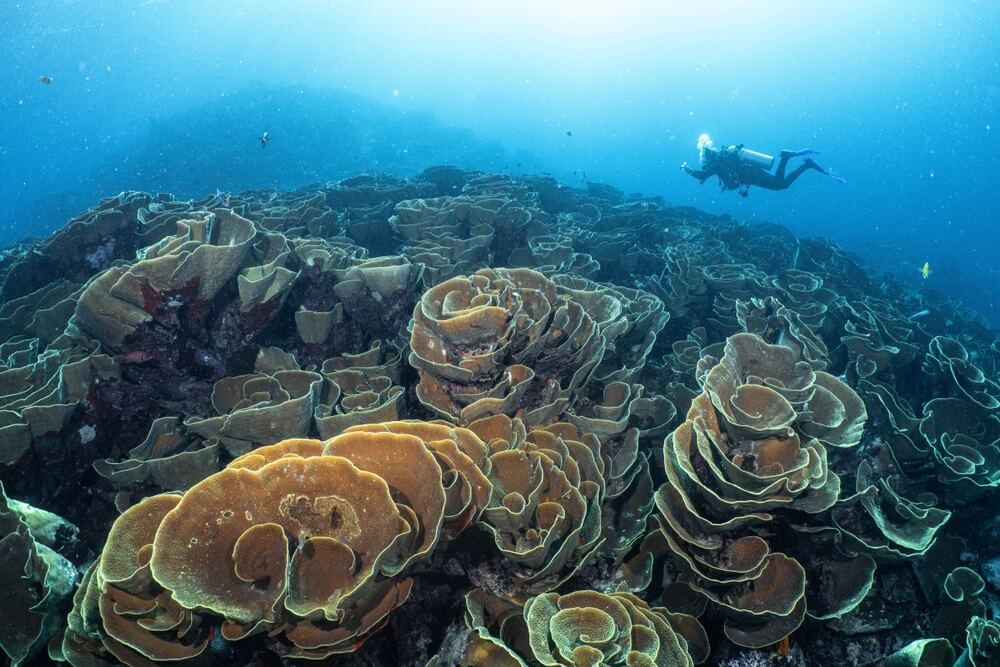 Allison Green is a former educator turned travel blogger. She holds a Masters in Teaching and a B.A. in English and Creative Writing. Her blog posts merge her educational background and her experience traveling to 60+ countries to encourage thoughtful travel experiences that both educate and entertain. She has been a speaker at the World Travel Writers Conference and her writing, photography, and podcasting work has appeared in National Geographic, CNN Arabic, CBC Canada, and Forbes, amongst others. Now based in the San Francisco Bay Area where she grew up, she has also lived in Prague, Sofia, and New York City.