A new year, a new set of resolutions we'll never keep. But dreaming's most of the fun. And if you're reading this page, you're probably more excited about hitting the airport than the gym. Which means I like you.
It's 4 days into 2018 and I've already booked a ticket to Azerbaijan with plans of traveling onwards throughout the Caucacus. It's one of my dream trips and I'm finally making it happen this year. This year, I really want to focus on traveling to more unique places. Because the last thing the travel blogosphere needs is another Santorini sunset.
So move over, Insta-famous Mykonos, Morocco, and Barcelona. That's so 2017. I asked 18 travel bloggers to share their unique, alternative ideas for 2018 travel that you probably don't already have on your bucket list. And holy hell did they ever deliver – I'm practically frothing at the mouth with wanderlust. Need any more 2018 inspiration? Check out these other 37 unique destinations!
So tell me in the comments – did you add any new places to your travel wishlist?
Tunisia
Note: This post contains affiliate links, which means I may receive a small commission if you purchase something through one of these links. Thank you for supporting the free content on this site! For more information on affiliate links and cookies, see my disclosure page for more details.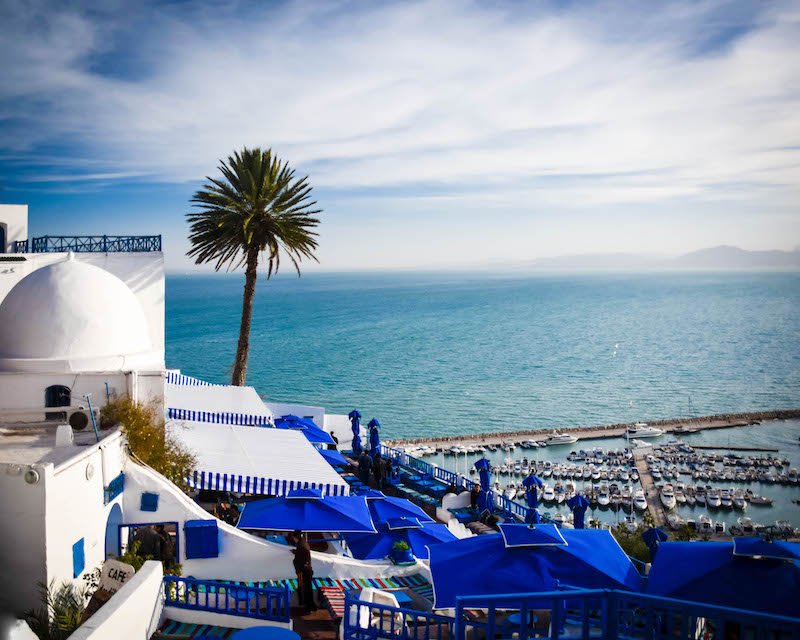 By Stephanie Craig of History Fangirl
If you're looking for sun-soaked blue and white buildings, turquoise Mediterranean beaches, and fantastic ancient ruins, most will think they need to head to Greece. However, there's a more interesting (and much less touristed) option: Tunisia!
Tunisia used to be a favorite beach holiday for Brits, but it declined sharply after the Arab Spring and a handful of terrorist incidents in 2015. Since then, the UK and Tunisian governments have worked together to combat terrorism, and there have been no incidents targeting foreigners during this time. However, the beaches have yet to fill up, making this an exotic and safe alternative to Greece, Morocco, and Egypt.
Beyond the beaches, Tunisia is an amazing destination for cultural travel. The country has eight UNESCO World Heritage sites, including Roman cities, Islamic holy sites, and ancient medinas. For history lovers, the cities of Carthage is a must-see, along with the better-preserved Punic city of Kerkouane. One of the best-kept Tunisian secrets is the white-and-blue city of Sidi Bou Said. Located only twenty kilometers outside of Tunis (accessible via train), it has inspired artists, philosophers, and tourists alike.
Check out Tunisia before the rest of the world catches on to this Mediterranean gem.
Bhutan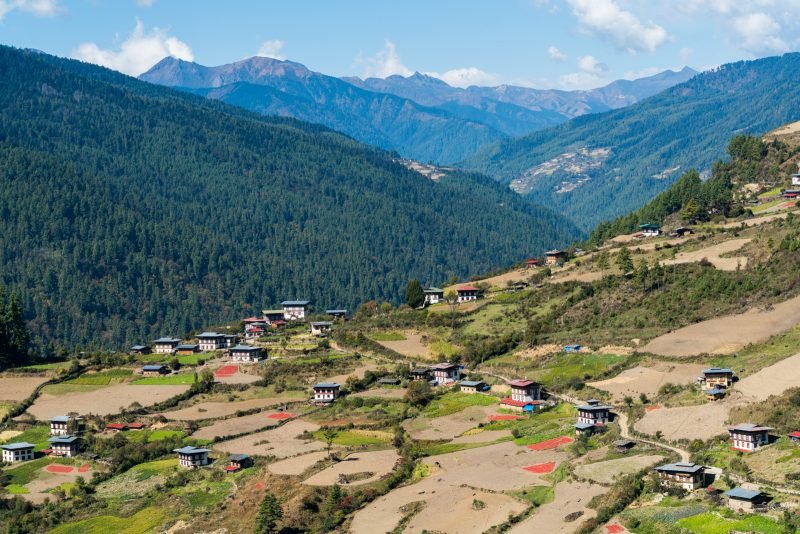 From Sebastiaan and Alex of Lost With Purpose
Not many destinations evoke feelings of wanderlust quite like Bhutan.
Often hailed as "the last Shangri-La", Bhutan is a unique destination that deservedly tops many travelers' bucket lists.
Instead of only focusing on economic growth through GDP, Bhutan instead monitors Gross National Happiness (GNH). Basically, this means any Bhutanese policy has to be to the benefit of its people. Free education and free healthcare, both funded by money from tourism, are but two examples of GNH in action.
Bhutan is also remarkable in its determination to preserve its heritage, culture, and traditions. Buildings adhere to certain aesthetic codes, making driving through the countryside a feast for the eyes. Throughout the year, festivals are held to showcase and preserve Bhutanese traditions, such as the Royal Highlander Festival in Laya. Most locals still don traditional Bhutanese dress each day; gho (for men), or kira (for women). Add hundreds of well-preserved temples, forts, and monasteries, and you can get an idea about why Bhutan is so coveted as a travel destination.
Travelers to Bhutan can immerse themselves in rich Buddhist culture and history, but the country offers more than just pretty buildings and outfits. With more than 60% of its landmass covered in forest and many Himalayan peaks, Bhutan is a nature lover's paradise. No matter what type of traveler you are, Bhutan is sure to strike your fancy.
Zanzibar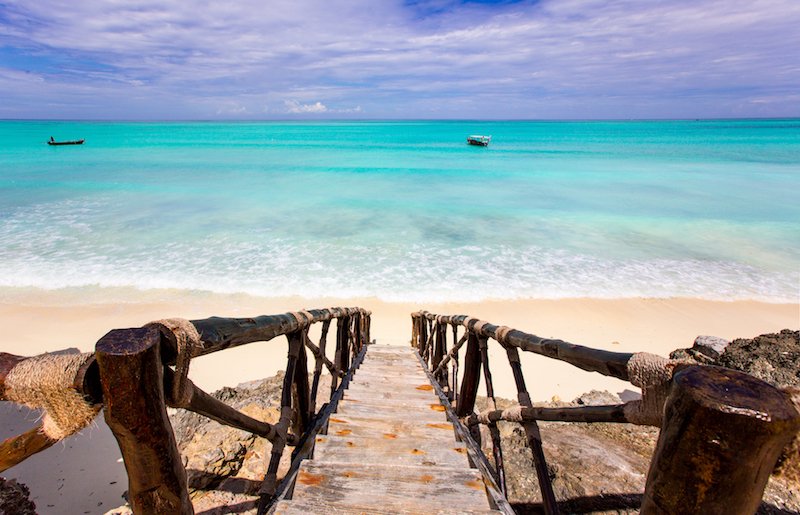 By Helen of Not Without My Passport
There's simply no other place in the world like Zanzibar. This archipelago off the east coast of Tanzania is a treasure trove of beauty, from the turquoise waters of the Indian Ocean to the multi-ethnic influences found in the region's cuisine and architecture.
Beaches like Nungwi and Kiwengwa are a tropical paradise, where snorkelers will find a spectacular, colorful underwater world of marine life. Then there's Chumbe Island, a private nature reserve and the top snorkeling destination in Zanzibar and arguably all of East Africa.
Stone Town, a UNESCO World Heritage Site in Zanzibar City, is just as ravishing — in a different way. Between the cobblestoned streets and the waterfront, you'll find a mix of African, Arab, Indian and European influences. You'll hear the Muslim call to prayer and the chime of Hindu bells. You'll marvel at the textures and details carved into the buildings, notably the famous giant Zanzibari doors. As for the cuisine, it's just divine. Food in Zanzibar makes use of the abundant spices sourced from the region's many spice plantations that make a worthy day trip for foodies.
Kazakhstan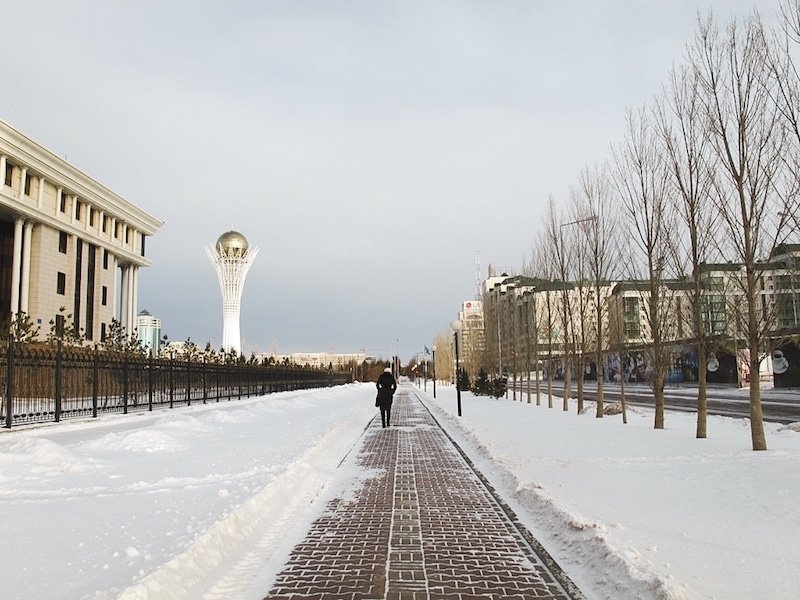 By Megan of Megan Starr
I think a place that everyone should be putting at the top of their 2018 travel list is Kazakhstan.  Finally shedding an undeserved, decade-long reputation from a movie filmed in Romania, this Central Asian country has dropped required visas for many nationalities, built a little tourism infrastructure, and even added flight routes that can take you from Budapest, Hungary to Astana, Kazakhstan for less than $70 round trip.
Interestingly enough, many people don't realize how diverse Kazakhstan is when it comes to nature and its people.  In this one country, the world's 9th largest, travelers will find enormous mountains, deserts, steppes, canyons, lakes, and much, much more.  In the cities, one will find a mix of modern and contemporary architecture mixed with the brutalism of its Soviet past.  The people of Kazakhstan range from so many unique ethnicities, cultures, and traditions that travels there will leave you confused, and intrigued to return after you leave the country.  Kazakhstan is definitely going to boom with tourism soon… and deservingly so.  It is definitely my pick for a unique destination in 2018!
Rwanda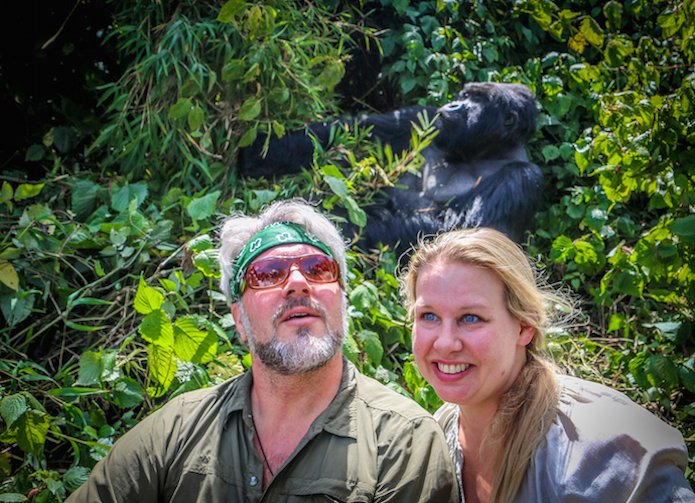 By Bret and Mary of Green Global Travel
Whenever people ask us about our favorite places we've traveled, we struggle to narrow it down to a short, concise answer. But for adventure seekers with a passion for nature and wildlife, Rwanda offers a host of unique experiences, many of which are far off the mass tourism track. "The land of a thousand hills" is probably best known for the endangered mountain gorillas of Volcanoes National Park, which were made famous by late primatologist Dian Fossey (and the biopic of her life, Gorillas in the Mist). There are currently 10 habituated gorilla families open to tourist visits, so trekking permits are limited to a mere 80 per day.
Being surrounded by mamas, babies, and massive Silverback gorillas is definitely an experience you'll never forget. But it's hardly the country's only wildlife-centered attraction. From tracking chimpanzees and several species of monkeys in Nyungwe Forest National Park to a more traditional Big 5 wildlife safari in Akagera National Park, Rwanda has numerous options for nature and wildlife lovers. And since the country is still emerging as an ecotourism hotspot, you're almost certain to have some of these pristine attractions all to yourself!
Carretera Austral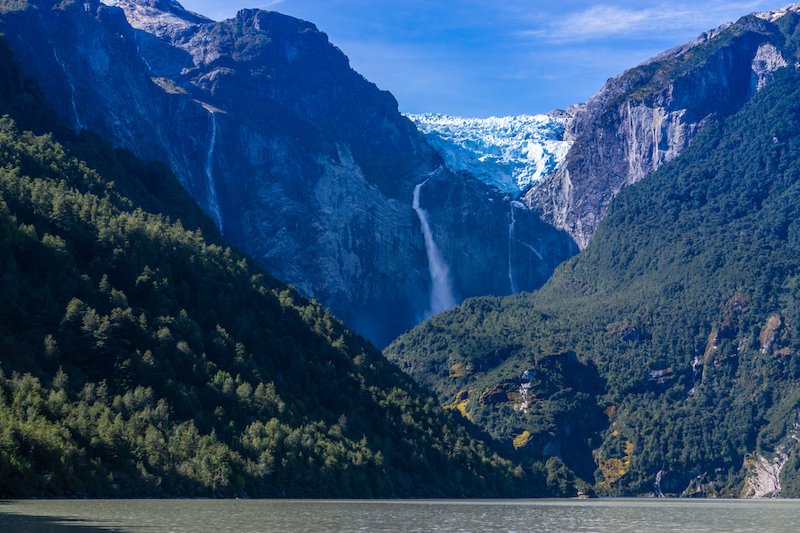 By Maya of Travel with the Smile
Carretera Austral is a scenic road in the remote part of Chilean Patagonia. Everything that Chile has to offer can be found here – turquoise lakes, snow peaked mountains and countless glaciers.
The road starts in Puerto Montt and has a dead end in Villa O'Higgins. On 1247 km long gravel/paved roa, there are several little towns where you can base yourself while exploring the mountains. It is a popular place for local young Chileans who like to hitchhike along the road. It was also our first hitchhiking experience and where we fell in love with Patagonia. It is one of the few places in Patagonia where you can travel on a budget.
We spent two weeks on Carretera Austral and our favorite places included: Queulat National Park (pictured), Cerro Castillo and Villa O'Higgins for hiking, Coyhaique for mountain biking, Puerto Rio Tranquilo for visiting Marble Caves and glacier trekking. If you'd like to visit, read our Carretera Austral guide where you can find everything you need to know and more beautiful pictures of Chilean Patagonia.
Falkland Islands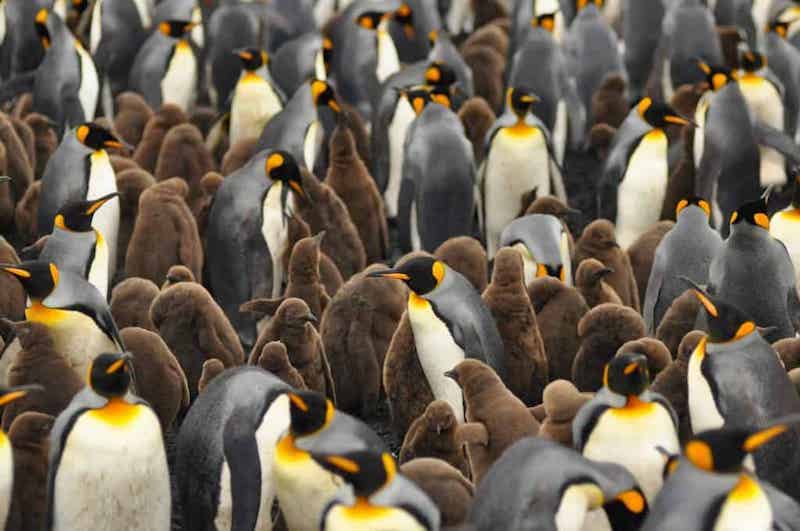 By Nadine of Le Long Weekend
There are so many fantastic reasons to visit the Falkland Islands, but there are a few main things that make it stand out as a unique destination to visit in 2018! Animal lovers will adore seeing baby king penguin chicks at Volunteer Point, watching elephant seals wrestling for mating rights on Sea Lion Island, or spotting the elusive reindeer on Weddell Island. Photographers will have uninterrupted canvases to capture, from serene shorelines to dramatic cliffs and war-torn landscapes.
Walkers can explore wild headlands, climb tussock-covered hills, and discover hidden beaches. And outdoor adventurists can scale the islands stone runs or take to the seas in search of passing whales. The Falklands are still very much an undiscovered gem in the South Atlantic Ocean, one of the only places in the world where you can still roam without restriction – so long as you mind the 'country code'. I'd recommend it to anyone in search of intrepid exploration, or simply wanting to get off the grid for a while.
Western Australia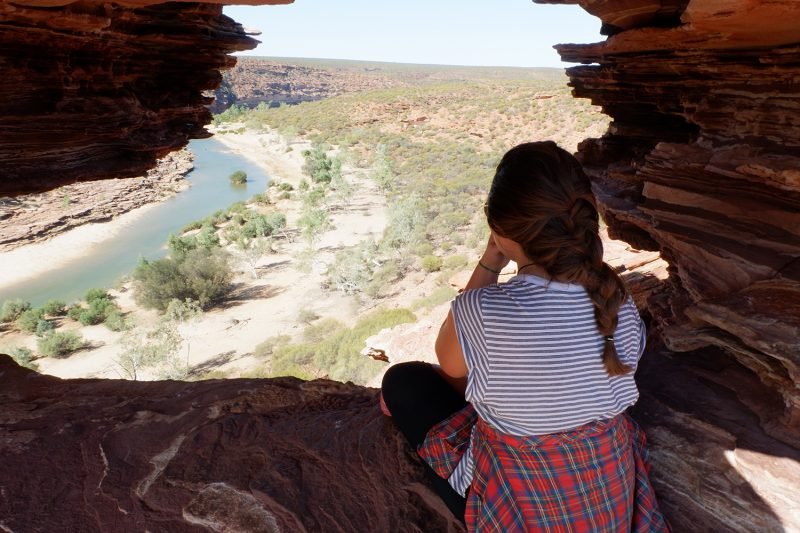 From Claire of Claire's Footsteps
There's something special about Western Australia. It's Australia's biggest state, yet possibly its most overlooked – with many travelers favoring the Queensland coast, the southern cities of Sydney and Melbourne, and the Red Center.
But Western Australia is a unique travel destination that's well worth spending some time in. It's home to some of Australia's most spectacular national parks, such as Karijini and Kalbarri, it's on the edge of the Ningaloo Reef – Australia's other coral reef that arguably has more life than Queensland's Great Barrier Reef – and is home to charming outback towns.
Road tripping around Western Australia will give you the amazing opportunity to relish in its natural beauty, see some incredible native wildlife and camp under the stars every single night – in Western Australia, shooting stars are pretty much a nightly occurrence!
If you don't want to do an independent road trip, you can see the best of the state on an organized tour. There's no public transport outside of the towns of Western Australia, which somewhat adds to the mystery and intrigue of this lesser-explored land.
Western Australia is still a relatively off the beaten path place, but news of its breath-taking beauty is traveling fast – so be sure to get there in 2018 before the rest of the world!
Chiapas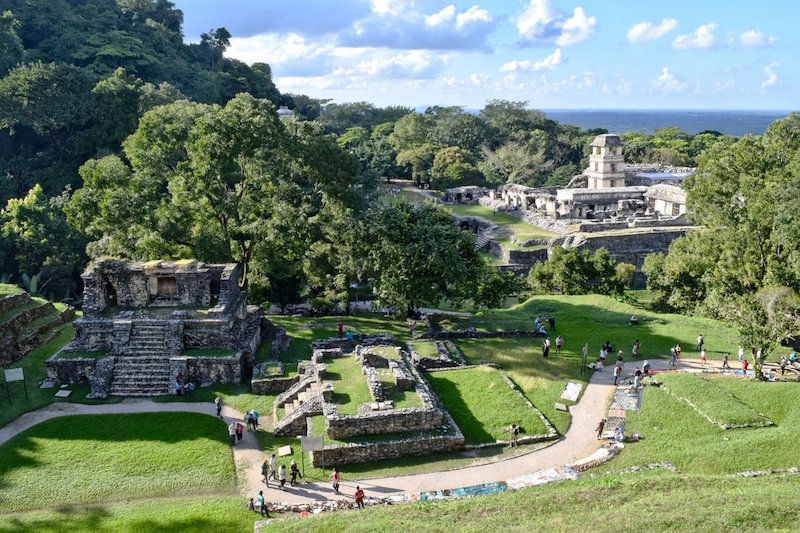 By Kate and Jeremy of Our Escape Clause
Majestic waterfalls, beautiful canyons, colorful cities, jaw-dropping ruins: these are just a few of the reasons to visit Chiapas. The state of Chiapas, Mexico is often overlooked by tourists coming to the country, but this southern state offers unique experiences at rock bottom prices, all taking place in an incredibly gorgeous location.
During our time in Chiapas (we based ourselves in the largest city, San Cristobal de las Casas), we went horseback riding through the countryside, visited the most unique house of worship we've ever seen, took a boat cruise through a dramatic canyon, hiked to waterfalls, and visited what have become our favorite ruins in Mexico, the city of Palenque. The running cost of a day trip to any (or even several) of these places in Chiapas? $10-20 USD/person.
After sustaining damage in a powerful earthquake in the fall of 2017, the people of Chiapas need your tourism dollars now more than ever. Chiapas is open for business again, and would love to welcome you with open arms to experience all it has to offer in 2018.
Bohemian Paradise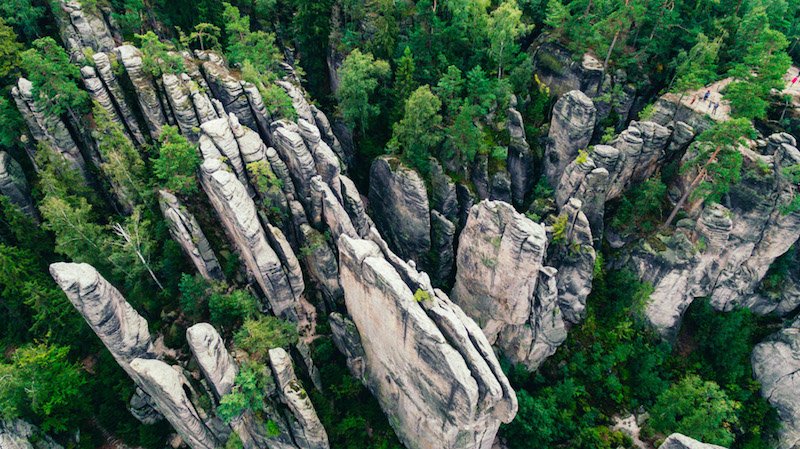 By Megan and Scott of Bobo & Chichi
Located in the Bohemia Region of Czech Republic, Bohemian Paradise is a place that is not on everyone's radar but should be. With incredible rock formations, castles, outdoor sports, and views for days this area really has a lot going on.
Considered a UNESCO Geo Park, this area has also inspired artists and painters for centuries. One glance at the Prachov Rocks and you'll understand why. The unique sandstone rock formations have created a labyrinth through a dense forest for some of the most mesmerizing views from both below and the top of the rocks. These aren't the only interesting rock formations you'll find in the area. There's also Besedice Rocks in Mala Skala which offer another maze of rocks with dramatic drops and unforgettable views.
If you want to step back in time you can visit the ruins of Trosky Castle which are the symbol of Bohemian Paradise and are placed on the summit of two volcanic plugs. From the top of Trosky Castle you also are rewarded with another 360 rewarding view. Trek through the forest from Vranov Rock Fortress, more castle ruins perched on a cliff that look more like an old church than castle ruins, to Frydstejn Castle, even more majestic castle ruins nestled in the forest.
More incredible sites include Castle Hruba Skala perched on a cliff surrounded by a beautiful forest and Castle Kost, a historical and mesmerizing castle out of a storybook. Castle Kost was also the filming location of the US movie Hanibal Rising. Bohemian Paradise will enchant you with its unrivaled beauty, outdoor activities from kayaking to hiking, and gorgeous castles.
Dominica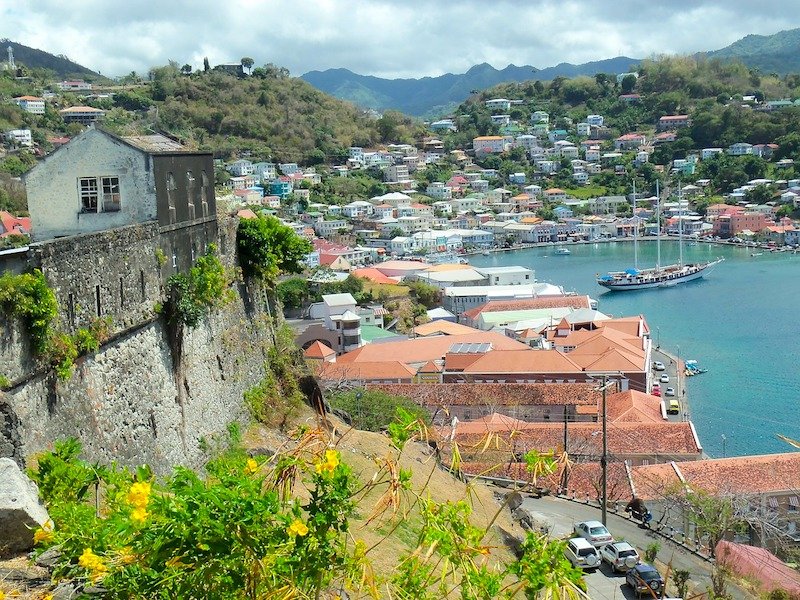 By Nicole of Travelgal Nicole
Dominica is known as the Nature Islands and for good reason. The beautiful Caribbean island is located between Guadeloupe in the south and Martinique in the north. I reached the capital of Roseau via ferry from St. Lucia.
Dominica was one of the more laid back, naturally beautiful Caribbean Islands I visited with lots of hiking, snorkeling, and diving around the island. I took a day trip from Roseau to Champagne Reef which is the premier diving site in Dominica. It is named Champagne Reef because of the constant bubbling of gases that are coming out of the ground, which look like champagne. It is also the number one snorkeling site in all of the 25 different Caribbean Islands. I was able to see parrot fish, lobsters, and turtles while diving there.
On the other side of the island, near the airport, you can find Rosalie Bay. This is one of Dominica's longest beaches with black sand fringed with palm trees. Better for sunbathing than swimming due to the rough seas, but it's secluded and the eco-friendly Rosalie Bay Resort is nearby. This area is one of the prime locations on Dominica for sea turtle nesting.
To really discover the beauty of the island you must go hiking on the Waitukubuli National trail which covers 115 miles north to south on the island. It takes you through several national parks and through the Trois Pitons which are a UNESCO World Heritage site. It is a unique eco experience of the Nature Island and there are several waterfalls to visit as well!
Greenland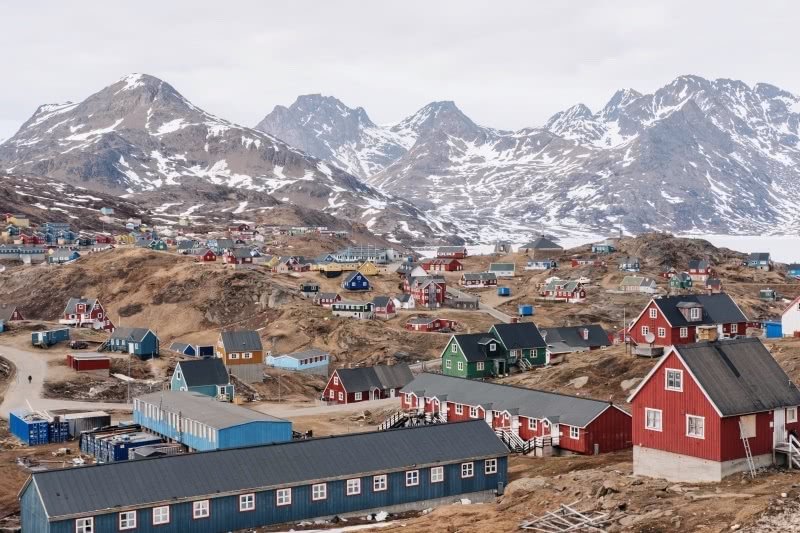 By Scott and Hayley of International Hotdish
When I tell someone we're traveling to Greenland their face usually does one of two things: stays blank or contorts in confusion. Greenland, more ice than green things, is a massive, unforgiving island which sees more snow and ice than you care to imagine.
But to many, the sparse population, vast, barren landscapes, and hard life are the very reasons to visit. Culture-wise, you can explore and learn about the Inuit people, who've lived there for thousands of years. Their culture is beautifully paired with the natural beauty of the area: icebergs, glaciers, ice mountains, and arctic wildlife.
Greenland isn't the most hospitable travel destination but it certainly one of the most unique. The views and experiences are unlike anywhere else in the world, making Greenland a must-see in 2018 for those brave enough.
Lebanon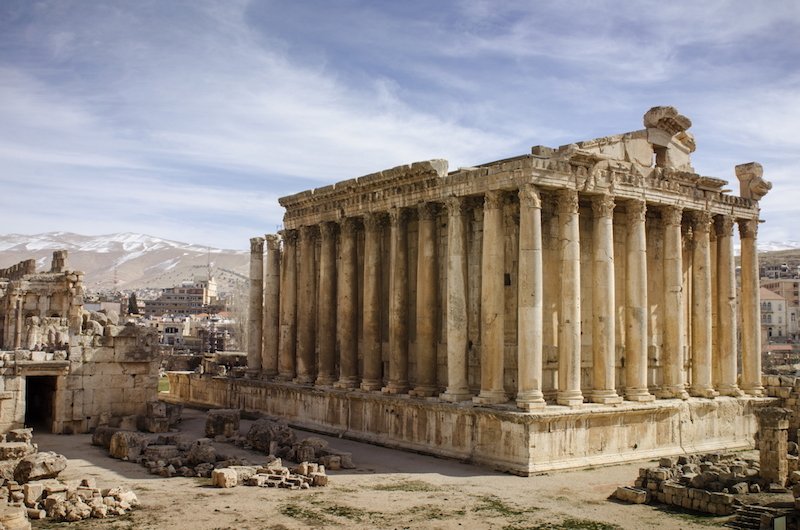 By Clemens of Travellers Archive
The country of Lebanon might not be on everyone's bucket list. Nevertheless, it has tons of great things to see and do. After experiencing the hustle and bustle of Beirut, its war-torn buildings and the glitter and glamour of the modern shopping malls, it's time to explore further.
Rent a car and drive up north to the small but wonderful fishing village of Byblos and further up to Tripoli. From here, you have access to the Bekaa Valley with its Temple of Bacchus. What makes Lebanon so special is the mix of new and old, modern and traditional. Once back in Beirut, definitely have a night out — the city is a go-to place for the young Lebanese. Expect a long night!
Russia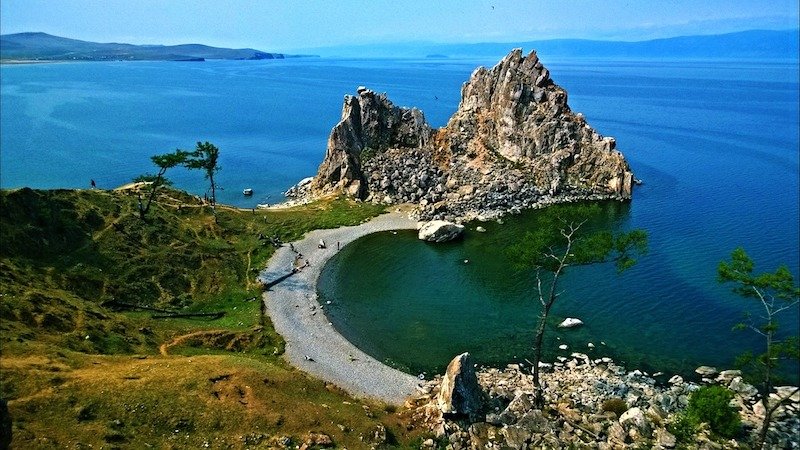 By Alya & Campbell of Stingy Nomads
2018 will be an important year for the Russian tourism industry, as the country is hosting the FIFA World Cup. Thanks to this event, it will be easier for tourists to enter the country. From June 4th to July 15th, any foreigner can come to Russia without visa, just with a valid passport and fan ID (which you get when purchasing a ticket).
Most people coming to the World Cup will go to four main cities; Moscow, St.Petersburg, Sochi, and Kanaz. If you want to explore more of Russia and skip the crowds, there are some amazing natural attractions to see here. Mt. Elbrus in the South of Russia near the Georgian border is the highest peak in Europe and one of the Seven Summits (highest mountain peak in each region). To conquer Elbrus doesn't cost a lot of money. You can do it on your own, with no special permit or guide needed. You can stay in a tent on the mountain and cook for yourself. It's probably one of the most affordable highest mountains to climb.
Why not go even more off the beaten track and visit the Altai region? It is one of the hidden gems in Russia: not many tourists come here, but those who come fall in love with it. Stunning turquoise-colored lakes, emerald mountain slopes, crystal clear rivers, waterfalls and untouched nature: all these you can find in Altai. Or maybe take the famous Trans-Siberian railway and go to the heart of Siberia region to Baikal Lake to see the deepest lake in the world. Here you can find plenty of outdoor activities like diving in the lake, visiting one of the lake's islands, or hiking in the nearby forest.
Sardinia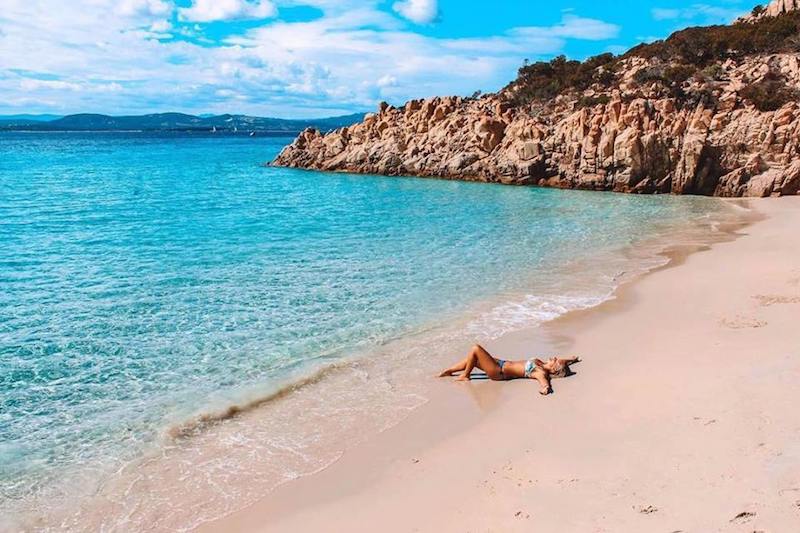 By Greta of Greta's Travels
If you're looking for a paradise beaches, with white sandy, crystal clear turquoise water away form the crowds, Sardinia will give you just that. A short 45-minute flight away from mainland Italy, Sardinia couldn't be more different from the rest of the country. Here people are even more relaxed and take everything really slowly, while it might drive you a little crazy at first it will give you the opportunity to really relax and enjoy the island vibes of your holiday.
What is so special about Sardinia? If the amazing beaches aren't enough for you, Sardinia is also a great place for any kind of water sports. It's a very windy destination, which makes it perfect if you want to try sports such as windsurf, sailing and kitesurfing. If you're a fan of snorkelling or scuba diving the exceptionally clear water makes Sardinia the perfect destination also for that. Find out more about exploring the beaches of Sardinia here!
Faroe Islands
By Natasha and Cameron of The World Pursuit
The Faroe Islands are a group of 18 windswept islands that you most likely have never heard of. They are located in between Iceland and Norway and are one of the most beautiful places I have ever been.The islands are a self-governing region of Denmark that are very far away from the traditional tourist path. They make a great addition to a trip to Iceland, although in my opinion, they are far more exotic and unique than the tourist-ridden Iceland.
The Faroes are full of countless waterfalls at every corner, as well as 80,000 sheep, and winding roads. The homes and building here are famous for their traditional grass roofs, which have kept homes insulated for years.One of the most popular things to do here is go hiking! The islands are mostly wild so you're free to explore as you please, and with almost 350 mountains it's tough to get bored. Just make sure to take care and plan your hikes as it can get dangerous in the Faroe Islands.
I would recommend heading here in 2018 before the secret gets out about this little paradise!
Malaysian Borneo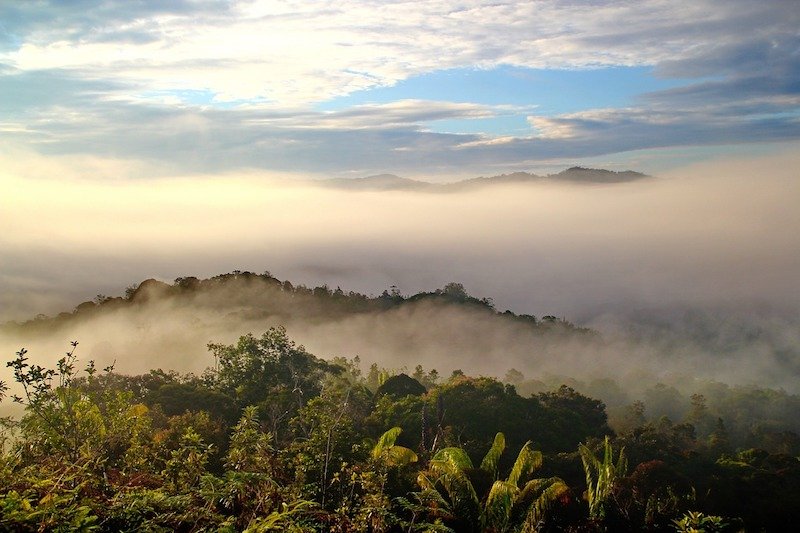 By Karen of Wanderlustingk
Malaysian Borneo should be on your bucket list for 2018.  After watching way too many National Geographic videos, I loved the idea of seeing the nature itself.  2018 is a great year to visit as the Malaysian government is stepping up their conservation efforts and trying to slow down deforestation in Borneo after realizing the tourism potential.
Despite having an unbelievable amount of ecosystem diversity, people don't flock to Borneo in the same way that they go on an African safari yet, so be sure to visit Malaysia for some wildlife adventures in 2018.  If you're visiting Malaysian Borneo, be sure to visit the Kinabatangan valley and Bako National Park.
Kyrgyzstan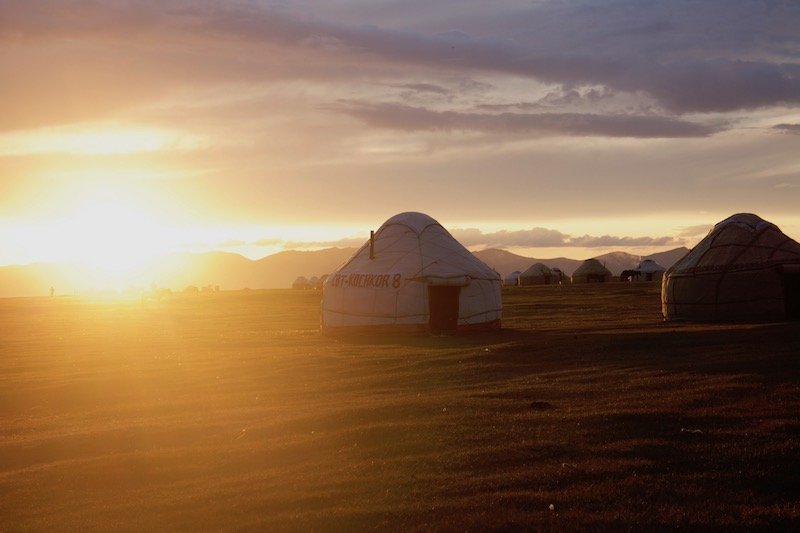 By Megan of Why Wait to See the World
The perfect destination for someone seeking adventure is Kyrgyzstan in 2018. This Central Asian country is full of beautiful mountains, true nomads with yurts ready to welcome you in during a multi-day trek, serene lakes, and more. The people of the country are extremely kind and won't hesitate to feed you after a cold night in the mountains.
The World Nomad Games return to Cholpon Ata in 2018, making it a great time to visit Kyrgyzstan. These games are like the Olympics on steroids. Teams from countries from around the world descend on this northeastern region to compete in mental, strategic, and extremely physical events. Don't miss Kok-Buro, a game similar in rules to soccer except it's played on horseback — and the ball is a 70 pound decapitated goat carcass. The goals are 5-meter wide "pits" that a player must dive off their horse into carrying the carcass.