My 2017 goal (I refuse to use the word that rhymes with "dissolution" as it seems to doom all my endeavors to failure) is to continue improving my travel photography, especially when it comes to Instagram. There are two ways I know how to do that: one, to follow epic Instagrammers and learn from them; two, to dive deeper into learning about photography through self-teaching.
I want you to join me on this journey this year! As I've gotten more into Instagram and photography, my photo skills have improved tenfold in the last five months, since I've practiced quite literally every day. I was always pleasantly surprised – and a little amused – when people on Instagram asked me what camera I was using in my photos. Honestly, I'm a bit embarrassed that the answer is often an iPhone 6. I've since upgraded and look forward to using my new gear to take better photos. But the truth is, you don't need a fancy camera to take awesome pictures. I created a short but detailed 15 page e-book chock full of travel photography tips and examples, most of which will work for smartphones – yours free if you sign up for the newsletter below!
Note: This post contains affiliate links, which means I may receive a small commission if you purchase something through one of these links. Thank you for supporting the free content on this site! For more information on affiliate links and cookies, see my disclosure page for more details.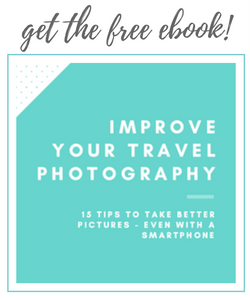 But the other part is just as important. To get better, you have to constantly follow other more talented photographers… even if their work is so good it makes you want to ugly-cry while binging on potato chips. So, here are 17 of my favorite female travel blogger and photographers, to encourage you to take better, more inspiring photos this year!
1. Kristen of @bemytravelmuse goes to the most stunning places and always captures herself from the coolest perspectives, rather than just taking the obvious shot. From Hawaii to Patagonia to Ireland, her photos always give me ridiculous wanderlust. Plus, she manages nearly all her awesome travel photos solo, which makes me really want to up my Instagram selfie game!
2. Has there ever been a cuter travel Instagrammer than Anna of @anna.everywhere? Her outfits are always on point, her backdrops are dreamy, and the perspective and creative props are always really fun and inspirational. Her recent photos are making me want to drop all my plans and book a ticket to Mexico ASAP!
3. For a daily dose of color in your Insta feed, you can do no better than Leah of @leahshoup. Follow her feed for colorful street backdrops, adorable outfits, and a taste of Latin American life. Her photos of Quito are making me swoon and promise myself a return trip there one day — I can't believe it's been nearly 10 years since I went there on my first ever solo trip!

4. No matter where she goes, Janet of @janetnewenham always manages to find the best views and most exciting adventures. Her photos are so vibrant and colorful, and added bonus – she's sweet as can be, always responding thoughtfully to her followers! Her photos of Cape Town are ridiculously stunning and I'm seriously considering chasing summer there later this year when it gets cold up north!
5. Christina of @happytowander has some of the most dreamy colors in her photos, which are always stunningly shot and so well curated. She's funny as hell to boot, and her website is chock full of useful content on making it as a travel blogger.
6. Is it weird to be convinced you belong in a country you've never even been to based off a stranger's Instagram? Maybe just a bit? I can't help it, Silvia of @heartmybackpack makes that Norwegian cabin life look so #lifegoals.
7. Gabriela of @gabrielahereandthere is a badass solo traveler and excellent photographer with a goal of seeing every country in the world. She's making some sweet progress, already at 75 out of 195 at this point in time! She features some seriously dreamy lesser known destinations on her quest, like San Marino — and I can't wait to see her updates from the Comoros!
8. Alyssa of @mylifesatravelmovie is Instagram's undisputed travel selfie queen. Seemingly covering a new country every week, it's hard to keep up with her, but the resulting never-ending wanderlust is part of the fun. It's hard to believe she shoots virtually everything with a GoPro!
9. Liz of @youngadventuress has single-handedly put New Zealand at the top of my travel bucket list with her incredible photography. Mountains? Yup. Fjords? YUP. Baby animals? YUP YUP YUP.
10. Piss-your-pants hilarious writing, awesome style, in another country seemingly every day, and gorgeous to boot? The inspiration (and laughs) never stop with Glo of @glographics
11. Leah of @thesweetestway takes amazing, serene photos of the many places she gets to call home as a location independent blogger! I'm loving her updates from the gorgeous Pacific Northwest lately.
12. Sabina of @girlvsglobe is bubbly and adorable with a great sense of humor and an even better eye for style. Her travel photos are awesome, too, focusing mostly on European and city travel.
13. Karen of @wanderlustingk takes amazing photos of her adopted home, the Netherlands, as well as beautiful getaways to other place in Europe — all while balancing a full-time job!

14. Sonal of @drifterplanet takes incredible photos — some of my favorites are hers from Indonesia and Goa!
15. Christy's Instagram handle may be @ordinarytraveler but her photos are anything but! I'm in love with these photos from Canada and planning my next trip as I type this.
16. Hannah of @gettingstamped is the queen of water photos – her Instagram pictures from the Maldives this year had me dying of envy.
17. I'm not the worst… if I do say so myself. Follow along at @eternalarrival as I spent the next three months in Central America!
Remember, you can get a free copy of my 15-page photography eBook chock full of photo tips and sample photos just by signing up for the newsletter. Updates are sent twice a month with one bonus goodie every month exclusive to subscribers.