I've always been a bit obsessed with lists. I find them both calming and exhilarating. So in a way, it's really lucky for me that millennials – myself included – seem constitutionally incapable of reading things not in list form. 2017 is the first year of my complete and total independence from the working world! The possibilities seem endless. So, here's a list of the destinations I want to go to in 2017: all places I haven't been yet.
1. Kyrgyzstan
Note: This post contains affiliate links, which means I may receive a small commission if you purchase something through one of these links. Thank you for supporting the free content on this site! For more information on affiliate links and cookies, see my disclosure page for more details.
My fascination with Kyrgyzstan began with my inability to spell it properly when doing Sporcle geography quizzes (yes, I am just that much of a nerd). But after seeing posts from the World Nomad Games from fellow travel bloggers and reading excellent posts about this beautiful country, I'm sold. I've even started learning Russian (a common second language, as not many people speak English there) on Babbel! After learning that you can actually track snow leopards in Kyrgzystan, this hard-to-spell open secret firmly cemented its spot as my #1 travel must.
2. New Zealand
I'm still kicking myself that five years ago my ass was in Australia and I didn't think to make the quick three-hour hop over to New Zealand! While it would have decimated my budget at the time, the glaciers, emerald lakes, fjords, mountains, hot springs, and endless hiking of the South Island are all calling my name. Maybe I'll finally make it happen this year!
3. South Africa
After seeing my blogger friends Janet and Ian frolicking in South Africa for weeks, I'm officially jealous. With amazing wine tasting (give me all the chenin blanc, please!!), cage diving with sharks, beachside penguins, and self-drive safaris to choose from, there seems to be no end to fun in South Africa. Check out Janet's recent epic adventure travel guide to South Africa to get crazy inspired!
4. Chile
One of the highlights of my blogosphere this year was reading Be My Travel Muse's posts on Chilean Patagonia. While I'm nowhere near as fit as this superwoman blogger – the idea of carrying a backpack for 1 hour of city walking, let alone 8 days of hiking, makes me want to cry – I'm determined to train up to be less of a wuss so I can do some of these gorgeous hikes. The Atacama Desert looks amazing too.
5. Nicaragua
OK, finally a place I am actually for sure going! Nicaragua has been super high on my list for years. In particular, I'm stoked to see Little Corn Island, this heavenly tiny island in the Caribbean! But beyond that, I'm looking forward to visiting colorful colonial cities, volcano boarding in Leon, trying and failing to learn how to surf in San Juan del Sur, and volcano trekking in Ometepe. I'll be spending roughly a month here starting mid-January.
6. Slovenia
Is it just me, or is this the year that like, every single person was going to beautiful Slovenia? Not even mad though, because I'm so glad people put it on my radar! This tiny gem of a country looks absolutely amazing, and it has some Balkan cred, which is my favorite region to travel in thus far. Lake Bled is just so picturesque but Vintgar Gorge and other sights seem equally amazing. Ljubljana has some funky vibes that I'm sure I'd love. And the seaside of Piran looks as gorgeous as Croatia's but without the ridiculous crowds.
7. Philippines
Another place where I am way, way late to the party. Guys, can someone help me fix this already? The rice terraces of Banaue are simply stunning, there are lots of great day trips from Manila, and of course, there's the epic islands of Boracay, Coron, Bohol, Cebu, Palawan with the beautiful El Nido, and so much more to explore. These 20 photos of the Philippines pretty much say it all.
8. Mongolia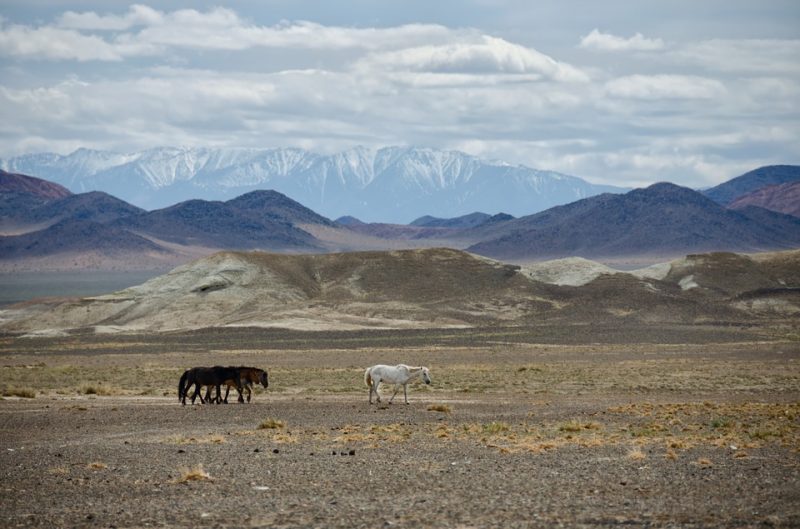 After watching the supremely excellent film The Eagle Huntress, about the most badass 13-year-old girl and the most loving father in the world, I suddenly feel twice the need to visit Mongolia. The drone shots in the film are simply stunning. Although I think I'll skip the -40 C wintertime, thank you very much. I'd much prefer to go camping next to dreamy Khovsgol Lake. Check out this 2 week Mongolia itinerary to get inspired!
9. Iran
The only thing keeping me from visiting Iran is the fact that as an American, I need a tour guide to accompany me everywhere in that country, and that is expensive. That and the fact that America now has a sentient stale Cheeto with a hard-on for Islamophobia as a president. But the mosques and the food and the hospitality of the people are all calling my name… so maybe not 2017, but sometime soon. It has to happen. Until then, I'll dream of Persepolis, Esfahan, Tehran, Yazd, and all the delicious Persian food, of course.
10. Armenia
Bountiful religious history? Check. Rugged mountains? Check. Delightfully untouristy? Check. Perfect for hitchhiking? Check. I haven't heard much about Armenia, but that just makes me want to go even more.
11. Romania
I was planning on going to Romania, but my depression had other plans. I hope to rectify that in 2017. The cute cities of Sibiu and Timisoara, the Maramures, Transylvania and its amazing castles, and the Painted Monasteries all sound so amazing. Plus, it's really affordable to travel in Romania — score!
12. Alberta, Canada
Canada's getting quite a bit of press lately in anticipation of its upcoming 150th birthday – and with good reason. That lake, am I right? To celebrate, Canada was giving out free annual passes to all of its national parks in 2017, and I snagged one! I'm hoping to visit Banff and Jasper National Park in the upcoming year if I can fit it into my travel schedule.
13. Sichuan, China
Those of you who've had the dubious pleasure of meeting me personally probably know it's hard for me to STFU about spicy food. And the spicy food capital of the world is no doubt Sichuan, China. I used to travel four hours roundtrip to eat at the best Sichuan restaurant in New York City on the regular. (PSA: It's called Little Pepper, and it's worth the commute to College Point, Queens, even though the subway doesn't go there!) I'd love to go to Chengdu and Chongqing and eat all the mapo tofu, dan dan mien, la zi ji, shuizhu yu, hot pot, ma la xiao mian… I think it's safe to say I'm mildly obsessed. And the natural beauty surrounding Sichuan province is just the icing on the (spicy mung bean jelly) cake.
14. Estonia
Fun fact: I'm one quarter Estonian. My father's birth mother was originally from Estonia, and as someone who's woefully out of touch with her roots, this has a certain appeal to me. The Old Town of Tallinn is simply gorgeous, especially all lit up for the holidays and under a layer of snow. Hmm, I think I know where I'll be in a year's time… Also, super fast internet. Love!
15. South Korea
I almost taught English in South Korea before deciding to leave the teaching world and try out my blogging chops. And while most days I'm happy with that, there are days I wish I was eating all the kimchi jjigae, bibimbap dolsot, mandu, sundubu jjigae, and galbi I could find. Traditional Korean food is one of my favorite foods in the world, and to eat it in the homeland would be a dream come true. Plus, the spring cherry blossoms and the autumn colors are simply beautiful, and it's affordable to travel in Korea! There are so many gorgeous islands, like the famous Jeju Island (often called "The Hawaii of Korea") and lesser known but equally beautiful ones like Ulleungdo.
16. Guatemala
Yet another place I am actually definitely going to in 2017! I've been researching Guatemala and I am mildly obsessed. Semuc Champey, the series of limestone pools shown above, is simply stunning. I'm excited to explore the ruins at Tikal, one of the largest Mayan ruins there is. I can't wait to hike active volcanoes, chill on Lake Atitlán, stroll through beautiful colonial cities like colorful Antigua, and learn about contemporary Mayan culture. Though some people may worry about the safety in Guatemala, the country is bouncing back from their decades-long civil war and making progress towards improved safety.
17. Sri Lanka
I'm a huge wildlife lover, and Sri Lanka promises wildlife in spades. From the adorable elephants bathing themselves in Udawalawe National Park to the largest population of leopards in the world in Yala National Park, this country is an animal lover's dream. The countryside is also lush and gorgeous, with tea plantations and rice terraces tumbling down hillsides. That, plus stunning palaces and temples? Sold, sold, so so sold!

Inspired? Hover over to Pin the image!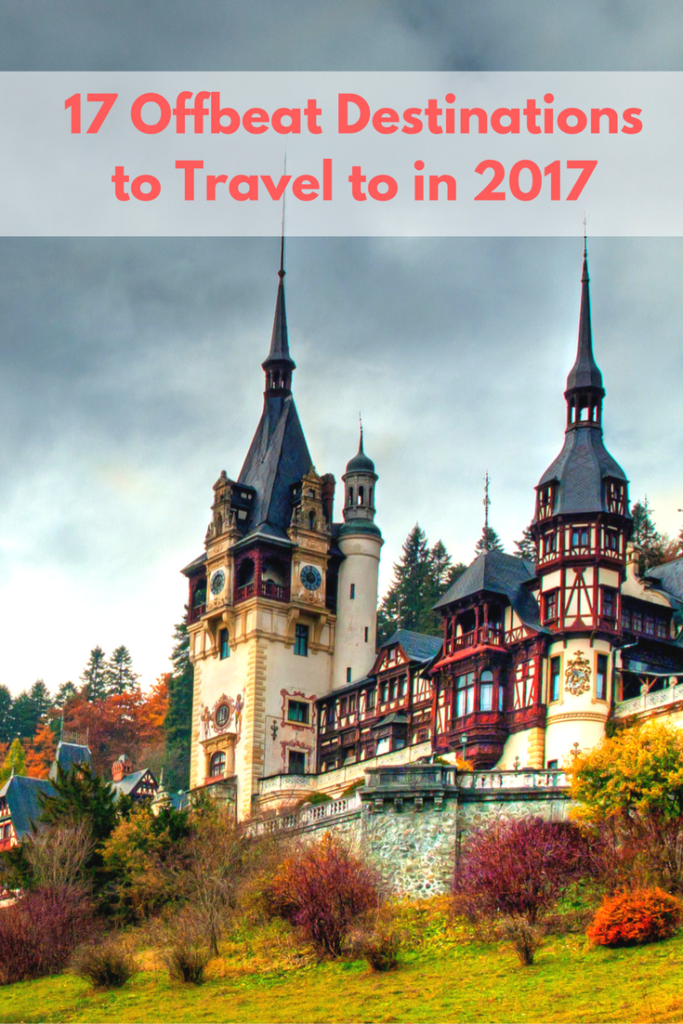 Have you been to any of these destinations? Have any recommendations? What's on your travel wishlist for 2017?