Note: This post may contain affiliate links. Please see my disclosure page for more details.
At this point, everyone and their HBO-loving mother knows that Dubrovnik is King's Landing, Iceland is North of the Wall, and Northern Ireland is Winterfell.
But as I've been journeying around Europe and North Africa, I've found myself on a sort of unofficial Game of Thrones scavenger hunt. Unintentionally, I've discovered a few hidden gem filming locations that aren't quite as mobbed with tourists as Dubrovnik and the others. Side note: seriously, don't even try going to Dubrovnik in summer, it's just miserable. Beautiful, but miserable.
So, for all you diehard Game of Thrones fans out there, I hope you enjoy these 5 stunning but lesser-known filming spots worth adding to any Game of Thrones tour – and be sure to let me know if any of them surprise you!
NOTE: This post contains spoilers for up to about halfway through Season 7, and comments will not be monitored for spoilers; read at your own risk!
San Juan de Gaztelugatxe, Basque Country, Spain – Dragonstone stairs
Yeah, I have no idea how to pronounce that, either. This staircase in the Basque country in Northern Spain first caught my eye on Pinterest many years back, and when I planned a road trip with a friend through the Basque countryside I made sure that this was one of the stops on our itinerary. I went back in 2016, before Season 7 aired, so I had no idea this would be a future Game of Thrones spot when I took this photo!
About an hour and a half from Bilbao, the island church of San Juan de Gaztelugatxe is home to the stairs that make up Dragonstone. Just don't be surprised when you get there and instead of an imposing castle built atop a cache of dragonglass, there's a tiny humble church at the top — the castle is all CGI.
How to get there: This is doable as a guided tour from Bilbao if you don't have a rental car. Alternately, if you're staying in Bilbao and you're on a budget, you can take bus A3518 to Bakio starting from Plaza Moyúa square, then take a taxi or walk about 1.5 hours to the church.
Ait Ben Haddou, Morocco – Yunkai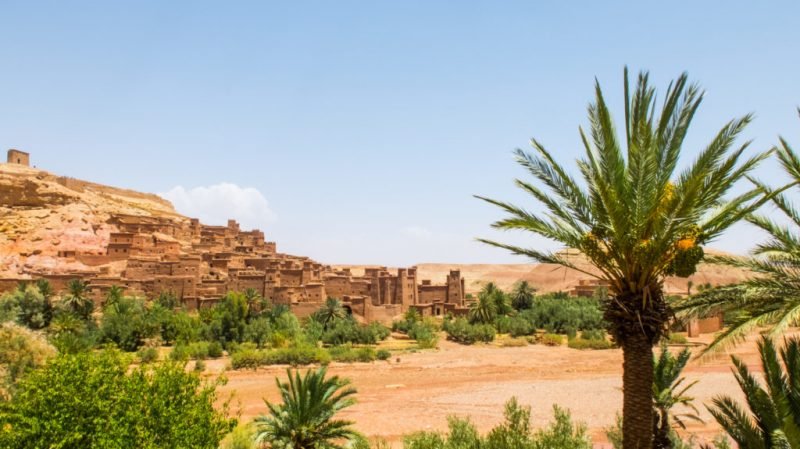 Ait Ben Haddou is no stranger to being used as a filming locale — prior to its stint as Yunkai in the early seasons of Game of Thrones, it was also the setting of Lawrence of Arabia, The Mummy, Prince of Persia, Gladiator… yeah, I could go on.
If you do a Sahara desert tour from Marrakech, this will undoubtedly be one of the (many) stops on your long journey east. If you're only in Marrakech for a short amount of time and want to do it as a day trip, you can do that as well. It's cheaper to book in the country, but you can also book online as well if you want to be sure your tour won't sell out, though you'll pay more.
How to get there: The best way is to take a tour to the Sahara Desert that stops here along the way, or to sign up for a day trip when in Marrakech if you're short on time but want to see it.
Essaouira, Morocco – Astapor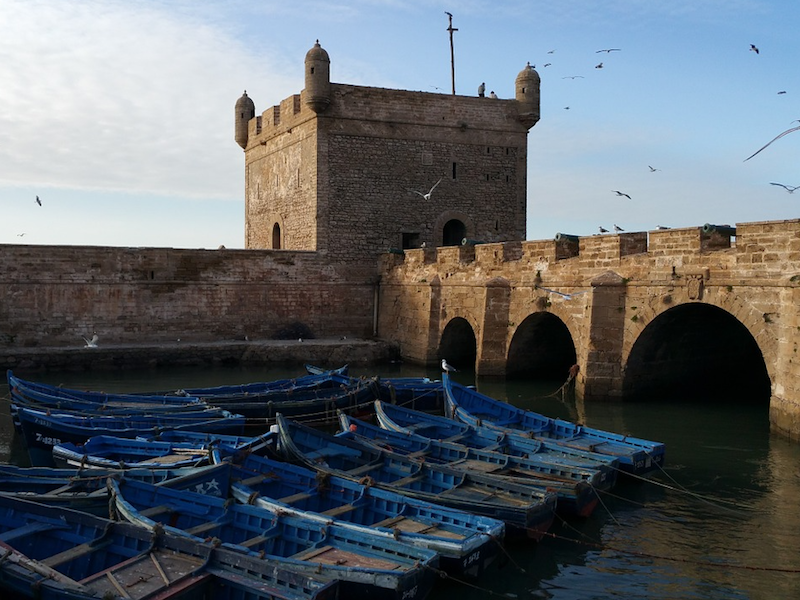 Astapor, another one of the cities of Slaver's Bay, is represented by a different destination in Morocco: Essaouira, a port city about a 3-hour bus ride from Marrakech. Famous for its blue boats, laid back pace, and fortified walls, Essaouira is a welcome change from the frantic pace of the souks of Marrakech.
The fact that Game of Thrones was filmed right on the red-bricked promenade around the waterfront is just icing on the cake (or pastilla — this is Morocco, after all)!
How to get there: Take a bus or a grand taxi (collective taxi) from Marrakech to Essaouira for a day trip or stay there overnight.
Sevilla, Andalucía, Spain – Dorne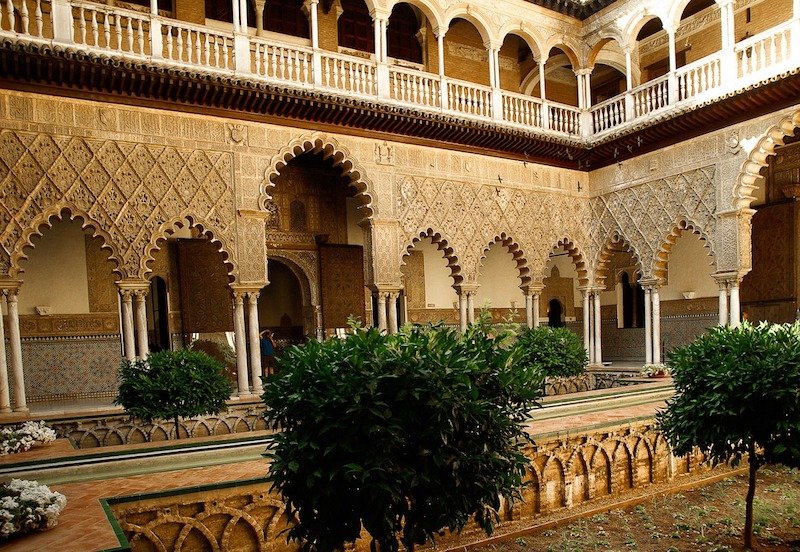 Is it just me or is Dorne pretty much the Spain of Westeros? With those sexy accents and dark features (RIP Oberyn, you didn't deserve to go out that way), it's not really all too surprising that Spain takes the place of Dorne in much of the movie. Although to be fair, Spain also spotlights as Dragonstone, King's Landing, and Braavos… but I digress.
The Water Gardens of Dorne are really the Real Alcazar in Sevilla, Spain, a UNESCO World Heritage Site that used to be a palace for the Moorish king — hence the heavily Islamic influence in the architecture.
How to get there: Located right in the center of Sevilla, so it's quite easy to get to! Trains run daily from Madrid and countless other cities in Spain, though Sevilla is definitely worth spending some time in.
Girona, Catalonia, Spain – King's Landing (and Braavos)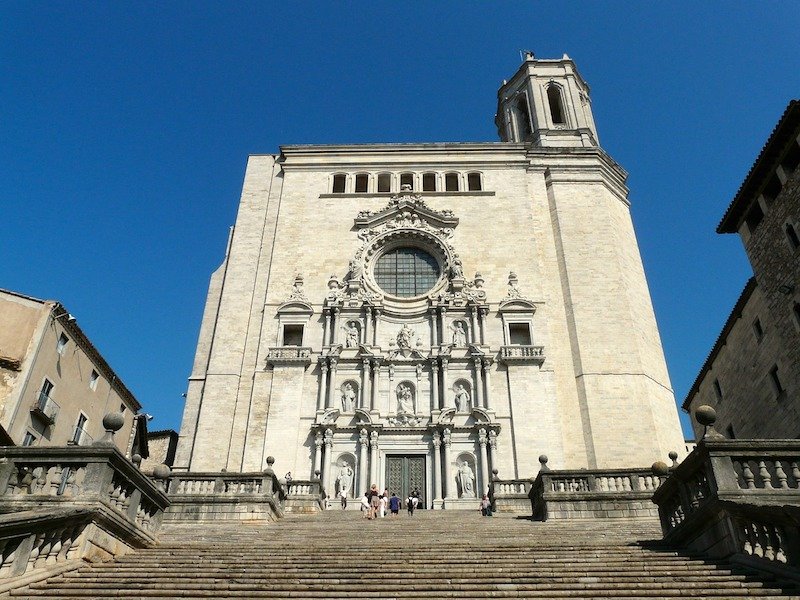 When here, I thought it was the famous "Shame" stairs and got really excited and wanted to do a dramatic walk of shame down the stairs… minus the shaved head and tomato throwing, that is. Terrible GoT fan I am — turns out it's the Great Sept of Baelor (or what's left of it after Cersei went full on pyromaniac), home to that epic scene where Jaime charges up the staircase on horseback.
Girona is also home to lots of scenes from Arya's time training/running for her life in Braavos, so as you walk through the Old Town of Girona, don't be surprised if things look eerily familiar!
How to get there: The Old Town is right in the center of the city, so it's quite easy to get there if you're staying in Girona! If you're staying in Barcelona, you can take a train (faster) or bus (cheaper) to visit Girona on a day trip.
Have you stumbled across any lesser-known Game of Thrones filming locations on your travels? Let me know in the comments below!