When you think of Illinois, the "Land of Lincoln", a few things might come to mind: Barack Obama, the Chicago Cubs, and deep dish pizza, perhaps.
But we're here to argue that Illinois is so much more than Chicago!
There are so many cute, charming small towns in Illinois that are perfect for any group or family for a quick getaway!
Keep reading for some advice on the best Illinois small towns from an Illinois local, guest writer Riley Wharton.
Best Small Towns in Illinois
Galena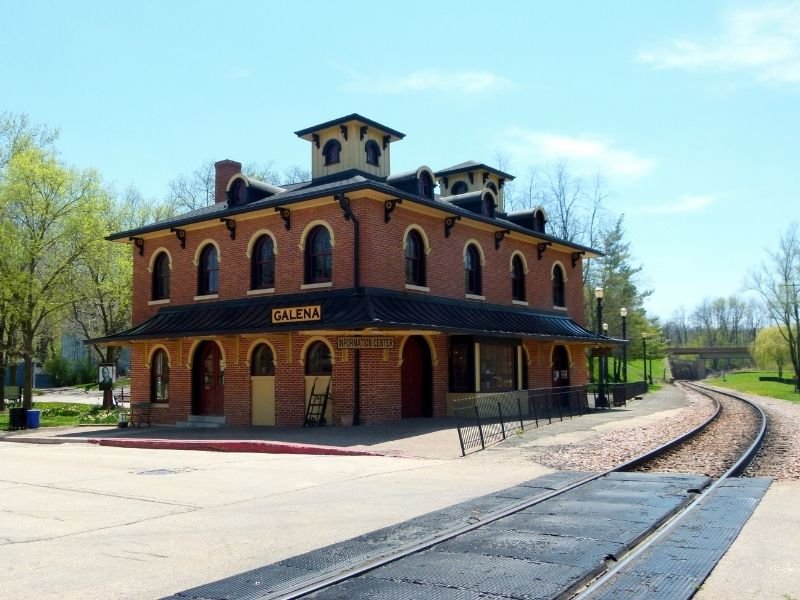 Note: This post contains affiliate links, which means I may receive a small commission if you purchase something through one of these links. Thank you for supporting the free content on this site! For more information on affiliate links and cookies, see my disclosure page for more details.
Population: 3,249
The beautiful Western Illinois small town of Galena is nestled between stunning greenery and rolling hills. But it offers so much more than beautiful surroundings!
Upon first glance at the downtown area of Galena, you would think that you were taking a step back in time to the 19th century!
The Galena Historic District has so much to offer, like the 1857 Belvedere Mansion and the 1859 Ulysses S. Grant Home, both done in the Italianate architectural style.
The nearby Linmore Gardens are also a great treat!
Visitors to Galena enjoy going to Main Street for boutique shopping and to admire the art galleries. There are also some great restaurants and bars on the "Helluva Half Mile", a local favorite.
If you are looking for something a little quieter or more romantic for your small town Illinois getaway, Galena Cellars Winery offers wine tastings and winery tours.
You can even sample some grapes while you stroll through the vines — they're delicious before they even become wine!
During the summer, visitors love to take advantage of the great weather with golfing, fishing, hiking, and biking.
Looking for something truly unforgettable for your small town getaway? Galena on the Fly even offers hot air balloon rides!
Galena is an all-season destination, offering plenty to do outside of the warmer months — if you can brave the cold Midwest winter temperatures!
During the winter, you can ski or snowboard or just enjoy the beautiful snowy scenery. Two great resorts in the area are Eagle Ridge and Chestnut Mountain.
Both resorts host visitors year round, so it's also a great place for hiking and mountain biking outside of the peak winter season.
Where to Stay in Galena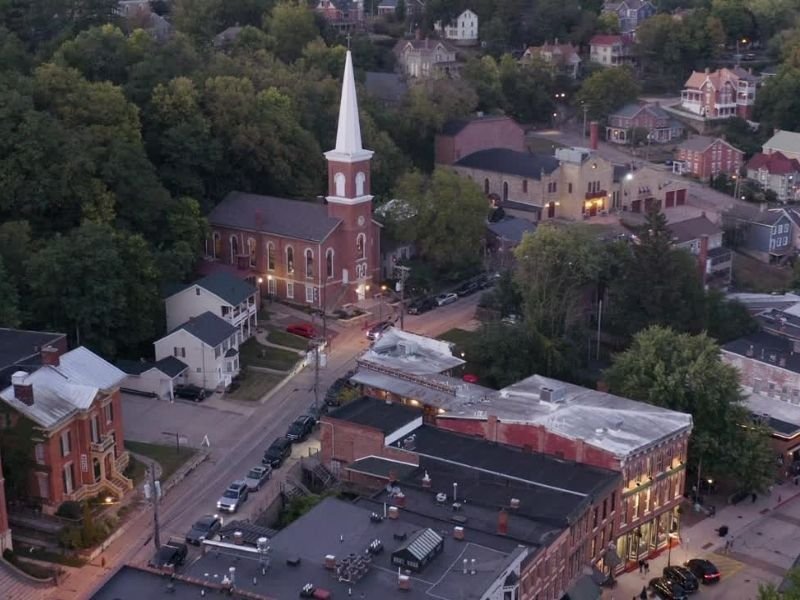 Looking for a beautiful IL small town getaway in Galena? This small town boasts lots of great accommodation options!
If you're looking for a little pampering on your Illinois small town getaway, look to The Goldmoor Inn & Resort, one of the most luxe options. It's hard to believe a hotel this gorgeous exists in a town of less than 4,000 people!
Located 7 miles from the Historic District, you'll be close to the action while also away in a luxurious world of your own!
The property offers rooms fit for royalty, each equipped with a seating area, kitchenette and dining area, en-suite bathroom with fluffy bathrobes, and a hot tub in every room. Yes, a hot tub in every room! Plus, most rooms have gorgeous balconies where you can admire the grounds.
Check availability and rates at the Goldmoor Inn & Resort here!
Another great, more budget-friendly option is Stoney Creek Inn, which offers rustically-decorated accommodations that evoke a cozy cabin in the mountains.
Yet for all its rustic ambiance, it still offers comfortable amenities for a relaxing getaway, like a heated indoor pool and hot tub and a delicious free hot breakfast!
It's about 10 miles away from ski resorts if you choose to visit in the winter.
Oglesby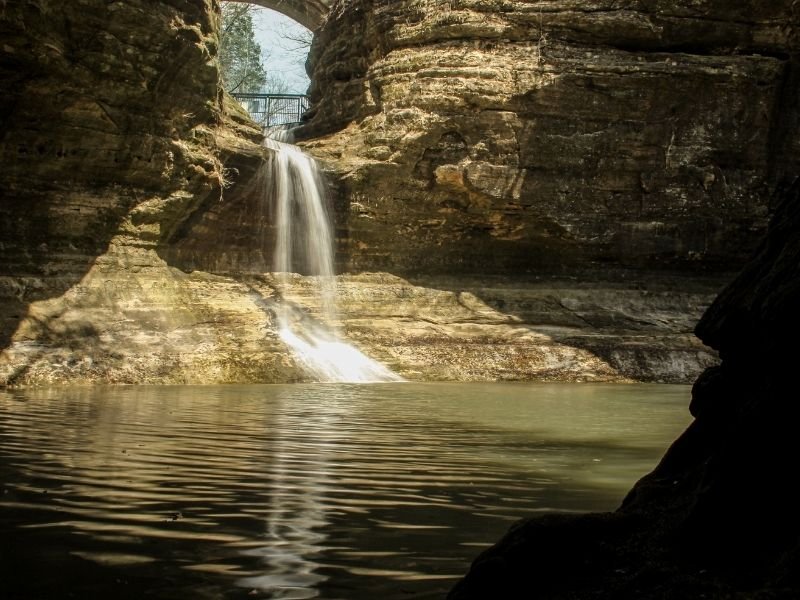 Population: 3,549
If you are looking to visit some of Illinois' state parks, look no further than Oglesby, IL!
Starved Rock State Park and Matthiessen State Park are both within the Oglesby city limits, and you are only 90 minutes away from Chicago, making this a great small town getaway in Illinois.
Starved Rock State Park is located along the Illinois River, and it is known for its canyons and waterfalls.
If you like to hike, camp, or fish, then a visit to Starved Rock must be on your Illinois bucket list!
Matthiessen State Park is home to rock formations, bike and horse trails, and cross-country skiing in winter. It is smaller than Starved Rock, but that doesn't make it any less enjoyable.
Where to Stay in Oglesby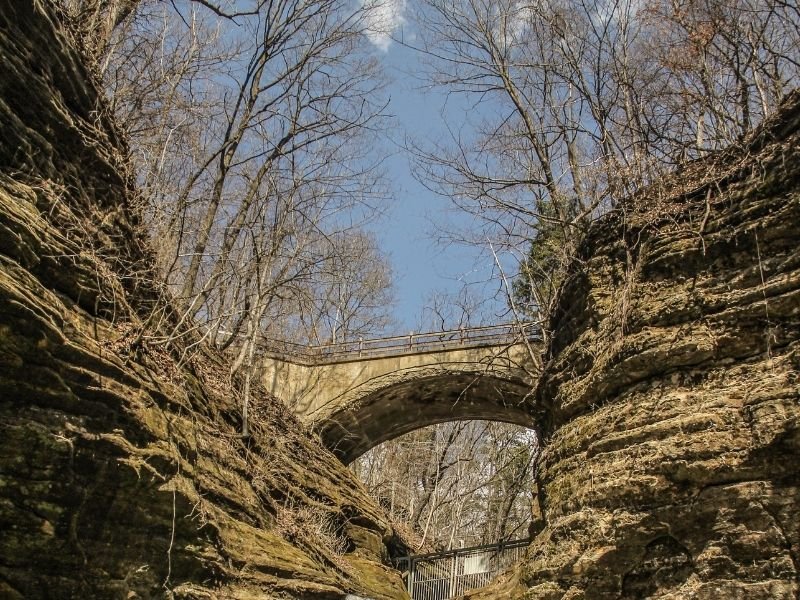 The two hotels in town are the Days Inn Oglesby and the Best Western Oglesby. Both offer familiar comfort that you're accustomed to with a nationwide chain.
Of the two, I recommend the Best Western Oglesby, which has an indoor pool and hot tub, large spacious rooms, free breakfast, and in-room coffee machines for when you can't even before you need your first cup of coffee.
Check availability and rates at the Best Western Oglesby here!

Princeton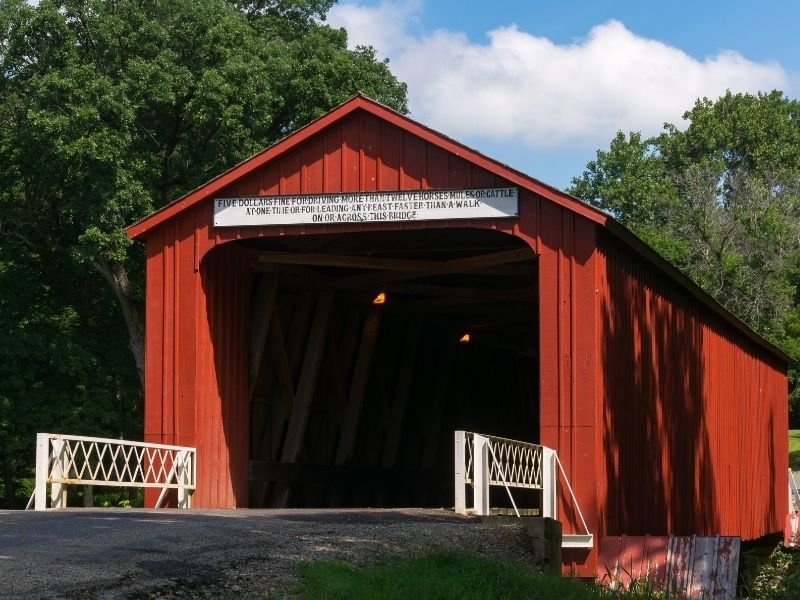 Population: 7,603
Upon seeing Princeton's two iconic covered bridges, visitors know that they just took a step back in time!
One of the mainstays of the town is the Lovejoy Homestead, which was a stop on the Underground Railroad.
Visiting the Lovejoy Homestead is a must for people who want to understand this important chapter in American history. It's also on the National Register of Historic Places.
Princeton has a quaint downtown area with historic homes, shops, local businesses, restaurants, and bars. It is only two hours west of Chicago, so it is a quick train or car ride to get to enjoy this charming and historic small town in Illinois
Where to Stay in Princeton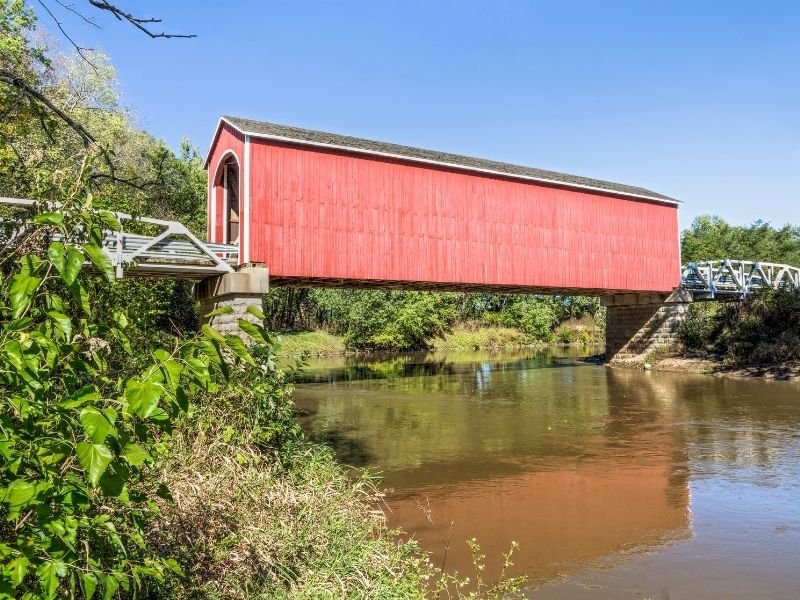 A few popular chain hotels have locations in Princeton, but the best on offer is the AmericInn by Wyndham.
This hotel has a rustic lodge look with comfortable amenities such as an indoor pool and hot tub.
It offers a wide variety of room types including several ADA accessible rooms and suites. The rooms are spacious and many guests rave about the tasty included breakfast!
Check availability and prices of the AmericInn by Wyndham here!
Long Grove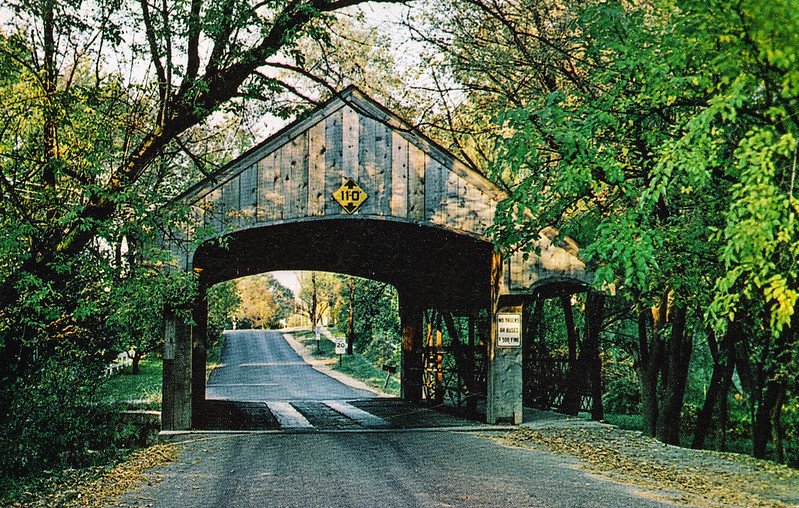 Population: 7,963
Only 40 miles north of Chicago, this small suburb with an iconic covered bridge is stunning and an easy day trip from Chicago.
The charming small town of Long Grove is protected by building ordinances which keep this small Illinois town having a country feel, despite its proximity to Chicago!
Long Grove is known for its downtown historic district with year-round activities and festivals: such as the Craft Beer Festival in April, Chocolate Fest in May, Strawberry Fest in June, Apple Fest in September, and Vintage Holidays in November and December!
Downtown Long Grove has some great restaurants, breweries, and wineries to enjoy on your small town getaway.
Gerri's Tea Room has a British-inspired high tea experience — wonderful for a romantic getaway. For something unique, you can eat in a private RV at Chatterbox.
Looking for something to drink? You can sample IPAs at Buffalo Creek Brewing, or enjoy fine wine at Broken Earth Winery and Corked Wine Bar.
Where to Stay in Long Grove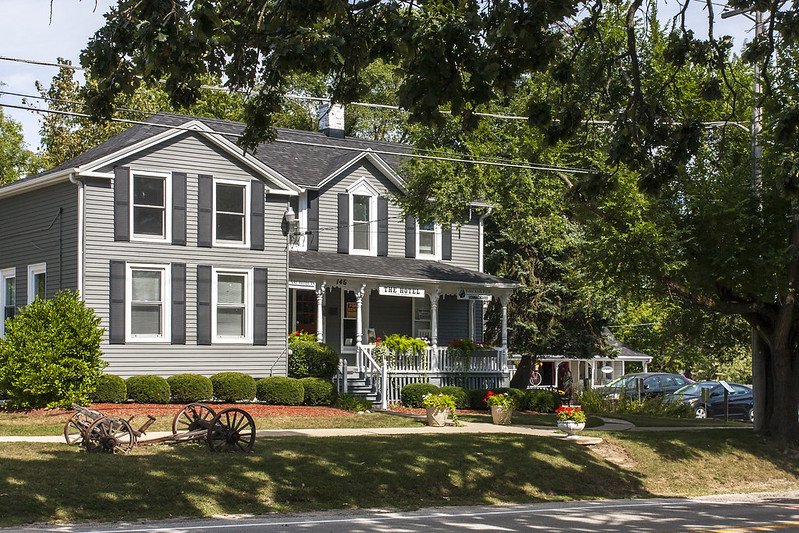 Located just two miles away from Long Grove in the adjacent Buffalo Grove,The Four Points by Sheraton Buffalo Grove is a great place to stay for a relaxing small town getaway from Chicago.
The indoor pool area is nothing short of Instagrammable and spectacular, and its location on the Buffalo Grove Gold Course invites you to truly unrelax and unwind, whether you play golf or not!
The rooms are spacious and comfortable and there's also a state-of-the-art fitness center available for you if you want to get in a little activity on your trip!
Check availability and rates at the Four Points by Sheraton here!
Barrington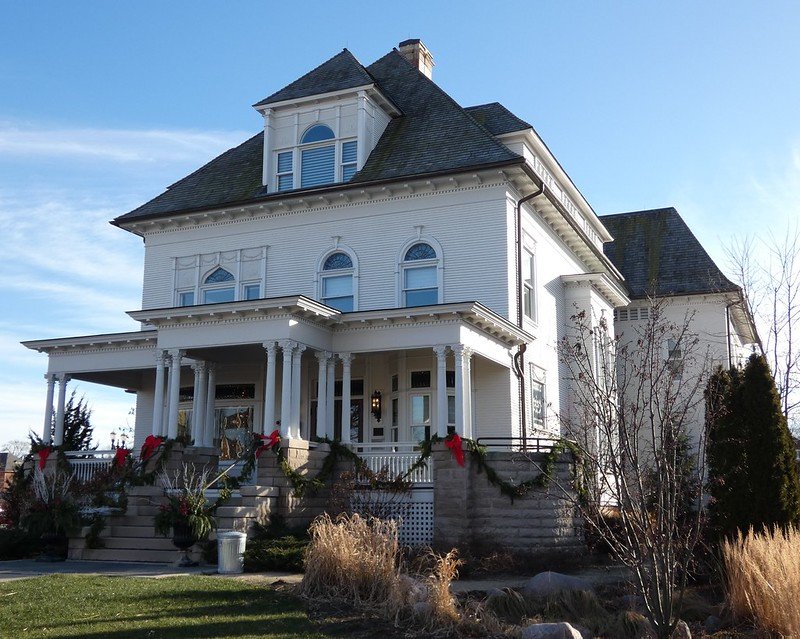 Population: 10,290
Similar to Long Grove, this northwest Chicago suburb is 40 miles northwest of the city.
The historic downtown area is very walkable, and it is home to many restaurants and local businesses.
The town hosts many events and festivals throughout the year that are great entertainment for the whole family, such as the Barrington Art Festival every may, summertime farmers markets, the Metra Lot Concerts in the summer, and wine walks in the spring and winter.
Plus, you can find year-round cultural events and performances at Barrington's White House, a charming and intimate venue located at a historic mansion.
Another cool place to see is the historic and beautiful Octagon House.
Where to Stay in Barrington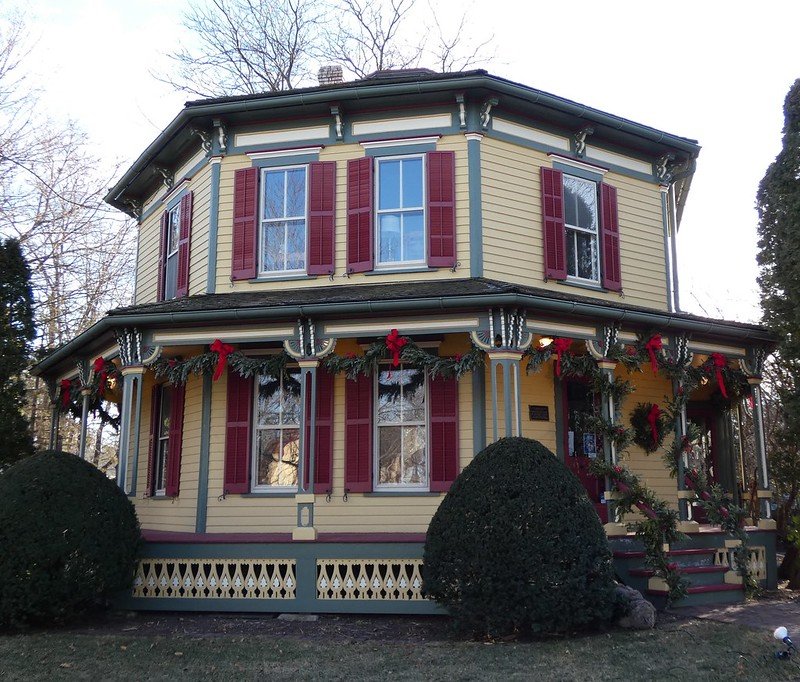 There aren't many accommodations in Barrington, save for the Fairbridge Inn Express which offers basic rooms at an affordable price.
A much more comfortable option is the Hyatt Place Hoffman Estates, located 6 miles away from downtown Barrington.
This hotel has a gorgeous pool area, an incredible fitness center, and extremely modern and clean rooms that will have you enjoying your escape from reality!
Check availability and rates at Hyatt Place Hoffman Estates here!

Metropolis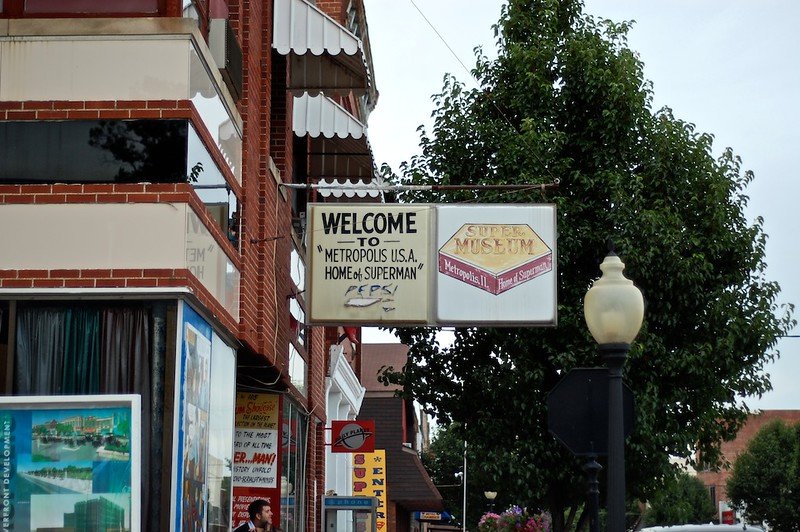 Population: 6,129
Despite its misleading name, Metropolis is a true Illinois small town that you'll easily fall in love with!
Welcome to the home of Superman! If you are a fan of Superman, you must go to Superman Square on Market Street.
Superman Square is home to The Super Museum, which has the largest Superman memorabilia collection in the world, including a 15-foot Superman statue and a 6-foot Lois Lane statue!
Adults who want to try their luck can check out the Harrah's Metropolis Casino and Resort. It is along the Ohio River and offers great views!
Another hot spot on the Ohio River is Illinois' first state park – Fort Massac State Park. Nature enthusiasts can enjoy camping, hiking, fishing, boating, and seasonal hunting.
In addition to Harrah's, there are over half a dozen hotels that accommodate you and your family during your stay — but we'll share why Harrah's is our top pick below!
Where to Stay in Metropolis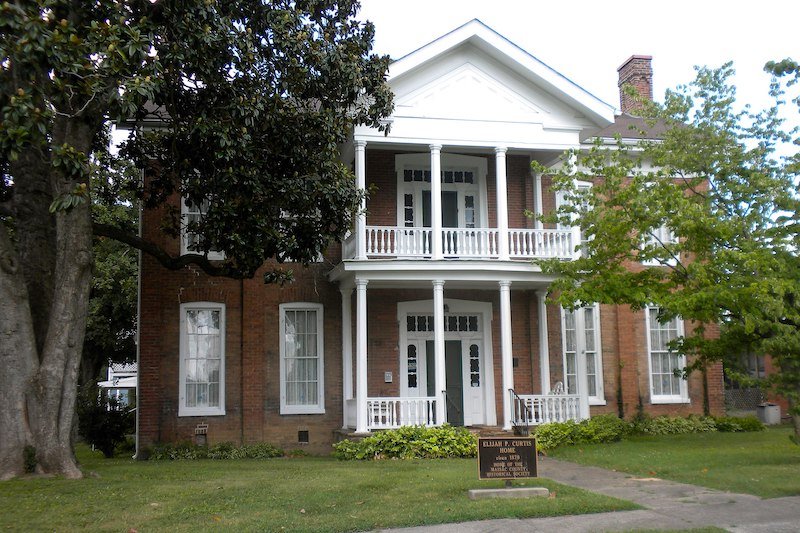 In Metropolis, the best choice to stay is riverside — in particular, at Harrah's Metropolis Casino & Resort.
This stunning hotel offers sweeping views over the Ohio River and plenty of amenities to make your time fun. I mean, it is a literal casino and resort!
Besides having a 36,000 square foot casino with over 1,000 slot machines and more than two dozen table games, there are also three restaurants onsite: a breakfast restaurant The Rivercrest, a steakhouse at The Range Steakhouse, and a funky 50s-style diner Ace's Diner.
The rooms are spacious and comfortable with all you need for a relaxing small town getaway.
Plus, you're a short walk to all the comforts and fun of downtown!

Chester
Population: 8,343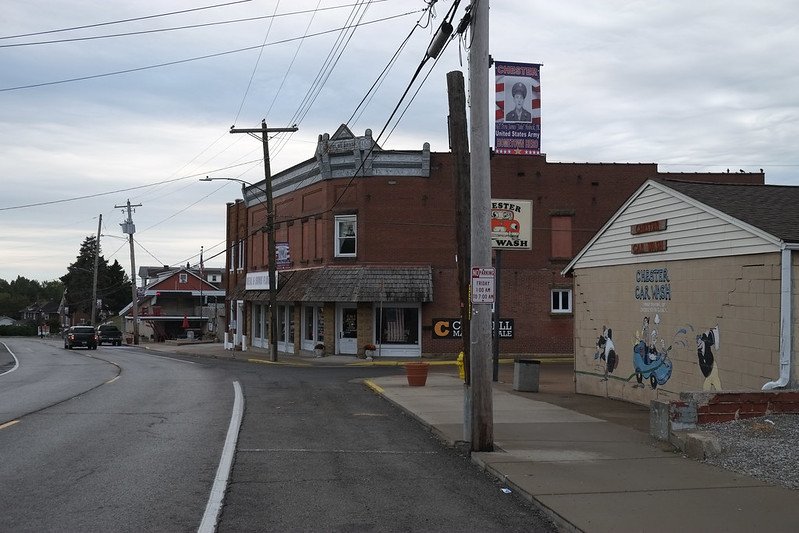 This Illinois town is home to another iconic character – Popeye!
You can visit the Spinach Can Collectibles Museum and talk a walk along the Popeye & Friends Character Trail, making this a great small town getaway for kids.
If bridges are more of your thing, there are two bridges that are quintessential to the town that you shouldn't miss!
Chester is 60 miles southwest of St. Louis, and the Chester Bridge crosses the Mississippi River to connect Illinois and Missouri.
For a more historic-looking bridge, Mary's Covered Bridge is 90 feet long, and it is one of the only covered bridges in the area.

Since the town is on the Mississippi River, many visitors enjoy going on The American Queen river cruises.
It's also a good place for hiking near St. Louis.
If you would prefer to stay on land, you can take a walk along the river and see some of what Lewis and Clark saw on their expedition!
Where to Stay in Chester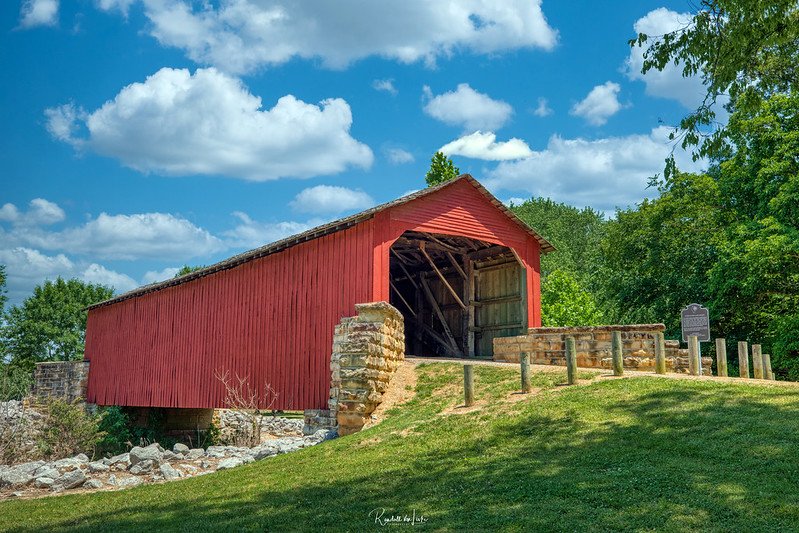 Chester is a true Illinois small town and thus there are a not a ton of accommodation options here, but you can find comfort at the Best Western Chester.
It has a convenient location close to downtown museum and country parks, and each room comes with some standard amenities such as flatscreen TVs, mini-fridges, and coffee machines, as well as a well-appointed en-suite bathroom.
Check availability and rates at the Best Western Chester here!

Monticello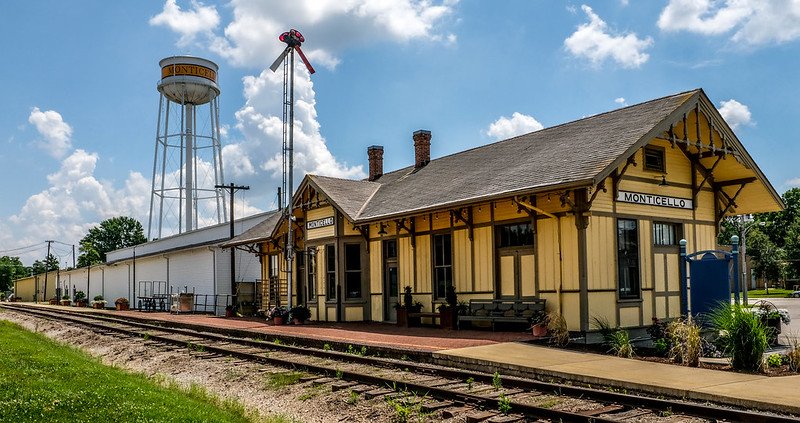 Population: 13,583
Monticello is 20 miles southwest of the University of Illinois (and the great restaurants in Champaign-Urbana!)

The premier attraction is Allerton Park. It is now owned by the University of Illinois, and it hosts events and outdoor concerts year-round.
Some popular events at Allerton include Murder Mystery at the Mansion, the annual half marathon, and the annual Allerton Music Barn Festival.
Visitors can explore the 40-room Allerton Mansion, where you can also tour the formal European gardens and bike or stroll the many acres of trails.
In addition to Allerton, visitors to Monticello enjoy visiting the Monticello Railway Museum. The museum offers train rides on a 19th century style train, and visitors have the opportunity to learn how trains shaped the surrounding area while learning firsthand.
Downtown Monticello has several quaint and delicious restaurants, and it is also home to the annual Farmer's Market that runs from June through October.
Where to Stay in Monticello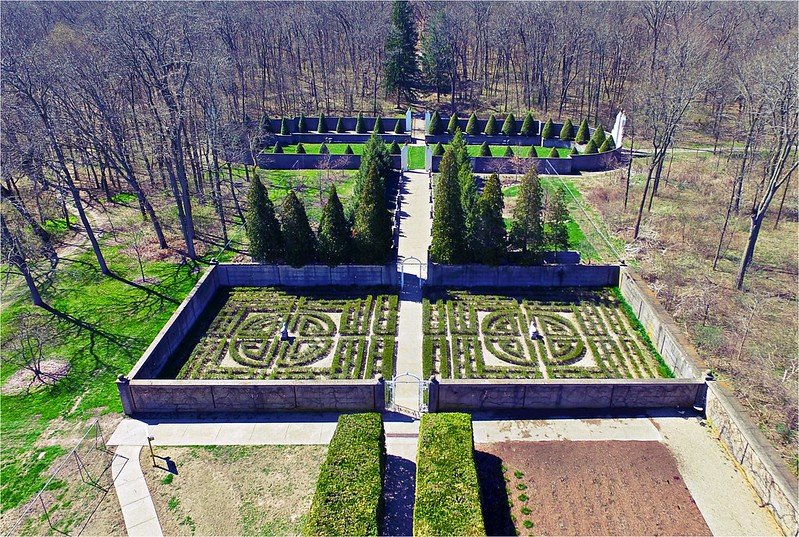 There's only one option in town, and it's quite basic: think your average outdated motel. The Foster Inn Monticello has decent reviews for its lack of amenities, but you'll find more bang for your buck if you look near the Champaign-Urbana area.
Options there include the super modern downtown Hyatt Place, the Country Inn & Suites by Radisson, and my favorite option: the uber charming Champaign Garden Innlocated in a beautiful historic home.
The Champaign Garden Inn has a Victorian-era elegance in one of the oldest neighborhoods of Champaign, while still being conveniently located to downtown . The rooms are stunningly comfortable with pillowtop beds, high-quality linens, Turkish towels, and fancy robes.
Nearby amenities include West Side Park and the Virginia Theater, and the delicious restaurants of downtown Champaign are just four blocks away!
Check availability and rates at the Champaign Garden Inn here!

Arcola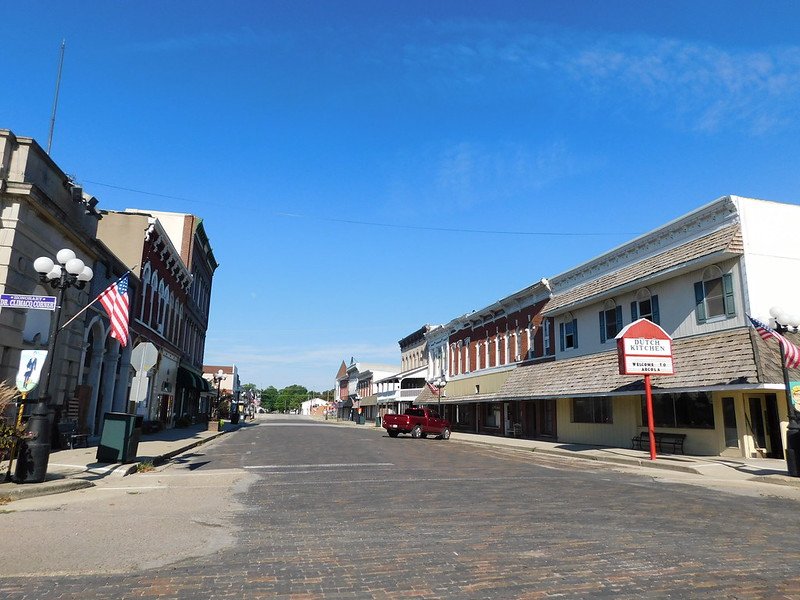 Population: 2,731
Arcola is another small Illinois town that is close to Champaign-Urbana. It is about 40 minutes south of the University of Illinois campus.
The most unique attraction is the Hippie Memorial. It is 62 feet long, and it is the only memorial of its kind in the United States!
The second most unique attraction are the Walldog Murals. There are 17 murals that were all painted in 2012 which draw lovers of street art and photography from around the world.

Arcola is also home to the annual Broom Corn Festival every September!
Arcola is one of the gateways to the Amish communities in Illinois, so if you're curious to discover a little more about Amish Life, you can visit this website which covers some of the Amish destinations near Arcola!
Where to Stay in Arcola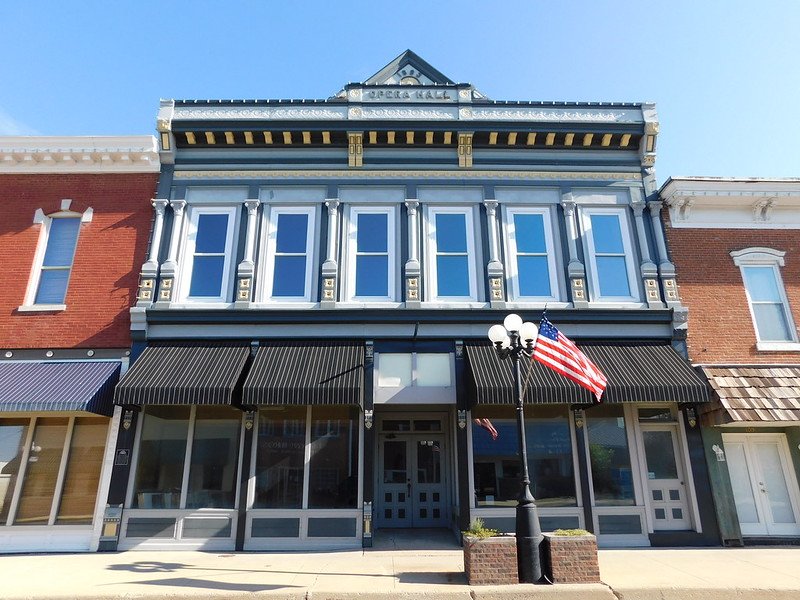 As with many of the charming small towns in Illinois we've covered, there aren't a whole ton of accommodation options in Arcola.
However, the Quality Inn in Arcola has great reviews despite being a little less modern than options you'll find in larger cities.
Rooms are clean and spacious, breakfast is included and tasty, and there's an outdoor pool to enjoy in the hot and sticky Illinois summers!
Admittedly, the design could use an update – lime-green painted walls against red and brown tones haven't been popular since… well, have they ever been popular? – but it's affordable, convenient, and clean.
Check availability and rates at the Quality Inn Arcola here!
Fox Lake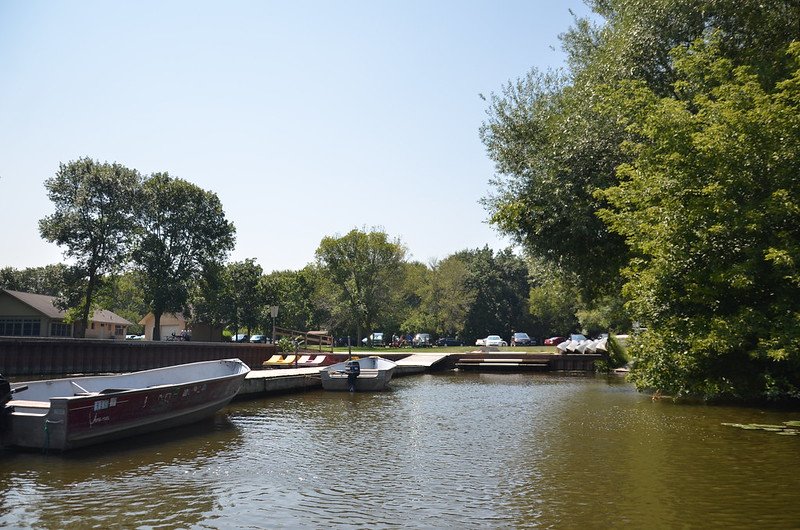 Population: 10,721
Fox Lake is your go-to summer destination for boating and relaxation in small town Illinois!
Fox Lake is considered the "Heart of the Chain O' Lakes" since it has access to 15 connected lakes and 45 miles of rivers!
There are many pontoon boat rental companies in the area, including Chain O' Lakes Boat Rentals which is a great place to start your waterfront getaway.
Fox Lake is located in Lake County, about an hour north of Chicago, making it a really popular small town getaway for Chicagoans.
It is also close to the Wisconsin border, so many Wisconsinites also like to come visit! As a result, there are plenty of hotels and campsites in the area for any budget.
Where to Stay in Fox Lake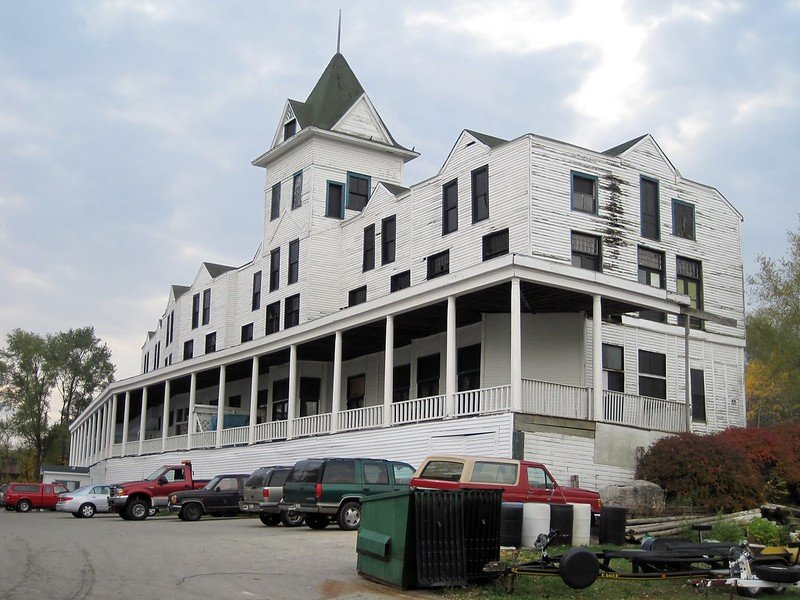 The Waterfront Hotel & Marina in Johnburg, IL is just three miles away from Fox Lake and offers lakefront access to the Chain O' Lakes.
Rooms are simple but clean and spacious, with balconies offering beautiful lake views!
Pontiac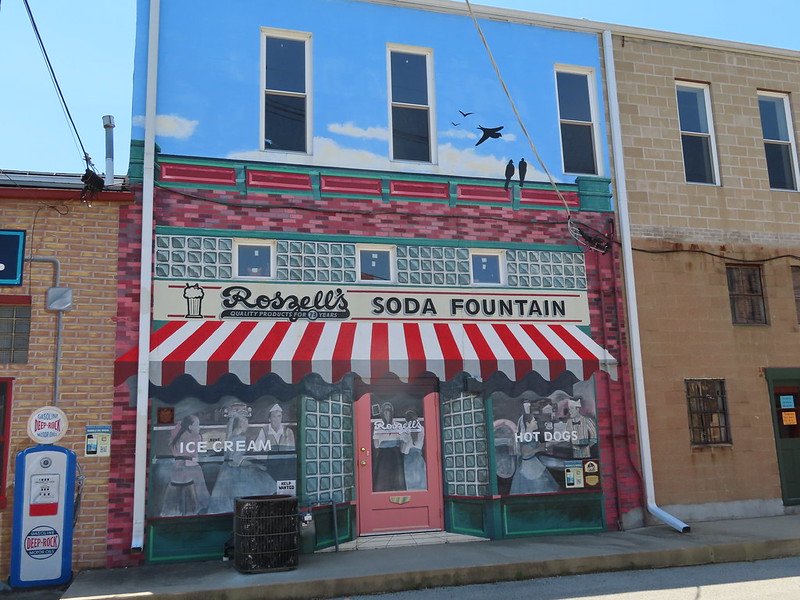 Population: 11,688
When you think of this small town in Illinois, you think of Route 66!
It is an hour and a half southwest of Chicago, and it has five Route 66 heritage sites!
Pontiac is also home to two Civil War memorials, as well as memorials for WWI, WWII, Korea and Vietnam, Desert Storm, as well as recent wars in Afghanistan and Iraq.
Beautiful outdoor murals on Main Street are another staple to the town and are another draw for visitors traversing Route 66 or just looking for an Illinois small town getaway.
One of the most unique features in town are the swinging bridges. There are three swinging bridges for pedestrians that cross the Vermilion River.
The city makes sure that these bridges are safe for visitors by replacing parts of the walkways as needed, so rest easy crossing these bridges!
Where to Stay in Pontiac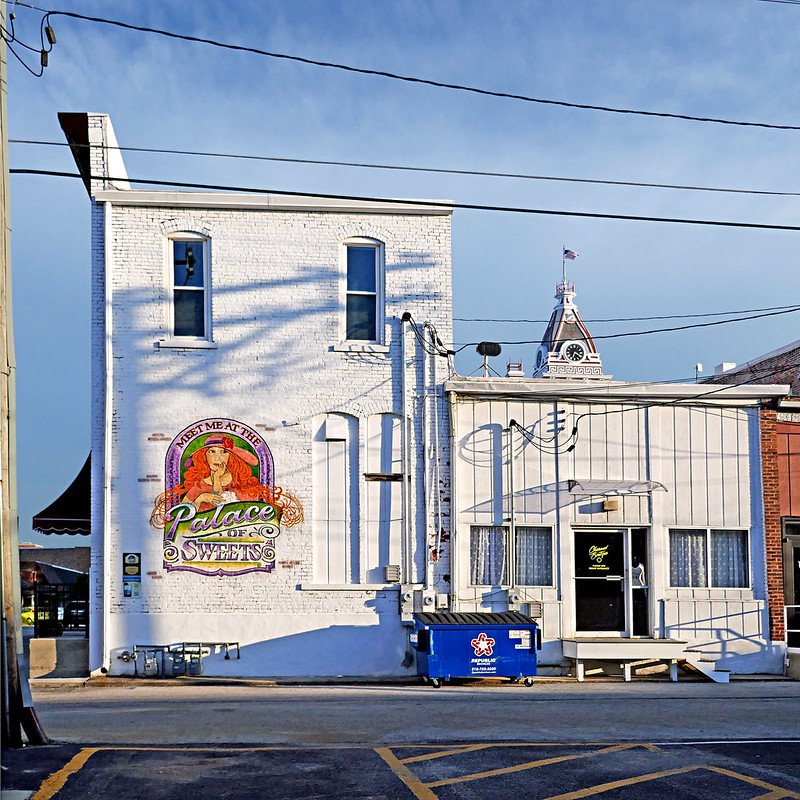 As a historic Route 66 town, it's not surprising that there are a handful of options for where to stay in Pontiac, IL!
The best-rated option in town is the Hampton Inn & Suites in Pontiac, which has an indoor heated pool, a fitness center, and clean and spacious rooms that offer seating areas as well as large, comfortable beds.
Check availability and rates for the Hampton Inn & Suites here!
Waterloo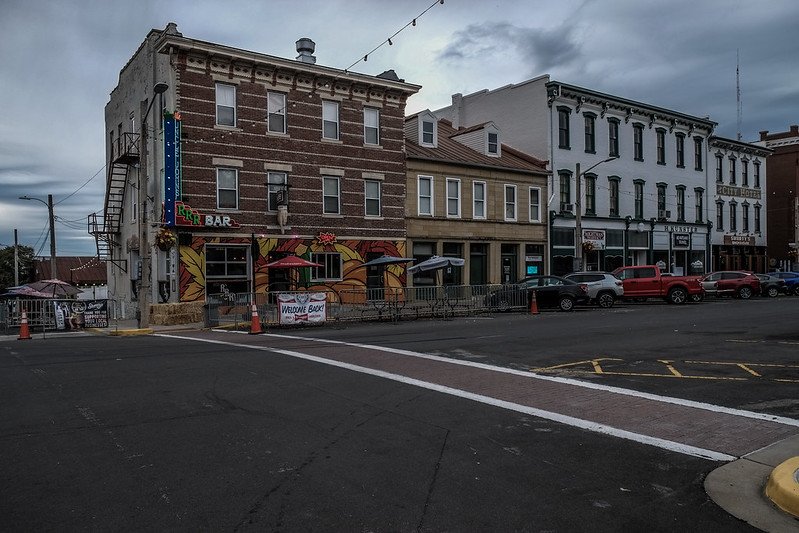 Waterloo is a great escape from the big city life of St. Louis, which is located amere 20 minutes away.
It has maintained its historic German roots of the 19th century, making it a great place to find a little slice of Europe in Illinois!
Something unique to Waterloo is its connection to Indigenous history. Waterloo is a part of the Kaskaskia-Cahokia Trail. The trail is known as Illinois' first road, with origins spanning back to 11,000 BC!
In order to see the whole trail, you have to go by car – it is 60 miles long!
Where to Stay in Waterloo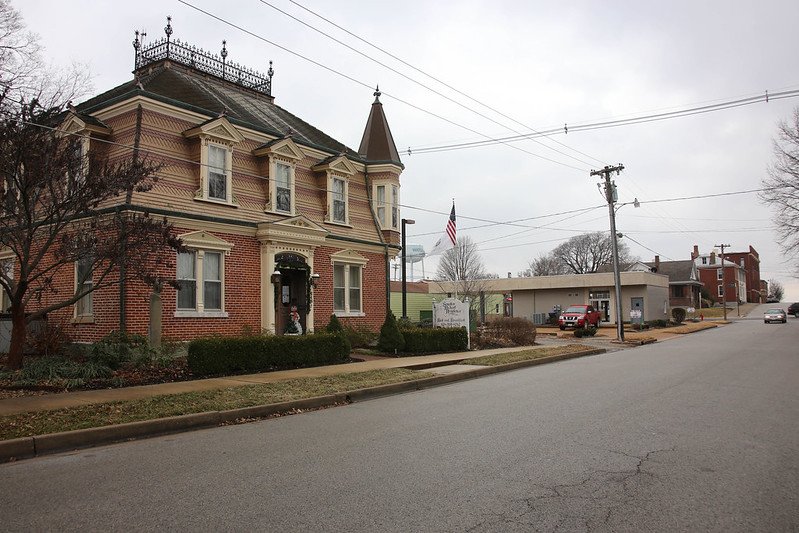 The pretty Illinois small town of Waterloo doesn't have many options for where to stay, but the Sunset Motel is a great choice!
While it doesn't look like much from the outside, it is a remodeled drive-up motel, complete with the classic Motel sign and facade but with newly renovated interiors.
It's an affordable option when visiting Waterloo!
Check rates and availability at the Sunset Motel here!
Greenville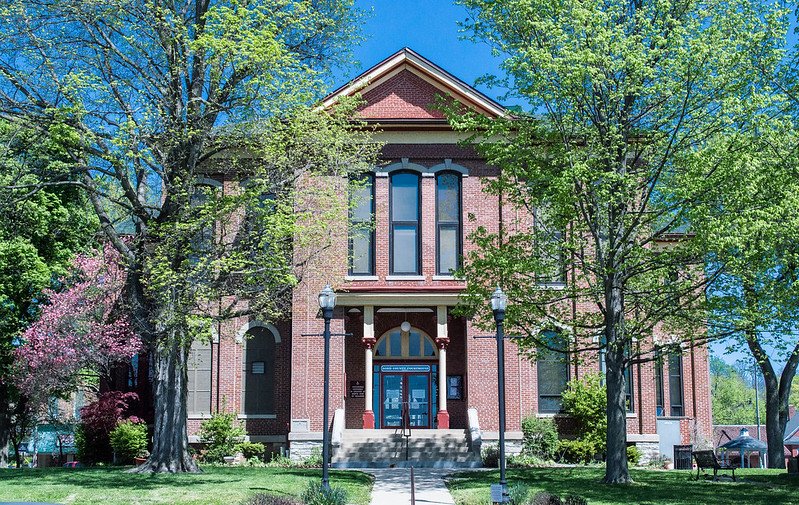 Greenville is another Illinois small town that is close to St. Louis.
It's a must-see town for people who love to learn about US Presidents and history.
The town is home to both Lincoln and Reagan historical sites. There is also a Civil War Memorial, the Carnegie Library, a farm heritage museum, and living history days at Fort's Hill.
Downtown Greenville has over a dozen antique shops and two dozen restaurants, and it puts on many festivals throughout the year.
Looking for a reason to visit? The Hummingbird Festival and Bond County Fair are held every summer.
Additionally, the Family Fall Festival, Airstravaganza, Greenville Art Walk, and Apple Day Festival take place every September and October, making it a great fall destination.
Where to Stay in Greenville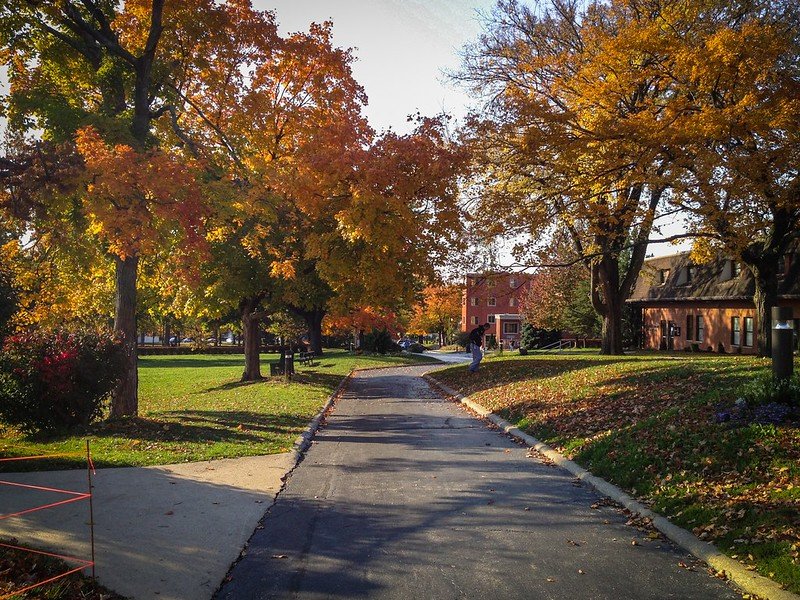 The SureStay Hotel in Greenville is a great option for where to end your day in Greenville!
This pet-friendly hoptel offers perks like a free continental breakfast, an indoor heated pool, a hot tub, laundry facilities, and an exercise room.
Rooms include all you need for a comfortable stay — mini-fridges, microwaves, coffee makers, desk — and some even have Whirlpool-style bathtubs for a relaxing end to your day of exploring Illinois small towns!