North Carolina is a state steeped in culture and art, located in the Southeast of the United States.
The state is popular for its natural beauty and hiking, historic small towns, and stunning beaches on the Outer Banks.
From dense forests to coastal small towns, there's a lot to explore on your next North Carolina getaway!
These small towns in North Carolina make for a terrific weekend escape for families or couples.
Here are North Carolina's best small towns for your next trip!
The Best Small Towns in North Carolina
Blowing Rock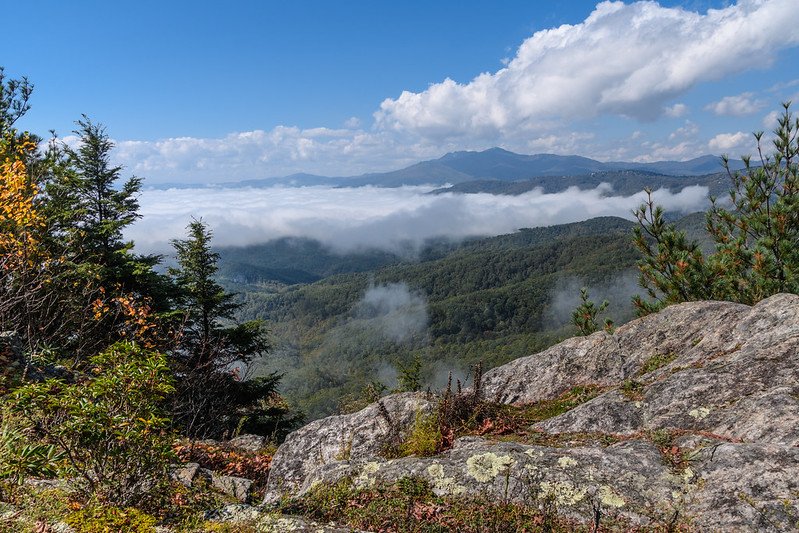 Note: This post contains affiliate links, which means I may receive a small commission if you purchase something through one of these links. Thank you for supporting the free content on this site! For more information on affiliate links and cookies, see my disclosure page for more details.
Population: 1,163
Located in Western North Carolina, Blowing Rock is one of the best small towns to visit in North Carolina — it's a must-visit on any Blue Ridge Parkway road trip!
In this town, you'll be able to explore beautiful waterfalls and trails. The best way to explore this town's scenic beauty is on foot, so you can appreciate its beauty the slow way.
Exploring some of the hiking trails that traverse through the Blue Ridge Mountains is a can't-miss while visiting Blowing Rock!
The Glen Burney Trail is a beautiful 2.3-mile out-and-back trail that descends to an antique trail that crosses through pine greenery and leads to views of three magnificent waterfalls – Cascades, Glen Burney Falls, and Glen Marie Falls.
This trail has more than 650 feet of elevation gain in its short distance, so it's considered a moderate hike. Bring some sturdy hiking shoes!
Aside from hiking, you can also find Sky Valley Zip Tours, which offers zip lines, cliff leaping, and a 120-foot-long swinging bridge — perfect for travelers with a daring spirit.
Visiting Blowing Rock in the winter? Appalachian Ski Mountain offers a wide range of winter sports, including skiing, snowboarding, and ice skating for people who prefer a little less adrenaline in their winter sports!
But of course, while Blowing Rock is best-known for its outdoor activities, there is plenty to do in this beautiful small town itself.
If you'd like to explore this town's architecture, we highly recommend visiting the Flat Top Manor. Aristocrat Moses Cone built and owned this medieval house, and you can visit it today.
The impressive mansion is perched above a hill, encircled by some breathtaking views, including Bass Lake. You can stroll the grounds for a few hours, and then picnic adjacent to Bass Lake.
Where to Stay in Blowing Rock
For an exclusive destination perfect for a luxury-inclined traveler, Chetola Resort at Blowing Rock is located in a beautiful natural landscape of the Blue Ridge Mountains!
The resort's proximity to Chetola Lake, as well as its access to a world-class tennis court and other outdoor activities, make it a popular destination for those who love to explore. The resort has top amenities to ensure a comfortable stay for all its guests.
Banner Elk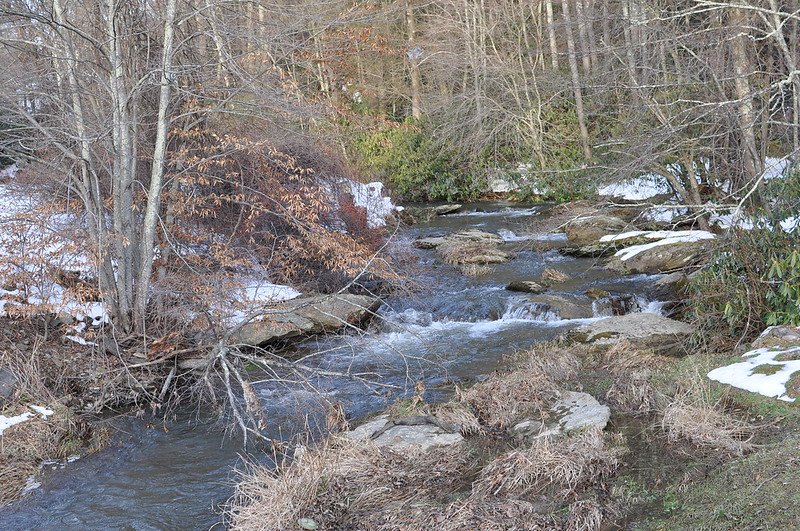 Population: 1,332
Next on our list of charming North Carolina towns is the beautiful Banner Elk.
Banner Elk is considered one of the highlights of North Carolina High Country along the Blue Ridge Parkway.
This is where you'll find iconic Blue Ridge Parkway sights like Grandfather Mountain State Park, the Linn Cove Viaduct, and much more!
Additionally, the Linville Falls (just a short 1-mile hike roundtrip!) are located nearby just off the Blue Ridge Parkway.
It's also in close proximity to other fantastic tourist destinations such as Brown Mountain, The Orchard at Altapass, and the town of Little Switzerland.
If you are planning a summer trip to Banner Elk, you can cool off in the 13-acre Wildcat Lake, which is also a great fishing spot.
Visiting in the fall? You can't miss Apple Hill Farm! More than just the name sounds, it's not just an ordinary apple picking orchard — it's also home to 21 alpacas. Touring the farm is a blast for animal lovers!
Planning a winter trip? Banner Elk is known as North Carolina's top ski town. This beautiful NC small town is nestled between two mountains, Sugar Mountain and Beech Mountain, with lakes and Banner Elk River views.
Where to Stay in Banner Elk
At Bluegreen Vacations Blue Ridge Village, an Ascend Resort, you can reach Sugar Mountain just a few miles away.
The resort offers mini-golf as well as a variety of sports courts. The spacious guest accommodations include free WiFi and full kitchens.
This is definitely your top choice when you visit Banner Elk!
Burnsville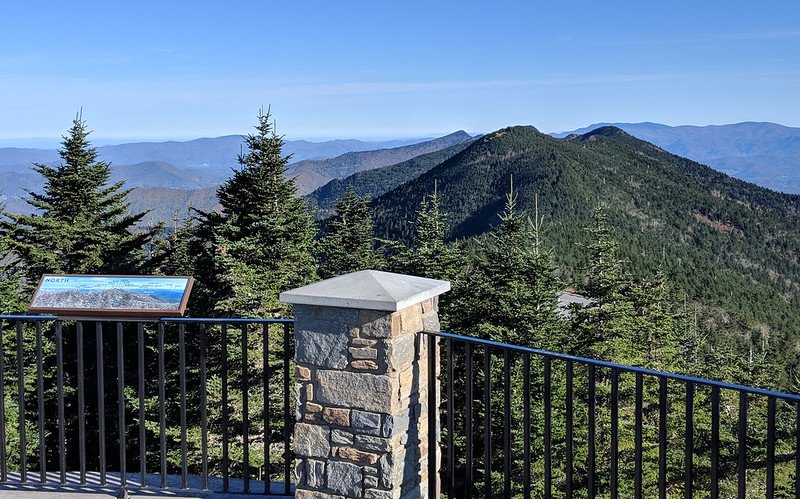 Population: 1,903
At 2,825 feet above sea level, Burnsville is a small town snuggled in Western North Carolina right by the beautiful Mount Mitchell.
It even has views of the Mississippi River from its highest point!
This charming small town is considered the hiking capital of Western North Carolina, and it makes a fantastic jumping-off point for hiking adventures.
When you wander around the buzzing downtown, you'll see the Town Square where people love to gather.
Here, you can shop around small boutiques or buy a unique souvenir as a memory. Additionally, if you're hungry, the Downtown area boasts towns of restaurants with lovely outside patios ideal for lunch.
You'll notice that many artists call Burnsville their home. You will find artists of every persuasion in Burnsville, from painting and sculpting to pottery and theater. You can also visit the Penland School of Crafts, which welcomes visitors to its gallery.
If you're someone who is fascinated by looking up at the pretty skies and those sparkling stars in the universe, you might not want to miss stargazing at the Bare Dark Sky Observatory, located at the Mayland Earth to Skypark.
Where to Stay in Burnsville
Located in Burnsville, Terrell House B&B features is a wonderful property to enjoy a comfortable stay. Guests have access to beautiful rooms with a classic and elegant decoration that will make you enjoy a different kind of stay.
The bed and breakfast serve a full breakfast each morning and it offers barbecue facilities. Plus, you can enjoy hiking nearby because of its top location!
Beaufort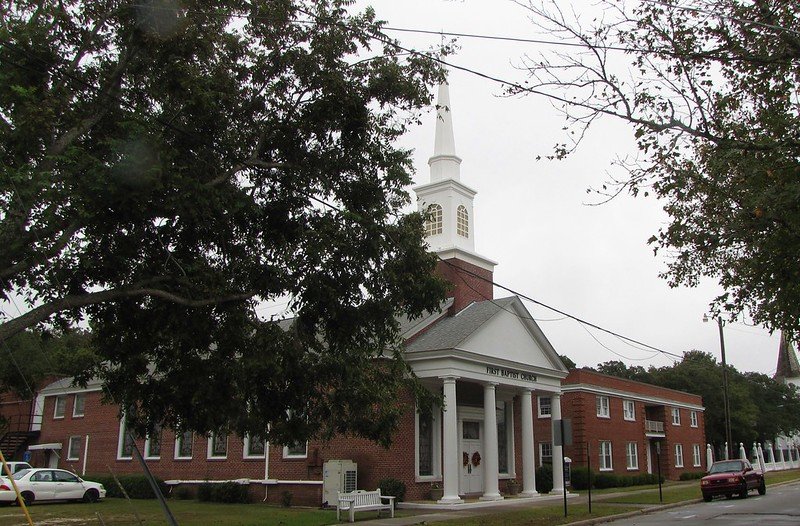 Population: 4,343
Next on our list is Beaufort, at the heart of North Carolina's charming Crystal Coast.
This North Carolina small town has an old-world Southern charm, complete with a rich naval history and all the adventure that comes with being so close to the Atlantic Ocean!
Beaufort's scenic Front Street offers gorgeous views of the Taylor Creek and the small islands off the coast, like Horse Island and Carrot Island. You can take a stroll along the coast and take picturesque photographs of the view!
Out of all the things to do while in Beaufort, don't miss a visit to nearby Cape Lookout National Seashore will show you an amazing side of the Crystal Coast that very few visitors get to experience.
For history buffs, I also recommend visiting nearby Fort Macon, which was established in the 19th century to protect the coast during the Civil War.
Where to Stay in Beaufort
Inlet INN NC offers various types of accommodations for guests to choose from in a fantastic property that will make you feel right at home.
These include suites, rooms with king or double beds, or rooms with two queen beds and a beautiful sea view!
Hillsborough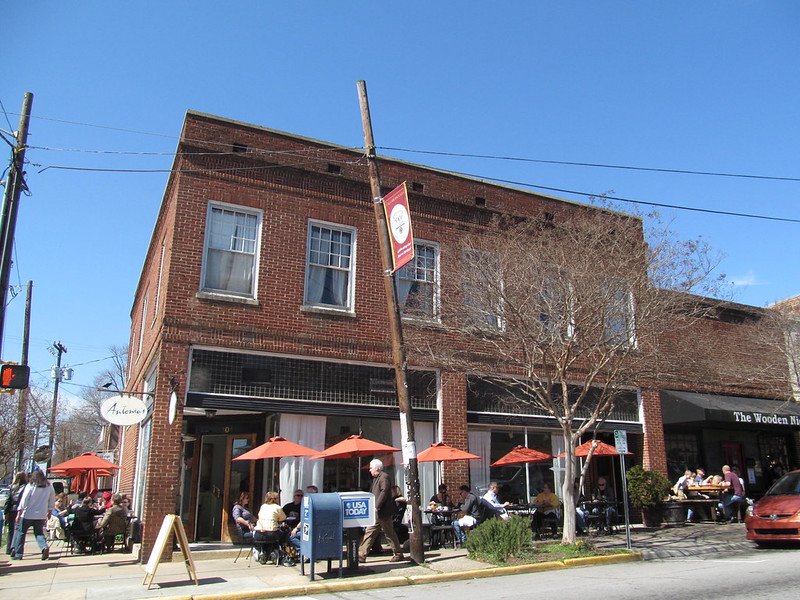 Population: 7,115
Hillsborough has become a must-visit North Carolina small town, due to its vibrant arts and cultural scene, as well as its scenic splendor.
The beautiful architecture of the 18th and 19th centuries is just one draw to this charming town — but perhaps the biggest draw are the town's events!
Hillsborough hosts several fun-filled annual festivals every year, which makes the downtown's environment even livelier, with events like the Handmade Parade and Hillsborough Half Marathon Races.
Additionally, if you enjoy hiking, the Occoneechee Speedway Trail offers an easy hike with some spectacular views!
Where to Stay in Hillsborough
The Holiday Inn Express Hillsborough-Durham Area is a beautiful hotel with a variety of amenities to offer.
The hotel has an outdoor pool, a continental breakfast every morning, and a gym. All rooms are pet-friendly as well, so you can bring your four-legged friend!
Manteo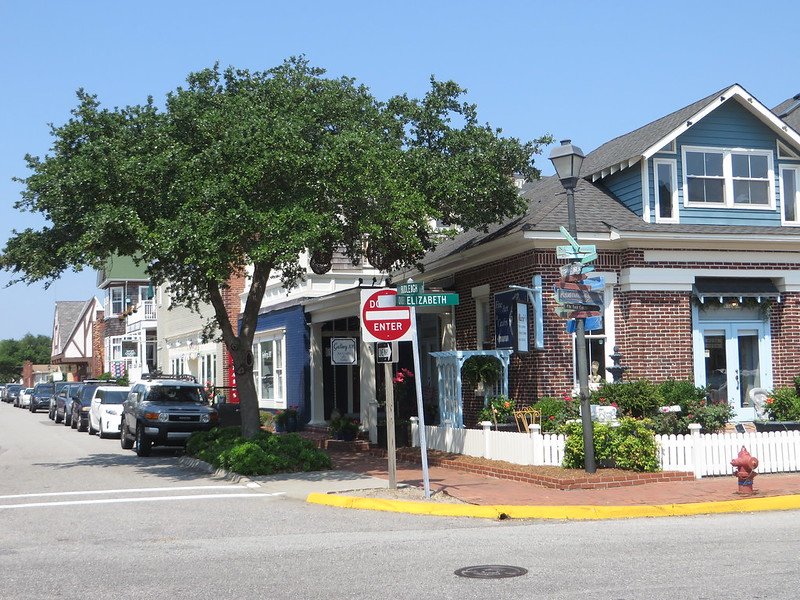 Population: 1,950
The charming small town of Manteo is located on Roanoke Island, an area that is rich in attractions and historic places.
Highlights of visiting Manteo include taking a stroll along the Waterfront Boardwalk, admiring the views from the marina, exploring the town's cute shops, checking out historic lighthouses, and more!
Manteo features a variety of tourist fun activities and is adjacent to some of North Carolina's best beaches, so it's perfect for a summer North Carolina getaway.
Some other popular attractions in Manteo include the Roanoke Island Festival Park and the Elizabethan Gardens.
Its Pioneer Theater is America's one of the oldest single-screen family cinemas on a budget.
Manteo is an excellent starting point for exploring all the great things to do in the Outer Banks and other charming Outer Banks small towns along the road!
Where to Stay in Manteo
The Burrus House Inn is a waterfront hotel that offers incredible guest rooms with sea views and a cozy atmosphere that makes you feel comfortable and at home.
The Burrus House Inn is one of the most popular hotels in Manteo for its coziness and epic ocean views.
Bryson City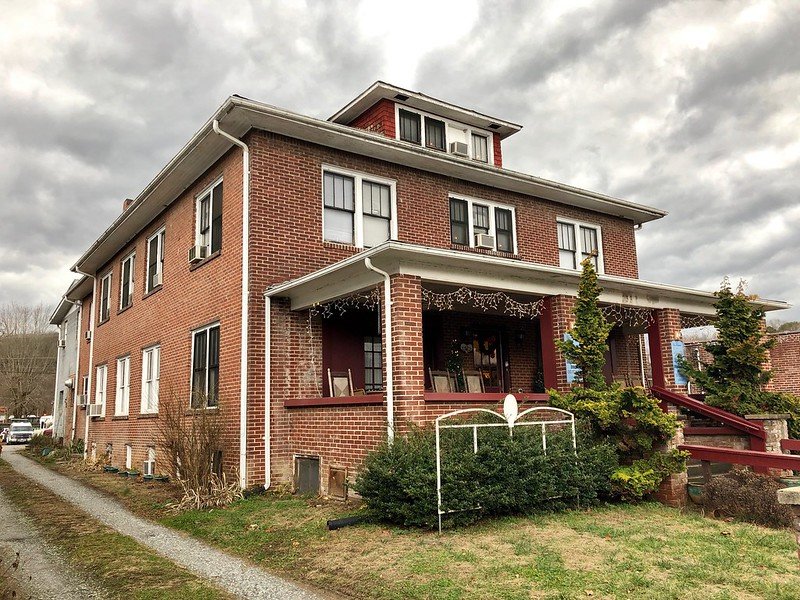 Population: 1,723
Next on our list is Bryson City, a small town in North Carolina. This city is a doorway to the Great Smoky Mountains National Park, the most popular national park in the United States!
The city is home to the beautiful historic Swain County Courthouse. The Heritage Museum is a perfect place to learn more about the region, located just across the river which splits the town.
Perhaps what Bryson City is best-known for is for being the home to the Great Smoky Mountain Railroad, where you can take a ride on a historic steam-powered train through the beautiful countryside.
For some summer water fun, both Fontana Lake and Tuckasegee River in downtown Bryson City offer activities like stand-up paddleboarding and kayaking.
Where to Stay in Bryson City
Stonebrook Lodge Bryson City is a beautiful North Carolina getaway spot! The lodge offers a variety of indoor and outdoor amenities for guests to enjoy, such as an indoor swimming pool and rooms with balconies.
It also offers easy access to Bryson City restaurants and tourist attractions, being in the heart of town!
Edenton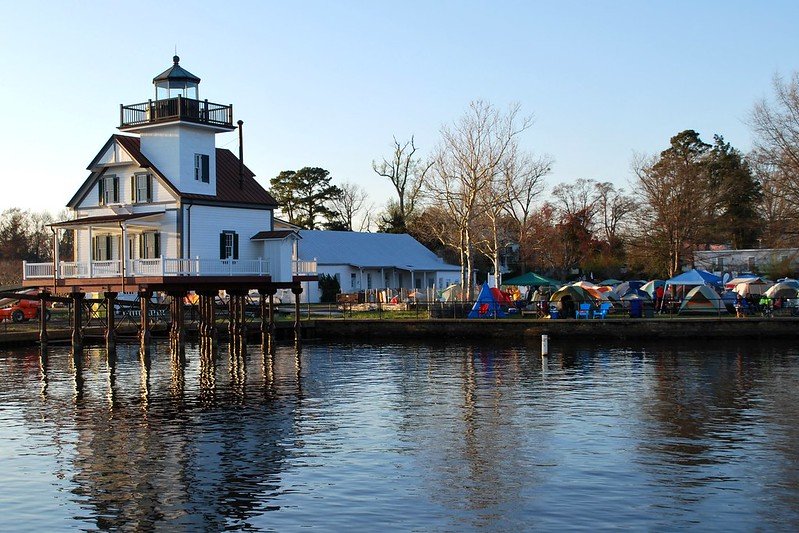 Population: 4,676
Edenton is a charming seaside town in North Carolina's Inner Banks region.
Edenton welcomes tourists with special events and festivals like the Christmas Candlelight Tour, so if you're planning to visit this place at the most magical time of the year, you'll surely love it.
The town's attractions include the stunning Roanoke River Lighthouse built in 1886, as well as trolley tours and bay cruises to enjoy the town by land and sea at your leisure.
Where to Stay in Edenton
The Hampton Inn Edenton is located in a top location in Edenton. It offers spacious rooms and suites so that guests can enjoy a hot breakfast each morning, as well as free coffee throughout the day.
One of its best amenities includes access to an outdoor swimming pool and even a picnic area to have a great time with family and friends.
Mount Airy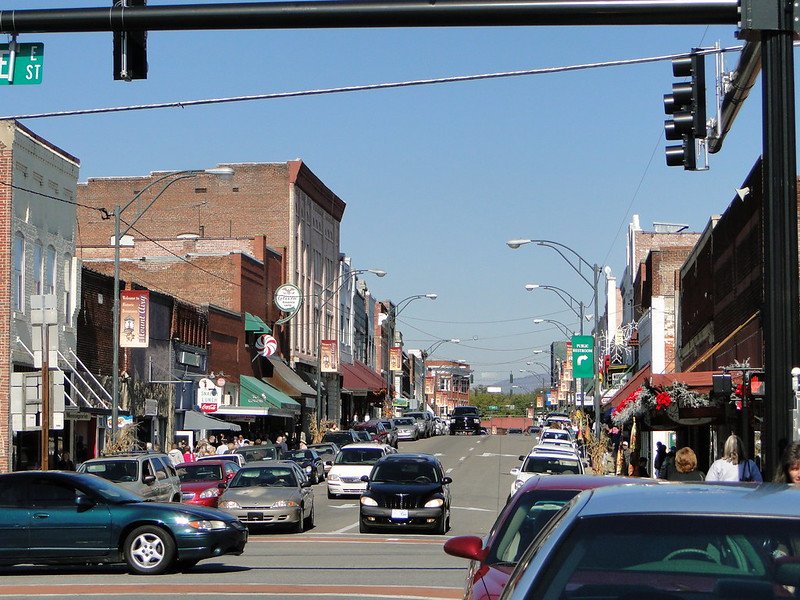 Population: 10,193
Mount Airy is the birthplace of Andy Griffith, and this town is low-key obsessed with him.
You can learn all about his legacy at the Andy Griffith Museum, or take a squad car tour where you tour the town in a historic police car touring sights from the Andy Griffith show.
In Mount Airy you can explore the famous Main Street on foot and explore the shops that offer Mayberry-themed souvenirs.
Mount Airy is also a wide range of eateries, and dessert shops selling a regional specialty called the 'sonker', which is basically a deep-dish pie.
Other things to do in Mount Airy include checking out the historic Earle Theater, tasting wines at the Old North State Winery, and checking out the Regional History Museum.
Where to Stay in Mount Airy
The Bryson Inn is situated in the heart of the town and offers its guests true Southern hospitality. All guests can enjoy cozy and comfortable rooms with a homey flair.
You can also enjoy many amenities such as a seasonal pool, a seating area, and its proximity to many natural attractions along the Blue Ridge Parkway.
Dillsboro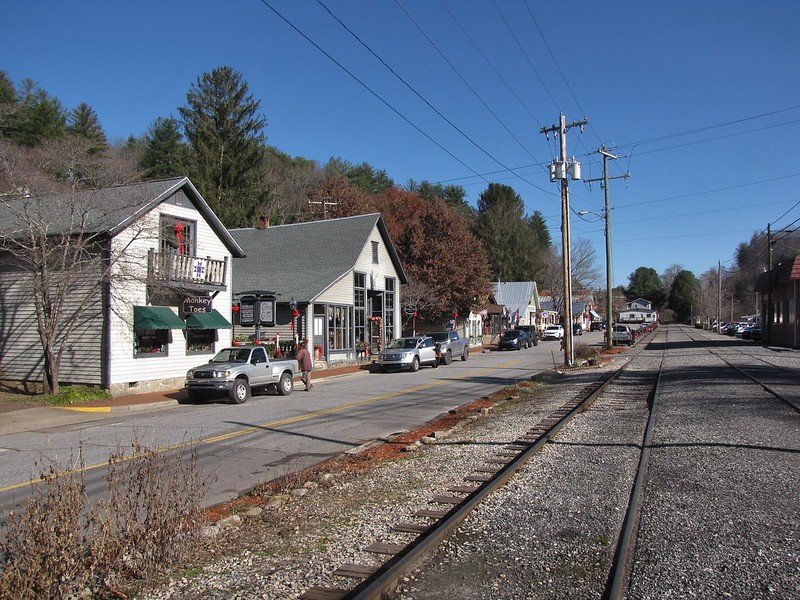 Population: 213
Dillsboro may be the smallest North Carolina town on this list, but it's absolutely worth a visit!
It's known for local art and craft scene, exemplified by the Riverwood Pottery and Dogwood Crafters, two of the best local crafts boutiques.
There's even a chocolate factory in town for those with a sweet tooth!
The Great Smoky Mountains Railroad also comes through here, and connects this town with Bryson City.
Where to Stay in Dillsboro
The Comfort Inn Sylva – Cullowhee is a hotel with easy access to top restaurants and family-friendly attractions like Natahala National Forest.
The hotel has spacious and modern rooms for families and couples that are looking for a relaxing getaway and enjoy the natural beauty that surrounds this fantastic hotel.
Sylva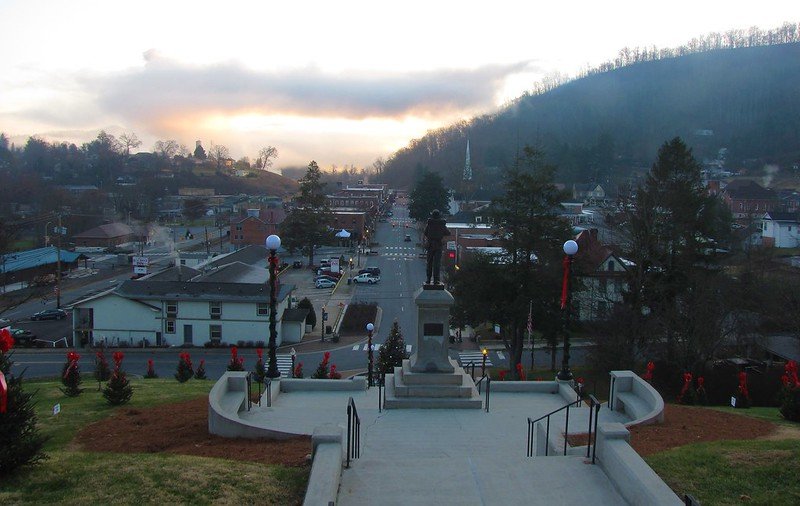 Population: 2,687
Sylva is a magnificent small town in North Carolina treasured for its local restaurants, art galleries, great boutiques and bookshops, and cool breweries.
Yes, breweries, plural — this small town is home to four distinct breweries!
Innovation Brewing, Balsam Falls Brewing, Lazy Hiker Brewing are all on Main Street, and Nantahala Brewing Company is just a short walk away… perfect for a self-guided beer tour!
If you want an epic hike, challenge yourself to hike to the top of the Pinnacle via the Pinnacle Trail — a difficult 7.4-mile hike with a whopping 2,500 feet of elevation gain!
This town is quite close to Dillsboro and Bryson City, so it's easy to combine these destinations on a small town getaway in North Carolina.
Where to Stay in Sylva
For a budget-friendly place to stay, the lovely Blue Ridge Inn is in the heart of Sylva right on Main Street, and it won't break the bank!
It may be simple, but it gets great reviews from past guests.
Black Mountain
Population: 8,144
The charming town of Black Mountain is not far from downtown Asheville, and it's been known as a haven for artists of all types for decades.
This call to artists is perhaps rooted in the history of Black Mountain College, which ran for just under 25 years but had a huge impact on the arts scene in its short duration.
Black Mountain is also famous for its many breweries, including Lookout Brewing Company, Oak and Grist, and Pisgah Brewing.
Where to Stay in Black Mountain
The Hampton Inn in Black Mountain is a fantastic hotel with a contemporary design. It has an indoor pool and the rooms are spacious with modern amenities.
Saluda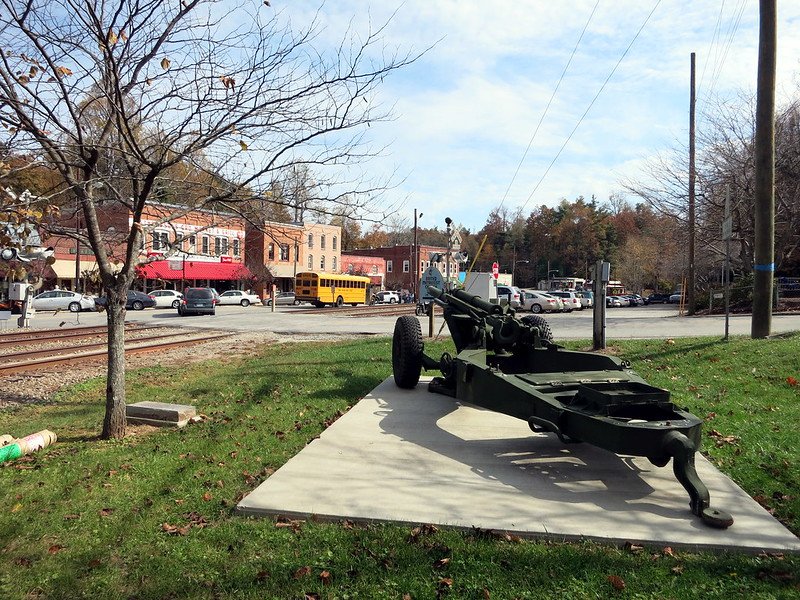 Population: 891
Saluda is a mountain oasis with a charming historic downtown and nature.
Saluda is perhaps best known for being home to The Gorge Zipline — the fastest and steepest zipline in the United States!
It's also home to Pearson's Falls and Glen, one of the most scenic waterfalls in North Carolina and a must-see photo stop.
Where to Stay in Saluda
Close to the Gorge Zipline, the Saluda Mountain Lodge is definitely the best place to stay in town if you want to feel close to nature.
You'll be in the heart of it all here!