The motto of Caye Caulker may be go slow – but the marine life doesn't seem to have gotten the memo. As soon as you dive beneath the clear turquoise waters, a riotous world awaits you. If you go snorkeling Caye Caulker, you'll see countless colors of fish, giant-yet-friendly nurse sharks, enormous manta rays, and if you're lucky — perhaps an elusive turtle or two.
This was my second time snorkeling in Belize. The first time, I left from Ambergris Caye on a half day trip. This time, I did a four stop full-day snorkeling trip with Ragamuffin Tours – and it was one of my favorite things I did in Belize by far.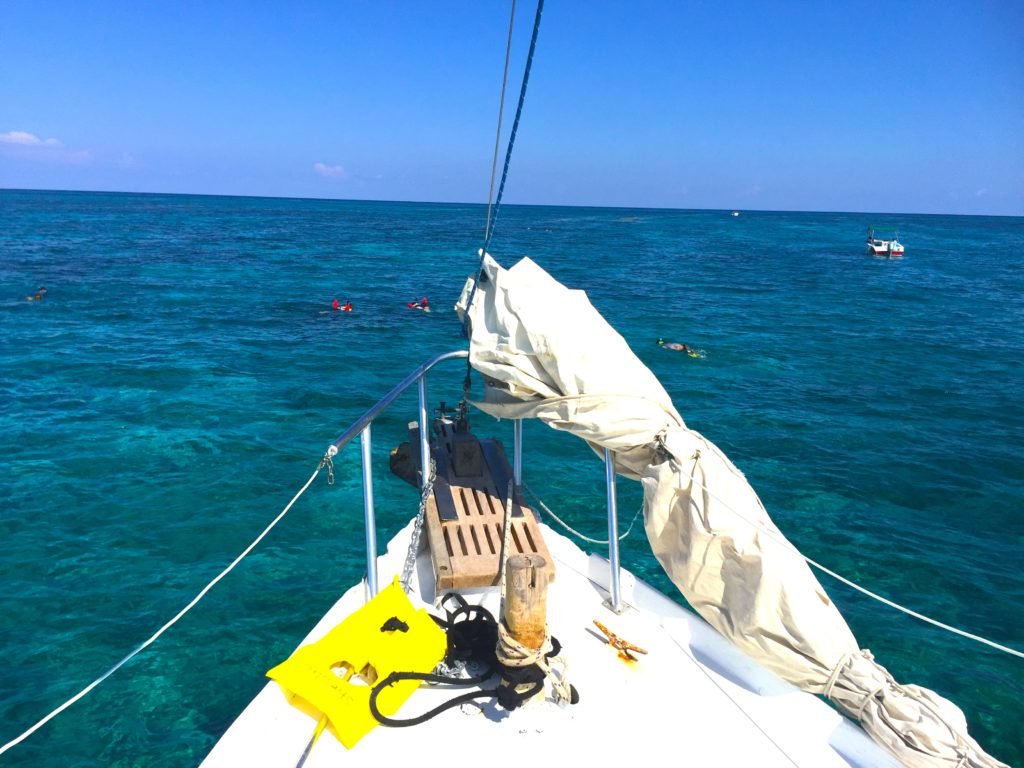 Note: This post contains affiliate links, which means I may receive a small commission if you purchase something through one of these links. Thank you for supporting the free content on this site! For more information on affiliate links and cookies, see my disclosure page for more details.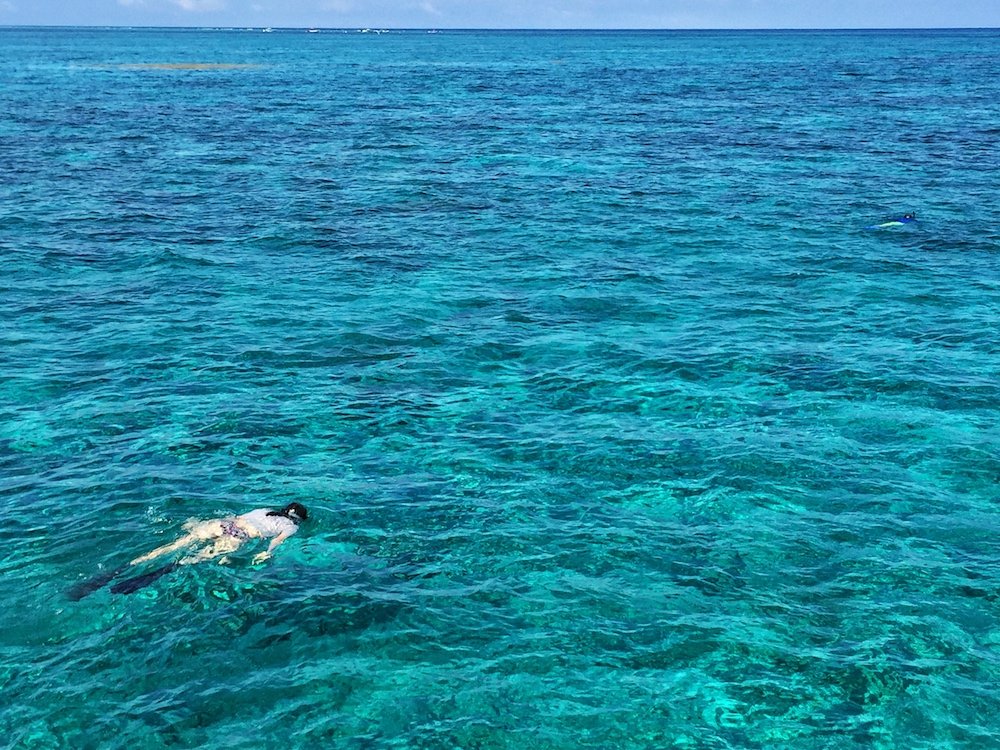 What's it like to go snorkeling in Belize?
We started off the day by slathering ourselves in reef-friendly sunscreen, which had the hilarious effect of making us look like streaky ghosts. The chemicals in regular sunscreen do immense damage to coral reefs, which are already under siege due to global warming.
Props to Ragamuffin for doing their part to keep the reefs healthy while providing snorkeling tours in Belize – these little changes we make can mean a world of difference for underwater life. You can do your part by switching to reef-friendly mineral sunscreens and avoiding the ingredient oxybenzone as much as possible. Buy sunscreen in your home country if possible, as you will have less selection abroad.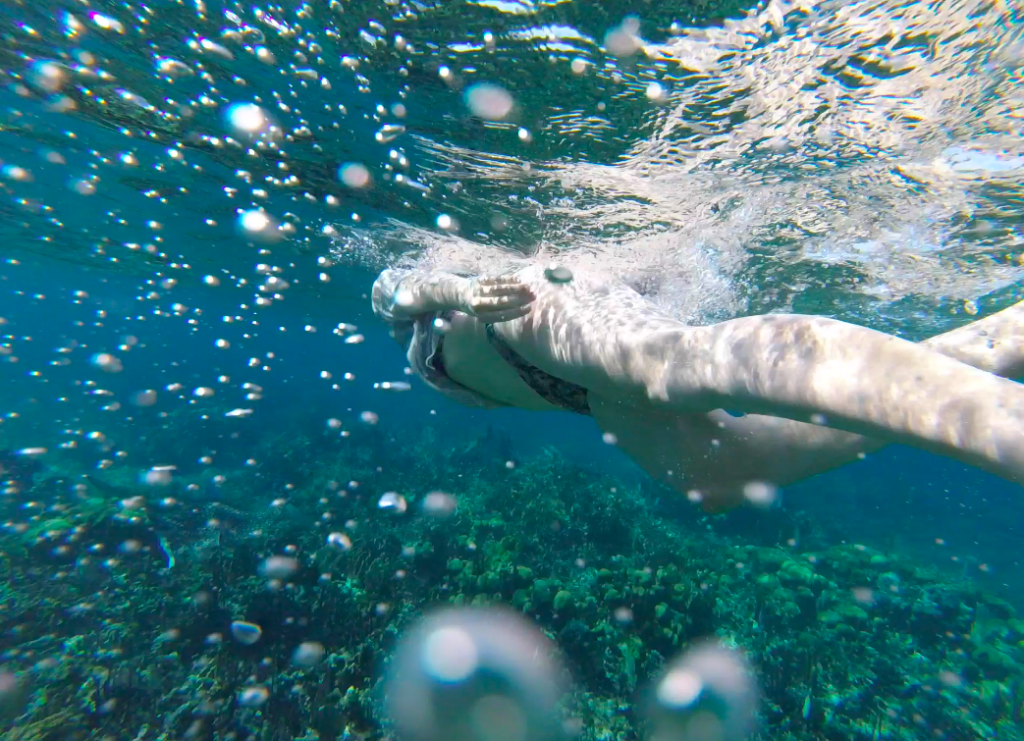 At our first stop, we spotted innumerable colorful fishes, ranging from standard silver to bright yellow, purple, and electric blue. A few manta rays undulated on the floor below us, unperturbed by us up at the surface.
We hopped back on the boat and about five minutes later, had a crew of sharks patiently trailing us. Proving Pavlov right, these sharks followed us, tipped off by the hum of the motor. No doubting it: it was shark breakfast time!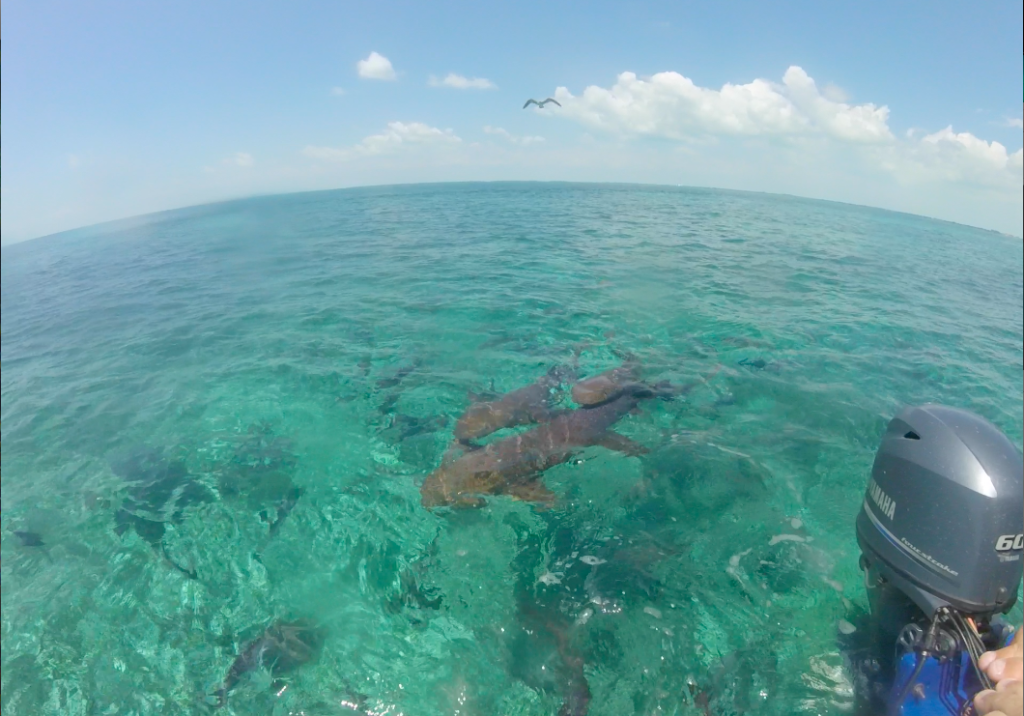 Luckily the squid they feed these sharks are far easier of a catch than tourists, so the sharks (and cheeky jacks) are well-fed and uninterested in the people bobbing above them.
I've dived and snorkeled with sharks many times — there's nothing to be afraid of. I reserve my fear only for great white sharks — a leftover fear from growing up near Stinson Beach, shark attack capital of California.
These nurse sharks are perfectly harmless so long as you don't bother them, so I watched happily from a respectful distance. Seeing these sharks is one of the highlights of snorkeling in Belize, so don't let an unwarranted fear of sharks scare you out of it!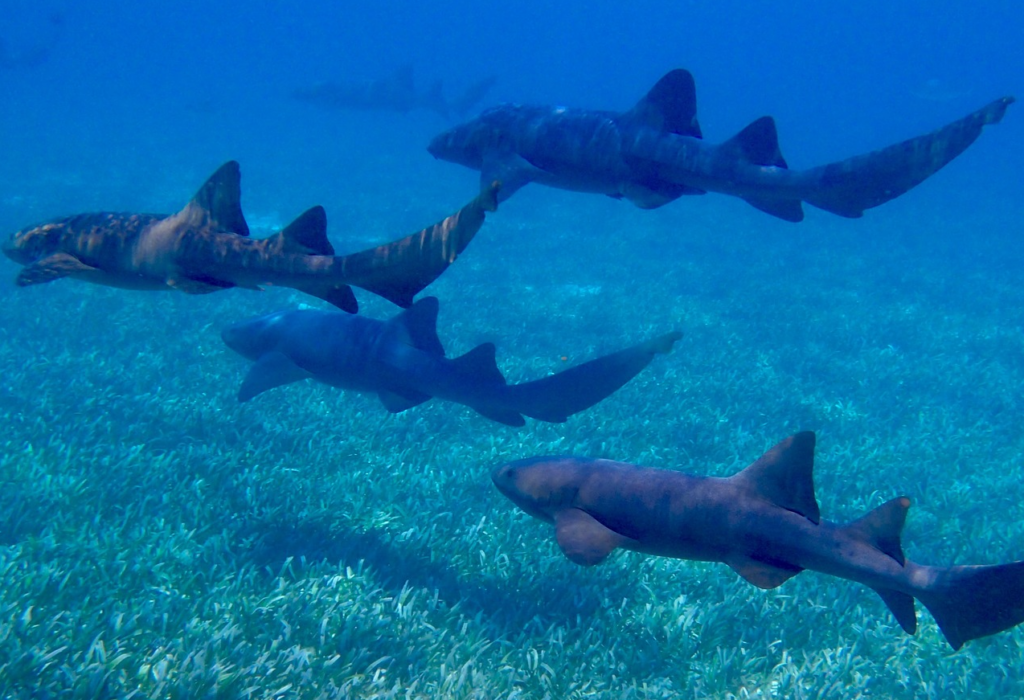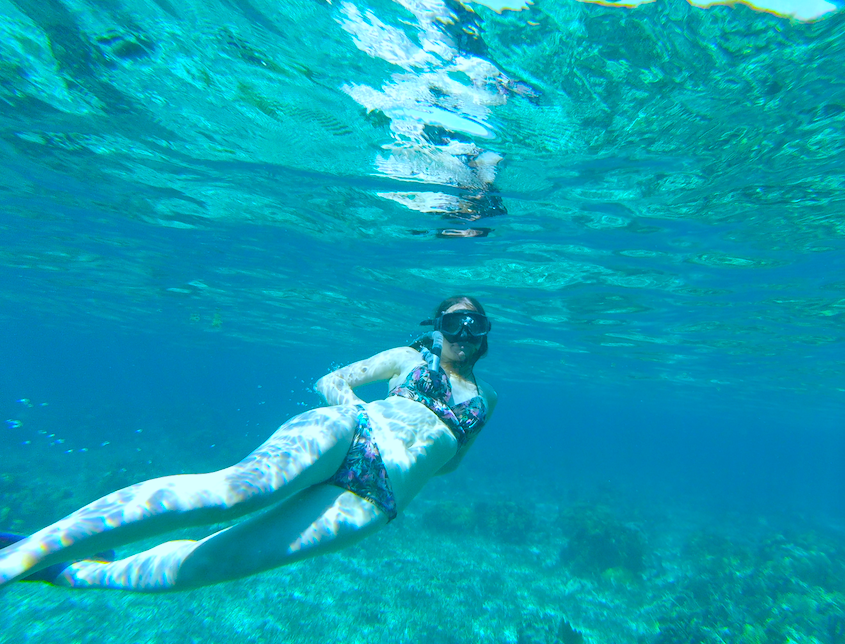 After our stop marveling at the sharks, it was time to visit Hol Chan Marine Reserve, the best place for snorkeling in Belize. There, our guide dove down and pointed out different species of fish, telling us their names and interesting facts about them.
We even got lucky and spotted an adorable sea turtle! Sea turtles are often quite shy so it's really a rare treat to see them in their natural environment.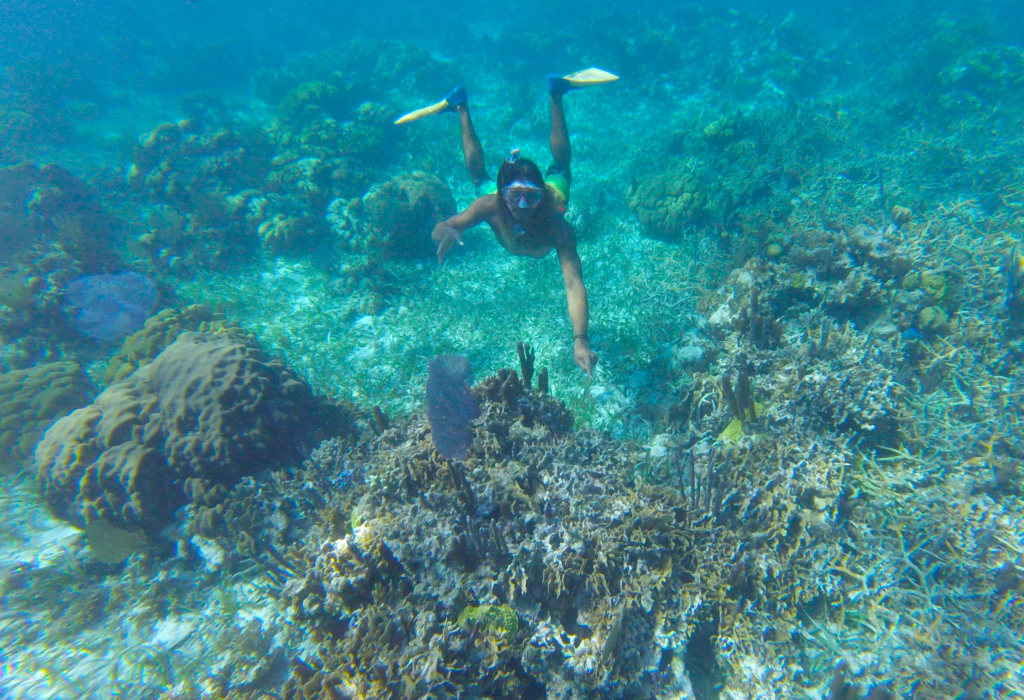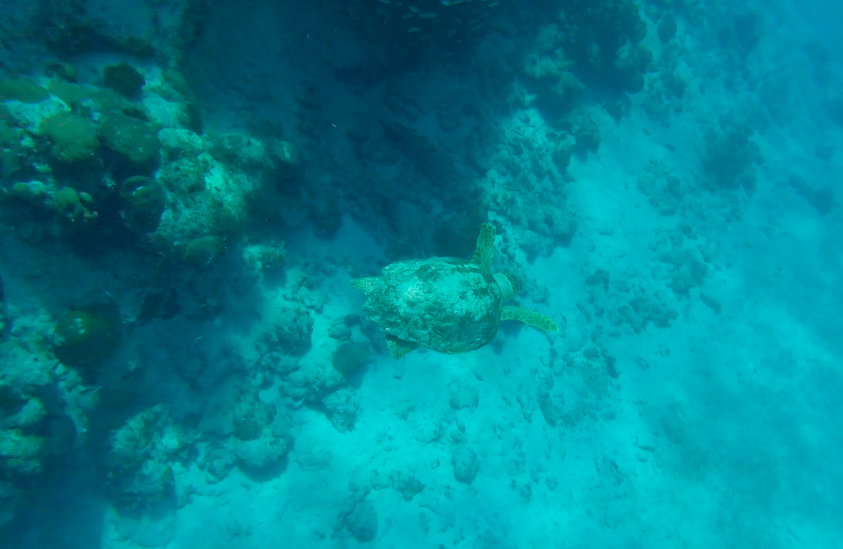 Our last and final stop was snorkeling in the gorgeous Coral Garden. Beautiful coral that looked like hands spouted everywhere, next to fan coral that waved to us in the ocean current. Electric blue fish darted into their hiding spots. And then, something amazing happened —
A beautiful spotted eagle ray photobombed me and glided right past. I followed it for a few minutes, and even managed to snap a few selfies with this gorgeous, elegant creature!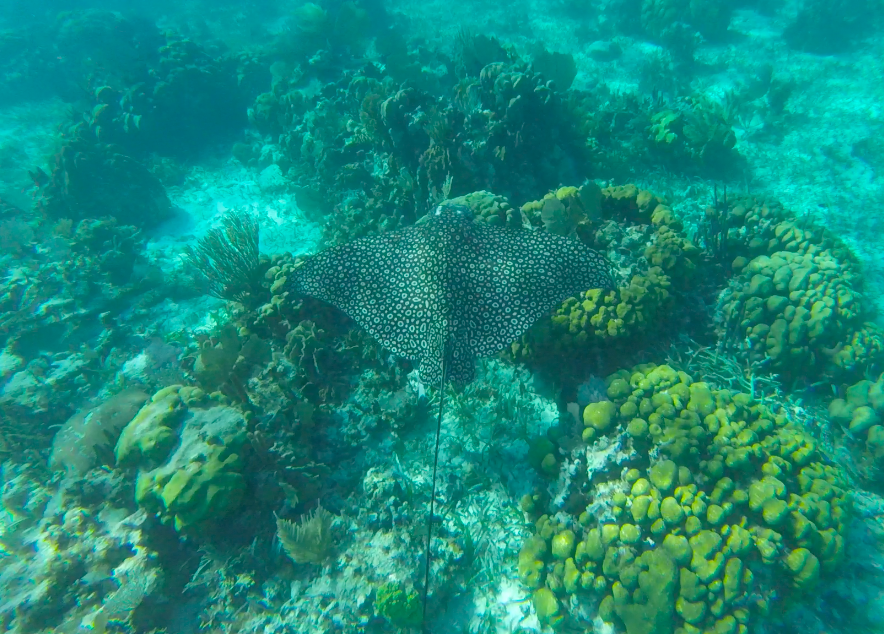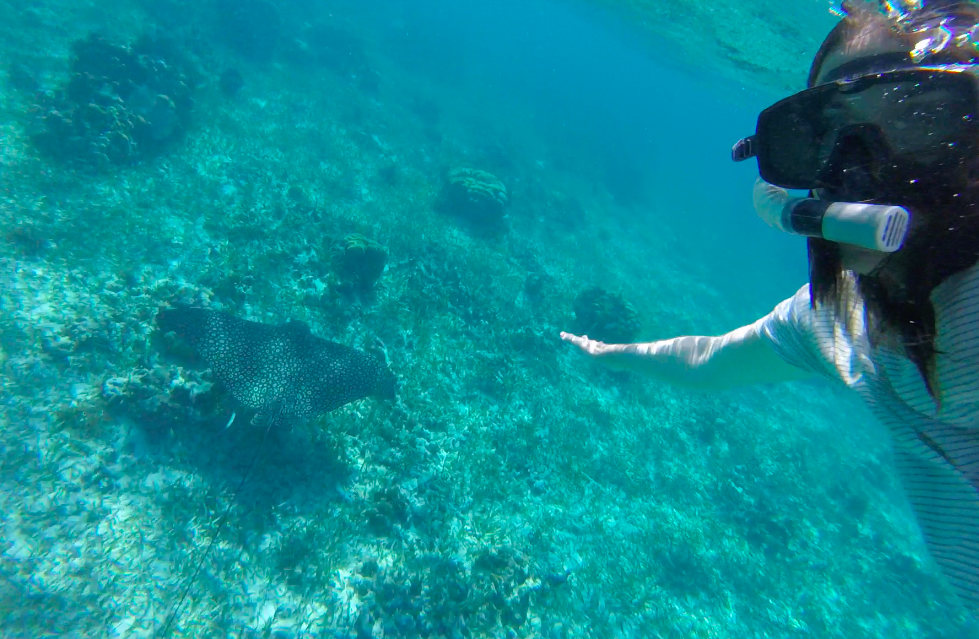 After the excitement of our final stop on our Belize snorkeling tour, we cooled off with all-you-can-drink rum punch.
Whiiiiich I may have taken a little too literally.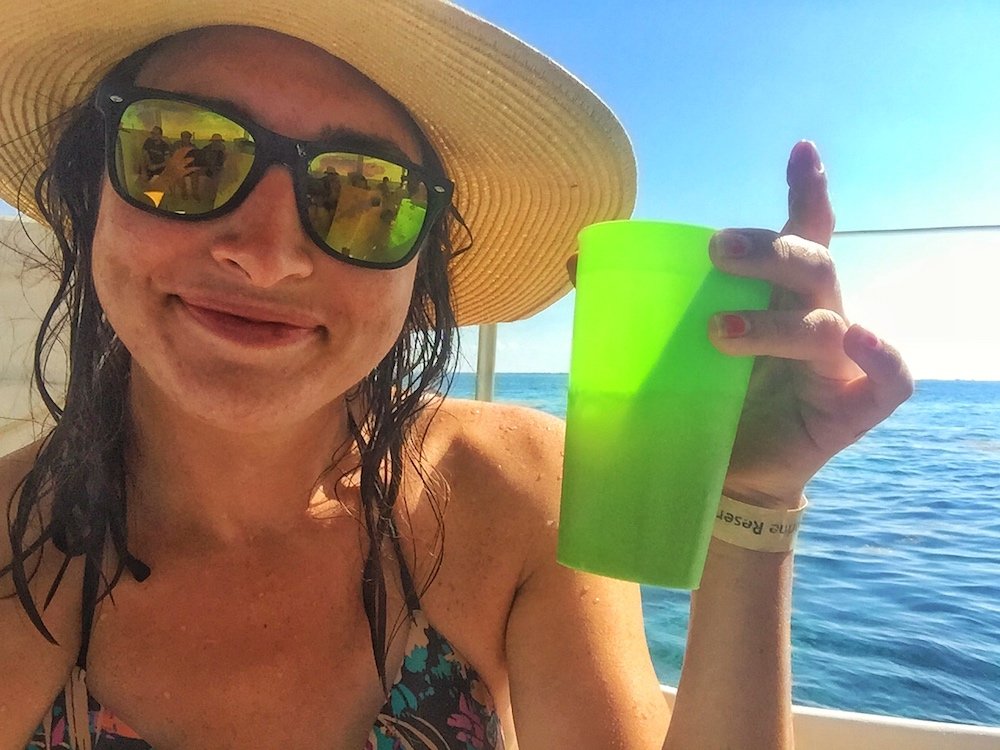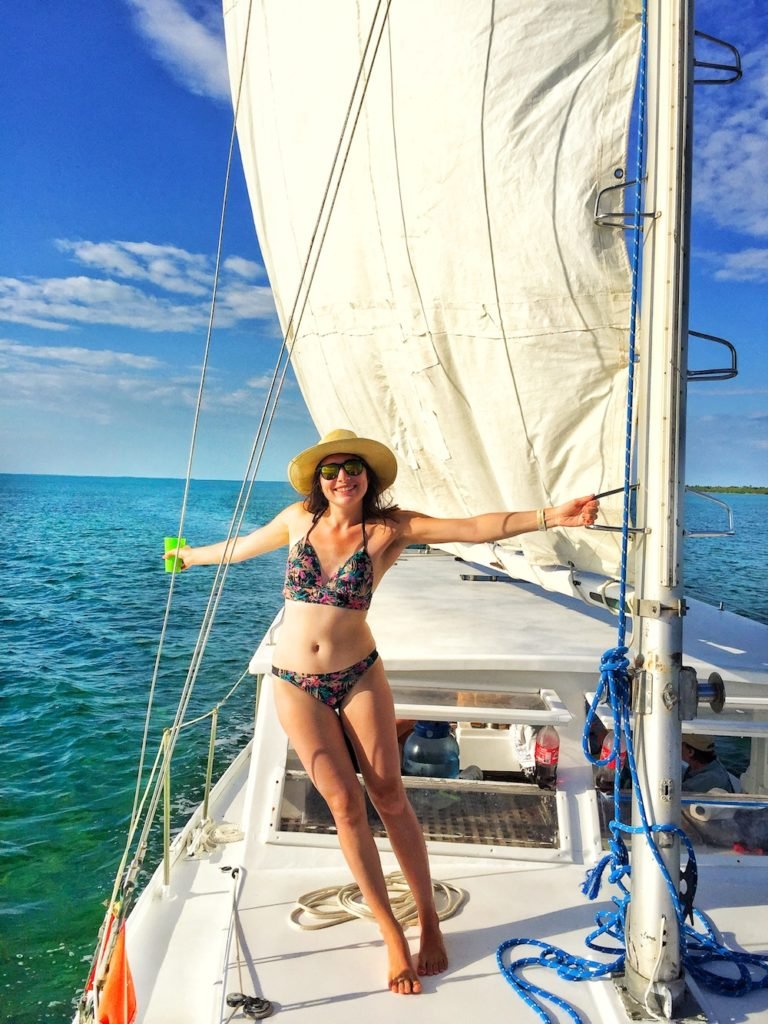 But the highlight of our day snorkeling in Belize hadn't even happened yet.
No – that was the pod of three wild dolphins who swam alongside us as we sailed home. They swam in perfect formation, diving into the water and disappearing momentarily only to resurface to the squeals and ahhs of our entire boat. Dolphins are one of my favorite creatures on Earth — which is saying something, as a massive animal lover — and this was a moment I'd never forget.
Nope, not even after unlimited rum punch.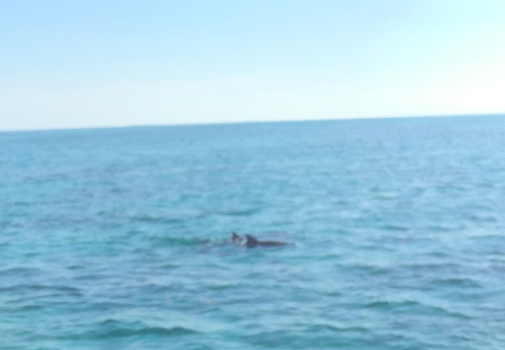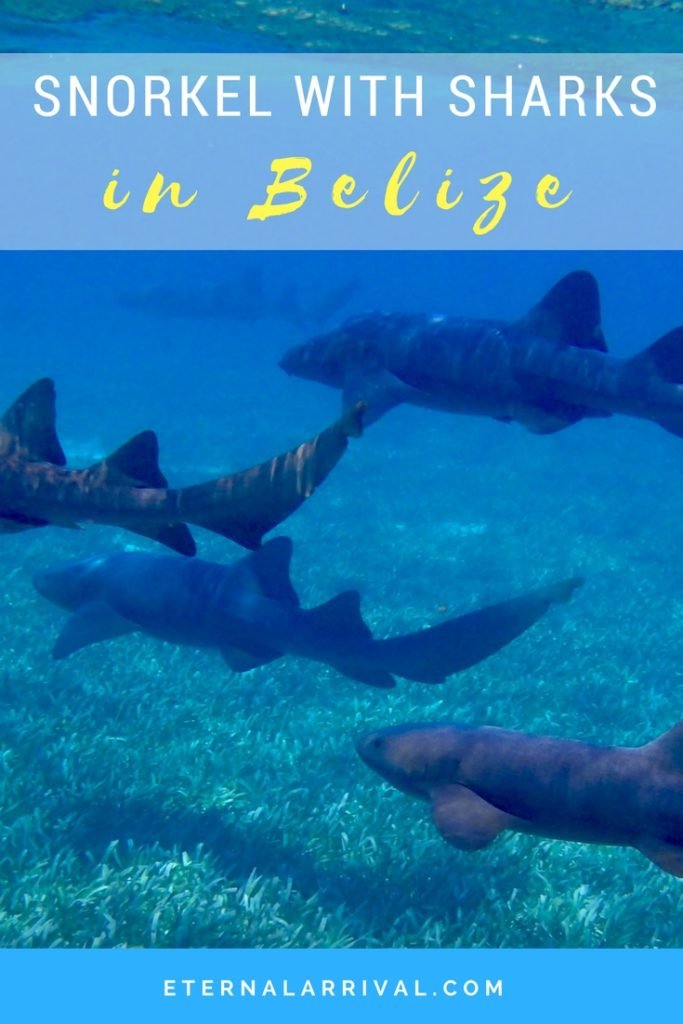 Recommended Company: Raggamuffin Tours
Cost: $70 USD for a full-day trip
Recommended Accommodations: Go Slow Caye Caulker
Further reading: Lonely Planet Belize
Useful tips: No need to bring your own sunscreen – they will provide reef-friendly sunscreen for you. Lunch, fresh fruit, rum punch, and a ceviche and chips snack are provided. They provided all snorkeling gear but you could also bring your own snorkeling mask if you want something with a better fit.
Note: Many thanks to Raggamuffin Tours for the complimentary tour (and rum punch!). All opinions shared are my own — no BS, as always. This post contains affiliate links. This means that if you purchase something using one of my links, I get a small commission.
Allison Green is a former educator turned travel blogger. She holds a Masters in Teaching and a B.A. in English and Creative Writing. Her blog posts merge her educational background and her experience traveling to 60+ countries to encourage thoughtful travel experiences that both educate and entertain. She has been a speaker at the World Travel Writers Conference and her writing, photography, and podcasting work has appeared in National Geographic, CNN Arabic, CBC Canada, and Forbes, amongst others. Now based in the San Francisco Bay Area where she grew up, she has also lived in Prague, Sofia, and New York City.