Iconic of Puglia, charming Alberobello seems ripped out of the pages of a storybook.
With ancient olive trees on the rolling hills, the landscape is the perfect backdrop for the town's unique draw: the stone, white-washed trulli dwellings that make this town a UNESCO site.
So what exactly are trulli? These historic and enchanting limestone dwellings are known for white-washed walls and their conical stone roofs, often adorned with symbols.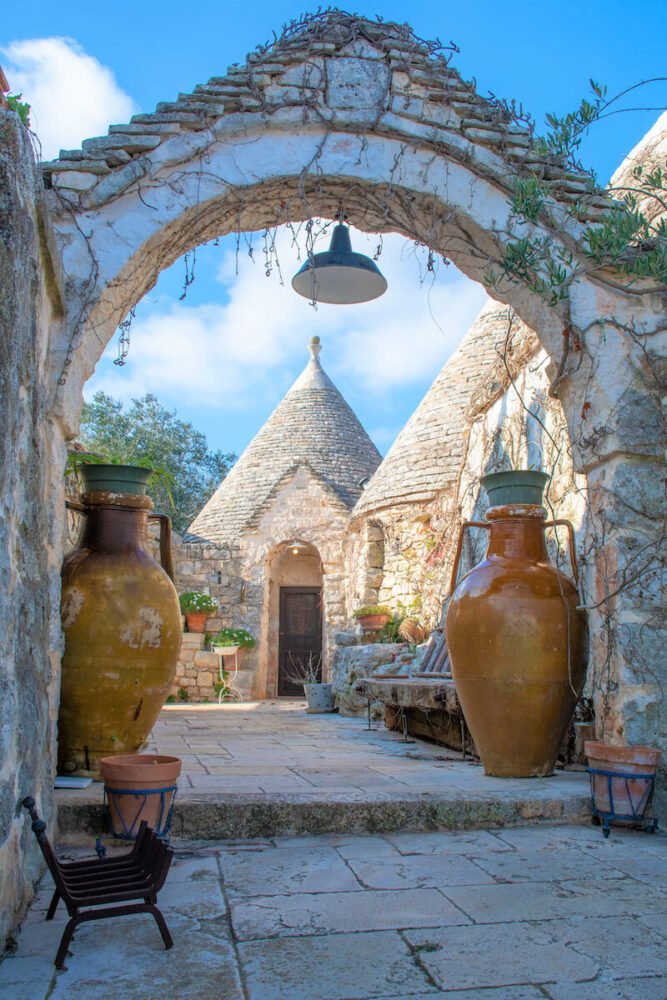 Note: This post contains affiliate links, which means I may receive a small commission if you purchase something through one of these links. Thank you for supporting the free content on this site! For more information on affiliate links and cookies, see my disclosure page for more details.
The origins of these iconic structures are steeped in legend, with tales of tax evasion and the cunning of local residents adding to their mystique — though that's likely more fiction than fact.
According to them, this taking-off putting-back task would be almost impossible for the residents of the trulli – particularly for elderly people.
To have their roof off and them back on again would be such a hard work that they would very likely rather pay taxes.
While supposedly, the roofs were made of assembled stones so they could be removed quickly to not be taxed as a dwelling, in reality, this would be awfully difficult to achieve.
More likely, the peasants who lived and farmed there built these structures to abide by restrictive rules against permanent dwellings, such as not using mortar to assemble a house.
Whatever the reason for these enchanting buildings, you can't deny that as you wander through the narrow, winding streets of Alberobello, you feel transported to another era.
Each trullo tells a story of tradition, endurance, and architectural marvel — but together, they form a beautiful town marked by clusters of trulli interspersed with cozy piazzas and local shops, perfect places to pop by for a morning espresso or stroll by on an evening passeggiata.
For those who want to fully immerse themselves in the Alberobello experience, the magic doesn't need to end once the sun goes down!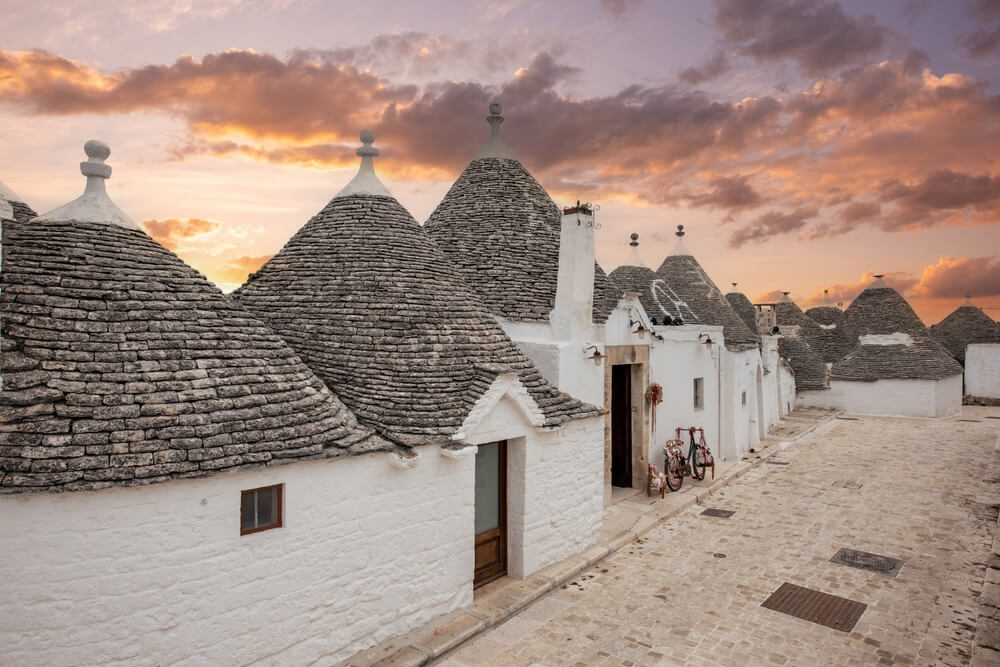 A handful of these charming dwellings have been thoughtfully converted into trulli hotels in Alberobello, one of the most unique ways to spend a night in Italy (another being Matera's charming cave hotels).
Modernized for the comfort of their guests, these boutique hotels still retain their rustic charm. It's a place where you can touch, feel, and live within the walls of history!
So, after marveling at the quaint beauty of Alberobello by day, make your fairytale complete by nestling into a trullo hotel by night.
The Best Trulli Hotels in Alberobello
Real-Life Fairy Tale: Le Alcove-Luxury Hotel nei Trulli – View Property Here
Are you ready to experience a real-life fairy tale? Stay at Le Alcove-Luxury Hotel nei Trulli, and you'll get your wish.
Located smack-dab in the center of Alberobello and filled with contemporary comforts, this hotel is a traveler's dream come true.
Your first step in crafting your real-life fantasy vacation is choosing from one of the five traditional Trulli huts Le Alcove offers.
Each independent dwelling pays homage to an ancient profession through its unique architectural shape, furniture, and decor.
Options include the Weaver, the Knight, the Storyteller (Il Cantastorie), the Dreamer (Il Sognatore),and the Poet (Il Poeta).
No matter which you select, you're in for a one-of-a-kind experience.
Plus, imagine the sweetheart points you'll score if you surprise your loved one by booking the room that reminds you of them the most!
Of course, all the rooms pamper you with modern comforts.
Underfloor heating and cooling will regulate you no matter the time of year without marring the beauty of the stone.
Enjoy free Wi-Fi, satellite TV, comfortable beds, and elegant toiletries in your en-suite bath!
Depending on which room you choose, you may even also have access to your own private spa bath.
Waking up to admire the swirling patterns of the beautiful stones on your ceiling is its own brand of Zen you'll have to experience to believe!
All guests can enjoy a tasty continental breakfast to fuel the day's excursions, and the hotel's hot tub to unwind before bed.
From its soothing neutral color palette with just enough color accents to charm the eye, we think that this small and intimate getaway is the perfect Alberobello trulli hotel experience.
It certainly lives up to the motto on its website, truly giving you the chance to "live your fairy tale."
Private Oasis: LuX – Exclusive Trulli Relax – View Property Here
If you're looking for a private experience, LuX-Exclusive Trulli Relax has you covered.
This one-bedroom hideaway is a trullo vacation home with all the fixings!
Greet each day with continental and Italian breakfast options, including local specialties, fresh pastries, and juice.
You can even take breakfast to-go to get a head start on the day's adventures! That is, if your plans even take you into town in the first place.
The trullo itself is so attractive that you may wish to enjoy the day by curling up with a good book in the living room or trying your hand at making Italian fare in the fully-equipped kitchenette.
Since vacation is all about unwinding, this accommodation has a serious advantage over other dwellings, in that it comes with its very own private spa.
When you see the blue waters of the circular hot tub swirl beneath the stone before the stunning, mandala-shaped illuminated wall art, you'll wonder how you fell into this magical paradise.
Enjoy a snooze on the lounge chairs and admire the hanging plants before drying off and returning to the "normal world" to continue your stay.
Children aren't allowed at this Alberobello trulli hotel, which makes it ideal for a couples' stay.
Even if you find it difficult to leave your work or your littles, I think that the beauty of this place, with its attention to even the tiniest of details and gorgeous wood/industrial accents, will help you unplug in no time!
For the Birds: Resort La Corte Dell'Astore – Wild in Style Resort – View Property Here
La Corte Dell'Astore is a resort for the birds — or bird lovers, at least!
It's inspired by the ancient arts of falconry and hospitality and has plenty of ways for you to have personal experiences with each.
The resort seeks to offer a healing space where each guest can unite their heart, mind, and senses with the natural world, and I think they more than succeed in that mission.
Not only can you visit resident birds of prey (under the expert supervision of your host), but you can also go on hunting expeditions with hawks or paragliding with eagles.
The resort also houses a macaw, parrot, Galapagos tortoises, donkeys, and horses, all of which are a great hit with kids (who are welcome to stay!).
Even the rooms themselves will help you connect with our fine feathered friends.
Each room is named after a different type of falcon and offers a uniquely inspired ambiance.
Lest we give you the impression that La Corte Dell'Astore is a down-to-nature experience, let us assure you that it's absolutely a full-fledged resort.
The architecture and interior decor are plush, elegant, and deliberately minimalist, creating an ultimate luxury experience.
You'll be treated to creature comforts such as free Wi-Fi, air-conditioning, flat-screen TVs, gardens, and even a hot tub.
The outdoor pool, precisely manicured courtyard, outdoor fireplace, bar service, and lavish breakfast buffet of sweet and savory delicacies will make you feel like you're royalty throughout your stay.
Best Pool (Adults Only): Il Gabellota Resort – View Property Here
If nothing screams "vacation" more to you than relaxing by the pool, Il Gabellota Resort is the best trulli hotel in Alberobello for you.
This resort offers a rounded pool and beautiful sun deck, with plenty of lounge chairs and a stone and wood awning. Just wait until you see it lit up at night!
Stone is a featured design element throughout the property, not just in your trullo.
During the day, you can walk the ground's stone paths from within the safety of traditional dry stone walls.
Il Gabellota will nourish your soul with the peace of the countryside pouring out from its greenery, picnic areas, marble floors, and ancient olive trees.
While Alberobello is UNESCO World Heritage Site, don't worry – the luxury here is very much modern!
Relax and unwind in your air-conditioned trullo, complete with a TV and mini-bar.
Call ahead to ask which rooms have private patios, kitchenettes, and floral gardens, or just come and let the amenities in your room be a pleasant surprise!
To take your trip to the next level of comfort, book a massage treatment (or two or three) at the spa.
This resort is only for adults, so you'll likely enjoy a side of peace along with your complimentary breakfast.
Coolest Architecture: La Mandorla Luxury Trullo – View Property Here
If you like staying at destinations with uniquely shaped rooms, you won't want to miss a stay at La Mandorla.
Each room in this adults-only resort is a one-of-a-kind architectural wonder, complete with alcoves, vaulted stone ceilings, and illuminated shelves cut into the rock itself.
The rooms are the ultimate in luxury as well, from their fireplaces, underfloor heating, air-conditioning, and — you guessed it — hot tubs!
The rooms even have beauty stations with lighted mirrors, so you'll feel as celebrity-level glamorous as you prepare for the day ahead.
Each accommodation has a seating area, flat-screen TV with satellite channels, and a walk-in shower perfect for a long, luxe morning routine.
A dining area and kitchen are also included, so you can even practice your culinary skills once you recover from the delicious a la carte breakfast offered each morning.
During the day, you can visit the spa, gardens, or on-site coffee shop. Relaxing with a good book on the outdoor furniture is an absolute must.
When you want a luxurious trulli stay in Alberobello, La Mandorla is a clear stand-out.
Resort, or Little Town?: Tipico Resort – View Property Here
Despite its name, Tipico Resort is anything but typical.
You'll feel like you've stumbled upon a little town of your very own as you enjoy the trulli and stone buildings emblematic of this UNESCO World Heritage Site.
The trullo or stone building you stay in will be updated, no cave man living here!
All the rooms feature air conditioning, free Wi-Fi, and stone walls and floors.
You'll want to plan some time to take pictures of everything in your accommodation: this place is all about the details!
From elegant textures, tiling, unique wall art, and distinctive decor, each room has its own unique character and presence in the resort.
Outside the rooms, you can enjoy a convenience store, hair/beauty salon, outdoor areas, and winding streets that you can walk or bike down while heading to the breakfast room.
Regardless of the size of your family or travel party, Tipico is an excellent place for an Italian getaway.
Here's another beautiful trullo hotel that is its own individual unit for perfect privacy.
This vacation home, Monte Adamello, is a two-bedroom townhome that is a big hit with couples.
The home is situated in a great location outside of Alberobello and is beautifully decorated.
Its homey and colorful furniture, textiles, and accents transform it into a real-life dream!
You'll also enjoy a variety of amenities during your stay.
These include a full and queen bed, air-conditioning, a fully-stocked kitchen with tea and coffee maker, flat-screen TV with satellite channels, a walk-in shower, a bathtub, and even chocolate!
All of this is accessible from your private entrance and comes with daily housecleaning.
Luna, who runs Monte Adamello, is an Airbnb Superhost who provides an excellent stay for guests.
Whether you need packed lunches, grocery deliveries, or have special dietary restrictions for your meals, Luna can make it happen!
If you're looking for private accommodation for a family or small group trip, Monte Adamello may be your perfect place.
Most Exotic: Masseria Rosa Trulli Relais – View Property Here
When the typical Alberobello trulli resort isn't enough to satisfy your itch for a truly special travel experience, Masseria Rosa Trulli Relais is there for you.
This converted 19th-century farmhouse is a mere 1.2 miles from Alberobello and offers both stone cottages and the traditional trulli.
What makes it unique is its decor and pool area!
The neutral-colored furniture and crisp and curved lines in the rooms form a hybrid of what you'd expect in a trullo and what you'd expect perhaps in a sunny beach house.
The stonework around the pool (complete with hydromassage!) and gardens look like something from either a summer or desert resort magazine.
Yet these juxtapositions of style elements only add to the resort's tastefulness.
Far from a destination that can't seem to make up its mind, Masseria Rosa is a place of intentional, blended exoticism.
All accommodations come with a private bathroom and LCD TV. Some come with a kitchenette.
All rooms also have access to everything you'll need for an extraordinarily relaxing and healthful stay.
Imagine walking through well-kept gardens surrounded by stone walls, groves of centuries-old olive trees, orchards, and vegetable gardens.
Perhaps you'll enjoy the sun from the comfort of the panoramic patio or one of the stone gazebos by the pool.
They also have a great spa including a Turkish bath, hydromassage, relaxation and herbal tea corner.
Regardless of how you spend your time here, you'll leave Masseria Rosa with more balance in your body, mind, and spirit.
A Cozy Nook: Trullo Giardino Fiorito – View Property Here
If you're into tiny houses, hobbit holes, and cozy spaces, Trullo Giardino Fiorito is a perfect little gem just for you!
From its tile shower, pleasing lawn, and miniature archways leading to the kitchen and sitting area, this studio accommodation is the perfect place to unwind.
It is also highly Instagrammable, so be sure to snap a few pics!
When you're not out adventuring in Alberobello, you can kick back and relax in front of the flat-screen TV or cook a meal in the fully equipped kitchen.
You'll likely want to eat outside on your private patio if the weather is nice!
Since the sofa converts into a bed, you can also bring 1-2 other guests with you.
And, each morning, all of you can enjoy buffet breakfast options, including fresh pastries and juice,
When it comes to memorable bed and breakfasts, Trullo Giardino Fiorito is sure to please.
Best Outdoor Spaces: Le Dieci Porte – View Property Here
Owners Stella and Christophe have done an excellent job designing a most enchanting getaway location!
It was Stella's longtime dream to own and run a Alberobello trullo resort, and you can feel her care and passion radiating throughout the place as soon as you enter the doors of Le Dieci Porte.
The decor is minimalistic, yet very tasteful and intentional to give guests a relaxing experience.
While each room is unique and cozy, each comes with free Wi-Fi, a private bathroom, comfortable linens, fully equipped kitchens (including a dishwasher!), and a washing machine.
Of course, you can also enjoy the À la carte and Italian breakfast options with fresh, local offerings if you prefer, and we think you will!
Of all the resorts on this list, we think this one has the best outdoor spaces!
A tantalizing, grassy lawn frames a beautiful outdoor pool, beckoning you to take off your shoes and go for a swim.
A sun terrace, outdoor fireplace, and patios will make you want to linger and mingle with other guests after your exciting day at the spa, Alberobello, or the comfort of your trullo.
If you're on a trip with your whole family or are planning a more extended stay in the region, Le Deici Porte is a place to make your own.

Social Media Star: Chiancole Trulli – View Property Here
I think Chiancole Trulli is the place for you if you want an amazing Alberobello trulli hotel stay with pictures to match.
While all of the accommodations on this list are beautiful, this one will pop the most on your social media feeds, thanks to its crisp lines and tasteful decorative accents.
For instance, the outdoor garden lounge area is a wonderfully balanced series of rectangles: an L-shaped stone bench (topped with comfy cushions) that makes perfect symmetrical shots!
The vacation home has beautiful tilework, stone arches, and carefully chosen accent furniture.
You may have trouble sleeping on your first night, not because of being in a strange bed (the beds have signature Simmons brand mattresses, after all), but because the interior is so lovely!
When you wake up, you can take breakfast in your room or on the patio.
The accommodation has free Wi-Fi, a cable flat-screen TV, comfy bathrobes, and a working kitchen.
With two bedrooms housing a full and queen bed, it can accommodate up to 4 guests at a time.
You can take breakfast in your room or outside on the patio — either view is beautiful!
A structure of five cones, Chiancole Trulli allows you to have the best of everything all to yourself (which makes it all the easier to take as long as you need to capture the perfect shot for your feeds!)
Most Calming: Trullo Essenza-Trulli Antì Charme & Relax – View Property Here
Do you need to completely unplug from your everyday life, catch up on some meditation sessions, or forge a deeper connection with your partner in an undistracted space?
If so, Trullo Essenza-Trulli Anti Charme and Relax is your place.
This 5-star Superhost Airbnb accommodation consists of 4 cones designed with relaxation and spaciousness in mind.
If you need alone time, the two bedrooms can afford you privacy, or you can go and meditate outside under the covered patio and outdoor seating area!
The entire place has a fresh and airy feel from its palette of tans and whites.
Gorgeous yet subtle accents of wall hangings, pottery, and wood appear tastefully on the walls.
The furnishings are modern and rustic, and the beds look like pillowy clouds.
Clean-cut lines blend everything together with such cozy comfort that the setting will become the background of your consciousness and allow you to reconnect with yourself and those you're traveling with.
In addition, you'll get an exceptional breakfast, a fully-equipped kitchen, flat-screen TV, and your very own patio and sun deck.
You'll also receive daily housekeeping services and can select from various massage and spa options for an additional charge.
Couples especially like this location, although your dog can come along as the third wheel upon request!
You can't beat Trullo Essenza-Trulli Anti Charme and Relax when you need some calm in whatever form you wish to enjoy.
Best Pool (Families): I Trulli Del Nonno Michele – View Property Here
Although technically speaking, two entities can't both be best, we simply had to include a second "Best Pool" title in this set, since our first choice is adults-only.
Like Il Gabellota Resort, I Trulli Del Nonno Michele's pool has rounded edges, an expansive deck, plenty of lounge chairs, and an awning.
It's just stunning, and as if that weren't enough, it also has an added structure: an impressive rock feature that frames the waters!
Since I Trulli Del Nonno Michele's pool looks just as good lit up at night, the difference between the two properties boils down to personal preference for the accommodations and whether or not you plan to bring the kiddos.
That's right, children are welcome at I Trulli Del Nonno Michele!
I Trulli Del Nonno Michele's Trulli range in size from studio to two-bedroom apartments, which means there'll be something for every size party.
The Trulli feature stone walls, vaulted ceilings, and alcove rooms. All accommodations have air conditioning, Wi-Fi, a kitchenette, a seating area, and an LCD TV.
A self-service breakfast and BBQ facilities are provided with each stay.
In addition to the pool, there is a spa, plenty of common areas and terraces for enjoying the outdoors, and even a fenced playground.
While Il Gabellota Resort is probably the place to go if you want a great pool and adult privacy, we wouldn't rule out I Trulli Del Nonno Michele for couples' visit either, as it is a gorgeous bed and breakfast.
Allison Green is a former educator turned travel blogger. She holds a Masters in Teaching and a B.A. in English and Creative Writing. Her blog posts merge her educational background and her experience traveling to 60+ countries to encourage thoughtful travel experiences that both educate and entertain. She has been a speaker at the World Travel Writers Conference and her writing, photography, and podcasting work has appeared in National Geographic, CNN Arabic, CBC Canada, and Forbes, amongst others. Now based in the San Francisco Bay Area where she grew up, she has also lived in Prague, Sofia, and New York City.