Note: This post may contain affiliate links. Please see my disclosure page for more details.
Tirana is a city that takes you by surprise – no matter what your expectations are. It's quirky, quick-paced, friendly, and slightly frantic. There's a sense there that everything is just improvised. Rhyme and reason are unwelcome. Anything goes there… and that's why there are so many quirky, fun things to do in Tirana.
Most people give this city a quick pass through and bolt. I spent four days exploring Tirana's attractions after tearing myself away from the Albanian Riviera, but even as I left I felt compelled to stay. Albania is a place I know I'll return to time and time again: partly out of love for the country, partly out of curiosity to see how it adapts to modernization. Go now, while Tirana is still unique.
Top things to do in Tirana
1. Visit a museum/art gallery in a bunker
I'm not quite sure what BUNK'ART is – and I'm not quite sure it knows, either. The first bit of it is historically accurate representations of the bunker as it would have been used during Chief Crazypants Enver Hoxha's iron grip over Albania. The middle part is more museum, demonstrating how such a crazy communist regime was able to take root. The last part is, presumably, the "art" part – with inscrutable video installations, disco lights, ghost bicycles, etc. One of the coolest Tirana attractions by far!
Pro tip: there is free wifi in the bunker, but if you feel tempted to send videos to your pals, be sure to give them more details than just "I'm in an underground bunker in Albania" if you don't want to get back panicked texts of "is this a hostage situation??"  Oops, sorry… Context, right?
2. Shoot things on the city's highest mountain
File this under things I Snapchatted and failed to actually photograph. Multi-tasking fail. Anyway, believe me when I say that after a quick and pricy cable car up Mount Dejti, there are unofficial shooting ranges that would make any 'Murican proud. Because nothing says fresh air, nature, and relaxation like firing off a couple of rounds at some beer cans that never did anything to you, right?
3. Gorge on grilled meat with mountain views
After you've worked up an appetite shooting random things, you may want to refuel with a kilogram of mixed meat! Lunch, the Albanian way. A feast of three kinds of meat, definitely enough for two people, will set you back about $15 USD.
4. Drink with hipsters in the former heart of communism
Nothing says sticking it to communism like downing some craft beer in the ultimate emblem of modern-day international capitalism: hipster bars. Blloku used to be the spot where party loyalists all lived – now it's the hippest neighborhood of Tirana. Get ready to sit at a table with an old sewing machine on it and feel like you're in Brooklyn – all this in a former communist brown noser's backyard. Definitely one of my favorite things to do in Tirana!
5. Eat KFC across from Enver Hoxha's house
Okay, so maybe there is a better way to stick it to the communist regime. The very first international food chain is coming to Albania – America's own national treasure, Kentucky Fried Chicken. The best part? It is literally opening right across the street from Enver Hoxha's old house. I really can't think of sweeter poetic justice than this. Too bad it wasn't open when I was there, as I would have loved this deliciously ironic Tirana "attraction."
6. Visit George W. Bush Street
Okay, so you can technically do this in Prishtina, Kosovo as well — and maybe a few places in America, too. But it's weird to see a figure so internationally reviled venerated in a foreign country. Albania loves George W. Bush because he was the first American president to visit their country. There's even a statue of him in a town where he once ate lunch, and the restaurant owner has forever shut down his seat so no one can sit where Bush once ate (although I can imagine when the lights go out, he eats there every night)
7. Climb a communist-era pyramid
Piramida in Tirana is a monument built in honor of Hoxha's death, and it's almost as ugly as his regime was. It's now in a state of disrepair, almost a perfect metaphor for post-communist Albania. Kids (and the occasional tourist) have now taken to using it as a slide while the country tries to figure out what to do with it. There's also a TV station inside of it because… this is Albania. Definitely one of the weirdest attractions in Tirana.
8. Discover Albania's past through a free walking tour
If you choose just one of all the things to do in Tirana, make sure it's the walking tour. The guide, Gazi, is one of a kind and will make the history of Albania come to life as experienced through the city of Tirana. You'll see all of Tirana's major attractions as well as learn about  Albanian history in an intriguing, easy to follow way. Literally every person I've met who has passed through Tirana and taken this tour raves about it. You can't miss it.
9. Drink coffee at FRIENDS cafe
Albania has a bit of a fascination with American culture – and loose enforcement of copyright laws. Want to live in the 90s forever? Check out FRIENDS cafe. I didn't hop inside, as I noticed it while on the bus back from BUNK'ART, but rest assured, it'll be theeeere for youuuuu when the rain starts to pour. If you don't want to have 90s flashbacks with your coffee, there are plenty of other cafés both trendy and traditional elsewhere in Tirana. Enjoy a cappuccino for about 80 cents in most places!
10. Drink rakija at Sky Bar
Doesn't drinking grape-based moonshine while spinning in a circle at the top of one of Tirana's tallest buildings sound like a fantastic idea? It is when you have these views. Warning that the chairs spin, too – it can really take you by surprise!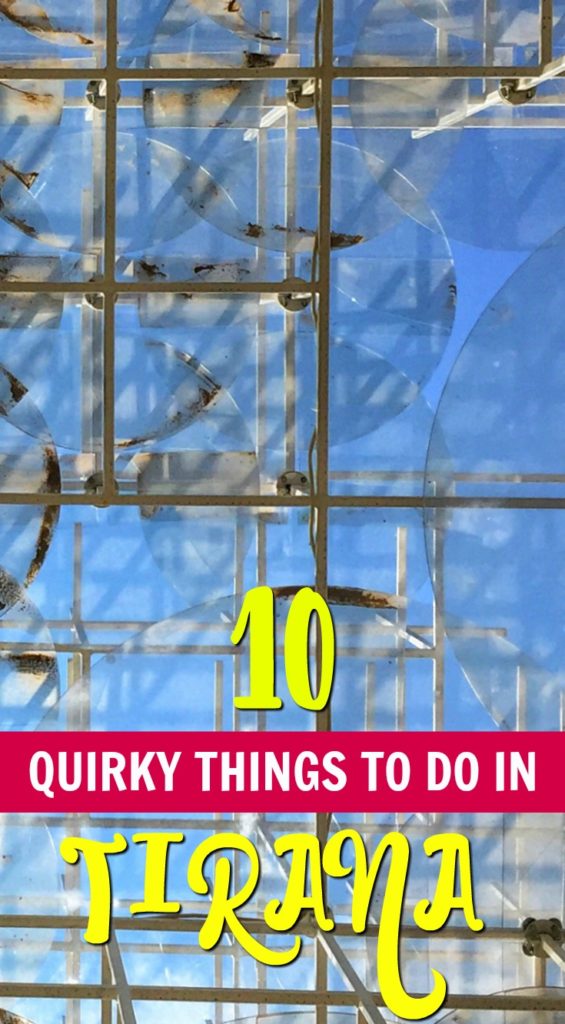 If you've been… what are your favorite things to do in Tirana? Did I miss anything?