Note: This post may contain affiliate links. Please see my disclosure page for more details.
Catalonia (or Catalunya, as written in the Catalan language) is a beautiful varied region with many beautiful sites. I recently spent six days in Catalonia, splitting my time between Girona and Barcelona. And if I'm honest? If I could do it again, I would have spent the entire time in Girona — and then some.
It's not that I didn't like Barcelona. It's just that, fresh off my divorce with New York after almost a decade of common law marriage, it felt too city-like, too Brooklyn, in a way that just didn't jive with me. Meanwhile, Girona had its own heart and soul – something both so new and so old.

1. The food, duh
Everyone who has even a five minute conversation with me knows that I am obsessed with food. And good god, does Girona deliver.
In our short time there, I ate some of the most amazing pinchos (alternately spelled pintxos if you're in Basque country) and tapas. One of my favorite places, Zanpanzar, was so good we actually had to go there twice! Pinchos are delicious tapas made of whatever is local and in season, served atop toasted bread.
Some highlights (OK, they were all highlights if I'm honest): truffled goat cheese with candied apricot and walnuts; pate, quail egg and ham; white asparagus, roasted red peppers, and eggplant; goat cheese, ham, and fruit compote; mushroom, ham, and crunchy bits of garlic.
We also drank a delicious 10 euro bottle of wine on the steps of the old Jewish quarter at Le Bistrot, which has Catalan food served with a French twist. The atmosphere was amazing, and when we got the bill, I was shocked at how cheap the meal was.
2. Perfect nighttime views
The iconic Girona Cathedral is located high up in the city, atop steps made famous by Game of Thrones. This makes it a prime spot for sunset views. But if you want to really feel the magic, get even higher on one of the city's semi-hidden walkways.
Girona is a city meant to be viewed from above. If you start wandering around behind the cathedral area, there are some great vistas to be had. There are lit pathways that lead you up and up, until you have nothing but amazing city views. All this in walking distance from the Old Town!
3. Rich Jewish history
Before I went to Girona, I had no idea that it was called "The Mother City to Israel" and was once a very significant part of the Jewish diaspora. The Jewish Museum there is fascinating, with so much new information. It is located right in the Jewish call, the former Jewish neighborhood (before the Inquisition and other unpleasantness pushed the Jews out of Girona and into exile once again)
The Jewish history is quietly present throughout the city – from preserved mikvehs (ritual baths) to minute architectural details – our Airbnb had Star of David tessellated window panes!
4. Central location in Catalonia – perfect for day trips
You can take day trips if you're traveling to Barcelona, but it's so much quicker and more direct to do day trips via Girona (and cheaper, too!)
We took a quick day trip to Besalú, which was a beautiful way to spend half a day. The old bridge, which was built about a thousand years ago, is just picture perfect. We went around 3 o'clock when everything was closed, which added some charm to its sleepy medieval vibe. But if you want to make more of a day of it and have lunch or dinner there I recommend going either earlier or later in the day.
There are also quick and easy day trips to Figueres, where the Dalí museum is located, and to Cadaqués, a small beach town where Dalí painted many of his works. There are also many tiny beach towns along the Costa Brava, like Tossa del Mar and Lloret del Mar, which are — again — closer to Girona than Barcelona! Check out this guide for ideas!
5. The multiculturality
Aside from Girona's Jewish history, it also has a current multicultural feeling I haven't felt many places in Spain. There are clear Indian, African, and Middle Eastern influences present in the city. We met some Syrian refugees who opened an outstanding bakery in the Old Town called Palmira. They sold delicious goodies, from baklava to honey-drenched flaky and crunchy desserts I can't even begin to pronounce. They were incredibly friendly, pressing free samples upon us as we drank our morning espressos. We went back every day we were in Girona and I'm jonesing for that delicious pistachio-filled baklava as I write this!!
6. Catalan is a beautiful and interesting language
If you're a language geek like me, you'll love hearing, reading, and deciphering Catalan. It's a Romance language, so it has clear French and Spanish influences. With my background in French, Spanish, and Italian, I can read 90% of it or so, which is fascinating to me!
But don't fret – Spanish is spoken by everyone, and English by almost everyone as well. You won't have any trouble getting around.
7. The ice cream!
OK, so I know I already had a section for food, but Rocambolesc deserves a section of its own. I mean, how many ice cream parlors can say that they are run by the owner of the best restaurant in the world, El Cellar de Can Roca?
If you want to feel like you died and went to Willy Wonka's ice cream heaven, Rocambolesc is your place. Whatever you do, make sure you try the violet and coconut sorbet – it's heavenly!
8. Amazing shopping
Girona knows how to shop. There are so many amazing little stores tucked into the Old Town, where you can buy everything from adorable dresses, breezy tanks, home goods, and my favorite – espadrilles. You can get Tony Pons espadrilles for a quarter of the price as back home – not even kidding! I'm kicking myself for not buying a pair, as they were absolutely gorgeous, but I really had no space in my backpack. But I just tell myself that's another reason to return!
9. The Game of Thrones vibes
Many great scenes of Game of Thrones were shot right here in the Old Town of Girona. The Cathedral steps? Where Jaime Lannister's badass horse charges up to challenge the High Sparrow. The cobblestone stairs and alleyways? Where Arya darts as she's hunted in Braavos. For a big GoT nerd like me – who doesn't want to deal with the tourist crush of Dubrovnik in the summer – this is a huge plus.
Pin it!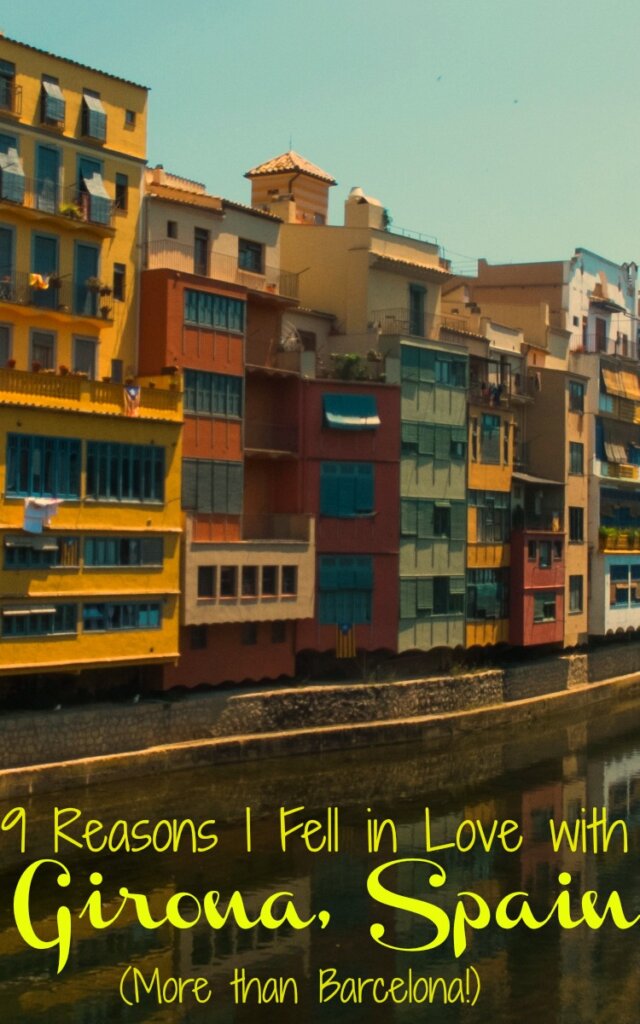 Have you been to Girona? Or elsewhere in Catalonia?