Note: This post may contain affiliate links. Please see my disclosure page for more details.
Everyone tells you to see the Prado, the Royal Palace, Retiro Park… but the real star of Madrid is the food.
And if you're trying to decide what neighborhood in Madrid to stay in, here's my personal choice: Puerta del Sol. This neighborhood is the heart and soul of Madrid, and our Airbnb was right in the thick of it. We took full advantage of our prime situation and dove into the Spanish style of life – eating, snacking, drinking, repeat.
Eat jamón iberico at Museo del Jamón
Museo de Jamón may vie for the title of Pork Heaven that I previously bestowed upon Lechonera Los Pinos. And it's cheap. As in, I wonder how they even turn a profit cheap. We got a heaping plate of four different kinds of ham and manchego for less than 8 euros. A beer? 90 cents (and that's not even the small caña size, which will only set you back 50 cents) AND it comes with a snack.
We went during Madrid Pride festivities, when it was jam packed with drunken revelers taking a wise break to refuel before returning to the debauchery. We loved it so much we went back again less than 12 hours later for breakfast, where we each had an espresso and a croissant, ham, and cheese sandwich for less than 3 euros apiece.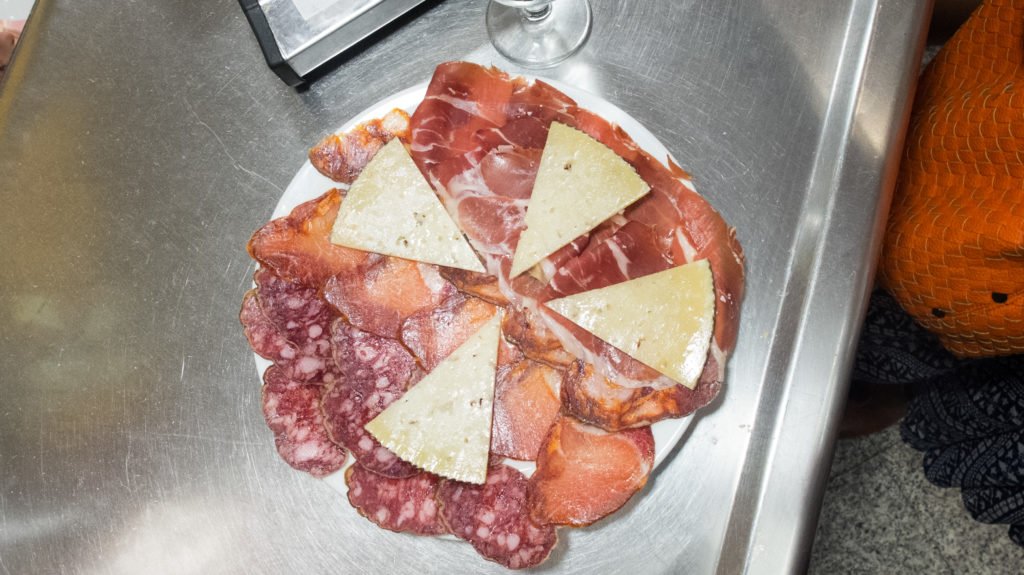 Tapear at one of the many cervecerias and tapas bars
A good 75% of the reason why I decided I needed a month in Spain was to eat my way through all of the delicious tapas the country has to offer (the other 25% is wine and cider, obviously). I got a good head start on my goal in Puerta del Sol, where we ate at a few delicious restaurants. Lambuzo had delicious tapas and some great wine. As a huge Spanish wine fan, I went for the Ribera del Duero – so tasty! We loved the berenjas (fried eggplant with a dark, rich honey sauce), atún rojo (perfectly rare ahi tuna), and the croquetas de gambas (fried potato and shrimp croquettes).
At La Carbonería, I was obsessed with their albóndigas a la casera (meatballs home-style – though I need to figure out who's home it's styled after and how I can move myself in there ASAP). They also have the most perfectly cooked tortilla española I've had the pleasure of putting in my mouth. It was simplicity at its finest, a perfectly melting synthesis of potato and egg. It was gooey in the best way – not dry and set like less fresh tortillas can be.
Eat churros con chocolate for breakfast
There are many places churning delicious churros con chocolate all over Madrid, but the oldest and most famous is Chocolatería San Ginés. The churros here are perfectly fried – crunchy on the outside, soft inside, without any taste of grease. Unlike their Mexican counterparts, these are not rolled in sugar and cinnamon; instead, you drown each bite in the cup of warm chocolate sauce. Pair with an espresso and you've got one hell of a sugar and caffeine rush – ready to take on that Madrid sun.
Get a vermouth and a few bites to eat at Mercado San Miguel
The covered marketplace of Mercado San Miguel is a great introduction to tapas. My favorite eats there were the sweet and savory toasts piled high with mozzarella or burrata, the olive and pickled vegetable skewers called bandarillas, and some delicious vermouth with orange and ice for a single euro fifty.

Pin it!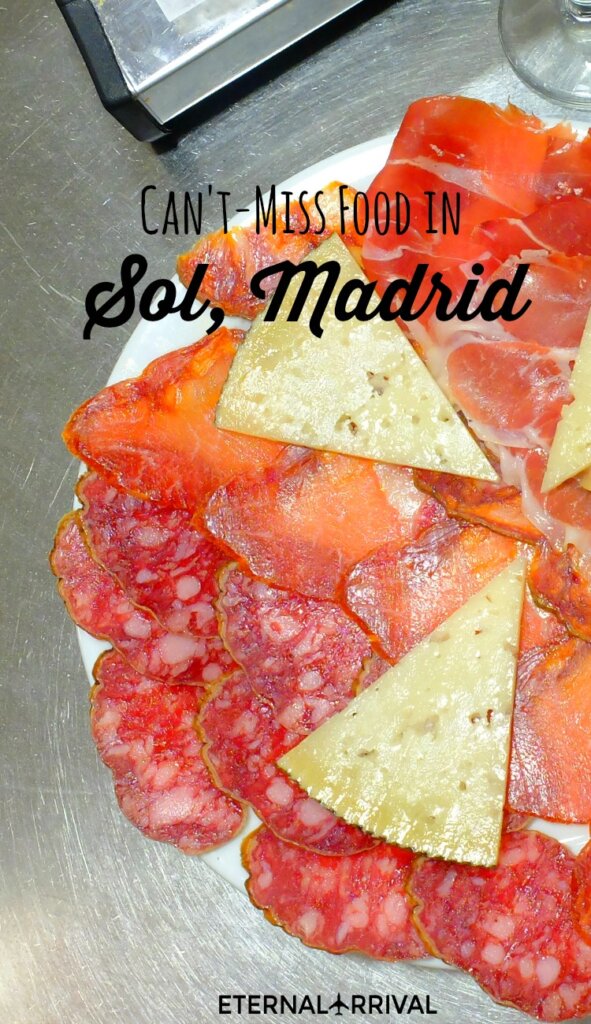 What are your favorite eats in Madrid?