Note: This post may contain affiliate links. Please see my disclosure page for more details.
The U.K., on the whole, is not a budget destination. But with my one of my best friends in the world living in London, how could I resist the opportunity to visit her? I spent a week with her in London and we went to Edinburgh for a quick, cheap weekend.
 While some of the things to do in Edinburgh are expensive (like the pricy-but-worth-it Edinburgh Castle, which cost me nearly $27 for a ticket plus audio guide), there are still many amazing cheap and even free things to do in Edinburgh.  You just have to look for it!
The best free things to do in Edinburgh
As with any city – walk, walk, walk. The Old Town of Edinburgh is compact, and Royal Mile can be walked end-to-end in about 20 minutes. Among the centuries-old gothic architecture, there's plenty of green spaces, nature, and hiking to be had. And of course, because this is the U.K., nearly all the museums are run on a donation-only basis, meaning you can give as much or as little as you can.
1. Climb Arthur's Seat for a panoramic view
How many cities can boast that they contain not one but two extinct volcanoes within city limits and walking distance apart? Arthur's Seat, located in Holyrood Park a short walk from the Royal Mile, is one of them, the other being the more famous Edinburgh Castle.
The walk is not too strenuous and can be completed with any sensible shoes. I managed it in my Dansko clogs because, priorities. The walk takes about 30 minutes each way. The views are gorgeous and it's absolutely free!
If you have more time in Scotland, make sure you take advantage of the country's beautiful landscape. Hiking is almost always free, and Scotland has some of the best spots for hiking in the world, including the fairy-tale gorgeous Isle of Skye.
2. Dip your toes in Scotland's mind-bogglingly long history at the National Museum of Scotland
I only left a few hours at this museum before needing to catch a train back to England, and I regret not staying longer! There is a huge array of artifacts that hint at what life was like in Scotland over two thousand years ago.
This museum traces Scotland's history from its roots in Paganism to its interaction with the Roman empire to the tumultuous times of the Protestant Reformation — and likely even further, had I dedicated more time to this gem of a museum. One of the best free things to do in Edinburgh!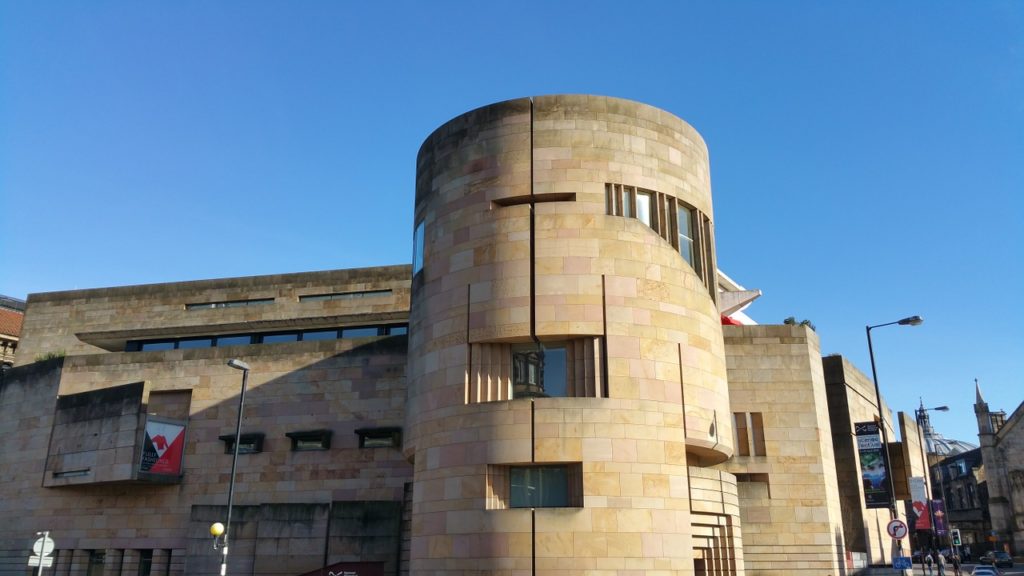 3. Take in some art at the Scottish National Gallery
Much like London, nearly all of the museums in Edinburgh are free to enter and run on donations. The Scottish National Gallery has an impressive collection spanning many centuries, from medieval Italian religious art to Impressionism to modern Scottish art.
4. Take in live music at a Scottish bar (although you probably should have a pint or a nice scotch)
I took in a great live show at the small Scottish pub Ensign Ewart. The two-man band played a lovely variety of traditional and modern songs. As with any pub worth its salt in Scotland, the scotch list was extensive and relatively inexpensive. A glass of scotch started around £3.50 (around $5 USD), though you could easily go higher than that splurging on the good stuff.
I preferred the whisky from the Highlands and the Islands and thought they had the most character. Cù Bòcan was a standout for me, as was the Dalmore 12 year. Whiski Bar was also recommended to us, but we didn't have a chance to check it out. There are also tons of festivals at different times throughout the year – check out this guide to Edinburgh festivals on a budget for ideas!
And if you're there for New Years, you can't miss Edinburgh's most exciting festival – Hogmanay!

5. Stroll along the Grassmarket and Royal Mile
This lovely walking street of the Royal Mile is right in the heart of Old Town. Walk down Victoria Street (there's a fantastic whiskey bar there – The Bow Bar – which was my favorite in Edinburgh's Old Town!) and you'll end up on the Grassmarket, a cute historic square with tons of pubs and a fabulous view of the Edinburgh Castle.
Walking around the city taking photos is one of the best free things to do in Edinburgh!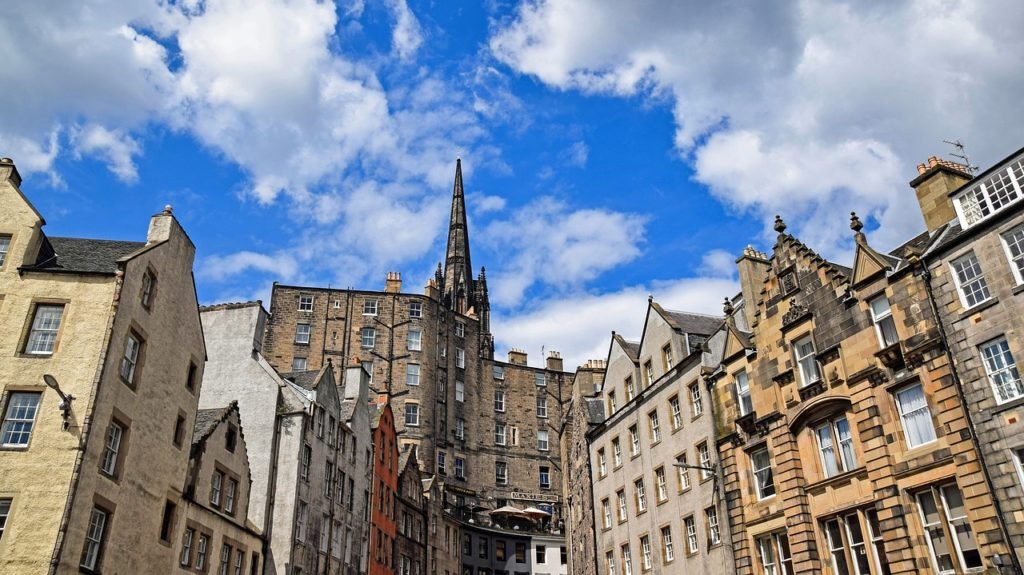 6. Take a stroll through the Royal Botanic Garden of Edinburgh
Another lovely place that I didn't give myself long enough to explore, as I strolled in about a half hour before closing time. Despite being a weekend in late April, it felt tranquil and miles away from the city – though only a 15 minute walk from the heart of Old Town.
Entrance to the Botanic Garden is free.
7. Stare in awe at Saint Giles' Cathedal
Access to this beautiful cathedral is free; alternatively, you can purchase a photo permit for £2, which supports the upkeep of this beautiful church. The stained glass in this church is some of the best I've seen, and I'm a total nerd for a pretty church (or any religious building for that matter).
8. Get high on Calton Hill
If Arthur's Seat wasn't enough altitude and you fancy another panoramic view of the city, Calton Hill is a lovely walk with excellent views – and much easier on the legs and lungs.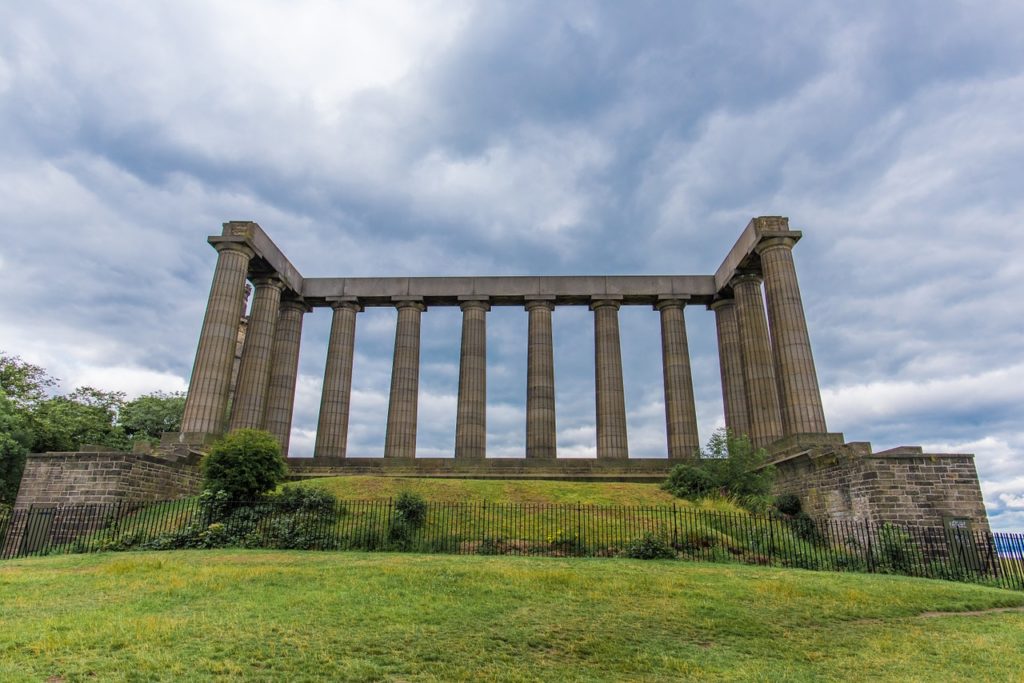 9. Walk through Princes Street Garden
Right next to the train station, splitting Old Town with the more commercial side of town, is Princes Street Garden. When I went in April, the tulips were bursting with color, even though the weather was dreary.
For a small fee, you can go up the building on the left! It was closed for renovations when I was there, sadly.
Recommended Accommodations: Hotels and hostels are expensive – check out Airbnb for better options (get a discount off your first stay with my link!)
Recommended Restaurants: Oink serves delicious and cheap sandwiches! World's End is a little pricey, but it's worth it for the atmosphere and good food.
Further Reading: Rick Steves Scotland
Useful Tips: Food is cheaper near the university and further away from Royal Mile. Be sure to layer and bring warm clothes – Edinburgh literally went from sunny to snowing in the span of 10 minutes while I was climbing Arthur's Seat.
As always, I recommend purchasing travel insurance before you travel, even when traveling in developed countries like the UK — you never know what could happen, and it's better to be safe than sorry! I always use World Nomads because it's affordable and flexible.
Like it? Pin it! And be sure to share any Edinburgh recommendations in the comments!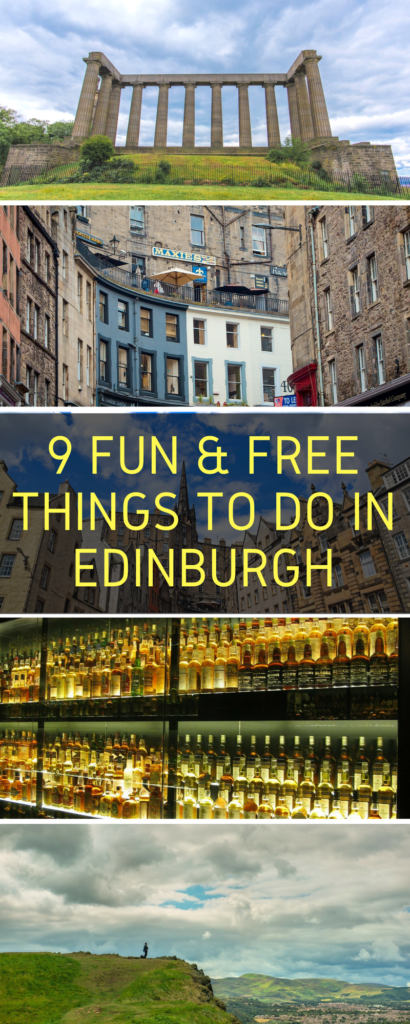 Note: This post contains affiliate links. That means that if you purchase something using one of these links, I will receive a small commission at no added cost to you. No BS – I only recommend accommodations, services, and products I truly believe in.