I have a confession: despite my terrible fear of driving on highways, I rented a car in Puerto Rico almost exclusively to eat pork.
Not just any pork, of course — the holy grail of pork, lechón (Puerto Rican suckling pig), the best of which can be found in the lechoneras of Guavate, Puerto Rico, an easy day trip from San Juan.
I was a woman obsessed. Obsessed with the idea of pork heaven – not a figment of my wildest dreams, but a real place: la ruta del lechón, a.k.a. Pork Highway, about 45 minutes outside of San Juan.
I plugged Lechonera Los Pinos into my GPS, briefly considered taking an anti-anxiety pill, and embarked on my mission.
Note: This post contains affiliate links, which means I may receive a small commission if you purchase something through one of these links. Thank you for supporting the free content on this site! For more information on affiliate links and cookies, see my disclosure page for more details.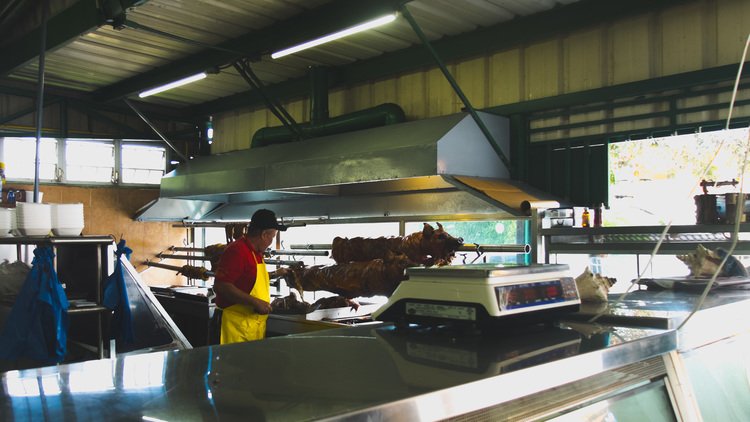 We arrived at Lechonera Los Pinos just before noon, when the parking lot was bustling but not full. A few tables were packed with families feasting, and a merengue band was setting up as we stood in the short line to get our food.
Hardly able to think about anything save the deliciously slick reddish skin of the whole roasted pig, and overwhelmed by the wide array of starches, I ordered a few sides almost as an afterthought. I chose yuca en escabeche, pickled cassava root with onions, as well as arroz con gandules, questionably translated as "rice with loafers" but better understood as rice with pigeon peas, the staple of Caribbean cooking. I also ordered morcilla, a blood sausage stuffed with rice, a nod to Puerto Rico's Spanish culinary tradition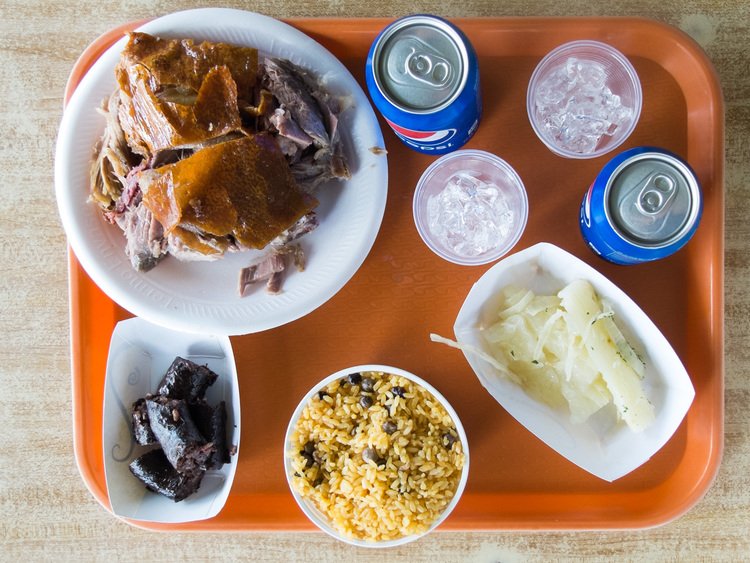 And of course, the crowning glory, the lechón. "Una porción de lechón," I said in Spanish. "Para dos?" the man asked. I nodded. "Una libra" – a pound – he responded. I hesitated for a moment because it sounded like a hell of a lot of pork, but I lacked the confidence in my language skills to question the man. And good thing, too.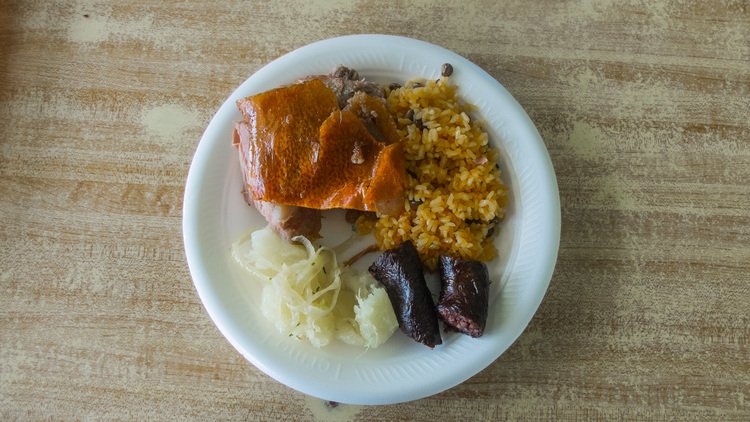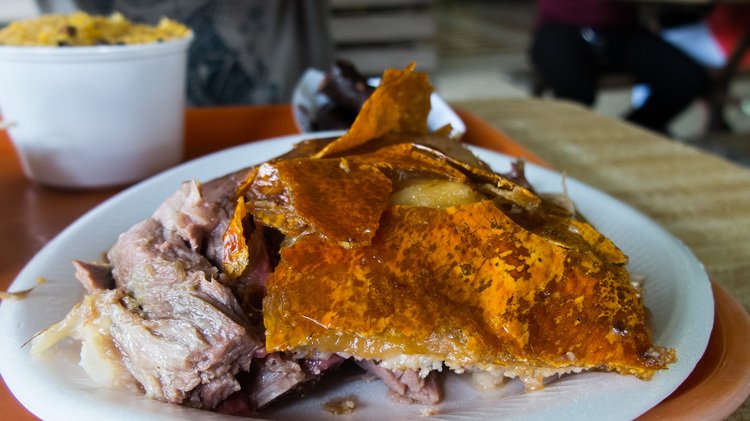 Words feel inadequate to describing the sensory experience of lechón. Initially, the pork tasted slightly underseasoned. This was easily remedied with a pinch of salt and a dash of homemade pique, a vinegary, garlicky hot sauce. But the real deal — the reason people drive all the way out to Guavate just for some pork – was the skin. It was somehow both crispy and succulent — splintering with a satisfying shatter like a chip, with a thin, pearly layer of fat beneath that softened each bite.
The best part? For enough slow-roasted pork, blood sausage, yuca, and rice to stuff two hungry travelers almost to the brink of exhaustion, it was less than $10 apiece.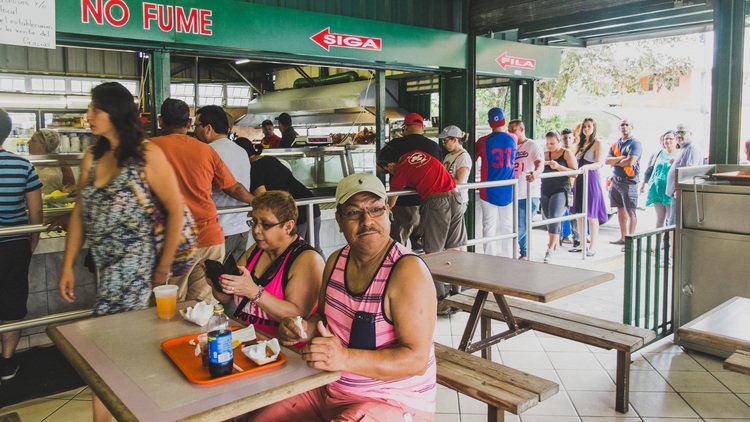 As we ate, it got increasingly crowded. The line started to stretch outside the building and the men wielding machetes to cut the lechón worked speedier to match the pace. Live music began to play as families poured in, all with plates of pork, chicken, and starches piled high.
Getting to Lechonera Los Pinos in Guavate, PR
If you want to get to Pork Highway in Guavate, you're going to have to rent a car, which can be done for $20-25 USD per day. Puerto Rico is not as scary to drive in as I feared, and drivers generally seemed pretty tolerant of my irritating tendency to drive 5 miles under the speed limit and leave hundreds of yards of distance between me and the car in front of me. You'll want to ensure your rental car has an E-Z Pass (called an AutoExpreso in Puerto Rico) enabled, which will save you time and potential fines. We were able to rent one for $10 USD, plus paying for tolls. It was unclear what each individual toll cost, but in my three days of driving throughout Puerto Rico, it totaled less than $5.
Gas is cheap in Puerto Rico as well – it only cost me 50 cents a liter to fill up when I was there in 2016. If you're using a phone enabled with GPS, which I recommend, it's quite easy to get there. Otherwise, take PR-26 to PR-22W to PR-18 to PR-52 and finally to PR-184. You'll see lechoneras almost immediately; keep going until you hit the one of your choice. We chose Lechonera Los Pinos and it was fantastic.
Recommended Rental Car Company: Hertz
Recommended Accommodations: Best Western Plus Condado or Airbnb
Further Reading: Lonely Planet Puerto Rico
Useful Tips: Los Pinos is best on Saturdays and Sundays — be sure to arrive around noon but before 2pm for the best selection. Be sure to try the morcilla (blood sausage)! If you're renting a car, be sure you have travel insurance as well to keep you well covered in case of an accident. I use and love World Nomads.