There's no better place in Colorado during the winter months to visit than Boulder!
A small town (though some may refer to it as a city) located right at the start of the Rocky Mountains, Boulder is one place you won't want to miss.
Boulder is a common day trip from Denver, but it is genuinely amazing to stay for an entire vacation.
It's filled with breathtaking hikes, amazing restaurants, and of course, delicious breweries that will leave you wanting to extend your stay!
Without further ado, here are all of the best things to do in Boulder in winter, in no particular order.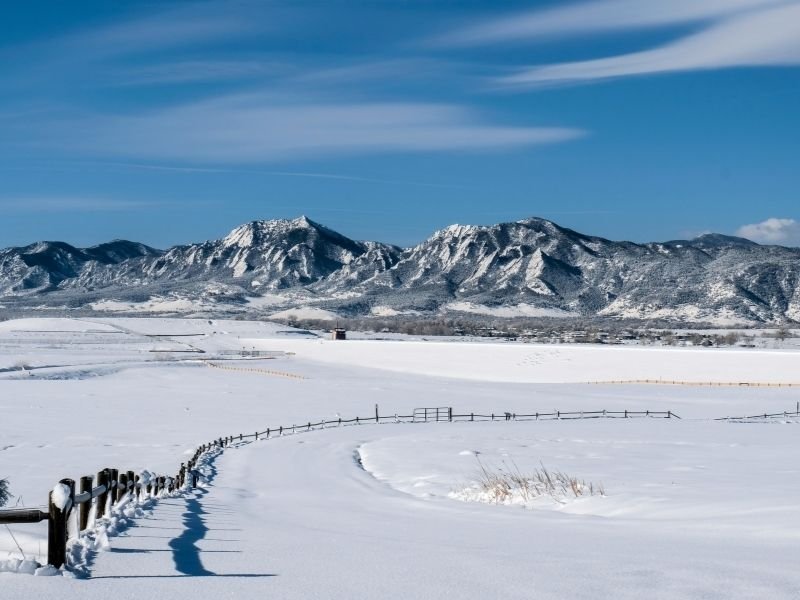 Note: This post contains affiliate links, which means I may receive a small commission if you purchase something through one of these links. Thank you for supporting the free content on this site! For more information on affiliate links and cookies, see my disclosure page for more details.
Best Things to do in Boulder in Winter
Cross country ski at North Boulder Park.
One of the underrated places to visit in Boulder is a place called North Boulder Park.
This park is often visited by locals in the summer, especially those with families, because there's a fantastic playground in the park that's perfect for kids.
However, come winter, North Boulder Park becomes the perfect place for cross country skiing! This is a pretty popular activity for locals.
It's a lot different than regular skiing, as it's across flat surfaces of the ground, and you essentially are running with skis on (sort of — it's hard to explain, but if you've tried, you know!).
Keep in mind that cross country skiing is said to be even more difficult than regular skiing, but if it's something you're interested in, there are places to rent or even learn in and around Boulder. Just make sure you do your research before paying for anything!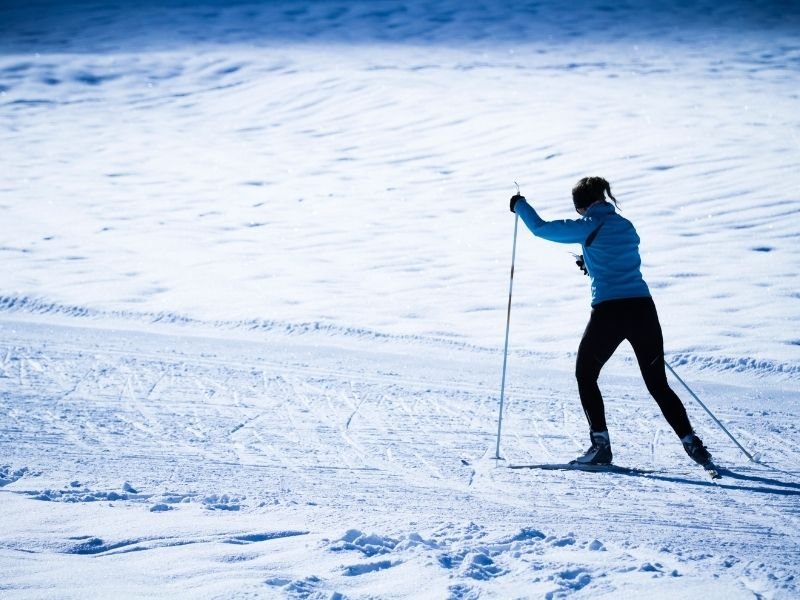 Walk the Boulder Creek Path.
For a great walk in the winter while visiting Boulder, take a walk along the Boulder Creek Path.
It's perfect whether you are visiting during a snowy time of winter or a dryer time; just make sure you dress appropriately. The weather in Colorado can be pretty unpredictable sometimes!
The path is relatively long, about 9 miles or so from start to finish. You don't have to walk the entire path if you don't want to because even just walking a part of it is a great way to get some fresh air while visiting Boulder in the winter.
This is one of the easiest paths to walk in Boulder, making it perfect for visiting with families or even dogs, as it's both dog-friendly and stroller-friendly. It's partially paved and will lead you along a river near the mountains and even into the town of Boulder.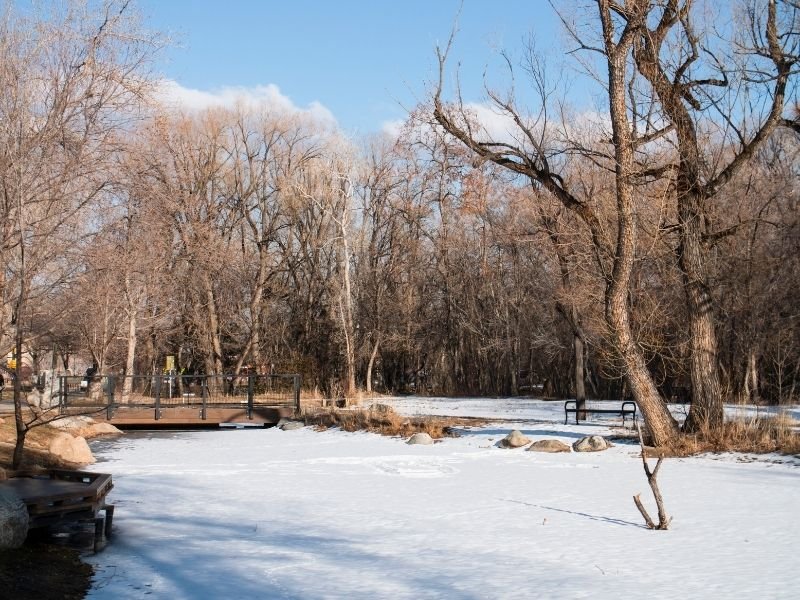 Shop on Pearl Street.
If you've been to Denver before, then you've most likely gone shopping on the 16th Street Mall! This is one of the main shopping areas in the city. Pearl Street is the same thing, but with more local shops!
Along Pearl Street, you can find top-rated restaurants, breweries, stores, cafes, and more. Almost anything you can think of, you can probably find a shop that sells it on Pearl Street. A decent portion of it is also pedestrian-only, making it great for walking.
During the winter, you can generally find lots of fun random events happening at the different shops or even just on the street. It's a great place to walk around and pop into stores to warm up while exploring Boulder.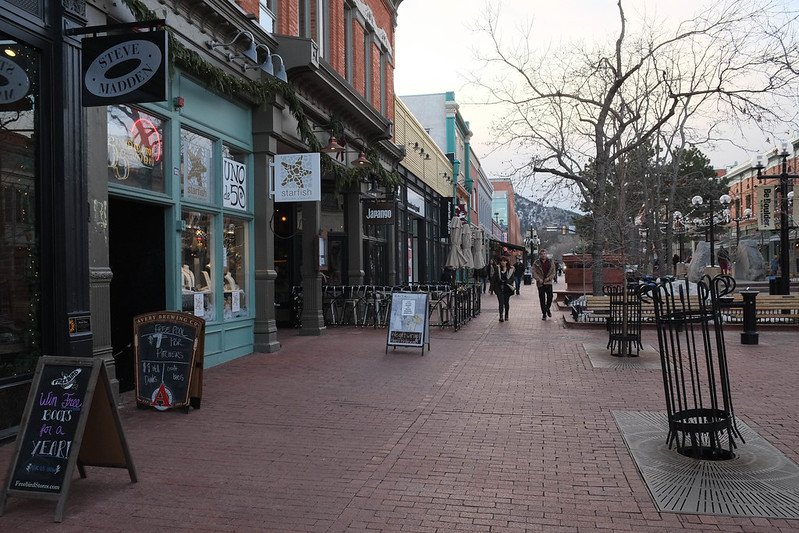 Sled at Tantra Park.
Sledding is an absolute must in the winter, and thanks to Boulder's proximity to the mountains, you can go sledding while visiting. Plus, if you need a sled, you can buy one at the local shops or the grocery store, King Sooper's.
Tantra Park may just look like a regular old park during the rest of the year, but it becomes a true winter wonderland in winter. It also has a fun playground so kids can have fun in other ways, too, if it's not snowing during your trip to Boulder.
There is a great little hill at Tantra Park where most of the sledding happens. If you're feeling up to it, you can even use the snow to build a fun jump to go over when you're sledding down the hill.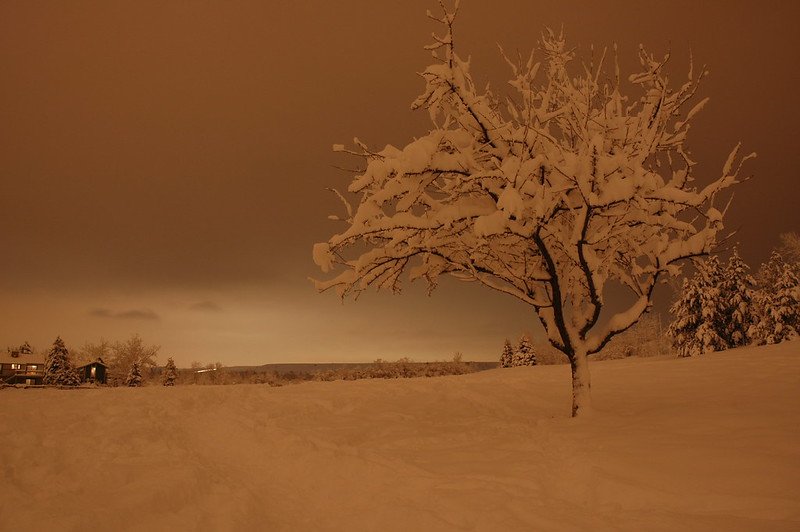 Ski at Eldora Mountain Resort.
No trip to Colorado is complete without skiing. The best ski resort right near Boulder is called Eldora Mountain Resort. Because Boulder doesn't technically have its own ski resort, this is where all of the locals go.
This ski resort has mostly intermediate runs and a decent amount of beginner, advanced, and expert trails for skiers and snowboarders. No matter what level you are at, you'll be able to have fun at Eldora Mountain Resort.
There are day passes so that you can easily go to the park for a day, but you can also buy a multi-day pass if you'll be spending a few days in the area and really want to get the most out of your visit.
If you've never been skiing or snowboarding before but want to learn, you can also learn here because they offer lessons. The resort also offers rentals, so you don't have to travel with your equipment.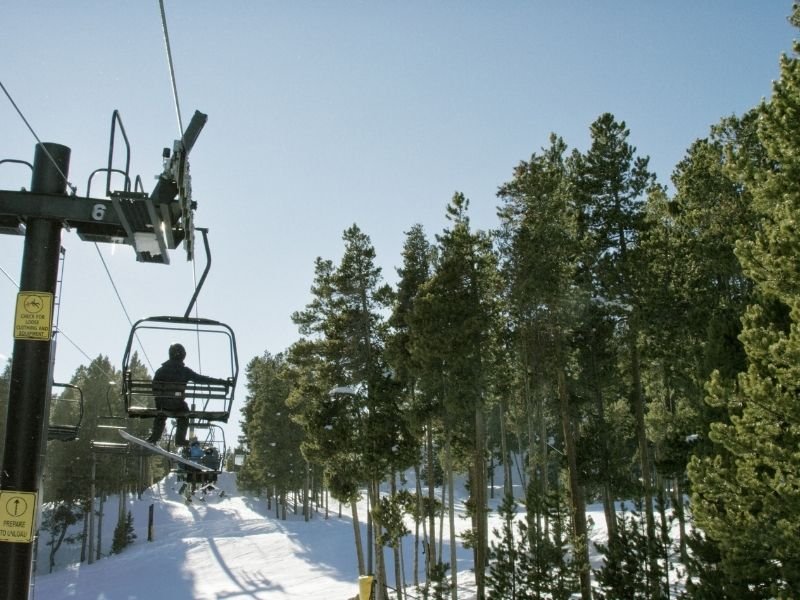 Attend Snow Much Fun.
Another fantastic event to attend in Boulder in winter is one called Snow Much Fun! This event is perfect for all ages and is the best way to see a whole bunch of holiday lights, similar to the ones that you would see in Denver.
Snow Much Fun in 2020 was a bit different than usual, but the event typically includes certain parts of the town being decorated and wholly decorated with lights. It's mainly in the downtown area as well as the Civic Area.
Boulder's tourism board will usually have a list of the must-visit places to see the lights, too, so you'll know exactly where to look. For example, some of the best spots for Snow Much Fun lights last year was Creekside Play Area, Public Art Sculpture, and a whole bunch of spots along Pearl Street Mall.
Watch The Nutcracker with the Boulder Philharmonic.
A fun winter tradition is to see The Nutcracker, and the same is true when visiting Boulder. You can attend the show with the Boulder Philarmonic, put on by the Boulder Ballet.
It usually only occurs on set dates during the winter, so you'll want to plan for this event and book your tickets in advance.
Sometimes the dates are in November, and sometimes they are in December. It truly varies on the year! Often, they are only for just a few short days, too, usually five performances or less total.
This can be a great performance to attend with families or even if you're looking for something to do as a couple during your trip to Boulder. It's an outstanding performance to get yourself and others into the holiday spirit.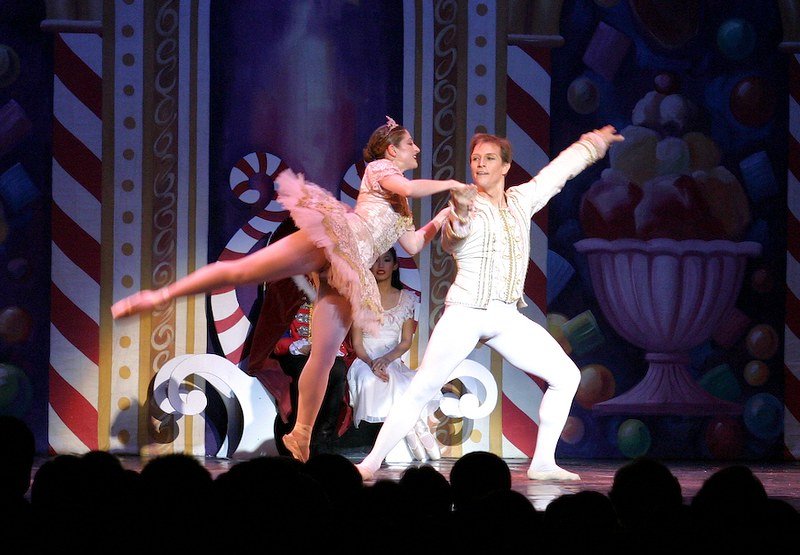 Attend Colorado Chautauqua WinterFest.
Going to festivals around the holidays (especially ones that are all about the holidays) serves as the perfect way to get into the holiday spirit. So, why not go to Colorado Chautauqua WinterFest?
When you think of the word WinterFest, you probably initially think that it's a bunch of winter-related activities, and you'd be right. WinterFest is an event that usually lasts for a month or so in Boulder and includes tons of different events.
Common events of the past for WinterFest have included Art in the Park, a Cyber Scavenger Hunt, and even free coffee and cookies for guests to warm up. The events tend to change depending on the year, but a visit to Boulder to attend WinterFest is always a good visit.
Drive up (or hike) the Flatirons.
The Flatirons are the mountain range that makes Boulder so popular. They're part of the Rocky Mountains and are genuinely one of the most iconic parts of the mountain range, too, which is why so many people like to visit Boulder.
While you may think that the mountains must only be accessible in the summer or warmer months, they're open to visitors year-round.
If it's super cold, you can drive on the Flatirons Vista Scenic Drive, which will bring you right up the mountain. This way, you don't even have to get out of the car, but you can still enjoy truly breathtaking views.
Another option is to straight-up hike on the Flatirons in the winter. My first time hiking the Flatirons was actually on New Year's Day, so this is doable. Plus, this is the time that you'll also usually run into lots of locals! Just choose your trail wisely because some of them are difficult.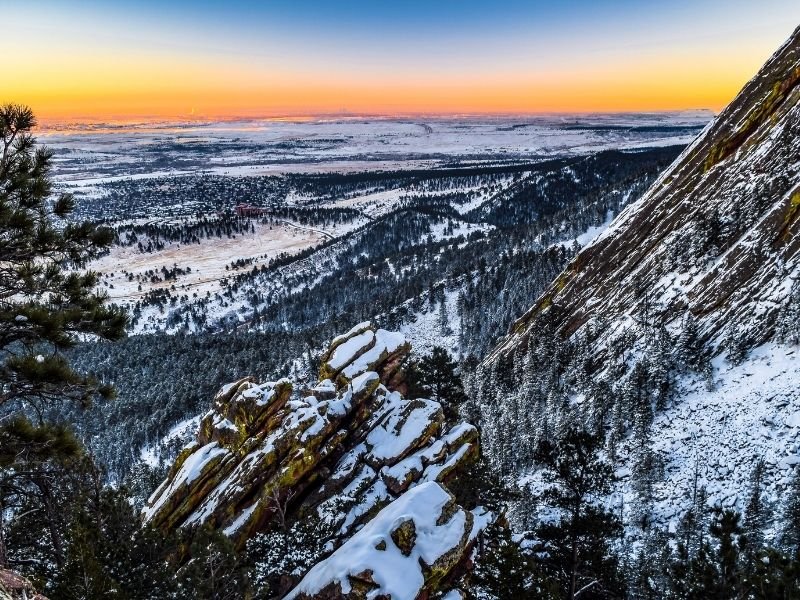 Enjoy a hearty breakfast from Snooze, an A.M. Eatery.
Arguably the best spot for breakfast (besides Foolish Craig's Cafe) is Snooze, an A.M. Eatery. This is a small chain restaurant known for its breakfast, and they have quite a few locations across Colorado.
At Snooze, you can get almost any breakfast that you can imagine. From waffles to eggs benedict to huge breakfast burritos, Snooze has it all.
Keep in mind that Snooze is one of Boulder's most popular breakfast restaurants, mainly because it's on Pearl Street. You'll want to book a reservation ahead of time, which most people will just do on the Yelp app. However, you can only book reservations on the same day!
If it's super cold during your trip to Boulder, don't worry. Snooze has lots of indoor seating, but even their outdoor seating gets surrounded by outdoor heaters during the winter, so you can sit outside without freezing.
Snowshoe on one of Boulder's many trails.
Many people overlook snowshoeing as a fun thing to do in the winter because it's just walking with funky waffle shoes on your feet while you tread snow easily. But it's super fun and is a great thing to do in Boulder in the winter!
Also, if you're traveling to Boulder without snowshoes (because why would you be traveling with snowshoes?), then don't worry; you can rent them at different places throughout the town. The best places to check out for rentals include those that also offer ski and snowboard rentals.
Some of the best spots for snowshoeing in Boulder include Eldora Mountain Resort, Hessie Trailhead, Heil Valley Ranch, and Betasso Preserve. Note that some of these are in Boulder County and not necessarily the town of Boulder.
You could also go snowshoeing in Rocky Mountain National Park in winter!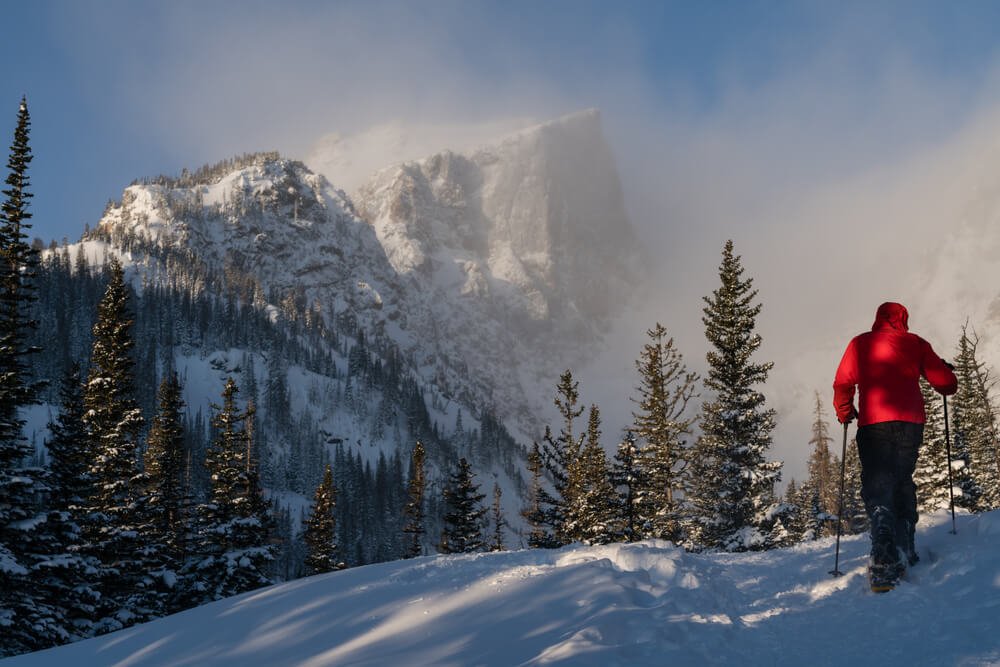 Warm up with a pint from a brewery.
Boulder is known for its amazing breweries, so the best way to warm up while visiting in winter is to head to one and grab a pint. Because there are so many that you can choose from, you have your pick. However, you should check out some of the more popular ones.
Arguably the best place to grab a bint in Boulder is at Avery Brewing Company. This brewery has its own restaurant, so you can eat here while also trying one of their many different drinks on tap. Consider ordering a flight to have a few different flavors.
Another great one that many people don't even really know about is the Twisted Pine Brewing Co. This place has its drinks but also has tons of events (especially in winter), like trivia and live music. Plus, they have a fantastic pizza menu.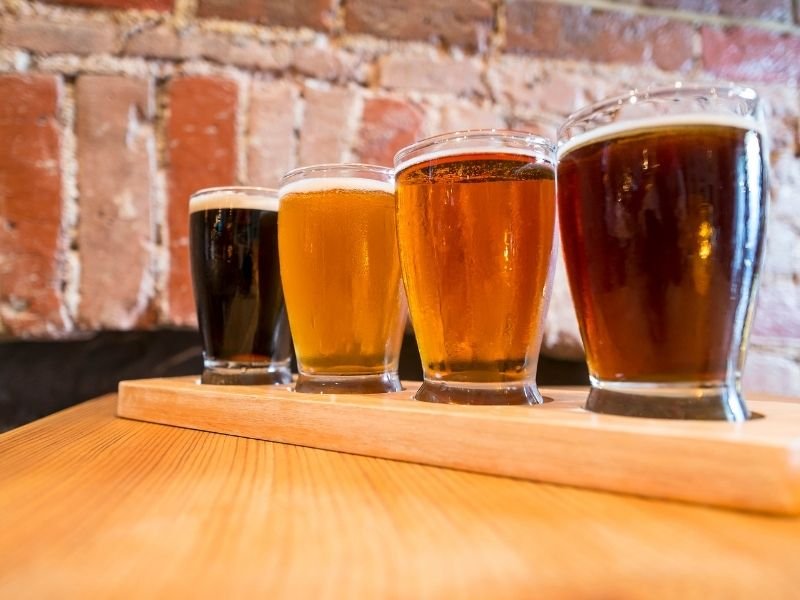 Go to Switch on the Holidays.
For a great holiday event, go to Switch on the Holidays! It happens right downtown on Pearl Street. If you happen to be staying at Hotel Boulderado, which is the most popular place to stay in Boulder, then you will be right near where this event happens.
This is an annual event that happens only once a year, so if you want to attend, make sure you plan your trip wisely. During the event, there's a fun sing-along put on by the Boulder Children's Chorale!
At the end of the event and when they are done singing, Pearl Street gets completely lit up at the Boulder County Courthouse! It's one of the most magical experiences.
You'll also be able to see Santa at the end, which is perfect if you're traveling with children. It's free to take a photo with him!
Eat a sweet from Spruce Confections.
There's just something about sweet treats and cold winter weather and the holidays that just all go together, right? So check out Spruce Confections, one of the best spots for an amazing sweet treat in Boulder. They have a right location downtown on Pearl Street, but they have another location uptown too.
The menu has tons of sweet treats, including brownies, cookies, croissants, muffins, and other fun goodies that they make. Plus, they have a long list of hot and cold drinks to go along with your treat.
If you're not a huge fan of sweets or you want something a bit more savory to eat before having your sweet, then don't worry; they also have salads, sandwiches, and burritos on the menu. Honestly, you could get almost anything here, but the sweets are the most popular thing to get there.
Ice skate at Winterskate.
Ice skating is an absolute must-do activity when visiting anywhere in the winter, no matter where you are. However, Boulder has one ice skating rink, and it's at the University of Colorado Boulder. Unfortunately, it's mainly only open to students and friends of students!
That's why the best spot to go ice skating near Boulder is Winterskate. It's technically located a short drive out of Boulder in Louisville, but this is where all the locals go to ice skate near Boulder because it's the closest place.
During Winterskate, there are also horse-drawn carriage rides, delicious hot cocoa and coffee, heaters, food stands, and fun holiday music to help get you in the holiday mood. The ice skating rink is also relatively large, at around 6500 square feet! There are rental spots right at Winterskate park so that you can rent some skates to have fun.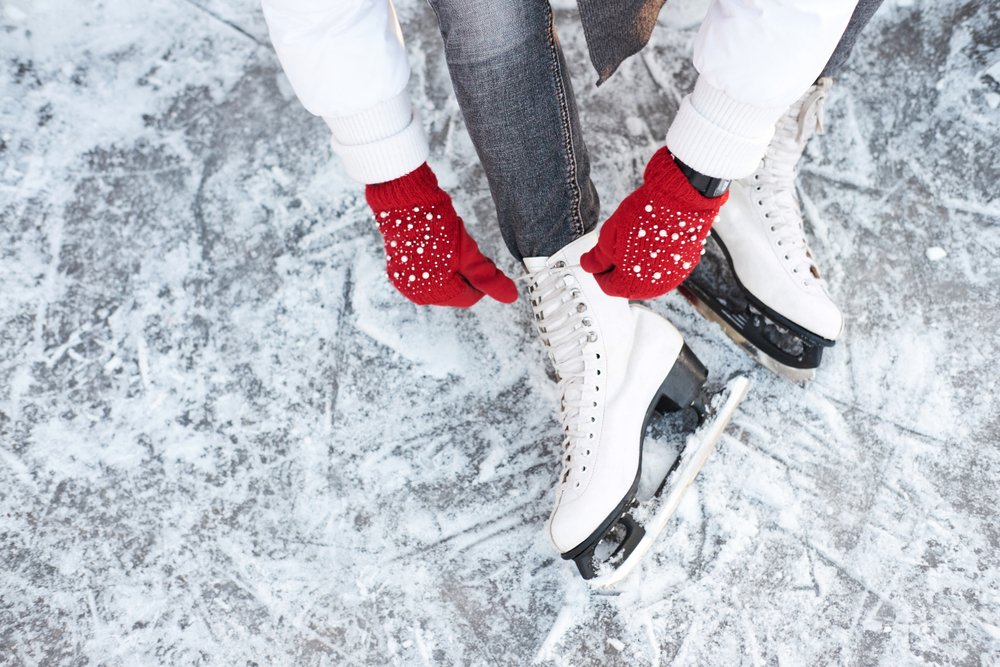 Take a photo with Santa at Saint Nick on the Bricks.
St. Nick on the Bricks is a fun event in Boulder annually for families and kids in the area. It's completely free and is the perfect way to get into the holiday spirit in winter. The event takes place at the Boulder Visitor Center in the downtown part of the town.
The main attraction at this event is, of course, Santa! Sometimes Mrs. Clause is also there, so you can get a photo with both of them. If you have the kids bring their Christmas list, you can even have them read it and take it to the North Pole.
This event usually takes place for a full day right before Christmas, so if this is something you know that you want to visit during your trip, be sure to plan wisely. Historically, it occurs the weekend before Christmas!
Have tea at Boulder Dushanbe Teahouse.
One place that can't be missed is the Boulder Dushanbe Teahouse. It's one of the best things to do in Boulder in general, but it is even more enjoyable in winter because one of the best ways to warm up is to have a tasty hot tea!
This is one of the most unique places in Boulder. The entire building was actually built initially fully in Tajikistan. Then, it was taken apart and shipped all the way to Boulder, Colorado, of all places! Therefore, the teahouse has a unique and authentic feeling to it, unlike many other places in the United States.
There are many spots to sit down and relax here, so you can truly enjoy your drink. Be sure to look closely at the ceiling and the walls because the architecture is truly breathtaking. There are so many little details!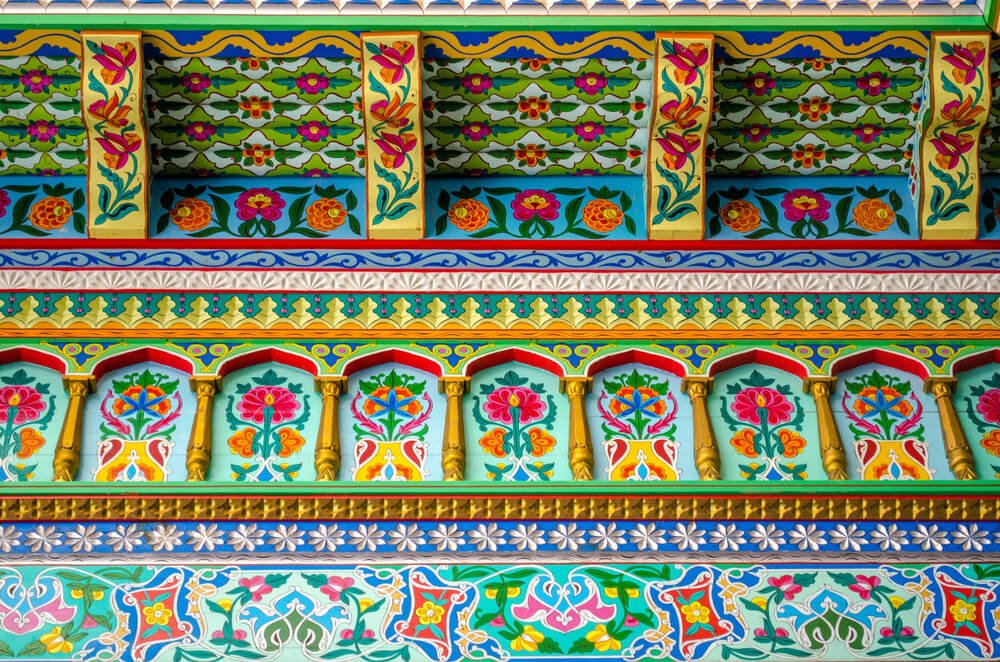 Go to Freezie Fest.
Yes, there is an actual event called Freezie Fest in Boulder! It takes place annually on a single day in December, usually on a Saturday. The event is mainly focused just on snowmen, which is super fun!
During the event, there are train rides, fun outdoor games, Christmas carolers, and even an opportunity to take photos with Santa. This is truly an excellent event for families or anyone who loves the holidays.
So, back to the point: snowmen. Around 25 different stuffed animals of Freezie, the snowman are hidden around the town inside different shops. The goal is to try to find one, and you can end up getting a gift card or another prize after finding one. It's a fun way to get involved in a town-wide event while also exploring!
Buy a new book at Boulder Book Store.
One of the best things to do in Boulder in the winter is to support local shops like the Boulder Book Store. This historic shop was actually recently ranked number one out of all the independent bookstores in the United States, so it's already made its mark on the map!
The shop is located right on Pearl Street and is a beautiful place to explore because it's inside an old building. It covers three floors, and there's said to be more than 100,000 books inside. There are so many little spots to explore inside the bookshop.
Boulder Book Store also hosts many events throughout the year, so be sure to check out their website to see if there are any events happening during the time you're visiting. Sometimes they host readings or even author signings for the public.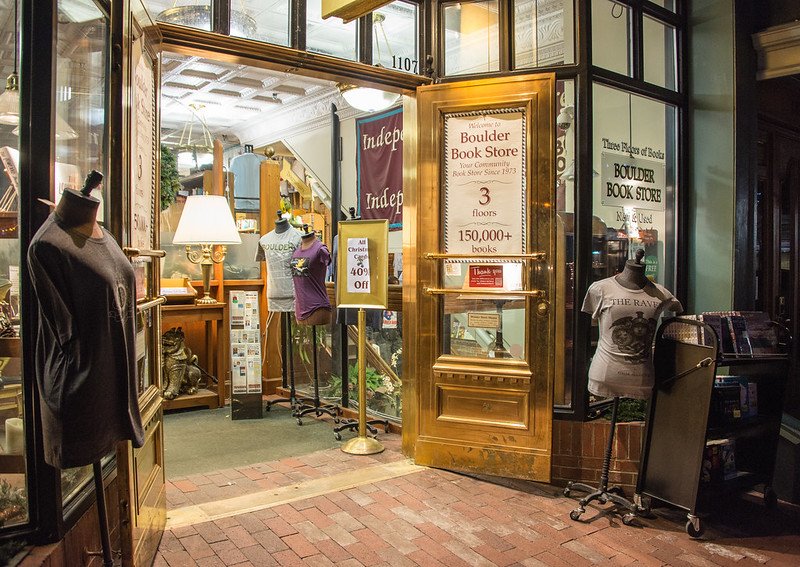 Grab a bite to eat at the Buff Restaurant.
Last but not least is another great restaurant that's even better in the winter, the Buff Restaurant. They mainly serve brunch and are best known for their delicious bacon pancakes and fun drinks that they serve in mason jars.
At the Buff Restaurant, they also serve tons of food using local vendors. This includes places like Ozo Coffee, Sherpa Chai, Boulder Granola, and Polidori Sausage. If you want to try some local dishes, this is the perfect place to go and try it out.
The owners also take recycling and being sustainable very seriously, so it's one of the restaurant's values. Rest assured, you're eating at a restaurant that does what it can to pay it forward! They take around 95% of their waste and compost it or make it recyclable.
Krystianna is a brand and web designer who runs her own studio and is always chasing her wanderlust. After studying abroad in Dublin for six months, she was bitten by the travel bug and hasn't looked back. She runs the travel blog Volumes & Voyages.