Located right outside of Denver, Boulder, Colorado is one gorgeous destination that you're not going to want to miss!
From epic hikes to some of the best breweries in the state, Boulder is filled with tons of fun things to do.
It's a lively city, in part thanks to the University of Colorado in Boulder, which makes it a fun and youthful college town with ample nightlife.
One weekend in Boulder is the perfect amount of time to scratch the service of this mountain time and enjoy some of the best parts of what it has to offer.
Boulder also makes a good jumping-off point to other destinations in Colorado such as Denver, Rocky Mountain National Park and Estes Park, and Golden.
Just be sure to stay pretty central when it comes to accommodation so that you won't have to spend a lot of time on transportation, as that can easily eat into the time you've allotted for your weekend in Boulder. (All of our accommodation suggestions are really convenient for this itinerary!)
By the end of this article, you'll know exactly what to put on your Boulder weekend itinerary. Here's how to spend the perfect two days in Boulder, whether you're visiting on a larger Colorado road trip or on a weekend getaway from Denver!
Where to Stay in Boulder
If you're staying in Boulder for just a weekend, I suggest going for a hotel over an Airbnb. Once you factor in service and cleaning fees, hotels are often cheaper and a lot less hassle!
Hotels are also less destabilizing to the local rental economy. Hotel space is planned carefully for in advance, whereas Airbnbs take up rentals from the local community — many of them students — and make the housing inventory artificially low, when really they have been illegally converted into mini-hotels.
Here are my hotel suggestions for Boulder.
LUXURY | For a luxury stay downtown, it's impossible to beat the St. Julien Hotel. With a stunning view of the Flatirons and a location within walking distance of Pearl Street, all of the landmarks of Boulder are easily at your fingertips. Plus, it has a gorgeous spa and an outdoor area that perfectly encapsulates the love for the outdoors that embodies the Boulder lifestyle!
>> Book it on Hotels.com | Book it on Expedia
HISTORIC | For a cool and quirky place to stay that is historic, central, and beautiful, I strongly suggest Hotel Boulderado! This punnily-named hotel is just a few minutes' walk away from the buzz of Pearl Street, while maintaining a quiet residential atmosphere. Enjoy expertly-crafted cocktails at the on-site Corner Bar or pick from an impossible number of places to go out along Pearl Street.
>> Book it on Booking.com | Book it on Hotels.com
FAMILY-FRIENDLY | For a great place to stay for families, I suggest the Colorado Chautauqua Cottages. They are a little off of the main downtown area but the trade-off is beautiful mountains: not a bad bargain! It is affordable, spacious (can sleep up to six in the 2-bedroom cottages), and it has a kitchen so that you can cook meals in case you are dealing with allergies or special diets, or you can dine at the Chautauqua Dining Hall on site (which serves up an excellent array of food, including kids' meals!)
>> Book it on Booking.com | Book it on Hotels.com
Day 1 of Your Boulder Itinerary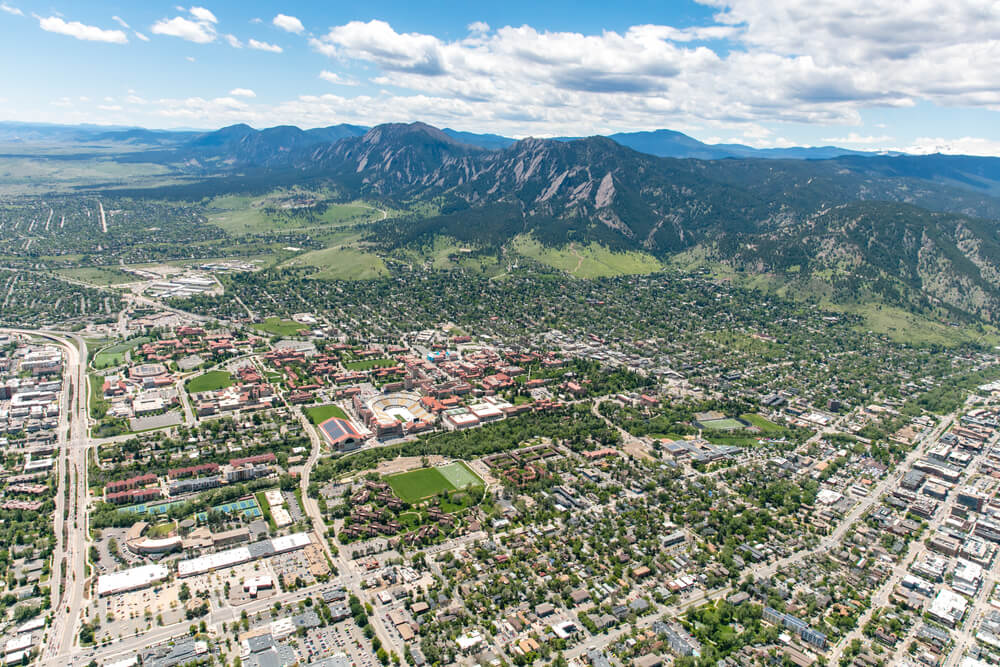 Note: This post contains affiliate links, which means I may receive a small commission if you purchase something through one of these links. Thank you for supporting the free content on this site! For more information on affiliate links and cookies, see my disclosure page for more details.
On the first day in Boulder, you'll be taking the time to see all of the must-see attractions in the town.
This includes the spots that Boulder is most well known for, including the Flatirons and Pearl Street Mall!
Have breakfast at Foolish Craig's Cafe.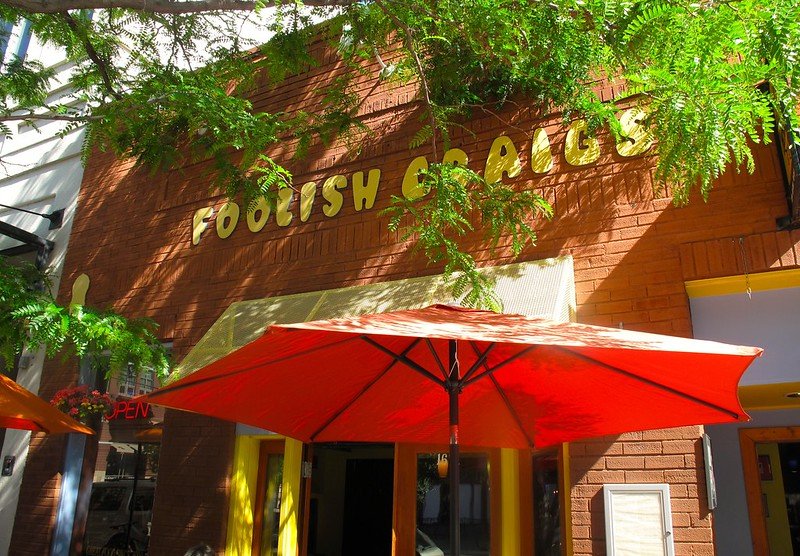 Start the day off right by heading straight to Foolish Craig's Cafe.
Located on the other end of Pearl Street, this cafe is known for its delicious crepes that are both sweet and savory!
Plus, they have tons of other great foods on their menu, too, including chicken and waffles, sandwiches, and even pancakes.
There's an ample amount of seating at Foolish Craig's Cafe, including both indoors and outdoors. However, when visiting on the weekend, you want to either call ahead or join their waitlist online because of how popular this place is to eat!
If you're not convinced yet, Foolish Craig's Cafe has also been mentioned on the hit Food Network show Diners, Drive-Ins, and Dives! Ever since, it quickly grew to popularity in the Boulder area.
If you forget to make a reservation and the line is way too long, then you might want to consider stopping by Snooze, an A.M. Eatery, which is another fantastic breakfast spot (so good we suggest it on our Denver itinerary too — they have branches in both Denver and Boulder).
Plus, it's right next door to Foolish Craig's Cafe, so it's an easy back-up plan!
Go on a morning hike in the Flatirons via Chautauqua Park.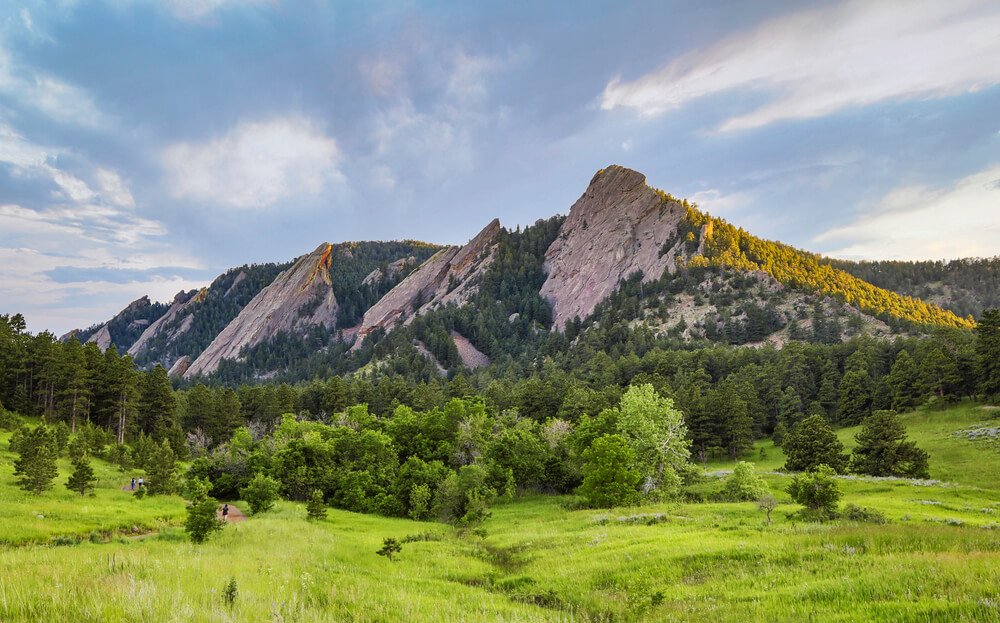 No trip to Boulder is complete without hitting one of its many hiking trails and heading to the Flatirons. These are easily one of the most popular spots to visit in all of the Rocky Mountains, so you don't want to miss them when visiting Boulder!
The Flatirons got their name because this part of the mountains looks like three different irons! It takes a second for you to see it, but once you do, it's impossible to see the mountains any other way.
All of the trailheads for the Flatirons begin in Chautauqua Park, so that is where you will want to get to.
Depending on the time of year that you're visiting, you may also be able to get a free shuttle to the park from downtown so that you won't have to drive there and fight to get a parking spot.
There are many different trails that you can do along the Flatirons, depending on your experience.
I suggest checking in with a ranger if there are any there because they usually work on the weekends especially and will stand in the general trailhead area.
Otherwise, head to one of the maps and pick a trail that's great for you!
Head to the Boulder Farmers Market.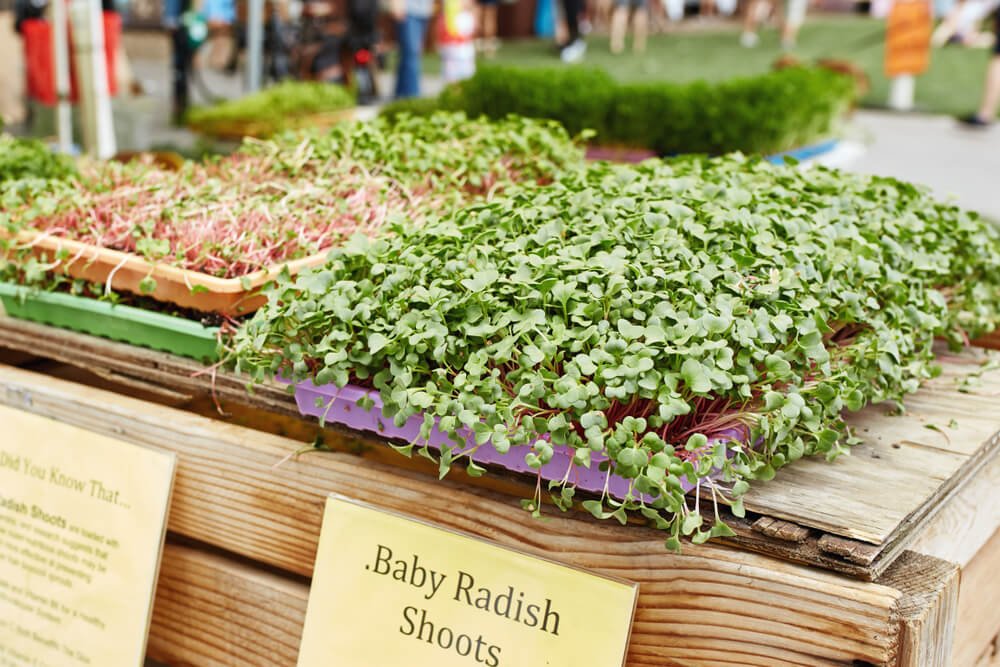 One of the most fun things to do in Boulder on the weekend is to head to the Boulder Farmers Market.
It's only open on Saturdays and takes place in Central Park in downtown Boulder. After that hike, you're probably ready to take it a bit slower for the rest of the day!
At the farmers market, there are tons of local vendors selling everything from fun snacks to souvenirs. Honestly, even if you don't plan on buying anything, it's fun just to walk around. You never know what you may find!
If you're driving, there are also quite a few parking spots near the market. The most popular place to park is at One Boulder Plaza, where you could try to stay for the rest of the day.
Everything else on this Boulder itinerary is pretty much in this same general area of downtown Boulder!
Sip on a tea from Boulder Dushanbe Teahouse.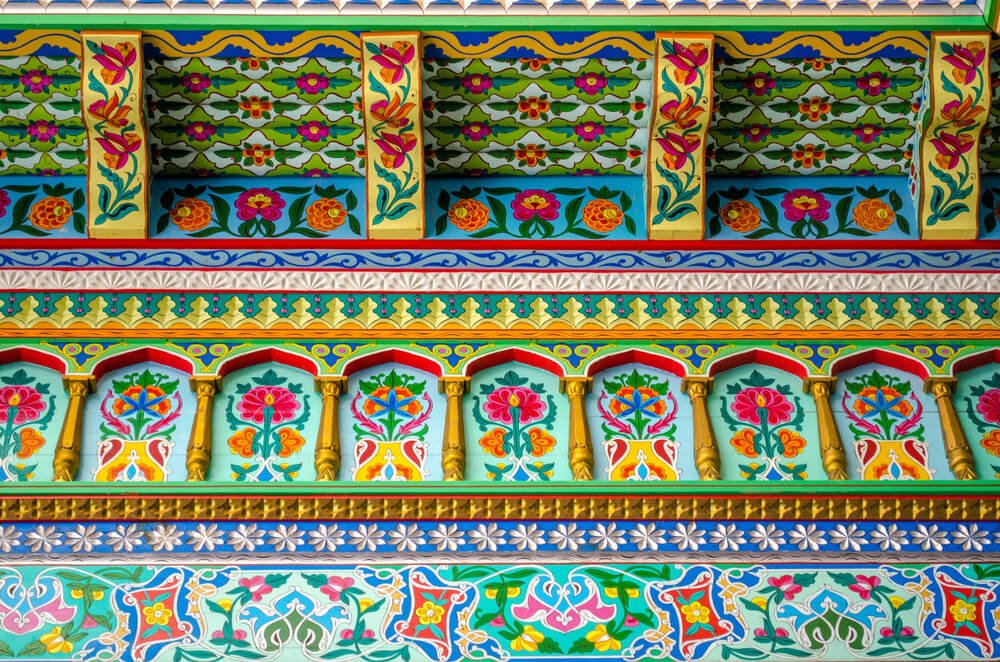 After exploring Boulder Farmers Market, go over to the Boulder Dushanbe Teahouse. You're most likely ready to sit down now after a pretty eventful morning!
While they do serve lunch here, try just to grab one of their traditional teas instead because an even better lunch is up next on this weekend itinerary!
This teahouse is unlike any other teahouse that you'd find in the United States. The building itself was even built and then taken apart in Tajikistan and then shipped to Boulder, where it was rebuilt. How cool is that?
The inside of the teahouse feels very authentic to the typical Tajik style, and there's tons of seating and ornate detailing everywhere. Be sure to pay close attention to the interior because it's incredible!
Indulge on lunch from Post Brewing or Bohemian Biergarten.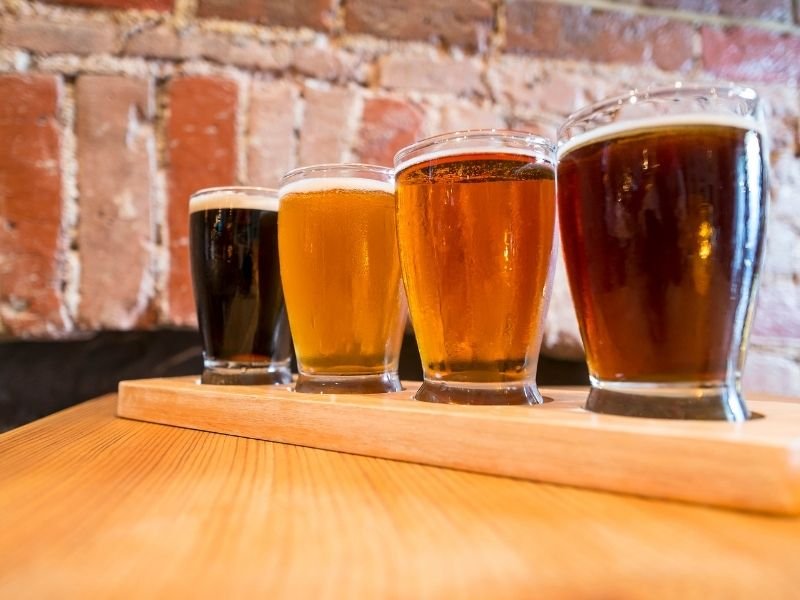 After a little late morning/early afternoon tea, head over to 13th Street near Hotel Boulderado.
There are two fantastic restaurants for you to choose from for lunch on this avenue near Pearl Street: Post Brewing or Bohemian Biergarten. The only reason I'm mentioning both is that they're right next door to each other!
Post Brewing is the place to go if you want to try some local brews with your launch. They also serve some fantastic food, ranging from fried chicken to green chili macaroni and cheese (which I highly recommend!).
They have a lot of both indoor and outdoor seating, and dining here feels like you're enjoying the best home-cooked meal of your life.
Then, there's Bohemian Biergarten, which is precisely what it sounds like!
They don't have as much seating as Post Brewing does, but their traditional Czech-style food makes up for it.
Plus, they have tons of fantastic drinks on their menu and occasionally will have live music too.
Shop on Pearl Street.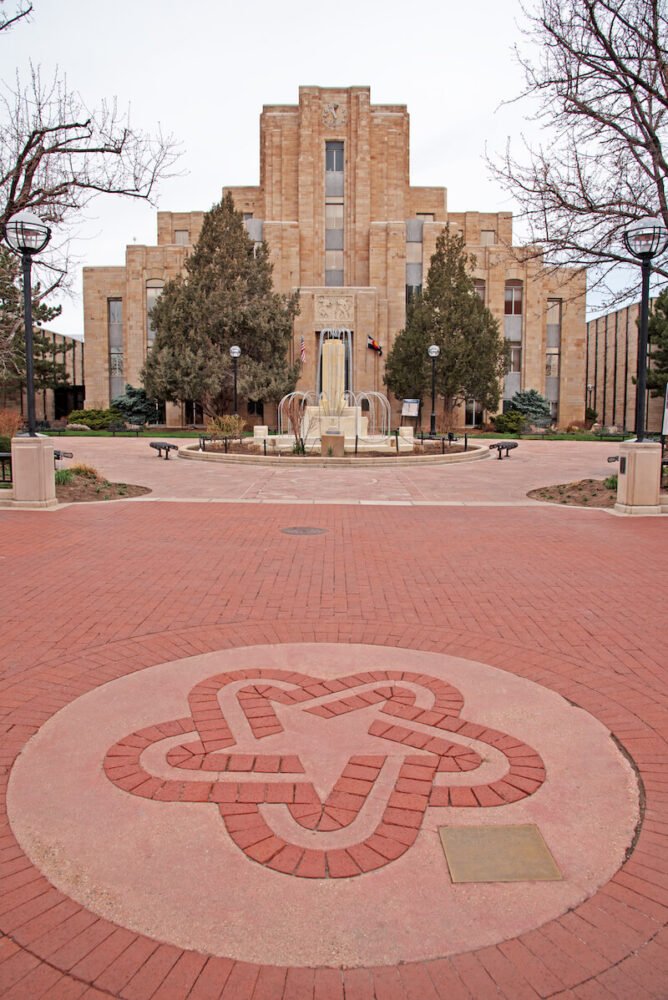 Once you're done enjoying lunch, take a short walk to Pearl Street just to do some people-watching, check out the street performers, or peruse some of the local stores.
Pearl Street is a bit like Boulder's version of the 16th Street Mall if you've been to Denver before.
It's essentially a pedestrian-only area on the street surrounded by tons of shops, restaurants, and more.
It honestly only takes an hour or two to explore the whole area, depending on how quick of a walker you are.
Of course, there are a few shops you should stop by. For all of your souvenir needs, head to Where the Buffalo Roam.
You also can't miss out on Boulder Bookstore, one of the top independent booksellers in the entire country. It's located inside of an old historic building, and some of the books are even stored inside of old ballrooms!
If it's super hot during your trip, you could also stop by Gelato Boy for some of the absolute best gelatos you've ever had.
Have dinner at SALT The Bistro.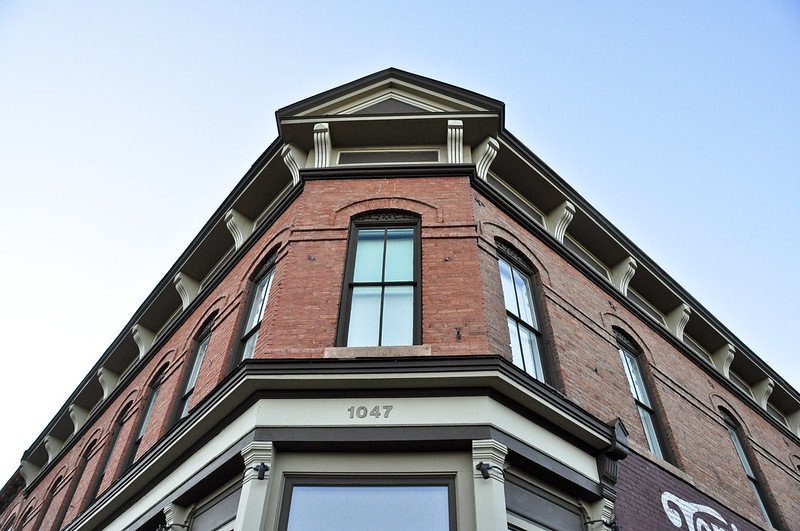 After spending the afternoon exploring Pearl Street, you're probably ready to start winding down for the evening. So, head to SALT The Bistro for an excellent dinner.
This is a higher-end restaurant, but it's right on Pearl Street, and the food is terrific. It instantly grew to popularity in Boulder because it focuses a lot on serving farm-to-table meals. Plus, a lot of what's on their menu is local!
There are many indoor and outdoor seating here, so you can easily sit outside and enjoy the beautiful Colorado weather. When you're visiting on the weekend, you may also want to try to call ahead and make a reservation to ensure that you can eat here.
If you, unfortunately, find that there are no reservations available, don't worry! Pearl Street is filled with so many restaurants that you'll easily be able to find a different one to go to.
A few other suggestions for where to eat on Pearl Street include: Frasca Food & Wine for upscale Italian cuisine, West End Tavern for tasty burgers, and The Kitchen for contemporary American fare.
See a show at the Boulder Theater.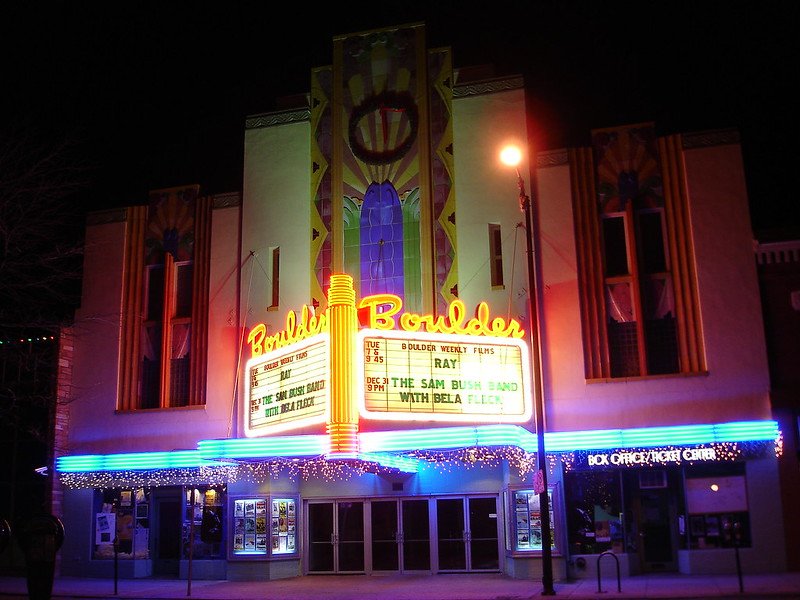 One of the best ways to start to wind down in the evening in Boulder is to see a show at Boulder Theater if there are any playing during your trip!
This beautiful theater is located right next to the historic Hotel Boulderado and it's a great addition to your weekend in Boulder if you want to see a little of the local culture scene.
The Boulder Theater has an art-deco-inspired architectural style, which you can immediately see even from the outside.
It opened in 1906, and while it is a smaller theater, it's become a popular staple in Boulder. The theater is even one of the most popular spots to host weddings in the area!
Throughout the year, they play different films and also host lots of artists for live music. Be sure to check online to see what sort of fun show you may be able to catch during your trip!
Grab drinks at Mountain Sun Pub & Brewery.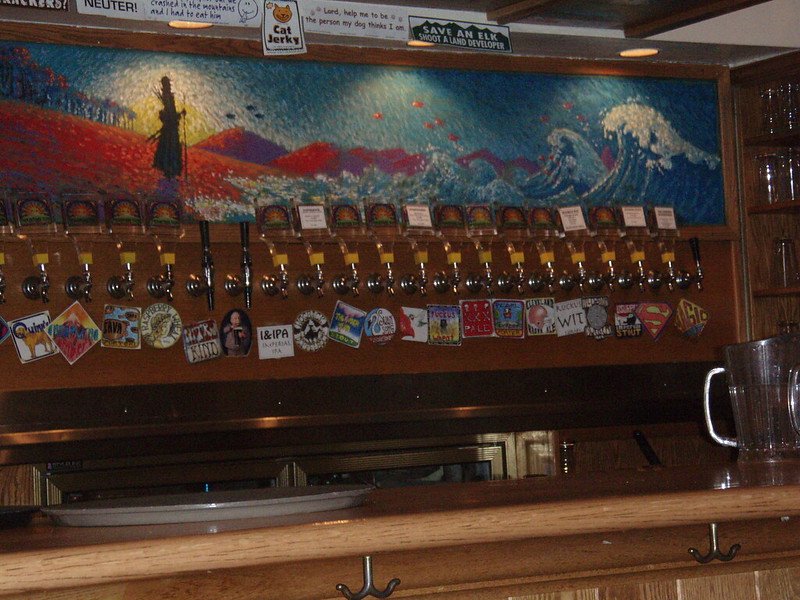 Finish the night off right by going out for drinks at the Mountain Sun Pub & Brewery.
Located right on Pearl Street, this pub serves delicious drinks and often has live folk music. It's quite a lively place to go in the evening, especially on a Saturday night.
Mountain Sun has about 75 different craft beers that they make throughout the year, so they are constantly rotating what's available at their pub.
If you're unsure of what's worth ordering, be sure to ask one of the bartenders. They're always willing to help you find something that you'd like!
After having drinks, head to bed! You'll need rest for your second day in Boulder, which is just as busy as the first!
Day 2 of Your Boulder Itinerary
On your second day in Boulder, it's time to see some of the attractions that most people overlook when visiting.
On the first day, you did the touristy stuff; now it's time to experience Boulder like a local! You'll also go on a great tour run by a local.
Get your morning coffee from Ozo Coffee Company and catch the sunrise.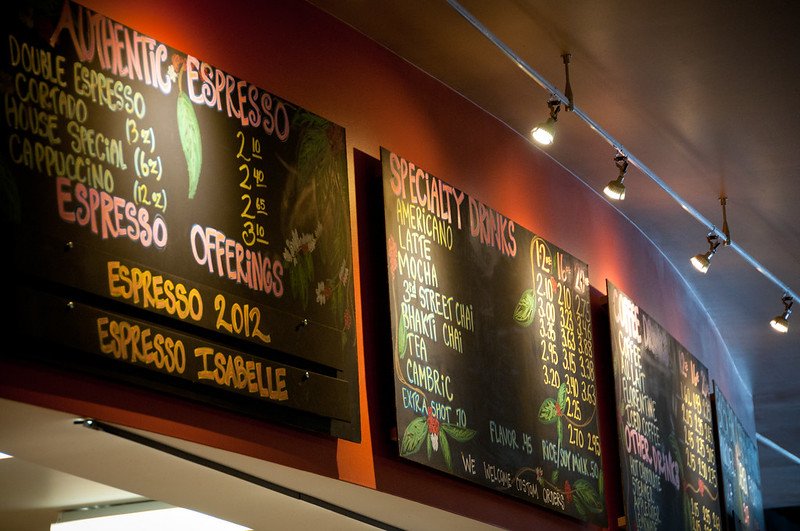 First thing in the morning, before the sun is even up, head to Ozo Coffee Company. Ozo opens right at 6 AM, depending on which location you go to!
They are a popular local coffee chain in Boulder with quite a few locations.
After you grab your coffee to start waking yourself up, make your way to the National Center for Atmospheric Research. You may be thinking, why am I going to this center super early in the morning?
And well, the answer is simple. It's because you're going to catch a classic and beautiful Colorado sunrise!
You can drive up to the top of the hill here and watch the sunrise over the Flatirons. Seriously, the view is incomparable!
There's a parking lot at the top, or you can walk a bit from the parking lot if you want more of an unobstructed view. It's entirely up to you.
Have breakfast at Chautauqua Dining Hall.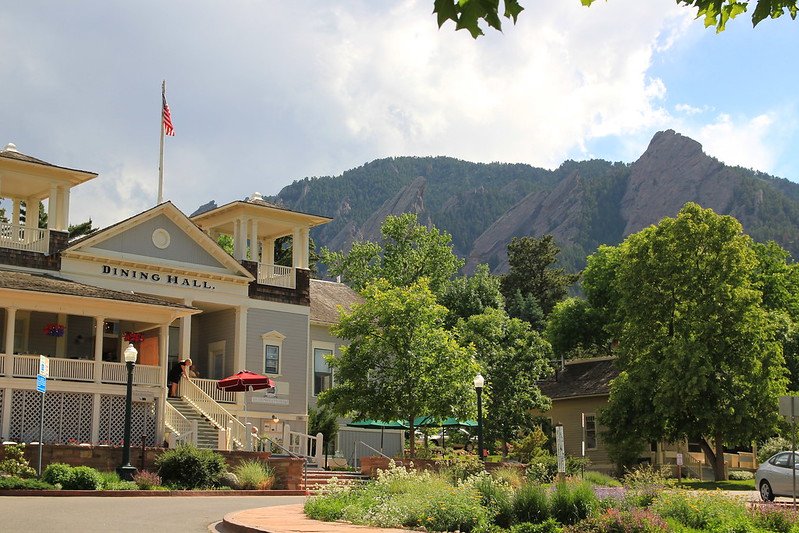 You're most likely pretty hungry after waking up super early to catch the sunrise! So, head to one of the best local places for food in Boulder: Chautauqua Dining Hall.
This remarkable place has tons of seating both indoor and outside. Plus, they have delivery and take-out if you'd rather eat somewhere else!
This dining hall first opened in 1898, and while they are open for lunch and dinner, people often overlook that they're also available for breakfast on the weekend.
The dining hall is situated right by the Flatirons, so the view is incredible no matter where you sit here.
For breakfast, they have everything from traditional beignets to eggs benedict. They even have avocado toast and acai bowls. Seriously, they can satisfy even the pickiest eater here!
Keep in mind that the dining hall opens at 9 AM. Consider getting there right when they open to ensure that you get a great seat.
If you want to sit outside, but it's a bit cool, don't worry. They have heated outdoor seating as an option too!
Rent bikes from Boulder BCycle.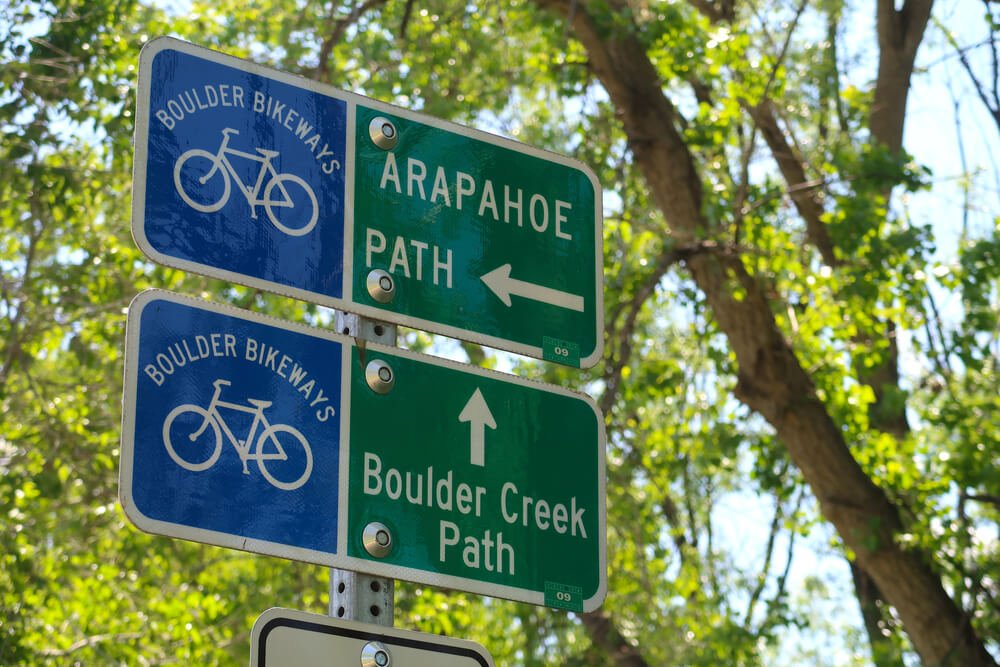 After breakfast, it's time to be adventurous like most Coloradans are and do some biking around the city!
Rent a bike from Boulder BCycle. This works like a lot of other city bike experiences do.
There are different parking areas where you can just grab a bike and go, and you pay based on how long you ride the bike for.
Be sure to download the Boulder BCycle app to do this! As a first-time rider, there are also sometimes deals where you get $5 off your first ride or something like that, making this an even more affordable fun activity to do in the early morning.
There are quite a few different trails around Boulder, but one of the most popular is the Boulder Creek Path.
You could also consider just riding around downtown, which is super lovely in the morning. That's what I love doing on my mornings in Boulder, at least!
Go on a tour with Banjo Billy.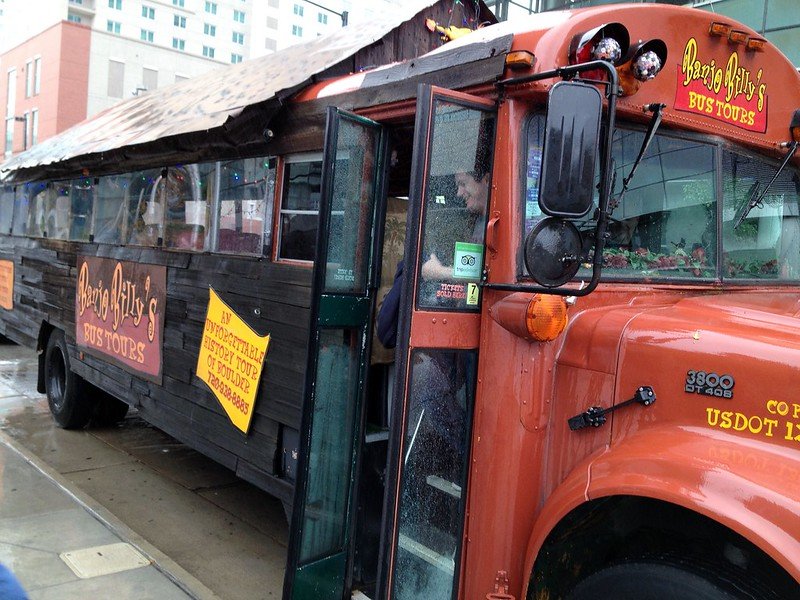 You may be thinking, who the heck is Banjo Billy? Well, you're in luck; this Banjo Billy Bus Tour is one of the most unique experiences that you can have while visiting Boulder for a weekend.
Essentially, the Banjo Billy Bus Tour takes place in a funky-looking bus painted red that's made to look like a hillbilly shack. Yes, you read that right! But that's what makes it such a fun and unique tour.
You have the choice of what type of guided tour you'd like to do with this fun tour group. They offer history tours, ghost tours, and brewery tours. Some of the tours are walking only, and some include rides on the fun Banjo Billy bus! No matter which one you choose, you'll have a blast.
Most of the tours are two hours long. Some of them only occur in the evening (like the ghost tour), so you may have to rearrange your Boulder weekend itinerary slightly.
Have lunch at The Buff.
For lunch after your busy morning, head to The Buff. This excellent restaurant in Boulder is known for its breakfast and lunch menus.
They have an old-school charm at this place, serving up drinks in mason jars and the like.
The restaurant first opened in 1995 and has been a family-run business ever since. The location that they are at now has been a Boulder staple since 2014.
The menu also features tons of great local vendors, including Ozo Coffee, Sherpa Chai, Polidori Sausage, and Odell Brewing Co. Eating here is a great way to support locals!
On the menu, you'll find everything from skillets to grilled sandwiches. They mainly only offer a combined brunch menu, so if you still want more breakfast, then you're in luck. It's all on the menu!
Drive Flagstaff Road.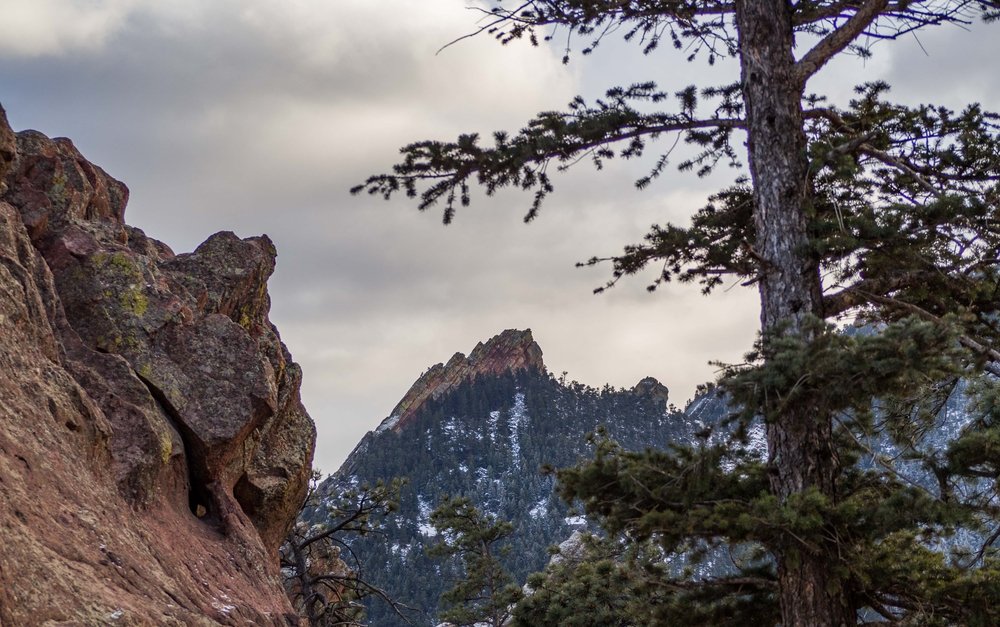 Once you're done enjoying lunch, it's time to take in the views of the Flatirons in a different way: by driving Flagstaff Road, a beautiful scenic drive in Boulder!
This is something that you can only do if you have a car while visiting here, unfortunately, but it's very much worth it. You could even consider renting a car just for this afternoon!
While driving Flagstaff Road, you'll be around 7,000 feet high in elevation. So, as you can imagine, the views are epic.
Along the road, there are a few pull-off spots so that you can stop and enjoy the view. No need to rush the drive, or else you'll honestly miss some of the best viewpoints!
Some fun spots to pull off at include the Green Mountain Lodge, Flagstaff Nature Center, and the Halfway House along the drive.
There's also the Flagstaff House, which would be a good lunch spot if you want something fancier, as it offers elegant American dining with stunning views.
Spend the afternoon at Boulder Reservoir.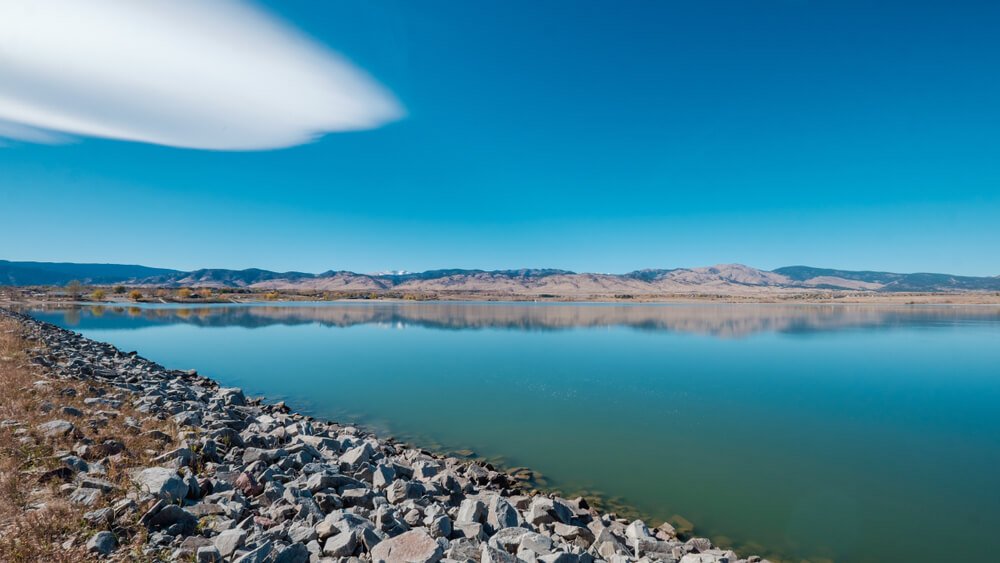 From driving Flagstaff Road, stay in the car and make your way to have a chill afternoon at Boulder Reservoir.
It's located in northern Boulder and consists of a huge body of water set against the mountains. The view is breathtaking.
Here, you can go swimming, have a picnic, relax by the water, or even rent a boat to go kayaking or paddleboarding. Honestly, the possibilities are endless!
This is a great way to enjoy some of Boulder's nature while also relaxing at the same time.
If the weather isn't great during your visit, you could consider checking out the Boulder History Museum or the Boulder Museum of Contemporary Art instead for your last afternoon here.
Wind down with dinner from Rio Grande Mexican Restaurant.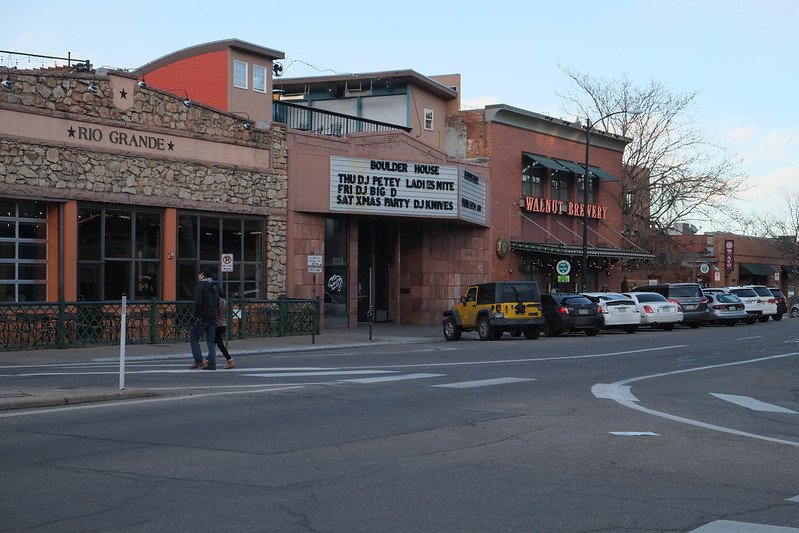 Once you're done with your afternoon, it's time for dinner at one of the best restaurants in Boulder: Rio Grande Mexican Restaurant. This Tex-Mex restaurant serves tons of amazing appetizers, entrees, and more… and even better margaritas!
While it's not necessarily a "Boulder local restaurant," it is a chain in the Boulder area. It's a pretty popular place to eat, especially for lunch or dinner. Plus, if you love this place so much, they also have a Denver location!
You can find dishes like chile con queso, churros, chicken quesadillas, and more on the menu. Everything on the menu is relatively affordable and tends to cost $10 or less, so you'll be enjoying delicious food without breaking the bank.
It's up to you whether you'd like to order drinks here, but your last stop on your Boulder weekend itinerary does include a visit to another of Boulder's best breweries that you won't want to miss out on.
Have one last pint from Avery Brewing Co.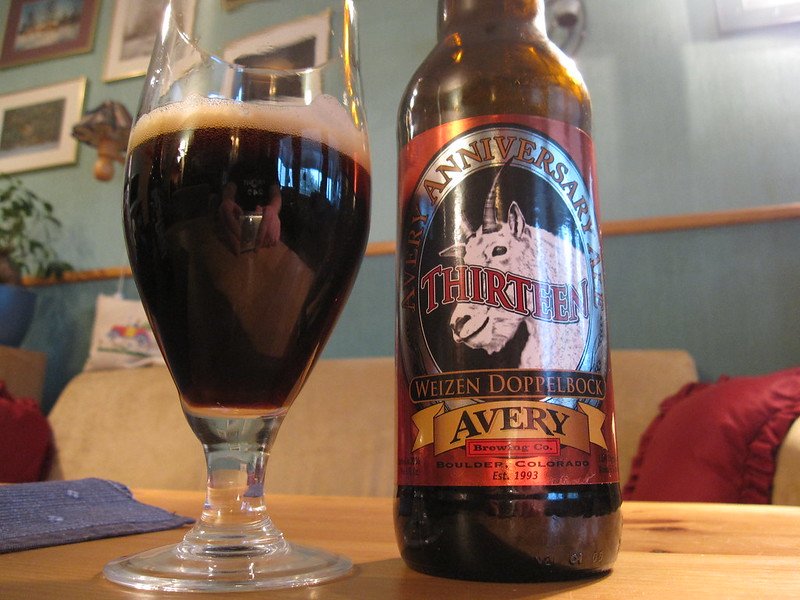 Celebrate your last night in Boulder with a bang at Avery Brewing Co! This is one of the top-rated breweries in Boulder, and for a good reason.
While they do serve some fun eats to go along with your drink, their brews are the real star of the show.
Some of their top-rated year-round drinks include their Avery IPA, White Rascal, and Liliko'i Kepolo. They also have many different brews that they serve on rotation throughout the year, depending on the season.
If you're not sure what to order, don't worry! Feel free to chat with some of the bartenders because they know everything there is to know about all of the drinks on the menu.
Honestly, no matter what one you try, you'll most likely enjoy it. This is one of Boulder's best breweries for a reason!
What to Do with More than a Weekend in Boulder?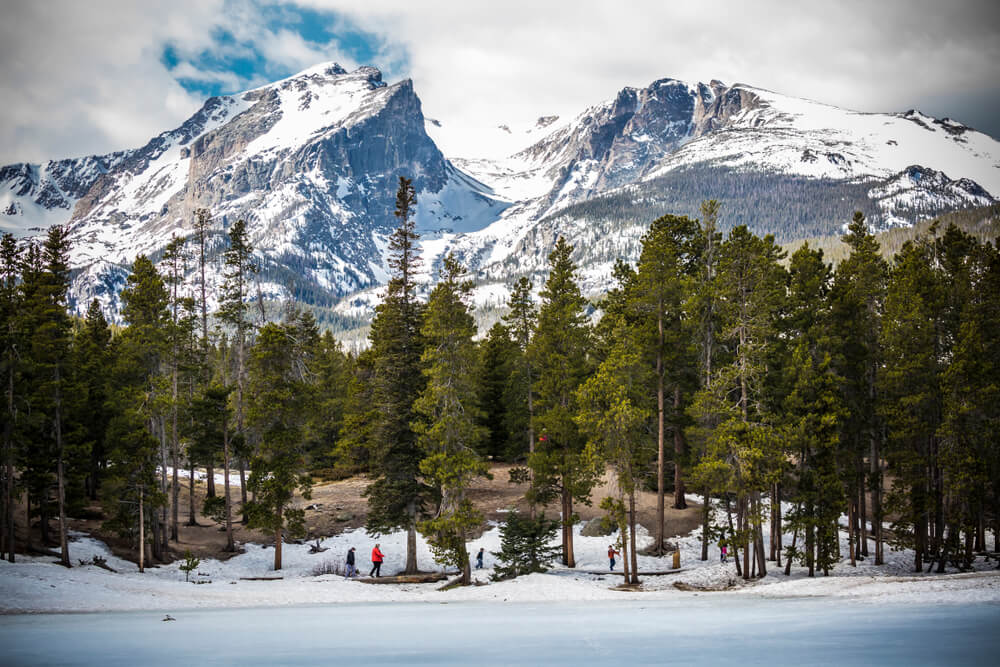 Explore more Boulder County hikes. Hikers will love all that there is to do in the immediate Boulder area — more than just the Flatirons! Here are a few of the best hikes near Boulder.
Take a day trip to Rocky Mountain National Park. It's so easy to take a day trip to Rocky Mountain National Park. It takes just under an hour to get there by car, or alternately, you can make it even easier on yourself and just take a guided day trip to Rocky Mountain National Park, where they'll handle all the logistics: you just bring your camera and comfortable shoes and enjoy!
Take in a show at Red Rocks Amphitheater. Located in Morrison, CO just east of Denver, a trip to Red Rocks Amphitheater is absolutely worth the admission cost! It's one of the most brilliant concert venues in the entire country.
Other Colorado Travel Guides
I have a great team of Colorado-based writers crafting incredible content on this beautiful state!
Denver
How to Spend A Weekend in Denver
13 Best Day Trips from Denver
The Best Dog-Friendly Hikes Near Denver
Colorado in Winter
21 Delightful Things to Do in Denver in Winter
9 Great Things to Do in Rocky Mountain National Park in Winter
How to Visit the Dillon Ice Castles in Colorado
General Colorado
12 Incredible Colorado Road Trips
Krystianna is a brand and web designer who runs her own studio and is always chasing her wanderlust. After studying abroad in Dublin for six months, she was bitten by the travel bug and hasn't looked back. She runs the travel blog Volumes & Voyages.