Packing for a trip to Cuba can be a bit of a challenge.
For one, you have to be more thorough in deciding what to bring to Cuba than in other countries.
Unlike other countries where you can simply pop into a CVS/Target/DM and grab what you need, it is a bit more difficult to buy certain items in Cuba due to sanctions and economic conditions.
For this reason, I really recommend you follow this Cuba packing list and consider your needs carefully. Cuba is one of those rare countries where it is better to overpack than underpack.
In terms of clothing, Cuba is easier to pack for. Cuba has a subtropical climate, with a yearly average temperature of 26°C/ 79°F, and tolerable humidity levels.
From November to April, it is generally quite sunny, whereas in May through October it can be quite stormy and even have hurricanes.
I visited Cuba for the first time in February and thought it was the perfect time to go – we had maybe one or two rainy days in two weeks, and the weather was hot but never intolerable.
With the Atlantic experiencing more severe hurricanes each year and Cuba being squarely in the crossfires, I probably personally wouldn't visit Cuba in hurricane/rainy season, but if you do travel during the off-season you will get great deals so it's up to you.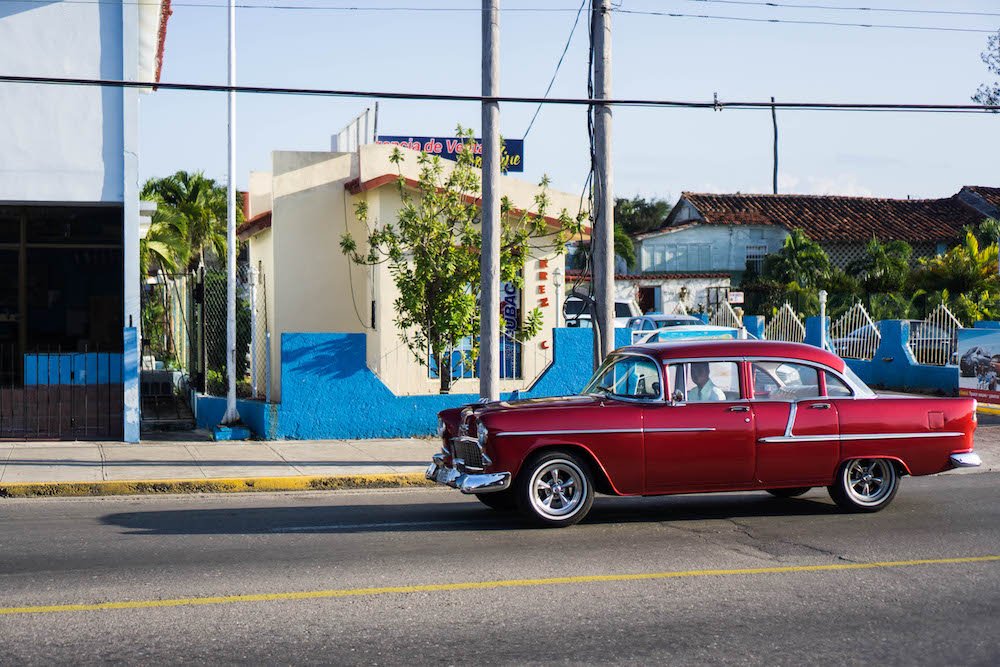 Note: This post contains affiliate links, which means I may receive a small commission if you purchase something through one of these links. Thank you for supporting the free content on this site! For more information on affiliate links and cookies, see my disclosure page for more details.
One thing that is often mentioning when discussing what to pack for Cuba is gifts or supplies for Cuban locals.
I wasn't sure what the proper etiquette with respect to this was when I visited Cuba and opted not to bring in things as I wasn't sure what people actually needed and I didn't want to offend anyone by assuming they didn't have basic necessities or by acting like a savior.
I later asked my friend, Dr. Kiona, who is an experienced Cuba traveler who also runs educational tours in Cuba, about this.
She says "It's better not to come in with a savior attitude but to keep in mind there is an embargo so offering to bring something like you're going to someone's house is appropriate."
She recommended asking your casa particular (a Cuban guesthouse) host if there is anything in particular that their community needs or is having trouble getting in local stores.
In the past, supplies that Cubans have asked for have included vitamins, tampons, condoms, deodorant, school supplies, toothbrushes and toothpaste, towels, and shampoo.
So basically, feel free to offer to bring something, but if you feel uncomfortable asking or don't have travel plans locked down in advance, it's in no way mandatory to bring things for your hosts except a friendly, laid-back attitude.
Remember that when you stay in casa particulares you are a guest in someone's home, so behave like one.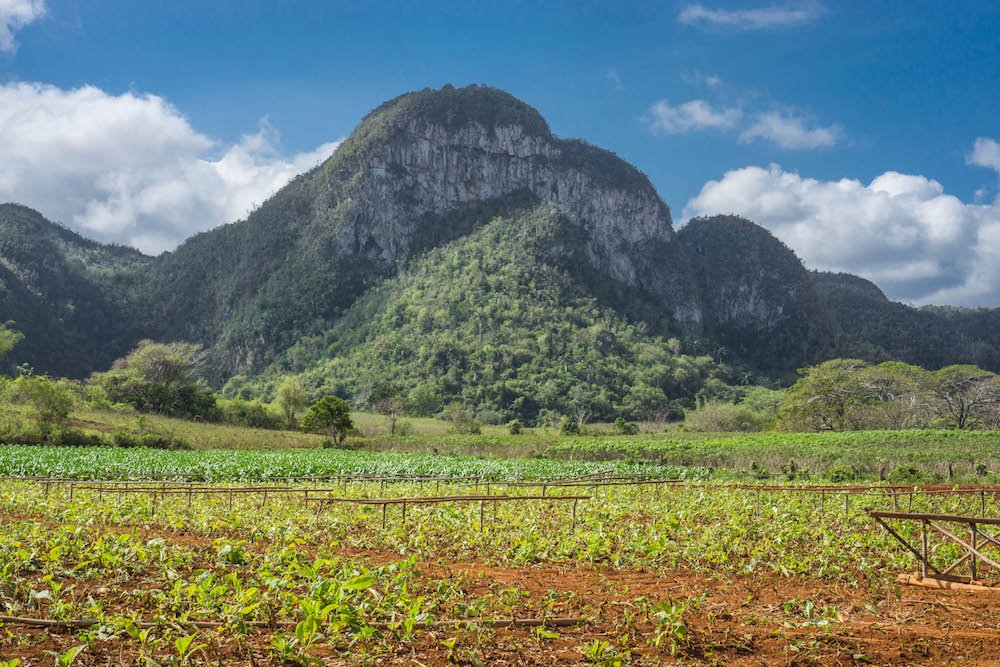 What to Pack for Cuba
What to Pack Everything In
I've been traveling for a while and my packing gear is always the same – a backpack organized with packing cubes as well as a daypack with all my electronics and smaller items.
That said, if you prefer a suitcase, you could certainly swap out a backpack for a suitcase. You do you!
Generally, as I was traveling in a group of 3-4 travelers, we ended up organizing taxis between cities as the tourist bus was almost always sold out.
Since you too likely will be traveling between cities by car or organized bus rather than public transport, it doesn't really matter if you bring a backpack or suitcase, I just happen to prefer backpacks.
Whether you bring a suitcase or backpack, packing cubes are a life-saver for either, especially if you are visiting multiple places in Cuba and plan to be traveling every few days.
You don't need anything fancy (even Ziploc bags will do in a pinch) but separating your clothes into packing cubes will make your Cuba packing process much more streamlined and organized.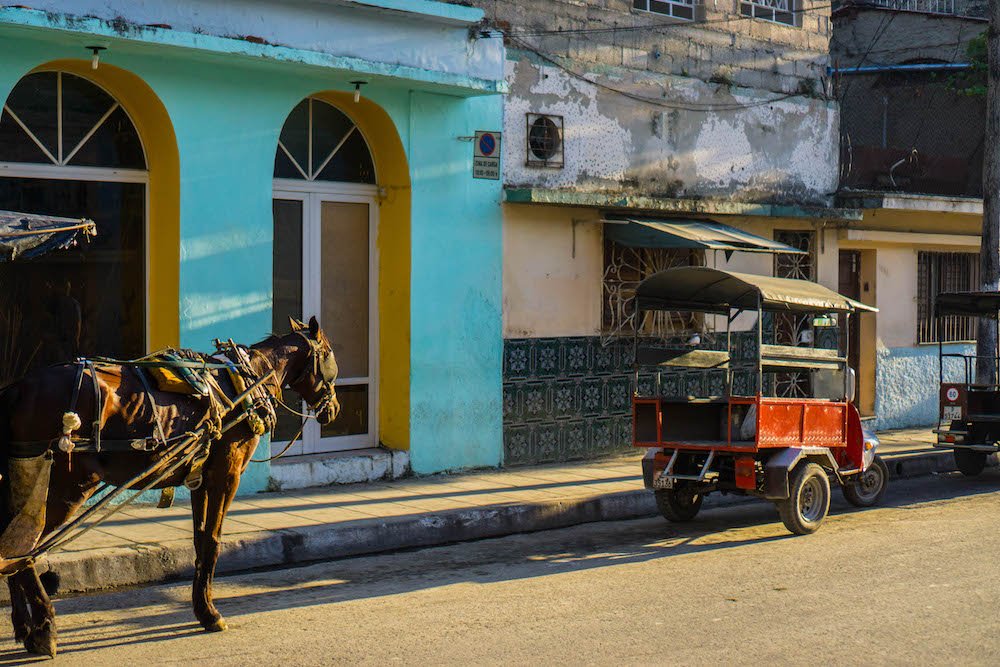 Travel Backpack (carry on size or check-in size): I am a light packer, so my Tortuga Setout Backpack is perfect for my travel needs, since I try to avoid checking my bag as much as possible.
Why do I recommend Tortuga so much? Here's why: this bag is 45L and has got three main compartments: one for a laptop and other flat objects, one giant rectangular compartment perfect for packing cubes stuffed with clothing, and one smaller compartment with pockets for passports, pens, odds and ends, etc. that I stash all my extras in – plus one small outer zipper pocket for anything you want quick access to. It also has a water bottle holder on the outside as well as buckles so that you can strap something like a yoga mat to the outside. Plus, it's quite comfortable to wear, with a padded hip belt and comfort-molding shoulder straps complete with a chest strap so that you can distribute weight perfectly across your body in the event that you need to wear your backpack for longer than usual. Check out more specs and details here.
However, if you want a bigger backpack, I've heard good things about the Osprey system and that's the brand I would go with if I were to upgrade my packing capacity to something larger. Of course, you could always just bring a suitcase as well. I don't travel with a suitcase anymore but I prefer hard-sided luggage if made to choose!
Packing Cubes: Whereas I'm a bit apathetic on whether you need a suitcase or backpack for your Cuba packing needs, I do feel strongly about packing cubes! No need to be picky with your packing cubes — anything rectangular and zippable will do. I use these packing cubes and love them. But really, anything works!
Laundry bag: In addition to packing cubes, I also like to bring a laundry bag to separate out my dirty clothing from my clean. While you could certainly just reuse a plastic bag for this purpose, I do like having a cute one like this travel-themed one from Kikkerland though, because I'm impractical. This makes it easy if you need to ask your casa owner if they can provide laundry services.
Hanging Toiletry Bag: I tend to pack a lot of toiletries with me and I use a hanging toiletry bag to pack them in an organized way that takes up minimal space. It has the perfect number of separators, organizers, and pockets without taking up any excess space. It's kind of a magical Mary Poppins bag – you'd be amazed at how many travel-sized toiletries you can fit in there before you run out of room.
Backpack with locking zippers : While Cuba is safe, it's not completely free from petty crime. While wearing a shoulder bag is generally more secure than a backpack because you can keep it closer to your body tucked underneath your car, I find that shoulder bags just are not comfortable if you carry a lot of stuff with you during the day. I swear by PacSafe for the combination of functionality and aesthetics, and I love their PacSafe Citysafe backpack. It's actually cute, but it also has excellent security features like locking zippers, an interlocking clasp, and slash-proof mesh embedded in the fabric. If you're curious to learn more, I have a full review here – not sponsored, just irrationally obsessed.
Essential Things to Pack for Cuba
Honestly, so many things on this list are essentials for Cuba because it is so hard to ensure you'll get exactly what you need in Cuba if you forget it.
However, I tried to pick the things that I thought were the most essential, that would have the worst impact on your trip if you forgot it.
Since it can be hard to access certain toiletries in Cuba, those feature highly on the list.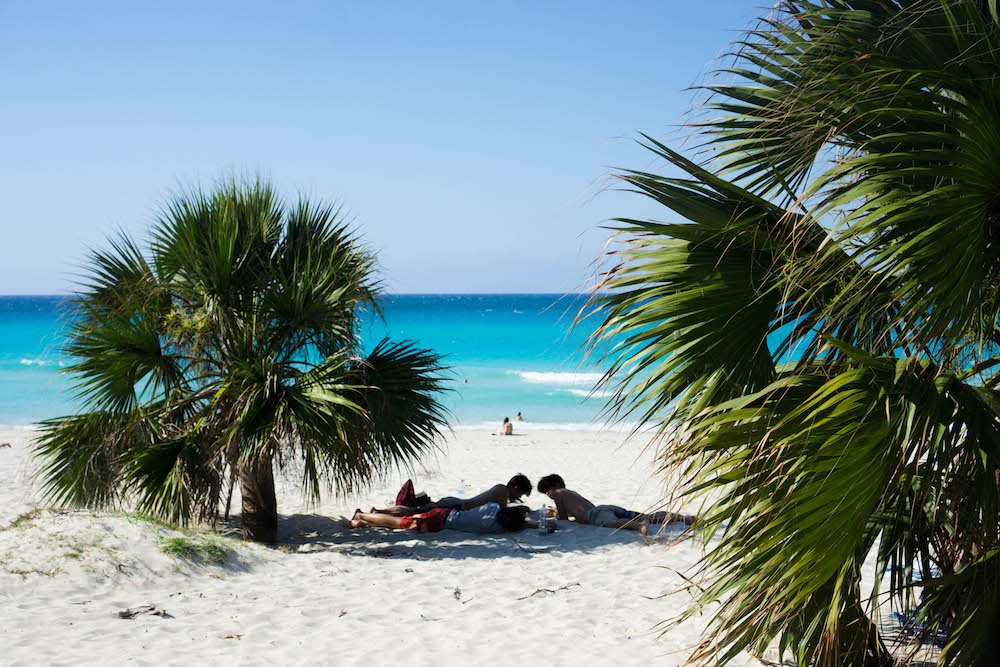 Euros, if you're American: While 1 CUC (the tourist currency) is equal to 1 USD, you won't want to bring USDs with you to Cuba as you will get hit with a 10% conversion fee. Unfortunately I had to absorb this when I was traveling to Cuba as I was in Costa Rica before flying to Cuba and it ended up being cheaper to convert my USDs than to accept the horrible rate that the Costa Rican bank was giving me to convert their currency into euros. However, if you are in the U.S. before your trip, convert some USD to Euros. This is important: you'll want to convert ALL THE CASH you'll need into euros beforehand. American debit cards do not work in Cuba, full stop. Estimate all the cash you'll need, an then add a 30% buffer on top of that. Luckily, I was traveling with two Irish girls so I was able to borrow money from one of them and reimburse them when we got to Mexico, but most Americans won't be so lucky! If you are from anywhere else but the U.S., you have less to worry about in terms of money because your ATM card should work fine (just notify your bank you are traveling).
Travel insurance: It is mandatory to purchase travel insurance while traveling in Cuba, and you will likely be asked to show proof of insurance when entering the country. I actually don't recall if I was or not — but I was sure that I had my policy information pulled up and saved as a PDF on my phone, and I'd actually recommend printing it just to be safe. I used World Nomads when I was in Cuba and highly recommend them to other travelers. You can get a free quote here.
Lonely Planet Cuba (2017 edition): I don't always travel with a guidebook, as I generally just do internet research on the ground. However, with internet access being both expensive and not always accessible in Cuba, a guidebook here is truly indispensable. I would say that we used our guidebook literally every single day while in Cuba. It was also good fun to read at night before bed since we weren't able to get our usual internet fix. Make sure you buy the most recent version as the information gets dated quickly. The most recent version is the 2017 Lonely Planet but I'm sure there will be a 2019 or 2020 version soon.
Kindle loaded with e-books: Since you won't have WiFi often in Cuba, you'll find yourself with a lot of free time that you have no idea how to use up, if you're an internet-addicted millennial like myself.  While in Cuba, my Kindle Paperwhite was my best friend. Buy several books before you go so that you won't run out of things to read and get bored! It's not easy to pick up new English-language books in Cuba.
Spanish-English phrasebook or download Google Translate offline: I speak fluent Spanish and it's lucky I do as it was pretty much indispensable in Cuba. English language knowledge is not that widespread even in people who work in tourism. I would recommend having a Spanish-English phrasebook in paper form or downloading Google translate offline. Here's how you do it. On that note, it's also helpful to download the maps of Cuban cities on your phone beforehand, as you won't have WiFi when you touch down in Cuba.
Contact lenses and solution, if necessary: It is not common to find contacts or contact lens solution in Cuba so I recommend bringing more than you need for your stay. I'd also bring glasses as back-up.
All your toiletries and cosmetics: It is really unpredictable what international brands you will be able to find in Cuba so I just say assume you won't be able to find anything you need and bring all you need from home. While you  can find things like sunscreen, shampoo, etc. if you are in any way particular about what you like to use I'd bring it from home as due to the embargo it is not always easy to find your first choice, especially outside of Havana and Varadero, the two most touristic places in the country.
Sunscreen: While you can find sunscreen in Cuba, it is overpriced and not always easy to find outside of beach locations. The sun is no joke in Cuba so I highly recommend packing sunscreen before you go. I also like having this solid sunscreen stick from Neutrogena which is great if you are maxed out on your liquid toiletries and are trying to travel light, but also need SPF 70 like a ghost like I do.
Mosquito repellent: As a subtropical country, Cuba has lots of pesky mosquitos, especially in the rainy season. With the prevalence of mosquito-borne illnesses like Zika and dengue, I am really vigilant about applying and re-applying mosquito repellent, especially after coming out of the water or  I usually carry a bottle and also some repellent wipes with me if I need to reapply on the go. I also highly recommend bringing some After Bite mosquito bite treatment since it's inevitable some of those buggers will get you at one point and this will take some of the sting out of the itch.
Water bottle with built-in filter: Cuba's tap water is generally not considered to be drinkable, so if you are concerned about plastic consumption – and you should be – I recommend purchasing a Lifestraw water bottle with a filtration system inside of it that gets rid of 99.9% of nasty bacteria and viruses. Another option is the Steripen, which uses UV light to sterilize tap water. The bonus of a Steripen is that you can also use it in juices or smoothies that you aren't sure are made with safe water.
Bandana or face mask: I once got extremely ill from diesel fumes while traveling in a colectivo from Santa Maria to Varadero. I wish I had a face mask, Japanese-subway-style, to wear when traveling in Cuban cars because the fumes are really strong. A bandana would have come in handy as well.
Basic medicine: While Cuba's health care system is quite functional (just ask my friend who fell and tore a ligament in her ankle on the beach and had to visit a Cuban hospital), it is still better to bring your own medicine from home. There are some international pharmacies (12 of them in Havana and another 30 or so scattered around the island) but trust me, the last thing you want to do if you get sick in Cuba is try to track down one of the few farmacías and discuss your bowel movements with a pharmacist. Here's what's in my arsenal for every trip and what I brought to Cuba:  Pepto-Bismol tablets for standard stomach troubles, Imodium as a nuclear option for diarrhea, some sort of painkiller like ibuprofen for headaches and minor pains, and some sort of motion sickness tablets. Of course, if you have any specific medical needs, you will want to bring that as well, especially anything that may require a prescription.
What to Wear in Cuba (For Women)
This part of my Cuba packing list is specific to women, so men, feel free to skip this part.
One thing I have to say here when it comes to deciding what to wear in Cuba: catcalling in Cuba is incredibly common and rather annoying.
Wear clothes you feel comfortable in, but be aware that if you look nice (and in my experience, even if you don't) men will most likely make sure you know it. Over and over again.
While I did feel safe in Cuba, I did also often feel annoyed by the male attention.
Still, I didn't let this impact how I dressed, but I do recommend you wear clothes you feel comfortable in and to be prepared for catcalling and comments to occur pretty much daily.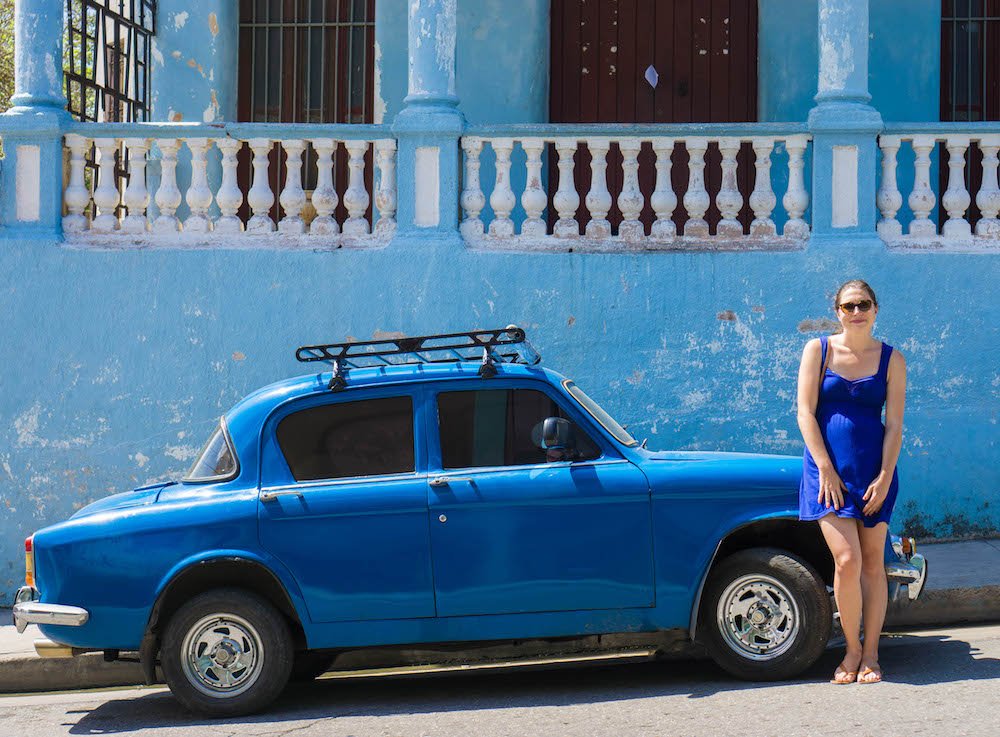 3-5 lightweight summer dresses: Dresses are great for Cuban weather, plus they pack up small, so bring as many as you can get away with. If you plan to hit some salsa spots, bring something you enjoy dancing in.
5+ tees & tanks: You will sweat a lot, so opt for black, navy, and other dark colors. Yes, they attract heat, but they also avoid the telltale yellow pit stains that seem to be my constant vibe whenever I attempt to wear white.
1 pair jeans: While during the day I felt too hot in jeans, I did occasionally wear my pair of jeans at night or when I was
2-3 pairs shorts: I usually have at least one pair of cuffed denim shorts and one pair of linen or silk-ish material for shorts.
2-3 skirts: I suggest bringing one black skirt and one printed skirt for flexibility. I especially love having midi or maxi length skirts, which feel great and coincidentally look nice photos. As a bonus, the extra fabric around your legs traps some cool air, making you feel less hot, and I liked the additional coverage it gave me
1 pair sneakers: Cuban streets are generally quite dusty so I found that I liked having a pair of lightweight closed-toe shoes that were comfortable to wear for long stretches. I usually wear a pair of black Nikes as I find they look cute even worn with my dresses and I'm all about having options.
1-2 pairs sandals: I suggest bringing one pair of rubber flip flops like these Havaianas and another pair of more stylish or dressy sandals. I'm obsessed with my Birkenstocks and will never go back.
1 pair heels, optional: I don't like to dance but I know many travelers plan for a night out in Cuba dancing the night away. If you enjoy dancing in heels (and salsa does look best danced in heels) then I'd bring a comfortable pair with you. If you don't plan to go dancing, then leave these at home – I did.
1 rain jacket: Even if you don't plan on traveling in the rainy season, sometimes the weather has other plans. I love my Marmot rain jacket.
1 cardigan: Just in case you get cold at night or want a little extra coverage, a cardigan is good to have. You likely won't need it in Cuba but it's good for the plane.
1-2 bras: I personally brought 1 regular bra and 1 sports bra and switched between the two.
7+ pairs of underwear: You can easily arrange laundry with the owner of your casa particular but if you want to avoid laundry, just bring enough underwear for the duration of your trip.
Bathing suit: Cuba's beaches are legendary, from Varadero to Holguin. Unless you're planning strictly a city trip to Havana, you are likely going to want to take a dip in that beautiful Caribbean! Bring your favorite bathing suit (I recommend bringing two, so that they have time to dry overnight).
What to Wear in Cuba (For Men)
Full disclosure, I am not a dude. But if I was, this is what I would bring, I guess.
5-7 T-shirts
1 pair jeans
2-3 pairs shorts
7+ pairs underwear
flip flops
comfortable walking sandals
sneakers
rain jacket
swim trunks
What to Pack for a Hostel in Cuba
Cuba really doesn't have many hostels, although I did stay at one in Havana.
They function just like a casa particular only that there are dorms instead of regular rooms.
Still, some of these things may be useful if you stay at casa particulares, like I did during my time in Cuba.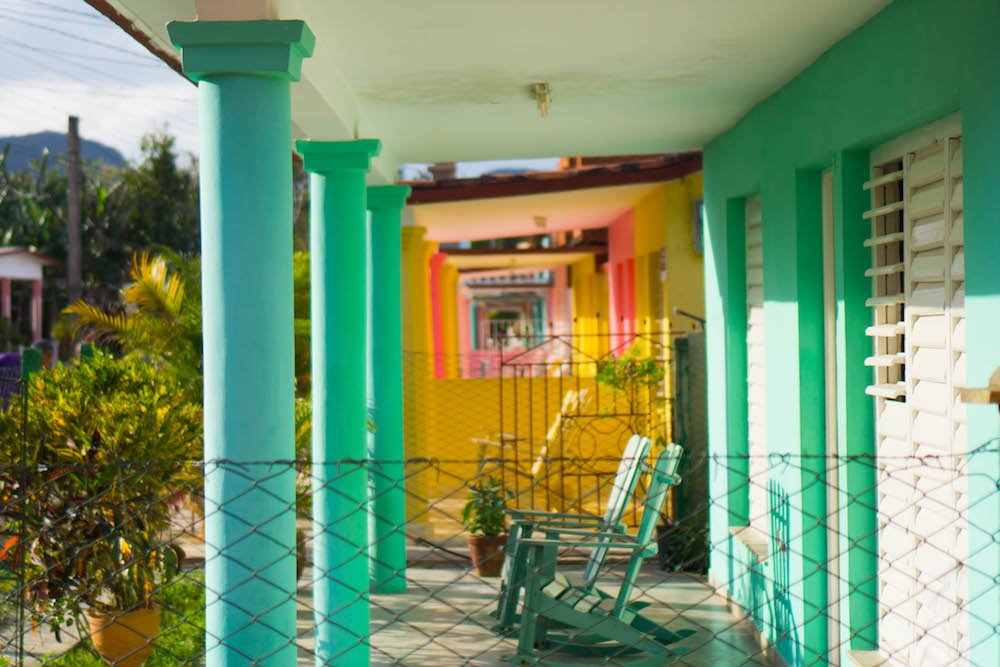 1 pair flip flops: While the hostel I stayed at in Cuba was very clean, I still recommend wearing flip flops in any sort of communal bathroom.
1 travel towel: My hostel provided a towel, but I like having my own anyway.
1 eye mask: Great for when you want to sleep but your roommates don't.
Some earplugs or good noise-canceling headphones: Cuba is a LOUD country, even – especially – in the mornings. I remember my street in Trinidad being one of the loudest I could imagine starting from around 6 in the morning. I love Hearos — they're the gold standard for ear plugs.
What Toiletries to Pack for Cuba
Basically, anything you use on a daily/weekly basis you will need to bring with you. I went into a little more detail above in the "essentials section," but here are a few more ideas.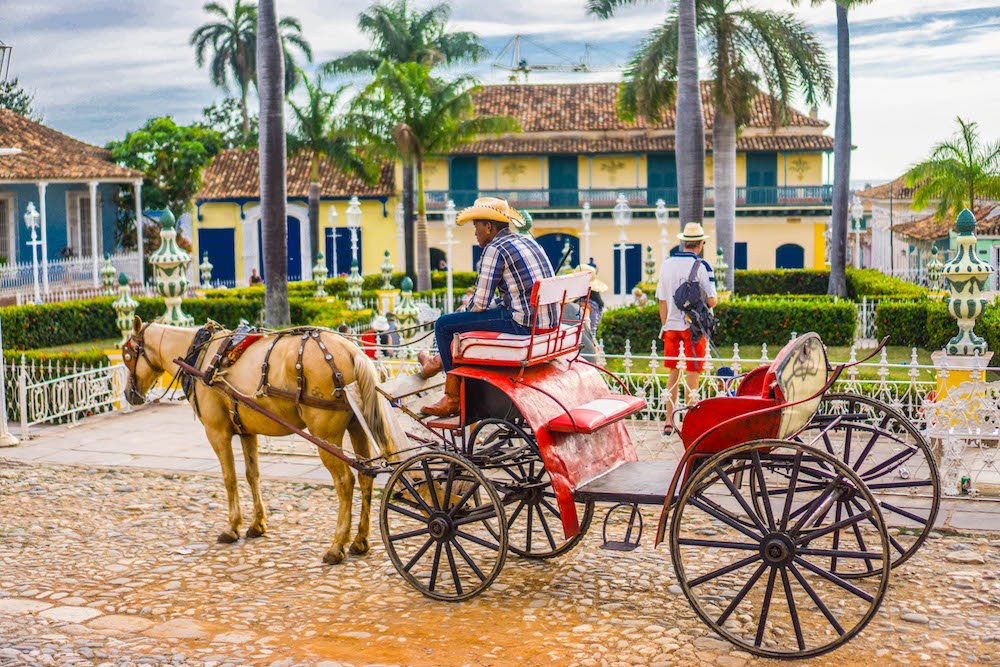 Hand sanitizer: Just in case a public restroom or restaurant bathroom doesn't have hand sanitizer,  I prefer carrying my own in case of emergencies.
Kleenex packets: Like above — public restrooms may be lacking in the toilet paper department, so having some Kleenex in a portable sleeve is always a good move. I don't just do this for Cuba but for all my trips.
LUSH solid shampoo: Life-changing. Just trust me.
Sunscreen: Cuba is sunny AF and sunscreen can be hard to find. My skin is really sensitive on my face, so I use this fancy Japanese sunscreen to prevent acne, and a general sunscreen for my body. Remember to use reef-safe sunscreen if traveling to beach destinations like Cayo Largo!
Travel medications: I listed them above, but just to reiterate — stomach medicine, motion sickness pills, and some sort of painkiller are my standards.
Electronics to Pack for Cuba
There are really no special considerations when it comes to packing for Cuba, except that you should leave your drone at home as there are absolutely no drones allowed into the country. Also, you may not want to bring your laptop if you are just visiting Cuba, as you likely won't have enough WiFi access to justify the weight.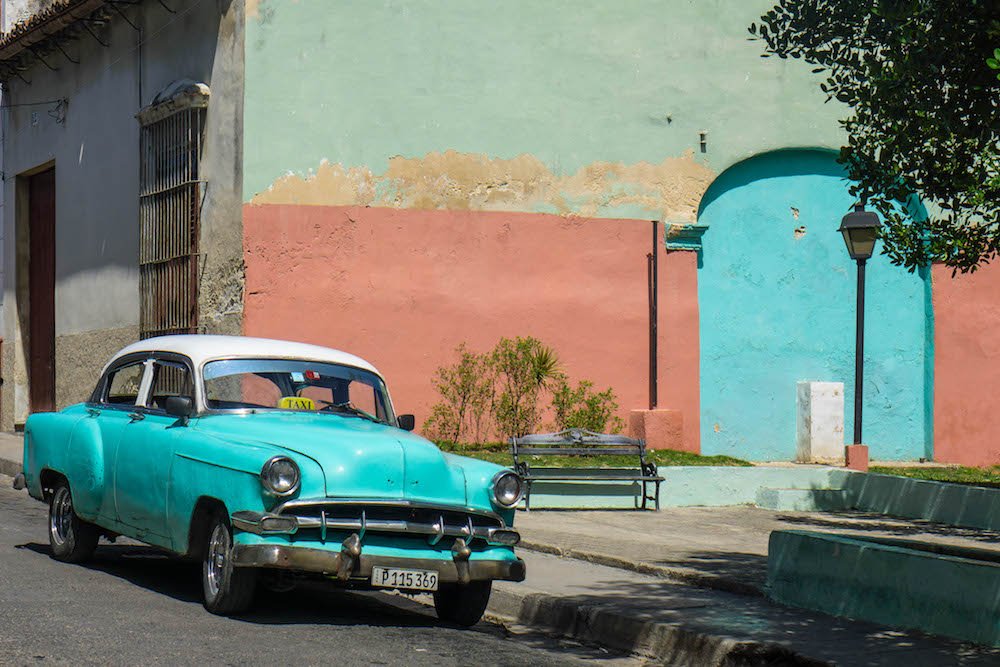 Laptop, if necessary: I bring my Macbook Air everywhere but other people may prefer a tablet or an inexpensive netbook. I work on the road so a user-friendly, lightweight laptop is a must.
Kindle Paperwhite: Books are heavy and often hard to find exactly what you want on the road. I love the Kindle Paperwhite because the screen is glare-free, making it easy to read at the beach or in direct sunlight.
Travel camera: I use a Sony A6000 because it's lightweight for a professional caliber camera, inexpensive, and a HUGE step up from a smartphone. You may want to replace this or add a GoPro too, especially good for adventure activities like kitesurfing and diving (just check to see if you also need an underwater house for your GoPro if you dive, as many of the newer models are only good to 10m — not nearly enough for divers)
Portable charger: I like to carry a portable charger even in Cuba just in case I forget to charge my phone fully. You'll use up a lot less batttery in Cuba than other places you travel to because of the lack of WiFi, but still, it can come in handy at times!
Adaptor, if necessary: Cuba uses the same plugs as America and Canada, so if you're coming from Europe or the UK, you will need an adaptor.
***
Well, nearly 3,000 words later, I think I've finally exhausted all the things you need to bring for Cuba. While this sounds like a lot, I was able to fit it all into a 44L backpack (carry-on size) and daypack because I chose lightweight fabrics and packed carefully.
Is there anything I've forgotten? Is there anything else you're wondering if you should bring to Cuba? Let me know in the comments!
Allison Green is a former educator turned travel blogger. She holds a Masters in Teaching and a B.A. in English and Creative Writing. Her blog posts merge her educational background and her experience traveling to 60+ countries to encourage thoughtful travel experiences that both educate and entertain. She has been a speaker at the World Travel Writers Conference and her writing, photography, and podcasting work has appeared in National Geographic, CNN Arabic, CBC Canada, and Forbes, amongst others. Now based in the San Francisco Bay Area where she grew up, she has also lived in Prague, Sofia, and New York City.