I know it is the ultimate privilege to be able to say this, but travel can be stressful. And that's why you need to incorporate days to slow the eff down when you're living a life of frequent traveling. Lucky me, I was able to do this slowdown in the cute, quaint little city of Trebinje, Bosnia – a town of 30,000 people with virtually no foreign tourism, for now.
Yet for such a small town, Trebinje truly has the best of Bosnia, all in one tiny package. While there aren't that many things to do in Trebinje, it's the perfect place to embrace the good life and live a little slower – if only for a time.
I spent 4 days in Trebinje and found it perfect for my laid-back travel style; however, if you're just hoping for a quick visit, I'd say you can happily see most of the highlights in two. I wouldn't try to give it just a day, though — the city is worth way more than just a blitz-style stopover.
Things to Do in Beautiful Trebinje, Bosnia
Peacefully stroll along the Trebisnjica river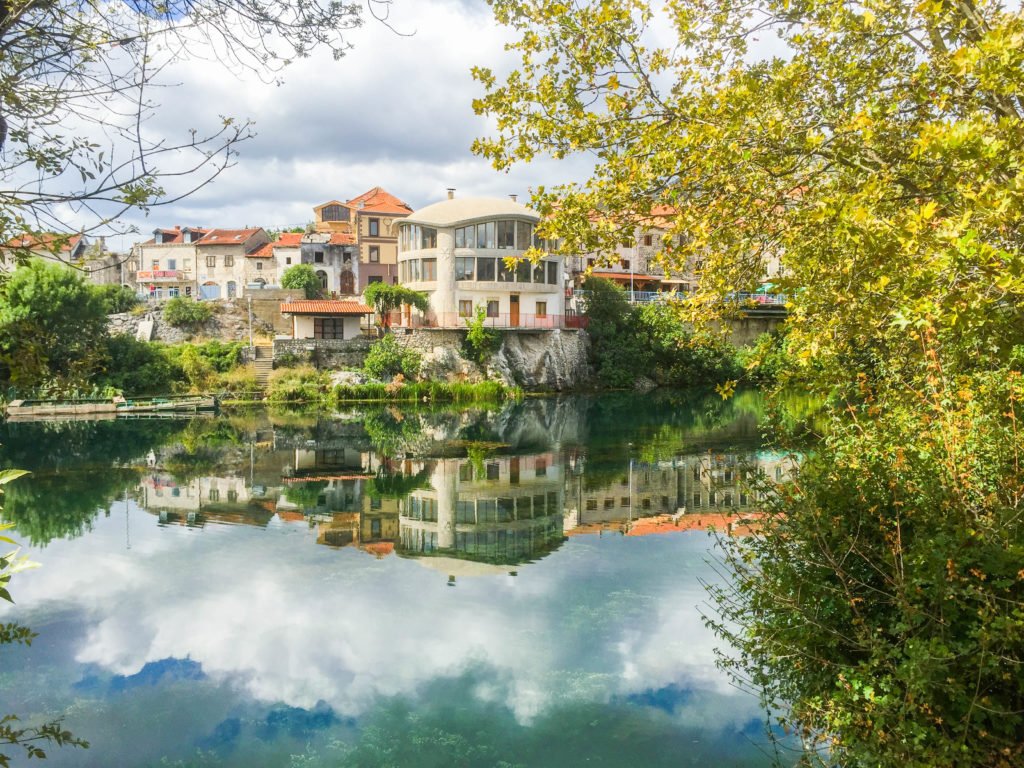 Note: This post contains affiliate links, which means I may receive a small commission if you purchase something through one of these links. Thank you for supporting the free content on this site! For more information on affiliate links and cookies, see my disclosure page for more details.
The river that goes through Trebinje, the Trebišnjica, is stunningly beautiful. This is the perfect place for a walk even on hot summer days, as the river breeze is nice and cool. As you walk, admire the glassy beauty of the water.
The river is more still than many in the area, making it perfect for photographs. Just look at how perfectly it mirrors the buildings on the other side of the river bank — swoon.
Admire the beautiful mountains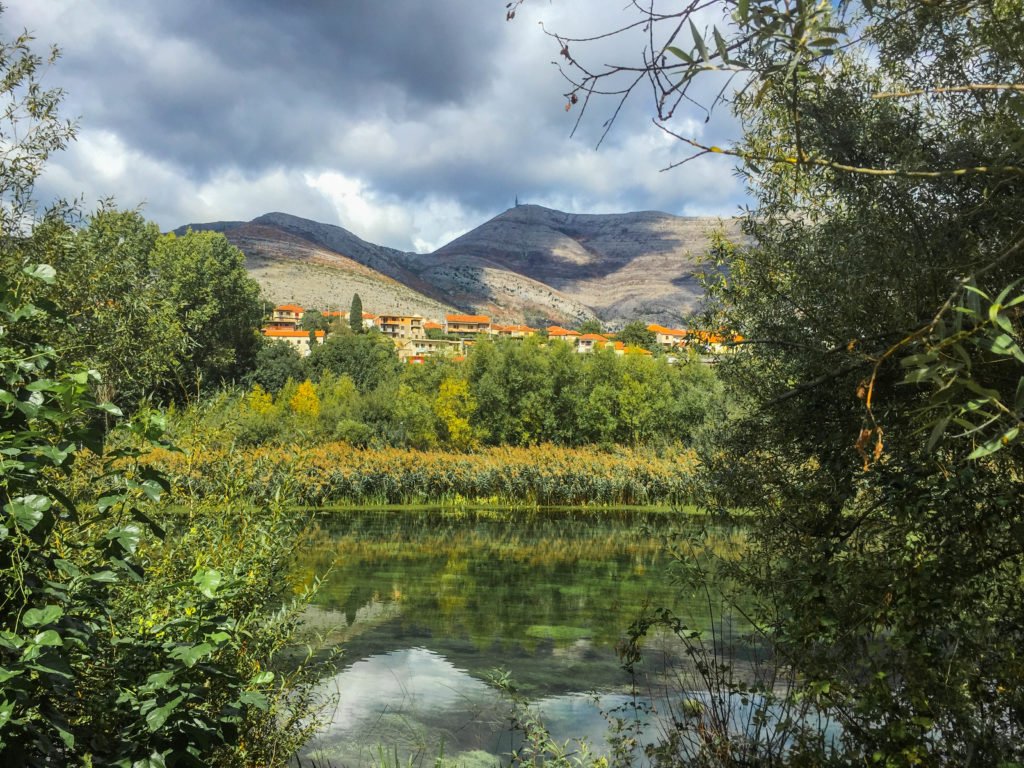 I've never seen mountains quite like Bosnia's. Vaguely Martian in their undulations, they're somehow both barren and supple. It's the perfect landscape to fix your eyes on.
While I was fully in relaxation mode in Trebinje and I never got up to much physical activity, there are several hills perfect brisk day hike, just on the outskirts of the city. I'd imagine that the views are stunning!
Marvel at the most peaceful Old Town in the Balkans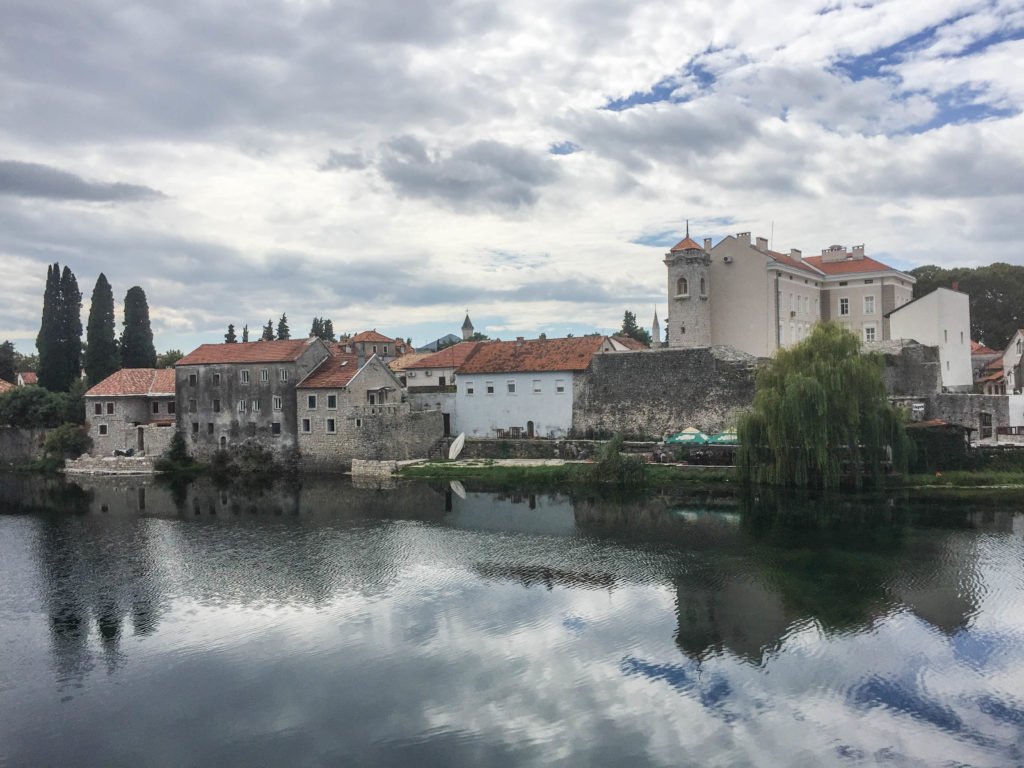 Trebinje has what is likely the least busy, least touristy Old Town in all of the Balkans, which is in itself almost enough of a reason to visit this historic town.
The Old Town was built by Ottomans in the 18th century and is remarkably intact. It's lovely to walk through, not least because virtually no one will harass you. There are a few restaurants and shops, but the prices aren't nearly as inflated as you'll find in other old towns — I'm looking at you, Dubrovnik — and it's actually enjoyable to spend some time there.
Shop at the sleepy market in the main square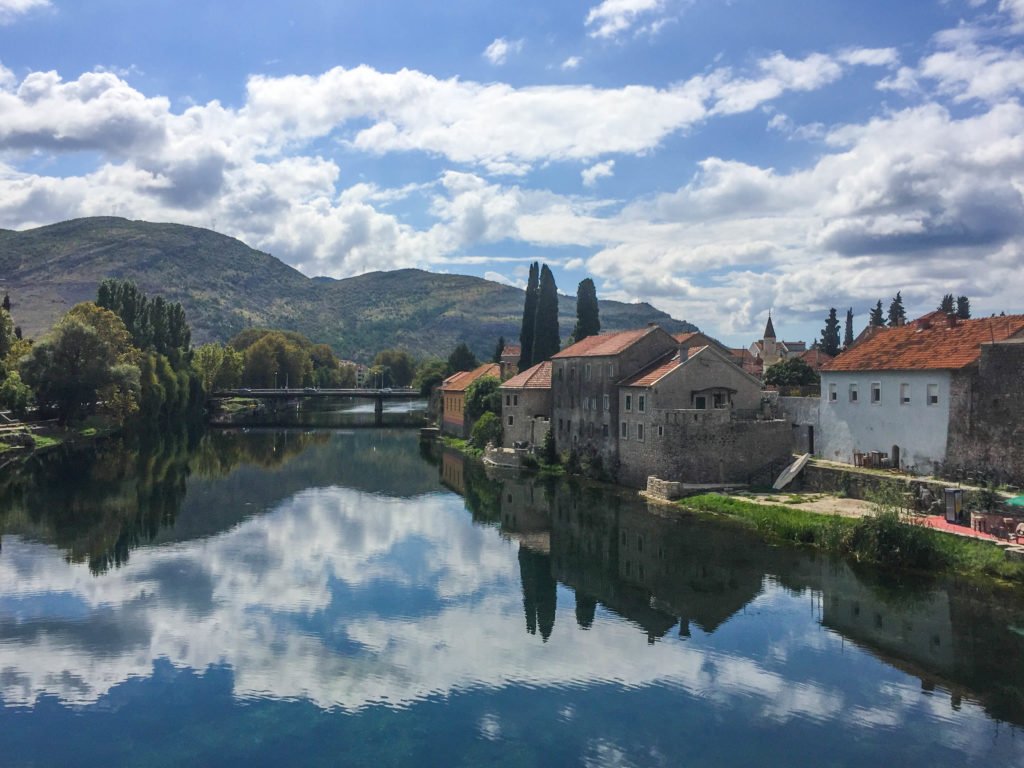 This market is open daily in the mornings but is best on Saturdays. You can get everything from the freshest organic produce to local honey to home-cured prosciutto to a variety of handmade cheeses. Sadly, the cheeses are in danger of becoming extinct with impending EU regulations, should Bosnia be admitted to the EU. So go now and eat all the cheese. For science.
Make sure you also buy the homemade ajvar (red pepper spread) and, if you're daring, rakija (fruit-based "brandy" prepared in two-liter bottles). Don't be afraid if they're sold in old, recycled water bottles — that's how you know you're getting the real deal.
Hike to the fortresses
If you want even more of the landscapes, make sure you don't miss the hiking in Trebinje. Trebinje is surrounded by seven hills, each with its own unique calling card, such as the abandoned Austro-Hungarian fortress on Fort Strač.
The hikes are moderate, taking about an hour and a half or so to complete, requiring no special footwear. Be sure to stay on the path as Trebinje and Bosnia in general continues to have issues with stray landmines.
Marvel at one of the most beautiful bridges in Bosnia

The Arslanagić bridge is one of Bosnia's most beautiful – and this is a country that knows its bridges (have you seen the Old Bridge of Mostar? — stunning). Complete with two large arches and four smaller ones, its unique design is characteristic of its former Ottoman influences.
What's better, because Trebinje is not that touristy yet, it's easy to get a photo of the bridge without any people on it virtually any time of day!
Visit the Old Monastery in town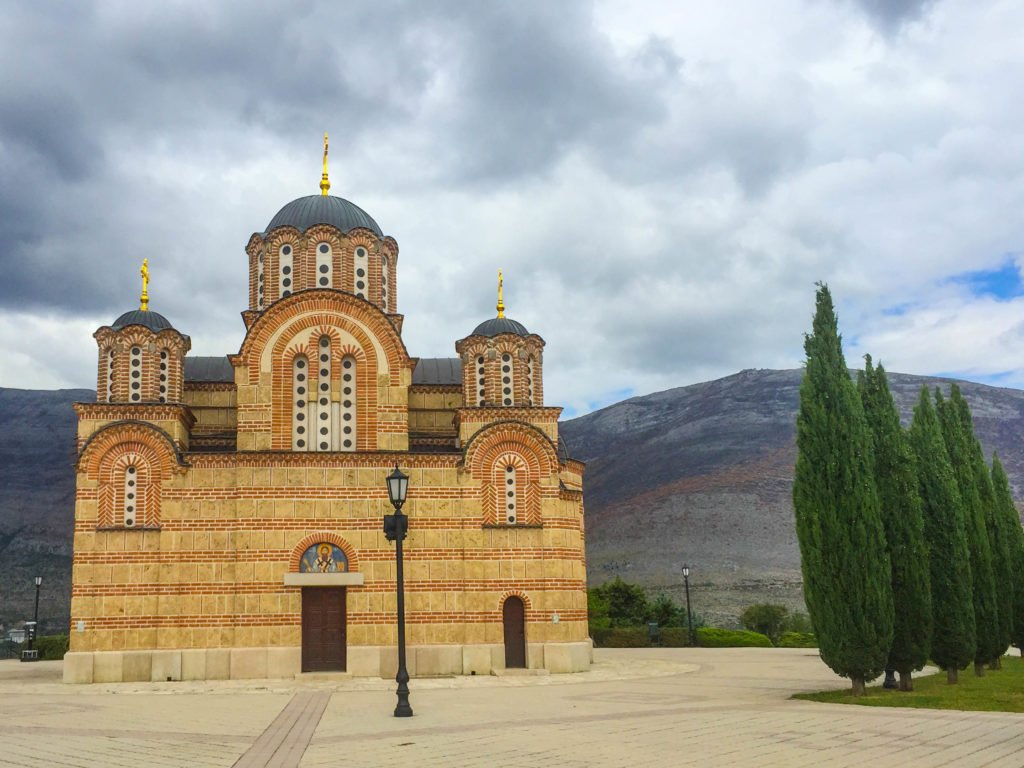 Seeing the Herzegovacka Gracanica monastery gave me a serious sense of deja vu because it's a replica of the Gracanica monastery in Kosovo, which I had seen when visiting Prishtina. Done in the Serbian Orthodox style, this monastery is definitely worth a visit, as it's unlike most other religious buildings you'll see in Bosnia, which will largely be mosques.
But because Trebinje, Bosnia is part of Republika Srpska, a semi-autonomous entity within Bosnia & Herzegovina, it is actually majority Serb – and hence majority Orthodox. Another thing you'll notice is that all the street signs are in Serbian Cyrillic, which is something you won't see in Mostar or Sarajevo!
It's a brief walk from the center of town, probably about 30 minutes depending on your pace, mostly uphill — so bring water if you're hiking it in the summer, as Trebinje can get hot!
Watch a sunset from the Old Monastery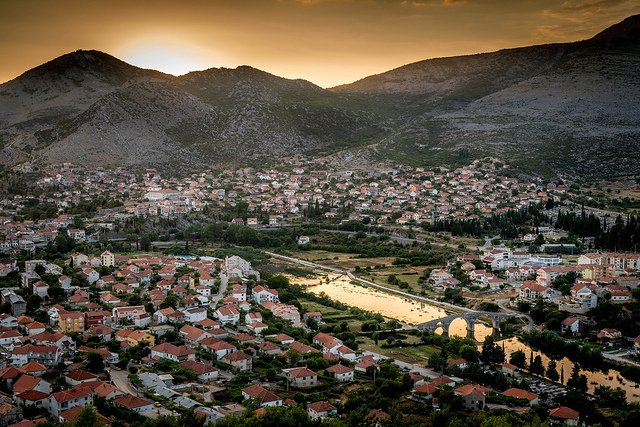 (photo: source)
About an hour before sunset, take a walk towards the Old Monastery with a few Sarajevsko beers (or a water bottle of rakija, no judgment, get your Balkan on) and watch the sunset in the beautiful hills that surround Trebinje.
Definitely one of the best places to see the sunset in gorgeous Trebinje!
Go wine tasting
Did you know Herzegovina (the region that Trebinje falls under) is a famous agricultural region, particularly noted for its wine? Nope, me neither, at least until I got there!. There are lots of places just a few kilometers outside of Trebinje where you can do wine tasting at local wineries, though these usually require a small group and an appointment. Wine tasting is very cheap – usually about 10 marks (5 euros) including food! Or, if you'd like to sample some local wines at a restaurant, try Vukoje. It's upscale by Bosnian standards but you still would be hard pressed to spend more than 10 or 15 euros per person.
If you're not going wine tasting but you want to seek out some local wines at the grocery store or restaurants; look for zilavka if you want white, and vranac if you want red.
Take a day trip to Dubrovnik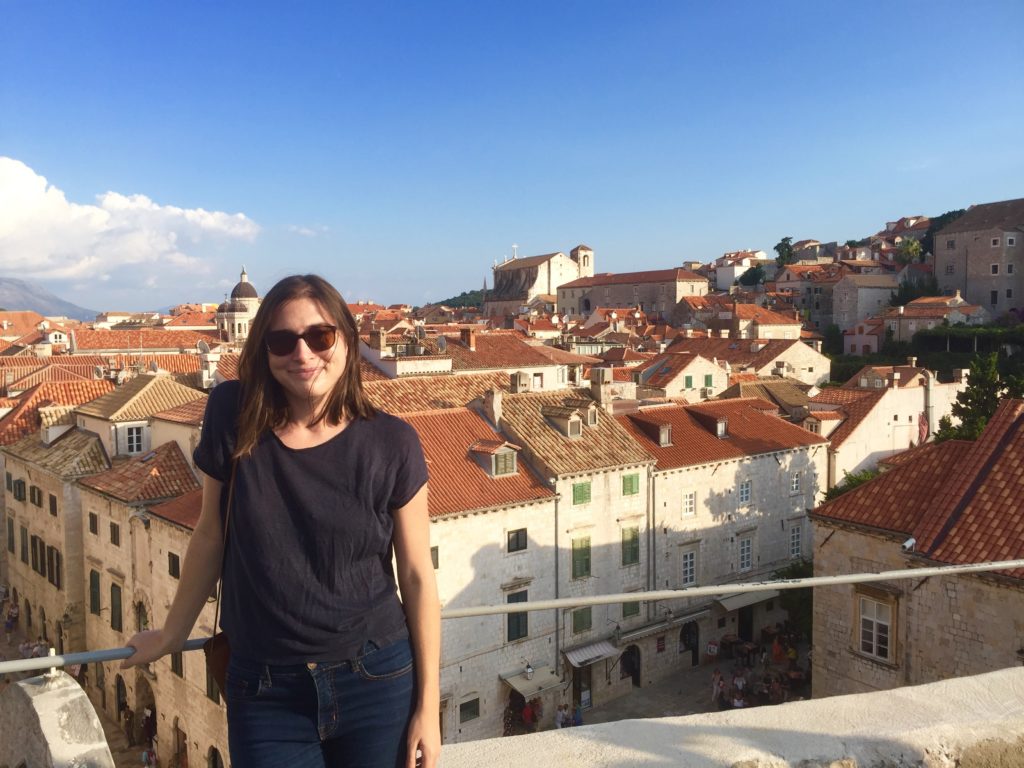 Most people tend to do this in reverse – visiting Trebinje as a day trip from Dubrovnik, mostly because it can be quite expensive to find a place to stay in Dubrovnik.
However, going from Trebinje to Dubrovnik is quite easy – the bus takes a little less than an hour, or you can hitch a ride for a few euros with one of the locals who lives in Trebinje but works in Dubrovnik (this is what I did – my hosts at Hostel Polako hooked me up!)
Dubrovnik is a magical city and it's definitely worth a visit if you have time during your time in Trebinje. Go on a self-guided Game of Thrones tour, wander around the Old City Walls, eat a fresh seafood risotto at one of the many delicious restaurants in town, watch people swim in the Adriatic, or take a ferry to Mljet or one of the many small islands near Dubrovnik… there are countless ways to spend a day trip to Dubrovnik, in fact you may find yourself needing to spend at least a few nights there!
Allison Green is a former educator turned travel blogger. She holds a Masters in Teaching and a B.A. in English and Creative Writing. Her blog posts merge her educational background and her experience traveling to 60+ countries to encourage thoughtful travel experiences that both educate and entertain. She has been a speaker at the World Travel Writers Conference and her writing, photography, and podcasting work has appeared in National Geographic, CNN Arabic, CBC Canada, and Forbes, amongst others. Now based in the San Francisco Bay Area where she grew up, she has also lived in Prague, Sofia, and New York City.