Steeped in history and culture, Avignon is a vibrant city located right in the heart of La Provence, with its stunning hillside towns, lavender fields, and charming market days.
Commonly known as the "City of the Popes" (more about that particular chapter of history later!), Avignon's fascinating heritage dates all the way back to the Middle Ages.
The historic center will immerse you in this sense of history almost as if design.
The city itself is enclosed by imposing ramparts, while inside, you'll find all manners of architecture, charming squares, and dreamy narrow streets with pastel houses.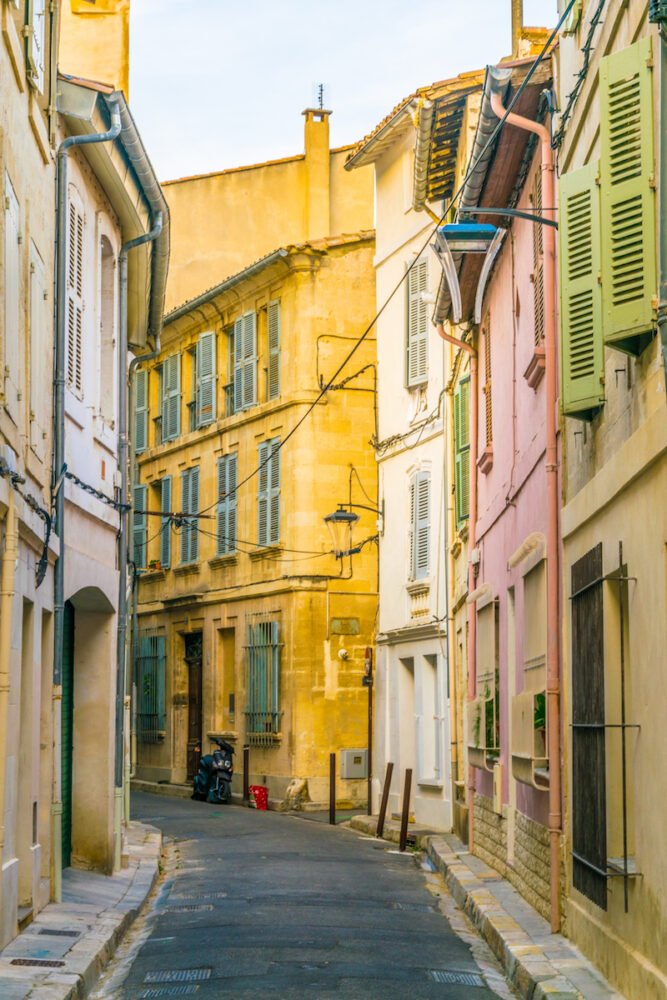 Note: This post contains affiliate links, which means I may receive a small commission if you purchase something through one of these links. Thank you for supporting the free content on this site! For more information on affiliate links and cookies, see my disclosure page for more details.
While Avignon is surely one most picturesque cities in all of France, it's also a great destination for every season thanks to its sunny southern climate.
As though all that wasn't enough, if you're an art fanatic, Avignon is home to some of the most prestigious art collections in France, making it a must-see destination on your next trip to France.
Two days in Avignon will give you just enough time to explore the city's highlights, taste its delicious cuisine, and soak in its marvelous culture.
Our Avignon itinerary has something for every traveler, so read on – no matter if you're a history nerd, art geek, or an unrepentant foodie, we've got you covered!
Let me be the first to say Bienvenue à Avignon!
Where to Stay in Avignon
Search for accommodation near the Palais des Papes here:
Or, here are my top picks for Avignon accommodations:
Luxury B&B | La Divine Comedie Suites: This charming B&B has an outdoor pool, garden, terrace, and spa, making it the perfect oasis away from the bustle of Avignon. Yet still, it's less than half a mile from its most important sites, striking that perfect balance of quiet and convenience.
Charming Apartment | Palais des Papes – Havre de Paix III: This exquisite vacation rental will quickly be your home away from home. With elegant vintage furnishings and a full size one-bedroom floor plan, this is a great option for those who prefer a more private place to stay.
Sleek Guesthouse | N15 Les Confidences: This lovely modern guesthouse is a quiet escape from the rest of Avignon, with an outdoor plunge pool, lovely garden, and terrace area. It's close to all the main sights you'd want to see, and all the rooms have A/C and WiFi. 
Day One of Your Avignon Itinerary
Morning: Explore the Historic Center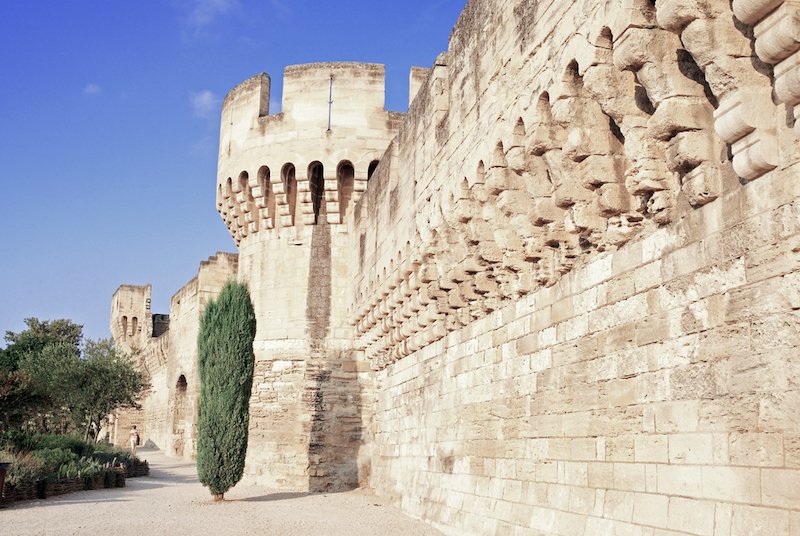 Walk around the city walls.
To start off right, your first day in Avignon should begin with a self-guided walking tour of the historic center, the heart of this beautiful city.
Start your day by taking a stroll around the city walls. Avignon is one of the only French cities to have kept its medieval ramparts, originally built to protect the city from brutal medieval battles.
Walking along their heights, you can practically feel the history coming to life around you!
While they are (thankfully!) no longer needed for this original purpose, today the ramparts are an excellent vantage point to admire the city's architecture.
From up high, take in the stunning views of the beautiful Rhône River which flows all the way from the Alps to the Mediterranean Sea.
Meander over to the Place de l'Horloge.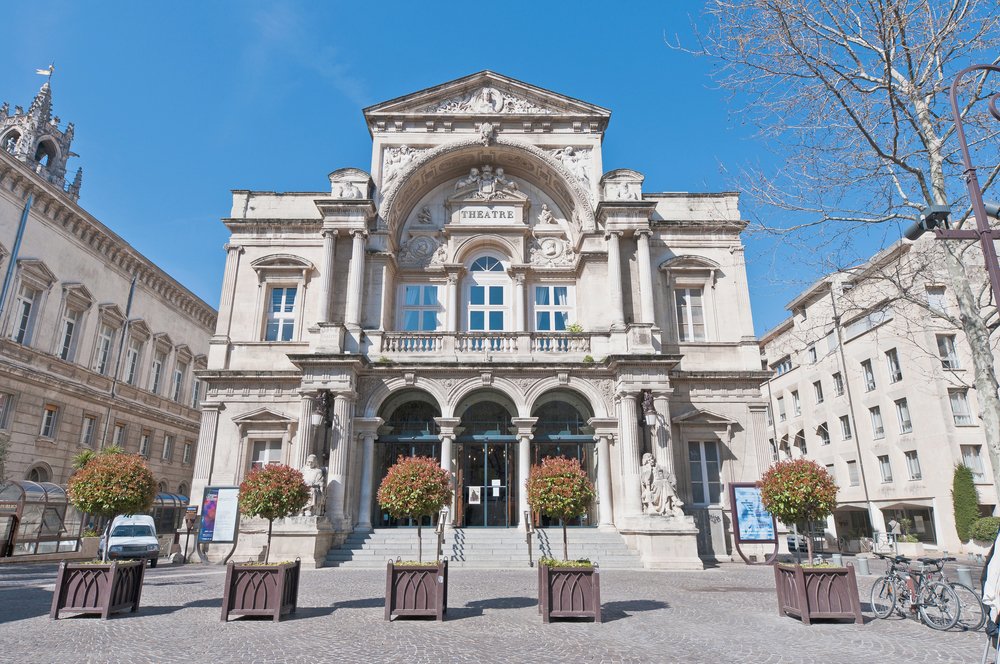 After soaking in these gorgeous views, head over to the Place de l'Horloge, the central square and heart of Avignon, for more sightseeing.
Lined with cafes straight out of Amelie, little bistros, and chic boutiques, this is the place to grab a late breakfast or a simple pastry to hold you over.
Whether you opt for a simple pain au chocolat or something more substantial, you'll sure to be satisfied.
Besides that, you'll also find the main Theater and Opera House of Avignon, as well as Avignon's City Hall.
Despite the name, the famous clocktower of Avignon is nowhere to be seen here!
Head over to the historic Palace of the Popes.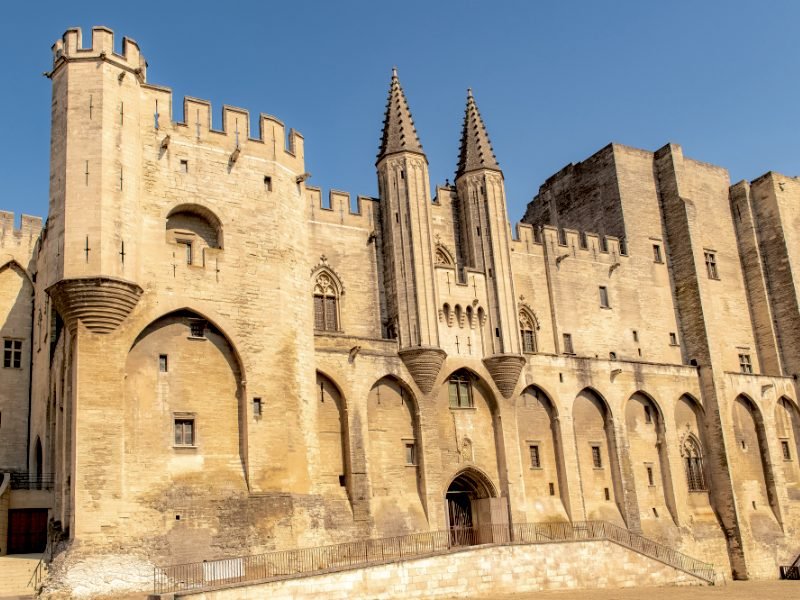 Belly full and heart happy, it's on to the next adventure: Le Palais des Papes is to Avignon, the most iconic sight in the city.
Truly, this palace is to Avignon what the Eiffel Tower is to Paris!
About its name: it translates literally to "Palace of the Popes". That's because in the 14th century, the pope resided not in Rome, but in Avignon!
The Avignon Papacy was brief (only from 1309 to 1376), but its tenure made a memorable, lasting impression on the city.
All said and done, just seven popes resided in the famous papal palace before it stopped being used for that purpose.
Still, it's a stunner: from its sumptuously-painted frescoes to its ornate tapestries, mixed in with exhibits that explain the history of the Avignon Papacy, you're sure to ooh, aah, and learn while you're at it.
You'll quickly see why the Palais des Papes is a UNESCO World Heritage Site. Don't hesitate to get a guide to make the most of your visit!
Admire the nearby Avignon Cathedral.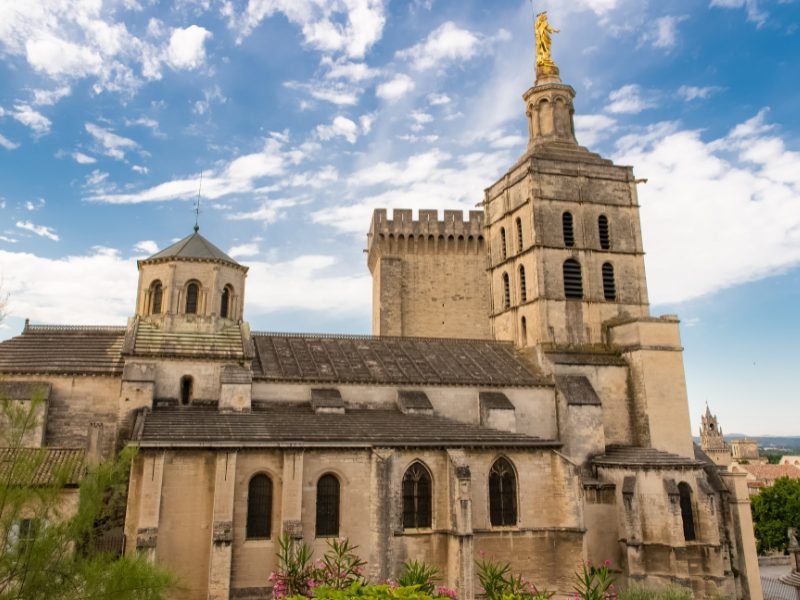 One final place you shouldn't miss is the Avignon Cathedral, also known as the Cathédrale Notre-Dame-des-Doms.
This is one of the older buildings in the city proper, first built in the 12th century and rebuilt in the 15th century after its bell tower collapsed.
The renovations have preserved the beauty of the cathedral, especially its Romanesque features.
Afternoon: Have a Marvelous Lunch & Market Stroll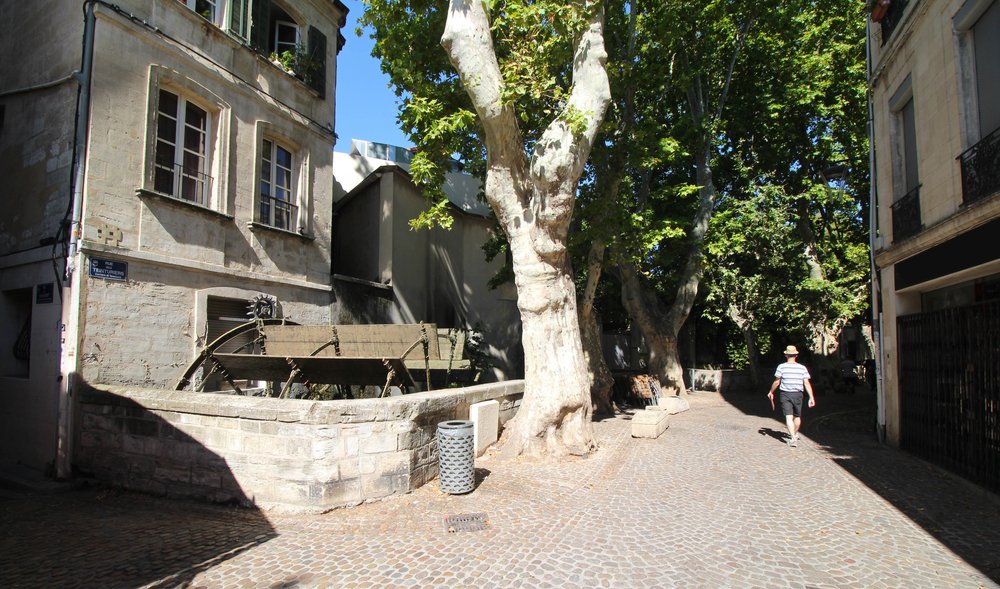 Bon appétit! It's time to taste the delicious cuisine, a must when you visit Avignon.
Once you have fully taken in the magnificent architecture of the historic center, it's time for lunch. The local cuisine, which is rich in flavors and fresh ingredients, is simply delicious.
And of course, don't forget the wine! If you love red wine, especially the local favorite, the Côtes du Rhone… or Châteauneuf-du-Pape if you're feeling flush!
For your first lunch, we recommend picking somewhere along Rue des Teinturiers, a charming and very picturesque street lined with boutiques, restaurants and cafés.
The canal de Vaucluse runs right through this beautiful area, which used to be the heart of Avignon's textile industry.
You can find some of the city's oldest mansions here, and their eye catching grandeur makes exploring this area quite the experience!
For a quick bite, we highly recommend one of the city's specialties, la Tarte Tropézienne, a savory brioche filled with cream. Its rich, decadent flavor is unlike anything you've ever tried!
Other famous dishes from Provence include Ratatouille, Daube Provençale and Bouillabaisse.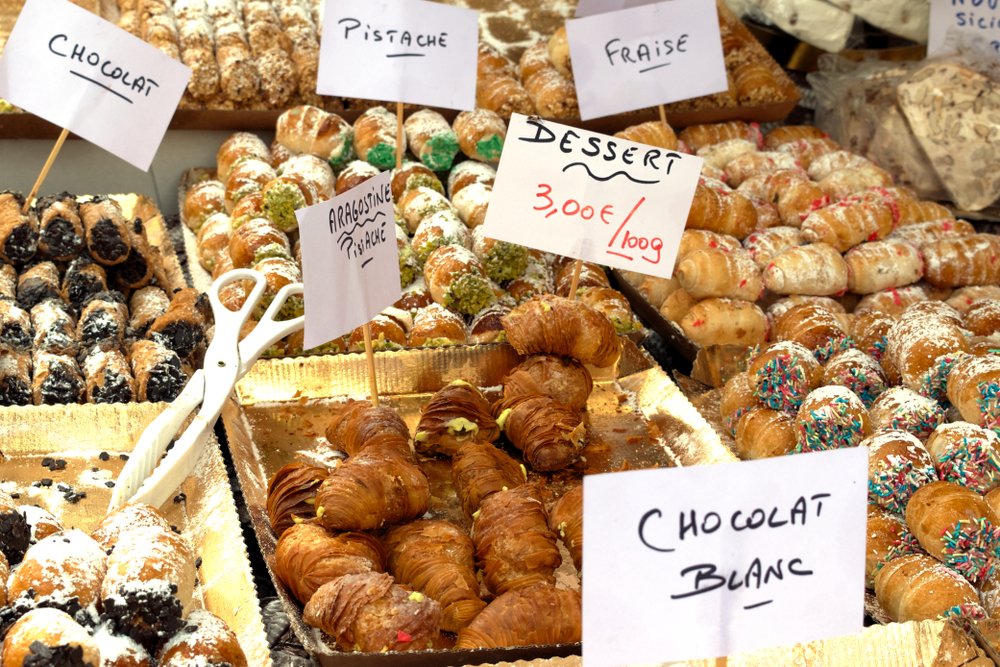 If you're looking to enjoy lunch as the locals do, head over to Les Halles, the city's traditional market hall.
The market is a perfect place to sample fresh fruits, vegetables, cheese, and wine for a pique-nique provençal, all while surrounded by the charming local culture!
Don't miss out on tapenade, a puree of black olives, anchovies, garlic, lemon juice and olive oil, traditionally served on bread or as a dip – we love it!
You can also grab lunch in the market hall or the surrounding area. Whichever you choose, you can't go wrong in Avignon.
The local cuisine is a fusion of Provençal flavors and Mediterranean deliciousness, but of course, you'll find all the delicious meals you discovered in other parts of France, along with great pastries and lots of coffee!
Evening: Wander along the Pont d'Avignon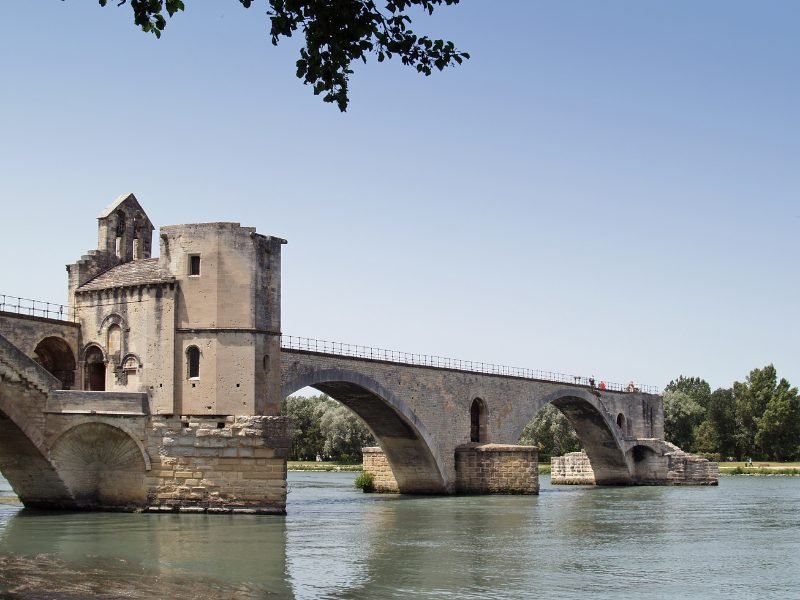 If you've ever heard of the famous French song Sur le Pont d'Avignon, why not take a post-lunch stroll over to see the inspiration?
Originally built in the 12th century, the Pont d'Avignon (also known as Pont Saint-Bénézet) is technically not a bridge anymore as half of this monument was washed away during the Middle Ages.
After several attempts to rebuild it, the bridge was abandoned.
The original bridge was over 900m long, which was no small feat of engineering back in those days!
However, after all the centuries of disrepair, just four of the twenty two arches remain today, as well as the former gatehouse protecting the crossing and a chapel.
You can walk along the bridge for an unforgettable experience and a really lovely view of Avignon.
This is a great spot to take in the historic significance Avignon still has. Alternatively, if you prefer to stay on the shore, you can opt for an evening stroll along the river.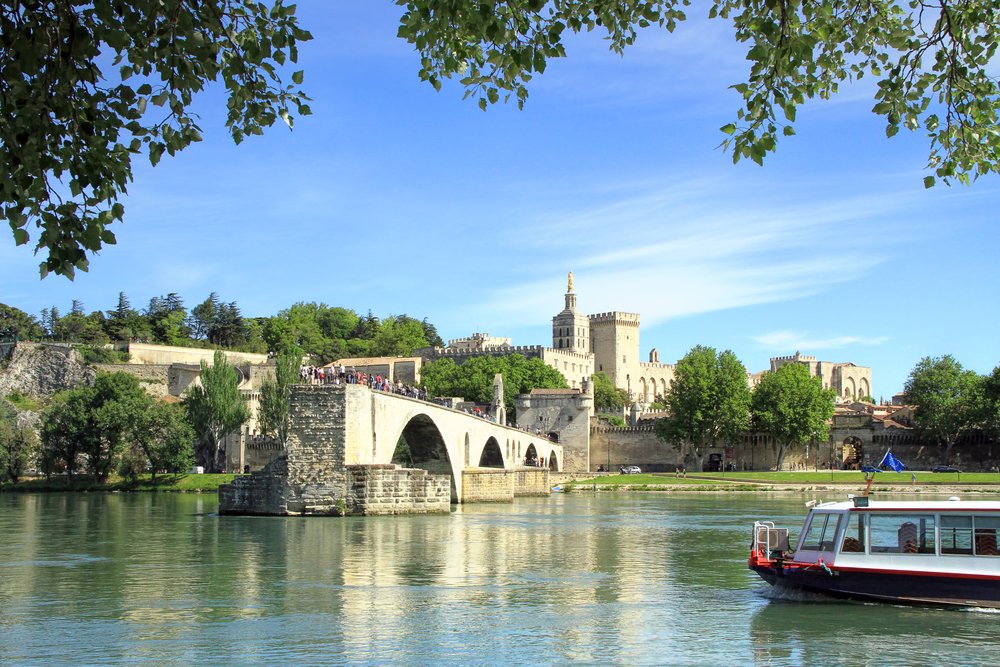 Locals and tourists alike enjoy a visit to the Ile de Barthelasse. A free ferry is available to cross the river Rhône.
It also offers another viewpoint of the truncated Pont d'Avignon.
As the island has been the victim of many floods through the centuries, there are only a few houses, making this a beautiful and peaceful little oasis to wind down from a hectic day.
In the summer, you can rent a bike in Avignon and cross the Pont Daladier to reach the island for a beautiful sunset picnic enjoying all the delicious food you picked up back at the local market.
Day Two of Your Avignon Itinerary
Morning: Dive into Avignon's Past
Grab a quick French breakfast.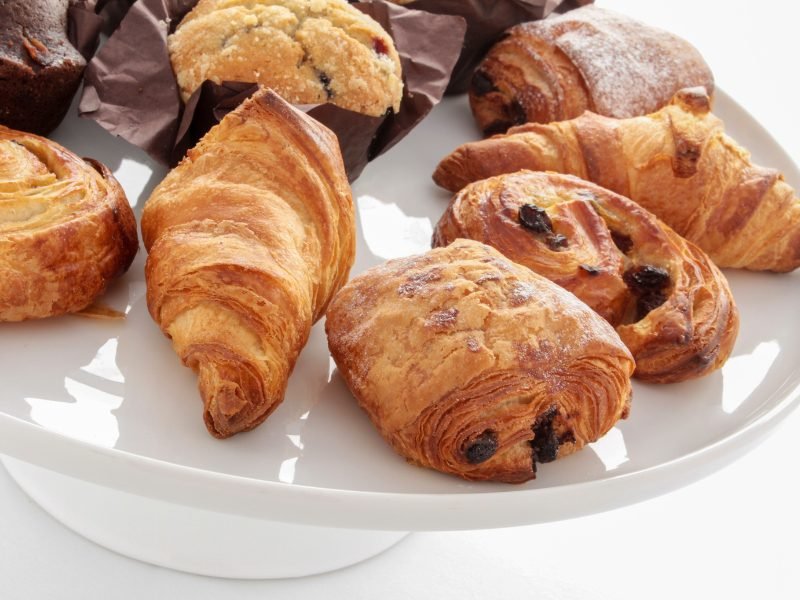 Before you start your second day exploring more of this beautiful city, you obviously need a good French breakfast to fuel all that walking!
When in France, we like to do as the French do and keep it simple for breakfast à la française: un croissant, une chocolatine, une baguette, confiture, beurre, jus d'orange et café, voilà!
Head to Pâtisserie Vernet or Violette for a traditional French breakfast or just follow your nose and let the smell of artisan baguette, fresh buttery croissant and melting chocolate mixed with delicious fresh coffee guide you to the nearest café.
Visit the Basilique Saint Pierre.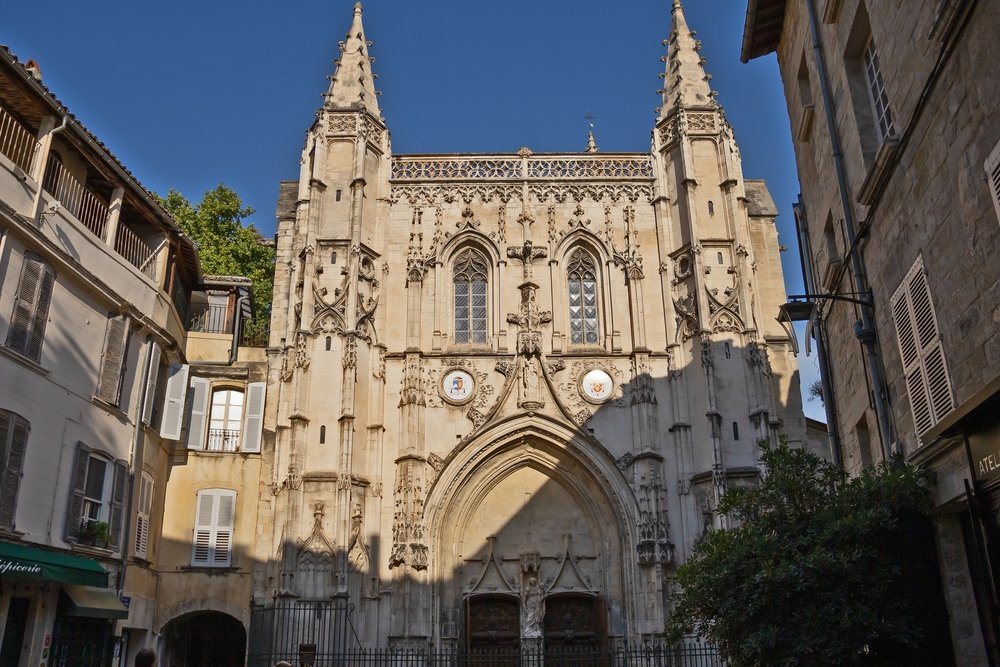 After breakfast, it's time to dive further into Avignon's history, so finish up that coffee and start walking over to Basilique Saint Pierre.
This basilica is located in the heart of the city, just a few steps from the Palais des Papes (Pope's Palace) you already visited yesterday.
Dating back to the 14th century, the basilica is best known for its Gothic facade, but it's also quite beautiful on the interior: we're talking ornate stained glass windows in a kaleidoscope of colors, softly-painted frescoes on the walls and ceilings, and beautiful wood carvings.
You're sure to be stunned when you walk around the exterior and once you enter as well!
The church is open to visitors daily (though it's closed during mass), and you can take an optional guided tour to learn more about the church.
Lunch: Relax at Jardin des Doms and grab a quick bite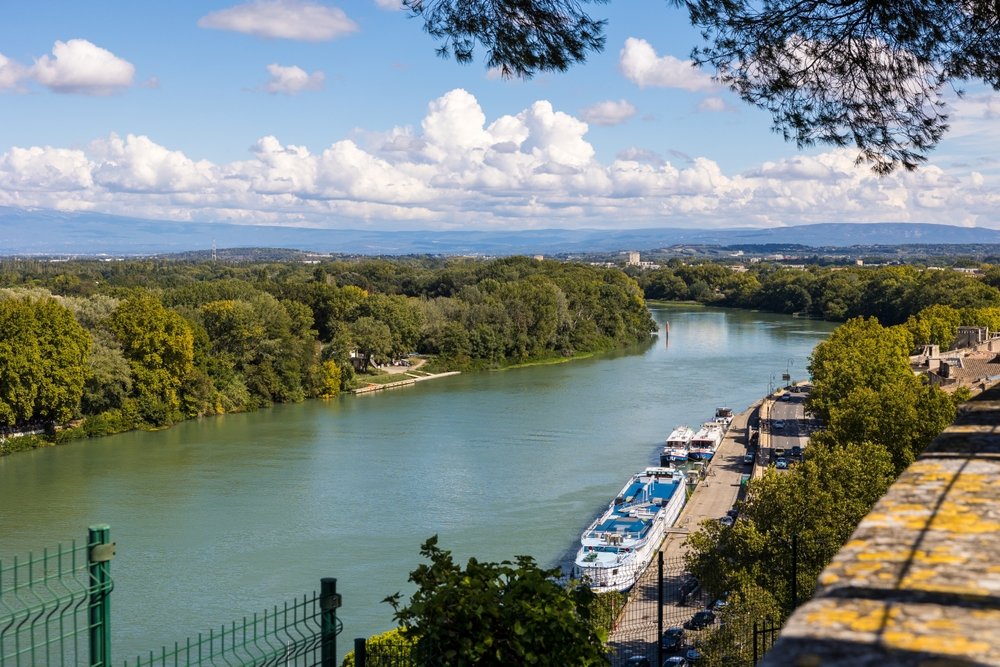 Just north of the iconic Palais des Papes, you'll find a charming, beautiful garden tucked away, just waiting for a lovely picnic.
We're talking, of course, about the Jardin des Doms: home to intricately arranged plants that mix with the views of the city's center and the Rhône in the distance.
Beyond just nature, Jardin des Doms also is home to a rotating display of art installations, showcasing everything from contemporary sculptures to other works displayed at random throughout the garden.
If you need a little pick-me-up, cafés and restaurants surround the small lake where swans and ducks swim, enjoying the relaxed atmosphere.
A peaceful, lush oasis, the Jardin des Doms offers a tranquil and beautiful escape from the city's busy streets, which can be a much-needed respite from your busy day out and about!
Breathe in the clean air, enjoy the view and simply relax. The garden is the perfect place to dive into a good book for a few hours or join the locals for a picnic at lunch.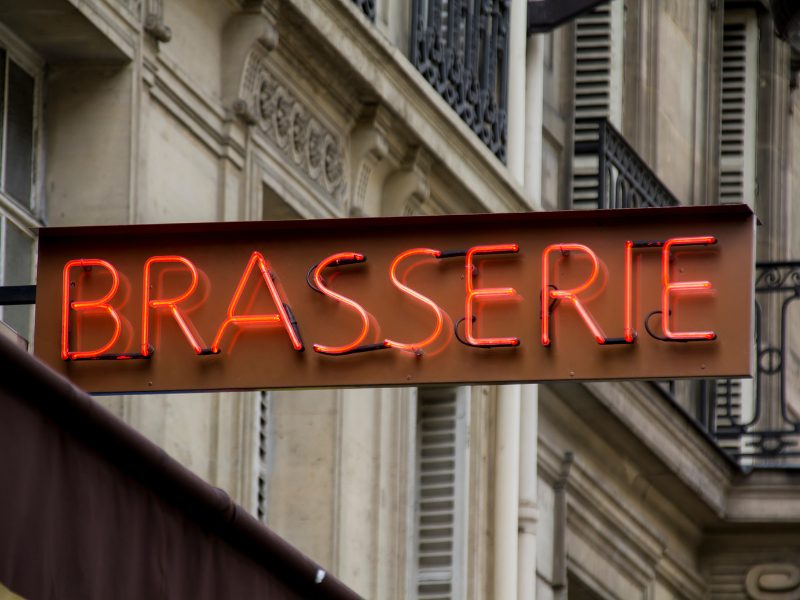 Before you embark on your next Avignon adventure, make sure to grab lunch at a local brasserie for a classic French meal.
Brasseries generally have specials at lunchtime, formule in French, for a really great price. Typically, it's a two-course menu, where you often get either the entrée or a dessert included.
Alternatively, you can head to a crêperie to try a galette– a savory, thin crêpe filled with cheese, vegetables, ham, eggs… the list goes on.
You can basically ask for anything you like to ensure that your lunch is picture-perfect.
In most crêperies, the galette will be served with a small salad, which makes it the perfect quick and healthy lunch.
Afternoon Option 1: Explore the wineries around Avignon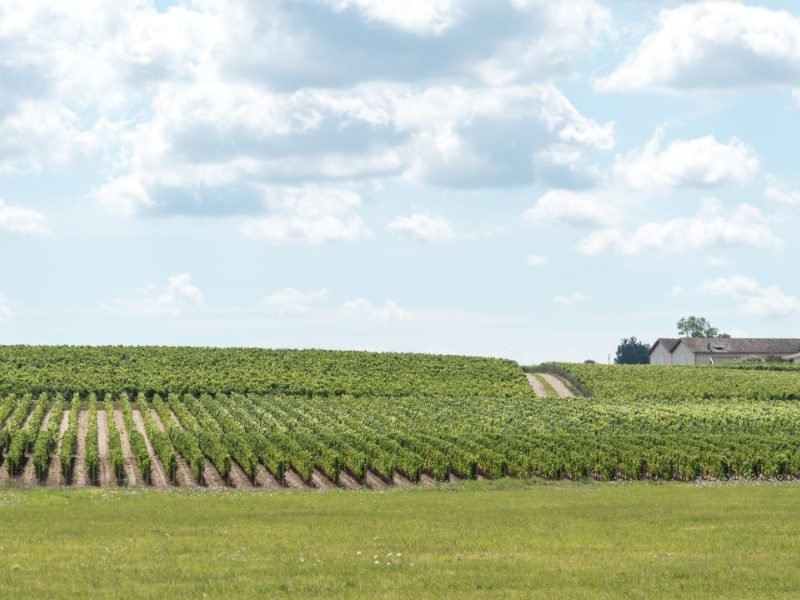 One of the best things about Avignon is how close to many incredible wineries it is!
The Côtes du Rhône is right at its backdoor, and as a result, you'll find exquisite wineries that specialize in these incredible Rhône wines that are beloved around the world.
The best way to do it is by guided tour so no one has to worry about driving — here's the tour I recommend.
If you prefer to specialize on one kind of wine on a wine tour, this Châteauneuf-du-Pape tour may be a great option.
Suggested Tour: Half-Day Great Vineyards Afternoon Tour

This tour brings you to several of the greats of the region, sampling world-famous wines like Gigondas, Seguret, and Châteauneuf-du-Pape, at three stunning Grand cru wineries!

Best of all, this tour is only 5 hours, meaning you can head here after lunch and still be back in time for evening explorations!

➜ Check tour availability and prices here!
Afternoon Option 2: Explore one (or more) of Avignon's art museums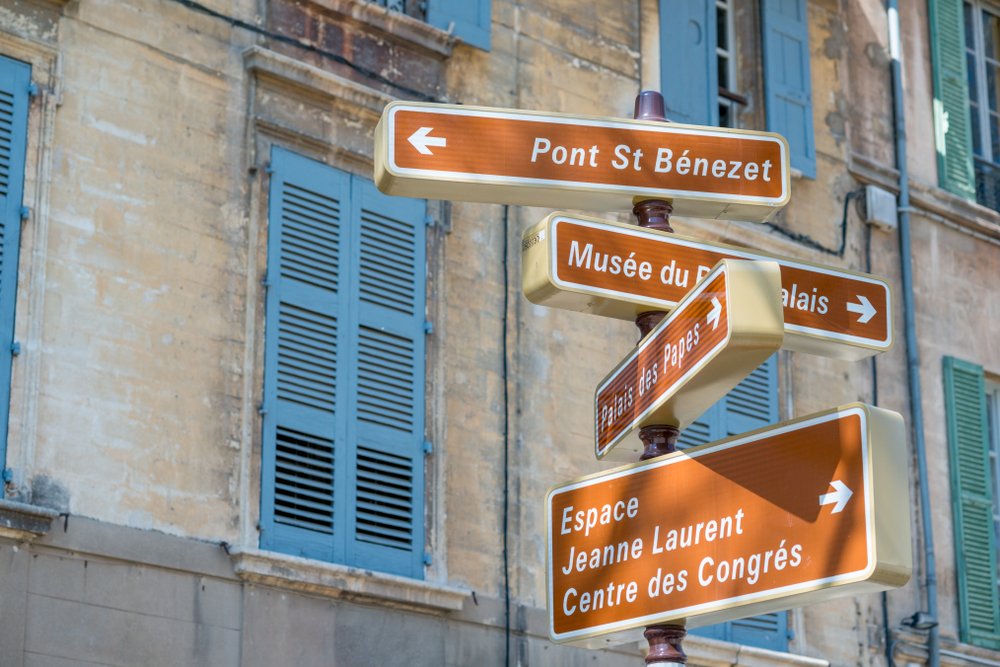 Art lovers, your time has come! As we mentioned above, the arts are a major part of Avignon's history and remain central to its culture to the present day.
The best way to spend the second day of your Avignon itinerary is by dedicating your afternoon to the arts: one of the key parts of Avignon's culture.
Below, you'll find a detailed guide below on all the best museums in Avignon. Pick one or a few depending on what speaks to you!
You likely can't visit all these museums listed in this short Avignon itinerary, but one is better than none!
Plus, the museums here are quieter than in Paris: absolutely nothing like you'd find at the Louvre or the Musee d'Orsay in Paris!
Collection Lambert
If you're a fan of art, the Collection Lambert houses a stunning array of contemporary art in a beautifully renovated 18th-century mansion.
Owned by Yves Lambert, you'll find big-name contemporary artists like Cy Twombly, Anselm Kiefer, and Nan Goldin.
Keep an eye on the museum schedule when planning your visit, as it also hosts temporary exhibitions that showcase the works of both emerging and established artists.
Petit Palais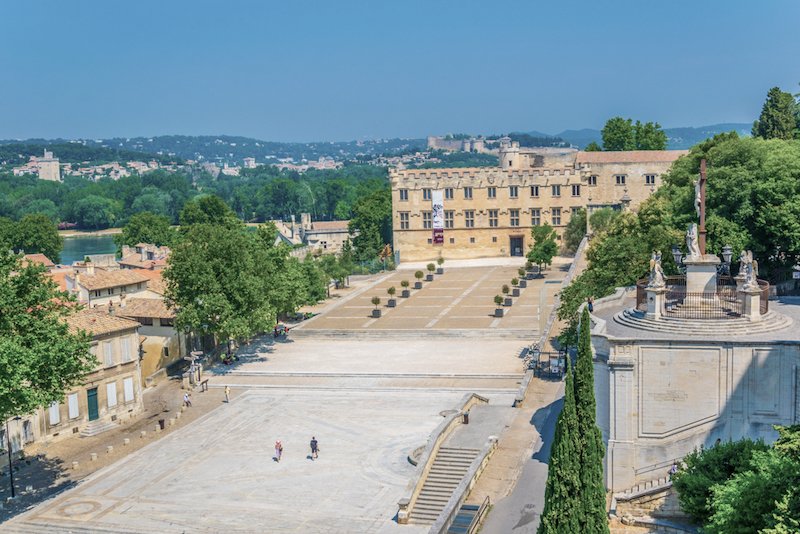 While its name may literally mean 'small palace,' the Petit Palais has outsized importance in Avignon.
The palace is the permanent home of the Musée des Beaux-Arts, whose collection spans art from the Middle Ages through the Renassaince.
It also has a wide Florentine collection from the early Renaissance, second only to the Louvre for its selection of Italian Renaissance art.
Once you've seen as much art as a person can reasonably handle in a day, there's a lovely courtyard with ample gardens which is a great way to refresh and fight off museum fatigue.
Musée Calvet
Seamlessly combining both art and history, the Musée Calvet houses everything from artifacts from ancient Egypt to works by famed European artists all the way up to the 20th century. Talk about range!
The museum is also known for its focus on decorative arts, meaning functional artwork like ceramics, glassware, and furnishings.
These little indicators of daily life are a fun way to learn how the people of the past centuries lived.
Musée Angladon
If you're looking for something a little less popular, the Musée Angladon is a beautiful hidden gem for art lovers.
Housed in a beautiful 18th-century mansion that was once the family home of art collector Jacques Doucet, Musée Angladon offers an elegant glimpse into the past.
Jacques Doucet made his fortune as an Haute-Couture tailor in Paris. A passionate lover of the arts, Doucet supported French writers like Louis Aragon, as well as collecting prestigious masterworks by Van Gogh, Picasso and Degas.
In addition to the works of famous painters, you'll find an interesting collection of sculptures and decorative items from around the world.
Late Afternoon: Learn more about the region's Roman past at Pont du Gard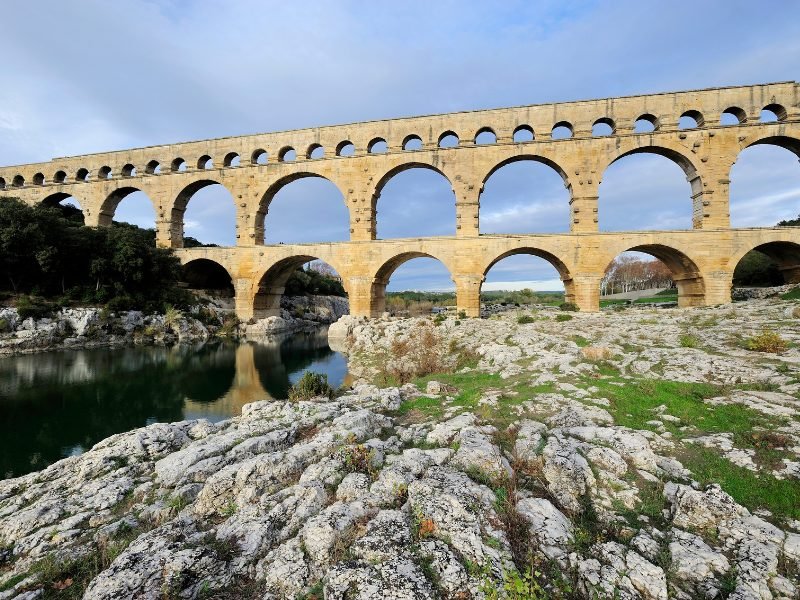 Perk up, because we've got one final thing to do today: a visit to Pont du Gard, an ancient Roman aqueduct that is over two millennia old.
25 kilometers outside of Avignon, this aqueduct and its bridges are still considered amongst the most impressive engineering masterpieces of the ancient world.
The Pont du Gard is a three-level bridge over 160 feet tall and spanning a distance of 900 feet.
For 600 years, this aqueduct brought water into the city; that changed after the fall of the Roman Empire. After that, it became used for defense, and today, it's a tourist draw and a UNESCO site.
Cross the top level of the bridge on a guided tour to get a better understanding of the awe-inspiring structure with countless centuries of history.
While you're traveling outside Avignon, the surrounding area is also popular for hiking with several great trails and beautiful animal life, so if you need some time to recharge in nature, this is the perfect spot.
While Avignon could easily fill your entire vacation with things to explore, history to learn and art to appreciate, the city is also a great home base if you want to explore more of the Provence region.
Getting Around the Avignon Area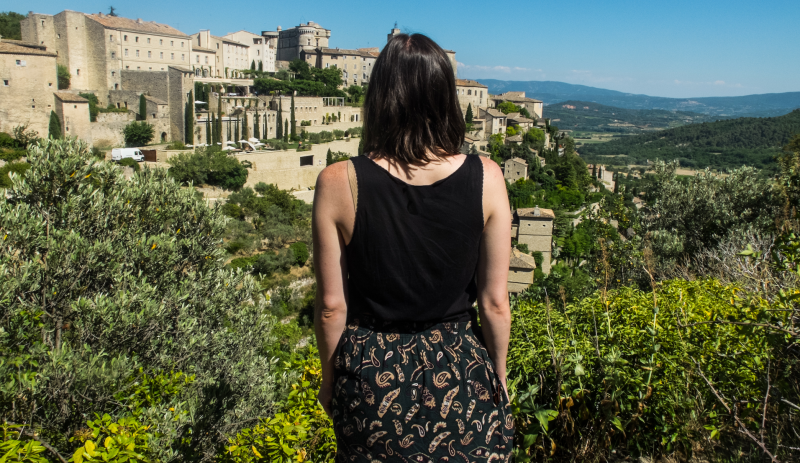 The high-speed trains race between Avignon and Paris in just a few hours, making this an easy visit to plan.
You can also catch regional trains to Marseille, Lyon, Nîmes, Aix-en-Provence, Montpellier, Arles and Nice.
There are also buses to take day trips to surrounding Provence villages like Roussillon, Gordes, Goult, and more, and their spectacular wineries and lavender fields.
You can even take a day tour that brings you to the lavender fields of the Luberon Valley and its most scenic towns!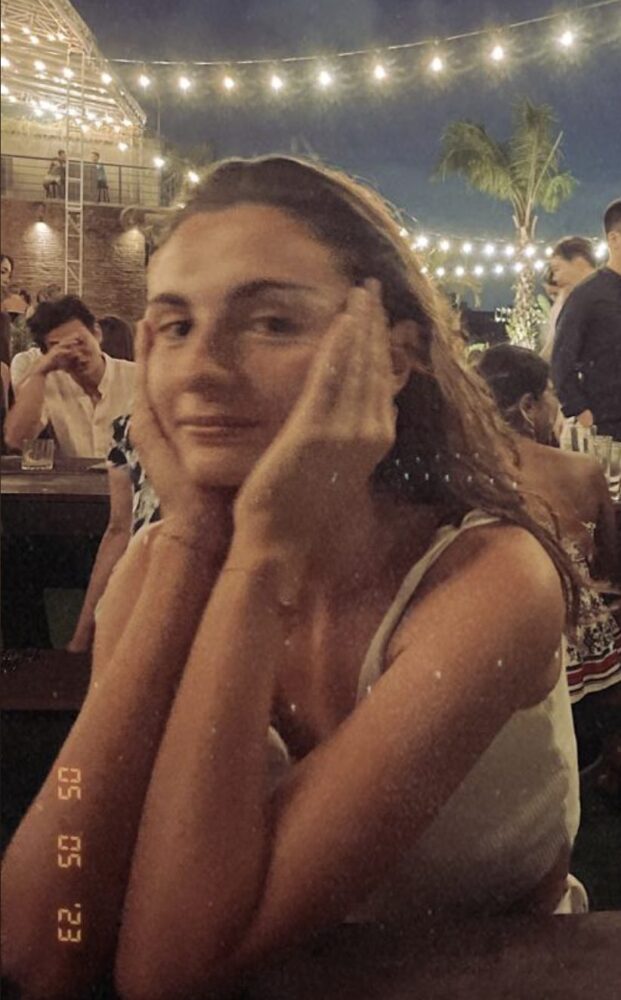 Anna is 20-something writer from France, currently living on the beautiful island of Bali. After earning a degree from Sorbonne Université in Paris, she spent a few years working in fashion before embarking on what was supposed to be a 1-year trip through Europe, North Africa and Asia — which ultimately turned into moving to Bali. Aside from traveling and writing, her passions include surfing, film photography, drinking unhealthy amounts of coffee, and reading through the night.