There is something magical about the South of France.
From Nice and the French Riviera to the lavender fields and hillside villages in the Luberon Valley of Provence, there's nowhere quite like it.
Somehow, the best villages in Provence manage to feel untouched and undiscovered – despite Provence being a major tourist hotspot.
Maybe it's how the buildings don't change; how the businesses don't cater to the whims of tourists.
Or maybe it's how the Provencal attitude towards fresh, accessible food means that despite being in the most beautiful place in the world, you can still eat a wheel of fresh cheese for under two euros and a baguette for 75 centimes.
Ahh, Southern France. You just get me.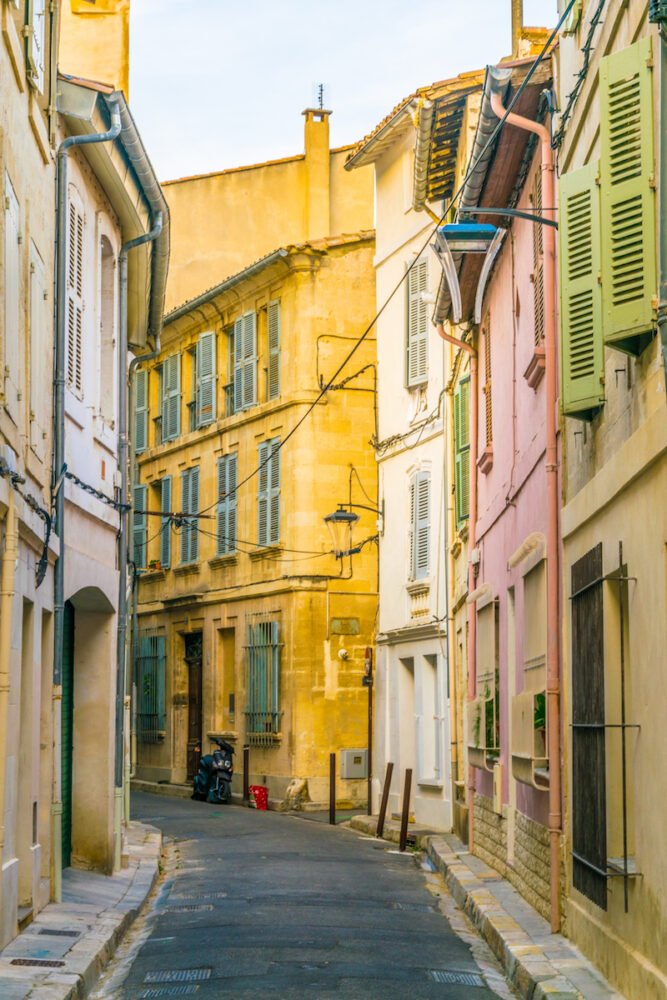 Note: This post contains affiliate links, which means I may receive a small commission if you purchase something through one of these links. Thank you for supporting the free content on this site! For more information on affiliate links and cookies, see my disclosure page for more details.
I traveled around the villages of Provence for a week, basing myself in the Luberon Valley.
Provence is a surprisingly large region of France, and distances between villages can exceed two hours.
All these first 6 towns in Provence are within a short drive of each other, so it's ideal for a short trip, whether it is a few days, a week, or longer.
Provence is a place where time just melts, and the days stick together and drag out in the most delightful way.
So no matter how long you think you need to discover the best towns in Provence, I recommend you double it.
I'll start with my favorite 6 places to visit in Provence, then I'll share some of my fellow travel writers' favorite places, spanning from the Lower Rhone to the Mediterranean Sea.
My Favorite 6 Villages to Stay in Provence
Below is a list of 6 of my favorite villages in Provence — and the last is my absolute #1.
I've listed what the best villages to stay in Provence are for each type of traveler and their priorities.
I'm also listing a few hotels I recommend in the area, though I haven't stayed at any personally (we had three people so we opted for an Airbnb).
You could also visit these cities as day trips from Nice if you have less time to spend in Provence.
Roussillon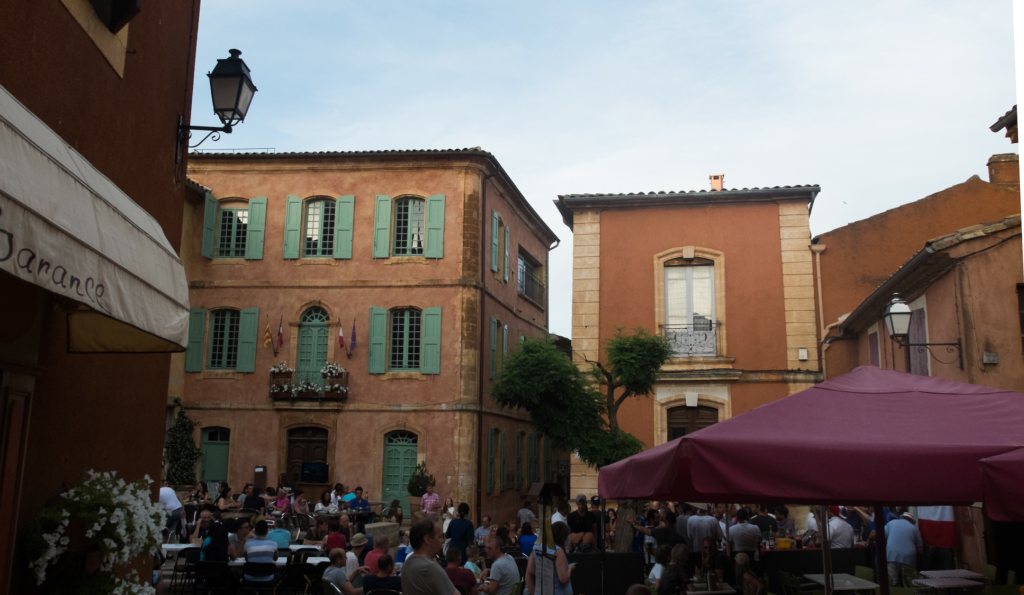 One of the most beautiful villages in Provence, this town is set aside gorgeous ochre cliffs, and when the sun sets, it sets the cliffs gloriously ablaze.
The architecture matches this intense hue with buildings to match. The orange facades of the buildings look as if the paint was taken straight from the cliffs themselves — because it was!
Roussillon is definitely one of the livelier of the villages in Provence in terms of nightlife.
When we went, there was a massive assembly of people assembled watching a soccer game, with pop and dance music blaring loudly. There were plenty of restaurants and shopping opportunities.
Overall, though, this town seemed to lack some of the charms of the other Provence villages, despite the gorgeous setting and the lovely red brick.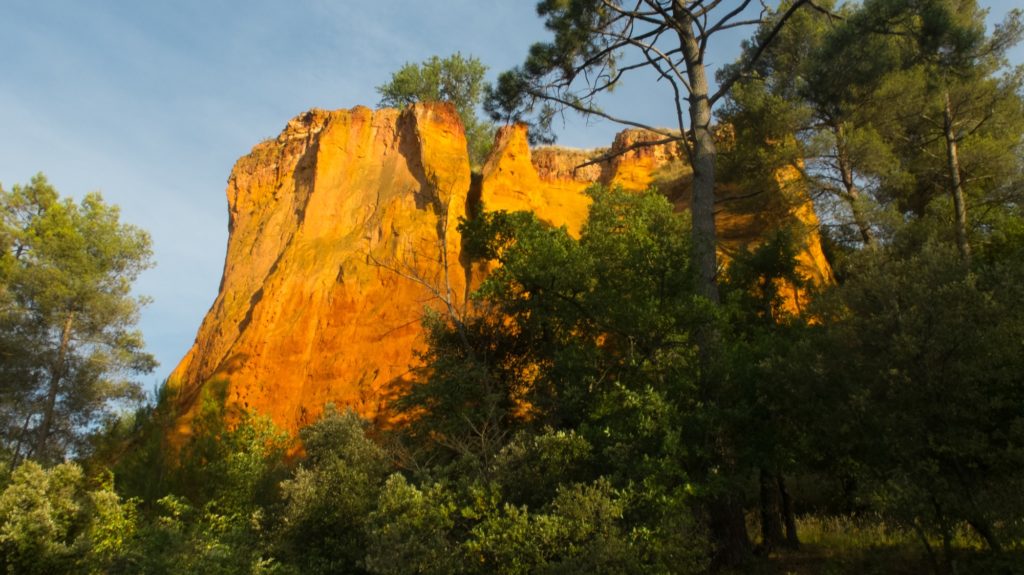 Where to Stay in Roussillon
For a mid-range hotel, check out Les Passiflores, which get rave reviews for its delicious dining and French wines, and has affordable yet tastefully decorated rooms.
If you are looking for luxury, I can think of no more luxurious place to stay in Roussillon than Le Clos de La Glycine with their duplex suites, stunning valley views, and beautiful flower-covered terrace.
Gordes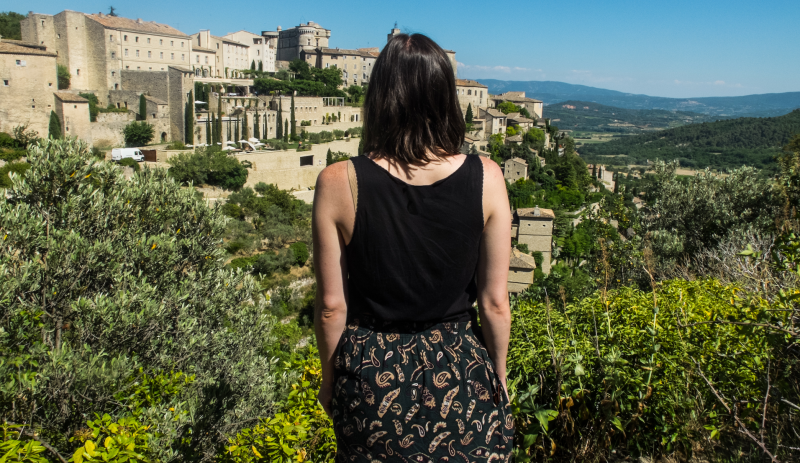 This hilltop Provence village is worth visiting for the stunning vista alone, which looks out over the amazing Luberon Valley.
On your way up the mountain up to Gordes, you get the most beautiful view of the entire town built on the hillside.
It's like something out of a fairy tale (except that most fairy tales don't include selfie-stick wielding tourists).
Still, everyone flocks there for a reason, and despite being filled with tourists, this Provencal village is chock full of charm.
Gordes also has one of the more charming centers, with alleyways that are easy to get lost in, and a beautiful 12th-century church.
It also has the added benefit of being close to the iconic Abbaye de Senanque, with its gorgeous lavender fields that are on everyone's European bucket list.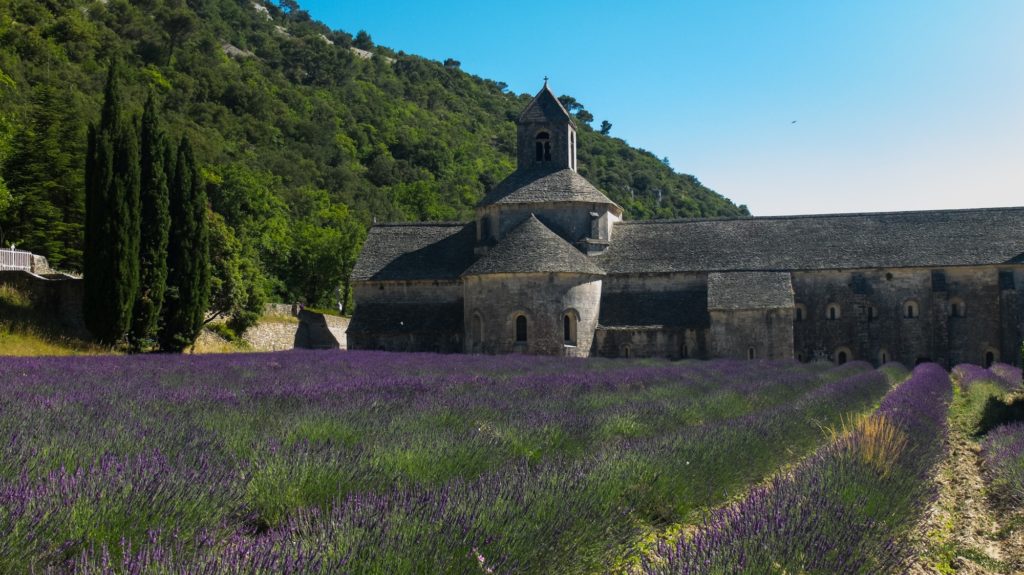 Where to Stay in Gordes
As one of the more touristic villages in Provence, there are plentiful accommodation options, but the prices are a little higher than other towns in Provence.
True budget seekers should always check Airbnb for the best options.
But if you prefer a hotel or B&B, I have a few recommendations. Domaine de L'Enclos is the highest-rated B&B in town — guests love the stunning garden, the private terraces in many rooms, private parking, and ability to rent bikes.
The price is on the affordable side for pricy Gordes. Another good mid-range option is B&B La Burliere, loved for its traditional Provencal stone house architecture, family-owned feel, and freebies like bike rental, breakfast, and parking.
For those seeking a more luxurious experience, see if there's availability at the exquisite Hotel Le Jas, with a pool in a beautiful garden to keep you cool during those hot Provencal summers, and the most postcard-perfect view of Gordes.
Bonnieux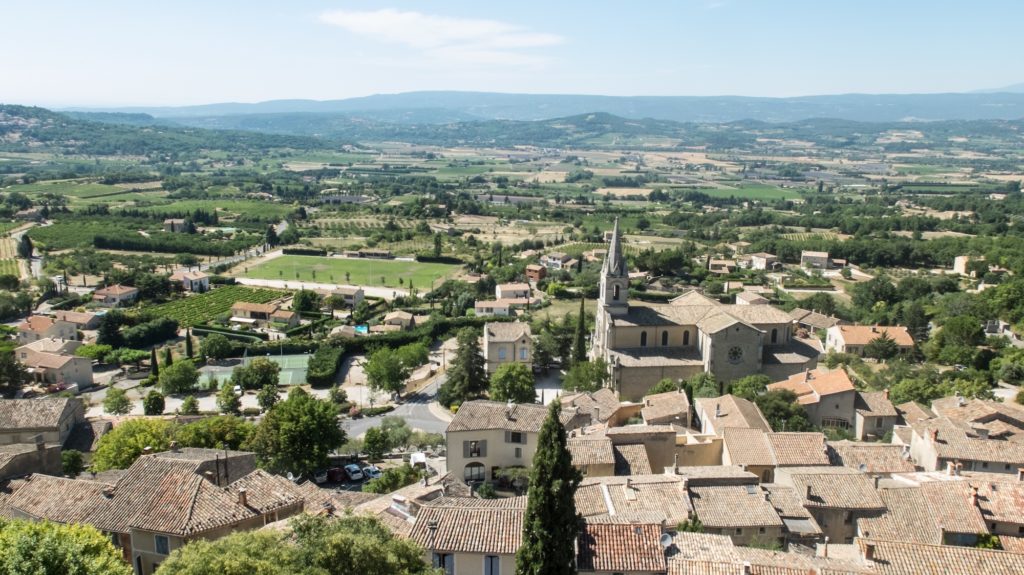 Like Gordes, Bonnieux is considered one of the most beautiful villages in Provence, though this time the view you get is best upon leaving the city headed towards Buoux.
In fact, if you drive towards Buoux, you'll encounter one of the most beautiful open lavender fields that all of Provence has to offer…
… At least, it was the prettiest we found in our week of road-tripping around the French countryside.
There's also a 12th-century church up at the top of Bonnieux, which you usually can't enter – but it's worth a walk up to the top to get these views of the Luberon Valley spread out below you.
Just look at how much wide open space there is, and those red-tiled roofs! Swoon.
However, Bonnieux is definitely a little more upscale than some of the other quaint villages in Provence, with expensive shopping and pricier restaurants to boot.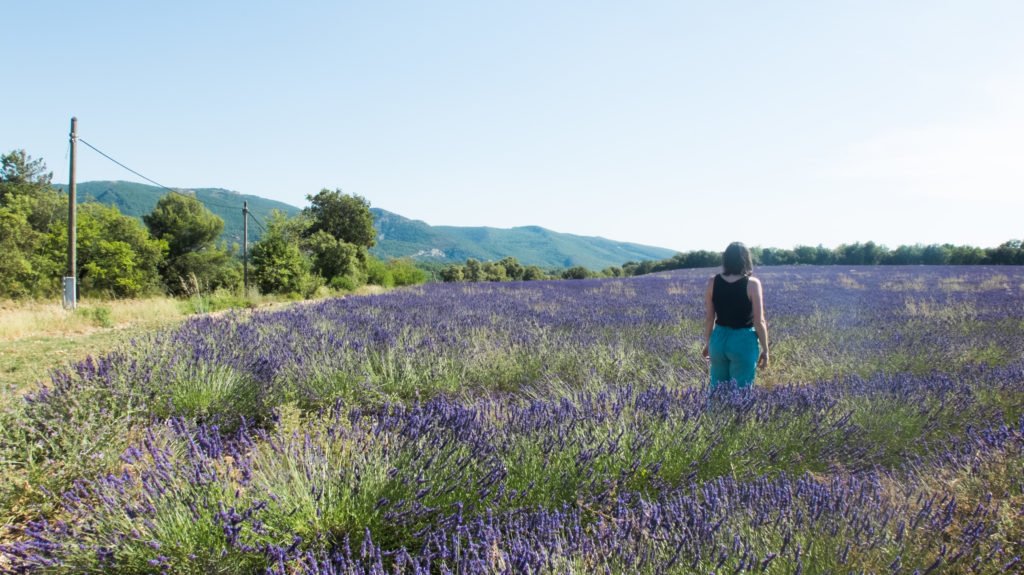 Where to Stay in Bonnieux
While Bonnieux is pricier than some of the other villages in Provence, there are some mid-range options that offer better value than most (and, as always, Airbnb is an option).
The stunning yet affordably mid-range Les Clos Les Eydins is one of the highest-rated hotels in all of Bonnieux, a beautifully renovated farmhouse with a pool for hot summer days.
Another option is Le Mas Del Sol, which also has a pool, a garden, and a terrace with lovely Provence views.
Meanwhile, if you're seeking luxury, you'll find it in spades at Le Domaine de Capelongue, which is a 4-star hotel with fully equipped apartments, air conditioning (perfect for those hot summer days).
They'll also offer assistance with booking all sorts of memorable activities like hot air ballooning. The rooms are impeccably furnished, making it ideal for a special occasion or vacation.
Fontaine de Vaucluse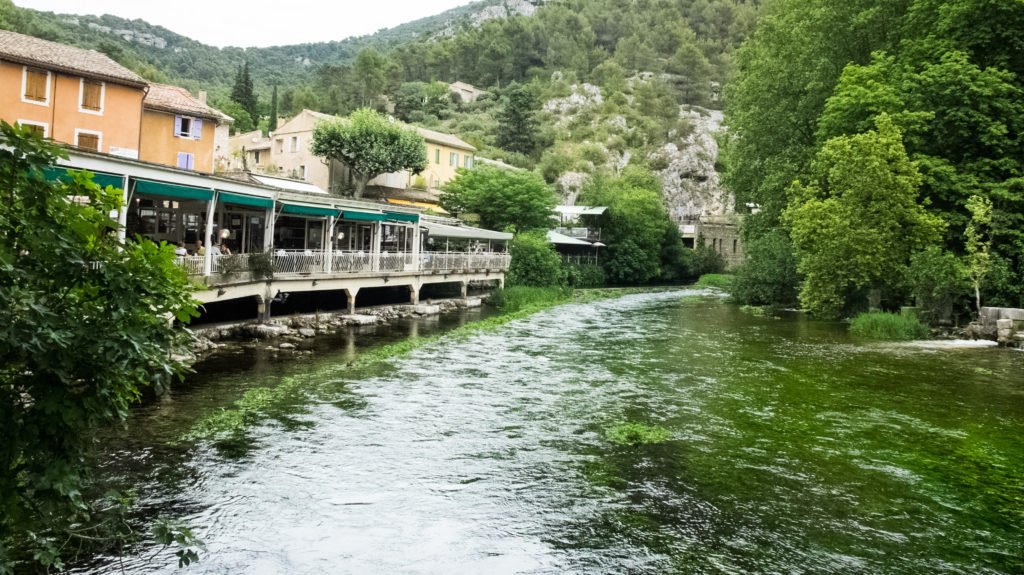 Of all the villages in Provence, this one has perhaps the most natural beauty. This cute little town is set on the beautiful Sorgue River, which must be seen to be believed.
It almost looks as if a jungle has been permanently flooded with the clearest water you've ever seen.
So much plant life grows at the bottom of the river that it is a vibrant shade of green, both alien and wholly natural.
Where the river gets deep, there are spots of brilliant blue turquoise.
There is an amazing kayaking trip starting from Fontaine-de-Vaucluse and ending in L'Isle-Sur-La-Sorgue that I highly recommend doing while in the Luberon area of Provence.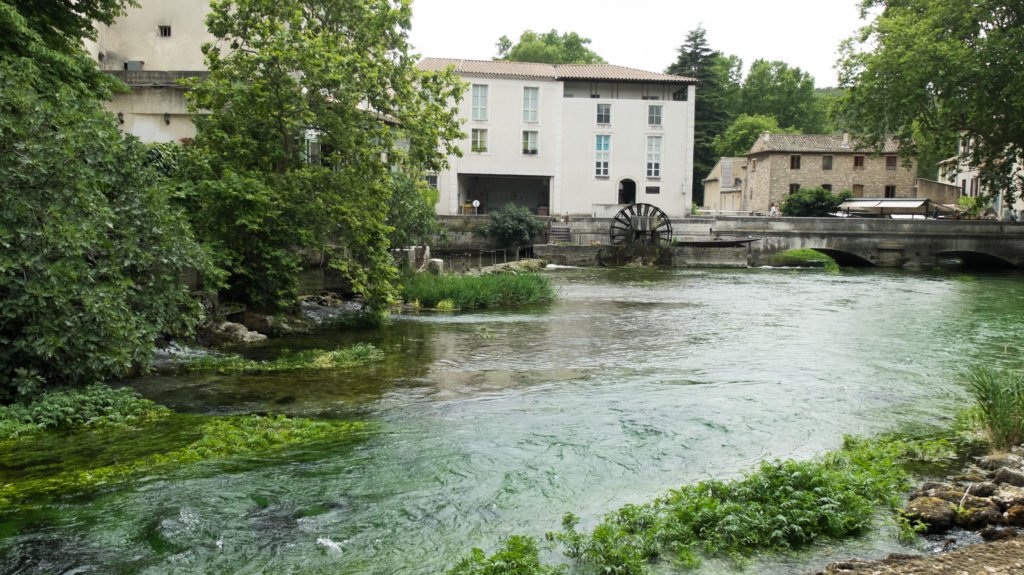 Where to Stay in Fontaine-de-Vaucluse
This is one of the smaller villages in Provence, so accommodation options are more limited.
I recommend the Appartement Paisable for mid-range budgets or Hotel du Poete for more luxurious budgets. You could also check Airbnb.
Lacoste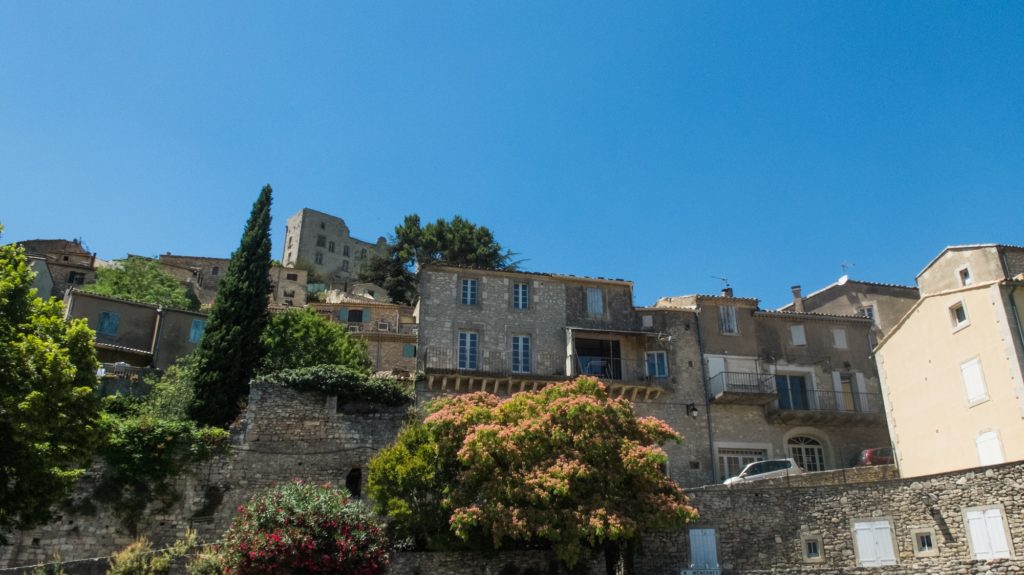 This small town is best known its most famous resident: the Marquis de Sade, the man who gave his name to sadism by garnering a reputation for his… strange habits.
His history lives on in the remnants of his burned down castle at the top of this quaint little hilltop village in Provence.
Unsavory history aside, this is a beautiful little town, with a few cafés and not much else.
It is also home to an art school, so there are quite a few American and other foreign exchange students.
Because of this, it has a younger vibe than the rest of the towns, which skew older.
The Café de Sade is a great place to lunch, with gorgeous views looking over the Luberon Valley.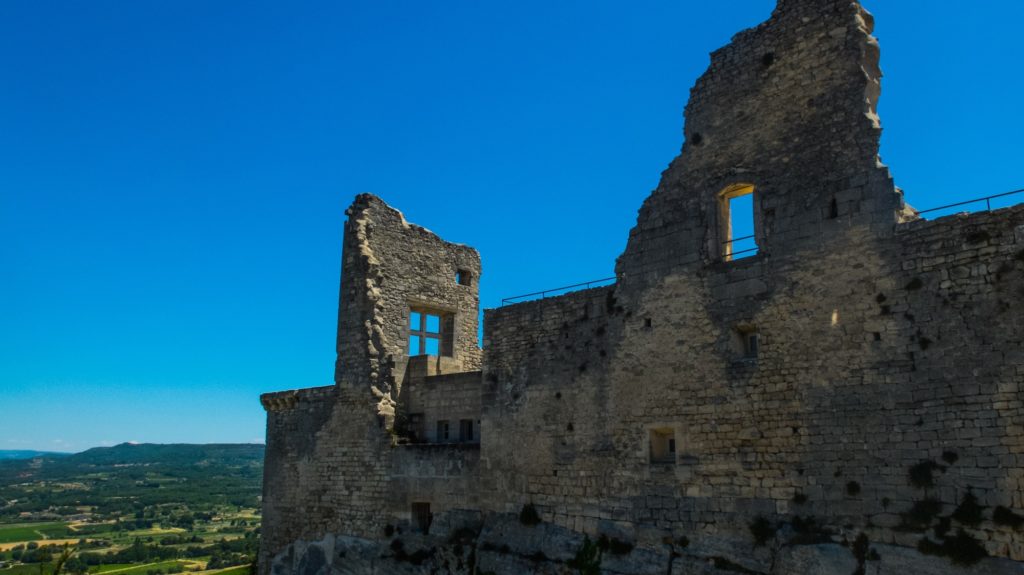 Where to Stay in Lacoste
For those who prefer quaint B&Bs at affordable prices, Lacoste is perfect, as there are no large hotels in town that I'm aware of.
I recommend the highly-rated B&B La Bastide Desmagnans for their adorable rooms with mountain views, or Le Clos Des Lavandes for their lavender garden and friendly staff.
Goult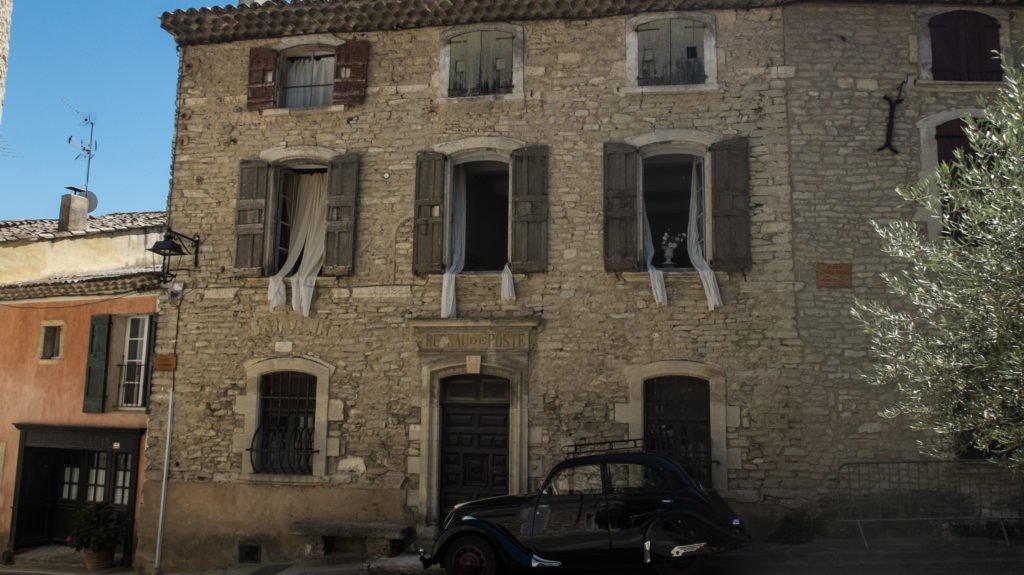 I'm going to say something kind of controversial: this may well be one of the most beautiful villages in France.
This small Provencal village lacks the big draws of the other – and therein lies its appeal.
It doesn't have the gorgeous mountainside views of Gordes or Bonnieux, nor the stunning ochre cliffs of Roussillon.
So why, then, is this my favorite of all the Provence towns?
It has a sense of peace and quiet that other hill towns don't have, which is why I think it's one of the best villages to stay in Provence.
Like all of Provence, there are plenty of tourists; you're just as likely to hear English or German as French.
Still, the day-trippers with their selfie sticks seem to have not descended on Goult – at least yet.
It has both everything you need – a boucherie, a boulangerie/patisserie, a fruitier, a café, and plenty of restaurants.
It has an amazing épicerie, which is basically a New York bodega, except you can buy duck a l'orange terrine for 4 euros there (so I guess not like a bodega at all).
The architecture is also some of the most beautiful, in its understated way.
The facades of the buildings are either limestone brick or pale hues of salmon.
The potential monotony of this palette is dispersed with doors and shutters in vibrant pastels, so photogenic that I couldn't stop snapping away every few minutes.
It's definitely one of the prettiest villages in France.
Goult's Thursday market is unreal, a hedonistic celebration of the senses: lavender sachets and spices, crisp soft linens, the ripest strawberries, the softest cheeses….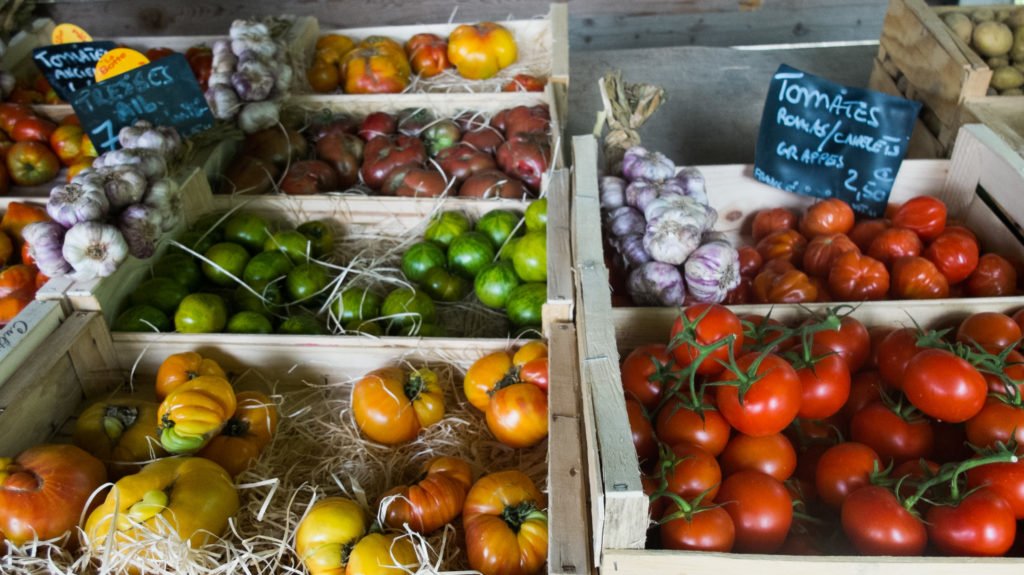 Had I not been limited by my backpack, half the town would have been coming home with me.
There are so many quiet places to take in the sunset, without anyone else around. It's really a magical place, and one I'll be back to time and time again.
Goult is just one of the most special places I've been.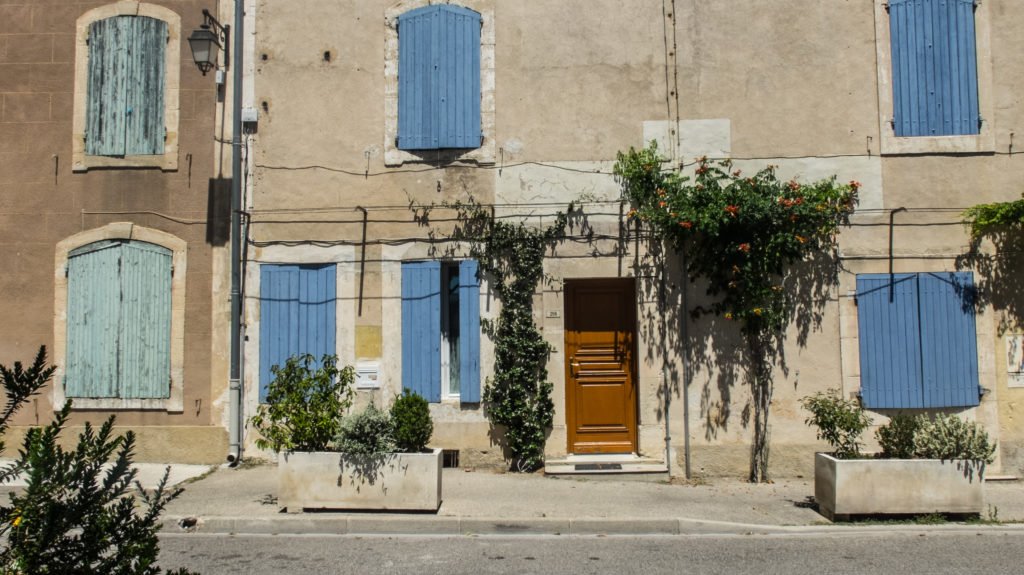 Where to Stay in Goult
Goult isn't that popular with tourists yet, so there aren't as many accommodation options as in some of the larger Provence villages.
I'd recommend the stuning Hotellerie Notre Dames Des Lumieres, a former 17th-century convent that's been transformed into a modern hotel with a pool to cool off in.
Another fantastic choice is Villa Lumieres, also with a pool for those hot summer days. As you might have been able to tell — a pool is pretty much a must if you stay in Provence in the summer!
Travel Writers' 15 Favorite Places to Visit in Provence
However, the above villages in Provence only cover one small section of Provence, the Luberon Valley.
Provence is a far larger region, which stretches to the beautiful coastline and French Riviera as well as further inward to where you'll find delicious Rhône Valley wines.
Since I'm only one person and covered only a small section of Provence, I asked other travel writers where they thought the best places to stay in Provence were — here are their answers!
Aix-en-Provence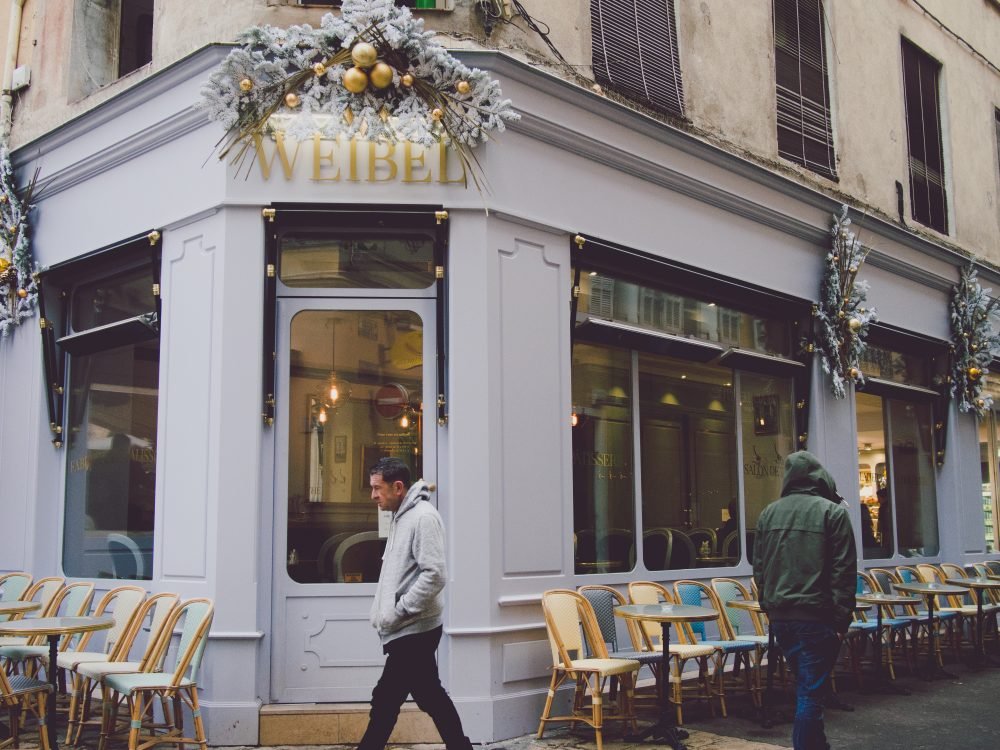 Often used as a base in Provence to visit smaller villages, Aix-en-Provence is considered the Paris of the South with well-dressed locals to boot.
In fact, it's often called a suburb of Paris or even "Little Paris!" It even has its own grand shopping street, but instead of Champs-Elysées, it is called Cours Mirabeau.
However, this city is much smaller and more manageable than the large city of Paris. For this reason, it feels less overwhelming and more quaint while having an urban feel with fantastic shopping.
While Marseille is really focused on traditional Provencal food, like bouillabaisse, you won't find the same approach here.
Some of the best restaurants in Aix en Provence serve typical Provencal food and classic pastries but you'll also find international food and modern options. There's really something for everyone here.
As a cultural hub for the region, there is plenty to see simply by walking around.
The artist Paul Cézanne was from here, so if you can, visit museums featuring his work.
For a more quirky adventure, seek out the many fountains in town as its known as the "City of 1000 Fountains."
While some mark the center of major squares, others are tucked away in alleys throughout Aix en Provence.
Where to Stay in Aix en Provence
Aix en Provence is an extremely walkable city. You want to stay in the city center so you can just explore by foot.
Hôtel de France is a great option as most sights that you'd want to see are only 10-15 minutes away by foot.
Like most of France, rooms are not as spacious as what we could expect in North America.
However, the rooms are modern and clean and the staff are extremely helpful to English speaking guests. Don't miss the breakfast as it's fantastic.
Sault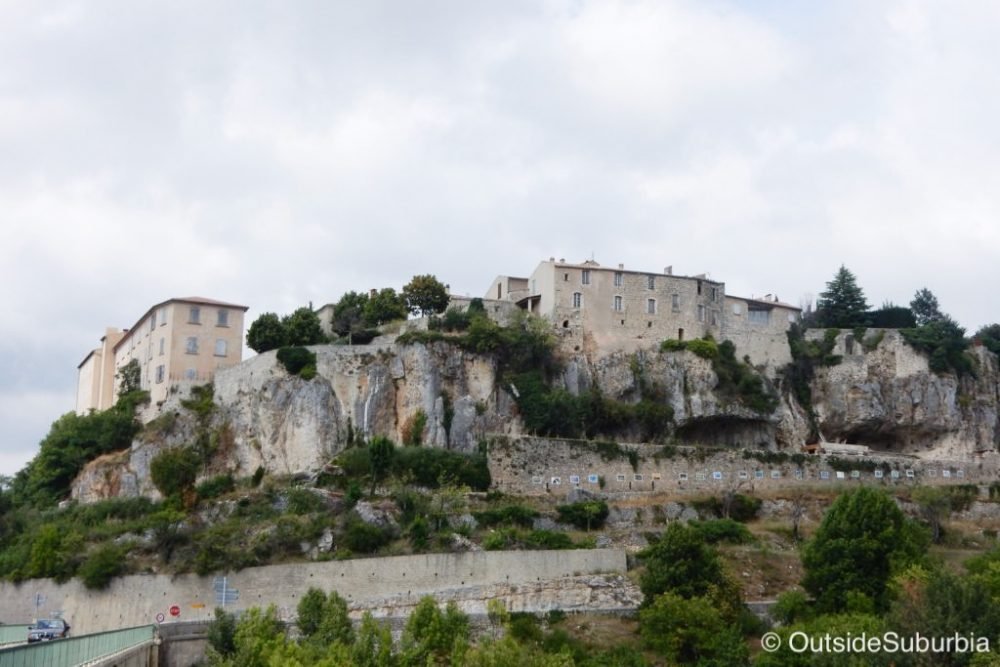 When we were on our Southern France road trip, we visited the markets in Aix-en-Provence and were not ready to leave town without seeing some lavender.
The problem was that it was past lavender season and most were already harvested.
One of the vendors mentioned that there might be some fields near Sault that still had lavender.
We decided to extend our stay in Aix-en-Provence and drove to Sault the next day looking for lavender fields.
Sault located in Vaucluse is an old fortified village perched on the top of a high ridge overlooking a wide valley, with large lavender fields spread out below to the south and west.
During peak season you can see immense blue fields along with fields of wheat for as far as you can see!
All the houses have pretty Provencal blue shutters that are so photogenic. The town was not crowded like most other European cities during summer.
The village of Sault is open and relaxed, with wide squares and a good selection of cafés where you can get some yummy crepes, macarons, and coffee.
We saw many sunflower fields and a few lavender fields a bit beyond their time on the drive back to Aix-en-Provence, where we spent the night.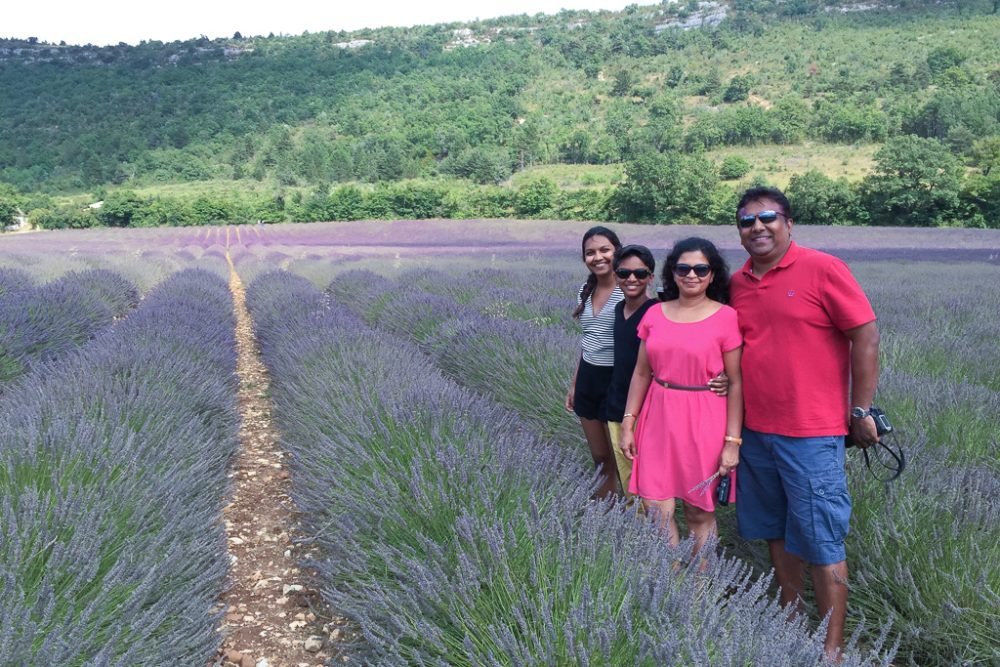 Where to Stay in Sault
There are a number of places to stay in Sault, although most people visit on a day trip from Aix en Provence or other small villages in Provence nearby.
For a luxurious stay in Sault, the best option is La Bastide des Bourguets, a beautiful guesthouse with a pool (great as Provence summers are hot), hot tub, and stunning countryside setting.
Though set in a traditional Provence house, the interior is extremely modern and bright, making ample use of natural light, natural textures, and pops of color.
Those on a budget should look to the quaint yet affordable Hotel D'Albion, which offers economical rooms, a property with a terrace and lovely views of the city, and clean, comfortable rooms in the heart of Sault.
Moustiers Sainte Marie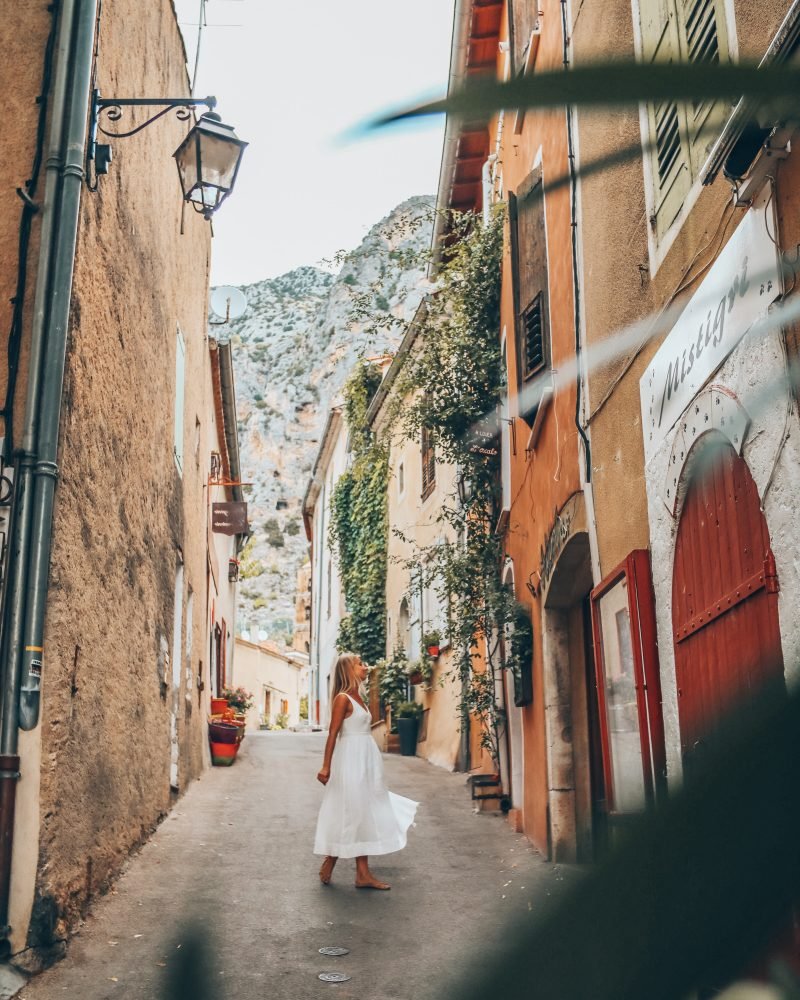 Moustiers Sainte Marie is one of the most unique villages in Provence. It is situated up high on the side of a mountain.
There is a small river that flows down from the mountain to create a little waterfall in the village, and a stream that splits the town in two.
There is a lovely bridge that crosses over this stream and houses built overhanging the river.
It is a very small village, but has some beautiful buildings and colourful shop fronts.
The best things to do here is wander around this pretty village and take photos.
There are also lots of great cafes to stop for a French pastry and enjoy the views.
There isn't a sunrise here, as the sun rises from behind the mountain. However, I would recommend coming here early to see the village at it's most peaceful and this is the best time for photos.
For those who like hiking, there is a small chapel right at the top of the mountain behind Moustiers Sainte Marie village.
This is an incredible viewpoint and a lovely little chapel called Notre Dame de Beauvoir.
The best time to visit this village is on Friday morning, as this is the market day! Head here for great organic produce, cheese, and homemade soap!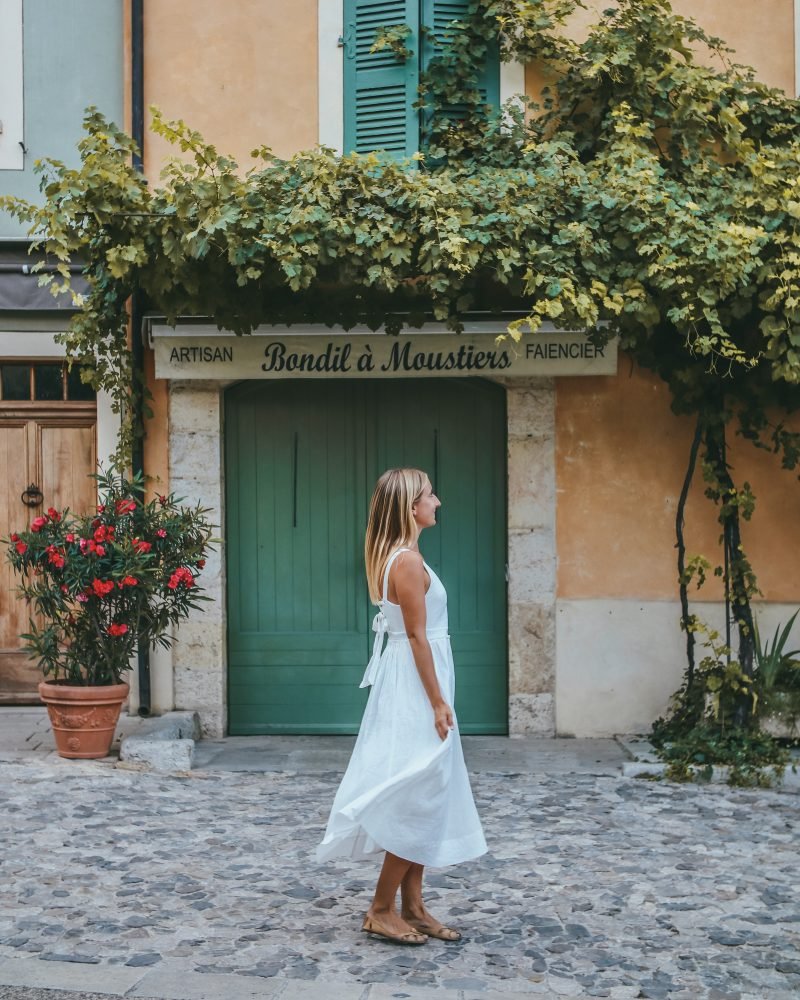 Where to Stay in Moustiers Sainte Maire
With a lush countryside setting, hot tub, tennis court, and pool, the three-star Hôtel Le Colombier is a fantastic choice for where to stay in Provence.
It's a kilometer outside of the town, so you get the feeling of escaping from it all (though do note that the walk is up and down a hill!), and just five kilometers from Sainte-Croix Lake. The interior features traditional Provencal furniture.
Another fantastic choice is La Ferme Rose-Hôtel de Charme, with its large collection of paintings by the artist Maurice Vagh-Weinmann and objects from the 1950s which give it an air of retro glamor.
It features A/C, soundproofing, a plunge pool, and views over the valley or garden, and some of the rooms have a balcony to relax on.
Saint Tropez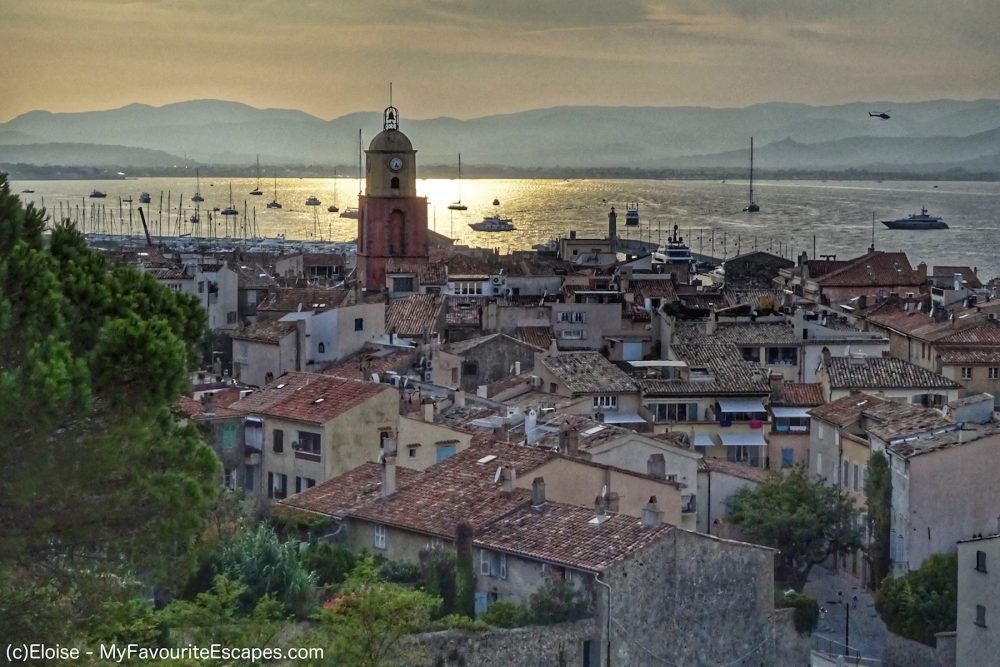 Saint Tropez is a famous resort seaside town for jet setters. But there's more to the place than parties and luxurious yachts.
You just need to walk a few meters away from the port and its lively bars to find a different atmosphere.
The old village has lovely narrow streets and fine food stores for visitors to enjoy. The village even has its own pastry, the "tarte tropezienne."
As in all villages in Provence, you'll find pétanque (boules) players on the central square, Place des Lices.
But if you're there on a market day (every Tuesday and Saturday mornings), it will be packed with stalls, tourists, and locals. An excellent opportunity to taste local food and buy souvenirs.
In the 17th century, a fortress was built at the top of the nearby hill to defend the town.
There's no other building like it on the coast of Provence. It's worth going even if you don't intend to visit the museum.
From the ramparts, the view of Saint Tropez village, the port, the bay and the mountains in the faraway background are stunning.
If you have time, don't miss the beautiful villages near St Tropez, up in the hills. It's where the inhabitants would flee to escape from the pirates.
The Provencal villages of Gassin and Ramatuelle, for example, offer splendid views of the St Tropez Bay.
Where to Stay in Saint Tropez
To stay like the stars, check out the marvelous Hôtel La Tartane Saint Amour. This 5-star hotel is nestled between the beach area and the city center.
It has both rooms and suites with private terraces, a lovely outdoor swimming pool complete with sunbeds and loungers, a spa with steam room and beauty treatments, and two different restaurants serving Mediterranean and Asian cuisines.
For a more affordable option (though still a tad on the pricy end of the spectrum – this is Saint Tropez after all – La Bastide Saint Anne is a fantastic choice just 3 kilometers from the town center.
Complete with a pool, A/C, traditional rooms in the Provencal style, it's a fantastic choice to stay in Saint Tropez.
Arles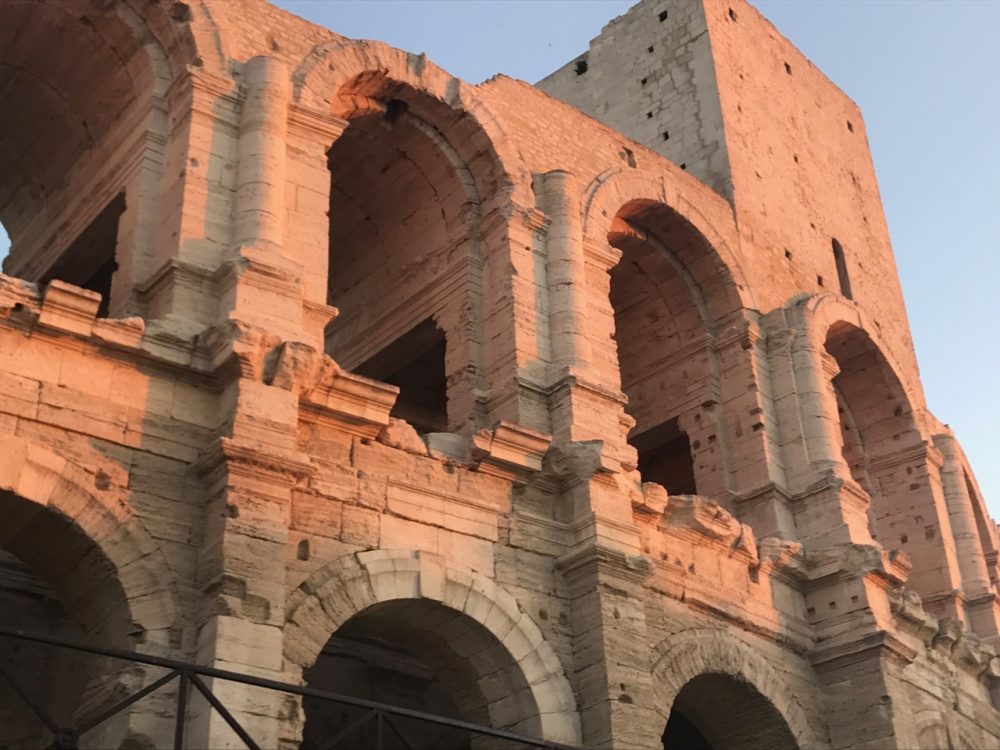 Sometimes considered Avignon's more "rough and tumble" cousin, beautiful little Arles is a gem of a city in Provence at the edge of the coastal Carmague region.
Arles is perhaps best known as home to Vincent van Gogh and one of his most productive artistic periods.
In fact, he produced more than 300 paintings during a single year here near the end of the 19th century!
It was also here that he famously cut off his ear and was admitted to the hospital.
After several more psychotic episodes, van Gogh voluntarily committed himself to a psychiatric institution in nearby Saint Rémy.
You can re-trace van Gogh's route through Arles yourself with stops at the yellow house that appeared in one of his paintings.
You can also visit Restaurant-Hotel Carrel where he lived and ate, and a walk across the Langlois Bridge, which has also appeared in several of his paintings. Don't miss the Museé Réattu and Montmajour Abbey here!
But Arles was famous well before van Gogh's arrival. In 800 BC, the Ligurians lived here. It was also a critical trading port before the Romans built it into a major city.
Visiting Roman ruins and monuments is a wonderful way to feel a part of this history.
Worthy UNESCO World Heritage Sites to visit include the Arles Amphitheater, a Roman theater, and Roman forum, and the Church of St. Trophime, among others.
Parking is easy here in the center of Arles making it a convenient stop for road trippers traveling through.
Where to Stay in Arles
Those looking for a chic yet affordable luxury stay should look to Maison Volver, a chic boutique guesthouse with an eye for design, attention to detail, marvelous breakfasts, and a central location in Arles.
Those traveling on more of a budget, but who still want to stay in the heart of Arles should look to Logis de la Muette.
It offers economical double rooms in a house which dates back to the 12th century that has been modernized yet true to the Provencal style. It's located only 100 meters from the arenas.
Menerbes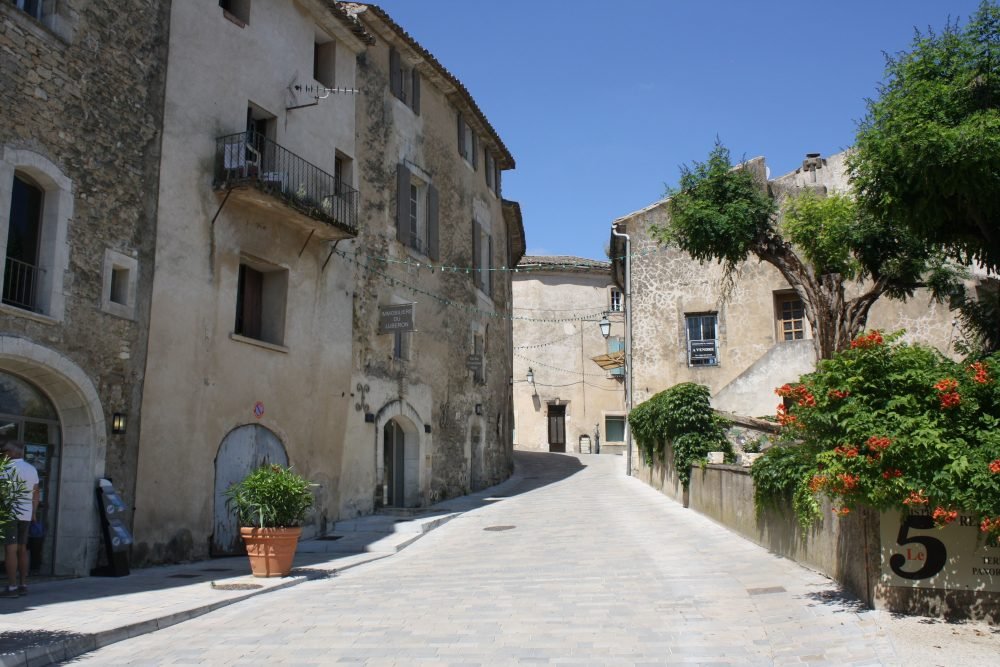 Perched on a hilltop overlooking the beautiful Luberon valley, Menerbes is one of the prettiest villages in Provence.
As a member of the esteemed 'Les Plus Beaux Villages de France' (Most Beautiful Villages of France) association, Menerbes has high standards to uphold and it does so with ease.
Honey-colored stone buildings line the narrow, cobblestone streets that wind their way up through the village.
In the summertime, flower boxes overflowing with a riot of color add to the town's beauty.
Aside from the few shops and restaurants that are dotted throughout, Menerbes is also home to a citadel, a chateau, and a church dating back to the 12th century.
You'll easily discover these as you wander through the village with the fortified walls by your side.
A small open square, about halfway through the village, is home to the Town Hall, an interesting clock tower and a stone archway which opens to reveal one of the best views of the valley below.
With most of the buildings dating back to the 16th and 17th centuries, you can be forgiven when you visit Menerbes for believing you have stepped back in time.
This car-free village has been beautifully preserved and just oozes tranquility and charm.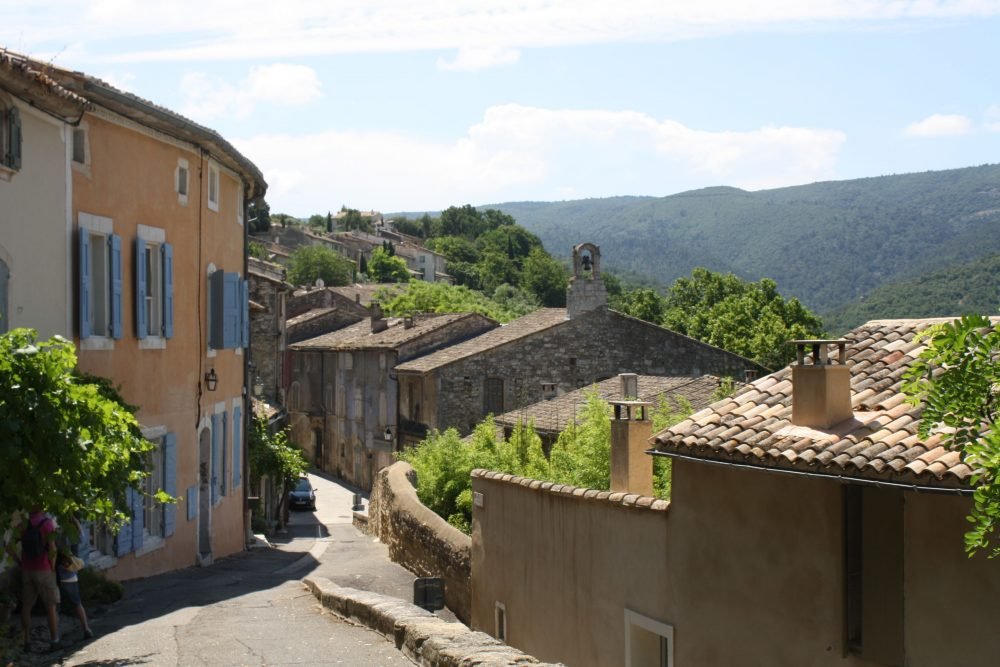 Where to Stay in Menerbes
For an affordably luxurious B&B stay, check out Nulle Parte Ailleurs just outside of the village, about 600 meters walk from the town center.
Offering a countryside setting, outdoor pool, terrace, shared kitchen, and spacious rooms, it's a fantastic choice for those who want a splash of luxury without breaking the bank.
An even more luxurious choice is La Bastide de Marie, with quaintly chic Provencal interiors with stone walls straight out of a French fairytale.
There is also a stunning pool, vineyards on the property which you can look out onto while enjoying a drink or meal, as well as an on-site spa for a little TLC.
Cassis
Cassis is a seaside gem located east of Marseille, mostly known for its picturesque port aligned with pastel-colored houses.
This lovely French Riviera retreat offers tranquility and conviviality.
Get lost in the charming alleys, enjoy the postcard views from one of the terraces, look up at the Carolingian Château de Cassis or soak up the atmosphere at the enchanting Provencal market on the Place Baragnon.
Since the town is a gateway to the Calanques National Park, you'll find plenty of active things to do in Cassis as well.
Several hiking and mountain biking trails lead to the cliffs' rocky inlets with their aquamarine waters while kayak tours allow coastal access to the most scenic pebble beaches.
East of Cassis, you can explore the Cap Canaille mountain with its ochre cliffs and sweeping views over the French Riviera coastline.
Cassis offers the perfect blend of a classic Provencal vacation with an adventurous touch.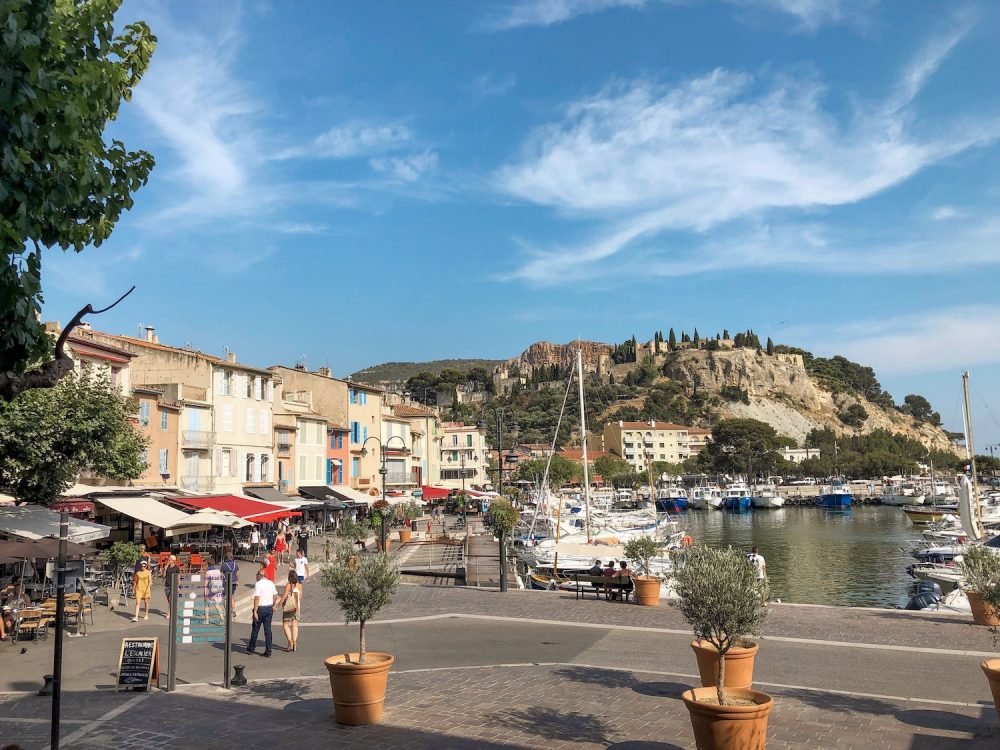 Where to Stay in Cassis
If it's luxury you're after, it doesn't get any better than Hotel Les Roches Blanches.
With a stunning Mediterranean sea view, an infinity pool that disappears into the sea, gorgeously decorated interiors with impeccable views from the windows, and chic rooms with balconies, this is as good as it gets in Cassis.
If you're more concerned with budget, check out the marvelous Le Clos des Aromes, which offers an economical place to stay in Cassis that is cheap, cheerful, and conveniently located.
St. Remy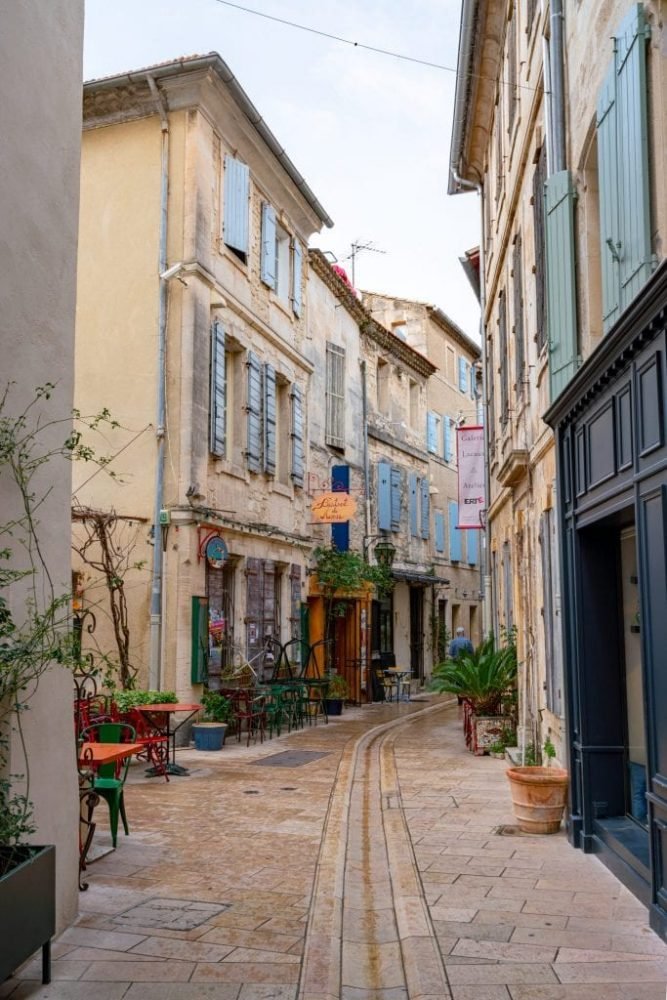 With its colorful streets, artistic feel, and prime location in the heart of the Alpilles, it's no surprise that St. Remy (technically named St-Remy-de-Provence) is among the most popular places to visit in the south of France.
While you're there, be sure to enjoy a few leisurely Provencal meals, tour Roman ruins at Glanum, walk in the footsteps of Van Gogh and tour the Saint Paul Monastery where he received care during his life, and take plenty of day trips to the nearby villages and countryside.
Nearby Les-Baux-de-Provence is among the most popular day trips from St. Remy, and outdoor lovers will be thrilled with the number of biking and walking trails available in Alpilles.
As St. Remy is a Provencal town, of course no visit there could be complete without exploring its gorgeous weekly market.
Each Wednesday, the streets of central St. Remy and the ring road surrounding it fill with vendors selling everything from vegetables to lavender to crafts, and there's no better place to pick up some Provencal souvenirs… and lunch!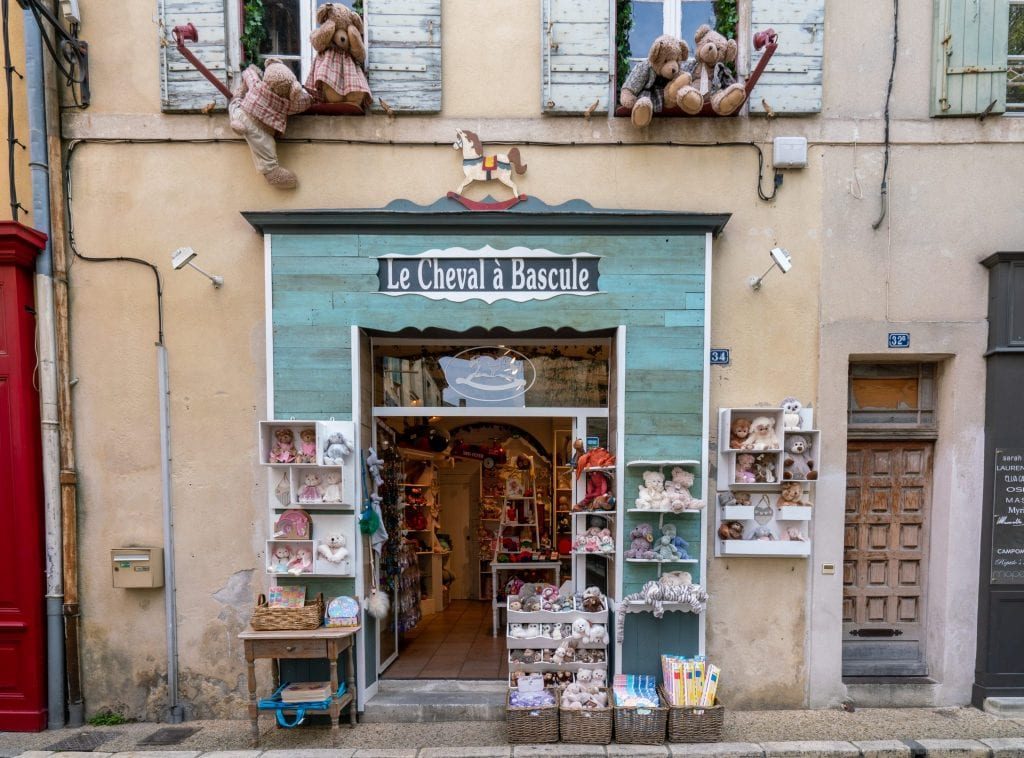 Where to Stay in St. Remy
For a 5-star stay, check out Le Saint Remy, a beautifully designed and artsy, airy hotel in the heart of town.
Offering a stunning spa with indoor pool and relaxation chairs, an outdoor pool, spacious and airy rooms with white walls and wooden accents, garden, and air conditioning in every room, it's the best choice for where to stay in St Remy if the budget permits.
For a more wallet-friendly stay, look to Hotel du Soleil et Spa – yes, a spa hotel is actually a rather budget-friendly option!
This quaint hotel in a traditional stone Provencal house features a garden, a small indoor spa, an outdoor pool and. sun loungers, and small but chic rooms.
Les Baux de Provence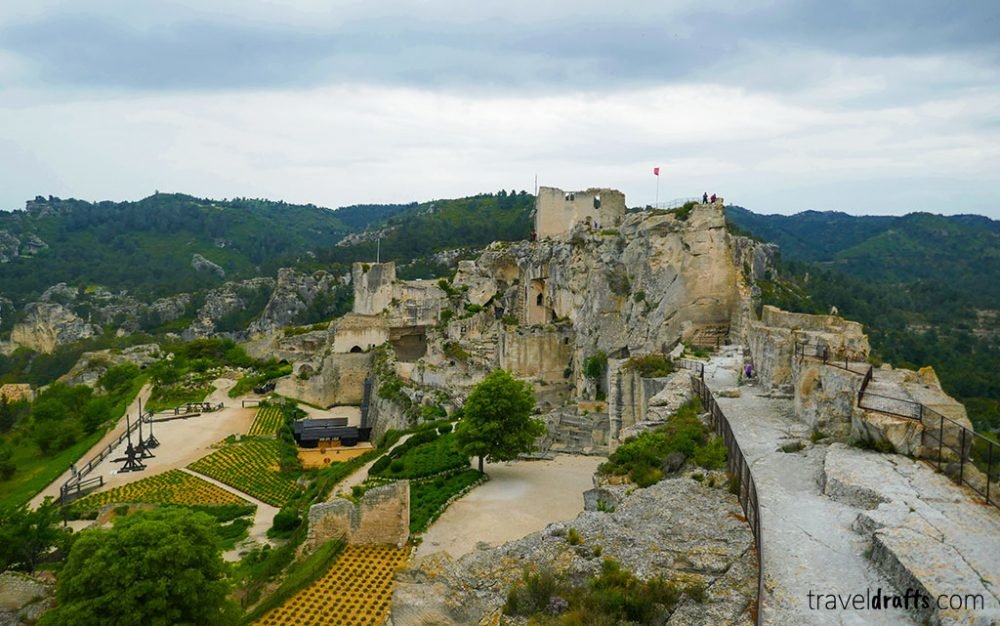 Les Baux de Provence is one of the most beautiful and most visited villages in France.
This medieval village is a fortified city on atop of a rocky outcrop in the Alpilles in Provence.
The city is only 22 km from Avignon and 15 km from Arles so it can easily be done as a day trip from one of those cities.
Due to its strategic location, this village had an important political role in the middle ages.
Hidden in the mountains it had a good defense system against the invaders. The village is surrounded by a fort and has a ruined castle, le Chateaux of Baux de Provence.
The village's streets are filled with old medieval houses and small chapels from the 12-13th century.
There are plenty of cute traditional shops and restaurants to grab a bite.
Cars aren't allowed inside the city, so you can explore the city without restrictions and have an idea of how people lived in the medieval ages.
One of the highlights of the village is to visit the ruined castle. The entrance ticket to the castle is 10 €, which includes an audioguide.
Although the castle is in ruins you will learn about life in the castle, the defense system and the history of the region.
The visit is very interactive, there are displays of medieval weapons like the catapult, the battering ram, which they do recreations of attacks and you can participate.
From the castle, you will also catch a fantastic view of Provence and its vineries.
Where to Stay in Les Baux de Provence
Luxury options abound in Les Baux de Provence. One fantastic choice is Domaine de Manville, with its stunning glass gazebo for enjoying drinks, outdoor pool and terrace, luxurious spa, and chicly decorated rooms with stunning views.
Another one, equally good but a matter of taste and preference, is Baumanière, with an exquisite in-house restaurant, large outdoor pool, sleek and modern spa, and cozy Provencal rooms.
For people looking for a budget option, Le Fabian des Baux offers comfort without the hefty price tag. It has a pool, sun loungers, and spacious rooms with countryside views.
Avignon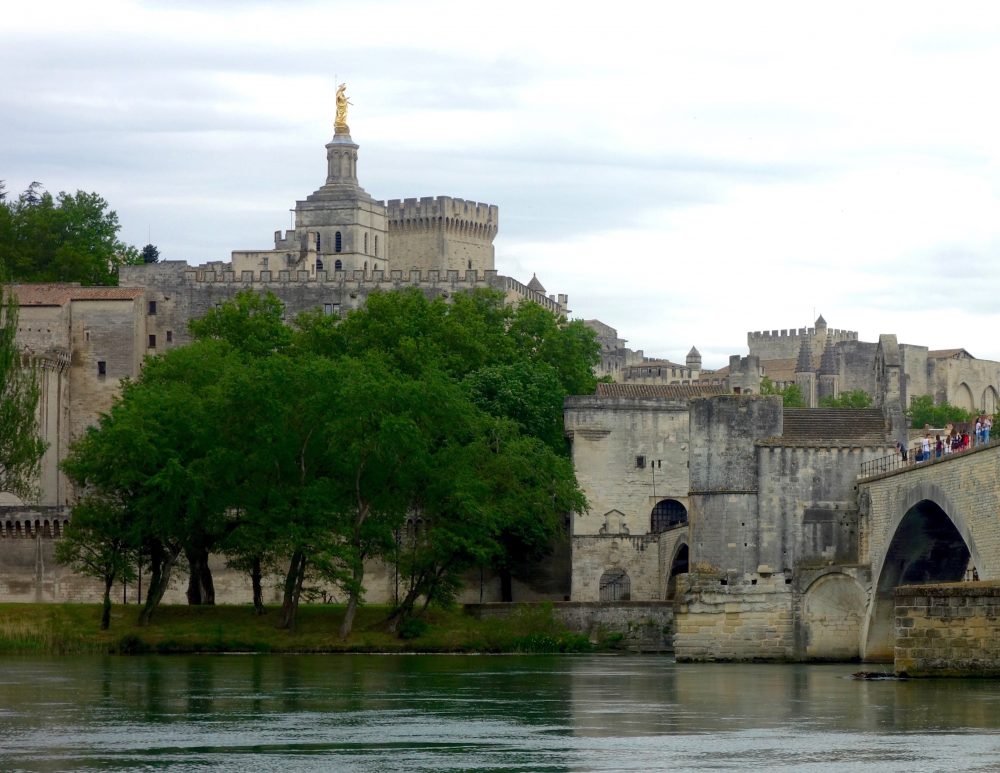 A few days in Avignon makes a great base for exploring the villages of Provence. It's one of the main centers in the region and is easily accessible by train.
You can visit places such as St. Remy by car or bus and the village of Rognonas is only a short drive away.
You can also visit other places of interest such as Isle Sur la Sorgue and nearby Villeneuve-les-Avignon.
Before you set out on a day trip, however, take some time to get to know historic Avignon.
To explore Avignon, start with a walk through the Old Town and don't miss the Palace of the Popes, the Palais des Papes, an awe-inspiring palace of magnificent proportions, built to reflect the might and power of the early French popes.
Other top sights include Notre-Dame des Doms, Avignon's cathedral, which dates back to the early 12th century.
Also not to be missed is the famous Pont d'Avignon, which inspired the well-known nursery song Sur la Pont d'Avignon.
The bridge, which was built between 1177 and 1185, is only a fragment of its former self, but its appeal, like Avignon's, lives on.
Where to Stay in Avignon
If you're looking for a place to stay, La Mirande is one of Avignon's most deluxe options. Dating back to 1309, it's a historic hotel with a central location.
Another popular luxury option is Hotel d'Europe, while the 4-star Hôtel de l'Horloge Avignon is a more affordable choice and has a central location near the Place de L'Horloge.
Chateauneuf-du-Pape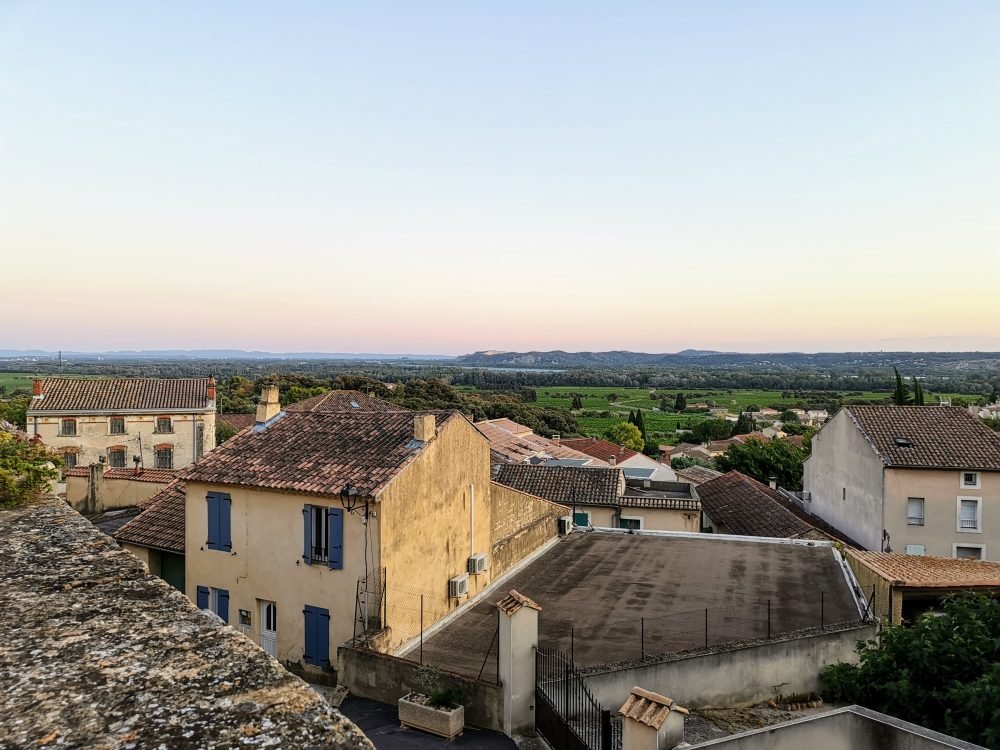 Located less than 20 kilometers (12 miles) from Avignon, Chateauneuf-du-Pape is best-known for its remarkable wines.
Made from a blend of up to 13 approved grapes, just 7% of local production is white wine, with reds accounting for 93% of the output of this protected appellation.
As one might expect, wine tourism is a major component of the region.
Many wineries have tasting rooms open to the public, and the village of Chateauneuf-du-Pape is filled with wine cellars where visitors can step in, sample a producer's offerings, and purchase bottles to take home.
As the village itself is quite small, Chateauneuf-du-Pape is highly walkable and there's truly no such thing as a "bad" location for an overnight stay.
There are a handful of boutique hotels to choose from, but holiday homes are perhaps the best way to immerse oneself in local charms.
The streets are narrow, lined with honey-colored buildings adorned with flowerboxes and rustic wooden doors, and vineyards extend in every direction.
The best views are to be had from the chateau ruins that overlook the tiny town from atop a hill.
The two walls that stand today were once a part of the 14th-century papal residence that served as a summer getaway from the activity in Avignon, and from here one can gaze over the valley to the Rhone River flowing nearby.
With the promise of beautiful landscapes and excellent wine, Chateauneuf-du-Pape should certainly be on the must-see list of anyone looking to experience a quiet slice of Provence.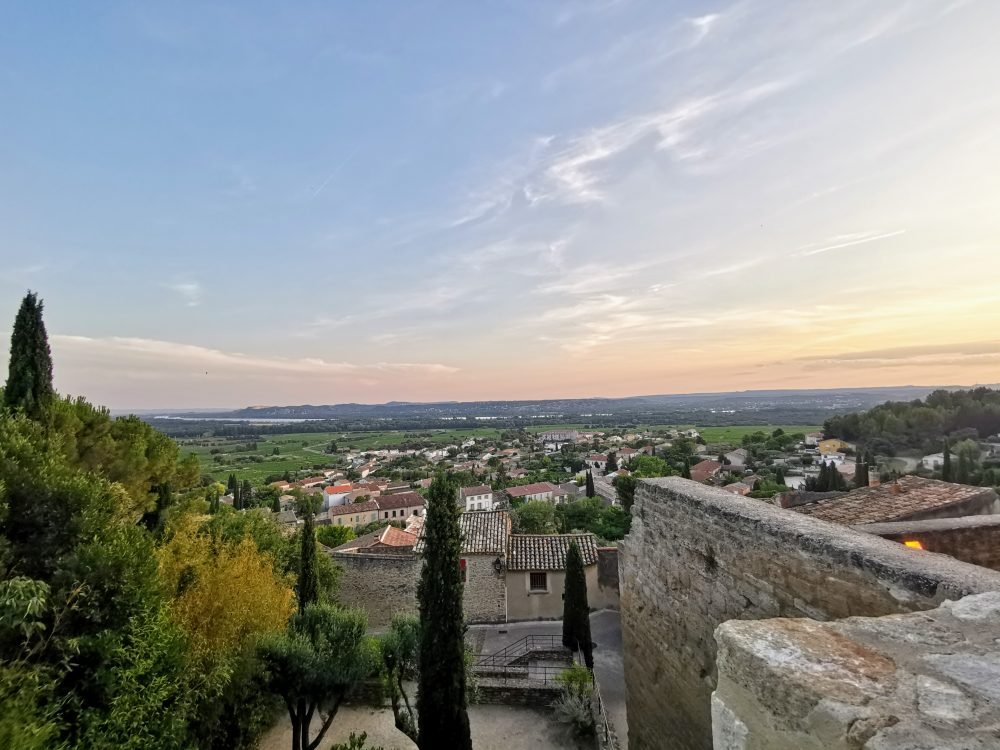 Where to Stay in Chateauneuf-du-Pape
For a truly luxury experience, it doesn't get much better than staying in a French chateau – and you can do just that Hostellerie du Château des Fines Roches for a surprising price.
The chateau was turned into a hotel in 1974 and features a fine dining restaurant, terrace, panoramic vineyard views, outdoor pool, and gorgeous Provencal decor.
For a more budget-friendly stay, look to the bright and airy La Pergola B&B. It has a charming terrace and garden area, light-filled rooms with high ceilings, and tasty breakfasts with homemade jam.
Ansouis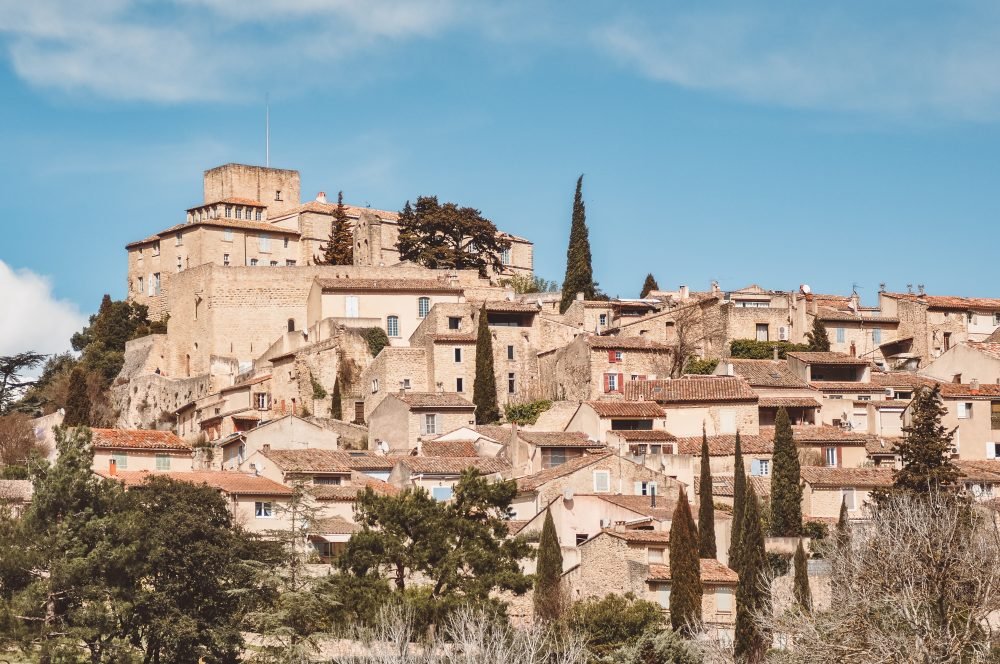 Despite being named one of France's most beautiful villages, Ansouis remains somewhat of an outsider on the Luberon valley route.
Its privileged position tucked away from the main tourist trail, yet tantalizingly close to the region's top attractions, means it's also a brilliant place to stay in Provence.
Ansouis is a typical Provençal hilltop village, and as you approach, you'll be enchanted by the sight of the village houses cascading down from the castle at the top. The château is privately owned, but members of the public are permitted to visit from April – October, and it'd be remiss to pass up the opportunity!
The decadent interior has been lovingly restored and kitted out with only the most worthy furnishings and artworks.
The exterior is just as impressive and offers spectacular views over the surrounding countryside.
Nearby, you'll find the Eglise Saint-Martin whose angular exterior belies the rustic interior within.
Pop into the Musee Extraordinaire to browse an eclectic mix of curiosities, or quench your thirst and sample the local Provence wine at Château Turcan nearby.
Where to Stay in Ansouis
The only B&B in the village is nonetheless a gorgeous one: Un Patio en Luberon.
This B&B was converted from a 16th-century inn, and has typical exposed stone walls, a terrace, rooms with private baths, and daily breakfasts with homemade cakes.
Provencal home cooking is available upon request should you want to dine in-house, either al fresco on the patio or in the gorgeous dining room with an antique table sourced from a monastery.
Antibes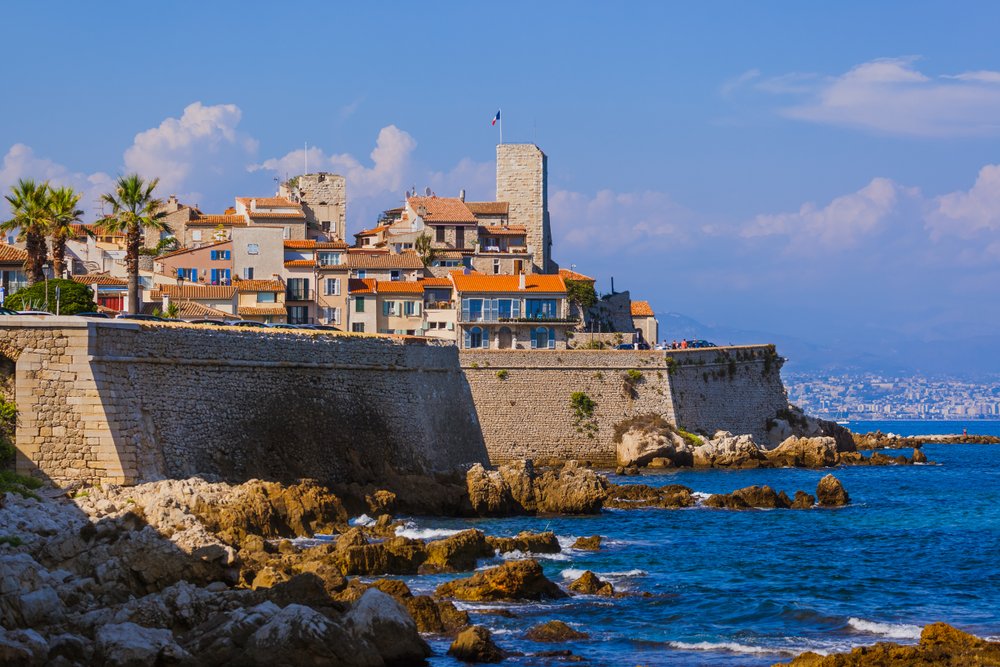 Antibes for the most part is considered part of the Cote d'Azur, and this is true. However, it's also in Provence.
Which is the reason we found it to be our favorite destination in the region.
It's got the markets and the squares one finds in quintessential cities such as Aix en Provence or Arles; but it's the sea that sets it apart from the rest.
Unlike Cannes, the beach here is smaller in size and more about family than ritz.
The water is as blue here as anywhere in the Cote' D'Azur and as opposed to fighting with those rocks under your feet, as it is in most beaches along the coast, the seaside here is powdery sand.
At one end of the beach, there's a food truck run by a family for years, where one can get anything from a bagnat (typical provencal tuna sandwich which tastes like a salad nicoise between good bread) to wine to ice cream.
No need to pack a picnic!
At night, the main market, which during the day is filled with vendors selling anywhere from flowers to livestock and everything in between, turns into a large outdoor eatery.
It's in the same vein as going to a food truck park in Los Angeles or a hawker market in Bangkok, but in this case, it's restaurants that line the square that take your orders and you choose to eat and sit where you want.
It makes for a convivial night.
No visit to Antibes, however, is complete without a visit to the Picasso Museum, where one can view some of his great works and also take in the view of the coast line from one of the large terraces of the former Château Grimaldi.
Right outside this museum, are plenty of little bars and eateries where an afternoon can be ended with a glass of Pastis or Rose: de rigueur in these parts.
Where to Stay in Antibes
For a luxury stay, look to Royal Antibes. This gorgeous resort has a spa complete with steam bath, fitness center, and sauna, and a. strip of private use available to guests only at a surcharge.
It's also home to two restaurants, both with a view of the stunning L'Ilette Bay, and it's just a 3 minute walk to the old town of Antibes. City view and sea view rooms are available, and the resort has apartments, suites, and rooms.
For budget-friendly comfort, check out La Garoupe-Gardiole, set in a beautiful location 600 meters from Gardiole Beach.
It has a heated outdoor pool, fitness area, a shaded terrace, and daily breakfast served.
It's a little outside of Antibes town, but it can be reached in 30 minutes by foot or 5 minutes by car.
L'isle-sur-la-Sorgue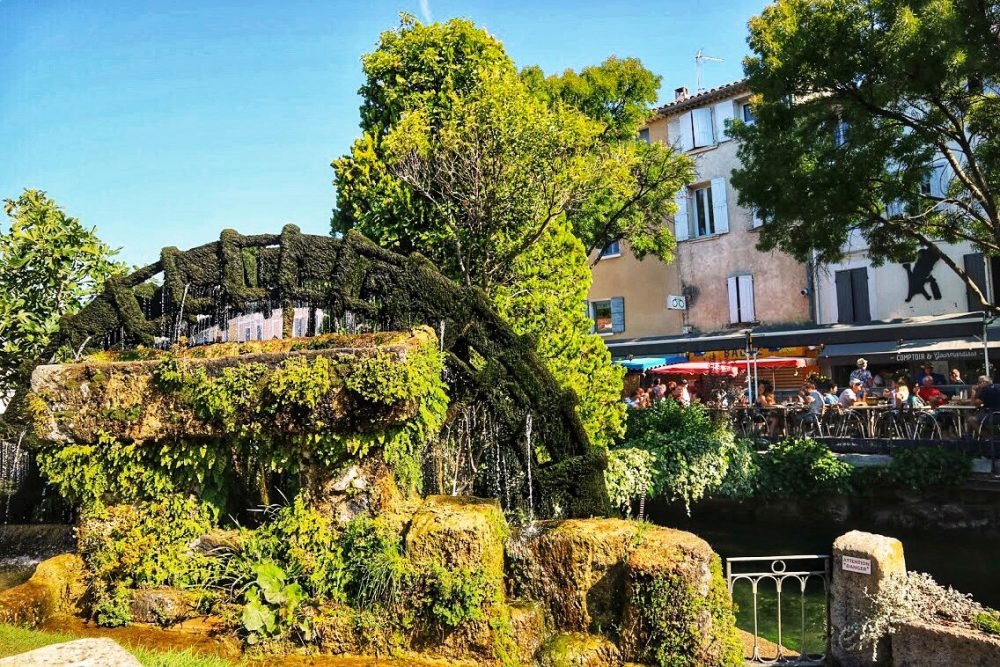 L'isle-sur-la-Sorgue is a cute market town in Provence, a 25-minute direct train ride from Avignon — perfect for a day trip if you're in the area. It's a charming town by the Sorgue river.
Its historic center is surrounded by a moat of canals, bridges and traditional wooden waterwheels, covered with bright green moss.
The old town is all cobbled streets, leafy squares, stone buildings, and antiques shops.
There's also a food market here on Sunday, where you can pick up French cheeses, baked goods, and charcuterie. The riverside is lined with a handful of restaurants and bistros by the water.
All of this is reason enough to visit, but in addition, L'isle-sur-la-Sorgue is famous for its weekly Sunday antiques market.
The market is huge, featuring a vast array of quirky retro finds. It also draws in the crowds and a festival atmosphere.
If you're not a fan of hordes of people, you may actually prefer to visit on another day of the week!
Where to Stay in L'isle-sur-la-Sorgue
For a luxury stay, La Maison Sur La Sorgue is a fantastic choice. Set in a 17th century home, it features a stunning garden, several terraces to relax on, and a swimming pool located right on the river!
There's also a glass-roofed courtyard where you can relax and read a book, an on-site art gallery, and a lounge with a fireplace.
Another option is the budget-friendly 4-star Domaine de la Petite Isle. This hotel features an outdoor pool, gardens, a restaurant, large rooms with A/C, and a prime location right on the banks of the Sorgue River.
Marseille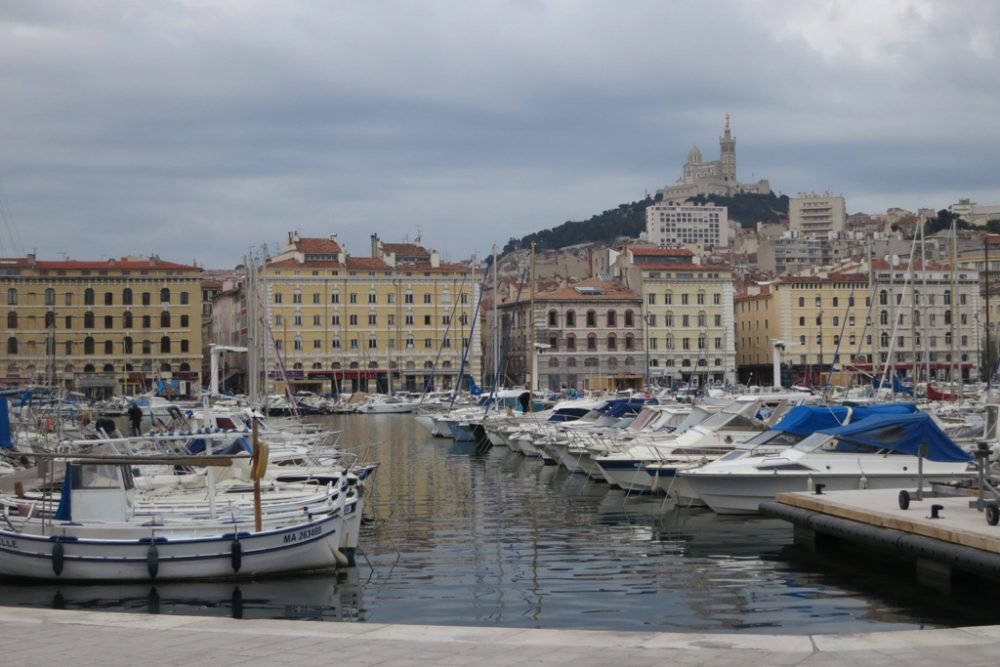 Marseille, in Provence, is a very cool city to explore. Many people go through Marseille on their way to Corsica Island or other places in the French Riviera but Marseille is an interesting destination by itself with many things to see and do.
Also, direct trains Paris – Marseille make of this city an easy weekend trip from Paris by train.
There's the colorful Old Port and the historic neighborhood of Le Panier but there's also an interesting cultural life with museums like the MuCEM or the Beaux-Arts Museum.
Other places of interest include the Basilica Notre Dame de la Garde and Palais Longchamp but this is only a taste of what Marseille has to offer.
Additionally, Marseille is an excellent base camp for exploring the region of Provence.
Just in front of Marseille, there's If Island.
It's in the famous Château d"If where the Count of Montecristo was kept prisoner during the first chapters of Dumas' novel.
Marseille is also the starting point of beautiful hikes along the Calanques de Marseille – Cassis which can also be explored by boat.
Other beautiful places easy to visit from Marseille on a day trip are Aix-en-Provence or La Camargue. Why are you waiting to visit Marseille?
Where to Stay in Marseille
As a large city, Marseille has countless options. Many big-name branded 5-star hotels are here, such as the Sofitel and the Intercontinental, both in the Vieux Port with all the amenities you'd expect from a hotel of their stature.
For budget-seekers, check out the Staycity Aparthotel located near the Vieux Port in Marseille, which features modernly designed studio and one-bedroom apartments with kitchenettes in the heart of the city.
Further Reading: A Year in Provence for inspiration; Rick Steves Provence for a guidebook

Allison Green is a former educator turned travel blogger. She holds a Masters in Teaching and a B.A. in English and Creative Writing. Her blog posts merge her educational background and her experience traveling to 60+ countries to encourage thoughtful travel experiences that both educate and entertain. She has been a speaker at the World Travel Writers Conference and her writing, photography, and podcasting work has appeared in National Geographic, CNN Arabic, CBC Canada, and Forbes, amongst others. Now based in the San Francisco Bay Area where she grew up, she has also lived in Prague, Sofia, and New York City.