Denver, Colorado, is often seen as the perfect home base for adventuring in the Rocky Mountains, but the city itself is filled with great history, tasty food, and tons of fun things to do.
Whether you're planning on spending a few days in Denver before exploring the Rockies, or you're just stopping by for a weekend, this Denver itinerary is the perfect way to find out what's worth doing in the Mile High City.
Throughout this article, you'll find out the perfect way to spend two days in Denver if it's your first time visiting this city. Perhaps you'll even want to spend longer after reading this!
Flying into Denver International Airport
Note: This post contains affiliate links, which means I may receive a small commission if you purchase something through one of these links. Thank you for supporting the free content on this site! For more information on affiliate links and cookies, see my disclosure page for more details.
If you're flying into Denver, there are a few ways to easily get into the city.
Renting a Car: In my opinion, this is the best option for this itinerary, which has destinations like Red Rocks Amphitheater on it which are hard to access via public transit (and would require a ~$60 return Uber ride).
Not sure where to get the best deal on your rental? I've rented cars dozens of times through various search engines and have settled on Discover Cars as the best car rental search engine – it searches over 500 trusted rental companies to find the cheapest price for your rental! Compare prices for car rental from Denver here.
Taking Light Rail: The light rail from the airport is a great eco-friendly alternative to renting a car. Not having a car will make some aspects of this Denver itinerary more challenging, but if you can't drive — or just prefer not to — light rail into the city costs just $10.50 and is easy and convenient.
Uber or Lyft: If you prefer to land and hit the ground running without having to deal with public transit or renting your own car, a ride-share from the airport to your hotel to drop off your bags is the best bet. An Uber or Lyft from the airport costs around $40.
Where to Stay in Denver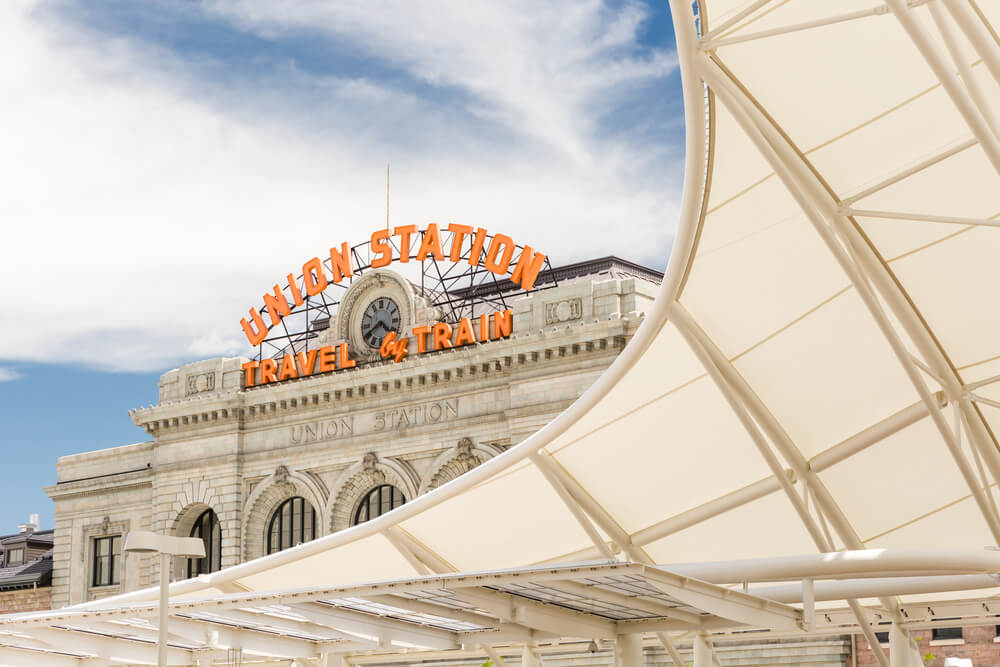 If you're trying to figure out where to stay on your Denver weekend getaway, we've got you covered with a few great suggestions!
In general, on a weekend trip, I don't suggest Airbnb. Checking in and out can be a pain in the butt with flaky hosts, and Airbnb's service and cleaning fees have gotten insane lately.
Here are our suggestions for hotels in Downtown Denver:
LUXURIOUS | For a classic luxury hotel experience, The Brown Palace hotel offers up the best place to stay in Denver. It's over a hundred years old, and you can sense the history in every nook and cranny of this gorgeous hotel, particularly its stunning lobby. Amenities include twice-daily maid service, six on-site restaurants, and an on-site boutique spa.
>> Book online here
CENTRAL | Another great option on the luxury end of the spectrum is The Crawford Hotel at Union Station. It's literally part of the train station, so you can enjoy the food hall and restaurants in Union Station right at your fingertips. The rooms have an industrial-chic vibe and the location couldn't be more central: the light rail is right in front!
>> Book online here

BUDGET | There are a few great hostels and budget-friendly options in Denver. One of the coolest hostels in Denver is Ember Hostellocated in Capitol Hill. This chic hostel has everything from 4 to 16 person bunk rooms as well as private rooms. The furnishings are boutique hotel-level stylish (including the bathrooms!), and there are all sorts of amenities to enjoy like a hot tub, fire pit where you can roast s'mores, and social events.
>> Book online here
Day One of Your Denver Weekend Itinerary
For your first day during your weekend in Denver, you'll be spending a lot of time sightseeing in the LoDo area or Lower Downtown.
This is often seen as the main downtown area, and there are tons of things to do here!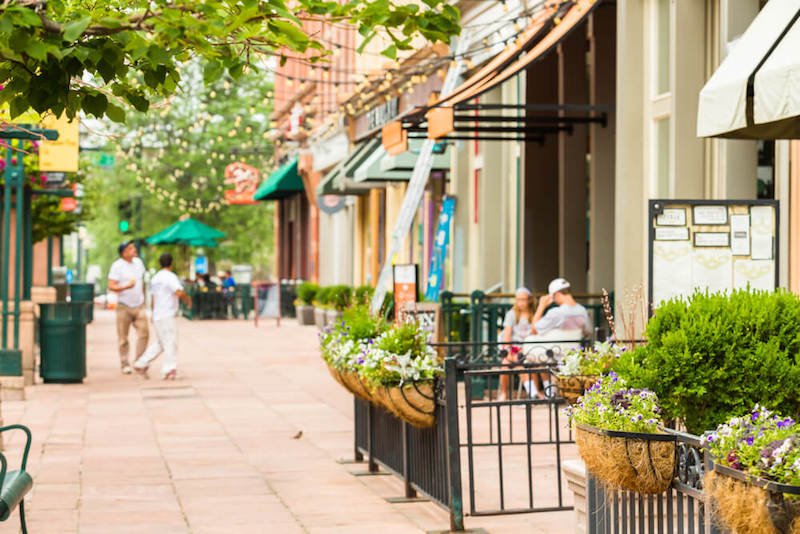 Order breakfast at Snooze, an A.M. Eatery.
Start your morning off right by ordering breakfast at one of the top-rated breakfast restaurants in all of Denver: Snooze, an A.M. Eatery.
They have three locations around the city, but you'll want to make sure you head to the one on Larimer Street because it's closer to the second stop on today's itinerary.
Snooze has a very retro diner vibe, but it's also very vibrant and upbeat at the same time. Each of their locations is pretty similar, with fun orange seating, and there's usually a lot of spots to sit outside too.
Their menu is pretty extensive with breakfast entrees because that's what they specialize in. I always order their "Bella! Bella! Benny," which is an eggs benedict with prosciutto and balsamic.
Here's an insider tip from a local: Snooze is popularly visited no matter the day of the week. Be sure to join the waitlist on their app because sometimes the wait times can be an hour or longer.
The earlier you get up to go there, the better your chances of getting seated quickly!
Look for street art in RiNo (River North).
After breakfast, it's finally time to start exploring all that Denver has to offer!
Begin in the River North Art District, or RiNo, neighborhood, which is most well known for its hipster coffee shops, art galleries, and breweries.
This area of Denver is also known for its fantastic street art!
A lot of the street art pieces are actually part of the city's Crush Walls, which means that they get painted over with a new piece of art every year.
You can download maps of where the current Crush Walls are by looking online at their site and create your own little self-guided street art walking tour.
You can easily try to walk around RiNo if you want, but the neighborhood is pretty large.
Consider renting one of the electric scooters from either Lyft or Lime to get around and be able to maneuver yourself to find some of the best street art here!
Don't forget to bring your camera, because this is part of the day where you'll want to make sure you have it.
Be sure to stop by some of the coffee shops here, because a lot of them have worked with local artists to get personalized street art murals for the outside of their shops.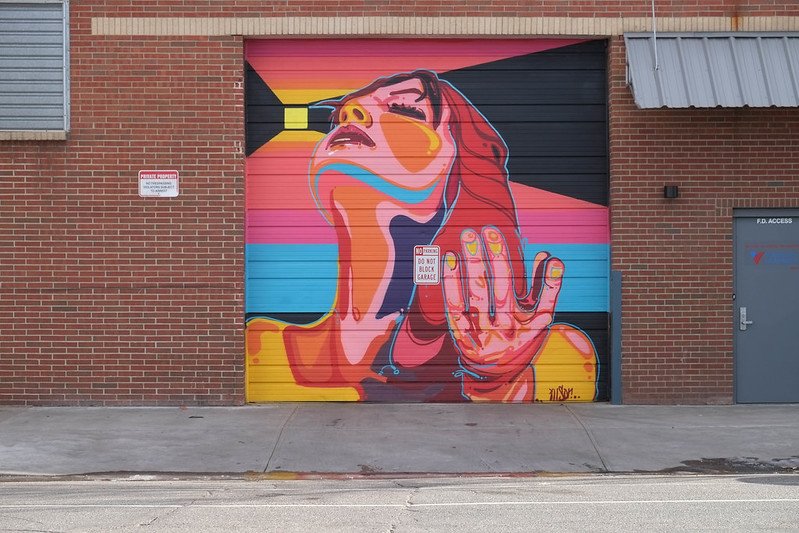 Grab lunch at the Denver Central Market.
Exploring the street art in RiNo can really take a lot of your energy, so you've probably worked up an appetite!
Don't worry; there's one must-visit place to grab food in this neighborhood: the Denver Central Market, a tasty food hall-style marketplace.
This fun and modern eatery is filled with tons of vendors selling everything from pizza to ice cream and even specialty cheeses.
These restaurants allow you to either pick up the food to go or eat it right at Denver Central Market!
Open-air seating is abundant here, and the entire outdoor seating area is surrounded by more amazing street art, including a popular mural that says, "Talk Denver to me."
Most of the vendors will bring the food directly to your table, too, no matter where you're sitting outside.
Some restaurants here include GreenSeed, Izzio Artisan Bakery, and High Point Creamery, where you can get a flight of five ice creams with toppings!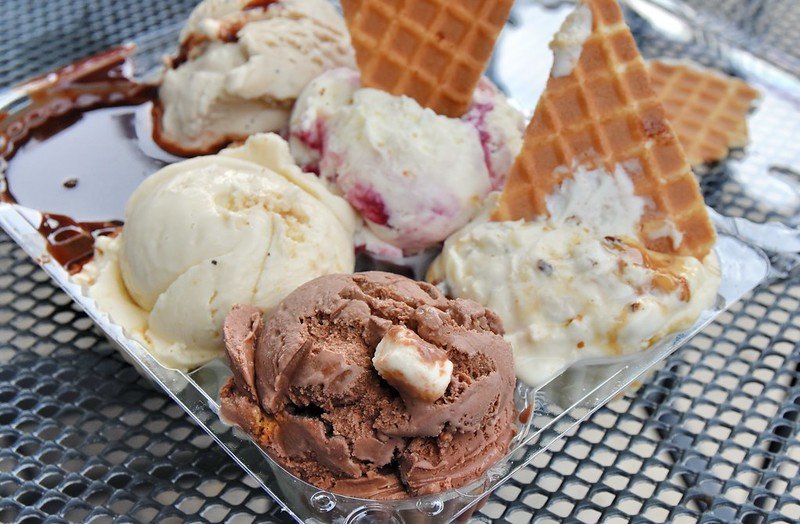 Stop for a drink at Stem Ciders.
Hopefully, you aren't too full from lunch because before you leave RiNo, you'll want to stop by Stem Ciders.
This urban city cidery has lots of outdoor and indoor seating and tons of amazing flavors that you won't want to miss.
They have both seasonal and year-round flavors, so if you were to visit multiple times in a year, you'd find different drinks on the menu.
Some of their best flavors include Lavender, made with cinnamon and cardamom, and Chile Guava, made with Guajillo chiles.
If you have trouble choosing which flavors you want to try, don't worry. You can order a flight of four different flavors for less than $10. This is the perfect way to try out a handful of their flavors!
They have pre-selected flavors in some of the flights, too, so that you can try some of their bestsellers.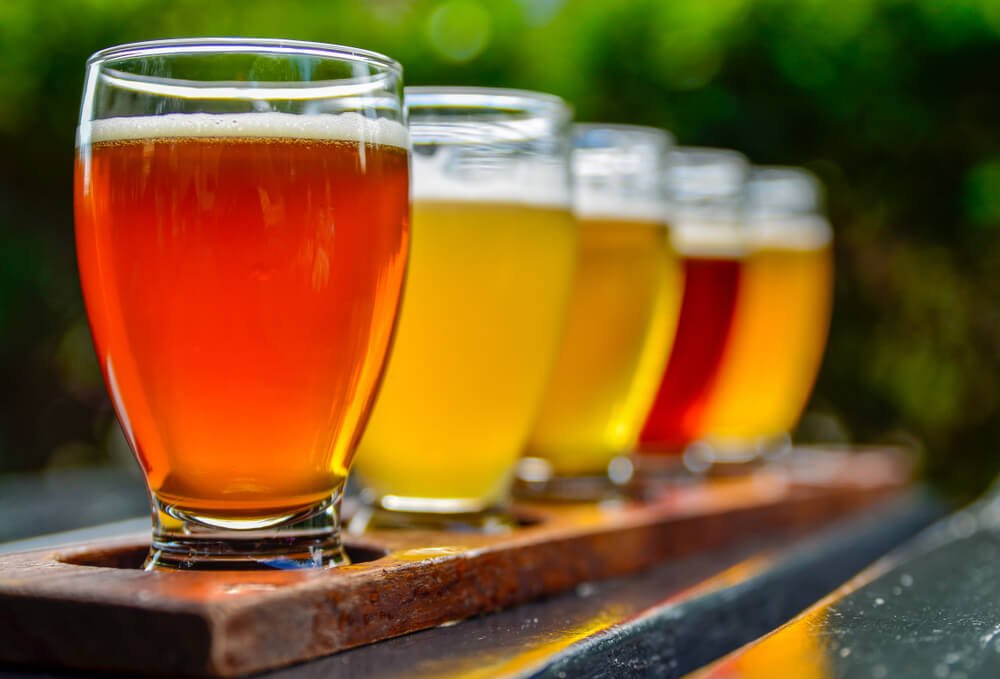 Walk around 16th Street Mall and do some shopping.
From RiNo, make your way to LoDo's 16th Street Mall.
This mall is a little over a mile long and is essentially a long pedestrian-only street filled with both local and commercial shops and restaurants.
You could easily spend a few hours exploring here, but try not to get too carried away! A few of the shops you absolutely can't miss include The Rocky Mountain Chocolate Factory and Where the Buffalo Roam.
This street has quite a few street vendors too, so if you're hungry already, you can easily grab yourself a snack.
Don't worry if you start to get knackered already!
You can hop on the Free Mall Ride, a free shuttle that runs all the way from Union Station to Civic Center Station, which is right next to the Colorado State Capitol building. The bus stops on every single block, making it easy to get around.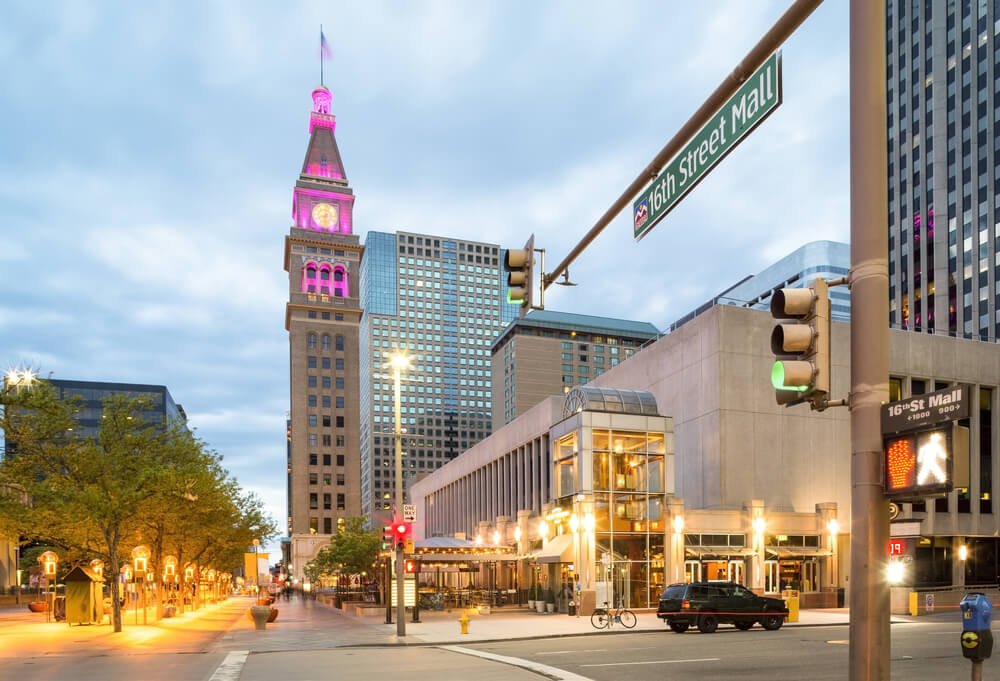 Visit the Colorado State Capitol building.
Next, make your way to the Denver State Capitol building.
This historic landmark was built in the 19th century and commands your attention no matter where in LoDo you are, so it's pretty hard to miss it.
While tours are only offered Monday through Friday, it's still worth stopping by this building just to marvel at its huge gold dome.
While you're here, you can also take the time to explore some of the other great spots in this area before heading to the next stop on this Denver itinerary.
One of the spots worth visiting here is Civic Center Park, a huge green space with tons of seating right in front of the Capitol.
It's often the place where a lot of Denver's best events and festivals are held, including the annual Christmas Market!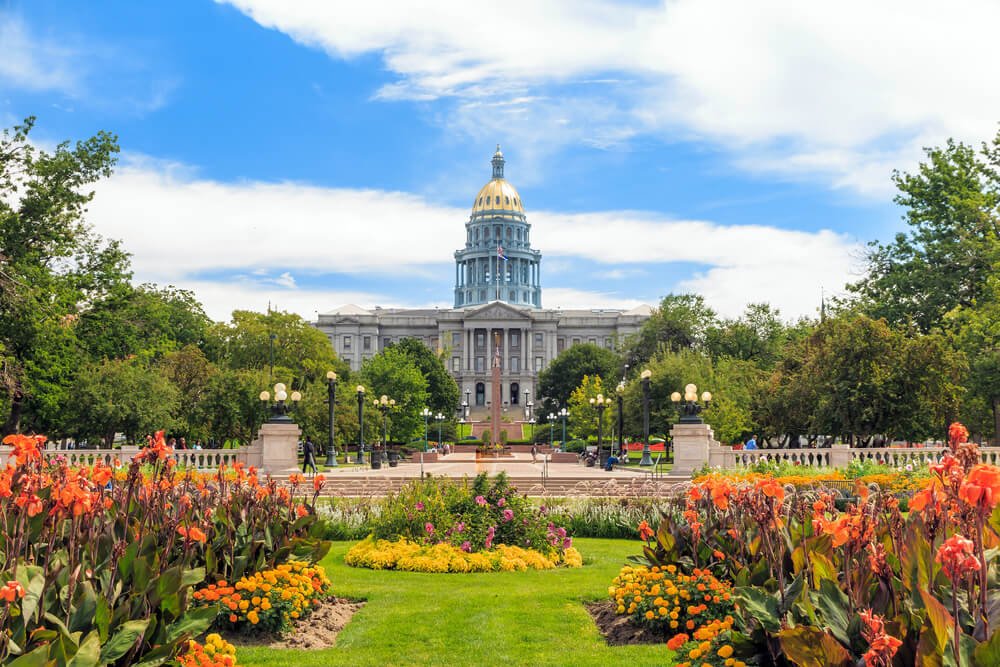 Go to Union Station.
One of the final stops on your first day of this Denver weekend itinerary is Union Station!
This historic building is also a hotel and the central transportation hub in Denver.
It's where you can catch the train to the airport or even hop on the California Zephyr Amtrak to either San Francisco or Chicago!
This building is glorious, so you're not going to want to miss it!
The inside is magical, and there are tons of shops and little restaurants that offer to-go food. Even if you're a picky eater, you'll be able to find something to eat here.
Spend some time exploring Union Station and check out the shops! One of the best shops here is the Tattered Cover Bookstore, which is the leading independent bookstore in Denver.
They have a few locations around the city. While this location is quaint and on the small side, it's still great to visit and support a local shop.
If you're lucky enough to be visiting during the winter, then you'll be shocked at how snazzy Union Station gets!
There's usually a giant tree that gets placed in the center of the building, and both the inside and outside of Union Station get decked out in holiday lights for all to see.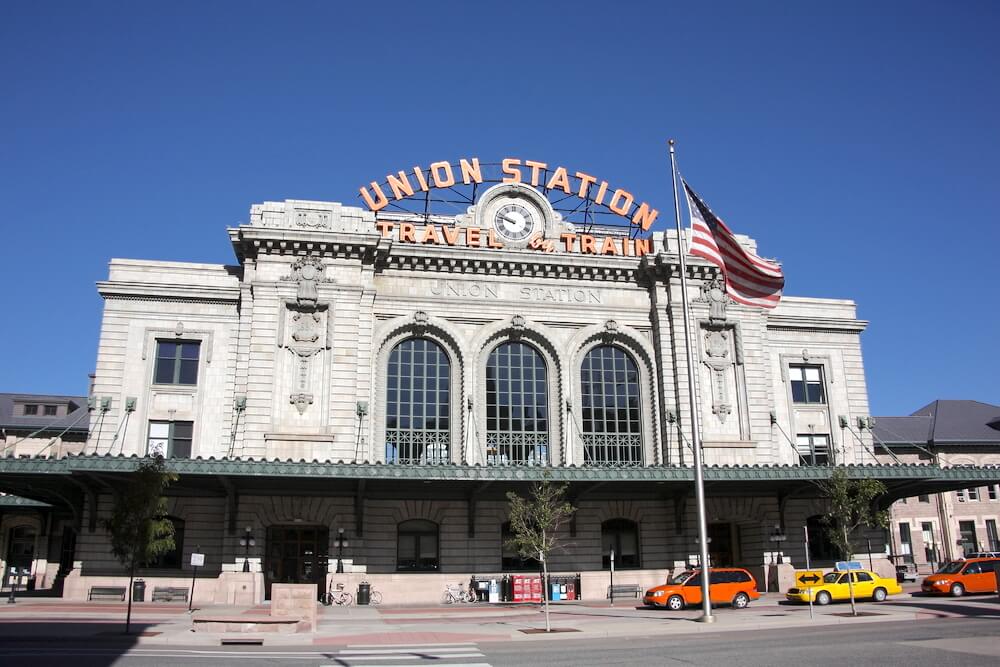 Grab dinner and relax in Confluence Park.
So, this stop on the itinerary might change depending on the weather or time of year that you're visiting.
For example, traveling in the winter or when it's raining might not be a great time for having a picnic in the park, so instead, consider eating at one of the sit-down restaurants right at Union Station for dinner.
Visiting in the spring, summer, or fall, though, is perfect for this fun itinerary item!
Get a to-go dinner from one of the restaurants at Union Station and take a short walk to Confluence Park. You'll have to cross over a bridge that's considered one of the most picturesque spots in the city.
Confluence Park is a giant green space in Denver right next to the river that's filled with spots to sit and relax.
This is an excellent place to have a picnic, which is actually one of my favorite things to do in the city!
After dinner, you could also consider walking along the river a little because there are some great paved trails that will bring you to some of the city's best natural scenery.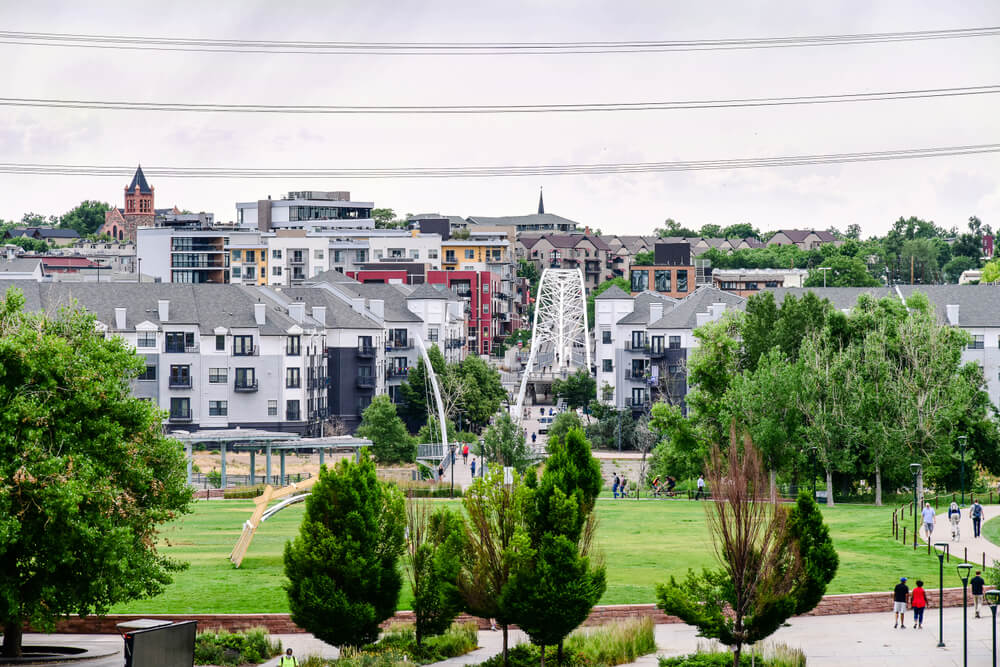 End the day with ice cream from Little Man.
There's no better time for dessert than after a fun picnic dinner! Arguably the best spot for an ice cream dessert in all of Denver is Little Man Ice Cream.
This Denver staple has been a favorite among locals and tourists visiting the city since it opened in 2008 and immediately took everyone by storm!
To get there, you could either take the bus, order a ride-share like Uber or Lyft, or take a walk. The walk really isn't that long and allows you to explore this part of Denver on foot.
Little Man Ice Cream is situated inside a huge milk jug-shaped stand that takes orders by walking up to the window.
They have lots of outdoor seating, so you don't have to worry about walking around while eating your ice cream.
What's so great about Little Man Ice Cream is its flavors. They switch them out throughout the year depending on the season, so they're pretty much never the same.
Usually, flavors like Oreo, Snickers, and Twix are always on the menu, among others.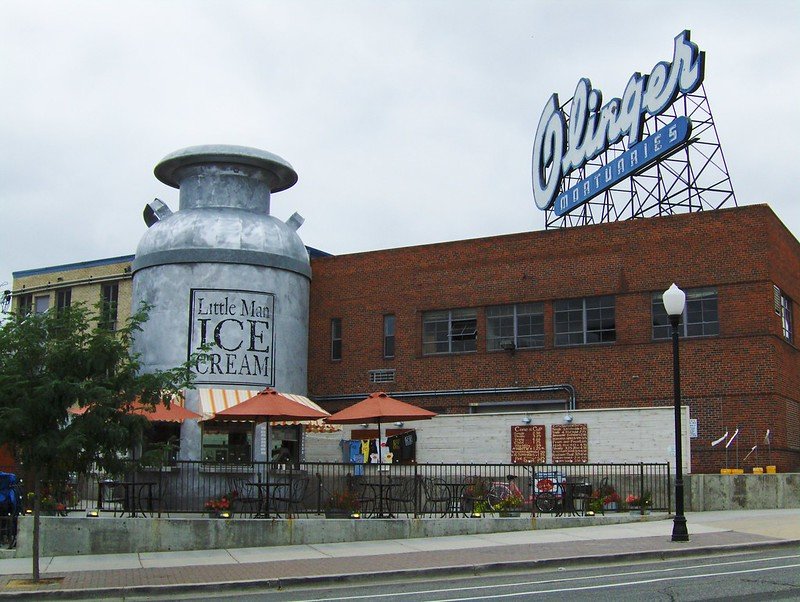 Day Two of Your Denver Weekend Itinerary
Hopefully, you got a good night's rest because your second day in Denver is going to be a full day of fun!
You'll be traveling a bit more around the city today, so consider buying a local day pass for public transportation, which costs $6, unless you have a car with you.
Catch the sunrise at Red Rocks Amphitheatre.
Today, start your day bright and early!
Red Rocks Park and Amphitheatre is one of the can't-miss Denver attractions.
It primarily serves as the Denver area's main concert venue for excellent live music [editor's note: I saw an amazing Jethro Tull concert there!], but it's also filled with tons of other fun things to do that most visitors don't know about.
Red Rocks opens about one hour before sunrise, so try to get there around that time!
Take a quick hike up to the concert venue seating and settle in to watch the sunrise. This is truly magical because you're surrounded by mountains and can watch the sun begin to hover on top of the city!
If you'd rather catch the sunrise by doing something other than sitting, you're in luck. There's an easy trail that brings you around Red Rocks (that also opens an hour before sunrise) that you can walk around, or you can use the seating venue as a fitness area.
Remember that Denver is located one mile above sea level — hence its nickname, the Mile High City — so expect any exercise you do to be a little tougher here due to the altitude!
A few other great places to catch the sunrise other than Red Rocks include Lookout Mountain in Golden or The Flatirons in Boulder. 
All of these are within 30 minutes by car from downtown Denver!
If you don't have a car, you can take this morning tour of Red Rocks and Lookout Mountain. It starts at 8 AM, so you can sleep in a bit, but you will miss the sunrise.
It'll bring you back to Denver by noon, so you have plenty of time to finish out the rest of this itinerary.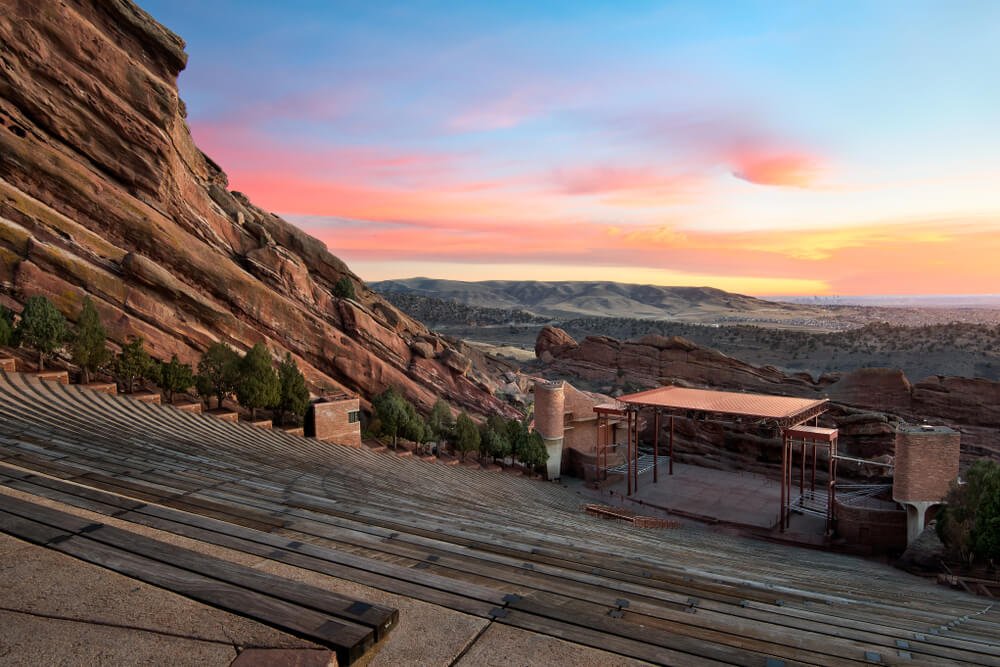 Head to breakfast at Syrup.
Another one of the best spots to grab breakfast in Denver is a little restaurant called Syrup.
This popular breakfast and brunch spot opens at 7:30 on the weekends, so it's sure to be open by the time you get there.
The menu at Syrup is immense. You can find everything from delicious beignets to waffle sliders. They even have specialty "crack bacon," which is made with black pepper and brown sugar!
Because of the order of things on this Denver itinerary, be sure to eat at either Syrup Cherry Creek (Josephine Street) or Syrup City Park (York Street).
They're closer to the Denver Botanic Gardens, which is next on this list!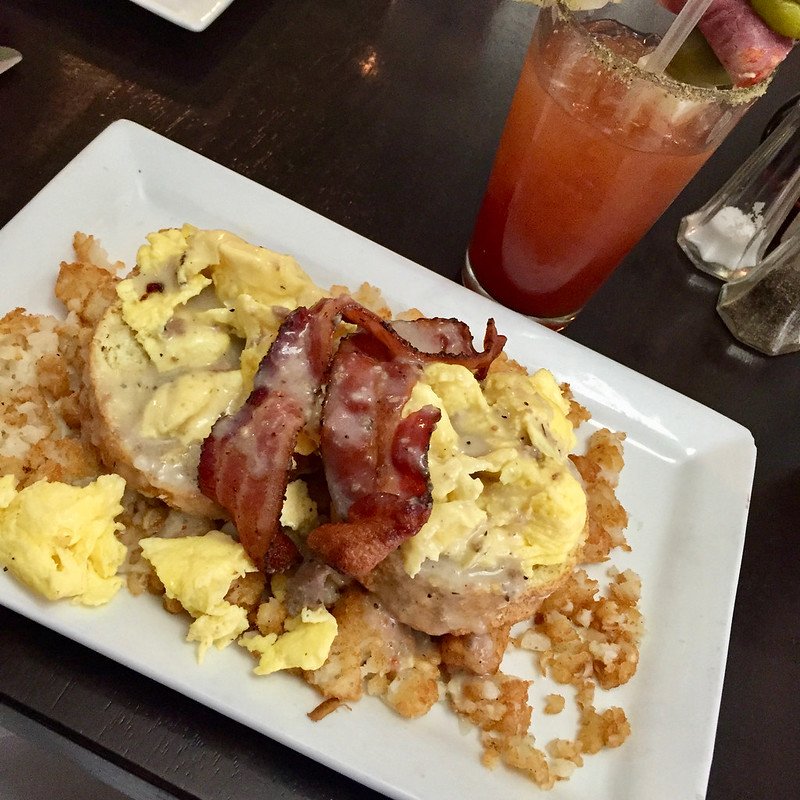 Spend the morning exploring the Denver Botanic Gardens.
From Syrup, head to the Denver Botanic Gardens.
While you may think that this is the sort of landmark that must only be worth visiting in the summer, you're wrong! In the winter in Denver, the botanical gardens get covered in lights, and it's truly beautiful.
The Denver Botanical Gardens cover just over 20 acres and are separated into different areas based on the type of flora and fauna.
There are also a variety of seating areas throughout the park so that you can rest in a truly peaceful and tranquil area.
Tickets cost $15 per person, and it's best to purchase tickets online.
Sometimes it can be challenging if you show up to pick up tickets in person, so don't take the chance if you can help it. Children and students have a discounted ticket price.
If you still are a little hungry after breakfast and need a morning pick me up, you can grab one at the Offshoots Cafe or the Hive Garden Bistro.
Be sure to check the online schedule to see if the gardens are hosting an event during your visit too!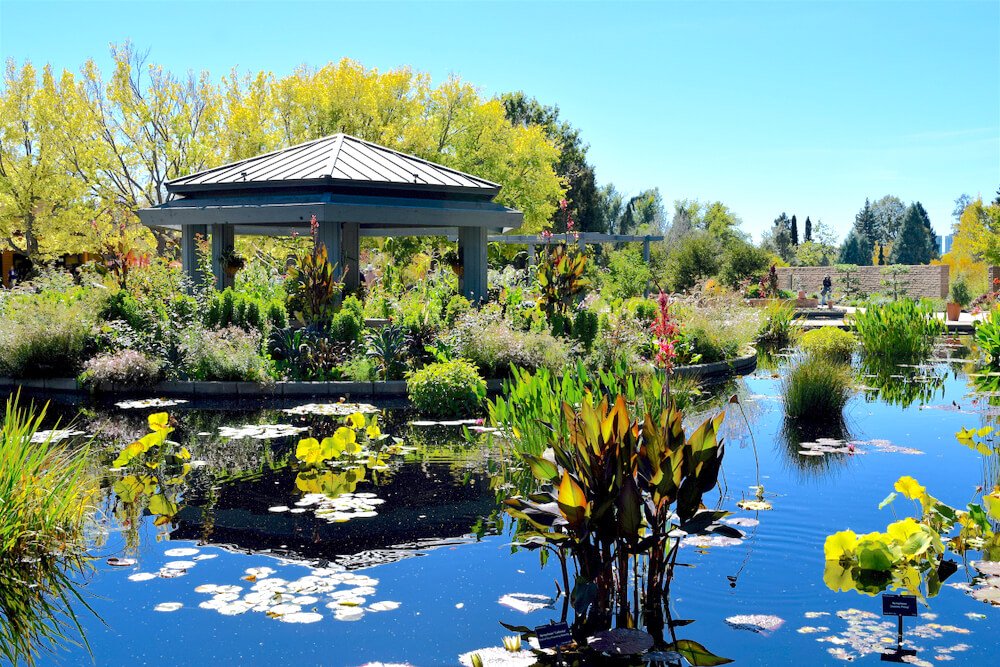 Grab some sweets from Voodoo Doughnuts.
While you're in the area, you have to head to Voodoo Doughnuts. This is the best place to get donuts in all of Denver, even though it's not a local business.
Voodoo Doughnuts originated in Portland, Oregon. It's been featured on quite a few episodes of shows on The Food Network and is known for its fun and crazy doughnut flavors that will have you drooling and begging for more!
Some of their flavors include Dirt, Voodoo Bubble, Chuckles, The Homer, and Bacon Maple Bar.
One of the most underrated (but delicious) flavors is Grape Ape, a yeast doughnut with frosting and sour grape candy dust on top. The flavor is so unique and tasty!
Here's a tip from a local: if you want to save some money, consider purchasing the baker's pick dozen.
They'll pick the flavors for you, but you get a lot more doughnuts for your money versus if you were to buy each doughnut separately. Each doughnut actually costs between $3 and $5.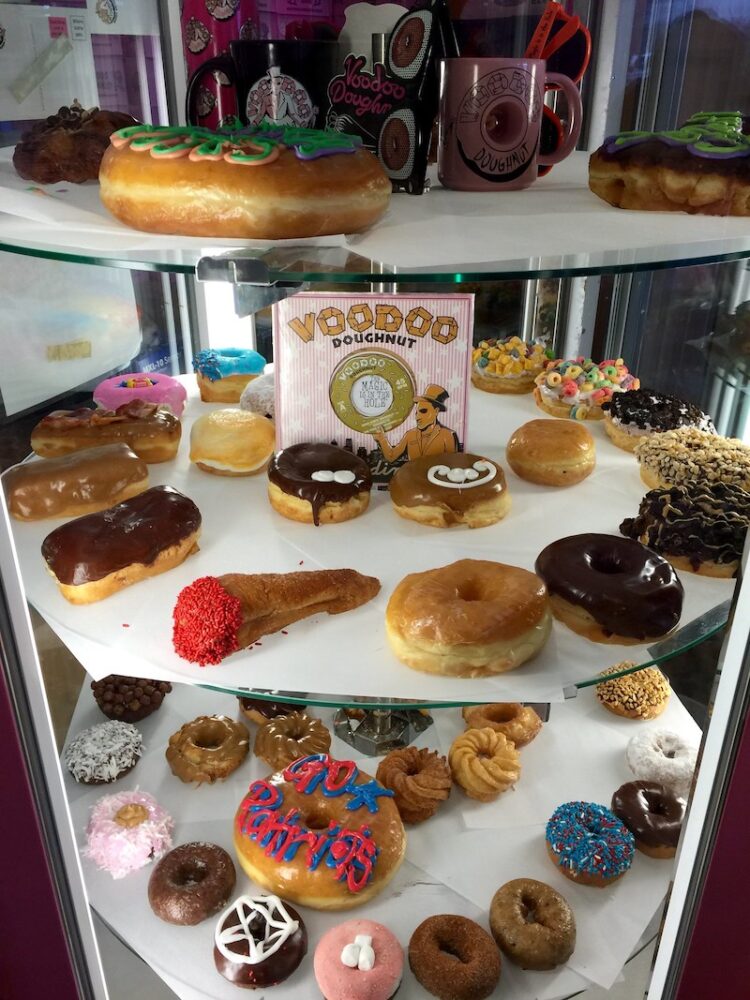 Stop by City Park.
Right in this area is also City Park, a huge park covering more than 300 acres.
It's home to the Denver Zoo, the Denver Museum of Nature & Science, and tons of trails for you to walk, bike, or run.
Biking is usually the most popular thing to do here!
There are bike shops in the area where you can rent a bike, or you can rent a Lyft bike using the Lyft app on your phone, which is what most people do here nowadays.
Be careful how long you spend on a bike because the price can add up if you're not careful!
If you'd rather not visit City Park, you could also consider stopping and perusing East Colfax Avenue instead.
This is one of the more hip areas in Denver, so there are tons of fun little stores to pop your head into and explore.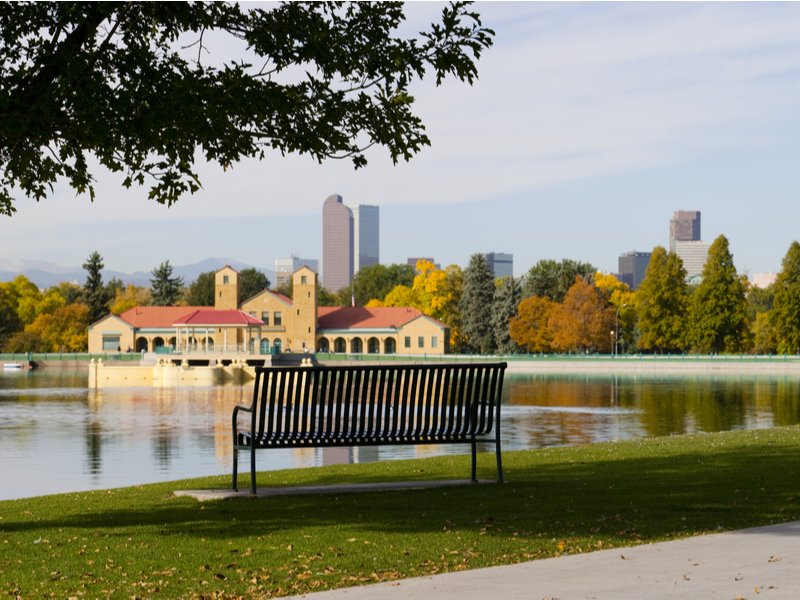 Have lunch at Sam's No. 3.
For lunch, head to Sam's No. 3.
It's a local Denver chain with three locations that is known for its delicious food. Their menu has burgers, sandwiches, steak, salads, and more. They also have tons of breakfast items if you want to have breakfast twice in one day!
Be sure to go to the downtown location instead of the one in Aurora or Glendale. No matter what you order on the menu, you'll surely enjoy it. Plus, the restaurant is family-friendly and has a really fun atmosphere.
The downtown location also has outdoor seating, so if you're visiting when the weather is nice, you can enjoy yourself and sit outside.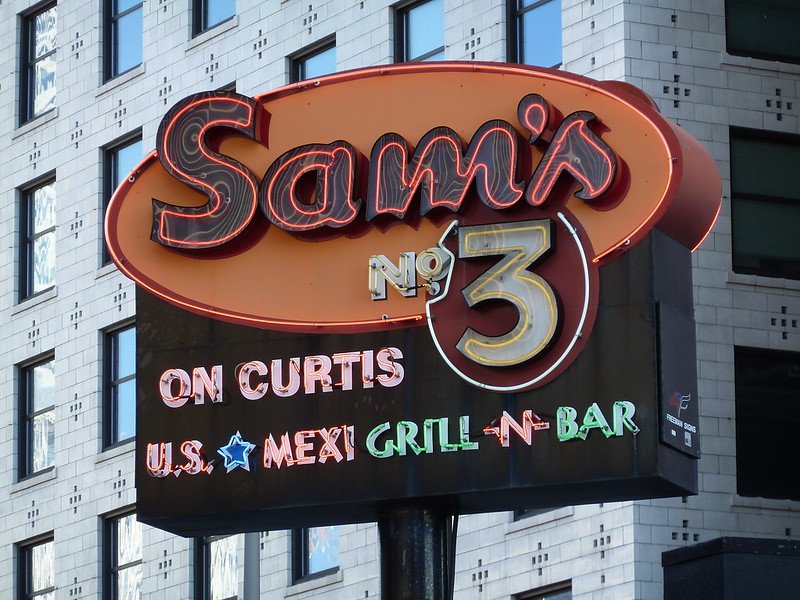 Go on a craft brewery tour, catch a game at Coors Field, or go to the Denver Art Museum.
Oh no, it's your last afternoon in Denver! Don't worry; there are a few things you can consider doing in downtown Denver to go out with a bang.
One of the most popular things to do in Denver is try all of the local breweries, so you could consider going on a craft brewery tour. These usually include stops at all of the best breweries in the area and allow you to taste their drinks too.
The second option is seeing a game at Coors Field to watch the Colorado Rockies play.
Try to wait and buy tickets a few hours before the game instead of in advance because they can usually be purchased for less than $20 if you're up for playing a wait-and-see game.
If possible, you may be able to catch a Denver Broncos game at Mile High Stadium as well, depending on timing.
Last but not least, you could spend the afternoon visiting the Denver Art Museum, which is Denver's most popular museum.
If you're not into art, there are tons of other museums in the downtown area that you could consider visiting instead.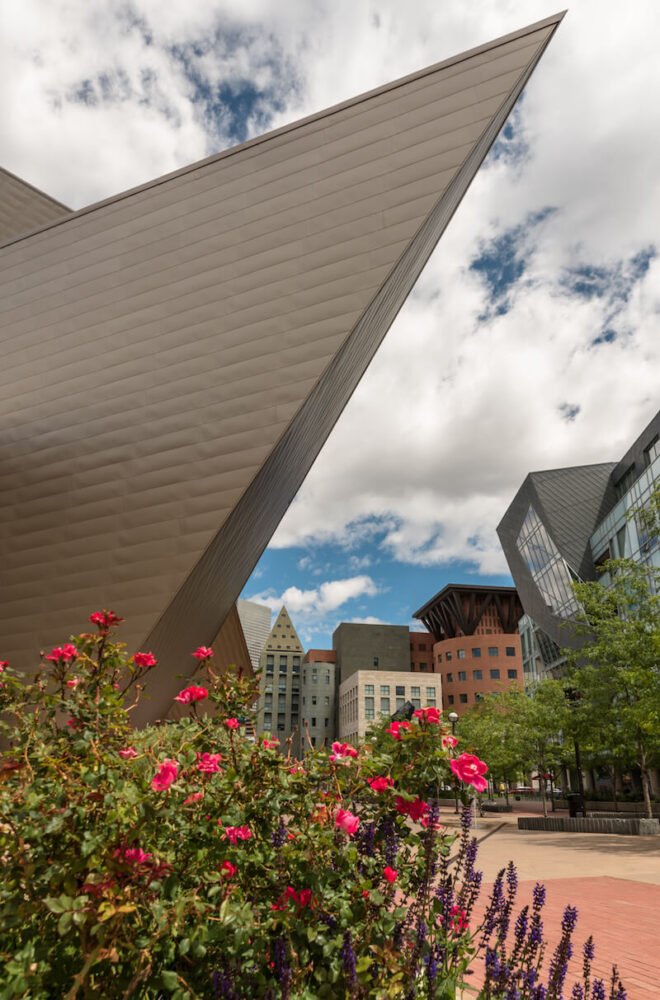 Head back to LoDo to grab dinner in Larimer Square.
The perfect way to spend your last evening in Denver is to go to Larimer Square, the most historic part of downtown. The Victorian buildings here will take you back in time!
Larimer Square is lined with tons of great places to eat, including French bistro and top-rated Italian restaurants.
Plus, the area is mainly pedestrian-only, so there is an abundance of outdoor seating options, and the entire square is covered in lights that make the whole street come alive at night.
No matter where you eat here, you are sure to love it!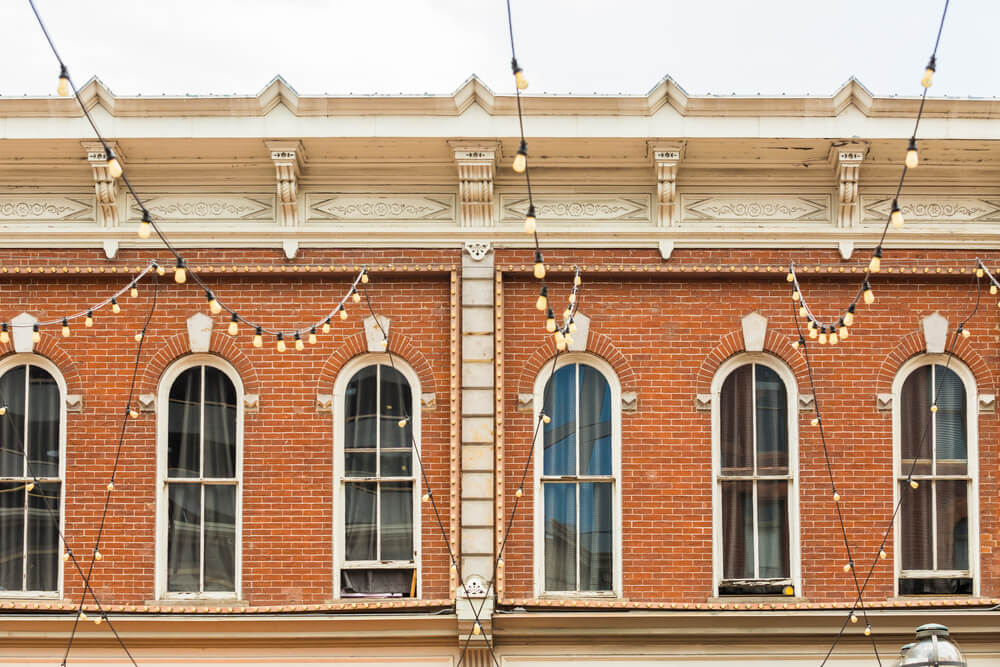 Say your goodbye to Denver.
If you have time after dinner, you can walk to the nearby Big Blue Bear, a 40-foot tall sculpture adjacent to the Denver Convention Center, or you can grab drink at one of Denver's best taprooms or rooftop bars!
I suggest FIRE Terrace for a great rooftop bar in Denver atop the ART, a hotel.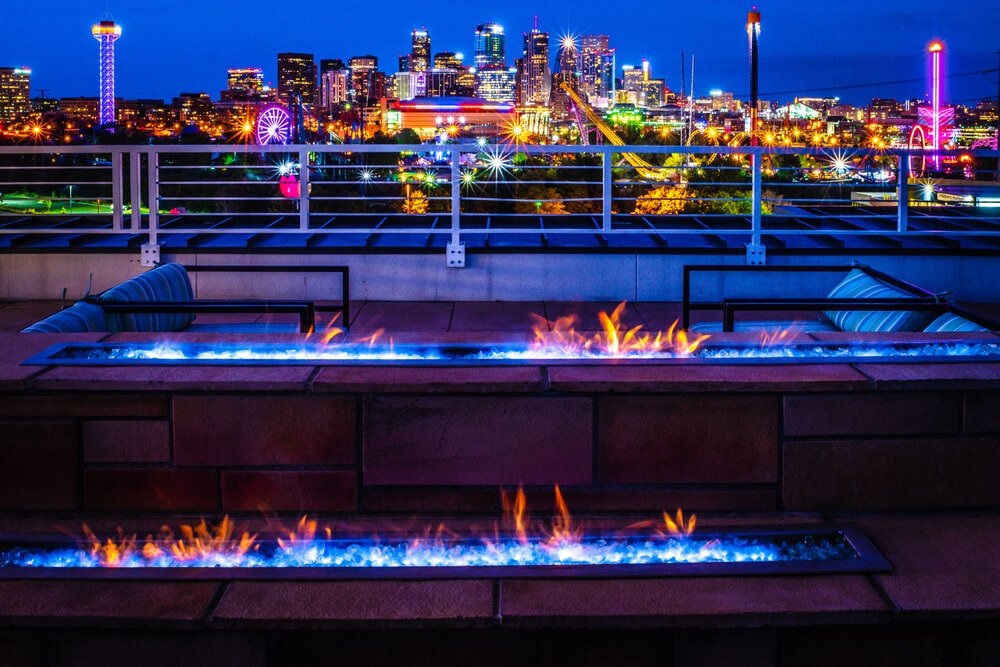 Have More Time in Denver?
If you have a long weekend in Denver planned and need to fill up another day, or are planning a Colorado road trip with other destinations other than Denver, you can add a day trip or two to your itinerary
Rocky Mountain National Park
One of the most bucket-list worthy national parks in the USA, Rocky Mountain National Park is located only a short drive from Denver. The Visitor Center is less than two hours from downtown Denver.
If you rented a car for your weekend in Denver, take that to RMNP and enjoy some of the best hikes and things to do in Rocky Mountain National Park. You can visit for the day or stay overnight in Estes Park.
If you did not rent a car and are relying on public transit for your Denver weekend trip, it's best to go by guided tour. These are relatively inexpensive and are a great, convenient way to avoid the hassle of visiting the park independently.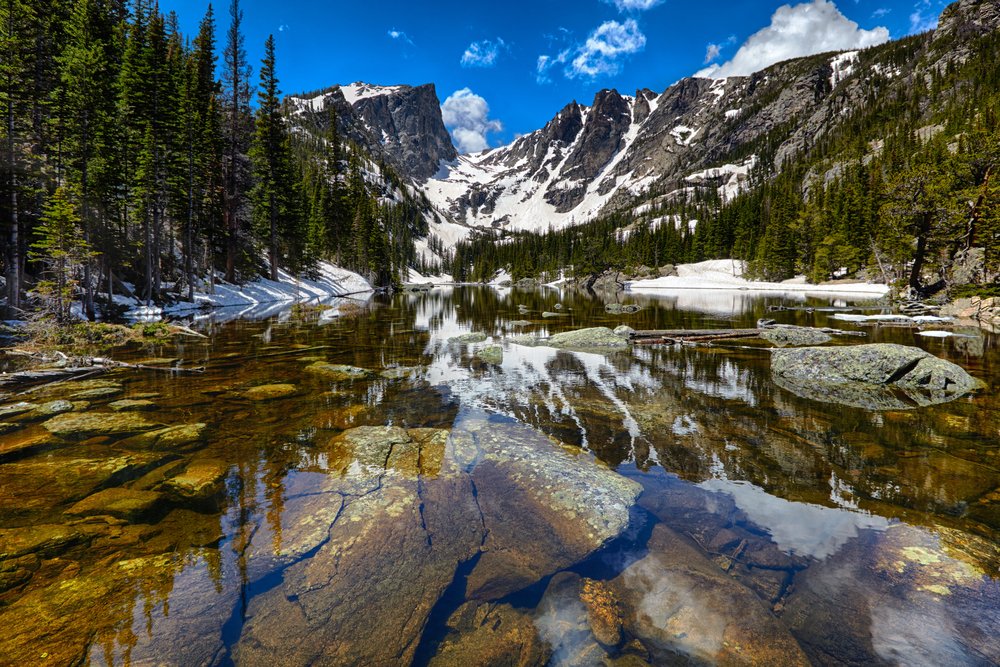 Boulder
Located just over 30 minutes from Denver, Boulder is a fantastic place for a day trip from Denver.
This vibrant university town is also a hiker's paradise — and it's also heaven for craft beer lovers too, as Boulder is one of the brewing capitals of Colorado, with tons of great taprooms and brew pubs!
One thing not to miss on a day trip to Boulder? The Boulder Dushanbe Tea House, which is a Silk Road-style teahouse in the heart of Boulder's downtown area.
It was given to Boulder as a gift from its sister city, Dushanbe, Tajikistan, and it was sent to Boulder in pieces and constructed on-site!
No car? You can get to Boulder easily via the Flatiron Flyer, or via a guided tour — I suggest this beer + hiking themed one!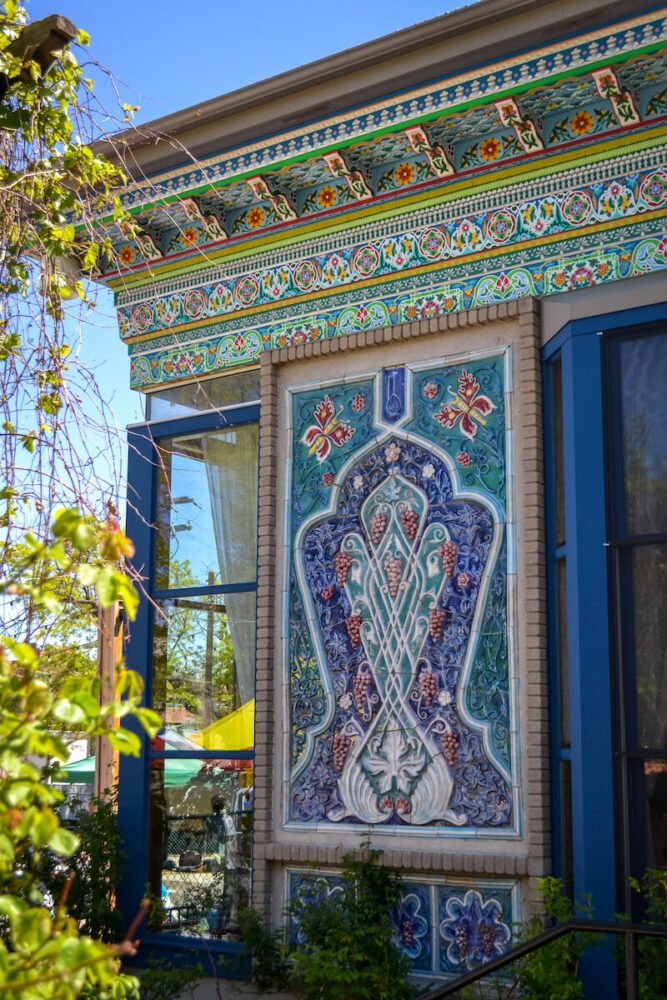 Golden
Another great city just 30 minutes from Denver, Golden is a former Gold Rush town that is a great place to add to your Denver itinerary.
They have several epic hikes in Golden, including the Clear Creek Trail and Lookout Mountain.
There are also excellent museums, including the Colorado Railroad Museum, which has vintage train cars and a 19th-century railroad depot!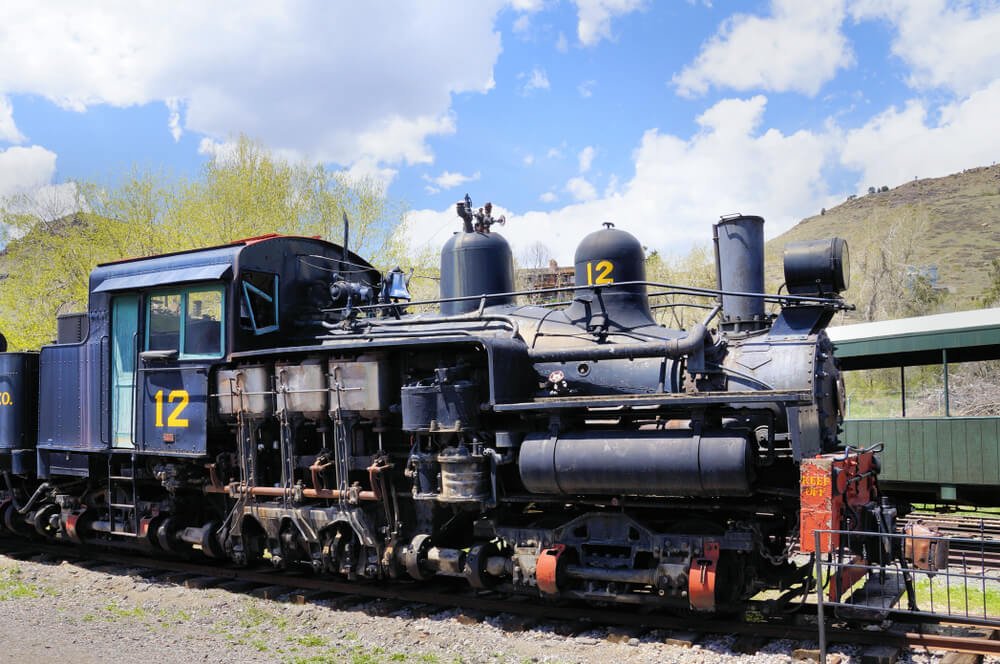 Read More
We have a lot of great content and travel tips for Colorado!
Check out our Denver travel guide that covers all the most useful things to know before you visit Denver.
We also have a post on the best things to do in Rocky Mountain National Park!
We also have posts on hikes in Golden and hikes in Breckenridge on the way!
Krystianna is a brand and web designer who runs her own studio and is always chasing her wanderlust. After studying abroad in Dublin for six months, she was bitten by the travel bug and hasn't looked back. She runs the travel blog Volumes & Voyages.