There's a lot to do in Sedona — so much so that you need at least 2 days in Sedona to even start to see some of its best sights!
From the beautiful buttes of Bell Rock to the hiking trails among Cathedral Rock, from the Tlaquepaque market to the Chapel of the Holy Cross, Sedona is a beautiful oasis in the middle of the Arizona high desert.
You'll find all sorts of typical Southwest landscapes in Sedona, but the landscape in Arizona quickly changes.
Drive 10 minutes north and you'll find rugged canyon landscapes in Oak Creek Canyon. 30 more minutes and you'll be spat out in Flagstaff, a funky little mountain city right on Route 66, surrounded by Ponderosa pines.
Driving further afield from Sedona will bring you out of Red Rock Country and into a volcanic crater and lava tubes, the ruins of Native American villages, ghost towns that were once booming mining towns, to the Grand Canyon and so much more.
Let's go see what Arizona has to offer!
Best Day Tours & Day Trips from Sedona
Oak Creek Canyon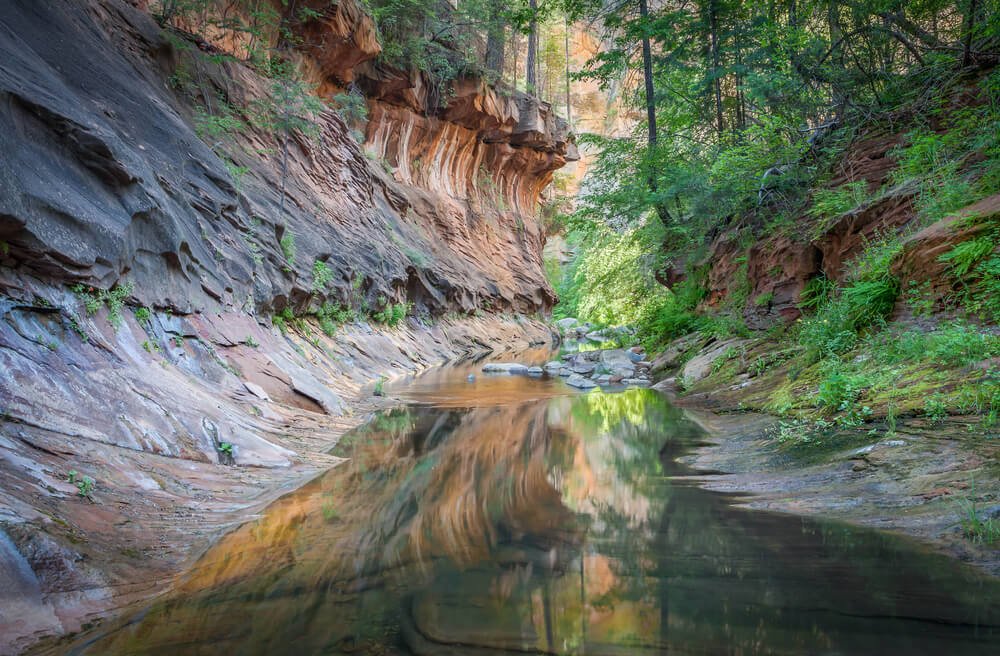 Note: This post contains affiliate links, which means I may receive a small commission if you purchase something through one of these links. Thank you for supporting the free content on this site! For more information on affiliate links and cookies, see my disclosure page for more details.
Drive Time: 10 minutes
Just a few miles north of Sedona, the landscape quickly changes, and in just the blink of an eye, you can quickly be in Oak Creek Canyon, considered "a smaller cousin of the Grand Canyon."
You can visit independently easily. Head north on AZ-89A until you reach the turn off for Oak Creek Canyon. Cross the creek and park your car, and then walk a short distance to Oak Creek Canyon, where you can marvel at the beauty that this miniature Grand Canyon has to offer.
If you go by Jeep tour, it takes about 1.5 hours for the guided tour from start to finish. You'll start at the center of the canyon, looking up at 1,500-foot tall cliffs above you that were formed by being at the heart of a fault line.
Then you'll head up on paved roads over 2,00 feet until you reach the South Rim of the Colorado Plateau, where you'll enjoy an amazing view before being swept back to Sedona.
Slide Rock State Park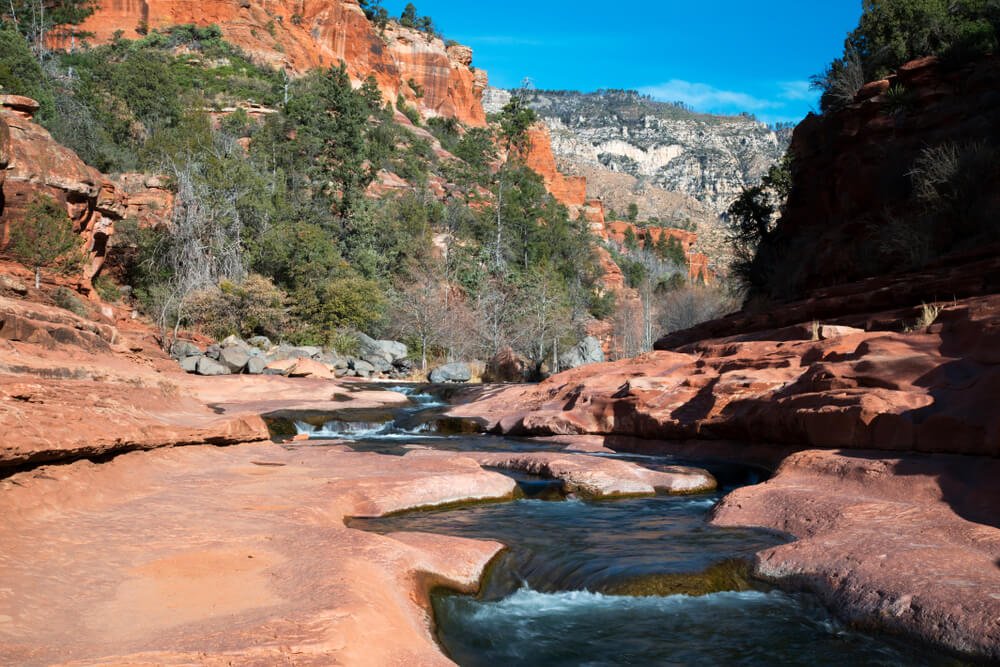 Drive Time: 15 minutes
Slide Rock State Park is just a few more miles up the road on AZ-89A, so if you are doing a self-drive day trip to Oak Creek Canyon, it's very easy to combine this as well.
There are several easy trails you can take in Slide Rock State Park for a little hike out in nature. For an easy paved trail, check out the Pendley Homestead trail, which is just a quarter-mile and super-level.
You'll see the historic Pendley Homestead House and the original apple orchards and a barn where the apples were packed.
For another easy hike, take the Slide Rock Route. It's only 0.3 miles and will lead to a natural "water slide" of sorts on Oak Creek, which is a popular place for people to relax on hot Sedona summer days.
Red Rock State Park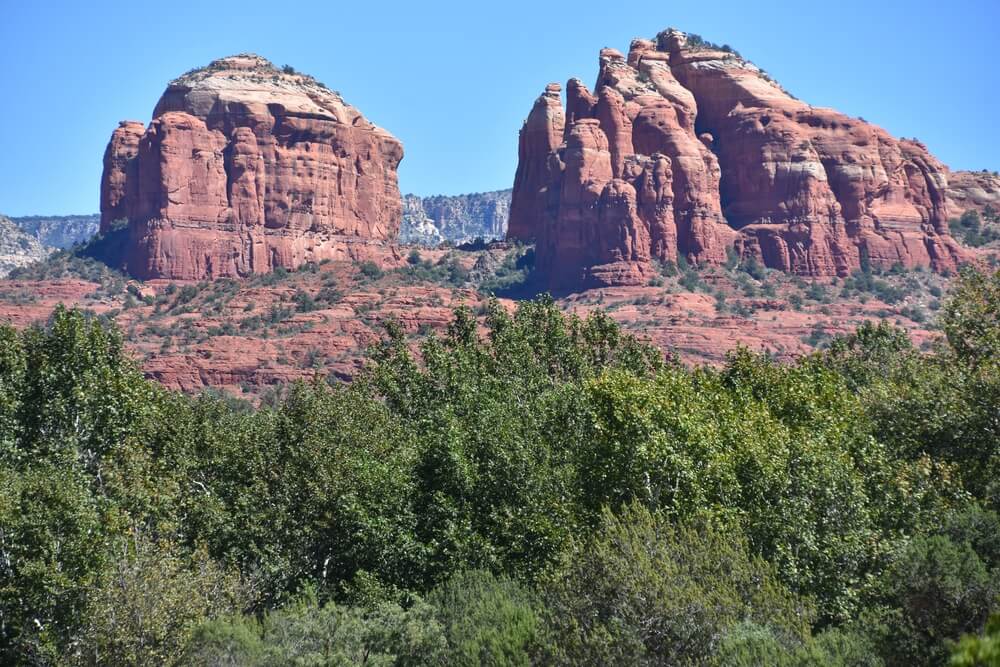 Drive Time: 15 minutes
Red Rock State Park is located to the south of Sedona by about 15 minutes by car. It's full of awe-inspiring landscapes and is home to 5 miles of hiking trails.
One of the best hikes is Eagle's Nest, a 1.5-mile return hike that leads up a hill with an incredible view of the larger Sedona area.
There's a slight incline as you gain about 300 feet, so it is a moderate hike, but the spectacular views are quite worth it!
For a different kind of hike, check out the Kisva Trail. It's shorter, about 0.7 miles, and you'll pass high desert flats and then enter the riparian zone of Oak Creek.
You'll cross the creek a few times and be covered in shade throughout most of the hike, so it's a good choice for a hot day or for someone looking for a family-friendly hike.
Cottonwood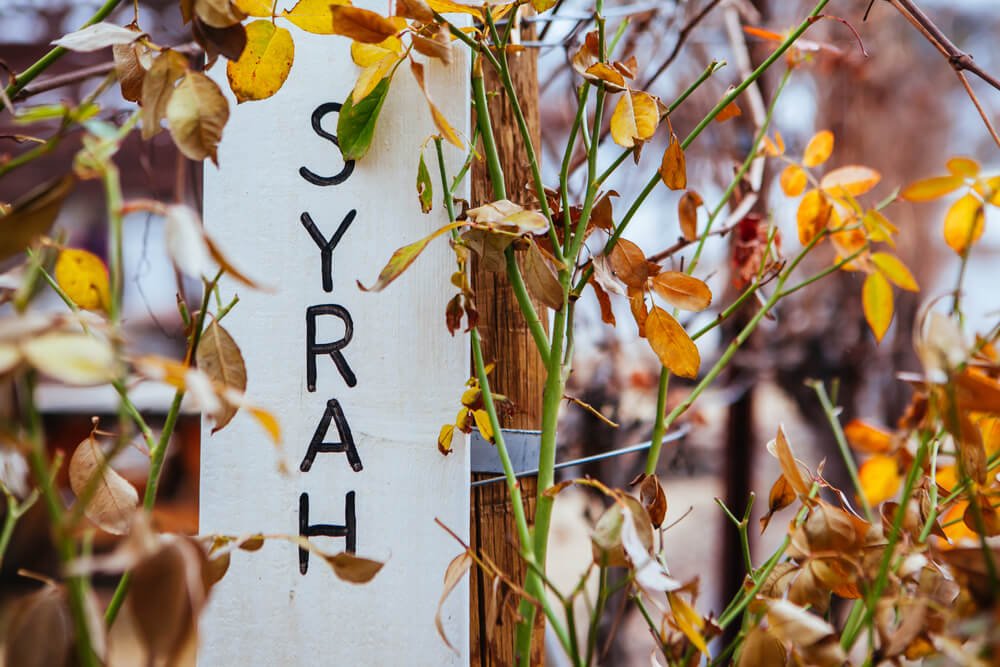 Drive Time: 25 minutes
Who knew that just a 25-minute drive from the red rocks of Sedona's high desert, you'd be in Arizona wine country?
Old Town Cottonwood has tons of tasting rooms, or you can visit some vineyards in the Cottonwood area for wine tasting.
There are also more wineries in the Jerome and Clarkdale area, part of the Verde Valley wine trail.
For some nature, the Dead Horse Ranch State Park is right there in Cottonwood and it's a lot more beautiful and a lot less foreboding than its name would suggest!
It's located right on the Verde River and it's a stunning place for a walk after exploring the historic downtown area and enjoying some of the tasting rooms and art galleries in Old Town Cottonwood.
If you plan to do several wineries, I suggest going on a wine tour so that no one in your party has to abstain or run the risk of driving under the influence. This is a highly-rated wine tour that leaves from Sedona!
You can also do a combination wine + Jeep tour departing from Sedona. It only includes one winery, Alcantara, but you can taste 5 different wines there and then be back in Sedona in only a quick 2-hour excursion.
It's great if you have limited time, but still want to see a little more than just downtown Sedona.
Jerome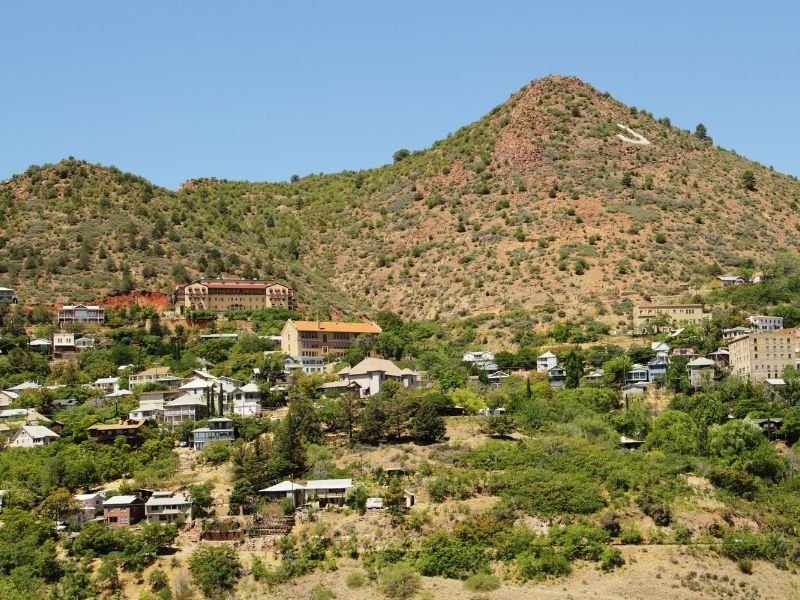 Drive Time: 35 minutes
Once called the "Wickedest Town in the West" for its corruption and debauchery, Jerome was a mining boomtown due to its immense copper mine, which produced over 3 million pounds of copper each month.
Jerome was a large city, at one point the fourth-largest in all of Arizona, up until after World War II. When wartime demand dried up, so did demand for copper.
The mine closed in 1953, its population of 15,000+ people dwindled down to just 50 or 100. 14 years later, it was designated as a National Historic District and promoted as a historic ghost town.
Today, things are a little more lively — the population numbers around 450, and there's a large community of artists and companies which cater to tourists. Jerome is now considered one of the largest ghost towns in America!
You can drive to Jerome easily with about 35 minutes of drive time. Also located in Jerome is the Tuzigoot National Monument, a pueblo ruin atop a ridge above the Verde River.
This pueblo was built by the Sinagua people, who began settling the Verde Valley around 1,400 years ago.
This particular pueblo was built around the 11th century, but construction on it continued up until the 14th century, suggesting continual habitation up to that point.
Historians believe the Sinagua people abandoned these settlements while making a journey towards Northern Arizona, where they dispersed into different Native tribes, including Hopi, Yavapai, and Zuni.
If you don't want to drive (or prefer some historical context along with your sightseeing), there are tours available that cover both Jerome and Tuzigoot National Monument departing from Sedona. It's a full day trip that takes about 6 hours.
Montezuma Castle National Monument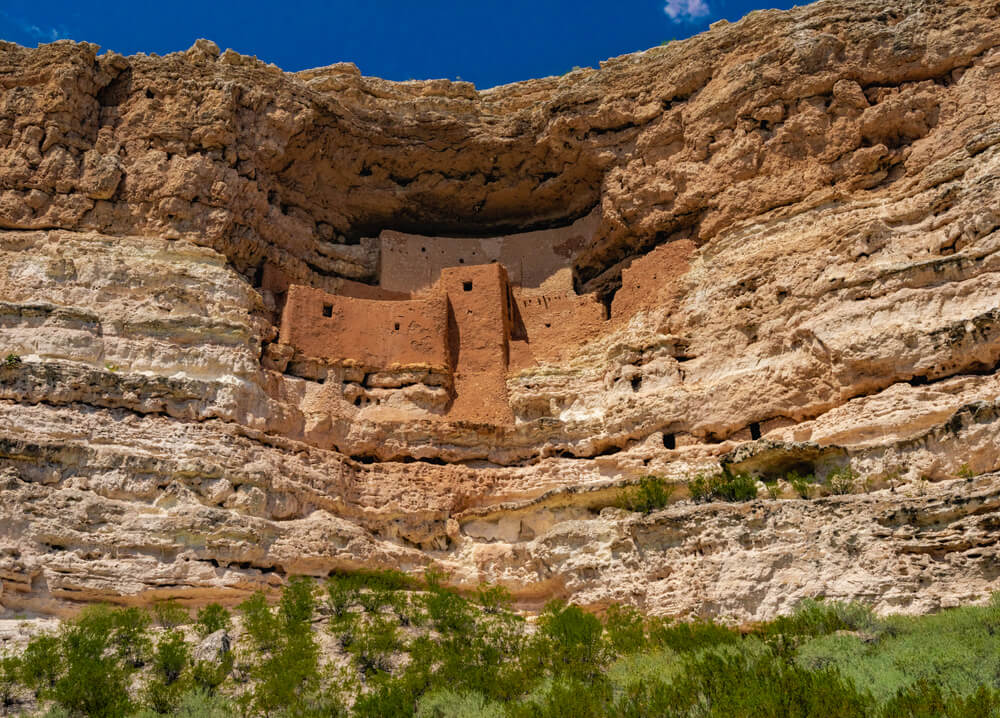 Drive Time: 35 minutes
Another historical legacy of the Sinagua people, this is perhaps the most impressive Native American ruin in Arizona.
The construction of this "castle" looks similar to the Puebloan cliff dwellings of Mesa Verde National Park in Colorado, though smaller in scale.
Not so much a "castle" as a sort of "prehistoric high-rise apartment complex", this dwelling has about 5 stories and 20 rooms, which were built up between 1100 and 1425, before being abandoned in the same migration north that Tuzigoot experienced.
While visiting Montezuma Castle, be sure to also visit Montezuma Well, about 15 minutes away. This limestone sinkhole (similar to the cenotes of Mexico) is really beautiful, although you are not allowed to swim here!
Ther are caves surrounding the Montezuma Well which show that this was another place where the native Sinagua people were living before their migration.
This is one of the best day trips from Sedona for those interested in Native American history, and it's easily paired with Tuzigoot National Monument if you are self-driving, as the sites are about 40 minutes apart by car.
Flagstaff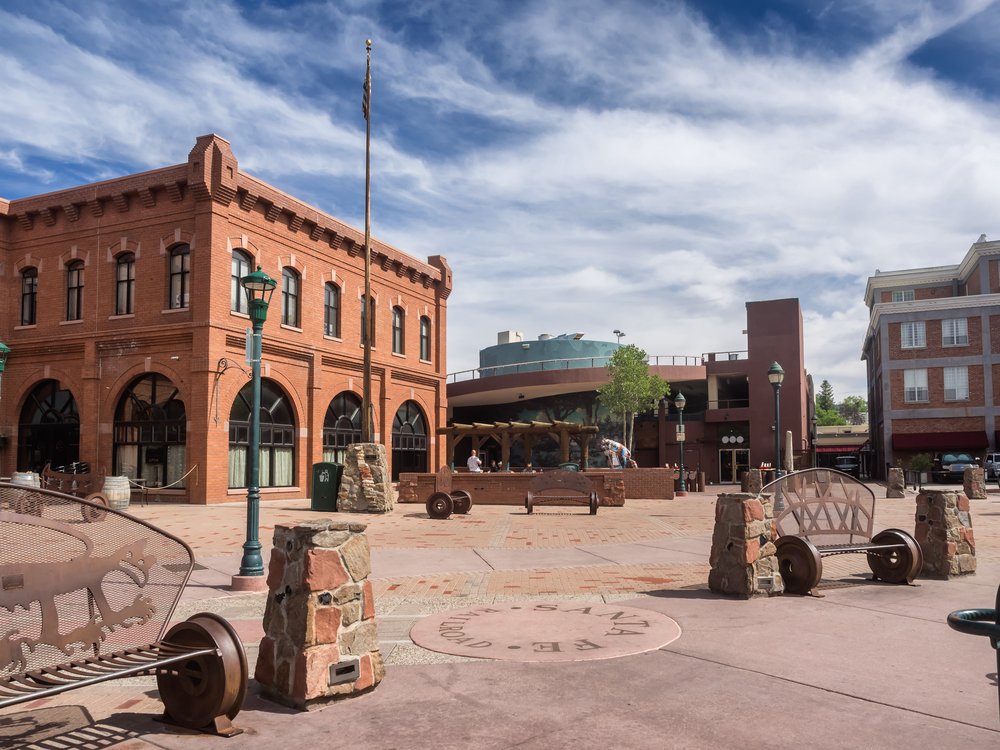 Drive Time: 45 minutes
Flagstaff is one of the most obvious Sedona day trips for a number of reasons. Less than an hour drive away from downtown Sedona through a beautiful pine forest, Flagstaff has so much to offer travelers.
In terms of nature, Flagstaff has a ton to offer. You can forest bathe in the world's largest contiguous Ponderosa pine forest, ascend to the San Francisco peaks via the Arizona Snowbowl chairlift, or take a section hike on the AZT, the 800-mile trail that runs through Arizona from Utah to Mexico.
The Coconino National Forest is home to great opportunities for mountain biking, hiking, and other outdoor activities. Another great outdoor activity in Flagstaff is ziplining with Flagstaff Extreme! It's a ton of fun and an experience I recommend wholeheartedly.
Other great things to do in Flagstaff include enjoying all the great breweries in town, ambling along Flagstaff's stretch of Route 66 by foot or by car, and enjoying the historic downtown area.
But there's no need to stay down to earth: Flagstaff is also home to the Lowell Observatory, a famed planetarium where Pluto was first discovered!
Of course, the observatory is best visited at night, so this may not be the best day trip option, but planning an overnight excursion to Flagstaff that includes some time touring the observatory would be a fantastic option for space enthusiasts.
Walnut Canyon National Monument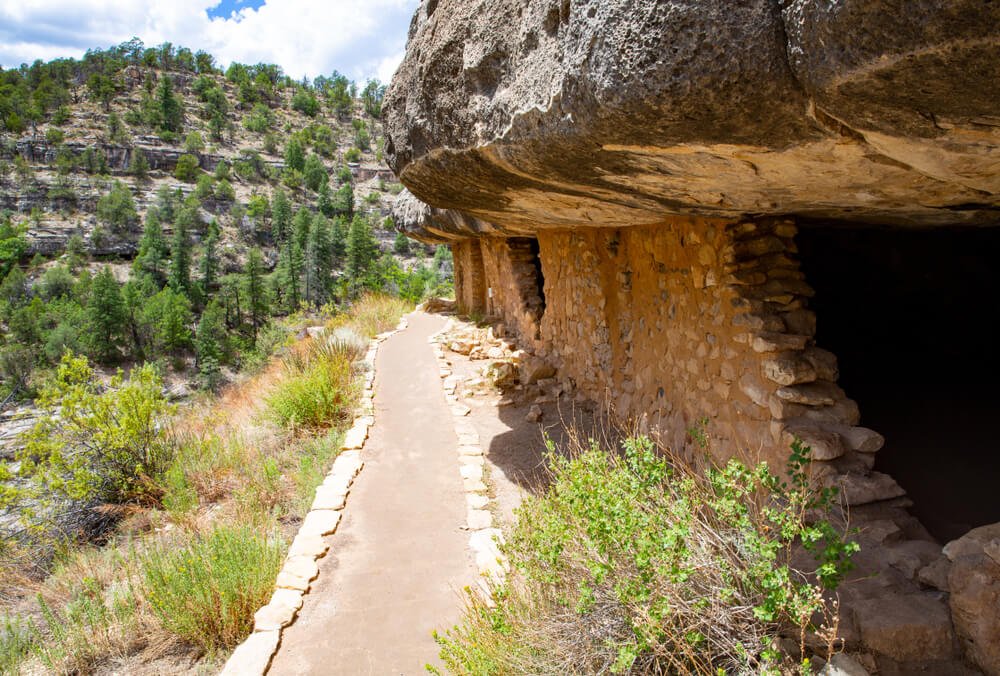 Drive Time: 55 minutes
Walnut Canyon is another cool site that combines geology and archaeology, where you can visit a Native American pueblo and also admire the canyon in which it was built.
Take a stroll down the 1-mile Island Trail, which allows you to pass 25 individual cliff dwellings that were last inhabited some 700 years ago.
Note that while the trail is short, it is a bit difficult and it's not accessible. The elevation is well above 7,000 feet, and the trail descends and then ascends 185 vertical feet via stairs on steep terrain.
Sunset Crater Volcano National Monument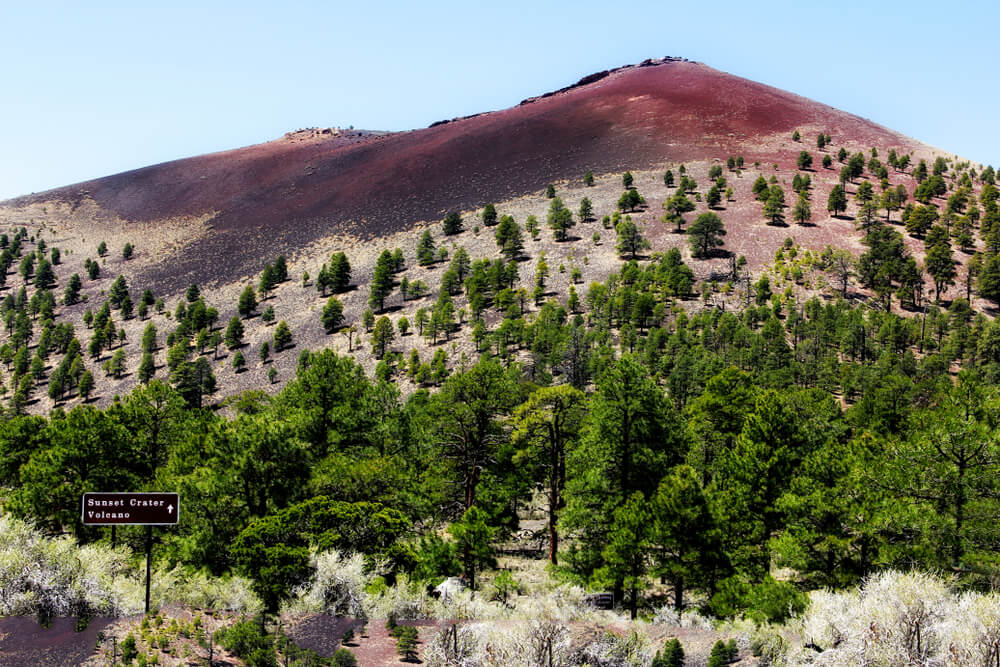 Drive Time: 1 hour, 5 minutes
Located outside of Flagstaff, Sunset Crater Volcano National Monument is a really beautiful and unique place where the Ponderosa pines give way to a volcanic landscape.
There are several beautiful hiking trails in the National Monument site, where you can explore the volcanic landscapes.
An easy trail is the A'a Trail, a quarter-mile trail showing the basalt lava rock formations of the Bonito Lava Flow which occurred almost a millennium ago.
If you need a paved, accessible trail, the Bonito Vista Trail is a great option too, only 0.3 miles round trip and paved over the cinders.
For a more difficult hike, take the Lava's Edge trail, a 3.5-mile moderate hike over loose volcanic cinder and rocky basalt. You'll see all sorts of incredible sites on this path!
There is a lava tube in the national monument area that used to be able to be walked through, but unfortunately, since it is now beginning to collapse, it is no longer able to be visited.
Wupatki National Monument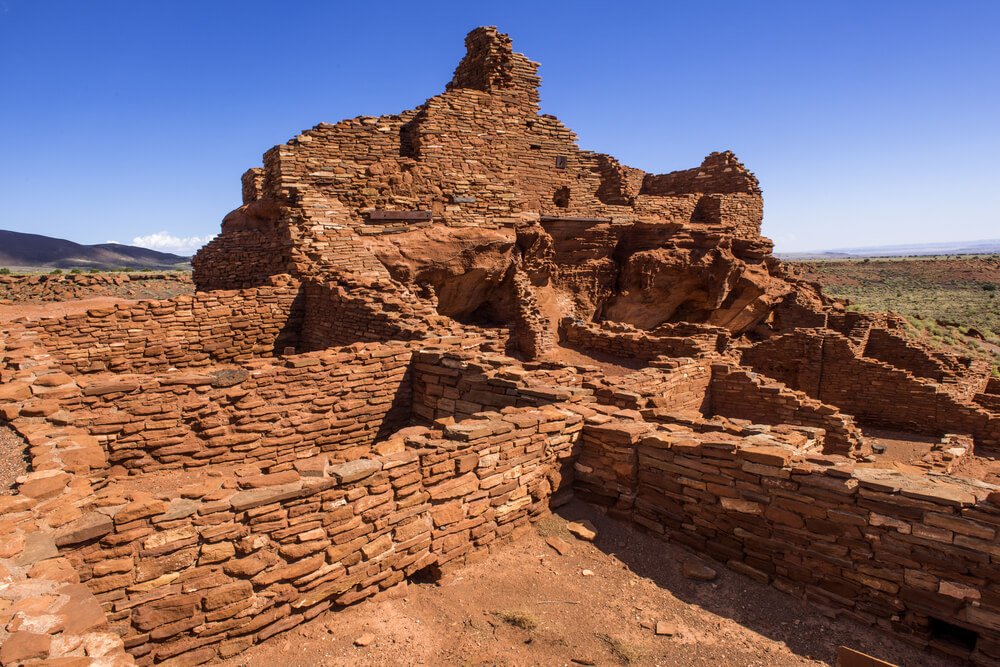 Drive Time: 1 hour, 10 minutes
Often visited in conjunction with Sunset Crater Volcano National Monument, the fee for Sunset Crater also includes admission to Wupatki National Monument, so you should pair both when doing a Sedona day trip.
This is another Native American archaeological site with ancient pueblos. There are some 800+ ruins in the park, though only 5 sites are open to visitors and accessible via the main road.
These pueblos were built by the Anasazi and Sinagua Natives during the same time period as the previously mentioned pueblos and were abandoned many centuries ago during the same migration.
Williams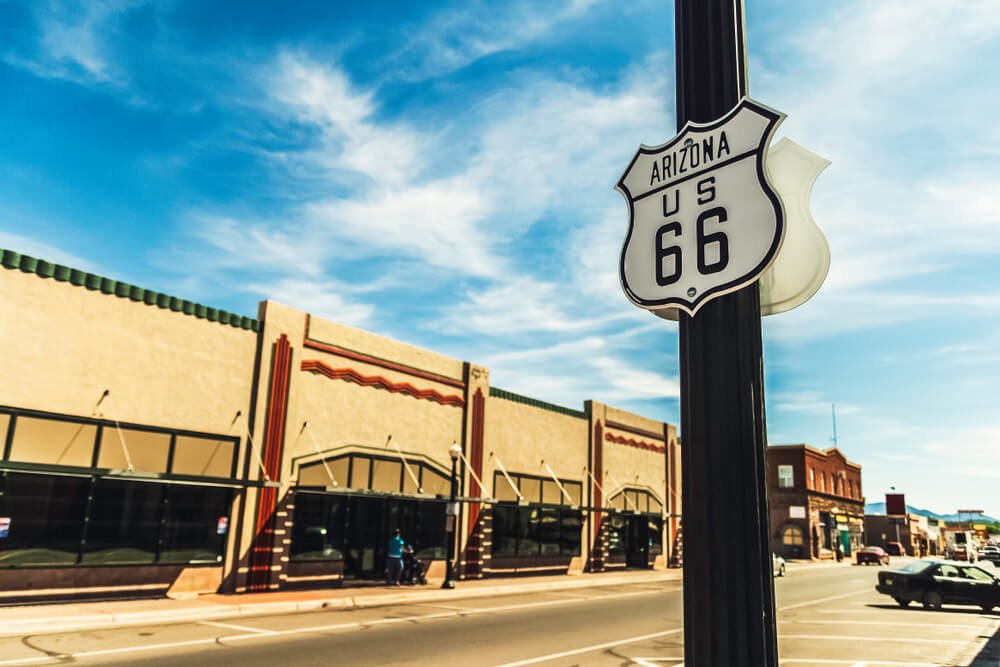 Drive Time: 1 hour, 10 minutes
Williams is considered the "Gateway to the Grand Canyon", and it's also the start of the scenic Grand Canyon Railway.
It's also right along Route 66, so it's a fun destination if you're looking to drive a stretch of Route 66 from Flagstaff to Williams while visiting Sedona!
A great day trip itinerary would include Flagstaff, Williams, and Grand Canyon National Park in a full-day trip full of scenic drives and natural beauty.
If you continue on to Grand Canyon Village from Williams, this is the departure point for a lot of epic Grand Canyon helicopter and Pink Jeep tours!
Book your Grand Canyon helicopter or your scenic Grand Canyon Pink Jeep tour here!
Prescott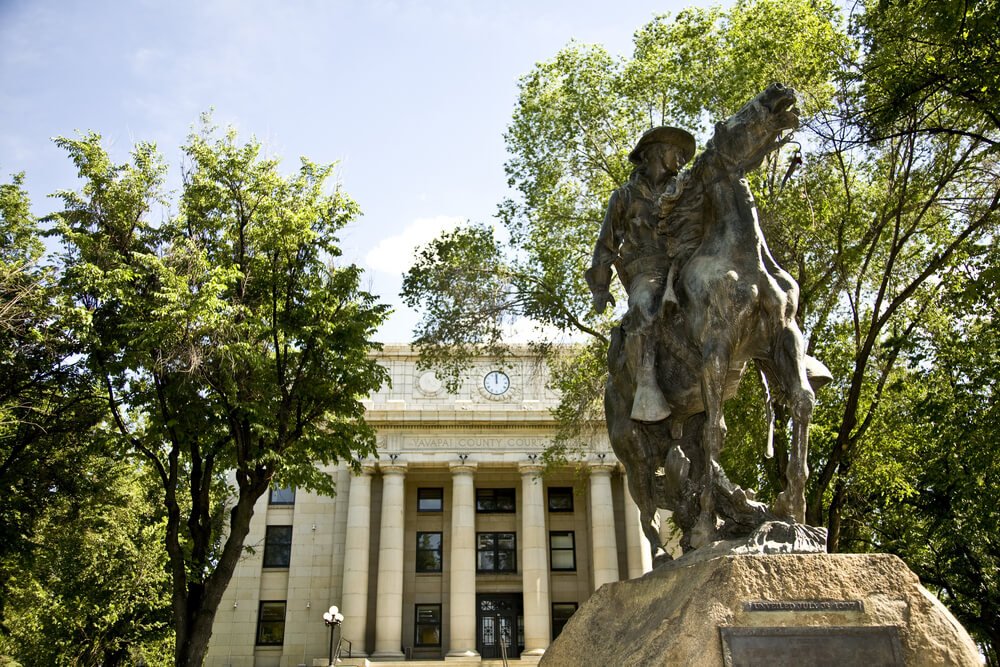 Drive Time: 1 hour, 15 minutes
Prescott is a charming city near Sedona that makes a great day trip option!
Wander along the historic Whiskey Row full of bars and live music spots, check out the pioneer history at the Sharlot Hall Museum, or learn about the culture of the Southwest's original inhabitants at the Museum of Indigenous People.
Nature lovers will love birding at Watson Lake, which also abounds in hiking opportunities. The Prescott National Forest is also right there on the edge of town and offers up 450 miles of trail to choose from!
Prescott is easily paired with other destinations like Cottonwood, Jerome, and Tuzigoot National Monument for an epic one-day road trip from Sedona that covers several historic destinations in one go.
Winslow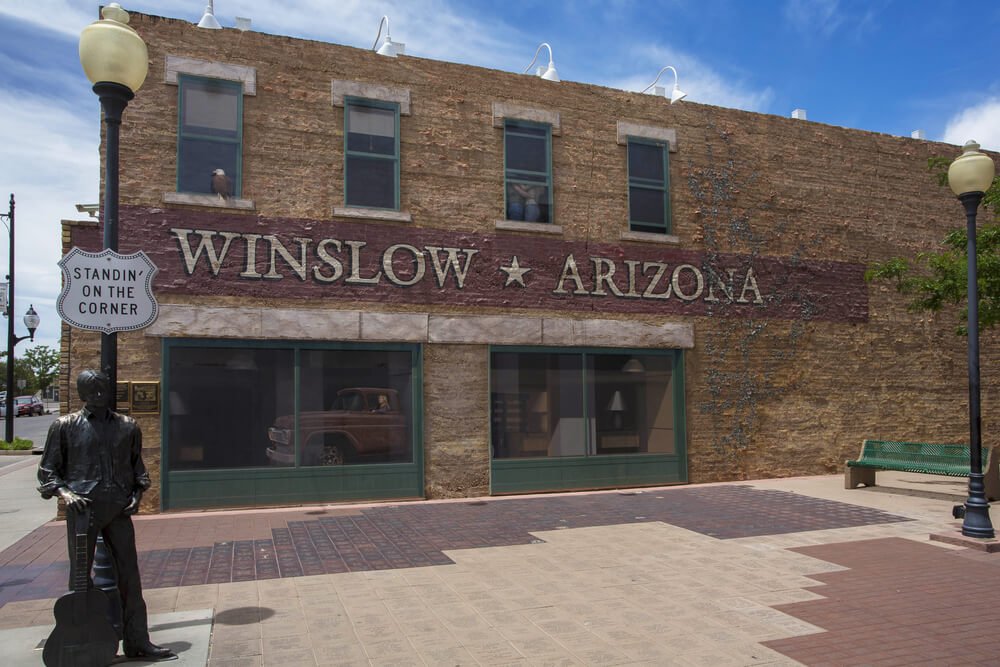 Drive Time: 1 hour, 30 minutes
Winslow is another historic Route 66 town in Arizona that is worth a stop if you are driving a stretch of Route 66, such as if you are heading to Petrified Forest National Park.
Winslow is a town made famous by the Eagles in their song "Take it Easy", where they sing about standing on a corner in Winslow, Arizona — and there's now a Standin' on the Corner Park to commemorate the song, complete with a statue and a trompe l'oeil mural!
Winslow would be best paired with other destinations on Route 66 like Flagstaff and Holbrook. You can also visit the Meteor Crater Natural Landmark on the way — it's just a short sojourn off the Mother Road.
Grand Canyon National Park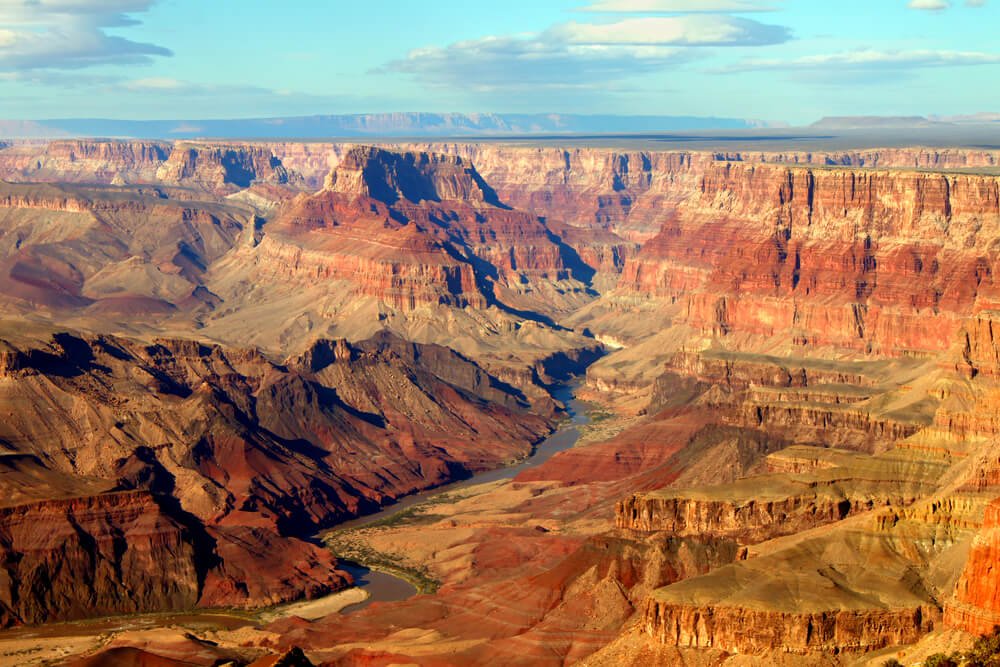 Drive Time: 2 hours
While the North Rim of the Grand Canyon is out of reach for a day trip from Sedona, the South Rim of the Grand Canyon is easily accessible within about 2 hours by car. (Read about the difference between the two here)
Considered one of the 7 natural wonders of the world, the Grand Canyon is the world's deepest canyon, carved out by millennia of erosion of the mighty Colorado River.
It's truly a wonder to behold, and if you're staying in Sedona with no plans to make a larger Arizona road trip, a day trip to the Grand Canyon is the day trip to choose.
There are a few ways to do a Grand Canyon day trip from Sedona: self-drive, guided tour, and guided tour via train.
Self-driving is relatively self-explanatory. The perk of this is that it's the cheapest: just hop in your car, drive up through Flagstaff and then head to Williams along Route 66 before turning towards Grand Canyon National Park.
The other perk is getting to stop however long you want in these side-trip destinations, so you can spend a few hours in Flagstaff and an hour or so in Williams before checking out the Grand Canyon.
If you don't have a rental car, or don't want to deal with the drive, there are tons of great day tours to choose from!
Taking a guided tour takes the spontaneity out of things, but it does also take the stress out, and it puts the onus of driving 4+ hours in a day on someone else!
There are a variety of guided tours offered from Sedona. This guided tour is the best-rated standard Grand Canyon tour, which includes pick-up, plenty of sightseeing time at the Canyon, and drop-off back at your Sedona hotel.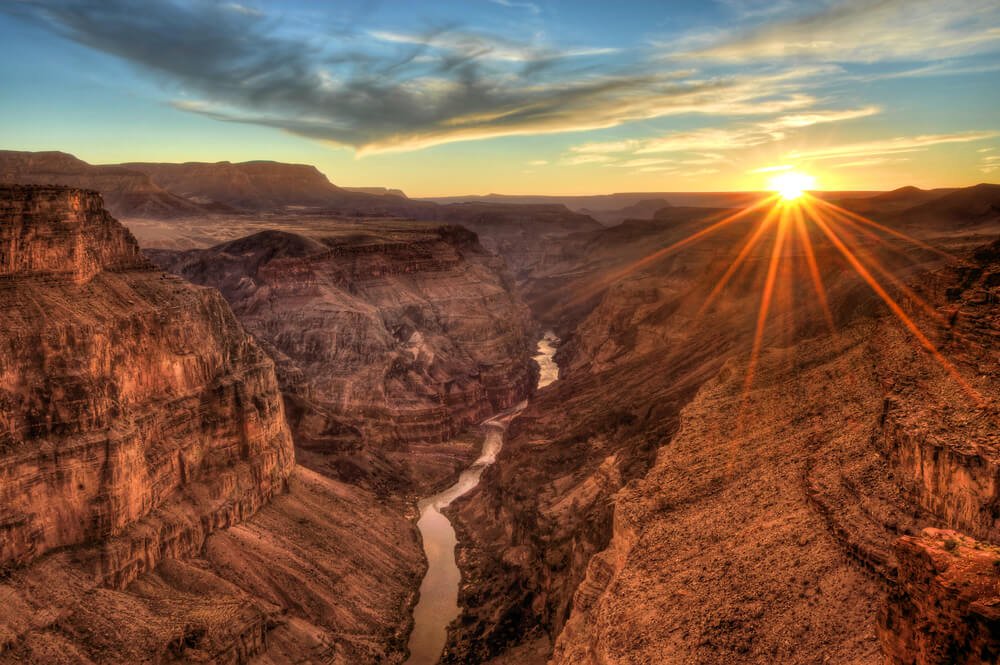 For a slightly different option, you can do this sunset tour of the Grand Canyon that also includes dinner. It gets a later start, starting around 11:30 AM, and lasts for 10 hours.
Expect this to be a long day and to arrive back late at night in Sedona, but as someone who has seen the sunset at the Grand Canyon, I can promise you: it's absolutely worth it!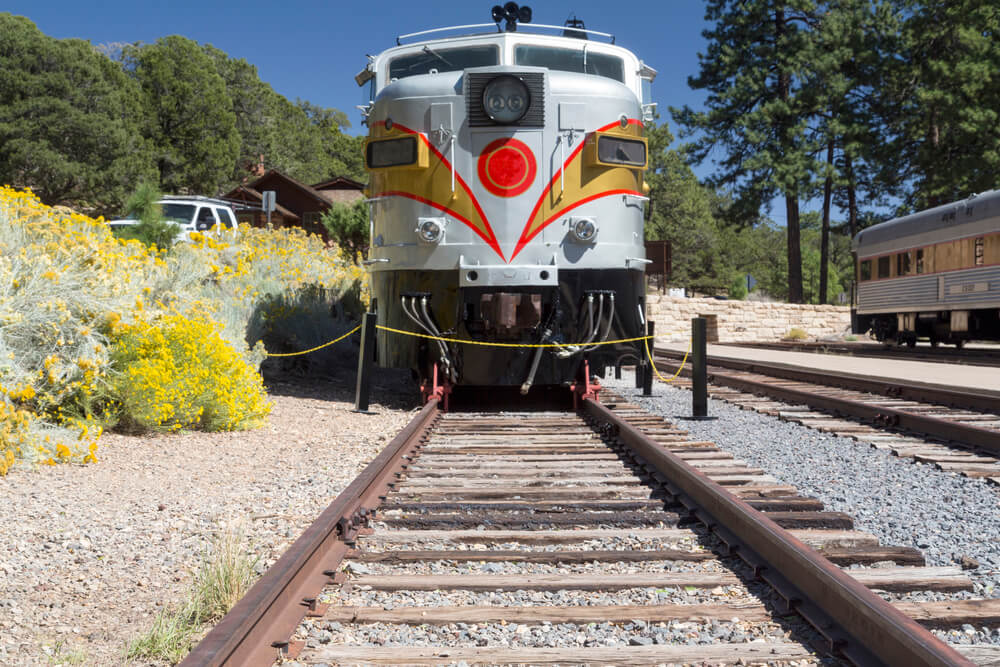 Another option is the guided tour that includes the historic scenic train from Williams to Grand Canyon Village.
This tour includes transit from Sedona to Williams, a one-way ticket (standard or first-class) with entertainment between Williams and the South Rim of the Grand Canyon, a 4-hour tour of the Grand Canyon (including the East Rim, the Desert View Watchtower, and the Cameron Trading Post on Navajo land), and then return transit via vehicle to Sedona.
Lunch is not included, but there is free time given for lunch, so pack a lunch or be prepared to spend some money on lunch.
Phoenix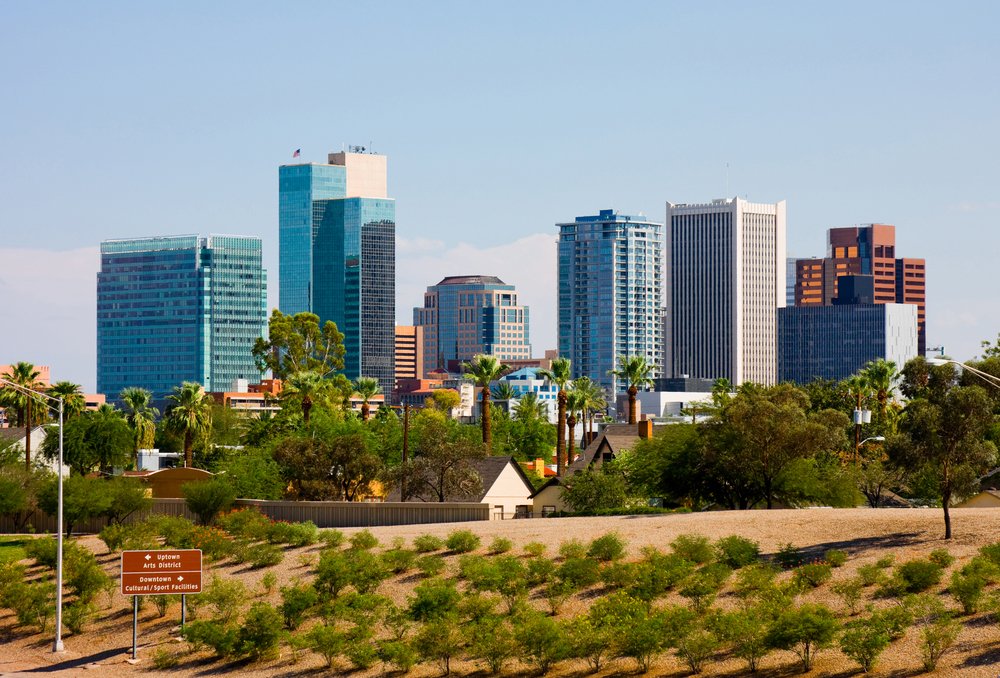 Drive Time: 2 hours
The capital of Arizona, Phoenix, makes for an interesting day trip, though it is rather far away from Sedona.
If you're visiting Sedona from out of state, most likely you'll fly in and out of Phoenix International Airport, so perhaps setting aside a half-day to explore Phoenix either coming or going would be the best use of time!
When in Phoenix, don't miss the stunning Desert Botanical Garden, spread across 140 acres of beautiful land in Papago Park.
Other things to do in Phoenix include checking out the culture. Phoenix is home to a number of great museums including the Arizona Capitol Museum, the Phoenix Art Museum, and the Heard Museum of American Indian Art.
Museums are a great way to spend a summer day in Phoenix because summer temperatures here are scorching!
Scottsdale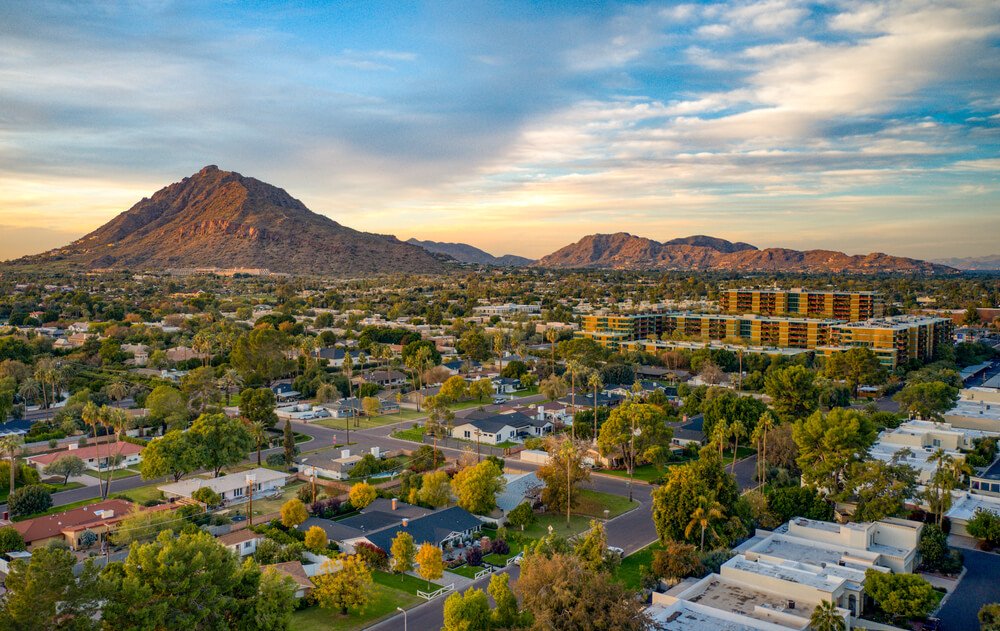 Drive Time: 2 hours
Scottsdale is part of the Greater Phoenix Area, a large city that sort of acts as a suburb of Phoenix.
It's best-known for its resorts and spas, but Scottsdale also has great culture!
It's known for its architecture, including the Old Town with its Western architecture and the beautiful Taliesin West, Frank Lloyd Wright's former winter home, which you can see on a guided tour.
Other things to do in Scottsdale include exploring all the great boutiques, checking out the museums, and enjoying the fantastic eating and drinking scene like on a Scottsdale food tour!
Tempe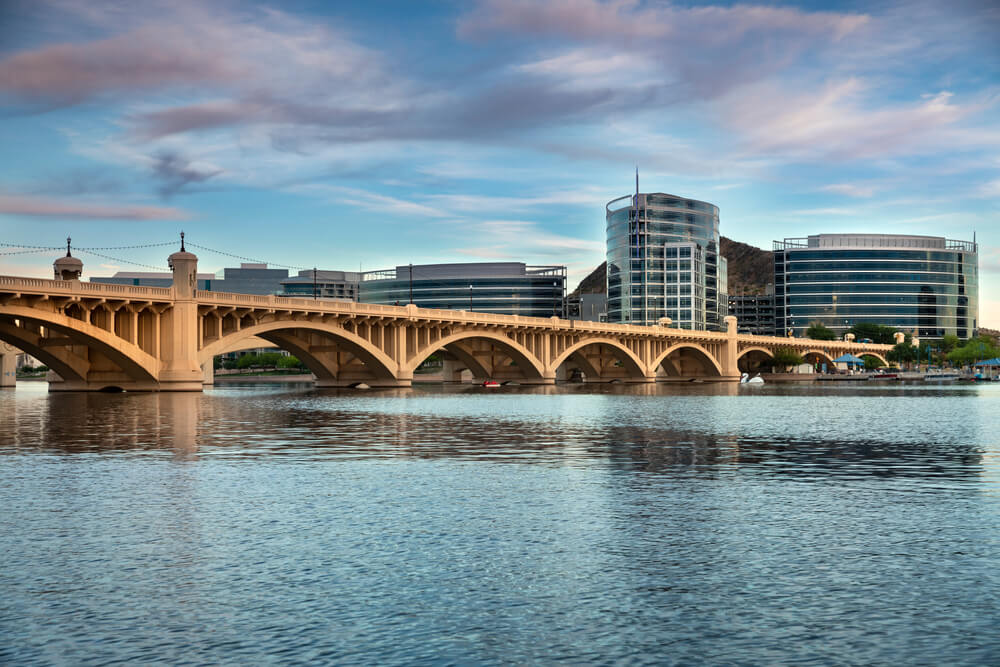 Drive Time: 2 hours
Another city in the Greater Phoenix Area, Tempe is also worthy of a day trip on your way coming or going to Sedona.
Enjoy time out on the water at Tempe Town Lake, take a hike in the Sonoran Desert (best avoided in summer unless you can get an early start!), or enjoy the beautiful murals around the city.
Holbrook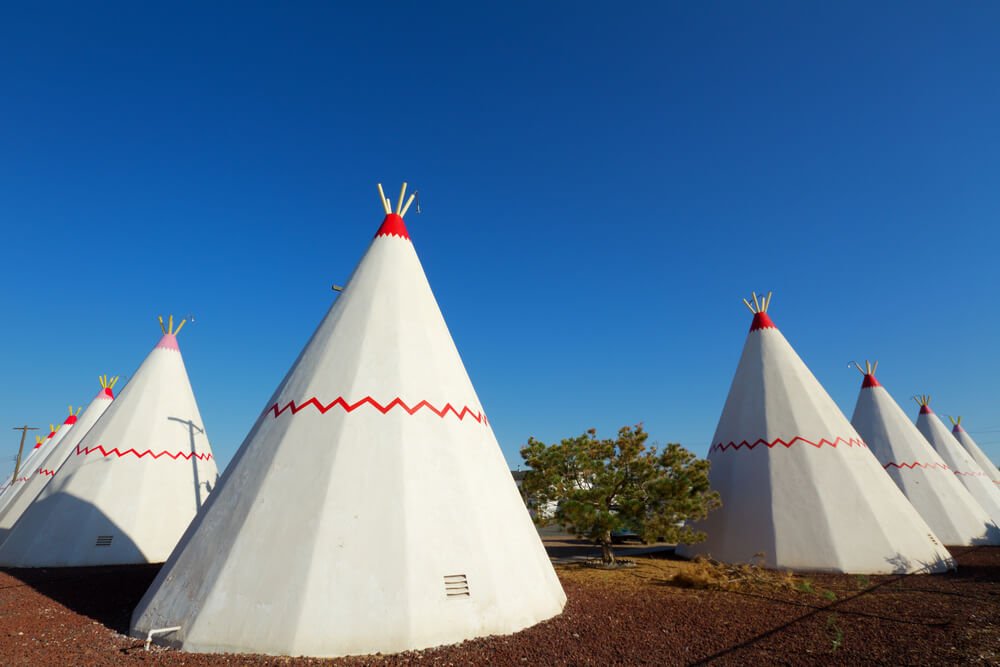 Drive Time: 2 hours
Holbrook is a worthy stop along Route 66 that makes a good breakpoint on your way to Petrified Forest National Park (another 20 minutes away) or Canyon de Chelley (another hour and 45 minutes).
It in and of itself isn't quite worthy of a day trip but it is a great waypoint to further explorations from Sedona!
Holbrook is perhaps best-known for its ultra-quirky, slightly culturally-insensitive Wigwam Village, a popular motor lodge along the Mother Road. The design of the rooms are not actually wigwams, but rather tipis, but apparently that didn't have a cool enough ring to it?
Holbrook is a strange little city full of odd things: an award-winning sake brewery the size of a small garage, a street called Bucket of Blood Street, and lots of kitschy Route 66 stops and shops.
Hopi Nation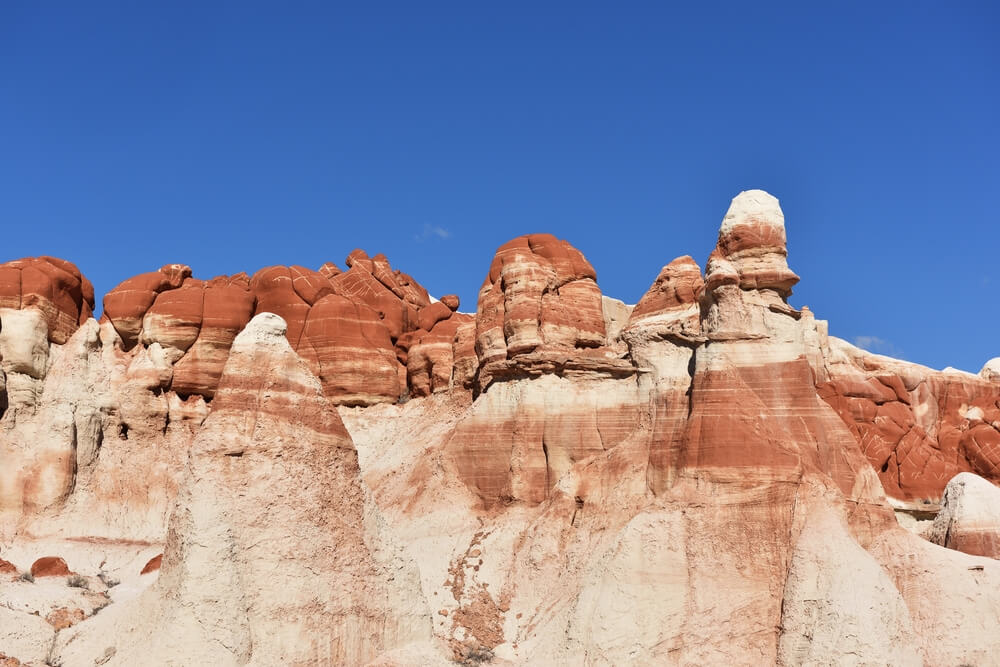 Drive Time: 2 hours
So far, we've mentioned a lot of Sedona day trips that involve ancient Native American culture and archaeological sites.
But Native Americans are very much alive and present in Arizona, and the state represents more than 10% of the United States' entire Native population. In terms of Native populations, California and Oklahoma are the only two states with more Native peoples.
There are several important Native American tribes in Arizona, including the Navajo (Diné), Hopi, Havasupai (Havasuw `Baaja), Quechan (Yuma), and many others.
The best way to experience Native American culture is via a guided tour that benefits the community that you are a guest in, patronizing Native businesses and artists.
This tour of the Hopi Nation is led by a Hopi guide, who will share their culture with you through food, art, and history.
The tour includes a Hopi meal enjoyed at the Hopi Cultural Center, a tour through the Hopi Museum and Art Gallery, and visits to local artisans who keep tradition alive through basket-weaving, pottery-making, and carving the famous Kachina dolls.
Petrified Forest National Park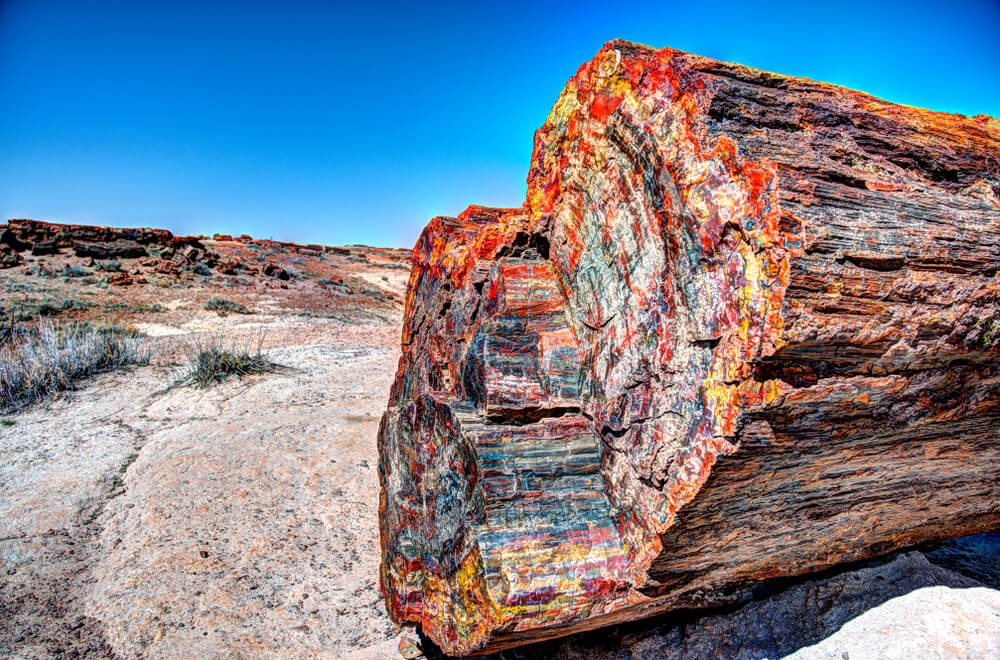 Drive Time: 2 hours, 20 minutes
This National Park is often overlooked in favor of Arizona's other two, more famous national parks (it's hard for anything to compete with the Grand Canyon!), but it's an absolute beauty worth visiting despite the long drive time from Sedona.
The national park is so named for its colorful array of petrified wood throughout the park, surrounded by the Rainbow Forest to the south and the Painted Desert further out in Navajo Nation.
You can drive through the park in less than an hour via Blue Mesa Road, but I'd allocate at least 3-4 hours to stop at overlooks, do a few easy hikes, check out the petroglyphs and the Rainbow Forest Museum, and head to the Painted Desert Inn with its Hopi murals on the North edge of the park.
Page (Horseshoe Bend & Antelope Canyon)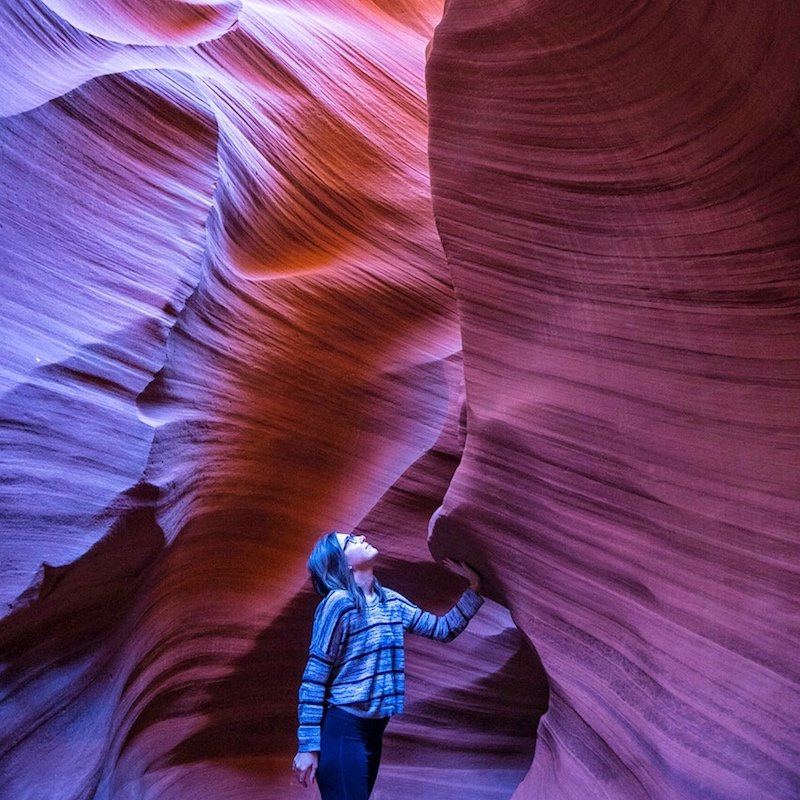 Drive Time: 2 hours, 45 minutes
Both Horseshoe Bend and Antelope Canyon are easily accessed from Page, Arizona, a small town on the border of Utah and Navajo Nation.
I strongly recommend visiting Page on a guided tour. The drive time is nearly 3 hours each way, leading to a nearly 6 hour return trip, which is rough for just a day.
A day tour means you can relax and rest in the car on the way to and from Sedona without having to stress about having to drive and get back to Sedona.
There are several excellent day tours that visit Page. Depending on what you want to see, you can pick the right tour for you. The most popular option is to visit Horseshoe Bend and Antelope Canyon together.
This tour of Antelope Canyon X is the best option because you get all the beauty of Antelope Canyon without the crowds at Upper Antelope or Lower Antelope.
I visited Lower Antelope Canyon during my last trip to Page and while it was beautiful, the crowds were frankly rather overwhelming!
This full-day guided tour includes a roundtrip transfer; visits to Horseshoe Bend, Glen Canyon Dam, Antelope Canyon X, Cameron Trading Post; and lunch on the tour.
Alternately, you can visit Cathedral Slot Canyon, an even less crowded hidden gem near Page. This tour includes Horseshoe Bend and Glen Canyon Dam as well, with a picnic lunch at Glen Canyon.
It doesn't include Antelope Canyon, but it is a gorgeous slot canyon nonetheless and is definitely worth the trip.
Glen Canyon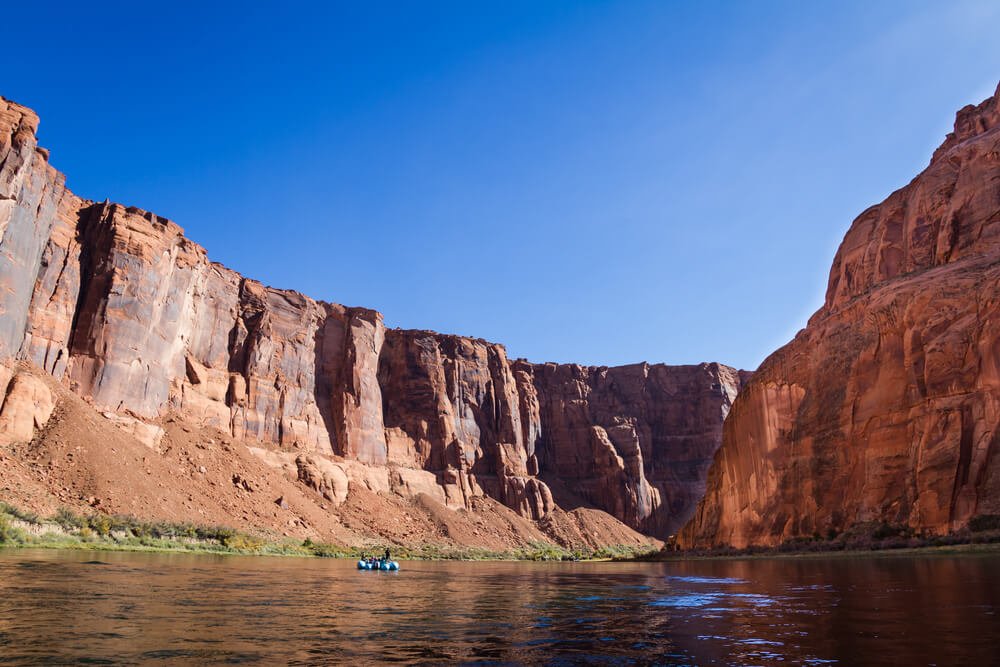 Drive Time: 2 hours, 50 minutes
Want a more active day trip from Sedona? How does a 4.5-hour float trip along the Colorado River sound to you?
This peaceful float trip doesn't include rapids, so you can relax as you float through Glen Canyon on a relaxing stretch of the river. Your river guide will tell stories of the geology, wildlife, and Native American history of the region.
At a point during the rafting trip, you'll be able to stop for an easy hike to spot the Native American petroglyphs, and you can also eat a picnic aside the river after the hike.
You'll end the tour at Marble Canyon and Lees Ferry, where you can spot pioneer-era cabins, before heading back to Sedona by air-conditioned vehicle.
Lake Powell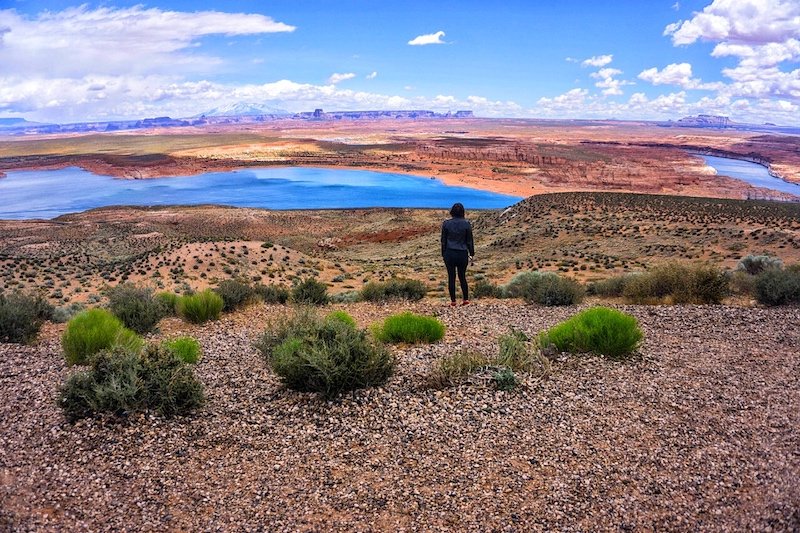 Drive Time: 2 hours, 50 minutes
Also located near Page, if you want an active day out without a guided tour, you can head to Lake Powell. It is a long drive, so I suggest having another person you can swap driving duty with, since it'll be about 6 hours of driving over the course of the day!
On Lake Powell, you can do all sorts of water sports: jet skiing, kayaking, stand-up paddleboarding, you name it!
You can also combine Lake Powell with a visit to Horseshoe Bend rather easily, because it's just a short 1.4-mile hike out and back from the parking lot.
It'd be difficult to try to squeeze in a tour at Antelope Canyon too if visiting independently, so I suggest picking between Lake Powell and an Antelope Canyon tour.
Canyon de Chelley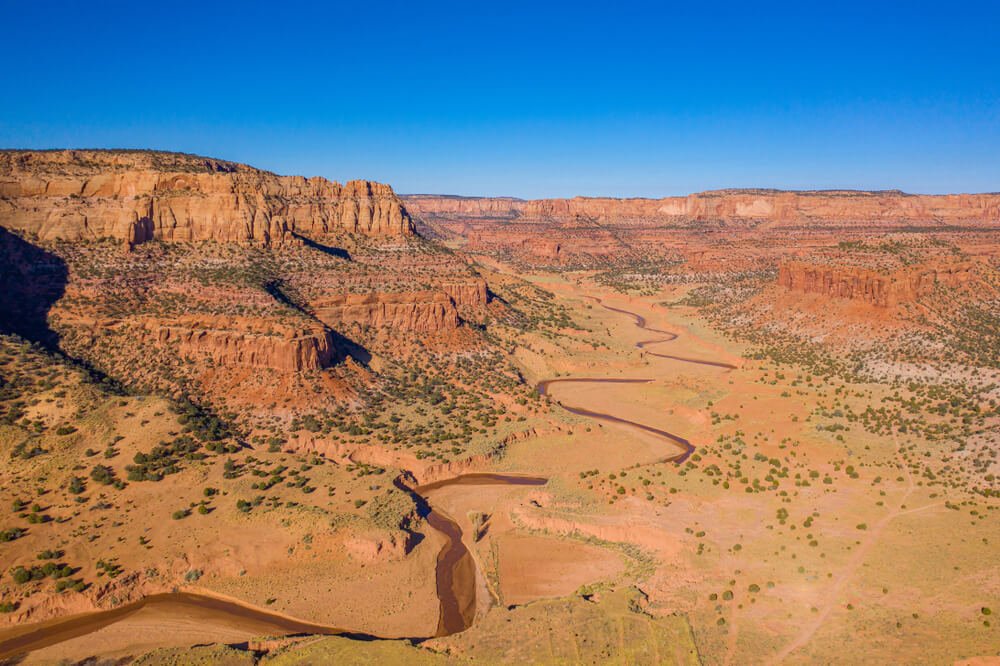 Drive Time: 3 hours, 20 minutes
Located in Navajo Nation, Canyon de Chelley National Monument is an absolute stunner. It's like a far less crowded Grand Canyon!
From scenic overlooks, check out the massive spires and sandstone cliffs around the canyon. Take the 25-mile Canyon de Chelley Scenic Drive, or take a short hike out to the Spider Rock viewpoint.
There is tons of evidence of its importance to Indigenous peoples throughout time: you'll find prehistoric petroglyphs and rock art, as well as ruins of Pueblo villages from centuries past.
Monument Valley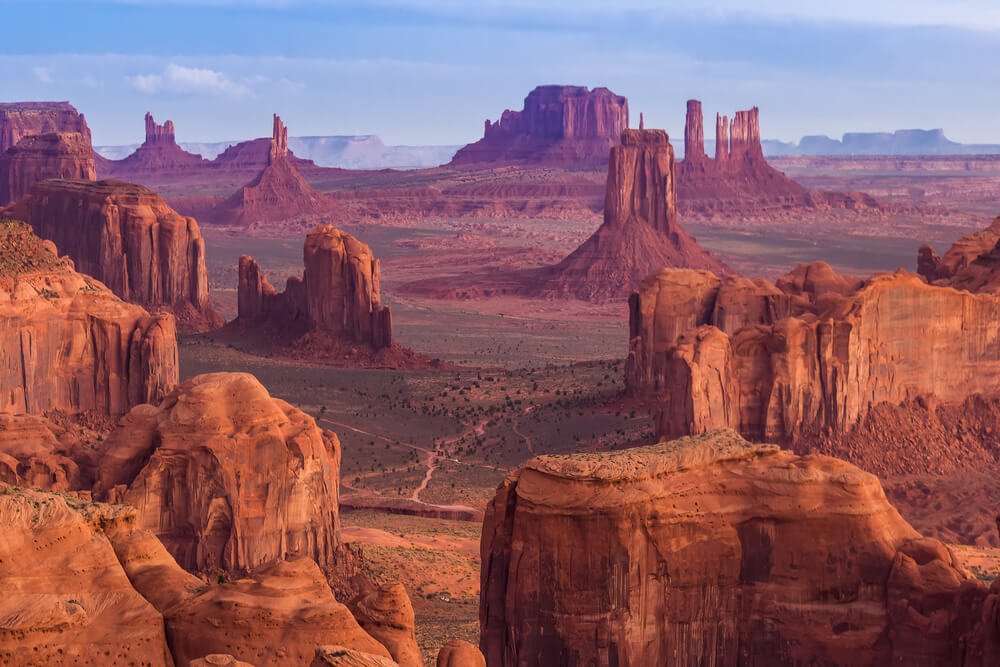 Drive Time: 3 hours, 20 minutes
One of the most photographed stretches of road in the entire American Southwest is located in Monument Valley.
While technically along the Arizona/Utah border, it's doable as a day trip from Sedona as long day out, as you don't mind driving and have someone to switch up driving duties with (or can handle driving 7 hours in a day).
Better yet, you can book a tour of Monument Valley and shift the responsibility for driving on someone else! This tour includes Oak Creek Canyon, Cameron Trading Post, the Painted Desert, and Monument Valley Tribal Park.
In Monument Valley, you'll see all sorts of buttes and mesas and rock formations, including Rain-God Mesa, the East and West Mittens, the North Window, and more.
Allison Green is a former educator turned travel blogger. She holds a Masters in Teaching and a B.A. in English and Creative Writing. Her blog posts merge her educational background and her experience traveling to 70+ countries to encourage responsible, enriching travel. She has been a speaker at the World Travel Writers Conference and her writing, photography, and podcasting work has appeared in National Geographic, CNN Arabic, CBC Canada, and Forbes, amongst others. Now a full-time traveler, she has lived in Prague, Sofia, New York City, and the San Francisco Bay Area.