While Rome is filled with wonderful squares, fountains, and awe-inspiring ancient ruins, nothing will capture your interest like the Colosseum!
The 1900-year-old amphitheater is the symbol of the Eternal City and a must-see on any Rome itinerary — whether you have one day in Rome, 3 days in Rome, or a full week!
But visiting the Colosseum comes with tips and tricks. You may think it's as easy as showing up, getting a ticket, and visiting the place… but you'd be wrong!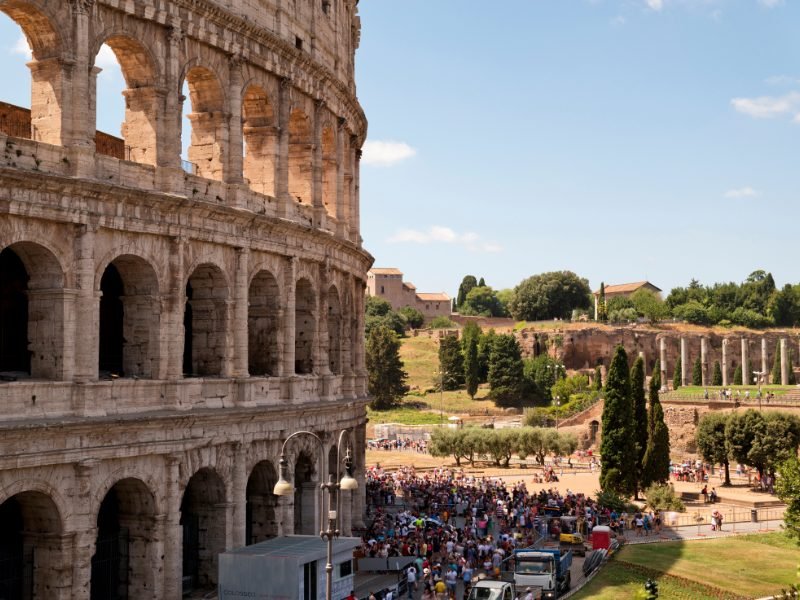 Note: This post contains affiliate links, which means I may receive a small commission if you purchase something through one of these links. Thank you for supporting the free content on this site! For more information on affiliate links and cookies, see my disclosure page for more details.
However, you'd be missing out if you skip a proper Colosseum tour, and you even risking having a bad experience without knowing a few tricks.
Tourists often make quite a few mistakes when visiting the Colosseum — we're here to help you avoid them.
Read on to find out how to make the most of your visit and avoid falling into easily avoidable errors — with tips from a Rome local!
But first — let's quickly go over some history for context, to get you excited for visiting the Colosseum!
 This post was written by Roxana Fanaru, who has lived in Italy for over 15 years, most of which she spent living in Rome. She has a Master's degree in Journalism and a passion for sharing her love of Italy with those who visit!
Want a Colosseum Tour? My 3 Top Picks
This post goes heavily into detail into everything you can expect about visiting the Colosseum.
But maybe you just want to skip all that and have a tour guide figure that all out for you?
Here are my top Colosseum tour recommendations in case you want to outsource all the planning!
A Brief History of the Colosseum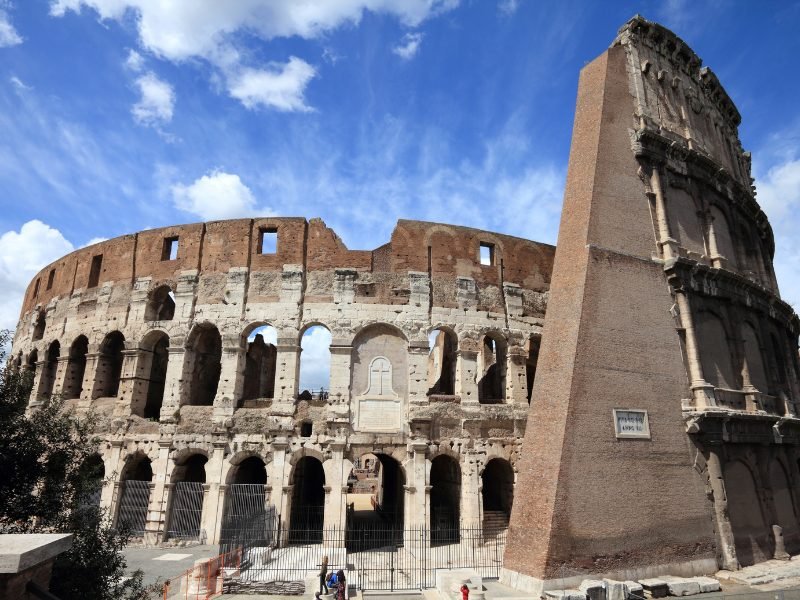 Before diving into the dos and don'ts of visiting the Colosseum, let's go over a few historical facts, so you don't arrive completely unprepared.
First off, the Colosseum is the largest amphitheater in the world!
Despite standing since the year 80 CE, it hasn't yet been surpassed by any more modern structure.
This alone is a great reason to visit this impressive landmark in Italy!
Secondly, it is one of the New Seven Wonders of the World, alongside landmarks like Chichén Itzá, the Great Wall of China, and Machu Pichu.
Even the Acropolis in Athens didn't make the selection, so the Colosseum is quite a special place!
An Unprecedented Archaeological Feat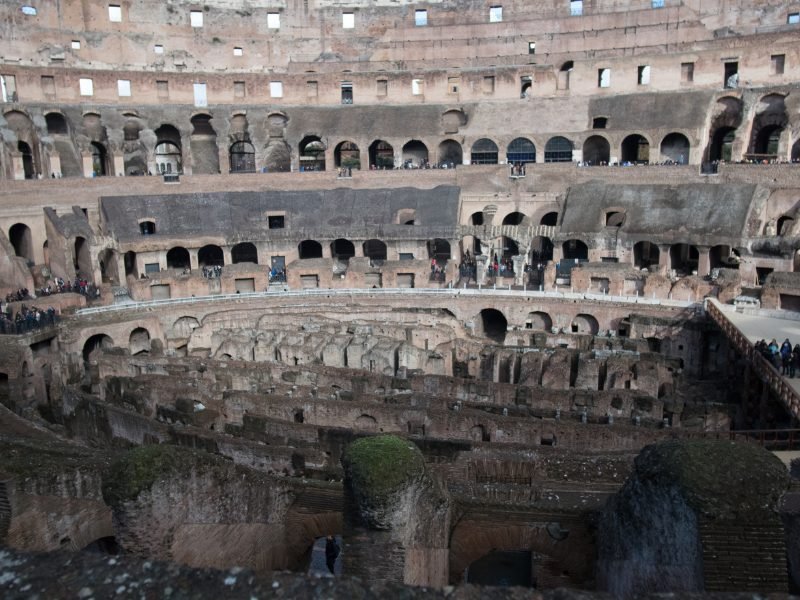 The construction of the Colosseum (Colosseo Roma) began between 70 and 72 CE, by the wish of the emperor Vespasian, who came to power shortly after Emperor Nero's death.
Vespasian was the founder of the Flavian dynasty, alongside his sons Titus and Domitian, who succeeded him. In fact, the Colosseum is also called the Flavian Amphitheatre.
The construction of the amphitheater itself was an incredible feat for the times of the Roman Empire, having been completed in less than a decade!
Vespasian decided to build this amphitheater on the spot of Nero's old villa, the so-called Golden House.
More precisely, the construction spot was a drained lake in what used to be the gardens of the Golden House.
The inauguration of the Colosseum took place in 80 CE under Titus, Vespasian's son. To celebrate the completion of the amphitheater, Titus decided to have a ceremony of 100 days of games.
The Games in the Colosseum
The Colosseum could host around 50,000 spectators and had 80 entrance arches that could allow people to easily enter and exit the theater.
To provide shade from the sun, the top would be covered with a velarium, a type of awning used also in other Roman amphitheaters.
The Flavian Amphitheater was mainly dedicated to rather dark and violent 'games', including gladiator fights, animal fights, and public executions.
The animal fights would be followed by public executions through different modalities. Enslaved people, foreigners, as well as Roman citizens would be executed in the Colosseum.
Some people would be crucified (crucifixio), others would be burned alive (ad flammas), and others would be fed to wild beasts (ad bestias).
Gladiator fights were the most awaited of the day. These fights would continue until one of the gladiators would give up, be too injured to fight, or even get killed. The award ceremony of the winners would conclude the game day.
Despite being often associated with naval battles, the Colosseum actually only hosted very few such events soon after its inauguration.
The arena was modified during Domitian's reign with the construction of the subterranean area, making it impossible to fill with water sufficient for a naval battle.
Now that you have some knowledge of the history of the Colosseum, it's time to get into the mistakes that tourists often make — and which you can avoid! — when visiting the Colosseum.
How to Get to the Roman Colosseum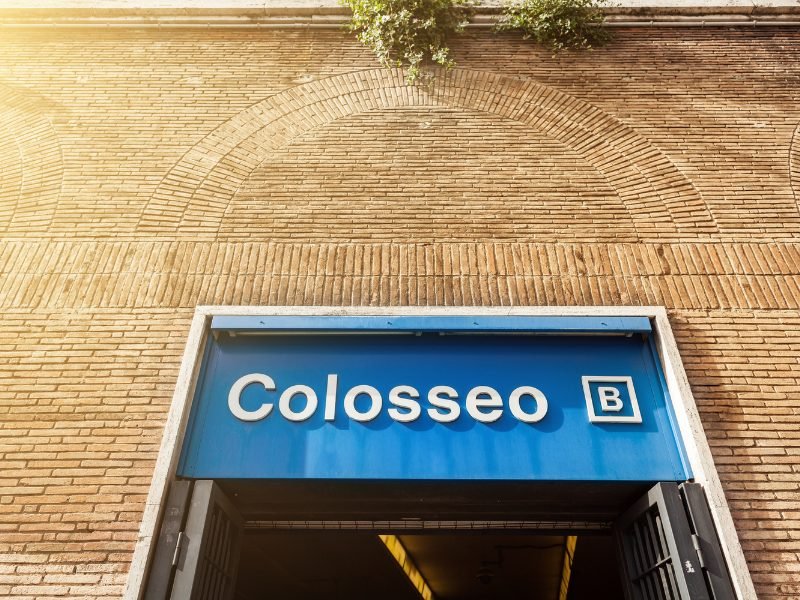 It's quite easy to get to the Roman Colosseum either on foot or by public transport within Rome.
You can get to the Colosseum via the Metro from many places in Rome. Simply take Line B to the Colosseo stop.
It will bring you right to the Piazza del Colosseo, where most small group tours meet up, or to the security point to enter if you are doing a fast-track self-guided tour.
Insider tip: Put "Giardinetto del Monte Oppio" into your maps app and walk there from the Colosseo stop before visiting the Colosseum — you'll be able to get a great angle for a perfect photo of the Colosseum!
Top 3 Colosseum Tour Picks
Mistakes to Avoid When Visiting the Colosseum in Rome
Mistake 1: Not booking your ticket online in advance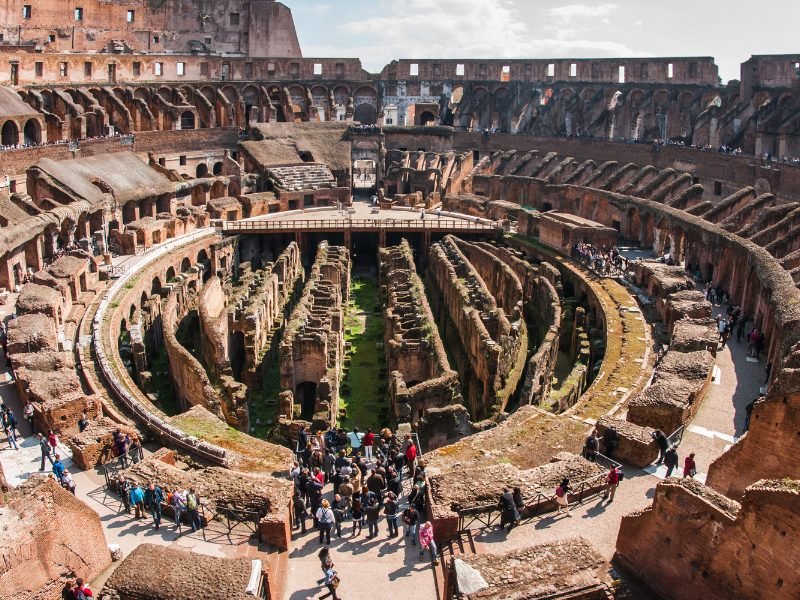 The biggest mistake you should avoid when visiting the Colosseum is showing up without a ticket!
To avoid long lines, the tickets for the Colosseum should be bought online.
I book with GetYourGuide because they have more ticket availability than the official Colosseum website, and they offer skip-the-line tickets as well as a variety of guided tours.
Make sure to check in advance if there are online tickets available for the date you wish to visit. While it's relatively easy to find available spots, some days may get sold out online.
To be sure you'll find a spot at your desired time, buy your ticket a few weeks in advance. The calendar is usually open one month in advance.
With your online ticket, you need to show up 10 to 15 minutes before at the dedicated entrance, and in just a few minutes, you'll be able to enter the Colosseum.
For those who had problems booking online, a help desk is available close to the Colosseum, but this should be a last resort as they may not be able to help you acquire tickets.
Mistake 2: Getting the wrong type of ticket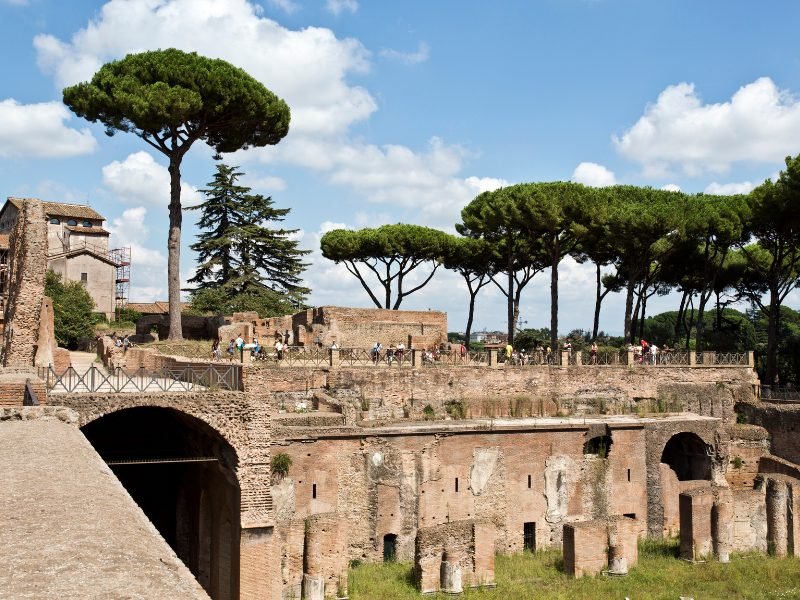 There isn't just one type of ticket to visit the Colosseum. You can choose between several options, with or without a guide, including also additional sites.
The basic standard ticket is valid for 24 hours and includes the entrance to the Colosseum, Roman Forum, and Palatine Hill.
You can also buy this with an audio guide or a guided tour in different languages.
There are also guided tours that include either the arena floor or the arena floor and the underground portion for the full experience!
Finally, you can choose a guided tour of the Colosseum by night! This is a great option especially during high season when this tourist attraction is particularly crowded and the heat is pretty unbearable.
Make sure to check availability ahead of time, as these tickets sell fast!
Depending on your interests and how much time you have, make sure to do a little research and choose the best option.
If you're stuck, I've compared all the different Colosseum in Rome tours in the next section, with links to suggested tours, so you can pick the right option for you.
However, having a guide is strongly recommended if you want to learn more about the Colosseum — it'll add so much to your Colosseum experience!
Mistake 3: Visiting in the high season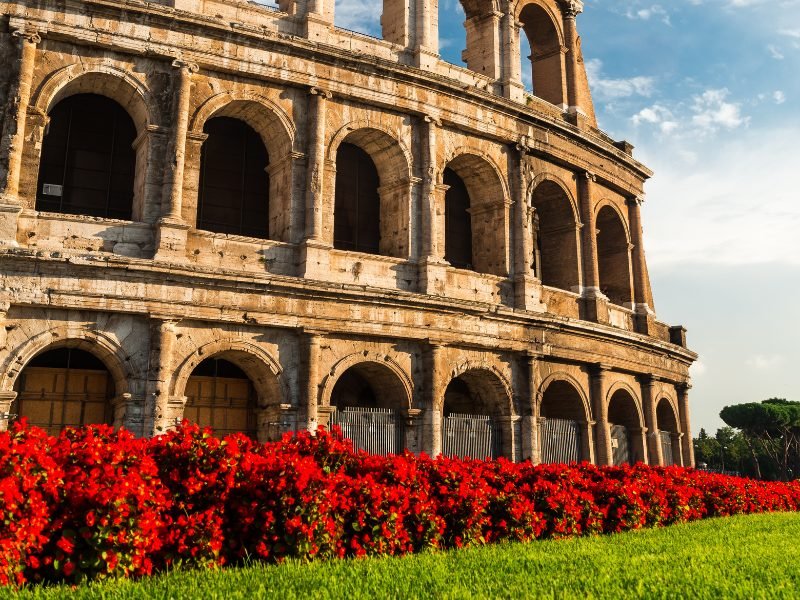 While this is true for the entire city of Rome, visiting the Colosseum and other important landmarks during the high season will guarantee big crowds… and hot temperatures!
It's hard escaping the crowds even in the low season, let alone during June, July, or August when the number of foreigners visiting Rome is at its peak.
If you are flexible with your travel dates, try visiting Rome off-season. The Mediterranean climate makes it a great city to visit year-round!
However, if you want to reduce your chances of rainy days and enjoy some warmth, consider visiting between April and early May or between late September and October.
Mistake 4: Visiting at the wrong time of day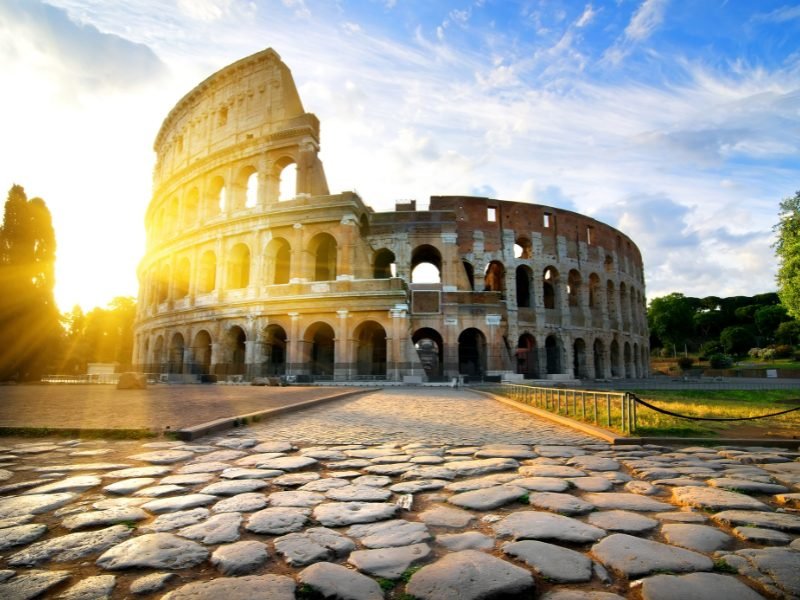 Choosing the time of the day to visit the Colosseum is another critical decision!
If you're an early bird, or expect you'll have jet lag when you first arrive to Rome that has you waking up early in the morning, I suggest booking a ticket to the Colosseum first thing in the morning to be among the first to enter.
The amphitheater opens daily at 9 AM, so you don't need to set your alarm too early. This is probably the best time to avoid the crowds!
If the morning is not your preferred time, consider visiting during the late afternoon, roughly after 4 PM.
Most people are going to visit from mid-morning through early afternoon, so it's better to choose the two extremes.
Remember that the entrance to the Colosseum is possible until one hour before closure.
However, to have enough time for your visit, avoid booking your ticket for the very last entrance.
If you want to avoid crowds, the nighttime tours of the Colosseum are also a good idea.
Mistake 5: Skipping the Roman Forum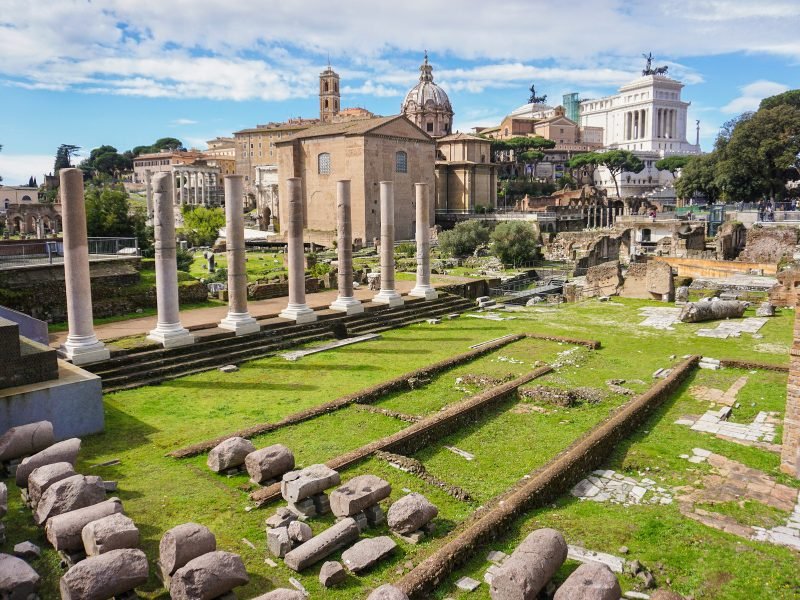 Some visitors may not be aware that even the basic entrance ticket for the Colosseum includes a visit to the Roman Forum!
If you're thinking about skipping it because, after all, you can see it all just by strolling along Via dei Fori Imperiali, think again.
Strolling through the ruins of ancient Rome is not the same as seeing them from a distance!
Getting a closer look at the ruins will allow you to appreciate their magnificence and have a better feel of how Ancient Rome could have looked.
Once you enter the gate, it's like taking a trip back in time.
The noise and activity of the modern city all around will fade in the background, and you'll be left wandering along old Roman roads, through temples, old villas, arches, and columns.
In fact, some people even say they enjoy visiting the Roman Forum more than the Colosseum!
Remember that you can structure your visit as you wish if you are self-guiding your trip with an entrance ticket without a guide.
There is no order in which you need to access the Colosseum or Roman Forum, so you can decide which one to visit first. Just keep in mind opening times, so you don't need to rush through your visit.
Mistake 6: Bringing a big backpack or a rolling bag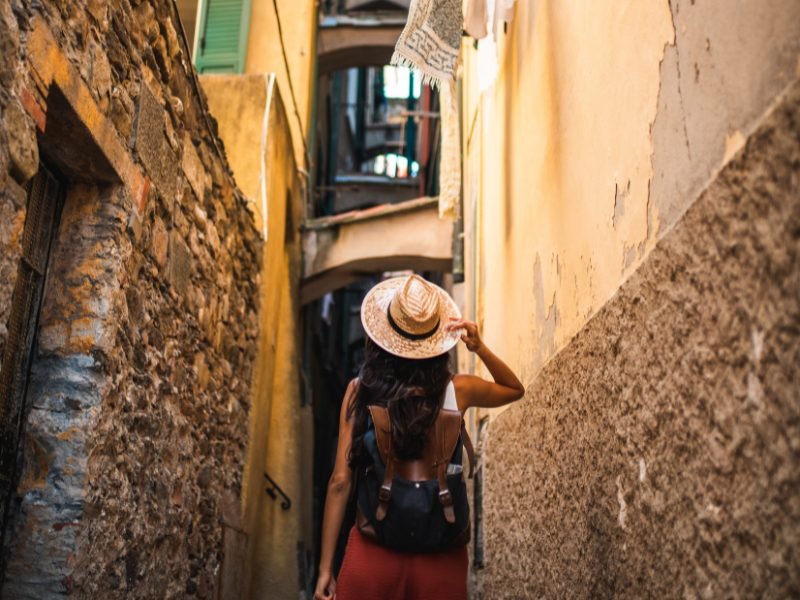 This is a big mistake when visiting the Colosseum that I unfortunately see quite often!
If you show up with a backpack or rolling bag at the entrance to the Colosseum, you won't be allowed entry.
There is a strict policy in place that doesn't allow visitors to enter with big luggage, and there is no cloakroom available.
If you plan on visiting the Colosseum before a late check-in or after an early check-out, prepare in advance.
You'll find plenty of options to store your luggage, so you won't have to carry it with you.
Aside from not being able to enter the Colosseum, carrying a trolley on Roman roads is not a great idea anyway!
Mistake 7: Wearing the wrong shoes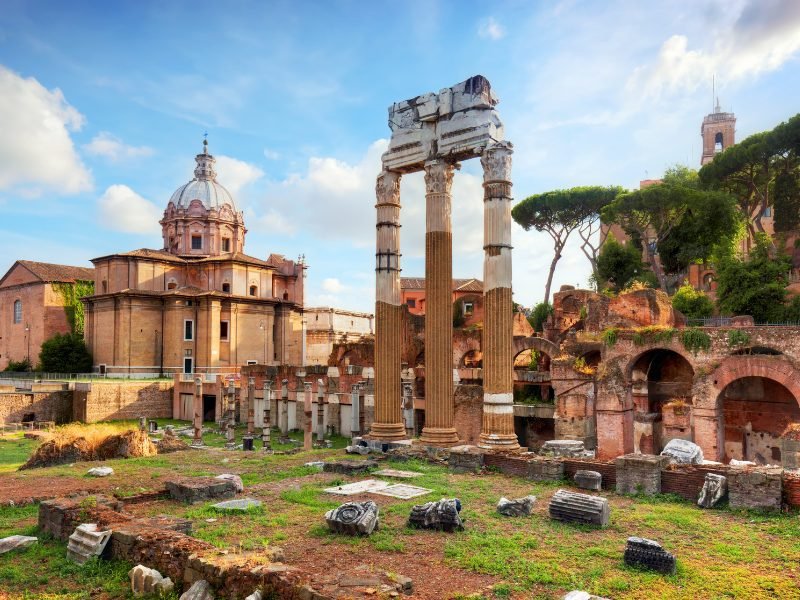 Another mistake some people make when visiting the Colosseum and Roman Forum is not wearing proper shoes.
The Romans did not have asphalt roads, so you will be walking a lot on uneven cobblestones.
Make sure to wear comfortable, sporty shoes like sneakers or walking sandals.
High heels should be avoided at all costs, and flip flops or any slippery shoes are also not a good idea.
Choosing the wrong type of shoes may ruin your whole experience, so it's important to pick the right ones!
Mistake 8: Not preparing for the weather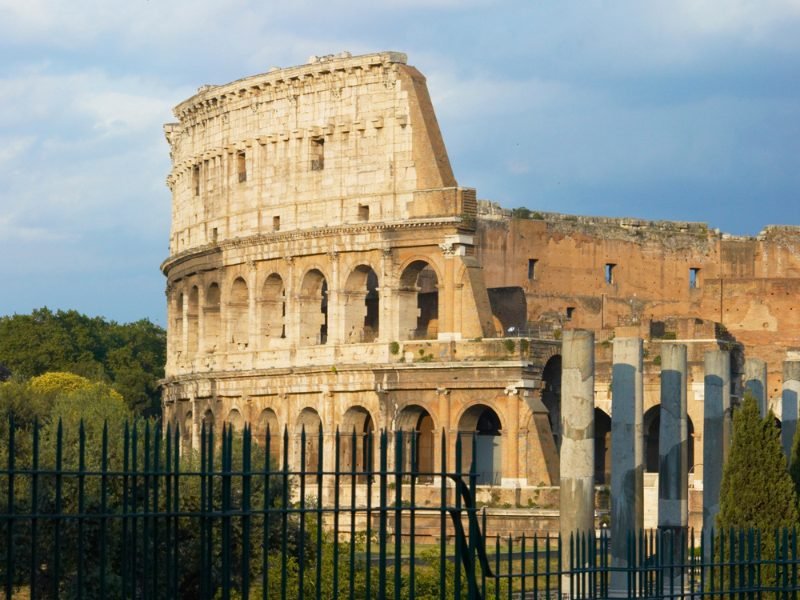 Depending on the season you will be visiting, you need to keep in mind different things. No matter the season, check the forecast in advance to be prepared.
The weather in Rome can be quite unusual, and you may even get extremely warm days in November or February where you'll find yourself needing sunscreen!
If you're visiting in summer, wear lightweight clothes and possibly light colors. Roman summer days are not to be messed with as they can get unbearably hot.
Consider also bringing a hat, given that most of your visit will be in the open air, and slather on the sun protection.
In winter and mid-seasons, dressing in layers is a good idea.
While mornings and evenings can get quite cold, in the middle of a sunny winter day, it can be pretty hot, especially after walking around for hours.
Also, don't forget to pack an umbrella or rain jacket if the forecast shows rain!
Mistake 9: Carrying prohibited items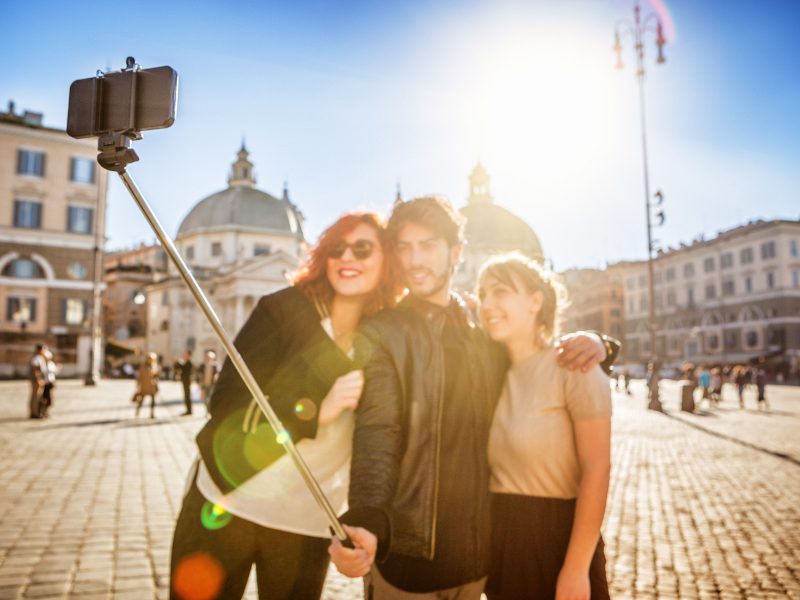 When entering the Colosseum, you'll have to go through a security check like at the airport, so your bag will also be checked.
It is forbidden to bring any sharp objects, selfie sticks, weapons, or even spray bottles. Yes, that includes spray-on deodorant or any aerosol sunscreens!
Any prohibited items found on you may be confiscated, so avoid bringing them altogether.
Another important thing to note: you cannot carry a bottle filled with water. You can, however, bring it in empty and fill it on-site.
Mistake 10: Not carrying a water bottle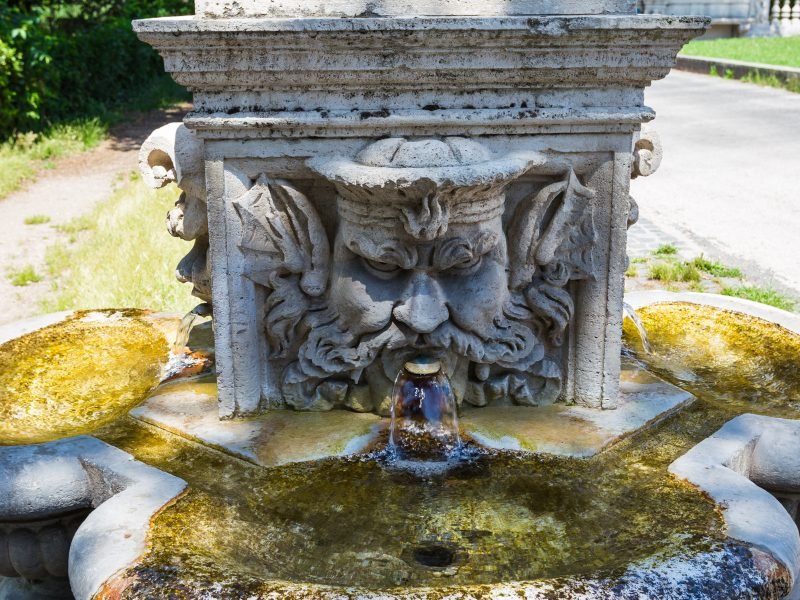 Although you can't bring a full bottle of water to the Colosseum, you can still drink your water before entering and keep the bottle to fill it up.
Don't make the mistake of underestimating the duration of your visit and thinking you won't need water!
Especially in summer, having a bottle that you can easily fill in the many available fountains all over Rome is a great idea.
While you will find people selling water all around the Colosseum and Roman Forum, you will likely overpay for it. And there's no reason to do that when Rome is filled with free water!
Just head to the closest fountain (they are called nasoni in Italian, which means big noses). You'll get as much fresh water as you need, all for free!
Types of Colosseum Tours & Tickets
Fast Track Rome Colosseum Ticket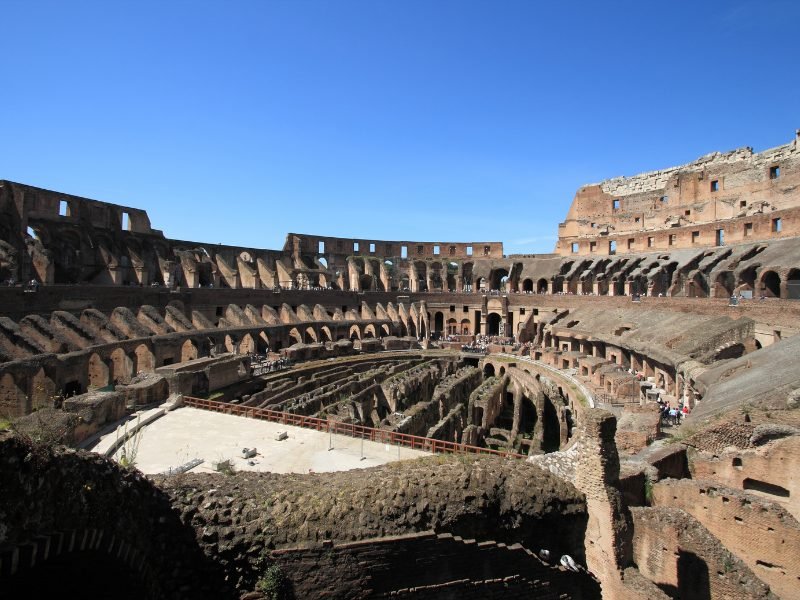 This is the most affordable and flexible way to visit the Colosseum — great if your budget is short on time or money.
Pre-booking your Colosseum ticket (you can do so online here) allows you to skip the long line at the ticket booth with a designated timed entry ticket, so you can go straight to the security checkpoint.
As mentioned above, even the basic ticket allows entry to Palatine Hill and the Roman Forum as well, so don't miss these two essential sights in addition to the Colosseum!
These fast track tickets also include a map you can download of Imperial Rome and offer flexible cancellation, including full refunds for cancellations made within 24 hours.
This ticket does not include a guide or an audioguide (though one is available for an additional fee on-site).
You will be on your own to explore the site, but you won't have to deal with any queues besides the normal security line (which is unavoidable).
This ticket does not include the arena floor (included on the next option) or the Colosseum underground (included in the option after that).
Guided Tour and Colosseum Tickets (with Arena Floor)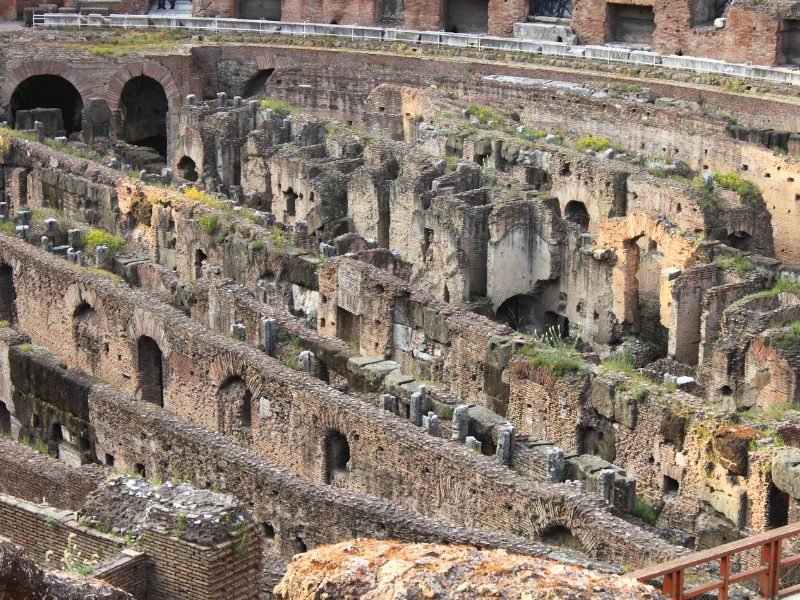 If you have a little more room in your budget, I definitely suggest booking a guided tour, which includes a guided walking tour and admission ticket that includes the arena floor.
There is simply so much to learn about the Colosseum, the Roman Forum, and Palatine Hill that you won't really be able to appreciate without the expertise of a licensed guide who is an expert in Roman history.
This tour is rather affordable with not much of an up-charge for the tour guide, especially when you consider the initial price of the ticket.
You're paying roughly another $30 USD for a 3 hours of a tour guide's time!
This tour is especially great because it is extremely customizable based on your budget, schedule, and time concerns!
You can also pick from several time slots so it's easy to fit into your day.
You can book in a small group of up to 10, 20, or 30 people, at different price tiers based on how many people are in the group.
You can also choose between 1 hour tours and 3 hour tours, although the price differential is minimal so I'd strongly suggest the 3 hour tour unless you simply can't spare the time in your itinerary.
If you prefer a private tour, those also are available, but the price is about 3 times what you would pay per person.
Book your small group or private tour of the Colosseum, Roman Forum & Palatine Hill here!
Guided Tour Including Colosseum Arena Floor & Colosseum Underground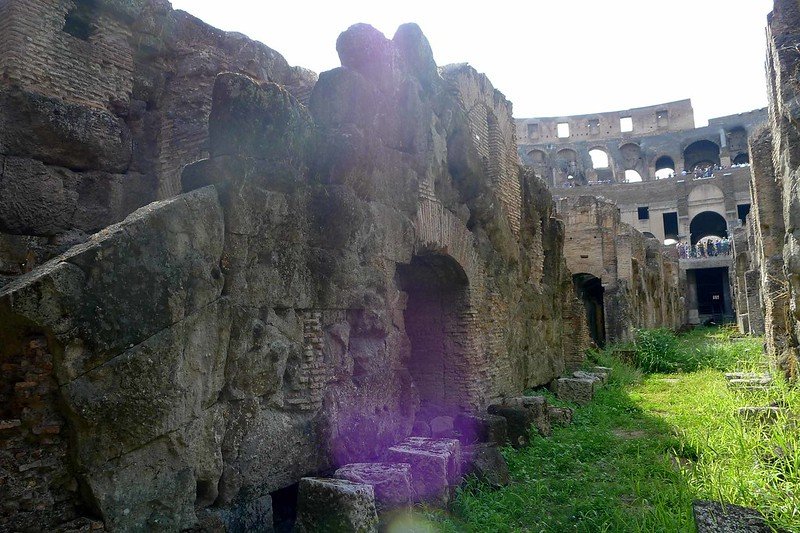 If you want to see as much of the Colosseum as possible, this is the best Colosseum tour for you.
In addition to covering all of the above, it also includes a multi-hour guided tour to help bring all of these unique facets of Roman history to life, adding color and detail to your sightseeing.
This tour in particular offers special access to the arena floor and the Colosseum underground, which many other tickets do not include.
The underground area (called the hypogeum) is a really interesting piece to add to a Colosseum tour. It includes tunnels and passageways that connect a series of cages and dungeons underneath the arena floor of the colosseum.
This part of the Colosseum was a purgatory of sorts, where enslaved people and prisoners were kept before being publicly executed, as well as the wild animals who were fought and slaughtered by the gladiators for entertainment.
If you're interested in dark history — or just getting the full story of the historical places you visit — adding the Colosseum underground is a must-do.
This is one of the best tours if you want the full Colosseum experience and are curious to get a bit off the beaten path and learn some of the Colosseum's more macabre history by adding the underground access!
Colosseum by Night After Hours Tour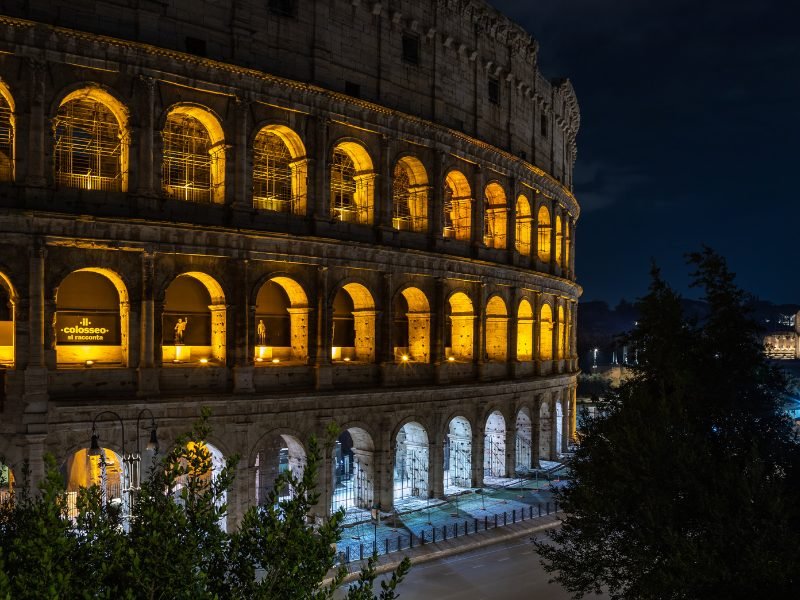 Did you know you can visit the Colosseum after the doors have officially closed? There are a number of tours which offer exclusive access to the Colosseum after dark!
This is a really fun way to beat the crowds (or beat the summer heat) if you are trying to visit the Colosseum in the peak season.
It is more expensive than other ticket options, but not by a drastic margin… which may be a nice price to pay, given the peace you'll enjoy!
However, if you want those classic daytime photos of the Colosseum, you won't be able to get those, so if photography is a big aspect of why you are visiting the Colosseum, that is something to consider.
But if all you want is a unique way to see the Colosseum and learn its history without the crowds or heat of peak summer travel, a night tour is an epic way to do it!
Vatican Museum, Sistine Chapel & Colosseum Full Day Tour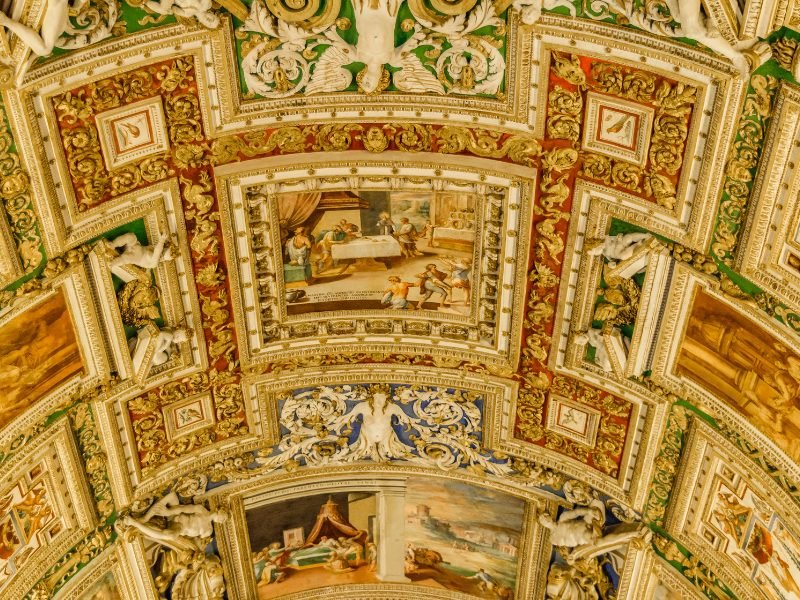 If you want to see all of Rome's most essential (and crowded) sights under the expert eye of a tour guide, I strongly suggest this tour option.
Visiting the Vatican Museum and Sistine Chapel with a guide is really helpful because these sights can be quite stressful to navigate on your own.
It's very crowded, tickets must be booked well in advance (same-day ticket waits often exceed 2 hours), and there is so much to see that it is helpful to go with a guide who will ensure you see the most essential parts and skip the rest.
This tour also includes transportation between Colosseum and the Vatican so you can simply sit back and sightsee and enjoy your day, without having to worry about anything other than taking in the sights and history and making memories.
This tour includes all entry tickets, skip-the-line access, lunch, guides, and transportation.
Book your tour of the Vatican Museum, Sistine Chapel & Colosseum here!
Is a Roma Pass Worth It?
Another question many people have when booking their tickets to the Colosseum is if it makes more sense to buy a Roma Pass.
The answer? It depends. The Roma Pass costs about $35 USD for a 48-hour pass or $56 for a 72-hour pass.
It's on the cheap side for city passes, but keep in mind that the Roma Pass only includes skip-the-line access to one attraction on the 48 hour pass or two attractions on the 72 hour pass.
It does include all public transit, though, making it a worthwhile option to consider if you are staying outside the city center.
The skip-the-line attractions does include the Colosseum (which also includes the Roman Forum) as one of the options.
The other options include the Capitoline Museums, the National Roman Museums, the Caracalla Baths, Borghese Gallery (pictured above), Appia Antica, and Castel Sant'Angelo.
Note that the Vatican Museums and Sistine Chapel are not included as an option.
You have to physically pick up the Roma Pass at a ticket office after buying it online, and you still have to reserve a time slot at the Colosseum for an additional two euros.
The short answer?
It's worth it if … you plan to take a lot of public transportation around Rome and not take a guided tour of the Colosseum.
It's not worth it if … you plan to walk around Rome, take a guided tour of the Colosseum, or not visit the other included attractions.
More Essential Information for Your Visit to the Colosseum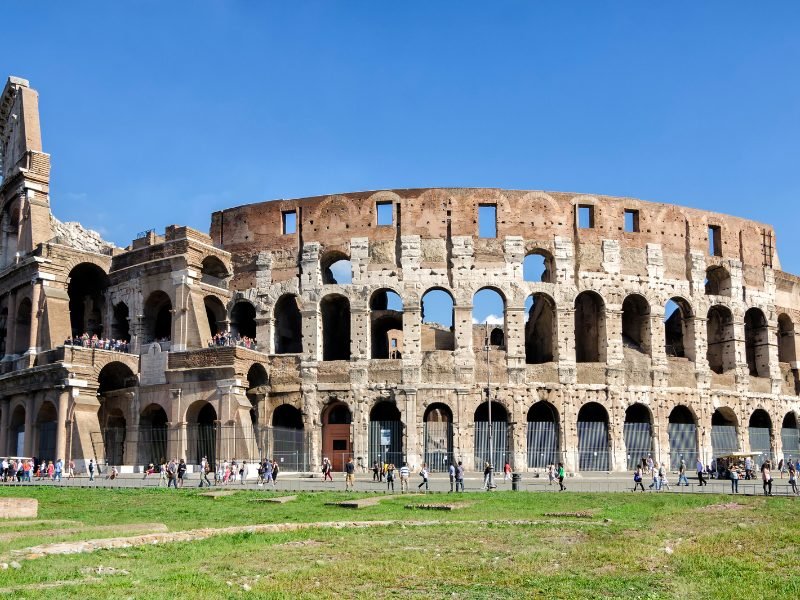 Now that you know all the mistakes you must avoid when visiting the Colosseum, it's time to plan your visit.
First of all, remember that the hours change depending on the season.
While the opening time doesn't change (it's always 9 AM), the last entrance to the Colosseum varies depending on the season, as it's tied to the sunset.
In winter, it can close as early as 4:30 PM while in summer it's open until 7:15 PM.
Insider Tip: If you're traveling on a budget, there's good news! If you make it to Rome on the first Sunday of the month you can access the Colosseum for free.
The Sunday at the Museum initiative allows visitors to enter a wide range of museums for free, including the Colosseum.
On this occasion, you need to head to the ticket office outside the Colosseum to get a free entrance ticket. Make sure to get there early as it can get very crowded!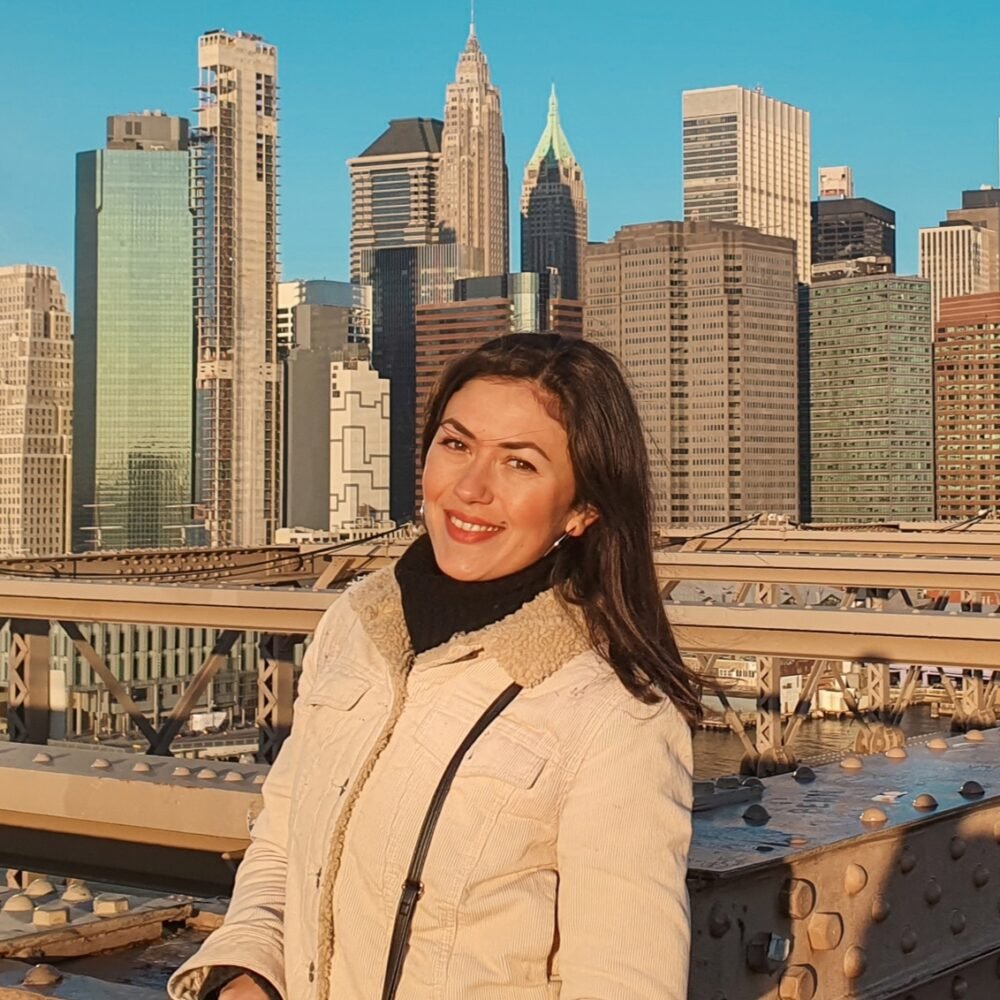 Roxana is a Romanian-born freelance travel writer who has lived in Italy for over 15 years. She has a Master's in Journalism and a Bachelor's in Film Studies, and she studied at Università degli Studi di Roma Tre. Besides her native Romania, Roxana has lived in Rome, Lisbon, and Berlin, and she has traveled through much of Europe in search of hidden gems, history, and culture.