Note: This is a guest post by Ingrid of Ingrid Zen Moments
Hong Kong is such a bustling city you'll find it hard to spend only 2 days in Hong Kong exploring.
After living for 7 months in the financial heart of Asia, I can easily say that even with a perfect 2 day Hong Kong itinerary, you can only scratch the surface.
However, many might not visit it as a standalone destination in Asia, linking it to one or many other places around, and 48 hours in Hong Kong may be all you have. In that case, follow me along as I show you everything you shouldn't miss in 2 days in Hong Kong!
When to visit Hong Kong
As it is an Asian destination, many might think Hong Kong is a tropical country. The matter of fact is that Hong Kong actually has 4 distinct seasons, even though winters are not as cold as the ones in the more Northern countries.
With a mostly humid climate, summers in Hong Kong are terribly hot, and you might even find it hard to breathe outside. And let's not even think about walking around from one place to the other during the day!
Thus, the best time to plan your trip to Hong Kong might be somewhere between October and May. Bear in mind that temperatures can get somewhere around 10 degrees Celsius (50 degrees Fahrenheit) during December and January; therefore, having a light jacket in your bag is a good idea.
Where to stay in Hong Kong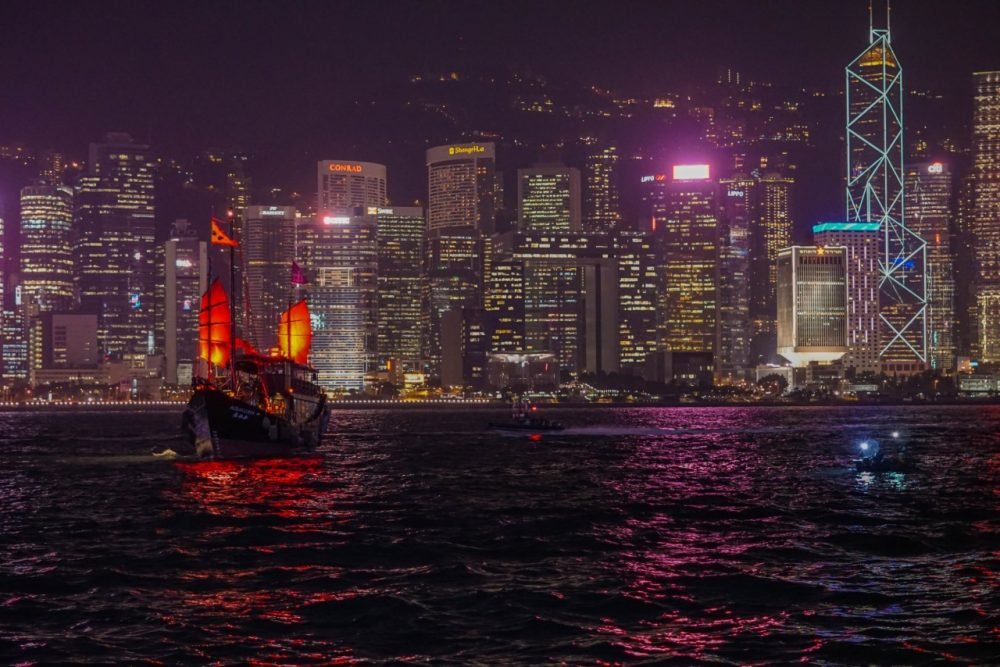 Note: This post contains affiliate links, which means I may receive a small commission if you purchase something through one of these links. Thank you for supporting the free content on this site! For more information on affiliate links and cookies, see my disclosure page for more details.
If I were to spend only 2 days in Hong Kong, I would definitely go for a central location that would offer me the possibility to get around easily and to tick off many of the popular attractions in a short period of time.
It is, of course, easy to get around in Hong Kong, and using the MTR will get you almost anywhere in less than 30 minutes, especially on the island. However, I would still choose to stay anywhere between Tin Hau and Sheung Wan during my first visit to Hong Kong.
When picking a place to stay in Hong Kong, I would highly recommend booking a room with a harbor view because it is hard to find one just like it anywhere else
Getting around Hong Kong
There are so many great options of how to get around Hong Kong and everything featured on this 2 day Hong Kong itinerary is easily reached.
The MTR system is very good and will get you from one point to the other very fast.
A great experience to have is taking the tram that runs in the Northern part of Hong Kong Island from one corner to the other.
On top of that, the double-decker buses and the small green buses connect many other points that are not reachable by MTR or tram.
Getting an Octopus card would be the most efficient way of paying for your travels, no matter the transportation option you choose.
Day 1 of your Hong Kong Itinerary– explore Hong Kong Island
If you're into Instagrammable places, start your day on the Eastern side of the island, at the Monster Mansion in Quarry Bay.
You can drink your coffee at one of the best coffee shops in Hong Kong, % Arabica, take a few pictures, and maybe do a bit of hiking into the woods behind the famous building.
If not, you can take the tram and head towards Wan Chai. Go upstairs and sit in the front and you'll get to have a great view of the city.
Get off in Wan Chai and don't miss out on the Blue House Cluster – an iconic historic building hosting now a community center and residential apartments, sitting next to an Orange house and a Yellow one.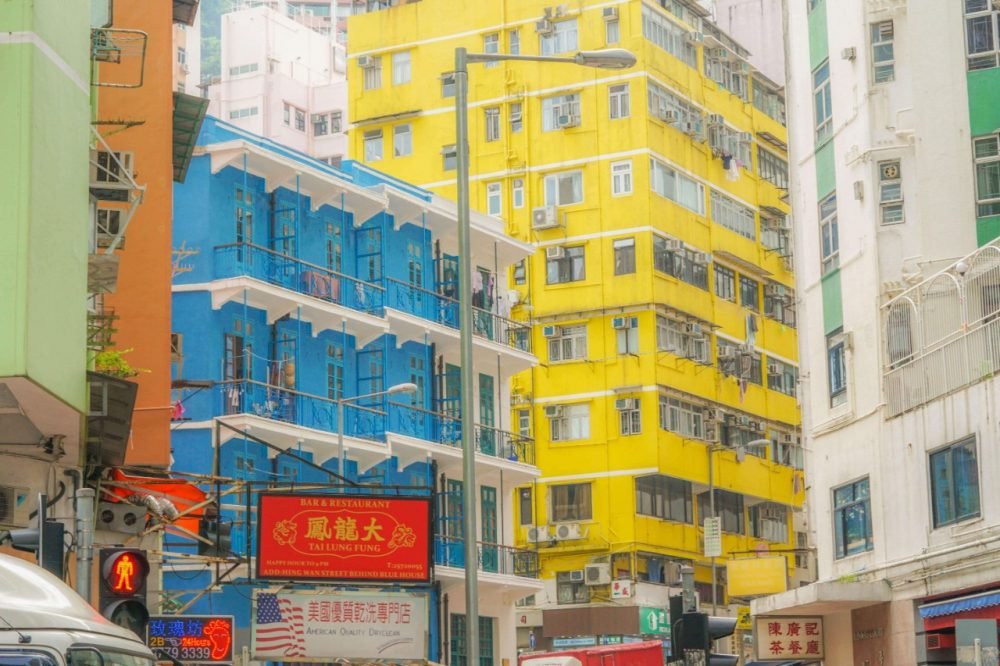 Only a few steps away from the colorful cluster, you must not miss the glass elevator in Hopewell Center that goes from the 17th to the 56th floor.
From there, walk your way to Central and don't miss out on the beautiful view you get from Tamar Park or one of the piers at Central Pier. Go on the Hong Kong Observation Wheel and take in the stunning view – you'll see this city is all about that kind of view you can never get enough of.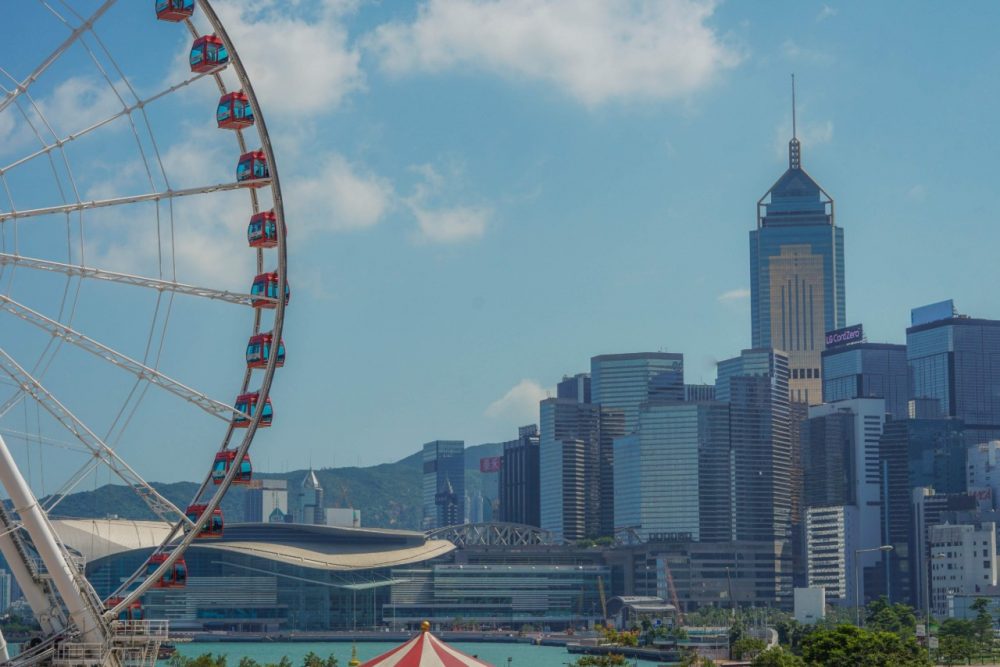 Next, head towards Pedder Street and make your way to the Old Police Station (Tai Kwun) on Hollywood Road, now a Center for Heritage and Arts.
Walking along on Hollywood Road towards the Western part of the island, you'll pass by many lively bars, restaurants, and hip places. Get lost on the labyrinth of streets and stop to admire the street art you'll find at every step of the way.
On the intersection of Ladder Street and Hollywood Road, you'll find the famous and very photogenic Man Mo Temple. Once you've seen it, you can take the streets down to the streets filled with antique stores. I could spend hours just wandering around discovering dazzling precious bits of history!
Head back to Central and take the famous peak tram all the way to the tallest peak in Hong Kong. Maybe one of the most touristic things to do in town, seeing the harbor from above, especially for sunset, is something anybody should do while in Hong Kong.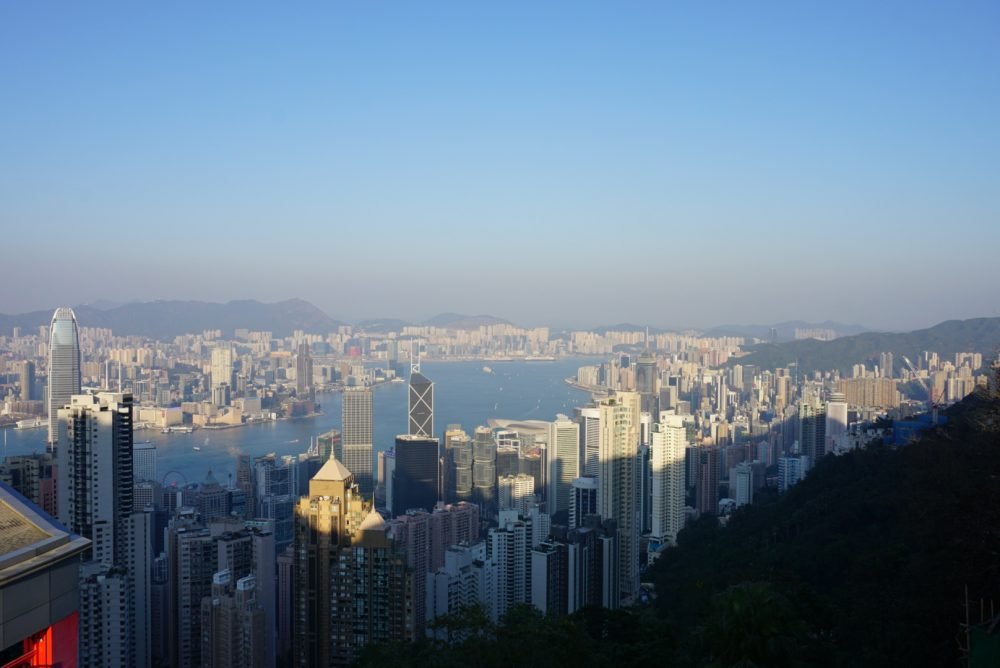 The tram climbs a considerably steep hill, and you'll want to sit down or hold on tight even though the trip won't be long.
Once at the Peak, walk around Lugard Road for some of the most knockout views of Hong Kong, or simply climb the Peak Tower for the Sky Terrace offering a 360-degree view over both sides of the island. Stay for dinner at one of the highest restaurants in town!
Head back to town and go for an evening drink at one of the coolest sky bars in Hong Kong: Wooloomoolo or Alto in Wan Chai, or my favorite – Sugar in Quarry Bay.
Day 2 in Hong Kong– Cross over to Kowloon
On your second day in Hong Kong, take the MTR and cross over to Kowloon – the more traditional part of this cosmopolitan Asian town.
Start your day at the Nan Lian Garden and the Chi Lin Nunnery in a tranquil setting and a typical Chinese garden filled with lotus ponds and bonsais.
From there, you can walk to the famous picture-perfect Choi Hung estate. Its name literally means "rainbow" and it's one of the places you often see in pictures from Hong Kong.
The next attraction you'll want to see in the area is the Wong Tai Sin Temple, with its stunning pond and garden hidden in the back of the temples away from the noise of the town.
Take the MTR and make your way to the Flower Market where you'll find plenty of colorful distractions. You'll see Hongkongers really like their flowers, thus the market occupies a large area!
If you're not into flowers, skip it and go directly to Jordan with its streets filled with those iconic neon lights, and the famous Jordan Temple Street Night Market.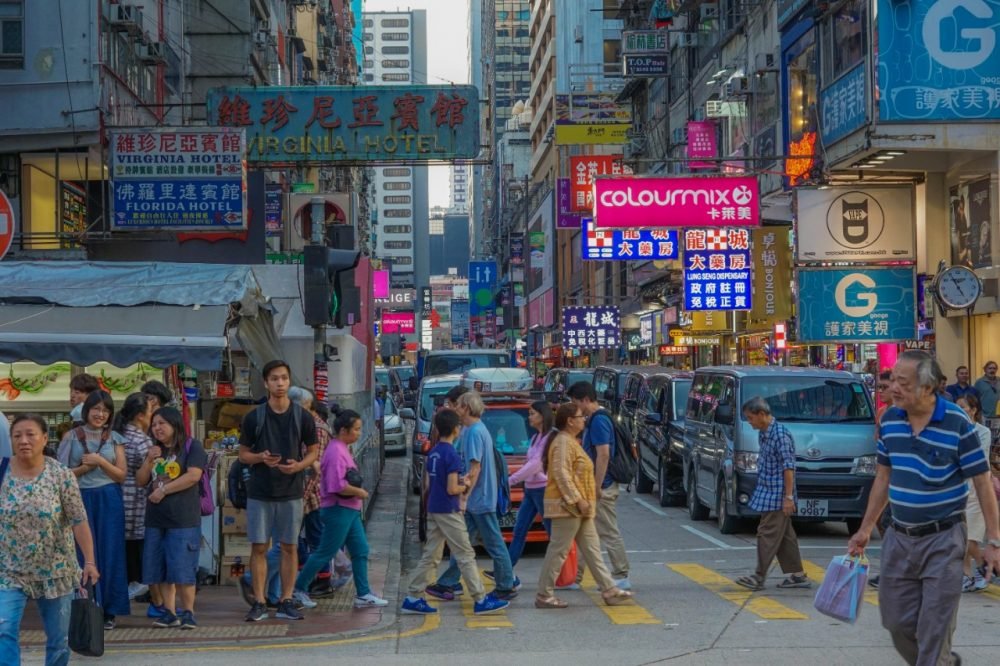 Make your way to Tsim Sha Tsui (or TST as people call it). After admiring the work of art Musea K11 mall, walk along the Avenue of Stars and find a perfect spot for the Symphony of Lights show taking place every day from 8 PM with a stunning view over Victoria Harbor from Kowloon (check the details here).
You can also take the ferry to cross over to Hong Kong Island and admire the lit – up buildings, or head over to the highest hotel in the world – The Ritz Carlton Hotel – for drinks at Ozone and end the night in style.
Where to eat in Hong Kong
I would start by saying that my first encounter with the food in Hong Kong was an experience I wasn't expecting. Maybe it was because the Chinese food we have in Europe is very different than what you can find in Hong Kong.
Later on, I would understand that the local food is Cantonese, something you don't really find in many places where I come from.
When you want to go really local, try one of the many "cha chaan teng", which translates as tea restaurants. These are places where local people eat on a daily basis, where you will get to taste some of the famous local dishes such as fried noodles or rice, fried wonton or wonton soup, congee, or steamed pork buns. Food comes typically served with Hong Kon –style milk tea, lemon tea, or simply hot water.
If you prefer eating something more Western-style, you shouldn't worry because there are plenty of options in town. It is worth knowing though that you will need to be prepared to pay more in these places!
About the Author
Ingrid is a travel blogger and book lover on the constant search of places and experiences that bring joy to life. She is originally from Romania, currently living the expat life in Hong Kong, with Italy in her heart. You can follow her stories on IngridZenMoments.
Allison Green is a former educator turned travel blogger. She holds a Masters in Teaching and a B.A. in English and Creative Writing. Her blog posts merge her educational background and her experience traveling to 60+ countries to encourage thoughtful travel experiences that both educate and entertain. She has been a speaker at the World Travel Writers Conference and her writing, photography, and podcasting work has appeared in National Geographic, CNN Arabic, CBC Canada, and Forbes, amongst others. Now based in the San Francisco Bay Area where she grew up, she has also lived in Prague, Sofia, and New York City.