Whether it's a romantic getaway for two or a solo adventure, no France vacation is complete without visiting Paris.
That said, you could spend a lifetime soaking up the beauty of France, from the beaches of Normandy to the French Riviera.
But if you're a wine lover – or just a lover of the finer things in life in general – one thing you have to do is take a Champagne tour from Paris to try the region's unforgettable wines.
Yes, Paris is located less than two hours away from the Champagne region of France, making a Champagne tour the perfect way to add a little sparkle to your trip.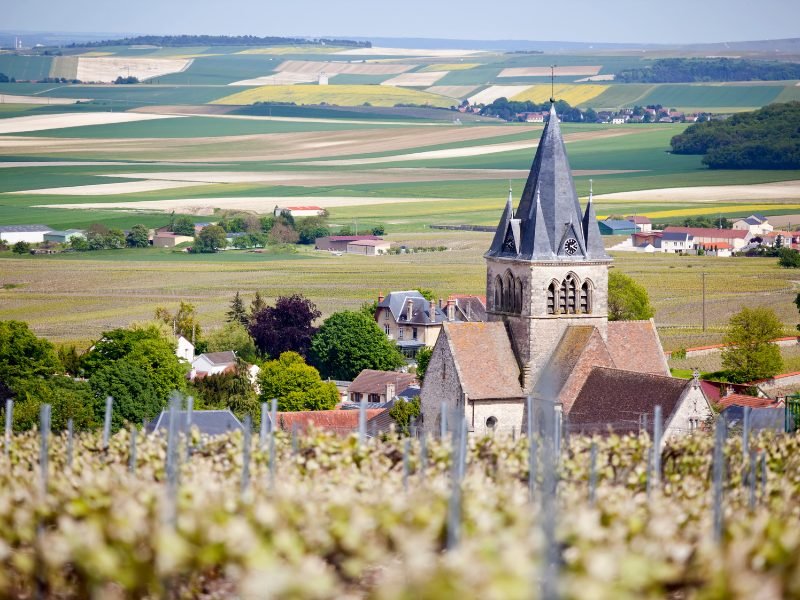 Note: This post contains affiliate links, which means I may receive a small commission if you purchase something through one of these links. Thank you for supporting the free content on this site! For more information on affiliate links and cookies, see my disclosure page for more details.
The combination of the perfect climate and fertile, rich terroir makes Champagne the king of France's sparkling wine – and sparkling wine around the world, in fact.
Visit the Champagne region to see why only wines here produced in the traditional Méthode Champenoise, within the Champagne DOC can be called true Champagne – everything else is just sparkling wine!
But while Champagne enjoys a big name around the world, it's important to remember that at the end of the day, it's an agricultural product, a labor of love.
Taking a Champagne tour from Paris will help demystify this elegant drink and show you how it goes from grape to bottle.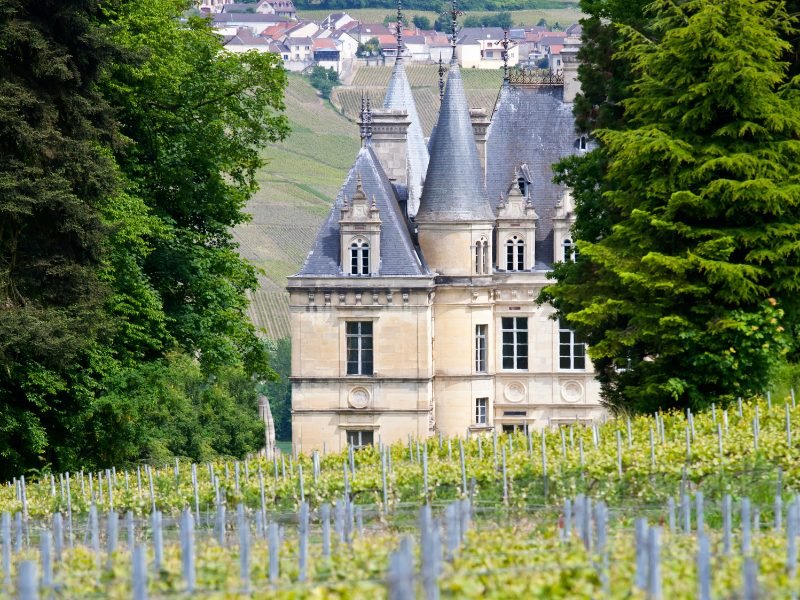 These Champagne winemakers dedicate their lives to making sure their product is superior to everything else on the market – after all, they've got a big name to defend.
France isn't synonymous with wine, cheese, and the good life for nothing. Take a day to travel from Paris to Champagne and taste some of the best wine on Earth!
My Top 3 Picks: Champagne Tours
🥂 In a rush and just want our top picks? I've got you.
The 9 Top Champagne Tours from Paris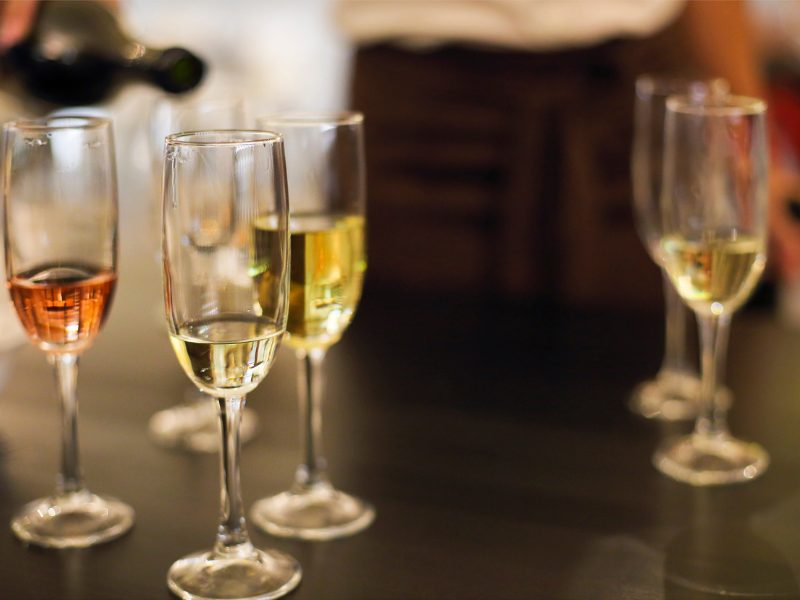 ⌛ Tour Length: 10-11 hours | 🌟 Rating: 4.8/5 stars (370+ reviews) | 🥂 Book Now
Unique Features:
– Try at least 8 different wines during the tour
– A traditional lunch is provided, with wine and tasting suggestions
– Experience both a prestigious Champagne estate and a smaller producer

➜ Read more about this day-trip champagne tour here!
This Champagne tour starting from Paris will wine and dine you for over 10 hours!
After a two-hour drive from Paris to the Champagne region, you'll be taken to a prestigious wine estate featuring some big local names.
There's something so aesthetically pleasing about a well-designed wine bottle.
Now imagine an entire estate's worth of bottles of Moët, Pommery, or Veuve Clicquot, all yours for the touring!
After going through an extensive wine gallery seeing various bottlings and vintages, you'll get to try some of these wines for yourself.
You'll also receive a crash course on how to properly appreciate the taste of Champagne, as it's not your average wine.
Next up, it's time to enjoy some lunch at a local champagne house or small restaurant.
And yes, there will be wine and Champagne there too, and you'll be taught the best way to pair it all!
"Don't think twice — Book this trip!! We learned so much about the process of champagne making as well as tasted champagne from 4 unique champagne houses. We were also able to purchase bottles to take home with us. Our guide, Simone was amazing. His enthusiasm, passion, and knowledge made the trip even better. This was one of our highlights on our trip to Paris."

Read more reviews here!
Côte des Blancs and Vallée de la Marne are among the most iconic parts of the Champagne region, and you get to take a tour of some vineyards here after lunch.
The views here are to die for – if this tour doesn't inspire you to take up photography, nothing will!
If you've ever seen videos of someone opening a Champagne bottle with what looks like a sword, you've seen the art of 'sabrage', a dramatic, bombastic way to open a bottle.
Rest assured, you'll be tasting all the lovely Champagne afterwards!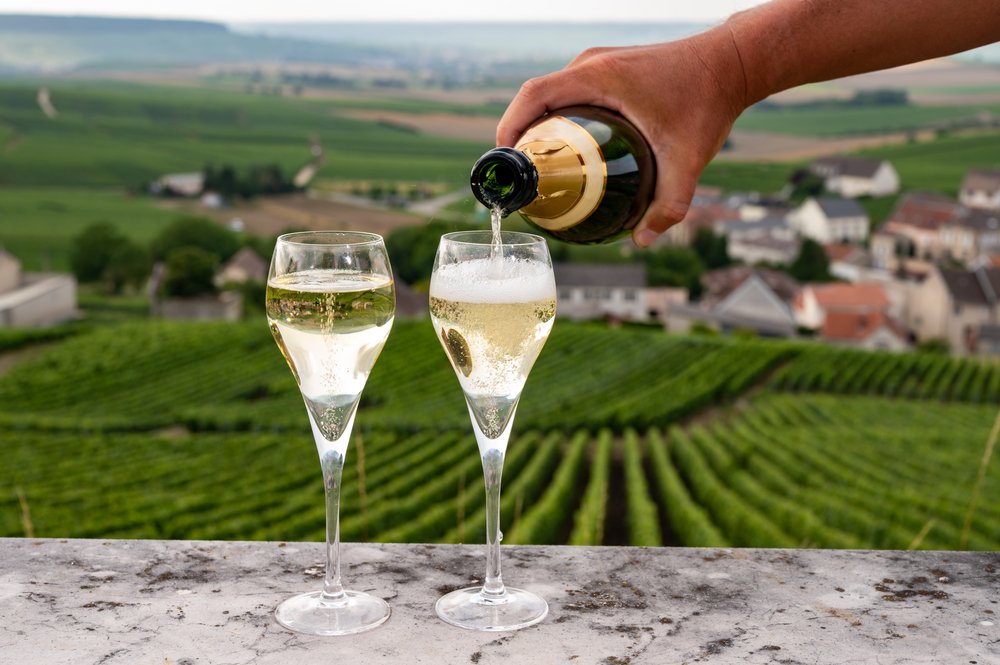 ⌛ Tour Length: 11 hours | 🌟 Rating: 4.8/5 stars (130+ reviews) | 🥂 Book Now
If you're going to do a Champagne tour from Paris, you might as well do it with a fun and lively group of travelers like yourself!
During this tour, your guide will explain the history of the Champagne region, what qualifies as Champagne (and what doesn't!) and visit some iconic wine cellars.
Plus, you'll also get to meet some of the people who make the magic in Champagne before enjoying a few drinks with your fellow tourists.
And when I say "a few drinks", I mean up to six tastings. Now that's what I call a deal!
You'll even stop by the home village of the inventor of Champagne himself!
"This was an amazing experience. While I went on off season, we still went to 2 different wineries and got to walk around town after an amazing lunch. I met a great group of people and our tour guide/driver Baptist was the reason for the best experience that we all had on this trip."

Read more reviews here!
Oh, and if that wasn't enough… there's also a three-course meal in it for you. Why stop at wine tasting when you can enjoy traditional French dishes too?
Plus, you're going to need something to sop up all that wine you're drinking!
Thanks to all the fun games and activities during the tour, you're guaranteed to make a few friends in your group!
The cherry on top is the souvenir you get from your hosts before heading back out to Paris – but we won't spoil it!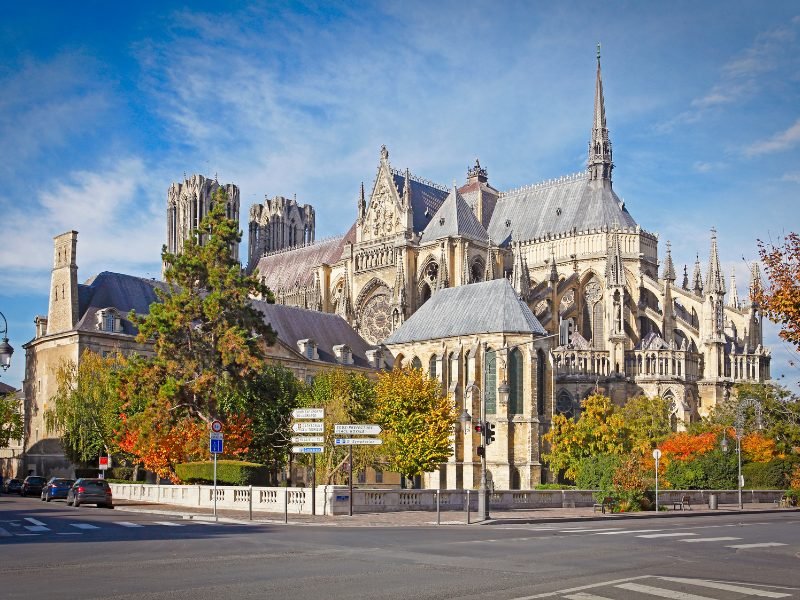 ⌛ Tour Length: 10 hours | 🌟 Rating: 4.8/5 stars (65+ reviews) | 🥂 Book Now
If you want a more intimate experience, you might be able to book a private group slot for this Champagne tour from Paris.
Besides just wines, the tour covers some broader French history too.
Reims is a beautiful city at the heart of the Champagne region, but it's more than just a wine region.
Trust me, seeing the Reims Cathedral is one of the highlights of the tour.
After admiring the Gothic architecture, it's finally time to get to wine tasting!
And don't worry about going hungry – a few drinks later, you'll get to enjoy a tasty lunch.
Save room, because starters and dessert are also included for a generous three-course meal.
"It was a beautiful day to visit Champagne! Thomas was very informative, enthusiastic, funny, and really made the experience worth while. They picked up and dropped off at our hotel which was key after a day of drinking! The champagne and food were delicious 🤤 and the views breathtaking! Definitely would come back 💯"

Read more reviews here!
You'll be visiting one of the region's premier Champagne manufacturers – which one exactly depends on availability and schedules.
You'll get to learn lots about the wine making and storage process before tasting their finest sparkling wines!
There's a lot of drinking involved here, so thankfully, you'll be dropped off at your accommodation back in Paris – no dealing with public transport or squabbling over who has to be the designated driver.
Considering this essentially a tour of Reims as well as a Champagne tour, the price is also one of the fairest you can find!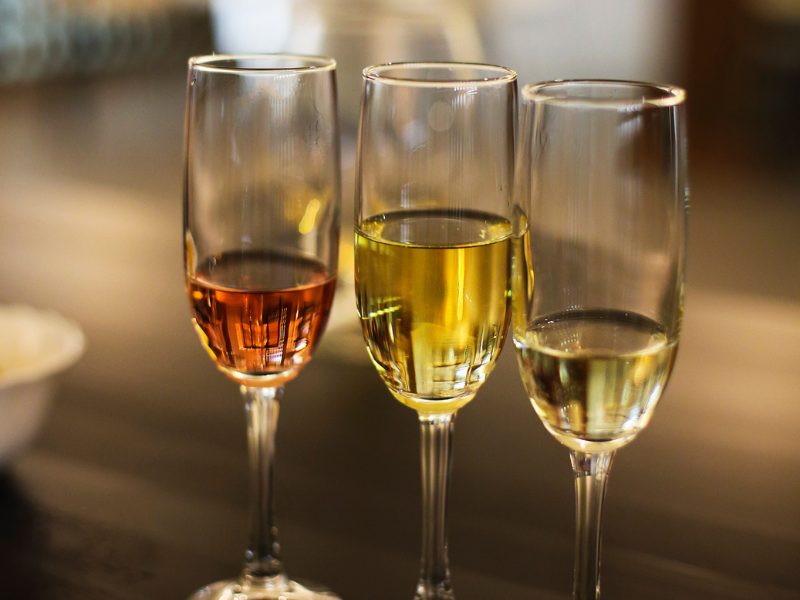 ⌛ Tour Length: 10 hours | 🌟 Rating: 4.5/5 stars (15+ reviews) | 🥂 Book Now
For a thorough Champagne tour from Paris that doesn't cost too much (though of course, Champagne is never quite budget), it doesn't get much better than this!
The tour starts with a visit to one of Champagne's most iconic houses.
Options include Taittinger, Mercier, and Moet & Chandon, so you're in for a good time either way!
A lot of these wine estates date back to the mid-18th century. That's really a testament to how strong the Champagne name has endured!
"Had a lovely day and learnt a lot while seeing the beautiful French country. Our guide Richardo was fantastic and very knowledgeable. This was a great activity to learn all about champagne and rest our feet for a day"

Read more reviews here!
You'll also head along the river Marne to the iconic Hautvillers, where Dom Perignon did his magic here 500 years ago, so there's plenty to see and learn!
To really get a taste of the local lifestyle, you'll be visiting a local manufacturer and trying their best wines, because Champagne is more than just the big names you hear name-dropped.
By the end of the tour, you'll enjoy 4 exquisite tastings of France's finest champagnes!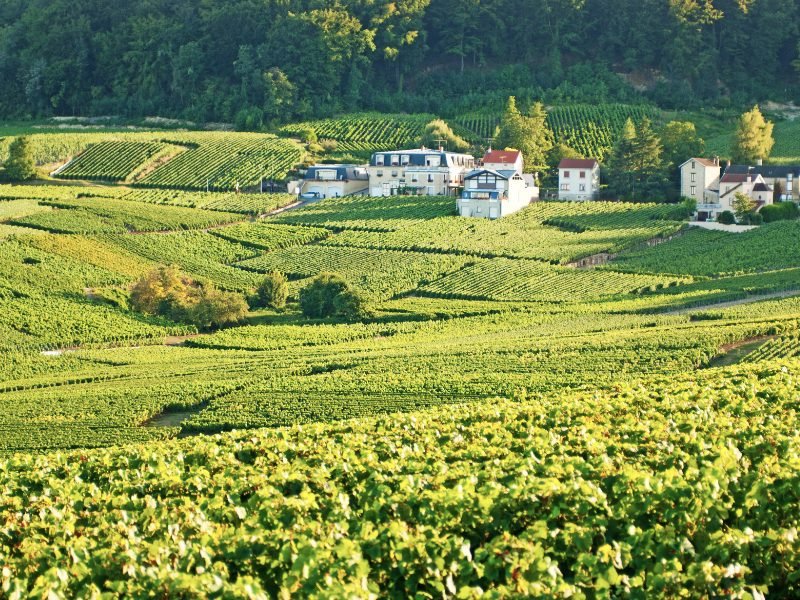 ⌛ Tour Length: 11 hours | 🌟 Rating: 4.9/5 stars (70+ reviews) | 🥂 Book Now
It's hard to say no to a Champagne tour from Paris that teaches you both history and wine trivia in detail!
There's no better place to start than a visit to Hautvillers and its Abbey, the gravesite of Dom Perignon – yes, the man himself. It's a must-see when visiting Champagne!
Next is a visit to Nicolas Feuillatte, one of the biggest champagne manufacturers in the world. That also means 3 glasses of incredible Feuillatte champagne!
"WONDERFUL!! Worth every bit of money. Loved our tour guide Will, and all the lively stops! We were actually surprised that we enjoyed the small champagne house bottles more than the large commercial Champagne. An amazing day!"

Read more reviews here!
If that wasn't enough, you'll be going to a family-run winer for another 3 tastes. You can even buy yourself a bottle or two as a souvenir!
After an extensive tour of the winery, the final stop is Reims, specifically its gorgeous Cathedral of Notre Dame.
This is where many of France's kings were crowned, so expect to learn plenty of fun historical trivia before heading back to Paris!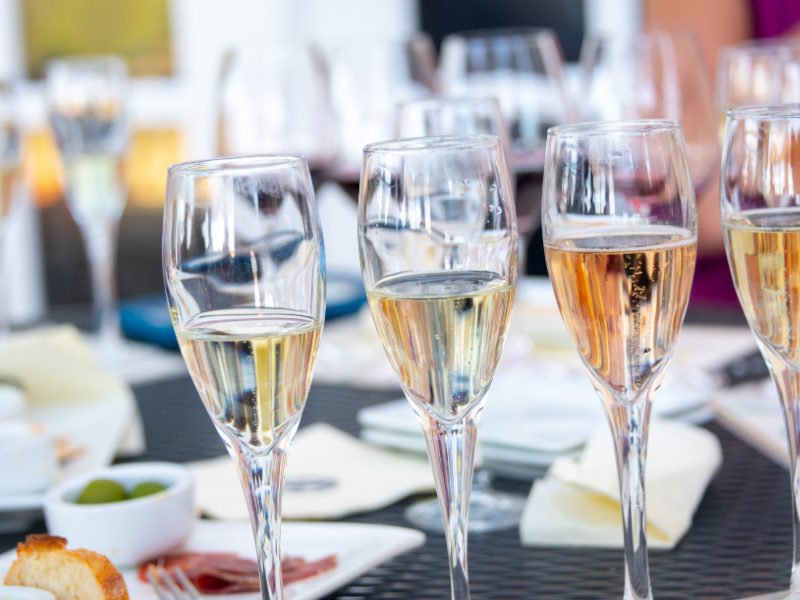 ⌛ Tour Length: 11 hours | 🌟 Rating: 4.8/5 stars (10+ reviews) | 🥂 Book Now
Admittedly, this is an expensive Champagne tour from Paris, but it has every reason to be! This is the Cristal of Champagne tours, after all.
The exclusive, private tour includes a whopping 8 tastings to give you the full picture of what Champagne is about!
The guides waste no time here – on the drive to Champagne, you'll enjoy French croissants and learn some fun trivia about the region.
Moët & Chandon, Mumm, Veuve Clicquot, and Mercier are the biggest names in wine tasting. Any combination of these could be part of the tour – you'll be surprised, but you won't be disappointed!
"This was an incredibly well organized tour where I learned so much about how champagne is made. Our tour guide Jean-Baptiste was very knowledgeable himself and the tours and tastings got into even more detail. Lunch was delicious and the length of each visit was perfect. Highly recommend!"

Read more reviews here!
You get to enjoy a local dish for lunch, but you won't take a break from wine tasting. You can enjoy ratafias (another local wine) and Champagne along with your meal!
Plus, exploring the Vallée de la Marne and Côte des Blancs should be on everyone's Champagne bucket list. Both are covered here, so expect to learn lots!
If that wasn't enough, there's also a visit to another local winery before the drive to Paris. Luckily for you, you can take a wine nap on the way back!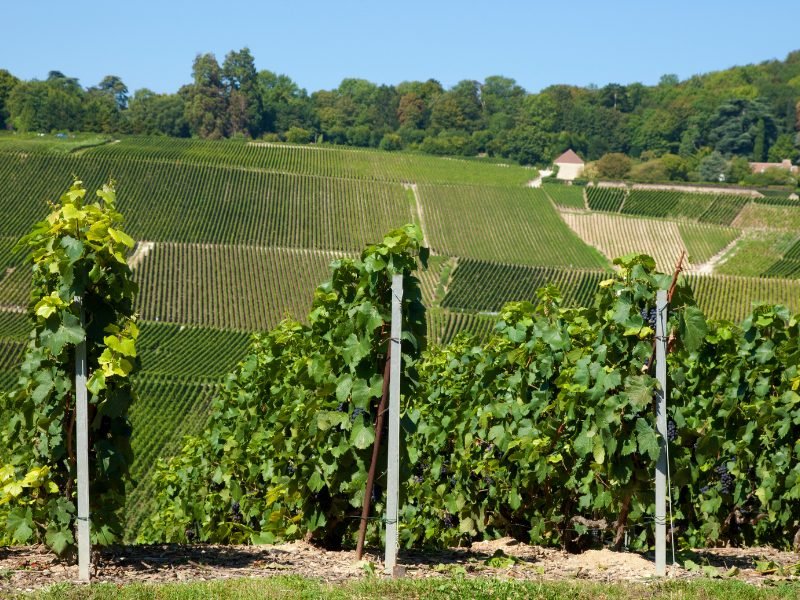 ⌛ Tour Length: 1 day | 🌟 Rating: 4.8/5 stars (5+ reviews) | 🥂 Book Now
This Prestige Champagne tour from Paris really lives up to its name. It's amazing how much the tour can fit in a single day!
French Champagne tours are naturally expensive, but this one is well worth the price tag when you consider how much there is to do (and taste!)
You get to experience the magic of both Bollinger and Ruinart, but that's just the start. Moet & Chandon and Veuve Clicquot are also on the menu!
You get to visit a bunch of historic vineyards along the way and learn about the different types of grapes in Champagne. You'll be surprised to learn that it's not exclusively white wine grapes!
"Wonderful day. Loved our guide."

Read more reviews here!
If all that sounds like a lot, there's a three-course meal waiting for you too. How does a Michelin star restaurant sound?
Once you're full, it's time to visit Hautvillers and learn about Dom Perignon's life and legacy.
Best of all, some of the champagnes you'll be trying here can't be found anywhere else. What a way to end the class!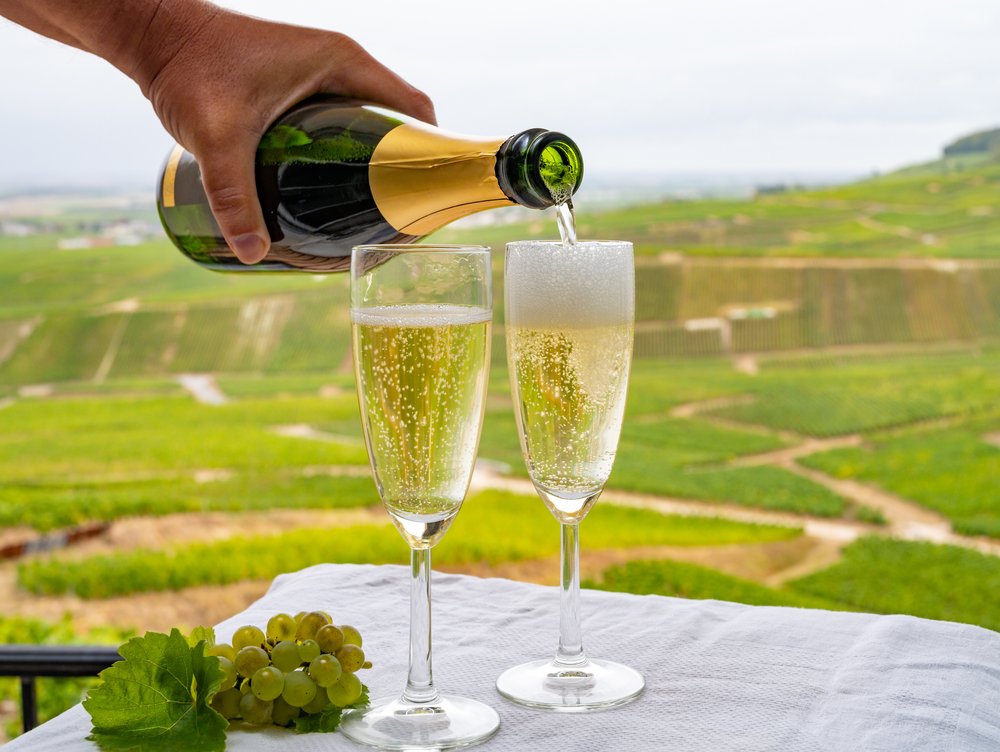 ⌛ Tour Length: 10 hours | 🌟 Rating: New! | 🥂 Book Now
You'll want a Champagne tour from Paris that's informative and well-organized, and that's exactly what you're getting here.
The class is led by a soon-to-be Level 4 WSET expert. Sounds like French to you? In other words, that means he knows his stuff!
After a comfy trip from Paris, first on the agenda is a visit to one of the finest winemakers in Champagne.
Afterwards, you'll head to Moet & Chandon to try some of their fantastic wines. That alone is worth the price of admission!
Dom Perignon spent much of his life in Hautvillers, so you'll be going there to see his tomb and admire the local scenery.
After a tasty meal, your guide will take you to yet another beautiful Champagne wine house to taste some locally made wine.
You'll be back in Paris early in the evening, just in time for a night out – dropped off at your accommodation to make things even easier!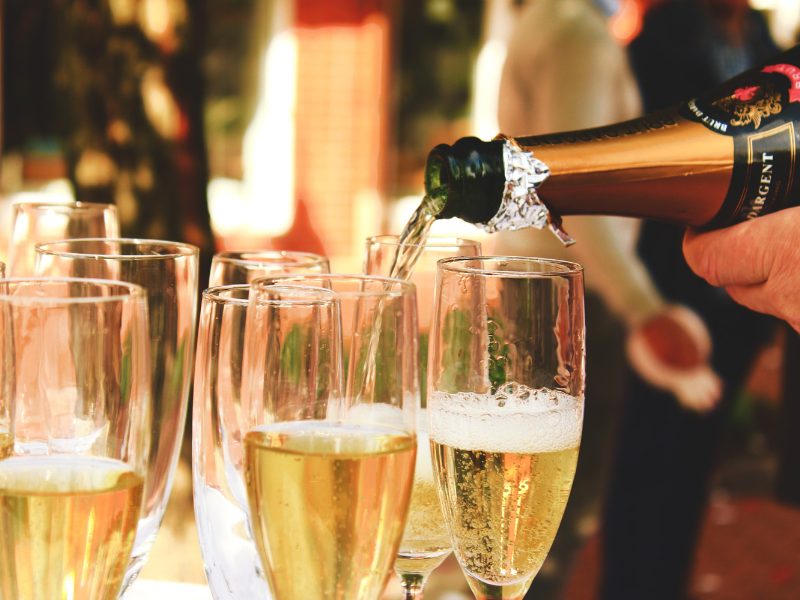 ⌛ Tour Length: 10 hours | 🌟 Rating: 5/5 stars (10+ reviews) | 🥂 Book Now
Based in the town of Épernay, this is a Champagne tour you'll remember for the rest of your life!
You'll be visiting Moët & Chandon and enjoying some of the finest LVMH group wines.
Right after that is a visit to Épernay's center, where you get to enjoy a delicious three-course meal.
"Fabulous day with a great guide an lovely people to share this great experience. Wonderful lunch and tours. Highly recommend."

Read more reviews here!
Making good wine is quite the task, so the next step is going to see a group of 80 farmers hard at work!
Wine geeks will get a kick out of the short documentary on winemaking. You'll even visit a museum to see some of the tools used in making Champagne!
The experience is topped off with a visit to a local vineyard, where the workers will be proud to explain even more about the art of making Champagne wine and answer any questions you may have.
Naturally, they won't send you back to Paris without letting you try some of their wines first!
Long story short, you'll get to see three wineries and try up to four different sparkling wines. All in one action-packed day!
Allison Green is a former educator turned travel blogger. She holds a Masters in Teaching and a B.A. in English and Creative Writing. Her blog posts merge her educational background and her experience traveling to 60+ countries to encourage thoughtful travel experiences that both educate and entertain. She has been a speaker at the World Travel Writers Conference and her writing, photography, and podcasting work has appeared in National Geographic, CNN Arabic, CBC Canada, and Forbes, amongst others. Now based in the San Francisco Bay Area where she grew up, she has also lived in Prague, Sofia, and New York City.