Stockholm is one of my favorite cities in Europe, but it's unfortunately also one of the most expensive. Prices all around the Nordic countries are generally quite high. Luckily, Stockholm won't hurt the wallet quite as hard as, say, Copenhagen or Oslo, but it's still not a cheap city by any stretch of the imagination.
If you're visiting Stockholm on a budget, the easiest way to save money is by staying in a hostel, especially if you're traveling solo (an Airbnb may also be a good call and work well for a group)
If you have a vision of nasty bunkbeds and stuffy rooms, rest assured. Hostels in Stockholm kick it up a notch thanks to that delightfully airy Scandinavian design you'll find everywhere. As in, it seems to be a sin in Sweden to have bad décor.
I've broken down this post into some general tips as well as a breakdown of best hostels in Stockholm by neighborhood. Keep in mind that Gamla Stan is the Old Town and for the purposes of this post is considered the "center."
Prices are highest in Gamla Stan and radiate outward, like in most cities. The next closest neighborhoods are Norrmalm and Södermalm; I would recommend staying in one of these neighborhoods unless you really have to have that Old Town experience.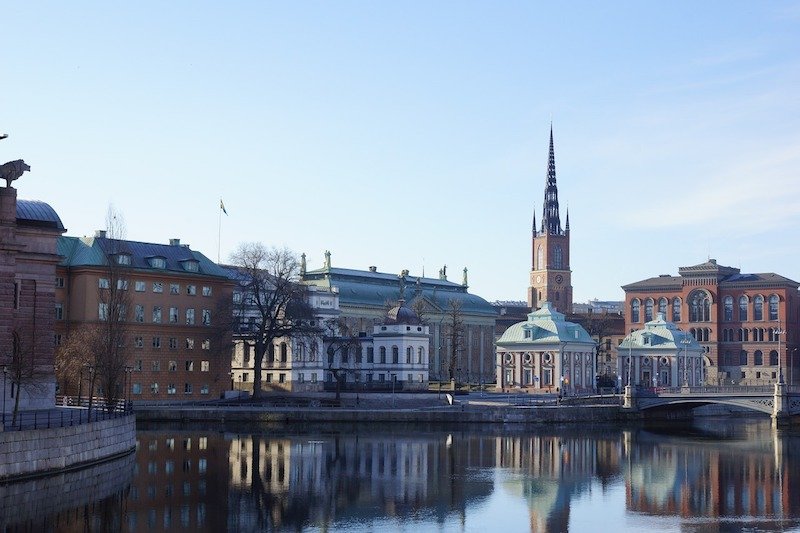 Note: This post contains affiliate links, which means I may receive a small commission if you purchase something through one of these links. Thank you for supporting the free content on this site! For more information on affiliate links and cookies, see my disclosure page for more details.
General Budget Tips for Stockholm Hostels
A few things to keep in mind about Stockholm hostels, as they have a few unique quirks that you won't find elsewhere.
1. Linens are often not included. For some reason, in Sweden, bed linen is not included in the price. This can add on another $6-10, which you'll pay once. You can get around this by bringing your own linens from home, though if you're doing a longer trip throughout Europe you probably won't care to do this. Towels are often an additional fee as well, so consider bringing a microfiber quick-dry towel from home to save on towel rental costs.
2. Check to see if breakfast (or pasta dinner!) is included. Eating meals out in Sweden is extremely pricey — expect to spend around $15-20 USD without drinks for a basic meal, unless you're just getting a hot dog off the street (and even that will be expensive). So you can get good bang for your buck if you find a place that offers breakfast or a pasta dinner.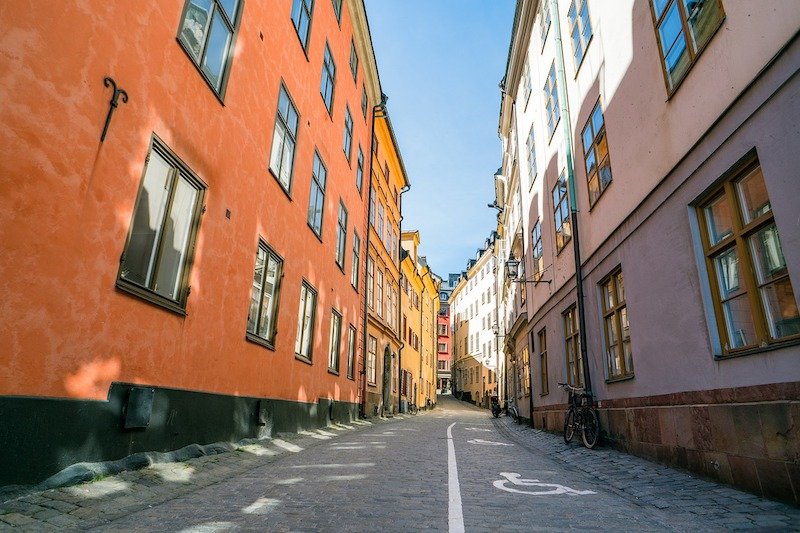 3. Transportation costs are also quite high in Stockholm. It is, however, a very walkable city if you stay central. 2 one-way subway tickets will cost $9 USD (you can bring the cost down slightly by getting a transit card — then it'll be around $6.50 per roundtrip with a one-time $2.50 card purchase).
Choosing a centrally-located hostel can end up saving you money if it means you have to travel less as you're enjoying all the things to do in Stockholm. You can also buy daily passes if you ride the train a lot and if you buy a Stockholm Pass, transportation is included.
A Stockholm Pass may be a good idea if you are planning to spend 3 days in Stockholm or more. It depends on what you're planning on doing, but if you're a big culture vulture who loves visiting all the museums, a Stockholm Pass can definitely save you money.

Best Hostels in Stockholm: Norrmalm
Generator Stockholm
Generator is a chain of hostels in Europe with a reputation for sleek design. I've stayed at Generators in Dublin and Hamburg and always been really satisfied with the experience and vibe, always a good mix between social enough while being respectful of others. The modern design contributes to making the hostel atmosphere relaxed as well as welcoming.
I haven't stayed at this Generator in particular, but generally (ha!) I think Generator hostels do a good job at catering to slightly more upscale travelers versus your minimal budget backpackers. It's perfect for travelers who want to relax after a long day, but also want a social and inviting atmosphere with trendy design. It's a newer hostel, having only opened in 2016, so it offers nice, up-to-date amenities.
Generator Stockholm has no curfew, their own 24-hour shop, an in-house bar, offers bed linen included in the price (rare in Sweden, for whatever reason), and is just a 5-minute walk to some of the best historic sites in the city. However, there is no breakfast included, which can increase your daily costs as meals out in Stockholm are quite expensive.
To compare prices and read reviews, check out: Booking | HostelWorld

City Backpackers Hostel
Having recently won an award for being the best hostel in all of Sweden, City Backpackers is truly an impressive hostel and one of your best bets for a hostel in Stockholm.
Boasting a free pasta bar for dinner, free traditional sauna in the evenings, bike rental, and even free ice skate rental in winter, the hostel focuses on giving visitors a traditional Scandinavian experience during their visit at a minimal cost. They also host excursions such as a guided bike tour, which is great if you want people to explore the city with.
They offer everything from 12-bed dorms to private rooms for up to 8 people, ensuring there is something for everyone, no matter their budget or rooming preferences. Linen is not included, nor is breakfast.
To compare prices and read reviews, check out: Booking | HostelWorld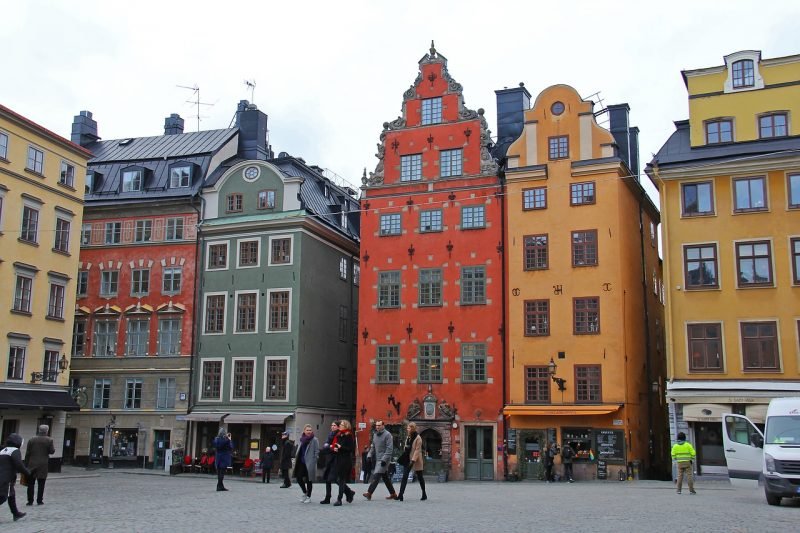 Best Hostels in Stockholm: Gamla Stan
Old Town Lodge
If you want a cozy, medieval feel, Old Town Lodge is your best bet. The building dates back to 1600 and even incorporates a portion of the old city wall from 1200 in its architecture, which is just insane.
The age of the building has not stopped Old Town Lodge from creating a modern and minimalist looking hostel, with a soothing white theme throughout the entire hostel. There are both private rooms and dorms to choose from, depending on your needs and comfort level.
Note that like many hostels in Sweden, bed linens are not included. As far as I could see, this was an additional 65 kronor ($8) which, while not a lot, definitely makes a difference for those just planning a short stay. Breakfast is free, though.
To compare prices and read reviews, check out: Booking | HostelWorld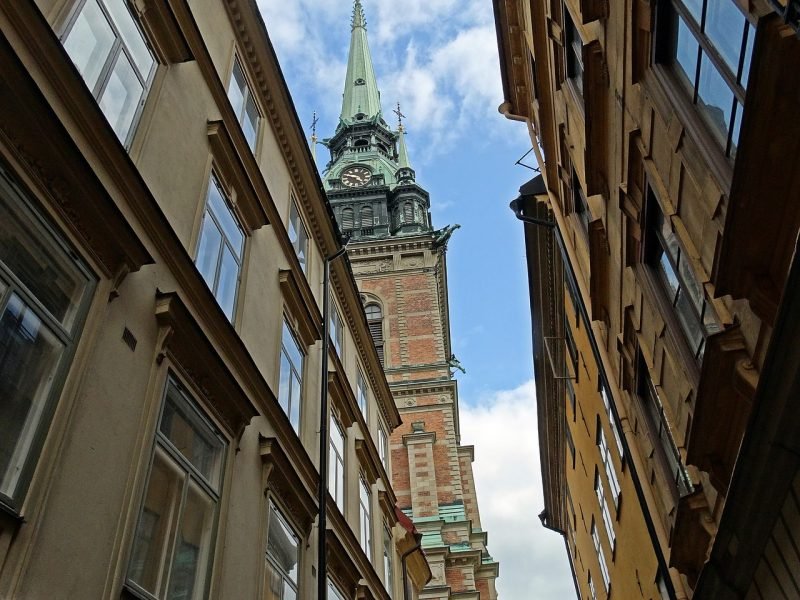 Castanea Old Town Hostel
With over 10 years in the top 5 rankings in the city, Castanea Old Town Hostel is known for being homey and welcoming while still being well situated within the city. The building itself dates back to 1747, making it incredibly cozy and personal-feeling.
The hostel is particularly friendly to budget travelers who want to stay in Gamla Stan with its twisty cobblestone streets, and has received favorable reviews from single travelers and families alike.
Neither breakfast nor bed linens are included in the price; however, there is a big spacious kitchen for those who like to cook for themselves.
To compare prices and read reviews, check out: Booking | HostelWorld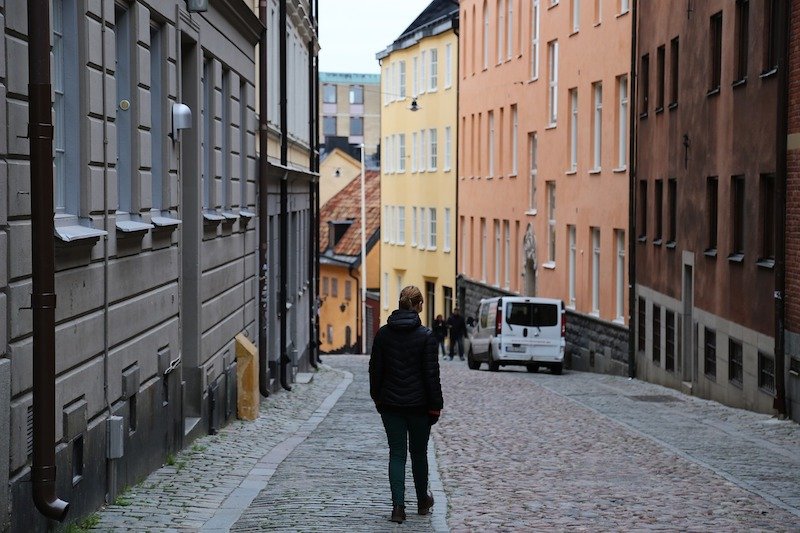 Best Hostels in Stockholm: Södermalm
Skanstulls Hostel
Known as one of the quieter hostels in the city, this modern hostel caters to guests who don't want the party hostel scene.
Tucked away in a the trendy Sofo district of the island of Sodermalm, it is still near enough to the largest attractions to provide the perfect mix of offbeat and touristy. Personally, Sofo is my favorite neighborhood in Stockholm, so in my opinion the location can't be beat.
Breakfast is not included in the price, but can be pre-ordered for 75 SEK ($9 USD) or more if you order same-day. However, they do offer free pasta for guests to use. As you've probably guessed, linens are also not included, but the price is less outrageous than most places at 50 SEK ($6) plus an extra 20 SEK if you need to rent a towel as well.
To compare prices and read reviews, check out: Booking | HostelWorld


The Red Boat
The Red Boat is one of three themed hostels on this list, and undoubtedly one of the more unique. It spans two different houseboats and offers a one of a kind waterfront experience in a hostel in Stockholm.
It's a boat (if you haven't figured that out yet) so naturally the rooms are a lot smaller than you'll find in other, well, non-boat hostels. But it is affordable and well-located near Gamla Stan and Södermalm, if you can stand the small, cramped quarters.
It also includes linen (yay!) although not breakfast.
To compare prices and read reviews, check out: Booking | HostelWorld

Langholmens (just outside Södermalm)
If you're the kind of person who wants to stay somewhere a bit… strange, Langholmens is just for you.
A uniquely-themed hostel, Langholmens is situated in a now-defunct prison. Quirk-loving travelers can spend the night in old cells, spending time on the prison-like bunk beds. Fun?
Outside of the cells, a boutique, cafeteria, and an internet cafe offer all of the comforts of home — or at least, not prison. Other services available include a pub, restaurant, laundry services, and the ability to rent bicycles to explore the city. An attendant is on duty 24 hours a day (in case of any traveller riots, naturally).
Keep in mind that this is the cost for a bed only. In addition, you'll have to pay for your linens (80 SEK/$10), breakfast if you choose to have it (98 SEK/$12), as well as a mandatory departure cleaning fee of 35 SEK ($4). Plus, it's located on an island outside the center, so add on transportation costs to boot. Still, if you're craving a unique experience — this certainly fits the bill.
To compare prices and read reviews, check out: Booking | HostelWorld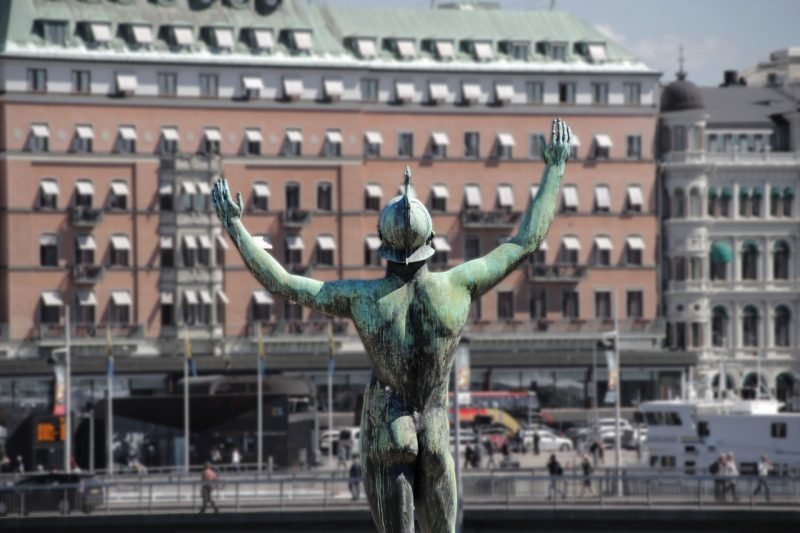 Best Hostels in Stockholm: Vasastan & Kungsholmen
2Kronor
As the name suggests, the hostel is known for being budget-friendly; however, like other hostels in Stockholm, be prepared to spend an additional 70 SEK ($9) on bed linens. Breakast is not included, but there is a kitchen, and free coffee, tea, and pasta.
This is located in Vasastan, which is conveniently close to the Central Railway Station, but not so close to most of the touristy places in Gamla Stan. Whether that's a pro or a con for you depends on your travel style. It is a very local neighborhood with lots of young people and students calling the neighborhood home, so that can be great for those who want to get a bit off the beaten path in Stockholm.
Keep in mind that reception is only open from 10 AM to 6 PM so it's not a good option for those arriving late.
To compare prices and read reviews, check out: Booking | HostelWorld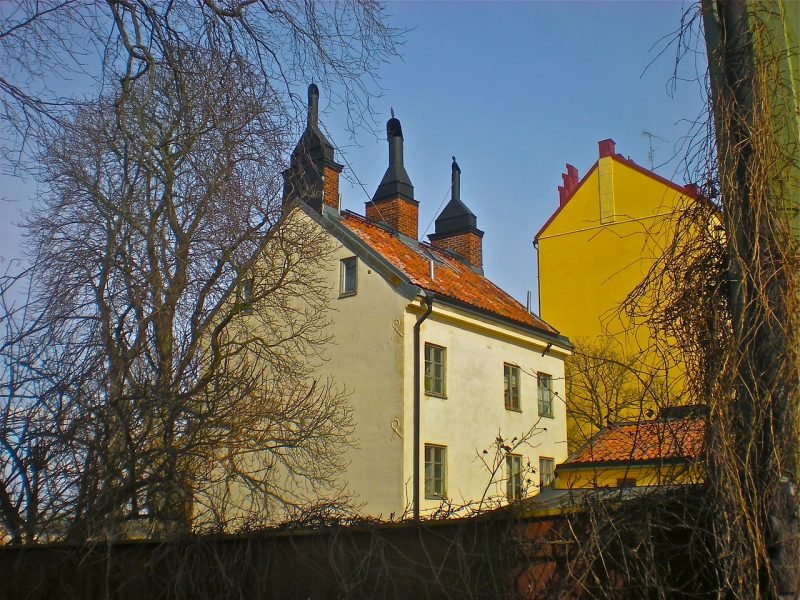 Stockholm Hostel
Let's hear it for bedsheets and towels included in the price!
This hostel is located a bit outside the center on the island of Kungsholmen, so as a result it's more modern and spacious than hostels located in the Old Town. Again, you're going to get a more local vibe here as a result, and more reasonably priced restaurants as you're farther away from the tourist center.
Every room has a spacious and modern en-suite bathroom which for me is a huge plus — I hate cramped shared bathrooms.
To compare prices and read reviews, check out: Booking | HostelWorld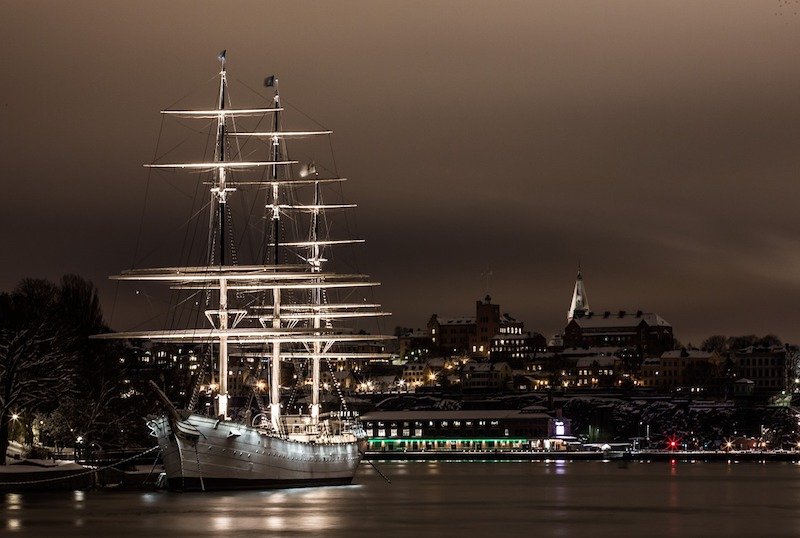 Best Hostels in Stockholm: Near Arlanda Airport
Jumbo Stay
This is great for travelers who have a layover at Stockholm Arlanda or want a place to stay near the airport if they have an early morning flight. There's a free airport shuttle and it takes just six minutes to get to the airport from the hostel and vice versa.
Another themed offering, the Jumbo Stay is the first and only hostel located within a Boeing 747-200. Maintaining many of the original airplane furnishings within the common area, the jet is also equipped with surprisingly modern rooms, offering a fun theme in addition to all of the comforts expected within a hostel.
Breakfast, linens, and towels are included in the cost, a nice surprise in pricy Stockholm. Breakfast starts at 3 AM which is perfect if you have an early morning flight but still want to grab something before heading to the airport.
To compare prices and read reviews, check out: Booking | HostelWorld
Have any other recommendations for Stockholm hostels? Leave it below in the comments!
Allison Green is a former educator turned travel blogger. She holds a Masters in Teaching and a B.A. in English and Creative Writing. Her blog posts merge her educational background and her experience traveling to 60+ countries to encourage thoughtful travel experiences that both educate and entertain. She has been a speaker at the World Travel Writers Conference and her writing, photography, and podcasting work has appeared in National Geographic, CNN Arabic, CBC Canada, and Forbes, amongst others. Now based in the San Francisco Bay Area where she grew up, she has also lived in Prague, Sofia, and New York City.