With off-peak tickets to San Juan from the East Coast sometimes as cheap as $200 round trip, Puerto Rico is actually becoming a fantastic budget destination. (Another great budget Caribbean destination for East Coasters? Barbados!)
Hostels can be found for $15-25 per night, and you can eat some excellent hearty Puerto Rican food for under $10 per meal. Follow this guide to some of my favorite cheap eats in San Juan and enjoy. Just make sure you're cool with being on island time – speedy service is not something Puerto Rico is known for.

For a Cheap Breakfast, Try a Mallorca and Cafe Con Leche
It's fairly easy to get a cheap breakfast in Puerto Rico. Don't leave without trying a mallorca, a sandwich made from a lightly sweet dough with either savory or sweet fillings, dusted with powdered sugar on top. It goes perfectly with cafe con leche, and both can be had for $5 if you know where to look.
RELATED: Old San Juan: 20 Photos That Will Make You Pack Your Bags
I recommend a little place located right on the corner of Plaza de Armas, in a small green kiosk. They don't offer much – mallorcas, quesitos (cheese pastry), and coffee – but it's a perfect place to get caffeinated, do some people watching, and have a light breakfast. The coffee is delicious, strong, and cheap – less than $1.50 for a small latte. Suck it, Starbucks.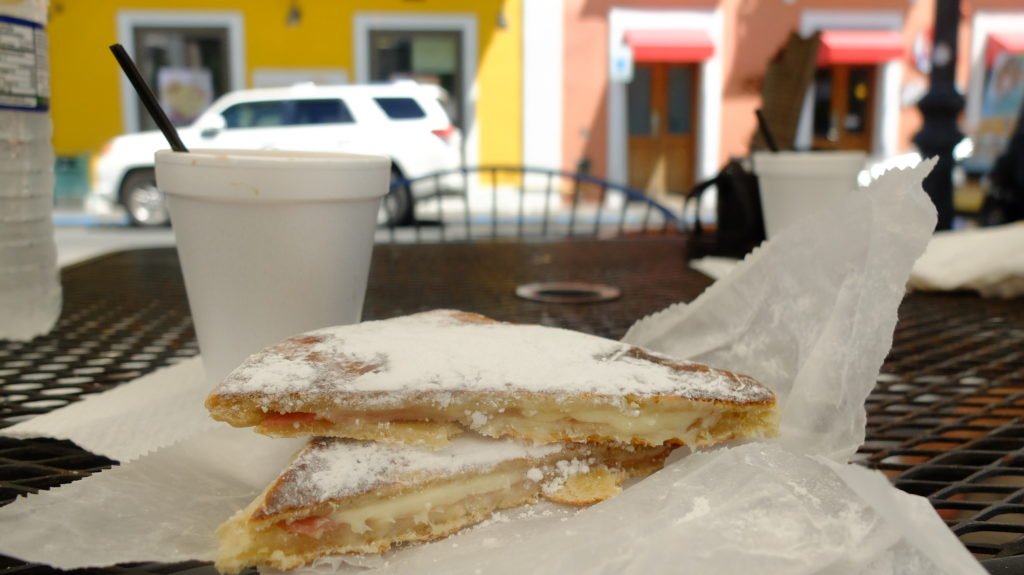 Note: This post contains affiliate links, which means I may receive a small commission if you purchase something through one of these links. Thank you for supporting the free content on this site! For more information on affiliate links and cookies, see my disclosure page for more details.
Another recommendation is Kasalta in Ocean Park, famous enough that President Obama visited. We almost got to sit at his table (marked with a plaque) before someone else swooped in and stole the honors. It was all well though, as we snacked on delicious pastries and drank cafe con leche (also mercifully strong and cheap, at less than $2). The pastries were filling and delicious and about $2 apiece as well.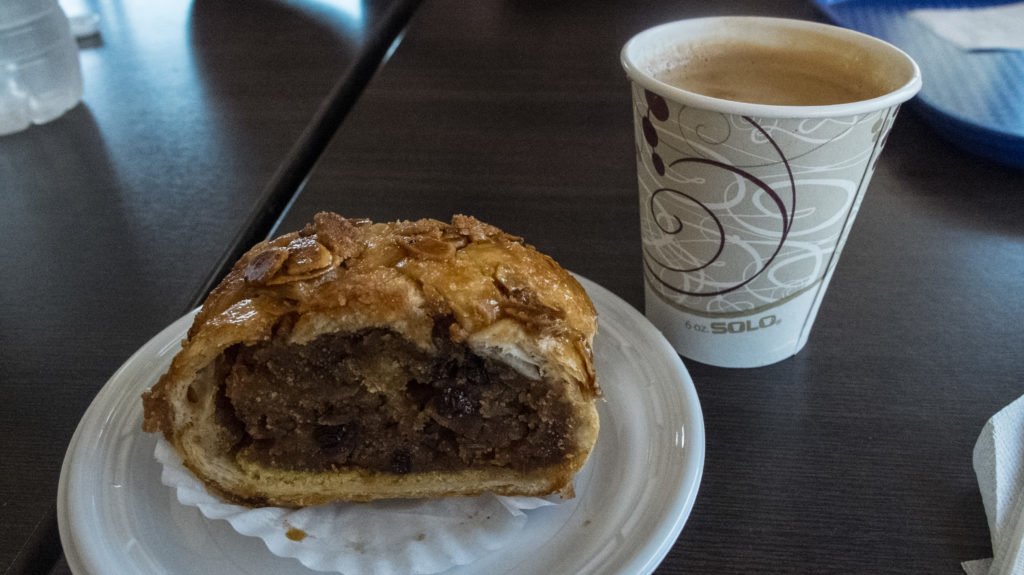 Skip the intimidatingly long line at the back and just go straight to the pastry case to save money and time. The made-to-order breakfast offerings were rather basic and quite expensive for what was offered.
I didn't eat breakfast at either place, but you can also easily get breakfast under $5 in Old San Juan at Cafe Manolín and Cafetería Mallorca.
Try helado from a cart when you want a snack or dessert
Helado is Spanish for ice cream, but in reality it's closer to a sorbet. It's sold in carts on the street all around the city, in flavors from strawberry to coconut to passionfruit. The perfect snack between meals, to sate a sweet tooth, or polish off a meal.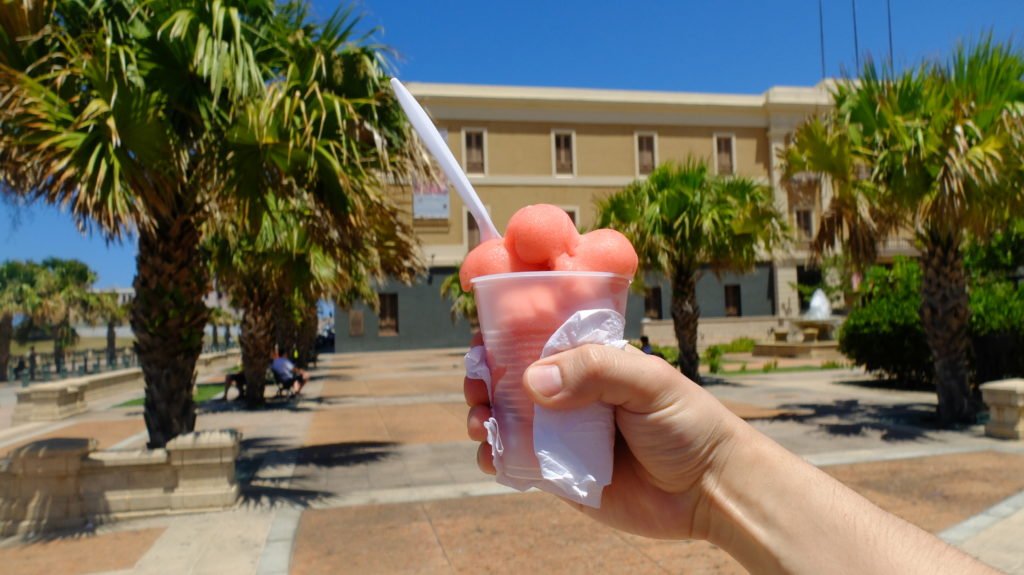 Delicious local cheap eats keep lunch and dinner affordable.
My initial goal was to try to eat every meal for under $10. I was able to mostly stay on budget, with a few minor exceptions.
Cafe Manolín in Old San Juan was delicious and definitely one of my top picks for lunch in Old San Juan. I went slightly above my $10 goal in order to indulge in mofongo relleno con camarones, shrimp-stuffed plantain mash, for $11.50. I ordered it with salad and couldn't even finish it. Had I ordered it with rice and beans, it easily could have made two meals. The mofongo was deliciously starchy and flavorful, and the shrimp were fresh and bathed in a buttery sauce that made the mofongo even more delicious. Cafe Manolín also has some of the most delicious pique (a hot sauce made of vinegar, garlic, chiles, and herbs) on the island, which made the mofongo sing. There is also an option for mofongo relleno con pollo that is under the $10 mark that I'm sure is also fantastic.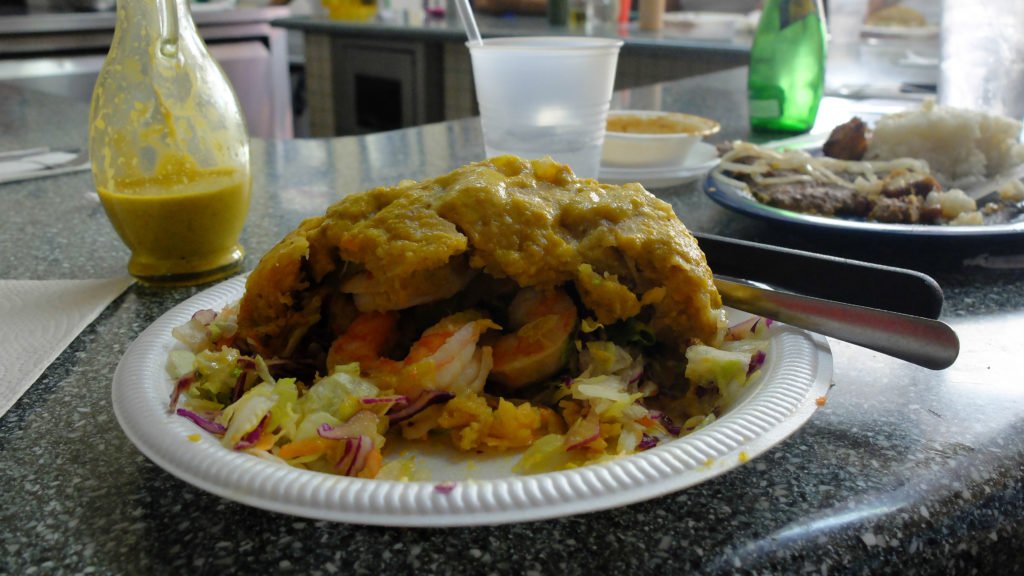 My travel companion ordered the biftec encebollado, or thin-pounded steak cooked with onions, served with white rice and some of the most flavorful soupy beans I've ever tasted, priced right under $10. The steak was tender and flavorful, and the onions were cooked perfectly melty so that they melded with the steak without any harsh bite. Like the mofongo, the flavor was perked up by the addition of a little pique.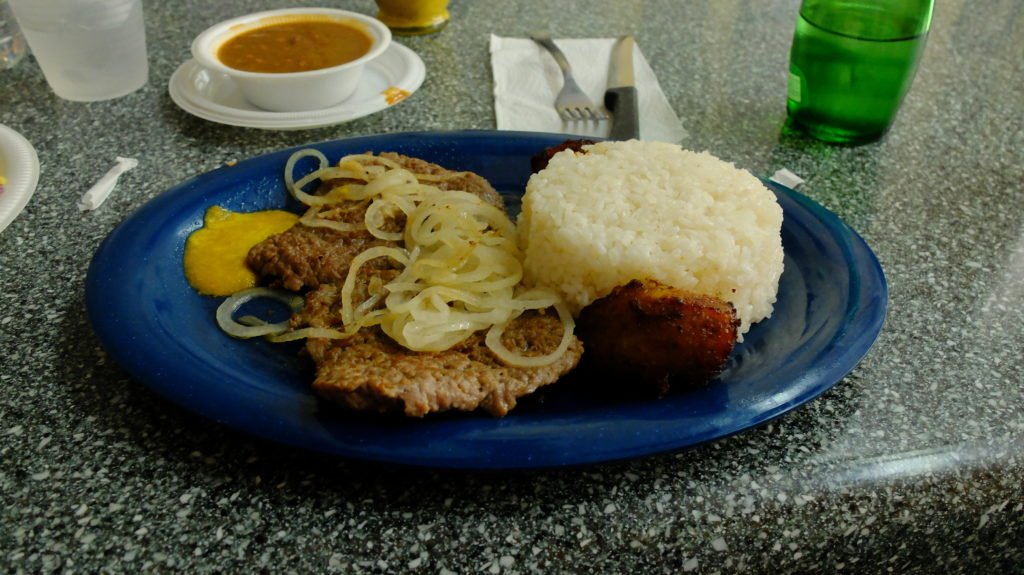 Cafe Manolín is closed for dinner!
The tourist favorite, El Jibarito, was actually quite a pleasant surprise. We went at an odd hour and avoided the rush I've seen at dinnertime. I ordered fricasé de pollo, a whole chicken leg in a deliciously rich vegetable-studded stew served with a side of trifongo, a combination of sweet yellow plantain, unripe green plantain, and yucca. The trifongo was perhaps my favorite part of the meal, having a slightly crisp exterior giving way to a lightly sweet, dense mash with a similar consistency to Thanksgiving stuffing. It went perfectly with the fricasé and the price was right under $10.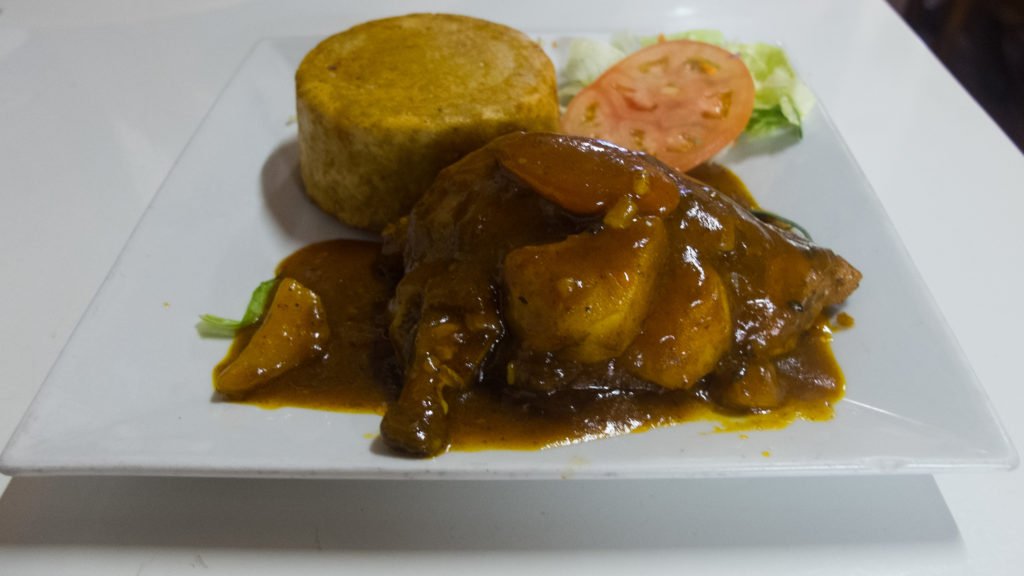 Stepping out of Old San Juan and making way to Ocean Park, we had some fantastic meals there. The real stand-out for me was Molini's. They had excellent pernil that was exceedingly tender and spiced perfectly ($8.95). They also had delicious mofongo con carnitas ($9.95). The menu changes daily, which unfortunately means that sometimes your first choice will be sold out, but for food so fresh, delicious, and cheap, who's complaining?
RELATED: Pork Highway in Guavate, Puerto Rico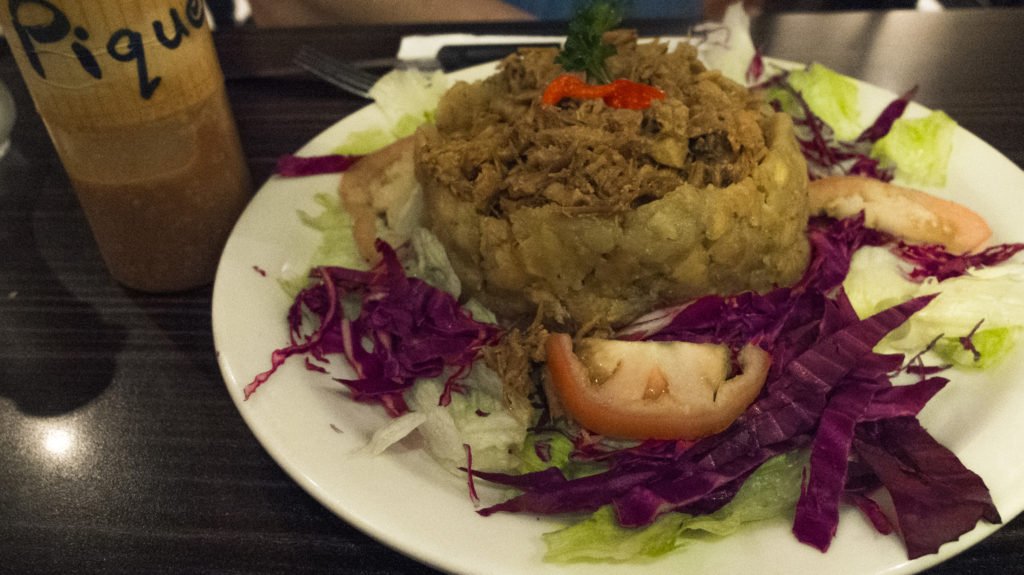 El Cueva del Mar is another favorite, though it is slightly over my loose $10 per meal budget. The fish tacos were off the chain and at $11 for 4, not a bad deal at all – especially considering that people with more self-control than I have could have happy shared them along with a pastelito (Puerto Rico's version of an empanada)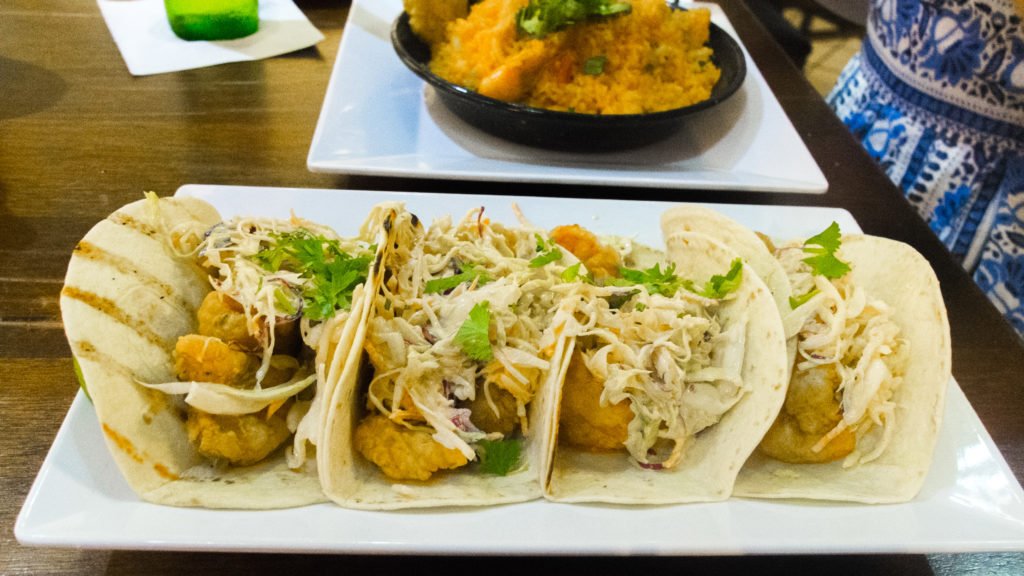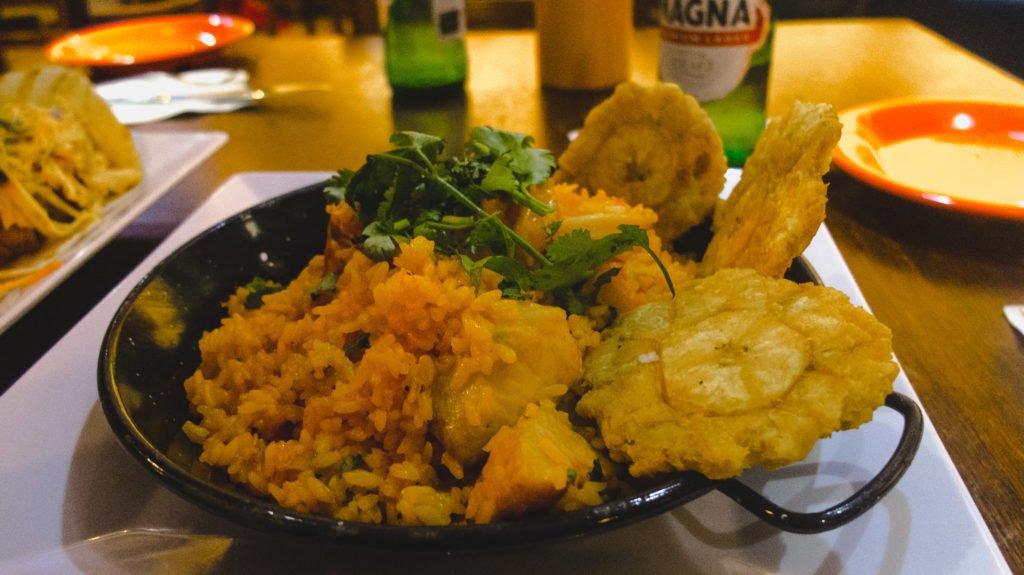 Because I am crazy enough to book a 2:45 AM flight leaving Puerto Rico (and even crazier to go to work the next day despite landing at 6 in the morning), I insisted on getting Puerto Rican BBQ before leaving. Because my excursion to Pork Highway in the mountains of Guavate simply wasn't enough pork for my poor arteries. So off to Bebo's BBQ we went — which was conveniently extremely close to SJU airport and our car rental drop-off point.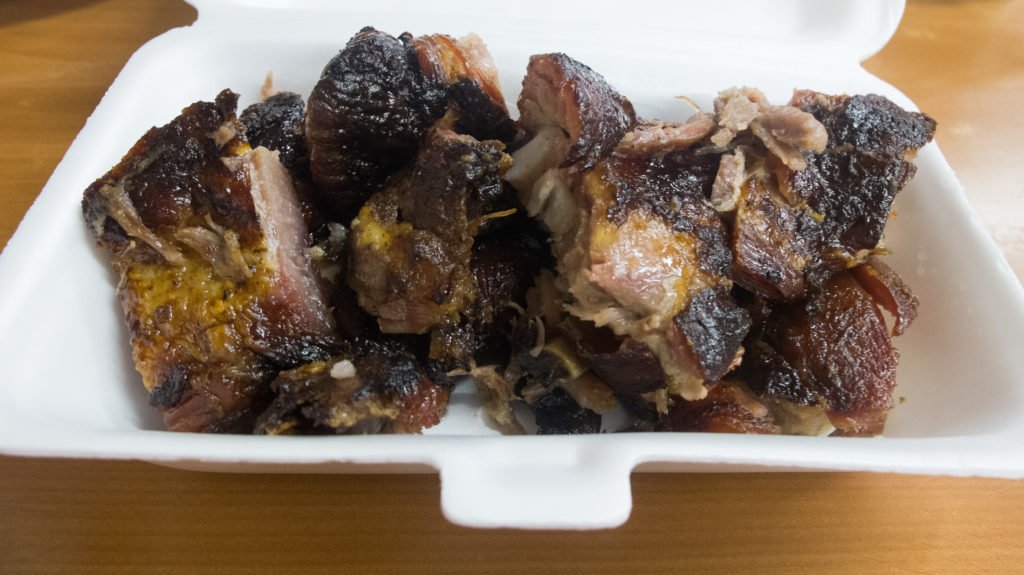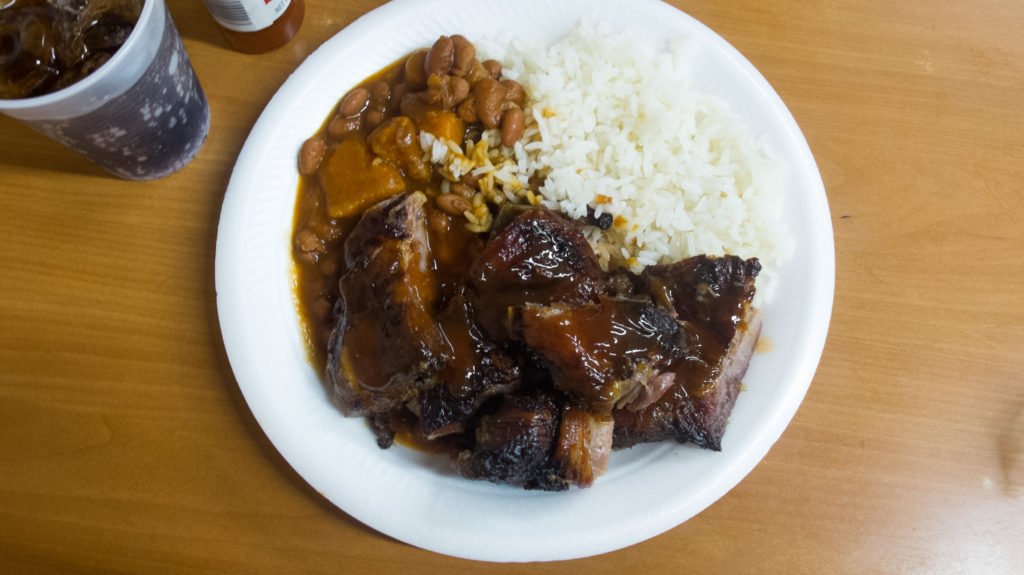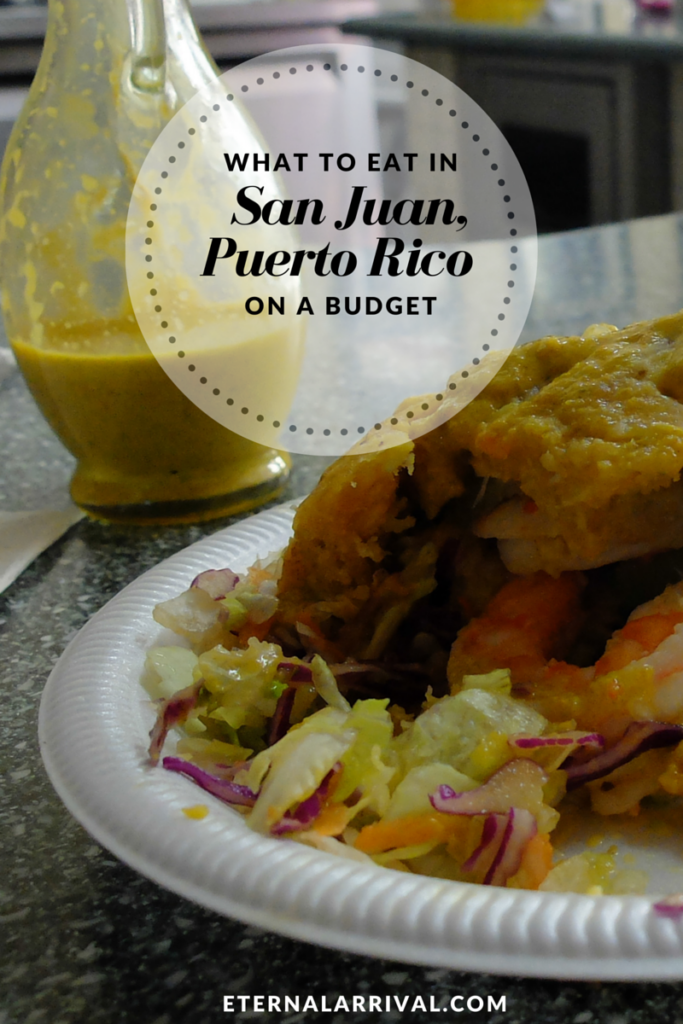 Recommended Accommodations: If you're on a budget, skip the hotels and go for an Airbnb.
Further Reading: Lonely Planet Puerto Rico
Useful Tips: Pork is king in Puerto Rico, followed by seafood. You can't leave without trying mofongo! Puerto Rico is a U.S. territory and uses the US dollar. You do not need a passport if you are American. The best time to visit is between December and May to avoid hurricane season. JetBlue often has great sales to Puerto Rico!
Do you have any budget recommendations for San Juan?
Allison Green is a former educator turned travel blogger. She holds a Masters in Teaching and a B.A. in English and Creative Writing. Her blog posts merge her educational background and her experience traveling to 70+ countries to encourage responsible, enriching travel. She has been a speaker at the World Travel Writers Conference and her writing, photography, and podcasting work has appeared in National Geographic, CNN Arabic, CBC Canada, and Forbes, amongst others. Now a full-time traveler, she has lived in Prague, Sofia, New York City, and the San Francisco Bay Area.