The U.K., on the whole, is not a budget destination. But with one of my best friends in the world living in London, how could I resist the opportunity to visit her? I spent a week with her in London and we went to Edinburgh for 2 days for a quick weekend getaway.
Edinburgh's center is very walkable and compact. This makes 2 days in Edinburgh a good amount of time to get a feel for the city's vibe – or if you're rushed, you can even do quite a lot with just 24 hours in Edinburgh. Of course, though, if you wanted, you could spend a ton more time exploring every nook and cranny of this extremely lovable city.
 While some of the things to do in Edinburgh are expensive (like the pricy-but-worth-it Edinburgh Castle, which cost me nearly $27 for a ticket plus audio guide), there are still many amazing cheap and even free things to do in Edinburgh.
This 2 day Edinburgh itinerary works as part of a larger Scotland itinerary or as a standalone weekend trip. It balances out some of the pricier Edinburgh attractions with plenty of wonderful free things so that you can tackle Edinburgh on a budget.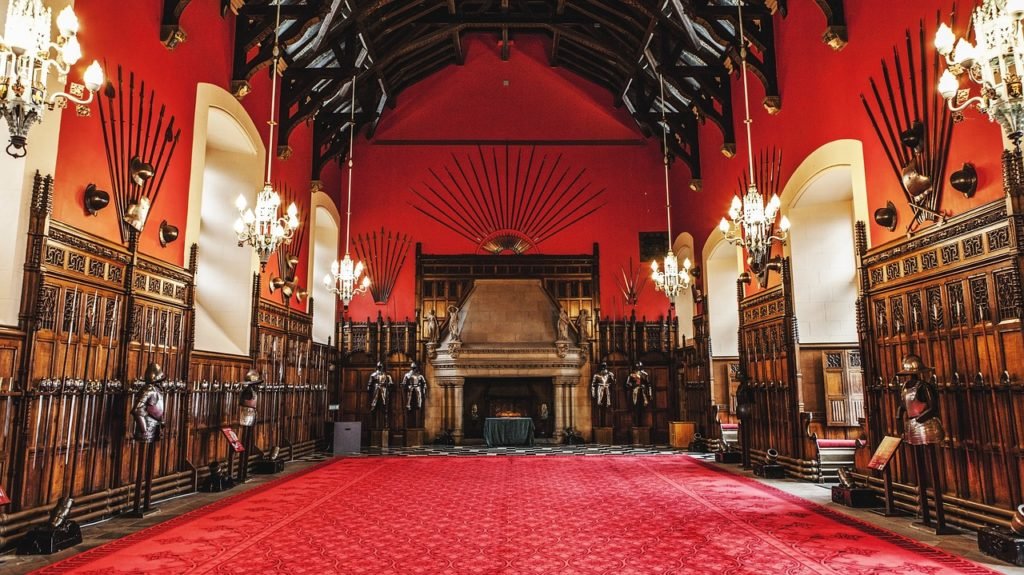 Note: This post contains affiliate links, which means I may receive a small commission if you purchase something through one of these links. Thank you for supporting the free content on this site! For more information on affiliate links and cookies, see my disclosure page for more details.
2 Days in Edinburgh: Day 1
As with any city, the best way to get to know Edinburgh is to walk, walk, walk.  The Old Town of Edinburgh is compact, and Royal Mile can be walked end-to-end in about 20 minutes, great if you only have two days in Edinburgh.
Among the centuries-old gothic architecture, there's plenty of green spaces, nature, and hiking to be had. And of course, because this is the U.K., nearly all the museums are run on a donation-only basis, meaning you can give as much or as little as you can, perfect if you're trying to do a budget weekend in Edinburgh
Start your day by climbing Arthur's Seat for a panoramic view
How many cities can boast that they contain not one but two extinct volcanoes within city limits and walking distance apart? Arthur's Seat, located in Holyrood Park a short walk from the Royal Mile, is one of them, the other being the more famous Edinburgh Castle.
The walk is not too strenuous and can be completed with any sensible shoes. I managed it in my Dansko clogs because, #priorities. The walk takes about 30 minutes each way. The views are gorgeous and it's absolutely free!

Stroll over the Palace of Holyroodhouse
Now the official residence of Queen Elizabeth II when she visits Scotland, this palace right by Arthur's Seat in Edinburgh has a dark history. It used to be the residence of Mary Queen of Scots, and you can still visit her sumptuously decorated bedchamber. Next to her bedchamber, though, is a small room with a bloody past. This is where, in 1566, Mary's secretary was murdered by her jealous husband and his friends.
Dismal past aside, the Holyroodhouse is still a great place to walk around and learn about Scottish history and the royals who called this palace home over the centuries. An audioguide is included with the price of admission (£14) and offers a great overview of the history.
Walk back towards the Old Town on the Royal Mile
The Royal Mile is Edinburgh's most famous street. At all hours of the day you'll find performers busking and tourists photographing the gorgeous old buildings along this street. As you walk towards downtown, be sure to notice the ultra-modern Scottish Parliament Building, which has a mixed opinion amongst its residents.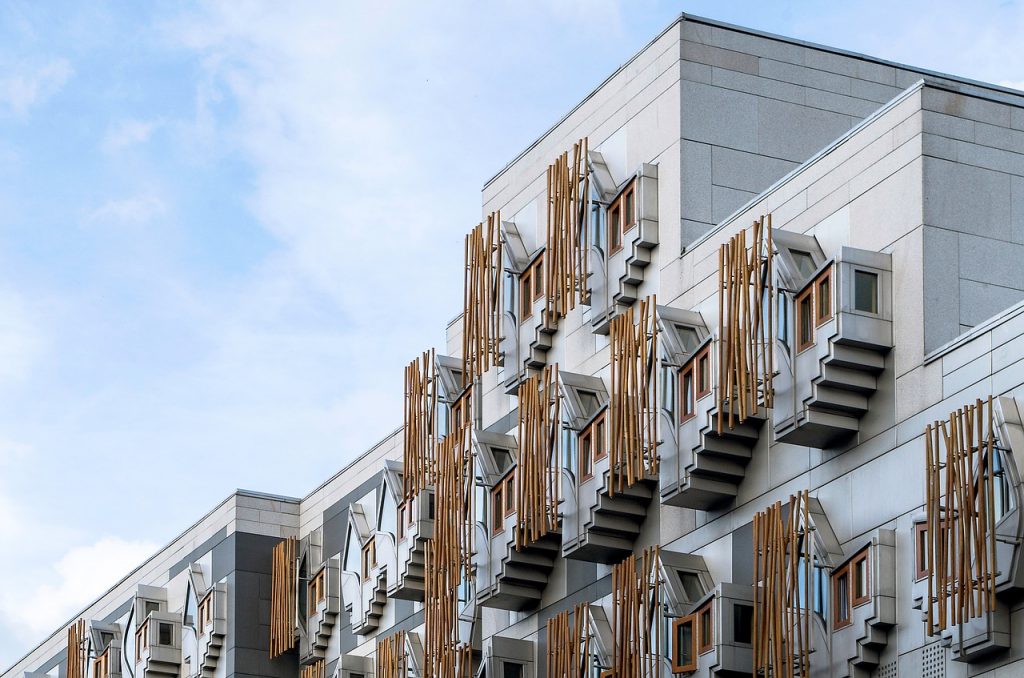 If you're hungry, you could stop at Oink for a roast hog sandwich, Scotland's version of pulled pork, served piled high on your choice of bread, lashed with condiments and a serving of crackling on top. It's simply delicious and extremely friendly on the budget. If you're looking for more suggestions on what to eat in Edinburgh, check out this blog post.
Walk down Victoria Street (there's a fantastic whiskey bar there – The Bow Bar – which is my favorite in Edinburgh's Old Town!) and you'll end up on the Grassmarket, a cute historic square with tons of pubs and a fabulous view of the Edinburgh Castle.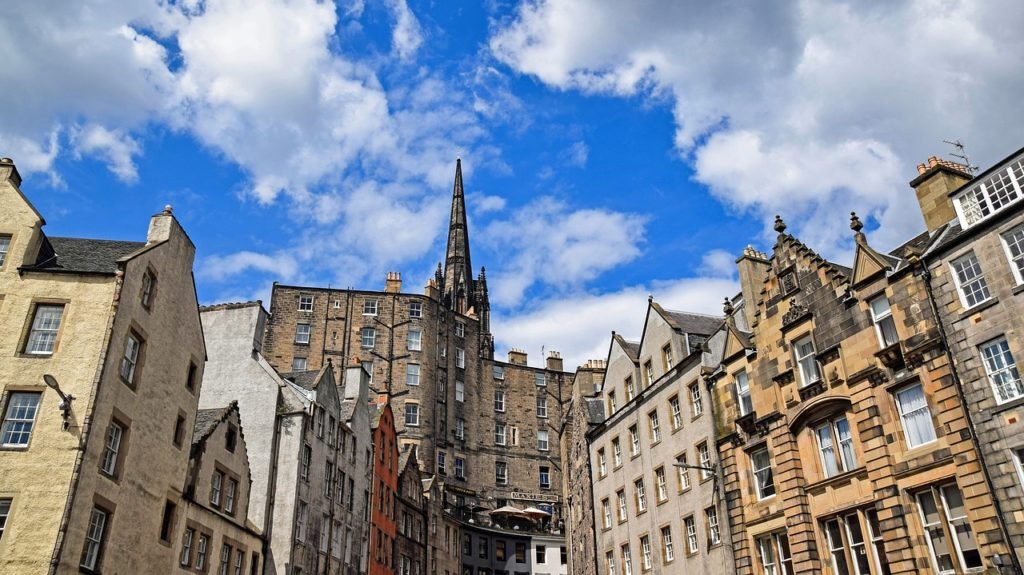 Visit the Edinburgh Castle
Perched on Edinburgh's other extinct volcano, Edinburgh Castle is hard to miss. Yes, it's one of the most touristy things in the city, but if you only have 2 days in Edinburgh you will surely want to visit the famous Edinburgh Castle on one of them.
The castle's existence dates back nearly a millennium, having been home to a royal residence of some form since the 12th century. It enjoys the dubious honor of being both "the most besieged place in Great Britain and one of the most attacked in the world" — which makes its continued survival even impressive.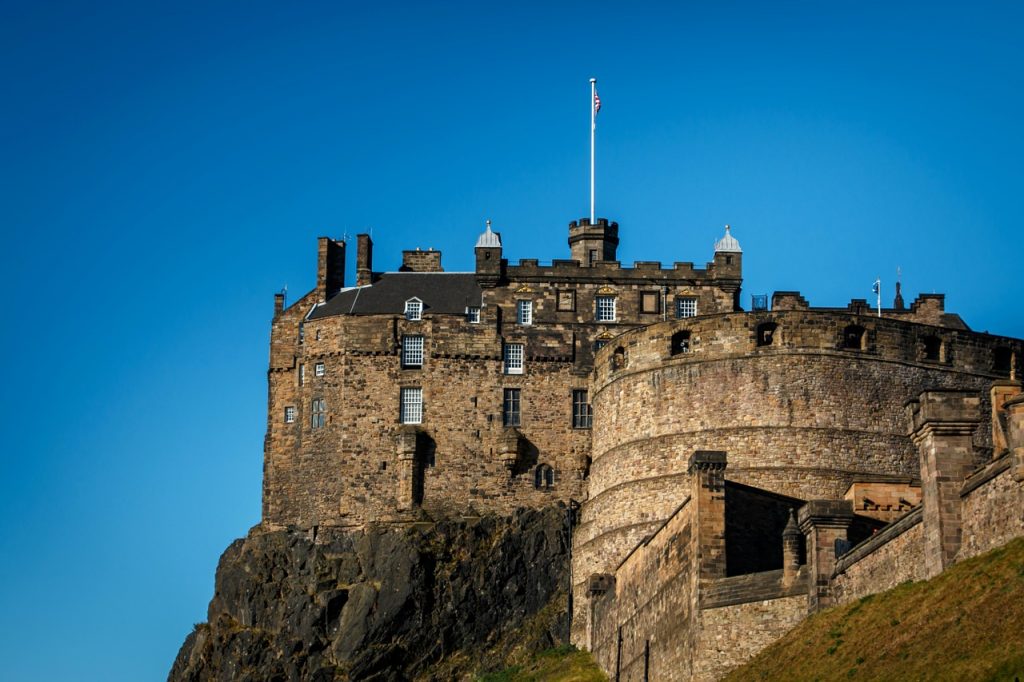 The Castle is in remarkably well-preserved condition, especially considering the 20+ sieges it has withstood throughout the centuries. Visiting the castle is one of the more expensive things you'll do in Scotland, as it costs £18.50 at the door plus an additional £3.50 for an audio guide (recommended).
Tip: You can save a few bucks  – plus some time – by prebooking a ticket online, which also allows you to skip the line. Just book and then pick your ticket up at the Visitor Information Center. Click here to prebook and save. 
Eat dinner at the Worlds End
One of the most famous pubs in Scotland, you've got to pop into the Worlds End for a pint and a pie – or fish in chips with peas, if you'd rather. It is a bit touristy but I thought the food was excellent and the prices were fair for Edinburgh. If you're on a budget, grab a drink here and then find a cheaper restaurant in the student area of Edinburgh – there are some excellent Indian food restaurants if you're keen for a curry.
Have a whisky while enjoying live music at a Scottish bar
I took in a great live show at the small Scottish pub Ensign Ewart. The two-man band played a lovely variety of traditional and modern songs. As with any pub worth its salt in Scotland, the scotch list was extensive and relatively inexpensive. A glass of scotch started around £3.50 , though you could easily go higher than that splurging on the good stuff.
I preferred the whisky from the Highlands and the Islands and thought they had the most character. Cù Bòcan was a standout for me, as was the Dalmore 12 year. Whiski Bar was also recommended to us, but we didn't have a chance to check it out.
If you prefer a more structured night out, you can join a pub crawl (check reviews and availability here) that takes you through several of the most famous pubs in town.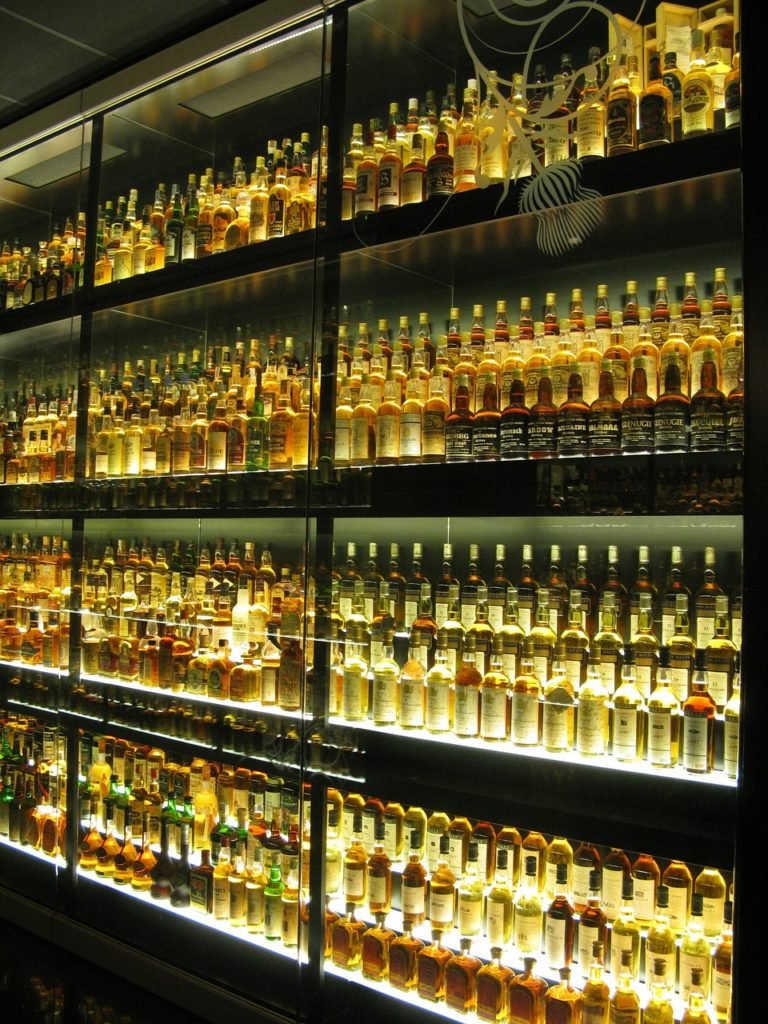 2 Days in Edinburgh: Day 2
Start the morning by taking in some art at the Scottish National Gallery
Much like London, nearly all of the museums in Edinburgh are free to enter and run on donations. The Scottish National Gallery has an impressive collection spanning many centuries, from medieval Italian religious art to Impressionism to modern Scottish art.
It's a pretty large museum, so don't feel compelled to see absolutely everything, especially since you can pay as you wish. I'd give yourself about an hour or an hour and a half to walk through the floors of the gallery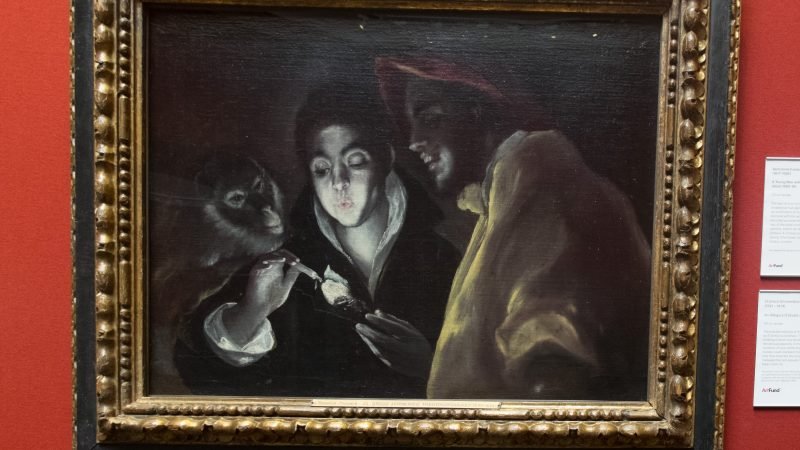 Walk through Princes Street Garden
Right next to the train station, not far from the National Gallery of Scotland is the gorgeous Princes Street Garden. When I went in April, the tulips were bursting with color, even though the weather was dreary.
For a small fee, you can go up the Scott Monument and get a gorgeous view of the Old Town from the other side. However, it was sadly closed for renovations when I was there, so I didn't get a chance to go up.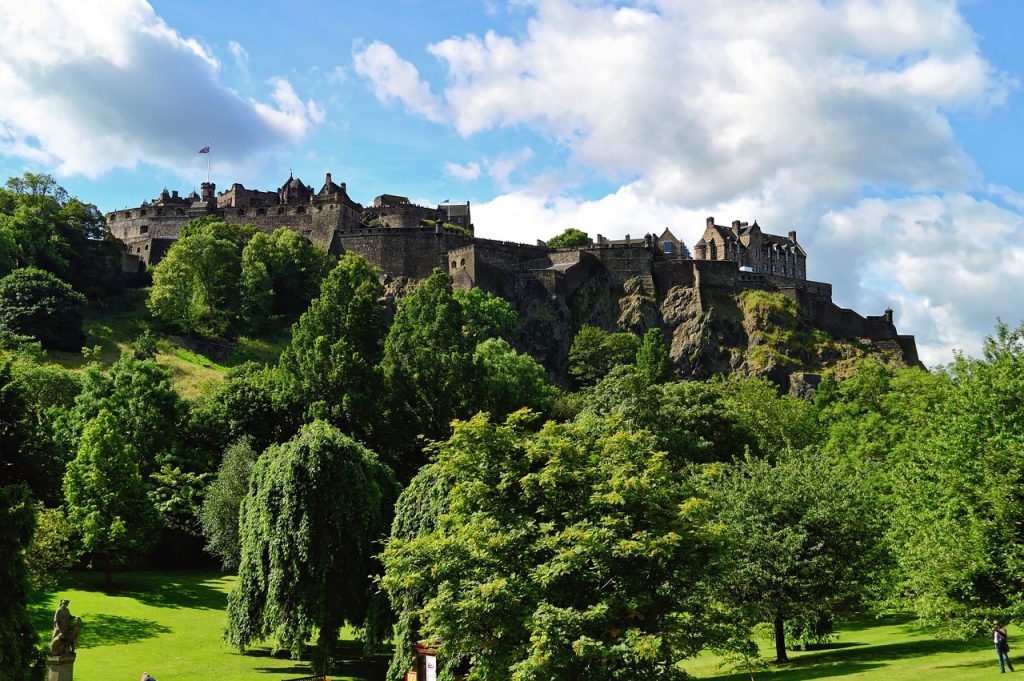 Stare in awe at Saint Giles' Cathedral
Access to this beautiful cathedral is free; alternatively, you can purchase a photo permit for £2, which supports the upkeep of this beautiful church.
The stained glass in this church is some of the best I've seen, and I'm a total nerd for a pretty church (or any religious building for that matter). And the ceiling is an absolute jaw-dropped, with a gorgeous midnight blue color perfectly complementing the stonework. Give yourself at least 20 minutes to walk around the church finding the best angles to photograph.

Stop for lunch at the Grassmarket
The Grassmarket area of Edinburgh is home to a bunch of pubs that run very generous lunch specials considering their prime location. If you're brave, try haggis (I chickcned out and tried a vegetarian version).  I loved my meal at Fiddlers Arms but the Last Drop also comes recommended.
Dip your toes in Scotland's mind-bogglingly long history at the National Museum of Scotland
I only left a few hours at this museum before needing to catch a train back to England, and I regret not staying longer! There is a huge array of artifacts that hint at what life was like in Scotland over two thousand years ago.
This museum traces Scotland's history from its roots in Paganism to its interaction with the Roman empire to the tumultuous times of the Protestant Reformation — and likely even further, had I dedicated more time to this gem of a museum. And of course, entrance is by donation, so choose what you would like to pay.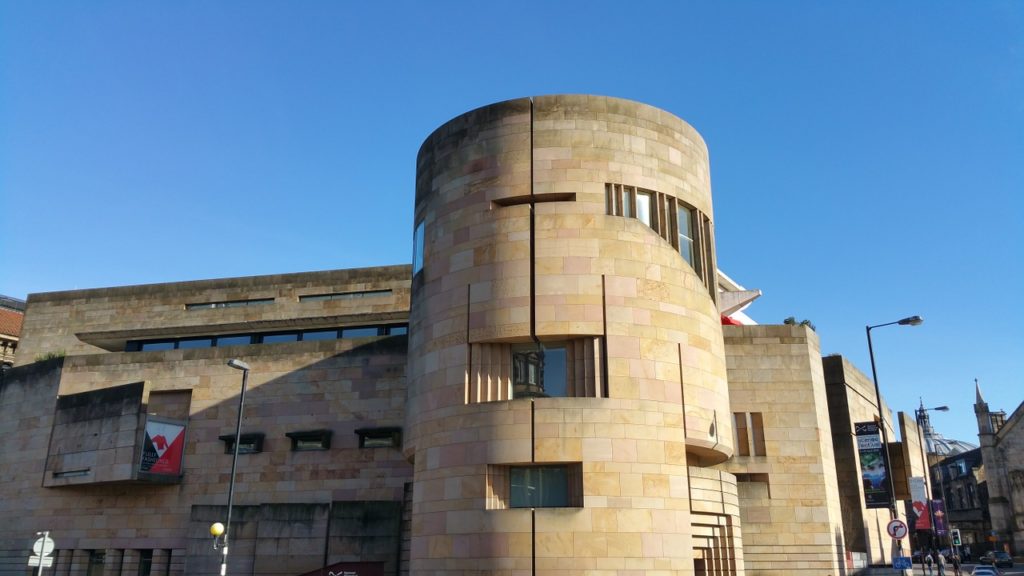 Catch the sunset from Calton Hill
If Arthur's Seat wasn't enough altitude and you fancy another panoramic view of the city, Calton Hill is a lovely walk with excellent views – and much easier on the legs and lungs.
It's located quite close to the downtown area and it's home to some of the best sunsets in Edinburgh – if you can catch it on a clear enough night, granted.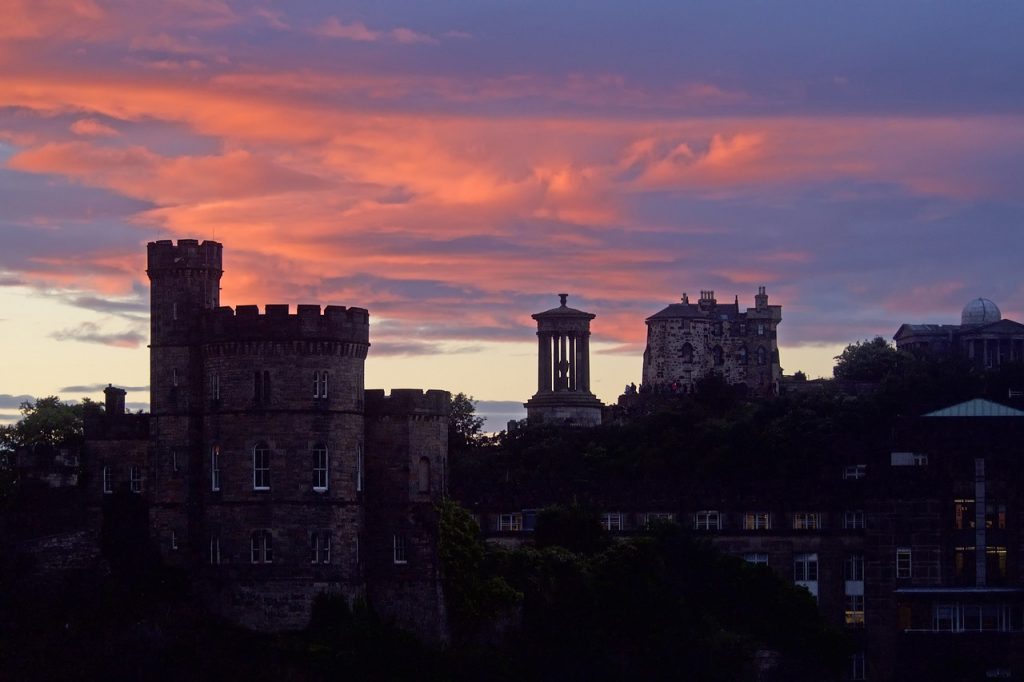 End the day with a ghost tour and glass of whisky
From the murder at the Holyroodhouse to the infamous Edinburgh mob to countless other bloody incidents over the centuries, Edinburgh's got a bit of a history. Learn about the less-sunny days of Edinburgh's past on a two-hour walking tour that tells the history of Edinburgh through the ghouls that supposedly still haunt the city, even getting a chance to descend in the creepy and theoretically haunted Blair Street underground vaults. If you're feeling shaken by the end, you'll get set right with a glass of whisky at the end of the tour. It's a popular tour so book in advance here.
Where to Stay in Edinburgh
If you only have two days in Edinburgh, I recommend staying fairly close to the city center so you can minimize your transit times and costs. Edinburgh is not a cheap city but I've endeavored to find the best deals in the city on your behalf!
Budget Hostel: The aptly-named Kick Ass is located right in the Old Town of Edinburgh, so you can be out and on the Royal Mile in less than a 5-minute walk. The hostel has a social vibe, with an in-house bar and lounge area, so it's a great choice for social solo travelers. The hostel is really modern and has both traditional bunks and also "pod beds" with a little more privacy, similar to Tokyo capsule hotel styles. With an 8.6 rating on Booking.com, Kick Ass is reliable and well-loved amongst budget travelers. Check out reviews, prices, and availability at Kick Ass here.
Boutique Hostel: If you're budget conscious but want to stay in a more upscale, boutique hostel rather than a more 'party' vibe, Edinburgh has a few great options. The top-rated option in town is Haystack Hostel, with a 9.0 rating on Booking.com. While it's located in the New Town, it is only a 300 meter walk to all the Old Town sights, so you'll save some coins while still being in walking distance. Hostels in Edinburgh aren't exactly cheap compared to elsewhere in the world but it is one of the better values in this pricy Scottish city! Check out reviews, prices, and availability at Haystack Hostel here.
Budget Hotel: For a balance of budget-savvy and privacy, I recommend Edinburgh Central Rooms, where you'll find a rare central private double often under $100 per night (though of course rates vary depending on the season). The rooms are generally on the spacious side and the location is excellent – you're a mere 2 minute walk from Princes Street. However, of course, a sacrifice has to be made for the cheap price – in this case, a shared bathroom. (There is one room with an en-suite bathroom for a little more). Check out reviews, prices, and availability at Edinburgh Central Rooms here.
Have more time in Scotland? Check out these places:
Recommended Accommodations: Hotels and hostels are expensive – check out Airbnb for better options.
Further Reading: Rick Steves Scotland
Useful Tips: Food is cheaper near the university and further away from Royal Mile. Be sure to layer and bring warm clothes – Edinburgh literally went from sunny to snowing in the span of 10 minutes while I was climbing Arthur's Seat.
As always, I recommend purchasing travel insurance before you travel, even when traveling in developed countries like the UK — you never know what could happen, and it's better to be safe than sorry! I always use World Nomads because it's affordable and flexible.
Allison Green is a former educator turned travel blogger. She holds a Masters in Teaching and a B.A. in English and Creative Writing. Her blog posts merge her educational background and her experience traveling to 60+ countries to encourage thoughtful travel experiences that both educate and entertain. She has been a speaker at the World Travel Writers Conference and her writing, photography, and podcasting work has appeared in National Geographic, CNN Arabic, CBC Canada, and Forbes, amongst others. Now based in the San Francisco Bay Area where she grew up, she has also lived in Prague, Sofia, and New York City.