There's nothing better than classic smell of a warm campfire crackling under a blanket of twinkling stars and waking up to a soft glowing sunrise as dawn breaks the horizon.
Camping is all about those moments of peace and serenity. When your pace for the day is slow and peaceful, and you truly embrace what it means to be a part of nature.
But, as my fellow campers know, not all moments are pure bliss and comfort. Sometimes you wake up to powerful thunderstorms that wipe your camp out, or you come back from a long hike and find your campsite has been invaded by ants.
But one thing is for sure, every trip is an epic adventure with hidden lessons that bring memorable stories for years to come.
As a very seasoned car camper, I want to share with you my ultimate guide to car camping: checklist, essentials, packing list, tips, and more.
My guide includes everything from the apps I use for discovering campsites, products that I feel enhance your car camping experience, and of course the car camping essentials like cookware and storage. I have learned nature's lessons and developed a love for the chaos and order that comes along with wandering into the great unknown.
What is Car Camping?
Home, sweet car!
For the purposes of this article, I will be focusing primarily on car camping. Which means you will be living and sleeping IN your car.
Your car becomes a fully functioning home on wheels. No tent setups, no breaking down campsites, just you and your car exploring all of what the world has to offer!
However, car camping can also be thought of as driving up to your campsite and setting up shop with a traditional tent — and I'll cover that briefly as well, while I'll focus more on the logistics of car camping and sleeping in your car.
The thought of sprawling out in your car, protected from the elements sounds simple in theory, right? Hold up!
Logistically, there are a few things to consider if you want to make your car camping experience as comfortable and convenient as you dreamed in your head. With a little bit of knowledge and advanced planning, your dreams of easily escaping into nature can come true!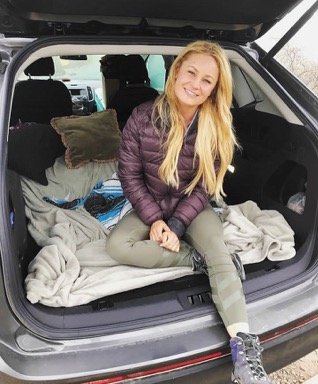 Note: This post contains affiliate links, which means I may receive a small commission if you purchase something through one of these links. Thank you for supporting the free content on this site! For more information on affiliate links and cookies, see my disclosure page for more details.
Car Camping Checklist #1: Finding a Campsite
Car camping should be treated just like any other vacation or getaway.
First, you dream of where you want to go and then second, seek out accommodations.
Finding accommodations, or in this case, a campsite, is not quite as easy as you may assume. Take it from me! I've been kicked off public land, asked to leave rest stops, and have even had campsite reservations stolen from me.
But over the years I've perfected my system and discovered the best apps and maps for making accommodations easy. Below I've provided the names of my favorite apps and links to websites that I use regularly to find my next camping destination.
Best Apps for Car Camping
1) iOverlander. This app is the best kept secret for free dispersed overlanding campsites. iOverlander uses a simple topical map setup, loaded with a database of campsites that are updated by the users. Details are listed for each campsite including coordinates, pictures and amenities.
2) HipCamp. This is another wonderful app and great alternative for discovering campsites. HipCamp allows you to book unique camping experiences on farms, vineyards, and public parks across the country. It's essentially an Airb&b for land. Owners "rent out" their land for campers so it gives you a more private setting.
Car Camping Essential Website Resources
1) https://www.blm.gov The Bureau of Land Management (BLM) is an agency within the United States that is responsible for public land. Campers can camp for free on BLM land. This website is a great resource for finding maps that provide locations for public land.
2) https://www.fs.usda.gov Similar to BLM Land, National Forest Land is also public use land. Follow the link provided to download maps of National Forest Lands.
3) https://www.reserveamerica.com Reserve America is the Mecca for campground reservations in the states and federal lands. It's packed with information including tips on outdoors adventures, searching for sites as well as reserving lodging.
Car Camping Checklist #2: Pack Your Essentials for Car Camping
Not sure what the most important parts of your car camping setup are? I'll break down your car camping essentials section by section so you don't forget a thing.
Here's your complete car camping packing list!
Sleeping in Style
Now that you've got your dream location picked out and a sweet campsite to boot, let's get into the list of gear you'll need to have the perfect adventure.
We'll start with the most important pieces of gear, sleeping! Sleep is often overlooked but it's essential if you want to have a good time! Nothing ruins the next day like a bad night of rest. Here's my list of essential bedding products that are tried and true.
I'll present two options to my fellow campers. The first option is the traditional route of tent camping. Traditional tent camping still lets you enjoy all the necessities you have stashed in the car but also enjoy the novelty of sleeping in a tent.
The second option is for more of my "#vanlife"-ers, or the lucky few who have a truck or a large SUV that's big enough to sleep in. I'd seriously advise those with a large car to fold down the backseats of your car or truck and turn it into a packable sleeping sanctuary!
 We'll start with a tent set up for my novelty tent sleepers who want to drive into the campsite, unload and set up camp.
Tent
 For those who enjoy sleeping in the great outdoors, the REI Half Dome is a great starter tent.
It packs down small, weighs just under 5 pounds, and can lodge two people comfortably. It's a great option that doesn't take up much room and is very simple to construct.
Sleeping Pad
  If you chose to go the tent route, you're going to need to invest in a good sleeping pad. A sleeping pad will act as your mattress and keep you off the cold, hard ground.
The NEMO Flyer is my favorite to use as it is easy to inflate, packs down nicely, and is relatively quiet if you're the type that rolls around when you sleep.
Sleeping Bag
When sleeping in the car, most people overlook sleeping bags and opt for blankets. But I've learned that a sleeping bag is absolutely essential!
Despite being protected from the elements, your car can still get quite chilly and a good down sleeping bag will save you from a harsh, cold wake up. I personally use the Marmot Trestles Elite similar to this one. I love it because it's super lightweight, comfortable, and keeps me warm.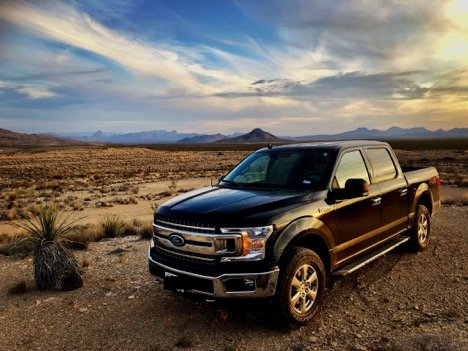 Mattress
   If you're one of the lucky few who has a truck or a large SUV, I'd seriously advise you to turn the back of your car or truck into a packable sleeping sanctuary. The best part about a large car is you can create a sleeping system that is more luxurious than your bed at home!
I've been through a plethora of air mattresses, sleeping pads, and foam rollouts. But I have finally settled on the ultimate camping mattress.
I LOVE this tri-fold memory foam mattress. I purchased the queen size for both my Ford Edge and F150. It fits perfectly in the back of both cars and folds up to a small enough size that's perfect for road trips. It's integrated with a bamboo covering for breathability and I'm able to easily take the cover off for washing.
Comforter
Yes, my sleeping arrangements are very luxurious for camping standards. Which is why I top my camping bed off with a good synthetic down comforter.
A comforter is the icing to my bed cake. I love cuddling up under a comforter and having that extra layer of warmth during the cold months. I use this simple comforter I got off Amazon. It's an inexpensive option that provides the comfort and warmth that I need.
Pillows
As for pillows, I just use regular bed pillows. I do have separate 'camp pillows' that are different from my home pillows.
The more of an established camper you become, you begin to realize that most articles of fabrics will begin to absorb a permanent campfire smell. So it's best to have a designated camp bedding bin (below) to keep your linens at home fresh.
Bedding Storage
Bedding takes up the majority of space in my car. I've learned the best way to pack bedding is with these Ziploc totes. I throw my comforter, bedsheets, and pillows inside the Ziploc totes.
They are a good way to compact the bulkiness of bedding. They are sturdy, durable, and have a breathable mesh top so you're able to air out your bedding as you travel.
Camp Kitchen
After a long restful night's sleep, you're going to want to wake up and enjoy the sunrise with a cup of camp coffee followed by a beautiful breakfast spread that'll fuel your outdoor adventure for the day.
The beauty of car camping is that you're not subjected to MRE meals or boring bologna sandwiches. When you car camp, the sky's the limit when preparing food! If you're worried about how to pack for camping and making magnificent meals, don't worry! I have all the tips and tricks in the kitchen guide below.
Stovetop
Every good camp meal begins with a source of heat. Of course, the simplest answer to your source of heat would be a campfire. But sometimes you arrive at a campsite and find out there is a burn ban in place. That's where the Coleman Signature Grill Stove comes in!
The Coleman Grill is the perfect answer to all your cooking needs. I love that one side of the Coleman is a grill and the other side serves as a stove. It's the perfect combination for grilling bacon and eggs while using the stove to warm up your coffee. It's one of the most necessary things for camping, so don't forget it!
Cooler
I can't stress enough how important it is to have a well insulated cooler. A well insulated cooler is going to keep your food and drinks cold, thus in turn, keeping you safe and healthy from spoiled food. It's no surprise that I'm a huge fan of the YETI coolers.
I own the Tundra 45 and it's the perfect size for road trips and holds enough food and ice for at least a 4-day adventure. Plus, YETI coolers are bear-proof so you don't need to worry about leaving it outside during your stay at the campsite.
Coffee Maker
Every camper knows there's some magic in that morning cup of coffee. For some reason, being out in nature makes the taste of coffee significantly better. I've found that the easiest and fastest way to create a perfect cup of camp coffee is through a small device called a Jetboil like this one here.
The JetBoil is essentially a small cooking stove that can boil water in less than 3 minutes. It folds up to a size smaller than a deck of cards and only weighs .2 kg. I pair the JetBoil with a packet of instant coffee and I'm set for the day.
Utensils
So you've got your big 'kitchen' appliances out of the way. Here's a quick rundown of the small kitchen utensils that'll make your camping experience more enjoyable.
Cast Iron Skillet. Cast iron skillets were made for the great outdoors! It's the only material that I've found that can withstand the heat of a fire, stays warm after cooking, and requires little cleanup. Plus, it gets better with age! Lodge is the gold standard in cast iron cooking.
Spatula. I like using a metal spatula. If you're cooking over a fire, it's the best material to have as plastic spatulas tend to melt… plus, it's easier to clean than wood. I prefer a fish spatula – perfect for flipping pancakes!
Trash bags. Don't forget the trash bags! You'd be surprised by how much trash you accumulate during your time on the road. You're responsible for leaving no trace and leaving campsites better than you've found them. Bring biodegradable trash bags if possible.
Reusable bowls and utensils. I like using reusable bowls and utensils as it saves space and decreases waste. I like this simple mess kit from REI. It's the perfect size for two people, comes in a zippered pouch that's perfect for packing for car camping and funky colors that make it exciting.
Cutting board and knife. I overlooked the use of a cutting board and knife for the longest time. I found myself cutting up food on random surfaces in nature. I'd advise against this and pack a small cutting board and camp knife, like this one.
Spices, oils and dressing. The best way I've found for packing and transporting spices, oils, and dressings is to use travel shampoo bottles. They are the perfect mini size and they have screw-top lids so they're guaranteed not to leak. For a spice kit, this travel one is super cool for hardcore foodie campers.
Propane. If you opt to use a portable grill then you'll need to pack propane. Always pack an extra bottle! Nothing is more disappointing than cooking your meal halfway and running out of propane. Buy in bulk to save.
Lighter. I can't tell you how many times I've forgotten a lighter. Put one in the car, put one in your utensils bag, put one in your pocket. Anything you have to do to remember a lighter! If you forget a lighter, you'll have no ignition source for your grill or a campfire. Buy a 4-pack and stash them around.
Lighter fluid. I love campfires but the actual act of building a fire is quite complicated and is a skill that takes time to acquire. Lighter fluid speeds this process up and keeps a weak fire burning all night long.
Bandana. Bandanas are the quintessential campers rag. I use my bandana for everything! It comes in handy as a dishrag, an oven mitt, napkin, the list goes on! It's a great environmentally friendly alternative to paper towels and napkins.
Dish Soap. You're going to want to bring some dish soap for washing up your dishes and utensils. I personally love CampSuds dish soap. It's biodegradable, has a clean scent, and can also double as a laundry soap in a pinch!
Shovel. I always pack a mini shovel for clearing out overused fire pits or digging a new fire pit.
I keep all the kitchen utensils organized in a large 12-gallon plastic bin. Plastic bins will become your best friend as you get deeper and deeper into car camping. They are a great way to store all your necessities, they're super easy to clean after a long trip and they last for ages! They also double as 'coffee tables' when you're ready to sit down and eat.
Making Camp Feel like Home
So you've staked out some land to call home. You've made your bed for the day, dinner is cooked and you're ready to relax by the campfire.
I like to compare this stage of the camping experience to relaxing in your living room. You'll want some chairs, maybe a hammock, some nice mood lights, and a place to sip that well-anticipated whiskey as you enjoy the sunset.
Chairs. There are a million different options when it comes to chairs. What it really comes down to is what is most comfortable for you. What I've found that works for me are these steal of a deal chairs from Ozark Trail. The mesh back allows for a bit of airflow, an insulated cooler on the side lets you stash some extra 'cold ones,' and a nifty bottle opener is attached to the side.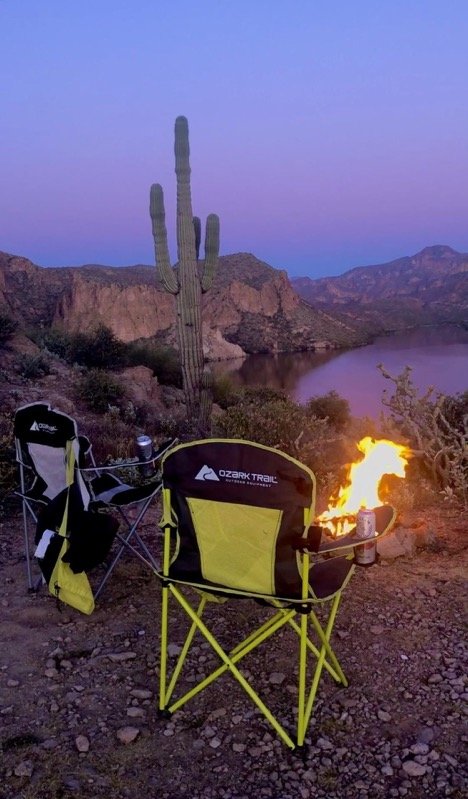 Hammock. A hammock is the perfect alternative or addition to chairs. Hammocks are the ultimate way to relax. A brand I've used and swear by is Wise Owl Outfitters. Wise Owl hammocks are lightweight, easy to set up, sturdy, and they come in so many different fun colors.
Hammock Straps. If you choose to use a hammock, please consider hammock straps much like these. Hammock straps help in preserving the health of trees by minimizing bark stripping that traditional hammock rope tends to leave behind.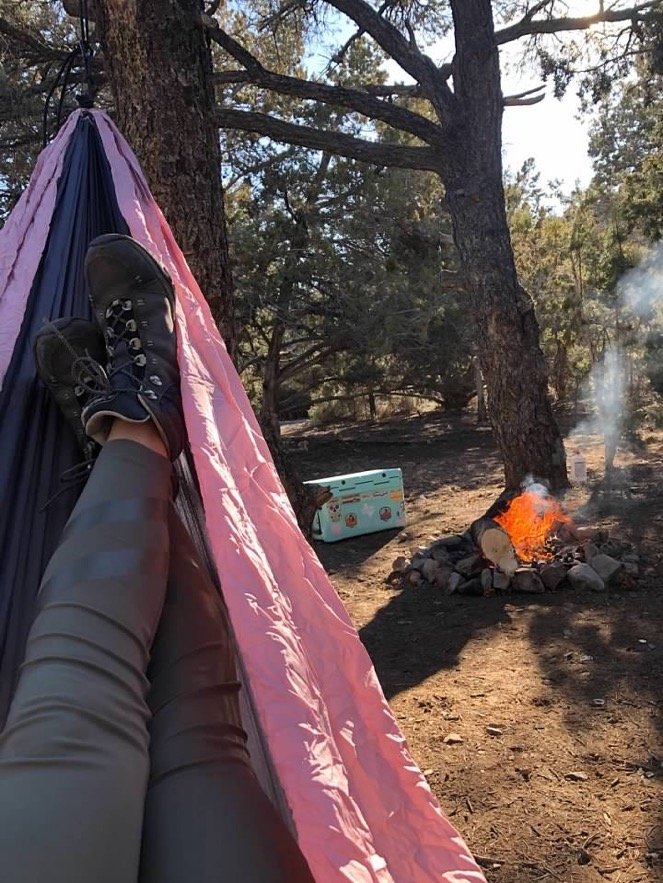 Lanterns. When the sun begins to go down in nature, it gets dark fast! I love these little mini lanterns from REI. They're the perfect size for stashing around the campsite. They emit a soft light that's perfect for hanging around the campsite or they can also double as a powerful flashlight.
Toiletries and Cleanliness
As you begin to immerse yourself in the great outdoors, you realize how difficult it is to keep everything clean. Including yourself!
As an avid camper, I've come to embrace the dirt and the days without showers. But with that being said, I do have a few tips for keeping your body and campsite as clean as possible.
Wet Wipes. Wet wipes will become your best friend! There will be times where you are nowhere near a water source and you can't stand the thought of getting into your sleeping bag dirty. That's where these wet wipes save the day! These wipes are great for your face, hands, and body. Not only do these wipes clean, they also moisturize your skin with a clean cucumber aloe scent.
Toothbrush and toothpaste. I like to use dry toothpaste tabs when I'm out in nature. These tabs are a great option as they are made with all-natural ingredients that are safe to spit out on the ground with no damage to the environment.
Soap. If you're lucky enough to have a campsite next to water you'll want to take advantage of the free bath. Grab your CampSuds that I mentioned above and use this as your body wash. I know, I know, it's a little weird washing your body with the same bottle as you washed your dishes with but trust me! It's an all-in-one product that'll leave you feeling better and cleaner!
Towel. Regular bath towels take up a lot of room and tend to take forever to dry out. I prefer to use microfiber towels like these as they dry faster, are easier to pack, and tend not to absorb smells.
Deodorant. Please, for everyone's sake, pack your favorite deodorant (this is mine)
What about my hair? Okay ladies, embrace that second and third-day hair! I've found that camping is much easier when you let your locks do their own thing. I like to wet my hair during a bath, throw it in a braid for the night, and be done with it. As soon as you embrace the 'no poo' method, the easier your life becomes.
If you just can't take it, throw your favorite dry shampoo in your bag and call it clean! PS. Your hair is going to smell like campfire every night anyway so just embrace not having to mess with it.
First Aid and Campsite Survival
As you become more accustomed to camping, you'll learn that accidents happen. No matter how careful you are, you'll find yourself digging through your backpack for a bandaid or searching for that precious piece of paracord that could double as a spare shoelace.
Chances are, most items in your first aid survival kit will never get used. But these extra items come in handy the one time you're in a dire situation.
First Aid Kit. Everyone should keep a comprehensive first aid kit on hand when traveling away from home. It doesn't have to be some sort of mega kit. This kit from Amazon is perfect. It's a great comprehensive kit for minor cuts and burns and is small enough to stow away in the smallest crevice of your car.
Bug Spray. I live in Texas, so I camp in and around the southern states a lot, which means BUGS! Tons and tons of bugs. I consider bug spray an essential survival tool because without it, you'll feel like you want to die. I prefer to use a bug spray with natural ingredients like this one from ClimbOn. It has a clean scent and doesn't leave a greasy residue like most commercial bug sprays.
Paracord. Paracord is a multi-use tool that every camper should have in their survival kit. Paracord has unlimited uses from acting as a tourniquet to simply stitching up a broken hiking boot. If you're unfamiliar with Paracord, this site has a great guide on the many uses of paracord.
Matches. Even though you should have packed multiple lighters, as mentioned above (hint hint) it's still smart to throw some extra matches in your survival kit.
Sunscreen. I put sunscreen in the survival section because I believe it is an essential survival tool! A bad sunburn is not healthy and can really ruin a fun trip. My favorite brand is the SunBum Mineral Sunscreen. It's all-natural, safe for the environment ingredients make it a great alternative to normal household sunscreens. Plus, it has the signature SunBum scent that makes me smile.
Headlamp. You can never have enough light sources after the sun goes down. A good headlamp like this one from Black Diamond is a great choice. It's lightweight, compact, and powerful enough to navigate through whatever dark situation you find yourself in. Bring extra batteries, too!
Compass and map. A compass and map sound like such an old school tool for survival. But it's an absolute essential to have in your survival kit. Chances are you will never use it, but it's a great back up to have if your phone dies and you become lost.
Add some sass to your site!
Now for the fun stuff. Ladies… and some gentlemen, this is your time to shine!
Nothing is more fun than having the best looking campsite in the forest. This comes in the form of unnecessary but totally worth it accessories that add flair to your campsite. I like to add some sass through fun lights, flags that represent your home state, and subtle splashes of color.
String Lights. I love these string lights from REI: they add the perfect amount of accent lighting, plug in through a USB port, and have several different brightness settings to create the perfect illumination no matter what time of night.
Tap lights. These small tap lights are fun to have scattered around the campsite where you need a bit of extra light. A little tip is to put these lights near your shoes at night, so when nature calls and it's dark outside, you can make a quick quiet escape without waking up the whole camp with a flashlight.
Flag. It's fun to fly a flag representing your home state. It adds a little flair to your campsite and opens the door to conversations with fellow campers. I've sparked a lot of friendships through flying a Texas flag.
Bluetooth stereo. I like this Bluetooth stereo because it's waterproof, durable, and has a subtle LED light that makes it easy to see after dark. Always remember to be considerate of your camp neighbors and keep your music to yourself.
Camp Games. It's also important to bring some fun things to bring camping. Playing camp games is a fun, interactive way to pass time. Cards, Uno, and Jenga are some of my favorite games to pack. They are small and compact and can host a variety of people if you find yourself entertaining your fellow neighbor.
Clothes
I won't go into much detail on clothes as it's pretty diverse depending on the location you choose. But there are a couple of staple items that I refuse to leave home without no matter what the weather is forecast to be.
Flannel. Flannel is the OG material of outdoorsmen and women everywhere. And if you've seen my Instagram, you know I don't leave home without my one and only flannel. I'll make a confession, I've had this Eddie Bauer flannel for over 10 years. In short, these flannels are indestructible! They are so soft, comfortable and wash up like new. A good flannel will offer a layer of protection from the sun as well as protection from the cold. It's a great versatile option that should always be packed.
Rain jacket. You never know when the weather's going to change. Small rain showers can sweep through the mountains or desert on a moment's notice and it's best to be prepared. I love The North Face Resolve Wind and Rain jacket. It protects me from the wind and rain and fits like a glove. It's full of features that are meant to be tested outdoors and it has a lifetime guarantee!
Hiking Boots. Hiking boots are a camping essential. Whether you're hiking or not, you need a good pair of boots that protect your feet from the landscape of a campsite. Campsites are full of rocks, logs, and possibly snakes and it's best to protect your feet from your surroundings. I use the Ahnu SugarPines to conquer the world around me. If possible, I suggest going to your local outdoor store and trying on a pair that best fit your feet.
Leggings and Shorts. I always pack both! The night time will always be more chilly than you think so it's best to have the option of having an extra layer on your legs. I opt for compression spandex leggings and shorts as I find this material to be the most comfortable and moves well as I build fires and tend to the campsite.
Final Essentials for Car Camping
There are always small tips and tricks I learn after every trip I take. Here's a miscellaneous list of my lessons I've learned to pass on so you don't make the same mistakes!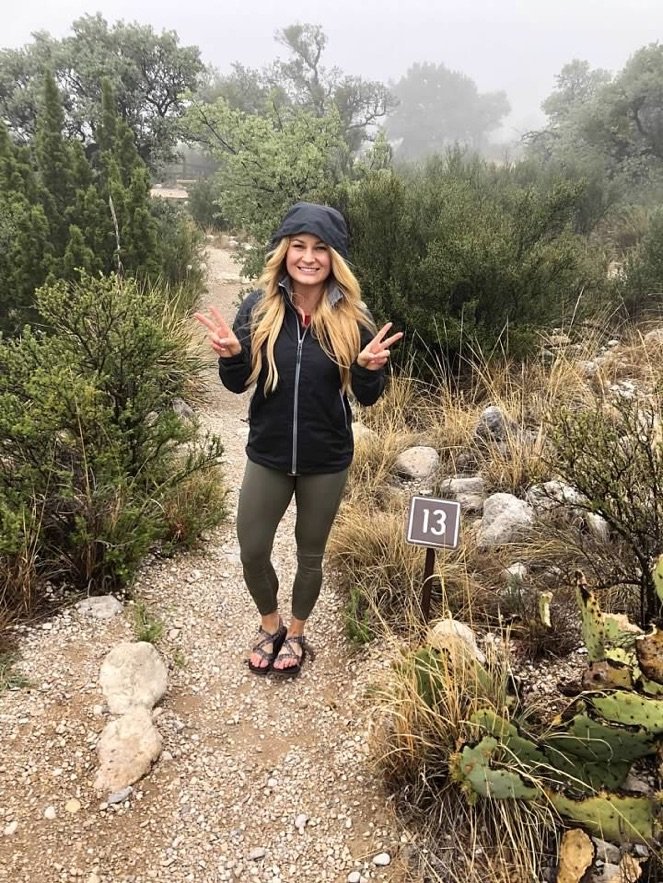 Campsite Shoes. Campsite shoes are comparable to house slippers. These are the shoes you wear around the campsite that are comfortable and easy to slide on and off. After a long day of hiking or wandering around outside, you're going to want a shoe that relaxes your feet. I use the Teva Original Sandals. The foam bottoms feel great on my feet and they're super lightweight, a nice contrast to the heavy hiking boots I wear all day long.
Clothes Pins. A great camping hack is using clothespins to dry out and hang up any article of clothing they may be wet or sweaty.
Eggs. Eggs are pesky when it comes to packing in the cooler. I've found the pre cracking them into a large mason jar is the best way to transport them.
Warm Water Bottle. If you're sleeping in a place that's colder than you anticipated, JetBoil some water and transfer it into a heat-safe water bottle. Then, place that water bottle in the bottom of your sleeping bag and voilá you have a heated blanket that'll stay warm for hours.
Cash. Always bring an extra stash of cash. Some campsites require a small cash fee, or you desperately need that last-minute firewood coming into a park. It's always a great idea to have a little bit of backup.
Notebook. Bring a notebook to write down some highlights of each camping trip. It's a fun and funny way to reminisce about memories that you may have otherwise forgotten.
Car Camping Checklist #3: Learn How to Pack for Car Camping
That completes the list of all your car camping essentials. Now that you have an idea of what to pack for car camping, you're probably asking yourself how all of this is going to fit into your car.
Nothing feels worse than rummaging through your car, searching for that sacred item that you swear you packed but can't find. To avoid the stress and irritation of having an overwhelming amount of stuff in your car, I'll give you a breakdown of the easiest methods to keep your car clean, functional, and fun.
The easiest way to pack your car is to break everything down into stations. Much like a house has different rooms, your car will have different stations. This is where plastic bins become your best friend! Every station has a plastic bin of its own. Here's a breakdown of my stations and where I've found the easiest locations to store each 'room'.
Station 1: Electronics. I keep all the electronics in the glove box as I'm constantly charging phones, watches and computers. It's easy to be driving down the road, plug in your dying phone without having to pull over and dig through weeks worth of camping essentials.
Station 2: Toiletries and Clothes. I keep my toiletries and clothes together as they both are my 'clean' items. I store them in pull out style bins behind my front seat. I store them here because It's easy to create a changing room when both car doors are open and allows a small amount of privacy when brushing your teeth or removing makeup.
Station 3. Survival Kit. I keep my survival kit under the back seat. The survival kit rarely gets used so I try to keep it out of the way. I don't want one more thing to rummage through if it's not necessary.
Station 4. Bedding. My bedding is kept in the middle of the car. As mentioned before, the Ziploc Totes hold and compress most of the bedding so it doesn't take up too much space.
Station 5. Kitchen and food. I keep the grill, cooler, and utensils bin in the very back of the car. I do this because these are the items that tend to be used the most and become the dirtiest. It's easiest to keep them in the very back as you'll be unloading these items once to several times a day. This way, when it's time to eat, you simply pull the specific items out without having to unload your entire car for one meal.
You'll quickly begin to find that your car fills up fast and every nook and cranny soon has some piece of camping equipment living in it. The best thing you can do is embrace the organized mess! As you become more accustomed to your campsite routine, the easier it will be to pack and create stations of your own.
Car camping is becoming the new way to see the world. Don't get left behind by being clueless as to what and how to pack. I hope this comprehensive car camping checklist helps you locate, furnish, and create the campsite of your dreams.
Pin This Guide to Car Camping Essentials & Packing List!
Sabra is an adventure-hungry outdoor enthusiast originally from Dallas, Texas. She has been to 33 states, 3 countries, and has traveled America while living out of the back of her truck. Besides writing, Sabra can be found powerlifting, running her online personal training business, and enjoying time with friends and family.