Totaling 340 locations, Idaho has more natural hot springs than any other state. This, along with its rugged beauty, make for wonderful and relaxing soaking experiences.
The state's mountainous terrain and proximity to tectonic plates offer an environment needed for natural geothermal activity and, while only 130 of the hot springs stay consistently at soakable temperatures, there are plenty of locations to enjoy for all.
Hot spring locations across the state are a mix of commercial and carefully curated backwoods pools. The public springs are typically located on National Forest Service lands and are maintained by caring patrons.
Commercial springs are larger and have accompanying built infrastructure like changing areas, showers, and other amenities but charge an entry fee. The fees vary location to location, around five to ten dollars, but are reasonable for the provided amenities.
Many of the springs explored here are easily accessible by small hikes from well-traveled roads. However, some springs are more remote, not covered by cell service, and winter roads can be dicey. Because of this you should be sure to grab GPS coordinates or well researched directions before heading out.
Fall is the most dependable time to visit the springs, especially when considering warm summer temperatures, spring thaws, and winter road conditions. But if roads are well maintained and conditions are safe, you can't beat a winter dip when the snow is falling. Most commercial locations are open year-round and are the only options during spring thaws when river levels rise, flood pools or create muddy, runoff conditions.
Best Hot Springs in Idaho
Goldbug Hot Springs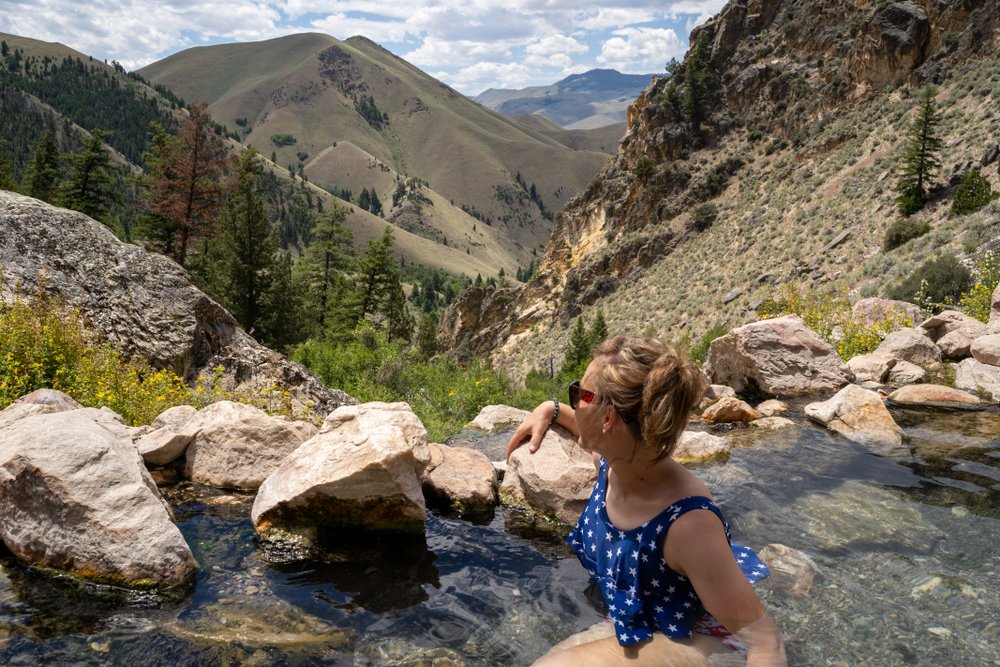 Note: This post contains affiliate links, which means I may receive a small commission if you purchase something through one of these links. Thank you for supporting the free content on this site! For more information on affiliate links and cookies, see my disclosure page for more details.
With an unbeatable view one of the most popular spots is Goldbug hot springs. It requires a bit of effort to get there but keep in mind a small hiking distance removes some of the expected crowds and makes the soak that much better.
Goldbug is located due south of Salmon, Idaho near the Salmon-Challis National Forest. A gravel road at mile marker 282 off Highway 93 will mark your turn off.
From there, both trailhead and trail are well marked. The springs are accessed by a steep two-mile trail climb. Goldbug is a perfect choice if you want to pair your hot springs outing with a bit of physical exertion. Leave enough daylight for the return hike plus time to drive back to Salmon or a campsite in the Salmon-Challis National Forest.
Launching to multiple hot springs from the Salmon-Challis National Forest actually makes for a great trip. It is centrally located to Goldbug, Sacajawea, Boat Box, Easley and Kirkham springs detailed here. Covered by six ranger districts the forest is home to 87 separate campgrounds, each offered on a first-come-first-serve basis.  
Want to get to Goldbug bright and early before others beat you to it? Stay nearby and glamp overnight! Gypsy Caravan Glamping is just 2 miles away from Goldbug and is an excellent place to spend the night.
Boat Box Hot Spring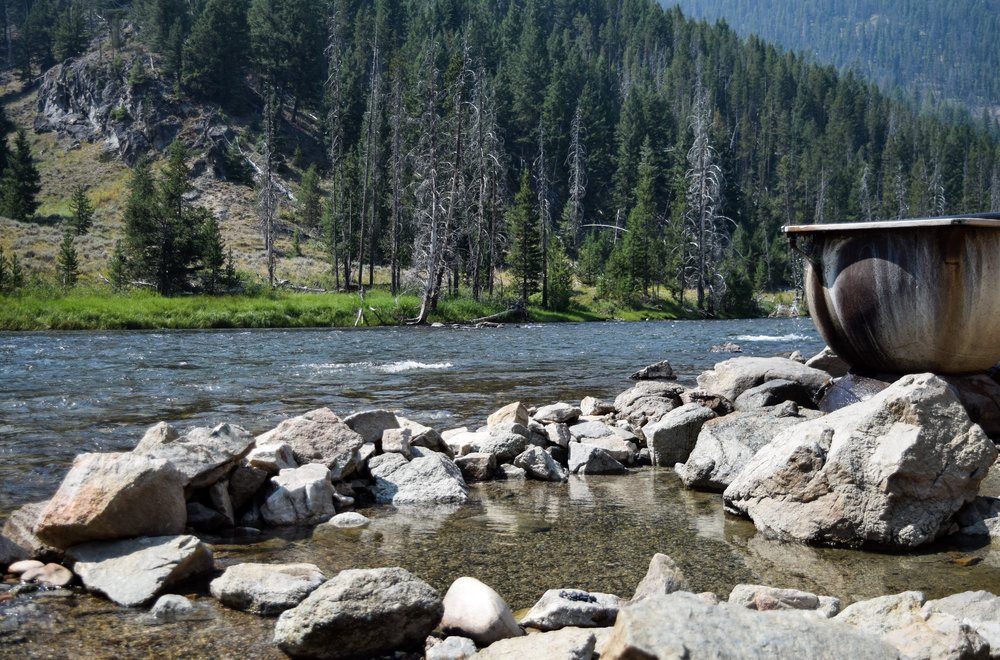 After Goldbug, head south towards the town of Stanley (population 69). Stanley is small in area and population but swells with visitors in the summer months, particularly during fly fishing season.
It is a must stop for hikers, campers, and anyone planning to get out of the river for a full or half day professional or self guided trip.
About four miles north of town sits Boat Box hot spring. It's just what the name connotates, a small "box" hot spring overlooking the Salmon River. The spring is man made by way of piped in hot water and sits about twelve feet above the river.
Stick to inviting only your closest friends as the tub comfortably fits about three people. Soaking early in the morning is ideal as you will see and feel steam rising off the river and can interact with the morning's wave of fisherman on trout floats.
Facing south in the tub offers top notch views of the Sawtooth Mountain Range and Williams Peak. Access is directly off Highway 75 which follows the river.
Sacajawea Hot Springs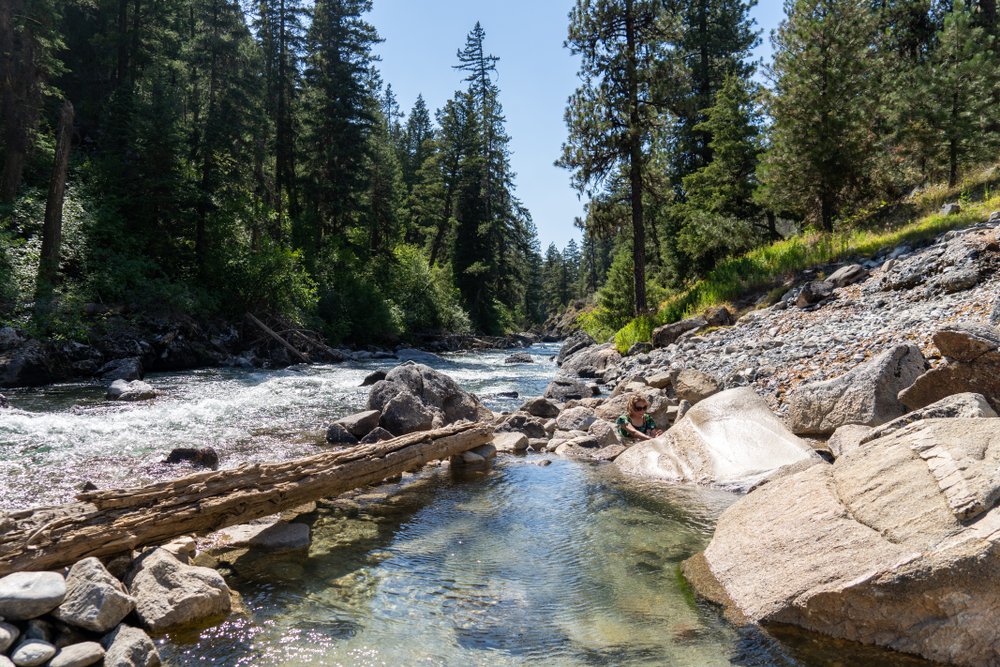 Due west of Stanley, on the backside of Williams Peak, hikers can gain access to Sacajawea hot springs. Sacajawea is nestled on the banks of the South Fork of the Payette River near Grandjean, Idaho in the Sawtooth National Recreation Area and is characterized by rock-walled pools built up over time by different users.
These characteristics allow you to adjust the pool temperature by moving various rocks around to let in, or block off, cold river water. Consistent with other springs on riverbanks, the pool is submerged during the spring thaw so plan your visit accordingly.
The hot springs are directly off Grandjean Road half a mile west of Sawtooth Lodge. You can easily park in a pull-off area and will likely see cars already there so get ready to socialize!
There are several primitive camping sites nearby, including Grandjean campground, or you can book in a Sawtooth Lodge if you prefer cabin accommodations. The Sawtooth Lodge also has a commercial hot spring, similar to a swimming pool, on the property with water piped in from the same geothermal system as Sacajawea but visitors will prefer the natural, riverside pool much more.
Kirkham Hot Springs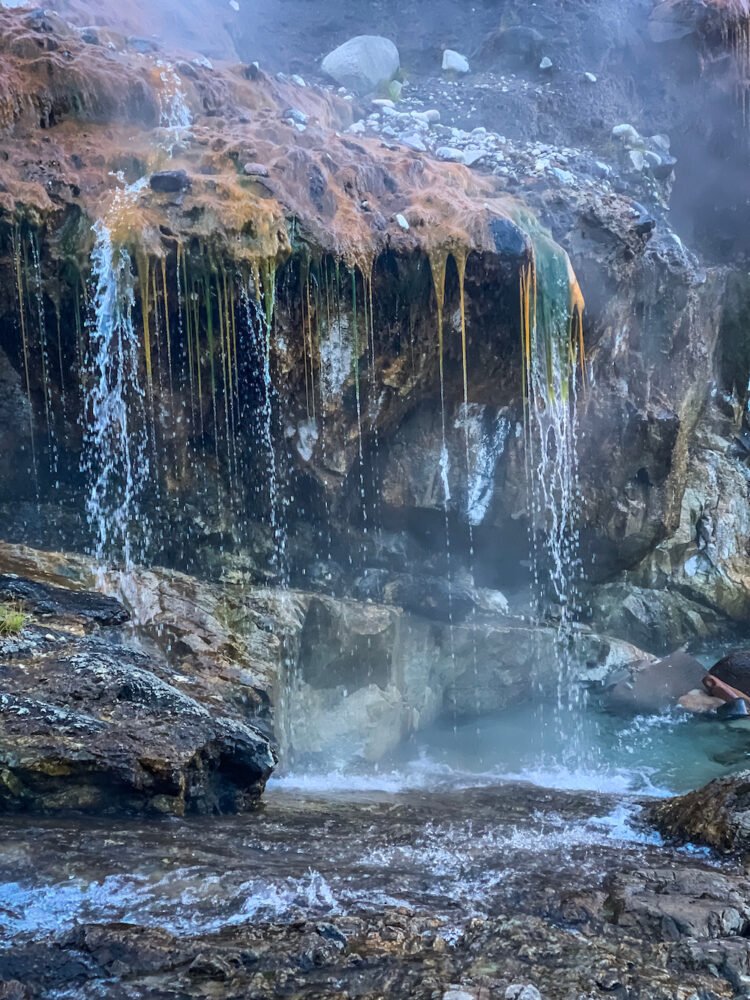 Continue to follow the South Fork of the Payette River on Ponderosa Pine Scenic Route towards Loman, Idaho for access to Kirkham hot springs. Because the highway follows the river valley, Kirkham is also easily accessed without a hike. Visitors should prepare for a small parking fee at the Kirkham campground.
A staircase leads you on a short walk from the camp's property to the springs. What separates Kirkham from other areas is a steam waterfall feeding several pools of varying temperature. The waterfall cascades over a high rock wall creating a natural warm shower and patrons can enjoy the peaceful sound of the Payette River in the background.
Loftus Hot Springs
Include Loftus hot springs in an Idaho journey if you are eager to experience more waterfall pools. At about a two and a half hour drive, Loftus is one of the closest pools to Boise, Idaho's largest city. Because of its proximity to the metro area it can be one of the more social hot spring spots, often leaning towards a party atmosphere.
Despite being relatively close to Boise, the hot spring maintains a remote feel and you won't miss out on a dose of nature thanks to the surrounding Boise National Forest. Loftus boasts two pools maintained throughout the year by visitors, including one pool with a reinforced masonry wall.
The benefit of masonry work is the pool is not as flood-prone, however, you won't be able to alter the water temperature as easily as other hot springs locations around the state.
Jerry Johnson Hot Springs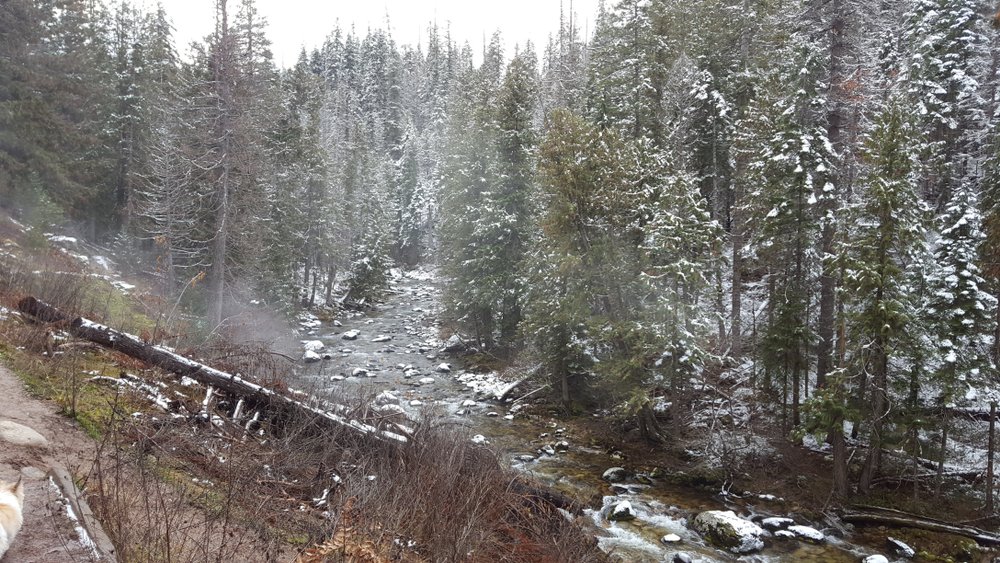 Also, within a striking distance to a metro area, but on the opposite side of the state, is Jerry Johnson hot springs.
Jerry Johnson springs are a one and a half hour drive through the Lolo and Clearwater National Forests from Missoula, Montana and are a good detour when traveling through Missoula, Whitefish, or Bozeman areas.
The Jerry Johnson pools are located on the banks of Warm Springs Creek, an offshoot of the Lochsa River, and consist of three sandy bottom soaking areas, one of which has a waterfall cascading into. Unfortunately, the waterfall pool is submerged from spring until the end of August, however, no matter what time of year you venture to the spot, at least two of the pools will be available for a soak.
Access requires a moderate one-mile hike from a parking area on Idaho Highway 12 at Warm Springs Trailhead. The hike in is one of the best parts of the trip, taking you over a footbridge which spans the Lochsa. The hike will feel quite secluded and remote but, similar to other hot springs spots in the state, if you follow the river's path you will end up in the right location.
Easley Springs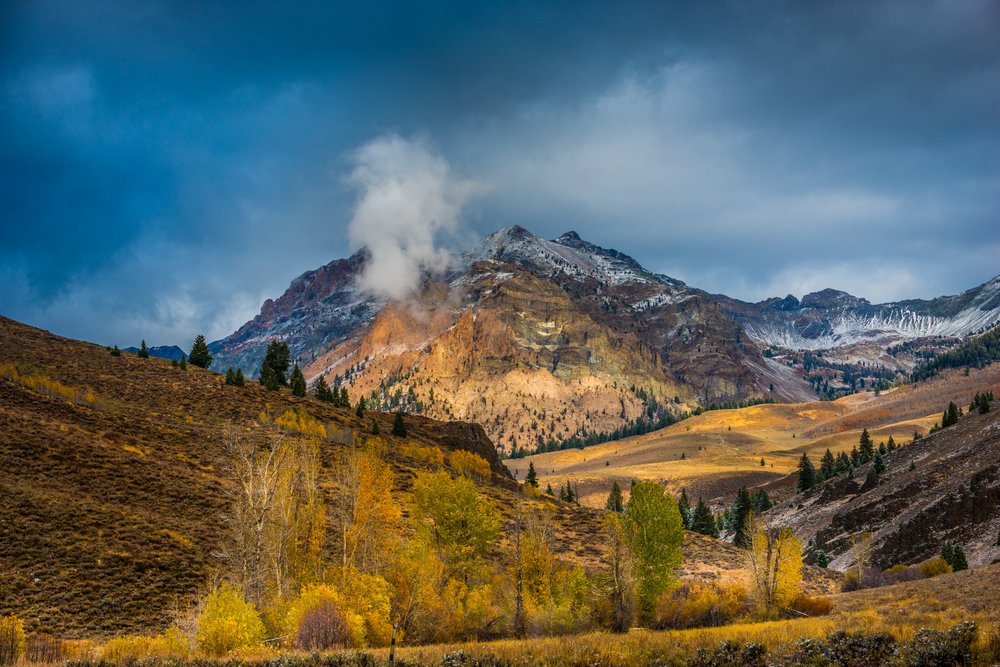 While there are several commercial hot springs in Idaho, the best facilities by far are those at Easley springs outside of Ketchum and Sun Valley.
The location, a fifteen-minute drive north from Ketchum along Easley Creek and in the Wood River Valley, feels less like a campground and more like a rustic spa retreat. Amenities include showers, changing facilities, café and store and convenient campground are located next door if you chose not to stay in Ketchum or Sun Valley.
Water for a large swimming pool, separate hot tubs, and showers are each supplied by local hot spring water and remain around 98 degrees year-round. Views of Boulder Mountain will top off your visit at Easley.
The only downside to the Easley springs, and common to all commercial facilities, is set hours of operation, so soaking under the stars on a clear night is out of the question. Easley's proximity to Sun Valley's ski slopes and the Blaine County Recreation District's extensive Nordic ski and snowshoe trails make it a prime spot during winter months.
BONUS: Trail Creek Hot Springs
Editor's Choice
Located near Cascade, Idaho off of Highway 55, this beautiful hot spring in Idaho requires basically no hike — it's only a 0.1 mile short walk to the springs.
There are two rock pools perfectly suited for soaking if you're not after a long hot spring hike. It can be a bit difficult to find, so the folks at Visit Idaho have given simple directions:
Turn east on Warm Lake Road just north of Cascade off Highway 55. Around 19 miles in, look for a wide pullout on a left-hand corner. If you see a sign to Yellow Pine you've gone just a bit too far; turn around and the first pullout you come to is where you'll need to stop.
***
Whether you string together a journey covering several Idaho hot springs locations or select only one to visit, you will find a nature-filled, relaxing experience awaits in the Gem State.
Pin These Idaho Hot Springs for Later!
Originally from the Southern U.S., Katelyn Page currently launches adventures from Ketchum, Idaho and Revelstoke, BC. She spends most of the time when outside skiing, hiking, or cycling. As an Urban Planner by training, she understands the connection between cities and outdoor resources and the importance of getting out and exploring.