If you are considering where to tackle some of best outdoor adventures in the Mountain West, Idaho shouldn't be counted out.
The Gem State is a hotbed of easily accessible, rewarding, year-round hiking. Check out some of these top options for Idaho hikes!
Best Idaho Hikes
Pioneer Cabin Trail (Ketchum)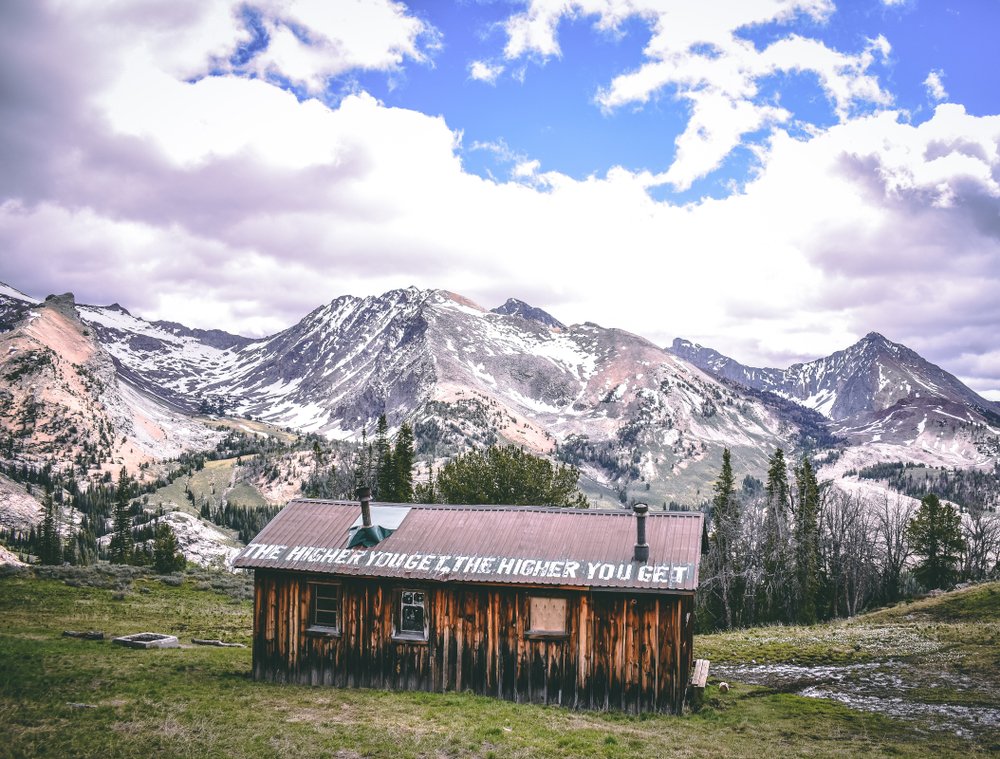 Note: This post contains affiliate links, which means I may receive a small commission if you purchase something through one of these links. Thank you for supporting the free content on this site! For more information on affiliate links and cookies, see my disclosure page for more details.
Pioneer Cabin Trail is a popular Idaho day hike about 10 minutes outside Ketchum. There are several overnight camping sites on the approaching Corral Creek Road but Pioneer's proximity to town makes launching from Ketchum or the Wood River Valley easy.
Hikers are rewarded with stunning views of the Pioneer Mountains and Sun Valley's Trail Creek in the distance. Grabbing a picture in front of the cabin, with its painted roof reading "The higher you get, the higher you get" is a right of passage. Plan for a 6-7 hour outing.
The cabin was originally built in 1938 by the Sun Valley Company to make backcountry ski training more accessible for the ski school. Many of its earliest visitors served in the famed 10th Mountain Division during WWII. After falling into disrepair, local volunteers worked on a substantial refurbishment project between 2016-2018.
The main trail section is a 3.6-mile out and back path covering 2,809 feet in elevation gain and best accessed late May through September. Additional trails connect to Pioneer's main route making longer loops convenient to add on and creating multiple paths to reach the cabin. Each of the trailheads meet at a central parking area at the end of Corral Creek.
Much of the trail, including 23 switchbacks, is below a forested tree line but the upper portion opens up into a large alpine meadow making for great views when wildflowers are in bloom early summer. Waiting until higher elevation snow is fully melted makes for an easier hike.
Warm Springs (Ketchum)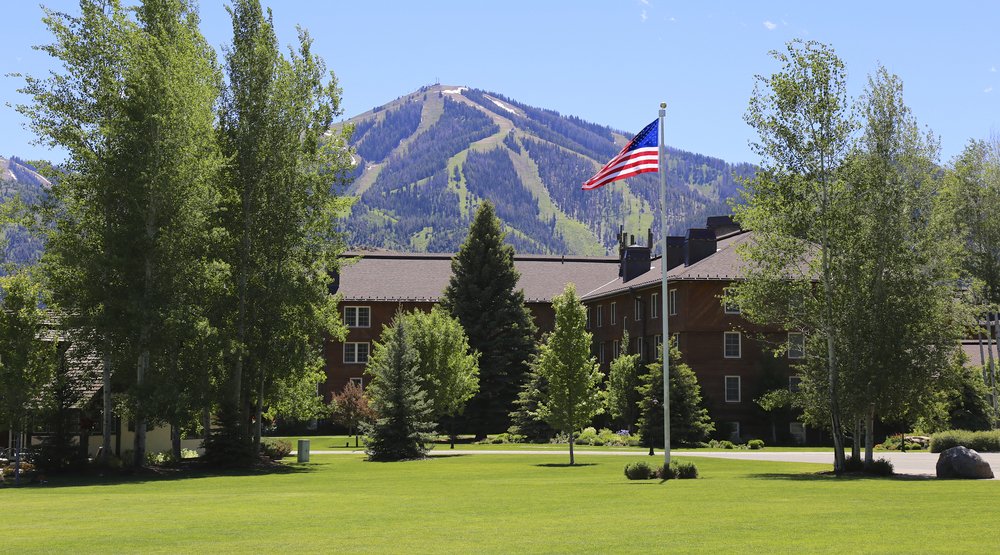 Warm Springs Trail is located in Ketchum within the Sun Valley ski area boundary. Beginning at the Warm Springs base area and rising 3,479 feet to the summit of Bald Mountain, the Warm Springs Trail follows ski slopes and crosses maintenance tracks for a round trip of 7.8-miles up Bald Mountain and back.
While the resort gondola and some chair lifts do run in summer months, there is something rewarding about climbing the mountain under your own power. You are able to descend on the gondola if you don't feel like the return journey though.
Before reaching the summit where you can grab well-deserved lunch at the Roundhouse Lodge, the trail wraps to the west side of the mountain for views of Bassett Gulch.
The mix of open ski slopes and tree trails makes for a fun variation in trail type and more demanding sections intermixed with relatively intermediate ones. If you prefer to stay in the sun, you can opt for a steeper but shorter hike directly up the middle of the Limelight ski run. Pack sunscreen if you do. The valley is aptly named!
Louie Lake Trail (McCall)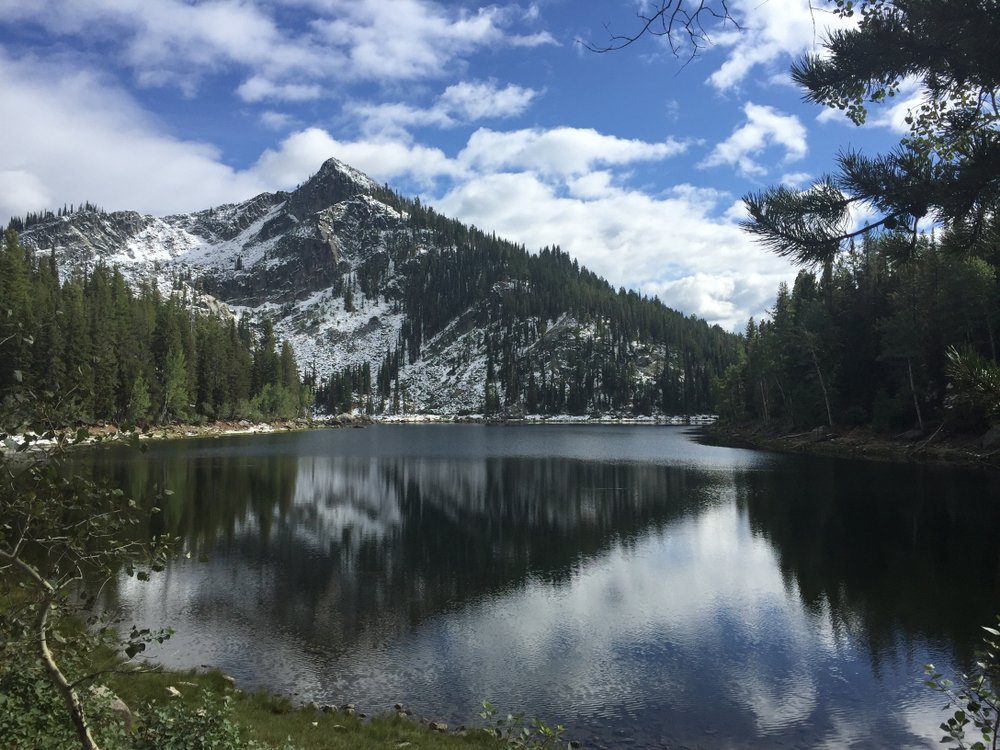 Louie Lake Trail outside McCall is another of the state's top hikes and particularly convenient if you're coming in from Washington or Oregon.
At only 813 feet in elevation gain, the moderately rated 2.6-mile trail has the most "reward to effort" ratio and ends at an alpine lake with dramatic views of the surrounding mountains.
Grabbing a quick swim in the lake during warmer days is well worth the hike in. Much of the trail shares an access road with motor vehicles so make sure to watch for bikes and off-road vehicles. You can also opt for a longer 7-mile loop to catch nearby Boulder Lake and Twin Peaks Ridge without adding much more elevation. Total time for the main trail is about 1 hour but plan for 4.5-5 hours if you try the Boulder Loop.
Louie Lake Trail is best experienced in summer and early fall when the seasons' colors begin to change. It is best to wait a few days after heavier rains as some of the water elements may be unpassable after swells or snowmelt. Access is a bit tricky because the parking lot is unmarked.
However, once on the trail there are plenty of helpful directional markers to reach the lake. While the main trail and longer loop are great options for most hiking abilities there are a few creek crossings that are not maintained and shaded portions that may be icy during colder months making for some precarious spots.
Mineral Ridge National Recreation Trail (Coeur d'Alene)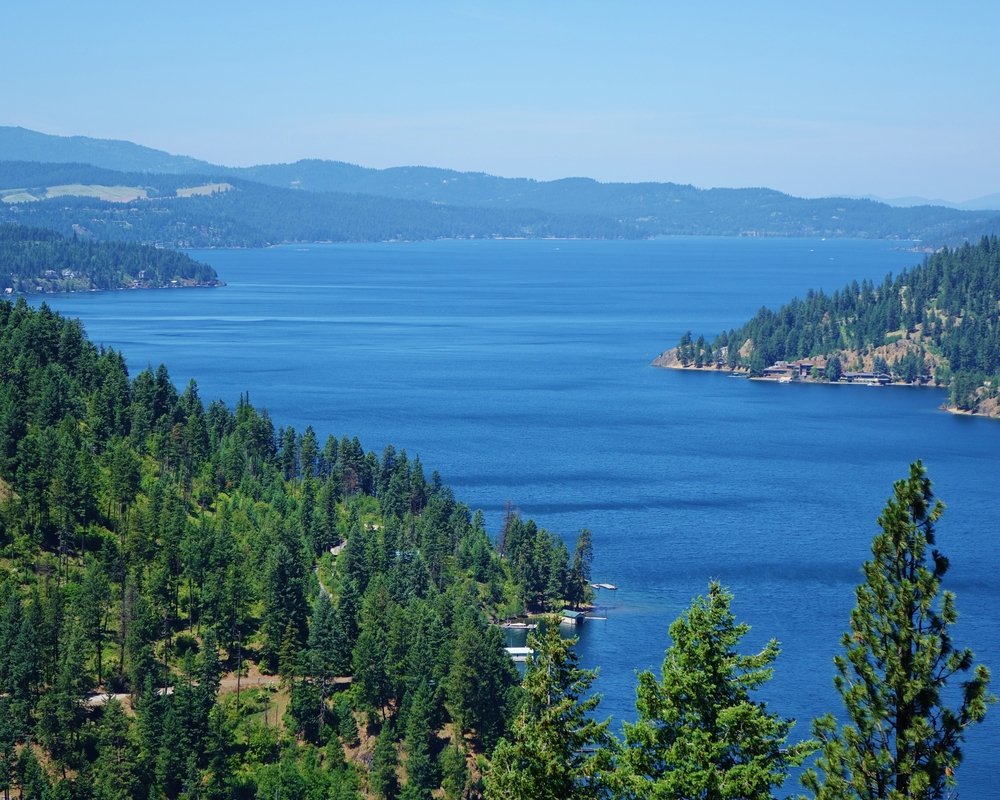 Another of the state's best hikes can be found on the Panhandle at Mineral Ridge 11 miles east of Coeur d'Alene. Unlike other trailheads which are difficult to locate or navigate, access to Mineral Ridge is well labeled and includes a large parking lot, two picnic areas, drinking water and restrooms.
The 3.3-mile loop is well maintained by the Bureau of Land Management and sits on a bald eagle migration path. Chances of catching a glimpse of the birds are best during winter months from November to February.
Mineral Ridge is a great option for families with small children and hikers of all abilities, not only because of the trailhead amenities, but because multiple benches along the path offer a quick place to sit and rest.
It takes about 1 hour and, while there are a few switchbacks, they are neither steep nor lengthy. Hikers are rewarded with views of Coeur d'Alene and Wolf Lodge Bay. It's worth timing your hike to align with the sunset as the view is spectacular.
Hulls Gulch Reserve (Boise)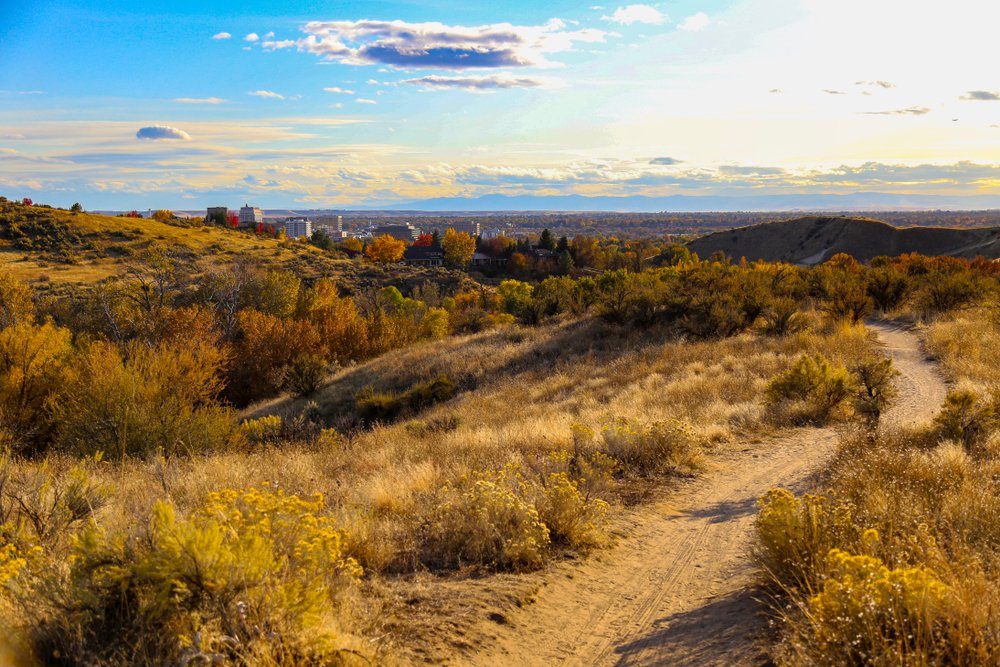 If you want to stay close to the big city and catch skyline views from a different vantage point, Hulls Gulch Reserve near Boise is your best bet. The Reserve covers over 292 acres on the Northend and is well managed by the City of Boise Parks and Recreation Department. The Reserve was established in the 1990s to spare recreation area near the city from development and to offer ecological restoration for native trees, grasses, and shrubs. This foresight proved valuable as Boise now experiences one of the top population growth rates in the region. Access to Hulls Gulch Trail, the most popular in the reserve, is off North 8th Street behind Camel's Back Hill. The well-traveled path is a moderately difficult and follows Hulls Creek for 3.1 miles to a scenic waterfall. Out and back is 6.3 miles of moderate hiking with a total of 1,131 feet in elevation gain. The easy pitch is ideal for trail runners but you'll want to start early or head out later on in the evening as the path is in direct sun. Plan for about 2.5 hours.
Sawtooth Lake Trail (Stanley)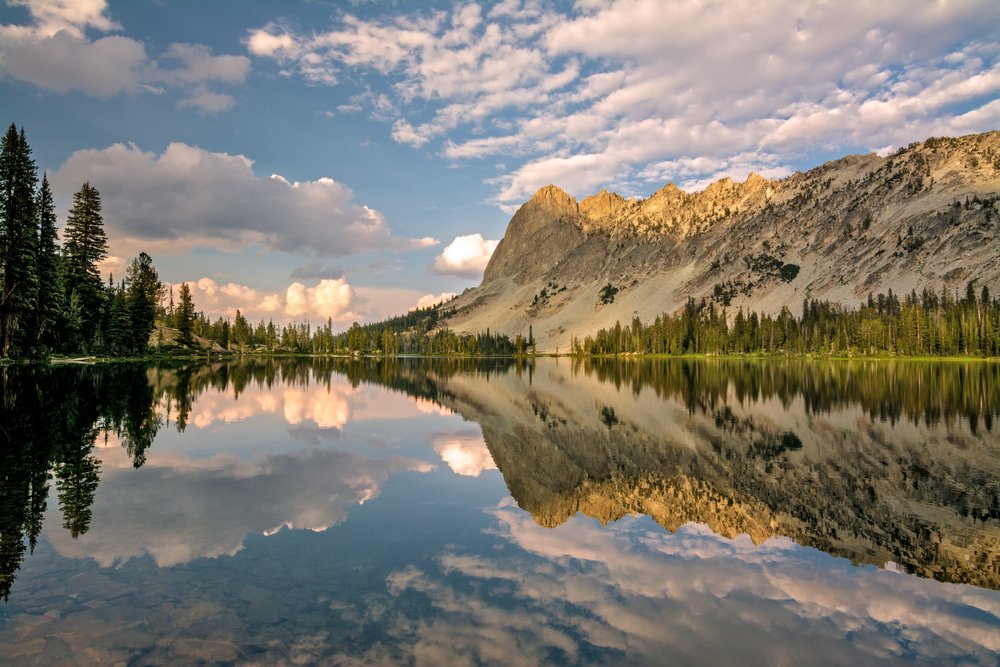 Sawtooth Lake Trail is a 10-mile, in and out path, and one of the more difficult of Idaho's best hikes.
The Stanley area is a mecca for hikes, camping, climbing, and especially fishing but due to its remote location, most who visit the Sawtooth Lake Trail are camping in the area for multiple days.
The trail is listed as accessible year-round but requires more technical skill, not to mention appropriate gear, during full snow cover. Even in summer, the higher altitude shaded sections will have snow patches and avalanches have been reported in some years.
The first 3 miles are relatively mellow and wooded with a few tree gaps for surrounding views. The final 3 miles are the most advanced section. Total elevation gain is 1,873 feet and hikers are rewarded with views of Alpine Lake and McGowan Peak. Hike time without snow is about 4-5 hours.
Insider Tip: Don't miss Stanley Bakery on your way to the trailhead. It's a great option for breakfast or a paper bag lunch for your excursion.
Pin These Best Hikes in Idaho for Later!
Originally from the Southern U.S., Katelyn Page currently launches adventures from Ketchum, Idaho and Revelstoke, BC. She spends most of the time when outside skiing, hiking, or cycling. As an Urban Planner by training, she understands the connection between cities and outdoor resources and the importance of getting out and exploring.