Geography nerd though I am, I will readily admit that I had no idea that Nakhchivan even existed at all until a few months ago.
I was talking to a friend about my travel plans to Azerbaijan and she told me about the exclave of Nakhchivan, geographically separated from the rest of Azerbaijan by its neighbor and enemy, Armenia, with whom they're still at war.
Due to the border with Armenia being closed, the only way to get to Nakhchivan from "mainland" Azerbaijan is an hourlong flight from the capital, Baku.
Overland routes from Baku are theoretically possible via Iran, but as an American, that's a no-go, as Americans cannot travel without a guided tour in Iran.
As someone who finds geopolitics endlessly interesting, I was instantly fascinated with visiting this strange chunk of Azerbaijan that virtually no one travels to.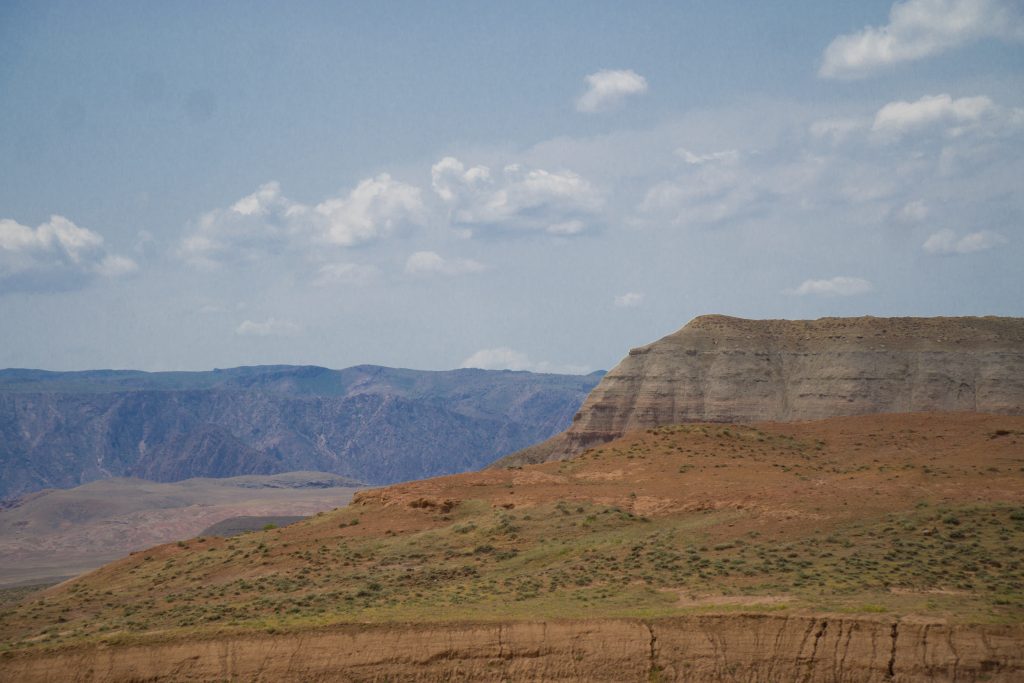 Note: This post contains affiliate links, which means I may receive a small commission if you purchase something through one of these links. Thank you for supporting the free content on this site! For more information on affiliate links and cookies, see my disclosure page for more details.
However, I mostly wanted to go for bragging rights – to say that I visited a strange, little-known exclave that sees tourism as an oddity, not a reality. I thought I'd stay for a night or two and leave having checked it off my never-ending list. Instead, we ended up staying a full four nights and five days, seeing so much than we imagined along the way.
Figuring out what to do in Nakhchivan wasn't easy – the one proper blog post I found about Nakhchivan never even left Nakhchivan City. A puzzling VICE article called Nakhchivan the "San Francisco of the Caucasus," which became the theme of several jokes over the course of our trip – everything was the "[blank] of the Caucasus." We pieced together our Nakhchivan itinerary from a few hyper-niche ex-Soviet tour companies, bringing a wishlist each morning to our helpful hotel staff and arranging a taxi for the day.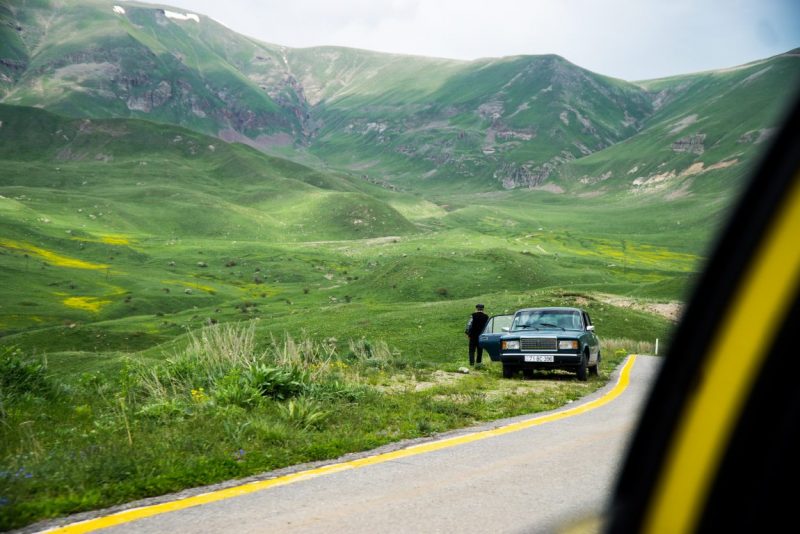 Speaking little Russian and virtually no Azeri, traveling in a region that sees so few tourists, I was surprised by how easy it actually ended up being to see Nakhchivan. Despite how off the beaten path it is,  its small size combined with the helpfulness of the people we encountered meant that we got a great overview of the republic in a matter of days.
Getting to Nakhchivan
Getting to Nakhchivan seems daunting, but it's rather easy in actuality. When we arrived in Baku, we walked over from the modern Terminal 1, which proudly displayed its 5 star bona fides on the entrance, to the more time-worn Terminal 2. We wandered through a series of metal detectors, eliciting strange looks when we asked where we could purchase tickets for Nakhchivan. Eventually we found the ticket counter tucked away in a corner of the second floor of Terminal 2.
Having come of travel-age in the 2000s, buying an airline ticket felt completely anachronistic, even a bit illegitimate. I felt that even more acutely when our credit cards were declined (a common occurrence when using an American card in Azerbaijan) and we had to go back through the metal detectors to withdraw some manat from the ATM. 70 manat and 20 minutes later, we each brandished a ticket voucher for a flight to Nakhchivan in four days' time.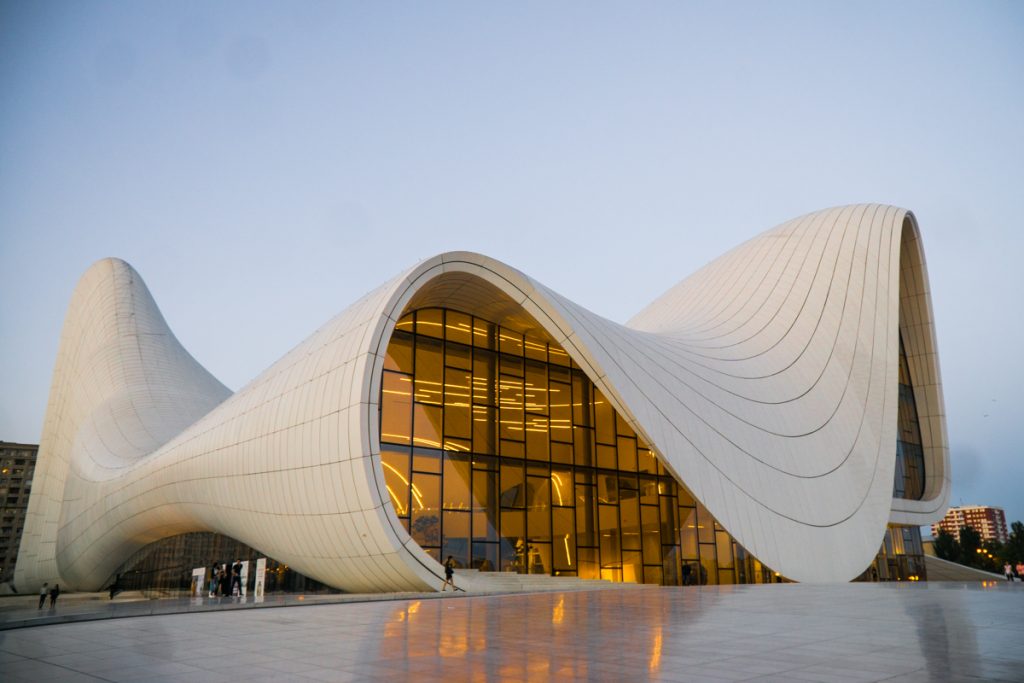 Fast forward to departure day, after our legs had clocked several miles around Baku and our cameras had logged thousands of photos, we got to the airport early – we had been told to arrive two hours and 20 minutes before our flight. Check-in took all of about 5 minutes, inclusive of checking our baggage (35 kilos of luggage are included in the 70 manat ticket price). So we sat in the only restaurant in the airport, and I ate the most delicious borscht of my life as an airport cat curled himself around my legs hoping to shame me into sharing.
I fully expected to fly in a small beater plane – after all, this was getting me my off the beaten path travel street cred. So I was almost disappointed when boarding for the plane led me to a giant jet bridge (a foreign concept to me after so many times being bussed to the airplane when flying budget airlines, one of my biggest travel annoyances), which led in turn to a giant jet plane.
Speaking in English to my friend Stephanie, we garnered a few glances, and my curious seatmate tried to ask me a few questions. "Odkuda vy?" ended up being one of the few phrases the Duolingo owl was able to teach me in Russian; I answered that I was from America, confident in my Russian skills… and then promptly exhausted the extent of my language skills and fell into silence.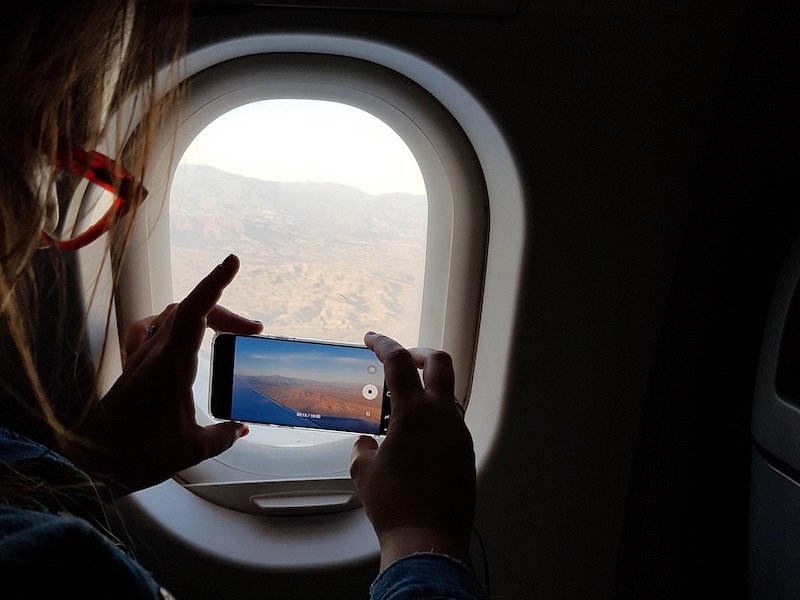 When we started to land in Nakhchivan, we saw some of the most stunning landscapes, just as the sun was setting. We had spent the day of our flight driving through the outskirts of Baku, through oil fields which had torn up a landscape, leaving it pockmarked and brutalized. Seeing the untouched mountains of Nakhchivan lifted me up before our wheels even touched down.
After paying a reasonable 6 manat to get to our hotel, Hotel Tabriz, we arrived at our hotel and promptly flopped onto our comfortable beds.
Where to Stay in Nakhchivan
There aren't a lot of places to stay in Nakhchivan, which made the choice exceedingly easy!
We opted to stay in the 5-star Hotel Tebriz because it was the best option…. in that it was the only option we could find. The only other hotel we could find online was Hotel Duzdag, which is not even located in Nakhchivan City, but close to the Duzdag sanatorium and salt mine. We booked two nights at first at Hotel Tebriz but upon checking in we quickly decided to extend that to four nights there, especially since we found the price really reasonable for the quality of the hotel.
While our room was clean and spacious, what we loved most about our stay at Hotel Tebriz was the super helpful staff who helped arrange reasonably priced drivers every day that we needed them. Oh, and the included breakfast was also always excellent – I still dream of eating toast with sweet Nakhchivani cream and honey for breakfast there. The lunch buffets were good, but our a la carte dinner was less impressive (though not quite bad  per se – just thoroughly mediocre). Still, I suspect not too many people visit Nakhchivan expecting a foodie dream world, so it does the trick at keeping you fed at very reasonable prices.
But the best thing: Hotel Tebriz has an excellent hammam and sauna and indoor pool in the basement that was surprisingly luxurious, and we had good, affordable, though slightly gruff massages from the in-house masseuse. A one-hour massage cost about 45 manat, if I recall correctly, a little less than 25 euros. There are male and female hours, as well as co-ed hours. Unfortunately, the female hours also seem to be family hours (naturally) so I didn't actually find the female-only time very relaxing as I was surrounded by screaming kids. I had a much better time going during the co-ed hours, so if you don't mind sharing rooms with people of other genders, I suggest going then. Everyone is wearing swimsuits, anyway.
If this Nakhchivan travel guide is helpful, please consider booking your Nakhchivan hotel through my affiliate link below to support this free content!
Check rates, prices, and availability at Hotel Tebriz and other options in Nakhchivan here. 
Nakhchivan City
For a capital of an autonomous republic, the streets of Nakhchivan City are puzzlingly sedate. Meanwhile, the apartments of Nakhchivan City look like lacquered Lego toys, tidily stacked in OCD-like perfection. Nakhchivan is almost Swiss in its cleanness. Every courtyard is meticulously manicured. I wouldn't be surprised if there are more rosebushes than people in the city of Nakhchivan, population 75,000.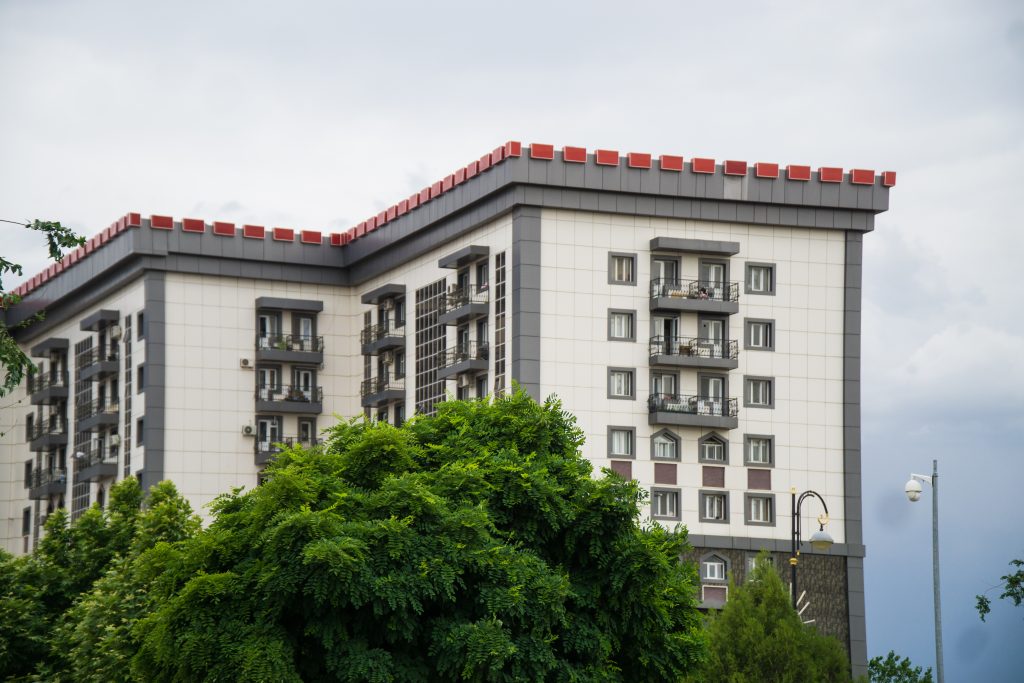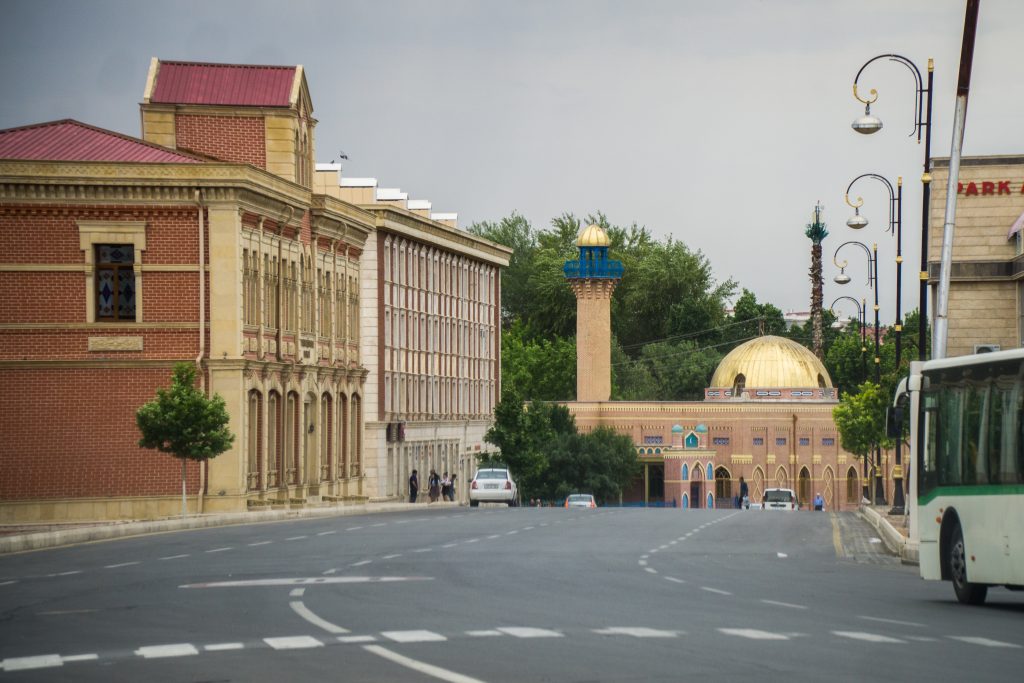 The streets are wider than necessary, as if expecting some big traffic jam that has simply never materialized. After the all-day bustle of Baku, walking around in Nakhchivan is eerily quiet. The streets were often so empty that I almost felt like I was walking around jet-lagged abnormally early, despite being the sun directly overhead in the sky.
Nakhchivan's population has stagnated due to its geographic and economic isolation, much of its population moving to Turkey. While things look a little rosier now, tensions are still high, and Nakhchivan hasn't seen an easy few decades.
Nakhchivan was the first part of the former USSR to claim independence, in January of 1990, yet the ease with which it gained independence would belie what was to come. The Nagorno-Karabakh War between Azerbaijan and Armenia claimed tens of thousands of lives, displacing over a million. It was during this war that Nakhchivan was blockaded for a year, which has made the exclave a bit obsessed with self-reliance.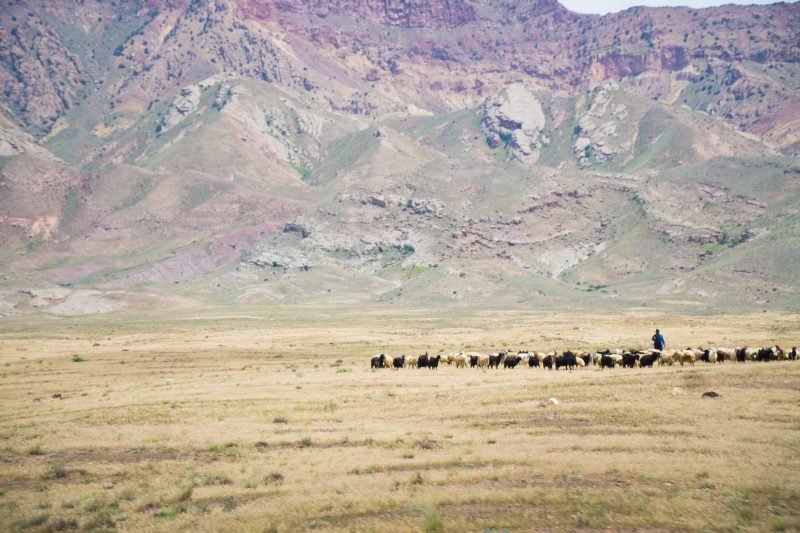 Despite an ever-increasing quality of life, including a Human Development Index higher than that of "mainland" Azerbaijan, Nakhchivan is still stunted from its years of turmoil and continued border tensions. While you can't see it from the well-maintained streets or tidy parks, you can see it in the sense of quiet that pervades everything: the eerily calm hotel, the width of the unfilled streets, the bemused smiles on the face of locals when they see a tourist with a camera.
We left our hotel, easily the tallest building in Nakhchivan, to stroll aimlessly around the city. Needless to say, TripAdvisor has no Nakhchivan top 10. We ended up in a park filled to bursting with roses. I live in Bulgaria, a country that proudly calls itself the Land of Roses. Well, I hate to burst Bulgaria's petal-scented bubble, but Azerbaijan — and Nakhchivan in particular — could wrestle it for the title. Their annual rose budget must be in the millions.
The crown of a mausoleum peeked out from the bed of roses, and we meandered our way over, passing an open air museum along the way.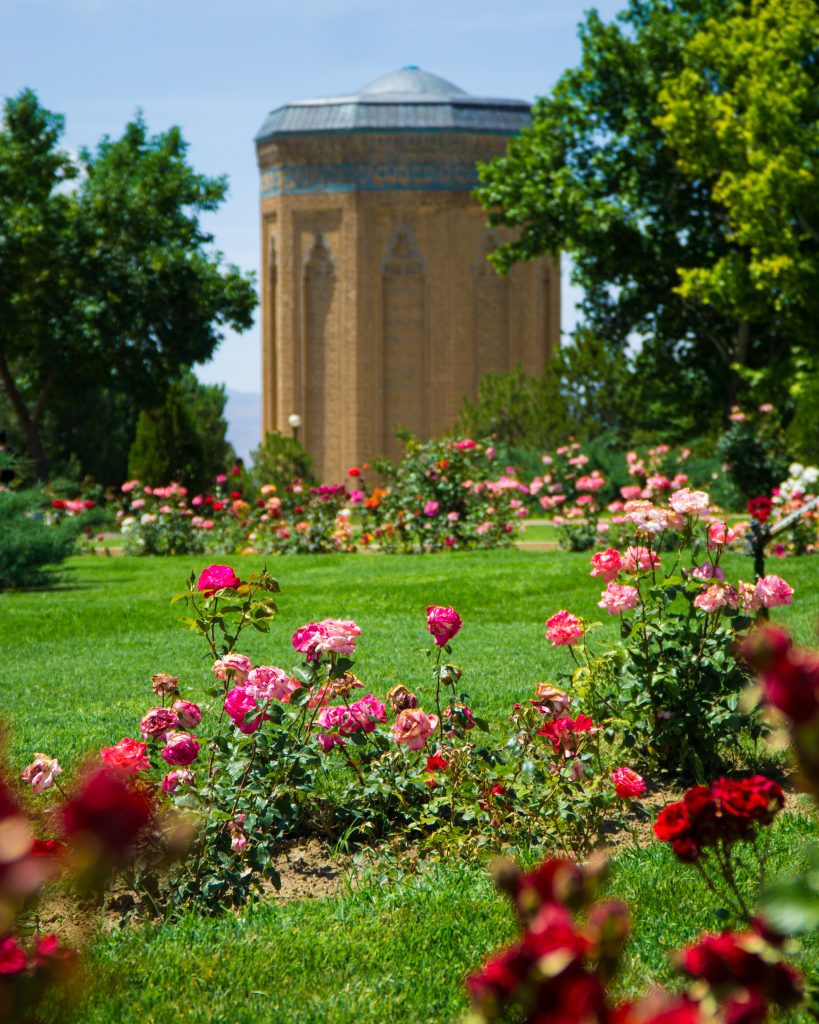 Momina Khatun Mausoleum
To the extent that Nakhchivan has a skyline, mausoleums feature heavily in it. There are numerous scattered around the autonomous republic, and several within Nakhchivan City itself. By accident, we stumbled across two in our first 10 minutes of walking in the city.
The mausoleum of Momina Khatun is tall and rather impressive, a monument to honor a 12th-century noblewoman who passed. It likely was once part of a madrassa (Islamic school) that has long since disappeared. The mausoleum, however, still stands tall after having been refurbished over the years. Its understated brickwork, enameled turquoise tiles, and Islamic calligraphy are all emblematic of the Nakhchivan mausoleum style.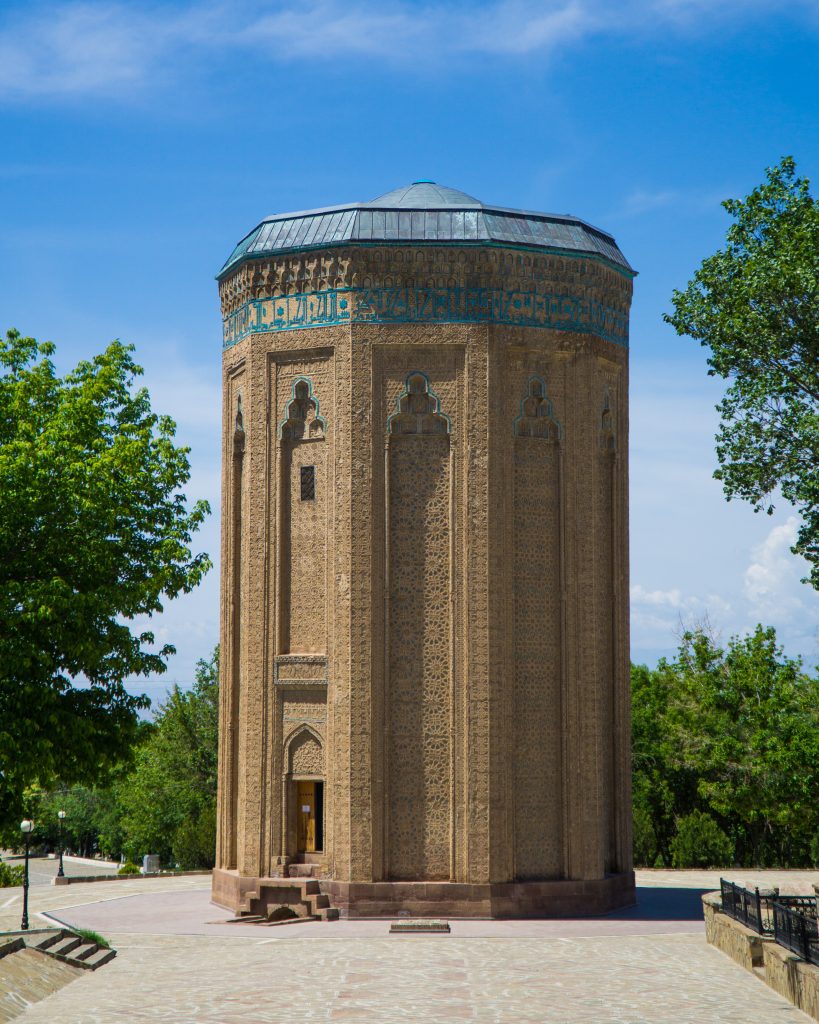 Not far away from the Mausoleum is the Khan's House, once a royal residence, now apparently a carpet museum. An official-looking guard patrolled the garden of the Khan's House, and the emptiness made me think it was closed. It probably wasn't.
I snapped a few photos of the Khan's house and walked to the other end of the park in search of something to eat.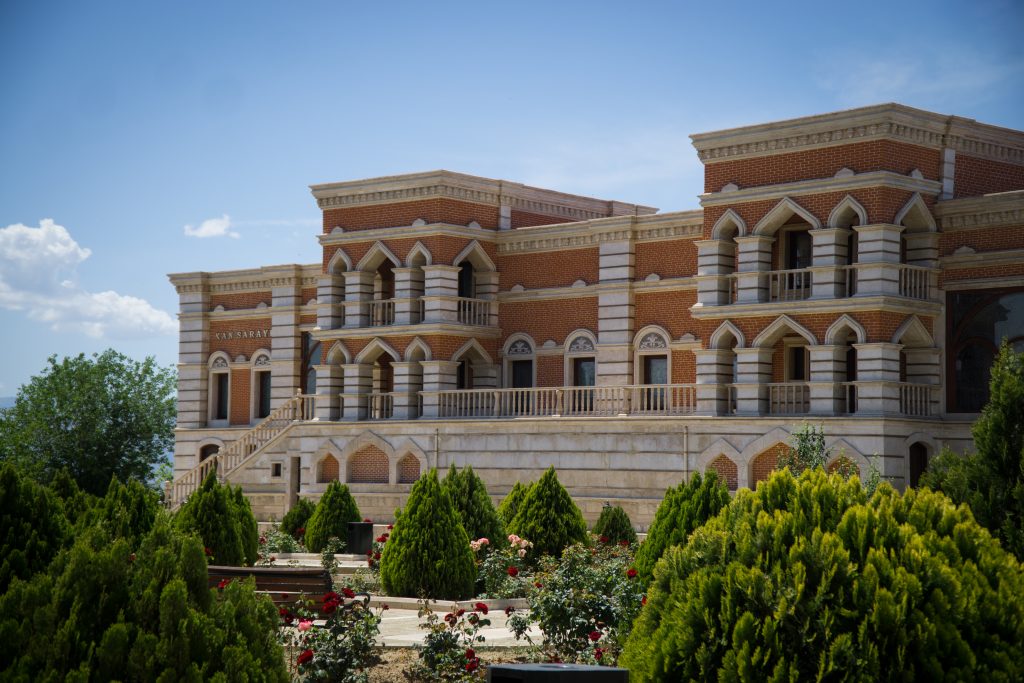 Cuma Mosque
Following the line of the park, we reached a pond with one lone paddleboat out on the water and a short time after, a mosque. It was a Friday, the holiest day of the week, during Ramadan, the holiest month of a year. This, all in a city that sees next to no non-Muslim tourists. It seemed like it would have been rude to try to enter so we didn't.
However, having spent a lot of time in Azerbaijani mosques by now, I've found that they usually have a headscarf for visitors to borrow and they are usually really friendly with non-Muslims visiting. Just follow basic etiquette rules (take off your shoes, don't speak loudly, etc.) and try not to interfere with people praying.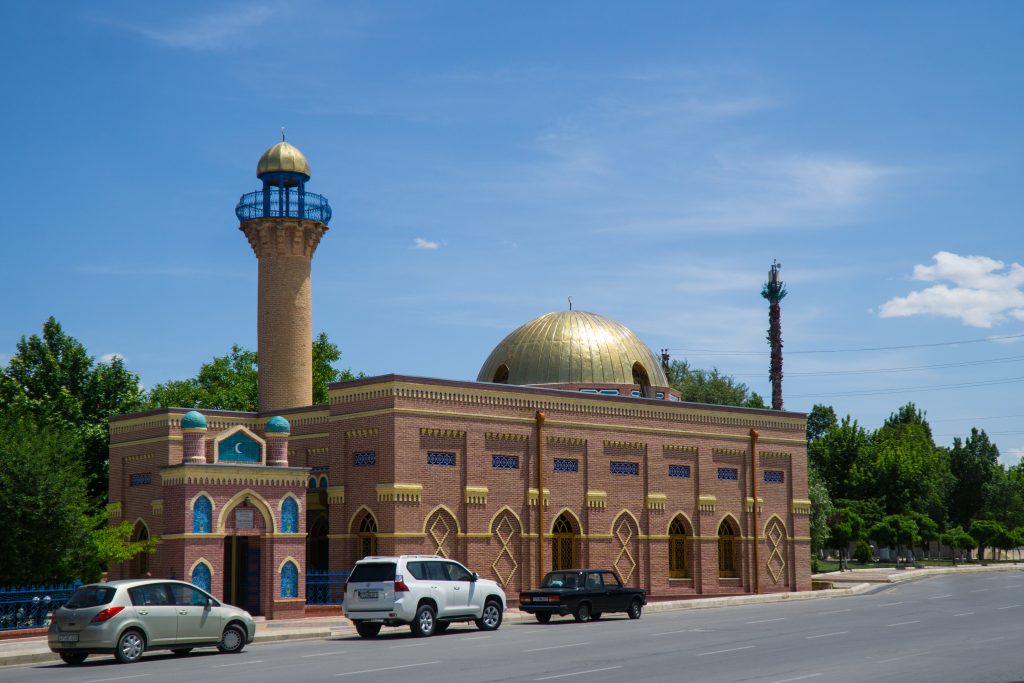 The local market
Just across the street from the mosque, a vibrant produce market takes up about two city blocks. I went on a Friday afternoon but I presume it's a daily market. We were still a bit wandering about in a daze, taking in all the sights of Nakhchivan City, so we didn't buy much save for the world's strangest gyro.
We stopped at a UFO-looking rotunda straight out of the Communist era, hoping for lunch. Ordering was a charade of broken Russian (basically, me repeating "obyed" over and over and hoping it meant lunch like I thought it did) and gesturing to my mouth. We settled on tea and an adopted Nakhchivani grandmother who cooed over us like we were her own.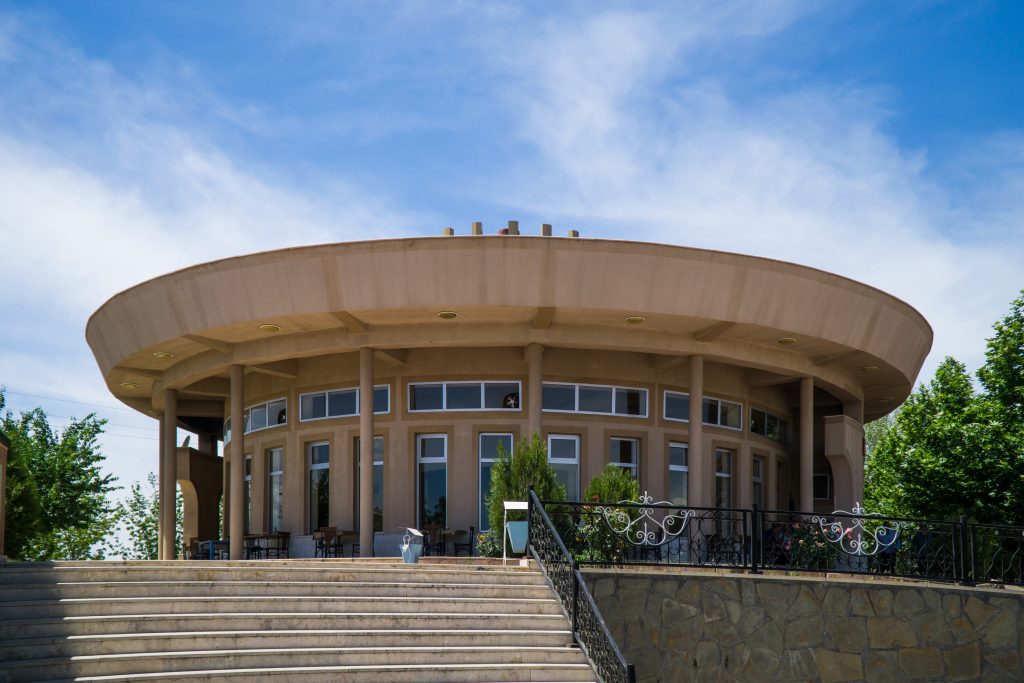 Noah's Tomb
Yet another mausoleum, Noah's Tomb is a mausoleum dedicated to the prophet Noah (the same Noah that shows up in Christian and Jewish scripture as well). It's interesting, in the U.S., people talk about "Judeo-Christian values" – basically excluding Islam from sharing those values despite sharing the same prophets, golden rules, and many of the same stories.
After a lifetime of absorbing information through my country's lens, it's interesting to see a mausoleum dedicated to Noah – a figure I associate so strongly with Christianity – expressed through a traditional Islamic funeral art.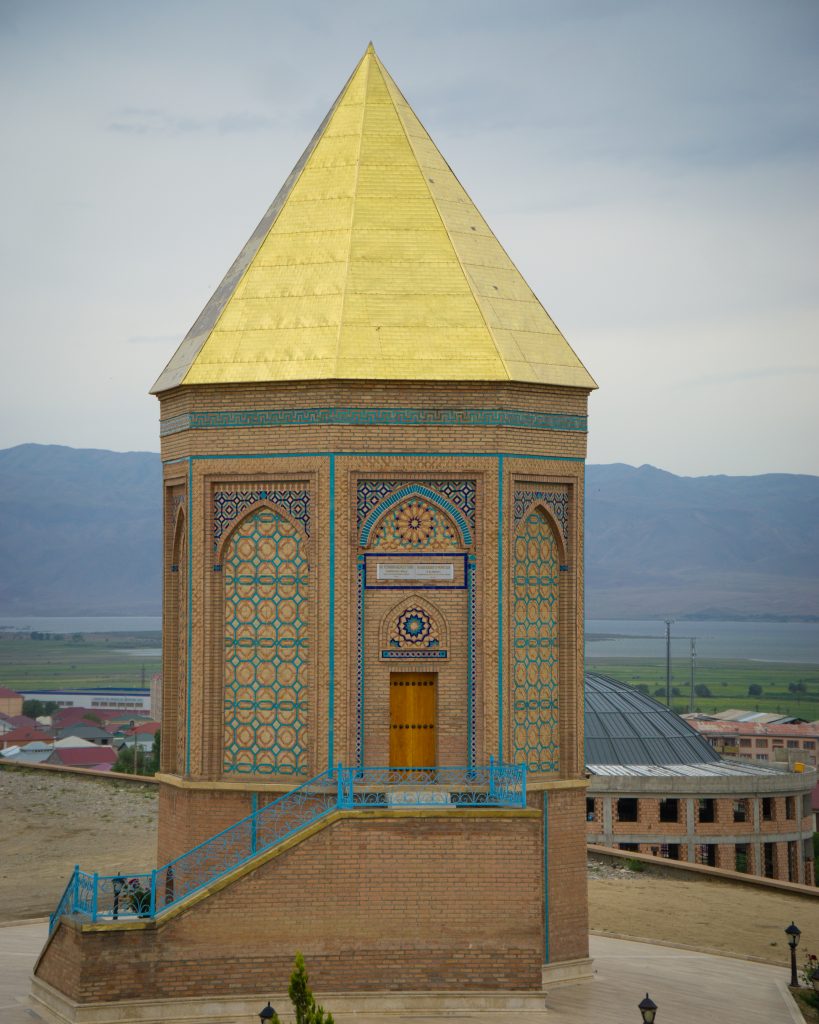 My musings aside, it's a gorgeous building that is emblematic of Nakhchivani architectural style while also celebrating Nakhchivan's self-proclaimed status as the original land of Noah.
Other things to do and see in Nakhchivan City
Only in Nakhchivan can you charter a private train around the city for 5 euros. And so we did just that, forking over 10 manat to cover the minimum of 10 people who need to sign up in order to have the sightseeing train run around the city for about an hour and a half.
Our "private train" stopped at the Heydar Aliyev Museum, went past Nakhchivan University, down past countless interesting buildings including an old hammam, before stopping on a hill courtyard with great views of the city, the nearby lake (with Iran just on the other side of the border), and Noah's Mausoleum.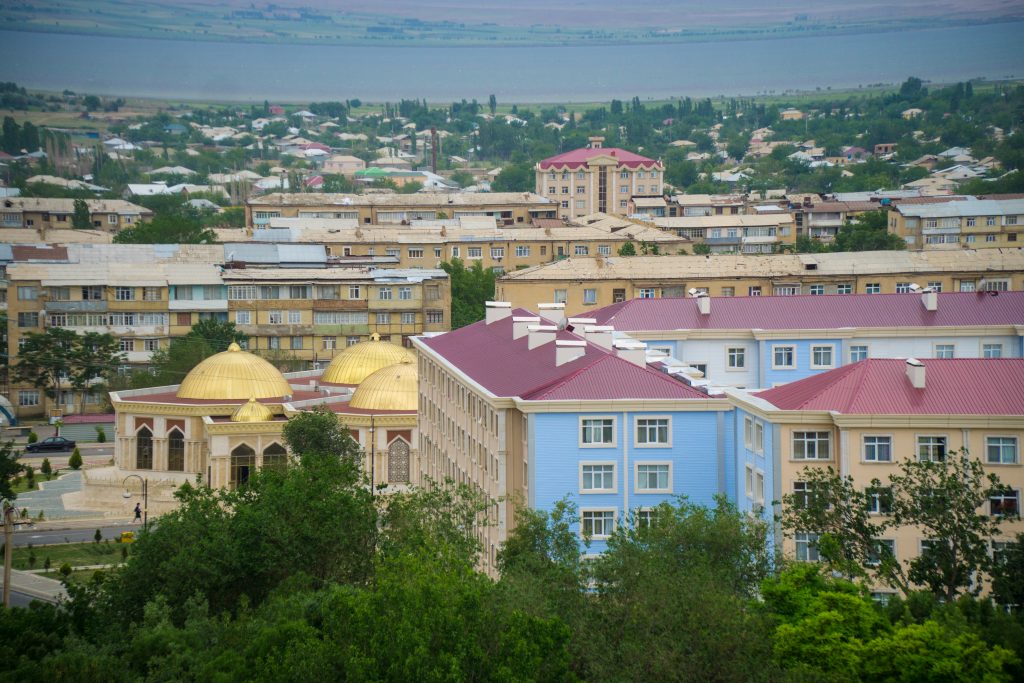 Alinja
After being told about the "Machu Picchu of the Caucasus" by the lone other traveler in the hotel, I'll admit my curiosity was piqued. Later that afternoon, we hired a taxi to take us out to Alinja, wait for us, and drive us back for 45 manat (a bit more than 20 euro).
For some reason, the "Machu Picchu" moniker didn't seem to tip me off that there would be stairs: some 1,600 of them, to be precise.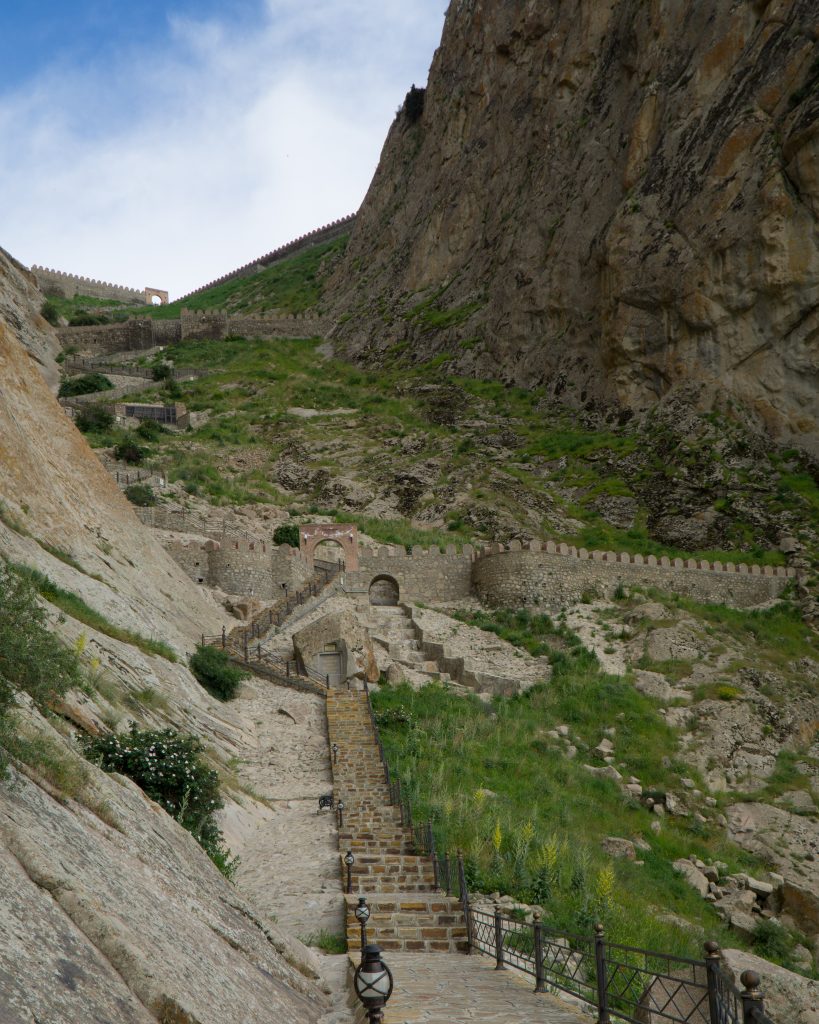 My cab driver decided to accompany me part of the way up the mountain, gregarious in a way that my extremely limited Russian vocabulary did not accommodate. "Very sport," I'd remark over and over again each time I got out of breath, to which he would agree. He stopped for a cigarette about halfway up the mountain and I went onwards, the only person on the seemingly never-ending stairway to heaven.
I stopped mid-step when I noticed an emerald green snake stretched across one of the stairs, basking in the sun. I searched for a rock to throw in its vicinity to scare it off the path. My stomach lurched as it made its sinewy way off the stairs and made a mental note to keep my eyes on my feet on the way back down. I had no idea if snakes were venomous in Nakhchivan and had no intention of finding out.
I huffed and puffed my way up the remaining stairs only to arrive at Alinja about an hour after we arrived in the parking lot. Unfortunately, the Machu Picchu similarities stopped after the stairs: pretty much all of Alinja had been paved over in an oddly modern fashion that more closely resembled some strange urban courtyard than actual fortress ruins.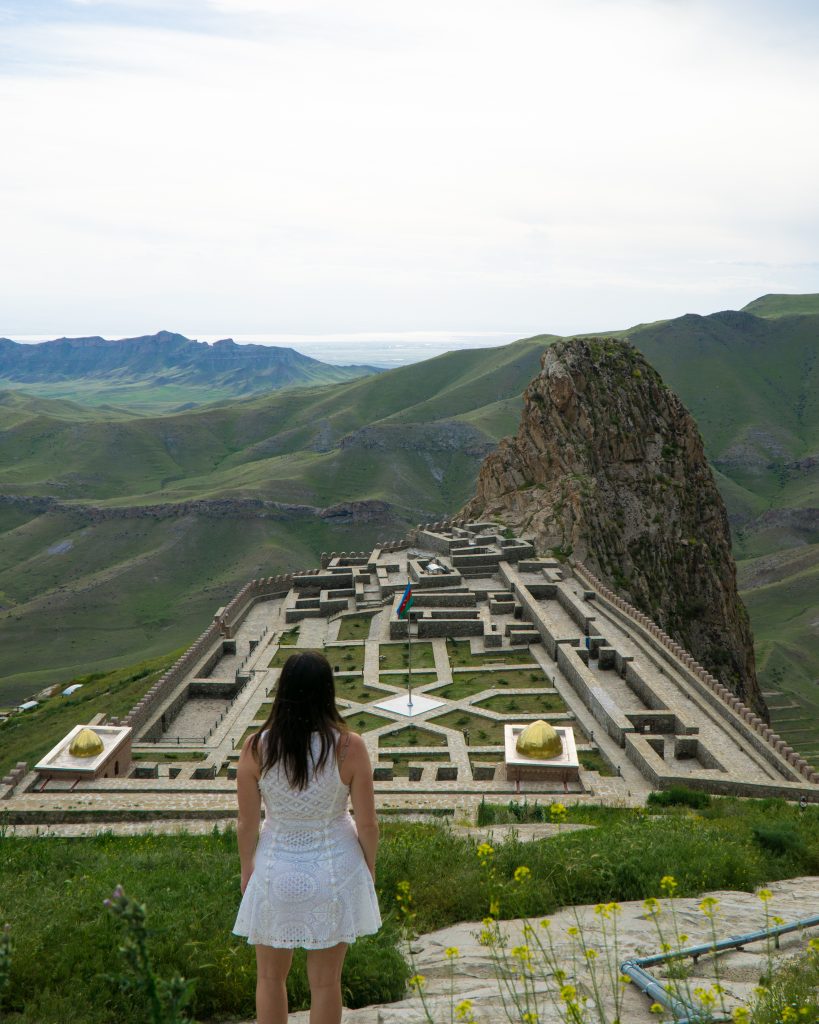 Luckily, my disappointment in the "castle ruins" themselves was outweighed by the sumptuousness of the Nakhchivani landscape around me.
I marveled at views of the Ilhan Dağ mountain, which Nakhchivanis proclaim is dented from Noah's ark landing there (a claim they make probably just to stick it to Armenia). The lake next to Nakhchivan City glinted in the late afternoon sun as I peered into Northern Iran. Behind me, snow-capped mountains were fringed by clouds.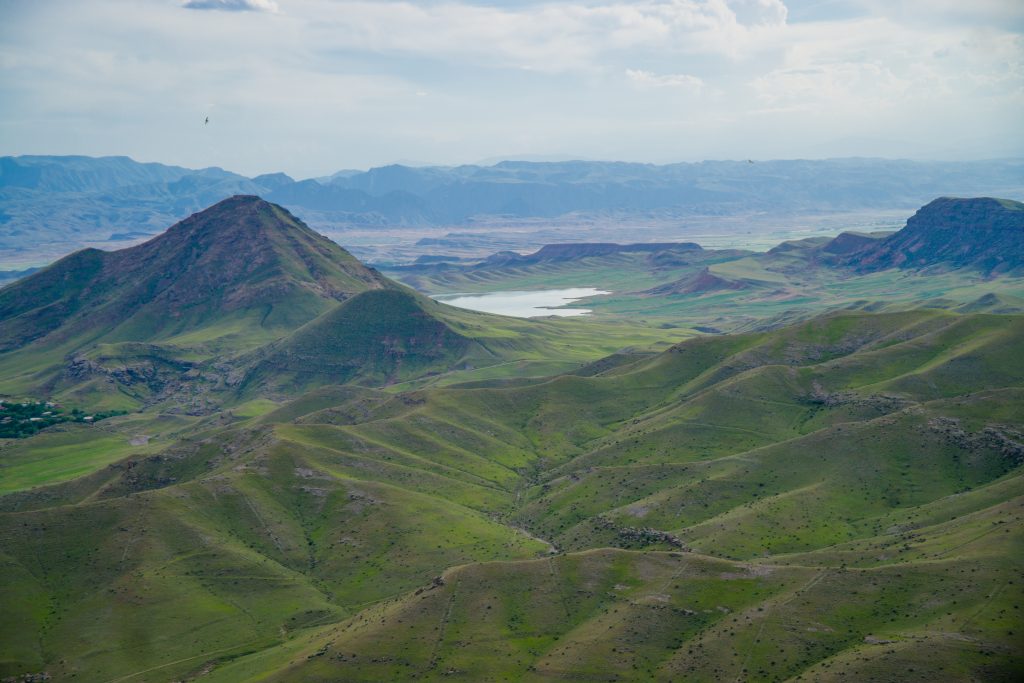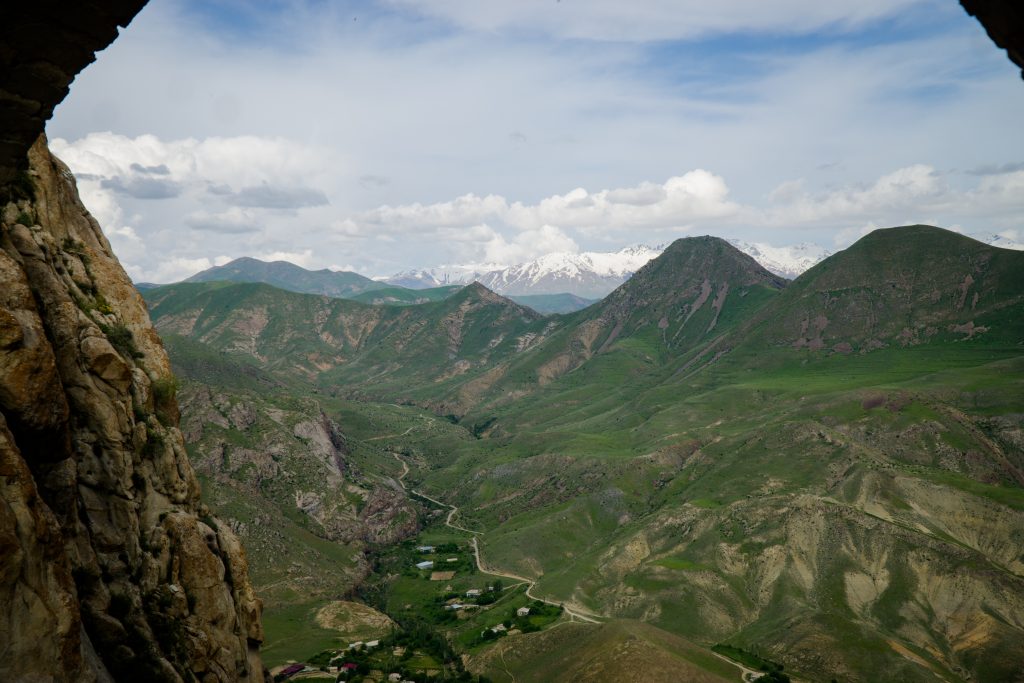 I met my guide a quarter of the way down, who had stopped by the water fountain I had avoided on the way up. He insisted it was safe to drink from; desperate with thirst and willing to roll the dice, I later found he was right. He then insisted I take off my shoes on the walk down as he had, repeating "massage" over and over again. He wasn't wrong: it was actually quite pleasant to walk down without shoes.
Despite the strange choices made when reconstructing Alinja, it's definitely worth a visit, especially for its gorgeous surroundings.
Batabat
Easily the most beautiful place in Nakhchivan, the road to Lake Batabat tallies up some 2500 meters above sea level on surprisingly smooth roads in little less than an hour and a half. Along the way, you can watch as the landscape shfits from resembling the American Southwest to the lush mountains of Colorado.
I've written a full guide to Lake Batabat here, so I won't go into excessive detail on this post, but I'll leave with you some photos to try to tempt you into visiting this gorgeous part of Nakhchivan.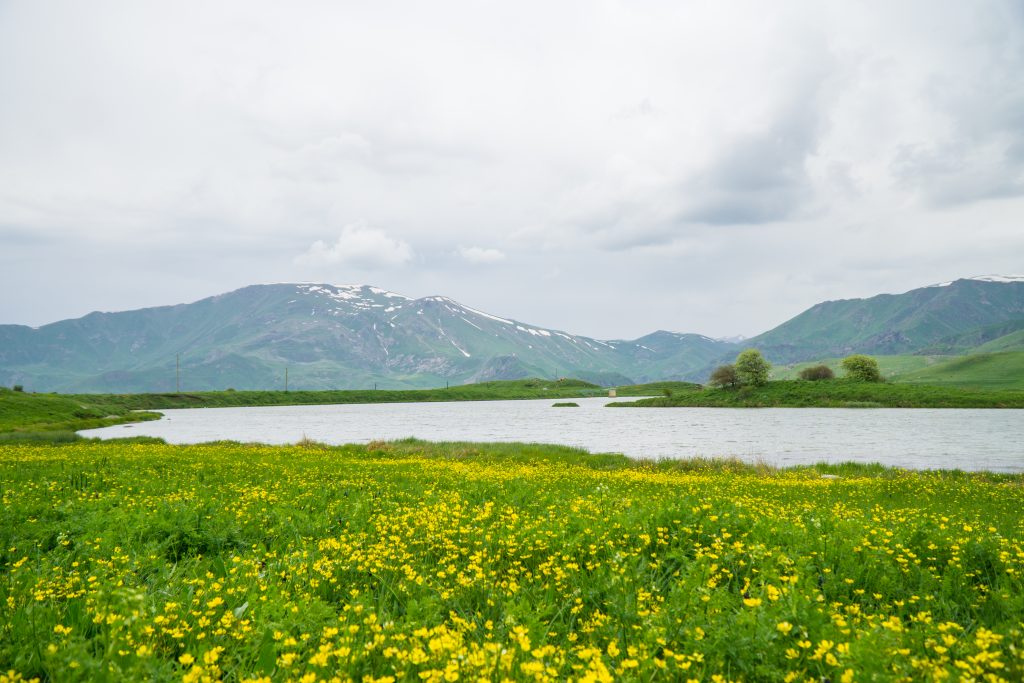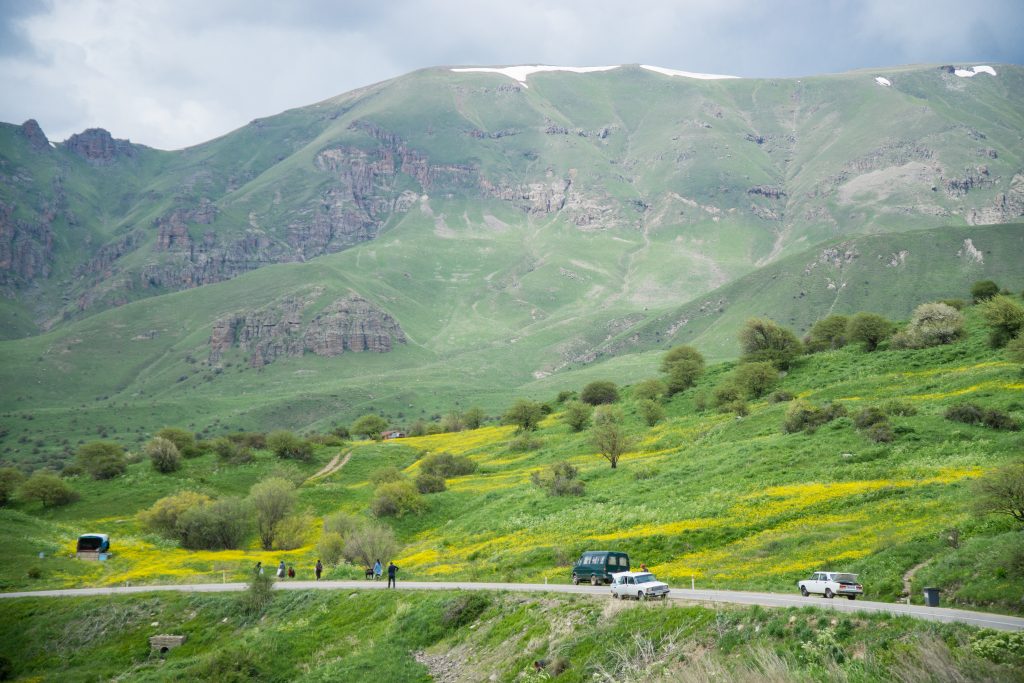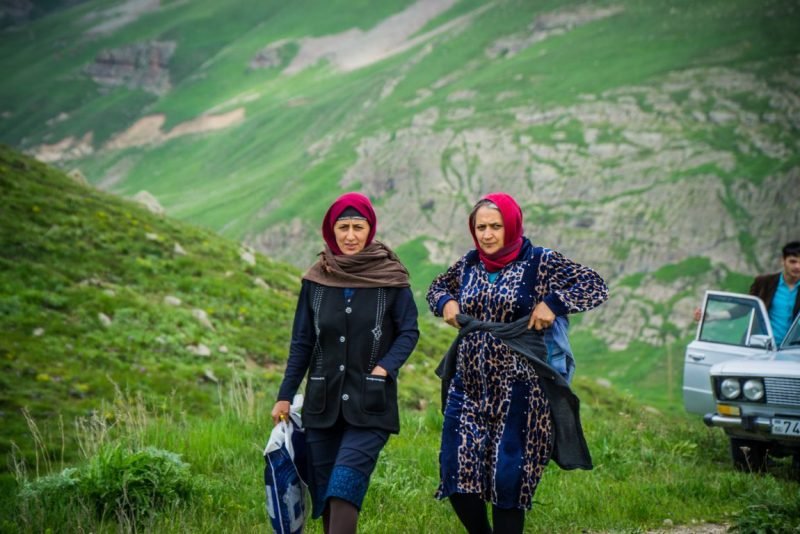 Qarabağlar
The most beautiful mausoleum in Nakhchivan, a title I feel entitled to bestow having seen five of them in as many days, Qarabağlar is undoubtedly worth a detour during your time in Nakhchivan.
Composed of 12 semi-cylinders, the mausoleum glitters with blue tile against the standard brick. Next to the mausoleum is a mosque with two minarets, seemingly in disuse or in the middle of renovations.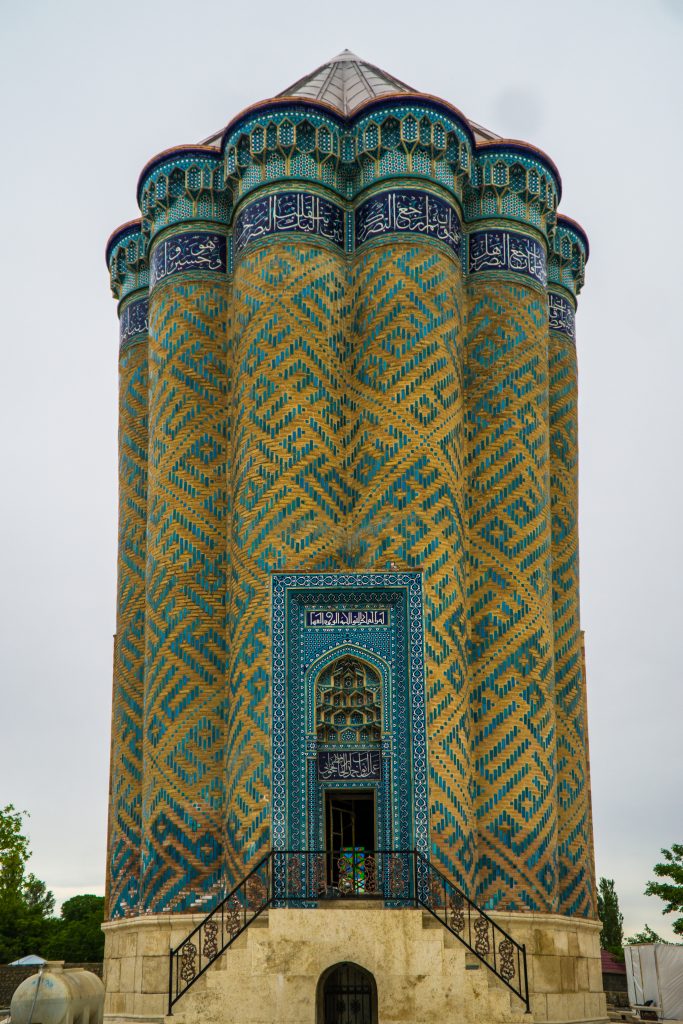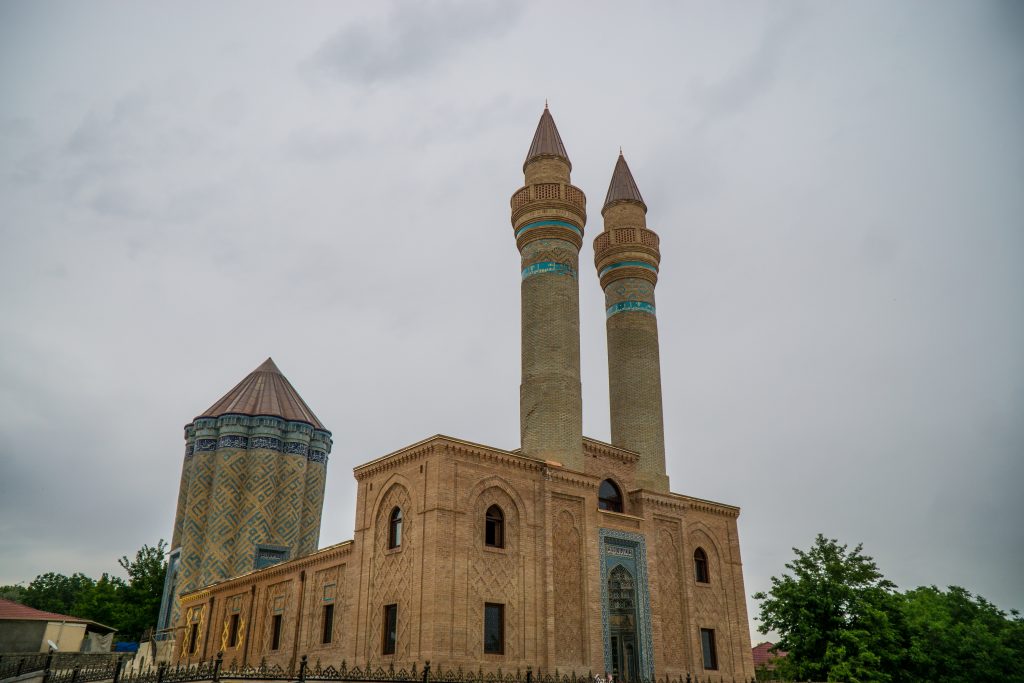 Duzdag
Billed as a Soviet sanatorium for people who had breathing difficulties, I wasn't sure what Duzdag would offer the tourist besides a strange glimpse into the past. Turns out that Duzdag is not some relic of the past but an active part of today's Nakhchivan.
Nakhchivan sees huge potential for itself in the areas of religious tourism and health/wellness tourism, and Duzdag is the jewel in the crown of that vision. Apparently, you can stay at the Duzdag Physiotherapy Center with a note from your doctor, and it can even cure asthma and other bronchial diseases. It has room for 300 patients, some who stay for as long as a month in hopes of curing themselves.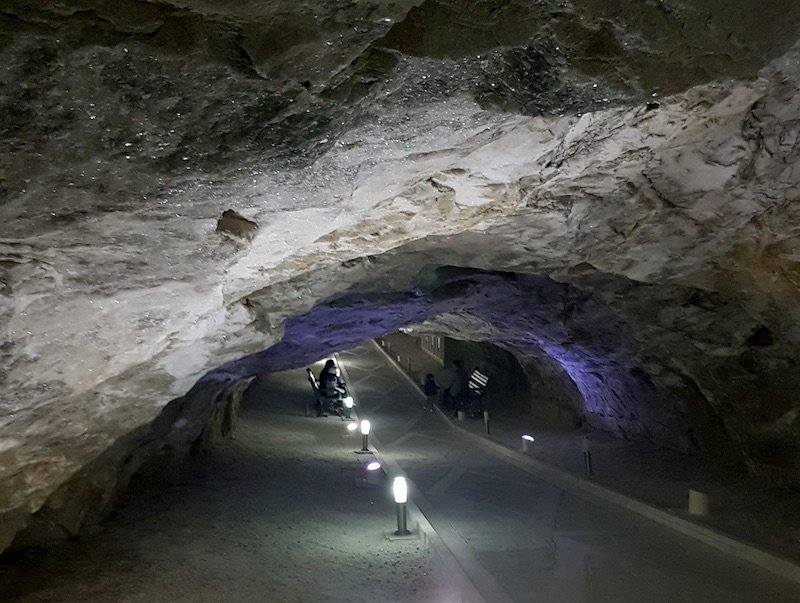 I spent only 30 minutes in the salt mountain, not wanting to make my driver wait for us too long. Even in 30 minutes, I was breathing better for days to come. If you have time, there is a small room where you can order tea and spent some time in the salt mine without being a patient at the center.
Ashabi-Kahf Caves
I mentioned before how Nakhchivan is trying to reinvent itself as a religious tourism destination – fairly effectively, I should add, given that it was selected to be one of the Islamic Capitals of Culture for 2018.
While the mausoleums and its tenuous connection to Noah are what Nakhchivan is most known for, another important Islamic pilgrimage site is the Ashabi-Kahf caves, which were mentioned in the Qu'ran and are now a popular tourist destination in Nakhchivan.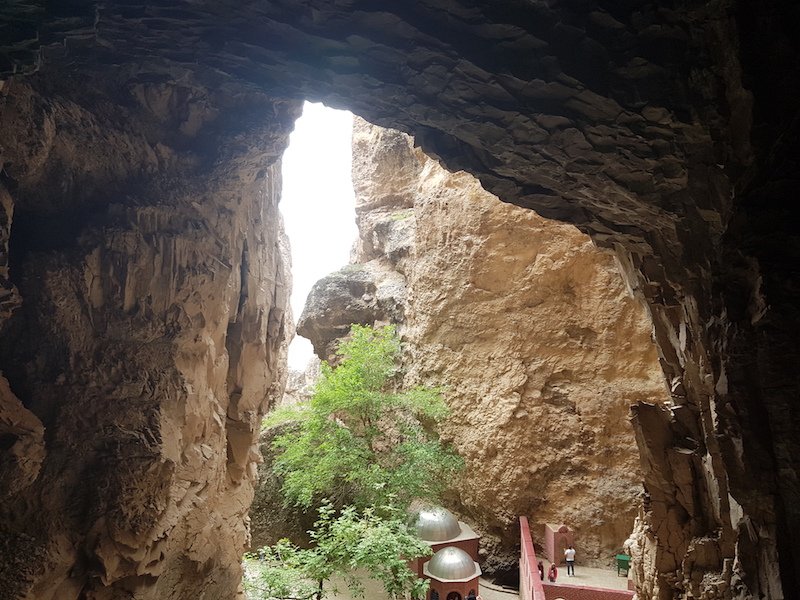 You'll have to walk up many flights of stairs to get to a small mosque and the main cave area. Entry is free (as it is virtually everywhere in Nakhchivan – I actually don't recall paying one single admission fee anywhere in the republic).
The caves themselves aren't too spectacular, to be honest, but their religious significance is palpable by the way locals treat the caves, offering prayers and pilgrimage.
Ordubad
Ordubad is the second largest town in Nakhchivan and theoretically is famous for its super expensive lemons. Unfortunately we didn't give Ordubad nearly as much time as I'm sure it warrants, stopping by for about two hours on our last day in Nakhchivan. The road to Ordubad is one of the most spectacular in Nakhchivan – the drive alone warrants the trip.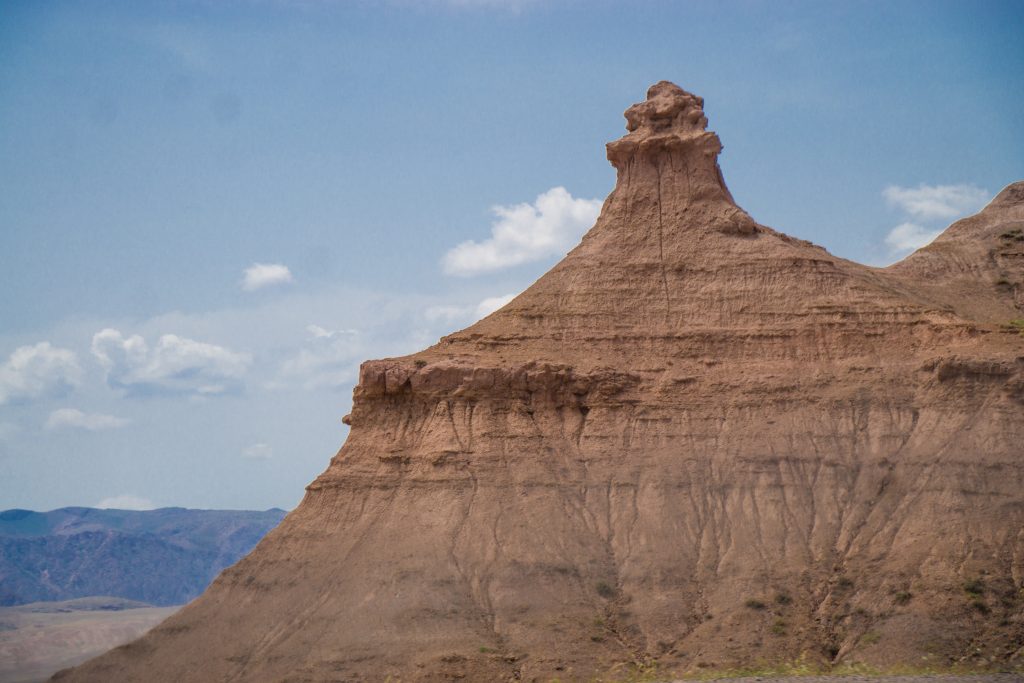 During that time, we ventured into the Cuma Mosque (Cuma appears to mean "Friday" and virtually every town in Nakhchivan has their own Cuma Mosque), which was one of the most unique I've seen on my travels. While not a religious person, I do love places of worship and mosques are my favorite in terms of architecture and aesthetics.
The mosques in Nakhchivan are much less ornamental than their cousins in, say, Turkey or Morocco. Whereas the mausoleums are tiled and calligraphy-ed to ornate levels, the mosques are almost nondescript on the outside.
That belies the beautiful, colorful interiors – the brightly painted walls, the mishmash layerings of carpet after carpet, the restrained decoration of the mihrabs that help Muslims orient to Mecca when they pray.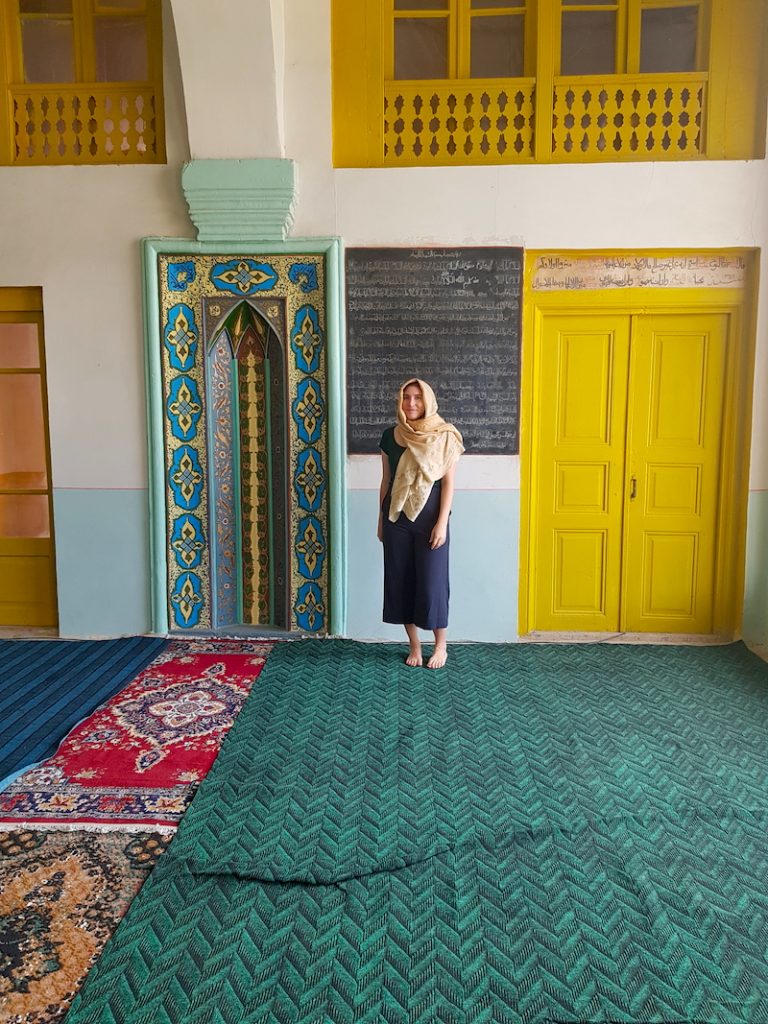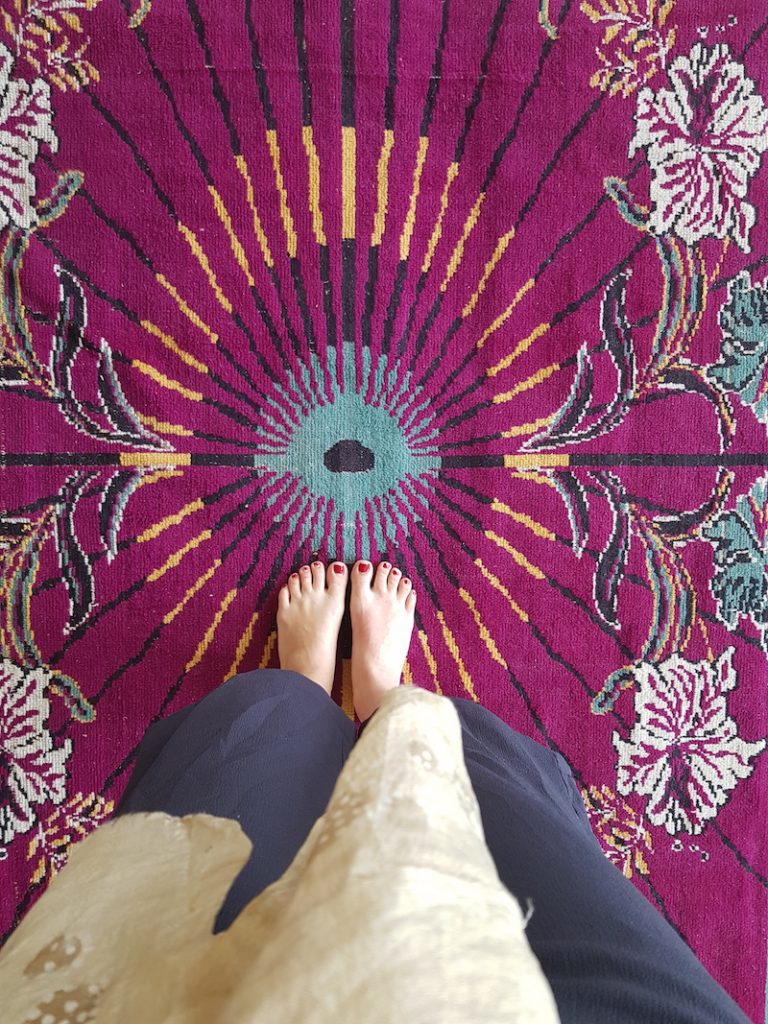 Besides the mosque, we visited the Qeyyseriye, a historic building (I never quite understood the purpose of it) dating back to the 1600s, which is now an ethnography museum.
It's located across the street from the Cuma Mosque and is worth a brief visit, if only to please the women who work there who will insist you sign their guestbook.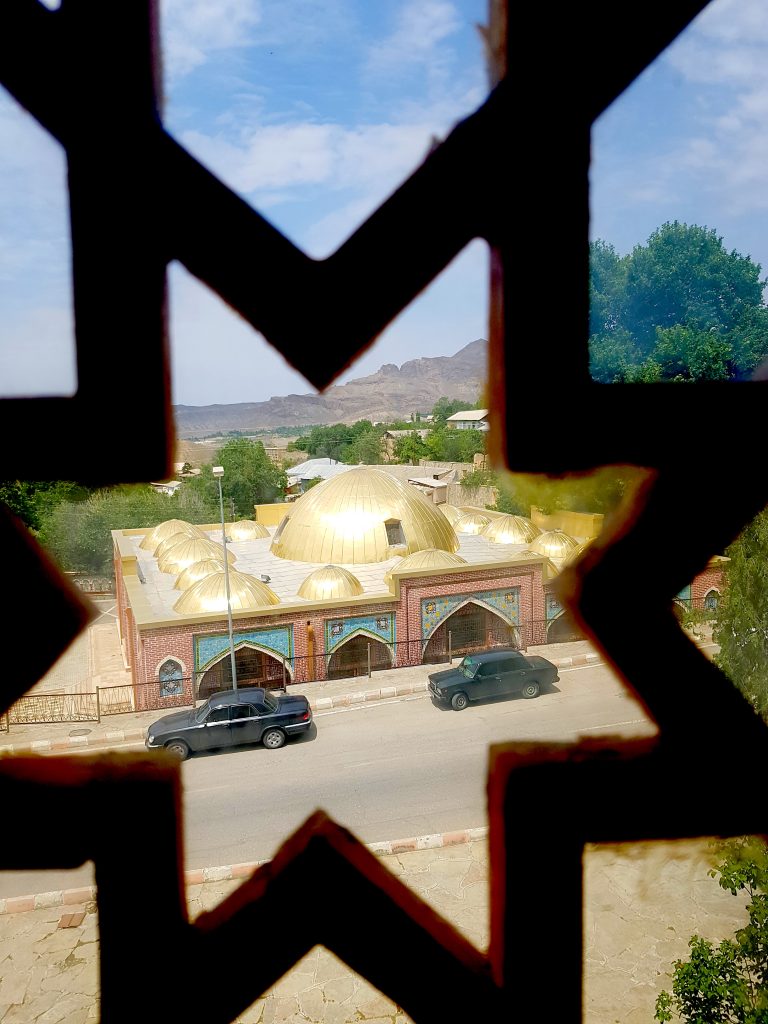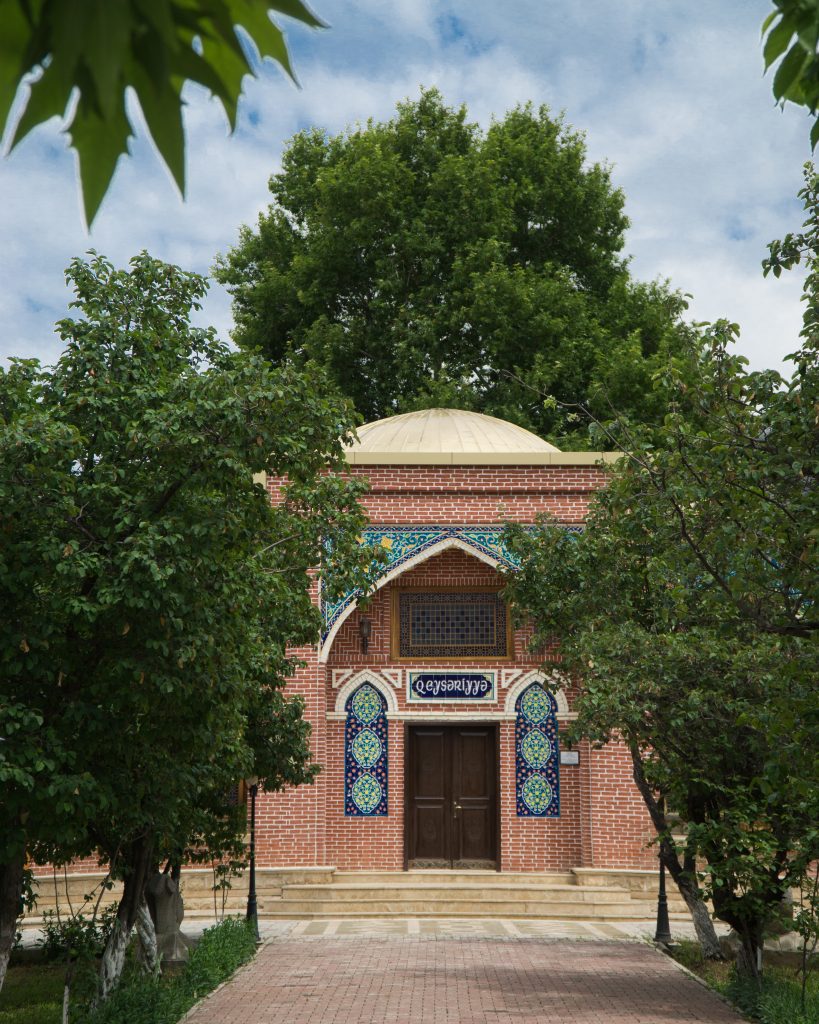 Finally, we stopped briefly at a small park that also functioned as a memorial to victims from Orbubad who died during two wars: World War II (1941-1945 monuments are virtually everywhere in the post-Soviet world) and the Nagorno-Karabakh war.
In a country that has tried and succeeded at shedding much of its Soviet art and architecture, these WWII monuments and the occasional apartment block are the only looks back into the past.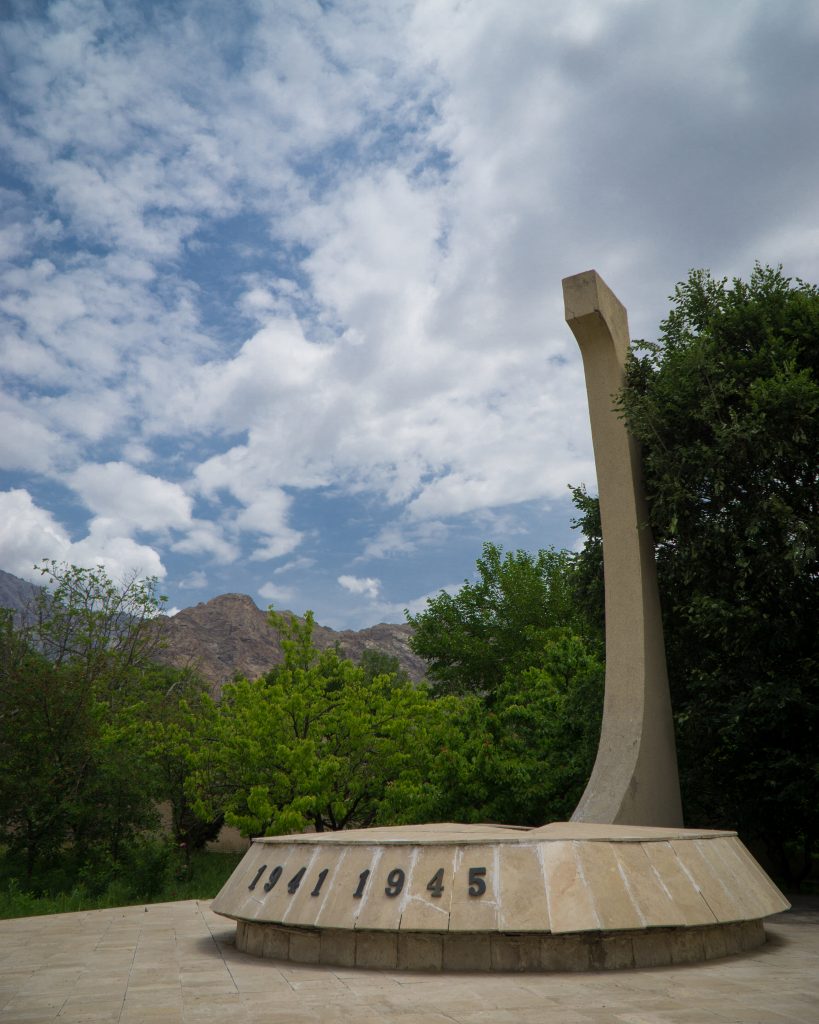 Leaving Nakhchivan
We purchased our tickets back to Baku at a small ticket sales office in town, the same 70 manat it cost to get there. The woman helping us didn't speak English but someone was around who could translate. We found out that the plane to Ganja was no longer operating (the explanation why was unclear) so we had to go back to Baku and then take a bus to Ganja.
The following day we arrived at the airport and were told we had to stop by the security desk for them to check our passports – a fun little extra step for foreigners, it seems. We received a very tiny slip of paper, the size of a fortune from a fortune cookie, that seemed essential to basically every step of the check-in process from there on out. We dropped off our bags (after our tiny paper was examined) and then made our way to baggage control. I had left my fortune-sized paper at the check-in desk so I had to backtrack and get it back to proceed. The baggage check was thorough but quick, leaving us far too much time to hang out at the airport.
The power plugs don't appear to work anywhere but the bathroom, nor is there WiFi. The "restaurant" photos are ornamental, not informative: you can only buy chips, sodas, candy, and the like. Reading between the lines: there's not a lot to do at the airport, so I'd arrive with only an hour or maybe an hour and a half before your flight or risk being bored to near tears.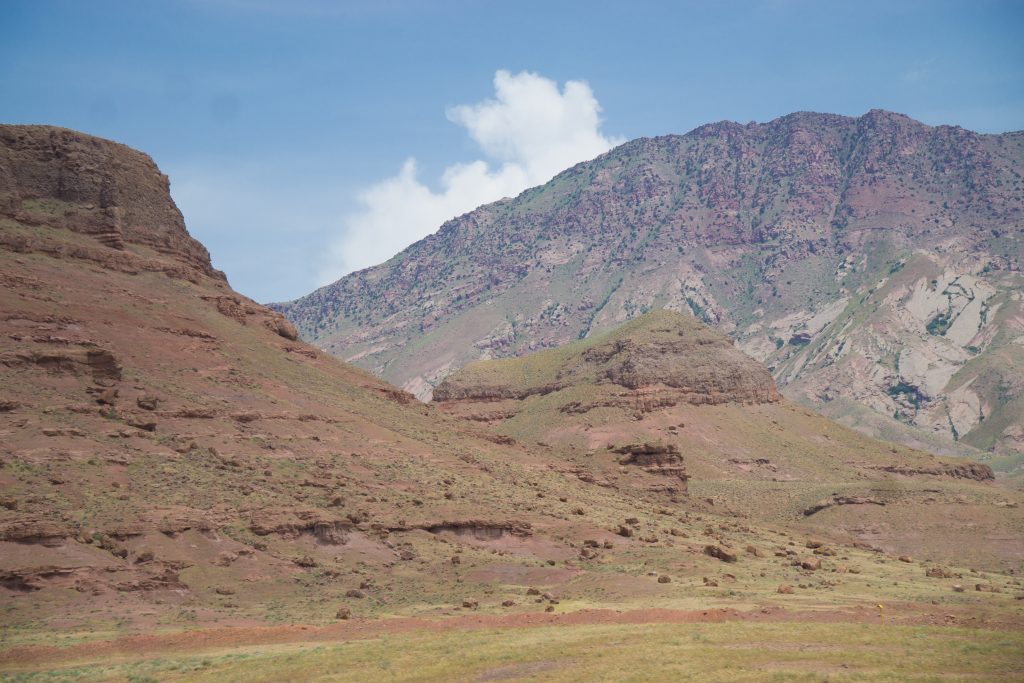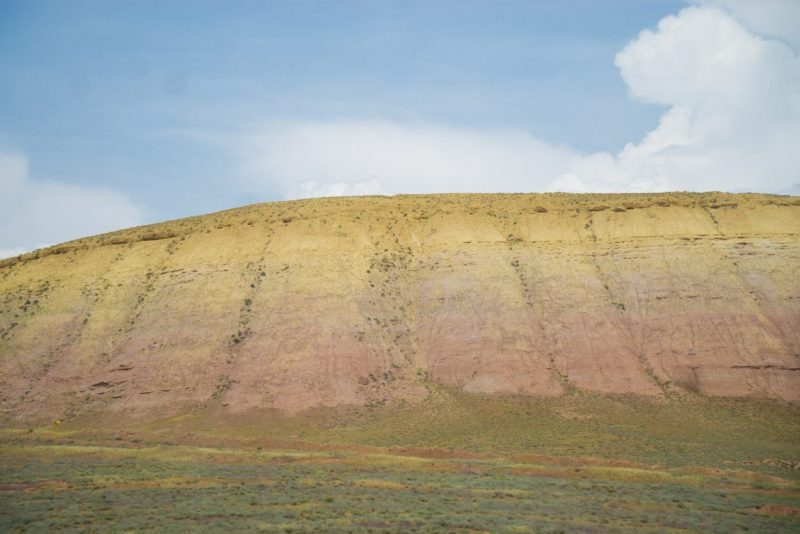 Leaving Nakhchivan, I felt a bit of an ache in my heart to be leaving a place so unique, so special that I can think of no other analogue in the world. A place of isolation, resilience, and beauty. A place with a dark past and the potential for a bright future, if it doesn't get in its own way.
The politics of the Caucasus are complicated. Deciphering what is fake news and who wronged who is hard. The answer is usually somewhere in between all the shades of gray. The situation in Nakhchivan is delicate and likely to change. A few days ago, Azerbaijan seized 10,000 hectares of land from Armenia to add to Nakhchivan – in their Orwellian words, "liberating [it] from Armenian occupation."
The situation may – likely, will – change in the future. Who knows in what direction, and whether that will be for good or for ill. But one thing is certain: Nakhchivan is worth a visit in the here and now, in its complications and in its beauty.
Allison Green is a former educator turned travel blogger. She holds a Masters in Teaching and a B.A. in English and Creative Writing. Her blog posts merge her educational background and her experience traveling to 60+ countries to encourage thoughtful travel experiences that both educate and entertain. She has been a speaker at the World Travel Writers Conference and her writing, photography, and podcasting work has appeared in National Geographic, CNN Arabic, CBC Canada, and Forbes, amongst others. Now based in the San Francisco Bay Area where she grew up, she has also lived in Prague, Sofia, and New York City.