I am the kind of traveler who often finds big cities overrated.
After living in New York, I didn't quite "get" the charm of London. Paris never quite captured my heart, even after 5 visits.
But Rome: I fell in love with Rome instantly, even in the midst of a bout of depression.
While normally cities' nicknames don't make sense to me — The Big Apple? The City of Lights? Sure. —  I instantly got why they call Rome the Eternal City.
Walking around Rome, you get the sense that Rome has never and will never stop being a city.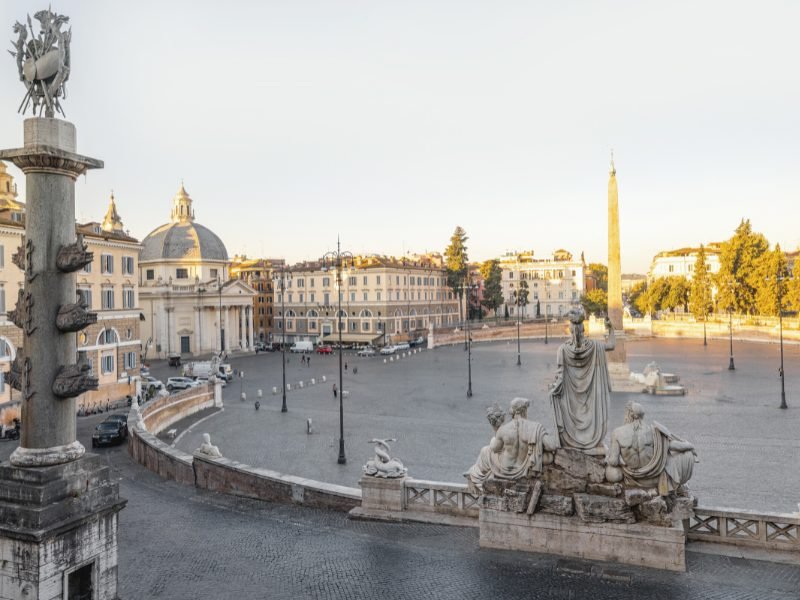 Note: This post contains affiliate links, which means I may receive a small commission if you purchase something through one of these links. Thank you for supporting the free content on this site! For more information on affiliate links and cookies, see my disclosure page for more details.
It's a self-assured city, a city that doesn't have to question its city-ness. It's chaotic but organized.
Vespas zip by Roman ruins casually, people step into bars for a quick standing espresso before stepping back onto ancient streets…
In Rome, everyone just carries out the daily beat of their routine, as people have for centuries before them and will for centuries to come.
It makes you feel the best kind of insignificant.
I've written this post to help you plan the ideal Rome itinerary. 3 days is not quite enough to truly get the Eternal City – I was happy with a week here – but I understand time is not a luxury everyone has.
As a result, I've focused on clustering this Rome itinerary around the tourist sights for the first two days, and then getting you out into the interesting, modern neighborhoods of present-day Rome on the final day, neighborhoods where locals live and few tourists wander.
Day 1: Classic Rome
There are some cities in which I'd urge you to get off the tourist trail; Rome is not one of those cities.
It's one of those rare places where just about every single major landmark is well worth your time.
For your first of 3 days in Rome, I'd advise you to get a head start on ticking off most of the bucket list items on your Rome itinerary.
And what better place to begin than…
Start at the Colosseum.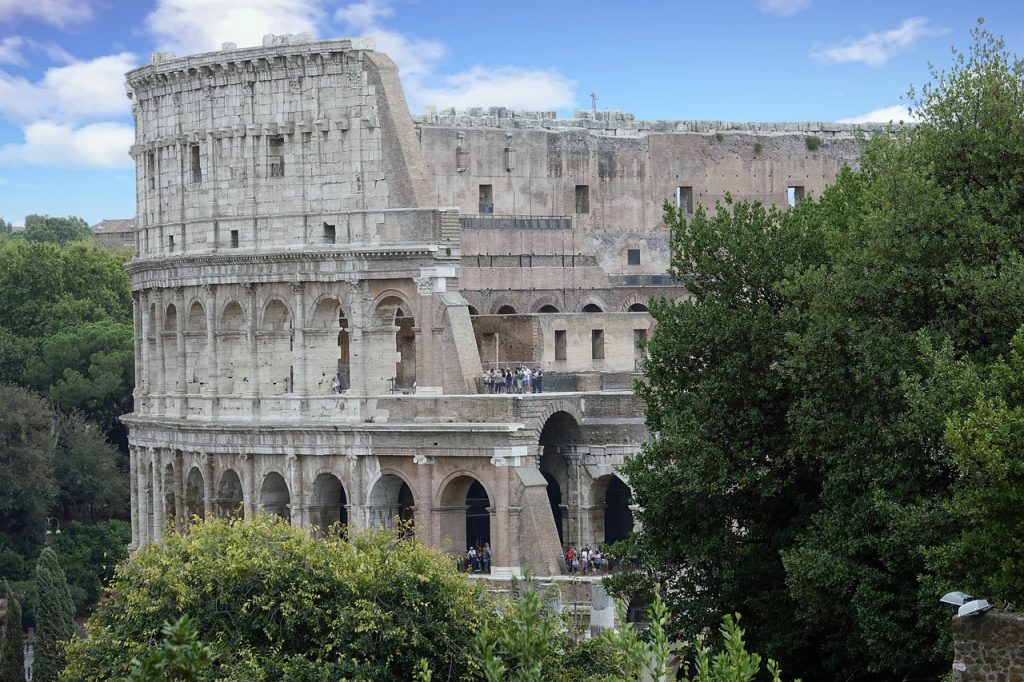 Is there any place more iconic than the Colosseum? You've undoubtedly seen countless photographs of this oval amphitheater standing proudly in the middle of Rome.
Luckily, the Colosseum couldn't be easier to find, as it has its own Metro stop.
Before heading in, though, be sure to get your Instagram photos across the street, where there's a small ledge perfect for posing with the Colosseum as your background. It's a bit of a Rome rite of passage.
Once you've gotten your photos, make your way over to enter the Colosseum.
Since you only have 3 days in Rome, I'd highly recommend purchasing a skip-the-line pass, especially if you are traveling in peak season (anytime between April and September).
On my most recent trip to Rome, I visited in mid-October and there were massively long lines. I recommend starting your Rome itinerary off on the right foot by buying a skip-the-line ticket.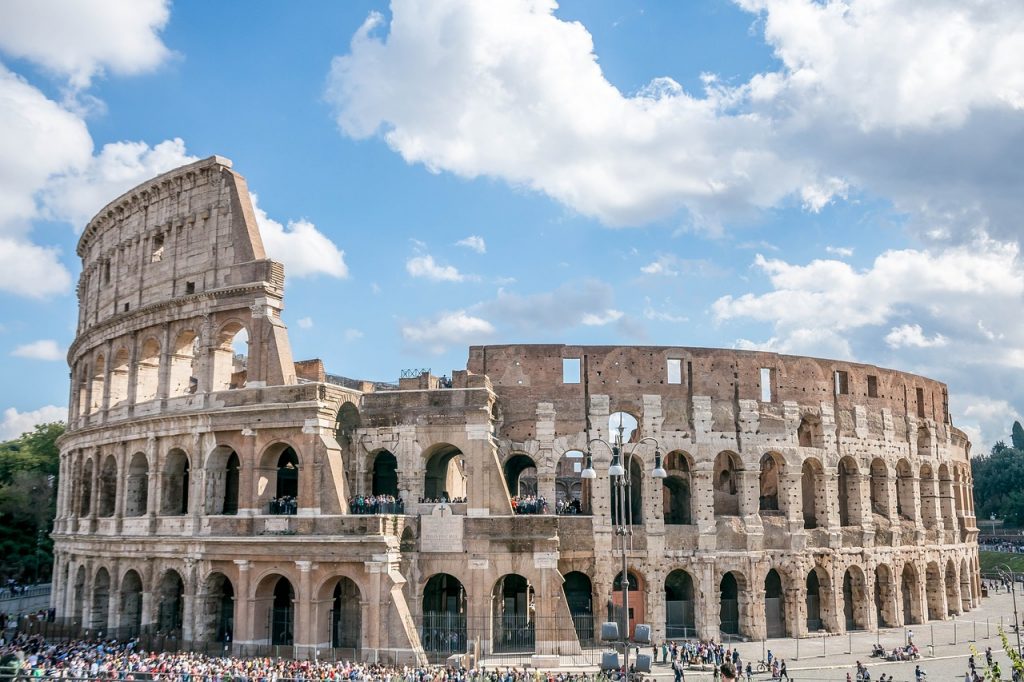 You can book strictly skip-the-line tickets, which just allow you to bypass the lines and then see the site at your own pace, or you can buy a guided tour that also allows you to skip the line.
Which you choose will depend on your budget and how much historical context you prefer to get.
I have a full visitor's guide to the Colosseum which may be helpful for you to prepare!
Book self-guided skip-the-line tickets to the Colosseum and Roman Forum here

Book skip-the-line tickets + a guided tour to the Colosseum, Roman Forum, & Palatine Hill here
Stroll over to the Roman Forum.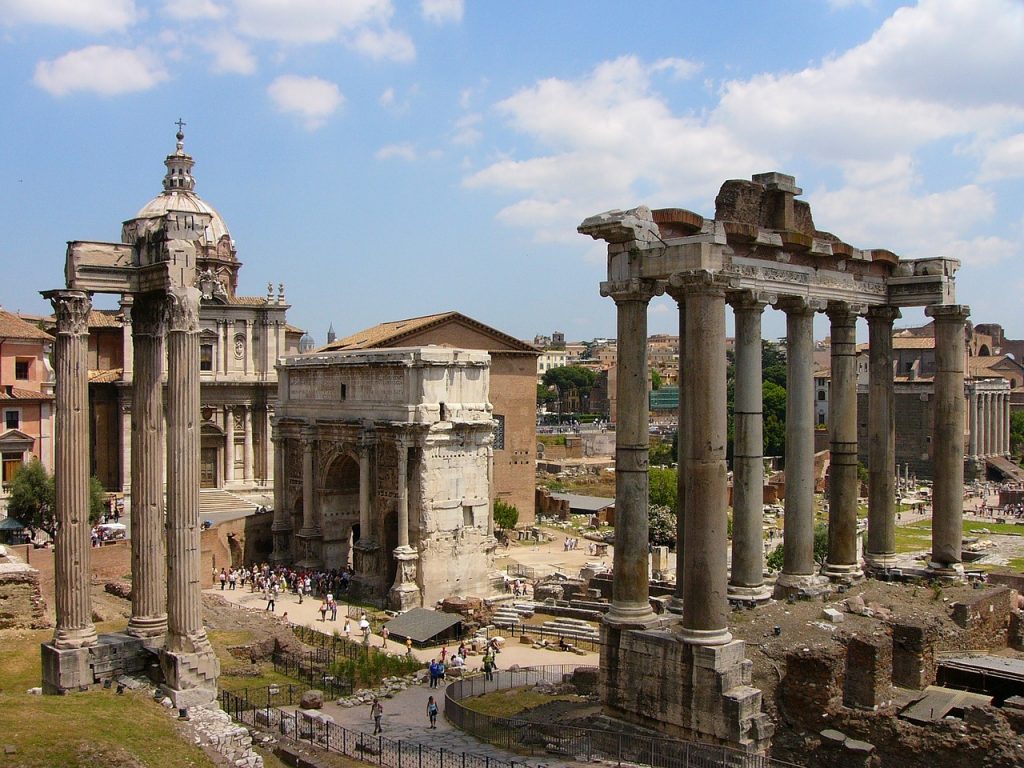 But personally, the Colosseum isn't even the most impressive ruin in Rome.
My favorite historical site in Rome is the actually gorgeous Roman Forum, an enormous plaza full of beautifully preserved ancient buildings at the center of Rome.
The Forum itself is surrounded by four temples, which in centuries past were used to offer sacrifices to bring good fortune to those visiting the Forum.
Seeing these ruins, still standing proud after empires crumbled and earthquakes trembled, will make you understand why Rome is truly the Eternal City.
For centuries, this Roman Forum (Foro Romano) was the beating heart of daily life in Rome: where politicians gave speeches, criminals stood trial, and gladiators fought to the death.
It's where you'd buy your eggs, catch up on the latest gossip, see and be seen.
The decline of the Roman empire naturally meant the Forum fell into disuse, and during the Middle Ages, the site of the Roman Forum was plundered constantly for stone and marble.
It wasn't until excavations in the 18th and 19th centuries that the ruins of the Roman Forum would begin to resemble their present-day state and become one of the most-visited tourist attractions in the world. Now, it attracts more than 4.5 million tourists annually.
You won't forget the feeling of being surrounded by enduring stone that's seen empires fall, be born, and rebuild: it's truly one of the most special places in Rome and fully deserves a spot on your Rome itinerary.
As lines can stretch quite long in peak season, I suggest the skip-the-line tickets that combine the Roman Forum with the Colosseum that I recommended above or a guided tour for context.
Marvel at the classical Altare della Patria.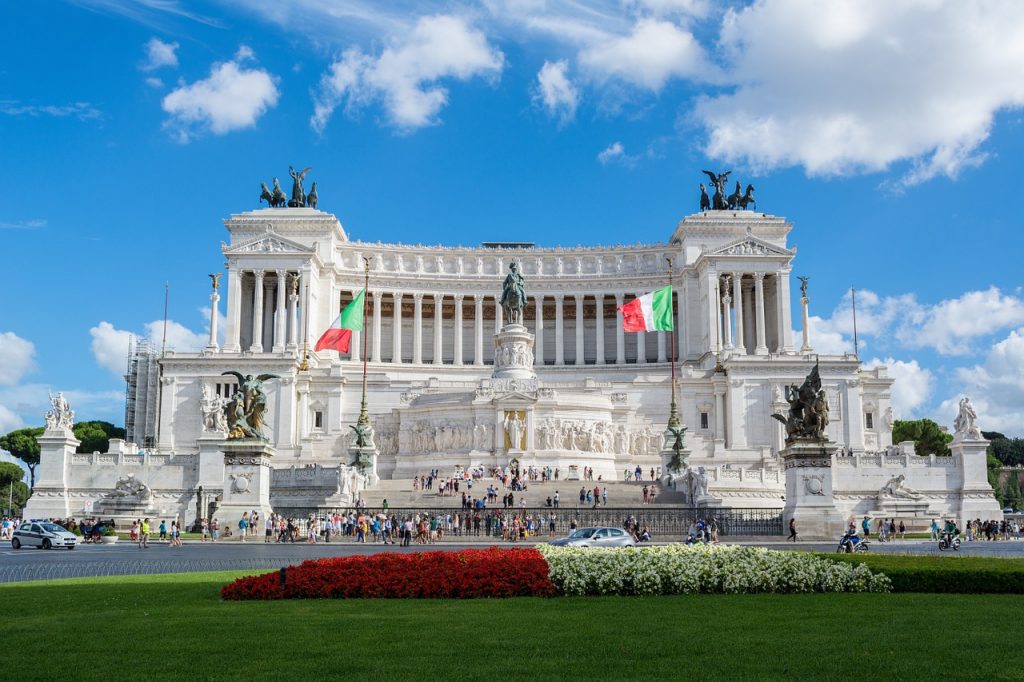 I stumbled across this building after exploring the Roman Forum and was instantly captivated by how grand it was – but I had no idea what it was for.
Climb to the top of the stairs and enjoy the  view of Rome laid below you, going about its business uninterrupted, in that magical way it always has.
The Altare della Patria is a monument that was built in honor of the first King of Italy, Victor Emmanuel.
It features two statues of Victoria, the goddess of victory, as well as ornate fountains, majestic stairways, and a sculpture of King Victor Emmanuel.
Afterwards, you can rest your feet in nearby Piazza Venezia. Rome is beloved for its many piazzas and I always take a moment to rest my legs, sit, and indulge in a little people-watching whenever I pass a nice place to sit.
Piazza Venezia is one of my favorites in Rome!
While it lacks the charm of some of the other more classical piazzas like Navona, it's at the nexus of several of the cities most iconic sights, where four major roads meet, so you can take it all in in one frenzied panorama.
Go for lunch in the Jewish Quarter.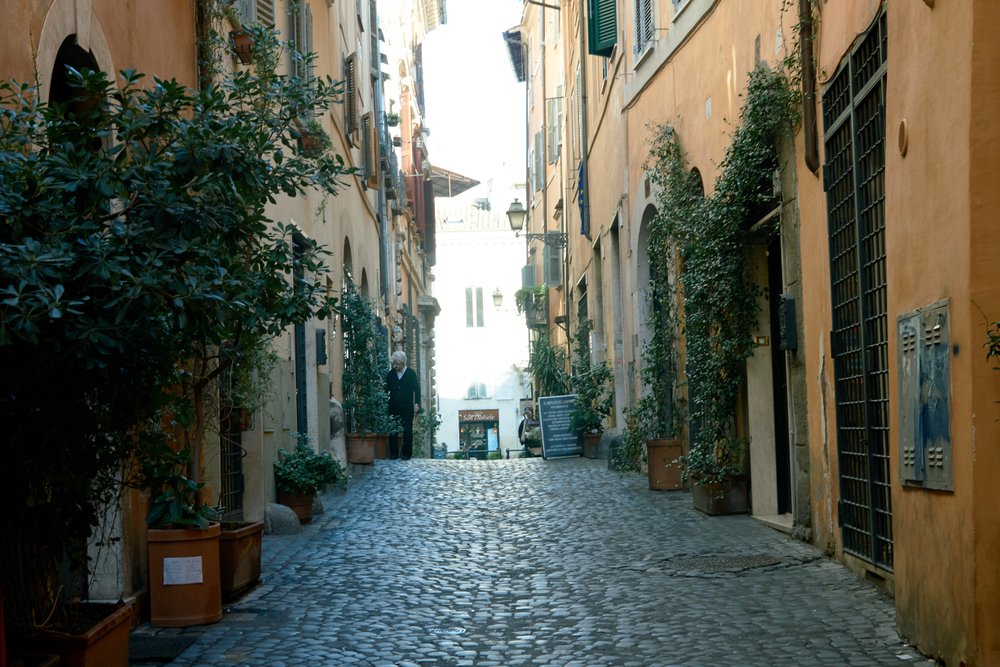 Five centuries ago, the Roman Ghetto was established by Pope Paul IV.
Despite the Jews having a presence in Rome since before the days of Christianity, the Pope passed a decree forcing all the city's Jews into a walled quarter, with the gates locked at night.
The Pope demanded that the Jews pay for construction of the wall (what they say about history repeating itself rings quite true, here).
Naturally, the Jews were sequestered in one of the least desirable neighborhoods of Rome, a constantly flooded section on the banks of the Tiber River.
Life in the Roman Ghetto was exceedingly difficult: severe poverty due to the job restrictions, social ostracization, humiliation and abuse during Christian 'feasts' — all while paying a tax for the honor of living in overcrowded squalor.
Still, despite all the hardships, the Roman Jews persevered – as Jewish communities have done around the world, despite overwhelming odds.
As a result of their historic isolation, Roman Jews ended up with their own dialect, Giudeo-romanesco, which to this day only has about 250 speakers in the world left and will likely soon be extinct.
But what shows no sign of disappearing as easily is Roman Jewish cuisine, Italian food influenced by North African influences and following kosher law.
Eating lunch at one of the restaurants in the Jewish Quarter specializing in this unique cuisine is a can't-miss activity in Rome.
If it's in season, be sure to order the carciofi alla giudìa, Jewish-style fried artichokes. For recommendations on what to eat in Rome, check out this post.
Puzzle at the Pantheon.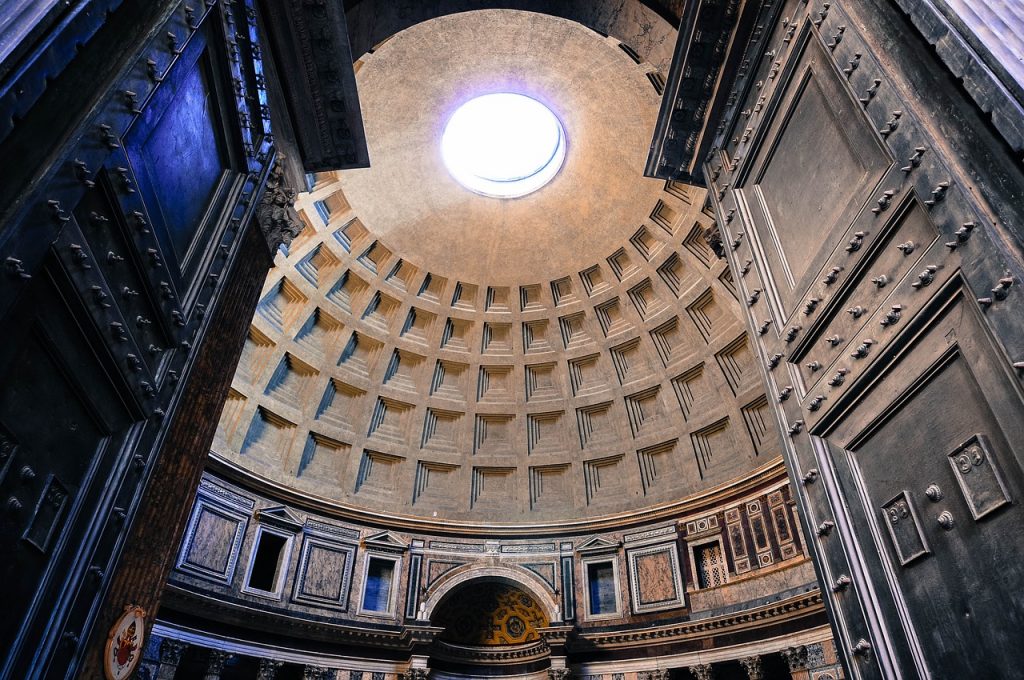 Rome's Pantheon was built 2000 years ago, but to date, it is still in remarkable condition — and still a World Record Holder.
This iconic Rome building has had many iterations throughout its two millennia of existence and continued use, adapting itself to the whims of whatever empire was ruling over it, never falling into disrepair.
It started off as a Pagan temple — hence the name Pantheon, which means 'all the gods' in Greek — before being converted to a church in the 7th century.
The Pantheon is an interesting building, a classical facade combined with a dark, barely-lit rotunda.
The rotunda has an enormous dome with a 30-foot-wide hole at the top and is the largest unsupported concrete dome in the entire world – a record it's kept since its construction.
The oculus in the middle is the only source of natural light, making the Pantheon a bit spooky, even. It's free to enter, which means that you'll be one of 6 million yearly visitors.
Have an aperitivo in Piazza Navona.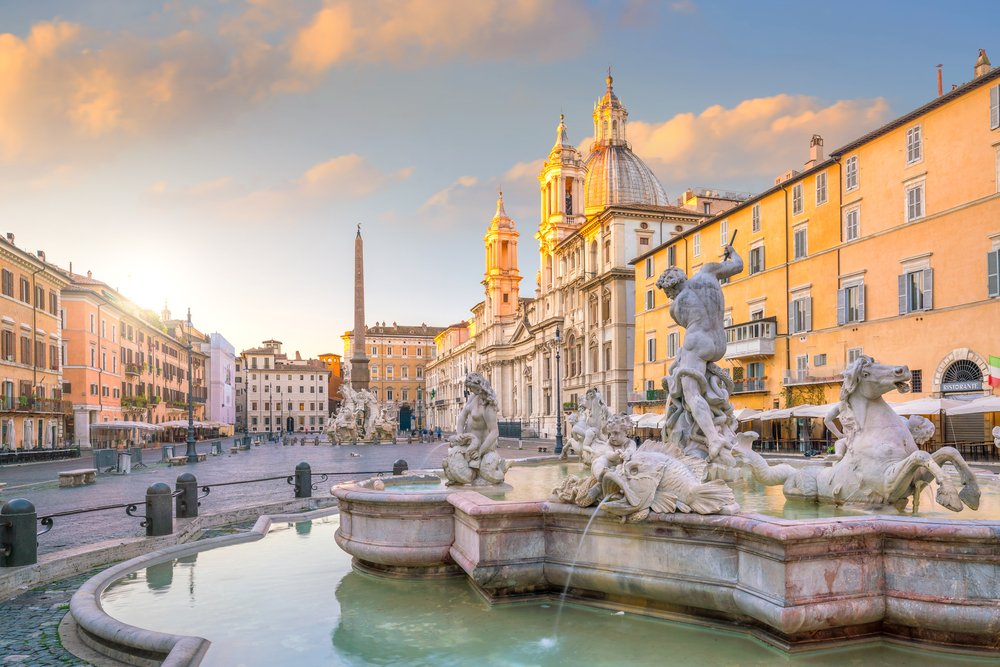 Around this time, you're probably a bit tired from all the sightseeing you've been doing on your first day in Rome.
Why not refuel Italian-style with an aperitivo in one of Rome's many piazzas?
Piazza Navona is one of Rome's most famous and most-loved piazzas due to the iconic fountains, vibrant street life, adorable balconies, and classical architecture.
Piazza Navona has a history longer than you'd think: a square was first built here in the 1st century AD.
In the late 15th century it was converted into a more formal piazza and it got its iconic three fountains in the mid-1600s, which still stand in pristine condition today.
Piazza Navona is surrounded by flower-filled terraces, classic Roman architecture, and outdoor restaurants which give it a lively ambiance during the day.
Often, you'll find musicians, artists, and magicians who offer visitors and tourists all sorts of entertainment.
You'll also find some scam artists and pickpockets as well, so keep yourself wise to your belongings.
While Piazza Navona is undoubtedly touristy, it's still well worth sitting down at a table in the middle of this historic, beautiful square and enjoying a slightly-overpriced cocktail with your fellow tourists: it's that special of a place.
My favorite aperitivo is an Aperol spritz – light, sparkling, and slightly boozy, it's the perfect mid-afternoon drink to power yourself up for a touch more sightseeing before calling it a night.
Stroll around aimlessly for a bit.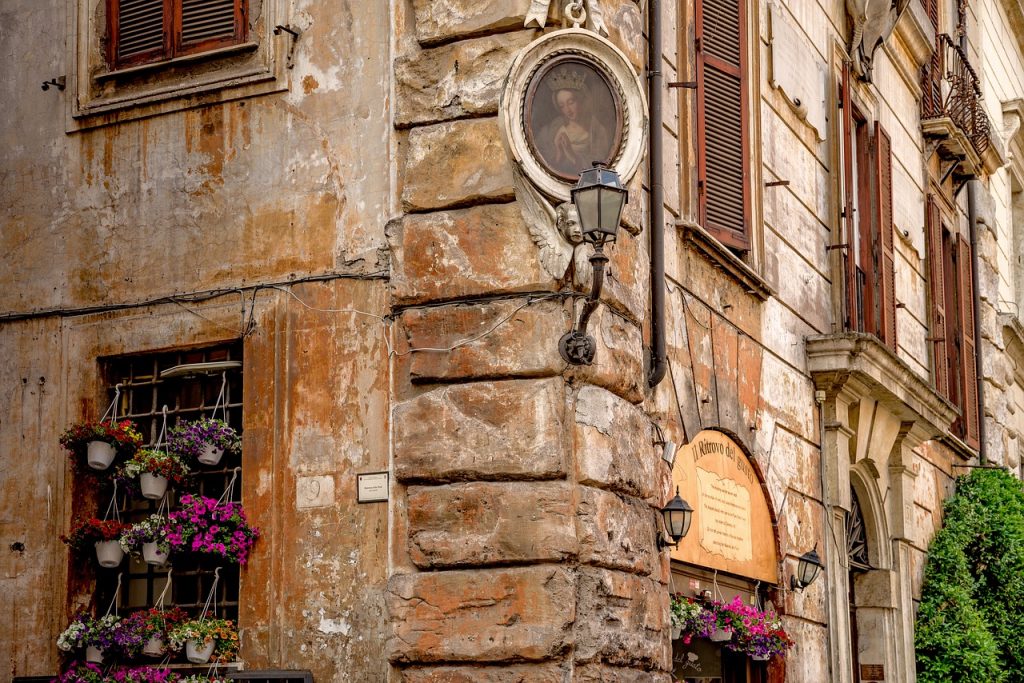 Some of the magic of Rome exists in getting lost in its streets, in following your eyes and exploring each small stret with curiosity.
While of course you'll want to plan some aspects of your Rome itinerary, 3 days is enough to get a bit off the beaten path and explore with a bit of whimsy.
Don't stray too far, as you'll want to stay around this area for dinner.
But do give yourself at least 45 minutes or an hour or so to walk around and explore the side streets, take photographs, and discover your own version of Rome, without the guidebook.
It's one of the most delightful things to do in Rome.
Eat dinner in the Campo di Fiori.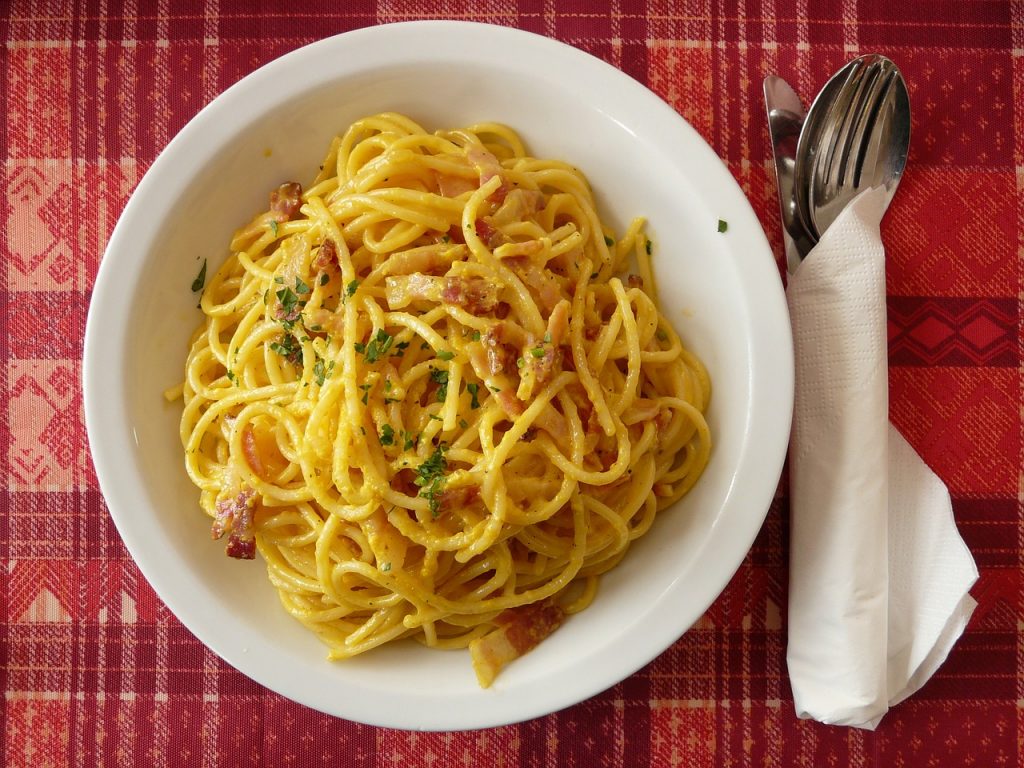 Color me surprised, but this touristic square actually has some incredibly delicious food!
Campo de Fiori, which translates in Italian to "Field of Flowers,"  is one of the main squares of Rome, built around the statue of martyr Giordano Bruno, which forms the focal point in the square.
Still to this day, it is a center for commerce and socializing.
During the day, there's a flurry of people shopping for groceries at the daily produce market, but by night, the vibe quiets down a bit as people sit down for some classic Roman cuisine.
I recommend Antica Hostaria Romanesca or La Carbonara.
When in Rome, eat like the Romans do.
Rome is known for four classic pasta styles: amatriciana (tomato, onion, and guanciale – similar-ish to prosciutto), carbonara (egg, cheese, and guanciale), gricia (similar, but without egg, so it's less rich), and my favorite, cacio e pepe (cheese and pepper).
Any restaurant worth its salt should be able to prepare an excellent version of any of these.
Once you've eaten your fill, roll yourself back to your hotel as I've planned an early start for the next day on your Rome itinerary.
Day Two: Classic Rome, Continued + the Vatican
Country counters, rejoice: you're about to get to add another notch to your belt!
Vatican City
is widely considered to be a country by many counts (including mine) and the great thing is that you can see it pretty much in full in a half day.
This is another jam-packed day, so do try to get an early start so that you can make time for a leisurely lunch or some time to sit back and rest your feet in one of Rome's piazzas.
While you should do as much as possible considering you only have 3 days in Rome, don't forget to take time to take a beat and people-watch: it's one of the greatest Italian joys.
Get an early start at the Trevi Fountain.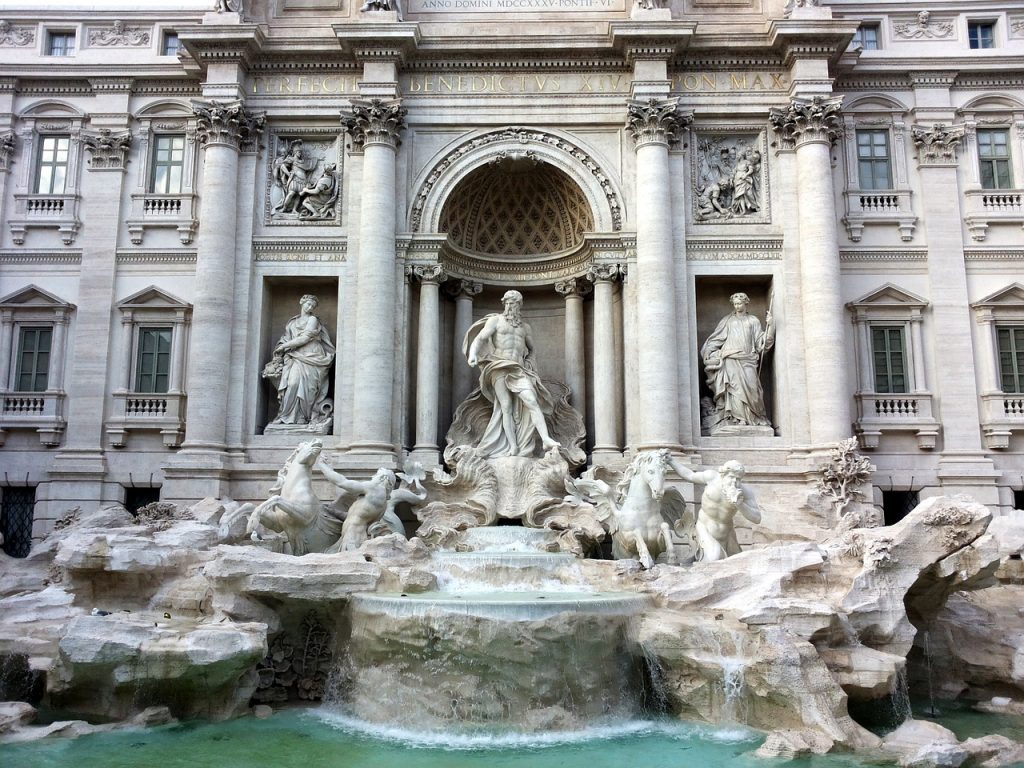 The Trevi Fountain is hands down the most beautiful fountains in Rome, a city full of fountains!
Nothing can prepare you for how massive and masterful the sculpture on this fountain is. I admit, I was fully prepared to think: so what? It's just a freaking fountain. But it's truly worth seeing.
The fountain's sculptures measure a whopping 20 meters high and 49 meters wide, massive on a scale you won't be able to understand until you see it.
Of course, the only thing more massive than the Trevi fountain itself is its popularity, so one of my biggest Rome travel tips is that I recommend getting as early of a start as you can in order to enjoy the fountain without the crowds.
The legend goes that if you toss a coin into Trevi Fountain, you'll return to Rome one day. I consider a one or two Euro coin a pretty small investment in making sure that happens 😉
Jokes aside though, 3,000 euros are thrown into the Trevi Fountain every day, a whopping 1,500,000 euros per year, which goes to disaster and poverty relief.
Walk over to the Spanish Steps.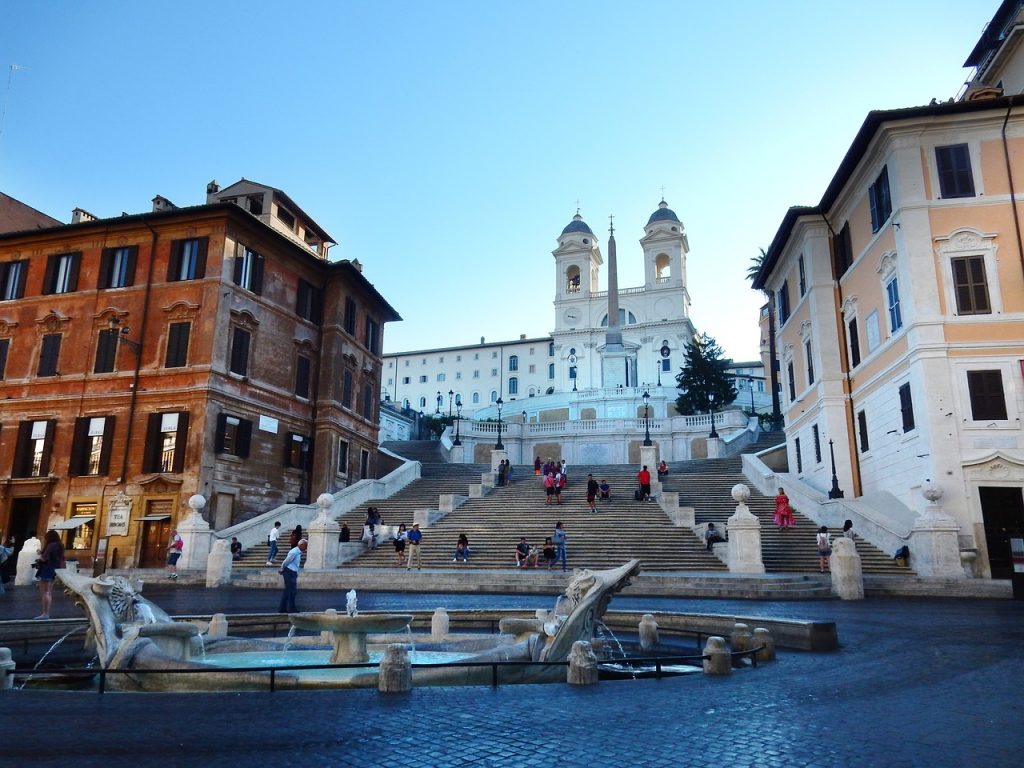 The Spanish Steps in Rome were built in 1723 to create a link between the Piazza Trinita dei Monti up top, with its two-towered church, and the lively Piazza di Spagna down below.
The beautiful design of the steps has made it a popular site for tourists from all over the world – one of the most frequented selfie spots in Rome.
At the foot of the Spanish Steps, you'll find a beautiful fountain in the form of a sinking ship, which is worth a peek while you're in the area.
Since you hopefully were able to get an early start, take some time to sit on the steps and enjoy it before the insane crowds set in later in the day.
Walk over to the Piazza del Popolo.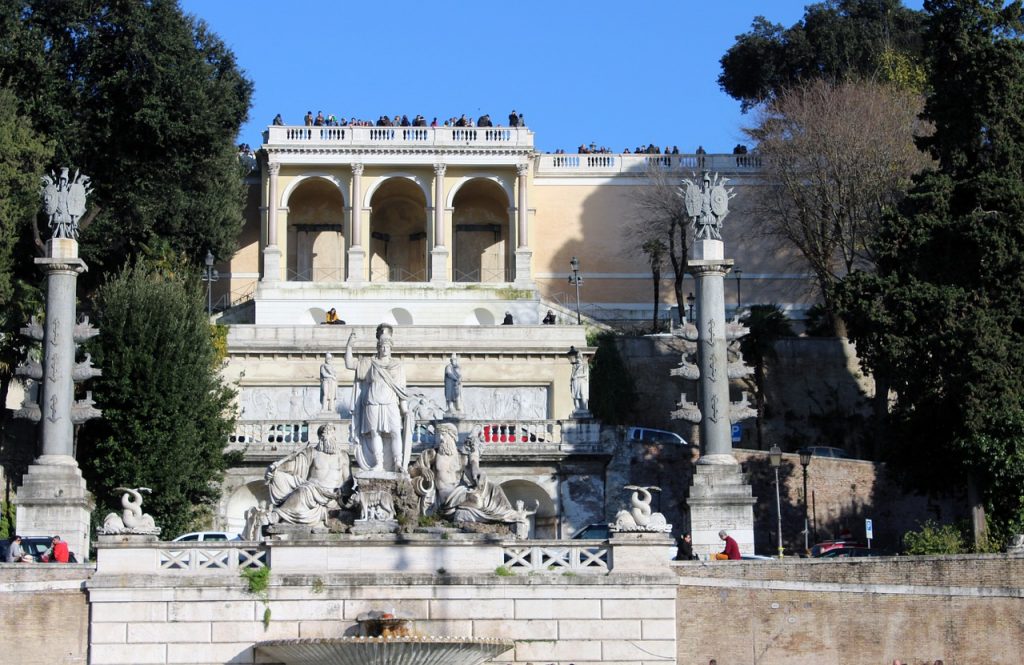 I know, a third piazza and you're not even halfway through the day yet? (Has enough time passed to make another "when in Rome" joke?)
I recommend the Piazza del Popolo for two reasons. For one, it's kind of on the way to the Vatican, and there are some cool things to see if you walk over to the Vatican by foot.
But for another, it's home to the tallest obelisk in Rome as well as the city's beautiful Northern gate.
However, if you weren't able to get an early start and it's getting close to mid-day, I recommend skipping the Piazza del Popolo.
Just start making your way straight to the next attraction, so you have time for the Vatican Museum and Sistine Chapel at the end of the day.
Visit Castel Sant'Angelo.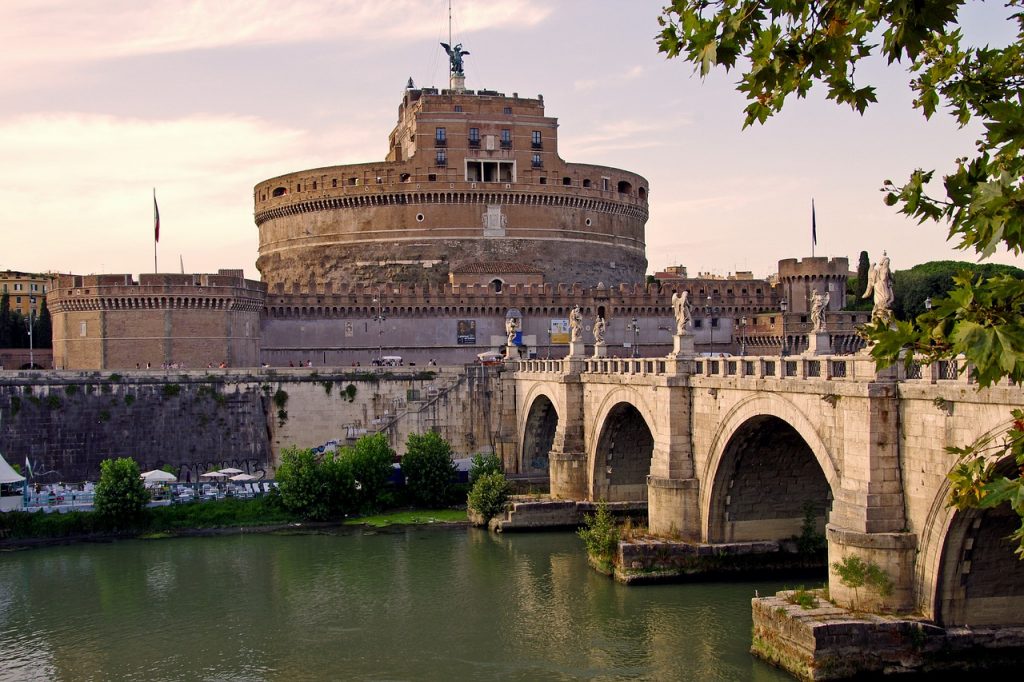 Not far from the Vatican is the impressive, layer-cake-shaped Castel Sant'Angelo.
Unique among castles because of its cylindrical structure with an angel statue crowning it, Castel Sant'Angelo is one of Italy's most interesting – and ancient – castles.
It was originally built by the famous Roman emperor Hadrian for himself and his family in the 2nd century AD.
What few people know is that this castle is also home to Hadrian's mausoleum, which was the original reason for its construction.
Same with most buildings that have survived multiple millennia in Rome, it's lived several lives in the Eternal City, taking time to be alternately a tomb, a prison, a hideaway for popes, and a fortress against invaders.
There are ornately painted frescoes, Papal apartments, and fantastic statues all worth seeing.
On your way to the Vatican afterwards, grab a quick bite on the go if you see something, as you don't want to waste too much time on a long sit-down lunch on one of your busier days in Rome!
Alternately, there's a café in the Vatican Museum if you need to grab food later.
Hint: If you have time, be sure to return near the bridge sometime during your 3 days in Rome for epic sunset shots – it's one of the best photo spots in Rome!
Visit the Vatican Museums and Sistine Chapel.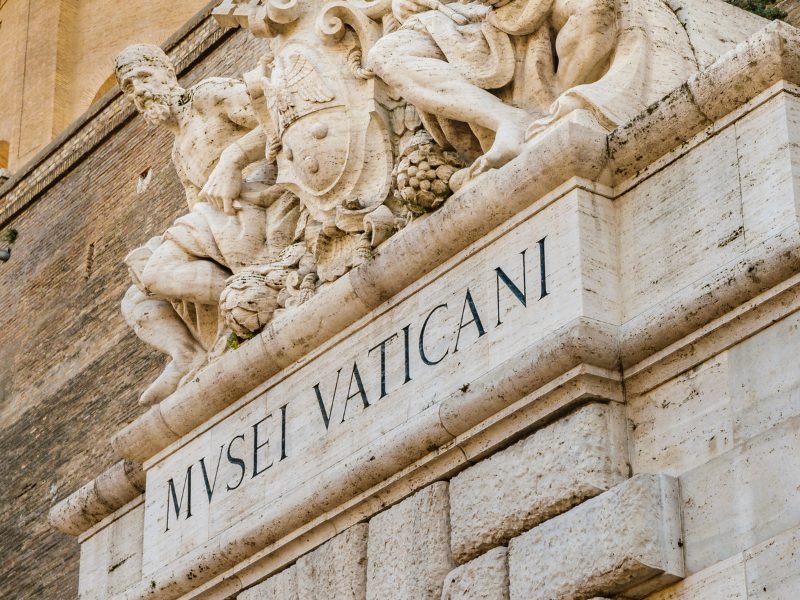 This is one area where trust me, you need to do some advance planning.
You can book with the Vatican Museums website, but that needs to be done several days in advance or even weeks during peak summer in order to get the time slot you want.
A more popular, but slightly more expensive option, is to purchase a skip the line ticket or tour from a third party.
If you don't do either of the two and just try to "wing it", be warned: the line for the Vatican Museums is like, new iPhone-level insane.
Unless you are a masochist, it is most certainly not how you want to spend your limited time when you only have 3 days in Rome.
So be prepared and book in advance or face the wrath of millions of tourists who also want to see some of the world's most famous works of art.
Keep in mind that the final admission time is 4 PM, but I recommend entering no later than 3 PM.
This is because the Sistine Chapel closes at 4 PM and it'd be a shame to not see it, even though it is insanely crowded. 
Also, it's worth it to give yourself a good 3 hours to explore the Vatican Museums and Sistine Chapel at your leisure (the Museums close at 6 PM).
Alternately, you could also switch up this day's itinerary and do the Vatican first, then the Trevi Fountain and Spanish Steps, but they'll both be really crowded.
Whereas no matter when you visit the Vatican, it's bound to be crowded – even (if not especially) in the morning!
Book your skip-the-line ticket to the Vatican Museum and Sistine Chapel here

Book a guided tour plus fast-pass entry for the Vatican Museum and Sistine Chapel
The Vatican Museums are a series of art museums located within boundaries of the Vatican City, originally founded by Pope Julius II.
These amazing museums contain some of the world's most priceless art pieces, sculptures and many other items collected by the popes throughout the centuries.
But let's be honest about the real reason you likely want to visit the Vatican: the magnificent Sistine Chapel, Michelangelo's masterpiece.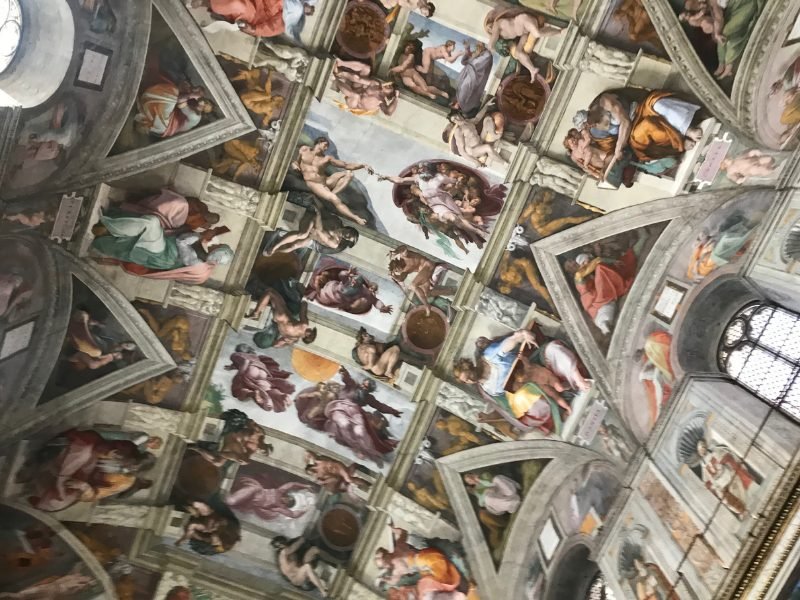 The Sistine Chapel was built in 1473 and is the official residence of the Pope in the Vatican City.
The ceiling is the real reason for its worldwide fame: decorated with some of the world's most beautiful frescoes depicting scenes from the Bible.
Note that you are not allowed to take photos inside (this photo is a stock image), and you'll be with several thousand of your closest new friends, but it's still majestic and 100% worth the crowding and chaos.
Important note: The Vatican Museums are closed on weekends so be sure to consider that when planning your trip to Rome and feel free to move around the days of this 3 day Rome itinerary to make that convenient. 
It's more important that you get to see the Vatican than that you follow this Rome itinerary to the letter. 
Have dinner in Trastevere.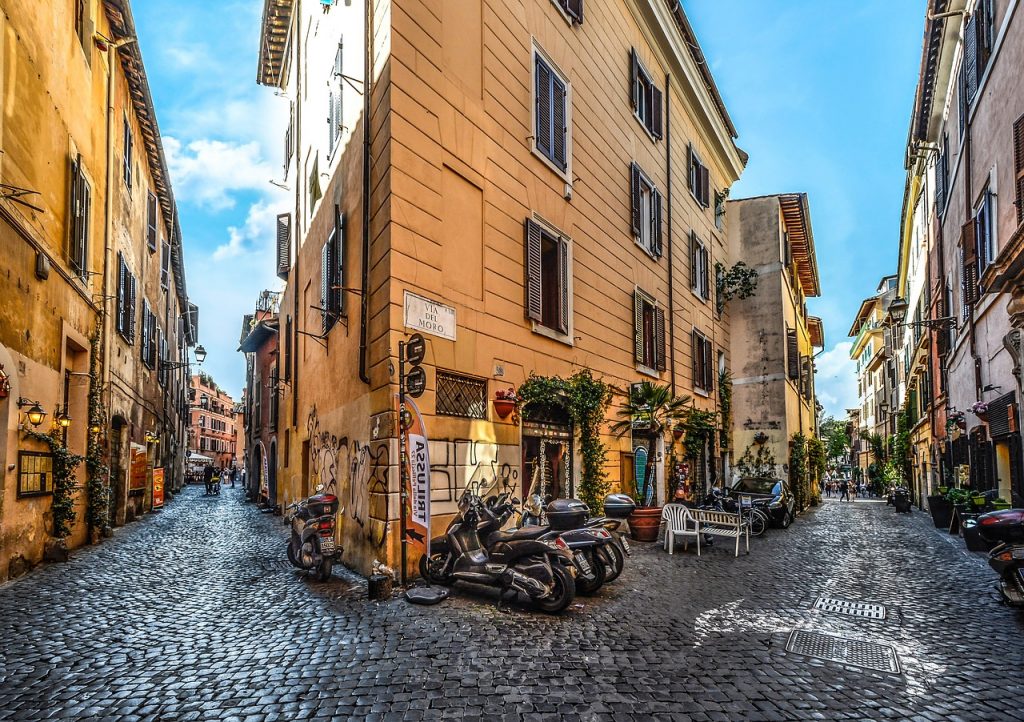 I recommend decompressing for a bit at your hotel after the crowded chaos of the Vatican. Trust me – you'll need a break from people.
Once you've gotten some rest, head to one of my favorite neighborhoods in Rome, Trastevere.
Trastevere is the 13th district of Rome, located on the south side of the city on the west bank of the Tiber river.
This quaint Roman district is set apart by its narrow streets lined by ancient buildings and houses.
It is rich with cute residences, amazing street scenes, quiet bars, and hole-in-the-wall trattorias.
The Piazza di Santa Maria is also one of the cutest piazzas in the city (I know I say that a lot, but I think this time I really mean it… maybe)
During the night, tourists and locals flock to the restaurants and clubs to enjoy some of the best food in all of Rome.
My favorite restaurant in Trastevere is the much-beloved restaurant Da Lucia, known for its amazing spaghetti alla gricia. 
Be sure to either call ahead and make reservations or show up right when it opens for the evening at 7:30 PM. For more suggestions on where to eat in Trastavere, click here!
Afterwards, find a gelato and stroll around some of Rome's cutest streets, or enjoy some of the best things to do in Rome at night, before getting a good night's rest for your third day in Rome.
3rd Day in Rome: Delicious & Offbeat Rome
On your final day in Rome, break a bit away from the typical tourist track and explore Rome's green spaces, quirky street art districts, and delicious eateries.
You won't be able to understand modern-day Rome if you don't leave the tourist trail at some point.
This day starts in one of Rome's biggest parks, takes you to its hipster/industrial neighborhoods, and ends on a delicious note — a foodie feast, because what better way to end a Roman holiday than by stuffing your face?
Alternately, if you're traveling Rome with kids, you can pick some Rome activities from this list that are sure to excite them after two days of jam-packed sightseeing on this Rome itinerary
Start the day exploring Rome's green heart, Villa Borghese.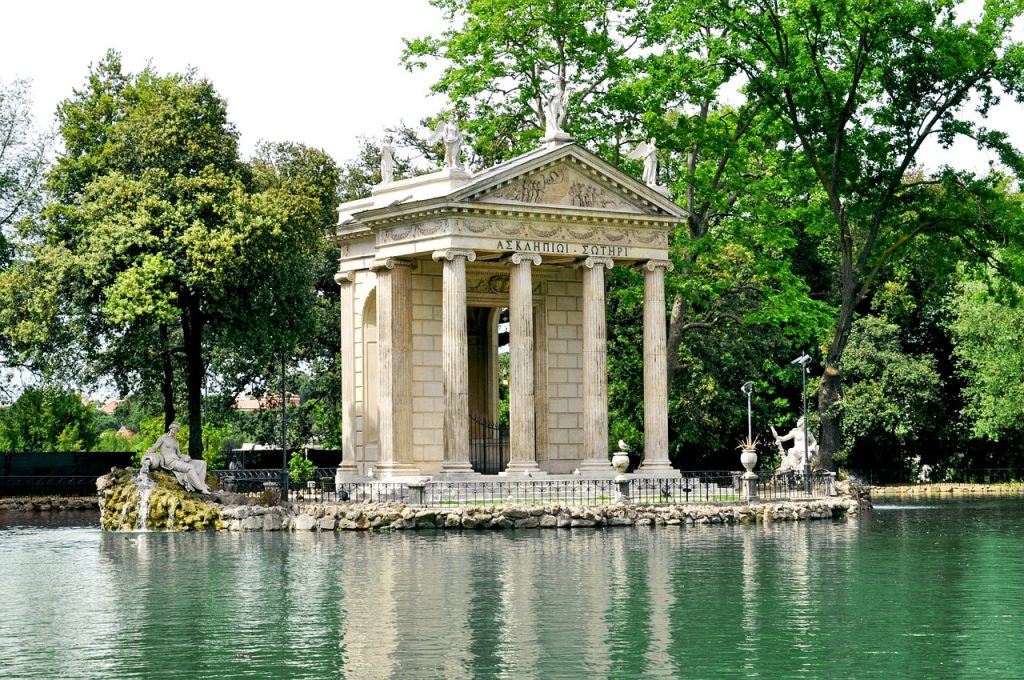 In a city as packed and chaotic and decidedly urban as Rome is, you'll likely start to crave a little green space at some point. Enter Villa Borghese
Villa Borghese is a historic park located in the city center on an 80-hectare piece of land, one of the biggest in central Rome. Inside the park, there are several buildings, including the excellent Borghese Galleries.
The park has an artificial lake in the center which has a ruin of the arch of Septimus Severus (a Harry Potter-esque name if I ever heard one), as well as landscaped English-style gardens, piazzas, and plenty of open areas to rest and take in some green.
If you're a fan of Renaissance artists like Caraveggio and Raphael, you won't want to miss the Borghese Galleries, located within the park.
However, due to restrictions, only 360 people are allowed in at a time.
If the Galleries are a can't-miss for you, I recommend booking a special entrance ticket with guaranteed admission, so that you won't miss out on one of Italy's most beloved art collections.
Head over to Testaccio Market for an early lunch.
The neighborhood of Testaccio is a bit far away, but easily accessible by bus from Villa Borghese.
And it's worth the detour, as Testaccio is one of the cooler neighborhoods of Rome and is home to the excellent Testaccio Market.
Testaccio Market is a community market that has about a hundred stalls, mostly set up for locals doing their everyday shopping and dining rather than for tourists.
The market has everything: bakeries, vegetable stands, butcheries, fishmongers, and more.
But since today is your final day in Rome, you'll probably want to forgo the food shopping and instead stop at one of the delicious stalls preparing fresh Italian food at budget prices.
Piadinas are a staple of Italian 'street food' – and you can get one at the simply-named Piadina, where a delicious sandwich will set you back about 4 euros.
Le Mani in Pasta serves up delicious versions of Rome's staple pastas for a cheap, to-go price.
And finally, Mordi e Vai comes highly recommended but I was too stuffed to try their sandwiches the last time I visited Testaccio Market.
I recommend doing a lap around the market before committing your precious stomach real estate!
Wander around Testaccio and check out the street art.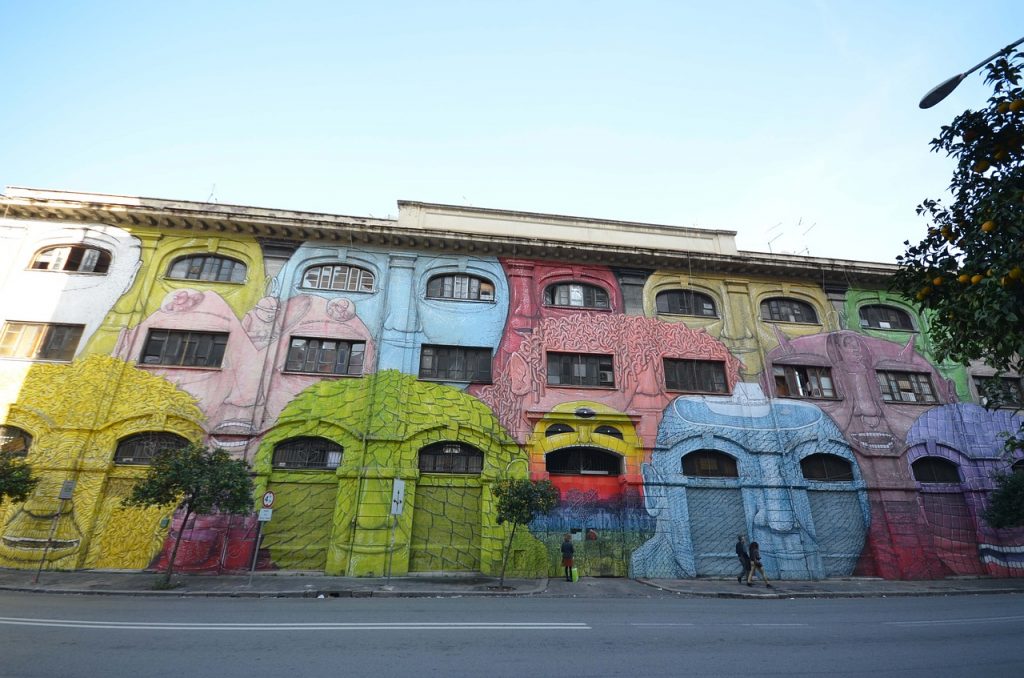 Testaccio has some excellent examples of street art, so if you're a fan of urban art you've got to save a little time to walk around this neighborhood and try to find its many murals.
The most famous is the "Jumping Wolf", created by Belgian artist ROA, which is more than 30 meters high stretching all the way up the side of an apartment complex on Via Galvani.
As wolves are the symbol of Rome, it's a fitting piece for the city!
However, most of the pieces of street art I found in Testaccio were purely by accident, walking around.
This is my personal favorite way of discovering street art, rather than trying to track down each individual piece with a map.
Find a 2,000-year-old pyramid in Central Rome.
One other cool thing to spot in Testaccio is a giant Egyptian-style pyramid. Yes, Rome has a 2,000-year-old pyramid of its own!
According to Atlas Obscura, its origin supposedly dates back to a period of 'Egyptomania' following the Roman conquest of Egypt. This is when the Piazza del Popolo got its famous obelisk as well!
The Pyramid of Caius Cestius in the middle of a busy street with traffic whirling around it, because… well, Rome.
You can no longer enter the exterior, but it's pretty cool to just check it out from the outside as well.
Who said you needed to travel to Egypt to see the pyramids? Not when you have this Rome hidden gem!
Choose your own adventure.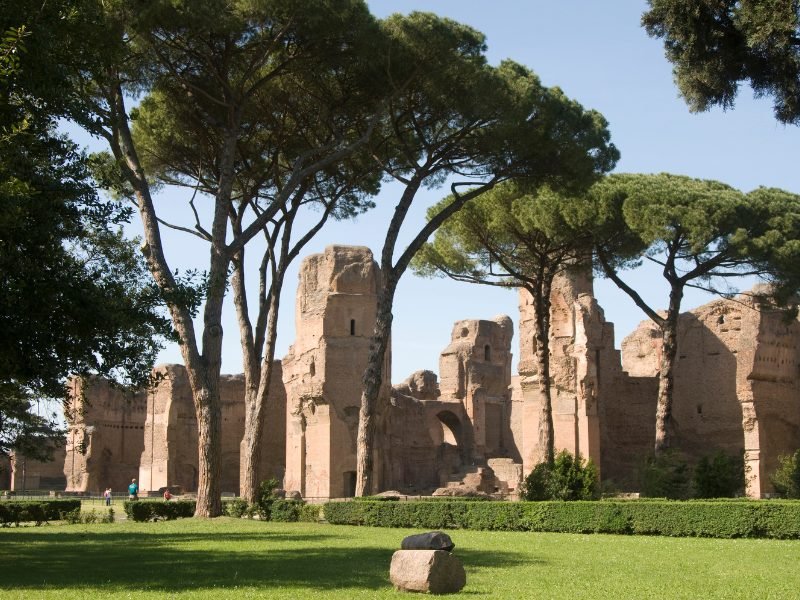 There are several things you could do to conclude the last afternoon of this Rome itinerary.
If you're into history but want to get a bit off the beaten path, check out the quiet Baths of Caracalla, the vast ruins of a Roman public bathhouse that was used for 300 years. It's not a far walk from the Pyramid.
Afterwards, you could check out the Appia Antica, which has 16 kilometers of the old ancient road to Rome preserved in Rome's biggest park.
If you want to get a bit hipster, you could check out the trendy neighborhoods of Ostiense and San Lorenzo to see more street art, quirky bars and cafés, and cool boutiques.
Or alternately, you could head back into Central Rome and check out anything you missed.
Climb one of Rome's 7 hills for panoramic viewpoints or just while away time in one of the piazzas watching one of the world's coolest cities pass you by.
End your Rome trip with a food tour.
Food tours are one of my favorite things to do, and in no country would a food tour be more appropriate than Italy! I did several food tours when I was in Bologna, and now I'm a huge fan.
Unfortunately, I didn't have the chance to do one myself when in Rome, but in researching the city's best food tours, I found this excellent one that includes 20 tastings spread over 4 hours.
With 4.8/5 average review rate with 900+ of reviews, it's safe to say it's been tried and tested.
Read reviews and description of the food tour here. Prepare for your mouth to water!
This tour will take you through several different neighborhoods of Rome, trying traditional products like buffalo mozzarella, prosciutto, salami, truffles, 25-year-aged balsamic, and more.
If that wasn't enough, you'll have a sit-down pasta meal complete with wine, followed by tiramisu and of course, a gelato nightcap.
So bring your appetite and end your trip to Rome so stuffed you can't even imagine another day of sightseeing.
I can't think of a more Roman way to end your trip.
Enjoy this post? Pin it for later!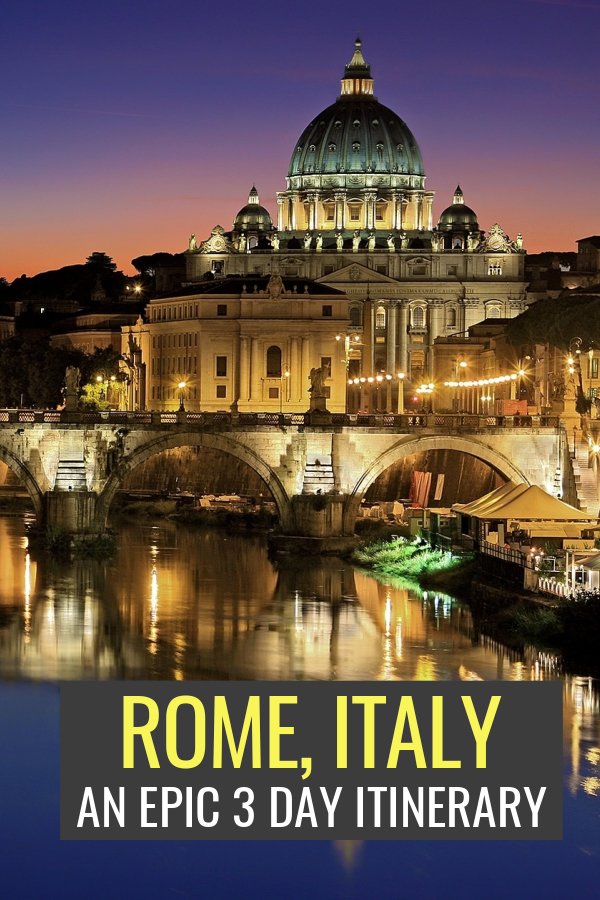 Allison Green is a former educator turned travel blogger. She holds a Masters in Teaching and a B.A. in English and Creative Writing. Her blog posts merge her educational background and her experience traveling to 70+ countries to encourage responsible, enriching travel. She has been a speaker at the World Travel Writers Conference and her writing, photography, and podcasting work has appeared in National Geographic, CNN Arabic, CBC Canada, and Forbes, amongst others. Now a full-time traveler, she has lived in Prague, Sofia, New York City, and the San Francisco Bay Area.