The Alaska Highway, or Alcan, is often listed as one of the ultimate North American road trip routes. We couldn't agree more!
With winding mountain roads cutting through the remote reaches of British Columbia and Canada's wild Yukon, this 1,390-mile scenic highway takes travelers all the way to beautiful Alaska. This road trip is unlike any other you've experienced before!
Quick Note: Due to the Covid-19 pandemic, the border between the U.S. and Canada is currently closed to non-essential travel. While some Americans are permitted to travel on the Alaska Highway, you must have a legal, valid reason to do so. You must also follow all the laws of Canada while you transit through the country. Tourism and sightseeing is not a valid reason for travel, and this post is strictly meant for post-pandemic travel plans.

Please read this helpful page from the Canadian government website if you are planning to travel between the continental U.S. and Alaska via Canada to ensure you follow all laws.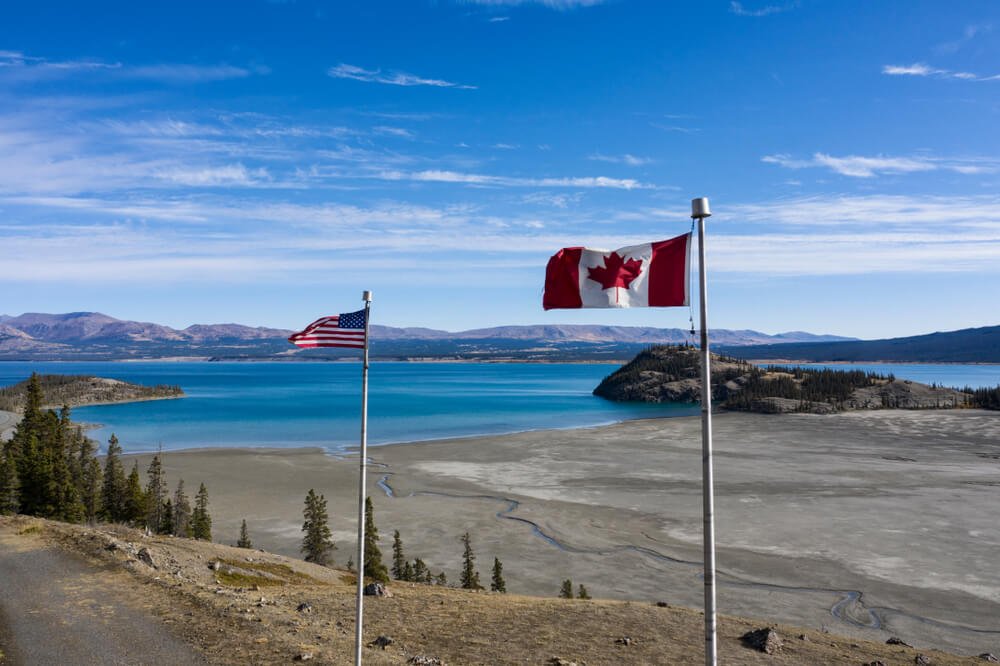 Note: This post contains affiliate links, which means I may receive a small commission if you purchase something through one of these links. Thank you for supporting the free content on this site! For more information on affiliate links and cookies, see my disclosure page for more details.
Originally built during World War II to connect Alaska with the contiguous United States, the Alaska Highway has seen drastic improvements since it's opening in the 1940s.
No longer a treacherous dirt road, it's paved and ready for your modern-day road-tripping rig!
This scenic highway begins in the town of Dawson Creek, British Columbia. With a population of about 13,000 people, Dawson Creek will be one of the larger towns on your route.
Load up on groceries and fuel, check over your road trip packing list, because you're in it for the long haul!
Road Trip to Alaska: Alcan Highway Itinerary
Stop One: Dawson Creek (Mile 0)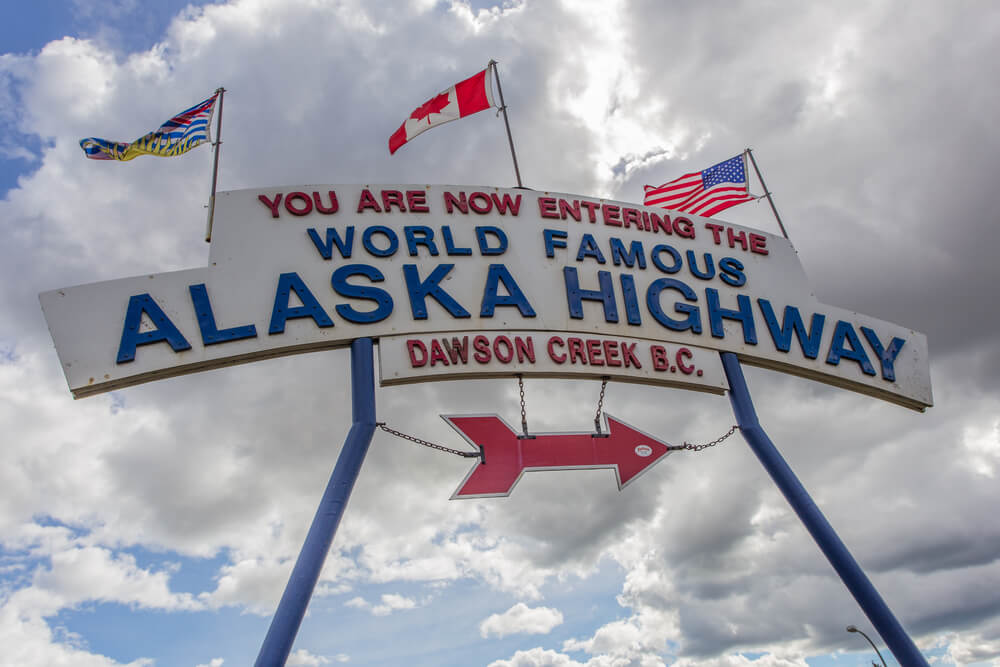 Welcome to Dawson Creek, where your adventure officially begins! Brush up on the famous route's history at the Alaska Highway House Interpretive Center.
Here, you can watch an educational film about the highway's construction and explore some of the equipment used in the rigorous building process. This was no small project!
If you're planning to spend multiple days in Dawson Creek, you'll have plenty of time to take a trip over to the Kiskatinaw Bridge. Check out this bridge's quality craftsmanship.
Built during the construction of the Alaska Highway, the Kiskatinaw Bridge was the first curved wooden bridge in Canada and is one of few that remain intact today.
Ready to hit the road? Dawson Creek features a fun sign marking the start of the Alaska Highway. This marker makes a great photo opp to commemorate the beginning of your road trip.
Let the journey begin!
Stop Two: Charlie Lake (Mile 52)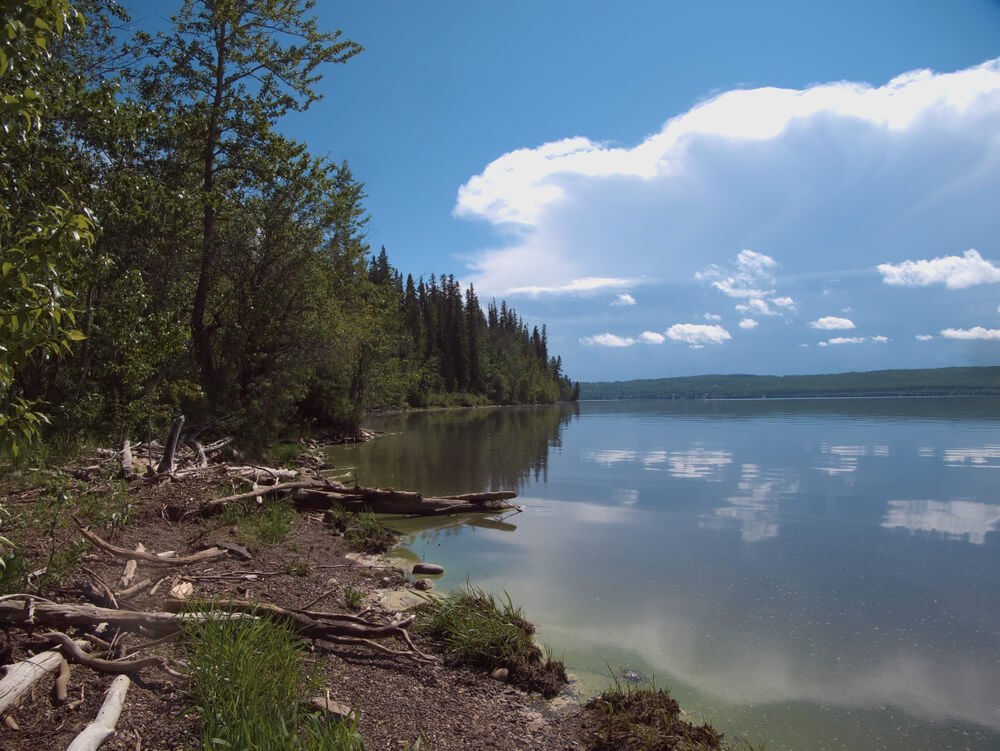 The first scenic stop along the Alaska Highway is Charlie Lake. This magnificent lake sits right next to the road and is a convenient pull off to enjoy the views.
Don't be shy, go take a closer look! There are two wonderful parks along the lake's shore, Charlie Lake Provincial Park and Beatton Provincial Park.
Charlie Lake Provincial Park, on the west shore of the lake, offers some short scenic hiking trails, a boat launch, and a campground with full hookups.
Stretch your legs, take some memorable photos, and relax by the water!
Stop Three: Muncho Lake (Mile 462)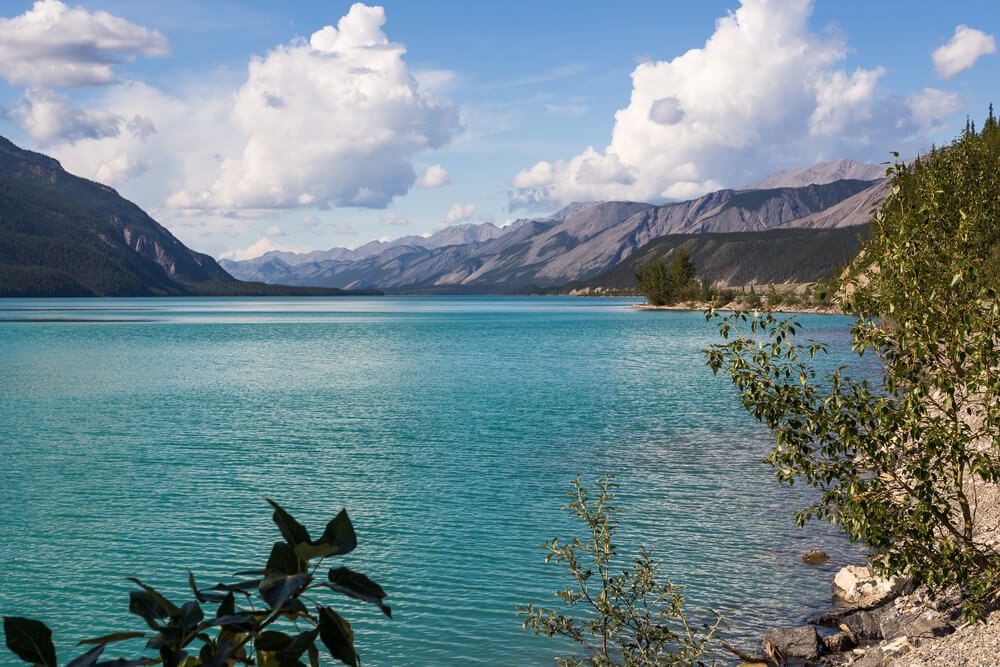 This next lake is definitely a sight to see while you road trip to Alaska!
Similar to Charlie Lake, you can't miss this one because the Alaska Highway runs right along its eastern shore! Muncho Lake is a jaw-dropping jade-color. No filter needed!
With a backdrop of towering mountains and pristine wilderness, you'll want to stay here for days, which is actually possible if you snag a camp spot.
Strawberry Flats Campground in Muncho Lake Provincial Park is a great place to spend a night or two. Most of the campsites here even offer direct access to the lake for fishing and the ultimate sunset viewpoint. You can't beat that!
While you're here, take a hike on one of the area's awesome trails. The 3-mile Stone's Sheep Trail offers hikers an epic view of Muncho Lake and the surrounding landscape. Be on the lookout: there's always a possibility to see stone sheep and caribou!
Stop Four: Liard River Hot Springs Provincial Park (Mile 496)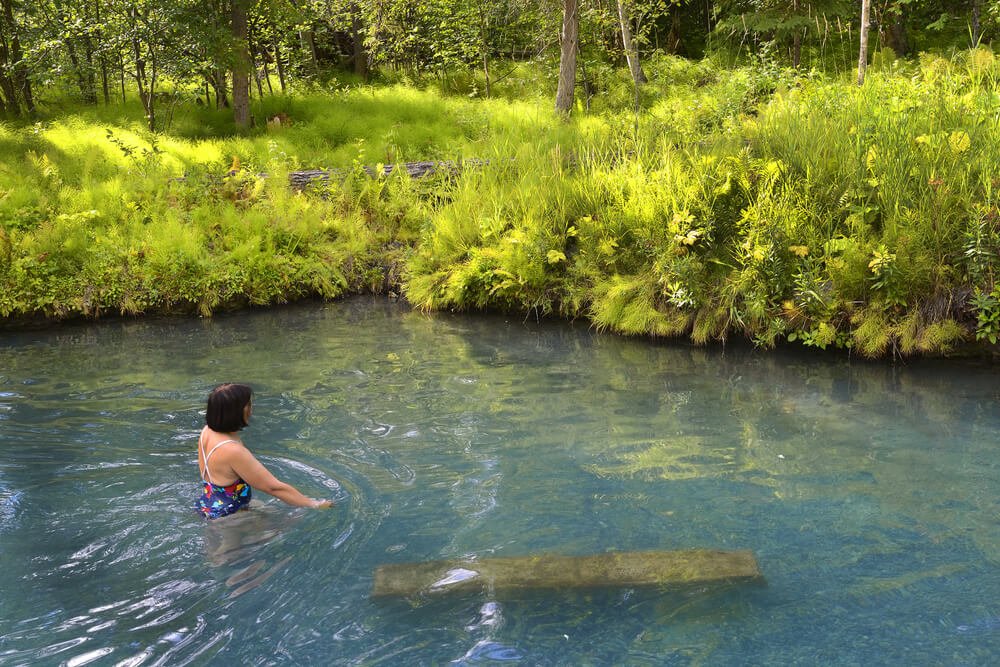 Bathing suit? Check. Towel? Check.
You're ready to soak and relax at Liard River Hot Springs Provincial Park.
As the second largest natural hot springs in Canada, there's no wonder why this remote paradise is on so many traveler's bucket lists! It's a wildly spacious pool for soaking, but it's also right in the middle of an incredibly beautiful boreal forest.
Make your way from the parking area to the hot springs using the boardwalk trail. You'll feel like you've entered into a fairytale!
The Liard River Hot Springs Provincial Park has a campground for those wishing to spend the night. Keep in mind, the sites tend to fill up quickly, so plan to arrive in the morning!
Stop Five: The Sign Post Forest (Mile 635)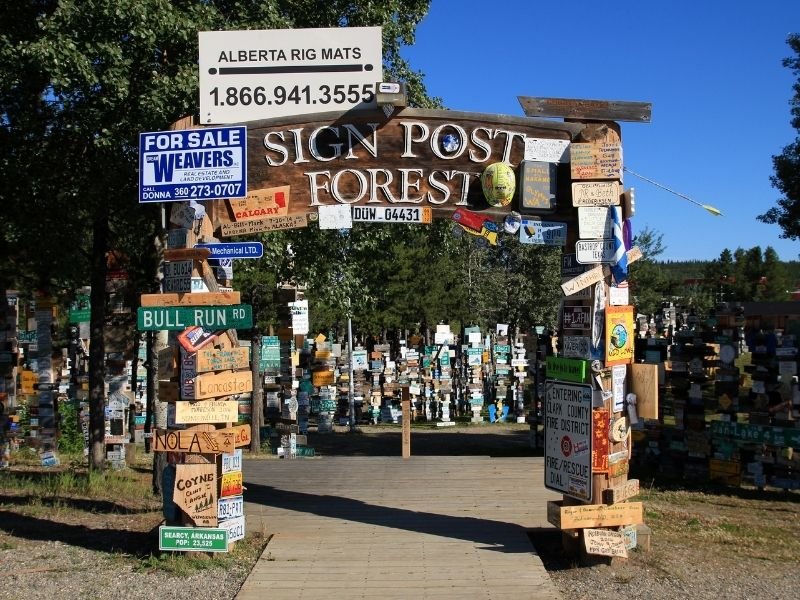 Looking for a sign? Well… Here's over 77,000 of them!
Make a stop to walk through Watson Lake's most popular attraction: the Sign Post Forest.
It's encouraged to bring a legally obtained sign representing the town you're visiting from! Make your mark on the growing forest and add to one of the posts.
This interesting tradition was founded by a soldier who decided to mark the distance to his hometown while working on the construction of the Alaska Highway in 1942. It's said that he was homesick for his small Illinois town.
Interested in learning more about the history of The Sign Post Forest? The Alaska Highway Interpretive Centre is only a 5-minute walk away!
Stop Six: Whitehorse, Yukon (Mile 872)
Welcome to Whitehorse, the capital of Canada's Yukon territory!
With a population of around 25,000 people, this is the largest town you've seen in a while. Whitehorse maintains a small-town vibe with friendly locals and rich history.
There's a lot of fun activities to do in Whitehorse, and it's often recommended that Alaska Highway travelers spend multiple days here.
Witness the Northern Lights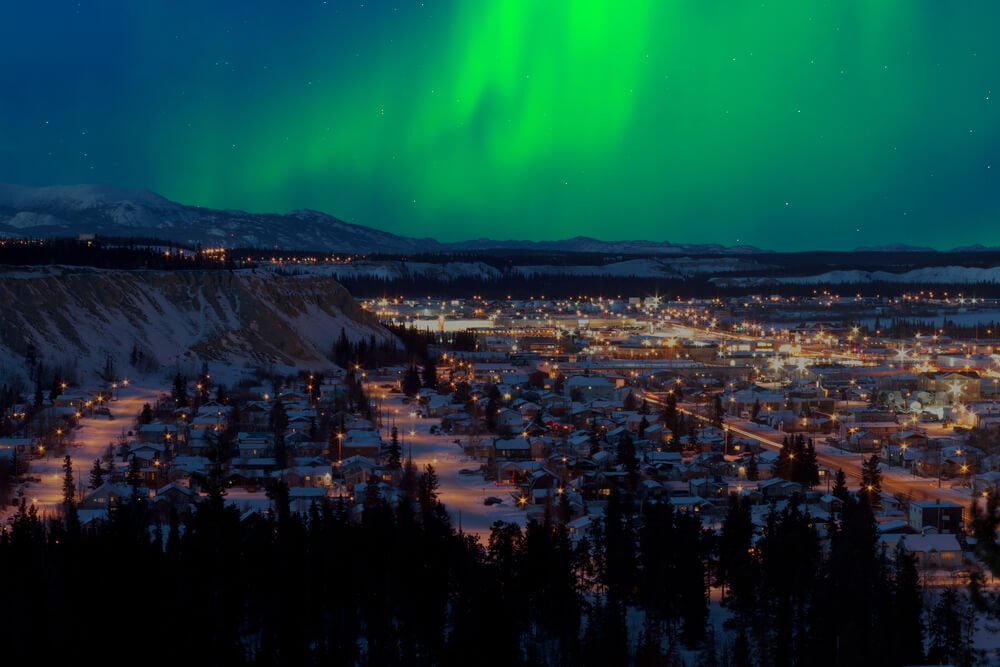 This spectacular light show is most commonly viewed in the wintertime, but it can make appearances during late summer and fall when the days begin to grow shorter.
To see the Northern Lights, you'll have to take a drive out of town to escape any bit of light pollution. The darker the better! Bring some hot chocolate and camp chairs to enjoy your evening under the stars.
Walk Under the Midnight Sun
For those visiting in midsummer, you may be able to experience the midnight sun.
Long summer days have a whole new meaning when you travel this far north!
Hike in Miles Canyon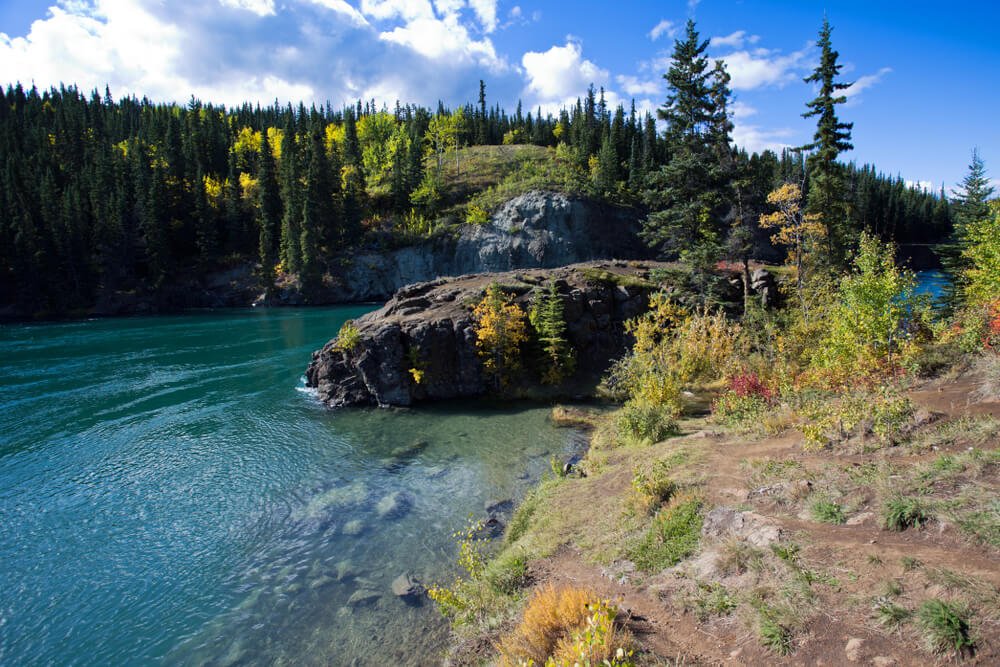 Explore along the Yukon River, and wander through the area's most magnificent natural feature.
Here, you will see how the river's powerful flows wore through the basaltic lava rock to form Miles Canyon.
Takhini Hot Pools
Another soak? Yes, please!
The beautiful outdoor pool at Takhini Hot Springs is the perfect place to relax for the day.
If you're searching for a place to stay the night, there's a nice campground with full hookups and a welcoming hostel right on location.
Explore the Local History
Become immersed in Yukon history at the MacBride Museum's downtown location. Connect with the groundbreaking events that founded today's modern Yukon and the people who originally inhabited the rugged landscape.
For some more on the mining history, the MacBride Copperbelt Mining Museum offers a fun and interactive interpretive experience. A great excursion for all ages!
There's still more to discover! Visit the S.S. Klondike National Historic Site, and check out the fully restored riverboat. Before modern roads, riverboats connected the area to the outside world.
Stop Seven: Kluane National Park and Reserve (Mile 1,016)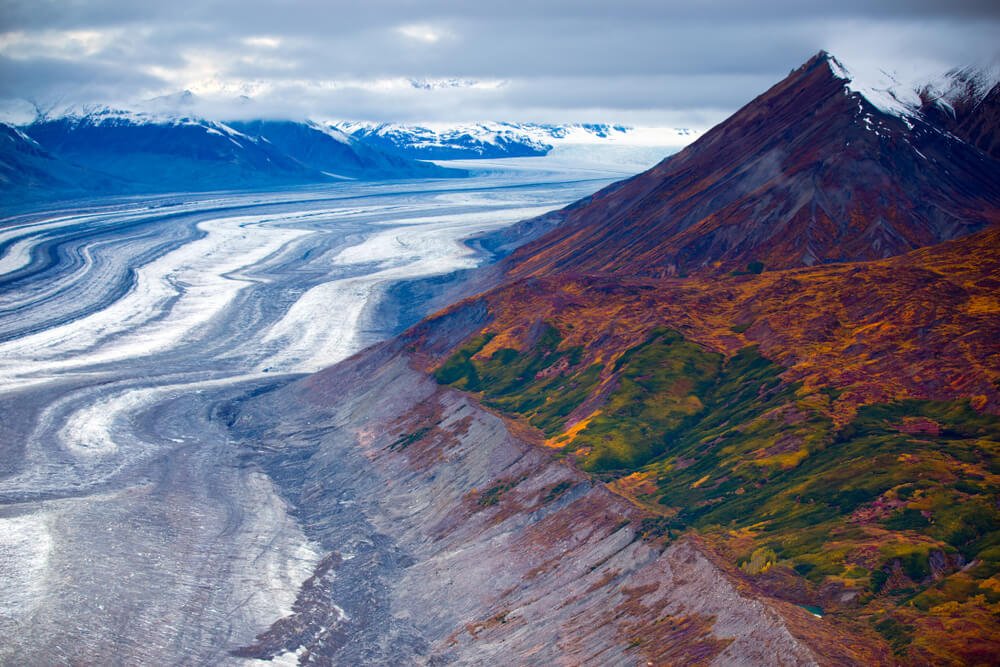 After an exciting stay in Whitehorse, it's back on the road toward Haines Junction.
Calling all mountain lovers! From Haines Junction, outdoor enthusiasts are urged to stop by Kluane National Park and Reserve.
Home to the largest non-polar ice fields in the world as well as Canada's tallest mountain, Mount Logan, this park is a dream for mountaineers and front country users alike. Just from the road, visitors can view wildlife and the towering peaks of the Icefield Range.
Looking for a short hike to get your steps in? Head out on an easy ½ mile hike along the Soldier's Summit Trail to witness the site of the Alaska Highway's official opening.
For those looking to spend the night, the campground at Kathleen Lake offers tremendous views, and it's a great basecamp for area hiking. Many people choose to spend multiple nights here because of the vast outdoor recreation opportunities!
As you explore Kluane, keep on the lookout for grizzly bears, black bears, Dall sheep, wolves, and mountain goats!
Stop Eight: Destruction Bay (Mile 1,083)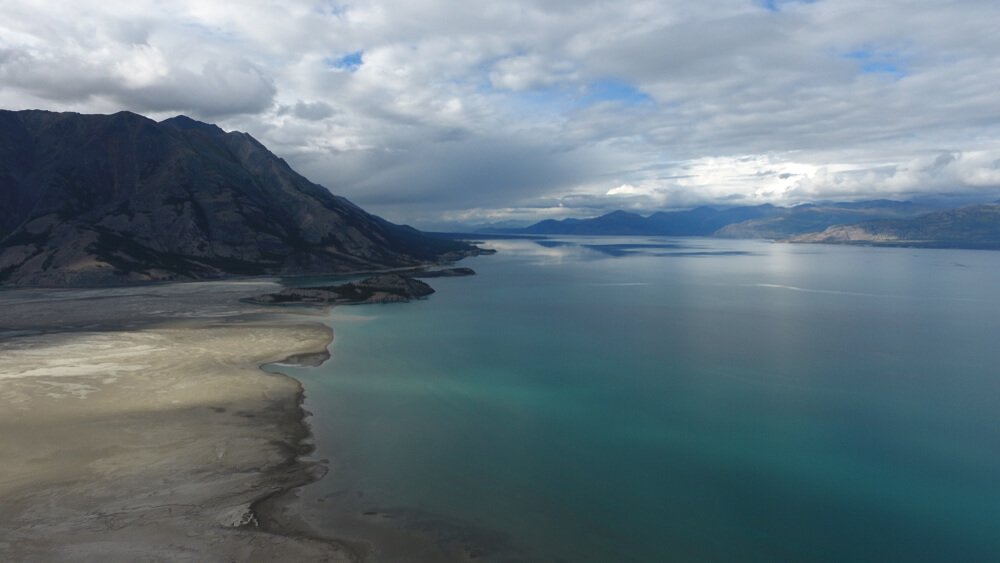 Wondering how this sweet little community along the Alaska Highway earned such an ominous name?
After a severe storm destroyed materials and buildings during the route's construction, the name Destruction Bay seemed appropriate!
At the northern tip of Kluane Lake, Destruction Bay makes for a great place to pull off the highway and take in the views.
For those who have been fishing along the drive, Kluane Lake is a great place to put that license to use! Cast a line into the icy cold waters for a chance to catch one of the legendary monster trout.
Stop Eight: Delta Junction (Mile 1,390)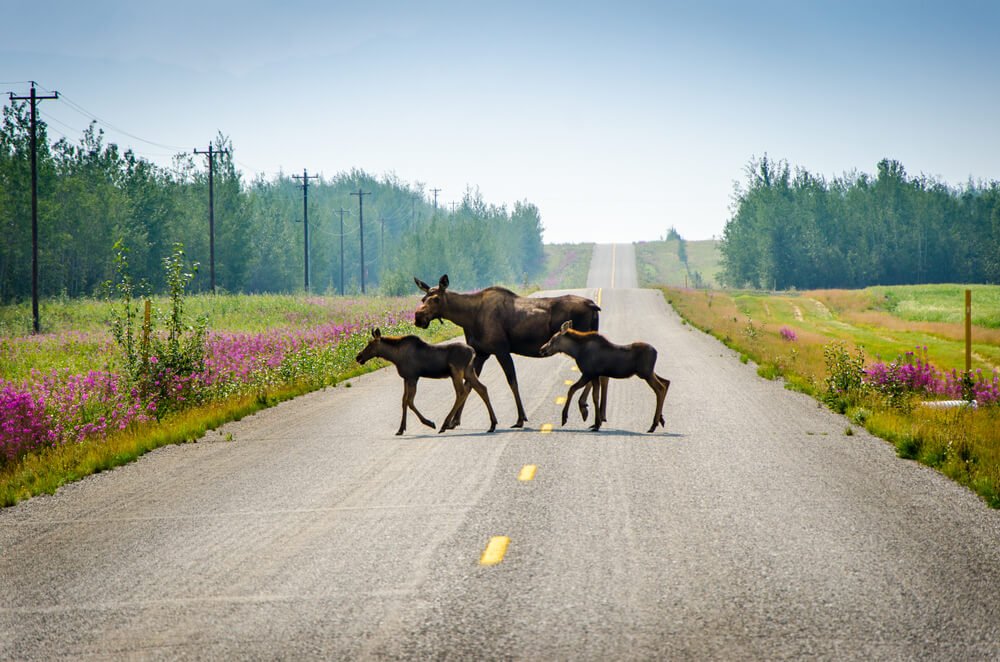 It's the end of the road but the beginning of your next adventure.
From the end of the Alaska Highway in Delta Junction, AK, you now have to decide whether you will head north towards Fairbanks to explore the wild landscape of Denali National Park or make your way towards the coast in Anchorage.
Wherever you end up next, we know that adventure waits for you there!
Pin This Guide to Road Tripping to Alaska Along the Alcan Highway!
Emily is a freelance travel and outdoor recreation writer from Big Sky, Montana. Her adventurous spirit has led her to the high peaks of the Sierras and the largest wilderness areas in the lower 48. When she's not writing, Emily can be found backpacking, road tripping to outdoor destinations, climbing, or rowing whitewater.