If you're planning on visiting the Lake District and are looking for a 2 day Lake District itinerary, then keep reading to really see how you can have a fun-packed couple of days in Cumbria!
There really is something for everyone. And you'll be booking your next break to get back as soon as you can!
Here's how to spend a weekend in the Lake District!
Day One of Your Lake District Itinerary
Have breakfast in Keswick.
So where is the best place to start any good blog post on a guide for two days in the Lake District?
Well, with your stomach and making sure that it is filled and ready for the day ahead!
That's certainly where we would begin any good adventure for the day ahead. And being local to Keswick, you really can't find a better place for a choice of cafes and restaurants throughout the day.
This bustling tourist market town offers a wide variety of food, so you won't be struggling for a new place to visit each day that you stay here.
The Merienda Café in Keswick is one of our favorites. We've been a few times now and each time we remember why it is that we keep coming back!
They have an excellent choice for breakfast and brunch to kick start your day. The Merienda cafe offers gluten-free and vegetarian options, so there is no fear that your needs won't be accommodated while you're here.
My personal favorite is the porridge, just because it's a healthy and hearty meal, as well as a warm way to begin your day.
It's sure to keep you going until dinner time and with the option of blueberries, honey, and banana to add to your breakfast: it's just a great option.
They also do a mean full English, but they do it their own way. It's a little unique, but it's well worth trying. My mouth is just watering at the thought of it again now!
Take the scenic drive to Fleetwith Pike.
Being in the Lake District can cause you to get stumped with a million different possibilities for the day ahead. But that's what we're here for, and boy do we have a treat for you!
This is where we really begin the guide for two days in the Lake District. So once you're in your car, head down the B5289 leaving Keswick as you head south.
It won't be long until you will see the fells and mountains of the area all around you. Their slopes come right down to the roadside as you drive through the up and windy route that is Honister Pass.
It's a view that has to be seen while on any Lake District itinerary, and so we just have to bring you this way to Buttermere!
You will pass Honister Slate mine on your left-hand side, and this is where we'll be coming for some well-needed lunch.
But for now, you drive past this and begin the decline towards Buttermere itself. You will see some small lay-bys dotted around alongside the road and this is where you'll want to be pulling up and parking.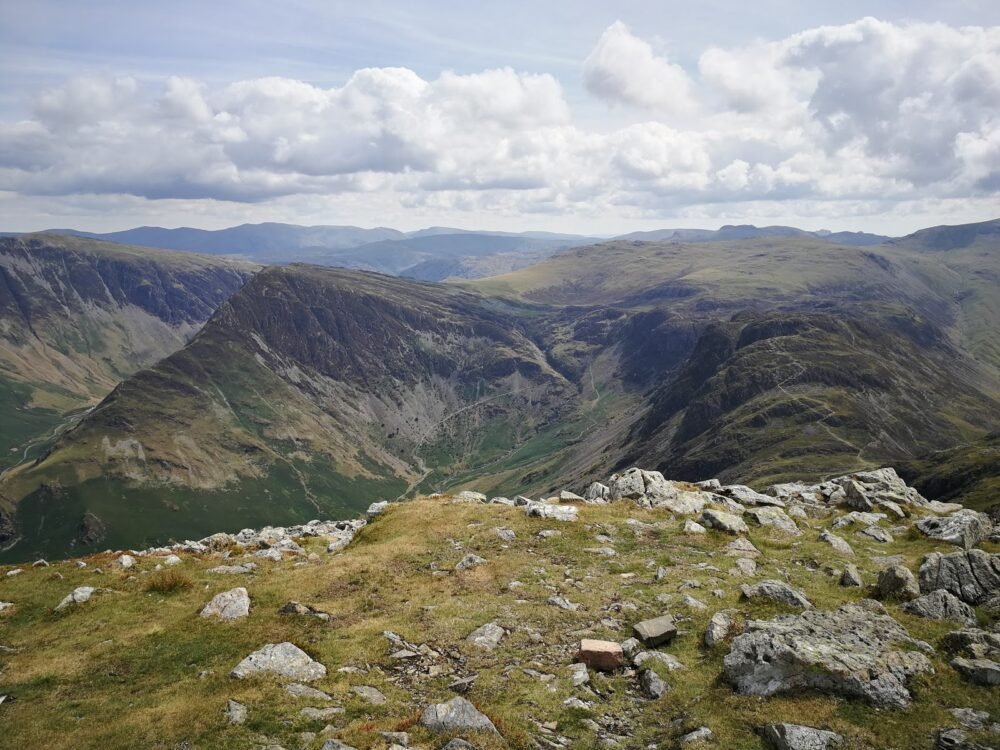 Note: This post contains affiliate links, which means I may receive a small commission if you purchase something through one of these links. Thank you for supporting the free content on this site! For more information on affiliate links and cookies, see my disclosure page for more details.
The start to Fleetwith Pike
Parked, backpacks on, boots tightened, and map at the ready, here we go! Begin your walk by following the road down to the base of Fleetwith Pike.
You'll know what mountain it is when you can see a white cottage ahead of you on the road. When you see this, then you want to be looking on your left for a path leading off from the road.
Once you've located the path, head left and continue the easily-located path to the base of the ridge. From here, it's a straightforward path that simply heads up.
There are no major complications here, just keep an eye on your footing and the easy scrambles as you make your way up this epic fell… and make sure that you take a moment or two to turn around!
Take in the views as you head up. So often we look in front of us, but at times like this, it is just as important to look behind too.
For us personally, the views from the top of Fleetwith Pike are some of the best in the whole of the Lake District. So for us to help guide you for two days in the Lake District, we only go on what we've witnessed and experienced, to get the best couple of days for you!
Celebrate at the summit of Fleetwith Pike.
When you reach the top of the mountain, you'll be welcomed by a cairn and views that stretch for miles around you.
Towards the south-west is the famous Haystacks that holds some great memories and so much history in Cumbria too!
As well as this, the sight over Buttermere and the fells around towering down towards the lake are stunning.
I'm sure you can see this for yourself in the photo below — and when you're there in person, I guarantee you it feels epic to be looking around you from the top!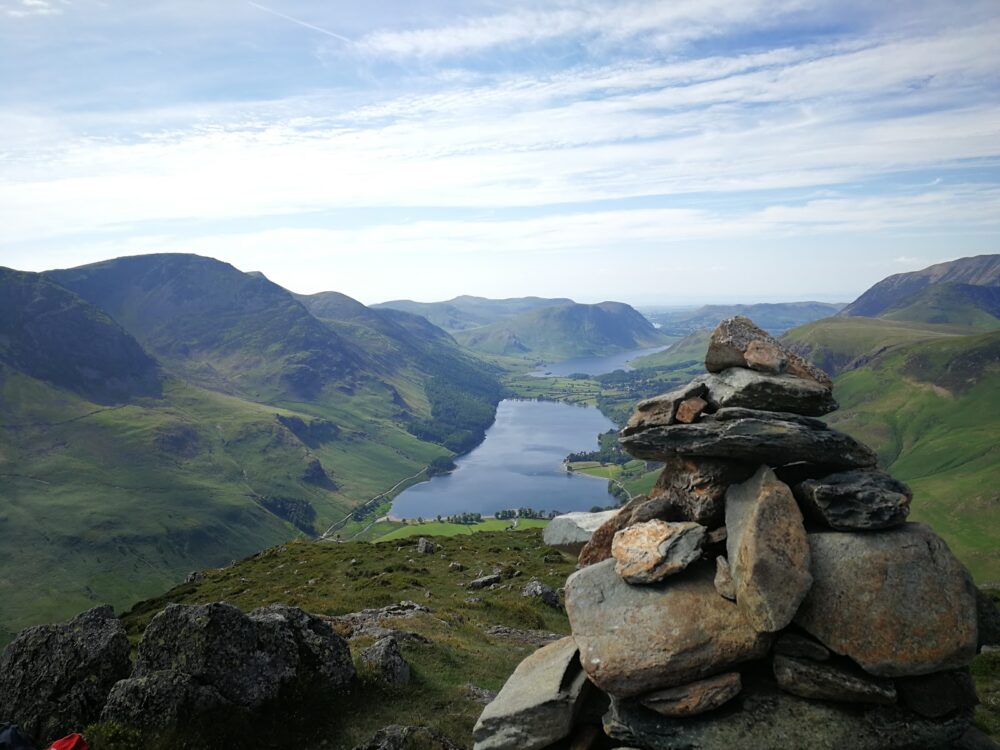 But by now I'm sure you'll be getting a little peckish. I mean, if you're anything like us, you'll be seriously hungry and ready for some lunch!
So let's get moving again and get back for some food before our afternoon of cliff-hanging begins.
From the top of Fleetwith Pike, continue heading in the same direction as before over the top of the summit and locate a less distinct path here.
It will lead you down toward the Honister slate mine. When you get to a slight junction you will want to bear left here, and this will take you to lunch.
Fuel up on lunch at the Honister Slate Mine.
It is easy to find the Honister Slate Mine. When you see the building and car park in front of you, then you know that you have arrived.
Make your way through the car park and to the main entrance of the building. Once you're inside, you will find the Sky Hi cafe that they have, and this is when you can go to town on ordering anything you like from the menu.
They have a good choice of food, and if you need warming through after your walk, then there are hot options available too. For us though, it was a hot day when we had been walking, so something cooler and lighter was needed.
Here you can take some time out and enjoy looking back through the photos of your walk so far. Even on a cloudy day in the Lakes, some of the views you can see will still amaze you. It will give added contrast to the skies and fells that you see too!
Once you've finished your lunch, it's time to get those hard hats on and get onto the side of the rock face for more adventures!
Brave the heights on the Honister Via Ferrata.
To guide you through two days in the Lake District, we'd have to advise you to get booked in for this activity in advance!
Make sure that there are free spaces for the day that you're going to be in this area of the Lake District. You can find more information about the whole experience on their website too.
When you've got yourself checked in then there will be a brief safety briefing for the activity ahead.
For those of you who haven't done a via ferrata before, you're going to be in for a treat. It's something special for sure, and it's not every day you have the option of climbing along the rock face of a mountain and hanging there watching the world go by!
If you have a fear of heights, this might not be the best choice for you, unless you're ready to face that fear head-on. If so, then let's do this together!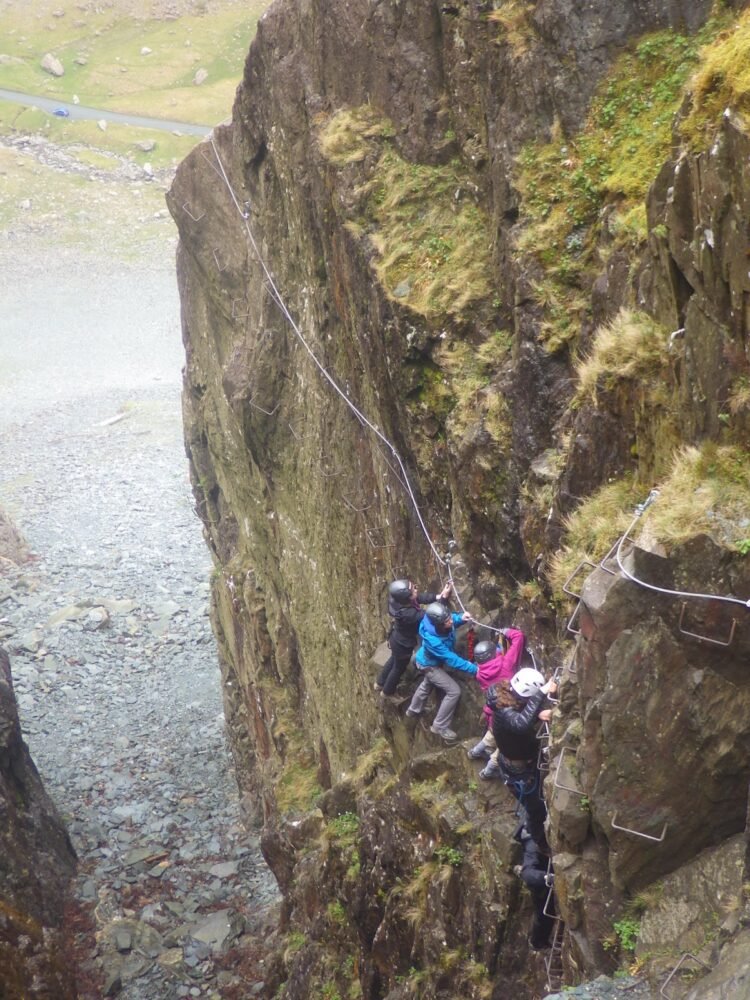 As you make your way through this activity for an hour or so, you'll get to grips with feeling out of your comfort zone.
But you're not alone — they have great guides for this in the Lake District. They go through the whole experience with you, along with a group of others just like you. So no need to fear, you're always in good hands!
Simply jump in and absorb it all. It's truly fun, and although my legs were well and truly shaking most of the time, I loved it. It's something to look back on and smile, even laugh at how we were throughout the whole thing! Hazel even managed to split her trousers climbing up the metal ladders!
So it's a great way to build some memories and feel truly free as you climb up the mountainside to the top for those seriously stunning views again.
Have some of the best fish and chips at the Old Keswickian.
When the via ferrata experience is completed and you've walked back to the slate mine, it's time to get back to the car and head into Keswick for some serious fish and chips!
Head out of the slate mine and turn left onto the road, and go back to where you drove earlier this morning to get back to your car. Then you want to be heading back up the road and into Keswick.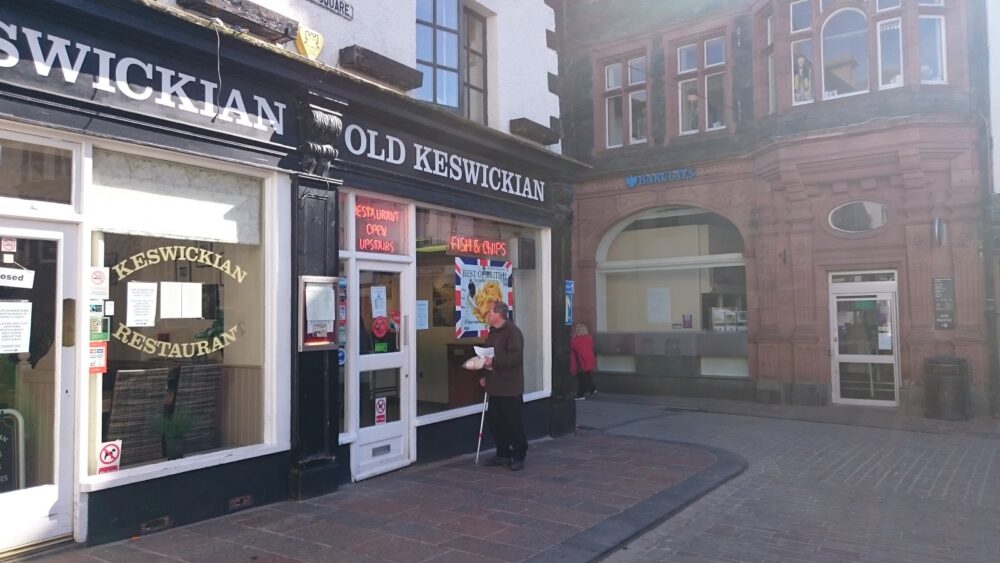 When you've parked up in the little town, simply head to the town center. Follow the crowds and it won't be long until you smell the incredible smell that is fish and chips!
The Old Keswickian is located on the corner of the main high street. Now, it is entirely your choice to eat in or take out. There are benches dotted around the streets, so on a summer evening, it can be a great place to do some people watching too.
They really are some of the best fish and chips in Cumbria though, and you won't be disappointed — I'm certain of it.
Head to the Castlerigg Stone circle.
Now how do you end a full packed guided first day in the Lake District? Well, even here, you can unwind and enjoy the slower pace. After all, you are on holiday!
So we couldn't recommend heading to the east of the town and out into the countryside for a spectacular end to the day.
Castlerigg Stone Circle is a true hidden gem in the Lake District. There is so much history to the area, and once again, the views and aura of being in such a grand structure are worth the last slog up the hill to find it!
It's about a half-hour walk from the center of Keswick, but when you're there, you can simply sit down and enjoy simply just being there.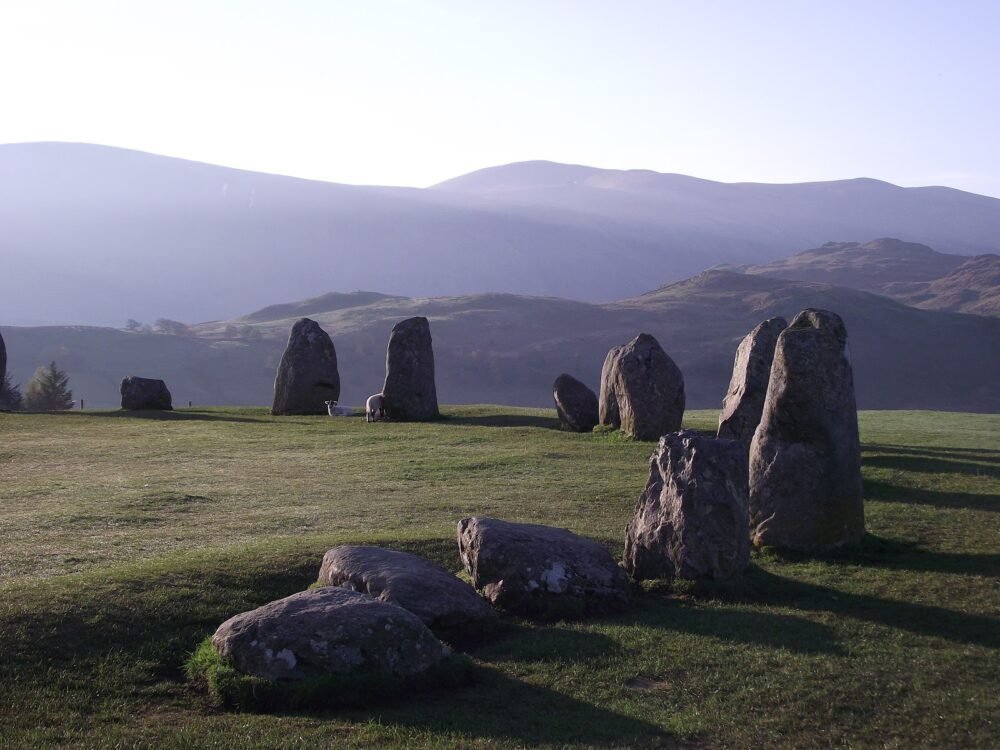 Wait for the sun to go down for a true experience and see the stones glisten as the last of the day's light hits them. Now that's how you switch off and really enjoy being in the moment!
Day Two of Your Lake District Itinerary
Have breakfast at the Pooley Bridge tea rooms.
Welcome to day two of your weekend in the Lake District and day two of your guide!
We hope you're ready for another big one…. and if you are, then you're going to need a good breakfast to get that energy stored up!
We start day two at Pooley Bridge, which can be driven to from Keswick. It's around a half-hour or so drive, and once you're here and parked, then the day is ready for you.
The Granny Dowbekins Tearooms offer a great selection of breakfasts to get you started for the day — of course, you can enjoy a good cup of tea alongside this too!
Today, there is a bit more of a schedule to keep to because of the Ullswater Steamers, but more information about their landing times at each stop can be found on their website. So check them out to make sure you can fit everything in for your trip.
Take the Ullswater Steamer across the lake to start your walk up to Helvellyn.
Once on the Ullswater Steamer, you can take a seat for the beginning of the day and look over the side of the boat at the water beside you.
Take in the views across the other mountains and fells in the Lakes as you travel along the water to Glenridding.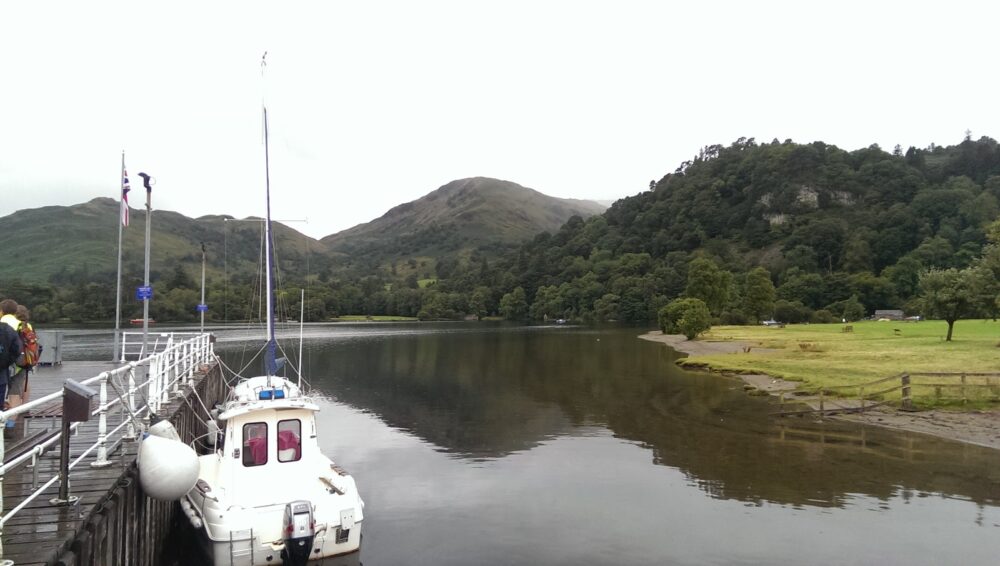 When the steamer pulls up at Glenridding jetty, hop off and head out through the car park and cross the road here too.
Head right at the road for a short period of time before detouring off left. This path starts to climb up through another car park and then out of Glenridding.
This, folks, is the path leading up to the third highest fell in the Lake District: Helvellyn.
Follow the clear and somewhat steep path in places as it climbs up the banks of Helvellyn. You might meet and join others on their walk too, but go at your own pace. There is no rush to climbing any mountain, so take your time, stop as often as you like, and simply enjoy being here!
As you near the famous gap in the wall, it isn't much longer until you see the beauty that is Red Tarn in front of you. This main path guides you to the tarn on Helvellyn in the Lake District.
To either side of this are the glorious ridges of Striding Edge and Swirral Edge: one to climb up to Helvellyn, and one to walk back down from the top. But first, let's take a break for a well-earned lunch break.
Enjoy a tasty packed lunch on the fells.
You cannot go walking across the fells in the Lake District without having to take a packed lunch with you most of the time!
Now when it comes to packed lunches, we are the leaders. We make sure that we have enough food to feed an army! This is simply because we are constantly hungry and snacking is a big part of fell walking for us, to keep your energy up along with being healthy too.
Some of the best snacks and packed lunch ideas are fruit, nuts, cereal bars, energy bars, along with sandwiches or soup in a Thermos if it's an especially cold day in Cumbria.
Always take enough water with you too so that you don't get dehydrated. This is a must if you're walking in the summer months for sure!
Something that you just have to have on you at all times when in the Lake District is Kendal mint cake.
It's insanely nice and hits the spot as a real energy boost when you need it. You can pick it up in most local and larger stores around the Lakes, so there is no excuse to not try it out! You won't regret it. Our two-day guide to the Lake District wouldn't be complete if we didn't give you some local food or snack advice!
So enjoy your packed lunch at the side of Red Tarn whilst looking up towards the ridges of Striding and Swirral Edge, knowing it will soon be your turn to take them on yourself!
Ascend Helvellyn via Striding Edge and come back via Swirral Edge.
Backpacks zipped back up and bellies full, it's time to face the beast itself: Striding Edge and the final ascent to Helvellyn.
Take your time as you head up the ridge on the left of Red Tarn and truly enjoy the exhilarating climb to the top of this amazing mountain.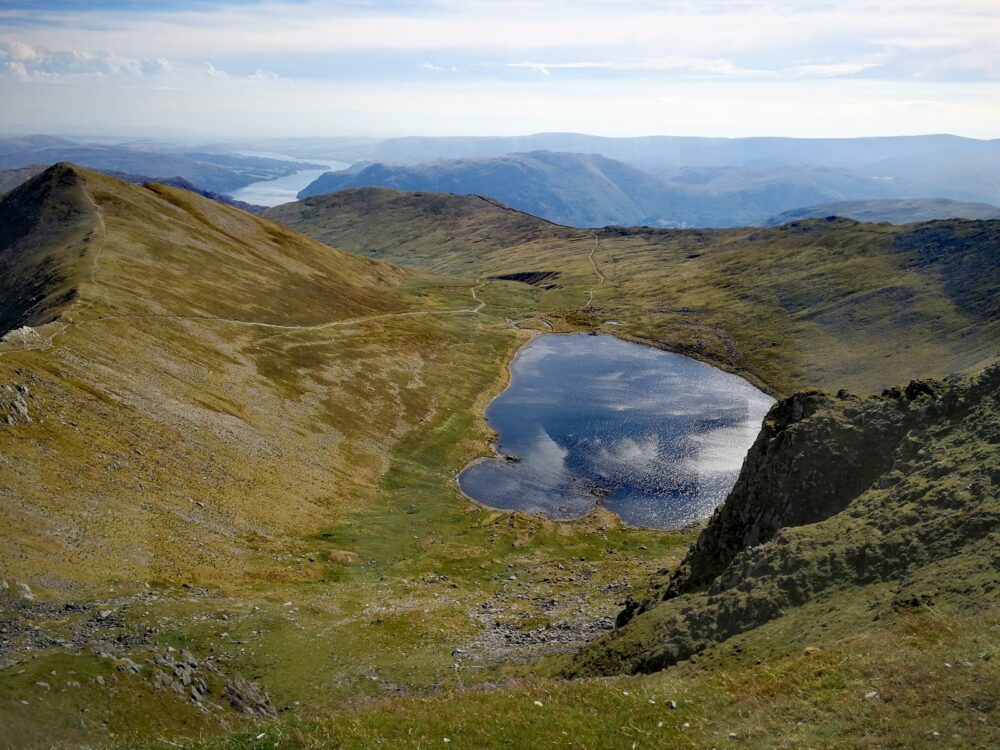 From the top of Helvellyn, you'll have insane views across the whole of the Lake District and beyond.
If you're lucky enough to have the summit mostly to yourself, then enjoy walking to each and every edge of the plateau and take in the views from each side.
Get your camera or phone out and get some snaps! We do each time to make those memories easier to look back on, and to show others where we've been too. It also helps with our blog to show you what to expect too!
Head towards Swirral Edge on the northern side of Helvellyn and head down this ridge.
Part of the way back down you'll see a detour path on the left. This heads towards Catstye Cam.
For your two-day guide to the Lake District, depending on how you're feeling, you might want to take the detour up here. It's worth it to see the sights looking back towards Helvellyn! But if you're feeling a little worn out, just keep heading down back to Red Tarn.
From here, you follow the same path down which you came up. This is the easiest and most direct way back to Glenridding.
Have dinner at the Helvellyn Country Kitchen.
When you've hiked back down to Glenridding, it will be well and truly time for some good grub!
A great place to head for a hearty meal is the Helvellyn Country Kitchen. They have some great hot meals like burgers, along with chips, paninis, and salads if you're after a healthier option.
For us, after a long day walking you can't beat a good greasy dinner to finish the day off. But each to their own, so there are options for everyone here.
If you're feeling particularly hungry — which, let's be honest, you should be after the walk you've had! — then take a look at the Helvellyn Country Kitchens desserts and cakes.
You really can't beat them to finish off any meal… and maybe a good local pint to wash it all down!
Head back to Pooley Bridge on the steamer.
After you've filled your stomach to the bursting point, head back towards the Ullswater Steamers and jump back on to head back to Pooley Bridge.
Check the timetable throughout the year to make sure you have plenty of time. Depending on the time of year, it depends when is the last steamer back to Pooley Bridge.
This is why it's essential to check the planned timetable for the day in the Lake District for the steamers, and this goes for all the lakes as well as Ullswater.
When you've got back to the car then jump in and let's take a drive to the final stop-off point for the day: Aira Force.
It's a relatively short drive to Aira Force. The parking for this is located at the north end of Ullswater, so just keep following the main road from Pooley Bridge until you see the signs to pull in.
Head towards the waterfall of Aira Force.
Park in the large parking lot, and then head towards the only way possible: the waterfall of Aira Force.
As you get closer to the waterfall, you'll start to feel as though you're in a fairytale! The woods get denser, and there are some lovely bridges and stone paths that lead over the streams below.
It's possible to get utterly lost in time and lost in general whilst walking to the waterfall.
We have got lost here in a downpour, and when we finally made it back to the car we were in hysterics laughing at just how soaked we really were!
So rain or shine, it's the perfect way to end a busy day climbing in the Lake District.
When you get to Aira Force, take a seat on the wall or stand and just become mesmerized by the water tumbling down. Let yourself drift into a calm place and reflect on the last two days in the Lake District.
I know for us, any adventure in the Lake District is special. So we hope you've enjoyed this Lake District itinerary, and truly got the most out of your weekend in the Lake District.
So that's your fun-packed two-day guide to the Lake District from us!
We hope you've enjoyed reading and are ready to get your boots strapped on tight! Comment below for more information or your thoughts on the plan too. We'd love to hear from you. And if you need more resources, be sure to check our blog for more Lake District articles.
About the Authors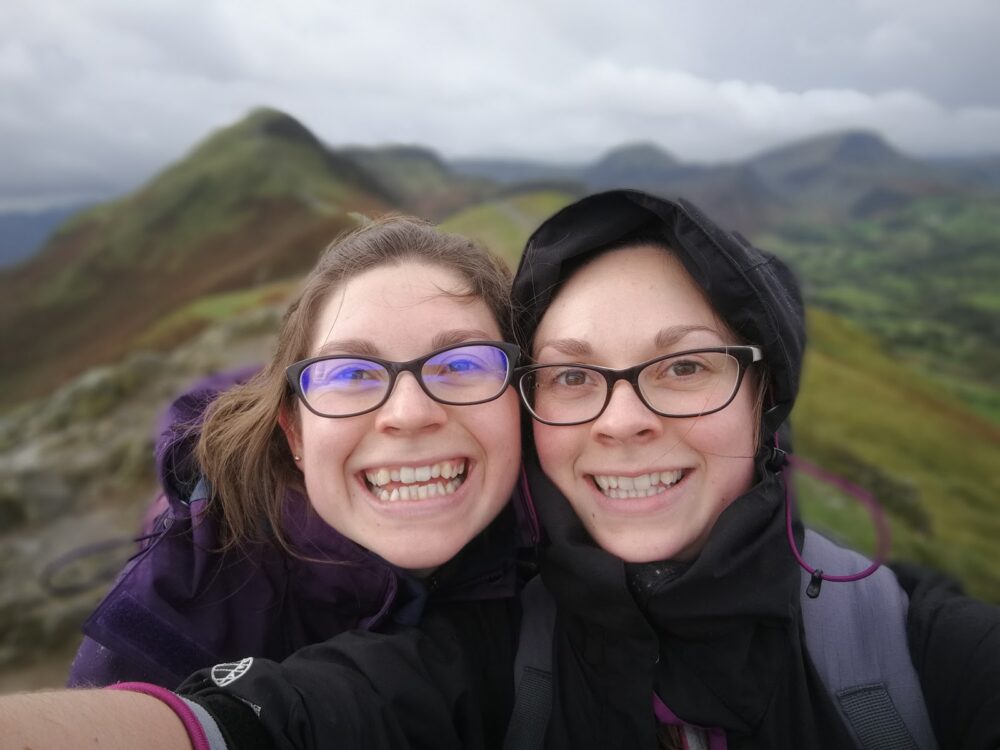 Hi, we're Hazel and Zoe (True Freedom Seekers), who have a deep passion and interest in the Lake District of the UK. After visiting Cumbria over five years ago, we now make our way back to the Lakes at any time possible to enjoy more adventures while we're there.
We regularly climb the Wainwrights and now blog on our journeys along the way. Along with information pages so you can get the best advice possible when you visit too.
You can follow us on Instagram, Facebook, or Medium
Pin This Guide to Visiting the Lake District!
Allison Green is a former educator turned travel blogger. She holds a Masters in Teaching and a B.A. in English and Creative Writing. Her blog posts merge her educational background and her experience traveling to 60+ countries to encourage thoughtful travel experiences that both educate and entertain. She has been a speaker at the World Travel Writers Conference and her writing, photography, and podcasting work has appeared in National Geographic, CNN Arabic, CBC Canada, and Forbes, amongst others. Now based in the San Francisco Bay Area where she grew up, she has also lived in Prague, Sofia, and New York City.