New Mexico has long been known as The Land of Enchantment. Wild horses roam the arid desert landscapes, small black bears forage the forest floors and eagles soar high above the mountain ranges.
Many come here seeking spiritual renewal, to steal a small slice of magic from New Mexico's long-standing traditions. But what many don't know is tucked away in these enchanting lands are an abundance of geothermal hot springs waiting to be experienced.
Some of New Mexico's hot springs are only accessible through a lavish resort or hidden on private property. But in this article, I'll outline three of New Mexico's little known hot springs.
These specific hot springs are on public land and open to any visitor willing to make the short…or long hike. I'll also include some local hangouts that pair perfectly with your spring dip. So if you're looking to unwind in a private setting and soak up the magic of mineral water, then these hot springs are perfect for your next New Mexico getaway.
Spence Hot Springs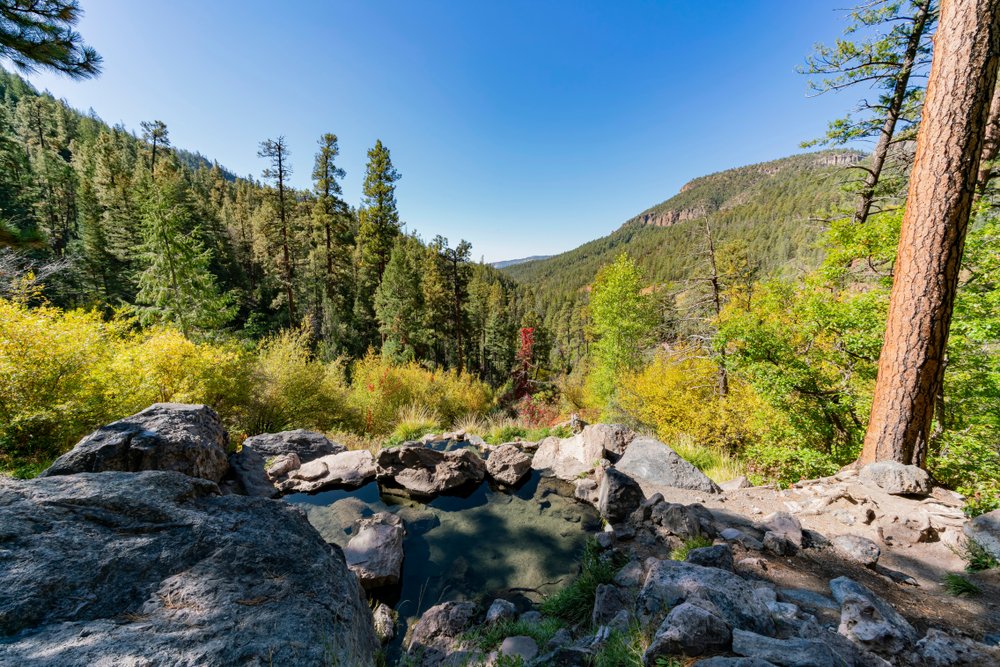 Note: This post contains affiliate links, which means I may receive a small commission if you purchase something through one of these links. Thank you for supporting the free content on this site! For more information on affiliate links and cookies, see my disclosure page for more details.
Jemez National Forest, Jemez Pueblo, New Mexico
Spence Hot Springs is a gorgeous hot spring set high above the forest floor in Jemez National Forest. Surrounded by pine trees and beautiful canyon views of Jemez, Spence Hot Springs is a great choice for those who are looking for a private spot with minimal hiking.
A bubbling geothermal cave empties its warm water into two separate rock pools. The upper pool is slightly warmer ranging in the high 90 degrees while the lower pool reaches about 85 degrees.
The trail that leads to Spence Hot Springs is a 0.6-mile developed trail that traverses over a roaring creek and follows a cool, steadily flowing waterfall all the up to the hot springs.
For the ultimate private adventure, try to get to Spence Hot Springs in the early morning hours just as the sun rises. You will beat the crowds, enjoy the colors of the infamous New Mexico sunrises and you'll most likely have the place to yourself!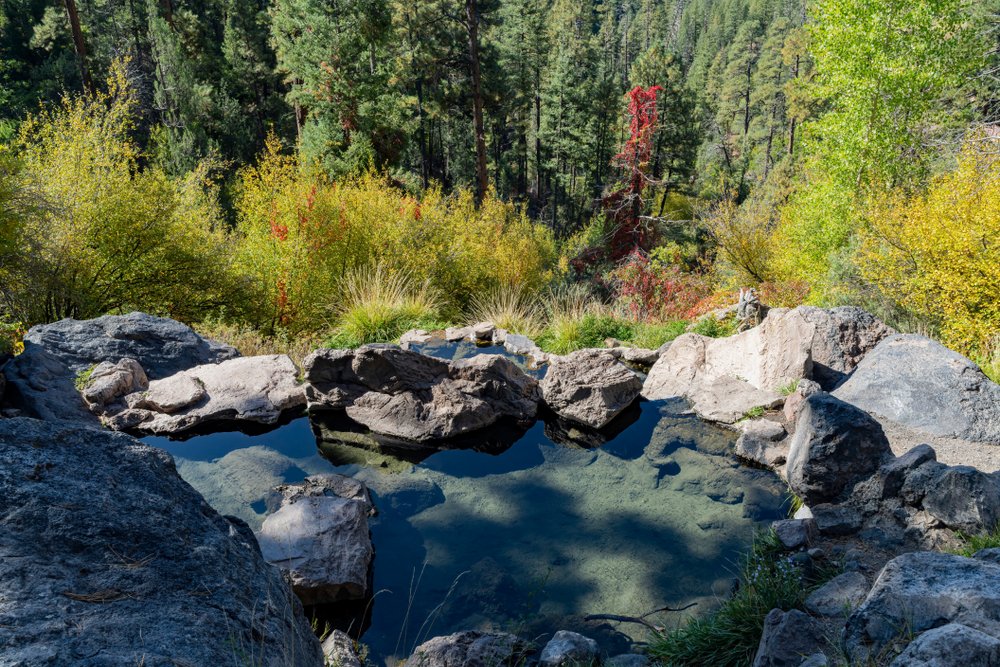 Insider Tip: When you're on your way out to Spence Hot Springs, stop at Highway 4 Cafe and Bakery in Jemez Springs. A cozy little coffee shop nestled in a canopy of trees in downtown Jemez. Their coffee won't disappoint and it'll give you that little extra pep for the steep climb up to the hot springs.
How to Get to Spence Hot Springs: Spence Hot Springs is located 67 miles north of Albuquerque. If you're headed north out of Albuquerque, you'll take NM 4 into the town of Jemez Springs. 7 miles after the town of Jemez Springs, there will be a parking lot to your right. The parking lot is located at the trailhead of Spence Hot Springs.
As mentioned above, Spence Hot Springs is an easy to follow steep hike, crossing the San Antonio Creek. Start dipping your feet in the small waterfalls that run the course of the hike and follow the warmest one up to the hot spring!
Jordan Hot Springs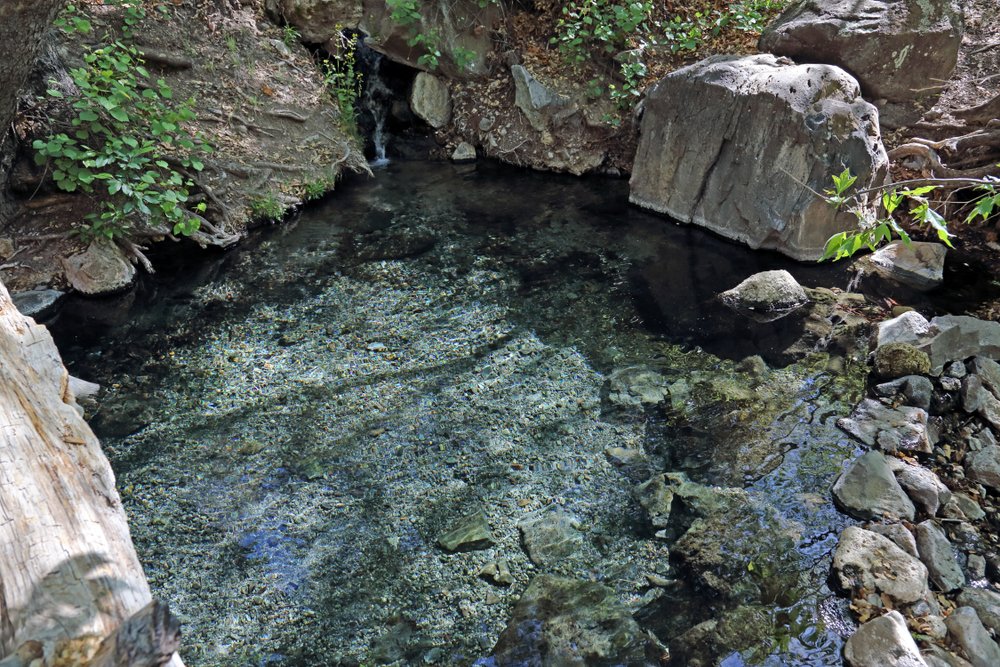 Gila National Forest, Pinos Altos, New Mexico
The Gila National Forest is home to rolling forest hills, towering canyon walls, and the clear flowing water of the Gila River. And hidden among all the beauty is a serene hot spring.
Jordan Hot Springs is one of New Mexico's most alluring hot springs. Its crystal clear waters, shimmering rock bottom, and magnificent surrounding landscapes draw visitors from all over the world. A perfect 93-degree pool awaits you in the middle of New Mexico's most beautiful tree-covered wilderness.
However, this hot spring isn't for the faint of heart. The only way to experience Jordan Hot Springs is by making the 14-mile round trip hike. The trail leading to Jordan Hot Spring is rated as moderate. Although easy in elevation gains, trekkers must cross the Gila River multiple times.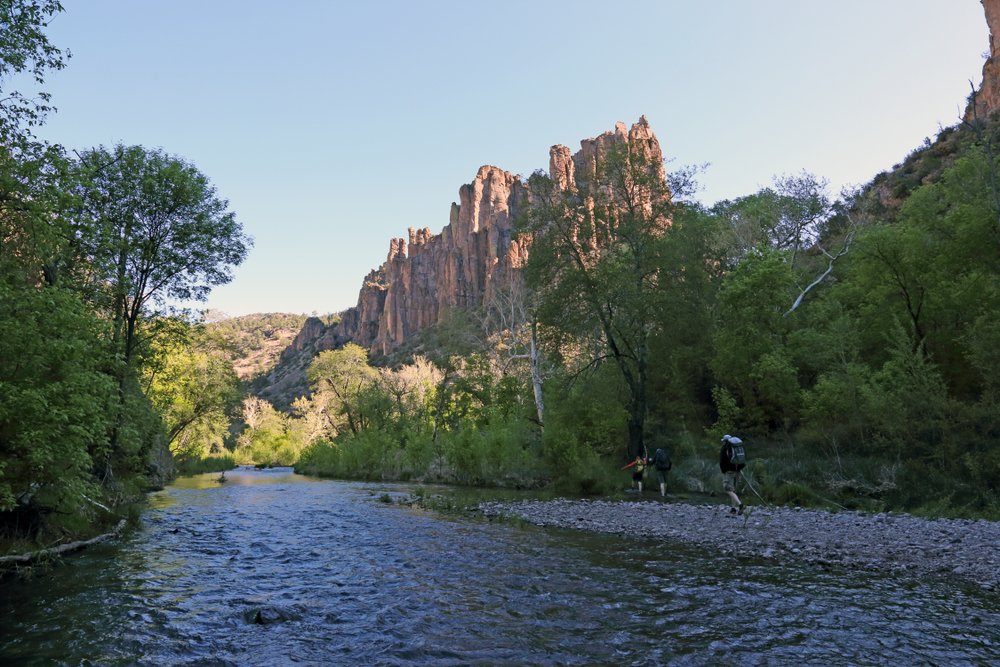 Because of the lengthy hike, this deters a lot of guests from visiting the springs — leaving Jordan Hot Springs as a great option if you're looking for a more primitive, less crowded experience.
If you really want to get in tune with nature and the wilderness around you, opt to make this an overnight backpacking trip. Dotted along the trail that leads to Jordan Hot Springs are multiple established backcountry campgrounds. Large, cleared areas with an abundance of fire pits and clean flowing river water, the Gila Wilderness is a perfect location for turning your long hike into an unforgettable two-day adventure.
Insider Tip: After your long afternoon soaking in Jordan Hot Springs, stop by Doc Campbell's Post for a quick scoop of ice cream and last chance gas. Doc Campbell's is an old-timey convenience store that's been passed down through the generations. Souvenirs line the isles and forest animals decorate the walls. It's a sweet little oasis and the last stop before heading back to Silver City.
How to Get to Jordan Hot Springs: The nearest town to Jordan Hot Springs is Silver City, New Mexico. Head north on NM 15 out of Silver City. Take the windy, two-lane forest road for 44 miles until you hit the trailhead labeled TJ Corral. From here, you'll begin your 7-mile hike (one way) to the hot springs.
Manby Hot Springs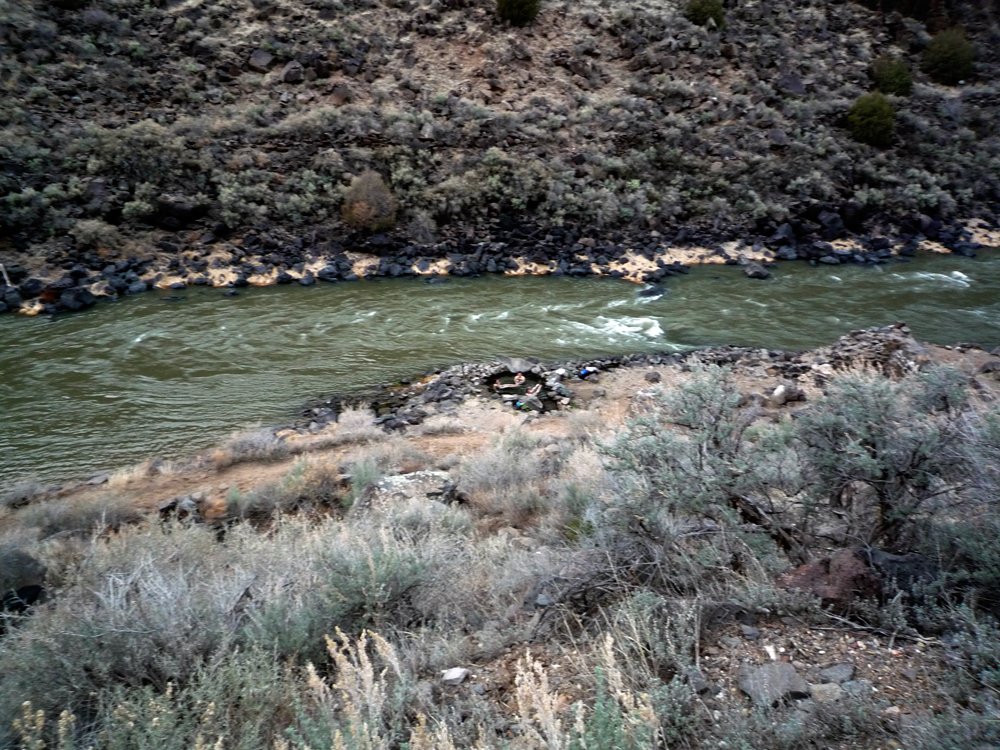 Taos, New Mexico
Manby Hot Springs is a true treasure of New Mexico hot springs! Situated right on the banks of the Rio Grande, this small somewhat hidden hot spring is a great escape from the nearby eclectic city of Taos.
Manby Hot Springs is an undeveloped rock pool that boasts two different pools, both ranging from 90-100 degrees Fahrenheit. What draws visitors to Manby is the location and surroundings.
The views from Manby Hot Springs are the epitome of the American Southwest. A beautiful 1-mile hike leads you down into a gorge and opens up to the vast sites of the flowing Rio Grande and its surrounding canyon walls. Visitors can alternate between short dips in the Rio Grande and relaxing for hours in the hot springs.
Insider Tip: An afternoon spent relaxing in the Manby Hot Springs calls for a margarita! Head back to downtown Taos and enjoy a margarita at The Treehouse Bar and Lounge. Located upstairs from the famous Lambert's Restaurants, Treehouse Bar and Lounge is a swanky cocktail bar that offers handcrafted cocktails and world class margaritas. If you want to live like a local, try Benito's red margarita – an enticing margarita with a twist of pomegranate!
How to Get to Manby Hot Springs: If you're heading north out of Taos, jump on 64 to NM 522. A slight left will lead you Los Rios Road that connects to Tune Road. Look for the Dobson House sign and take a left at the fork. From here, a large parking lot will lead you to the trailhead. The trail is a nice and easy downhill hike, but don't forget to look up and take in the sights of the Rio Grande Gorge!
***
New Mexico is bubbling with geothermal activity. Whether you're looking for a babbling riverside hideout or a mountainside escape, these New Mexico hot springs are your enchanting answer for a truly unforgettable experience!
Pin these New Mexico Hot Springs Hikes for Later!
Sabra is an adventure-hungry outdoor enthusiast originally from Dallas, Texas. She has been to 33 states, 3 countries, and has traveled America while living out of the back of her truck. Besides writing, Sabra can be found powerlifting, running her online personal training business, and enjoying time with friends and family.