Nestled in the beautiful region of Provence, Arles quickly entrances visitors with its timeless charm.
The combination of Roman history, delicious cuisine provençale and an endless love for the arts is an exquisite mix found nowhere else. 
With a myriad of experiences to offer, and a stunning landscape on the edge of the Camargue, Arles offers something to explore for every traveler.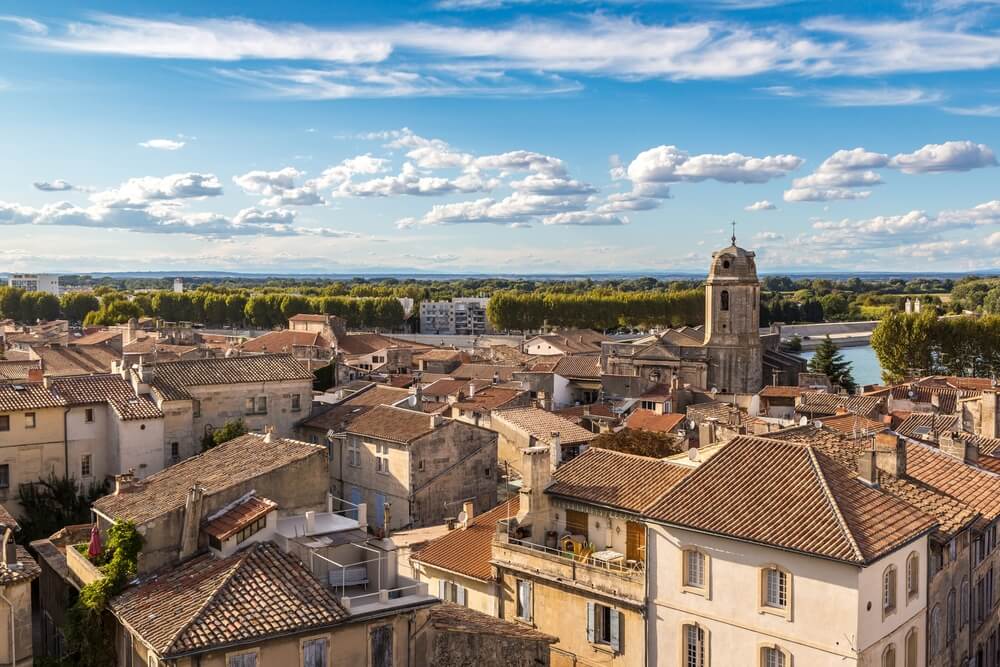 Note: This post contains affiliate links, which means I may receive a small commission if you purchase something through one of these links. Thank you for supporting the free content on this site! For more information on affiliate links and cookies, see my disclosure page for more details.
Of course, the legacy of Arles is forever entwined with the legacy of Vincent van Gogh.
The renowned Dutch painter spent a significant portion of his life in the southern town, where he created some of his most iconic and influential works. 
His time in Arles was marked by a period of intense artistic productivity and personal turmoil.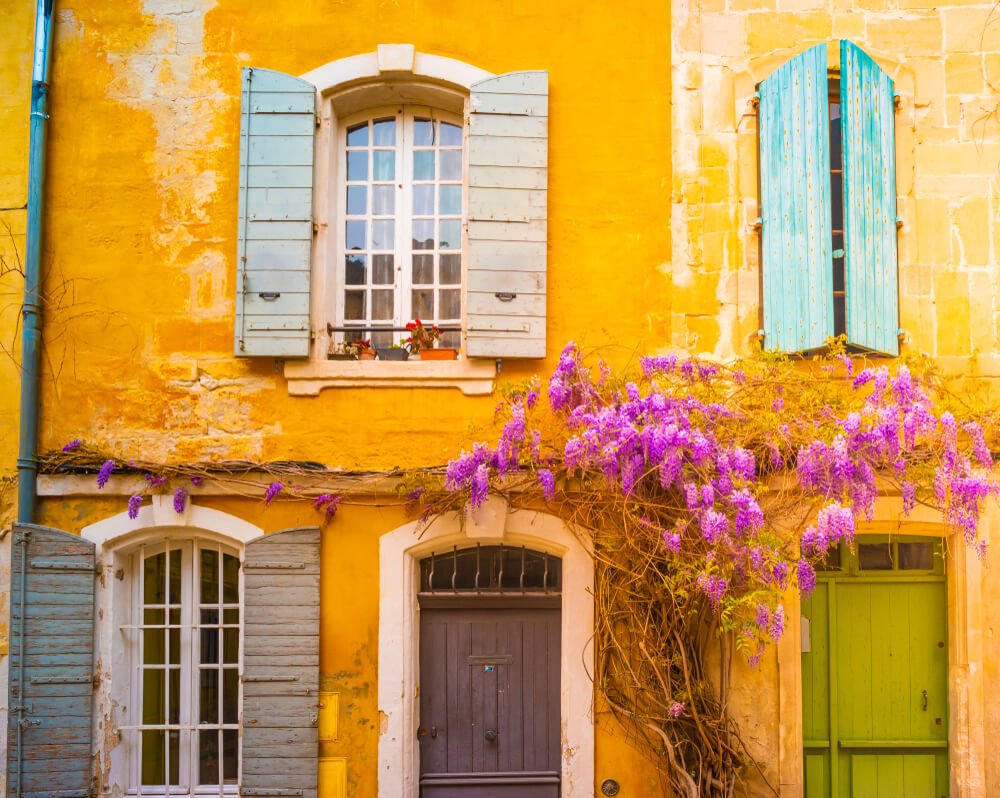 Inspired by the vibrant colors and picturesque landscapes of Provence, he found solace from his troubled life in Arles, which forever remained his muse. 
A simple walk through the winding streets and colorful passages could very well ignite your own creative spirit.
As you wander through the narrow streets, a feast of visual delights unfolds before your eyes and it's easy to see the magic that drew van Gogh to this gorgeous place.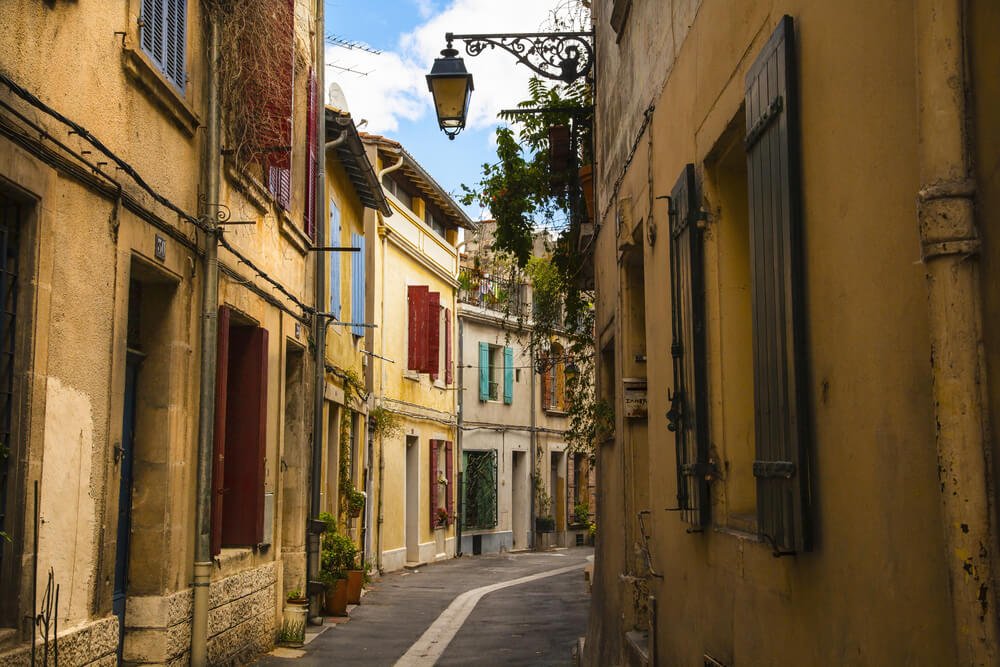 Each house in the city boasts its own unique character, proudly displaying a palette of soft pastel details.
The shutters, painted in hues of lavender, sky blue, and sunshine yellow, all add a unique charm to the historic architecture of Arles. 
If you're visiting during the summer, make sure to attend Les Rencontres d'Arles, the city's renowned festival dedicated to photography and visual arts.
Many exhibitions are held in historic venues, reflecting the fascinating fusion of art and history that makes Arles so unique. 
The Best Things to Do in Arles
Explore Arles' exquisite amphitheatre.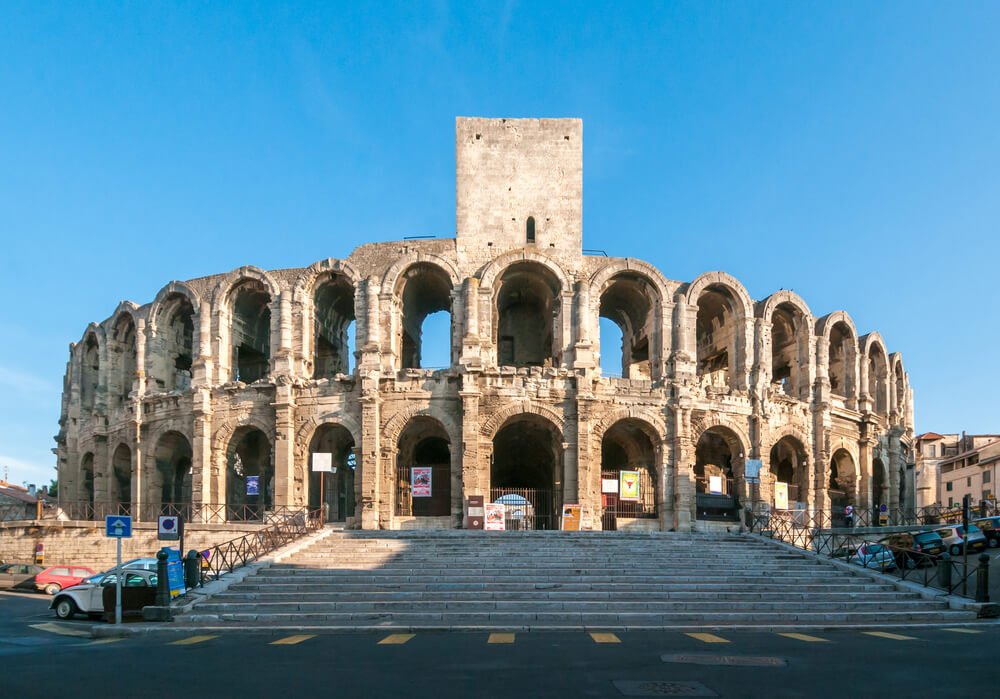 Step back in time and discover Arles' captivating history, the roots of which date back over 2,000 years.
Begin your explorations at the magnificent Amphitheatre, a UNESCO World Heritage site as well as one of the town's most iconic landmarks. 
Inspired by the grandeur of Rome's Colosseum, the French amphitheater in Arles was constructed just a decade after its Roman counterpart. 
Ever since the Roman Empire succumbed to the tides of history in the 5th century, the amphitheater has undergone constant transformation, reminding the Arlésiens that nothing is forever. 
Admire more ruins at the Roman Theatre.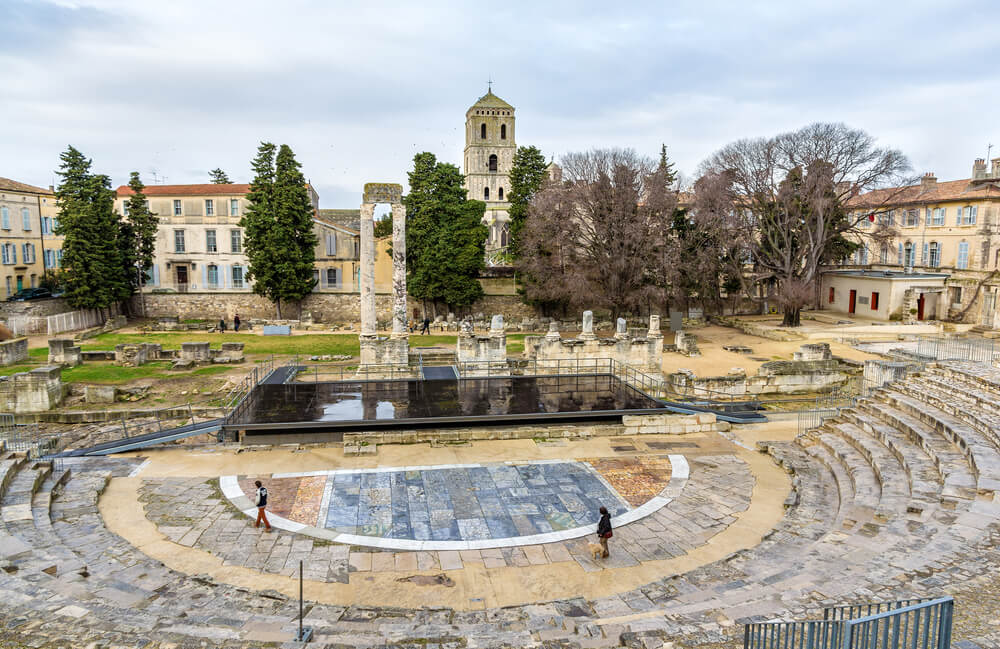 Continue your historical journey by visiting the ancient Roman Theatre, Théâtre Antique d'Arles, another testament to Arles' Roman past.
Construction on this historical treasure was overseen by the Emperor Augustus. 
While the remnants of this once-majestic theater may appear modest today, the enduring presence of these ruins serves as a humbling reminder of the passage of time.
Don't forget to explore the Cryptoporticus, a subterranean gallery beneath the Forum Square offering a fascinating glimpse into the daily life of ancient Arles.
See through the eyes of Vincent van Gogh at the Place du Forum.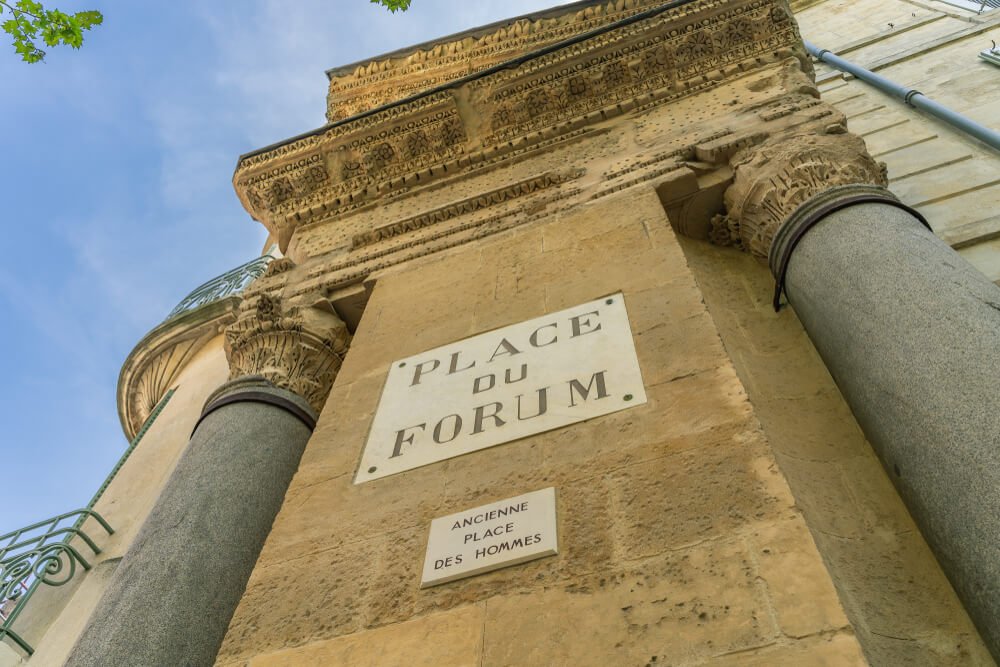 Immerse yourself in the world of Vincent van Gogh, an artist who found boundless inspiration within the enchanting town of Arles.
As you wander around the winding streets of this picturesque destination, you'll soon discover scenes that have sparked the imaginations of countless artists throughout history.
Take some time to admire the Place du Forum, forever immortalized in Van Gogh's renowned masterpiece, Café Terrace at Night.
Step into the painting's vibrant realm as you soak in the same charm and allure that once inspired the master himself. 
The square is lined by cafés and restaurants – perfect to wind down and take it all in. 
Visit the Van Gogh Foundation.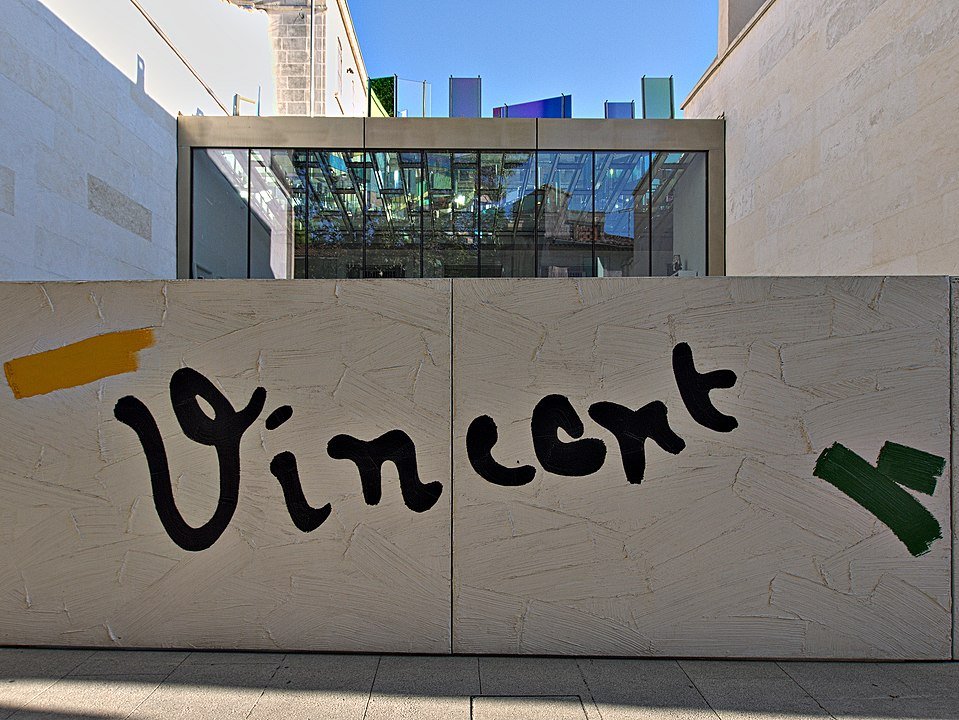 If you're interested in Van Gogh's creative process and would like to delve deeper into his artistic genius, a visit to the Van Gogh Foundation is an absolute must. 
This art center, established to honor his life and works, offers a captivating journey through the painter's masterpieces.
Here, you can explore the interactive exhibits and engage with multimedia presentations that provide invaluable insight into Van Gogh's profound artistic genius as well as his troubled mind. 
The fundamental principle of the Foundation intertwines the works of the Dutch master with those of contemporary artists, creating a thought-provoking dialogue between past and present. 
Learn more art history at Espace Van Gogh.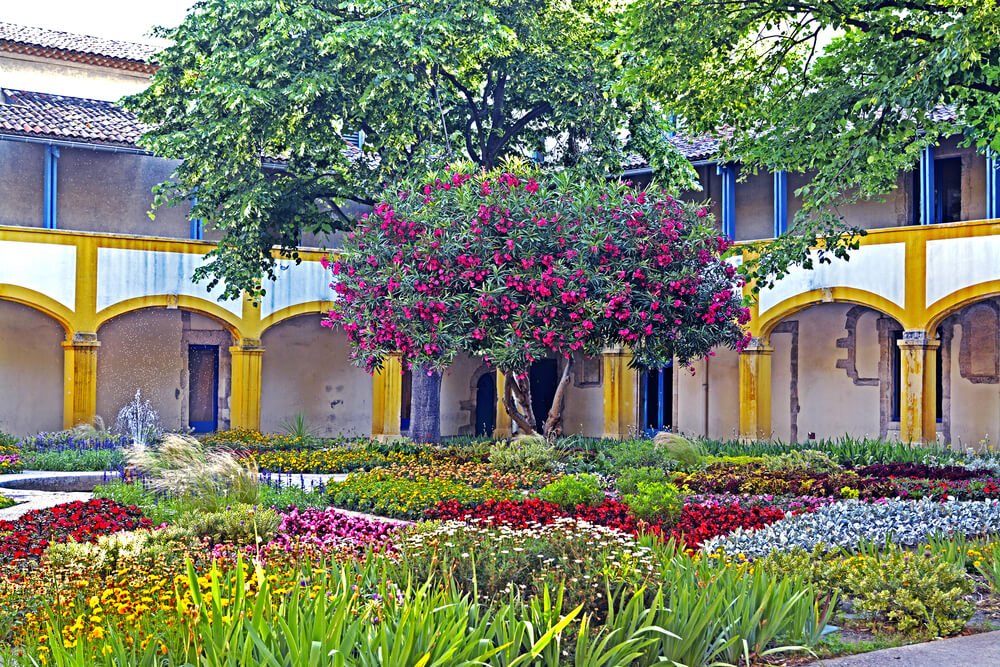 Van Gogh's legacy resonates from every corner of your artistic journey through Arles, with Espace Van Gogh being another must-visit. 
Arles's former hospital, built in the 16th and 17th century, rose to fame when it hosted the troubled artist after a psychotic episode.
While this period brought forth a multitude of paintings, it is also synonymous with his descent into depression.
To honor the painter's genius and legacy, the Espace is now a cultural hub and important meeting point for contemporary artists. 
It's also been giving an uplifting renovation, with a beautiful central garden with bright colors and flowers, honoring van Gogh.
Time your visit to make the most of Arles's cultural experiences.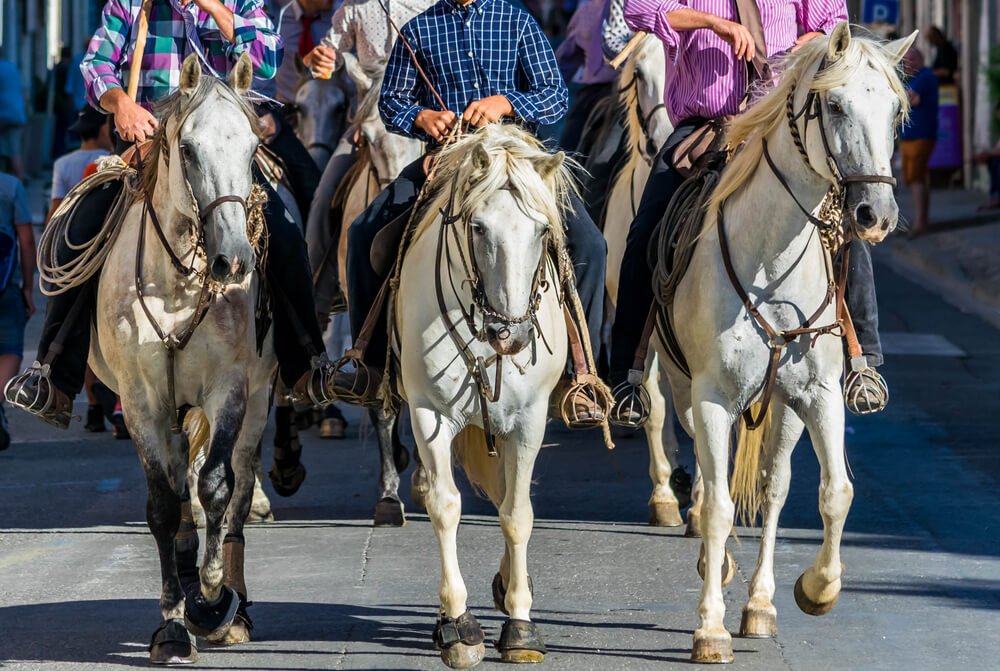 Arles is a city brimming with cultural vitality, which truly comes alive during the summer months. 
Les Rencontres d'Arles, an internationally acclaimed photography festival, is an annual extravaganza captivating photographers, artists, and enthusiasts from every corner of the globe. 
Throughout the month of July, Arles is graced with a variety of exhibitions, workshops, and lectures that pay homage to the remarkable art of photography.
This is a must-visit for anyone fascinated by photography, and a prestigious award is presented to a young talent every year by the House of Dior. 
If you're looking for an authentic and exciting (though admittedly not PETA-approved) experience, plan your visit to coincide with the Feria d'Arles, an exuberant bullfighting festival that goes on in the city in both April and September. 
Between the tense atmosphere of the bullfights, the parade of horses marking the abrivado and bandido ceremonies (arrivals and departures of the bulls), the parades that paint the streets with vibrant colors, and the echoes of traditional melodies that infuse the air with fervor, this festival is not for the faint-hearted.
It is, however, a once in a lifetime opportunity to bear witness to the profound passion that the people of Arles hold for their cultural heritage.
You can actually preorder the bull arriving from the arena at the butcher shop in the Roquette neighborhood! 
The classic dish including bull is called Gardiane de Taureau.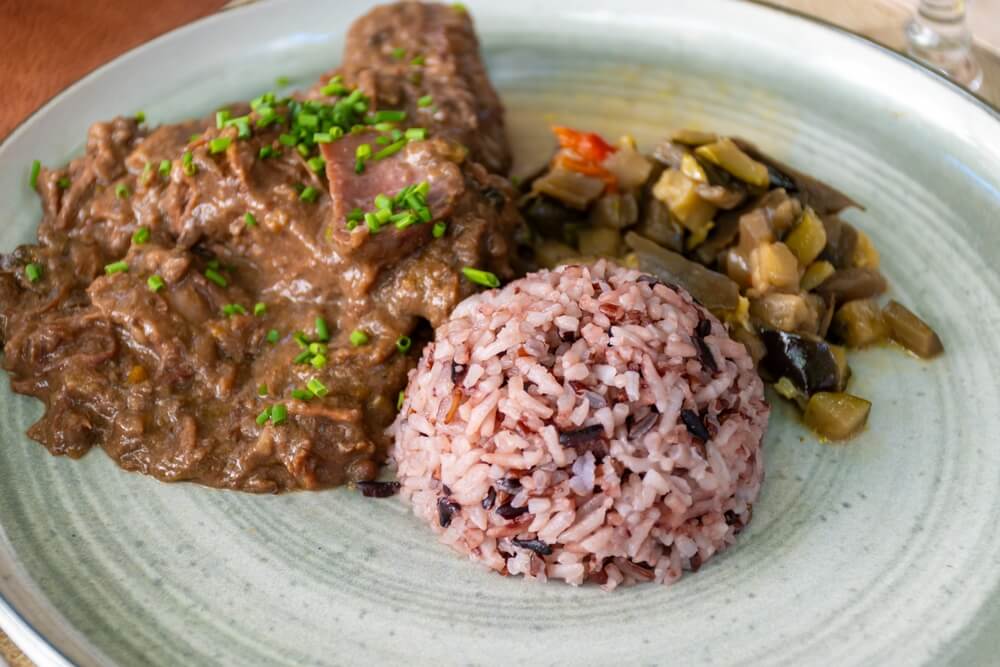 The Camargue AOC bull, raised locally, is marinated with onions, thyme, bay leaves, orange peels, and sometimes fennel and celery. It is then covered in red wine and a touch of vinegar.
After a night of marinating in the refrigerator, the gardiane is cooked in a large pot or cocotte, allowing everyone to add their favorite ingredients.
A few lardons are added to enrich the flavors, and the dish is served alongside Camargue red rice, creating a perfect culinary combination.
Indulge in Arles' other culinary delights.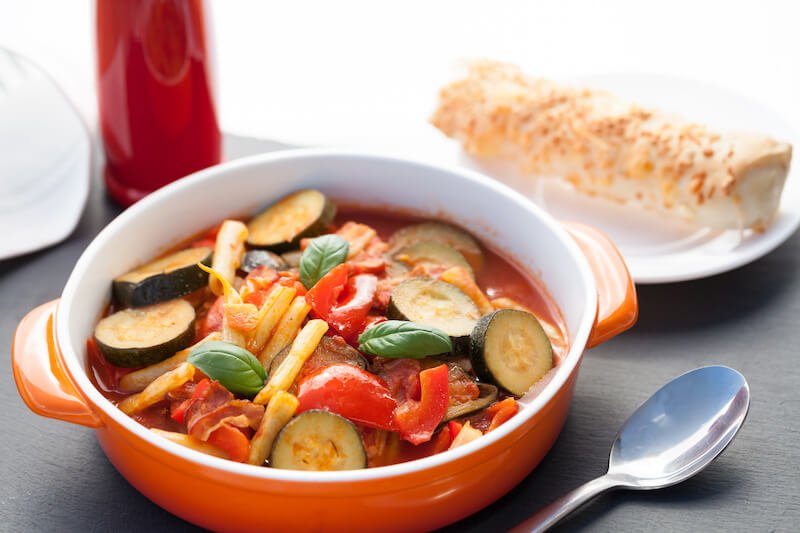 In Arles, you'll taste the very essence of the Mediterranean, where dishes are crafted with an artful blend of fresh herbs, velvety olive oil, and sun-kissed flavors. 
As you explore the gastronomic landscape of Arles, be sure to experience the vibrant Saturday market at the Place du Forum, a lively weekly ritual.
For something savory, seek out the best tapenade, a savory spread made from olives, capers, and anchovies.
Alternately, sink your teeth into socca, a savory chickpea pancake that has a crisp exterior and a tender, melt-in-your-mouth center.  
And, whatever you do, don't pass up the opportunity to savor the iconic ratatouille, a vibrant medley of seasonal vegetables simmered to perfection, all bursting with the true essence of La Provence.
On the corner of Rue des Porcelets, Maison Genin is the neighborhood butcher, famous for an authentic Arles saucisson, unchanged in its traditional recipe for over three centuries.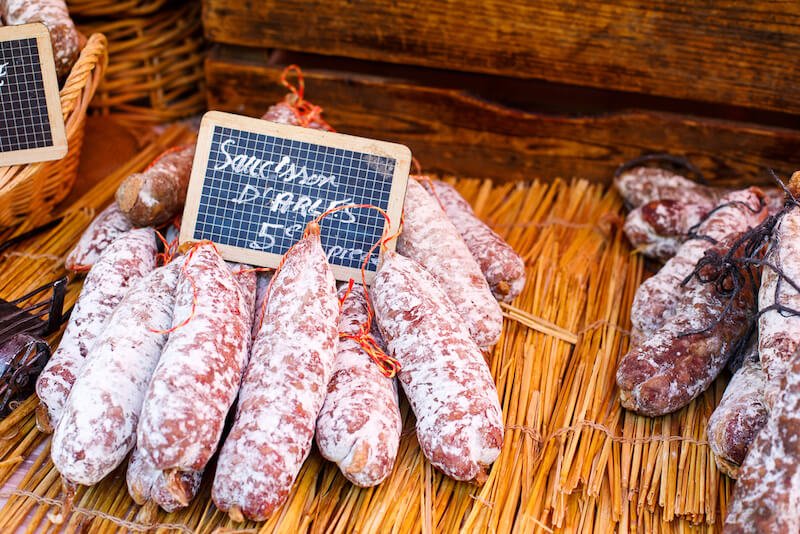 This culinary delight is meticulously crafted from pork, small lardons, a hint of garlic, and red wine. 
L'Epicerie du Cloître is another treasure trove for all the foodies amongst you.
While the restaurant serves delicious tapas on a small shaded square, you'll also find a grocery corner selling vinegar, sauces, spices… as well as artisanal tins of food! 
Explore Arles' great bistro scene.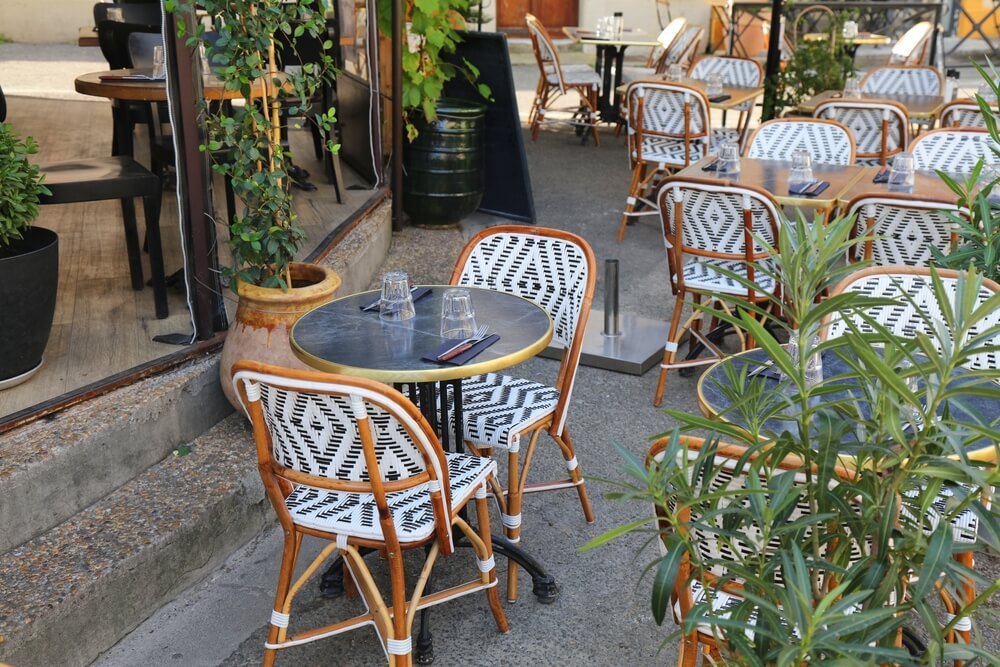 For a truly unforgettable dining experience, venture into the heart of Arles and discover its charming bistros where the chefs effortlessly rival any northern Michelin-starred restaurant. 
Jardin des Arts is a great lunch spot while Le Gibolin serves hearty local dishes with a gastronomic twist.
Inari is the en vogue lunch/dinner spot for a sophisticated ambiance and gastronomic experience curated by Céline Pham. 
For a Michelin culinary extravaganza, La Chassagnette is the place to be. 
Le Galoubet is a favorite amongst artists and muses alike. 
Café Factory République is a great hang-out place for a coffee or a drink. At Mangelire, you can find your new favorite book while you get your caffeine fix. 
Whether you choose a traditional bouillabaisse or succumb to a delicate lavender-infused dessert, Arles will delight either way!
Get inspired at LUMA.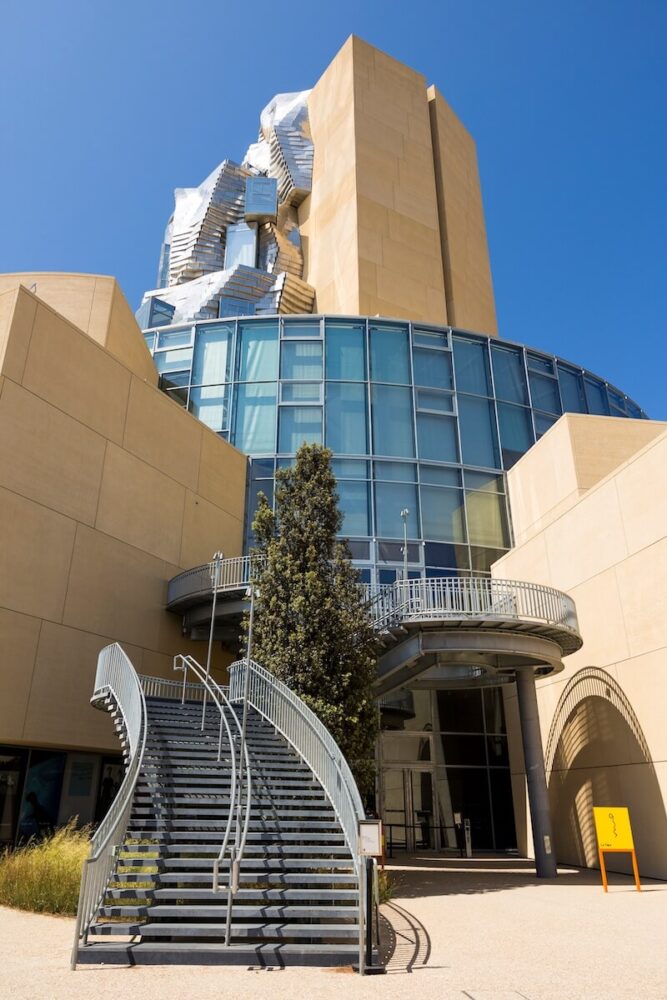 LUMA Arles serves as a vibrant hub for artists, intellectuals, and creative minds from around the world, fostering collaboration, experimentation, and dialogue.
The inception of LUMA Arles can be attributed to the vision and support of Swiss art collector and philanthropist, Maja Hoffmann.
With a genuine commitment to nurturing creativity and cultural innovation, Hoffmann transformed an expansive industrial site in Arles into a dynamic cultural campus. 
Designed by renowned architect Frank Gehry (originally from California, Gehry also designed the Fondation Louis Vuitton in Paris), the LUMA Arles complex stands as an architectural marvel.
Gehry's design work here harmoniously blends the industrial heritage of the site with his signature organic and sculptural forms.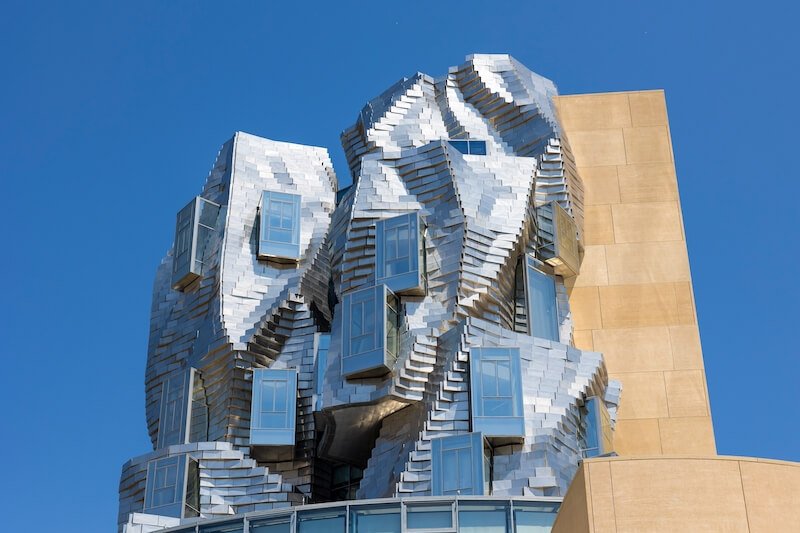 The centerpiece of the complex is the striking 56-meter-high Silo Tower, a cylindrical structure that has been transformed into exhibition spaces, housing an array of contemporary artworks.
The LUMA tower is conceived as a fusion emerging from both the city's Roman heritage and a distinctive futuristic style. 
This towering, twisting edifice, adorned with 11,000 gleaming metal panels, is reminiscent of fish scales and perfectly embodies the fluidity and aquatic forms that characterize Gehry's designs. 
Shop your way through Arles.
If you want to get a little chic shopping done, Arles is your place!
One option is Moustique, a concept store curated by Brigitte Benkemoun and Sylvie Demaiziere and a must-see destination.
Celebrating the region's local craftsmanship, the store sells delicate fabrics, pottery, hats, colognes, soaps and decorative art. 
Book lovers will want to stop at Actes Sud, the book shop in Arles.
Aside from its extensive collection of French and foreign literature, Actes Sud has some beautiful rare editions and also hosts lectures and a variety of events. 
For the scent-obsessed, La Parfumerie Arlésienne is a treasure trove of scents, candles, colognes and delicate perfumes.  
Continuing on the fragrance theme, La Maison Fragonnard, originally founded in 1926 in Grasse, just recently opened a boutique hotel in Arles!
The shop features a curated selection of the brand's scents, candles, decorative items and clothes, while the upstairs of the chic townhouse has been converted into a guesthouse. 
If you love treating yourself to some natural skincare, head over to Boutique Alyscamps Cosmétiques.
Founded by Julie Faivre-Duboz, a former pharmacist and doctor, the boutique specializes in delightful natural products created from local ingredients like olive oil and sunflowers. 
Catch an exhibition at Musée Réattu.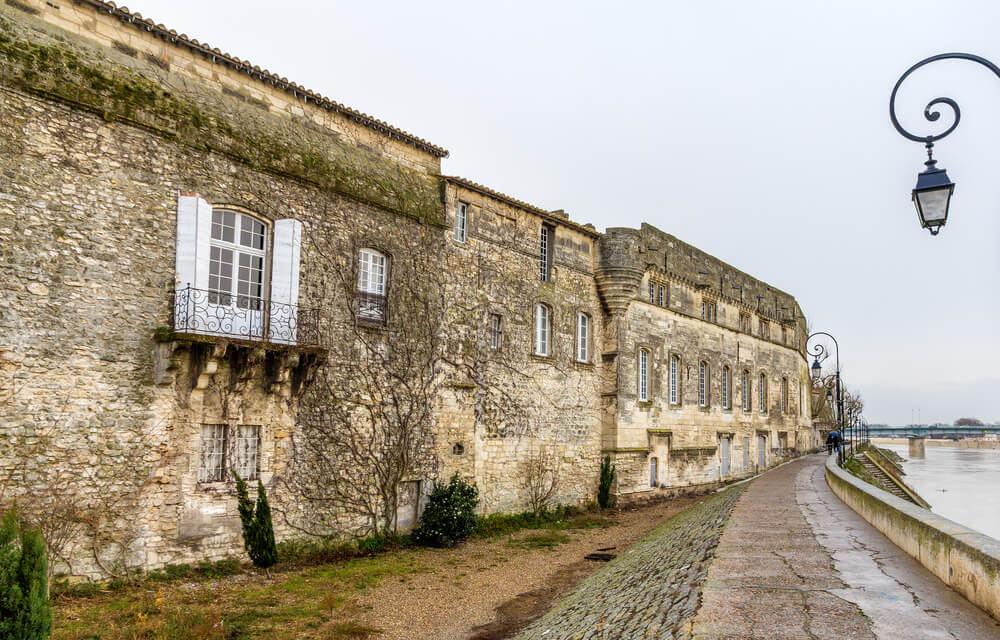 Housed in a former 15th-century priory, the Réattu Museum showcases a diverse collection of artworks spanning different periods and styles, with a particular focus on contemporary art and photography.
The museum takes its name from painter Jacques Réattu (1760-1833), who was born in Arles. 
Réattu produced mostly neoclassical paintings. He started his work in honor of King Louis XVI before adhering to the ideals of the French Revolution.
After a 20-year hiatus in his career, the artist rediscovered inspiration again in his later years, producing several masterpieces exhibited at the museum today.
The museum hosts a dynamic, ever-changing series of temporary exhibitions.
Admire the scenery and wild horses of Camargue.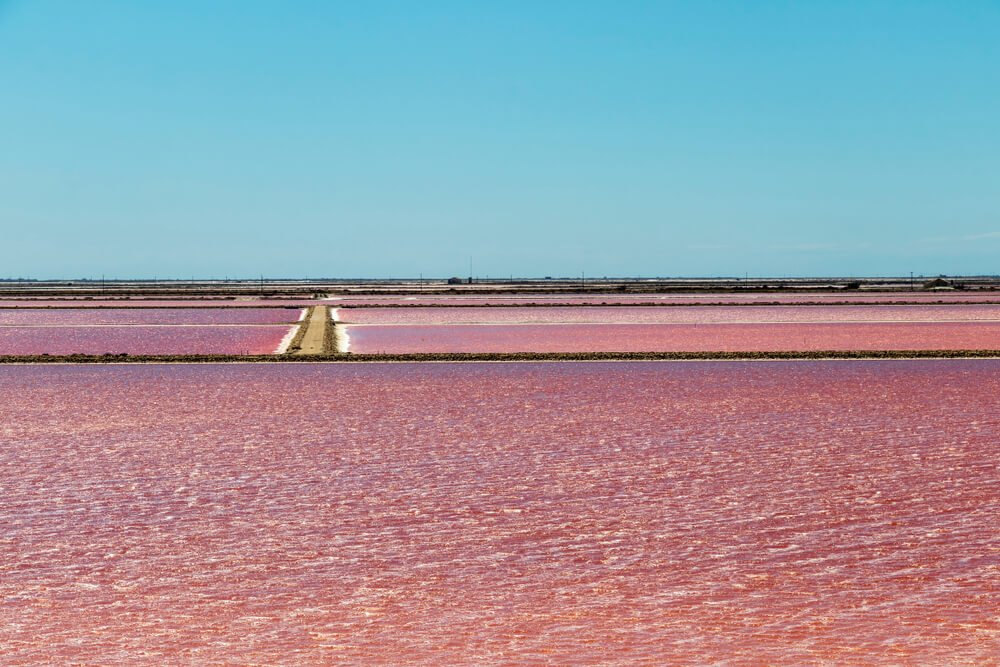 Arles is the gateway to one of France's most beautifully unique regions: the Camargue.
Prepare to be mesmerized as you witness the otherwordly landscapes and encounter the magnificent wild horses that roam freely in this unique protected space.
The contrast of white and pink salt flats against the deep blue of the sky and creates a breathtaking spectacle on this terrain dotted with salt pans, marshes, and lagoons.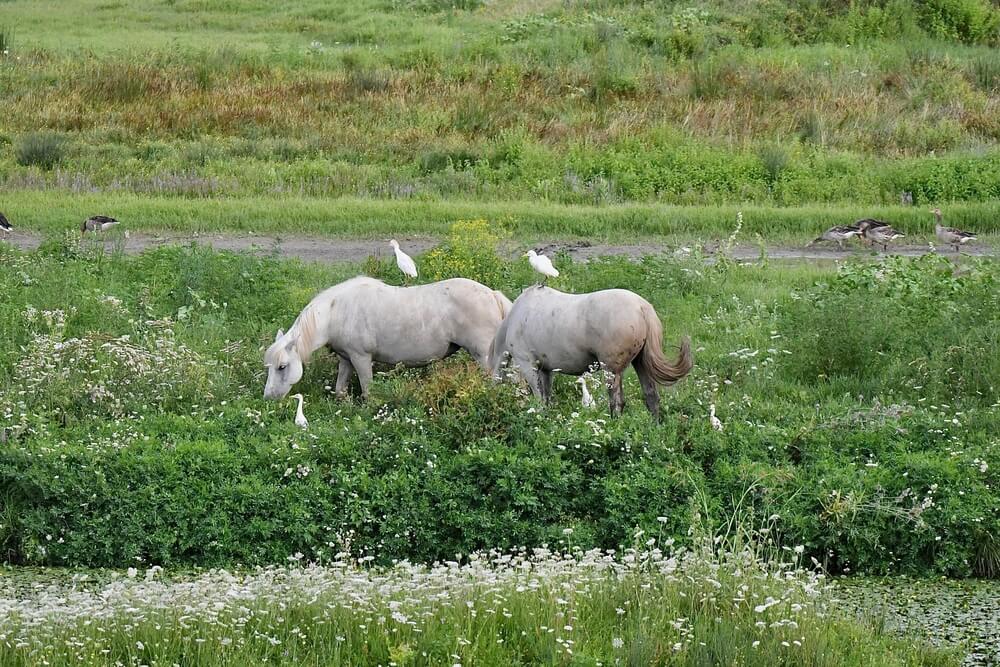 Camargue is particularly known for its white horses which you can observe in their natural habitat, grazing peacefully or galloping across the marshes, a symbol of the untamed spirit of the Camargue. 
Keep your eyes peeled for vibrant flamingos wading through the shallow waters, and a myriad of other bird species that thrive in this unique ecosystem!
The Camargue — a beloved bird sanctuary — preserves rare species through their remarkable ecological conservation work.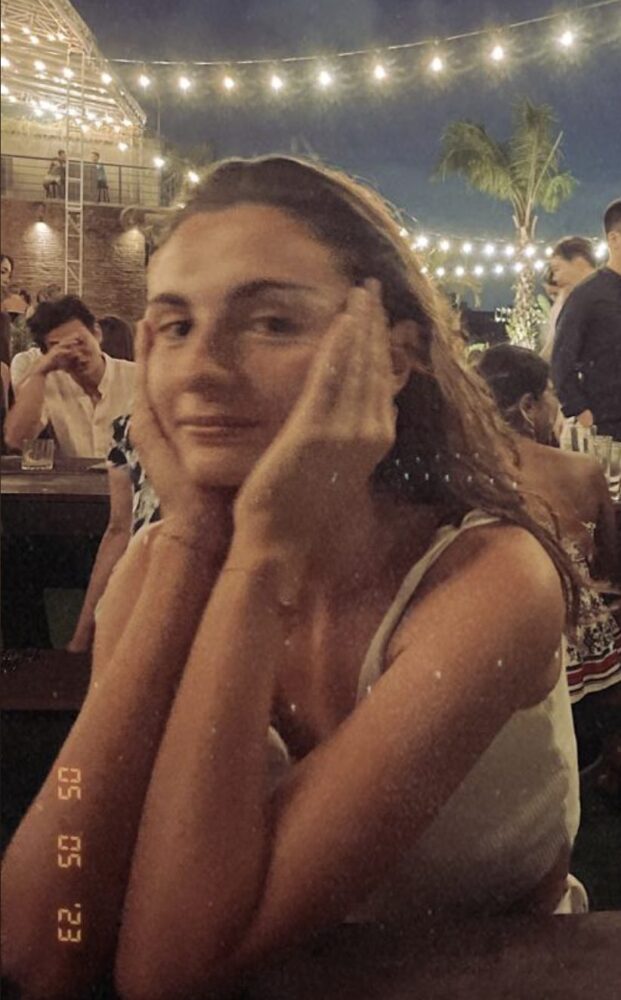 Anna is 20-something writer from France, currently living on the beautiful island of Bali. After earning a degree from Sorbonne Université in Paris, she spent a few years working in fashion before embarking on what was supposed to be a 1-year trip through Europe, North Africa and Asia — which ultimately turned into moving to Bali. Aside from traveling and writing, her passions include surfing, film photography, drinking unhealthy amounts of coffee, and reading through the night.