Amongst its impressive collection of hikes, the Lavena Coastal Walk stands up to the test as one of the best hikes in Taveuni to explore the island's lush, jungly side and truly understand why it's nicknamed "The Garden Island" of Fiji.
With its rich volcanic soil, the island of Taveuni is home to lush rainforests and dense Jurassic Park-looking foliage, and its humid, tropical weather means cascading waterfalls are able to be visited year-round.
For all its lushness, the Lavena Coastal Walk is the perfect summary of what Taveuni island has to offer hikers.
Beginning at the quaint village of Lavena, this trail leads you on a winding path along the coast, before sending you up some grueling steps up a hill and into the heart of the jungle.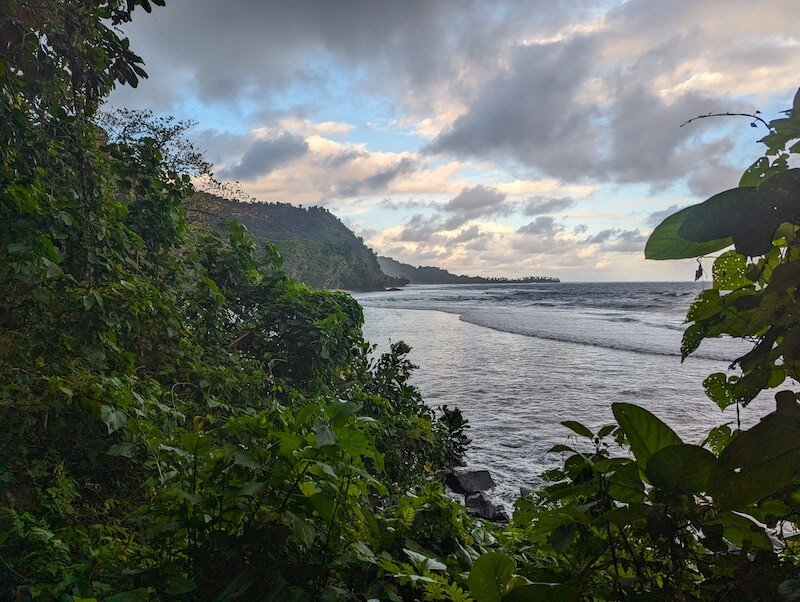 Note: This post contains affiliate links, which means I may receive a small commission if you purchase something through one of these links. Thank you for supporting the free content on this site! For more information on affiliate links and cookies, see my disclosure page for more details.
There, you'll find one of the island's most spectacular waterfalls, where ultra-cold fresh water constantly churns, yet rocks also dam in the water to form small, calm bathing pools before you reach the waterfall.
Along the way, you'll see pristine beaches, small dwellings on the outskirts of the Lavena village (which is one of the most remote villages in Taveuni), and unique flowers and plants best explained by hiring a local guide at the visitor center.
But of course, this hike is most famous for the waterfall that serves as its endpoint before turning out and back, the gorgeous Wainibau Falls.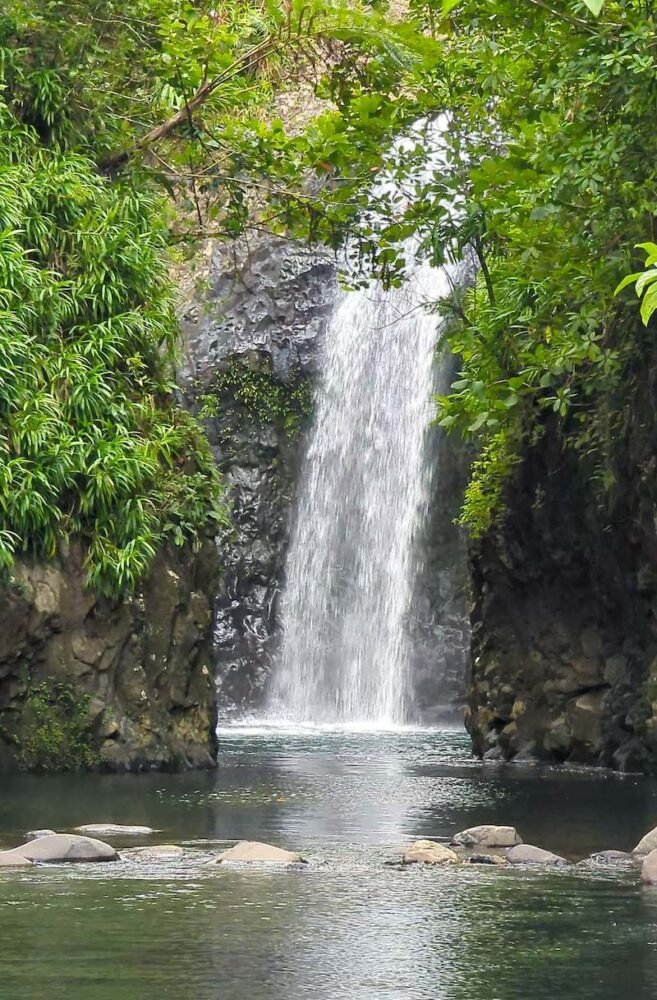 It's framed by rocks that make it look like just one waterfall from afar — but when you swim in its super-cold pools, you'll see the walls actually hide a second, bonus waterfall!
Hiking here is one of the best things to do in Taveuni, but I didn't know much about it before I did this hike — let's just say it's not on AllTrails!
I'll explain how you do the Lavena Coastal Walk in Fiji, including up-to-date information from my August 2023 trip, as well as pricing, difficulty, and other practical information.
How to Get to Lavena for the Coastal Walk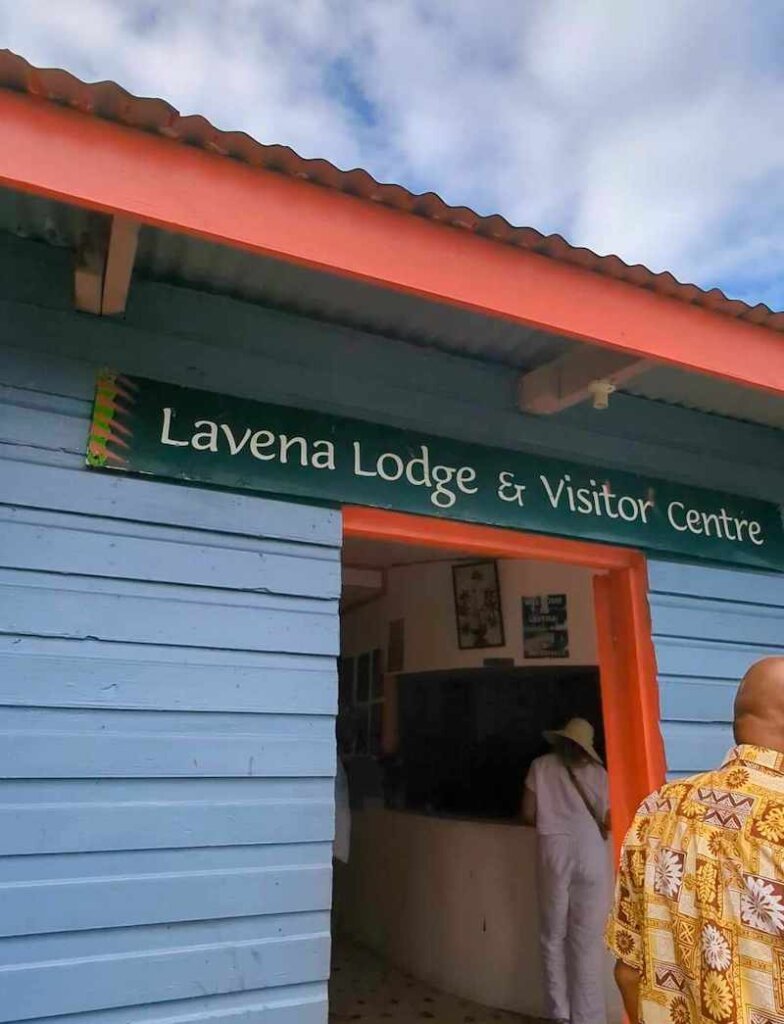 The village of Lavena is located on the east coast of Taveuni, at the very end of a dusty road best navigated by a 4×4 or truck.
The island has two types of taxis: typical sedan-style taxis and rugged Mitsubishi trucks.
Your hotel will call one of the more rugged taxis for you if you ask them to call you a taxi for the Lavena Coastal Walk (or anything on the Eastern side of the island, which is unpaved road).
From Matei, we were able to organize a taxi to and from Lavena, including wait time, for 140 FJD (that's $62 USD at the time of writing).
Split between two people, it wasn't a bad price for $31 USD per person for an hour plus ride each time, plus about four hours of wait time for the driver.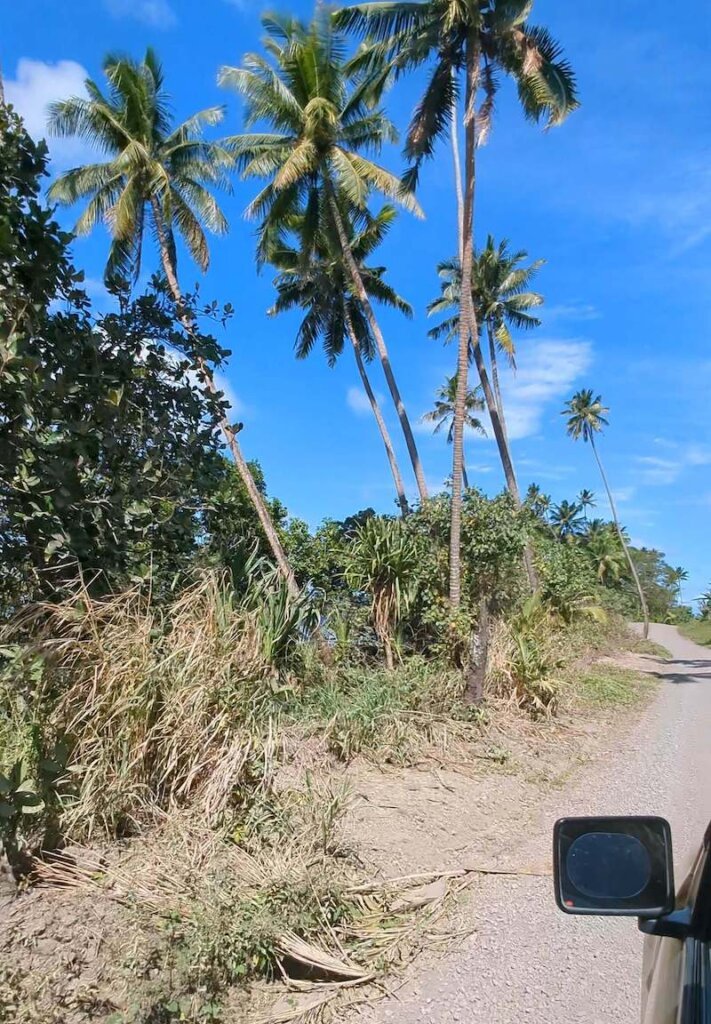 There is a bus to Lavena, but I didn't do it this way as 1) I prefer to use taxis while traveling to save time and support the local economy and 2) I was diving each day I was in Taveuni and my time was limited each afternoon.
If you want to find out more about the bus, it's best to ask a local or ask at your accommodations, but tourists before have taken the local bus to Lavena.
The island really only has one road around it, so it's not a matter so much of where but when the bus will stop.
Taking the bus will certainly be cheaper but it will not be convenient!
How Much Does the Lavena Coastal Walk Cost?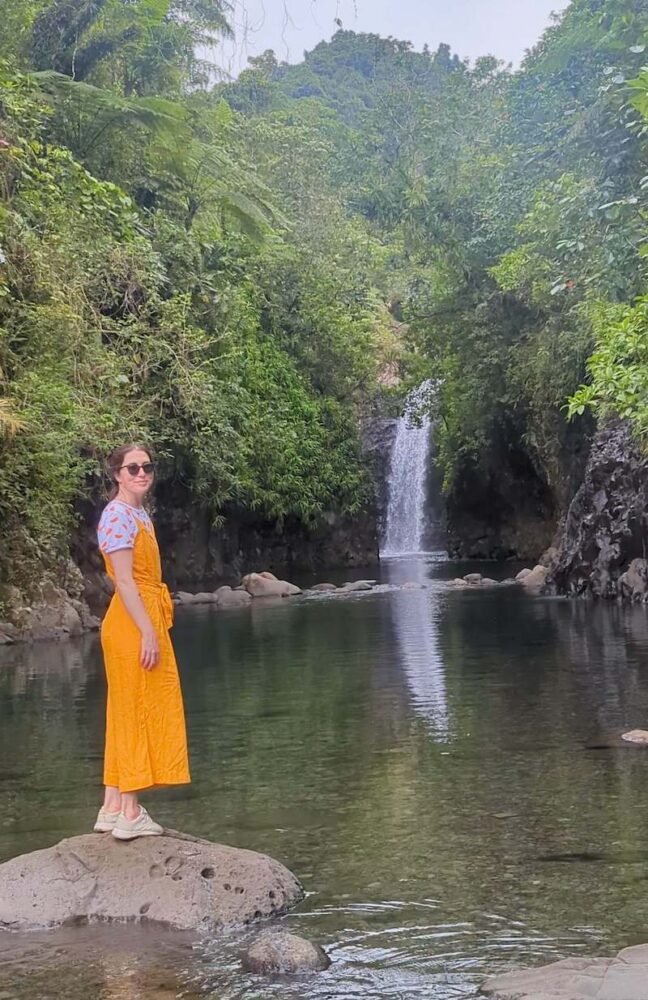 Like most hikes in Fiji, there is a fee for doing the Lavena Coastal Walk which is used to support cnd subsidize the village that cares for the land around it.
​Some people may balk at there being a fee, but I think it's a great way to ensure Fiji's residents benefit from tourism in their villages.
Also,, keep in mind that this is part of a national park! The majority of the Lavena Coastal Walk (in particular, its waterfall) is part of Bouma National Heritage Park.
As of 2023, the fee for doing the Lavena Coastal Walk was 30 FJD per person for access to the trail, or 10 FJD per person if you just wanted to access the beach (no trail).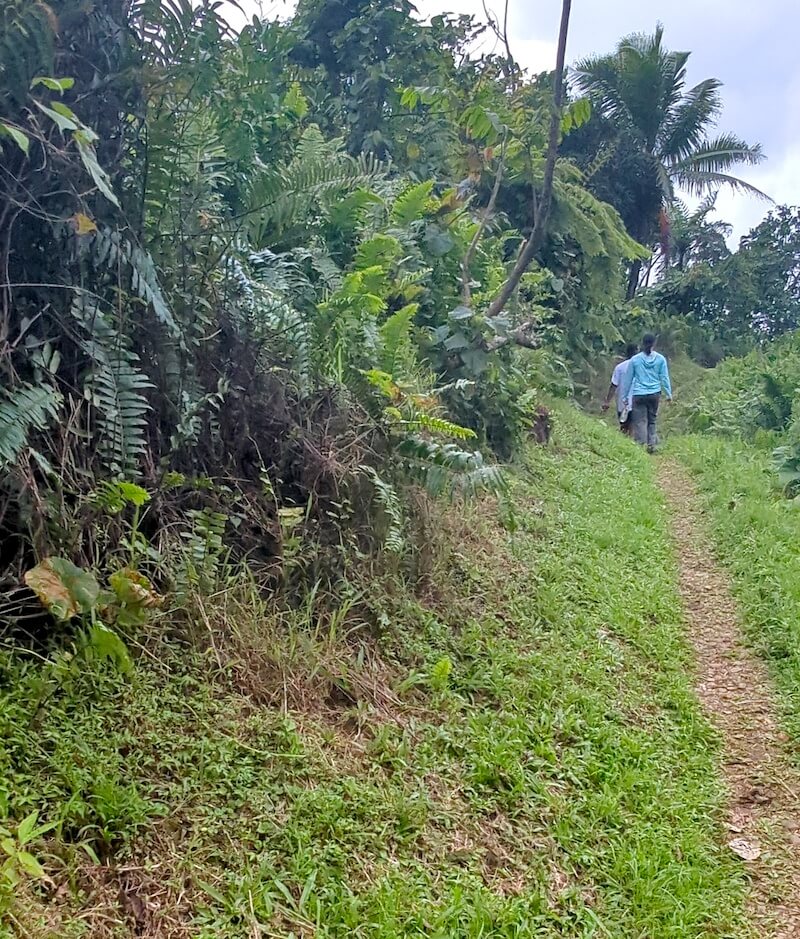 That's $13 USD per person for the trail or $4 USD for just the beach access.
You can also hire one of the local guides, who will tell you more about the village, point out local plants that are important in Fijian culture and cooking, and generally just show you the path.
​It's only 20 FJD to hire a guide, or $9 USD, so I think it's really a good idea to hire a villager as your guide, to further support the locals of Taveuni.
What is the Lavena Coastal Hike Like?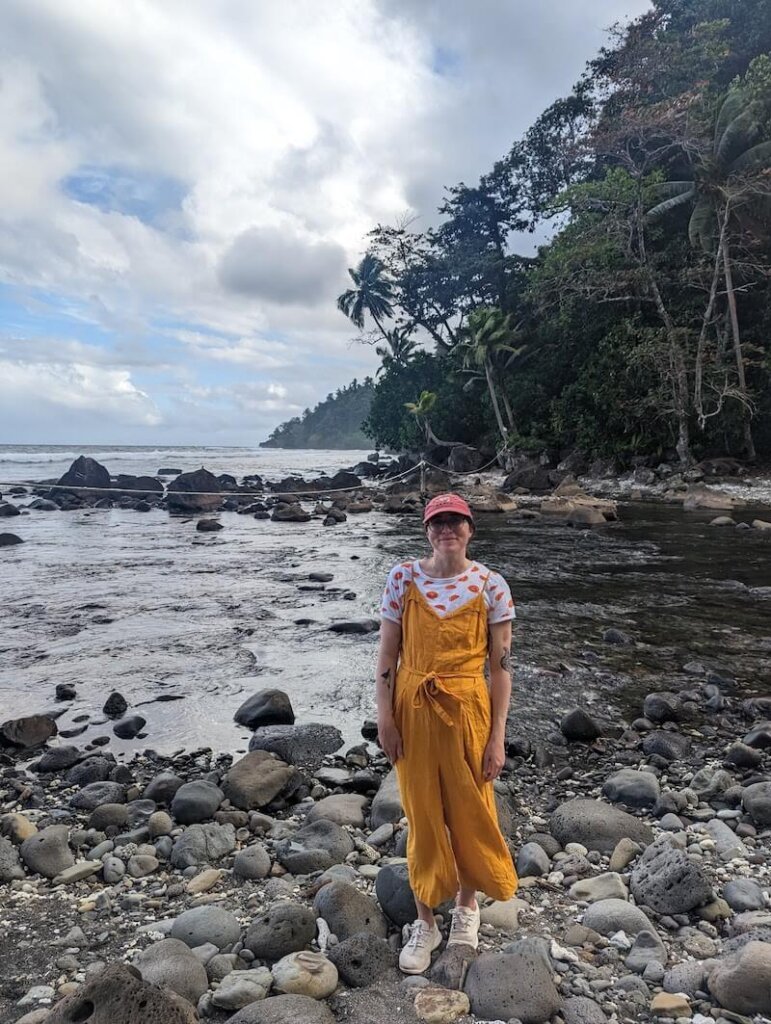 The Lavena Coastal Walk is an easy to moderate 10 km walk through mostly flat terrain, though it also includes a stream crossing (aided by a rope) and some hilly terrain with lots of steps at the end of the hike.
There used to be a famous suspension bridge instead of the creek crossing, but the suspension bridge was washed away by a cyclone in 2016 and has not yet been rebuilt.
At low tide, it's easy to cross the Wainambau Creek that flows out to the sea, but closer to high tide it may be more difficult, with nearly waist-deep water possible during the rainy season.
This is why I'd hire a guide, as they'll be able to show you the safe way to cross. You might want to bring water shoes for this portion of the hike.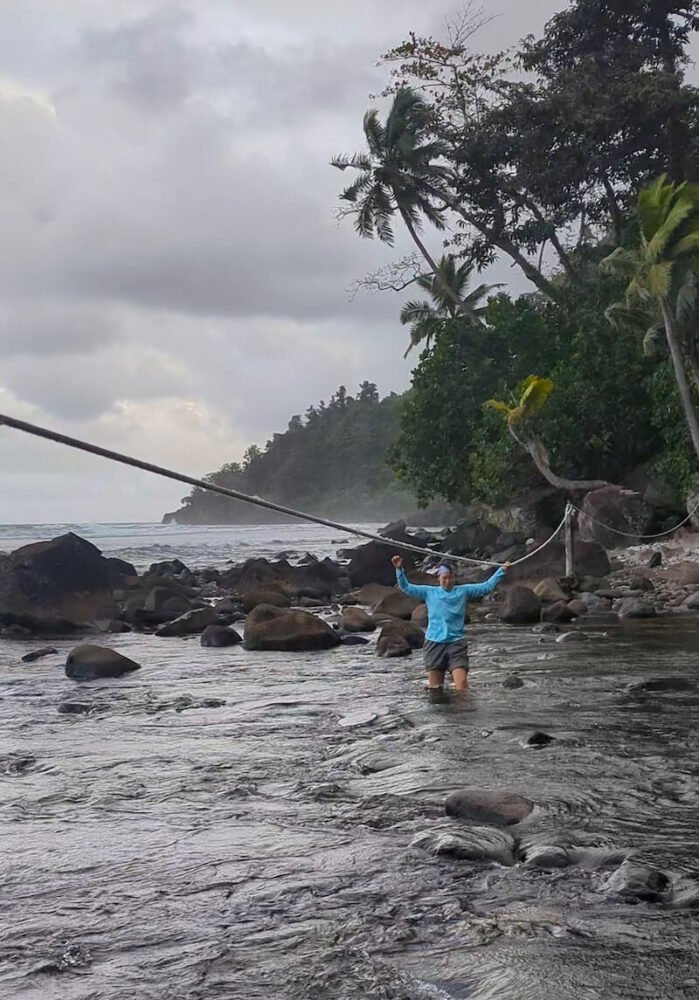 My girlfriend wore Chaco hiking sandals and got some pretty gnarly blisters on the hike.
I wore Allbirds (not necessarily hiking shoes) and was okay, and just dealt with wet shoes during the hike.
We arrived at Lavena around 3 PM to start the hike and we got back around 6 PM, taking about 3 hours to complete the hike including our stop at the waterfalls for about 20 minutes — not much time, but sufficient for us to enjoy a little swim.
Finishing just after sunset (which happens on the other side of the island) meant we had some pretty spectacular colors on the walk back!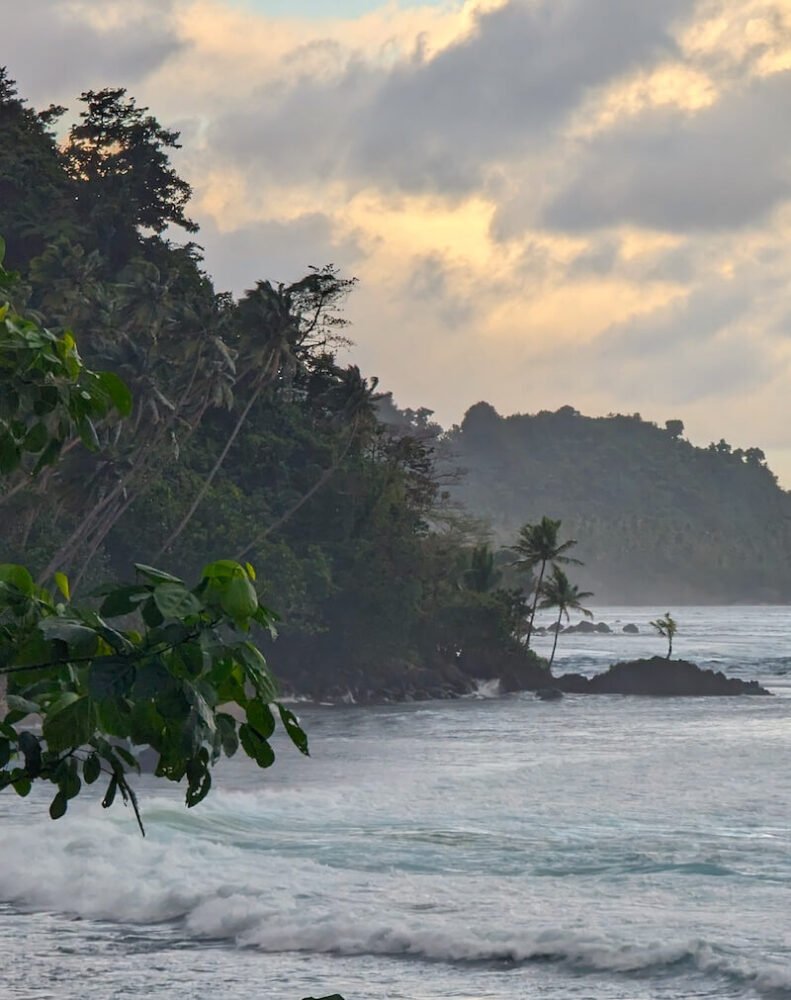 This was definitely a bit more rushed than I would have preferred, but since we were diving in Taveuni every day, it was the only way we could squeeze it into our schedule!
The Lavena Coastal Walk mostly winds along, well, the coast at the start of the walk. Eventually, you get more into the hilly area, with some mild uphill and downhill and eventually a river crossing.
​Not too long after the river crossing, you'll hang a right as the trail leads you to the waterfalls.
You'll hike along a beautiful, narrow gorge brimming with foliage, ferns, vines, and clusters of palm trees, all along a stream that leads you to the ultimate goal of the hike.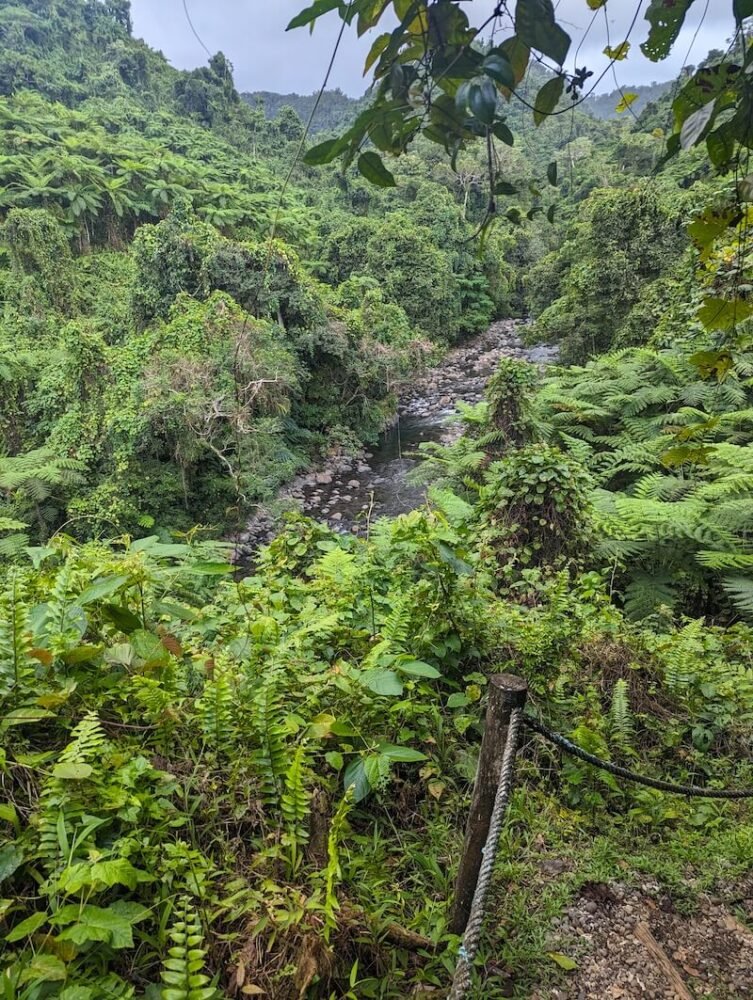 You'll go up a somewhat grueling series of steps before descending again, reaching the natural swimming pool formed by rocks begins, with a view of Wainibau Falls at the end.
But like I said before, this is only a preview: there's a second surprise waterfall tucked a little further in, which you can only see by taking a cold — I mean refreshing swim to the interior pools.
​Once you reach the inner grotto area where the two waterfalls are thundering, it's a marvelous, transcendent experience: a perfect reward at the end of the trail.
Our guide even climbed to the top of the waterfall (the smaller one) and used it as a waterslide!
Having done the (much smaller) Waitavala Water Slides a previous day on the trip and felt the fury of much smaller waterfalls… I passed on this!
Do You Need to Hire a Guide for the Lavena Coastal Walk?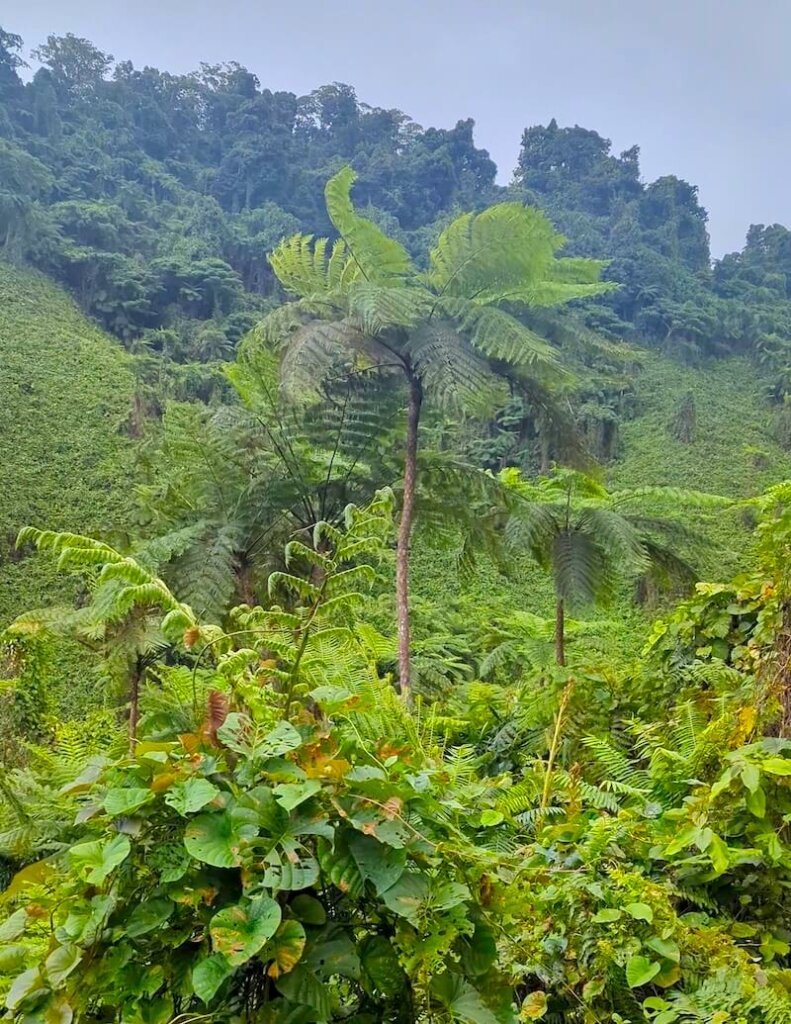 The Lavena Coastal Walk is well-marked and well-maintained thanks to its entry fee and the villagers who take care to maintain the trail's beauty and safety.
You could easily navigate it without a guide… but I'd argue that you really shouldn't.
For one, a guide will show you what's safe (or relatively safe, I suppose) in the waterfall area, such as where to climb, jump, slide, etc. on the falls.
This is their playground — they know it best!
​Our guide also pointed out local plants — kava, taro, cassava, and other plants essential to the Fiji culture and cuisine — and told us cool stories about some of the islands' plant life.
More on that below!
What Plants Will You See on the Lavena Coastal Walk?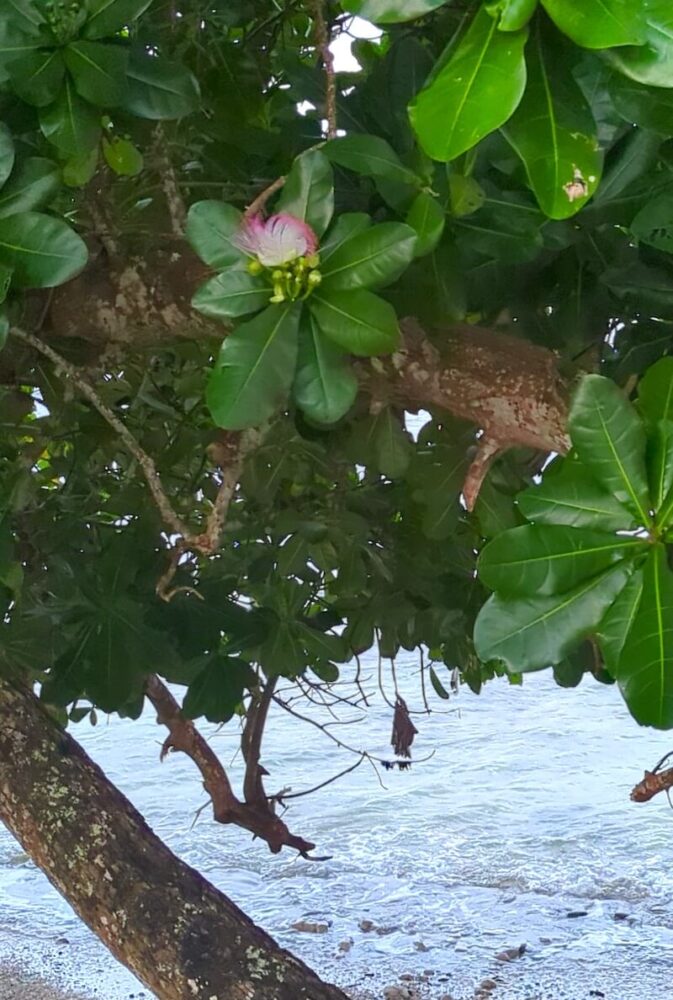 From our guide on the Lavena Coastal Walk, we learned about this beautiful pink flower we had seen on the ground several times.
It comes from the fish poison tree, or putu in Fijian language (officially called the Barringtonia asiatica by botanists).
Its name in English stems from how its seeds contain toxic saponins, which can be ground into a powder and used to stun and stupefy fish, so that they float to the surface of the water for easy catching.
While it may seem a bit strange, this method of fishing has been used by Indigenous peoples from various cultures around the continents for centuries.
This tree is very interesting for multiple reasons — obviously, its toxic aspects are very interesting, but there's also way more to it than just this!
The flower of this tree also only blooms after sunset and falls to the ground as soon as the sun rises the next day, living a short but beautiful life.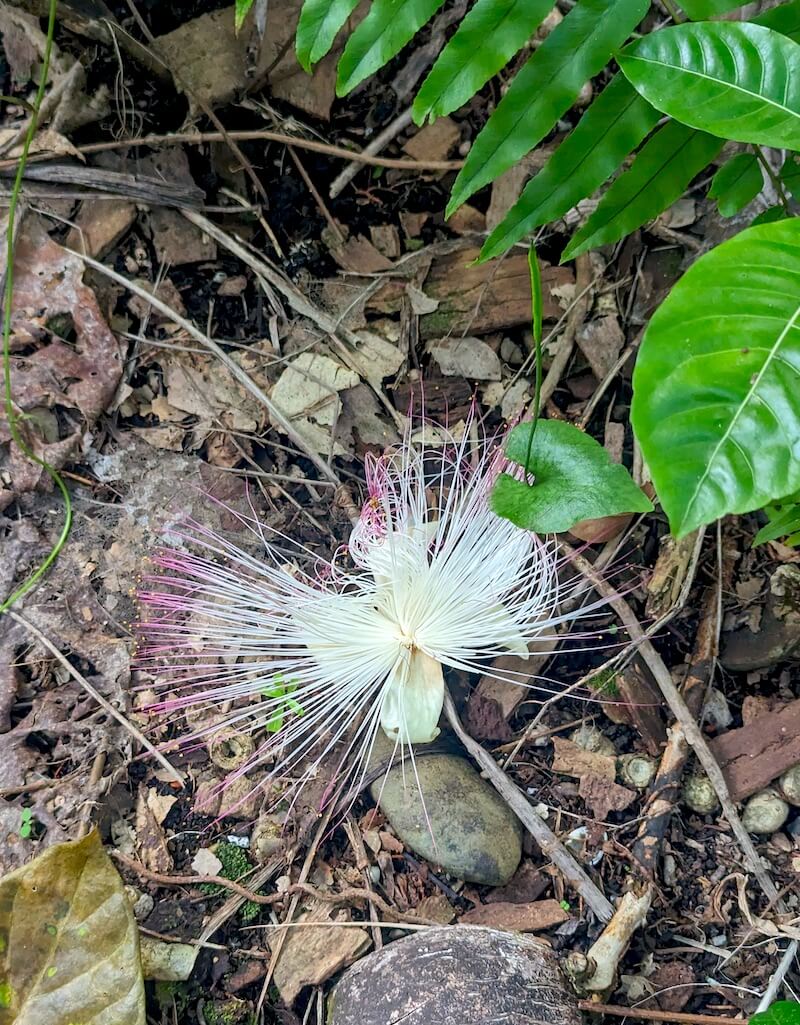 This short life is by design, though: the flower of putu tree is more akin to a coconut than any flower you can imagine, as it has evolved to be dispersed by sea rather than by animal pollinators.
Able to survive more than a decade in the ocean, this plant has managed to spread from Oceania to tropical parts of Asia, as far away as Bangladesh.
Once it finally makes its journey across an ocean and washes ashore, when it is finally soaked in fresh rainwater, the seed inside the flower germinates, and a full tree can grow wherever it landed.
Pretty cool, right? I never would have known all this without the help of a guide, and would have thought of it as a mere pretty flower like no other!
You'll also see the kava plant (whose roots are matured for 3-5 years before being dug up, dried, and ground into powder for consumption) — a major part of social ritual and community in Fiji.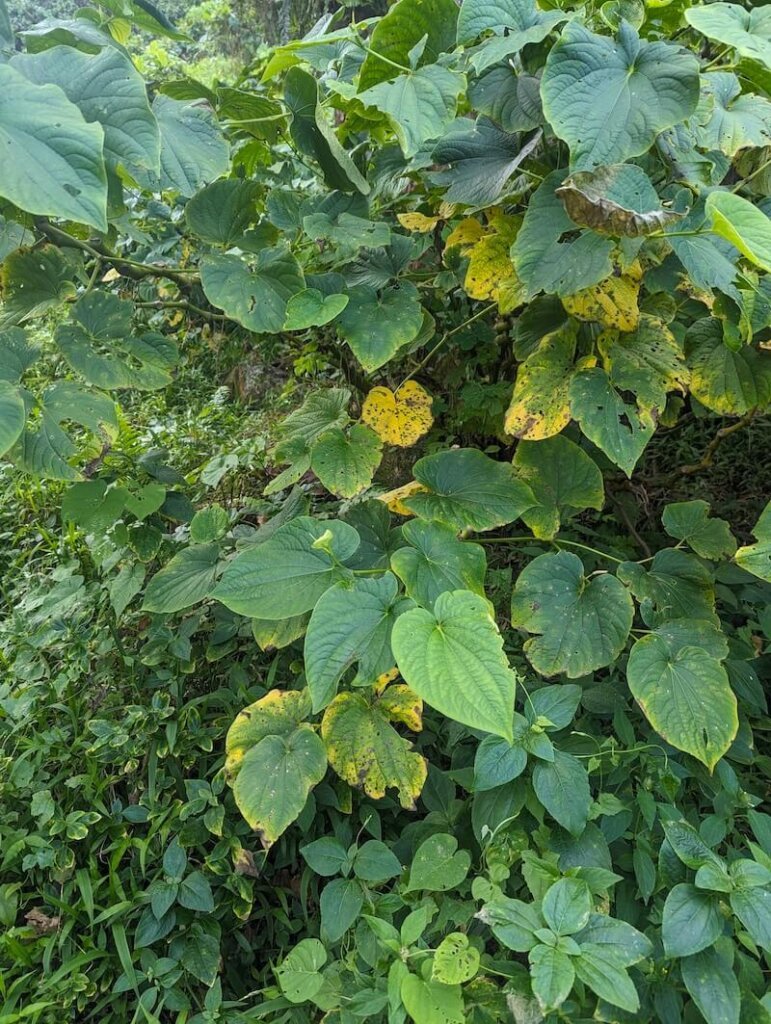 Our guide also showed us other important Fijian crops, like taro (the root of the alocasia, now a popular houseplant in many parts of the world.
We also saw what a mature cassava plant looks like. Cassava is a staple food in Fiji, which when raw, contains cyanide, but is perfectly safe once soaked and cooked.
As someone who watched a little too much Naked and Afraid during the pandemic lockdowns… this almost equalled my enjoyment of the waterfalls at the end of the hike!
Other Ways to Experience Lavena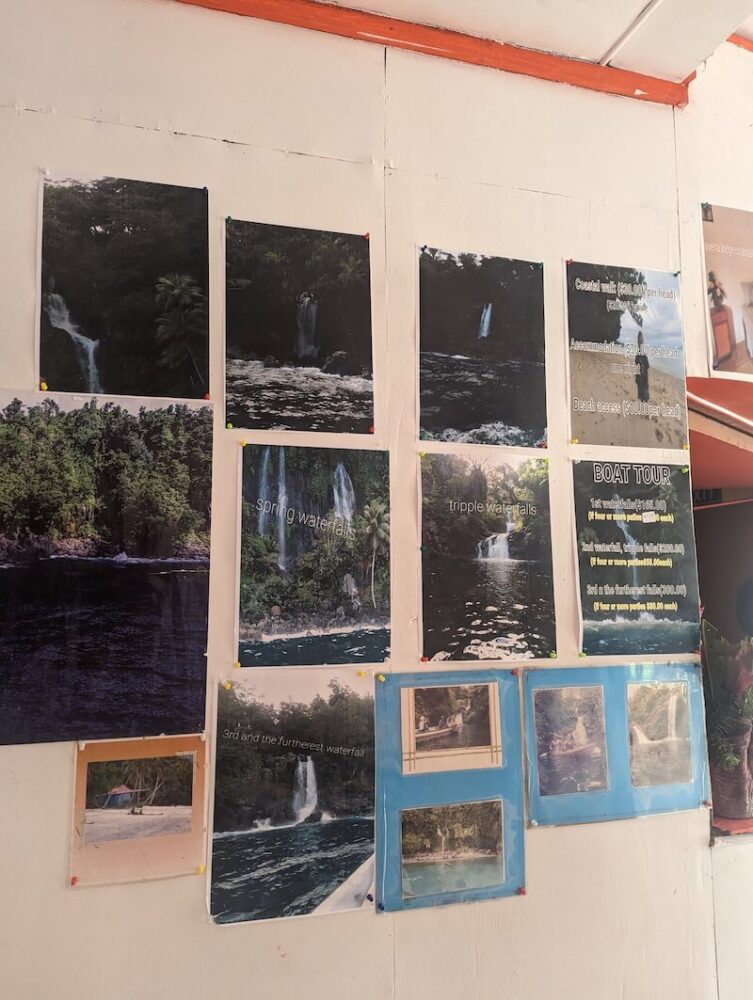 While the Lavena Coastal Walk is the most popular option for tourists visiting Lavena, there are definitely other ways to experience the charm of this part of Taveuni.
The next-most popular way is exploring the waterfalls by boat, or one-half by foot and the other half by boat.
We didn't choose this option (we had been on a boat all day, and we wanted to hike!)… and it ended up being good, because the water was actually really choppy as we noticed on our hike, and my stomach contents would have been in the sea in mere minutes.
On a more tranquil day, though, I imagine this would be a great choice to do — though it is a little pricy, admittedly.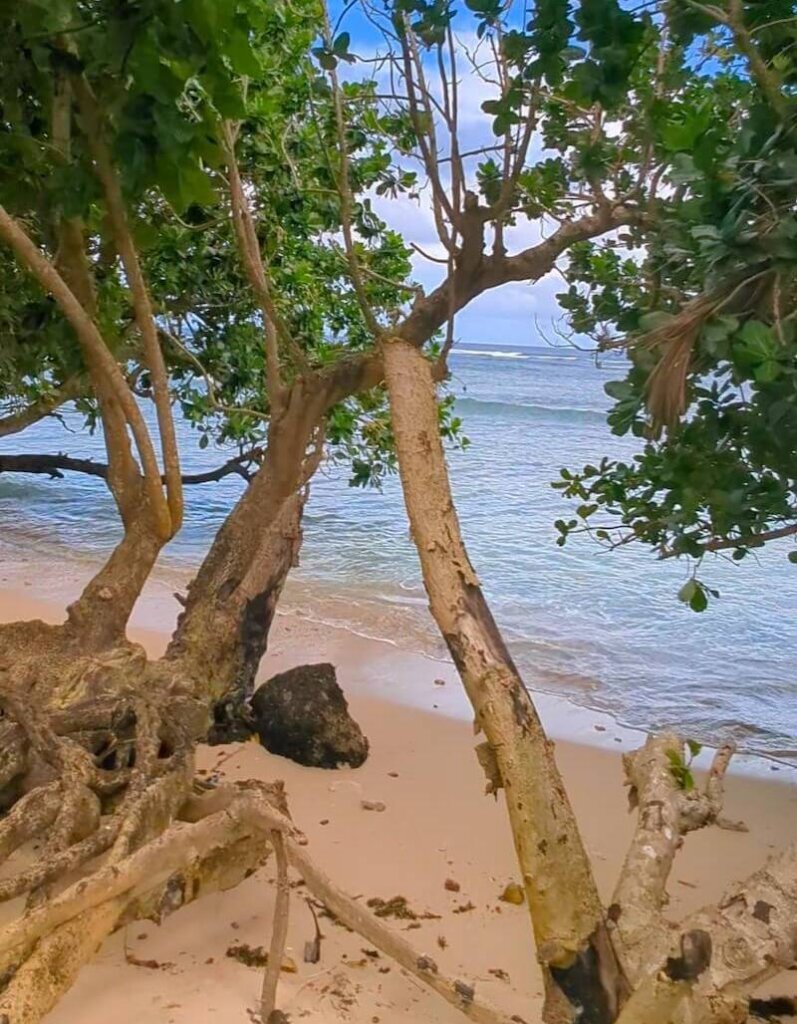 A boat tour costs 165 FJD ($73 USD) for the most basic tour to only the first waterfalls. I believe this is equivalent to skipping most of the hike to Wainibau Falls and just doing the interior portion that must be done on foot.
If your party is 4 or more, then it costs 45 FJD ($20 USD) per person for this first boat tour option.
There are more options, such as the tour that brings you also to the second waterfall, a cascade of three falls. For 3 or less, it costs $200 FJD for the boat. If your party is 4 or more, then it costs 50 FJD ($22 USD) per person.
The last boat tour option includes the furthest-away waterfalls for 300 FJD ($132 USD) for parties of 3 or less, or 80 FJD ($35 USD) per person for parties of 4 or more.
One final way you can experience Lavena is by choosing to stay the night! I didn't even realize this was an option, but I noticed in the visitor center that they offer accommodations for 30 FJD ($13 USD) per person per night.
I'm not sure what you'd do for food, but I imagine this is a homestay-style situation where you can also add on a meal with a local family.
Can You Visit Lavena Coastal Walk and Tavoro Waterfall in One Day?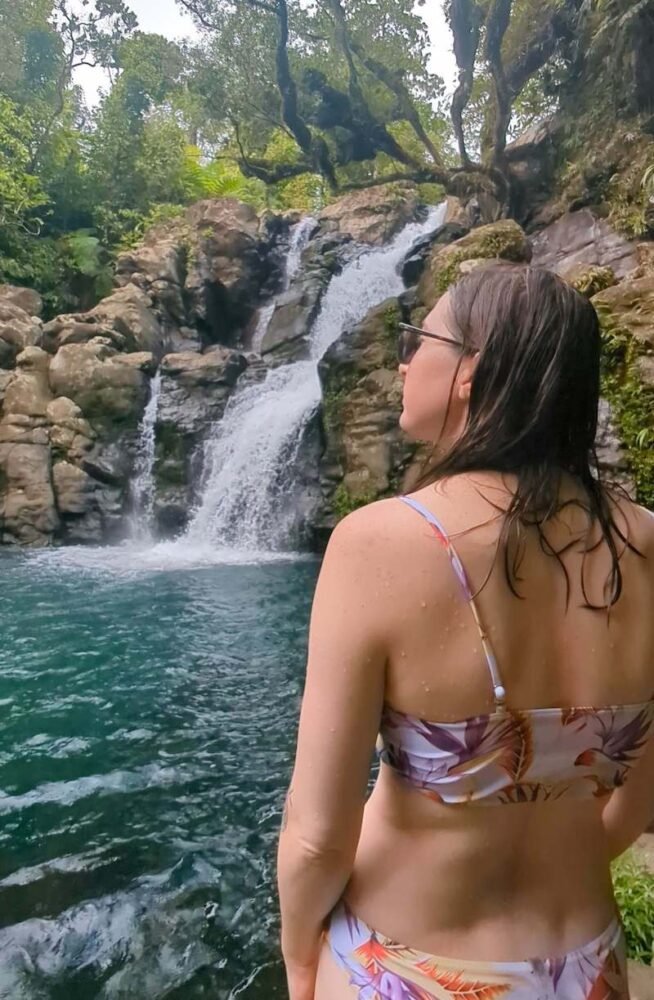 One thing I noticed about Lavena when looking at the map is that it's in Bouma National Heritage Park, same as the Tavoro Waterfall (also known as Bouma Waterfalls).
The short answer is yes — you can, if you get an early start and don't mind totaling up about 3 hours hiking in Lavena and another 3 hours hiking in Bouma, sure.
You'd need to prepare for this though, by eating a hearty breakfast before you leave, hiring a taxi for the full-day to make round-trip smoother, and packing your own lunch, since there isn't anywhere to buy lunch between Lavena and Bouma.
​I'll be writing about the Tavoro Waterfall hike next, so keep an eye out!
This would be a grueling day unless you're a highly experienced hiker who doesn't mind hiking from dawn 'til dusk, but it's definitely doable if you're trying to save money on taxi costs or fit multiple things into a packed schedule.
The travel time between the trailheads for the Lavena Coastal Walk and Bouma Falls is quite short, vs. the travel time to reach Bouma National Heritage Falls from Matei (at least an hour), so it may be sensible to combine them if you like to do a lot of hiking!
Allison Green is a former educator turned travel blogger. She holds a Masters in Teaching and a B.A. in English and Creative Writing. Her blog posts merge her educational background and her experience traveling to 60+ countries to encourage thoughtful travel experiences that both educate and entertain. She has been a speaker at the World Travel Writers Conference and her writing, photography, and podcasting work has appeared in National Geographic, CNN Arabic, CBC Canada, and Forbes, amongst others. Now based in the San Francisco Bay Area where she grew up, she has also lived in Prague, Sofia, and New York City.