Let's be real: who wouldn't want to visit a medieval town filled with fairytale charm on their trip to Germany?
Füssen is famous for its picturesque old town, pristine natural landscapes and nearby castles (yes, there's more than one!) that inspired the work of Walt Disney.
There is even a section of road that is literally named "The Romantic Road" because it's just that darn cute.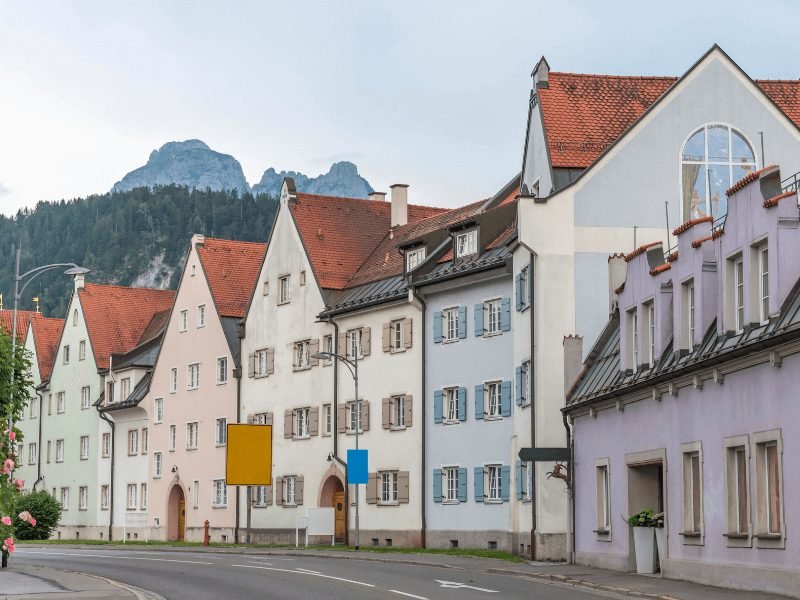 Note: This post contains affiliate links, which means I may receive a small commission if you purchase something through one of these links. Thank you for supporting the free content on this site! For more information on affiliate links and cookies, see my disclosure page for more details.
It just doesn't get more charming than this!
So, pack your suitcase and hop on a plane because Füssen is about to show you why everyone who visits falls in love with this charming Bavarian town.
Just don't be surprised if you never want to leave once you see how many great things to do in Füssen there are!
The Best Things to Do in Füssen, Germany
Take a day trip to Neuschwanstein Castle, the "New Castle".
Who doesn't love a petty power struggle between royalty?
Designed to put the nearby Hohenschwangau Castle to shame, King Ludwig II of Bavaria planned Neuschwanstein Castle to show off his royal power: inspired by historic knights, done in a throwback 12th century-style.
Originally, he planned for Neuschwanstein to have more than 200 rooms, but only a dozen were built before the King died, causing the construction to come to a halt.
However, I'm sure Ludwig would be happy to know that, even incomplete, the Neuschwanstein castle now sees nearly 1.5 million visitors a year!
Even cooler, its modern day fame and popularity is in no small part thanks to the work of Walt Disney!
Before creating Disneyland, Walt Disney visited Neuschwanstein. He was so struck by the beauty of this unique castle and its surrounding landscape that he was inspired to create the iconic design of Sleeping Beauty's castle!
So whether you are a history buff, a Disney lover, a castle enthusiast or someone who just simply enjoys incredible views, you can't miss a visit to Neuschwanstein Castle!
Plus, every season offers an entirely different view of the surrounding area — all of them dreamy.
One of the best views is in the fall, when the castle is surrounded by bursts of colorful leaves.
Meanwhile, the winter months transform it into a winter wonderland, like something out of a snow globe.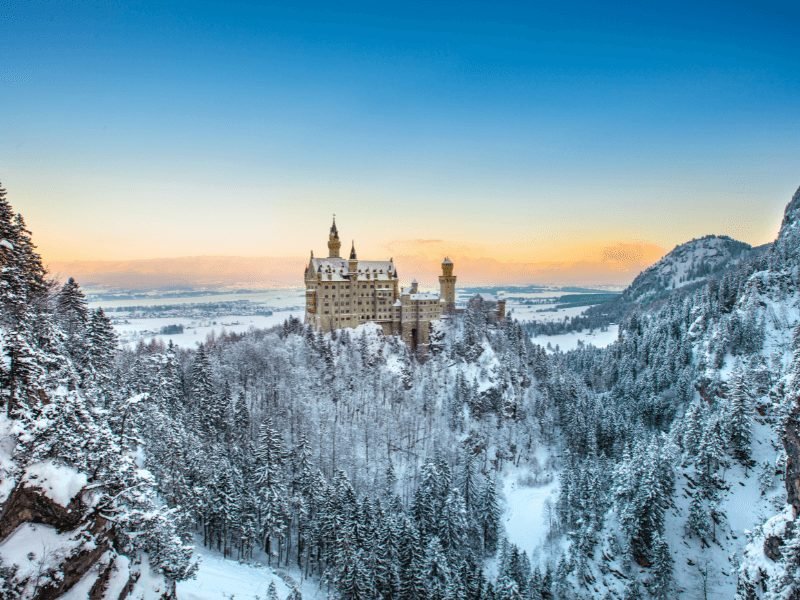 Just make sure you plan ahead (like… ahead ahead), since this is one of the main attractions in Germany, even if Füssen itself isn't that busy.
Getting tickets to Neuschwanstein can be a bit of a nightmare.
Looking at the official website here, I see that tickets are sold out for over a month for Neuschwanstein Castle during the peak summer season.
This is one of the most famous castles and most visited castles in the world, so you'll definitely want to plan ahead here.
There are a few tickets that are sold same day at the Ticket-Center Hohenschwangau in the town of Schwangau (not at the castle itself, or in Füssen for that matter, so you'll also have to walk, drive, or take a bus here).
It opens at 7:30 AM during peak season, and lines sometimes form before the ticket center even opens. It's not unheard of for tickets to be sold out before 7:45 or 8 AM.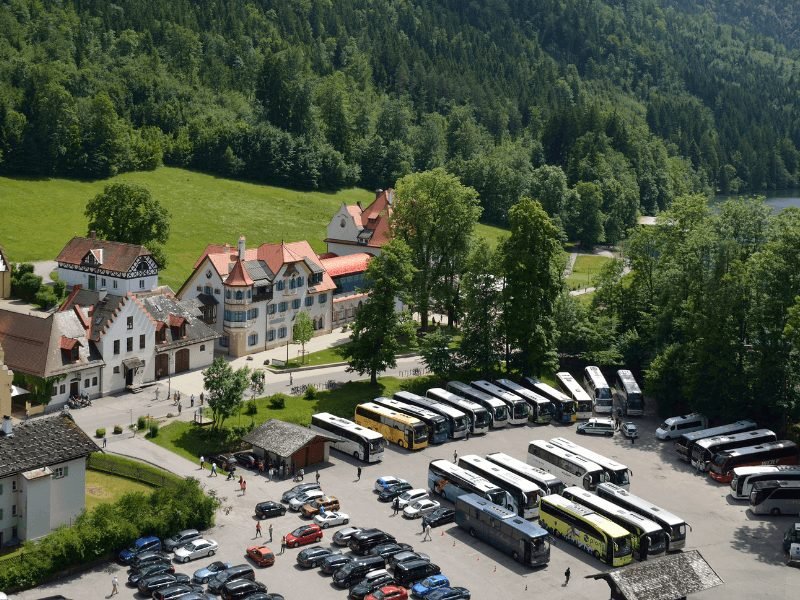 If you can't get tickets through the official website, I'd recommend trying to book a guided tour or a ticket online in advance (check here and here to see if there are openings).
If that still doesn't work, you can book a private tour of Neuschwanstein Castle, which is pricy but better than going to Füssen and not getting to see it.
The guided tour includes tickets, a private guide, a shuttle to Marienbrücke (if in season), a tour of Neuschwanstein castle, and a horse carriage ride to to the village of Hohenschwangau before returning to your hotel in Füssen.
If that also is sold out, there's also this private castles tour, which includes Neuschwanstein Castle as well as Linderhof Palace and Wieskirche, a beautiful local church.
You can also book a private photoshoot at Neuschwanstein Castle here if you want someone to help you capture the memories, but it is a pretty pricy experience.
Getting tickets may sound like a nightmare (and is, in peak season), but this is still one of the top things to do in Füssen.
Explore the "Old Castle", Hohenschwangau Castle.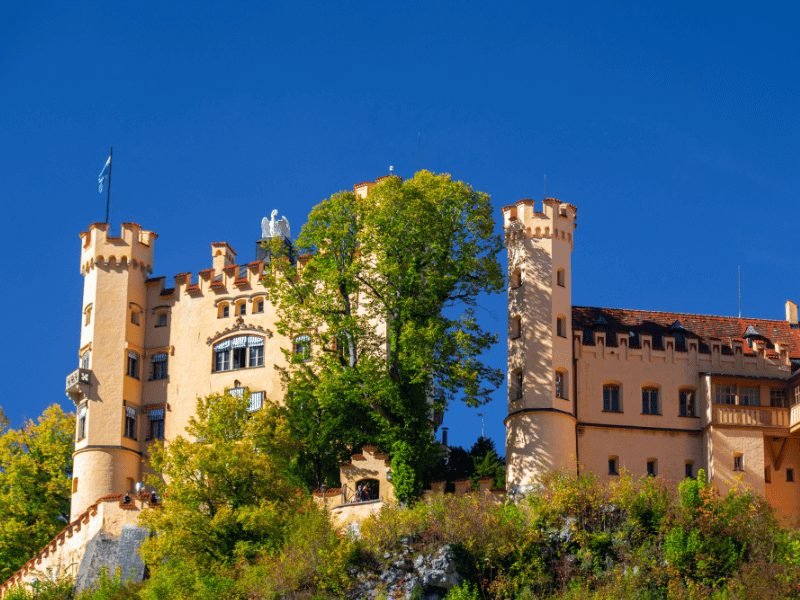 Just a stone's throw away from the famous Neuschwanstein Castle, you'll find Hohenschwangau Castle, the place where King Ludwig II grew up.
Right away, you can see a huge difference in architecture as you stare at the castles side by side.
Hohenschwangau has a more medieval look and while it isn't as grand as Neuschwanstein, it provides a glimpse into what life was like during the early 1800s.
If I'm being completely honest, I think the interior of Hohenscwangau is far more impressive (and what really makes it worth visiting)!
This may have something to do with the fact that it sees far less visitors but overall, I found Hohenschwangau to be a calmer and more serene experience.
You still need to book a tour to see this castle (remember to book ahead several days in advance — luckily, you can do so on the official website some days before and not need to pay a big mark up or shell out for a private tour!).
It's worth it, though: you'll be blown away by the carefully painted walls, plethora of historic artifacts, and picturesque gardens.
Just a thought as you plan your trip: you could easily visit both castles in one day!
Walk around the Old Town of Füssen.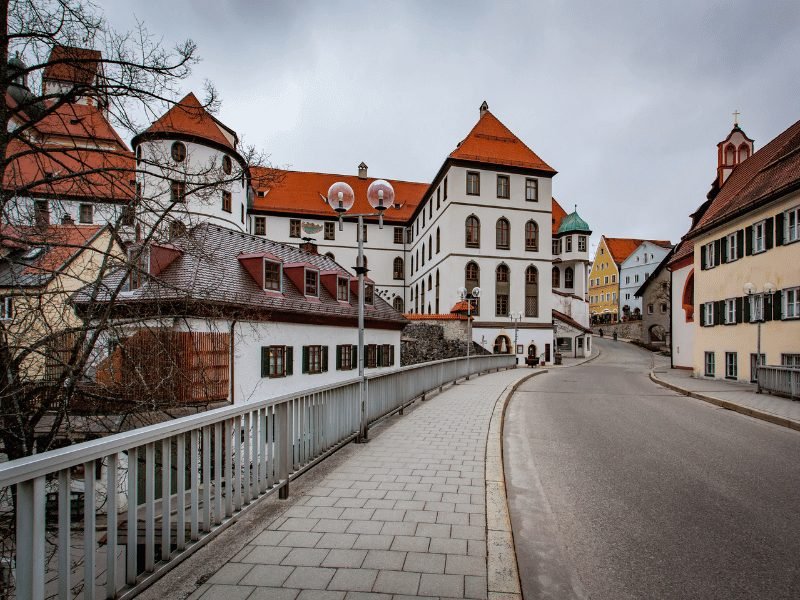 Füssen has one of the smaller old towns that I've seen but that just means it makes it easier to experience everything this historic gem has to offer!
You can explore the old town center in just a few hours, including all of the unique shops, charming souvenir shops, hidden alleys, and historic landmarks along the way.
This medieval old town dates back 700 years, and the bright colored buildings contrast perfectly against a mountain range backdrop, making it a great place for photo ops.
As you walk amongst the cobblestone streets, you'll even be treated to views of the High Castle towering above the town.
I loved getting here early in the morning before the town woke up and watching as it slowly came to life.
Grab a delicious pastry from one of the many cafes and get to exploring!
Hike to Germany's highest lake.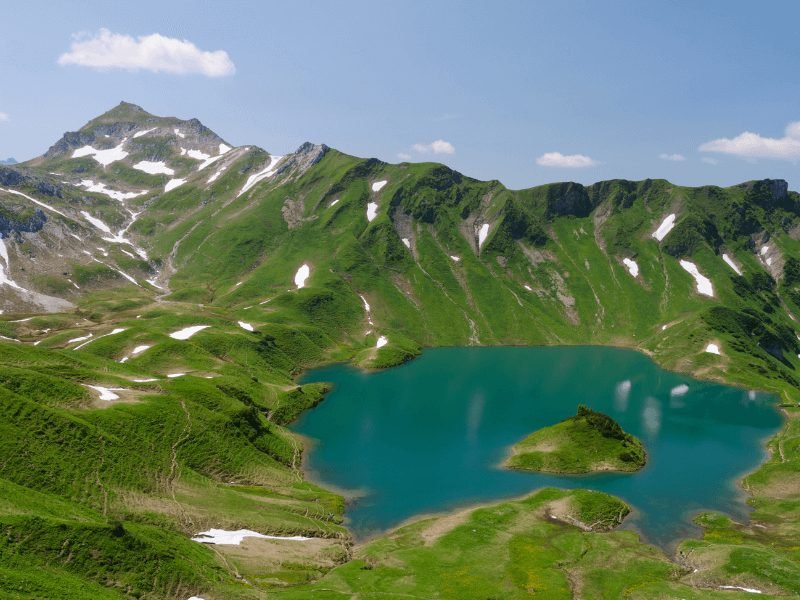 Located less than an hour away from Füssen, a visit to Lake Schrecksee is well worth the day trip.
The hike is a little over nine miles roundtrip (15 km) so it'll probably take you all day.
But when you're finished, you can say that you hiked up to the highest alpine lake in Germany… and you'll have hundreds of breathtaking photos to prove it!
Before you go, make sure you're well prepared. Pack layers, snacks, water and trekking poles if you can.
This hike is a challenging one, so it's a great addition to your Füssen itinerary if you're the kind of traveler who thinks a trip isn't complete without a great hike.
That said, I'm a huge hiking field, and to be honest, I wouldn't recommend it for people who don't normally hike (mainly because of the elevation gain).
However, those who rise (literally!) to meet the challenge will be rewarded with panoramic views of the mountains and a breathtaking turquoise lake with an island at its center. If you're feeling really brave, you can even swim out to the island and back!
P.S. The trail is only accessible if you visit during the summer months.
Marvel at the Linderhof Palace.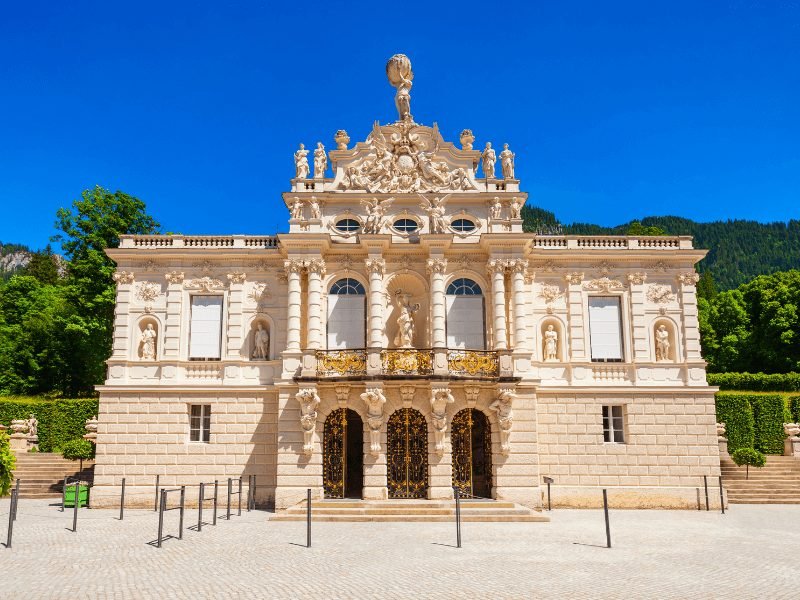 Neuschwanstein Castle isn't the only place in Füssen to admire King Ludwig's, uh, unique architectural style.
During the same time period, Ludwig also designed the Linderhof Palace and it's another great example of what royalty looked like in the 19th century.
From the outside, the Linderhof Palace looks like your typical Baroque style villa but once inside, French influence takes over.
Every room in the palace is covered head to toe in lavish ornamentation to the point where it feels overdone.
Honestly, some rooms look absolutely ridiculous (sorry Ludwig, you are a bit extra!) but it only makes the palace as a whole that much more interesting.
Plus, when the overwhelming environment gets to you and you start feeling claustrophobic, you can head out to the Linderhof Gardens for a beautiful walk.
In the gardens, various European styles blend to create an atmosphere that's equal parts unique and stunning, and the perfect place to escape from the almost-camp that is Linderhof Palace.
Try traditional Bavarian food.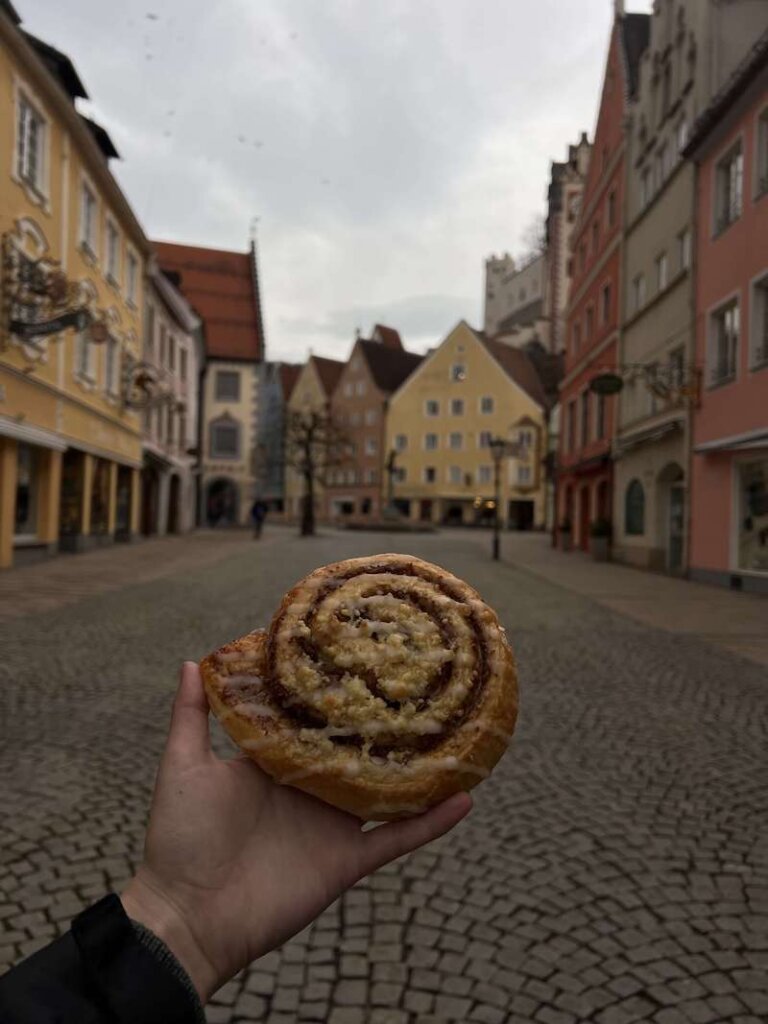 Put on your stretchiest eating pants, because Füssen is a great place to try a variety of traditional Bavarian dishes!
From the wide variety of restaurants serving local delicacies to the handful of bakeries, there's a new delicious food to try with every meal.
Start the day with a delicious Nussschnecken (German nut roll) from Bäckerei Höfler — it's one of the top things to do in Füssen. 
Head to Gasthof Weizen Brauerei for lunch because let's be honest, no trip to Germany is complete without pigging out on bratwurst at least once.
As though all that wasn't enough amazing food, you can finish up the day with the best pork knuckle you'll ever have at Restaurant Ludwigs.
But wait, there's more! Don't forget about snacks!
In addition to the classic Bavarian pretzel, Füssen is home to a German favorite: the Schneeball (aka snowball).
This deep fried pastry is covered in powdered sugar and often filled with a tasty surprise like marzipan, making it a must on any German adventure!
Explore around the falls.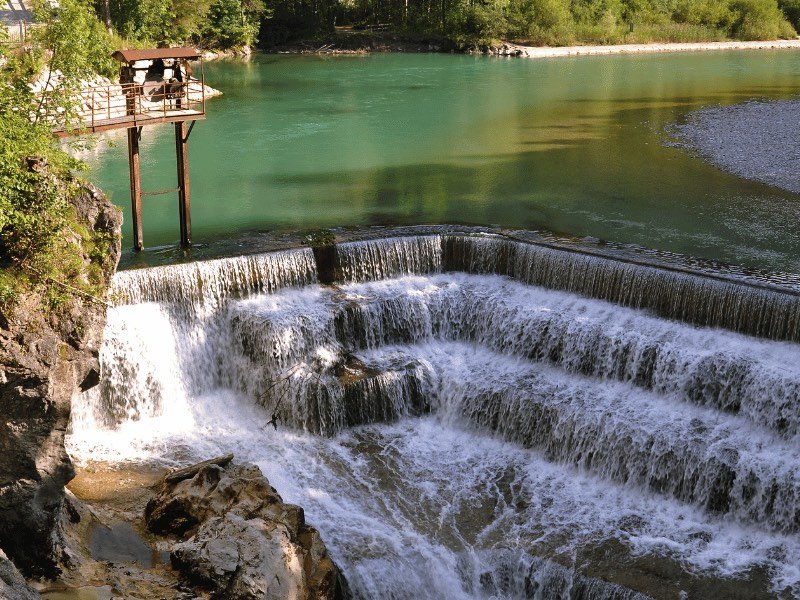 The lovely Lechfall may be man-made, but that doesn't make it any less impressive.
In fact, what really draws people to the falls isn't the way the water cascades over tiers of stone, but its impressive turquoise color!
I'll happily confirm that those pictures on Instagram aren't edited. It's really that blue!
After you've admired the falls, the Lech River, and the picturesque gorge surrounding it, consider going for a short walk.
In less than half a mile (and a random slide later), you will have crossed the Austrian border!
Who wouldn't want to fly back home and brag about the time they hiked from one country to another?
Stand on an ancient bridge.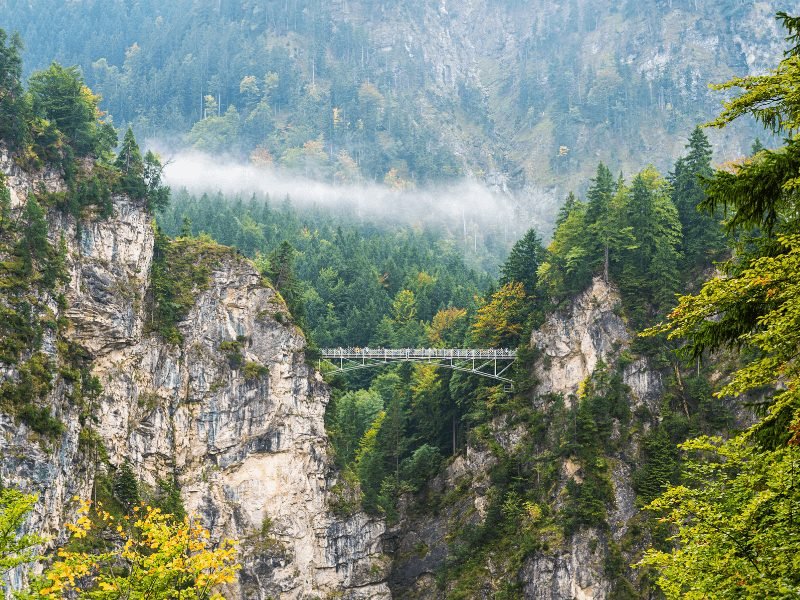 Best paired with a trip to the Neuschwanstein Castle, Marienbrücke is a unique bridge with a lot of history.
Also known as Mary's Bridge, Marienbrucke was originally built back in 1845.
During this time, a bridge of this magnitude was unheard of, so its trial and error building process left much to be desired.
Being the lavish king that he was, King Ludwig replaced the bridge in 1866 to make it easier on the eyes and complement (you guessed it) Neuschwanstein Castle.
Now, when you walk along this picturesque bridge, you're rewarded with incredible views of the castle and the mountains beyond it.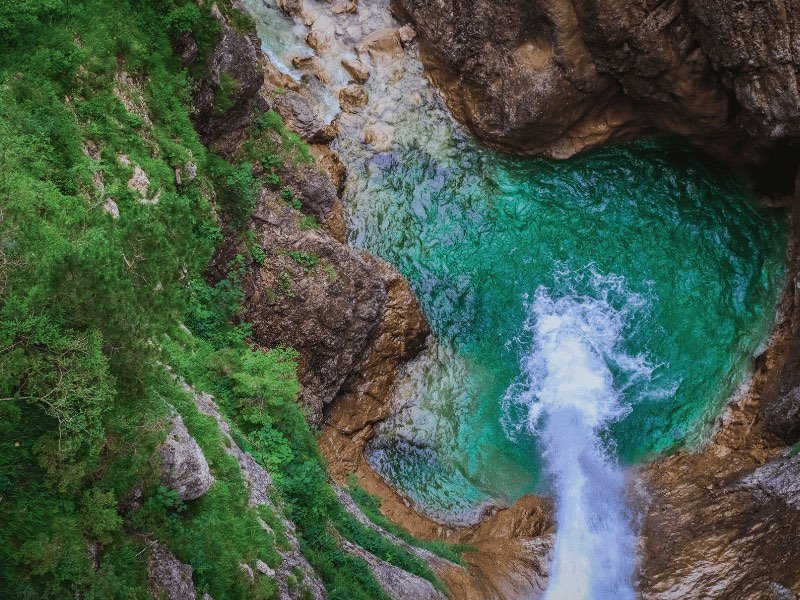 Look down and you'll even see the gorgeous Pollat Cascade 300 feet below your feet!
Even though the bridge still has its original 1866 barristers, the rest has been restored and renewed to ensure the safety of visitors.
Pro tip: Buy your admission ticket to Neuschwanstein ahead of time so you can go right from the bridge into the castle.
If you don't, you'll be taking the 45-minute walk or waiting for the shuttle bus back to the ticket station…. and tickets likely won't be available by then anyway.
Take a cable car up to Tegelberg.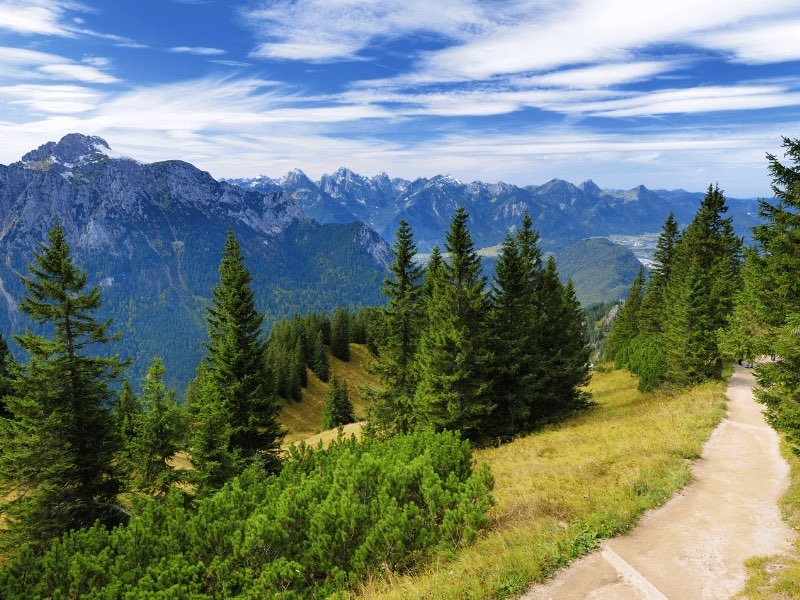 So, I'm sure you've been admiring the towering mountains that surround Füssen as you wander around the old town and visit the castles, but now it's finally time to see what the beautiful view is like from the top!
Mount Tegelberg is a part of the Ammergau Alps (which are part of the larger group of Bavarian Alps), and it's one of the most well defined mountains in the range.
Odds are good it's the one you have been taking a whole bunch of photos of…
Considering the fact that it stands more than 3,000 feet above Füssen (which already has elevation of about 7,000 feet), it's actually pretty easy to get to.
Thanks to delightfully efficient German public transit, a short 10-minute bus ride will take you from the heart of Füssen to the valley of Schwangau.
There, you can then hop on a cable car for a 15-minute ride to the top of Tegelberg Mountain.
The journey alone is breathtaking with incredible views of the valley, Ammergau Alps, and all the most beautiful castles that bring people to Füssen to begin with.
Once you reach the top, you'll be blown away by the panoramic views.
Prolong your stay up here by checking out the archeological site or doing one of the many outdoor activities, like hitting one of the hiking trails, hopping on the toboggan, or even paragliding!
Hang by (one of many) the lakes.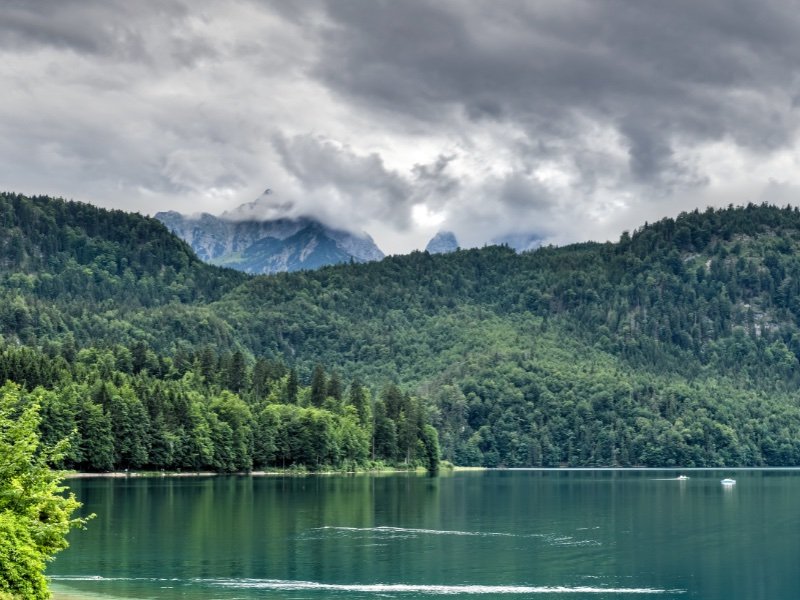 With more than 10 lakes near Füssen to choose from, you'll have no trouble at all finding a place to relax by, on, or in Germany's crystal clear waters.
To pair lake fun with a visit to the Museum of the Bavarian Kings, choose Alpsee (my top pick).
It's also acclaimed for being one of the cleanest lakes in all of Germany!
Head over to Lake Forggensee to go for a swim in Germany's largest reservoir and stay late to catch the evening boat ride for some live music.
If a family-friendly lake is what you're after, opt for Hopfensee.
Not only is it one of the warmest lakes in the Alps, but it also has a sectioned-off swimming zone and a miniature golf course for the kiddos.
You can also choose to skip the bathing suit and spend your day exploring along the water's edge. There are tons of hiking trails around each lake varying from relaxing stroll to heart-thumping adventure.
The options are endless in Bavaria's great outdoors!
Drive the Romantic Road.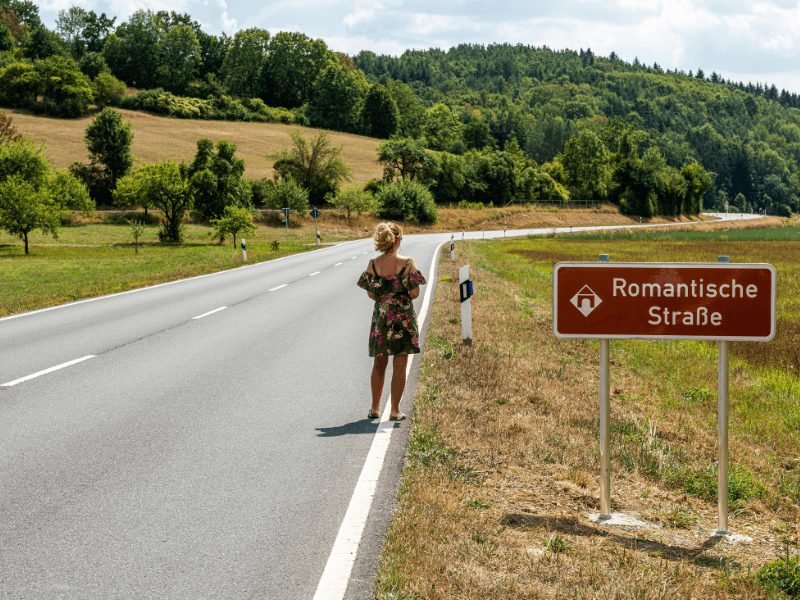 With nearly 250 miles of road and endless attractions along the way, you can plan your entire vacation around the Romantische Straße.
Even if you just have a day to spare, you don't want to miss an opportunity to drive at least a section of this historic, fairytale-like road.
There are 28 official stops along the way ranging from majestic castles to breathtaking churches but each stop will take you into a charming, medieval town.
You could spend an hour on Germany's Romantic Road just seeing the sights from the road and basking in the scenery.
Better yet, you can even take a full day trip stopping at a selection of towns, exploring what each historic small town has to offer.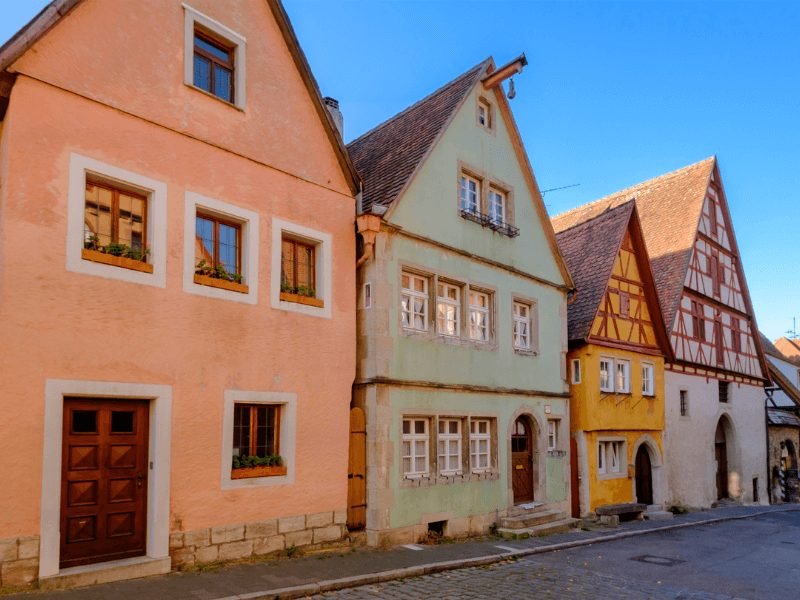 Just a few of the best towns to visit are Rothenburg ob der Tauer, Dinkelsbühl, and Würzburg (at the heart of Franconian wine country!) 
Plus, for those who love a scenic view, the mountains are never out of sight!
There's never a bad time to take this route (even the winter is special!) but try to avoid the summer months if you don't like big crowds.
There's a good reason that this is one of the most popular activities in Germany!
Visit the High Castle.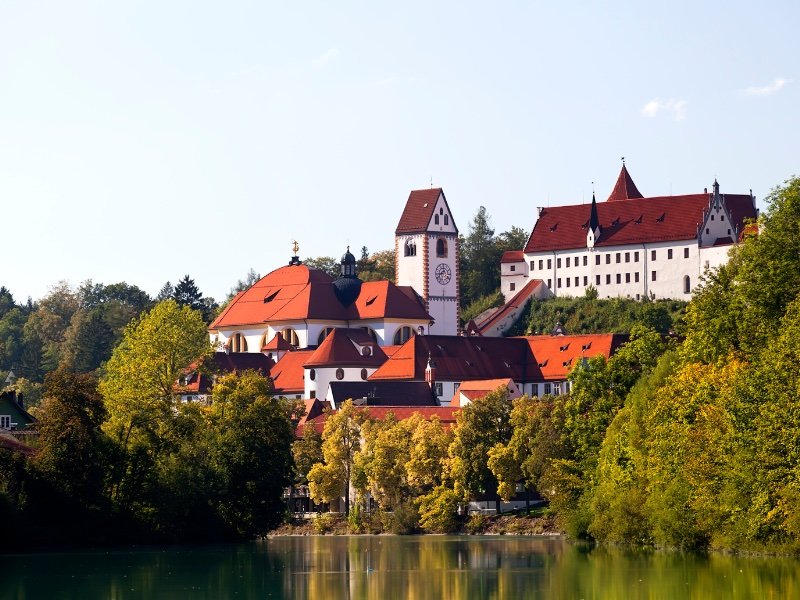 Sitting high atop a rocky outcrop (hence the name), the Hohes Schloss looks over the old town of Füssen and adds to the charm of an already picture perfect place.
Just admiring the view of the castle from down below is a treat, but getting to explore it yourself? Chef's kiss.
Plus, as an added bonus for you history geeks out there, the castle is considered to be one of the most extensively well-preserved Gothic castles in all of Bavaria.
And given German attention to detail, that's not for nothing.
As you walk through the castle, you not only get to marvel at the rich detail of 15th century architecture that once was a royal summer residence.
You also get to admire a variety of 15th, 16th, and 19th century art.
It's a historic castle and art museum encompassing years and years of history, all bundled up into one!
Try a canyoning tour.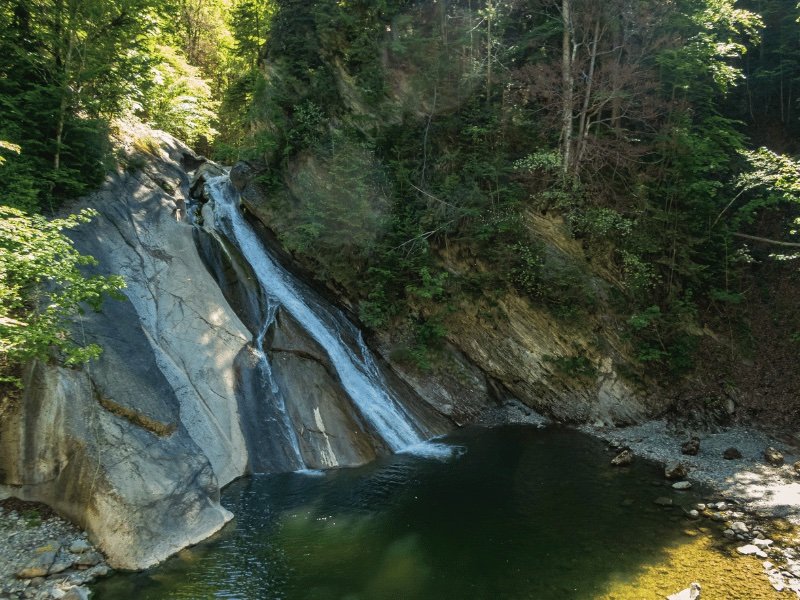 Want to experience a different side of Füssen?
Explore the beauty of the Starzlachklamm Gorge — on a canyoning tour!
Cliff jump, climb, and swim your way through this paradise of crystal-clear streams and towering waterfalls!
You'll even get to climb up near-vertical rock walls with the aid of ropes and harnesses — and no worries if you're a canyoning beginner, because your guides will be with you every step of the way — no prior experience needed!
No need for a GoPro, either – photos will be taken during your tour so you can just focus on enjoying the experience!
Where to Stay in Füssen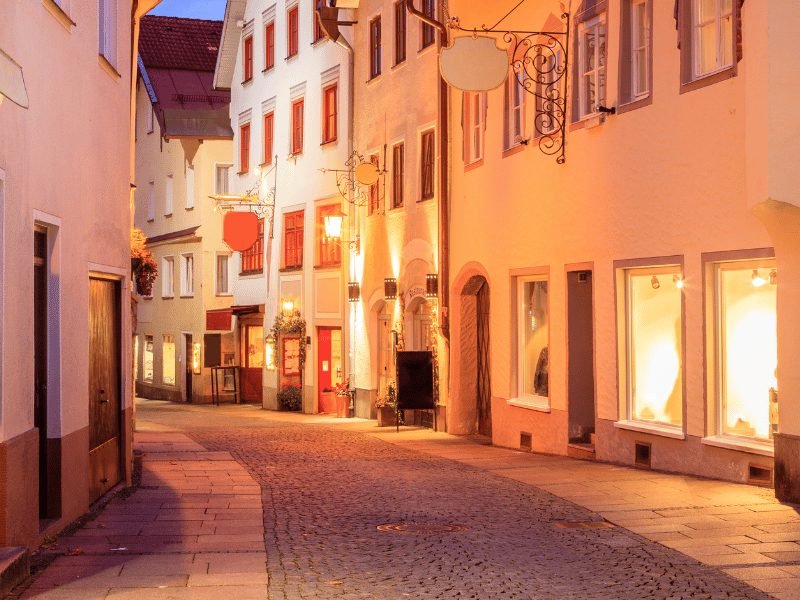 This affordable Old Town gem is in the heart of Füssen's pedestrian zone, and it's definitely as extra as the man who inspired it!
With over-the-top rooms with red velvet tufted headboards, wallpaper, and plush details, King Ludwig himself would approve of the budget-friendly yet very comfortable offerings at Hotel Ludwigs. 
The hotel definitely has some strange touches here and there — like a restaurant with twin swan booths — but its quirkiness is its charm, as is its location and relative affordability.
Located right in the heart of Füssen's Old Town in a stunning historic pink building, the 4-star Hotel Sonne is a great place to stay on a rather affordable budget.
Its historic exterior contrasts wildly with its ultra-modern interior, with a lobby that wouldn't be out of place in Bali, with floor cushions, bamboo chairs, and tropical wallpaper.
Its rooms are ultra-modern as well — think in-suite soaking tubs, brightly lit vanities, extensive wardrobe space, huge beds with funky light fixtures, and a ton of space.
There's also an in-house sauna (also with a modern design, with dark-brown wood tiered seating, a tile floor, and glass wall), lounge areas near the sauna, a steam room, and a delicious in-house restaurant called Riwa Bar & Restaurant.
The lovely Hotel Hirsch looks straight-up out of a Wes Anderson movie, with its almost-too-symmetrical pastel pink and gray facade, seen against a backdrop of the Bavarian Alps.
Inside, there's a variety of room types, from airy rooms with high ceilings and exposed wooden beams, with windows that open right onto alpine views to smaller double rooms.
Each room is quite unique here, so be sure to check out the exact room type you want when booking. (i.e., the triple room is much more scenic than the quadruple room!)
The on-site restaurant is very traditionally Bavarian and the included breakfast buffet is to die for!
Protect your travel investment!

Travel insurance coverage helps you recoup your losses in case of emergency, accident, illness, or theft.

I rely on SafetyWing for coverage when it comes to trip interruptions and cancellations as well as accidents and medical emergencies.

It offers great rates starting around $12/week with clear, easy-to-read coverage.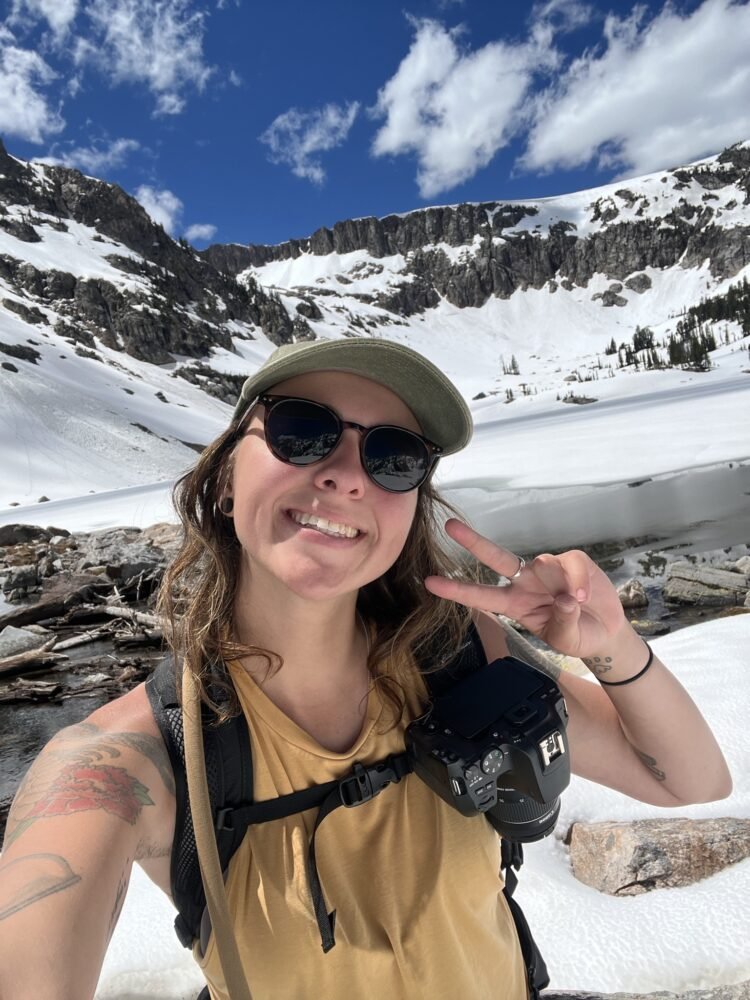 Nicole is a freelance travel writer who loves traveling and hiking in America's National Parks, particularly in Utah, Wyoming, and California. Her favorite place is just about anywhere where snow-peaked mountains can be seen in the distance.