The landscape in Arizona is ever-changing. Oases can be found in the middle of the desert, mountains seem to magically appear on the horizon, and the city landscape can quickly disappear into a fairytale forest.
Among Arizona's grandest landscapes lies hidden treasures: hundreds of turquoise waterfalls and crystal clear swimming holes waiting to be bathed in. If you're looking for some reprieve from the hot Arizona sun, look no further than these 5 magnificent waterfalls in Arizona, complete with their own natural pools that are perfect for dipping in.
Best Hikes with Waterfalls in Arizona
Romero Pools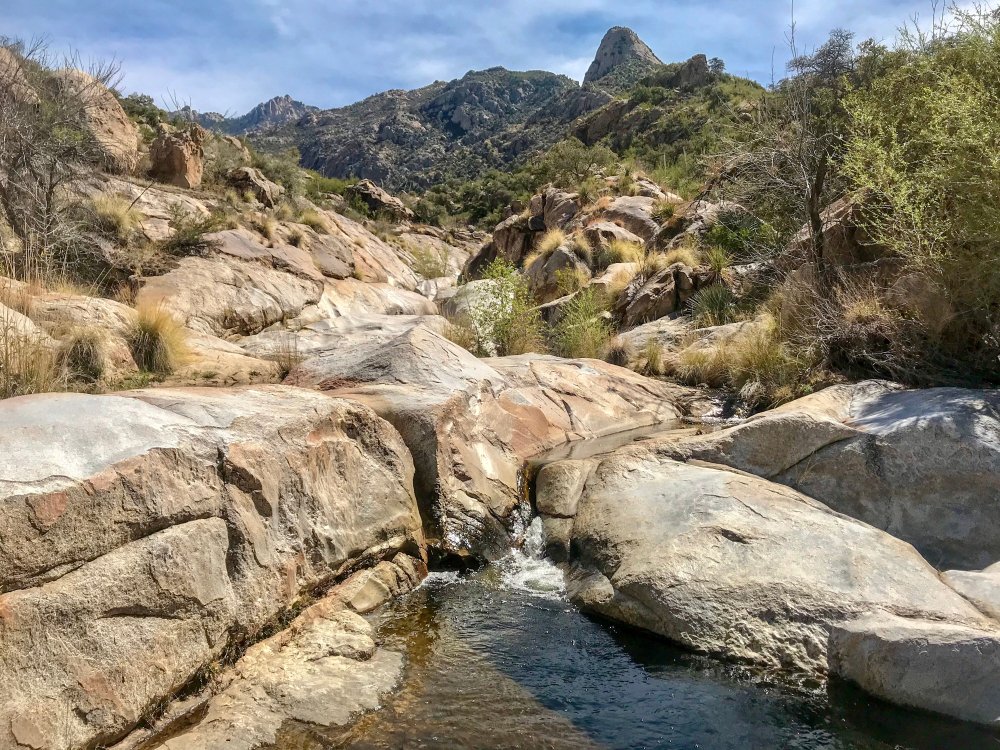 Note: This post contains affiliate links, which means I may receive a small commission if you purchase something through one of these links. Thank you for supporting the free content on this site! For more information on affiliate links and cookies, see my disclosure page for more details.
Imagine wandering through a desert canyon. You're surrounded by towering Saguaro cacti, vast desert views fill your vision as you walk, majestic mountains lead you further into the desert and all the while you're on the hunt for pristine hidden pools flowing with chilly mountain water.
Romero Pools is hidden high in the Santa Catalina Mountains of Tucson, Arizona. It's a beautiful 6-mile trail that winds through the desert floor and then gradually leads hikers higher and higher into the Santa Catalina Mountain Range.
At the end of the Romero Pools Trail is a series of waterfalls that all flow into their own pools perfect for swimming. Romero Pools is a beautiful oasis set among the desert landscape. It's a large area full of smooth granite boulders that are perfect for sunbathing, cliff jumping, or just enjoying the views of Tucson in the distance.
Trail Specs: The trailhead for Romero Pools lies inside Catalina State Park. A $7 fee is required for visitors to experience the park. The trailhead starts at Sutherland Wash. A small wash that only flows seasonally, and continues for a flat easy 1 mile to the base of the Catalinas. As you get closer to the Catalinas, the trail ascends for 1.7 miles up to Romero Pools.
It typically takes hikers 2 hours to ascend to the Pools but the reward is well worth it. The Pools look like something out of a fairy tale. Crystal clear water with spots deep enough to cliff jump. Huge granite boulders surround the waterfalls that are perfect for sunbathing. Pack a lunch and enjoy this all-day adventure while soaking up some of Arizona's best views.
Seven Falls
Seven Falls is another breathtaking Arizona waterfall hike lying just outside the busy city of Tucson.
What draws hikers to this particular trail is, you guessed it, the series of seven waterfalls descending from the walls of Sabino Canyon. Seven Falls is a highly popular hike due to its relative ease, beauty, and location. If you decide to do this hike, arrive at the trailhead early, as the parking lot fills up quickly.
Seven Falls is an 8 mile, relatively flat hike through Sabino Canyon. A couple of shin-high water crossings make this hike exhilarating. Throughout the trail, you can find pockets of swimming holes and plenty of places to sunbathe on your way up to the actual Seven Falls. Seven Falls is such a rewarding sight and boasts several pools to swim in.
Trail Specs: Seven Falls is located outside Tucson in the Sabino Canyon Recreation Area. The trail begins in a small parking lot marked as Bear Canyon Trail. The first 3 miles are speckled with creek crossings and are generally flat.
In classic Arizona fashion, you're surrounded by beautiful desert landscapes and towering canyons. As you enter into Bear Canyon you begin to ascend. As you ascend, Seven Falls becomes visible in all its glory. Seven continuous waterfalls pour from the walls of Sabino Canyon.
Each waterfall catches enough water to make perfect pools to float in. Be sure to pack a camera because Seven Falls is a sight you're going to want to remember!
Water Wheel Falls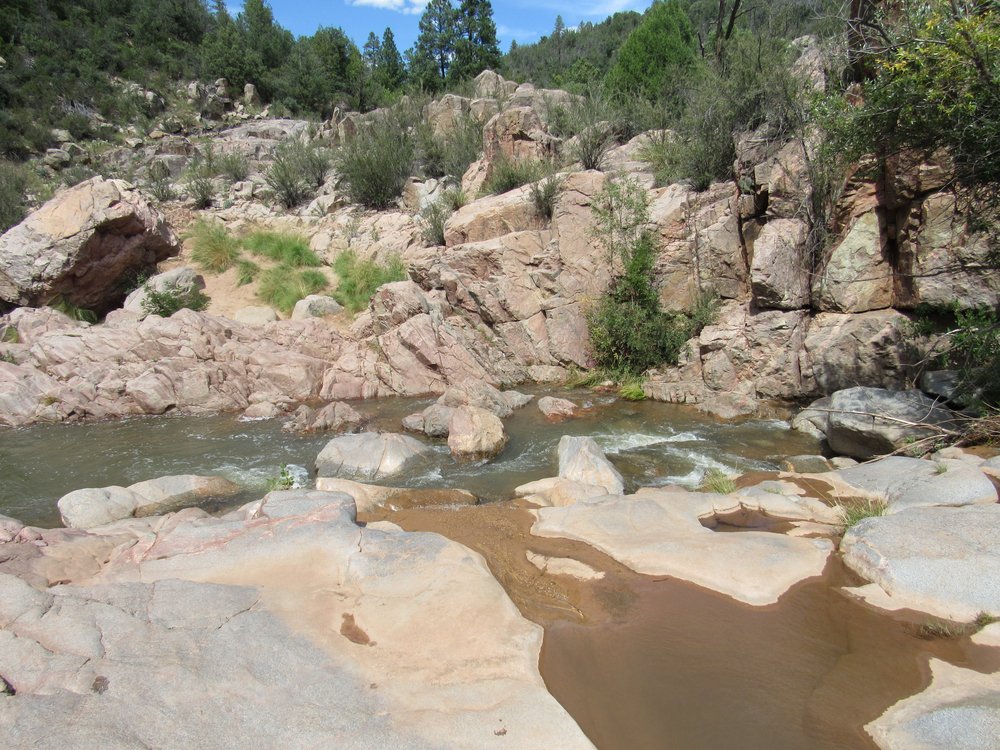 If you're looking for an easy, quick trail with a rewarding swimming hole, then Water Wheels Falls is the trail for you!
Water Wheel Falls is a short, flat 1-mile trail located in Payson, Arizona. Don't let the ease of this hike fool you, the waterfalls and the swimming holes are just as breathtakingly beautiful as others that require a more arduous hike.
Crisp mountain water pours from the East Verde River creating deep gorges and dramatic waterfalls. Water Wheel Falls is the perfect spot to spend the afternoon. The entire trail runs the length of the river so there's plenty of places to take a dip, relax in solitude and enjoy the sights around you.
Trail Specs: Water Wheel Falls is located on the outskirts of Payson, Arizona off of Houston Mesa Road. Ample Parking can be found at the trailhead. As you begin your hike you'll see the namesake of the trail, a large Water Wheel that used to be a component in extracting gold.
About a quarter-mile into the trail, you'll get your first chance to dip into the chilly water of Ellison Creek. Most families choose to stop here and play, but keep hiking! Massive granite boulders begin to appear and the small creek turns into a beautiful turquoise river. A half-mile in, the sound of waterfalls fills your ears. Follow the granite boulders that line the river and you'll end up at the roaring waters of Water Wheel Falls.
Bell Trail to Beaver's Crack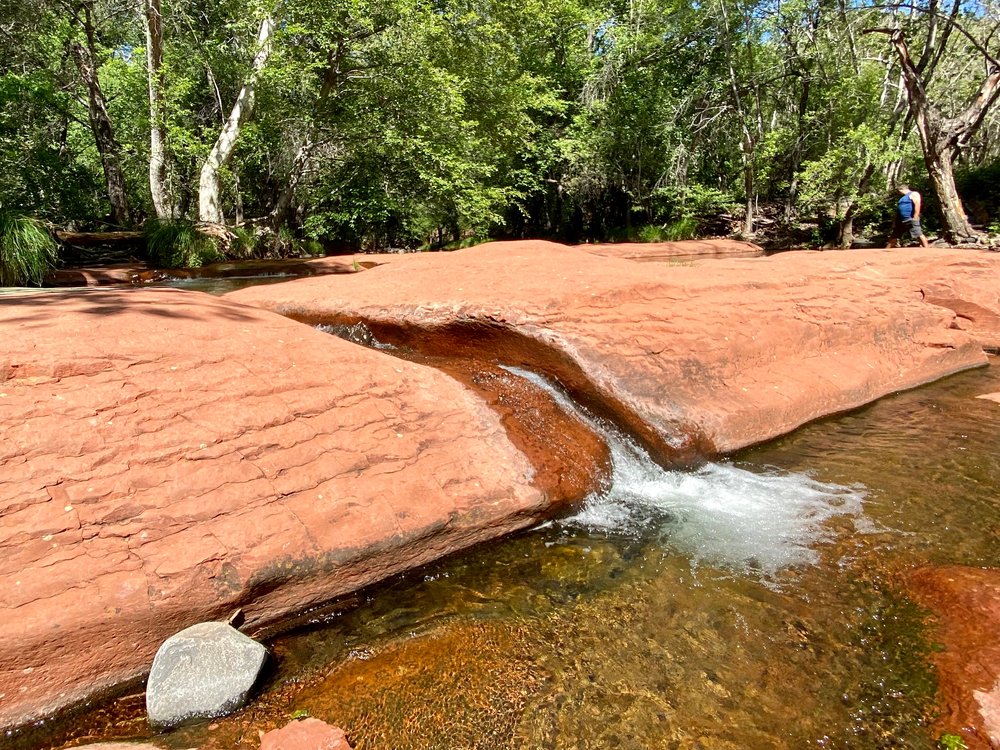 Beaver's Crack is Arizona's ultimate waterfall swimming hole! Bell Trail to Beavers Crack is located on the outskirts of Rimrock, Arizona. This is a perfect day hike for Sedona visitors wanting to get away from the heat and crowded Sedona trails.
Beaver's Crack is a moderate 7-mile hike through the Sonoran Desert. Everything about this hike is desert so be prepared! Bring plenty of water, food and sunscreen because there's not much reprieve from the elements.
But your reward is the ultimate swimming hole! Small waterfalls from Wet Beavers Creek feed into "the crack" making a massive emerald swimming hole. Several cliffs surround the area for those looking for an extra thrill, or there's plenty of flat, shaded areas for the ones who want a more relaxing getaway.
Trail Specs: Bell Trail to Beavers Crack is located off forest service road 618 in Rimrock, Arizona. A small parking lot is located at the Trailhead. The actual trail itself is an easy 3.5 miles to Beaver's crack.
Halfway through the hike, you'll experience a small elevation gain into Wet Beaver Wilderness. As you follow the trail the landscape will switch from flat to the classic red rocks of Sedona. As you wrap and weave around boulders and massive saguaros, you'll begin to approach Beavers Crack. From here, get into your bathing suit and enjoy the icy flow of Wet Beavers Creek.
Cibecue Falls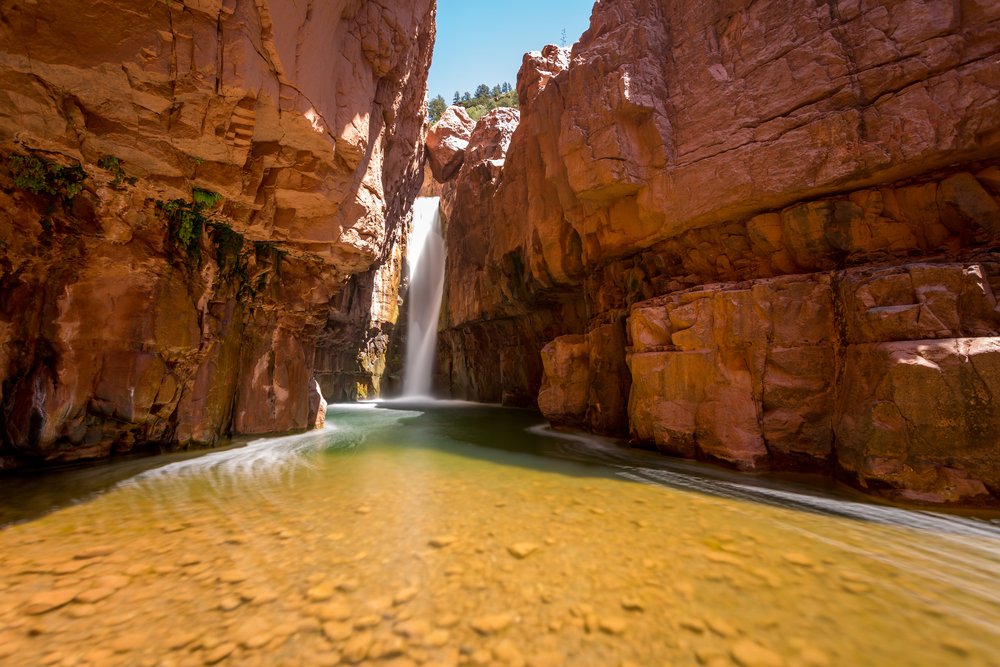 Cibecue Falls is one of Arizona's true hidden gems, which is surprising given its outrageous beauty.
Nestled deep in a canyon, this 40-foot waterfall is every bit worth the exhilarating hike. The out and back trail is a 4 mile, rock hopping, river crossing adventure. Arizona's most impressive landscape is on display as you walk among the towering canyons of the White Mountain Apache Tribal Land.
Trail Specs: Cibecue Falls is located about 40 miles outside the town of Globe, Arizona. It is located on the Fort Apache Reservation which requires a $30 permit for each visitor. A rocky narrow road will lead you along Cibecue Creek to the trailhead.
From the trailhead, the adventure begins! Expect to get wet as you crisscross and boulder jump through the Salt River. As the trail begins to narrow, the roars of Cibecue Falls can be heard echoing off the canyon walls. The massive Falls pours into the turquoise pools below making it the perfect destination after an adventurous Arizona waterfall hike!
***
The arid Arizona landscape is speckled with roaring turquoise waterfalls. Whether you're looking for an adventurous day hike or just to catch the serenity of a magnificent waterfall, you're sure to find what you're looking for in the Grand State of Arizona.
Sabra is an adventure-hungry outdoor enthusiast originally from Dallas, Texas. She has been to 33 states, 3 countries, and has traveled America while living out of the back of her truck. Besides writing, Sabra can be found powerlifting, running her online personal training business, and enjoying time with friends and family.