As the French call it, Le Louvre (short for Palais-Royal Musée du Louvre, quite a mouthful!) is perhaps the world's most inspiring museum.
For many travelers, a visit to the Louvre is something they simply cannot miss when in Paris!
Housing countless pieces of art and objects from ancient civilizations, visiting the Louvre can be overwhelming.
Having a visit plan for your trip to the Louvre will help you maximize your time within this impressive museum and admire the pieces you really want to see.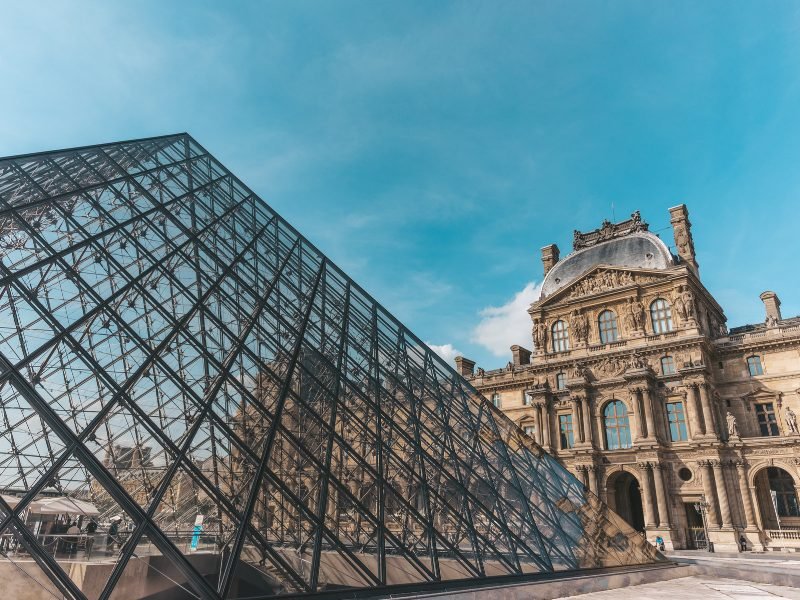 Note: This post contains affiliate links, which means I may receive a small commission if you purchase something through one of these links. Thank you for supporting the free content on this site! For more information on affiliate links and cookies, see my disclosure page for more details.
Unless you have several days to dedicate to visiting the Louvre, there's simply no way to see it all.
Spreading over an area of nearly 800,000 square feet, it is quite easy to get lost when looking for specific exhibition halls or pieces.
Since your time in the French capital may be limited — whether you have one day in Paris, four days in Paris, or more — you certainly don't want to get frustrated looking for something specific and end up with a bunch of wasted time.
For this reason, in this Louvre visit guide, I will tell you everything you need to know about the museum — and, most importantly, I'll clue you in on what mistakes to avoid when visiting the Louvre.
But first — just a few quick suggestions for best Louvre tours in case you're in a hurry!
My Top 3 Picks for Louvre Tours
History of The Louvre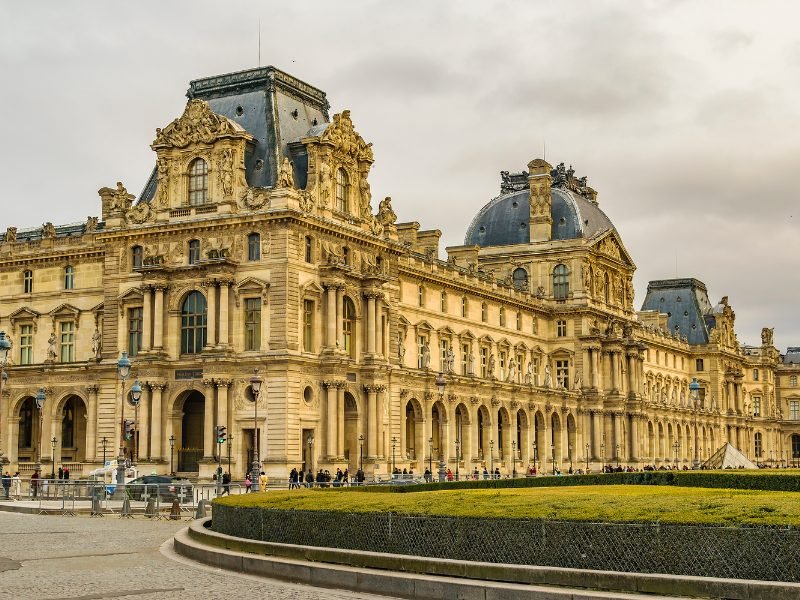 Before your visit to the Louvre, it may be helpful to know a few things about this famous Paris landmark.
Once the former royal residence of the Kings of France as well as a royal fortress, the former Louvre Palace — now the Louvre Museum — is now one of the best-known museums in the world.
Its name recognition makes it perhaps the most famous museum in the world, alongside maybe the Met in New York City. Along with the Eiffel Tower, it's one of the main icons of Paris.
The Louvre presents vast and rich collections of art. The museum's collection numbers 38,000 masterpieces and antiquities, scanning multiple millennia, scattered through a real maze of massive galleries and exhibition halls.
They say you would need about six weeks to quickly see every single piece exhibited, and even more time if you also wanted to take some time in front of each work to read the informative details!
Despite its practically inexhaustible permanent collections, the museum is perhaps the most visited museum in the world, attracting millions of visitors year after year.
Is It Worth Visiting the Louvre?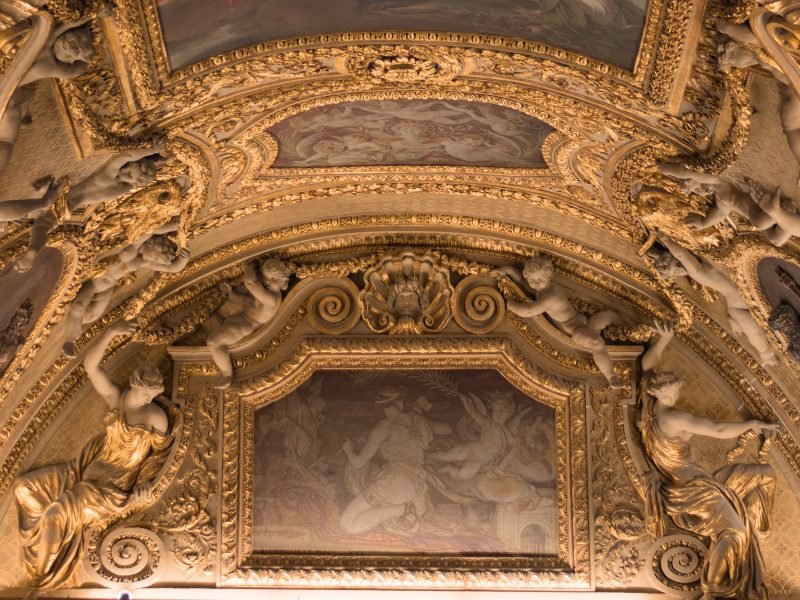 It all depends on what you like! If art is something that interests you, then you simply cannot miss visiting the Louvre when in Paris!
However, it is no sin to admit that you're not interested in the Louvre or that you do not care much about it. There is a lot more you can do in Paris than just tick off supposed "bucket list" items you have no personal interest in.
Museums can be tiring, and even if you like them, museum fatigue is a real thing.
Especially if you're traveling with kids or teens, a full visit to Louvre can be tiring for them, even if you're catering to them in other ways like finding fun places to stay in Paris with teens or young kiddos.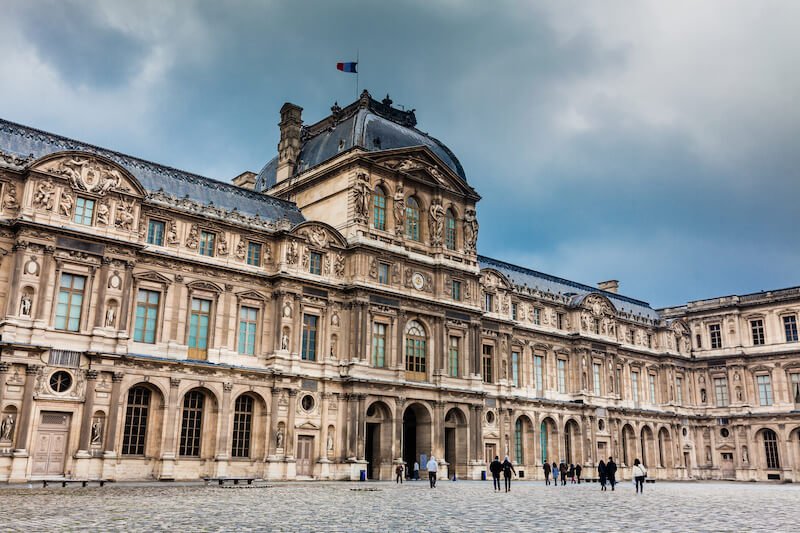 Besides just the sheer amount of walking or standing you do when you visit, remember that the museum is designed to preserve the works of art — and not for the comfort of the tourist!
As a consequence, some halls in the Louvre can feel too hot or too cold, as certain paintings or objects need to be preserved under certain conditions according to the materials.
Besides, museums can be crowded, and tiring, and — let's face it — that special piece you might be looking for will always bee one floor up or one floor below where you are, necessitating backtracking.
So give it thorough thought. If art is not your cup of tea, or if you prefer modern art, or smaller, more focused exhibitions, there is nothing wrong about not visiting the Louvre… especially not when Paris has so many other amazing museums!
Paris has dozens of other incredible museums, many of them smaller, often not as crowded, where you could spend a much more entertaining (and shorter) time, leaving the Louvre for those who really care.
Having that clear in your mind, also remember that not every visitor is interested in many of the works at the Louvre.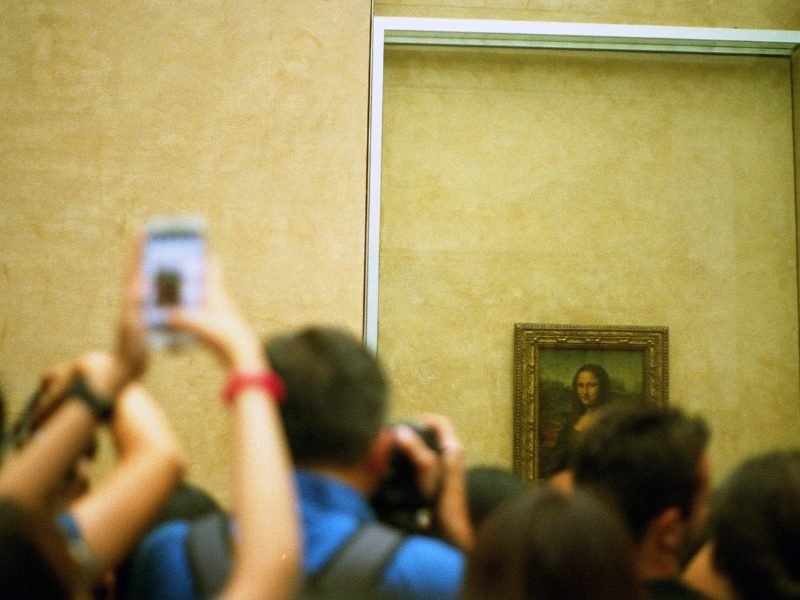 The average traveler just visits the Louvre looking for three works of art, the Mona Lisa, the Venus de Milo, and the Winged Victory of Samothrace…. often not even know anything about them, not even why they should see them!
Unfortunately, more often than not, people just want to see what everyone else sees… and not out of real interest. Don't be that tourist!
Keep in mind that a museum is also a place that attracts art students from all over the world.
People who may have worked hard to maybe get a scholarship and to be able to spend hours sketching or learning about art, and the Louvre being crowded with otherwise uninterested tourists does them no favors.
If the Louvre calls to you, then absolutely go! But if you feel like you're visiting the Louvre just to say you've visited, there's no shame in skipping it.
Alternatives (or Additions to!) the Louvre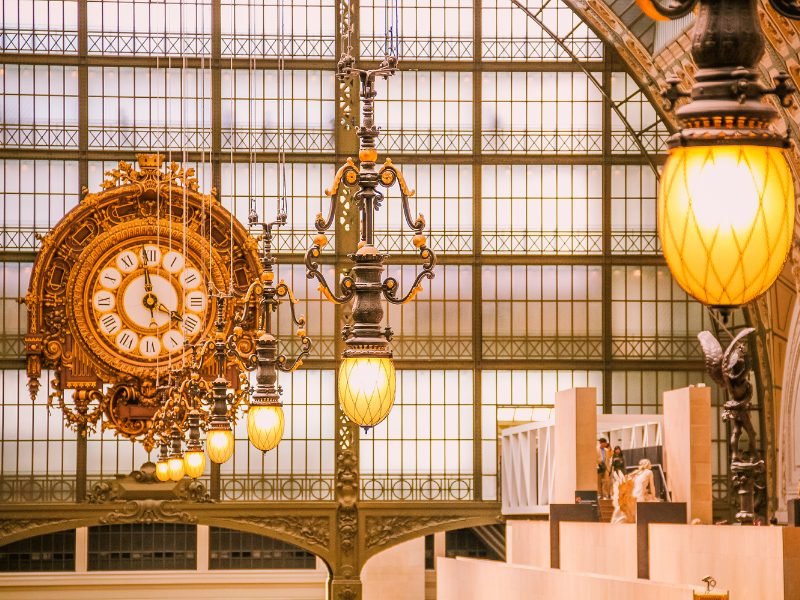 We don't mean to dissuade you from visiting the Louvre during your time in Paris — only to encourage you to ask yourself if it's something you truly want to do, or something you feel you ought to do.
Here are a few other excellent art museums in Paris worthy of a stop, and which types of art lovers they will appeal to.
Musee d'Orsay: Housed in a stunning former train station, this is the best museum in Paris for fans of the Impressionist and Post-Impressionist era. There is a large selection of art by Renoir, Degas, Monet, and more. While not as crowded as the Louvre, it still gets busy, so book skip-the-line tickets here.
Musee de l'Orangerie: Another must-visit for fans of Impressionism and Post-Impressionism, Musee de l'Orangerie picks up where Musee d'Orsay leaves off. You'll find art by Cézanne, Picasso, Matisse, as well as a large selection of eight of Monet's 'Water Lilies' mural collection. A must-visit for Monet fans! This is also quite busy due to its central location in the Tuileries gardens in the heart of Paris, so booking skip-the-line tickets is advised here as well.
Picasso Museum: Big Modernism and Picasso fans should not miss this comprehensive museum with over 5,000 exhibits, including prints and paintings by one of the most famous painters of all time. Book your skip-the-line tickets here.
Insider Tips & Mistakes to Avoid When Visiting the Louvre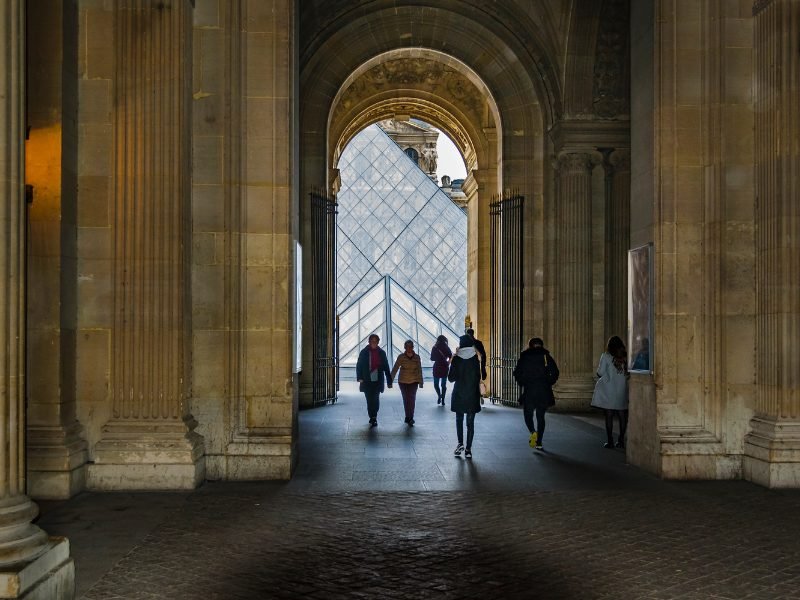 Having said all that, many people are truly interested in seeing the Louvre — drawn in by its main attractions and genuinely interested in seeing more — and would gladly spend 3 to 5 hours checking out at least some of the exhibited works!
Since the Louvre is really big and crowded, it is a good idea to keep these common mistakes in mind to avoid them and to make the most of your visit to the Louvre.
Don't overlook the building itself.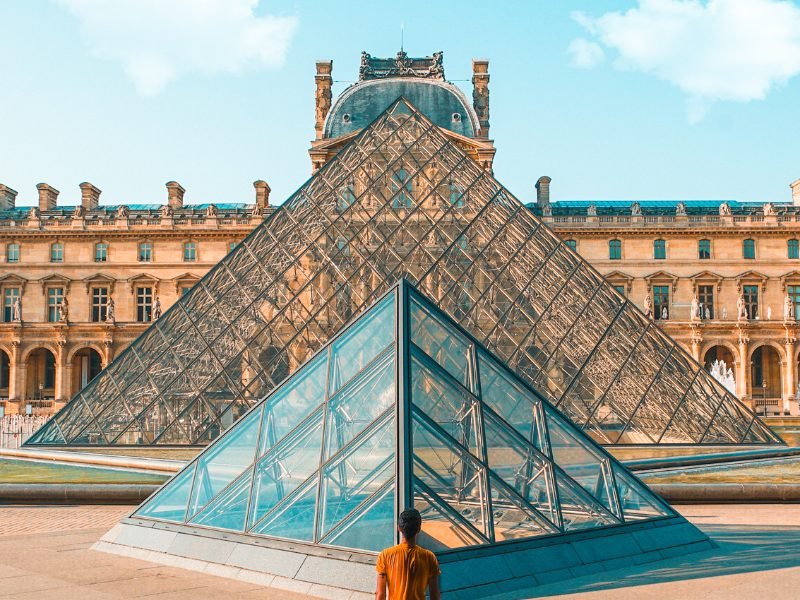 We get it, you go to the Louvre for the stunning pieces of art, the magnificent jewels of the French crown, or for some of the most stunning antiquities, paintings, and sculptures.
However, overlooking the architecture and style of the palace in itself is something that you will regret!
Originally constructed as a military fortress, the structure was later turned into a royal palace and house of the kings of France.
The Louvre's first iteration as a fortress began all the way back in the 12th century, and you can find some remnants of the medieval phases of its lifespan in the crypt — it's truly impressive.
The building housed different French royal families until the royal family moved their residence to the to Palace of Versailles in 1682.
Later on, the palace was used as a residence for artists under royal patronage.
Additionally, several monarchs used the palace to store their acquisitions of paintings and other artworks throughout history.
As a result, many halls and rooms feature spectacular hand-painted ceilings, magnificent staircases and columns, vivid frescoes, and impressive windows with views over the well-curated gardens of the palace.
The palace is a work of art in itself, so don't forget to look up, down, and around you as well!
Remember to tour the gardens (they're free!).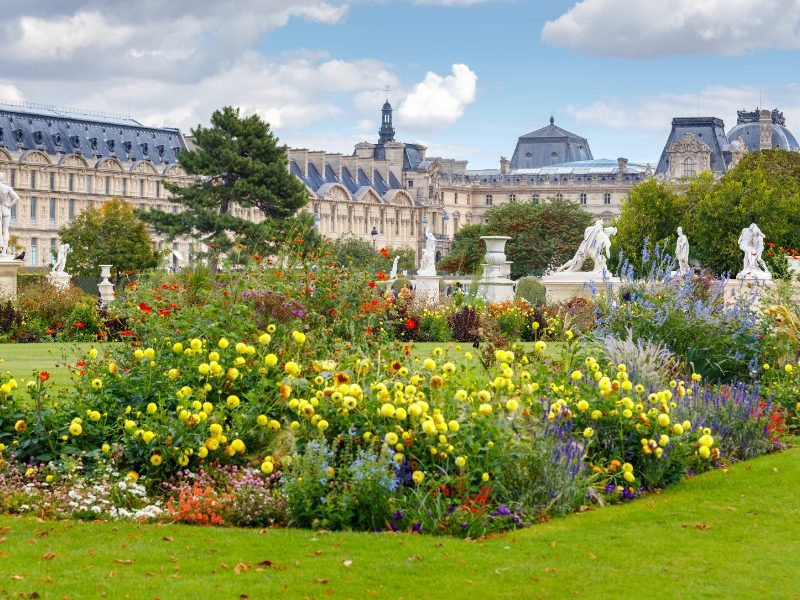 The Tuileries is a gorgeous park open to any visitor where it is possible to enjoy a stroll or even enjoy a picnic with a baguette and some cheese and charcuterie!
Besides, you can enjoy free admission to the Tuileries regardless of whether or not you buy Louvre tickets, and it is a great place to soak in the vibes and the beauty of the whole Louvre complex.
Plus, the Tuileries itself are massively historic: this green area has been standing between the Louvre Museum and the Place de la Concorde for almost 500 years!
The Tuileries used to be the royal and then imperial garden of personalities such as king Louis XIII and Napoleon I — and unfortunately, it is another place that many tourists miss in their haste to squeeze everything into their first trip to Paris.
There are different sections of the garden you should consider — the garden, too, is large and overwhelming!
Fr example, the part of the Tuileries that is closer to the museum, known as Grand Carré, is probably the prettiest one.
This section of the garden features ponds, sculptures, and flower beds, and it was specially designed to be admired from inside the palace.
Another area worth a stop is the Grand Couvert, which gives the visitor the idea of a wilder wooded area, with symmetric tree groves and passages — it's the perfect romantic place in Paris for a lovely walk.
In fact, the Tuileries Garden can be defined as an open-air museum of sorts, as it has been decorated with statues and vases from different periods!
Pick your entrance wisely.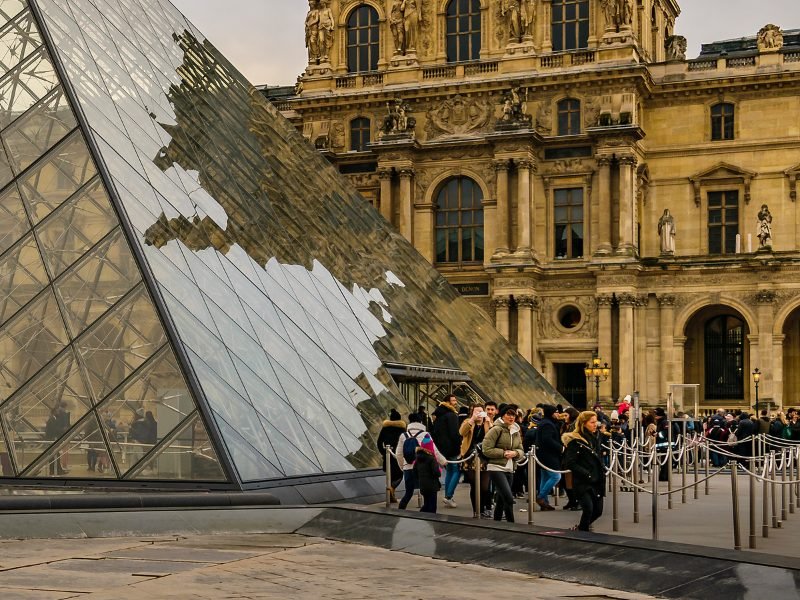 Everyone wants to access the museum by going through the glass pyramids.
Of course, they are not to blame!
The imposing modern entrance, in clear contrast with the style of the palace, soon became an iconic sight of Paris, where everyone wants to take a picture!
The Pyramid is the Louvre's main entrance, but of course, it is more than just that.
The large structure is located in Coeur Napoleon and dates back to 1988.
It's designed by one of the most famous architects of the modern era, the Chinese-American architect I. M. Pei.
The main glass pyramid is made of metal and glass and is surrounded by three smaller pyramids.
Despite being the most popular access to the Louvre, it is certainly not the most practical one, nor the least crowded.
There are several alternative places to enter the museum, some of them virtually empty.
The most obvious one is located in the underground mall known as Carrousel du Louvre.
However, during peak times it is also possible to access entering through any of two alternative doors: Richelieu and Porte des Lions.
Either of these two entrances is a great way to help you to beat the crowds. You will easily find more details at the official website.
Book skip-the-line tickets in advance.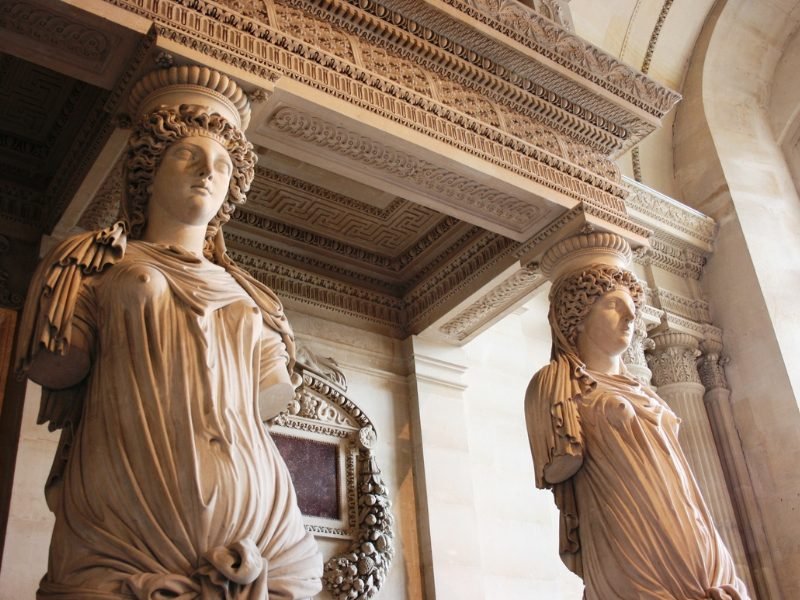 This is the #1 Louvre tip, so pay attention!
Keep in mind as well that booking your ticket a few days (sometimes even weeks or months) before the visit is the best way to avoid the queue at the ticket booth!
This way, you will also be able to choose your time slot and even check out the museum during the late hours (Friday evenings, the museum is open until 9:45 PM), which often results in less crowded and more peaceful visits!
If you don't mind seeing the museum late, this is the best time to visit for fewer crowds.
We suggest booking online tickets in advance, especially if you have a specific date in mind.
The cheapest option is a Louvre Museum Timed-Entrance Ticket which ensures you get in within 30 minutes and allows you to skip past the ticket line of people who didn't read this article and know to plan in advance!
Alternately, you can pair your Timed Ticket Entry with an Audioguide or Timed Ticket With a Tour if you prefer your sightseeing with additional historical context.
Book your skip-the-line entrance, your ticket with audioguide, or your timed ticket & tour here!
The skip-the-line ticket can be used at the dedicated Priority Access line at the Pyramid main entrance, at the Porte des Lions entrance, or the Carrousel entrance.
Note that with any of these tickets, you'll still have to pass through an airport-style security checkpoint; there's no skipping the security line.
Please remember to bring your ID to enter the Louvre!
If museums are your thing, and the Louvre is not the only one you might want to check out during your time in Paris, then it can be a good idea to purchase a Paris Museum Pass to visit more than just the Louvre.
Starting at $55 USD for a 2-day pass that includes 60+ attractions, you will easily get your money's worth with Paris Pass if you plan to visit at least four museums during two days in Paris, since most museums' ticket prices are around ~$15-20 USD per ticket.
Forget about seeing everything in a day.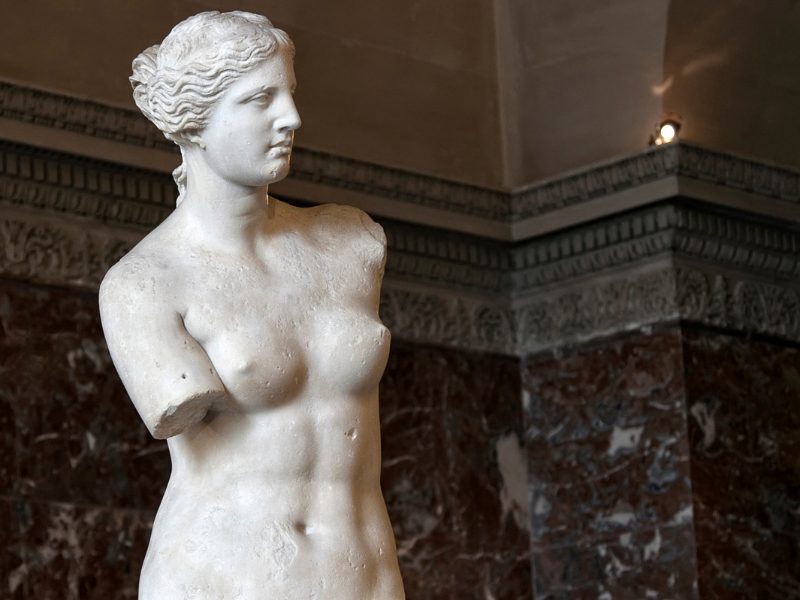 If you're a real art history lover, you might want to see a lot more than the regular traveler, and that would be a dream!
However, it is a good idea to keep your expectations at a realistic level. The impressive quantity of objects exhibited makes it impossible to see as much as your heart desires!
This is the largest art museum in the world (and one of the world's largest museums, period)!
In my opinion, you should plan your visit around seeing three or four key works of art, plus a few wings or exhibition halls that have a particular interest for you.
Doing more than that, your Louvre visit can quickly get very tiring and time-consuming, especially if you have to spend half of the time trying to figure out where everything is!
Plan in advance! The museum has an outstanding website that helps you decide in advance what to see and where to find it.
Besides, it also tells you what rooms might be closed during certain days of the week (this is very common!) allowing you to plan the visit accordingly.
Grab a map before entering and read it!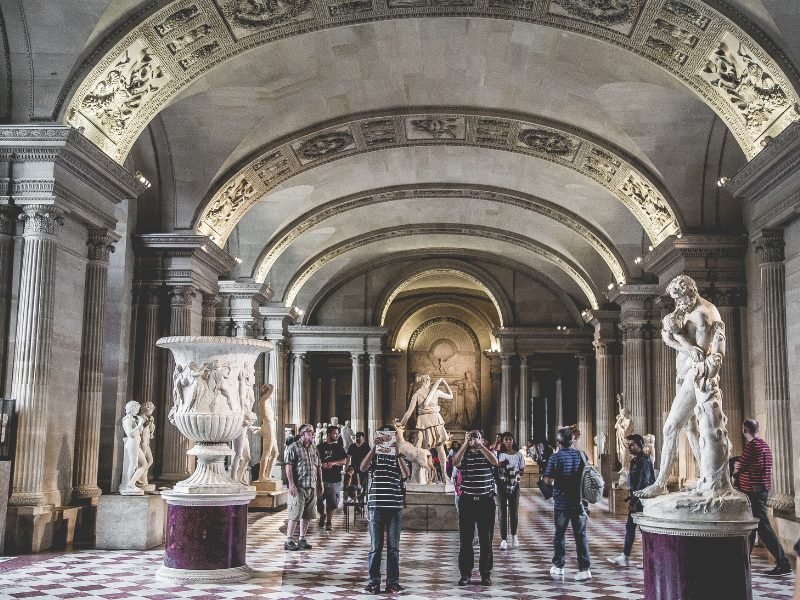 Do not think that because you checked the site or read the Wikipedia page of the museum you are ready to visit.
For real — the Louvre is as impressive as it is is overwhelming, so once you're inside, grab a map of the premises in your language and take at least 15 minutes to read it.
This will help you orient yourself and understand what halls, wings, and exhibitions to check out, and where to go next. You might feel that you are wasting time, but you're not.
Refer back to the map every time you feel lost, read the signs, and feel free to ask the numerous staff — the wonderful museum staff speak several languages and are always ready to help with directions!
Avoid rushing the visit.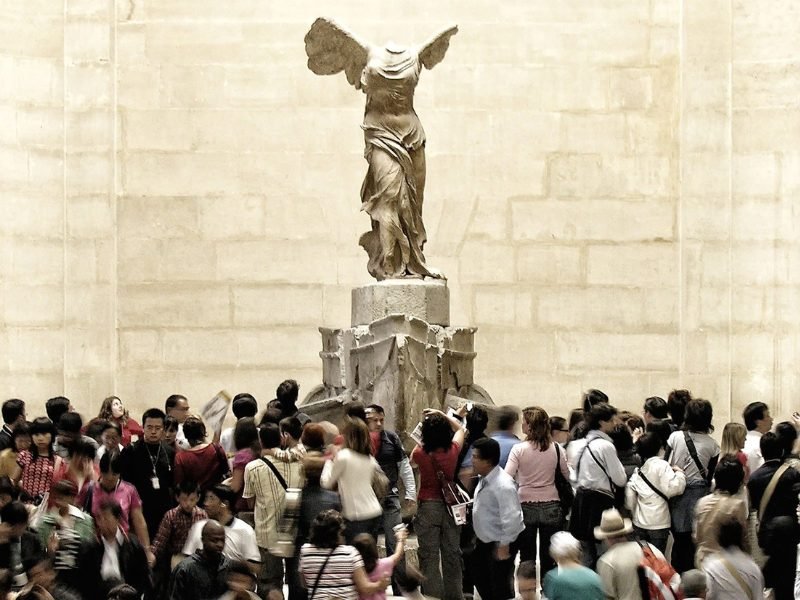 Another common mistake is to move around the Louvre fast looking for just a few things to see (typically: the Mona Lisa, the Venus de Milo, and the Winged Victory). That's the worst thing you can do!
You will be ignoring impressive masterpieces that might even be more worth your time.
Don't get me wrong, you should quicken your pace to check out some key pieces, especially at crowded hours, to avoid spending the whole day inside the Louvre, but don't run around like crazy You will see very little, you will enjoy nothing, and you will end up frustrated and exhausted.
Visit with someone that knows best.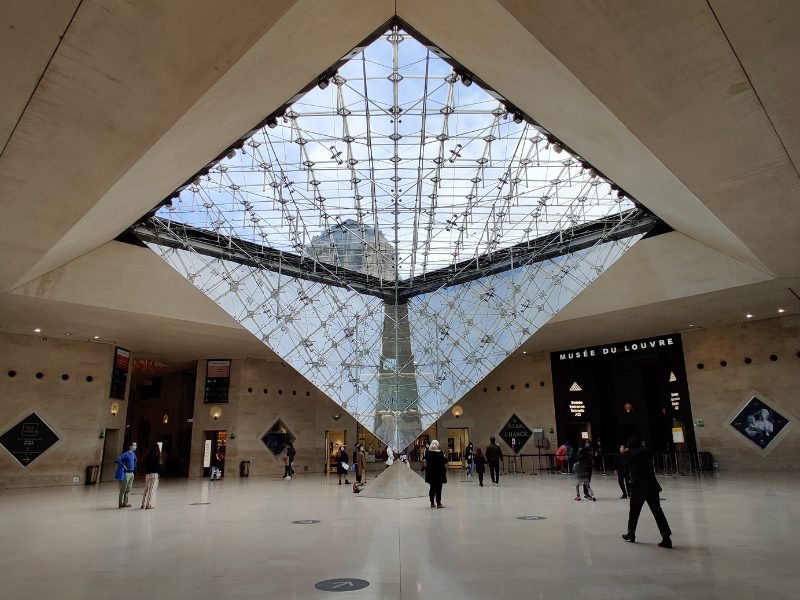 Organizing the visit on your own is totally possible and free to plan (besides the admission to the museum itself) if you have the luxury of tons of extra time before the visit.
There are tons of videos online explaining how to visit the Louvre, what to see inside, and where everything is.
But let's be honest — the Louvre is one of the world's largest museums, so even if you watch them dozens of times, once inside the Louvre, you'll have no idea where to go first.
For that reason, it is a good idea to book a tour with an art expert or at least with a guide that can show you around and explain the pieces you will be admiring.
There are dozens of interesting visits available — most of them even include a timed entrance ticket, to save time and meet your guide once inside the Louvre.
If you're not art savvy but are willing to learn or if – on the contrary – you know something about painting and sculpture, but want a deeper insight and a new perspective, then a tour with an art expert will be priceless!
Among the many options, I recommend checking out the following:
Louvre Museum Tour: This guided tour includes priority entry and an expert guide who leads you on a carefully-planned route of both the famous spots and a few less-crowded hidden gems. You'll see the crown jewels of the French Monarchy, Da Vinci's Mona Lisa, Delacroix's Liberty Leading the People, ancient Egyptian antiquities, and Greek and Roman antiquities as well: everything you'd want to see on your first visit. After the small group tour, you're free to continue the visit on your own, adding on any spots that may intrigue you — or asking your guide what they suggest next!
Louvre Museum Entry Ticket with Guidance to Mona Lisa: This tour is perfect for those who know their priority is seeing the Mona Lisa by Leonardo da Vinci and want to save time and energy finding it. Not only will you have skip-the-line entry to the Louvre, you'll also have direct access to the Mona Lisa, then free time to explore the museum at your leisure.
Book your skip-the-line tickets and Mona Lisa guidance here!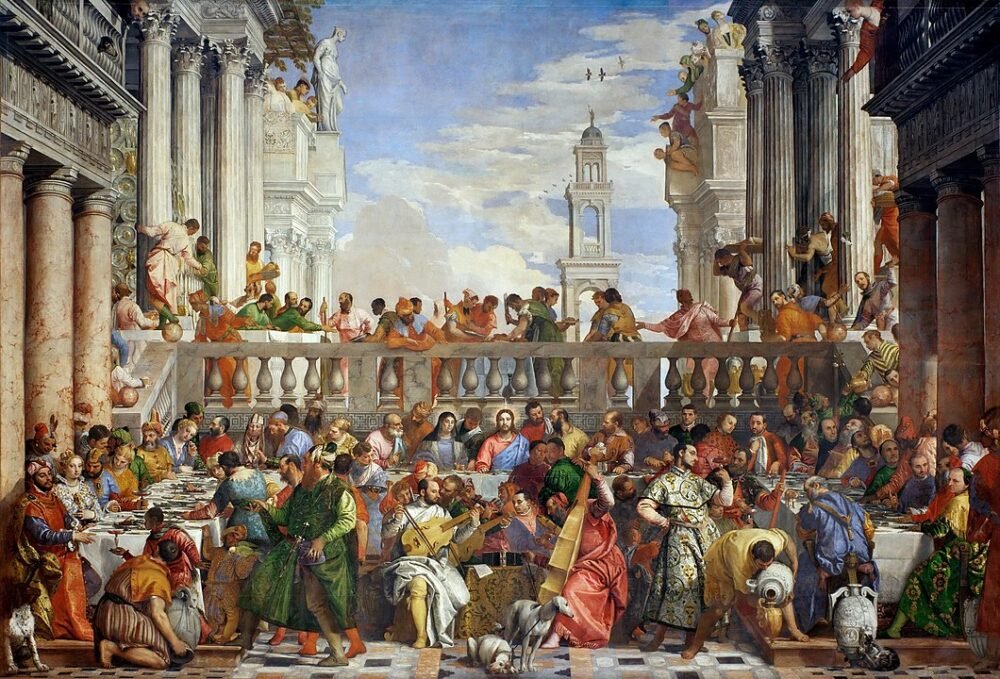 Louvre Masterpieces Tour with Pre-Reserved Tickets: This 2-hour tour is perfect for the true art geek with time constraints: you'll pass through 8 of the Louvre's curatorial departments, guided by an expert who will bring you straight to the most important pieces and give you the history of them. Of course, you'll see the Mona Lisa and Venus de Milo. But you'll also get to see other oft-forgotten but equally impressive pieces, like the Coronation of Napoleon, the Caryatids statue, Venus and the Three Graces, the Wedding Feast at Cana, the Raft of Medusa, Liberty Leading the People, and Psyche Revived by Cupid's Kiss.
Louvre Museum Timed-Entrance Ticket and Audio Guide: A perfect option for budget travelers who don't want to miss the highlights of the Louvre, this comes with skip-the-line tickets with full access to the permanent collection and temporary exhibitions. There's an additional fee for the official Louvre audioguide, but it's quite a good deal nonetheless.
Wear comfortable shoes.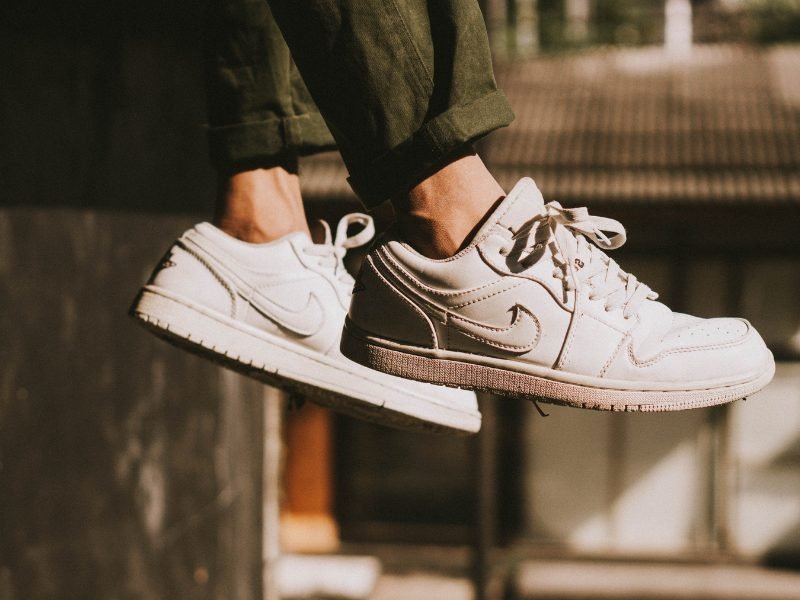 When visiting the Louvre, you will walk and stand for hours, from the moment you access the museum until you end your visit.
Therefore, it's key to leave fashion trends behind for the sake of a comfy pair of shoes – and honestly, of all the things on this list, it's probably the best suggestion I can give you!
Forget everything about being stylish — yes, even though it's Paris!
Wear shoes that have been broken into, have supportive soles, and won't cause blisters, especially if you plan to spend the entire day out and about.
Just in case, pack a few band-aids and some painkillers in your bag too.
Decide when to visit.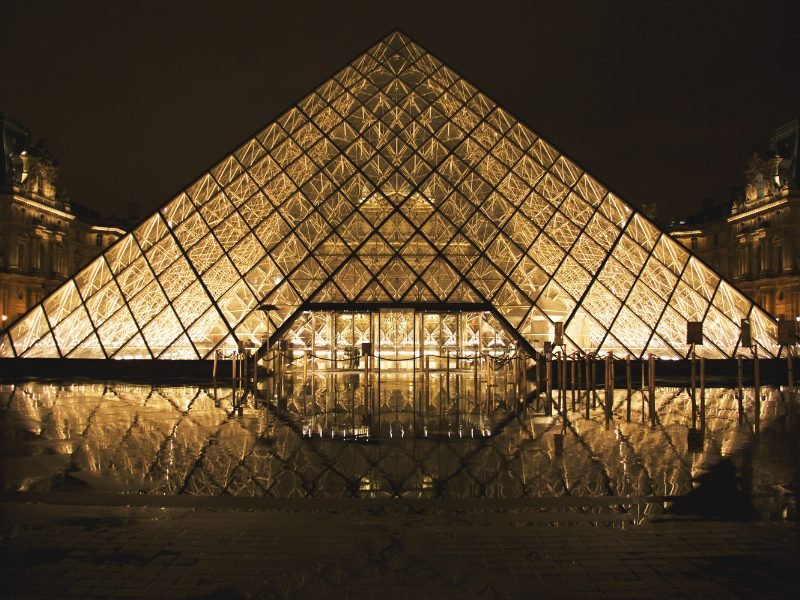 As I've said already, pick your time wisely! The museum is closed on Tuesdays, so that's out.
The rest of the week, the Louvre is open from 9 AM to 6 PM (last entry 1 hour before closing), and on Fridays, you can also visit in the evening, as the museum's closing time is at 9:45 PM.
If you can do late nights, Fridays are one of the best days to visit, and night an especially good time.
This is a great time to visit (especially during the high season), as it's not as popular as in the middle of the day, because not everyone knows about the late night opening hours!
It's a good option if you want there to be fewer people in the museum with you during your stay.
Another great time to avoid a long line and crowded exhibition halls are in the early mornings.
Get in the ticket access queue around 8:30, about 30 minutes before the museum opens, to enjoy at least the first hour of your museum tour with almost no crowds.
If you happen to be in Paris on the first weekend of a month, know that there is free entry between 6:00 PM and 9:45 PM on the first Saturday of each month. It was formerly the first Sunday of the month, but has since changed.
If that coincides with the day of your visit, it's a good way to save some money on your Paris trip! Just know you will be with larger crowds, and there's no way to skip the line if you are entering for free.
In terms of time of the year, there's not a huge low season in Paris, but in general, visiting Paris in winter will have fewer crowds, as long as it's not the week around Christmas and New Years.
Pick which wings to dedicate your time to.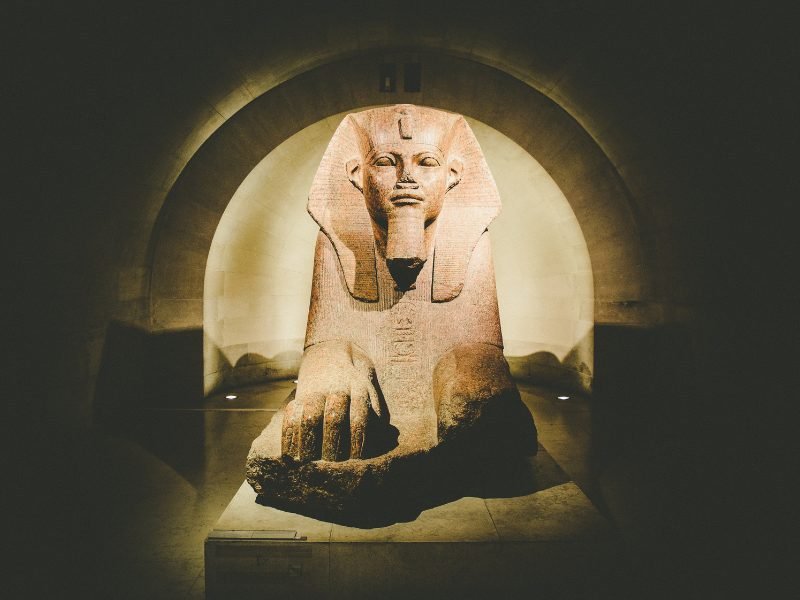 The Louvre features three main wings. Here is what you'll find in each and why they might be interesting!
Denon Wing: You can't miss this wing because it has the three most important pieces of art in the Louvre: The Monsa Lisa, the Winged Victory of Samothrace, and The Venus de Milo. But there are many other pieces also worth your time, that'll be less crowded! You'll also find other da Vinci paintings like La Belle Ferronniere and Portrait of an Unknown Woman. This wing also houses some frescoes from Botticelli, as well as the famous Wedding Feast at Cana, as well as the crown jewels, some antiquities from Greek, Roman, and Etruscan times, some sculptures from Michelangelo such as the Dying Slave (found on the ground floor in the sculpture gallery)
Sully Wing: The oldest part of the Louvre, this is where you'll find the medieval Louvre walkway taking you past the old city walls and the aspects of the Louvre that recall its history as a fortress. You'll find a sphinx and other Egyptian antiquities, French paintings up until the Impressionist era (from Impressionist onwards, you'll find in museums like the Musée d'Orsay and de l'Orangerie), art from Ancient Iran and the Levant, and decorative arts from the 17th and 18th centuries.
Richelieu Wing: The least-crowded part of the Louvre, this wing features the apartments of Napoléon III (although it should be noted he never lived here). You'll also find a sculpture garden, decorative arts from the Middle Ages through the 19th century, older French, German, Flemish, and Dutch paintings, and Islamic arts. You can access this wing directly through the Passage Richelieu, one of the many Louvre entrances.
Gabi is a full-time travel blogger, tour guide, and freelance writer currently living in Crete, Greece. Born in Argentina, Gabi spent a decade of her life living in Milan and traveling around Italy. She is one of two featured Italy experts on Eternal Arrival. She shares her knowledge of Crete and Greece on her blog, The Tiny Book, where she has also published several digital travel guides. She has 25 years of experience in writing and translation. She holds a BA in Languages and Translation, an MA in Translation for Tourism and a degree in Copyediting.