When it comes to Serbia, Belgrade gets all the attention. And I get it – the city is electrifying.
The architecture is gorgeous, the nightlife is incredible, and the atmosphere is youthful and fun. But I think you'd be missing out if you went to Serbia and didn't visit Novi Sad, about an hour north of the capital city.
Novi Sad is unique.  For one, it's the capital of the Vojvodina province, an autonomous region within Serbia with 26 ethnic groups and six official languages. Yup, six!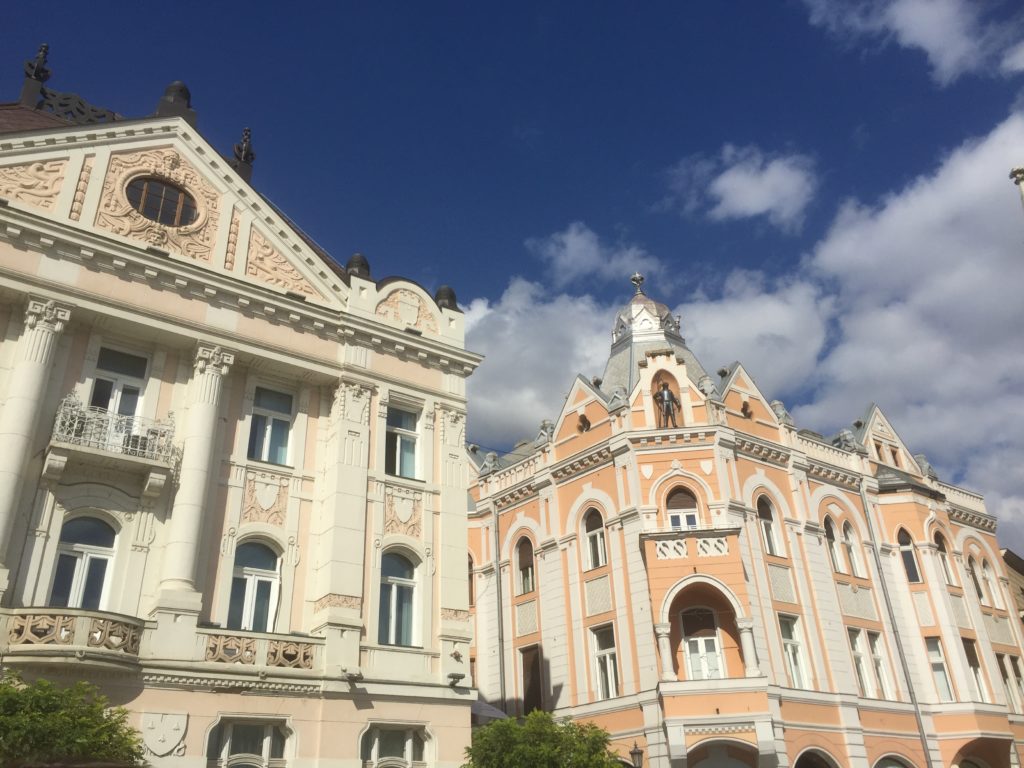 Note: This post contains affiliate links, which means I may receive a small commission if you purchase something through one of these links. Thank you for supporting the free content on this site! For more information on affiliate links and cookies, see my disclosure page for more details.
It's more colorful and ornate than other cities in the Balkans, with more intriguing and characterful architecture. Novi Sad is also set to be the European Capital of Culture in 2021, and damn, are they excited about it. Five years in advance of this, I saw signs all over the city about 2021! And I thought Olympics fervor started early…
Wondering what to do in Novi Sad? Don't worry, I've got you covered with some ideas on what to visit in Novi Sad, this splendidly unique Serbian city.
Top Things to Do in Novi Sad
Take a free walking tour
Novi Sad has jumped into the free walking tour fray gripping all of Europe and offering its very own donation-based tour.  It starts at the National Theatre and ends at the fortress, truly showing you each and every highlight of what to see in Novi Sad in a few short hours.
If you're planning on only doing a day trip to visit the best Novi Sad attractions, this is the way to do it: you'll see all the highlights and still have time to indulge in some delicious food, relax in some kafanas, and amble through the streets are your own pace.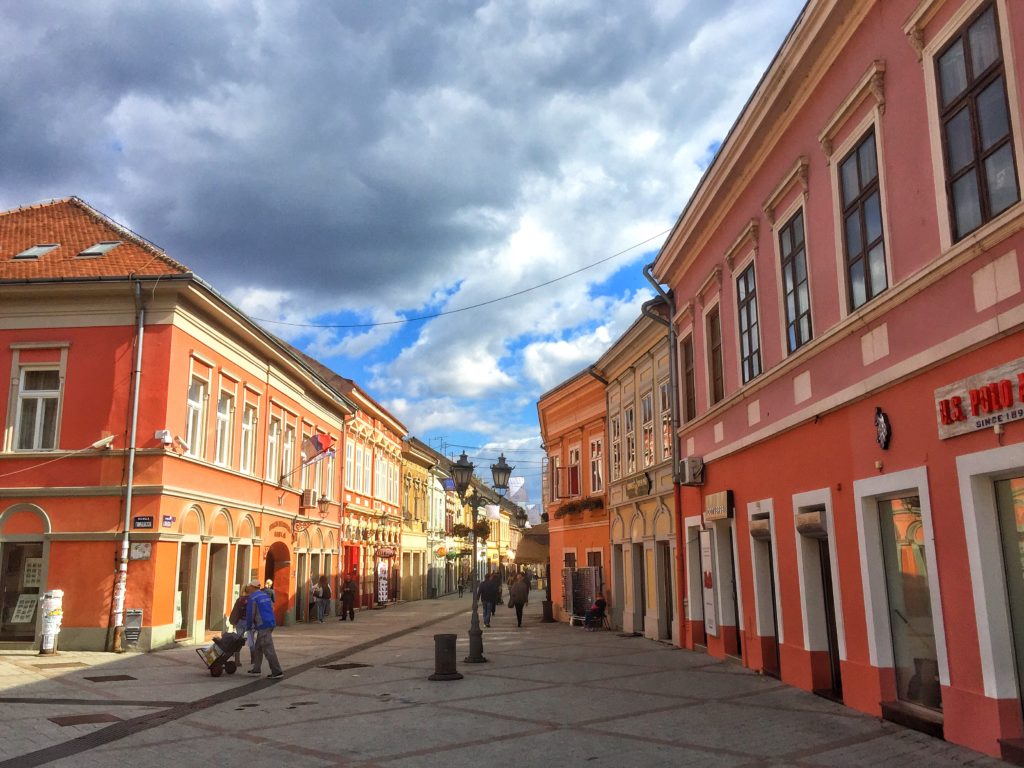 Admire the colorful buildings
What to see in Novi Sad? Try tons of colorful buildings!
Novi Sad is a surprisingly vibrant city – in fact, it even made my short list of the most colorful cities in the world! There are many colorful streets throughout the city, but Dunavksa Street was one of my favorite places to visit in Novi Sad, and it's near the heart of Novi Sad nightlife as well. The area around the main Town Square is really vibrant and beautiful as well.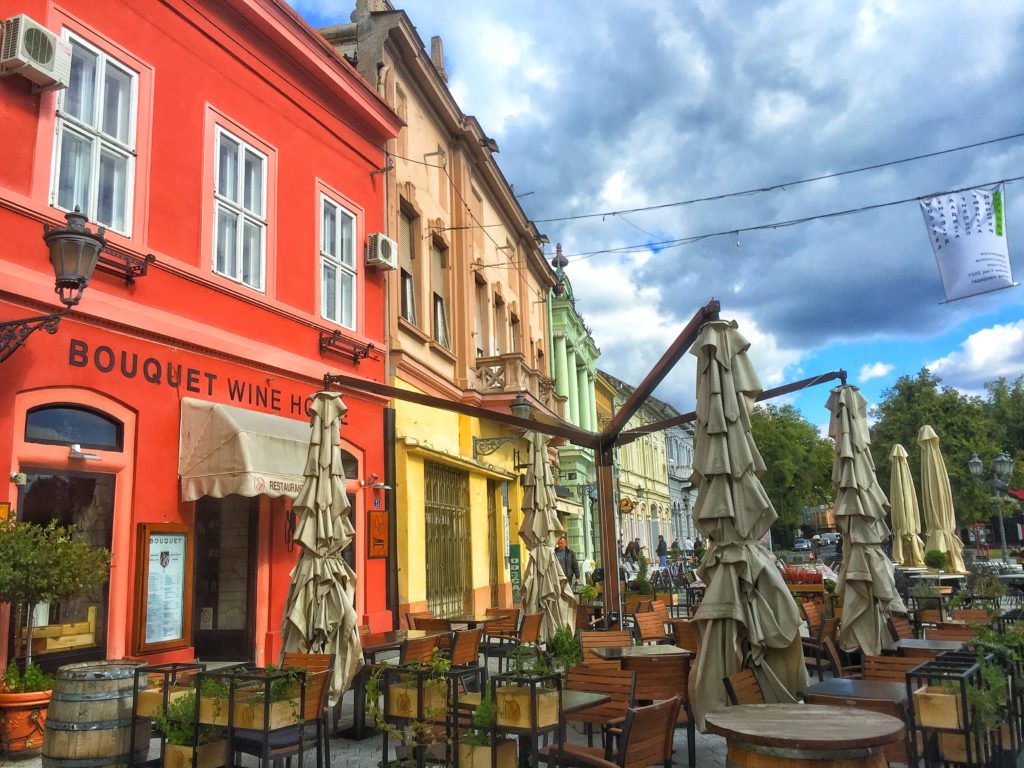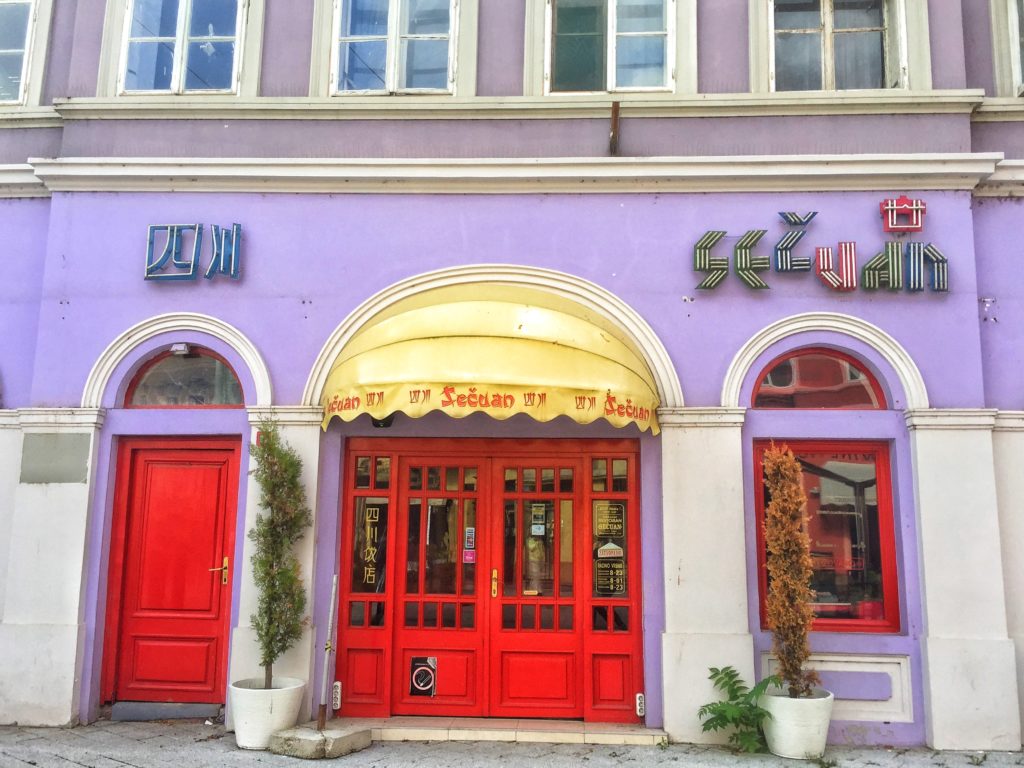 Marvel at the colorfully-tiled cathedral
You'll probably never see another cathedral quite like the cathedral in Novi Sad. While our tour guide informed us that it's not technically a cathedral (that honor belongs to the cathedral in Subotica, Serbia) – all the locals ignore this pedantry and call it "the Cathedral." Its roof is distinctive for its incredibly colorful tiles on the roof, which glint and glitter in the sun – a true Novi Sad must see.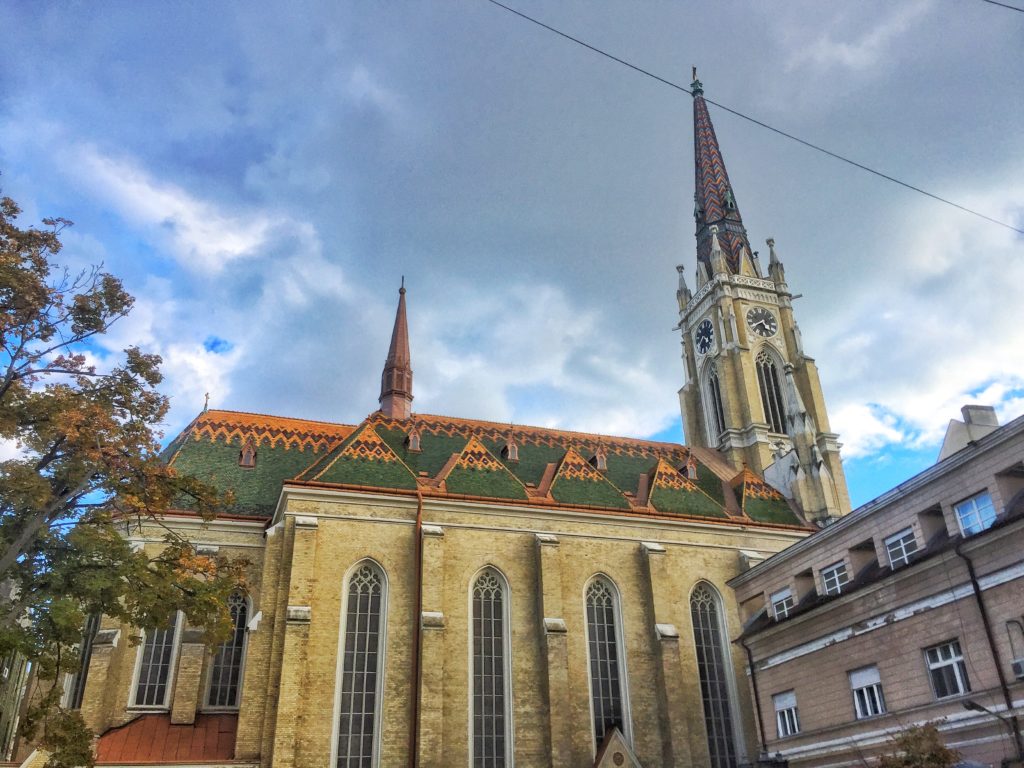 Walk through Danube Park
Danube Park is the primary green space and the heart of Novi Sad in the summer. If you're looking for a break from the streets, or if you'd like a place to wander before making your way over the bridge to the fortress, Danube Park is the place to be.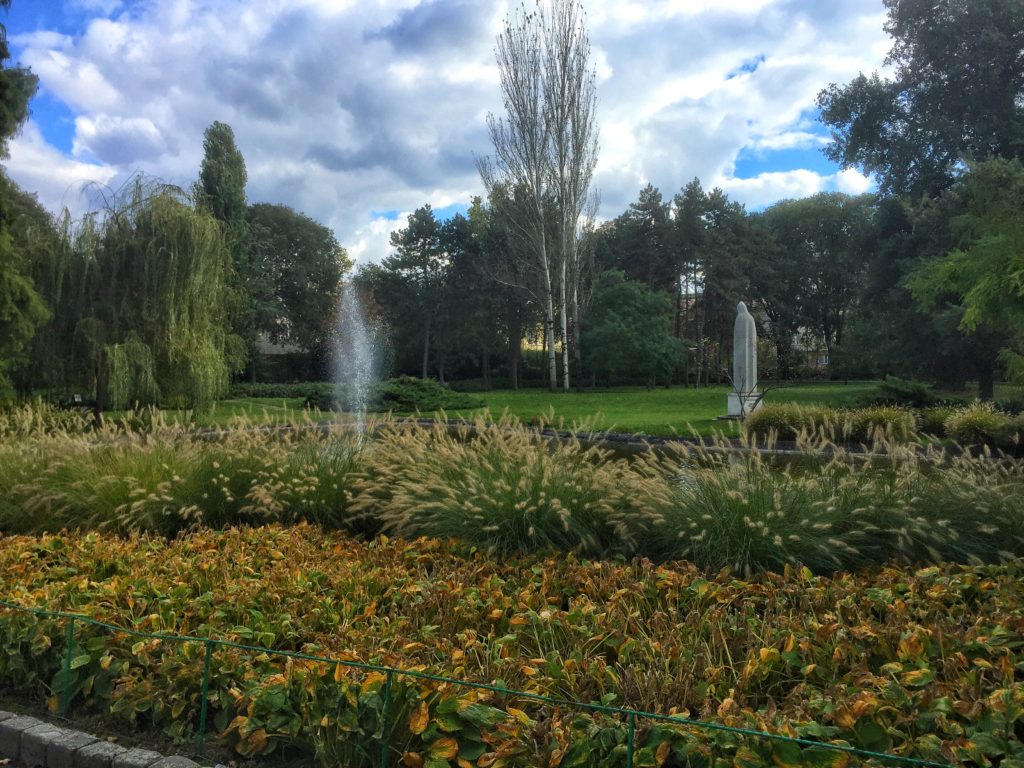 If you have only one day in Novi Sad and are wondering what to see, make sure you come here. The fortress in Novi Sad is one of the biggest in the region. It's best to go there with a walking tour, so you can understand its strategic importance. It has a great view overlooking the Danube and the city center.
There are also many kilometers of underground tunnels beneath the fortress, but you have to go with an organized tour. I didn't have time to check this out but it sounds like an awesome experience!
This is also where the famous EXIT music festival is held each year!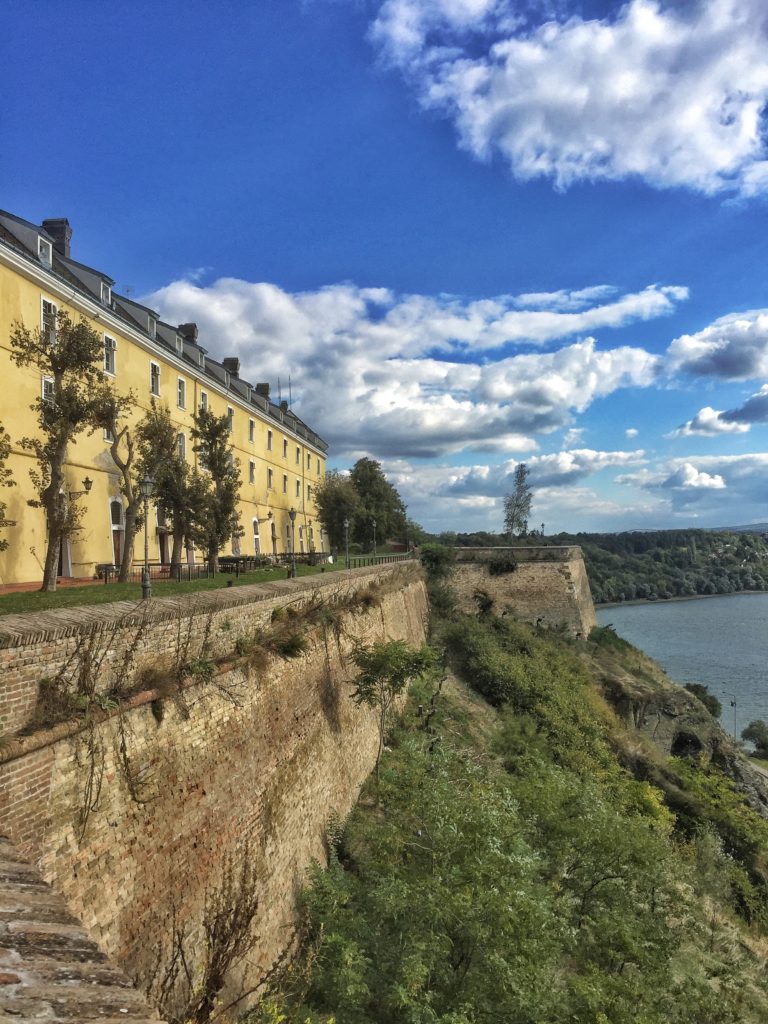 Eat some ćevapčići
Roughly pronounced "che-vap-chi-chi", these sausages are the quintessential Balkan experience. Eat more than you can reasonably stomach in one of the many rostilj (barbecue restaurants) scattered throughout Novi Sad and basically anywhere in Serbia. A delicious thing you've got to add to your Novi Sad to do list!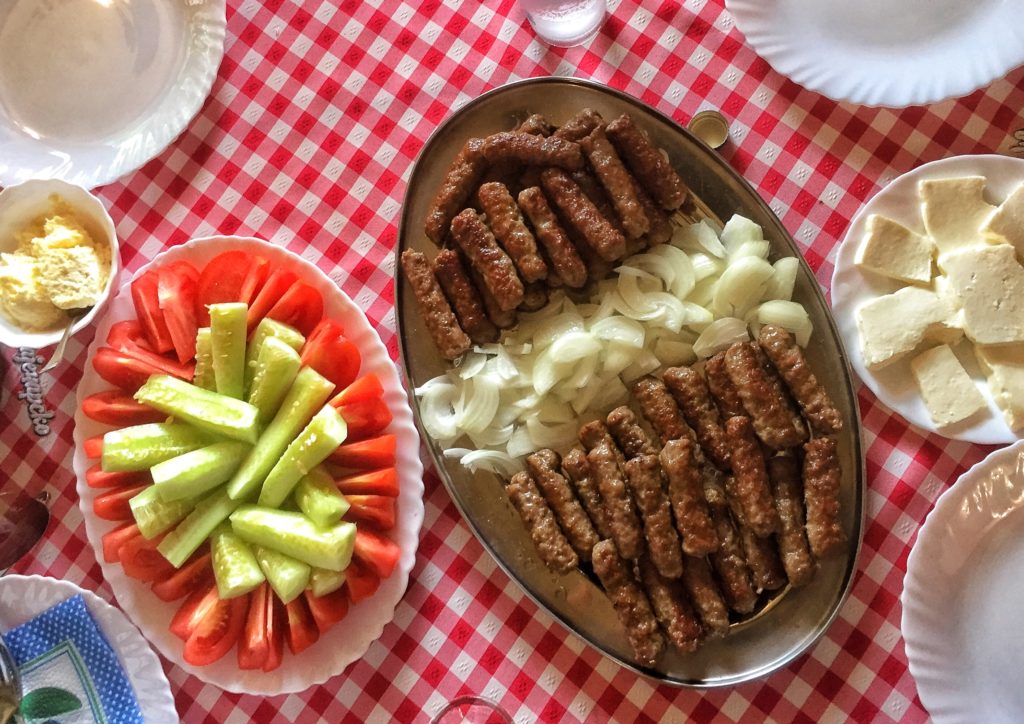 Visit Fruška Gora National Park
Fruška Gora is filled with woods and hiking trails. Unfortunately, the day we rented a car, it was super rainy. It wasn't ideal weather for hiking, but it was still beautiful to drive around in. We also stumbled across the TV tower in the middle of Fruska Gora, bombed out during the NATO bombings in 1999.
It was odd to see this giant destroyed structure arising from the middle of nowhere. If you like a side of destruction with your natural beauty, I suggest giving it a quick look before enjoying some of the many beautiful hiking trails in the area, hopefully on a day that's not rainy.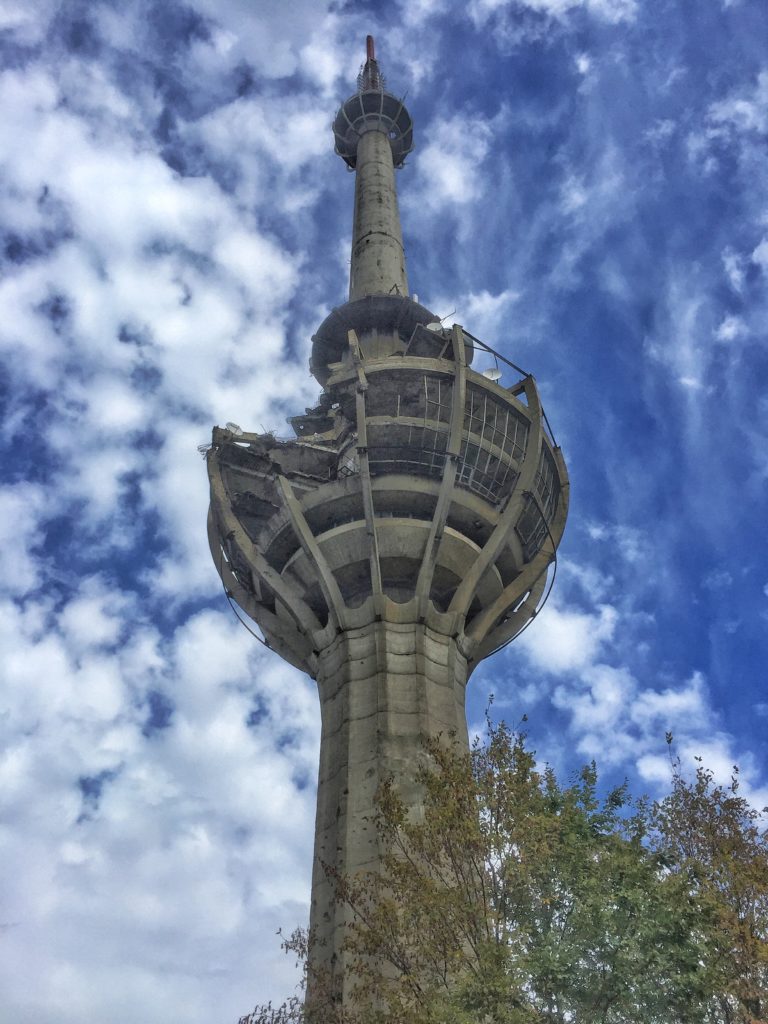 Tour the wineries and monasteries surrounding Novi Sad
One of the most interesting things to do in Novi Sad is not actually in Novi Sad, per se. Just outside Novi Sad, about a ten or fifteen minute drive, you can access tons of beautiful monasteries as well as small local wineries.
One of my favorites was Krušedol, with its bright red gatehouse and beautiful grounds. Even better, you can buy homemade local honey, rakija (the fruit-based moonshine popular throughout the Balkans), and local wines, often produced by the monks who live there.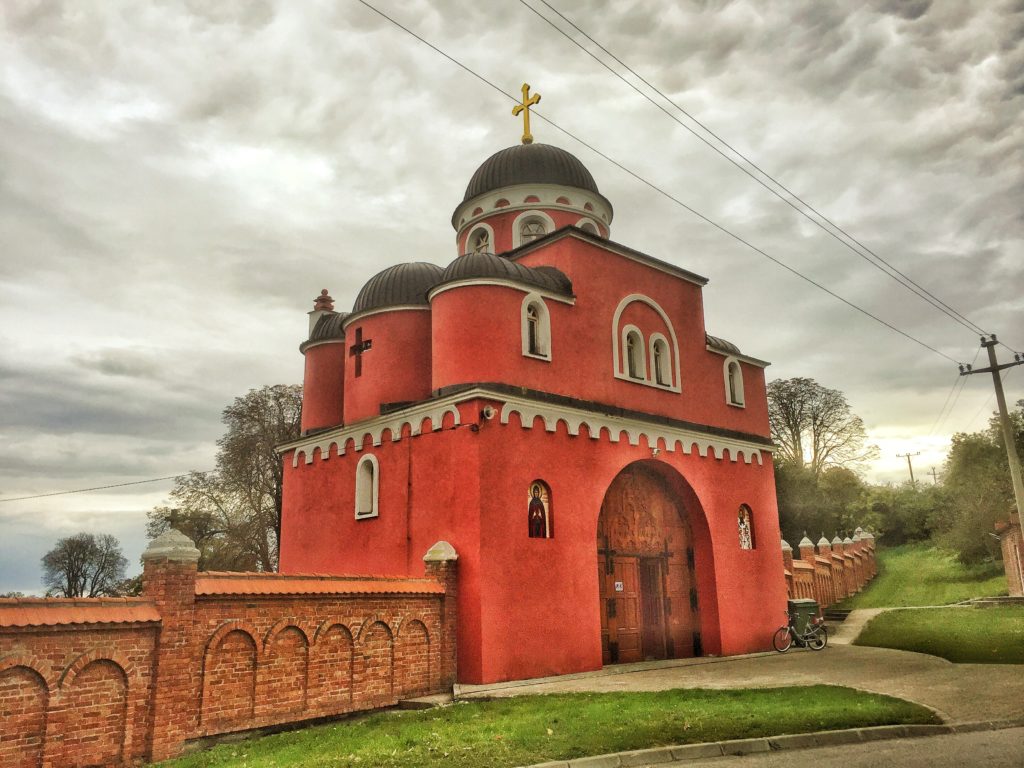 Where to Stay in Novi Sad
Budget: Novi Sad is home to some seriously designer hostels, making it the perfect spot for travelers on a budget! I stayed at Hostel & Cafe Bar Rookies, because I was doing the Balkan Backpacker route and was close to receiving my free surprise! But if you're into something a little more design-y, Varad Inn Hostel is the first boutique hostel in Novi Sad with gorgeous amenities, and prices start at a mere 9 euros. Tesla Art Hostel is also beautifully designed.
Mid-Range: Garni CitiHotel offers apartment-sized, well-designed rooms at seriously affordable costs, with a free breakfast thrown in.
Luxury: Novi Sad is not an expensive city, and even the nicest hotels in town won't set you back much, especially if you're sharing a room. Prezident Hotel is the nicest in town and costs less than a budget room in a Western European city.
Don't forget travel insurance, especially if you are renting a car! I use and recommend World Nomads travel insurance whenever I'm in Europe as their rates are affordable and customizable.
Allison Green is a former educator turned travel blogger. She holds a Masters in Teaching and a B.A. in English and Creative Writing. Her blog posts merge her educational background and her experience traveling to 60+ countries to encourage thoughtful travel experiences that both educate and entertain. She has been a speaker at the World Travel Writers Conference and her writing, photography, and podcasting work has appeared in National Geographic, CNN Arabic, CBC Canada, and Forbes, amongst others. Now based in the San Francisco Bay Area where she grew up, she has also lived in Prague, Sofia, and New York City.