Note: This post may contain affiliate links. Please see my disclosure page for more details.
Saigon (also called Ho Chi Minh City) is a vibramt, dynamic city that is the heart of Southern Vietnam. While Hanoi is the capital of Vietnam and the most important city of the north, Saigon is the largest city in all of Vietnam and also the busiest and most bustling.
Note: The city is officially known as Ho Chi Minh City, but many people still call it Saigon, and locals typically still call it Sài Gòn when speaking about their city. For stylistic purposes, I've primarily chosen to use the word Saigon, but I call the city by its official name (Ho Chi Minh City) at times in this post, in order to respect both points of view. Thanks for your understanding.
Get acquainted with the city on motorbike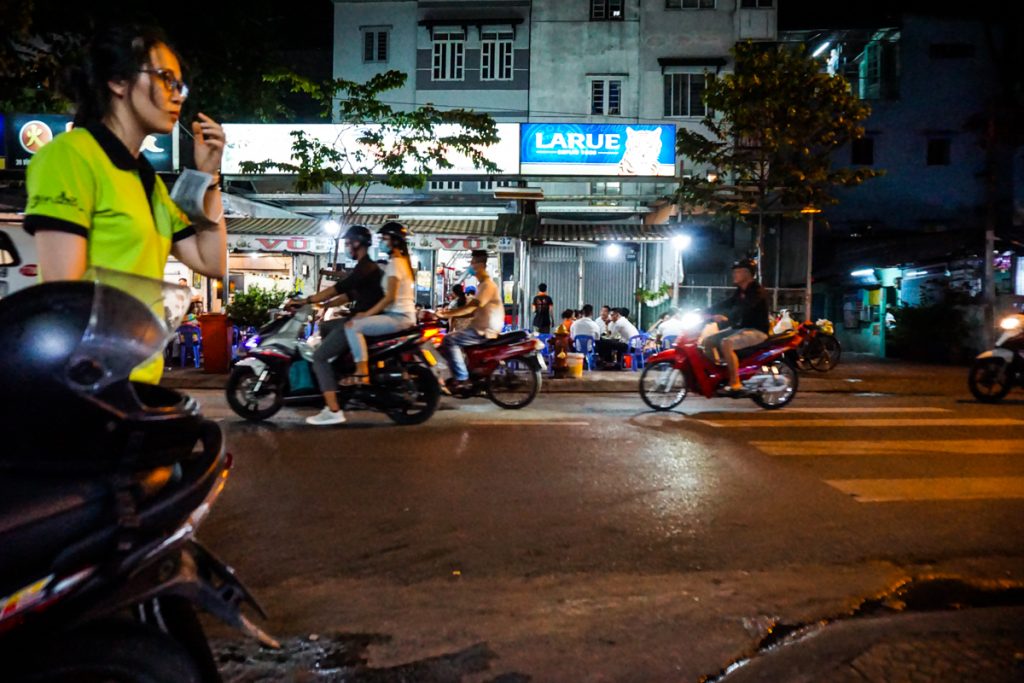 Getting thrown headfirst into the crazy flow of Saigon traffic on the back of a motorbike is hands down one of the most fun things to do in Saigon! I booked a combination sightseeing and street food tour by motorbike, and it was a fantastic experience.
We tried bun bo hue (a spicier and more flavorful take on Vietnamese soup), visited the oldest apartment block in Saigon, ate banh xeo (an enormous savory Vietnamese coconut pancake), visited a flower market and the Cambodian market, tasted a banh mi (Vietnamese sandwich) and headed to District 4 for some seafood BBQ. It was a fantastic evening and despite the complete madness of Saigon traffic, I felt very safe with my experienced and funny driver.
Take a cooking class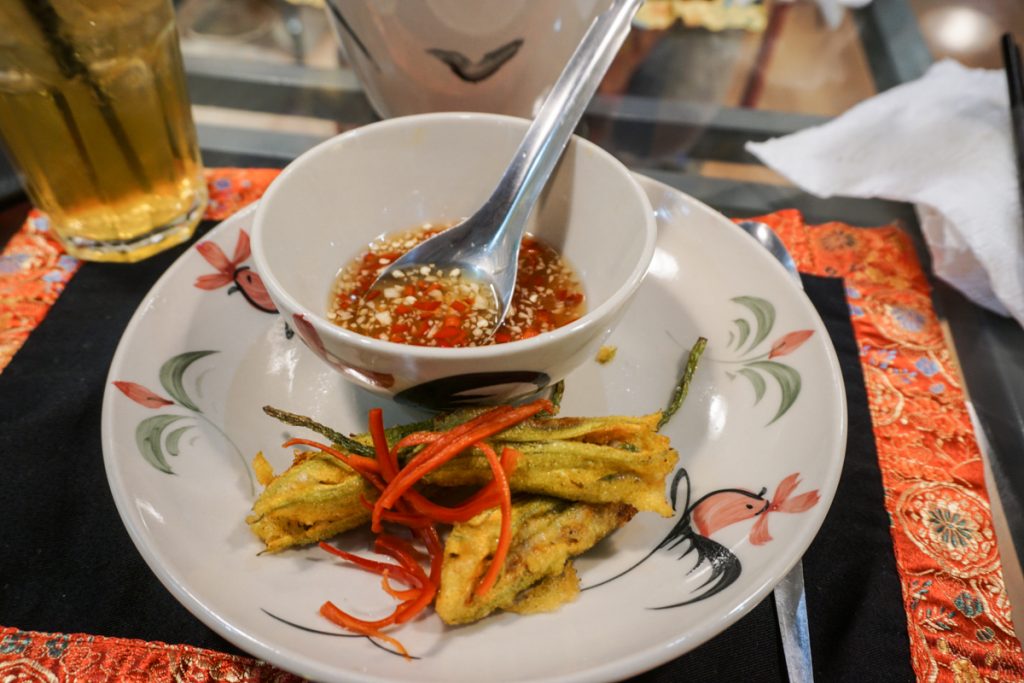 Vietnamese food is some of my favorite in the world, so it's no wonder that one of the top items on my list of things to do in Saigon was take a cooking class! I took a class with M.O.M. Cooking School and had a fantastic experience – I'd highly recommend taking a class with them if you have any interest in cooking or bringing home some Vietnamese recipes!
Each cooking class lasts about 3 hours and covers 3 dishes. I learned to make pork and shrimp summer rolls (goi cuon) with a hoisin-peanut dipping sauce, fish-stuffed pumpkin blossoms with a fiery fish sauce-infused nuoc mam cham sauce, and the most delicious lemongrass and chili chicken stir-fried to be impossibly soft with the addition of coconut water.
Pay respects at the War Remnants Museum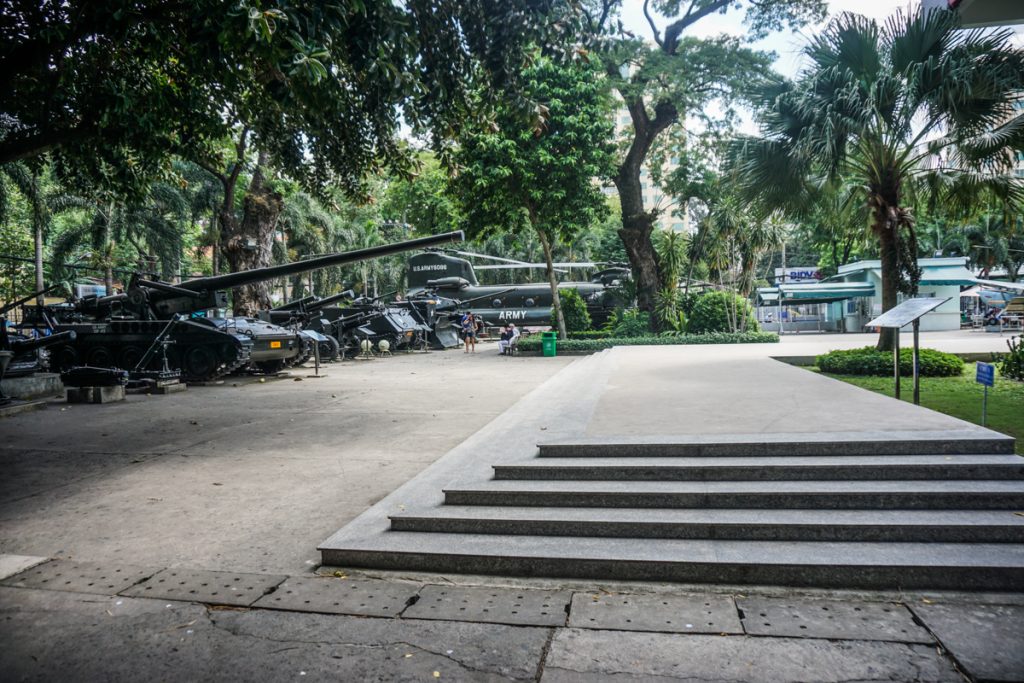 While not an easy or light thing to do in Saigon, it's essential viewing in my opinion. The War Remnants Museum in Ho Chi Minh City is an excellent museum, full of photographs and articles documenting the worst abuses of the Vietnam War. As an America, visiting this museum was hard, knowing the pain that my country inflicted on this country that is now welcoming me.
It was particularly heartbreaking to see the effects of Agent Orange and dioxin on the population of Vietnam, and the effects it continues to have, causing birth defects and severe illnesses even in the fourth generation of survivors. There's no doubt that the U.S. committed serious war crimes in Vietnam and that the war here was one of the biggest tragedies of the 20th century. It's hard; it's heavy; it's essential to see when in Ho Chi Minh City.
Get lost in beautiful smells at the Ho Thi Ky Flower Market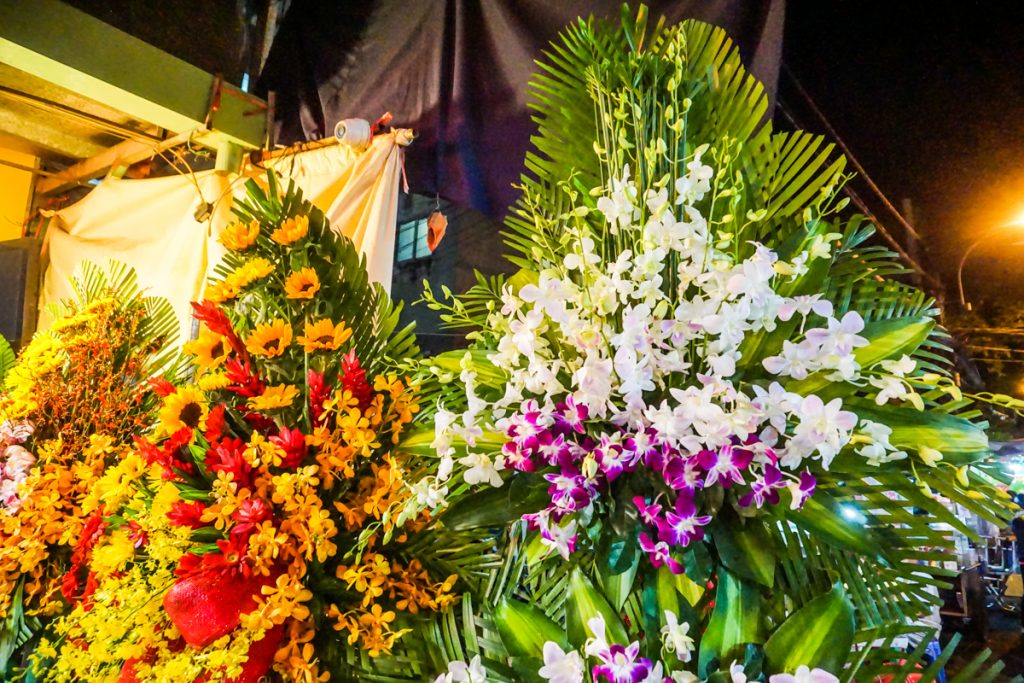 Another stop on my motorbike tour, I loved visiting the Ho Thi Ky Flower Market in District 10. Our stop here was brief but definitely worth it, and if you're a huge fan of flowers or want to bring something home to decorate your hotel room, it's definitely worth a visit all on its own.
I learned that white and purple flowers together symbolize death and are the appropriate gift for a funeral – so don't make that mistake when buying flowers!
Walk over to the Cambodian Market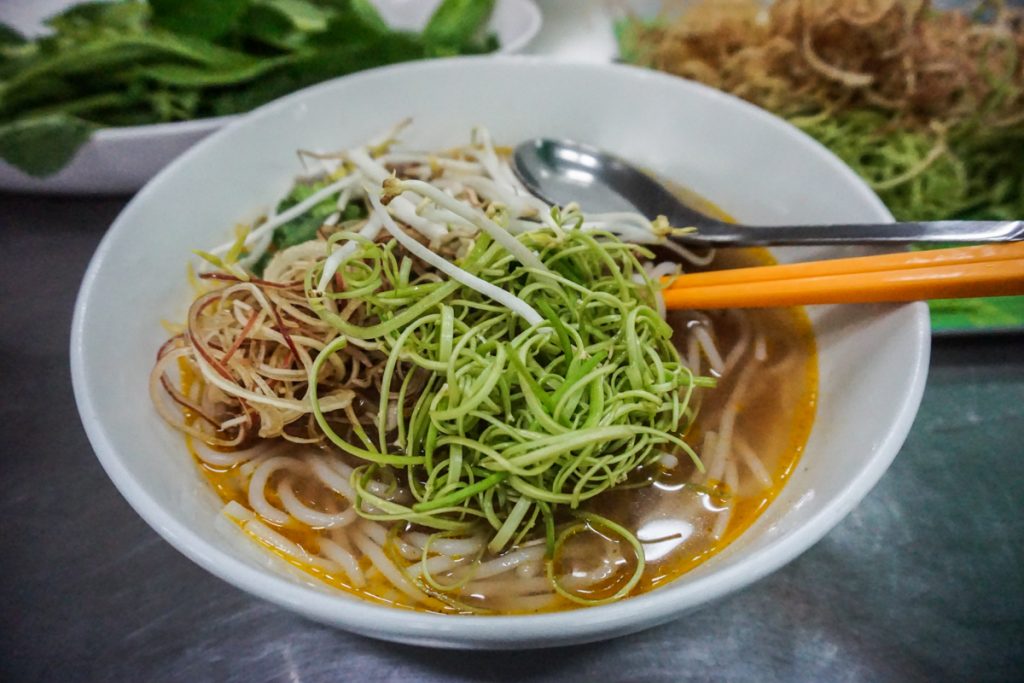 Just a short distance from the Ho Thi Ky Flower Market, you can find a local Cambodian market (Le Hong Phong Market), which is a little different than all the other markets in Saigon. This was also a stop on the motorbike tour I did as it's literally right next to the Cambodian Market – we walked over from the flower market. So if you're traveling by Grab or taxi, this is a great way to see two outer-district sights in one if you're not going as part of a tour.
There's a ton of delicious Cambodian food offerings here, as there is large Cambodian population living in Saigon, who fled the country during the genocidal reign of Pol Pot and the Khmer Rouge in the 1970s. The market has been here since not long after, as the heart of the Cambodian refugee community, and it is now a spot for Vietnamese, Cambodians, and curious tourists who make the trek out to District 10 to explore.
Explore the vibrant craft beer scene
When I first visited Vietnam 4 years ago, craft beer wasn't even a thing – it was pretty much just Tiger or Saigon everywhere you went. Now, there's a number of excellent craft beer bars and even microbreweries located in the heart of Saigon. I got the chance to visit three during my stay in Ho Chi Minh City – East West Brewing Company, BiaCraft, and Pasteur Street Brewing. While all were lovely and had different vibes and atmospheres, my favorite by far was Pasteur Street Brewing – don't miss their jasmine beer, it's fantastic. Check this post out for  a complete guide to craft beer in Saigon.
Walk around Ben Thanh Market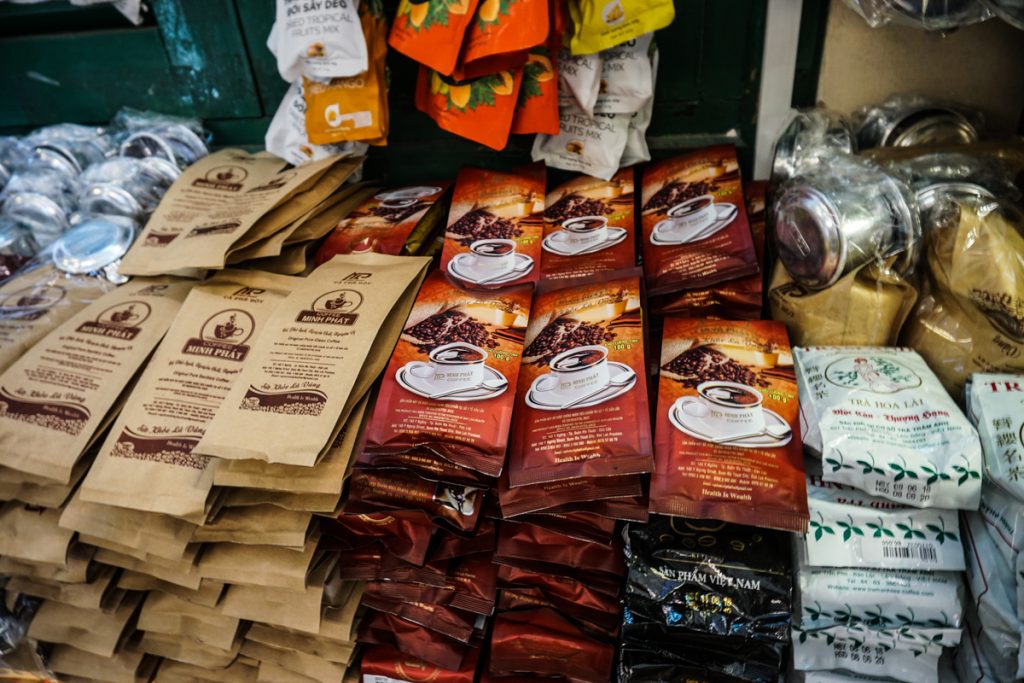 This is the most popular market in Vietnam and while it is touristy and slightly more expensive than other markets in Ho Chi Minh City, I think it's still worth walking around, especially since it's so close to many of the other sights that you will see in the center of Ho Chi Minh City.
It's a great place to buy souvenirs – a few that I recommend are Vietnamese drip coffee pots and Vietnamese coffee from the highlands (Da Lat), any sort of specialty cookware or non-perishable goods if you have a friend back home who loves cooking (or for yourself!), and of course there are always more traditional souvenirs like clothing, purses, etc.
See a piece of history at Independence Palace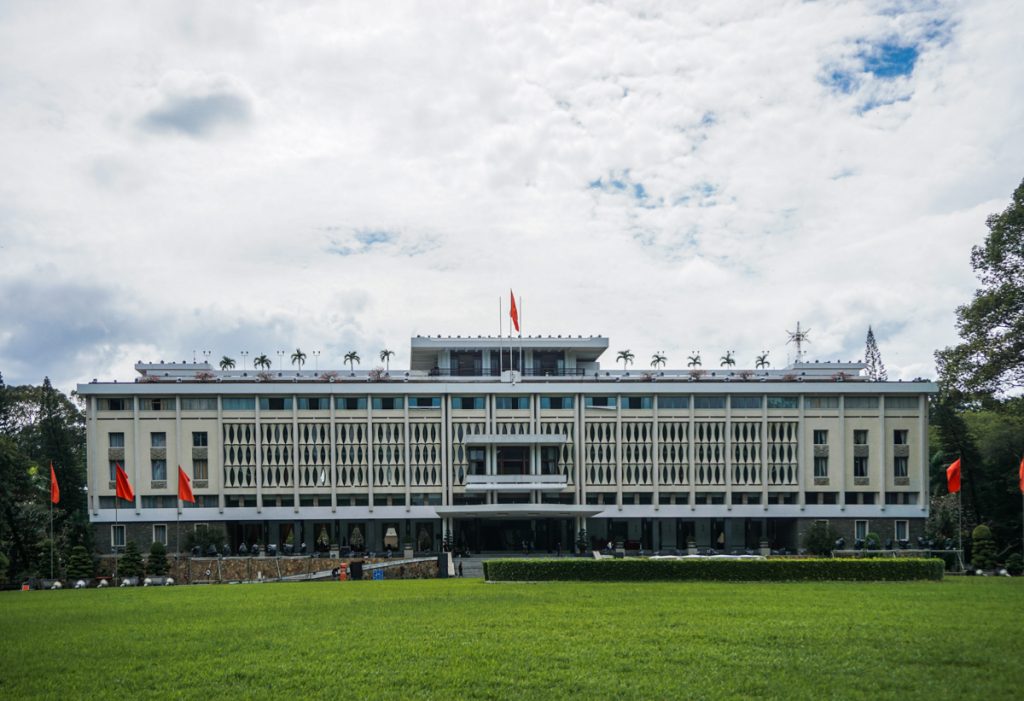 Independence Palace (also called Reunification Palace) is a must-see in Saigon, as one of the most famous buildings in the city. Tickets cost 40,000 dong, less than $2 USD. I visited right after it reopened at 1 and thought that was perfect, as it was pretty peaceful when I was there and easy to snap photos without massive groups of people crowding it. By the time I left, huge groups were arriving, so I think I had good timing.
The building looks as if it is standing still in time – its 60s architecture along with its kitschy vintage furnishings have barely changed since the tanks from the North arrived in 1975, when the city of Saigon officially fell. Personally, I regret not having an audio guide as I didn't really know what I was looking at, even though it was visually interesting. I thought there might be more signage about why each room was important, and what was the general history of the place, but I didn't find this to be true, so if I came back I'd spend the extra 50,000 or so dong on the audio guide.
Notre Dame Basilica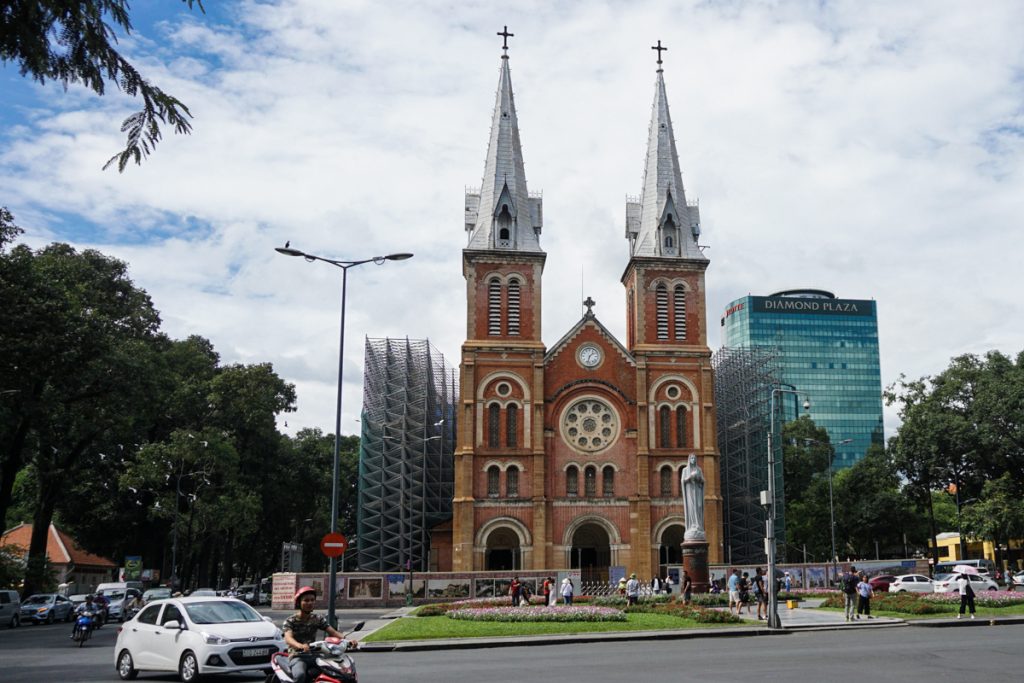 Unfortunately under construction during my visit, I still think Notre Dame Basilica is well-worth a visit while in Ho Chi Minh City, especially given its prime location near Independence Palace and the beautiful Post Office building. In fact, it'd almost be harder to not visit Notre Dame than not!
Notre Dame has its roots in the French colonial period which is responsible for a lot of the architecture that you see in southern Vietnam, and it's well worth making a small circuit when downtown to see the other French colonial buildings (I've included the Central Post office across the street, as well as the City Hall and Opera House in this post, but there are others.
Saigon Central Post Office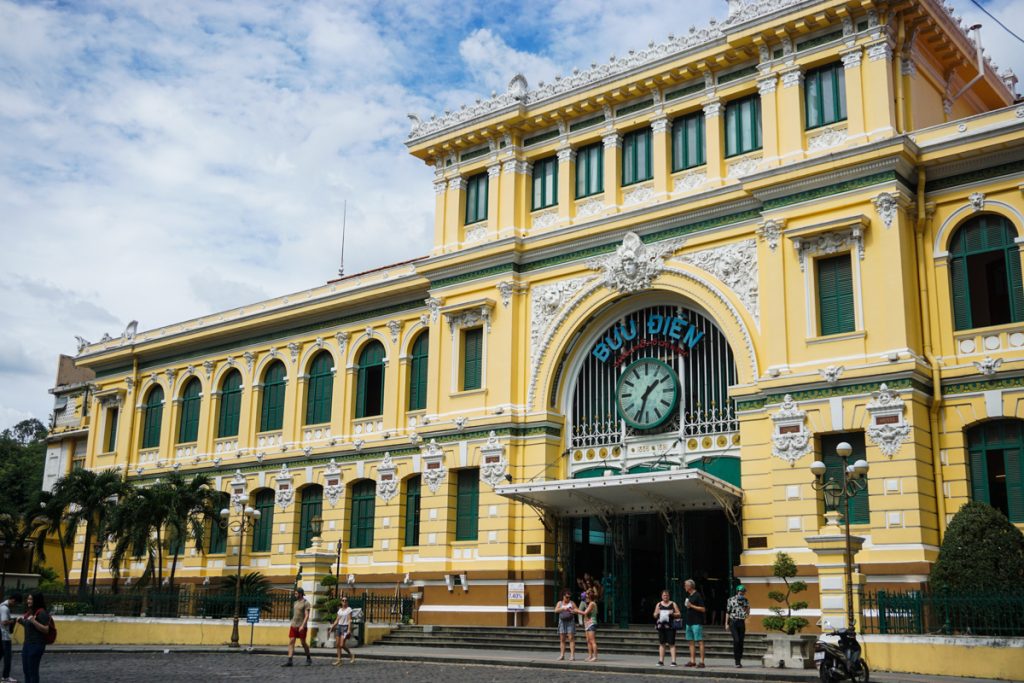 I found this to be the most beautiful building in Vietnam, and again, since it's so central it's almost impossible to miss. While it has been converted pretty much into a tourist mecca, with booths selling tours and two souvenir shops, I think it's still worth visiting.
Admire the lovely Ho Chi Minh City Hall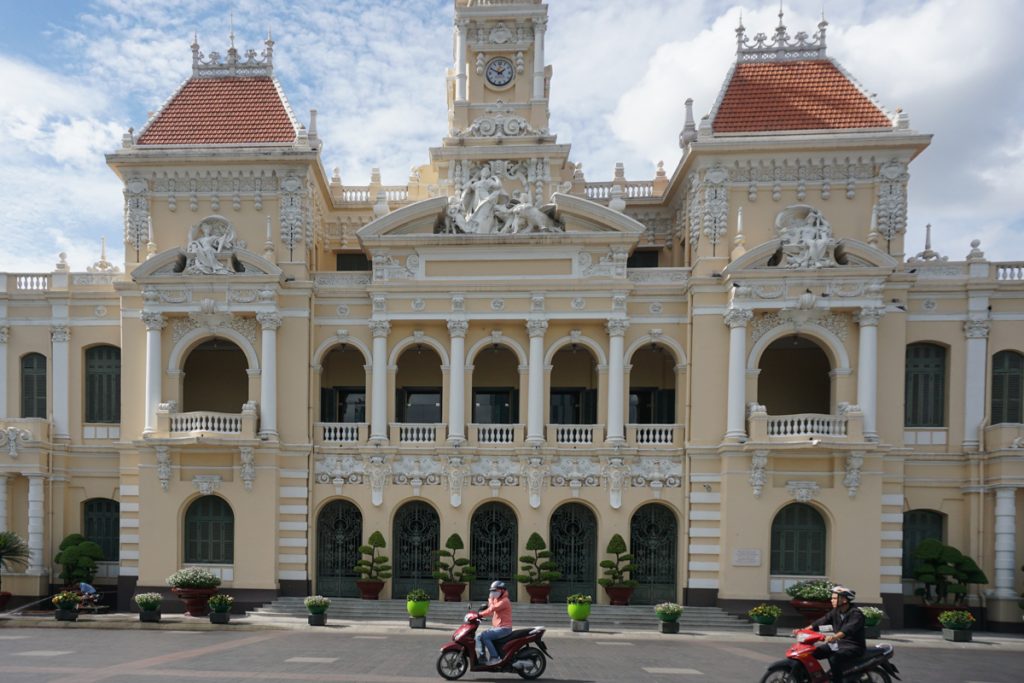 Another colonial-era building from the early 1900s, it's unfortunately not possible to go inside the City Hall as a tourist. While it's still in use, it is strictly for civil servants and staff of the Peoples Committee in Ho Chi Minh City.
Saigon Opera House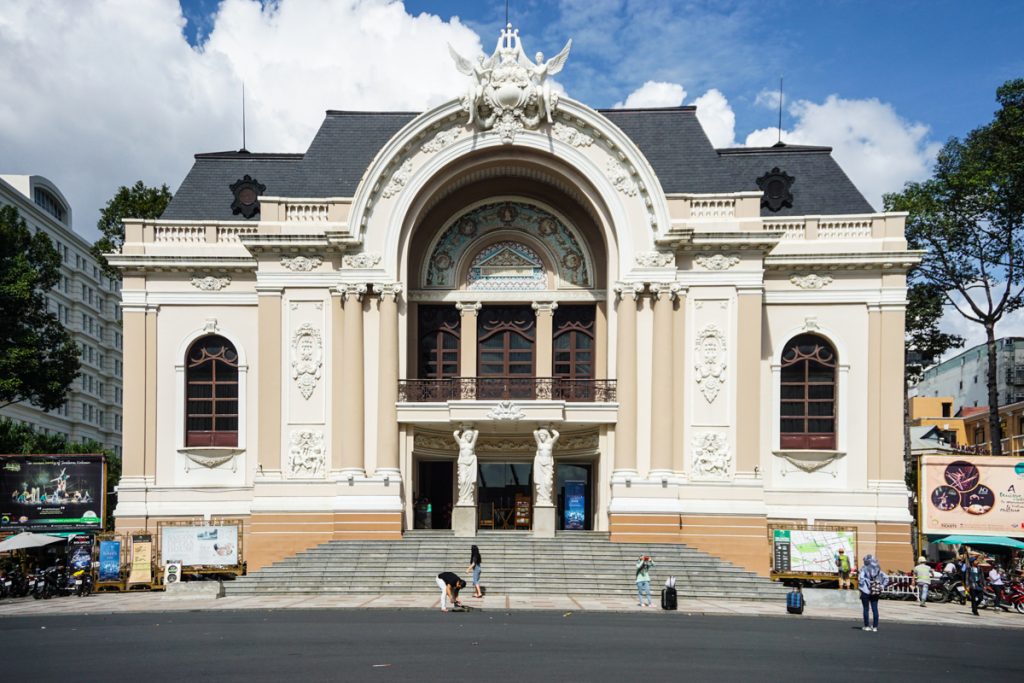 One of the most essential places to visit in Saigon is the Saigon Opera House, which is both a prime example of the French colonial architecture but also one of the few colonial buildings still in use for its original function (or close to it) today.
The Saigon Opera House is home to the AO Show, a performance which combines elements of dance, circus arts, and a distinctly Vietnamese twist, as folk instruments, costumes, and bamboo are all utilized during the performance. Shows run just about daily at 6 PM so it's a must-see in Saigon if you're a lover of the arts.
Stay tuned as I'll be updating this post with even more of my favorite things to do in Saigon!