One of the most overwhelming parts of planning your first trip to London is deciding where to stay in London for the first time – and better yet, finding the best area to stay in London that won't break the bank.
London is not an affordable city by any stretch of the imagination, and that is even truer when it comes to finding a hotel in London.
London is composed of 32 boroughs which make up Greater London, and many of those boroughs break down further to be divided into neighborhoods as well.
I've been to London three times and I've stayed in three different London neighborhoods: Bloomsbury, Shoreditch, and Stratford.
While I loved staying in Central London and Shoreditch, I don't think I'd stay in Stratford again, as the neighborhood didn't feel safe as a solo female traveler.
So if you want to know where to stay in London – for a first time or repeat visitor – keep reading! Also, check out my 4 day itinerary for a London first-timer.
Best Areas to Stay in London, by Neighborhood & Budget
London is not a cheap city and as a result, it's hard to recommend places that fit squarely into what I personally consider "budget."
This post is about hotels in London, so I've excluded hostels unless they have private rooms available as well. However, if you're a solo traveler on a budget, you may want to look into different hostels in London – I usually use Hostelworld to do all my hostel searches.
Here is a rough breakdown of what I mean by the different budget categories.
Budget: Under $100 (low season) / under $150 (mid to high season)
Mid-range: Under $200 (low season) / under $300 (mid to high season)
Luxury: Upwards of $300 regardless of season
Bloomsbury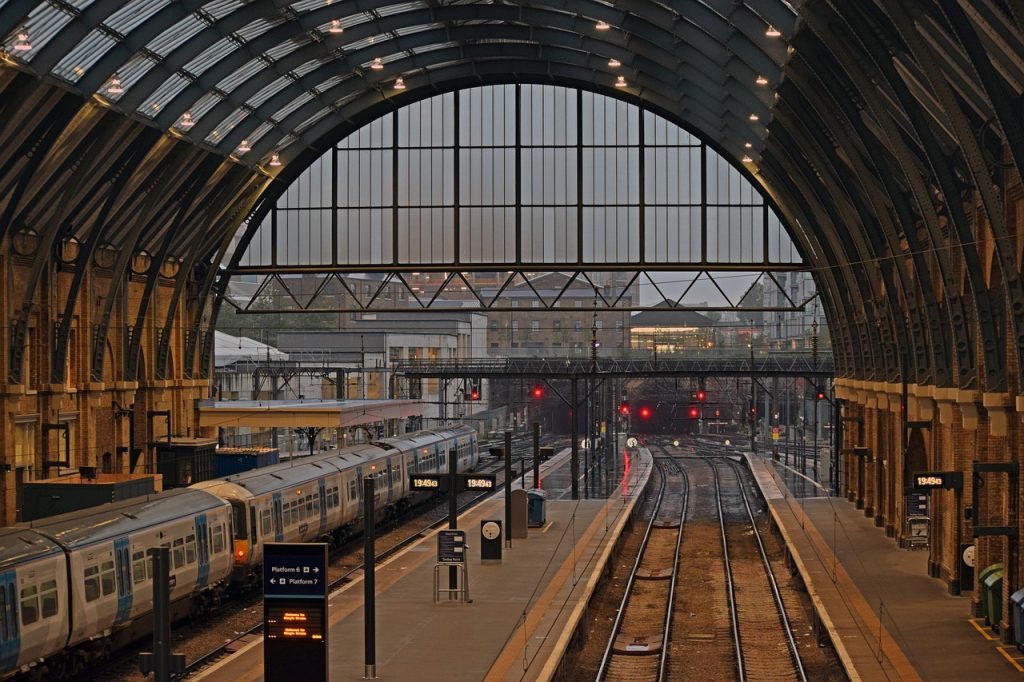 Note: This post contains affiliate links, which means I may receive a small commission if you purchase something through one of these links. Thank you for supporting the free content on this site! For more information on affiliate links and cookies, see my disclosure page for more details.
This is where I stayed in London the first time and I'd definitely recommend it to fellow London first-timers. It's in central London, but it's a bit away from some of the most touristic spots (London Eye, Big Ben, etc.) but still walking distance from them. There are plenty of Tube stations nearby as well as King's Cross station which is super useful if you plan to travel around England by train or do some day trips from London which are just a quick train ride away.
But far and away my favorite thing about Bloomsbury is that it's home to the world-class British Museum, which is free (though you can and should donate what you can).
This meant that every time I was coming home, I'd pop into the British Museum for literally just 30 or 40 minutes at a time to check out a new section without getting overwhelmed and feeling like I needed to try to see everything.
It's also home to London University and as a result, there are plenty of restaurants that cater to more student-friendly budgets. I was able to find some truly budget-friendly meals here, such at Bibimbap Café just across from the British Museum, where you can get a delightful Korean meal for about 5 pounds.
Close to Bloomsbury is Soho, a thriving LGBT friendly London neighborhood, which is another great choice for where to stay in London for first-timers.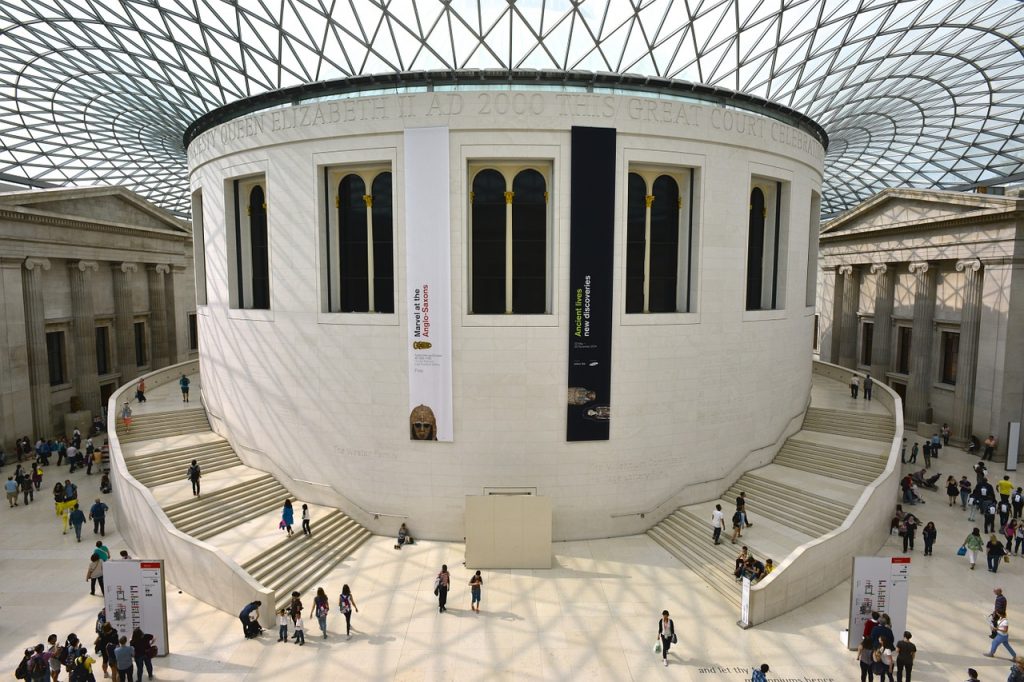 Budget: The best-reviewed budget hotel in Bloomsbury is Alhambra Hotel, located right across from King's Cross. With very budget friendly double rooms with a shared bathroom (and rooms with a private bathroom for slightly more) this is a great place to stay if you don't want to sacrifice location but you are also on a tight budget.
The design is quite simple and stripped down, but rooms are comfortable, a full English breakfast is included in the room price (very helpful considering how much food costs in London!), and the staff is friendly — plus, that location! Check prices, reviews, and availability here.
Mid-Range: This gorgeous Georgian townhouse is nearly 200 years old and used to be the home of the famous artist, Sir John Everett Millais. The highly-rated Arosfa Hotel in historic Bloomsbury is stylish yet central, just a short jaunt from the British Museum.
The rooms are beautifully decorated with different themes. Some are more classic, with wood paneling and warm earth-toned curtains and even a fireplace, whereas others have more personality, like funky wallpaper and black-tiled bathrooms. Either way, all rooms can enjoy the lovely lobby, the garden with a small glass gazebo, and a hearty continental and cooked breakfast. Check prices, reviews, and availability here.
Luxury: Right on lovely and quiet Russell Square (across the street from the most rad London phone booth of all, incidentally, decked out with parrot-themed wallpaper!), I first noticed and photographed the building that the Kimpton Fitzroy is in before even knowing what it was. The exterior is gorgeous, with a beautiful rich terra cotta exterior, but the inside is even more lovely.
The Kimpton Fitzroy is a Grade II-listed landmark building rich with historical details, making you feel like you're staying in a palace more than a hotel. Inside, the interiors are luxe with a contemporary edge, designed with an eye towards classic modernity. There are several dining options within the Kimpton – from a casual coffeehouse slash wine bar to a more luxurious hotel bar to an upscale restaurant to afternoon tea in a courtyard.
A short walk away from the British Museum, several theaters on the West End, and the National Gallery, the Kimpton Fitzroy is luxurious yet surprisingly affordable for a London 5-star hotel in the heart of town (I've seen rooms for under $300 in the off-season). Check prices, reviews, and availability here.
City of London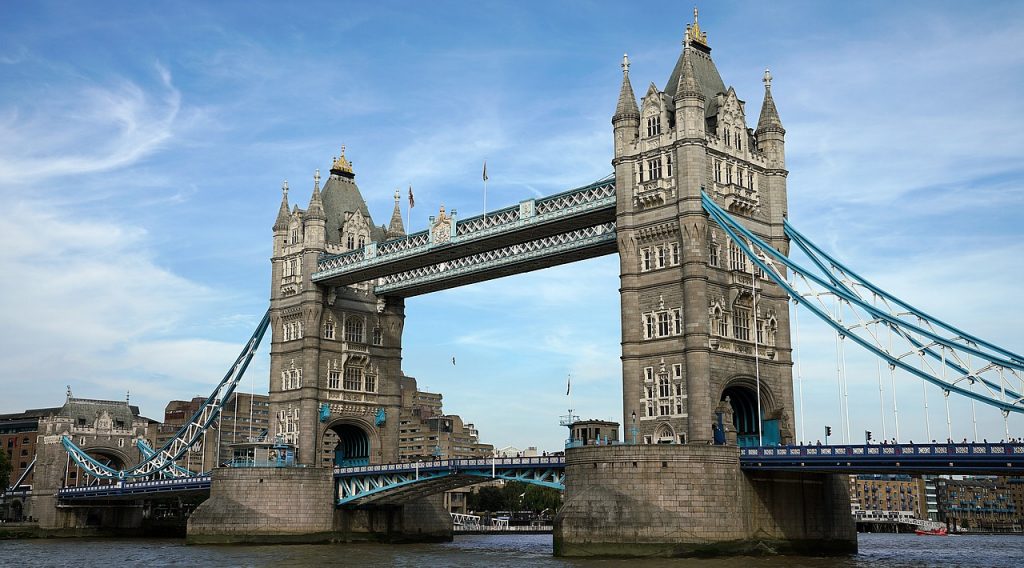 Technically, the actual "City" of London is quite small and encompasses only one small part of what we commonly think of as, well, London.
The "City of London" excludes several of its most known places, such as Westminster Abbey, Big Ben, and the London Eye. Rather, the City of London includes the Tower of London, Tower Bridge (mistakenly known as London Bridge), the Bank of England, and St. Paul's Cathedral.
I haven't stayed here but my friend Megan did when staying at the citizenM Tower of London. I went to visit her and cowork with her for a few hours in their gorgeous bar on the 8th floor with jaw-dropping views of the Tower of London.
I loved being in such a central location surrounded by history everywhere, from the Tower of London with its intense and often dark history to the beautiful Thames River to the gorgeous Tower Bridge and the historic Old Spitalfields Market. This is truly the heart of London and a great place to stay!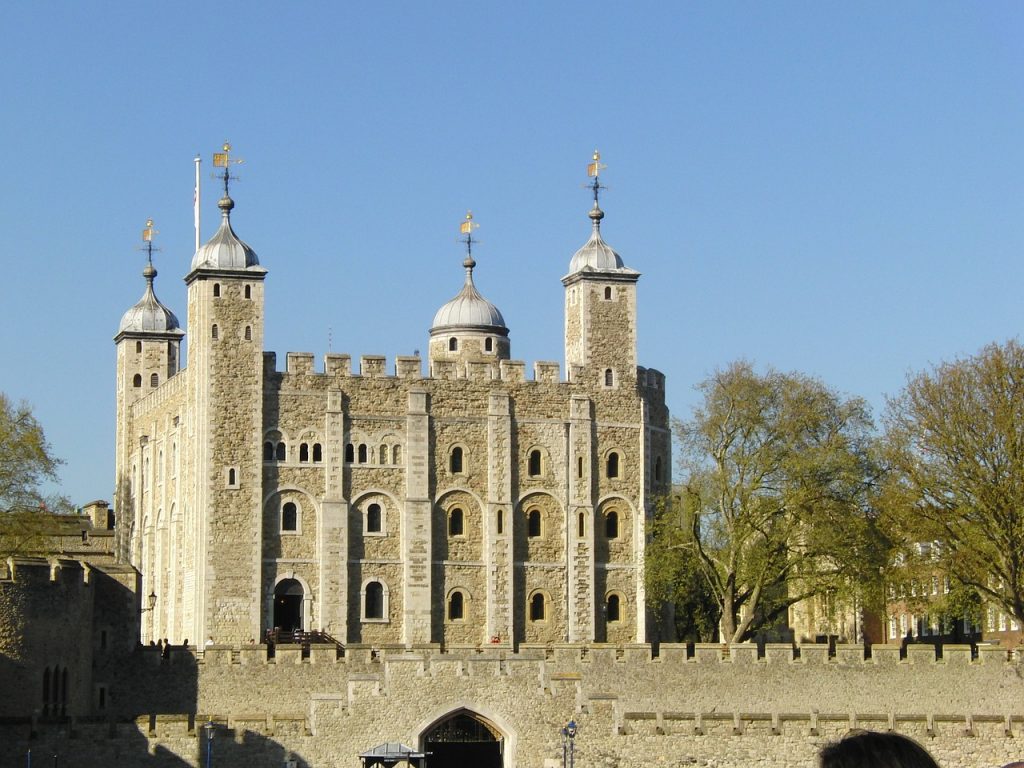 Budget: For such a central location you'd imagine that the prices would be outrageous but there are still a few deals to be found in City of London. Premier Inn London Bank near the London Monument is an excellent choice, close to London Bridge and the Shard. You can also cross the bridge and walk to Shakespeare's Globe and the Tate Modern from here. Rooms at Premier Inn are simple, as befits a budget hotel, but well-equipped and private with basics you'd expect (plus some extras!).
Each room has a private bathroom, a hairdryer, tea/coffee maker, WiFi, a work desk, blackout curtains, and a TV. Despite being a budget hotel, each room has a king-size Hypnos bed with a pillow-top mattress and your choice of pillows, great for a cozy night's sleep in the heart of London without breaking the bank. Check prices, reviews, and availability here.
Mid-Range: I didn't stay at the citizenM Tower of London, but I did visit my friend there and then later stayed at the Shoreditch location for three nights on my next trip to London. For the price, this hotel is amazing. Every single common area is bursting with creativity and artisticness, with a touch of irreverence and a sense of not taking itself too seriously.
Every common area is inviting, and there is a general vibe that makes the hotel lobby and bar areas places to see and mingle rather than just rush through on your way to your room, which I really enjoy. The rooms are small and compact but exceedingly well-designed and modern. Every room has its own iPad with which you can control the lighting, movies/TV, etc. There are so many wonderful thoughtful touches for the modern traveler, from USB chargers everywhere to in-wall adaptors that fit plugs from not only the UK but the US and Europe as well. And for the price, it's quite an amazing deal, especially if you're in London on the weekdays (it tends to be more on the weekends). Check prices, reviews, and availability here.
Luxury: I've stayed at a number of Hilton hotels over the years (mostly because my mom is a Hilton Honors credit card holder – I don't have that kind of money!) and always been impressed by the quality of their hotels, and it seems like Hilton Tower Bridge is no exception based on the reviews! The rooms are massive and there are excellent views of both Tower Bridge and the Shard (which is it just opposite from), one of London's most iconic new skyscrapers, from the hotel.
It has all the amenities you'd expect from the Hilton name – massive luxe bathrooms with showers and bathtubs, great city views, enormous rooms with king-size beds and working desks, that sort of thing. There's a world-class bar – TwoRuba – where you can get inventive cocktails. And while it's certainly not cheap, it's actually quite a good value for the Hilton name in one of the most expensive cities to sleep in in the world. Check prices, reviews, and availability here.
Kensington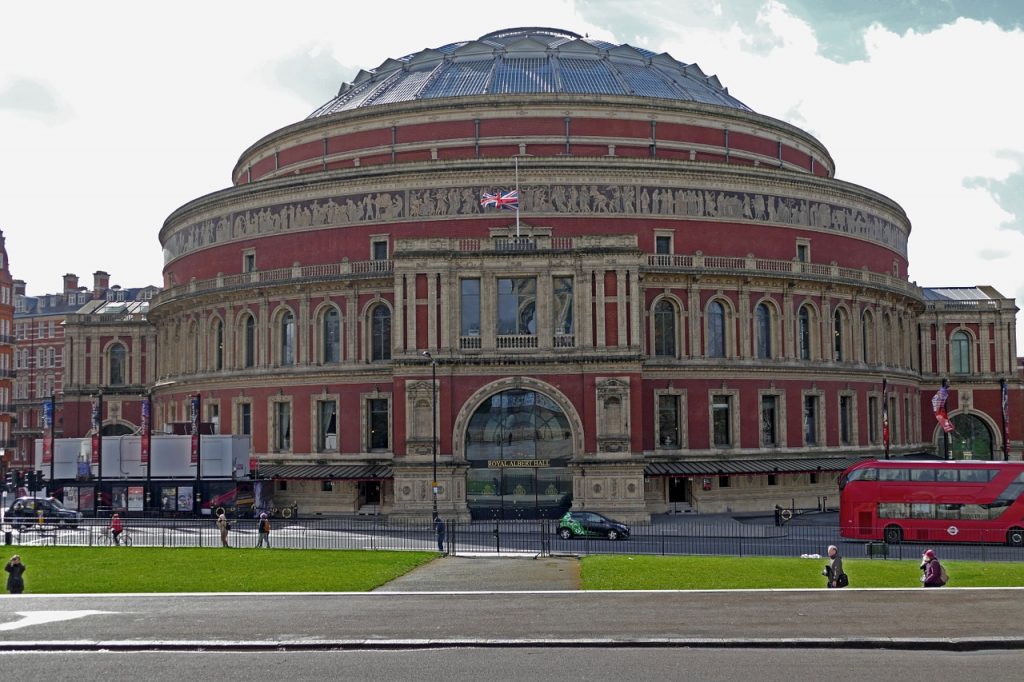 Bordered on the east side by Hyde Park and the north side by the colorful Notting Hill, Kensington is one of the best places to stay in London for the first time if you want to be in the center of the action. The architecture is predominately gorgeous Victorian buildings and beautiful embassy buildings with true London charm.
Kensington and the immediate area around it is home to some of London's best museums, such as the Natural History Museum and the Victoria and Albert Museum. The beautiful Royal Albert Hall is here, which is one of the most photogenic buildings in London, as well as the eponymous Kensington Palace. It's also quite close to Harrod's, London's most famous department store and a must-visit for shopping fans, as well as Buckingham Palace and St. James' Palace.
If you want a typical London experience in the heart of it, and you're willing to pay a little more for it, Kensington is a fantastic choice.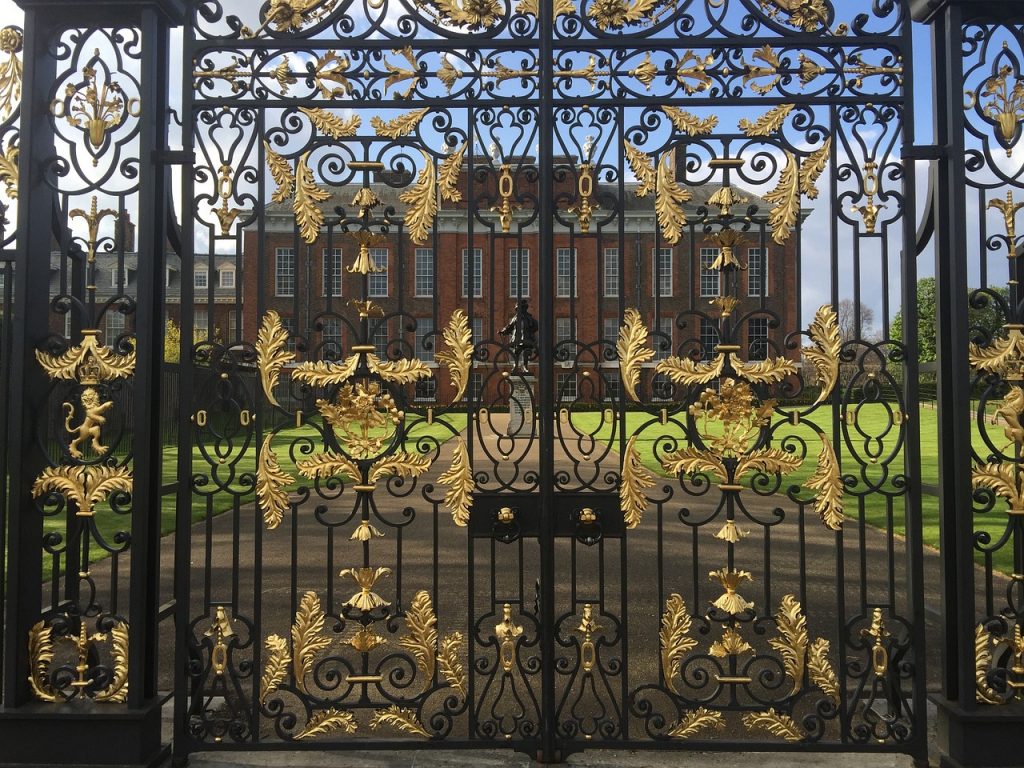 Budget: There aren't a ton of budget options in this neighborhood, but there are a few. The best-rated yet still affordable option I could find was Ravna Gora Guesthouse, which has small but well-designed rooms in the heart of Kensington. The cheaper options here have a shared bathroom; however, it is still possible to find a room with a private bathroom for under $100 for a double given the time of year.
They also have some of the more affordable family-sized rooms on offer in London, so if you are traveling with children on a budget it may be a great choice. Breakfast is not included but can be added for an additional price, about 7 pounds. Overall, the guesthouse isn't anything particularly special, but it is affordable, friendly, central, and clean, which is about all you can really ask for for a budget hotel in central London. Check prices, reviews, and availability here.
Mid-Range: It's hard to find an affordable hotel in a neighborhood as popular as Kensington, but there are still some better deals to be found such as Hotel Moonlight. With sumptuously decorated rooms that look far more sophisticated than the price tag would suggest, the rooms are small but have more than you'd expect – from a microwave to a coffee maker to a proper bathtub in each room, perfect for soaking your sore muscles after a long day of hitting the pavement.
One major bonus is that they have smart TVs that hook up to Netflix (assuming you have a subscription) which is a lovely touch when traveling. Even better, each guest receives complimentary snacks upon check and free use of a mobile smartphone that is GPS-enabled so you can use maps, etc. while walking around London in case you don't have an unlocked smartphone with a British SIM. Check prices, reviews, and availability here.
Luxury: Of course, there are plenty of luxury options in Kensington given the general chicness of the neighborhood. Number Sixteen is the most stylish choice of them all, a gorgeous boutique hotel just a few steps from the Victoria and Albert Museum.
The interiors are chic and beautifully designed by Kit Kemp, one of the most renowned interior designers in the world. In her opinion, "there is nothing less cozy than a room that feels too formal" – and that's exactly the philosophy behind Number Sixteen's decor.
Each room is unique so that you feel more like a guest in a home than in a mass-produced luxury hotel. But my favorite feature of Number Sixteen is the zen private garden, complete with a pond with lotuses and a small gazebo, which is a real treat in a city as bustling as London. Check prices, reviews, and availability here.
Marylebone
For a lovely residential neighborhood with a small village feel rather than a big city buzz, while still being central London, look no further than Marylebone. Home to some seriously stylish boutiques (as well as the super-gaudy and definitely skippable Madame Tussaud's, which decidedly does not fit into the neighborhood's feel), this is one of the trendier yet calmer neighborhoods in London.
There is lovely Georgian architecture everywhere you look, the highlight of which for me is the Wallace Museum, which coincidentally is home to one of the most affordable afternoon teas in London – I had a fantastic tea there for around 15 pounds. Fans of Sherlocke Holmes shouldn't miss the museum dedicated to him, naturally located at 221b Baker Street.
Sandwiched between two green spaces – Regent's Park on the north corner and Hyde Park to the south – Marylebone is a delightful breath of fresh air, close to the hustle and bustle of Central London while feeling a world apart from it.
Budget: Marylebone is more affordable than its chic boutiques would suggest. Just a touch outside the confines of the budget category I outlined above, the Marylebone Inn is a fantastic choice if you have your heart set on Marylebone yet don't want to pay a fortune. Set in a traditional London home, Marylebone Inn is just a short walk from Regent's Park and the theaters of the West End. The rooms are simply decorated but spacious and offer a good value for money in this area. Check out prices, reviews, and availability here.
Mid-Range: Stretch your budget just a tad and you'll find even better options in Marylebone. Nottingham Place Hotel is one of the best-reviewed boutique hotels in the neighborhood with over 1,000 reviews. The interior is seriously stylish, with gray, gold, and black touches that bring the design together beautifully.
Rooms are sparsely yet elegantly decorated, ranging from studios to one- and even two-bedroom suites. Each suite has a separate workspace, so they're a fantastic place to stay in London if you're expecting to have to work at the same time as you travel. Breakfast is available, but not included in the price, so keep that in mind when booking. Check out prices, reviews, and availability here.
Luxury: For a beautiful yet unfussy luxury experience in Marylebone, The Arch is a fabulous option. A lush yet not overwrought boutique hotel with spacious, colorful rooms, it's located in the heart of Marylebone close to Hyde Park.
But what guests say truly stands out about The Arch is the staff, who go above and beyond to provide an unforgettable experience for each guest (even four-legged ones, who are welcomed at the hotel, for the record!).
Composed of 7 Georgian townhouses which have been connected to make one luxury hotel with a handful of dining and drinking options, each room is well-appointed with TVs, working desks, tea/coffee facilities, EU/US adaptors, rain showers, and more. The Arch is comfortable luxury at its finest, at prices that are reasonable given the quality of the experience and the location in London. Check prices, reviews, and availability here.
Shoreditch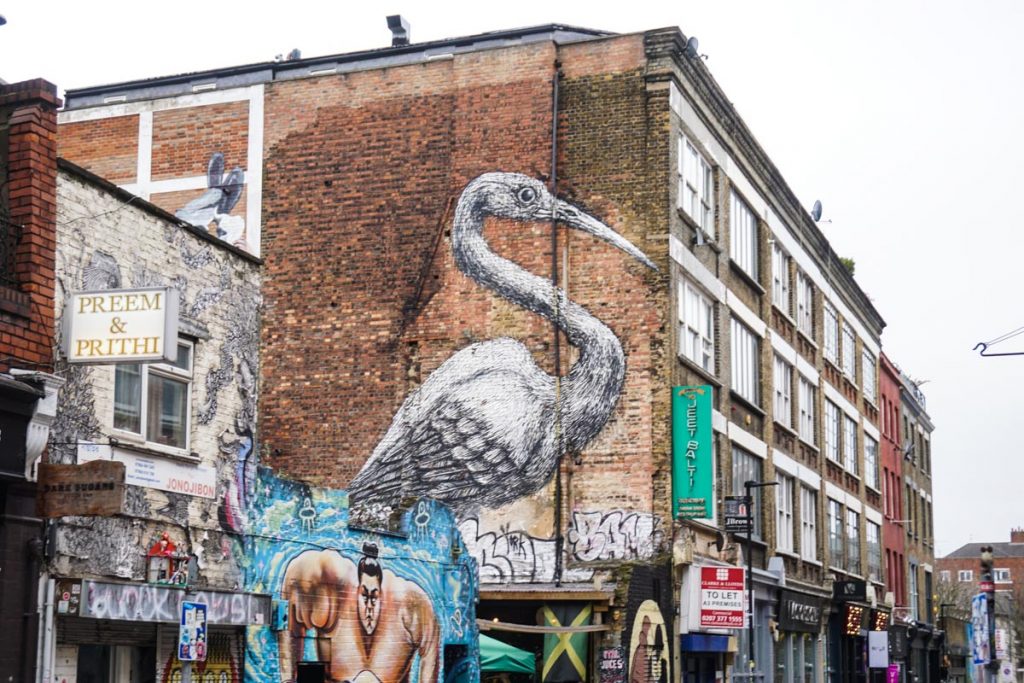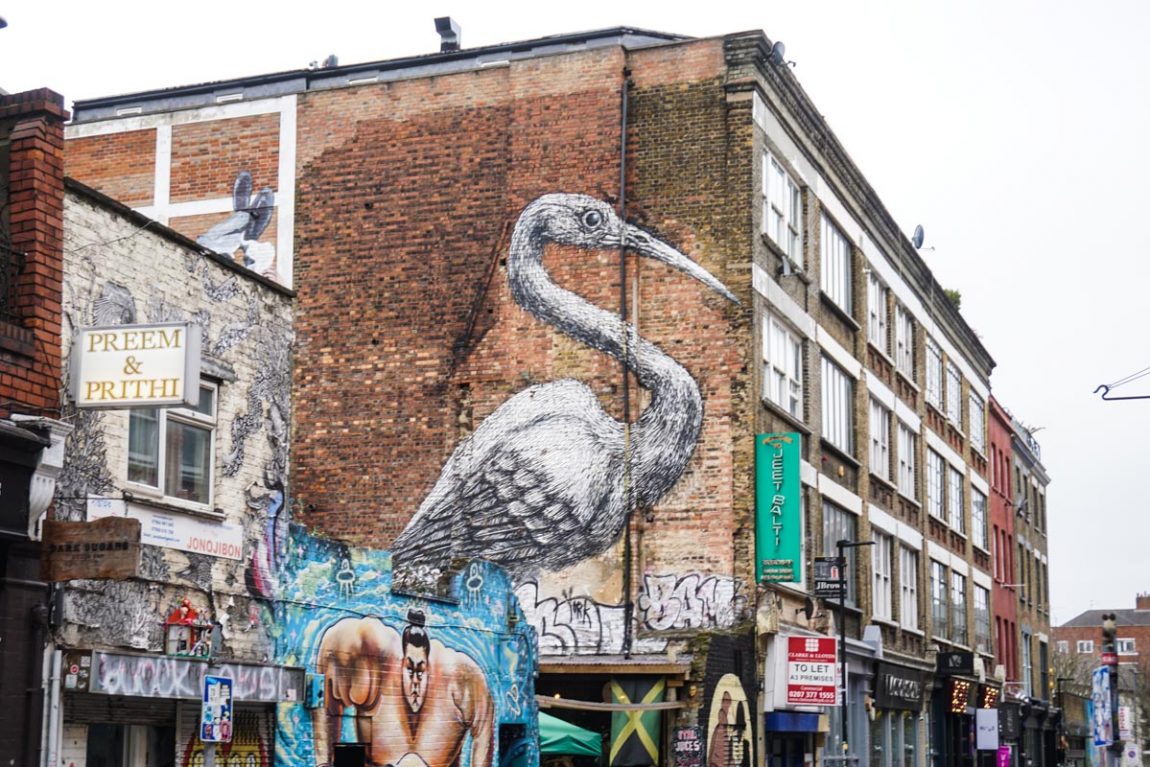 Shoreditch is hands down one of my favorite places in all of London – after all, I have written a whole neighborhood guide to Shoreditch. This district of London is known for its street food and street art, and if you are looking for a hipster-y, slightly gritty neighborhood with plenty of amenities, Shoreditch is the place to go.
There are countless excellent restaurants in Shoreditch, including some delicious Indian food on Brick Lane (famous for its curries) and Vietnamese on Kingsland Road (aka Pho Mile). And don't forget the legendary salt beef beigel, the 24/7 street food snack that made Brick Lane a can't-miss destination in London.
There's Boxpark, the world's first "pop up mall" in a series of shipping containers, which is a great place to drink and dine in a casual setting, There are so many fantastic bars, cafés, and bakeries that it would truly take the better part of a year to explore the whole dining scene in Shoreditch.
While it's not technically on the Tube but rather the Overground, it's still quite easy to get to Shoreditch and I never felt like I was too far away from Central London when I stayed there. I also loved being around so much street art and creativity, plus it's a great place to stay on a budget as the constant street food markets offer a delightful variety of international cuisines for well under 10 pounds.
I've gone from Ethiopian to Mexican to British food in a manner of minutes in Shoreditch, which is one of its greatest strengths. If you consider yourself a foodie – and don't have a huge fine dining budget – stay in Shoreditch and you'll be happy you did.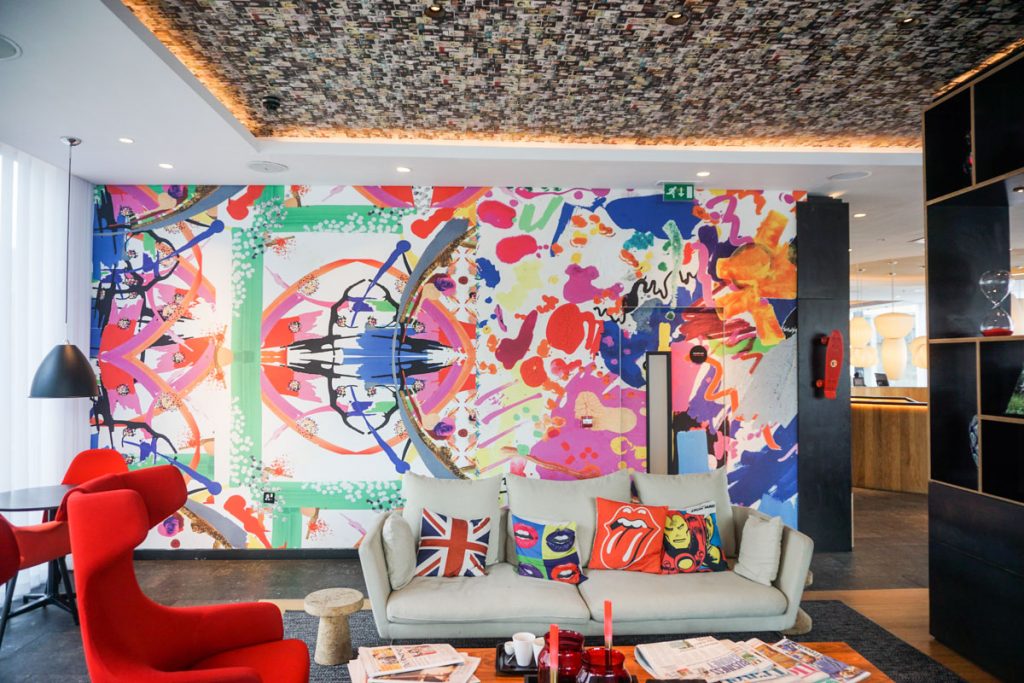 Budget: An excellent budget option in a budget-friendly neighborhood, Point A is the place I'd tell someone to stay if they were trying to do a London trip on a tight budget. For a budget hotel, it has a bunch of personality, including a jukebox in the lobby where guests can play their tunes free of charge.
The design is modern and well-designed, if a little sterile for my personal taste and not quite as stylish as citizenM (pictured above). There are tons of modern perks – USB chargers, ability to change the lighting colors and ambiance, air and heating controlled by remote, etc.
However, many of the rooms do not have windows (you can check on Booking.com to see whether or not the room you are looking at has a window – it's well-marked so you won't accidentally get a no window room), so just keep that in mind when looking. Still, prices are regularly under $100, so it's a great choice in the heart of East London. Check prices, reviews, and availability here.
Mid-Range: I personally stayed at the citizenM Shoreditch on my recent March trip to London and absolutely loved it. The hotel itself captured the vibe and ambiance of the neighborhood itself so well, with the graffiti-esque explosion of art in the public spaces that mirrored the wonderful street art all around Shoreditch.
I felt like it was a lovely nod to the neighborhood while still creating a warm, cozy space to get away from the busy London streets. The rooms themselves are on the small side but they're very well laid out. For example, underneath the bed is an expansive area to stash your luggage, and the bathroom is well-placed to make the room feel as big as possible.
The staff is incredibly friendly and welcoming and I enjoyed snacking and drinking at the bar when I was too lazy (and cold) to go outside. But what I love best about citizenM is the modern technology that makes me feel like I'm living in the future, like the remote-controlled blackout curtains to the iPad that knew my name upon arrival to the easy self-check-in process.
It's fantastically priced (for the record, I stayed one night complimentary and paid for two nights out of pocket) and I'd happily stay there again. Check out prices, reviews, and availability here.
Luxury: For a trendy yet luxe experience in the heart of Shoreditch, look no further than Ace Hotel. This maverick brand of hotels specializes in creating design-focused, trendy hotels that appeal to travelers who prefer unfussy luxury.
The rooms are music-themed as befits Shoreditch's grungy DIY vibe – expect touches like record players with expansive record catalogs to listen to and acoustic guitars in the rooms. There's a buzzy hotel bar serving up inventive and delicious cocktails and a lovely, lively rooftop area for guests to hang out on and gets views of the skyline from Shoreditch's unique vantage point.
If you want a faceless and typical luxury experience, this isn't the place, but if you want something that fits the vibe of Shoreditch, this is the perfect luxury choice for the neighborhood. Check out prices, reviews, and availability here.
Allison Green is a former educator turned travel blogger. She holds a Masters in Teaching and a B.A. in English and Creative Writing. Her blog posts merge her educational background and her experience traveling to 60+ countries to encourage thoughtful travel experiences that both educate and entertain. She has been a speaker at the World Travel Writers Conference and her writing, photography, and podcasting work has appeared in National Geographic, CNN Arabic, CBC Canada, and Forbes, amongst others. Now based in the San Francisco Bay Area where she grew up, she has also lived in Prague, Sofia, and New York City.