Vietnam can be a bit tricky to pack for. As a long, thin country with both mountains and beaches, the weather is quite different in the North and South, and on the beach versus in the highlands.
It's worth remembering that the North of Vietnam borders China, which has downright frigid winters. Add altitude to that and you may be shocked at how cold Vietnam can get at times compared to other Southeast Asian countries, which are pretty much perpetual summer.
I visited Sa Pa in August a few years ago, and even in the middle of summer, it was freezing cold at night and I found myself seriously wishing that my hotel had heating.
Central Vietnam does not get so cold in the winter like Hanoi and Sapa do, so if you're planning on cities like Hue, Da Nang and Hoi An, you'll be spared somewhat of the winter cold. Generally, the temperatures in Central Vietnam are somewhat in between North and South. Generally, it will be hot year-round in Central Vietnam, with a rainy season from September to January.
Meanwhile, Saigon (aka Ho Chi Minh City) is pretty much hot and sweltering at any time of year, with the only fluctuations being the likeliness of rain and just how ungodly the humidity levels are (hint: they're the worst in April, but it's humid all year round).
Rainy season runs, roughly, from May to October with drier weather from November to April. However, having just come back from a trip to Vietnam in November, there were definitely quite a few thunderstorms and downpours even in the purported "dry season" – so you're going to want to be prepared for rain no matter what.
Don't freak out if you see that it's supposed to rain for every day of your Vietnam trip. Typically, rain storms in Vietnam last about 1-2 hours and feel like a dam is bursting in the sky… and then the sun comes out to dry everything up freakishly fast and the humidity level is actually lovely for a few wonderful hours before it gets soupy again. That said, you never know – when I was in Sa Pa it was raining buckets every day in August, which made for some fun hiking experiences. Plot twist: It was not fun.
Basically, I would advise packing for as many contingencies as you can without overburdening your bag. This packing list is assuming you're spending at least a week in Vietnam, traveling North to South.
If you are spending the majority of your trip up North in the winter, throw in a few more long sleeve T-shirts and maybe an extra pair of pants. On a similar token, if you're only visiting South and Central Vietnam, you can skip some of the layers I recommend, though do bring at least a cardigan or something as the air conditioning in a lot of Vietnam can be… aggressive.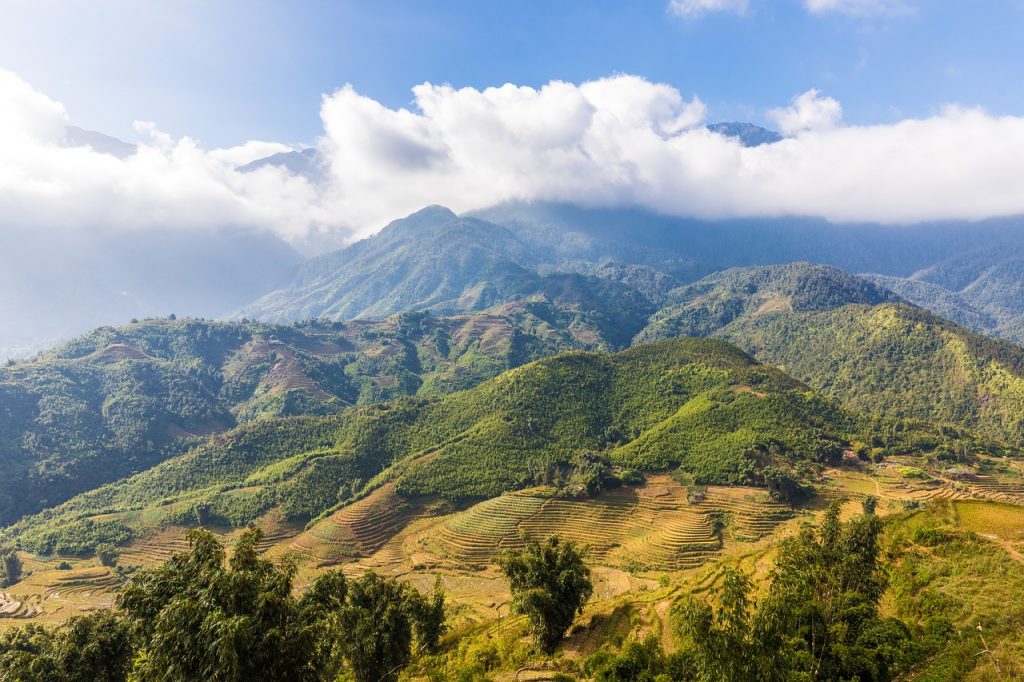 Note: This post contains affiliate links, which means I may receive a small commission if you purchase something through one of these links. Thank you for supporting the free content on this site! For more information on affiliate links and cookies, see my disclosure page for more details.
What to Pack for Vietnam
What to Pack Everything In
I've been traveling for the better part of three years and my packing gear is always the same – a carry-on sized backpack from Tortuga organized with packing cubes, as well as a daypack with all my electronics and smaller items. However, I know that for some people, carrying a backpack is neither desirable nor practical, so if that applies to you, feel free to skip past my backpack recommendation.
However, let me just say that a backpack is ideal for Vietnam for a few reasons. For one, sidewalks in Vietnam are not always a given. If you try to walk with your luggage in Vietnam, you may find yourself dragging a rolling suitcase through a street as motorbikes zoom past you. The streets can also be a bit dirty because of litter and bike exhaust, so I don't know that I'd love to roll my bag with all my clothes through it, especially if it is raining and the streets get particularly grimy.
However, most of these issues can be avoided by just taking a cheap taxi – just make sure you ask your hotel to call you a taxi or learn the reputable companies and how to spot a fake so that you don't get taken for a fool. I got scammed a few times my first time in Vietnam and not at all my second, so partly it's knowing what to look for and partly it's luck of the draw.
Supposedly, Hanoi is the worst for taxi scams and my experience certainly supports that. I took Mai Linh taxis in Hanoi with no problems, and Vinasun Taxi in Saigon (and the occasional Mai Linh), and had good experiences. Grab is an app that works like Uber and is also great for avoiding scams – just hire a Grab Car instead of a Grab Bike if you are traveling with luggage, obviously.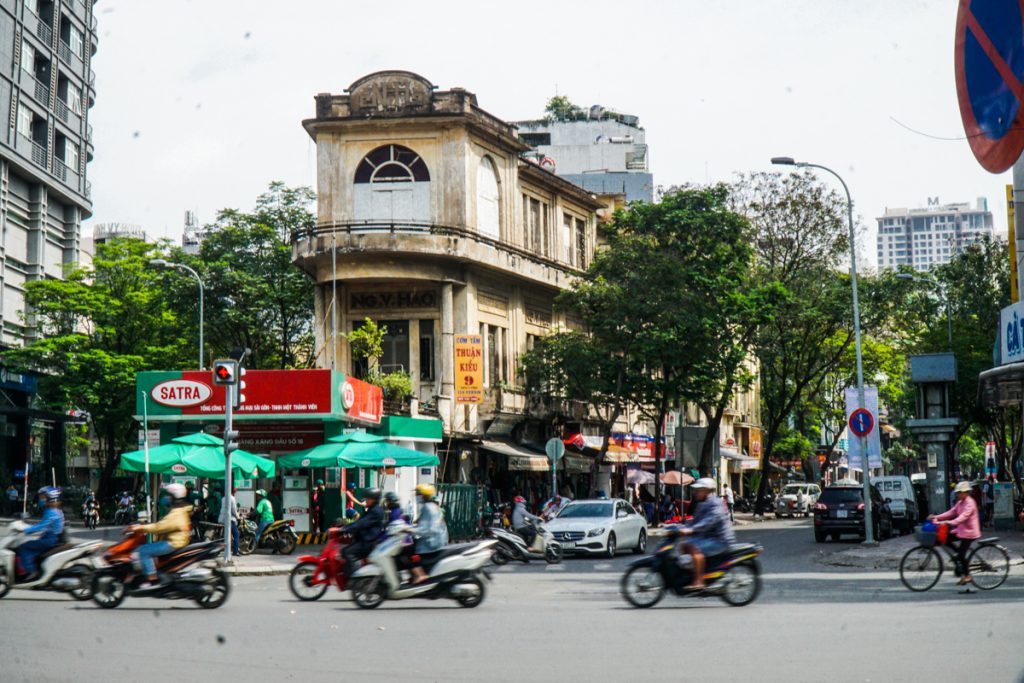 Travel backpack (carry on size or check-in size): I always use my Tortuga Setout Backpack so that I can avoid checking in my luggage, both to avoid fees and long waits for my luggage after a flight when I'm antsy as hell and just want to get to my destination/bowl of noodles. I've had this bag of a version thereof for several years and absolutely recommend them – they're the only backpack I've used over the last 3 years of extremely frequent travel, including several month-long backpacking trips.

Why do I recommend Tortuga so much? Here's why: this bag is 45L and has got three main compartments: one for a laptop and other flat objects, one giant rectangular compartment perfect for packing cubes stuffed with clothing, and one smaller compartment with pockets for passports, pens, odds and ends, etc. that I stash all my extras in – plus one small outer zipper pocket for anything you want quick access to. It also has a water bottle holder on the outside as well as buckles so that you can strap something like a yoga mat to the outside. Plus, it's quite comfortable to wear, with a padded hip belt and comfort-molding shoulder straps complete with a chest strap so that you can distribute weight perfectly across your body in the event that you need to wear your backpack for longer than usual. Check out more specs and details here.
However, if you are planning a longer trip and want a bigger backpack, I've heard only positive things about the Osprey backpack , so if I were going to upgrade my backpack capacity, that's the brand I would go with. Of course, you could always just bring a suitcase as well. I don't travel with a suitcase anymore for the reasons I listed above, but I have on occasion used hard sided luggage with spinners and I much prefer that to the older two-wheel suitcases that you have to drag behind you.

A rain cover for your backpack: I'll be honest, I actually don't have one of these because I am a horribly irresponsible person, but every single time I see a person with a backpack proudly trudging through the rain with a rain cover on, clearly not frantically panicking about the state of their electronics the way that I am, I vow to get one. Be like them, not like me. I'm a failure of an adult. This rain cover looks to have good reviews but again, terrible at adulting, 1/10 barely remember to feed myself, so do your own research if you're so inclined. Alternately, the Outbreaker Tortuga Backpack is water-resistant, so that'd also be a good choice for rainy Vietnam.
Packing cubes: Whether you pack for Vietnam with a suitcase or a backpack, I definitely recommend packing cubes. Most people who visit Vietnam visit several cities during their trip or make their way from North to South via the excellent train system (seriously, guys, their trains are the best) or vice versa. Since you'll need to pack and repack your bag several times if you do this, packing cubes make the organization so much easier. Plus, as it keeps your clothes rolled neatly, it prevents wrinkles and makes sure you're utilizing your space the best way possible. I use these packing cubes and love them, but packing cubes are pretty much idiot-proof – they are just a bag with a zipper, really – so anything will do.
Laundry bag: In addition to packing cubes, I also like to bring a laundry bag to separate out my dirty clothing from my clean clothes. Laundry in Vietnam is insanely cheap – about $1 USD per kilo – so do it and do it often, and save yourself some room in your suitcase or backpack. While you could certainly just reuse a plastic bag for this purpose, I do like having a cute one like this travel-themed one from Kikkerland though, because I'm impractical.
Hanging Toiletry Bag: I tend to pack a lot of toiletries with me because this is one area where I find it hard to claim my "light traveler" status. I can't help it, I'm vain. I use a hanging toiletry bag to pack them in an organized way that takes up minimal space. It has the perfect number of separators, organizers, and pockets without taking up any excess space. It's kind of a magical Mary Poppins bag – you'd be amazed at how many travel-sized toiletries you can fit in it and unlike other bags, it zips up flat like a bulky manila envelope, so it is really easy to slide into your backpack or suitcase without being a weird bulky shape that makes bags annoyingly hard to close. Love!
Backpack with locking zippers: To me, this is a non-negotiable for Vietnam, as my daypack was nearly pickpocketed in broad daylight walking around the popular Turtle Lake in Hanoi – luckily, my friend caught the would-be thief and slapped his prying hand away!! In a funny plot twist, the thwarted thief then walked briskly in front of us, whipped out his junk, and peed on a tree, because I guess that's a way to make it seem like you had no intentions of pickpocketing someone? Sigh. Anyway, I bought this exact backpack after my trip and I've brought it to 30+ countries ever since because it is the best thing ever. I used it again on my most recent trip to Vietnam and was so thankful I had it. While I didn't have any close calls in Saigon like I did in Hanoi last time, I think it's because my backpack's locking zippers make it clear to a potential thief that I am not a target to be f#*&ed with. It's visibly quite difficult to get into this backpack with its double-locking zipper (the zippers interlock, and then you can place them through a gold clasp that is not only super cute but also insanely secure). Plus, it's slashproof and since it's worn on your back, it's not as susceptible to the dreaded motorbike snatch-and-grab tactic that unfortunately is quite common in Vietnam. I swear by PacSafe for the combination of functionality and cute aesthetics, and I love their PacSafe Citysafe backpack. It's actually cute in addition to having all the baller security features that make you feel pretty much impervious to theft (though still, you should definitely be careful with your belongings everywhere!). If you're curious to learn more, I have a full review here – not sponsored, just irrationally obsessed.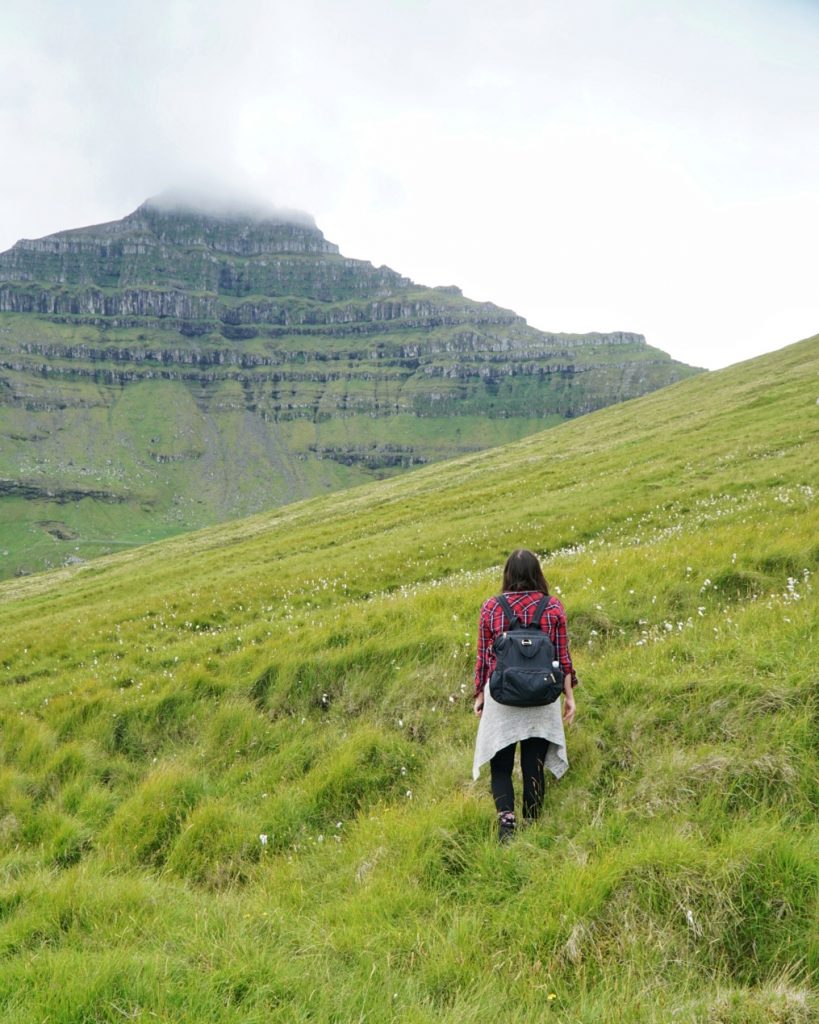 Essential Things to Pack for Vietnam
I find Vietnam a bit more difficult to shop in than other countries. While there are certainly malls and convenience stores, the majority of shopping takes place on the street and in informal markets. While this is a cool cultural experience, it also makes simple things like restocking a shampoo you forgot to buy a little more difficult. Other things, like lightweight clothing (long live elephant pants?) and accessories like bags and sunglasses, are much easier to stock up on.
Travel insurance: Travel insurance isn't mandatory for Vietnam, but in my book, it is. My friend got a particularly bad strain of food poisoning in Sa Pa when we visited several years back and ended up checking herself into a private hospital to rehydrate and check that it wasn't anything more serious. Without insurance, that would have been a $500+ bill, but as she had travel insurance she was entirely covered. Road safety is also not fantastic in Vietnam, with 45 million motorbikes in the country all vying for space on busy streets and overnight buses with questionable safety standards. Crossing the stret in Vietnam is a Frogger-esque mission and I'm always glad to have insurance for peace of mind. While I haven't had any problems in Vietnam personally, I would never travel there without insurance. I used World Nomads on my most recent trip to Vietnam, as I do with all my trips, and highly recommend them. You can get a free quote here.
Lonely Planet Vietnam: While obviously, I do a lot of research on blogs, I also like to have a digital copy of a Lonely Planet loaded up on my Kindle. It is more comprehensive than blog posts, which often give good information and firsthand experience, but sometimes don't go beyond surface depth or top 10s. I like planning with a balance of both.
Kindle loaded with e-books: If you are traveling between cities in Vietnam by train or bus, you'll find yourself with a lot of spare time. For travel, my Kindle Paperwhite is my best friend. Buy several books before you go so that you won't run out of things to read and get bored! It's not easy to find English language books in Vietnam, generally, so a Kindle is the way to go.
Contact lenses and solution, if necessary: It is not easy to restock contacts or even contact lens solution in Vietnam outside of major cities, so I recommend bringing more than you need for your stay. I'd also bring glasses as back-up, because all the exhaust from the motorbikes can irritate your eyes if you are a contacts wearer.
All your toiletries and cosmetics: It is unpredictable what international brands you will be able to find in Vietnam so I just say assume you won't be able to find anything you need and bring all you need from home. While you can find things like sunscreen, shampoo, etc. if you are in any way particular about what brands you like to use, I'd bring it from home. In particular, Vietnam loads nearly all their beauty products, including sunscreens and moisturizers and deodorants, with toxic whitening agents as the country (similar to many other Asian countries) has a huge obsession with skin bleaching. So, bring what you need for your trip!
Sunscreen: The sun in Vietnam is no joke and sunscreen is not always the easiest thing to find. Vietnamese people tend to physically cover themselves from the sun with long sleeves and pants rather than wear sunscreen. Plus a lot of the sunscreen you will find has nasty whitening agents in it. To find the kind of sunscreen you're after, you'll have to find sunscreen in touristic areas and it likely will be overpriced. Personally, I love this solid sunscreen stick from Neutrogena because I always max out on my liquid toiletry allotment… but also need SPF 70 because I'm half ghost.
Mosquito repellent: Vietnam has seriously persistent mosquitos, especially in the rainy season and the time immediately afterwards. I definitely recommend bringing some strong mosquito repellent from home as again, it's not the easiest thing to find in Vietnam. Vietnam has an extremely low chance of malaria (mostly in the Mekong Delta – cities are safe) but there is definitely a big problem with dengue fever, which is definitely NOT enjoyable according to my friends who have contracted it in Southeast Asia over the years. Be safe and don't slack on the mosquito repellent. Dengue mosquitos bite during the day, so you'll want to wear repellent pretty much all day and not just at dusk or night when other, less-diseasey-but-still-annoying mosquitos come out to play. I bring a bottle of spray, but I also like to keep a few of these super-handy mosquito repellent wipes with me if I need to reapply on the go. I also highly recommend bringing some After Bite mosquito bite treatment since it's inevitable some of those buggers will get you at one point and this will take some of the sting out of the itch, though this won't prevent any potential illnesses or infections as a result of bites.
Water bottle with built-in filter: Vietnam's tap water is definitely not drinkable, so if you are concerned about plastic consumption – and you should be – I recommend purchasing a Lifestraw water bottle with a filtration system inside of it that gets rid of 99.9% of nasty bacteria and viruses. Another option is the Steripen, which uses UV light to sterilize tap water. The bonus of a Steripen is that you can also use it in juices or smoothies that you aren't sure are made with safe water, though I never got sick from drinking any smoothies or juices or drinks with ice during my time in Vietnam.
Bandana or face mask: If you are sensitive to constant exhaust, a bandana or face mask will come in handy – you'll see people with face masks pretty much everywhere in Vietnam. I didn't use it often but it was nice to have my bandana a few times when I rode motorbike taxis with Grab – the air quality especially in Saigon is not great and you get hit with the brunt of it when you're on the back of a motorbike zipping through the city.
Basic medicine: While Vietnam will likely have most medicine you need, I still always stand by having a basic first aid and medicine kit for common travel woes – especially stomach medicine, as I find a lot of countries don't have my preferred medicine (salicylate bismuth, aka Pepto) and instead have things like activated charcoal which work okay but not nearly as well as Pepto for me, personally. Here's what's in my arsenal for every trip and what I brought to Vietnam: Pepto-Bismol tablets for standard stomach troubles, Imodium as a nuclear option for diarrhea or severe food poisoning, some sort of painkiller like ibuprofen for headaches and minor pains, and some sort of motion sickness tablets. Of course, if you have any specific medical needs, you will want to bring that as well, especially anything that may require a prescription.
What to Wear in Vietnam (For Women)
This part of my Vietnam packing list is specific to women, so men, feel free to skip this part and go on to the next section, where I attempt to guess what you should bring.
Vietnam is culturally a bit conservative, despite the heat, so I try to wear slightly longer dresses and skirts in general and nothing too skimpy. Leave your tiny tank tops, short shorts, and minidresses at home and opt for cool fabrics that are slightly longer but still thin and breathable. I actually find that I feel cooler when I am wearing longer, loose skirts and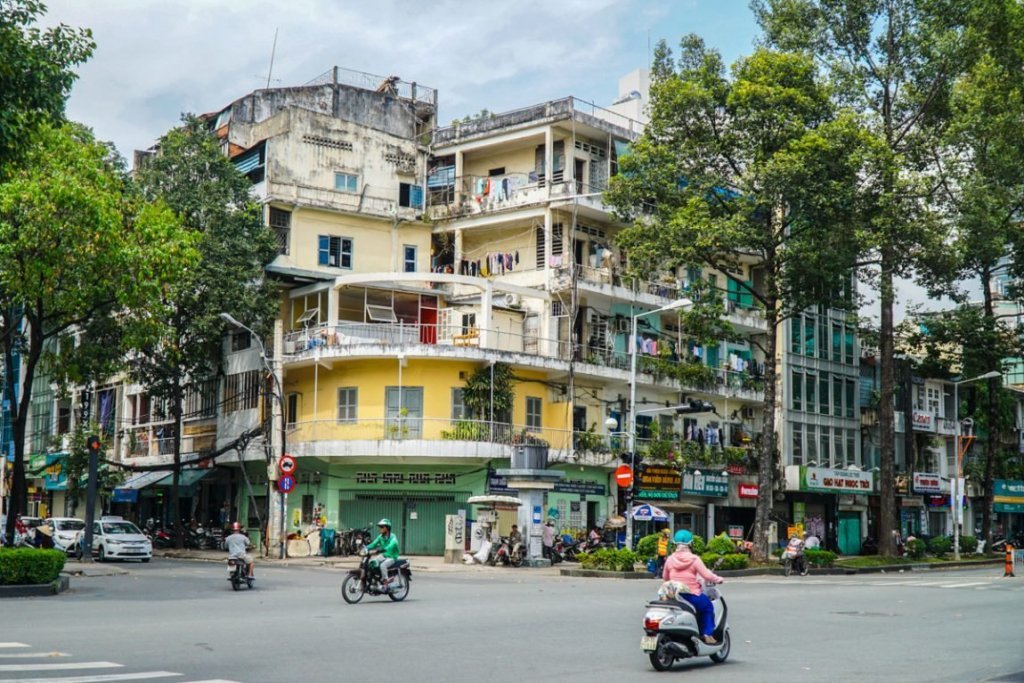 3-5 lightweight summer dresses: Dresses are great for Vietnamese weather, plus they pack up small, so bring as many as you can get away with. Aim for something that hits around the knee (a few inches shorter is fine, but avoid tiny mini dresses). I love maxis and midi dresses for this climate.
5+ tees & tanks: You will sweat a lot, so opt for black, navy, and other dark colors. Yes, they attract heat, but they also avoid the telltale yellow pit stains that seem to be my constant vibe whenever I attempt to wear white.
1 pair jeans: If you travel in northern Vietnam in the winter months (November to February, roughly) you may want jeans for cooler days and nights. And if you visit the highlands (Da Lat, Sa Pa) at all, jeans will come in handy. I also recommend picking up a few pairs of loose cotton pants when you arrive in Vietnam, which can be bought for around $5 USD a pair or less.
1-2 pairs thin cotton leggings: Great for making yourself less appetizing to mosquitos at night and also for cooler nights up north or in the mountains
1-2 long-sleeve tees or thermals, if traveling in the north's winter, or in the mountains.
2-3 skirts: I suggest bringing one black skirt and one printed skirt for flexibility. I especially love having midi or maxi length skirts, which feel great and coincidentally look nice in photos! As a bonus, the extra fabric around your legs traps some cool air, making you feel less hot.
1 pair sneakers: Vietnamese streets are generally quite dusty and dirty, so I found that I liked having a pair of lightweight closed-toe shoes that were comfortable to wear for long stretches when I planned to walk a lot. I usually wear a pair of black Nikes as I find they look cute even worn with my dresses and I'm all about having options.
Moisture-wicking socks, preferably made of wool or something that is odor-absorbent like these ones from Smartwool
1-2 pairs sandals: I suggest bringing one pair of rubber flip flops like these Havaianas and another pair of more stylish or dressy sandals. I'm obsessed with my Birkenstocks and will never go back. These are great for when it's just too hot to put on sneakers, and rubber flip flops are great for days when rain is in the forecast.
1 rain jacket: Even if you don't plan on traveling in the rainy season, trust me, the rain in Vietnam often has other plans – namely, ruining yours. I love my Marmot rain jacket and bring it with me on every trip because it packs up small and offers pretty much complete waterproofing. Plus the underarms have zippers underneath which you can open, making the jacket more breathable, which is a must in humid Vietnam.
1 cardigan: Great for if you travel in the winter months in the North or anywhere in the highlands, and also good for buses with overzealous air conditioning in summer. Trust me, even though it seems like the weather in Vietnam would make a cardigan ridiculous, you'll use it at least once on your trip. And in a pinch, it makes an awesome travel pillow.
1-2 bras: I personally brought 1 regular bra and 1 sports bra and switched between the two, but the cleaner people amongst us may object to that and want to bring more. You do you.
7+ pairs of underwear: Laundry is so cheap in Vietnam that it's silly to bring too much, but I like having about a week's worth of underwear so I don't always have to plan out my laundry days.
Bathing suit: If you plan on going to Da Nang, Nha Trang, the islands, or anywhere beachy or with a pool, you'll definitely want a bathing suit. If a lot of your trip is on the beach, you should bring two bathing suits so one can dry overnight and you can use the other the next day. High humidity means that wet things often take a while to dry out, and nothing is grosser feeling to me than putting on a wet swimsuit, so having 2 is key.
What to Wear in Vietnam (For Men)
Full disclosure, I am not a dude. But if I was, this is what I would bring, I guess.
1 pair jeans
1-2 pairs thin, lightweight travel-friendy men's pants
2-3 pairs shorts
7+ pairs underwear
flip flops
comfortable walking sandals
sneakers
a few pairs of moisture-wicking socks
sturdy waterproof rain jacket
swim trunks
sweater for colder weather + too much AC
What to Pack for a Hostel in Vietnam
If you're backpacking through Vietnam, there are a few extra things that you should bring that you might not need if you were staying in hotels.
What Toiletries to Pack for Vietnam
Basically, anything you use on a daily/weekly basis you will need to bring with you, as Vietnam is not the easiest country to stock up on familiar brands in. I went into a little more detail above in the "essentials section," but here are a few more ideas.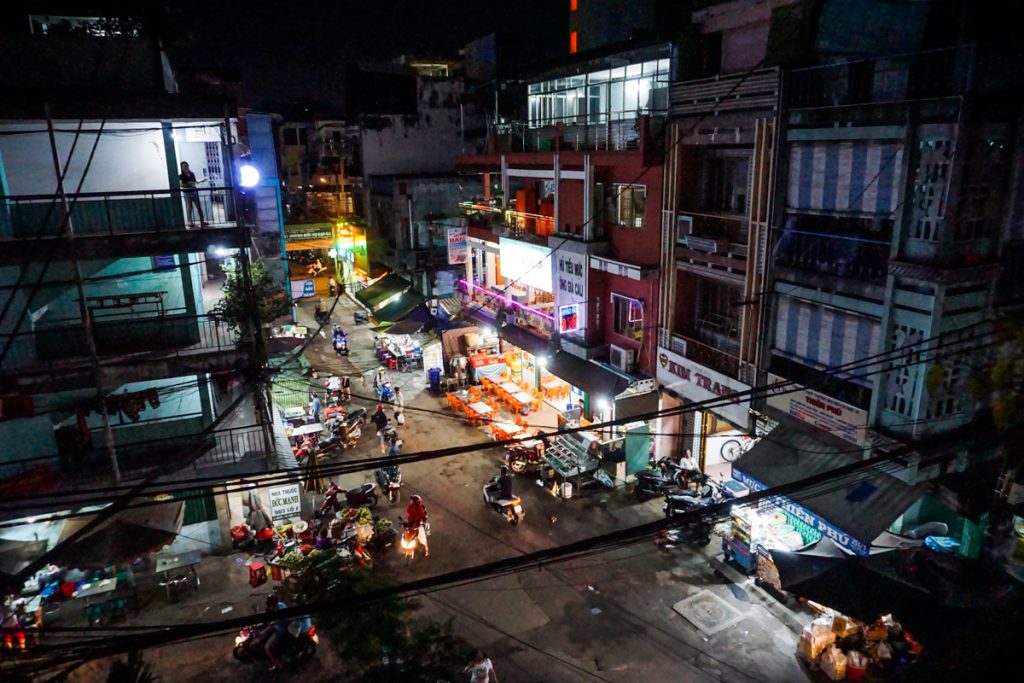 Hand sanitizer: I sometimes found that bathrooms in restaurants or cafés didn't have soap, so I was glad to have hand sanitizer.
Kleenex packets: Like above — public restrooms may be lacking in the toilet paper department, so having some Kleenex in a portable sleeve is always a good move. Vietnam is also land of the "bum gum" – aka, a water gun that you use to er, hose yourself down, rather than use toilet paper. While this is definitely more eco-friendly, I find it hard to go without toilet paper, having grown up with it. For that reason, I bring some Kleenex with me as a replacement for TP if I need it.
LUSH solid shampoo: Life-changing. Just trust me.
Sunscreen: Vietnam is sunny AF and sunscreen without whitening agents can be hard to find. My skin is really sensitive on my face, so I use this fancy Japanese sunscreen to prevent acne, and a general sunscreen for my body.
Travel medications: I listed them above, but just to reiterate — stomach medicine, motion sickness pills, and some sort of painkiller are my standards.
Electronics to Pack for Vietnam
Vietnam is generally safe for travelers, but you'll want to really mind your smartphone if you bring it. Motorbike thieves who target tourists using their smartphones on the street are a big problem in the major cities. At the guesthouse that I stayed at in Saigon recently, a girl had her phone snatched from her hand two days prior.
Never get out your phone to use while facing the street! Instead, walk back from the curb quite a bit so that it'd be hard for anyone on a bike coming through to snag it, and just keep your wits about you. Yet another reason to have travel insurance.
World Nomad (the company I use) has two levels of coverage, one which protects you at up to $500 per item and one at up to $1500 per item, so if you have an especially pricey smartphone or camera you may want to go for the upper tier of coverage due to the relatively increased threat of theft. Again, you can get a free quote here.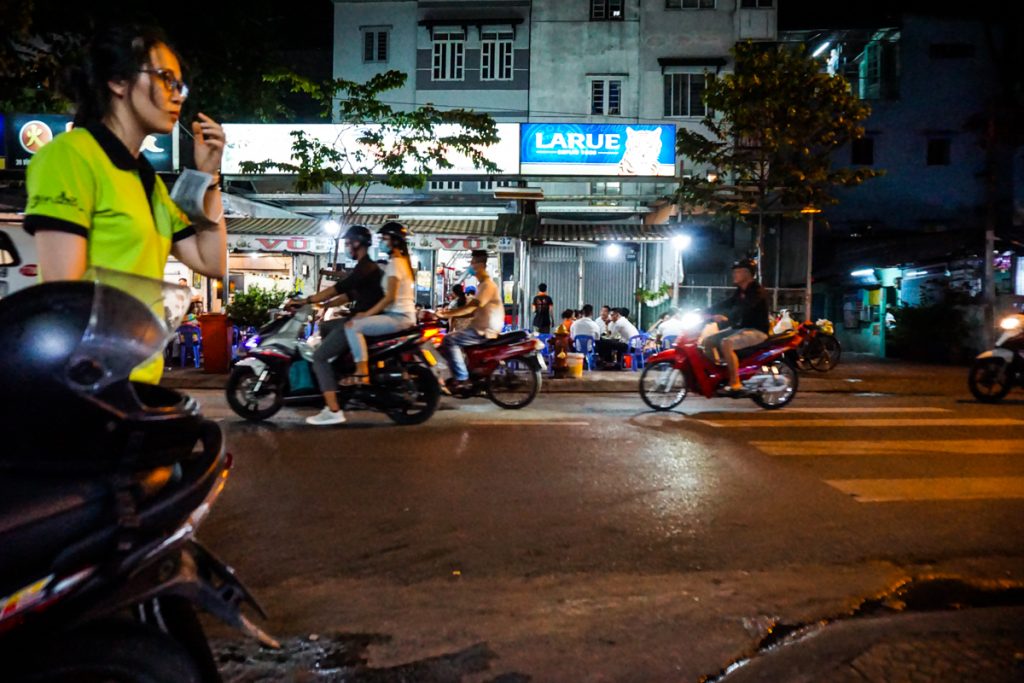 Laptop, if necessary: I bring my Macbook Air everywhere but other people may prefer a tablet or an inexpensive netbook. I work on the road so a user-friendly, lightweight laptop is a must.
Unlocked smartphone: Despite my warnings about phone snatching, I still think that's no reason to leave your phone at home. I loved having a SIM card in Vietnam – they are insanely cheap (I paid about $5 USD for a month of basically unlimited data, 4 gigs of data per day!) and allow you to look things up on the road, hire a cheap taxi via Grab, order delivery, etc.
Kindle Paperwhite: Books are heavy and often hard to find exactly what you want on the road. I love the Kindle Paperwhite because the screen is glare-free, making it easy to read at the beach or in direct sunlight.
Travel camera: I use a Sony A6000 because it's lightweight for a blogger quality camera, inexpensive, and a HUGE step up from a smartphone. You may want to replace this or add a GoPro if you are doing adventurous activities on your trip.
Portable charger: I like to carry a portable charger everywhere I travel and Vietnam is no exception.
Adaptor, if necessary: Vietnam is super convenient for plugs, actually, as their outlets accept both US + European prongs – I tested both as my electronics are a mix, and both worked fine. If you are from the UK you'll need adaptors. If you have an adaptor, bring one anyway, just in case!
***
Well, nearly 5,000 words later, I think I've finally exhausted all the things you need to bring for Vietnam. While this sounds like a lot, I was able to fit it all into a 44L backpack (carry-on size) and daypack because I chose lightweight fabrics and packed carefully.
Is there anything I've forgotten? Is there anything else you're wondering if you should bring to Vietnam? Let me know in the comments!
Allison Green is a former educator turned travel blogger. She holds a Masters in Teaching and a B.A. in English and Creative Writing. Her blog posts merge her educational background and her experience traveling to 60+ countries to encourage thoughtful travel experiences that both educate and entertain. She has been a speaker at the World Travel Writers Conference and her writing, photography, and podcasting work has appeared in National Geographic, CNN Arabic, CBC Canada, and Forbes, amongst others. Now based in the San Francisco Bay Area where she grew up, she has also lived in Prague, Sofia, and New York City.