One of the best things about California is the diversity of landscapes you can find within a short drive.
Even from the heart of a metropolis like Los Angeles, you can easily drive to the desert, the mountains, or the beach in a matter of just a few hours.
Some of California's best hiking is at your doorstep, not to mention a handful of national parks, wine country, cute beachside towns, places to kayak, and cities, and even islands!
Here are the best weekend getaways from Los Angeles, perfect for an overnight trip or even a long weekend!
The Best Weekend Getaways from Los Angeles
Catalina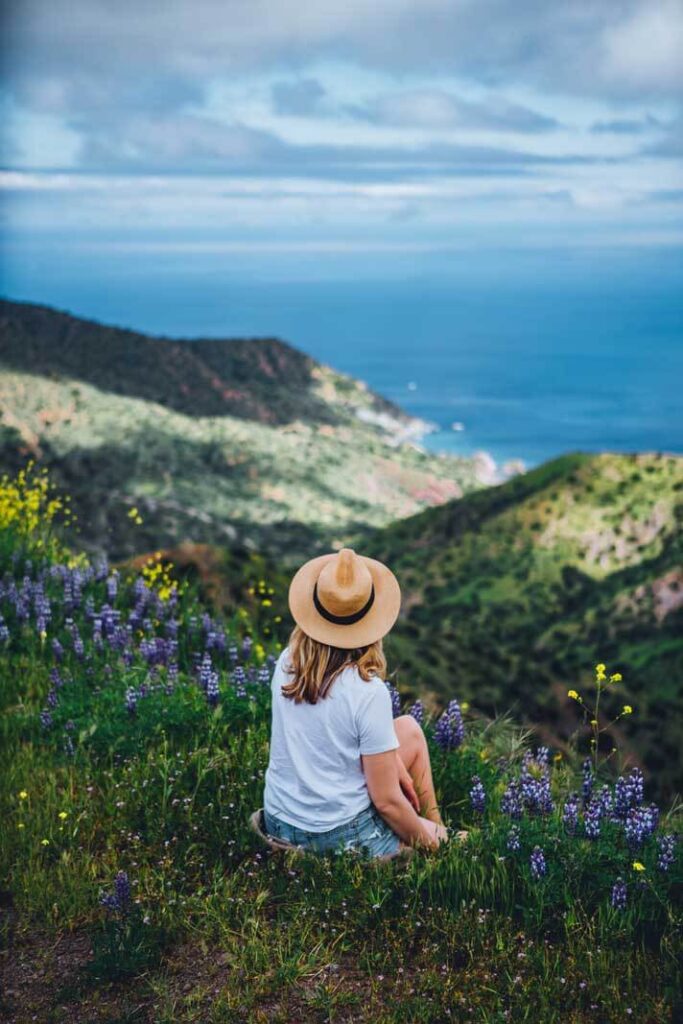 Note: This post contains affiliate links, which means I may receive a small commission if you purchase something through one of these links. Thank you for supporting the free content on this site! For more information on affiliate links and cookies, see my disclosure page for more details.
Contributed by Megan Indoe of Bobo & Chichi
One of the best overnight trips from Los Angeles is off the coast of Southern California. Catalina Island is one of my favorite Southern California getaways that is a popular day trip and cruise stop for tourists.
Even though most visitors are day-trippers, the best of the island can be enjoyed by an extended overnight stay and in our opinion is when the island comes to life.
The tiny town of Avalon is only 1 square mile and packed full of things to do for an overnight trip from food tours, kayaking through the harbor, ziplining with ocean views, sailing, scuba diving, snorkeling, and an unforgettable movie theater in the beautifully restored historic island Casino.
You can also bathe in the sun at Descanso Beach Club where you can have drinks and food delivered to you right on the beach looking over the Pacific Ocean or take a stroll to the botanical gardens and play a game of mini-golf.
Besides being full of activities there's also a great food and drink scene here, if you're anything like us you won't want to leave.
San Diego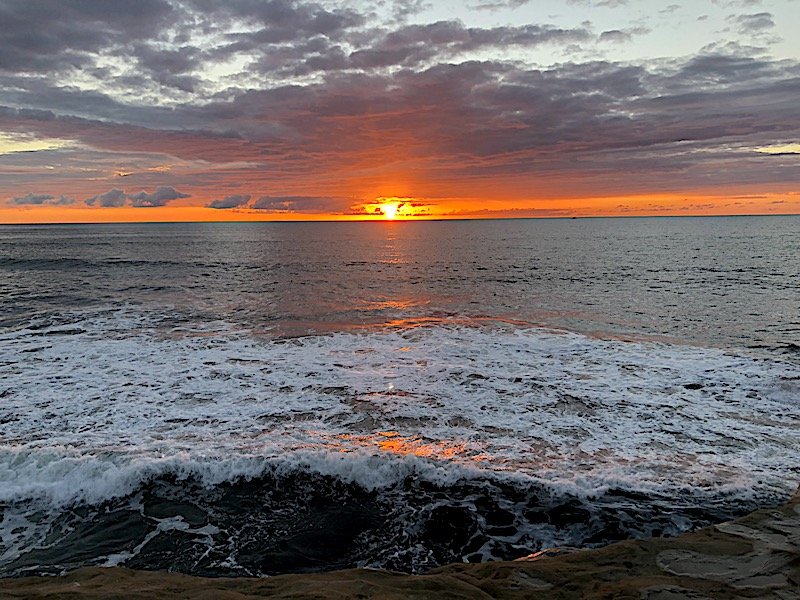 Contributed by Whitney of the travel blog Designs For Travel
The best overnight trip from Los Angeles is the beautiful coastal city of San Diego. One of the most popular destinations in California, San Diego is located at the south end of California, just north of the Mexico border.
Because of its location, you can take advantage of year-round outdoor activities in the sun. One of the best activities in San Diego is to go to the beach at Mission Beach or Pacific beach or to walk or ride a bike on the boardwalk along this stretch of the sea.
The world-famous Balboa Park is 1200 acres and full of pleasant gardens, open space, and home to 17 museums! The San Diego Zoo is one of the most popular activities in San Diego, and considered to be one of the top zoos in the world. In the evening, you won't want to miss the sunset over the Pacific Ocean from Sunset Cliffs- the colors are unbelievable!
There are endless eating options in San Diego. Due to its proximity to Mexico, San Diego has some of the best Mexican food anywhere. For some of the best tacos in San Diego, eat at one of the Taco Stand locations (there are three.)
Another stand out Mexican food eatery is the Las Cuatro Milpas, with an open kitchen and only a few specialty items on the menu. For a delicious burger and fries, Hodad's is the place to go. San Diego is well worth the 2-hour drive for a fantastic weekend getaway from Los Angeles.
Ventura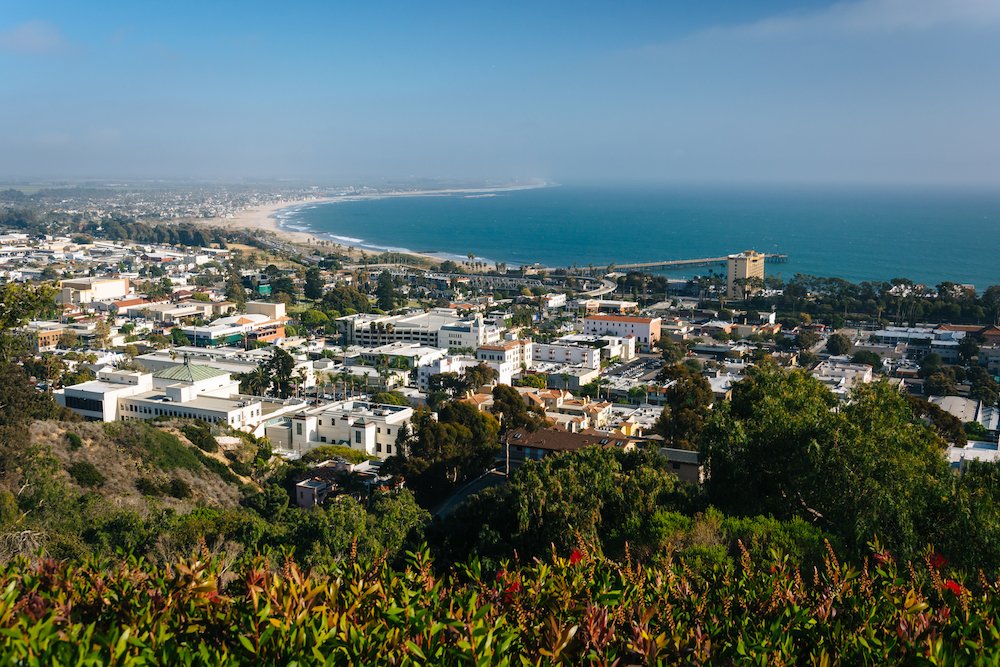 Contributed by Jenn and Ed Coleman of Coleman Concierge
Ventura is a beautiful southern California beach city with not one, but two state beaches: San Buenaventura and McGraff for surfing and sunbathing delights. If you're looking for something deeper, dive boats leave out of Ventura Harbor for the Channel Islands.
The Channel Islands are one of the least visited National Parks and the best places in the world to dive with sea lions, who are so playful that they earned the nickname the puppies of the sea. Ventura is also next door to the artsy and spiritual village of Ojai.
Going to Ventura is a lot like a weekend in Santa Barbara without the pretense. One could even argue that mile for mile, Main Street Ventura has more to do than State Street up the coast. The wine and tapas at Paradise Pantry delight the palate in a rustic-chic setting. If you're looking just to chill, there's a groovy vibe and delicious sourdough pizza at the Fluid State Beer Garden.
Of course, you can always stroll Main Street from the clock tower at Mission Park to the landmark giant fig on Chestnut Street reading the menus until something strikes your fancy. Whether you're looking for a weekend adventure or a romantic southern California getaway, be sure to look into Ventura.
Solvang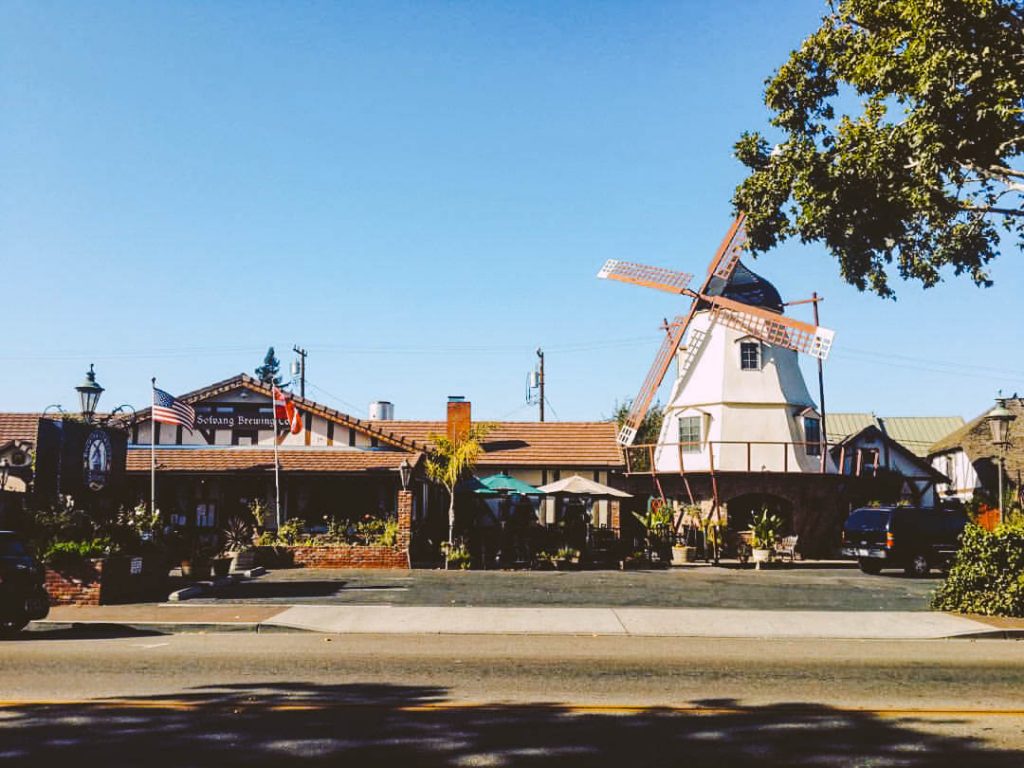 Contributed by Ivan of Mind the Travel
If you are looking to really escape the hustle and bustle of Los Angeles, consider taking a weekend getaway to Solvang.
This is a tiny and picturesque Danish village some 35 miles north of Santa Barbara offers up more than 18 different places to stay ranging from luxury guest ranch resorts to full-service hotels, to B&Bs.
Founded by Danes in 1911 by Danish immigrants, Solvang is home to a number of Danish shops and restaurants serving Danish food. In addition, this beautiful wine country getaway features unique architecture, historic attractions, and wedding venues.
Dubbed "California's Denmark," Solvang is a go-to place if you are fond of Danish culture. With plenty of windmills and similar European designs, visitors can also admire documents and a collection of Hans Christaian Andersen's paper cuttings in his eponymous museum.
Aside from a museum dedicated to a famous Danish writer in Solvang you'll find the Elverhoj Museum of Danish History, the Mission Santa Inés, the Solvang Festival Theater, and, of course, a cool Vintage Motorcycle Museum.
Situated in the Santa Ynez Valley, the city has more than 20 wine tasting rooms, which can easily keep you busy for a day or more. Solvang also has some attractive eating establishments including Mortenson's Danish Bakery, Bit O' Denmark, and Hadsten House Attachments area.
Temecula Valley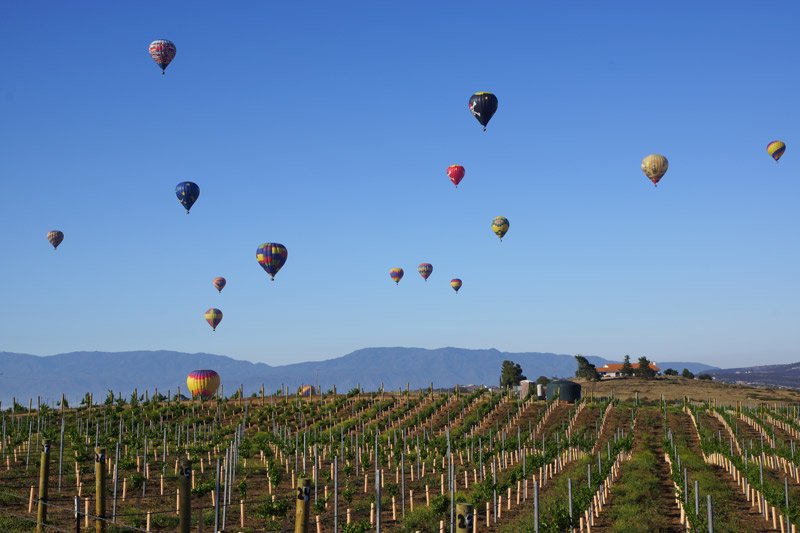 Contributed by Laura Lynch of Savored Sips
The Temecula Valley, just an hour and 45 minutes from Los Angeles, has many of the best features of California – rolling hills, beautiful valleys, vineyards, and a lovely old town center. All of these things make Temecula the perfect overnight getaway from Los Angeles.
The biggest reason to visit Temecula is to leave the city behind and immerse yourself in the spectacular outdoors. There's unlimited hiking, biking, and walking trails, plus some of the best wine country in California. Fancy a hot air balloon ride over the valley?
Another reason to visit is the farm-to-table cuisine being made at creative restaurants like E.A.T Marketplace and Cork Fire Kitchen. There are also craft breweries and local products, like olive oil and lavender bath soaps.
Visit the De Portola Wine Trail along the rural roads of the countryside. Cougar Vineyards & Winery is family owned and operated. They specialize in 100% Estate Italian varietals like Primitivo and Montepulciano. A little way down the road is the Italian-countryside inspired Danza del Sol Winery that's very dog-friendly. Fazeli Cellars has an amazing view of the valley and their Shiraz is outstanding.
The Temecula Creek Inn is a great place to stay with a view of the Santa Ana Mountains. It's close to the wineries, but not too far from Old Town Temecula, with its frontier-style storefronts that will make you feel like you're shopping in an old Western film. If you're wondering why, visit the Temecula Valley Museum to learn the town's history.
Santa Barbara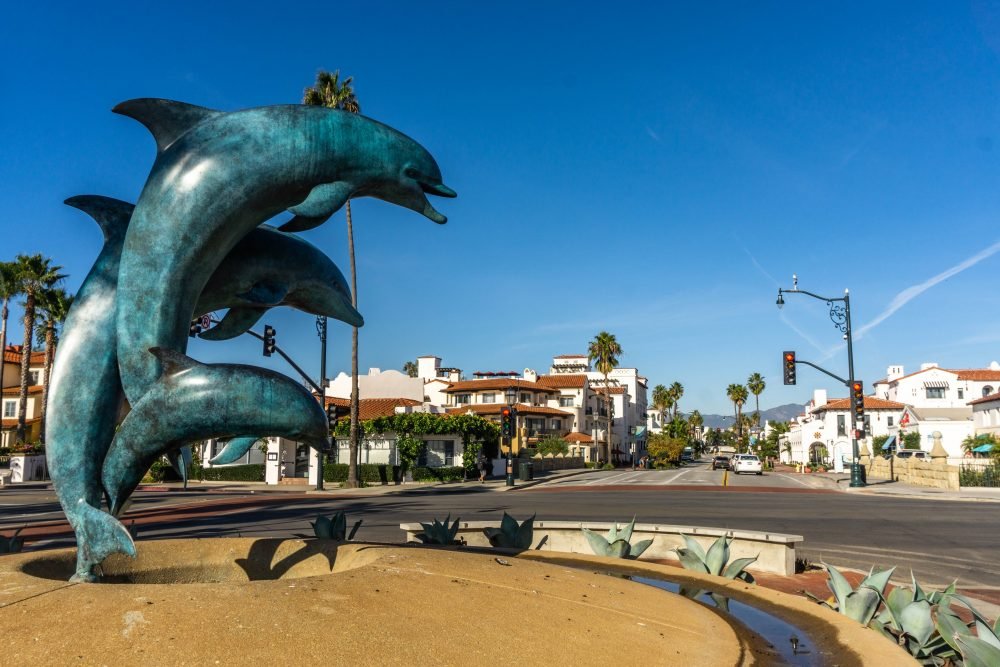 Contributed by Maggie Turansky of The World Was Here First
One of the best (and most popular) overnight trips from Los Angeles is to the charming city of Santa Barbara. Located about two hours north of LA, this beautiful coastal city makes for the perfect weekend getaway from LA and is filled with fun and interesting things to do.
Known for its laid-back atmosphere and vibrant nightlife, Santa Barbara is home to a University of California campus and, therefore it is a thriving student town. However, the city isn't all about nightlife. Spending a day or two in Santa Barbara can include taking in the iconic Stearns Wharf, walking along the lovely beach, browsing the shops on State Street and enjoying some of the fantastic restaurants the city has to offer.
If you're looking to get a bit more active, Santa Barbara is the perfect destination to try your hand at surfing, paddle boarding, or kayaking. If you'd rather stay dry but still get your heart rate up, there are also countless hiking trails within easy reach of the city.
And finally, one of the best things about Santa Barbara is its proximity to the incredible wineries in the nearby Santa Inez Valley and, because of this, there are countless tasting rooms throughout the city where you can sample local vintages. Make sure to look into the Urban Wine Trails, where you can walk from wine bar to wine bar and sample some local reds, whites and roses without having to worry about driving!
All in all, a weekend getaway to Santa Barbara is never a bad idea!
Mount Whitney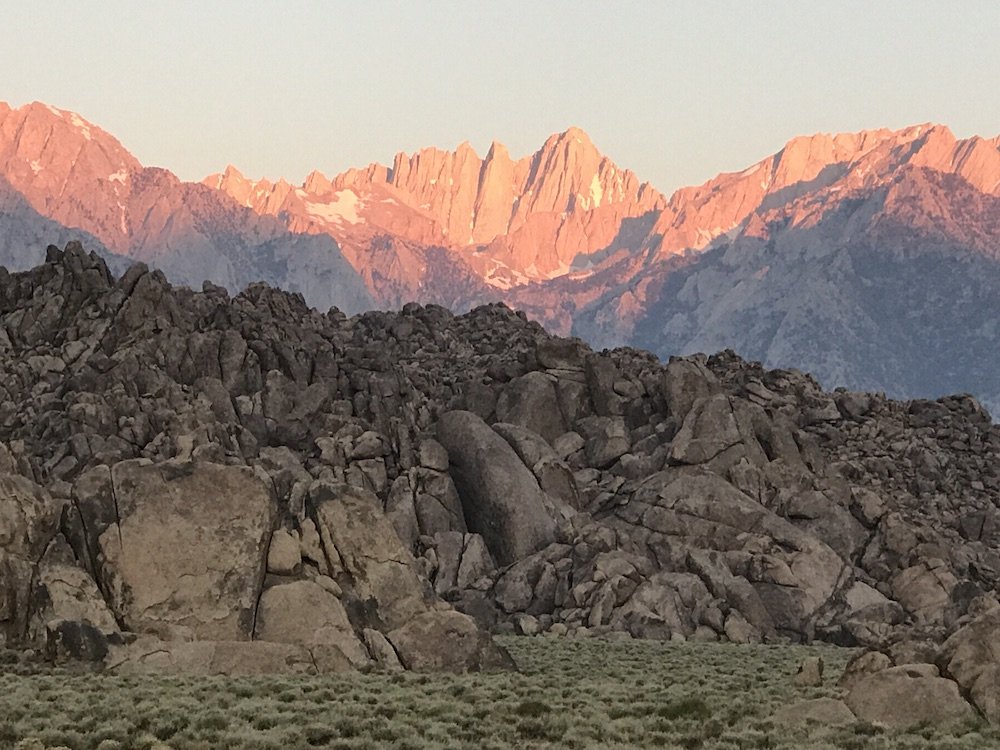 Contributed by Allison of She Dreams of Alpine
If you're looking for an overnight trip from Los Angeles that includes a huge outdoor adventure, then make the 3-hour drive north to Lone Pine in the Eastern Sierras. From there, you can attempt to day-hike Mount Whitney, the tallest peak in the lower 48 states at 14,505 feet, or visit one of the many other great hiking trails in the Sierras.
As the crown jewel of California, Mount Whitney is an extremely popular hike, and a permit is required. It's also no small feat, so training and advanced preparation are an absolute must. If you're making a more spur-of-the-moment trip, the Lone Pine Lake hike follows the beginning of the Mt. Whitney Trail but ends at an alpine lake which is perfect for a picnic with a backdrop of amazing views of the Sierras. This hike is much easier than the full Mt. Whitney summit hike, and you don't need a permit.
To fuel up for whichever hike you choose, the Mt. Whitney Portal store offers cheap yet delicious breakfasts and excellent burgers and beer. If you prefer pizza after an outdoor adventure, Pizza Factory in Lone Pine is a great option. And for a fun diversion before heading back to LA, drive along "Movie Road" for a self-guided tour of the Alabama Hills locations where over 400 films have been shot.
San Luis Obispo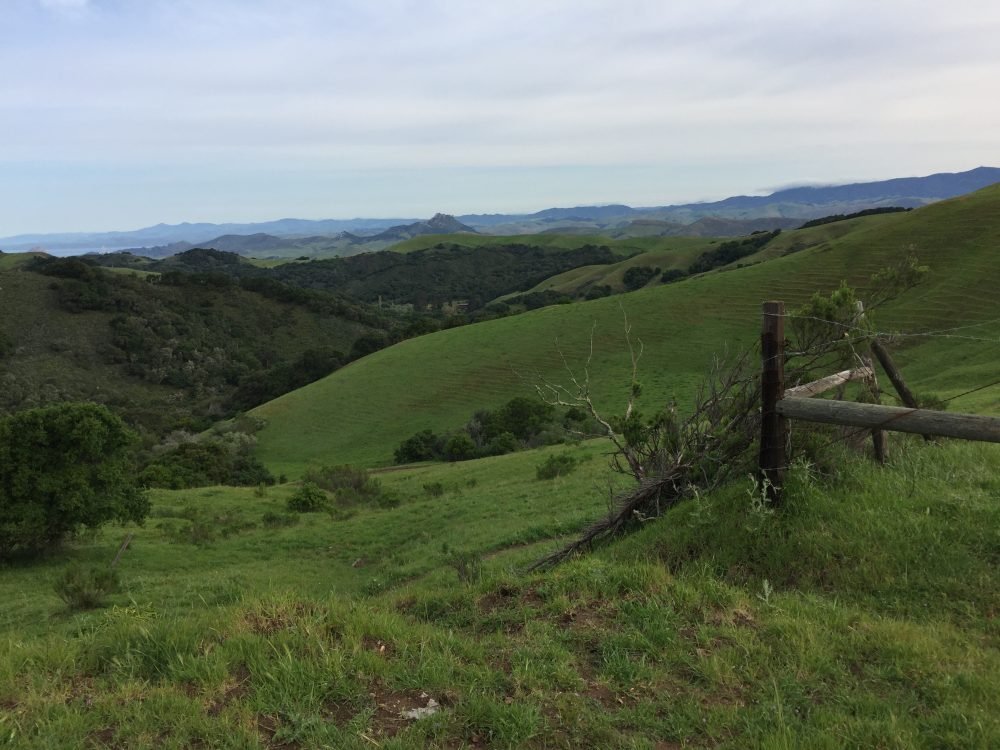 Contributed by Dhara from It's Not About the Miles
Located on California's beautiful central coast, San Luis Obispo is a charming and very popular getaway destination from Los Angeles, and one of the nicest places to stop on a Pacific Coast Highway road trip.
Wandering the streets of charming downtown SLO is great fun, with lots of small unique stores to browse. You can stock up on artisanal olive oils, wine, and cheeses, and admire the antiques and handmade crafts on display. On Thursday evenings, a downtown SLO farmers' market featuring fresh flowers and produce, street music, and lots of prepared foods is a huge draw.
While in the downtown area, don't miss the 18th century Spanish Mission San Luis Obispo de Tolosa built by Father Junipero Serra. The local art museum showcases works by Californian and other American artists. And there are lots of art galleries in town to browse as well.
Just outside town, the vineyards of Edna Valley offer picturesque views along with tastings of world-class wines. And just 10 minutes from town is the fabulous Montana de Oro State Park, which offers lots of great hiking. Suitable for most visitors, the Bluff Trail is an easy walk that offers spectacular water views and opportunities to spot aquatic life in season.
There are numerous great restaurants in SLO. Big Sky Cafe is a super popular casual eatery offering international choices. Weekend breakfast or brunch at Big Sky Cafe is very popular. Novo Restaurant, by the creek in downtown SLO, is a highly-rated fine dining place offering global fare with California flair. If you enjoy seafood, head to Ciopinot Seafood Grille: it has a delicious cioppino on the menu!
Big Bear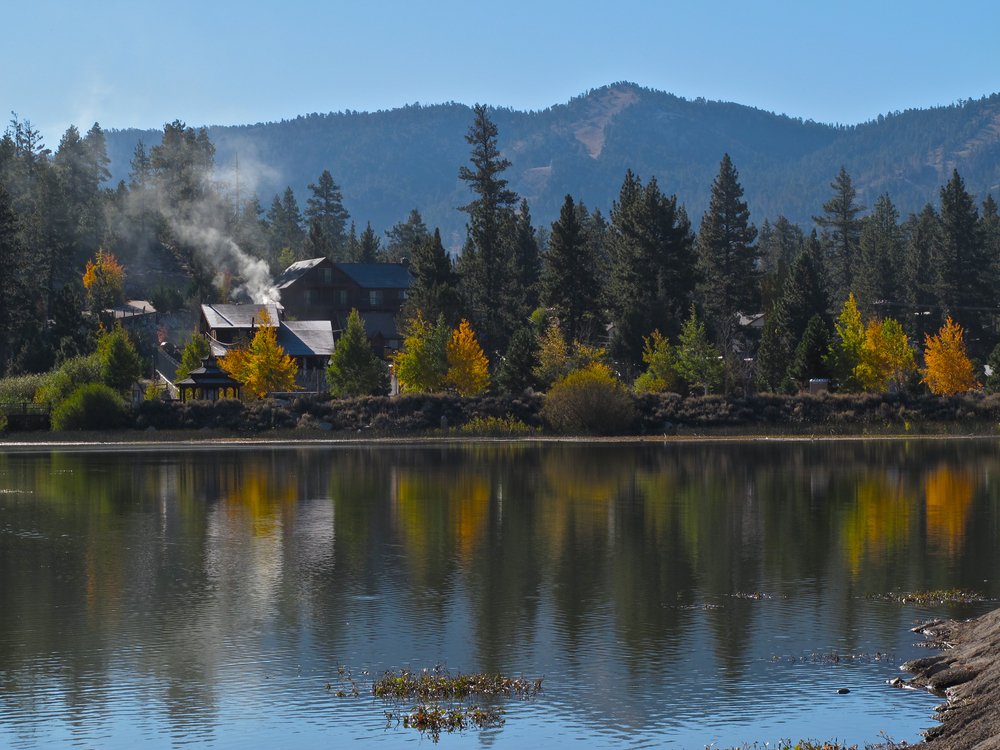 Contributed by Skye Class of Skye Travels
One of my favorite overnight excursions from Los Angeles, when I don't want to drive as far as Mammoth or Yosemite, is Big Bear. There's nothing better than hitting the ski slopes at Bear Mountain – one of the closest ski resorts to Los Angeles. In the summer, the slopes turn into hiking and mountain biking trails.
Bear Mountain isn't the only place to hike. In fact, there are dozens of trails starting from the highway that rings the lake. There's not one I would recommend over another; they'll all take you in the trees and mountains of the San Bernardino National Forest. Seeing a bit of green can be a luxury when you're visiting or live in Los Angeles.
Although you can take the highways directly through San Bernardino to Big Bear, I prefer to take the 15 up to Victorville and then the 16 down to Big Bear. This way I get to traverse the High Desert, and possibly even catch the sunrise over the mountains.
Although there are some really nice restaurants in Big Bear, I have to recommend a picnic on the shores of Bear Lake instead… at least in the summer. In the winter, my meal of choice was usually nachos at the ski lodge.
Salton Sea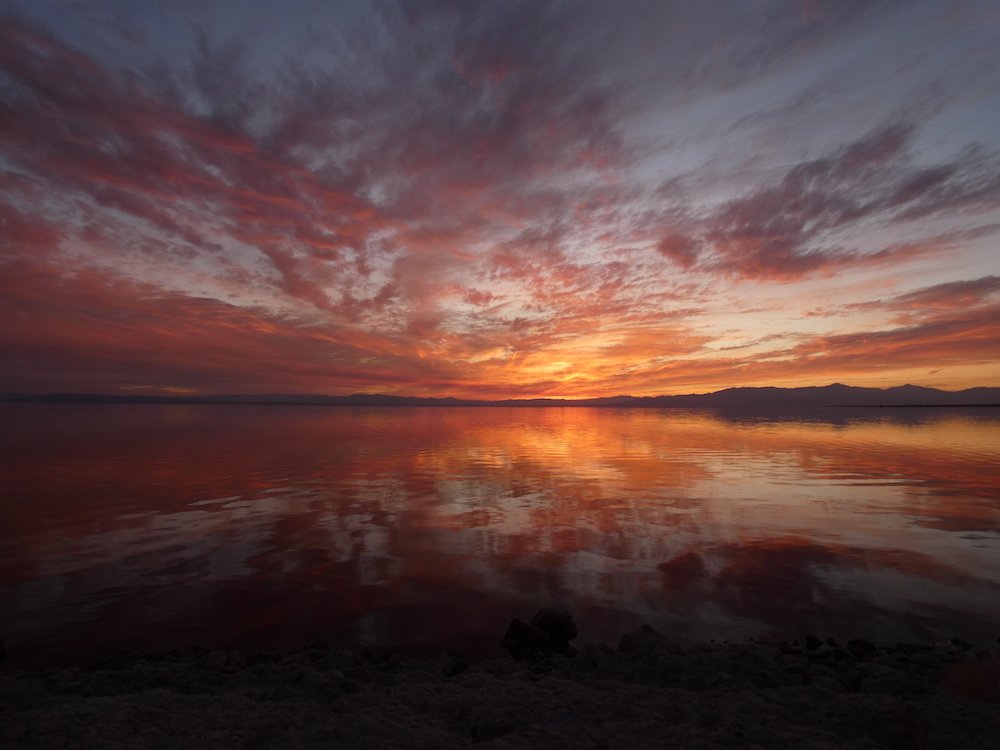 Contributed by Lisa of TheHotFlashPacker
The Salton Sea is an accidentally created lake about 227 feet under sea level in the Sonoran Desert. The east side of the Salton Sea makes for a great overnight trip from Los Angeles.
There are several attractions off of Highway 111. n the south end of the lake, you can go birding at the Sonny Bono National Wildlife Refuge and see the natural mud volcanoes. f you're into art and Instagram, you must visit the surreal art installations at Slab City named Salvation Mountain and East Jesus.
At mid-sea, you should stop into the town of Bombay Beach to see the permanent art installations from the Bombay Beach Biennale art festival. They have a very unique drive-in movie theater. Visit the beach in Bombay Beach, or at the state's Salton Sea Recreation area. The crunching under your feet as you walk the beach is dead fish bones!
And don't miss the sunset – the Salton Sea has gorgeous sunsets. For food, you should stop at the Ski Inn in Bombay Beach. It's the lowest bar in the Western Hemisphere and they serve bar food, or head over to the American Legion where they serve different meals several days a week.
For dessert, head north to have a Banana Shake at the International Banana Museum in North Shore or a Date Shake at Oasis Date Gardens. The best time to visit the Salton Sea is fall, winter, or spring. Summer can be unbearably hot, at over 100 degrees Fahrenheit during the day!
Idyllwild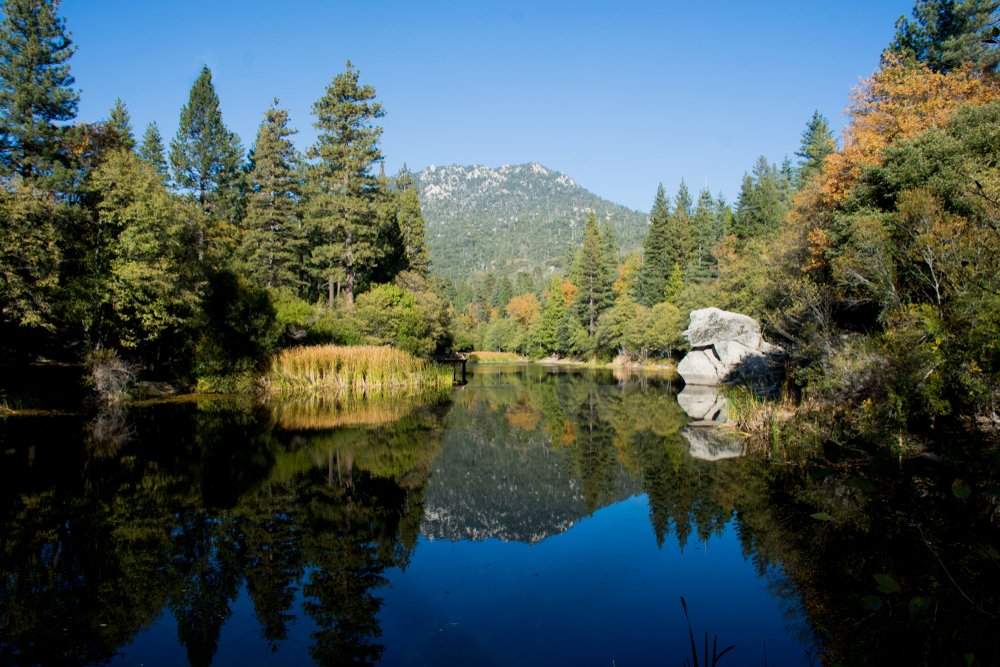 Contributed by Masha from Fingertip Travels
Idyllwild is a little mountain town deep within the San Jacinto Mountains. It's hard to believe that it's only a 2-hour drive from Los Angeles: surrounded by national forest and at a mile-high elevation, it's a secluded mountain retreat that feels worlds away from the largest metropolis in California.
Idyllwild is the perfect weekend getaway from Los Angeles for nature-lovers. There's heaps of hiking, camping, fishing, rock climbing, and biking. The hiking ranges from easy nature walks to the advanced summit of Mount San Jacinto (20-mile round trip). A good moderate hike is Suicide Rock via the Deer Springs Trail (6.5-mile round trip).
Suicide Rock and Tahquitz Peak are two granite peaks just outside of Idyllwild. Both are popular rock climbing destinations, attracting multitudes of rock climbers every weekend. Tahquitz especially has a lot of California rock climbing history attached to it, as much of the sport was advanced here in the 30s, 40s, and 50s.
For a break from outdoor adventures, the town of Idyllwild is a great place to relax. It has a decidedly 'artsy' vibe, with a couple of gift shops and galleries that are fun to browse. There are great restaurants and cafes for nourishment. I'm a fan of Cafe Aroma, I love coming into town straight from a climb and stuffing my face with their delicious bread and garlic olive oil dip.
Paso Robles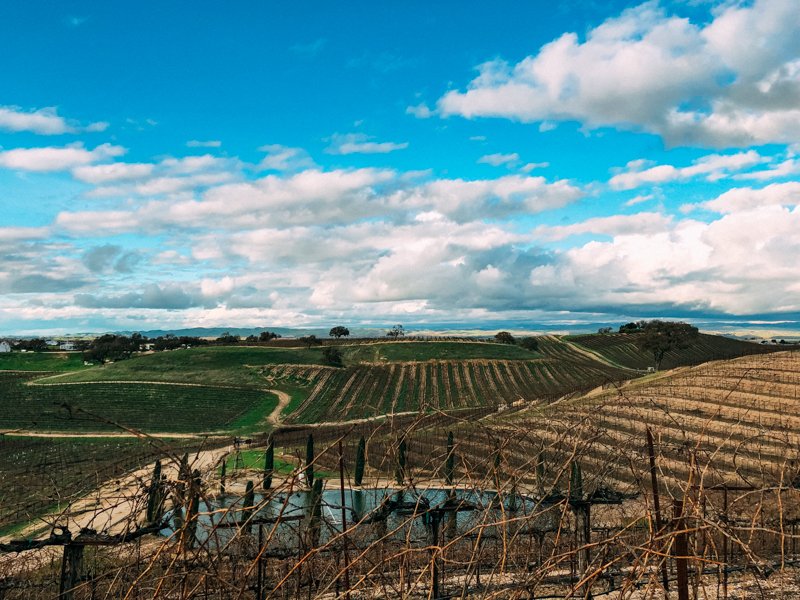 Contributed by Francesca from Homeroom Travel
Paso Robles, located about 3 hours from Los Angeles, is a fantastic destination for an overnight trip from Los Angeles. It is the perfect destination for wine lovers, as wine tasting in Paso Robles is the major attraction.
There are over 200 wineries in the region and the backdrop provides gorgeous scenery. Some of the best wineries include Sculpterra, Halter Ranch, and Tablas Creek. Sculpterra is the perfect stop to bring a picnic lunch. You can even buy a bottle of wine to drink there! Halter Ranch has some of the prettiest views in the area. Tablas Creek produces many highly rated Rhone-style wines.
Besides going wine tasting, visitors can also visit the Firestone Brewery, take a stroll through the adorable downtown area, visit one of several museums in the area, or take a dip in the Franklin Hot Springs. Museums of the area include a children's museum, an art museum, and a history museum.
Grab a bite to eat at Basil Thai Restaurant, which has delicious Thai food and Boba. Another great spot is Pony Club Wine Bar, which serves more pub fare and has a wide assortment of wine. Many of the wineries also offer small bites to eat or have an on-site restaurant. Overall, Paso Robles makes for a fun getaway from Los Angeles.
Montecito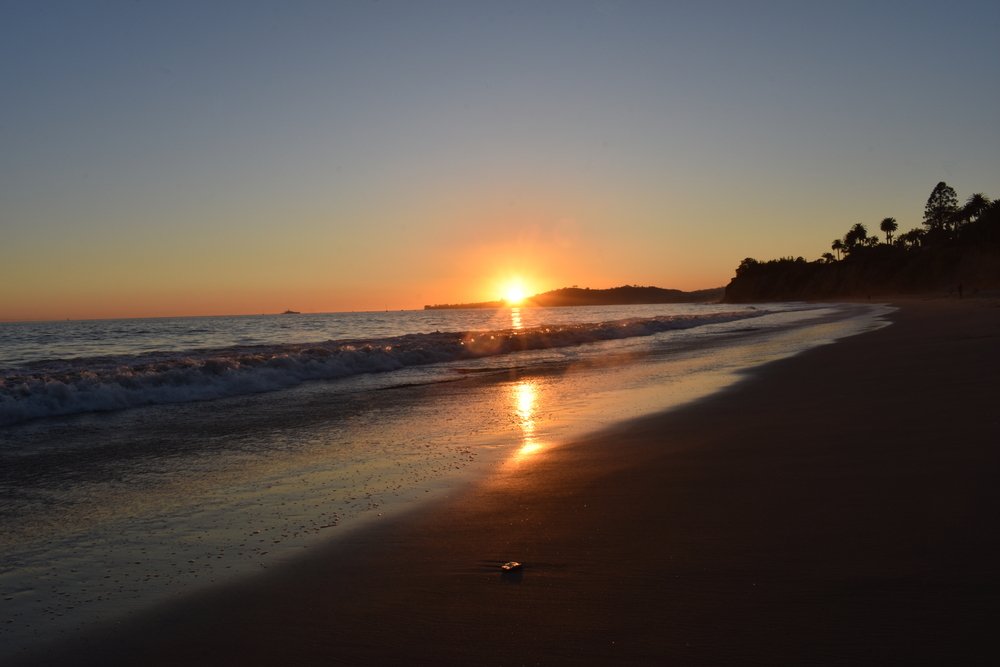 Contributed by Priya Vin from Outside Suburbia
Not too far from Santa Barbara in Southern California sits the exclusive Montecito community. With Santa Ynez mountains on one side and the Pacific Ocean on the other, it enjoys a Mediterranean-like climate. For decades it has drawn celebrities like Drew Barrymore, Rob Lowe, Oprah, and Ellen DeGeneres.
This part of SoCal which is an easy California road trip from LA is ultra-luxurious and a well-kept secret. You can stay at the fabulous Rosewood resort at Miramar Beach. The resort takes its name from its stunning location on one of the most pristine and sandy beaches in California.
The resort has beautiful Bungalows and Lanai House guestrooms with views of the Santa Ynez mountains or the ocean. Montecito is only about an hour's drive from Los Angeles but feels worlds away.
We spent a week there and fell in love with the area. There is so much to do – from visiting the eclectic gardens of Madam Ganna, wine tasting in one of the many tasting rooms in Santa Barbara, checking out the historic pier at Stearns Wharf and riding a surrey or bikes by the coast.
Don't miss a meal at Bouchon, one of the best places for dinner in Santa Barbara. And Tre Lune Ristorante is another must, located on Coast Village Rd in Montecito, is serves authentic Italian fare. You will see a wall with tiny chairs of the people (including Oprah!) who frequent the place and are never refused a seat at the table.
Torrance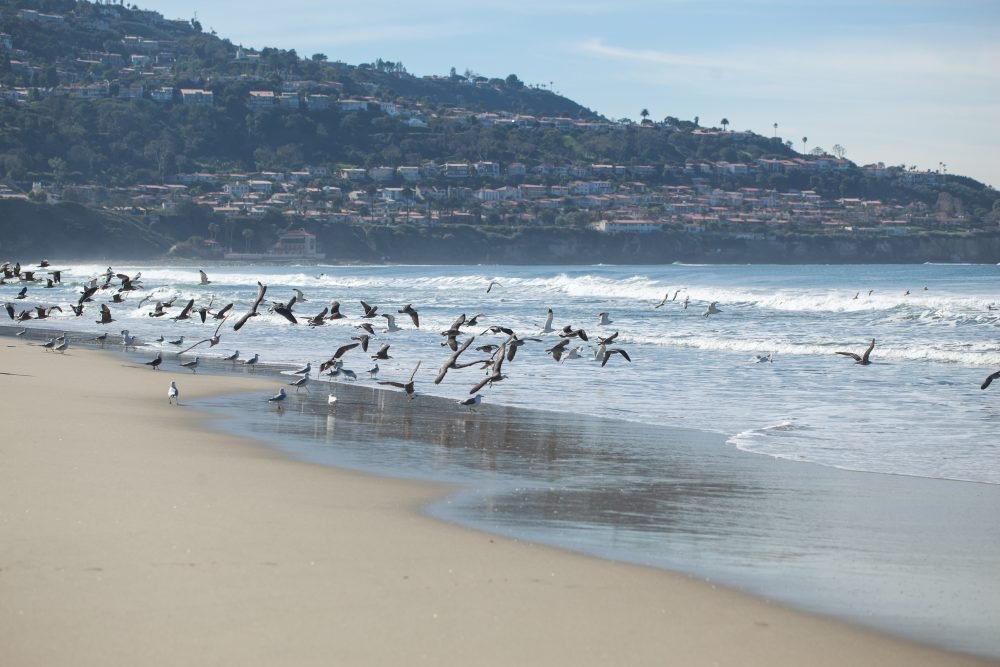 Contributed by Ayngelina Brogan of Bacon is Magic
Torrance is part of Los Angeles County, it's only 16 miles from LAX and it's an absolute gem that more people should know about.
If you're looking to visit an uncrowded beach, Torrance Beach is small 1.5 mile stretch of oasis. The area was original developed for the Hollywood Riviera residents but is now a public area. If you have a bike it is part of the 22 mile coastal bike path that heads to Santa Monica. If you want to get away from it all, this is the place to be.
While Torrance is home to the large Del Amo Fashion Center one of the most popular reasons to visit are the Torrance restaurants, which are known for their diversity and authenticity.
Hakata Ikkousha Ramen is sister restaurant of a famous ramen restaurant in Japan. But what makes it special is that they use the same recipe as the restaurant in Japan. They haven't adapted it for western tastes. You are able to eat the same ramen they make in Japan.
Madre! Oaxacan Restaurant and Mezcaleria specializes in food from Oaxaca. It's also a mezcaleria with 350 kinds of mezcal as well as tequila.
King's Hawaiian Bakery is famous on the Hawaiian islands for its its Portuguese sweet bread. Its mainland office became a restaurant and is a local favourite serving hearty breakfasts like loco moco.
Save room for dessert because the paradise cake is a tropical fruit layered cake made with guava, passionfruit and lime chiffon. It's beautiful, light and the perfect size for sharing
Conejo Valley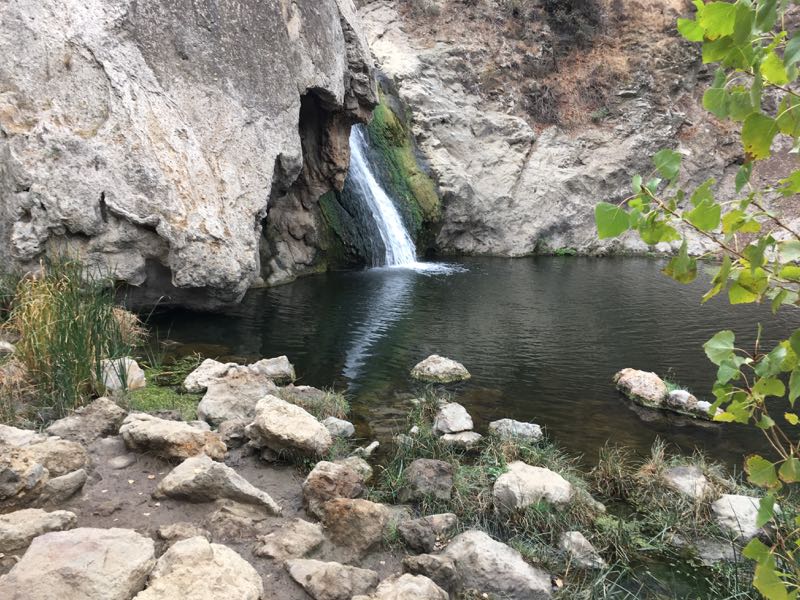 Contributed by Charles McCool of McCool Travel
Conejo Valley is a fun 45-minute escape northwest from downtown Los Angeles (easy directions, take highway 101 between both). In Conejo Valley, you can find amazing hiking and natural scenery, movie and TV filming locations, a US Presidential library, and fun scenic drives to the glorious Malibu beaches and Hollywood.
Highway 101 splits Conejo Valley like a hamburger roll. On the north side, be sure to visit a surprise waterfall—hike to Paradise Falls in the Arroyo Conejo Open Space, accessed through Wildwood Park in Thousand Oaks. At the Ronald Reagan Presidential Library in Simi Valley, walk through his Air Force One airplane, see a portion of the Berlin Wall, and absorb breathtaking views of the surrounding area.
South of 101, see where Westworld and hundreds of other Hollywood movies and shows were filmed at Paramount Ranch. The village of Cornell is very funky and Cornell Winery is a fun stop. Across the street, the Peter Strauss Ranch hosts concerts and other events during the summer but is also a great spot for a stroll or picnic. Explore the canyon roads while heading south on 23 or Las Virgenes Road, and end up on the gorgeous beaches of Malibu. The classic Mulholland Highway is a must-do drive at least once in your life.
Wonderful places to eat in Conejo Valley include Stella's in Newbury Park, Jink's in Agoura Hills, and Ladyface for craft beer and good food (and perhaps cast and crew sightings from Paramount Ranch filmings). When in Malibu, do not miss the oceanfront setting of places like Moonshadow and Gladstones.
Carlsbad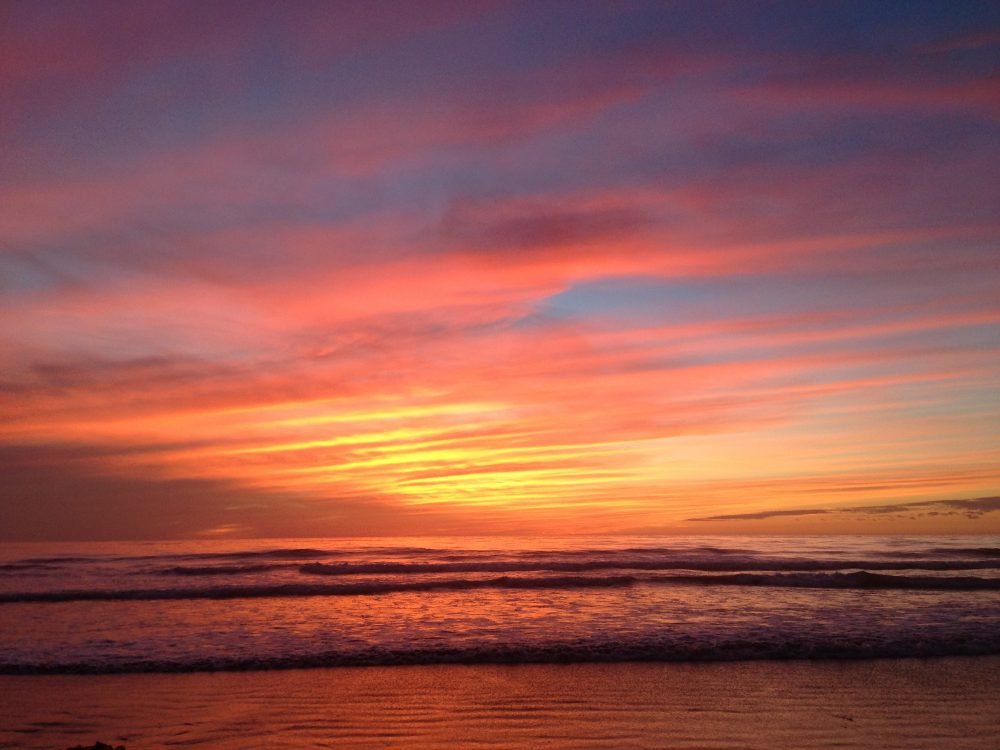 Contributed by Gina Tarnacki of Evergreen & Salt
Carlsbad is a coastal city in North Country San Diego that is about two hours from LA (depending on traffic of course).
Carlsbad is known for its surfer lifestyle vibe, lovely state beach, and lively downtown area called Carlsbad Village. You'll want to spend a large majority of your time in Carlsbad Village doing some shopping, stopping for an al fresco pint of local craft beer (check out Park 101 or Barrel Republic) or a wine tasting (Paon and Witch Creek both do tastings).
For beaches, Carlsbad State Beach is located right off of the western edge of Carlsbad Village. Those planning to do some surfing while in Carlsbad will want to head a bit farther south to Tamarack Beach for the best waves.
For more water sports, the Carlsbad Lagoon is a fun place to spend a few hours. You can rent kayaks and paddleboards to go on for a leisurely ride around the lagoon, rent a boat and try some waterskiing, or get your adrenaline racing by zipping around the water on a Jet Ski.
If you're looking for things to do in Carlsbad with kids — or you're a kid at heart — you can't miss Carlsbad's most famous attraction: Legoland California. Located in southern Carlsbad just a couple miles from the coast, Legoland California is a Lego-themed amusement park with rides and games plus an onsite aquarium and water park.
For dinner, head to family-friendly Pizza Port, gather with friends at Compass, or opt for a more romantic meal at Paon. After dinner, head back to the beach to take in one of Carlsbad's stunning sunsets.
Anza Borrego State Park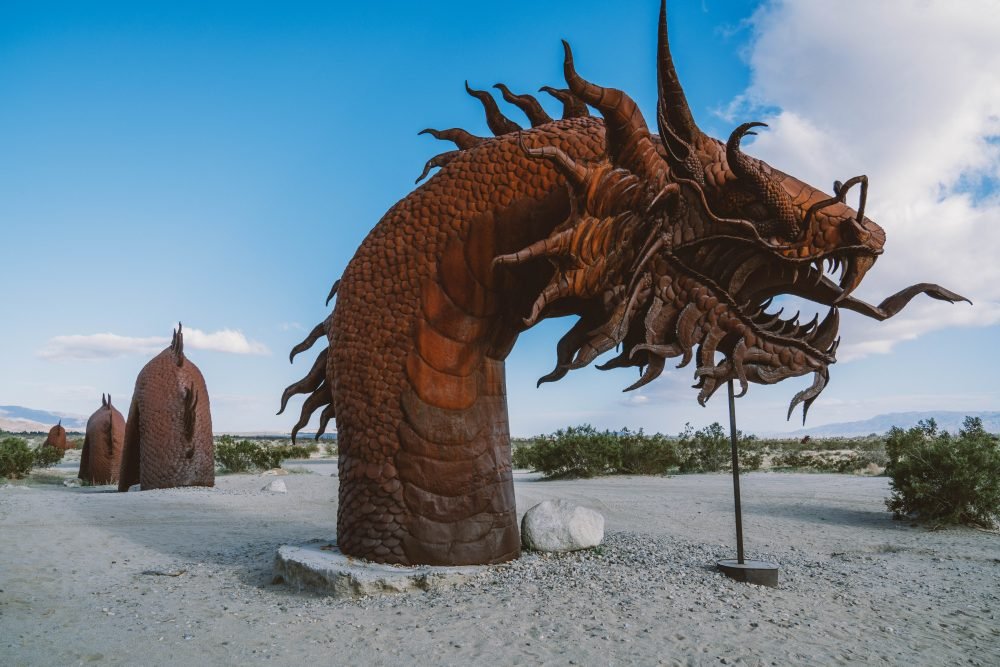 Contributed by Kay from The Awkward Traveller
About 2.5 hours outside of Los Angeles lies the Anza-Borrego State Park. The state park is a sprawling desert filled with wildflowers and massive boulders on the edge of the Coachella valley. If Joshua Tree and the Badlands National Parks had a baby, Anza-Borrego would be the result.
For an overnight trip, consider embracing nature and sleep beneath the stars at once of the campsites. Or there are many small rooms and hip trailers in the nearby town of Borrego Springs, the only California town completely surrounded by a state park AND the only California town that is a dedicated International Dark Sky Community, dedicated to protecting the night sky from light pollution.
While in the park, Split Mountain is a fun short hike that leads to an easily accessible (but narrow!) slot canyon conveniently named The Slot. If you are inclined to eat among the wildflowers, pack a lunch to picnic at Coyote Canyon! Otherwise, head back into Borrego Springs for a bit at Carlee's Place or Kendall's Cafe!
Then explore the many giant sculptures by artist Ricardo Breceda located randomly throughout the town, about 130 in total! They are fantastic iron pieces, reminiscent of the pop art show "Desert X" that takes place every other year in Coachella Valley. You can also view art from the comfort of an air-conditioned building at the Borrego Art Institute!
Eat dinner at Coyote Steakhouse then settle into your accommodations to stargaze with a happy stomach and a clear head. In the morning before you head home, grab breakfast at Red Ocotillo then squeeze in one more hike at Borrego Palm Canyon! This short hike will lead you to an oasis of palms and wildlife such as golden eagles and bighorn sheep (borrego in Spanish).
Lake Arrowhead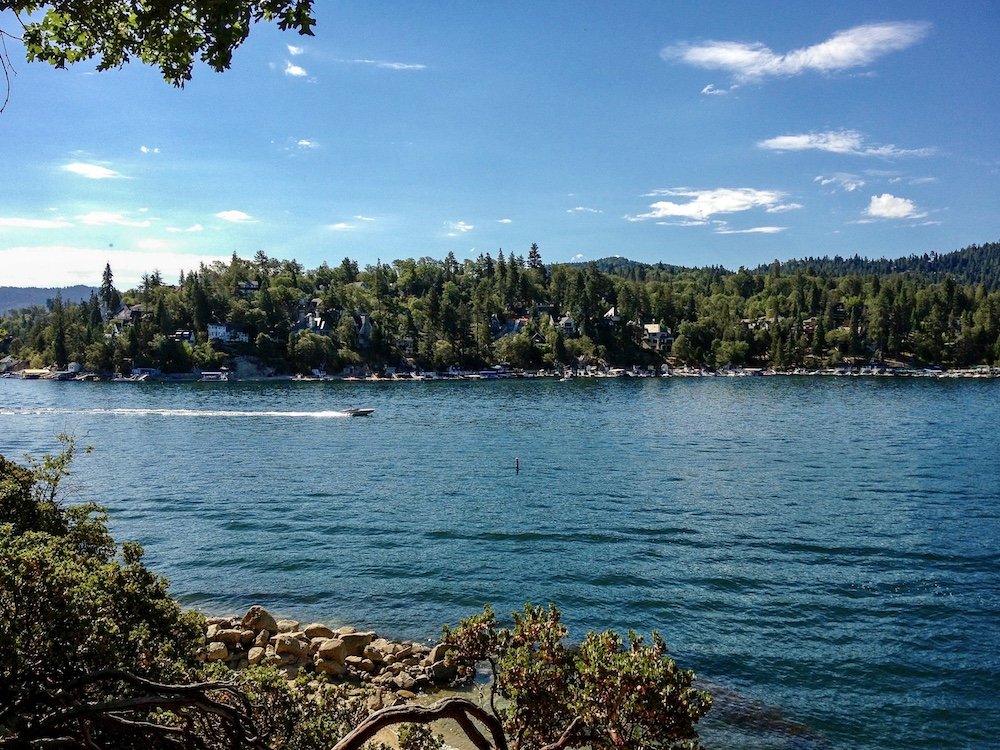 Contributed by Jenifer Byington of The Evolista
A weekend in Lake Arrowhead is a total escape from Los Angeles. In less than 2 hours, you'll find yourself surrounded by the tall trees of the San Bernardino National Forest taking in views of a sparkling blue lake. It's the perfect spot to rejuvenate in the fresh mountain air and enjoy lake life.
Since the lake is private, you need to coordinate with a company to take you out on the water. McKenzie ski school is the go-to for waterskiing. The Lake Arrowhead Queen offers a one hour cruise around the perimeter where you can see some of the homes used for filming Hollywood movies. Adventurers can also walk the 10-mile path around the lake but the 2.5-mile hike to nearby Aztec Falls is a lot more fun.
A trip to Lake Arrowhead Village for breakfast at Belgian Waffle Works is a decadent treat. Later, a little shopping, drinks and tacos on El Papagayo's outdoor lake-view deck and the village free Summer Concert Series are great ways to wind up the day. Kids will enjoy the rides at Lollipop park, while bigger kids love the arcade at Village Pizza.
Some of the best restaurants in the area are outside of the village. No trip to Arrowhead would be complete without a meal at scrumptious Lou Eddie's Pizza, in a setting so pretty, they have weddings there. Fine dining at The Grill at Antler's Inn and Stone Creek Bistro are also truly delicious.
By the time you are ready to head home, you will feel like you really went away on vacation, which is what makes Lake Arrowhead so special.
Long Beach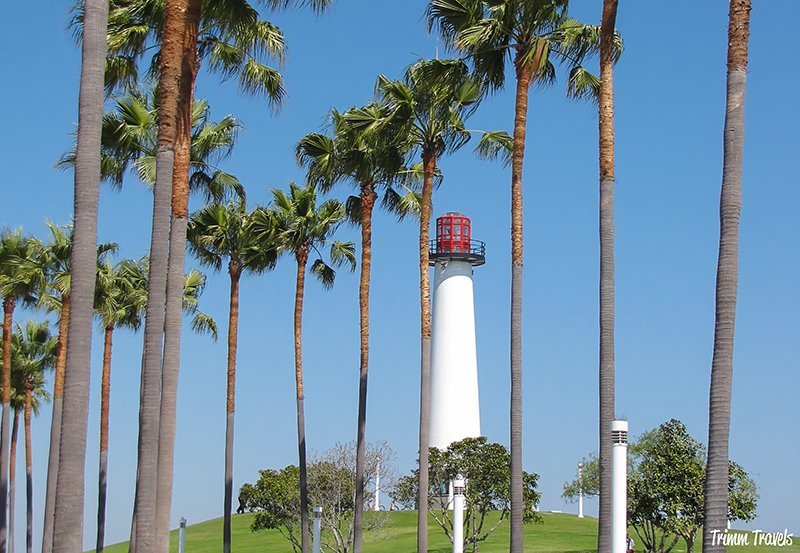 Contributed by Heather Trimm of Trimm Travels
One of the things I loved about living in Los Angeles is that there are so many cool places to get out of the city for an easy overnight trip. A favorite of mine is the port town of Long Beach, California.

Located only 30 minutes (without traffic) from downtown LA, Long Beach is a coastal community packed full of things to do. Among my favorites are spending the night on the Queen Mary, a former ocean liner-turned-museum ship that is rumored to be haunted.
Take advantage of daily tours, nightly ghost tours, murder mystery dinners shows, Sunday brunches, and even dog festivals. At night, the colorful view of Long Beach from the Queen Mary can't be topped!
I also love visiting the Aquarium of the Pacific where they have a shark lagoon, penguin habitat, animal encounters, sea otter habitat, and many educational programs. After a visit to the aquarium, make the short walk over to Shoreline Aquatic Park and see the Lions Lighthouse. It is actually a ten-story faux lighthouse built by the Lions Club and dedicated to ending blindness in the world.

Additionally, visit the beaches, take in the beautiful sunsets Long Beach has to offer, go on whale-watching cruises, and check out the nightlife.

Be sure to grab dinner at Parker's Lighthouse, an upscale restaurant featuring Southern California seafood dishes, steaks, and sushi. Its views of Long Beach Harbor are amazing! For more casual eats, try Long Beach Cafe offering all-day breakfast or Vibes Beach Cafe that literally has a little of everything on its menu.

Whatever you choose to do, Long Beach is a fantastic way to get out of the big city into a quiet, more intimate setting providing a much needed overnight getaway from LA!
Palm Springs
Contributed by Wendy Lee of Empty Nesters Hit the Road
If you're looking for a great overnight trip from Los Angeles, you can't go wrong with Palm Springs. In under two hours you'll arrive in this desert oasis where you'll find a wide selection of sightseeing, shopping and dining. This retro-chic city was once the playground of Hollywood stars, but today is a much loved destination for Angelenos looking for a fun and relaxing getaway.
If hiking is your passion, head to Indian Canyons where you'll find eight trails ranging in distance from one to twelve miles. Home to the Agua Caliente Band of Cahuilla Indians, this area is full of natural and human history. If you'd prefer to explore a local museum, check out the Palm Springs Art Museum. This expansive institution is home to 28 galleries and two sculpture gardens. One of the most unique things to do in the area is the Palm Springs Windmill Tour. Over the course of two hours you'll learn about the importance of wind power and why it's so popular in this region.
After all that activity it's time to eat. If you enjoy Vietnamese fare, then try the local favorite, Rooster & Pig on Indian Canyon Drive. Regulars recommend crunchy Jasmine tea leaf salad, pork belly fried rice, or the chicken-stuffed rice ball served atop yellow curry. For really good Mexican food head to El Jeffe in The Saguaro Hotel. If you're here on Tuesdays you'll enjoy cheap margaritas and tacos. Sandfish by Engin onural offers really fresh sushi along with international dishes and a great selection of Japanese whiskeys.
Laguna Beach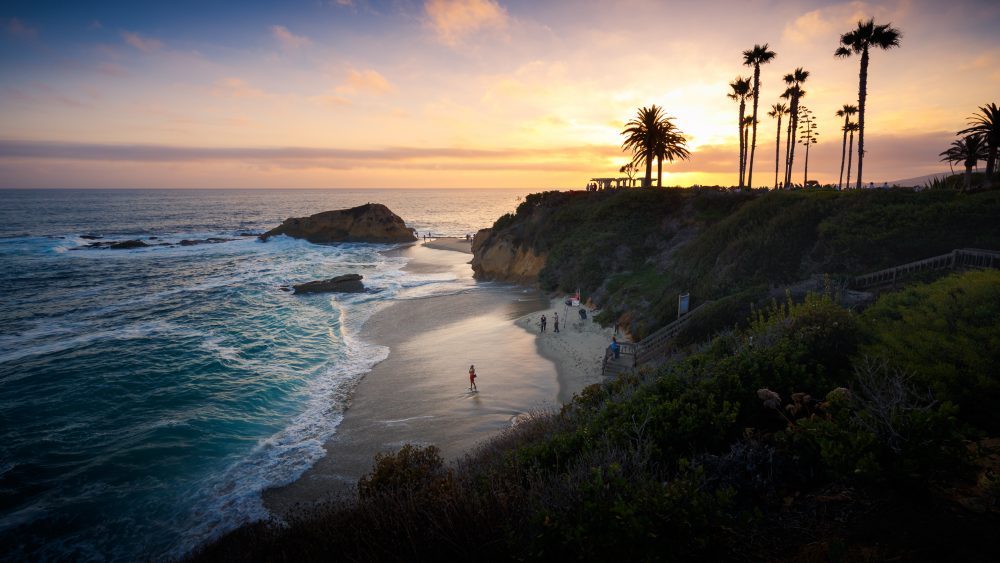 Contributed by Christina Grance from Live a Wilder Life
After having lived in Los Angeles for 15 years, I did my fair share of road trips to escape for a weekend. Whenever I needed an easy one night getaway from the city of angels, I loved hopping in my car and driving to nearby Laguna Beach.
Its picture-perfect cliffs, the small beach community, and the lively art scene offer just enough for the casual overnight trip from Los Angles. If visiting for the first time, one of the best things to do is is to check out Main Beach and spend a few hours strolling through the boutique shops within walking distance from the beach.
Another fabulous beach to check out is Aliso Beach, with its aquamarine water and powder-soft sand. If you visit in the morning, you'll be able to splash around and explore the tide pools.
A popular, as well as a delicious place to eat, is fan-favorite Nick's Laguna Beach. It's classic American fare at affordable prices. If you want to splurge on something nice, then a visit to Top Chef contender Broadway by Amar Santana is a must-do.
If you've been to Laguna Beach before and are wanting to explore beyond the main drag, a great option is to do a whale watching tour. The Pacific Ocean is home to migrating whales that make their way down to Mexico. Depending on when you visit, you can see grey whales, humpback whales, and the best of all…. blue whales. The last time I went, I was able to see four blue whales. It's a sight you'll never forget.
La Jolla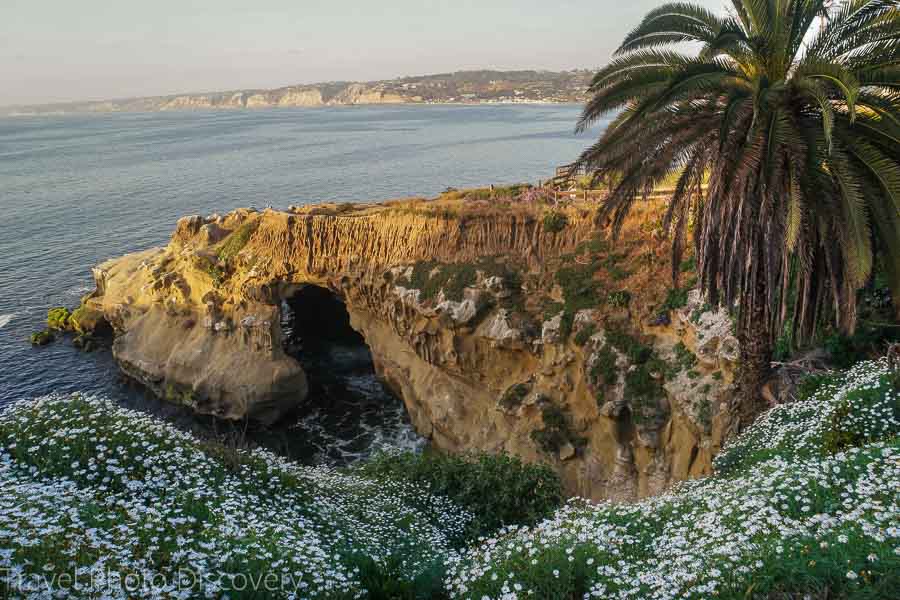 Contributed by Noel Morata of Travel Photo Discovery
One of the best places to explore and also enjoy sunset views for a nice overnight trip from LA has to be in La Jolla, just north of San Diego.
An easy trip to this colorful coastal community, late May to summer is a great time with all the wild flowers coming up in the coastal areas and the cliffs dotting the shorelines are filled with stunning color on all the flowers in bloom, it's a perfect photo op moment.
One of the best experiences in visiting the city outside of the fabulous beaches is to see the sunset along the coastline and viewing the end of the day while taking a nice long walk on the paved promenades there. There are also many coastal trails that are paved and easy to walk on so finding a spot along the way to enjoy the stunning views and orange to reddish hues popping up in the sky is an amazing experience.
What's also fun in visiting this lovely city is to explore the town itself with the main shopping venues filled with local art galleries, designer boutique stores, bakery shops and other artisanal food places along with a bevy of bars, cafes and fine dining establishments to enjoy in town. It's fun just strolling the fashionable streets and window shopping in La Jolla and there are ample parking areas to allow you to park easily around the city.
You'll love visiting this wonderful part of the city and experiencing sunset on the cliffs of La Jolla, the gorgeous coastlines, wildlife and also beautiful wildflowers in bloom.. For more inspiration check out this post on the top things you can do in La Jolla here for more images and ideas of what to do and see around the area. You'll enjoy exploring this truly scenic area just north of San Diego for that magical overnight trip from LA.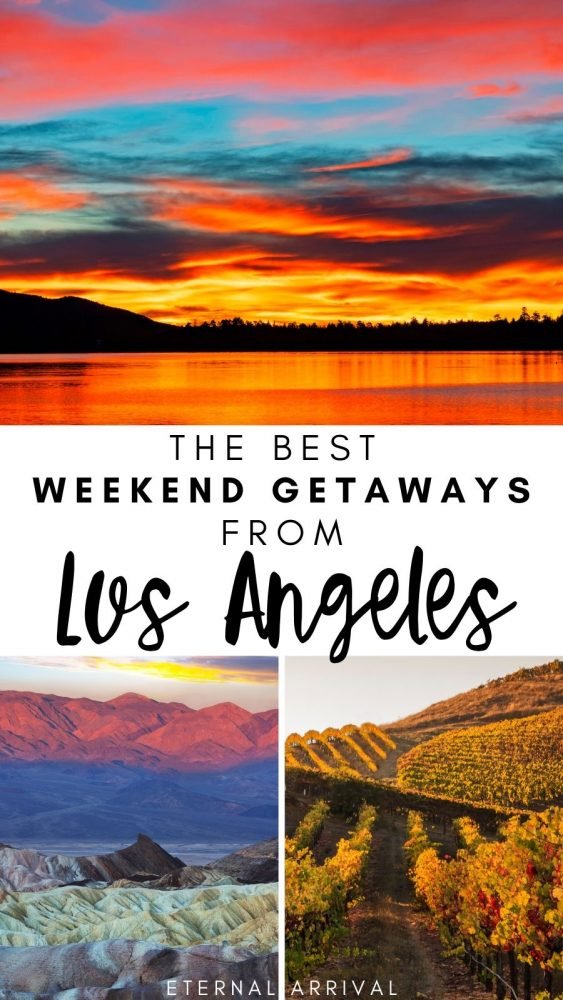 Allison Green is a former educator turned travel blogger. She holds a Masters in Teaching and a B.A. in English and Creative Writing. Her blog posts merge her educational background and her experience traveling to 60+ countries to encourage thoughtful travel experiences that both educate and entertain. She has been a speaker at the World Travel Writers Conference and her writing, photography, and podcasting work has appeared in National Geographic, CNN Arabic, CBC Canada, and Forbes, amongst others. Now based in the San Francisco Bay Area where she grew up, she has also lived in Prague, Sofia, and New York City.