Rich with diverse wildlife and vegetation, Everglades National Park is a must-see destination for anyone fond of birding, hiking, paddling, or being surrounded by salty ocean air.
Here, the Atlantic Ocean meets the dense mangrove forests of southern Florida to form this spectacular environment, which is home to 36 protected species.
This 1.5 million-acre subtropical wilderness is habitat to over 360 species of migratory and nesting birds!
In addition to the plethora of avian species, the area is also home to the Florida panther, manatee, American crocodile, and some species that can only be found in Everglades National Park.
Grab your camera, sunblock, bug spray, and sense of adventure because a lot is waiting to be explored in America's third-largest and one of the best national parks!
PLANNING FOR EVERGLADES AT A GLANCE:  

When to Go: Everglades might be an all-year-round destination but the best time to visit is between December and April which is the park's dry season. At this time of the year, mosquitoes and other biting flies are almost non-existent plus there is an increase in the number of wild animals as they gather to drink from the remaining water holes — this makes wildlife viewing a breeze.

Where to Stay: There are no lodges inside the park but you can find lots of accommodation in the nearby cities. But if you want to stay inside the park, you can opt for tent camping or rent an RV.

However, if camping is not your thing, there are various accommodation types in the nearby cities and towns but I recommend basing yourself in Homestead since the park is huge and this Everglades itinerary is written with an assumption that you'll be staying on the east side of the park.

In that case, I recommend staying at Floridian Hotel for a comfortable and affordable stay, Courtyard by Marriott Homestead for an upscale and luxurious stay, Hilton Garden Inn at Homestead for a cozy and familiar stay in a hotel chain. And if you prefer a homey feel, I suggest staying at this lovely home.

How to Get Around: A car is essential for visiting Everglades National Park as there is no public transportation to or from the park, and without a car, you'd have to rely on tours. If you're renting a car, compare car rentals and prices from here. Alternately, you can rent an RV or campervan via RVShare and save on accommodations. 

Don't want to drive or plan? You can book this full-day Everglades tour from Miami.  

3 Things Not to Forget to Pack: Binoculars are key for spotting wildlife like Alligators, Flamingos, and bison-- I suggest these Nikon binoculars. For hikes, you'll want a sturdy pair of hiking boots -- I love my Ahnu boots -- and some bug spray to keep away mosquitoes and biting flies. 

Know Before You Go: If you plan to visit multiple national parks in a year, the America the Beautiful Pass will save you a bundle! It costs $80 for an annual pass (for an entire vehicle traveling together) to all US national parks and federally managed sites. 
Where to Stay in the Everglades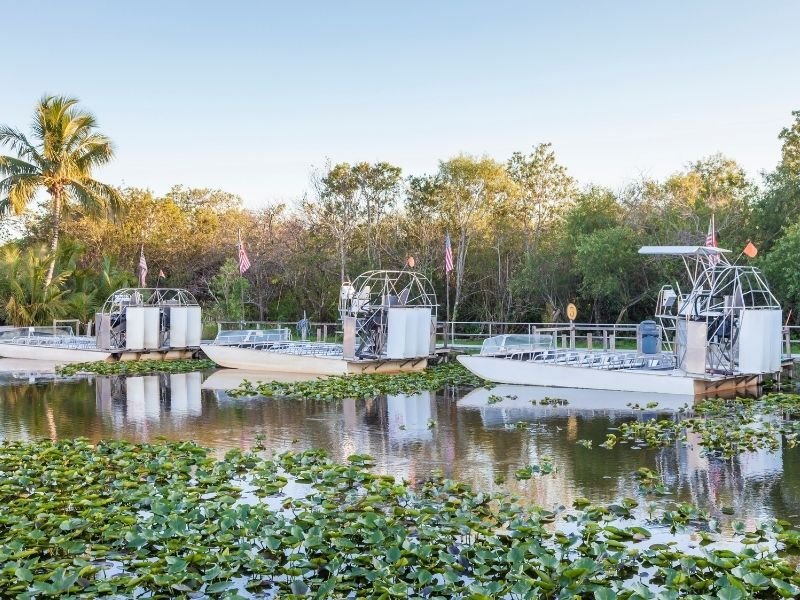 Note: This post contains affiliate links, which means I may receive a small commission if you purchase something through one of these links. Thank you for supporting the free content on this site! For more information on affiliate links and cookies, see my disclosure page for more details.
For the purpose of this Everglades itinerary, we're going to suggest you stay in Homestead, as the park is really large and we've opted to cover the park as if you were based on the east side of the park, as many people visit the Everglades from Miami or as a side trip on their way driving to Key West, as opposed to coming from Western Florida.
COMFORT | For a cozy stay in a familiar chain hotel known for classic comfort, opt for the Hilton Garden Inn at Homestead. I've stayed at many Hilton Garden Inns over the years and I'm always impressed by the high-quality amenities and spacious rooms at a reasonable price.
Perks here include an outdoor swimming pool, a fitness center, and a 24/7 front desk.
>> Check prices, reviews, and availability here
UPSCALE | For a slightly more luxe stay, opt for the Courtyard by Marriott Homestead, which has a gorgeous outdoor pool area with plenty of sun lounger seating, a beautiful indoor/outdoor lobby, and spacious rooms with all the standard creature comforts. Other amenities include a fitness center, on-site restaurant, and dry cleaning and laundry services.
>> Check prices, reviews, and availability here
BUDGET | For a comfortable yet affordable stay, check the Floridian Hotel. It's not quite as highly rated as the two above properties, but at about half the price of the other two choices, it's not at all hard on the budget. There's still an outdoor pool (and a shuffleboard court), but rooms and amenities are more modest, particularly the fitness center is a big downgrade from the above two options. If you just want to have a place to lay your head at night, though, this will do the trick!
>> Check prices, reviews, and availability here
What to Pack for 2 Days in Everglades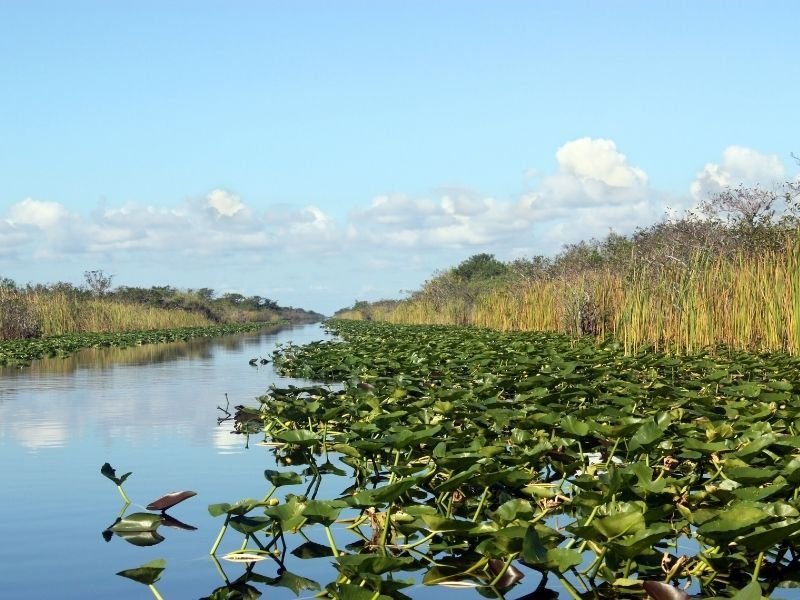 I have a complete road trip packing list here but below is an overview of the essentials you'll need in Everglades.
Travel guides: While I've packed this Everglades itinerary with all the useful information you might need, sometimes guide books provide more details as they have more time to do all the research needed! Combine my first-hand experience with this Everglades National Park guide book and I guarantee you'll have an amazing time in the park.
Layered Clothing: Depending on the time of the year you visit, you'll want at least 2 shirts (synthetic or wool, long and/or short sleeve depending on the season), 2 pairs of leggings or pants, 2 pairs of shorts, 1 fleece outer layer, a waterproof jacket, beanie, gloves, and 3 pairs of socks.
Comfortable Footwear: There are many exciting trails to hike but you'll need comfortable hiking boots or even sneakers. I never go hiking without my Ahnu Sugarpine boots for women, and for men, I suggest the KEEN Durand boot. If you opt to go with sneakers, make sure they have good traction and are comfortable enough to hike in for several 2-4 miles.
Sunscreen: Being in the dry season, you can be assured of sunburns if you don't wear sunscreen. But don't just take any random sunscreen — I suggest this chemical-free organic sunscreen. Wear it all the time and keep reapplying it every few hours for maximum protection.
Sunhat: A sunhat will not only accentuate your wildlife look but also protect you from the sun. I recommend this packable hat with a strap to avoid being blown away by the wind. And the best part is that you can wear it on your back if you get tired of wearing it on the head.
Day pack: A lightweight day pack is essential when visiting Everglades to put in all your travel essentials. I like this inexpensive and compact Osprey day pack. Apart from being durable and lightweight, I like that it has mesh panels on the back to allow for airflow — no more sweaty backs, even in the heat of Florida!
Snacks: Make or pick up a picnic lunch or pack a few snacks to eat in case you get hungry. I suggest things like protein bars (I love CLIF bars), nuts, or other high-density snacks that give you a lot of caloric energy for their weight!
Bug Spray: Everglades is like the breeding home for mosquitoes and biting flies so it would be a mistake to leave bug spray behind. Throw this bug spray in your day pack for maximum protection.
Camera: While my phone camera takes some nice photos, it just doesn't cut it when it comes to taking good quality wildlife and landscape photos — that's why I always take my Sony A6000 along, I love it! It's a mirrorless camera, not a D-SLR, so it doesn't weigh me down like other larger cameras yet I get the same or even better quality photos with it. But since it's just the body, you'll need to carry along a zoom lens for wildlife and a wide-angle lens for landscapes.
First aid kit: Don't let little things like blisters ruin your Everglades trip! I suggest taking this HART Weekend First Aid kit with you. It's lightweight and unobtrusive, but if you ever need it, you'll be glad you packed it.
Water filter bottle: Stay hydrated by packing a water filter bottle that you can refill every time it runs dry! There are a wide variety of water filtration systems and treatments, but I love the GRAYL Geopress. It's compact and easy to use and filters out 99.99% of microplastics, viruses, bacteria, and other nasty particles, making water instantly safe to drink without plastic waste.
Binoculars: Everglades is a perfect place for birdwatching on top of other wild animals and these Nikon Binoculars will make the experience even more exciting.
Camping essentials: If you plan to camp inside the park, take this camping tent, a sleeping bag, a sleeping pad, and a camping stove if you'll be preparing your meals.
Day 1 of Your Everglades Itinerary
Welcome to Everglades National Park!
If you stayed outside the park in Miami or Homestead, plan for your drive time to the entrance station. Miami is about one hour from the park boundary, while Homestead is the gateway community.
If you're flying into Miami or Fort Lauderdale, it's a good idea to rent a car — it'll be really tricky to navigate a self-guided Everglades itinerary without one.
Not sure where to get the best deal on your rental? I've rented cars dozens of times through various search engines and have settled on Discover Cars as the best car rental search aggregator – it sifts through dozens of trusted rental companies to find the cheapest price for your rental! Compare prices for your car rental here!
It's a good idea to stock up on food and drinks before entering Everglades, especially if you're planning to camp. Services are quite limited within the park.
Start the day at the Ernest F. Coe Visitors Center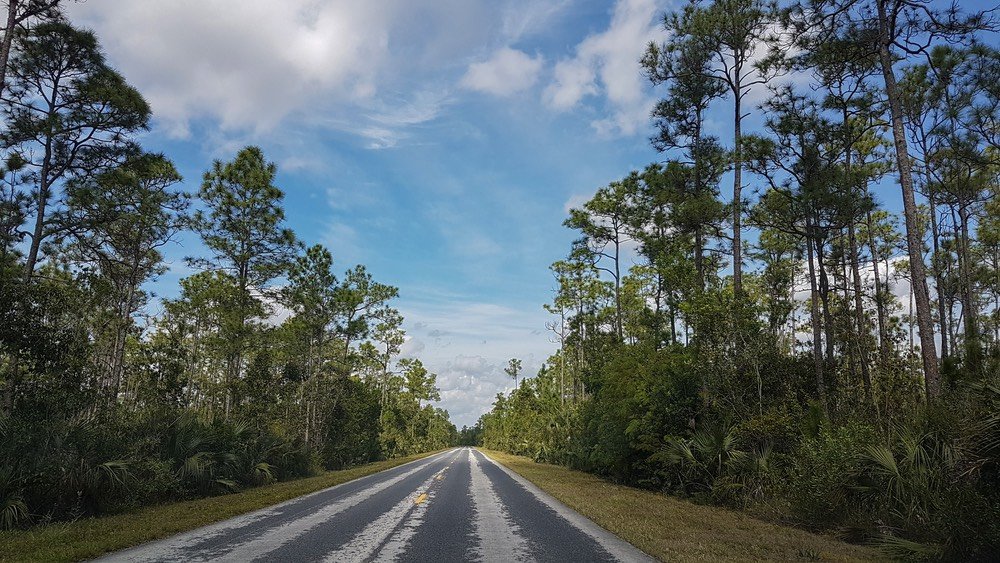 The first stop for many visitors when entering the park near Homestead is the Ernest Coe Visitors Center. This is the perfect stop to use the restroom, purchase souvenirs, and pick up a park map.
With a variety of well-designed interpretive displays, the Ernest Coe Visitors Center is also a great place to educate yourself on the park's history and natural resources.
Don't forget to watch the park's orientation film, so that you can learn how to be a good steward of the fragile environment in Everglades National Park.
Although open 365 days per year, check the center's hours before arriving as they do fluctuate with seasonality.
Walk the scenic Anhinga Trail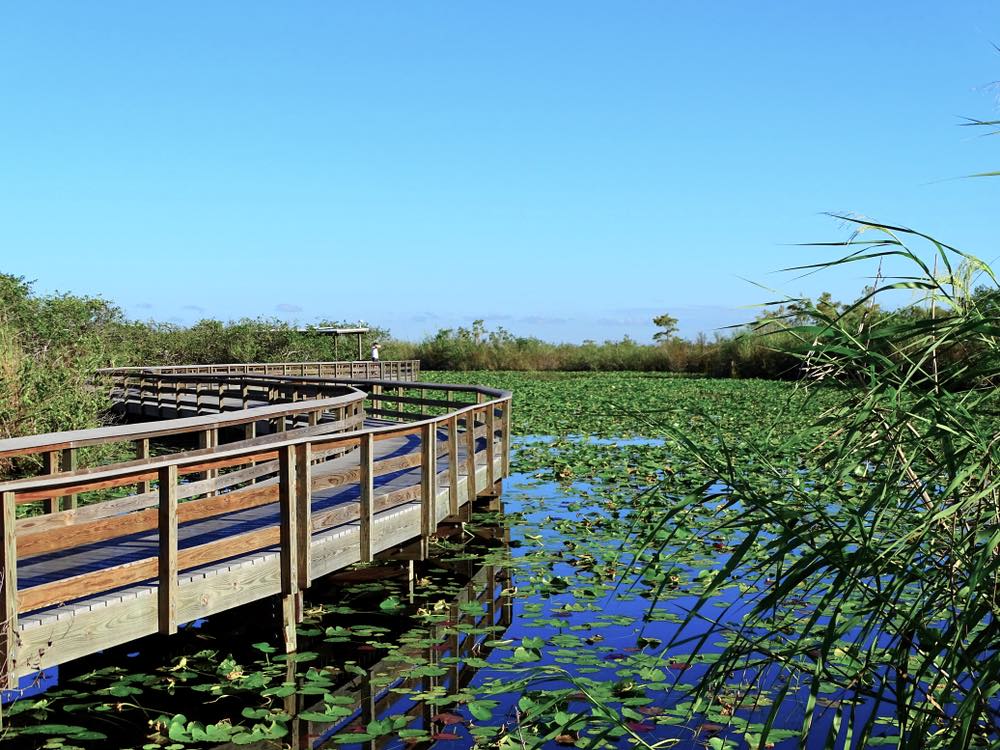 Now that you're fully educated on all that Everglades National Park has to offer, it's time to hit the trails!
The Anhinga Trail is a perfect place to start. At less than a mile round trip, this trail offers opportunities to spot alligators, turtles, fish, and anhingas.
This is a popular trail in the wintertime because of the excellent birding! A variety of migratory birds flock to this pristine sawgrass marsh beginning in November.
The trailhead is conveniently located at the Royal Palm Visitor Center, which is only a 4-mile drive from the Ernest Coe Visitors Center.
Walk the Pahayokee Trail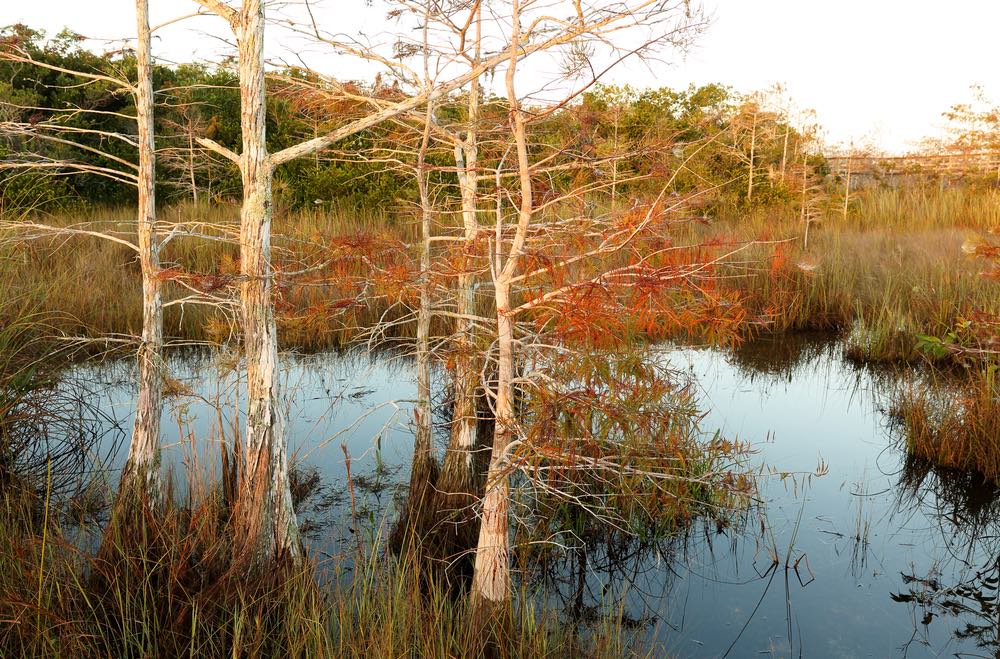 Continue back onto Main Park Road and head deeper into the Everglades. Stop in the turnouts along the way to take in the landscape!
After about 10 miles, turn right onto Pahayokee Road and continue toward the trailhead parking.
Once you arrive at the trail, hike above the grassy marsh on the raised boardwalk.
The short 0.16-mile scenic trail takes hikers to an overlook platform offering views of the surrounding area. Bring your binoculars along to scout for birds from the overlook.
Check out the wildlife at Eco Pond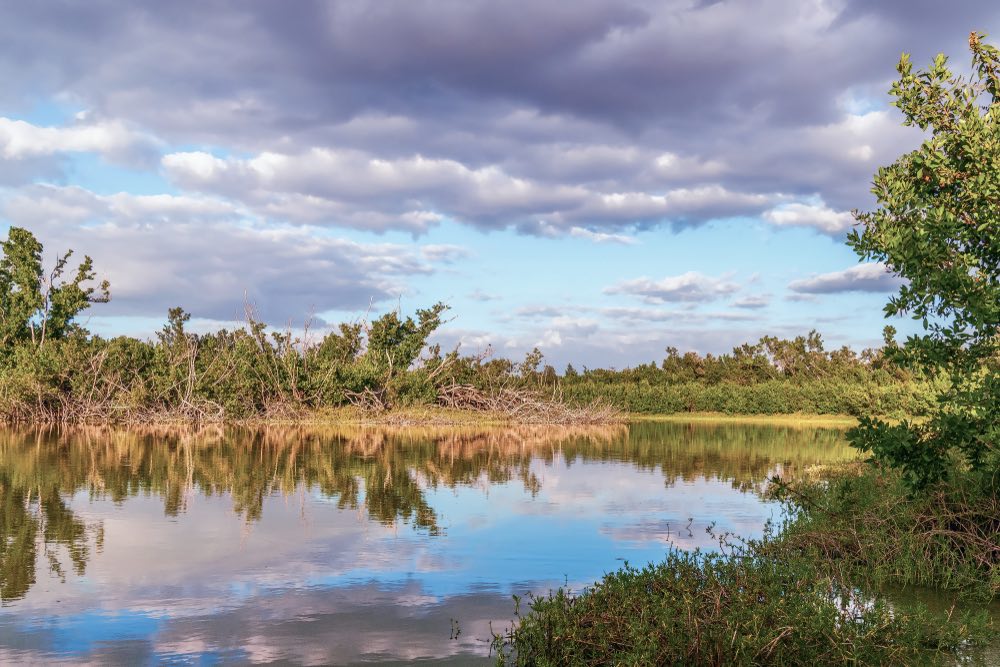 After a nice scenic drive through the park, you have arrived in the Flamingo Area on the coast.
There are plenty of short walking and hiking trails in this area, but one of the most highly recommended is Eco Lake.
It's not far past the Flamingo Visitor Center. Look for the trailhead parking on the right.
This leisurely half-mile loop will take you around Eco Pond with chances to spot plenty of wading birds and songbirds.
If you're observant, you may be able to spot Florida soft shell turtles or American alligators.
Although rewarding in beauty, this trail is famous for its intimidating mosquito population. Bug spray and bug nets are highly recommended!
Try to spot a manatee at the Flamingo Marina and Visitor Center
A fun hike around Eco Pond should be celebrated with an ice cream bar from the Flamingo Marina Store and scouting for manatee around the docks — spotting manatees is one of the top things to do in Florida, so it's an Everglades itinerary must!
It is common to see these magnificent animals peacefully floating around the marina in the wintertime!
Beginning in November, Florida manatees begin to seek a warm hideout for the colder months ahead. Manatees are unable to withstand exposure to water under 68F for long!
See the Everglades from another perspective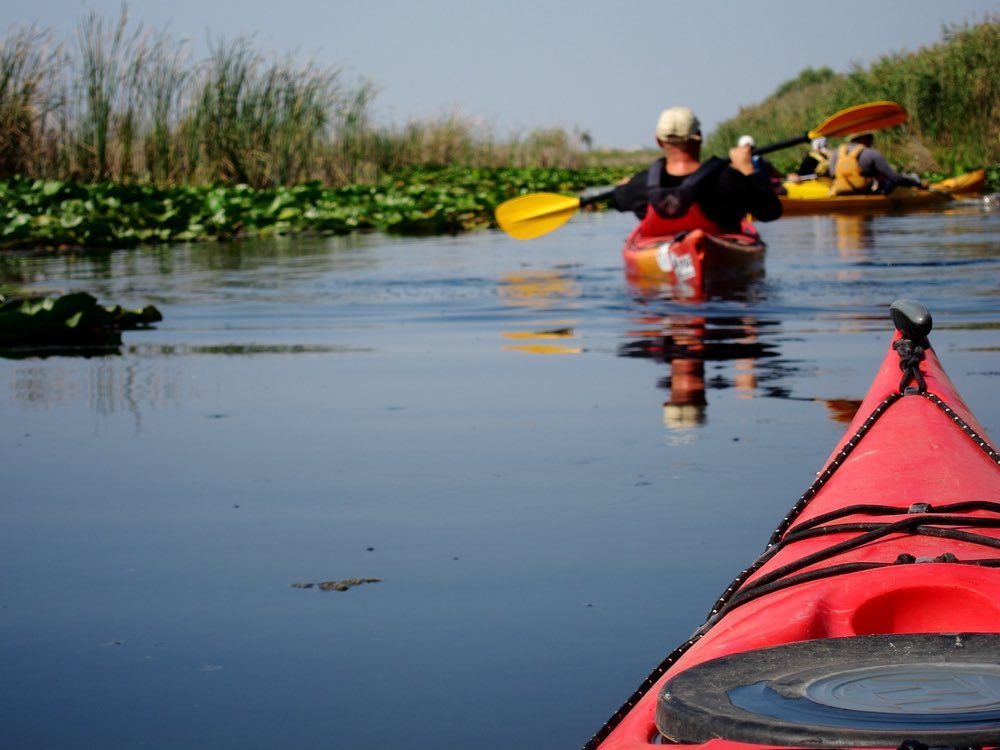 The Flamingo Marina is a great basecamp for exploring the open ocean and mangrove canals.
Here, you can rent canoes or kayaks to explore the coastline in search of more manatees, otters, alligators, birds, and even dolphins! This is one of the best places for kayaking in Florida, so be sure to take advantage.
You can also take a mangrove kayaking tour where you enjoy an easy paddle through the unique mangrove forests of the Everglades in a 'sit-on-top' style kayak — great for first-time kayakers.
Find a place to stay near the park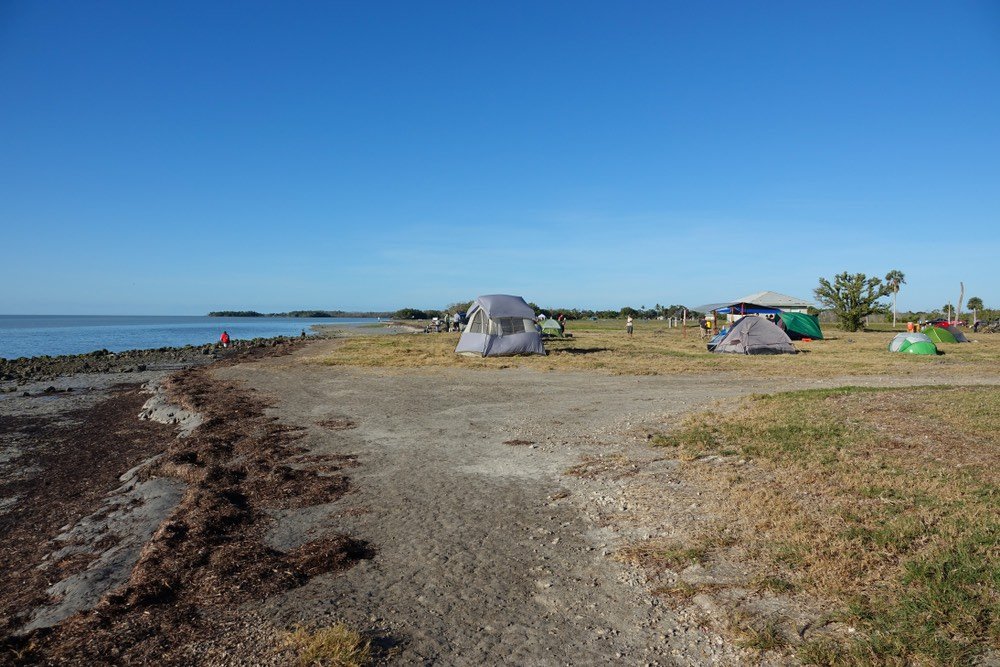 As you wrap up your exciting first day in Everglades National Park, there are a few options for lodging accommodations.
Flamingo Campground is right on the beach near the marina, however, staying in Flamingo will leave you with some extra car time the next day.
Staying at Long Pine Key Campground, which is closer to the park entrance, or at a hotel in Florida City are the best options for splitting up the drive.
Wherever you choose to spend the night, plan to get some good rest for another fun (but full) day on your Everglades National Park itinerary!
Day 2 of your Everglades Itinerary
There's a lot of fun waiting for you on the final day of your Everglades National Park 2 day itinerary, including embarking on one of the best Everglades airboat tours, walking on scenic boardwalks, and learning about the Indigenous history of the Everglades.
Breakfast is best sought in Florida City before hitting the road on Route 41 to another section of the park!
Take an airboat tour at Everglades Safari Park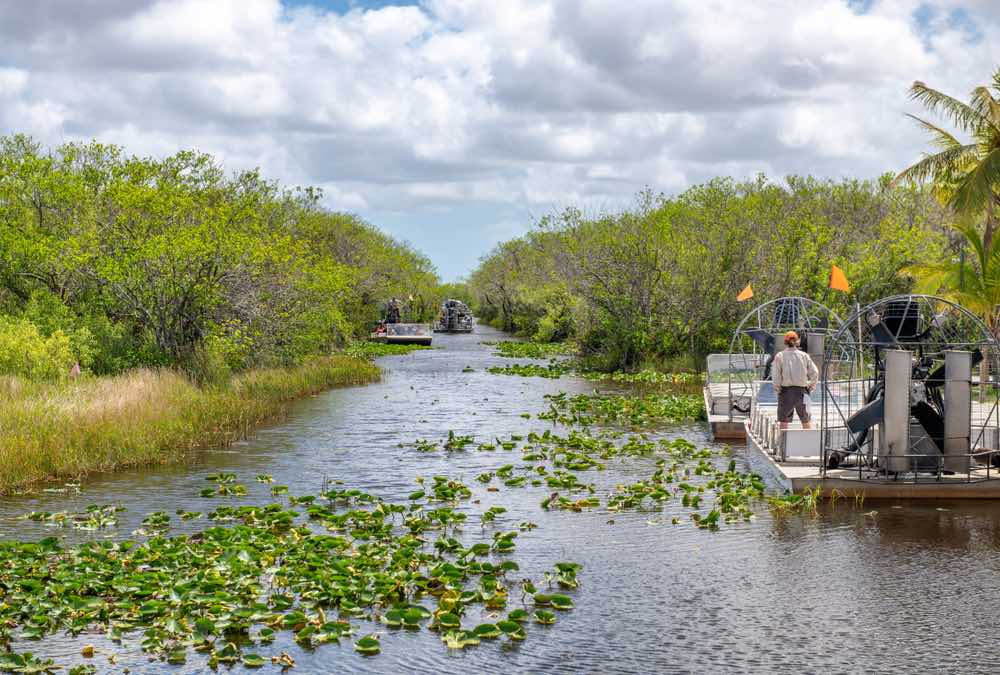 Have you ever been on an airboat? There's no better place to take your first airboat tour than in the Florida Everglades!
On an Everglades airboat tour, guests coast through the River of Grass with an experienced and knowledgeable guide while searching for wildlife such as American alligators and migratory birds.
In addition to a scenic airboat ride, visitors get to experience alligator wildlife watching paired with an educational talk and the opportunity to explore the crocodilian exhibits along the park's walking trail.
If you're a serious wildlife enthusiast, you may prefer a longer boat ride with a focus on wildlife photography.
In this case, an airboat is not the best option as it can be noisy and unstable. If photography and wildlife spotting is the name of the game, opt for this large boat tour of the Everglades led by a Florida-certified Master Naturalist.
If you're concerned about keeping social distance, don't worry — the boat is limited in size to six guests, and there is plenty of room to spread out, set up your tripod, and photograph away to your heart's content!
On the tour you'll have the chance to see all sorts of birdlife — from spoonbills to ibises to herons to egrets to bald eagles — as well as marine life like manatees, turtles, and dolphins.
Visit the Miccosukee Indian Village
After spending the morning exploring Everglades Safari Park, it's back on the road toward the Miccosukee Indian Village.
The Miccosukee Native Americans were part of the larger Seminole nation until 1962, when their independent tribe was given formal federal recognition.
The Village graciously welcomes Everglades National Park visitors to learn more about the Tribe's traditional culture, history, and artisanship.
Explore the village gift shop for handmade crafts or attend one of the world-famous alligator "wrestling" demonstrations.
You might be getting a little hungry by now! Luckily, there is a casual place here called Our Little Eatery.
With a classic menu including burgers and fries, there is something for everyone to enjoy. If you haven't tried alligator bites yet, now is your chance. Tastes just like chicken!
Head to Shark Valley Visitor Center for a tram or bike tour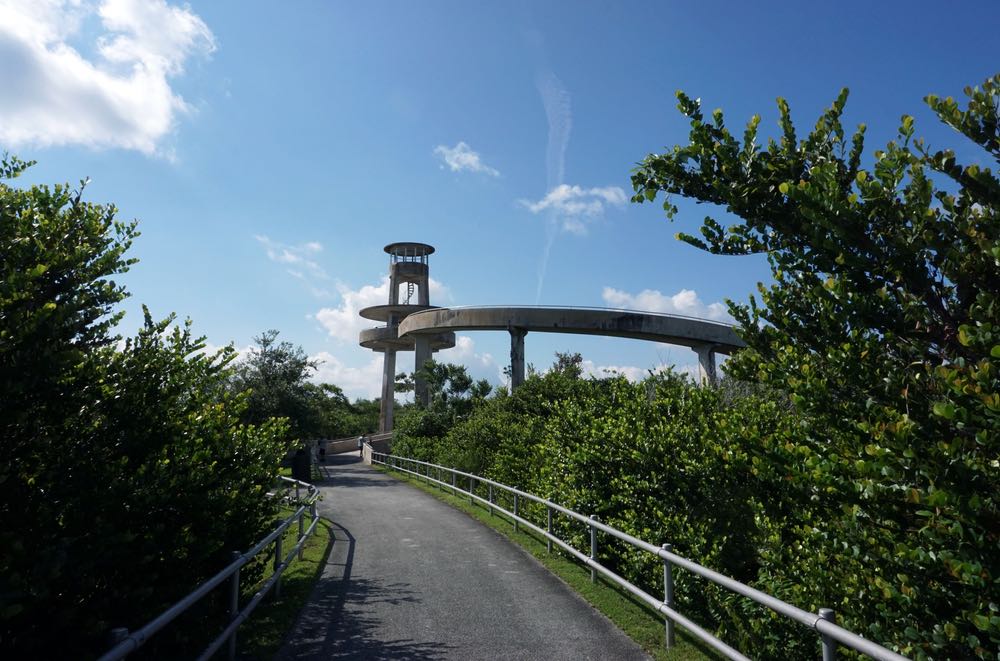 Now that you're fully fueled up on gator bites, backtrack on the road less than half a mile to the Shark Valley Visitor Center.
The Shark Valley Visitor Center has informational videos, bike rentals, brochures, and souvenirs for purchase in the gift shop.
If time allows, hop on one of the Shark Valley Tram Tours. These fun guided tours take passengers on a scenic ride through the everglades unlike any other.
Halfway through the excursion, passengers can get off the tram to explore the Shark Valley Observation Tower. The tower has the highest observation platform in Everglades National Park.
If you want to get a good workout in, rent bikes at the Shark Valley Visitor Center to explore the 14-mile tram road loop on your own time. Remember, bikes must stay on the designated trail.
Stroll the Bobcat Boardwalk Trail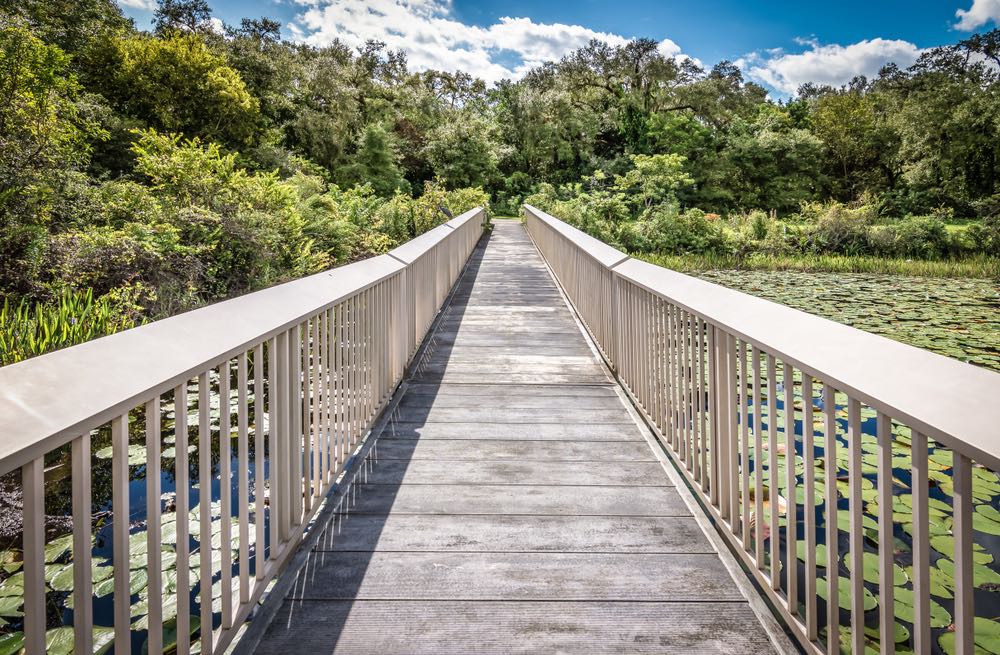 Explore Shark Valley's tropical hardwood forest on the Bobcat Boardwalk Trail. Appropriately named, the trail is made entirely of boardwalk!
Follow the trail as it meanders through the forest and sawgrass slough. This easy walk is a half-mile loop that begins behind the Shark Valley Visitor Center.
Keep your eyes peeled for fish, migratory and nesting birds, and even alligators!
Continue your sightseeing on the Otter Cave Hammock Trail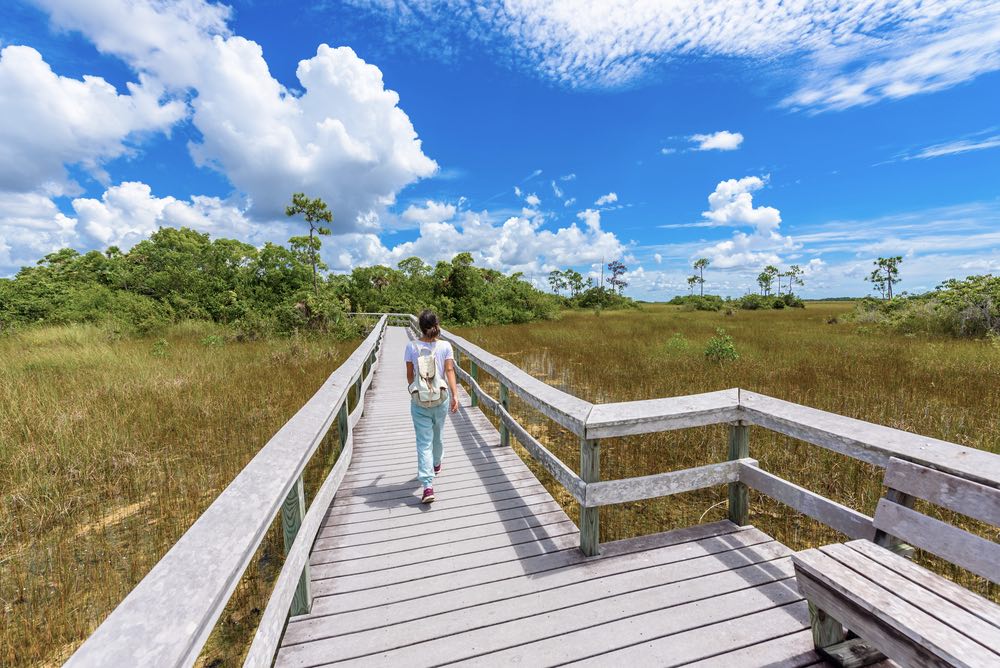 There's even more to see in Shark Valley on foot! The Otter Cave Hammock Trail is about a mile round trip and wanders farther into the tropical hardwood forest.
This trail is perfect for anyone hoping to see more wildlife after walking the Bobcat Boardwalk.
This trail is easy to follow, but watch your step because it's primarily composed of rough limestone! Along the way, you'll cross over a small stream using the sturdy footbridge.
The trailhead for the Otter Cave Hammock Trail is located a half-mile behind the Shark Valley Visitor Center.
During the summer months, the trail can become flooded. Always check on trail conditions at the visitor center before setting out!
***
This is where we leave you to discover your next Florida adventure.
Continue along Tamiami Trail to explore the Gulf Coast and popular ocean cities like Naples and Fort Meyers or rent a canoe to venture deeper into the Everglade's pristine wilderness.
Wherever you go from here, you're sure to bring wonderful stories about your visit to Everglades National Park!

Don't forget travel insurance!
Travel insurance coverage helps you recoup your losses in case of emergency, accident, illness, or theft. I rely on SafetyWing for both my travel insurance and travel medical insurance, and it offers great rates and clear, easy-to-read coverage.
Pin This Guide to Everglades National Park!
Emily is a freelance travel and outdoor recreation writer from Big Sky, Montana. Her adventurous spirit has led her to the high peaks of the Sierras and the largest wilderness areas in the lower 48. When she's not writing, Emily can be found backpacking, road tripping to outdoor destinations, climbing, or rowing whitewater.